This Burlap Micarta Handled Utility EDC Knife Has Hard Use Specs But The Jimping Is Over The Top.
I've never been quiet about my love for Buck knives. I love the brand's history, the quality, and the general styling. So, when the chance came to write the Buck 841 Sprint Pro Burlap Micarta Review, I couldn't pass it up.
I received this American-made knife a few weeks ago, and as a dedicated knife reviewer, it's been the only knife in my pocket since that day. I've used it for opening packages and boxes, some heavy-duty tasks and projects around the house, and taken it on a few hikes. It's even sliced some delicious cured meats for me to enjoy. I've got a pretty good (Micarta) handle on what it has to offer at this point.
Specifications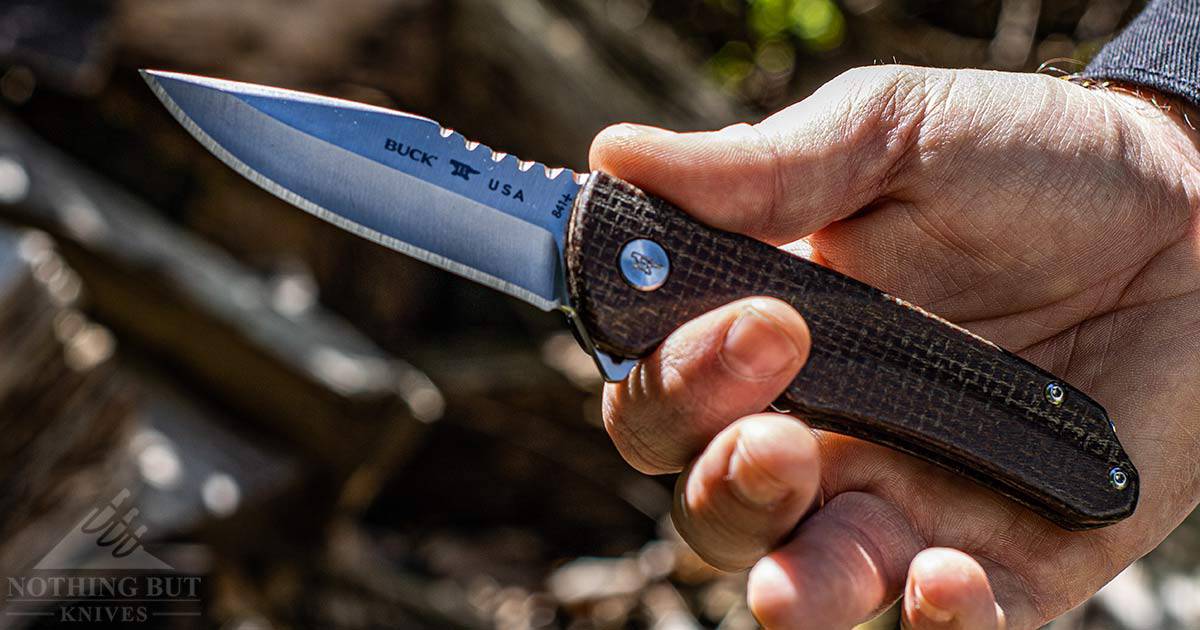 | | |
| --- | --- |
| Overall Length: | 7.5″ |
| Blade Length: | 3.125″ |
| Blade Width: | 0.12″ |
| Blade Steel: | S30V |
| Handle Length: | 4.375″ |
| Blade Shape: | Drop point |
| Blade Grind: | Hollow |
| Handle Material: | Burlap Micarta |
| Lock Type: | Liner |
| Weight: | 3.2 oz |
Pros:
Great ball-bearing action
Ridiculously sharp out of the box
Size-to-weight ratio
Excellent fit and finish
The sturdiest folder I've ever owned
Cons:
You can't reverse the pocket clip
Curves are a little puzzling
Jimping is a bit much
Not a particularly photogenic knife
The Good Stuff
There's a lot to like about the Sprint Pro, and I'll go over some of my favorite parts of this knife one by one.
The Action is Sweet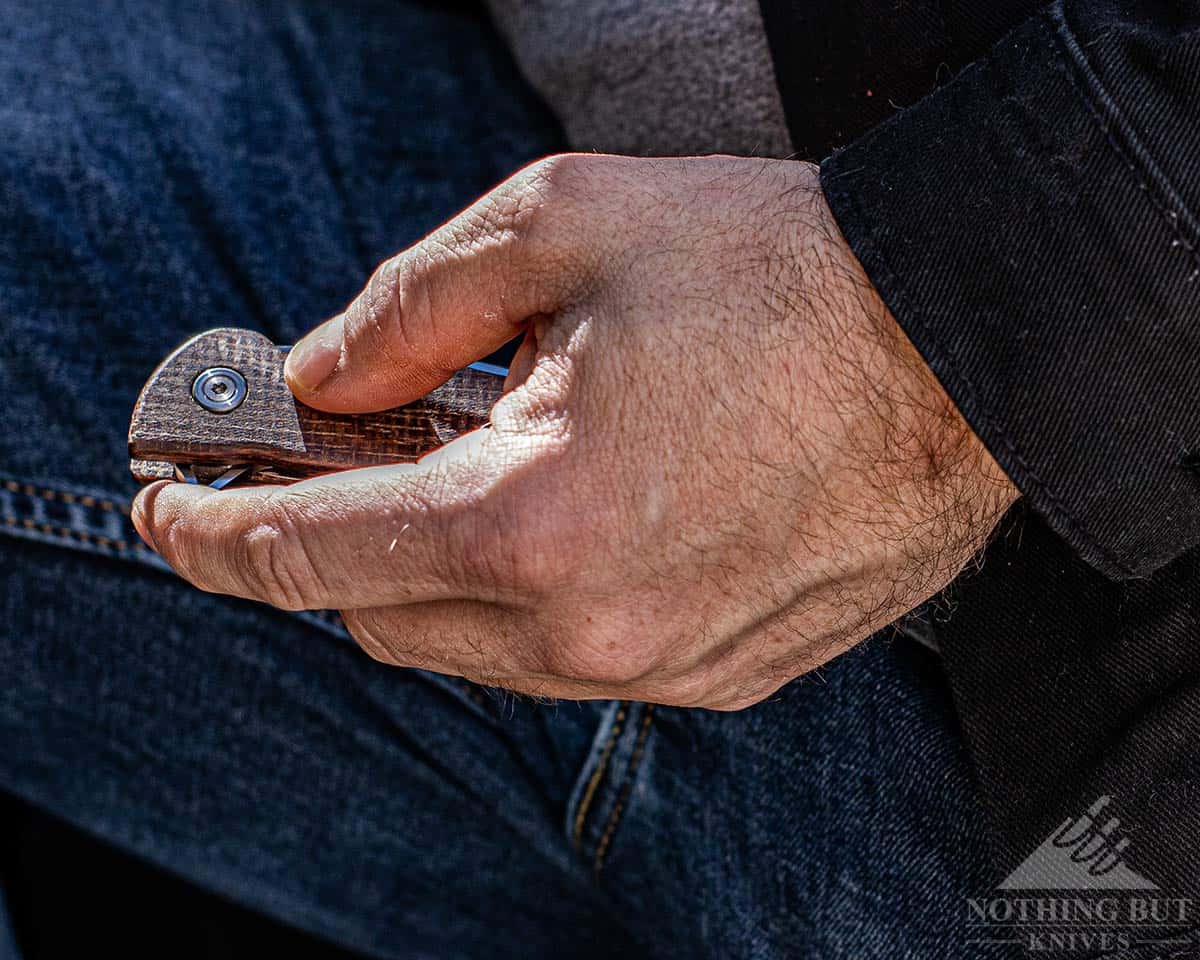 If you're not overly familiar with the 841 Sprint Pro line, it's an unassisted knife. It's actually a ball-bearing flipper, and the action is friggin' sweet.
I'm not a big fan of flipping and fidgeting with knives, but the action on the Sprint Pro kind of inspires it. Flicking it open with the thumb flipper, releasing the liner lock, closing it, and then flicking back open is addicting. And the flipper's design keeps me from slicing my knuckle open when releasing the liner lock.
Plus, I'm constantly challenging this knife to fail — something it doesn't often do.
If you flick your wrist in any direction even the slightest bit, this thing will snap open with gusto. You don't even need to use the flipper. It just goes. It feels and sounds badass. But, since it's unassisted, it should meet most legal restrictions.
It was super sharp right out of the box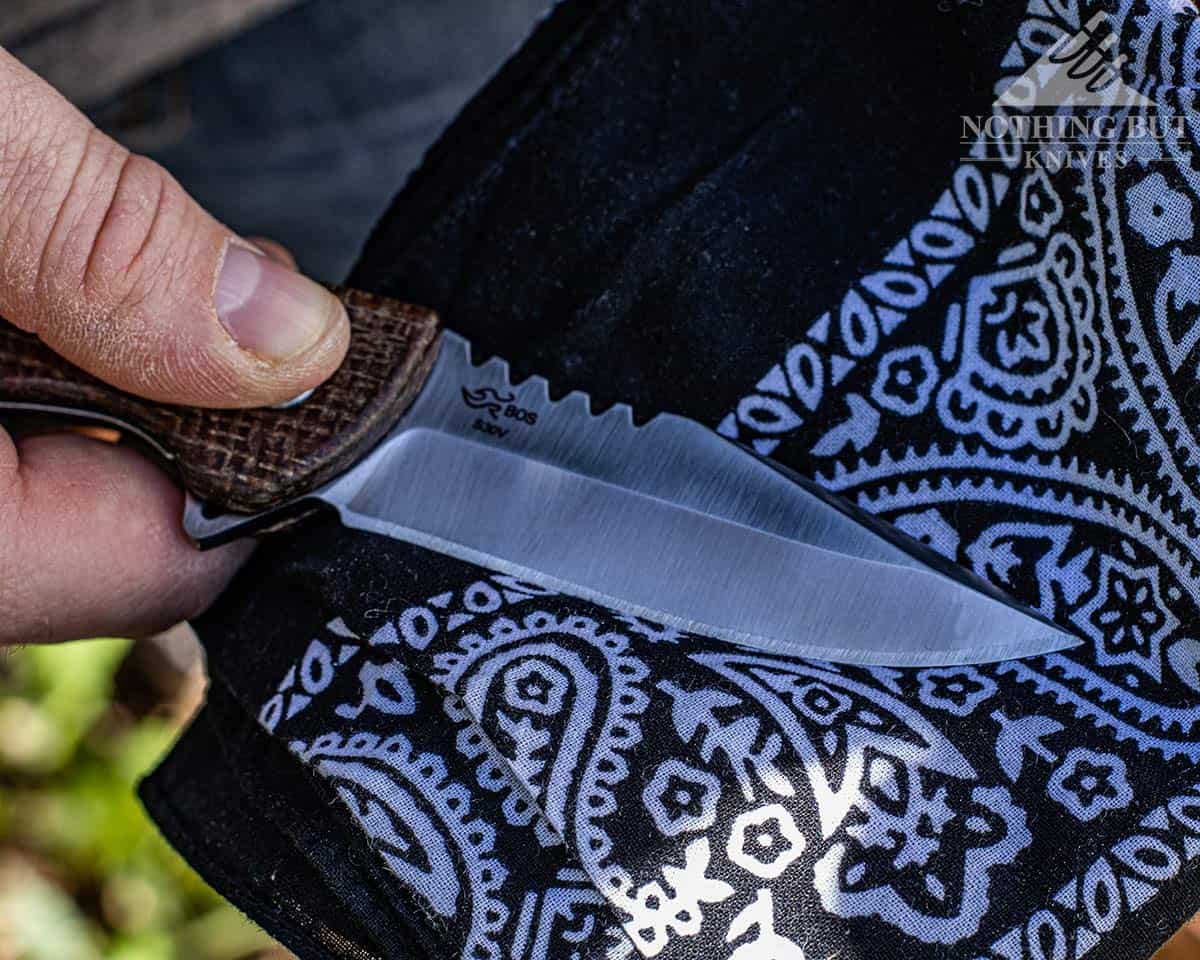 Obviously, we all want our knives to be as sharp as possible, but they rarely come that way out of the box. The Sprint Pro, on the other hand, was insanely sharp from the second I got it.
Have you ever had biltong before? It's an air-dried, cured meat from South Africa. It's usually beef, and some describe it as the lovechild of jerky and prosciutto. In short, it's delicious but very, very hard to cut, and you need to slice it in thin strips to enjoy it.
I brought some biltong and whiskey over to a buddy's house, and I used the Buck Sprint Pro to slice it. To be honest, I was concerned that with enough whiskey and how difficult biltong is to slice, I would end up making a painful mistake. But the opposite was true.
Everyone knows the old saying about a sharp knife being a safe knife, but the way the Sprint Pro's hollow grind sliced right through that delicious, spicy air-dried goodness was a thing of beauty. "Paper-thin" is the best way to describe it. And, man, did it go good with bourbon.
Size-to-weight's a win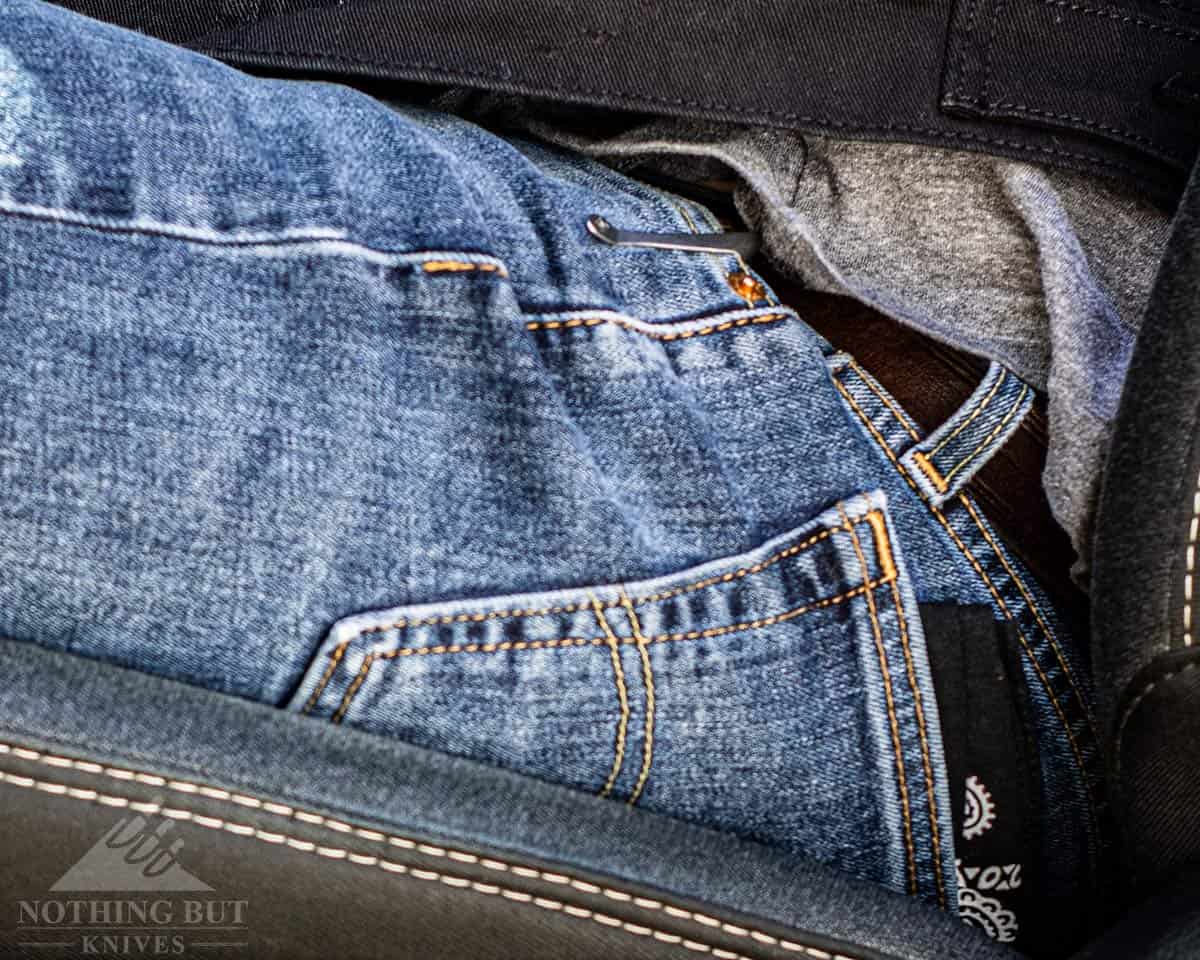 I spent years with crap strapped to my hips or clipped to my pockets for work, so now that I'm just a writer, I like to keep things as light as possible. The problem is that "lightweight" and "capable" rarely go together. But the Buck Sprint Pro, with its burlap Micarta handle, offers an excellent size-to-weight ratio.
No, at 3.2 ounces, it's not the lightest knife in the stable. But with a 7.5" overall length and a 0.12" thick blade, 3.2 ounces feels like a bargain.
Between EDC and hiking, I barely notice this piece in my pocket. But, when I need it, I don't feel like I'm reaching for some rinky-dink blade that isn't up for the task at hand. It feels like grabbing a solid, quality knife with just enough heft to let you know it's in hand.
Do I feel like 3.2 ounces is my personal sweet spot for EDC? Not necessarily. But I do feel like if I'm going to carry a flipper or assisted knife over 3 ounces, I want it to be as capable as the Buck Sprint Pro.
Top-notch fit and finish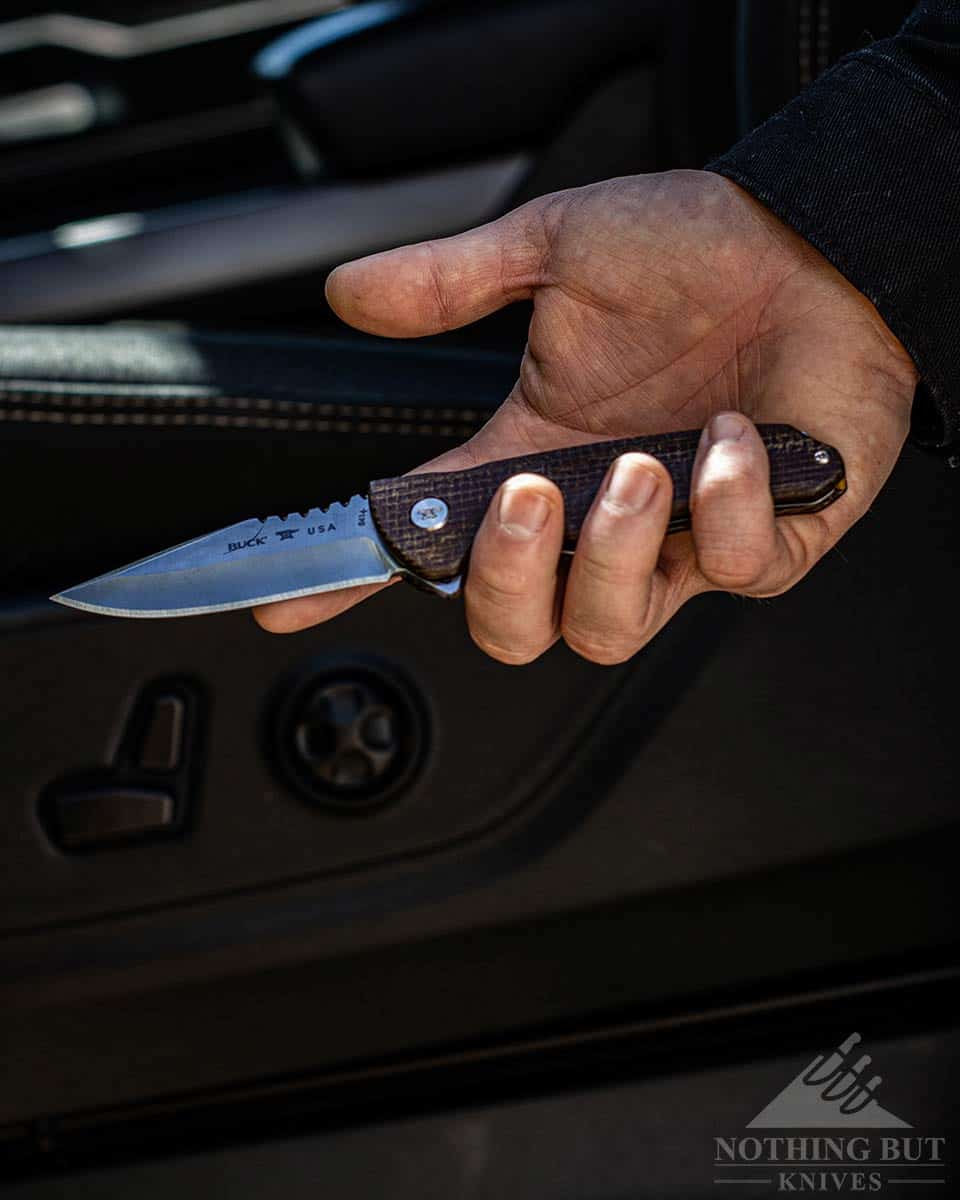 Let's be realistic for a second: The Buck 841 Sprint Pro with burlap Micarta handles retails for right around $100. That's probably not grail territory for most guys, but it's kind of an awkward price point. It's too affordable to make it a grail but too expensive for most guys to just pick up on a whim. So, for that $100, I needed this thing to offer immaculate fit and finish.
And it delivered.
As far as how well Buck sorts these knives before they send them out, I don't know. But this one's truly dialed. The blade is centered and totally clear of rubbing anything. Also, the handle is smooth and consistent. The pivot looks slick with the tiny Buck anvil engraved on it, and the pocket clip is almost perfect. The screws on the handle are also slightly recessed, and the work is really well done.
Maybe I could've done with a bit less branding on the blade, but other than that, it's mostly spot-on (but we'll come back to that).
It's one damn sturdy knife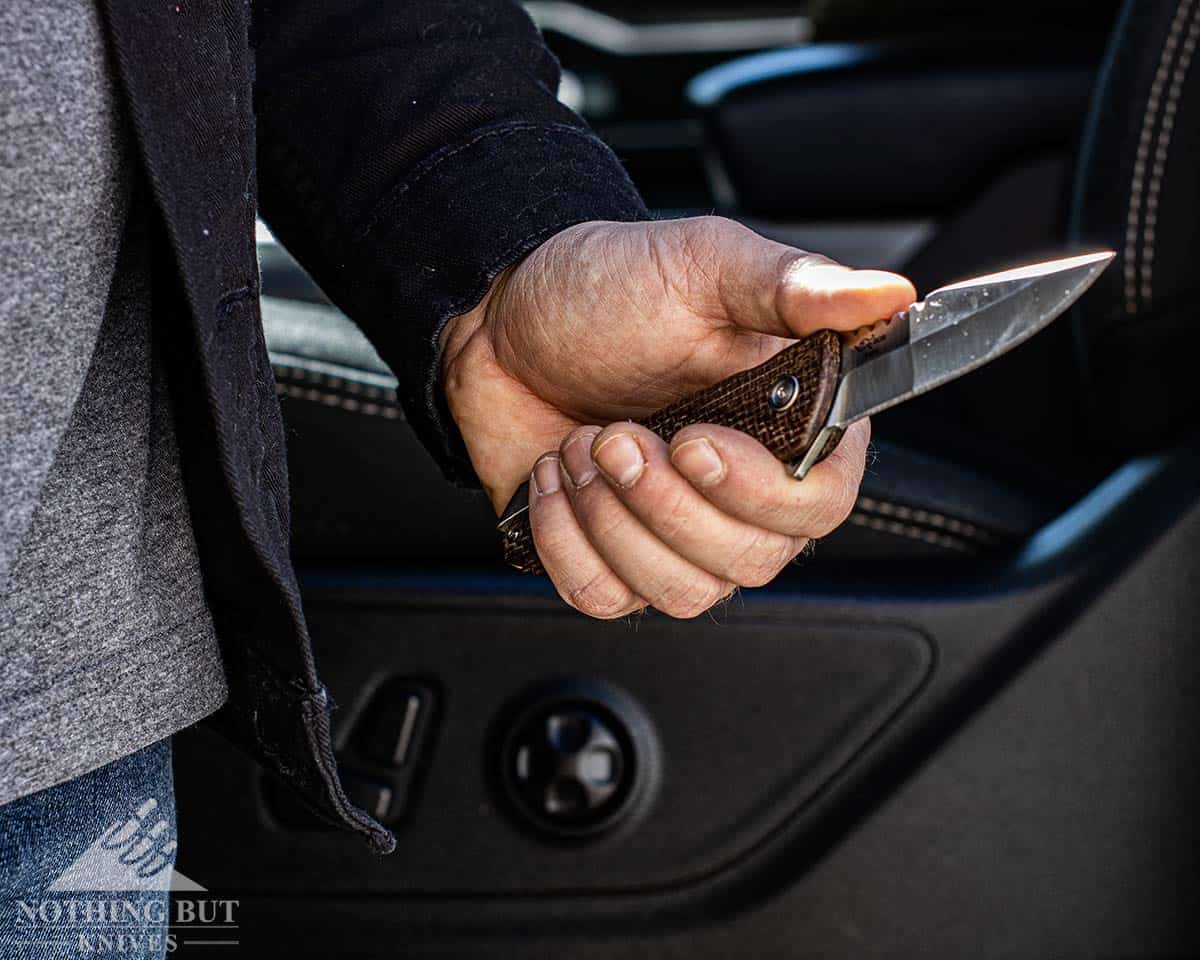 I saved this point for the last of the pros because it's my favorite part of this flipper: It's friggin' sturdy. Maybe I should call it solid. Maybe it's both. Whatever it is, this thing's bombproof.
When you flick the Buck Sprint Pro open, it has a healthy, positive snap that lets you know the blade's locked in place. And once it's locked out, this knife really begins to shine.
This thing is super sturdy. The blade itself is perfectly centered when opened and closed, and there is zero slop in the pivot or bearing. This keeps the blade centered and removes any chance of side-to-side play in the blade.
And, while the handle is Micarta, the scales are reinforced. They feel like they remove any chance of the flexing or slop for which so many criticize lightweight handles. It feels like a fixed-blade knife, and that's definitely my favorite characteristic of the Sprint Pro.
The Not So Good Stuff
Don't let my excitement and love for Buck knives fool you; the Sprint Pro is not without its drawbacks. And my hypercritical nature loves to point them out.
The pocket clip isn't reversible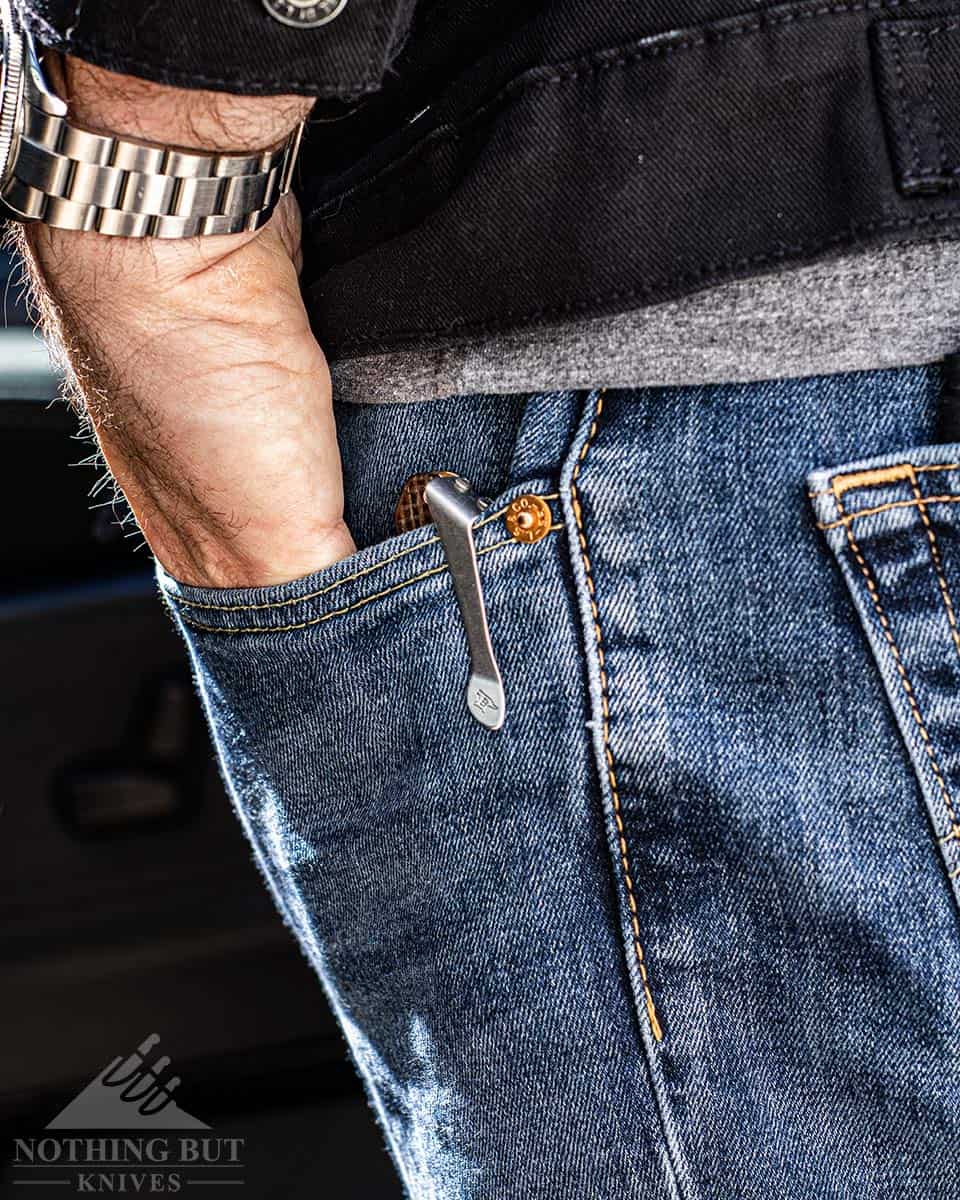 I really like the design of the pocket clip. It's strong and sturdy, and the flared tip slides over the pocket of my jeans easily without feeling uncomfortable in my hand. But, you can't reverse it.
I might not be in the cool kid crowd, but I don't like carrying tip-up. And despite being right-handed, I carry my EDC knives in my left front pocket — it's a training, muscle memory thing from my law enforcement days.
A tip-up flipper without a reversible clip is a good way to poke yourself in the hand. It only happened once, but I'm particularly aware of the possibility so I'm careful. I imagine actual lefty knife carriers are as well. But, it's a drawback worth mentioning in this case.
What's with those lines?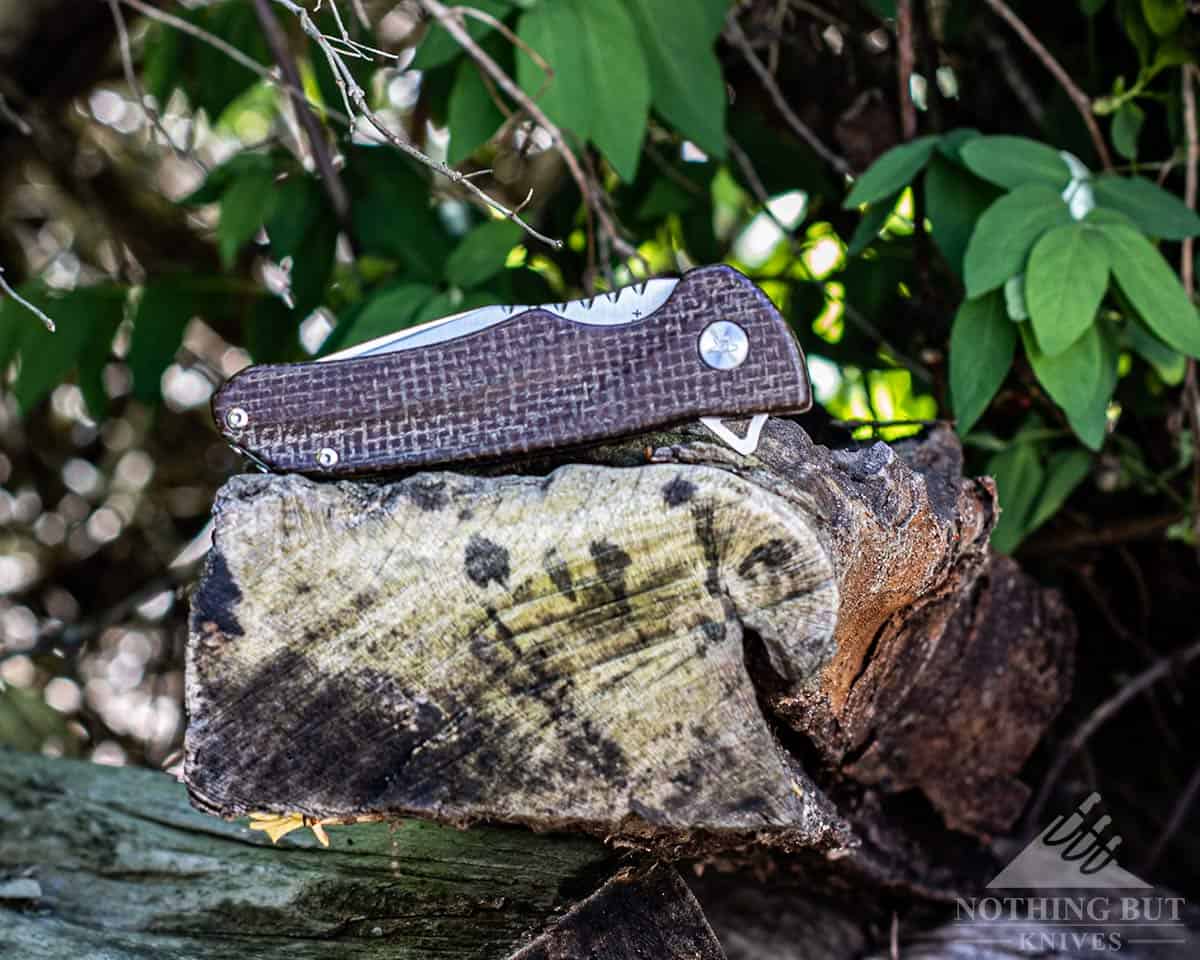 With the blade in the closed position, the side profile of the Buck Sprint Pro is downright puzzling. The handle has a recess that would be perfect for a thumb-stud (but there isn't one), while the blade's spine dips in to create some purchase for a thumb when it's open. Those two curves don't line up. Like, not at all. Not in any way that makes sense to me, at least.
Oh, and there's another small, well-designed thumb recess on the spine of the handle. Do you understand my confusion?
The recess in the handle is about an inch wide, and it's perfect for an index finger. The recess in the blade, on the other hand, is 1.25" long. They aren't even close to centered around each other. Unfortunately, those lines make it look like a Buck Frankenstein made from spare parts.
How do you fix it, you ask? The handle is perfect as is. Do away with the recess in the spine. It's unnecessary and off-putting.
Just my $.02.
That's a lot of jimping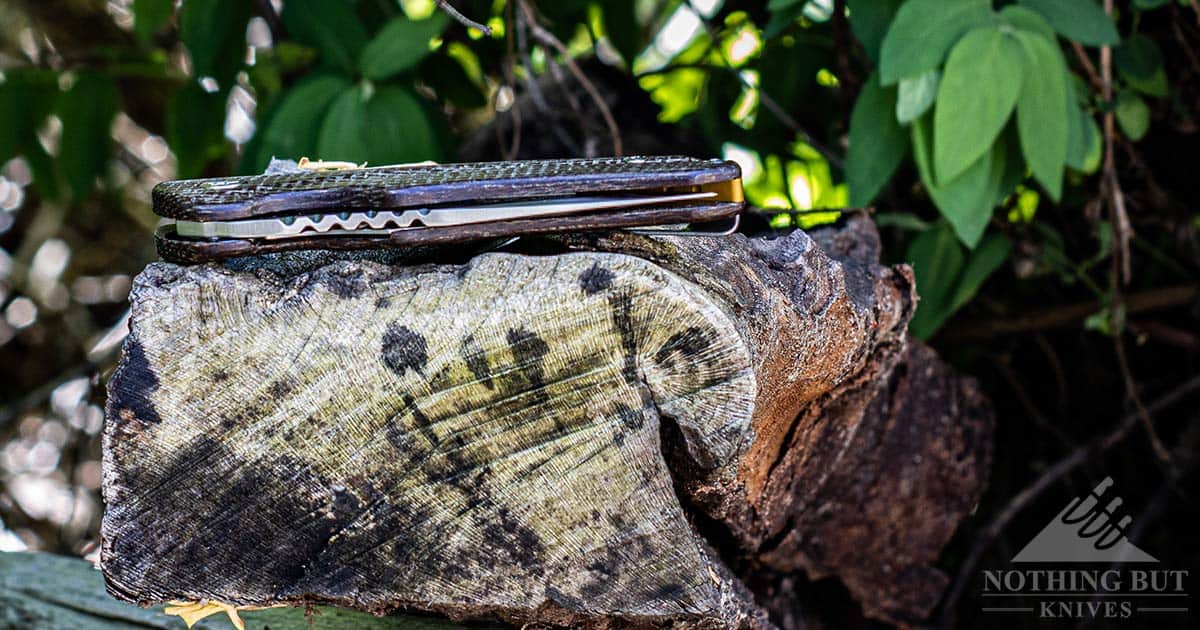 I'll keep this short and simple: I don't love jimping. I know it's a good thing and maybe even necessary for an EDC knife, but I don't want it to be over the top.
The Sprint Pro's jimping is over the top. It's smooth and well done, but it's also another confusing design in the side profile of the knife. A few horizontal grooves is all it takes; this file work is a bit much.
It doesn't photograph well
Okay, this might not be an issue for you, but I photograph a lot of EDC items for my Instagram page: this knife is not photogenic, and it's the biggest issue I have with the Buck Sprint Pro.
Between the confusing lines, aggressive jimping, and somewhat ho-hum nature of burlap Micarta, it doesn't exactly lend itself well to the lens. Somehow, the Buck Sprint Pro with burlap Micarta is both busy and boring at the same time.
That makes it really hard to express how much I enjoy this knife through pics on the internet. And we all know if there's aren't pics, it didn't happen.
So, what's it good for?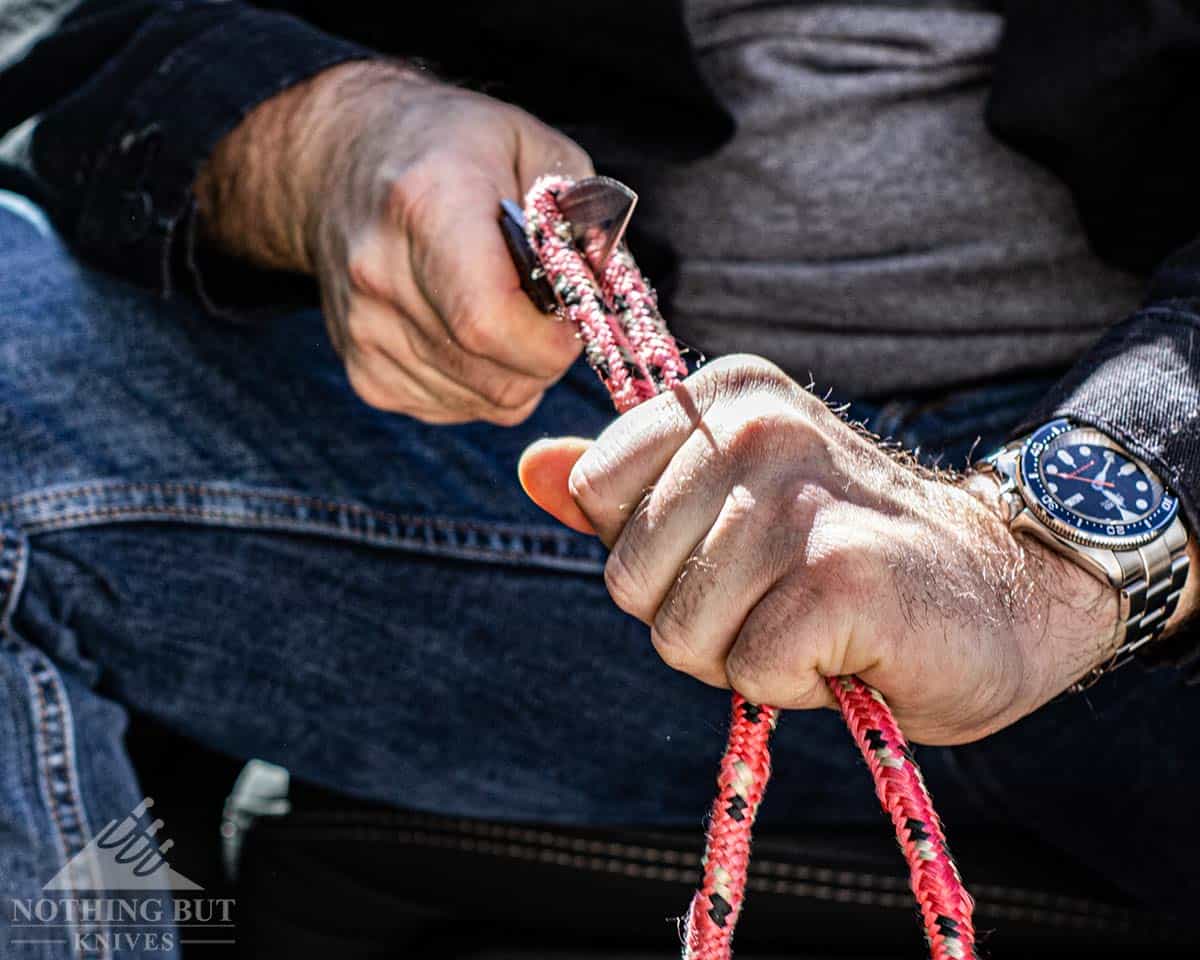 Okay, we know this knife is rugged, capable, and smooth as butter to flick open. But, we also know it's a little confusing or unappealing to look at. And, we can't forget its $100 price point. With all these points to consider, it begs the question: What is the Buck Sprint Pro good for?
I think this a fine EDC knife for any guy who's more about function than fashion. If you can get past its looks, it's an absolutely fantastic knife in hand. It's tough, sharp as hell, and seriously overbuilt. It'll handle anything you can throw at it throughout your day. Plus, if you bore easily, it's great for fidgeting.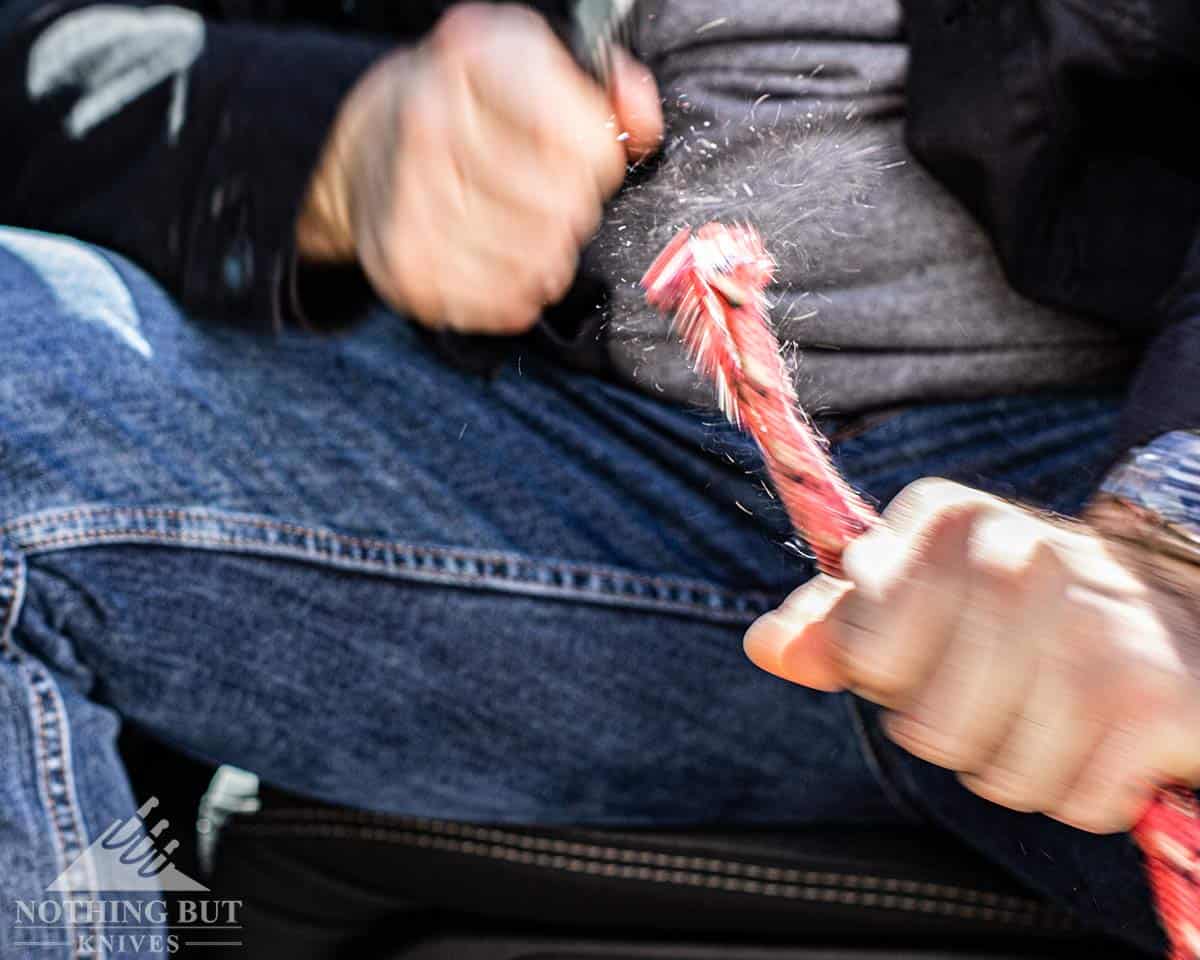 In my personal lineup, I have other knives that I'd prefer for EDC. But I think as far as a companion to take on hiking or camping adventures, it's a perfect fit.
That was a job reserved for my Kershaw Brawler, which cost less than half of the Sprint Pro, but I prefer the Buck's drop point blade to the Kershaw's tanto. Plus, the size-to-weight ratio is much better; the Kershaw weighs .6 ounces more while being just a hair shorter in blade length and almost .5" shorter in overall length. The only benefit of the Brawler is the multi-positional pocket clip.
Conclusion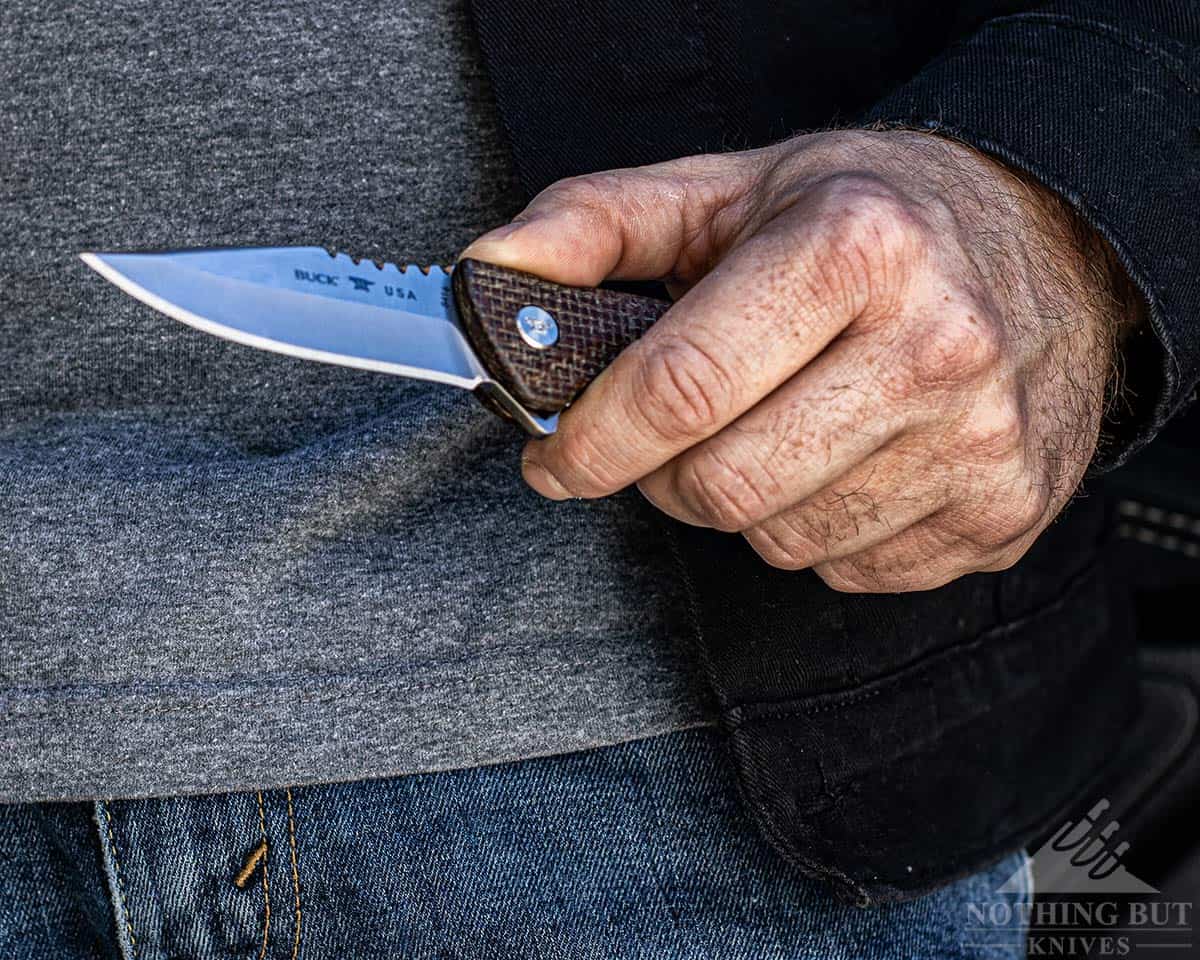 When you write a review, you're supposed to be able to tell the reader whether or not the object in question will solve their needs or be worth their money. I'm torn with the Buck Sprint Pro. I enjoy it for some very specific reasons, but I'm just not sure it ticks all the boxes it should for its price.
I've made a pretty big deal about its looks, but even now, as I gaze upon its confusing curves beside my keyboard, I wonder what the hell happened. I suppose the phrase "A face only a mother could love" sums it up the best.
I would submit that based on utility alone, it's an excellent knife worth the $100 price tag. If Buck designs another version with a more attractive or at least proportionate spine, it would be an absolute knock-out. It's a nice addition to an EDC lineup, but it's probably not a one-knife collection. You'll definitely want to offset it with something classy.
Oh, and send a reversible pocket clip, will ya?
Editor's Note – This is Tom's first article for us here at Nothing But Knives, and we are supper stoked to have him on board. He is an excellent writer and photographer. He runs The Graying Area which is one of my favorite sites. I highly recommend checking it out.