A Great Looking Pocket Knife That Is Surprisingly Capable
I like big knives. You can chalk that fact up to overcompensation, insecurity, or maybe even practical application. I spend a lot of time in the woods, and big knives tend to get stuff done better than small knives.
In general I avoid gentleman's folder style knives. So my first inclination when Forsetti Steel contacted me about doing a review of this knife was to politely decline. After spending some time on their site and discovering some interesting camping / outdoor work type knives, I thought about explaining that I was more qualified to review something less gentlemanly. But the Lightoller was just so cute and unique that I changed my mind and used the excuse of branching out a bit as the reason I said yes. (Editor's Note: I swear to God, he had his pinkies up the whole time he used this knife).
Forseti Steel is a fairly new company that imports what appear to be high quality, handmade knives from Pakistan. The nice folks at Forseti have their own quality assurance system in place, and they design many of the more interesting knives in their catalog.
As I mentioned above, Forseti Steel did send me this knife free of charge. We are pretty critical of knives here at NBK regardless of whether we bought them or received them from the company, which is why we usually have to buy them.
Still I just want to make that clear in the interest of transparency. I am certainly not above selling out especially when I am drunk which is most of the time, but it takes slightly more than a good looking pocket folder to affect my opinion. Not much more though. (Editor's Note: Whiskey. It takes whiskey to affect his opinion).
Specifications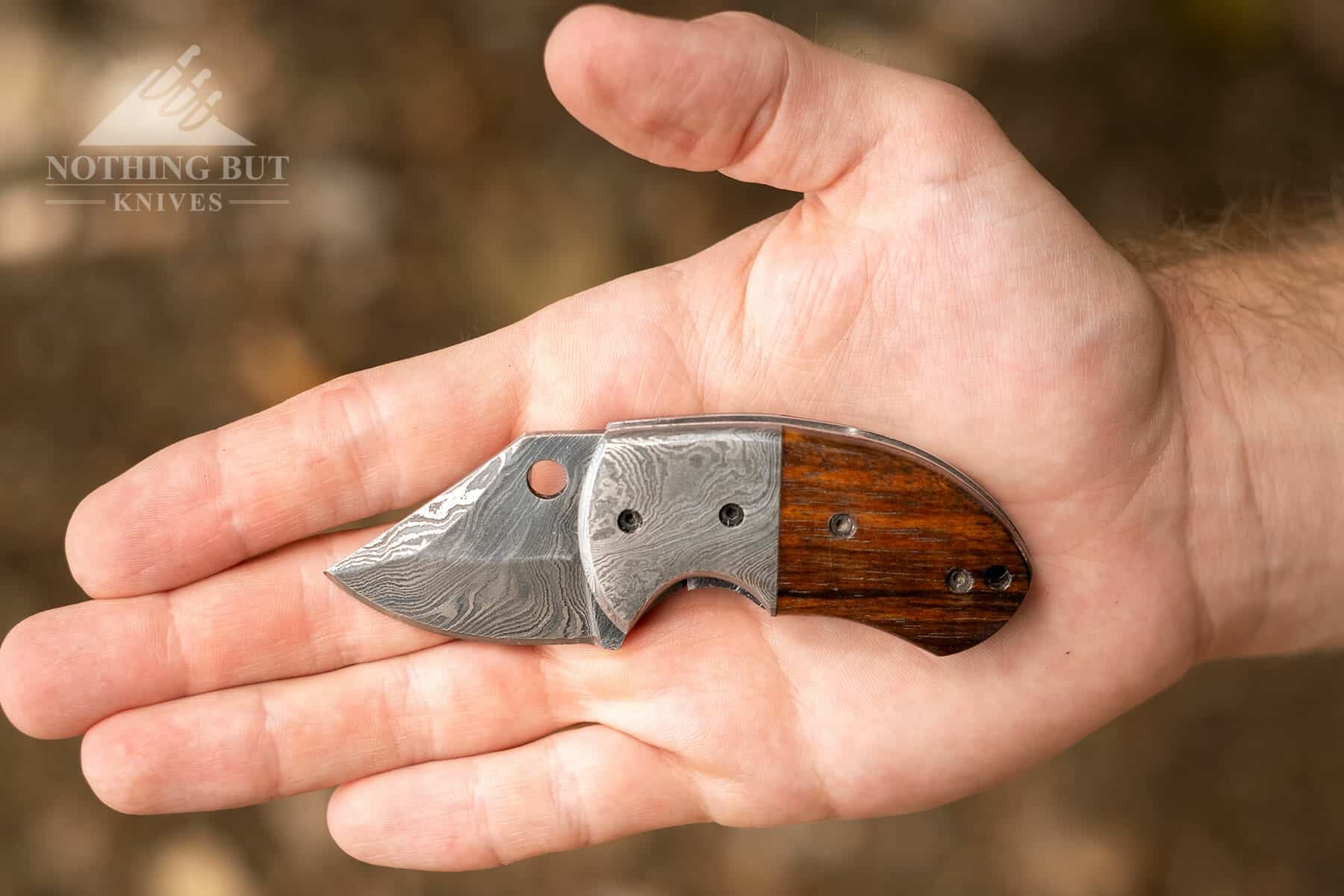 | | |
| --- | --- |
| Overall Length: | 4.4″ |
| Blade Length: | 1.9″ |
| Blade Thickness: | 3.3 mm |
| Handle Length: | 2.5″ |
| Blade Steel: | 1095 layered with 15n20 |
| Damascus Pattern: | Twist |
| Blade Grind: | Hollow |
| Blade Style: | Drop point |
| Handle Material: | Rosewood w/ Damascus bolster |
| Knife Weight: | 4.9 oz |
| Sheath: | Leather |
| Made in: | Pakistan |
| Price Range: | $75 – 98 |
Pros
Decent steel with a good factory edge
Good edge retention
Comfortable handle
Lifetime Warranty
Forsetti Steel has great customer service
Cons
One-handed opening is a little difficult
Liner is not flush with the handle
Blade Functionality and Edge Retention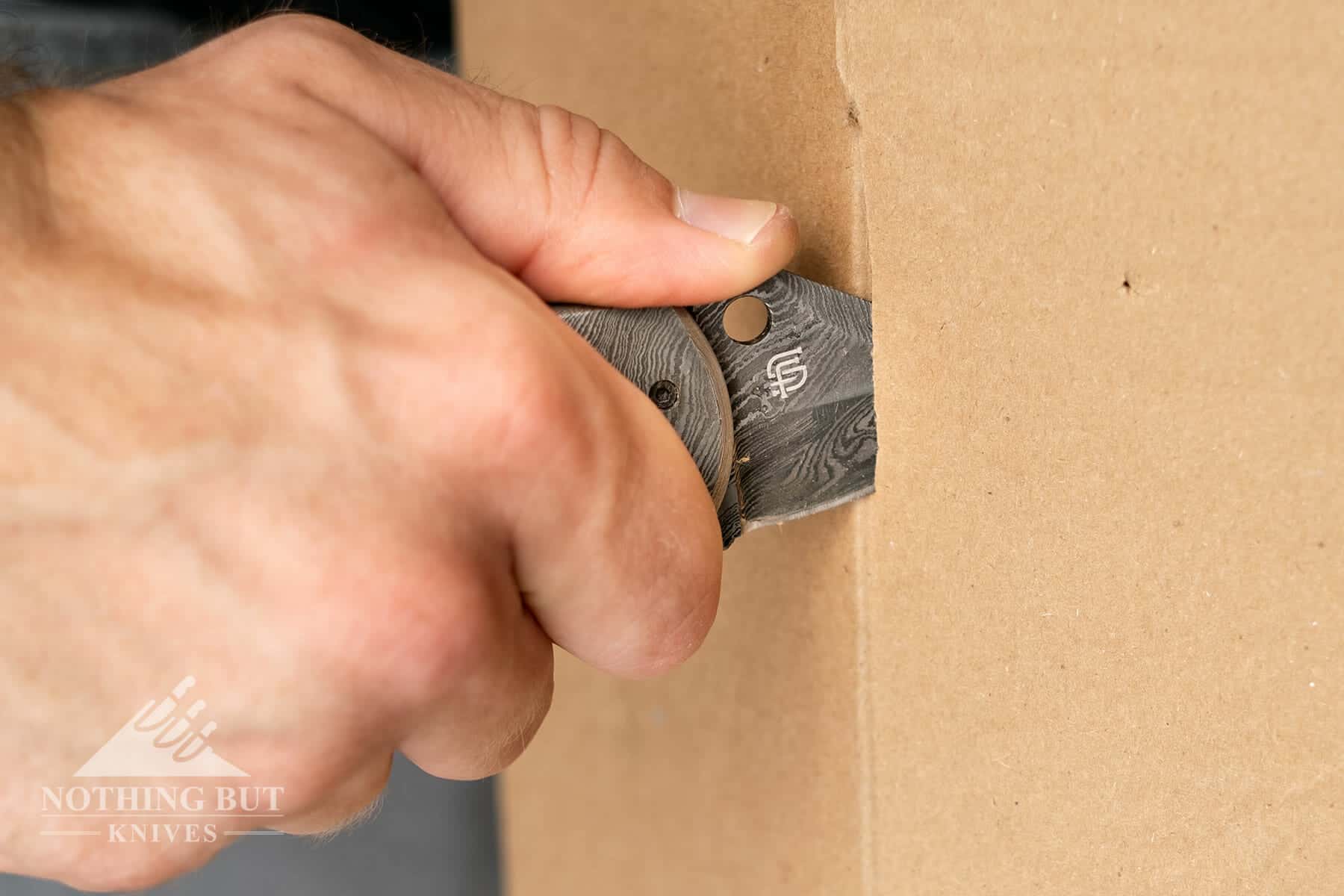 Like most short bladed knives, the Lightoller is somewhat difficult to open one handed. It becomes easier with practice, but here is certainly more of a learning curve with the Lightoller than there would be with a trendy new flipper from Kershaw or CRKT. Once the Lightoller is open, though, it is a pretty capable knife.
I started testing it by attacking a stack of cardboard boxes in my garage that needed to be broken down for recycling. I just started slicing the boxes into little pieces, stopping occasionally for a paper test. The knife never failed to easily slice through the paper even after the boxes were all in pieces.
Since the Lightoller passed my first test I decided to make it my EDC for a few weeks.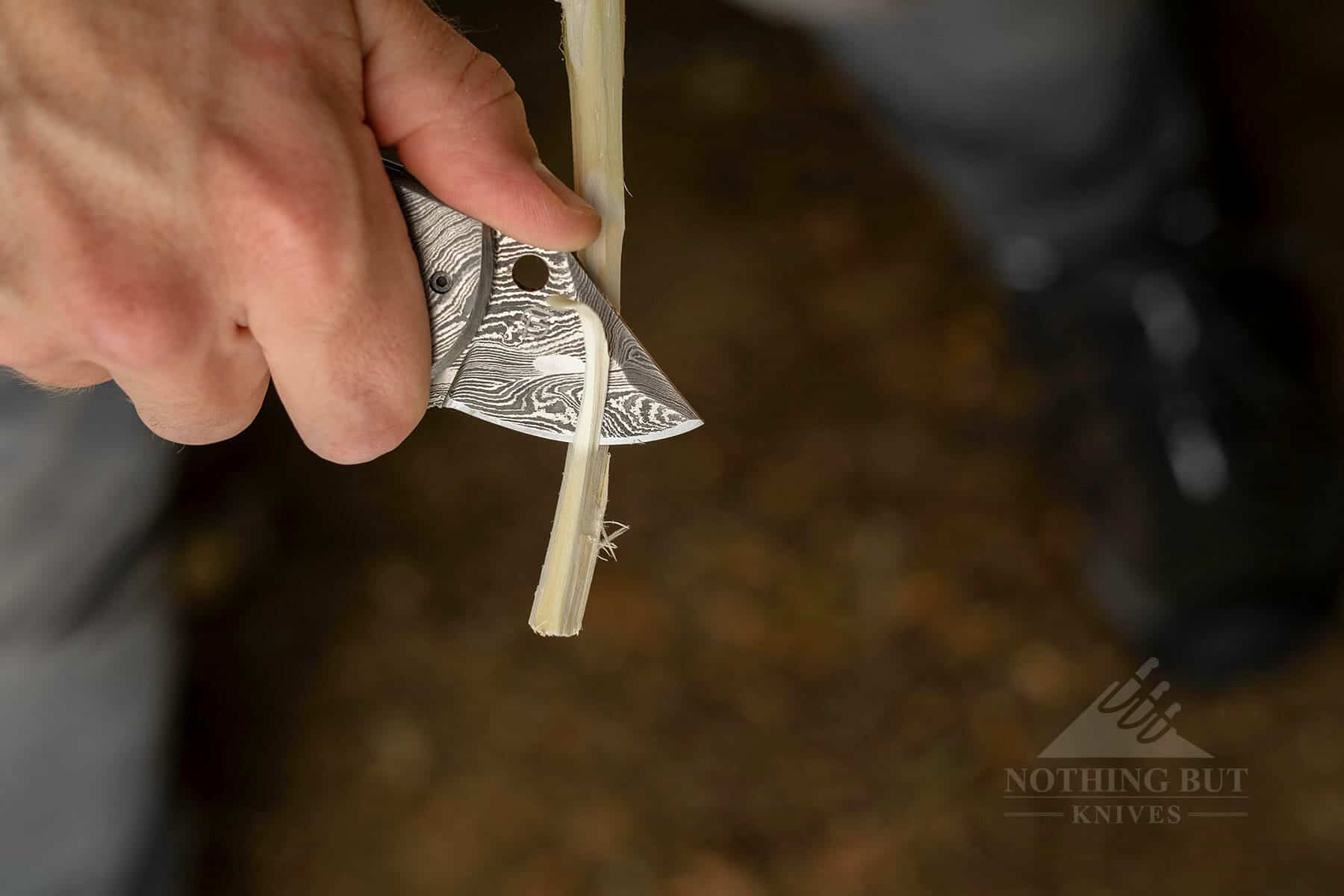 My experience with Pakistan-made Damascus steel knives prior to the Lightoller has been pretty limited and mostly negative. However my previous experience was with much more budget friendly knives. Forseti Steel is not a budget brand, and the quality difference is notable. The blade design of the Lightholler is pretty practical. The beveled spine makes stabbing boxes or whatever else a little easier, but it is still wide enough to rest your thumb or index finger on for better control. At 3.3 mm, the blade is pretty thick, so if you are thinking of buying this to replace a utility knife be aware that the slices from this knife will be wider.
The combination of 1095 and 15n20 steel layered 256 times resulted in a tough blade that holds it's edge really well. I am a fan of both of those steels, but they both have high carbon content, so this blade will require a bit more care and maintenance than a stainless steel knife. If you decide to buy this knife I would recommend picking up some knife oil as well to help prevent oxidation. To their credit, Forseti, included a "care and maintenance" card that leaves instructions for keeping the blade in great shape.
Overall the blade performance was a pleasant surprise. It handled everything I threw at it, and kept a good edge. It held up to my abuse really well, but I am only a few weeks in. I will update this post if I encounter any problems down the road. When opened there was no blade play and the blade was centered, which was a nice change from the CRKT Two Stage Compact I reviewed a little while back. However that is to be expected from a knife at the Lightoller's price point. As I mentioned earlier, this is not a budget knife.
Handle Ergonomics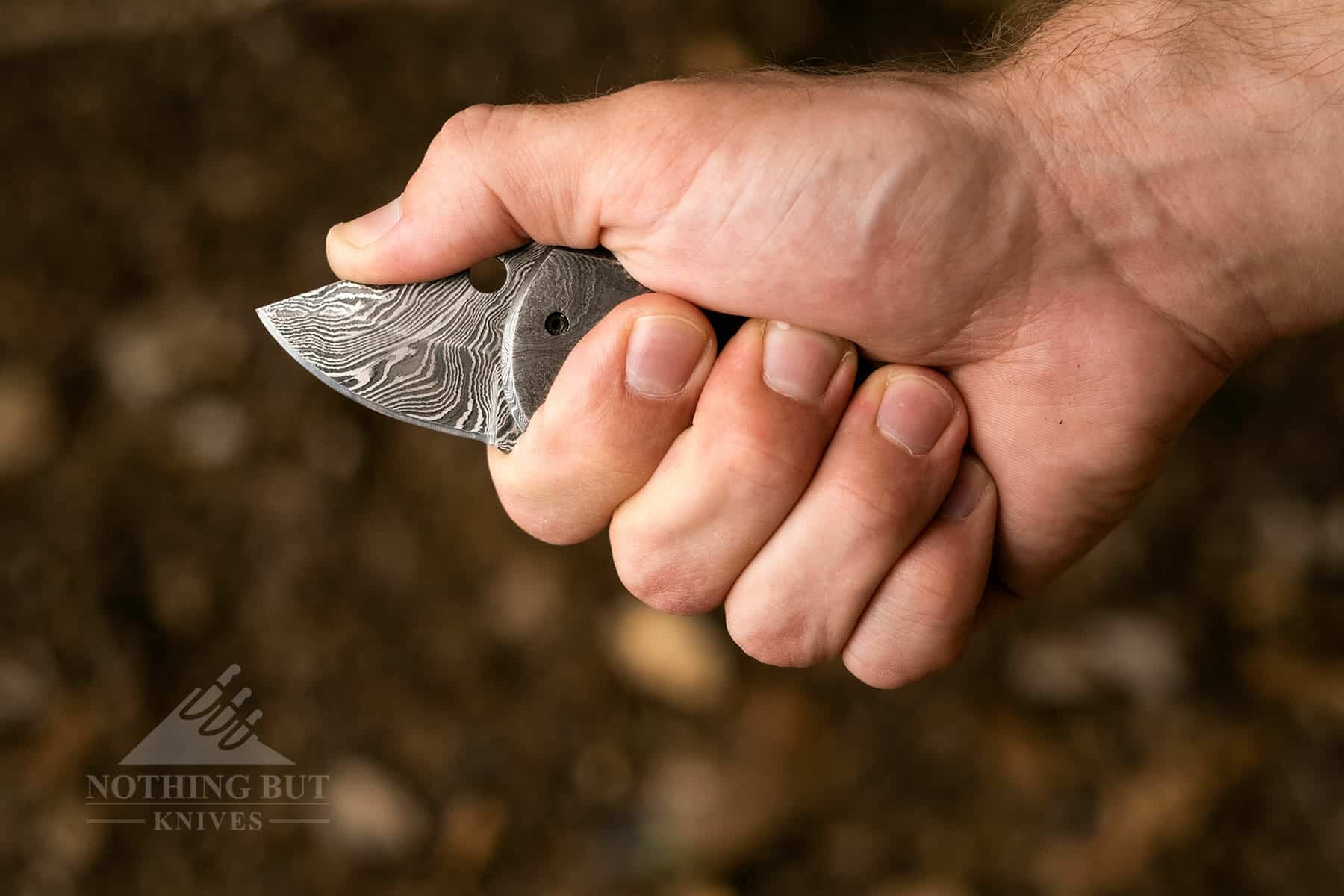 These knives are handmade, so each one is going to be a little different. The knife I received had a liner that was not perfectly flush with the rosewood handle. This did not affect performance or cause discomfort, but it did bother me a little considering the price point.
Other than that, I have no complaints about the handle. The ambidextrous design was comfortable in both hands, and I did not experience any hot spots.  The thickness of the handle helped offset the shortness of the knife from a grip standpoint. The handle is tapered at the end, which is one of several characteristics in this knife that show it was designed by someone who knows what they are doing.
At first glance I thought the liner lock looked a little thin even for a small knife. However, when I compared it to my Buck Alpha Hunter liner lock I noticed that it was about the same size, and the Alpha Hunter liner lock has never failed me even after years of fairly hard use. Regardless of thickness, the liner lock of the Lightoller certainly is safer than than the total lack of a lock offered by the friction folders that are this knife's main competitors.
From an aesthetics standpoint, the rosewood handle and Damascus steel bolster set this knife apart from the competition. Even at its $75 – $98 price point you would be hard pressed to find a cooler looking small folding knife. This is the sentence that will result in mean spirited emails from Case fanboys. Let me stop you guys right there. For what you are spending on your crack-like Case habit in a month, you could spare a few bucks on this knife in an attempt to prove me wrong. I say that as a Case fan boy.
Sheath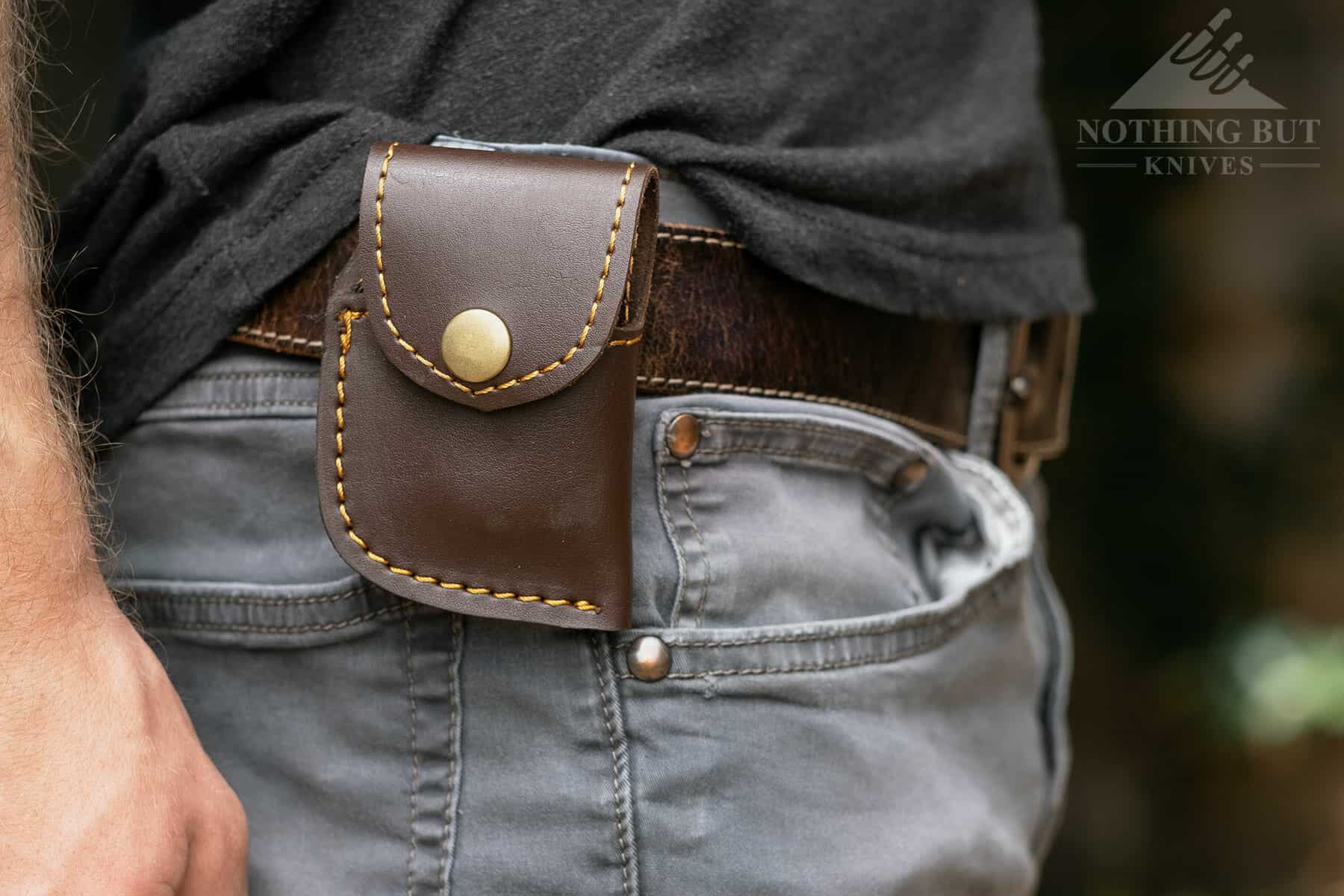 The Lightoller ships with a genuine leather sheath smells nice and looks good. It is fairly small because the knife it was designed to carry is small, which is nice if you don't like of big sheaths smacking against your leg.
The sheath was easy to open and close with one hand, and it feels pretty durable especially for a gentleman's folder style knife. The sheath is certainly not on the same level as the leather tanks that ship with Condor knives, but those things are designed for the jungle. I didn't actually use the sheath much, because the knife was small enough that it fit in my pocket really well, but when I take the Lightoller camping or fishing I won't hesitate to use the sheath.
Conclusion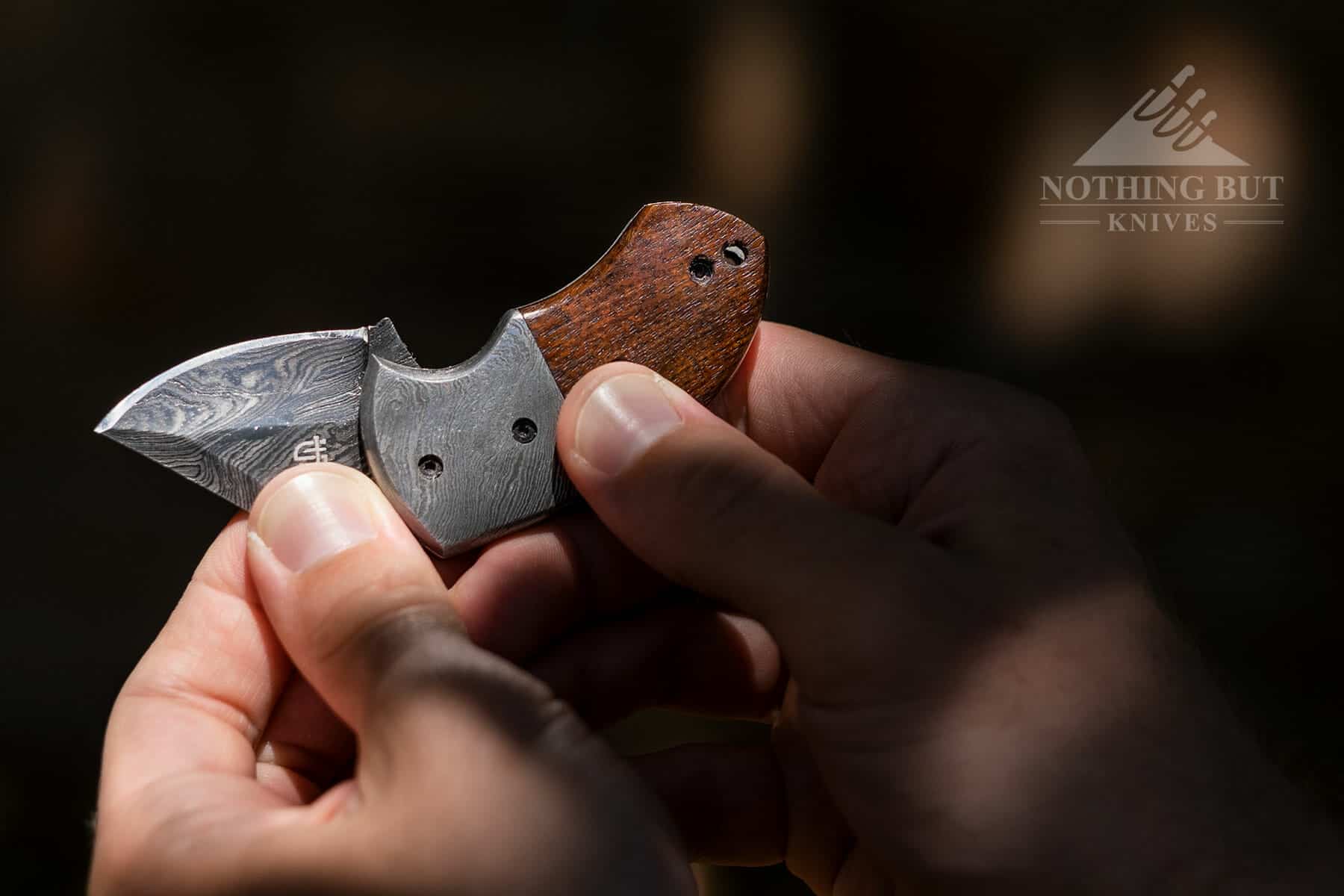 The Forseti Steel Lightoller is a unique and relatively small gentleman's folder that will never draw the sort of negative attention a large modern-looking tactical knife might.
Its diminutive size and artistic trappings make it a small work of art. But it is also a pretty capable slicer. Its edge retention, handle ergonomics, and overall good looks make it a serious consideration from both a utilitarian and aesthetic point of view. Whether or not it is worth its current price tag is for sure subjective. I am personally stoked to have it in my collection, but not just because it is unique and kinda cool looking. It is capable of actual work. While it certainly will not replace my Cold Steel 4Max Scout as my go-to hard use knife, it will certainly become my in-pocket gentleman's folder that can get crap done.
Currently, Forseti Steel only sells their knives on Amazon, The Clymb and the Forseti Steel website. Make sure you check all the sites before pulling the trigger to ensure you get the best deal.