The Collaboration Between Ruger and CRKT Resulted in a Surprisingly Practical Folding Knife
At first glance the Ruger CRKT Two Stage Compact may look like a pocket knife created for the type of guy who carries a tactical backpack to the mall where he berates the sales people at clothing stores for the lack of tactical underwear in their store's inventory. You know, that dude who drives a brand new lifted 4×4 that's never been off-road, and owns around 50 guns that almost never leave the house. But he sure does know a lot about those guns, and every knife he owns is called "tactical" in the product description at least three times. Yea, the Ruger CRKT Two Stage Compact looks like that guy's dream knife. Fortunately for the rest of us, this heavy-duty pocket folder is actually a practical working man's knife.
I don't know much about Robert Carter other than that he is the talented dude responsible for designing this knife and the Arizona F16, but I am a fan. He managed to design a great looking tactical knife that is also a great tool for a variety of heavy-use tasks. A few people will complain about the weight of this knife, but that is a small price to pay for a knife that is tough enough to do some actual work.
The 2-Stage Compact definitely has a few drawbacks that I will cover later in this post, but I think it is a decent buy at its current price point if you like tough, heavy folding knives. Overall I think this collaboration between CRKT and Ruger was a successful one.
Specifications
| | |
| --- | --- |
| Overall Length: | 8.5″ |
| Blade Length: | 3.5″ |
| Handle Length: | 5.0″ |
| Weight: | 6.6 oz |
| Handle Material: | Anodized aluminum and stainless steel |
| Blade Style: | Tanto |
| Blade Steel: | 8Cr13MoV |
| Blade Thickness: | 4.44 mm |
| Blade Grind: | Hollow |
| Made in: | China |
| Locking Mechanism: | Frame |
| Designer: | Robert Carter |
| Opening System: | Flipper |
Pros
4 Position Clip
Great value
Durable
It has a very dependable frame lock
Striker Pommel (If you like that sort of thing)
Lanyard hole
Cons
No Thumb Stud
Heavy
Blade becomes a bit off center after heavy use
Build Quality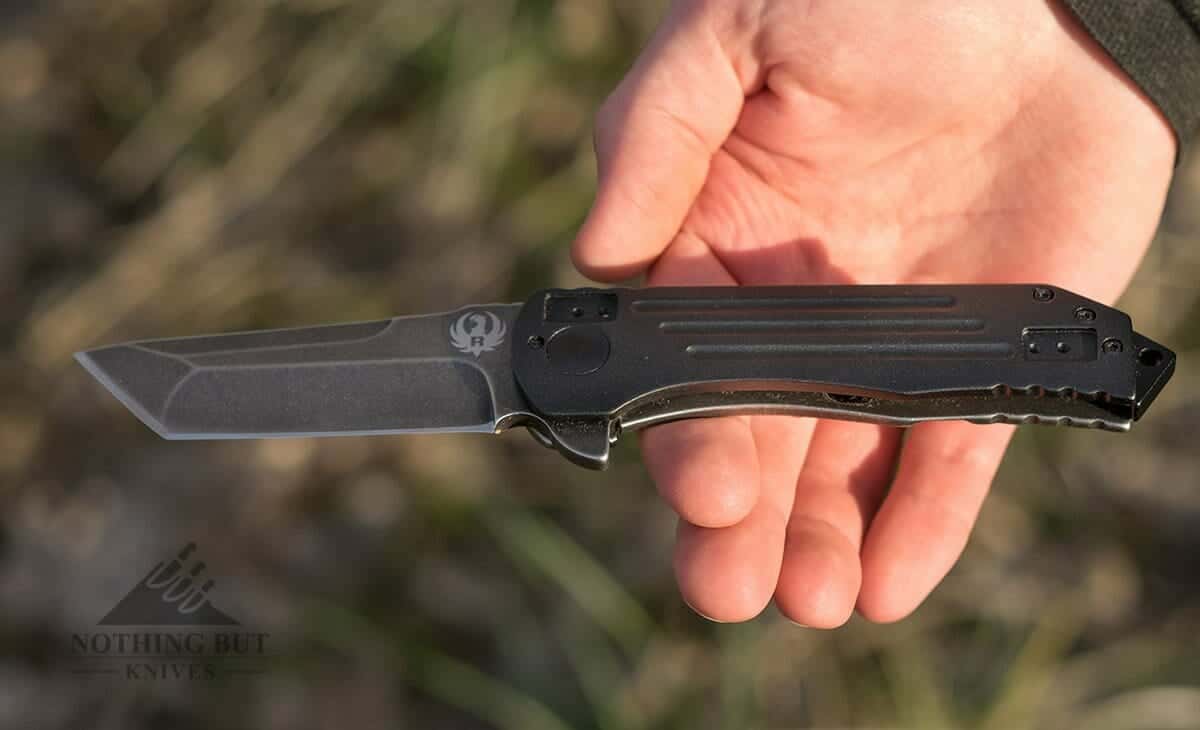 At 6.6 oz, the Ruger CRKT 2-Stage Compact is heavy by modern folding knife standards. However, this knife is designed so well that it makes good use of every bit of that weight. It has been a while since I used an EDC folder that weighed as much as the 2-Stage Compact, and I was surprised to find that I was not bothered by the weight at all (Editor's note: it's because he's always lugging this damn thing around).
In fact, when it came to performing certain tasks (like chopping), I found the weight to be beneficial and a little comforting. Obviously the weight would be inexcusable if this knife was not one of the toughest budget EDC pocket knives on the market, but after a few weeks of relatively rigorous testing I feel confident in saying that that the 2-Stage Compact is an ideal knife for someone looking for a budget folder that can withstand actual use and even a little abuse.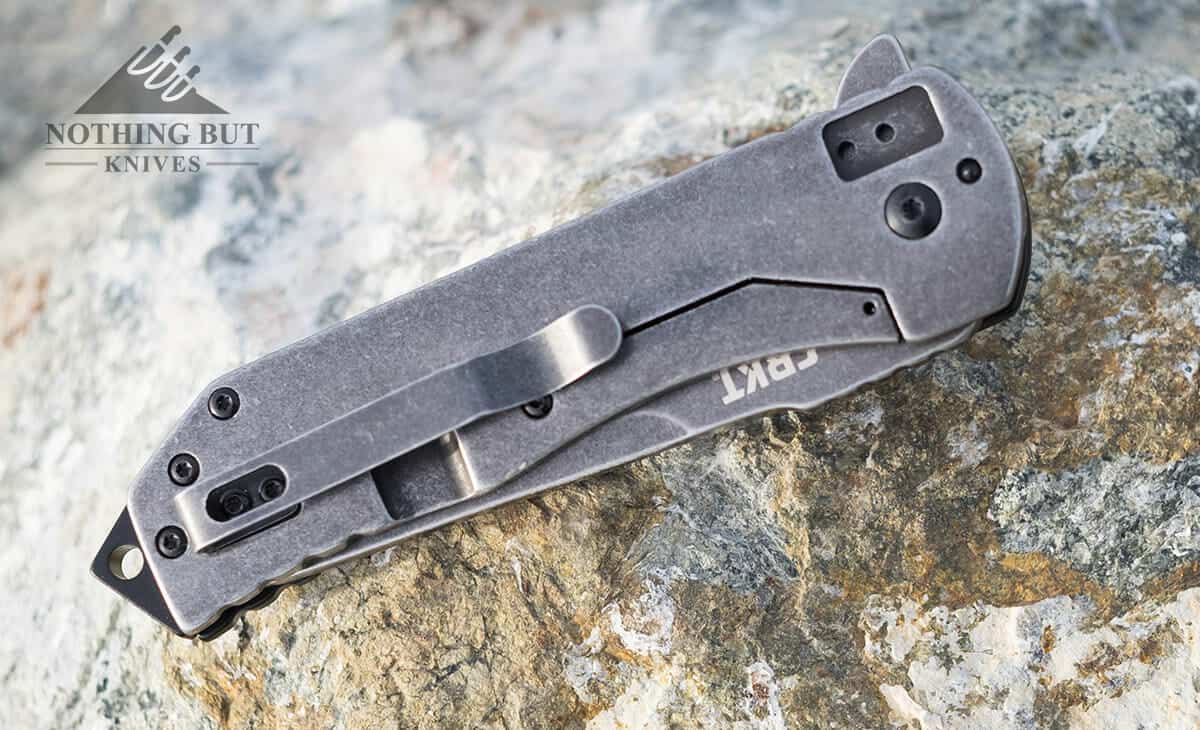 My favorite side of the Ruger CRKT 2-Stage Compact is the stainless steel side, which has a stonewashed finish to match the stonewashed blade. Both sides of the handle are made of wide chunks of metal. I'm pretty sure the designer was doing everything he could do to ensure this knife was never accused of being a gentleman's folder. Every part of this folding knife is made of bigger, heavier pieces of steel or aluminum than you generally see on modern folding knives. While this is the reason the 2-Stage Compact weighs in at a tubby 6.6 ounces, it is also the reason it held up to the abuse I have put this knife through over the past few weeks.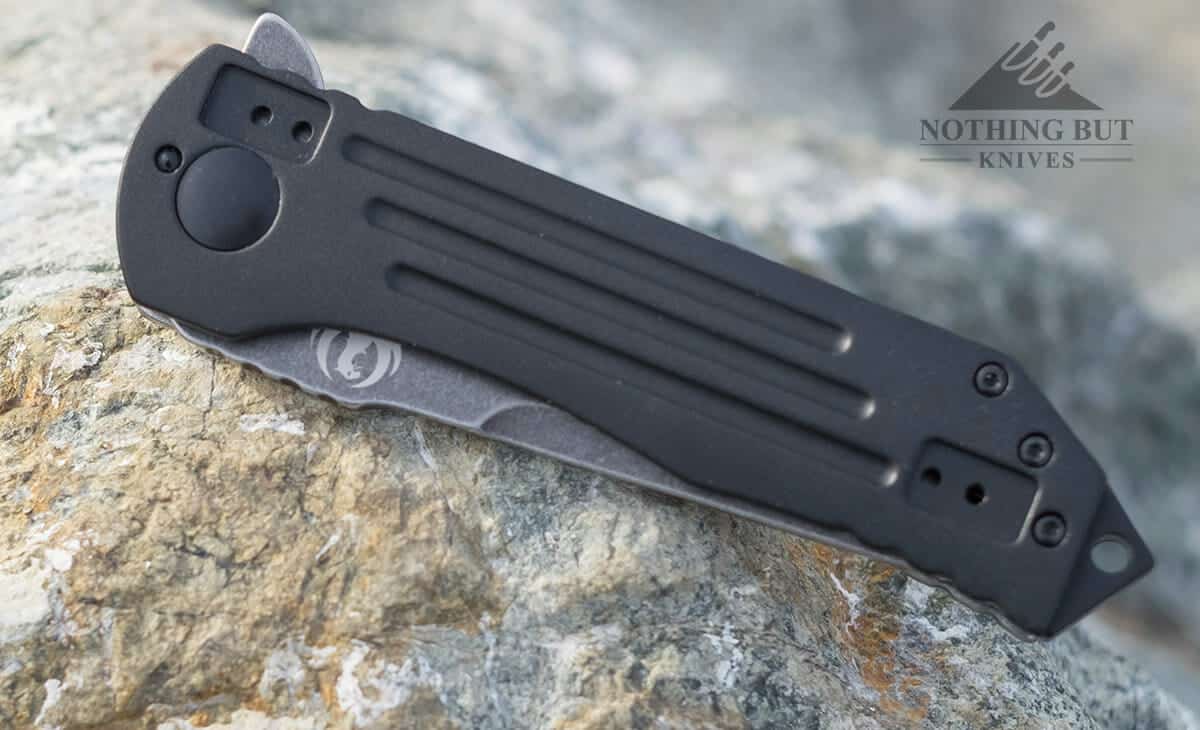 The black side of the 2-Stage Compact handle is made of anodized aluminum. I assume CRKT used aluminum on one side to ensure that the knife weighed in under 7 ounces. I would have preferred the added weight for the sake of overall durability, but the thick slab of machined anodized aluminum they used is really not going to decrease the durability that much. There are a lot of tough knives out there with anodized aluminum handles and almost none of them are as thick as the 2-Stage Compact.
The pommel striker on the 2-Stage Compact seems a little strange for a knife that is marketed as a bad ass tactical knife rather than some type of tactical-rescue hybrid. However, considering the excessive size and weight of this knife, it kinda makes sense. I personally would feel a lot more confident in smashing a window with the pommel striker of the 2-Stage Compact over most of the relatively lightweight rescue knives on the market.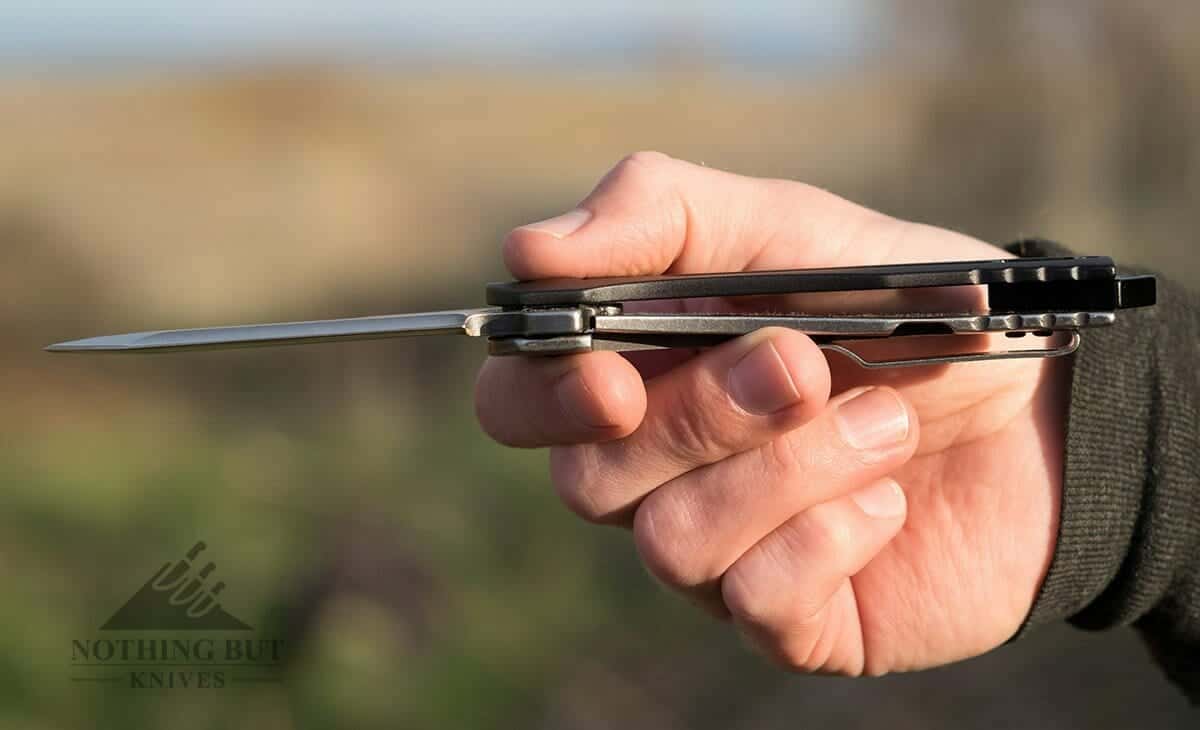 I never feel as confident in frame lock knives as I do in back locks, but the 2-Stage Compact has the thickest frame lock I have ever seen, and I felt far more confident in it than in any other budget frame lock I have used. There is certainly an argument to be made that the thickness of the steel frame lock alone is not enough to make it dependable, but it certainly helps. That thickness does have at least one drawback, though.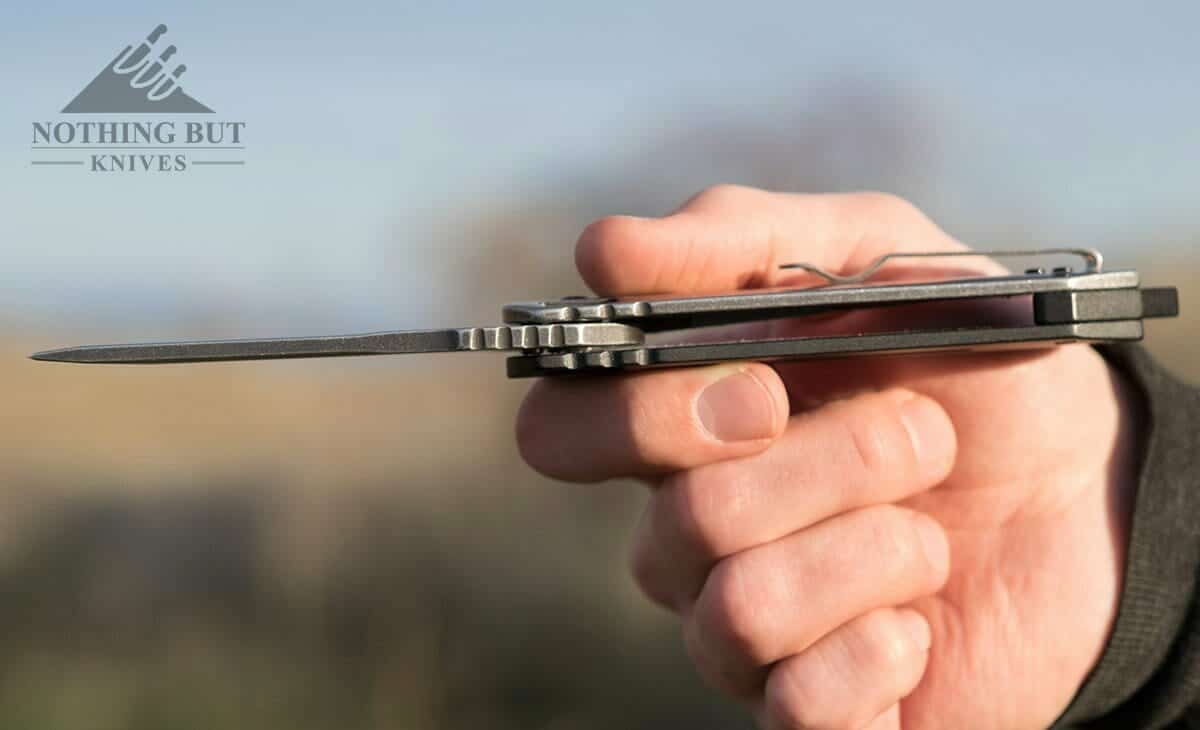 As you can see in the photo above, the blade is off-center and leans a little to the right. This is due to the fact that one of the Teflon washers has become deformed. Replacing the teflon washers with stainless steel washers may temporarily fix the problem, but I suspect that eventually the blade would go off-center again. After reading and watching other reviews on this knife, I discovered that this problem was not unique to just my 2-Stage Compact. It seems like this is a common problem with this knife. I suspect this happens because the thicker-than-average frame lock is putting so much pressure on the butt end of the blade that it pushes it off-center after a few weeks of use.
The off-center blade is not a total deal breaker for me, but it is a bit of a bummer. One of the annoying effects of an off enter blade is that it tends to rub on the side of the liner which causes a wear mark on the blade after extended use. Fortunately, I bought this knife to use primarily as a beater knife when working in the yard or on home improvement projects, so I am not suffering from buyers remorse. However, if I had bought this knife to be my primary EDC I would be disappointed.
Handle Ergonomics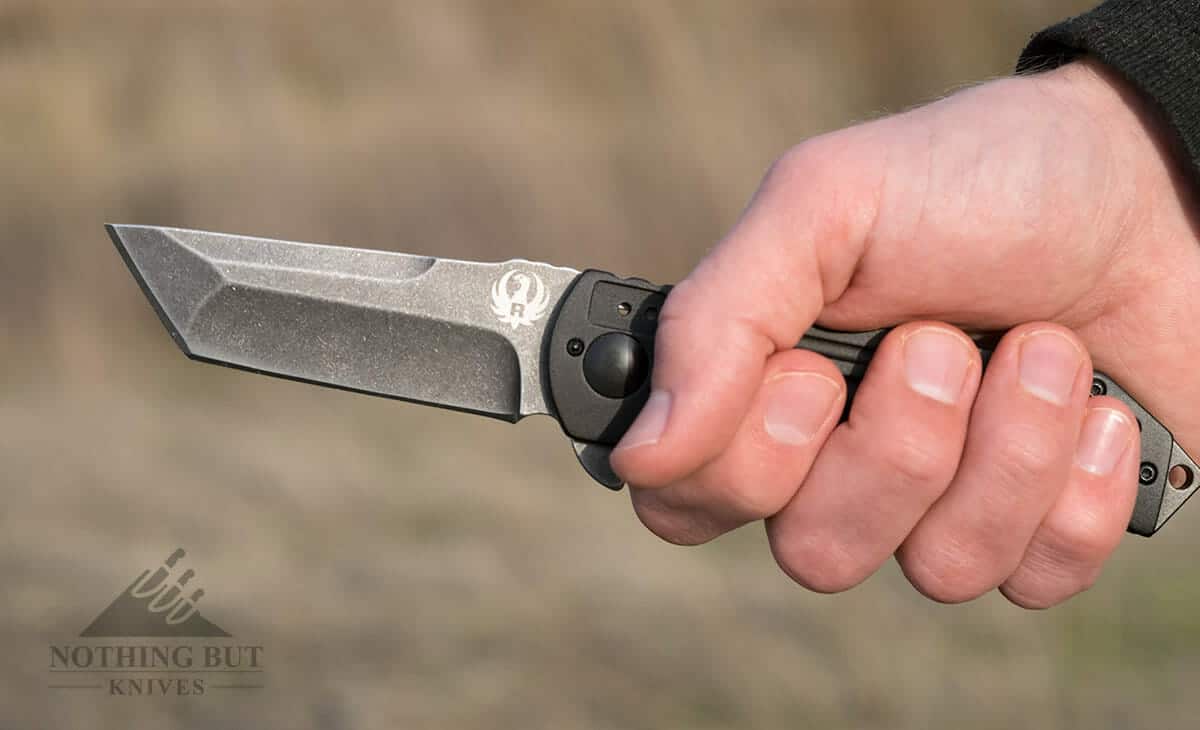 I really like knives with thick handles. I only say that to let you know that I am automatically inclined to like the feel of the 2-Stage Compact handle. If you are the type of person who likes thinner handles I recommend passing on this knife. However if you like big handles that are easy to hold even when you are wearing gloves, this may be the knife for you.
I have two small complaints about the handle of the 2-Stage Compact. The first is that when the frame lock is engaged it creates a slightly sharp edge along the front right side of the handle. The edge can cause some slight discomfort when the handle is gripped tightly. It doesn't cause enough discomfort to make my lazy ass put in the effort to grind it down, but it is noticeable. My second complaint is the bulky pocket clip. The oversized design of the clip certainly fits in with the overall aesthetic of this knife, but it causes some unnecessary discomfort. In spite of these drawbacks the 2-Stage Compact is still easier to grip than the majority of the skinny, sucked-up handles that plague so many modern folding knives.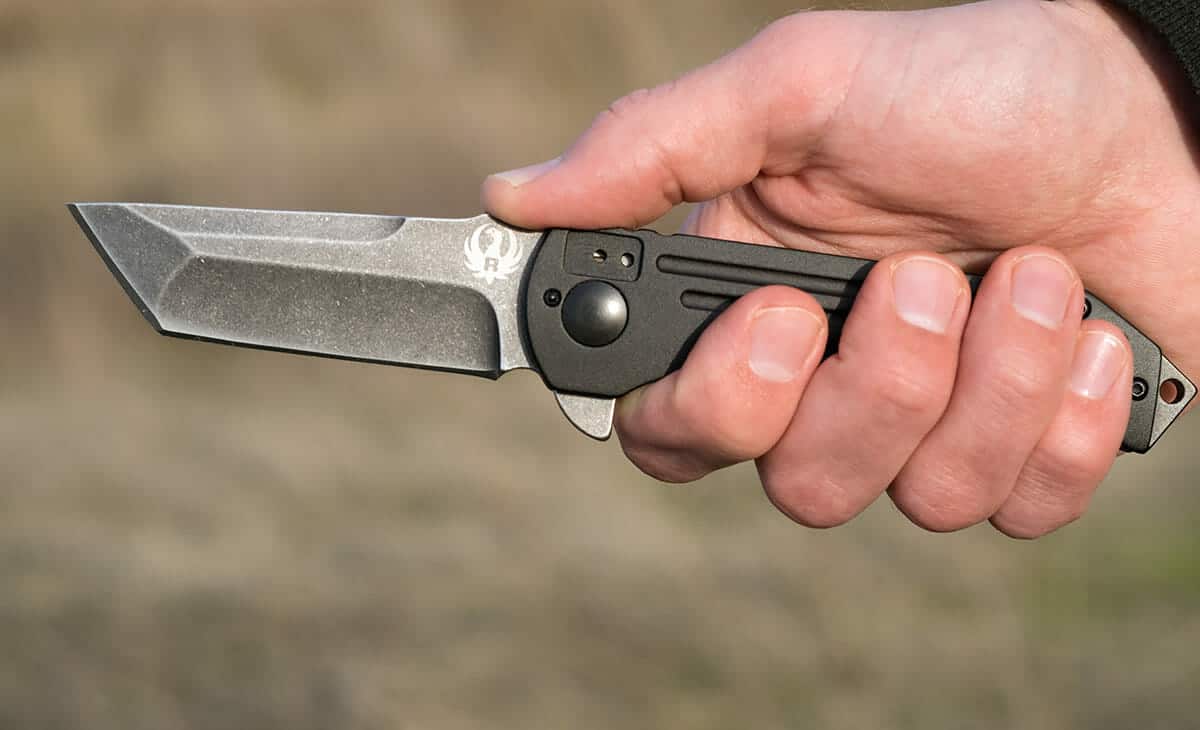 There is jimping on the top of the handle and back of the blade spine that is mostly useless and annoying, but it does look cool. The width of the blade makes it easy to press your thumb against it for greater control if you find yourself having to do some type of carving with this knife. There is not much of a thumb ramp on the 2-Stage Compact which is fine with me, but there is a weird drop off between the jimping and the blade swedge that was slightly annoying when I tried to do some simple carving, but beneficial for the added traction it provided when closing the knife with one hand.
Blade Construction and Deployment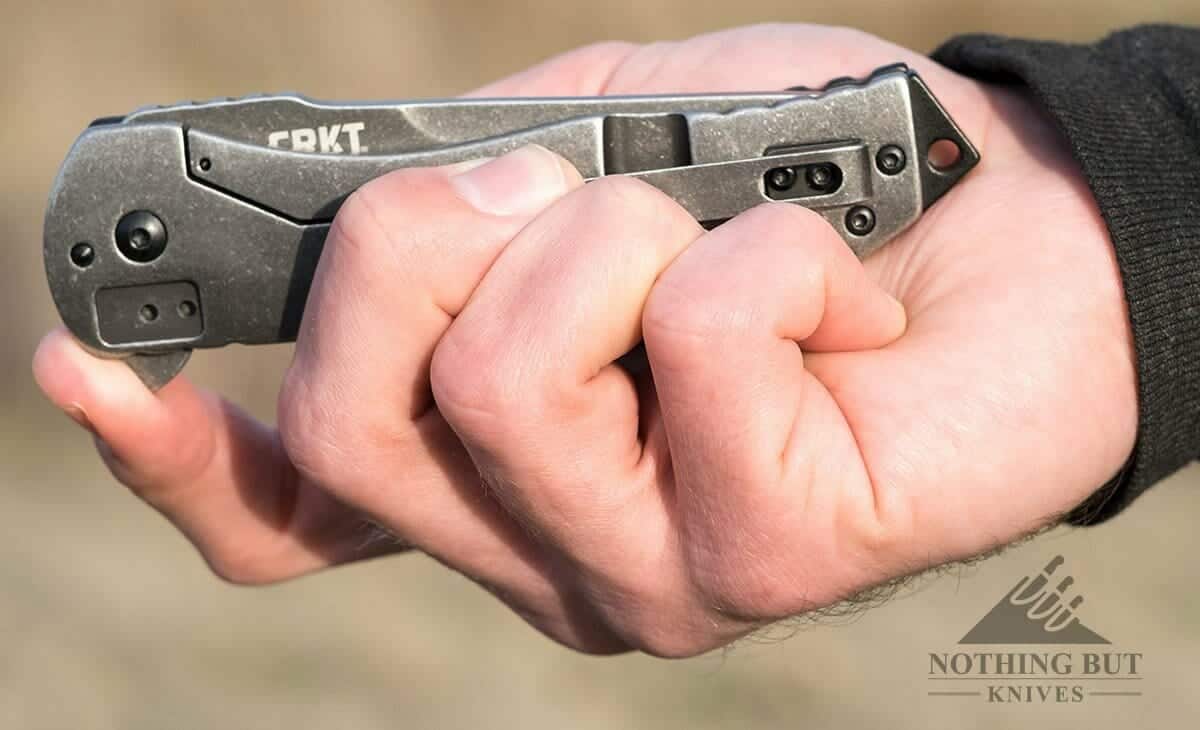 The 2-Stage Compact is not an assisted opening knife. When it is new the action is a little stiff, and the heavy blade requires a little bit of a wrist flick to deploy. However, the resistance goes away after a few days of use, then it is quite easy to flip open the blade with just your finger.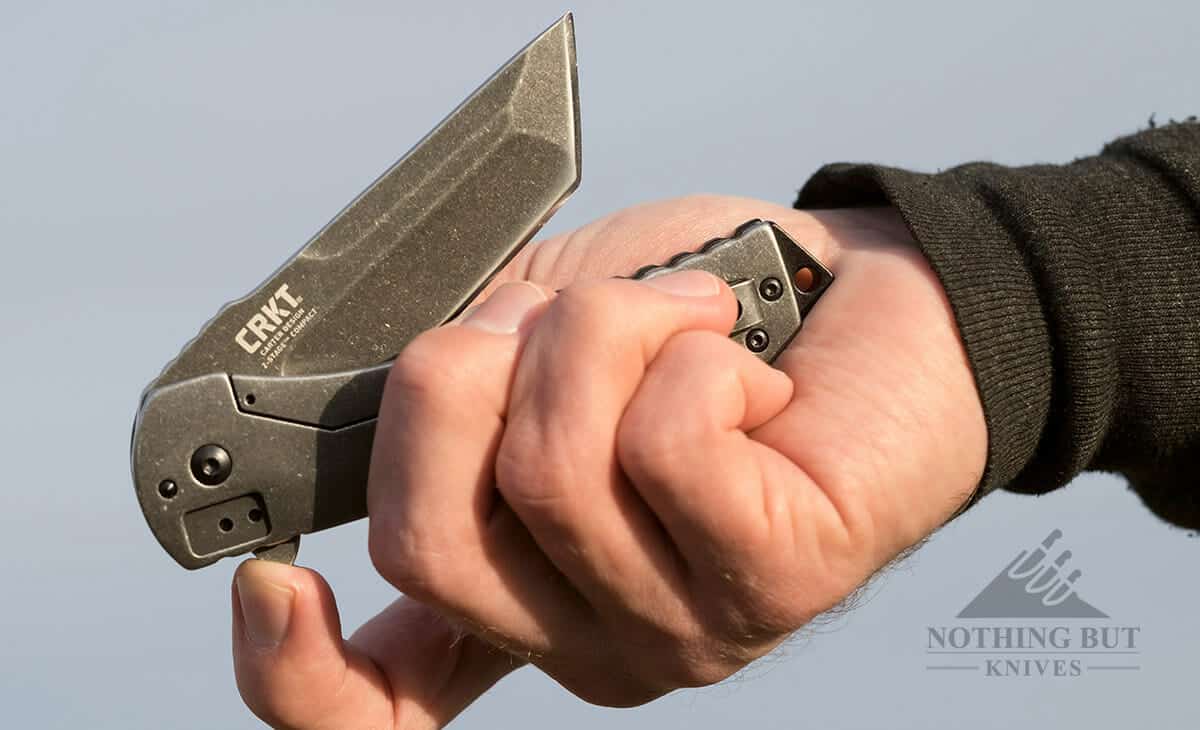 There is no thumb stud on this folding knife which is usually a deal breaker for me, but the flipping action is so smooth that I found I made the adjustment quickly enough and didn't miss the thumb stud. The downside of a thumb stud is that occasionally they can get in the way and catch on stuff, so it was kinda nice in certain situations to not have to worry about that.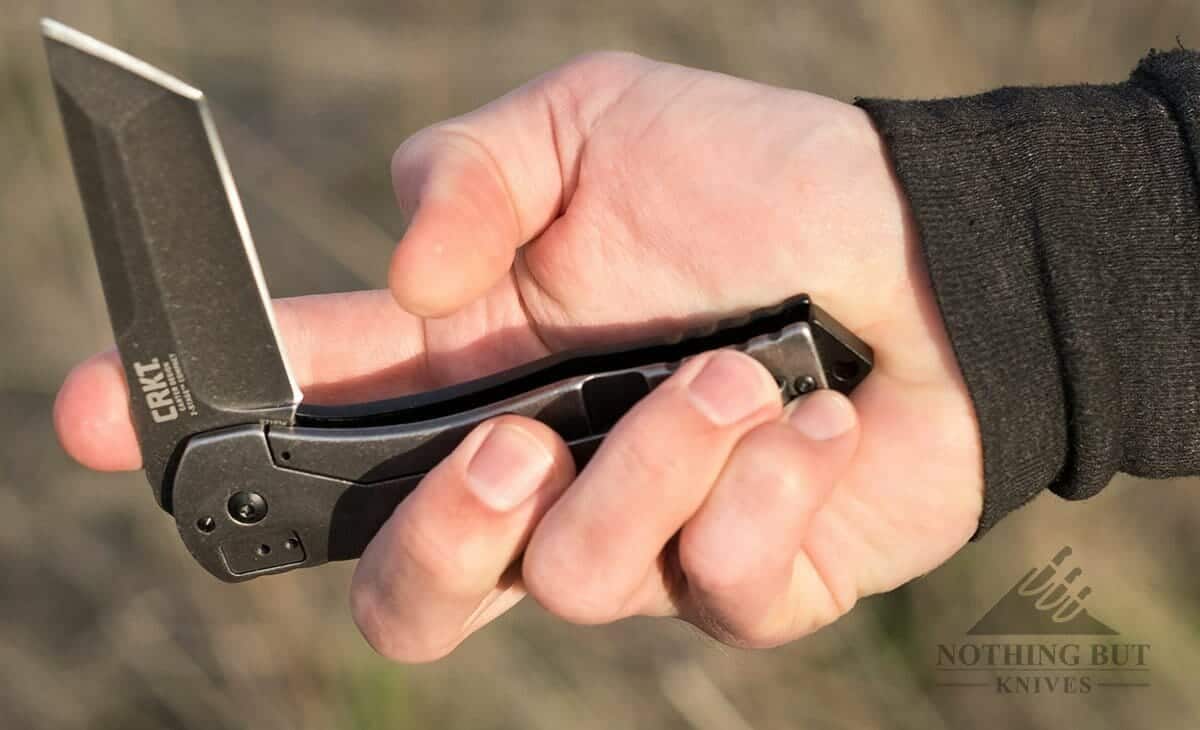 The width of the handle and the frame lock make one-handed closing easier and more comfortable than most other budget frame-lock knives on the market. As I mentioned above, the slight downturn between the spine jimping and the blade swedge also contributes to the ease with which this knife can be closed with one hand.
The blade of the 2-Stage Compact is a western style tanto, which I don't find as useful as a drop point with a rounded belly for the types of tasks I often use EDC knives on. But the Western style tanto blade is great from a strength and durability standpoint, which makes it an excellent choice for tactical applications, especially if you plan to do a lot of stabbing (Editor's note: Just make sure you're wearing the proper tactical underwear before the stabbing). I assume this is why Robert Carter chose the Western style tanto for this knife since it is marketed as a tactical knife. Even though I don't have any aspirations toward ever using the 2-Stage Compact in a tactical situation, I do appreciate having the Western style tanto on this knife because it adds to the overall resiliency and makes it a great working man or woman's beater knife.
The blade of the 2-Stage Compact is made of 8Cr13MoV which is not exactly a high-end steel, but it is serviceable and fairly easy to sharpen. It will not hold its edge as well as S30V or even AUS8, but it does not dull as fast as 7Cr13MoV or 440A steel which is found on a lot of Chinese manufactured knives like the popular Boker Magnum knives.
In The Field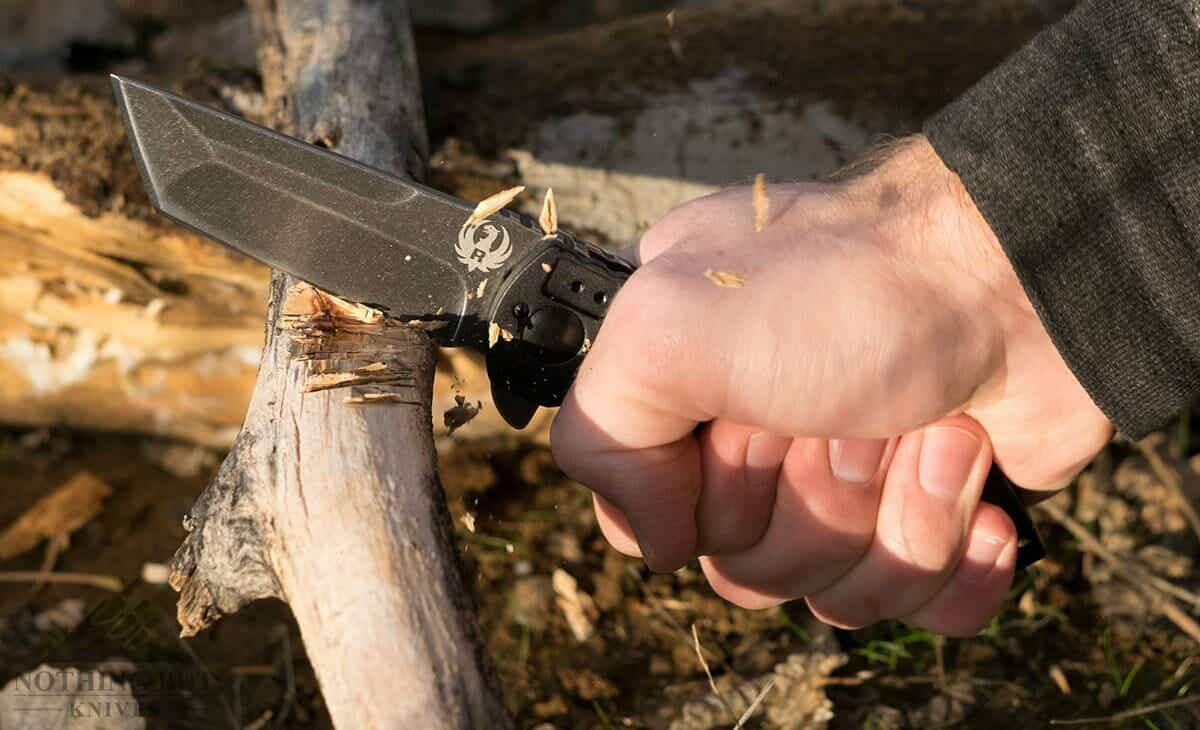 I pushed this knife pretty hard over the three weeks I tested it. I chopped, pried, hammered and even dropped it on cement with the blade out a few times. The resulting damage from this testing gauntlet was relatively minimal. The edge of the blade rolled slightly when it hit the cement, the handle has a few scratches, and the logos on the blade have begun to wear slightly. However it is still very functional. The biggest disappointment is the above mentioned off-center blade, but even with that slight defect this is still the knife I reach for when I have to do any type of manual labor because it is tough as hell and has a bomber frame lock.
After doing a fair amount of chopping, the blade did loosen up just a little, but that was quickly remedied by tightening the pivot screw with a torx driver.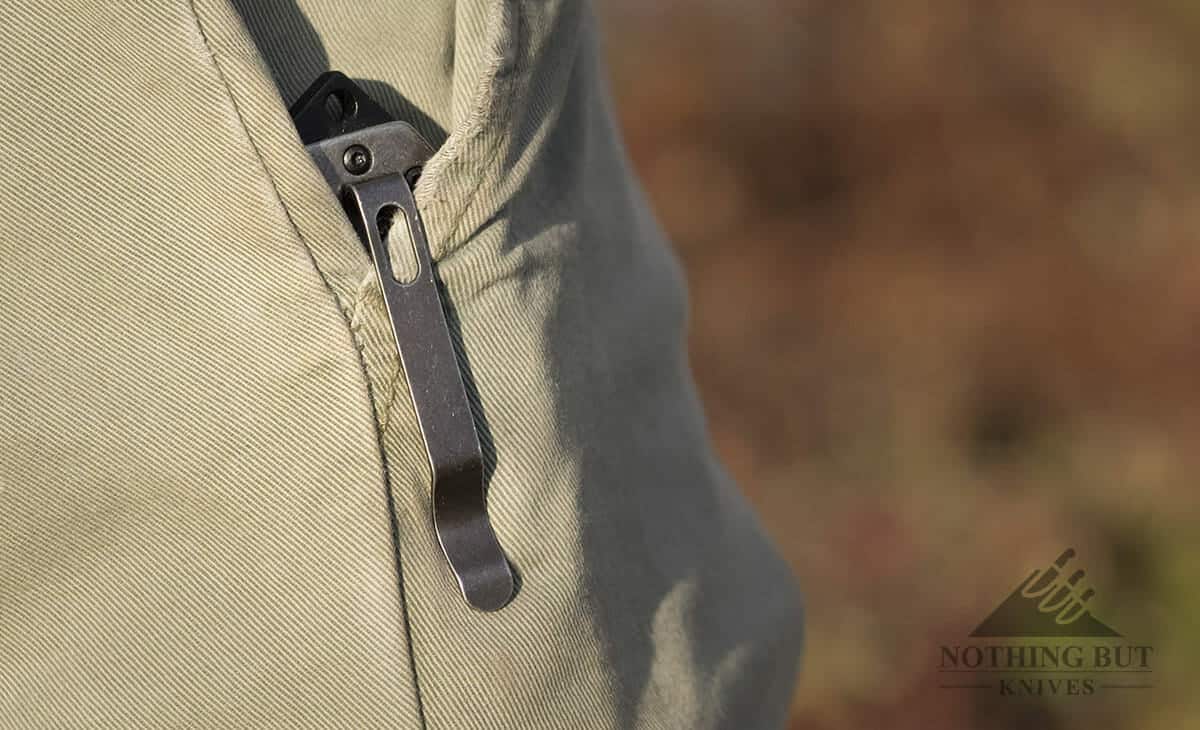 The 2-Stage Compact is not exactly a good deep-carry option, especially when carried blade point up, because the striker pommel sticks out like a neon sign that says "Hey look at me. I am a big fricking knife". However, the 2-Stage Compact was not made for people who appreciate subtlety. In spite of its large size, the clip is fairly loose. It has not fallen out of my pocket yet, but I wouldn't fully trust it to stay in if I took a fall.
Conclusion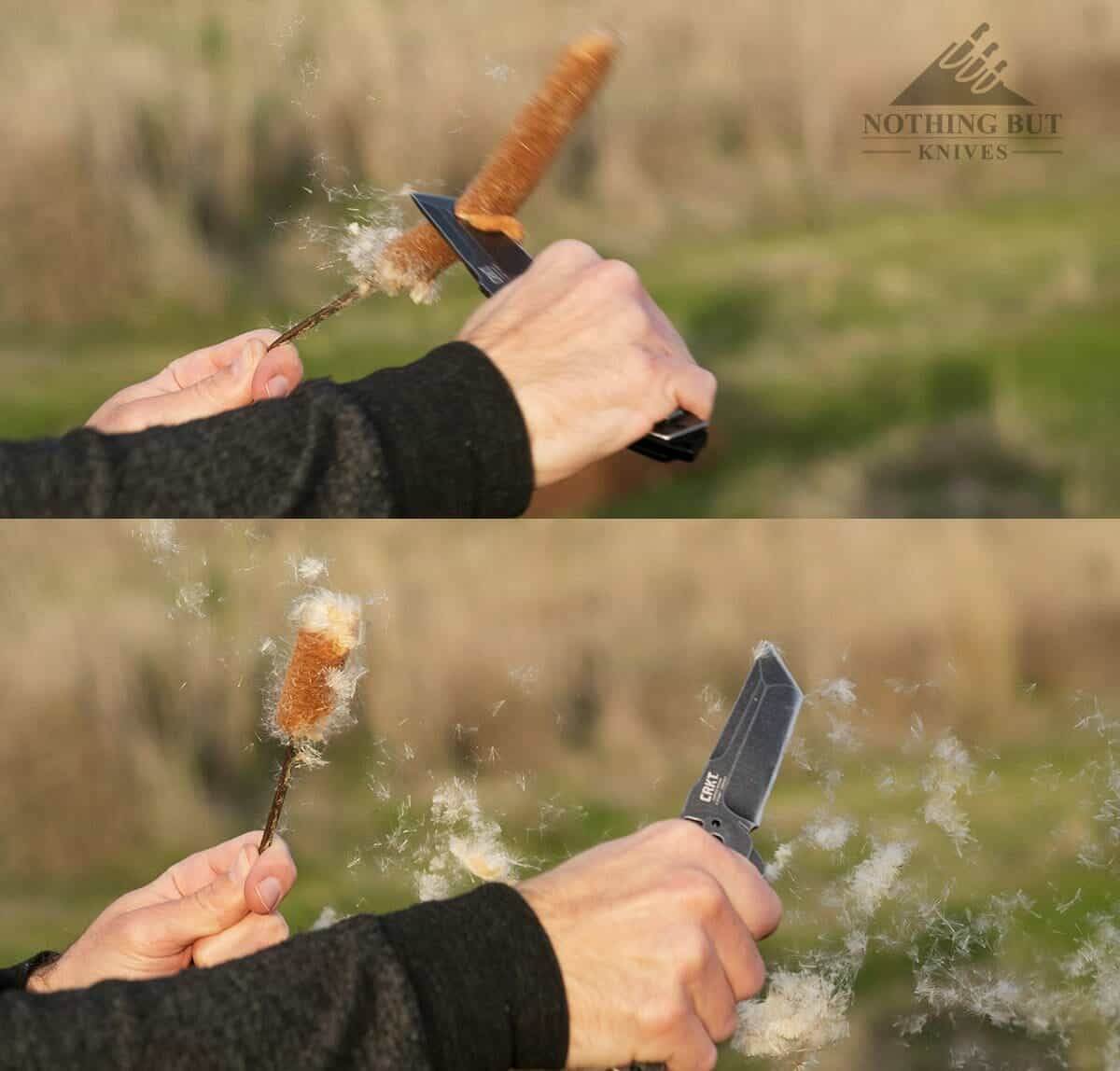 Since the 2-Stage Compact is marketed primarily as a tactical knife, I figured I would conclude this review with a picture that showcases it's tactical prowess as it makes short work of a truly terrifying opponent. I won't spend much time talking about the tactical benefits of this knife, because that is not my area of expertise. Drinking is really my only area of expertise and that is not really applicable to this review (Editor's note: Stay tuned for my four-part series on how to defend yourself from squishy plants, though).
That being said, the overall toughness and size of the 2-Stage Compact help make it a better tactical knife than most other budget folders. If I were going to choose a budget folder based solely on tactical applications I would probably choose the Kershaw Emerson 600 CQC-10K. However the Ruger CRKT 2-Stage Compact is a better beater knife than any of the Kershaw Emerson CQC knives, and there is something to be said for a budget knife (not named Mora) that is a great tool for a person who needs to do actual work.
There are without a doubt some flaws in the design and manufacturing of the 2-Stage Compact, but its size, weight, and toughness make it an ideal beater knife. The unique styling and aggressive design of the 2-Stage Compact make it a cool edition to a knife collection even if you are not the type of person who wears tactical pants to a wedding, "Just in case".