Sometimes Size Matters
The Cold Steel Voyager XL is a big folding knife. So big in fact that when it was first announced many years ago I just sort of ignored it as a gimmick, because I thought it was too big to be a practical EDC pocket folder.
Turns out I was an idiot. While it certainly takes up more space in your pants or shorts pocket than an average folding knife it is surprisingly comfortable in the pocket of the type of clothing worn by the sort of person who would carry this knife.
Obviously it would be a bit cramped in the blood flow-restricting skinny jeans that seem to be popular with the weirdly bearded hipster class that infests America's more densely populated regions, but I don't think they are the target demographic Cold Steel had in mind when they designed this knife.
The Voyager XL has been my primary EDC for over six months now, and I am surprised at how many times the bigger than average size has been advantageous. In fact it has me wondering if my wife has been lying to me all these years, but that is a subject for a different post.
Knife Specifications
| | |
| --- | --- |
| Overall Length: | 12.3″ |
| Blade Length: | 5.5″ |
| Handle Length: | 6.8″ |
| Blade Steel: | CTS-BD1 |
| Blade Thickness: | 4 mm |
| Pocket Clip: | Tip-up |
| Handle Material: | Griv-Ex |
| Blade Finish: | Stonewash |
| Weight: | 7.4 oz |
| Manufacture Location: | Taiwan |
Pros
Big Ass Folding Knife
Triad Locking System
Practical Handle Design
Surprisingly Comfortable in the Pocket of Most Pants or Shorts
Lightweight for it's size
Cons
Conventional One Handed Open Can be Awkward
Doesn't Fit Well in Some Pockets
Clip is Really Stiff When New
Grip Limitations Due to the Handle Finger Grooves
Blade Construction and Design
The Voyager XL comes in three different blade styles: Drop Point, Tanto and Vaquero. I am partial to drop point, so that's the focus for this review. I considered getting the Vaquero for a minute, because I thought it would be funny for my friends to ask, "Is that a Vaquero in your pocket or are you just happy to see me?", but I am a clip point addict, and my friends are not that witty.
Cold Steel has recently begun moving many of their knives from AUS-8 steel to Carpenter CTS BD1 steel, and the Voyager is one of those knives. You can still find AUS8 steel versions out there, and they are usually around $25 cheaper than the new versions with the CTS BD1 steel. Due to my propensity for losing knives or dropping them in the water I picked up an AUS8 version as well as the CTS BD1 steel version.
AUS8 steel certainly has a few detractors, but I have always found it to be a more than serviceable option for any job I needed it to do, and I am pretty tough on knives. It does lose it's edge quicker than higher end steels like CTS BD1 and S30V, but I find sharpening to be fun and relaxing.
The fact that knives made with AUS8 are usually quite a bit cheaper is important to those of us who lose knives on regular basis or have bank accounts can't that support the shiny blade addictions of the gainfully employed steel nerds. In spite of my poor man's affinity for AUS8 steel, I have to admit that the Carpenter CTS BD1 steel is superior to AUS8 in almost every way including edge retention and corrosion resistance.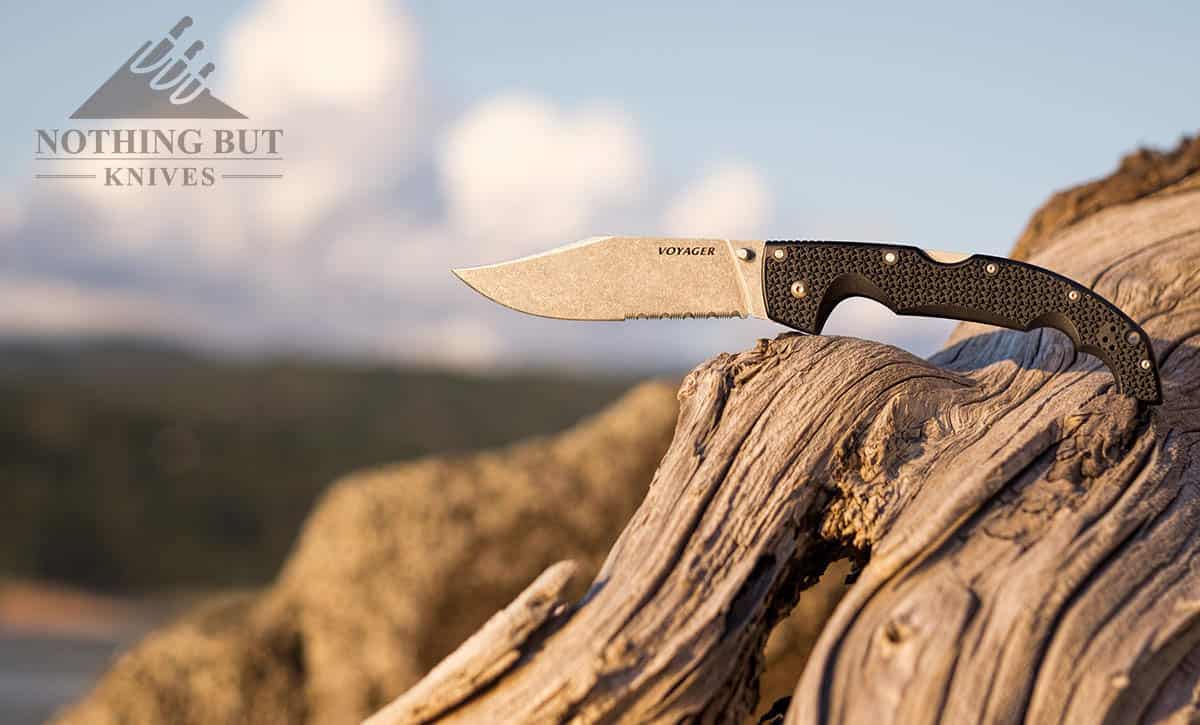 The blade of the Voyager XL was crazy sharp on delivery, and it was centered well with no vertical or horizontal play which is really impressive for a folder this big at this price point. The blade is a serrated/plain edge combo which I have mixed feelings about. Sometimes a bit of serration is nice, but it is more difficult to sharpen. If you are anti serration there is a 100% plain edge version, and if you love serrated blades there is a version that is almost 100% serrated.
The blade has a full flat grind and a nice thin edge. The Voyager XL has a very aggressive clip point which is good from a tactical standpoint, but not ideal for a work knife. The blade has ambidextrous thumb studs that are well placed, but it takes a little practice to open the knife smoothly due to it's above average size.
I personally ignore the thumb studs and just flip it open. The Voyager XL has a really smooth action, but it doesn't feel like it wants to jump out of your hand when you flip it open quickly like some other large folders do.
Handle Construction and Ergonomics
The Voyager handle is made of Cold Steel's Grivory which is a glass reinforced polymer resin that I have always found to be tough and durable. The handle is heavily textured from one end to the other, and this texture is especially nice when using the Voyager XL in wet weather. I have used it often in the rain without any problems.
I have read a few complaints about the texture being too rough and a little uncomfortable, but I haven't noticed that even though my hands are are soft and sissy from spending a lot of time writing, taking pictures, and caressing my reflection in the mirror instead of doing actual real man work. So I don't think the rough texture will be an issue for most people.
One of the features of the Voyager XL that make it practical and fairly easy to use for everyday tasks is its large handle.
At 6.8 inches the handle is one of the largest of any pocket folder, and Cold Steel utilizes this space well to make the Voyager fairly versatile and easy to grip. There is a large finger groove on the front of the handle that helps make the handle more grippable, and there are two finger grooves on the back of the handle right where it forms a semi hook shape.
The rear finger grooves and the semi hook shape combine to provide an extremely secure grip when chopping or reaching to cut something. There have been several times I have found myself using this grip to slice through weeds, blackberry bushes or hard to reach fishing line caught in tree branches, which is a great testament to the knife handle's utility. Less so my casting technique.
The area between the two sets of finger grooves is contoured, which helps make the handle more comfortable regardless of where you hold it.
While I personally like the shape and placement of the finger grooves on the Voyager XL handle, there are those who have complained that this handle limits the user's grip options, and I have to concede that there is some truth to that. While the conventional saber grip is easy, the reverse grip is limited somewhat by the inability to put your thumb over the butt of the handle unless you have huge hands.
This doesn't bother me much, because the unique chopping ability and added reach the long hooked handle give me are worth the few grip limitations they create. However, if I were looking for a large folding EDC primarily for tactical reasons the grip constraints may be an issue.
My limited tactical knife training consist mostly of getting my ass kicked in training knife sparring matches by a few friends who have been well trained in knife Eskrima. That probably makes me more of an expert than your average person, but I am not gonna pretend I am qualified to recommend the best tactical knife for you or your dog.
There are a few other cool details in the handle, like the fact that this knife has Cold Steel's awesome tri-ad lock which may be the best back lock in the folding knife world.
This is especially important with a knife that has a blade long enough to take off four of your fingers if it were to fail at the wrong time. It also has 6061 heat treated aluminum liners which help make this knife more durable, and are partially responsible for it's impressive weight of 7.4 ounces.
One of the most common complaints of this knife is how tight the clip is when the Voyager is new. It is definitely the tightest clip of any knife I have ever owned, and it will mark your pocket up pretty bad until it is broken in. If you're that concerned about your pants, it can be ground down or you can put a nickel or two in the clip for a few days to loosen it up a bit.
Conclusion
Obviously I am not capable of doing a subjective review of this knife, because it is my favorite EDC, and I own a lot of knives. That being said, I love this knife, because it helps me do my job. I spend a lot of time in the wilderness taking photos, and having a knife that is basically a mini machete that also works well for camp food prep is great.
While I realize that my situation is unique, there is something to be said for the fact that this knife has been in production for over 15 years, because Cold Steel would not have kept selling and upgrading this knife if it were not popular. I'm guessing I'm not the only person out there who thinks it's the handiest knife they own.
Considering the fact that this knife usually sells for around $50 I think it is steal for any knife enthusiast, but like I said before, I am not capable of objectivity when it comes to this knife. It's great for pretty much everything I do outdoors.
I haven't spent a lot of time talking about the tactical benefits of this knife, because I don't feel qualified, but I think the sheer size of the Cold Steel Voyager XL might get you out of a potentially violent situation. It is pretty scary when it is opened and mildly scary when it is closed.
If you are wondering about the Tanto or Vaquero models of the Cold Steel XL check out the reviews on More Than Just Surviving. Their reviews are very thorough, and I think they usually write sober. Sobriety and thoroughness are two things you will rarely find on Nothing But Knives, because we still think incoherent enthusiasm somehow makes up for drunken laziness.