My Cheap D2 Folder is Better than Your Expensive Supersteel
I will die on my cheap muddy hill about this. In the right hands, D2 steel can have better edge retention and overall performance for the price than pretty much any other option on the market (but I'm also clearly biased toward budget steels).
D2 is a tool steel so it needs a little more caretaking than true stainless steels, but its rise in popularity has made a lot of fantastic designs more accessible to the peasant mongrels like us who don't mind cleaning a blade every now and then if it means being able to afford the knife in the first place.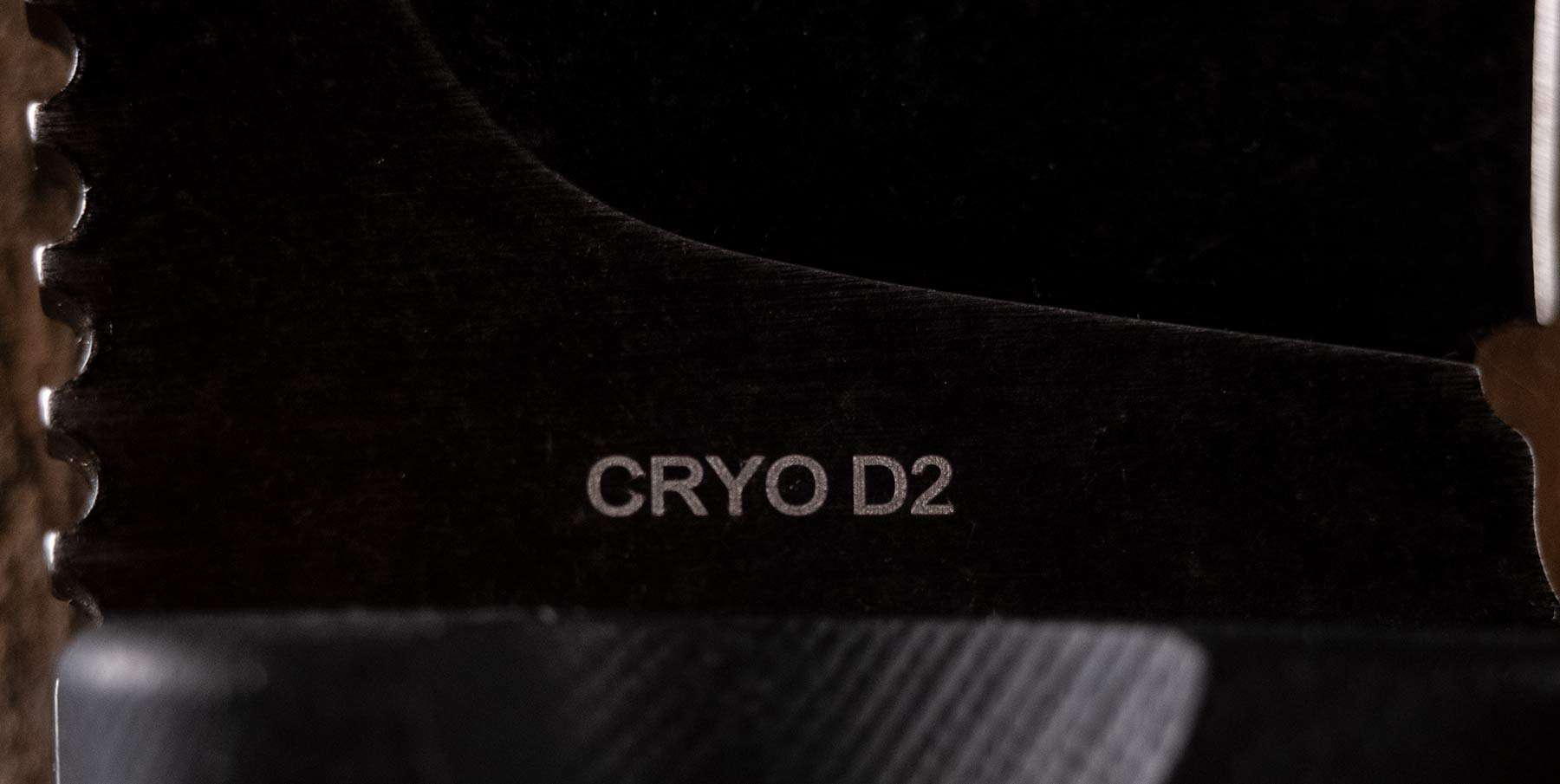 The big problem is that D2 really needs a good heat treatment in order to perform well, and the more popular it gets, the more companies there are pushing knives with shoddy D2. So below is a list of D2 steel knives that we've carried and tested personally. Some are better than others, and some definitely cost more than others (although still less than they would be with another steel), but they're all worth having in our opinion.
If you want a quick rundown on what D2 steel is, why we swear by it now, and a few tips on taking care of it, you can find a big damn block of content like that at the bottom.
Here are our top picks for the best folding and fixed blade D2 Steel Knives
OKC Rat 2
Ka-Bar Dozier
Off-Grid Caiman
Ocaso Strategy
CJRB Kicker
CRKT Bamboozled
Ohta Knives FK5
Boker Plus HEA Hunter
CRKT Bona Fide
SOG Terminus
Off-Grid Tracker-X
LionSteel M2 Hunter
Off-Grid Alpha Dog
Kizer Harpoon
Boker Magnum Collection 2020
Halfbreed MIK-05
D2 Folding Knives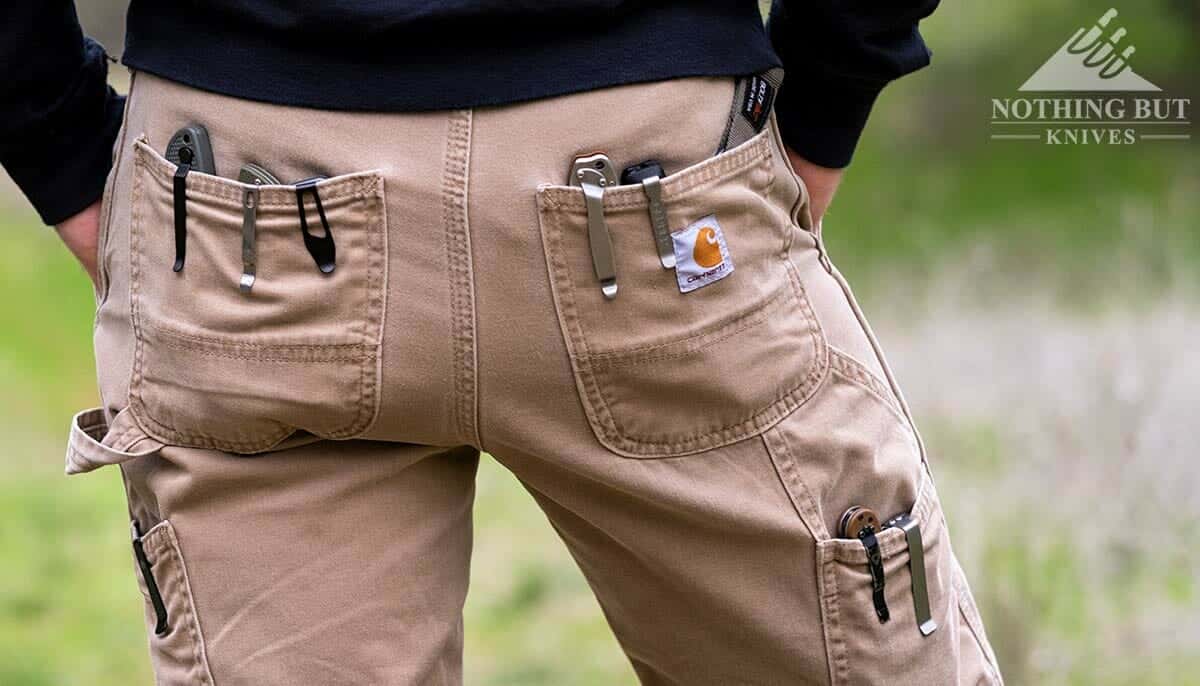 It seems like there are a lot more D2 folders than there are D2 fixed blades. Bob Dozier is possibly the man to thank for that. He was the one to bring D2 back into popularity a few years ago, and his designs with Ka Bar are pretty highly regarded. But D2 also tends to perform best in smaller blade lengths, and thanks to the price point on it, a lot more companies are using it to pump out budget folders.
OKC RAT 2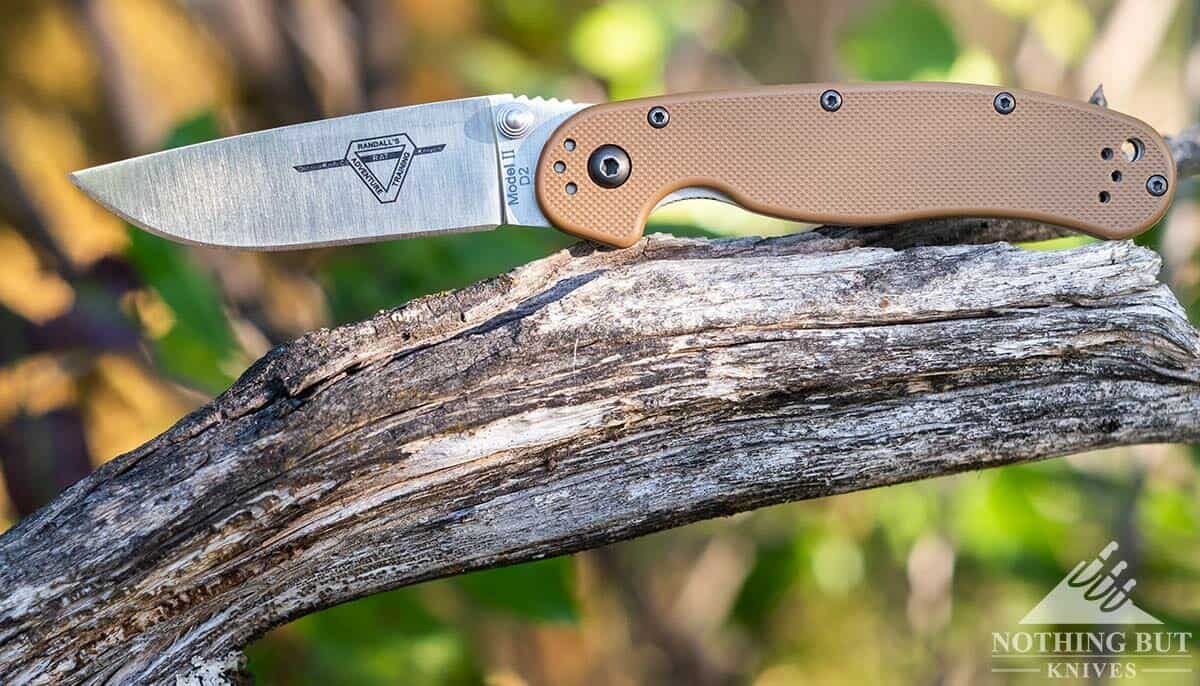 | | |
| --- | --- |
| Overall Length: | 7.0″ |
| Blade Length: | 3.0″ |
| Blade Thickness: | 0.09″ |
| Handle Length: | 4.125″ |
| Blade Shape: | Drop point |
| Blade Grind: | Flat |
| Handle Material: | Nylon |
| Lock Type: | Liner |
| Designer: | Jeff Randall |
| Activity: | Hard use EDC |
The RAT II from Ontario Knife Company is still mostly considered king of the budget knives. That's not to say it's the best. There are a dozen or so knives that are comparable if not better, but the truth is that if someone asks for an economic recommendation for a good working knife, the RAT II is the first thing in my head.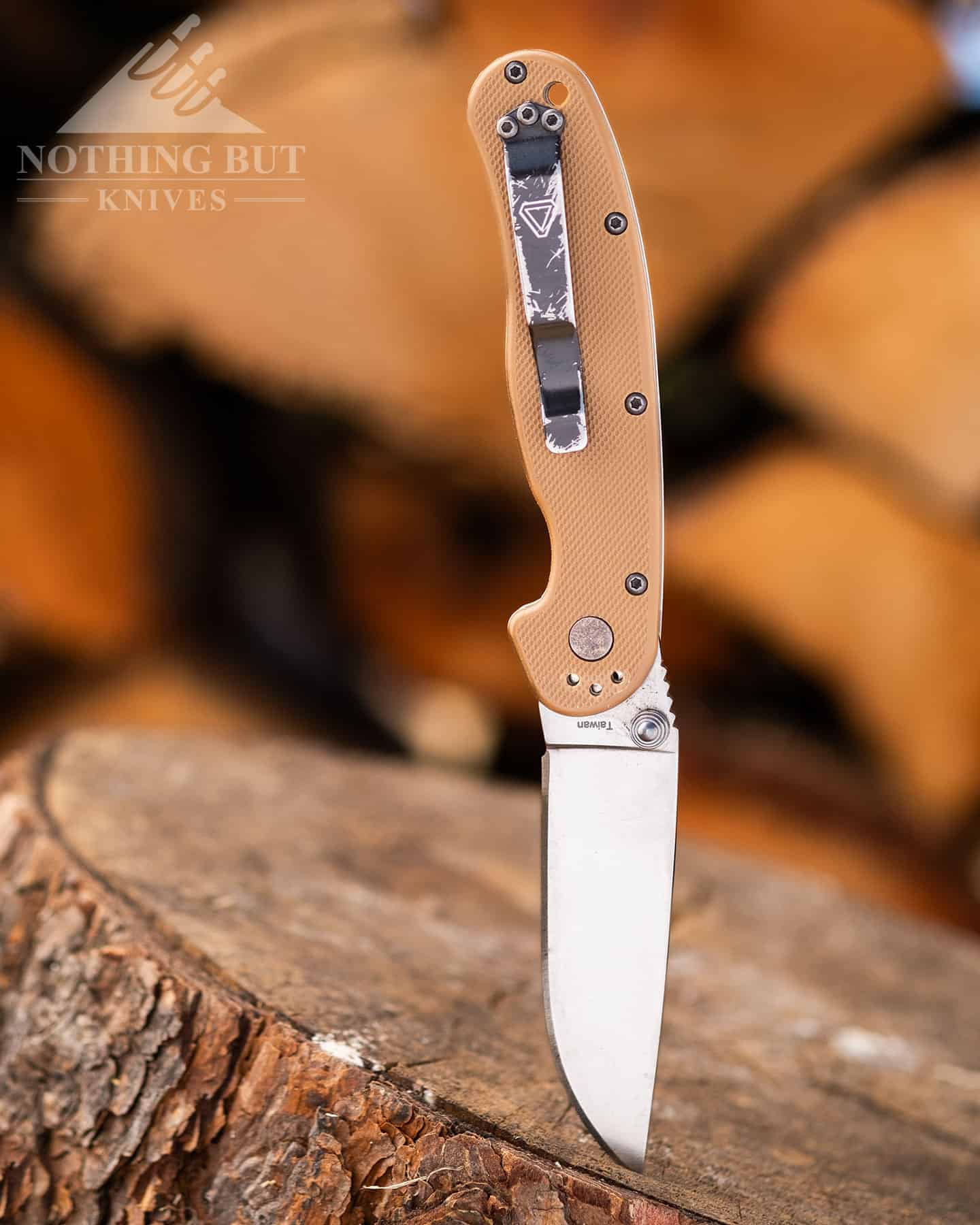 It fits well in any pocket, the blade profile is thin enough to make it slicey while the flat grind keeps the edge pretty tough. I've carried mine through a lot of dirt and done a lot of things it was not really designed to do. To date I've rolled the edge a half dozen times and taken it apart to clean and oil it at least a full dozen times.
We should also add that the RAT is available in AUS-8, and it's a little cheaper. AUS-8 is a different kind of budget beast, but still plenty serviceable if you want something more stainless than D2.
Ka Bar Dozier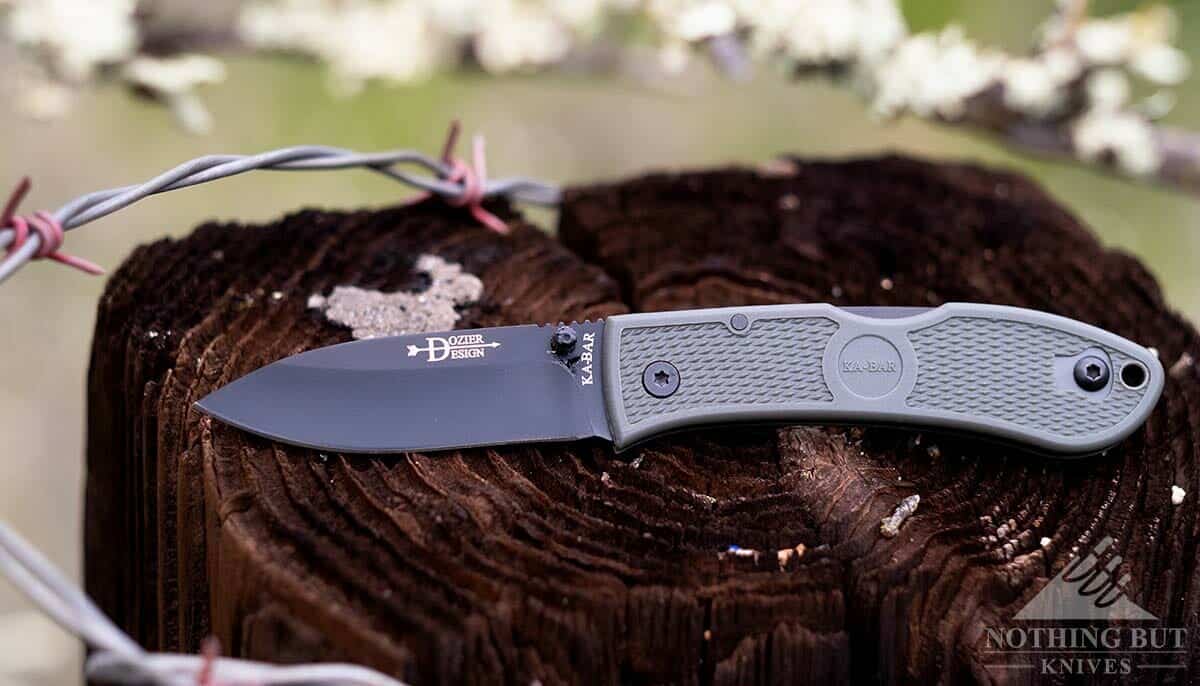 | | |
| --- | --- |
| Overall Length: | 7.25″ |
| Blade Length: | 3.0″ |
| Blade Thickness: | 0.11″ |
| Hardness: | 57-59 HRC |
| Handle Length: | 4.25″ |
| Blade Shape: | Spear point |
| Blade Grind: | Hollow |
| Handle Material: | Zytel |
| Lock Type: | Lockback |
| Designer: | Bob Dozier |
| Activity: | Hard use EDC |
When I said there are comparable knives that might arguably be better than the RAT II, the Ka Bar Dozier was one of the knives I was thinking of.
It's not as refined as the Rat. The action doesn't feel great, and the handle ergonomics are a little rougher, but it's lighter and has fewer moving parts with a thicker blade and a sturdy lockback, so it becomes an attractive prospect as a work knife very quickly.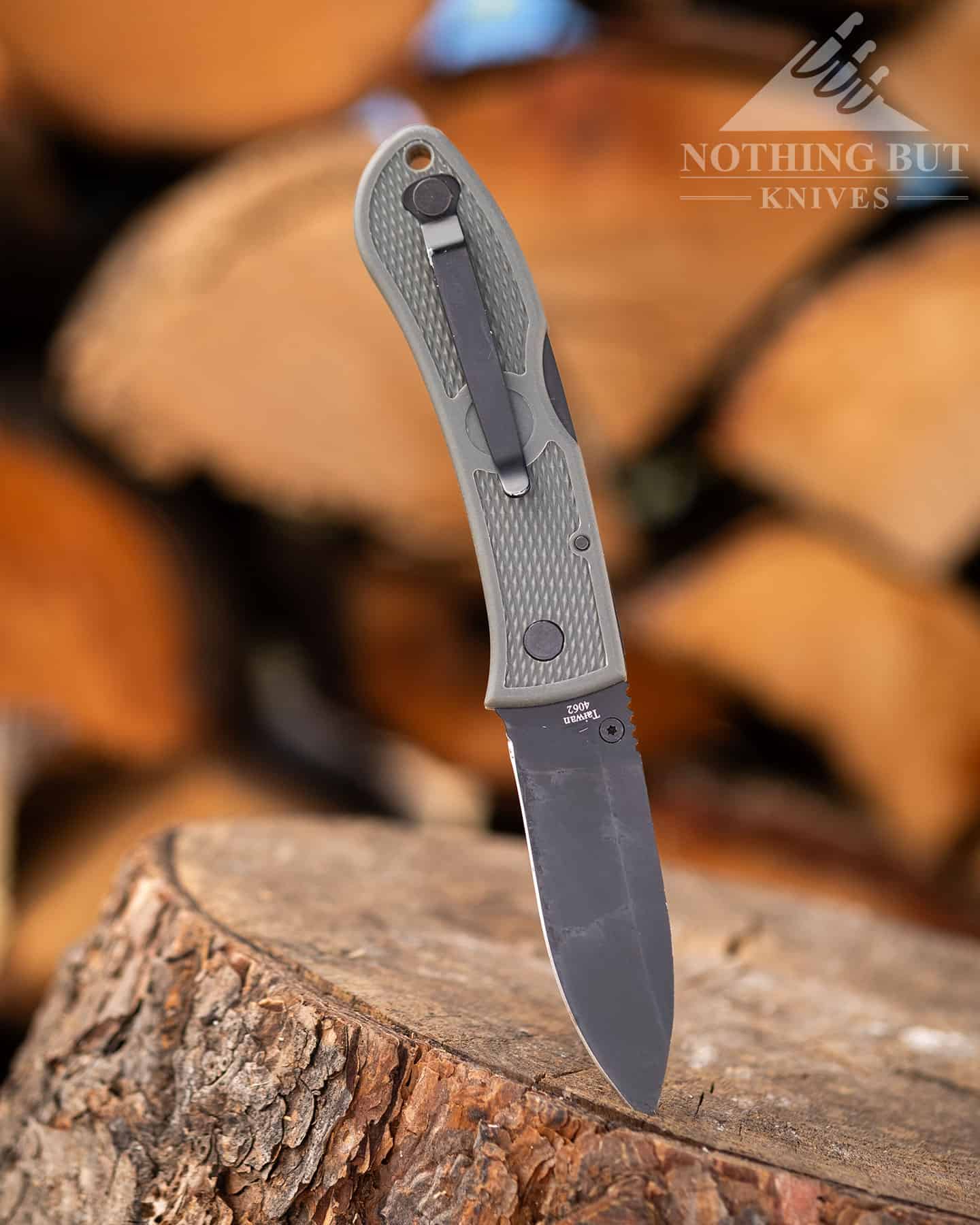 I will admit this particular design makes me a little nervous with the hollow grind, but I think the hardness is also dropped just a little lower than usual to compensate for that grind, and I trust Bob Dozier and Ka Bar to have handled the D2 well enough here that I can trust the blade not to chip so long as I'm not throwing it against bricks, and it's a slicey little thing so long as I'm using it properly.
Off Grid Caiman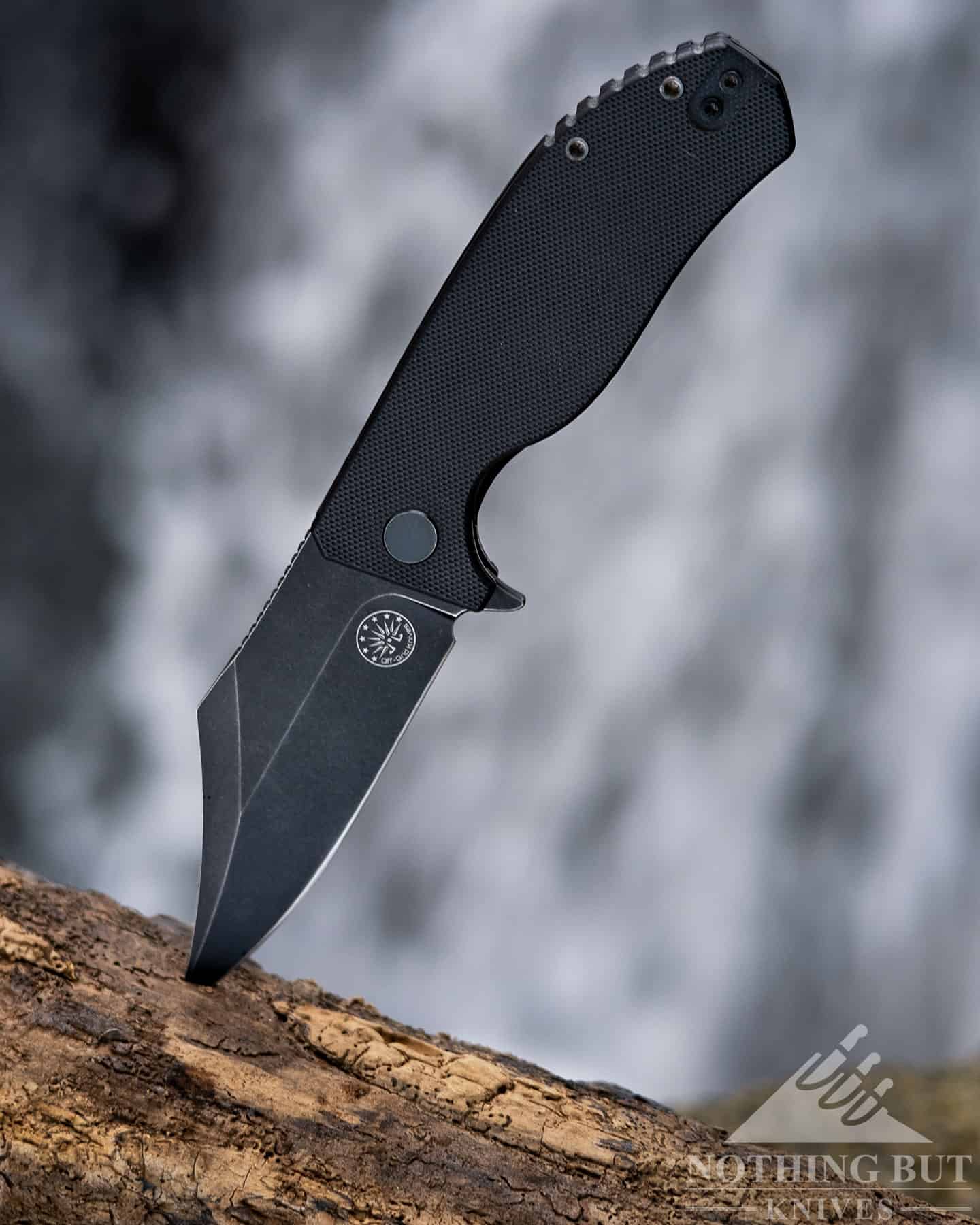 | | |
| --- | --- |
| Overall Length: | 6.7″ |
| Blade Length: | 3.2″ |
| Blade Thickness: | 3.1 mm |
| Handle Length: | 3.5″ |
| Blade Shape: | Clip point |
| Blade Grind: | Flat |
| Handle Material: | G-10 |
| Lock Type: | Liner |
| Designer: | Cary Orefice |
| Activity: | Hard use EDC and Tactical |
It didn't take long for the Off-Grid Caiman to become one of our all-time favorite pocket knives. It's just overbuilt enough to survive rough excursion through the wilds, and I'll even admit to it being a decent option as a tactical knife if that happens to be something you think about when choosing a folder.
The Bowie style blade looks great, and that severe tip it makes has come in super handy for puncturing cloth and tarps. The handle is comfortable and easy to grip with sweaty or wet hands or gloves, and the flipper tab is so pronounced it's pretty easy to engage no matter what condition your hands are in.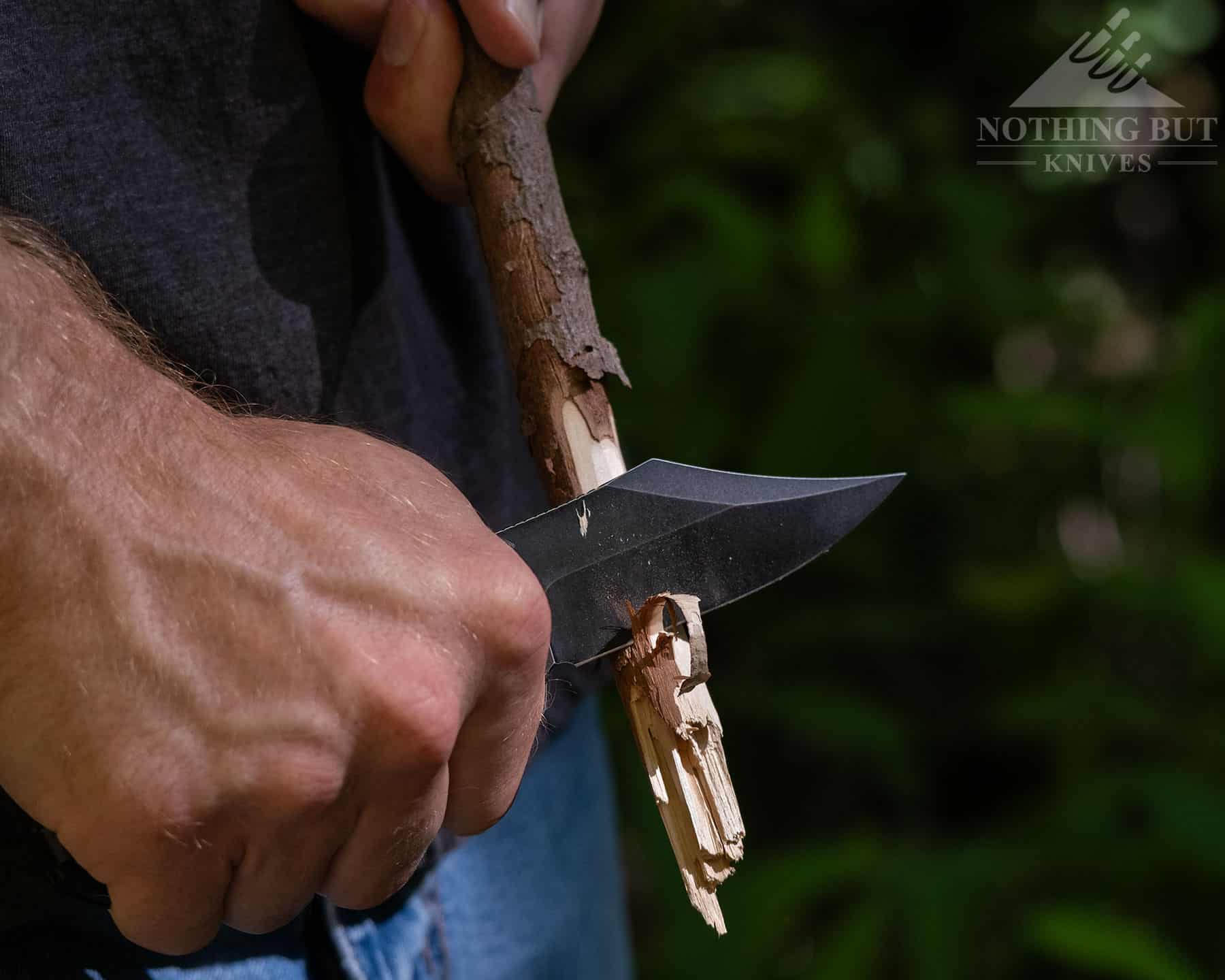 I'll even vouch for the ability of the finish on this blade to protect the D2 steel, because I swam half a mile up a creak with this thing in my pocket and never saw any rust spots show up. It's an excellent camping or fishing option, and it makes a great gift for any fan thanks to its unique blade shape and smooth action.
Off Grid is one of those companies that likes to play around with their old designs, and they've release a few updates on the Caiman including an XL version with Sandvik steel. That's definitely worth checking out if you want to go bigger and more stainless.
Check out our in depth Off-Grid Caiman review to learn more about this knife.
Ocaso Strategy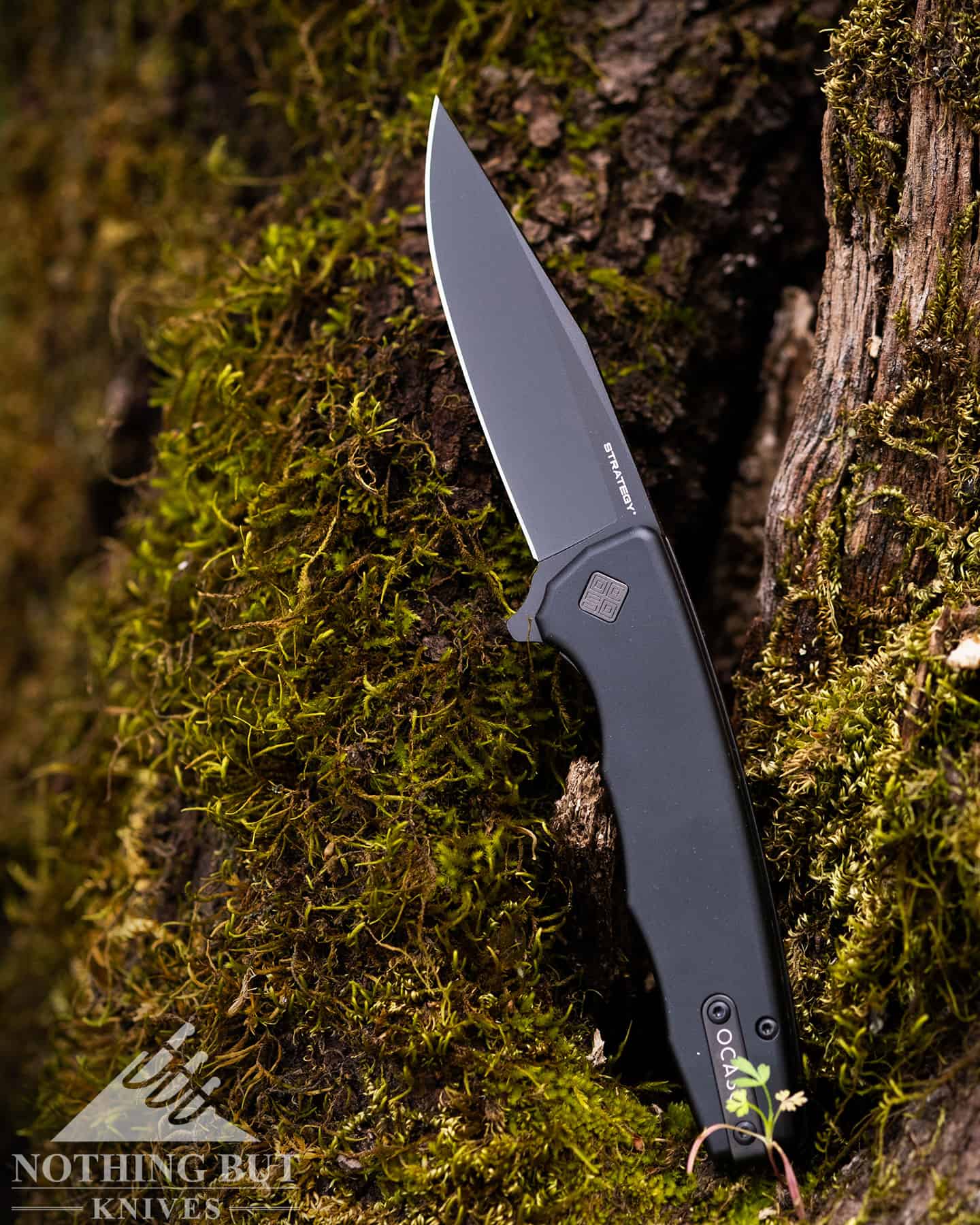 | | |
| --- | --- |
| Overall Length: | 7.8" |
| Blade Length: | 3.5" |
| Blade Thickness: | 0.12" |
| Handle Length: | 4.3" |
| Blade Shape: | Clip point |
| Blade Grind: | Saber |
| Handle Material: | G10, carbon fiber, or aluminum |
| Lock Type: | Liner |
| Activity: | Gentleman EDC |
This is an odd addition to this blog, because it was made to be a gentleman's carry by a company with a firm ethos to make dressy knives you can wear with a suit. In fact, the designer Mike Wallace, said he made it so he had something to carry to church.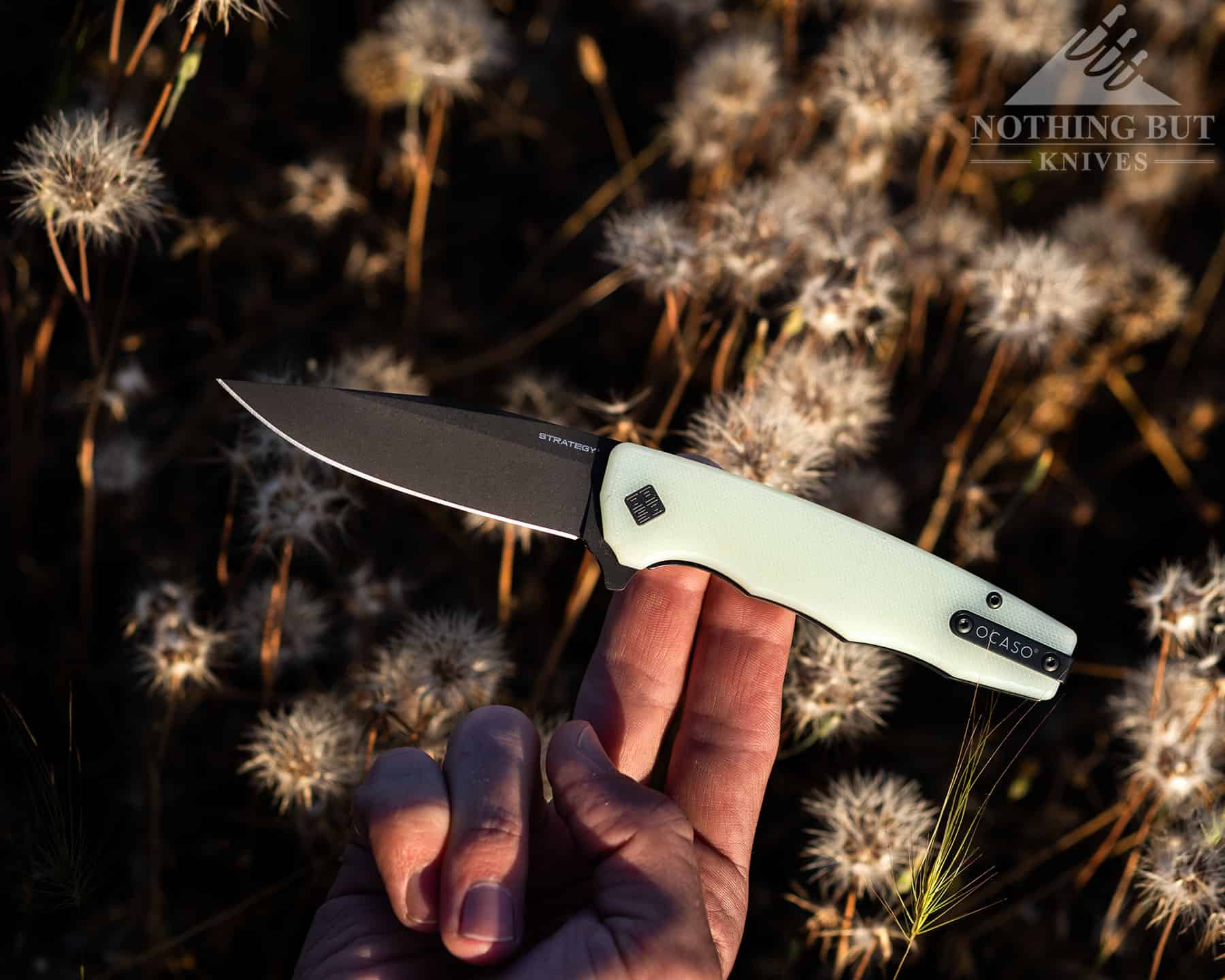 But the Strategy is the first of their knives that I've carried that I felt slipped more into the hard use category. This was my camping knife for a good chunk of time. It's a little too expensive for me to recommend it for hard use regularly, but this thing is a champ for carving up wood and starting fires. The K110 steel (which is just Bohler's D2) holds an edge like an angry badger, and seems to leave being used on tough material.
The truly great thing about the Strategy is the handle, though. It has some really nice grippiness, and just the right amount of contouring that seems to work well no matter what size or shape your hand is.
You can learn more about our experience with this pocket knife by checking out our in-depth Ocaso Strategy Review.
CJRB Kicker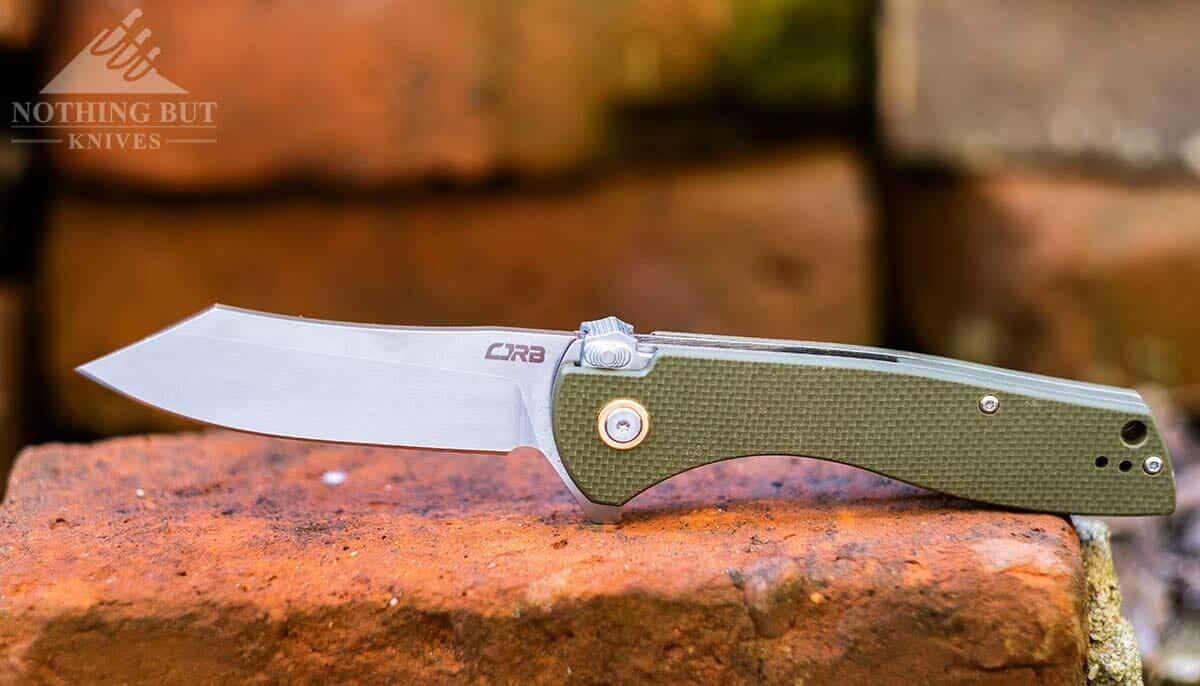 | | |
| --- | --- |
| Overall Length: | 8.25″ |
| Blade Length: | 3.5″ |
| Blade Thickness: | 0.13″ |
| Hardness: | 58-60 HRC |
| Handle Length: | 4.75″ |
| Blade Shape: | Clip point |
| Blade Grind: | Flat |
| Handle Material: | G-10 |
| Lock Type: | Recoil lock |
| Activity: | EDC |
2022 Update: CJRB / Artisan Cutlery started shifting a lot of their designs over to AR-RPM9, which is a pretty solid budget powder steel. The Kicker was in the first round of transitions. Eventually we'll probably move it off this blog, but for now most of the Kickers available from your favorite knife vendors are still in D2 steel.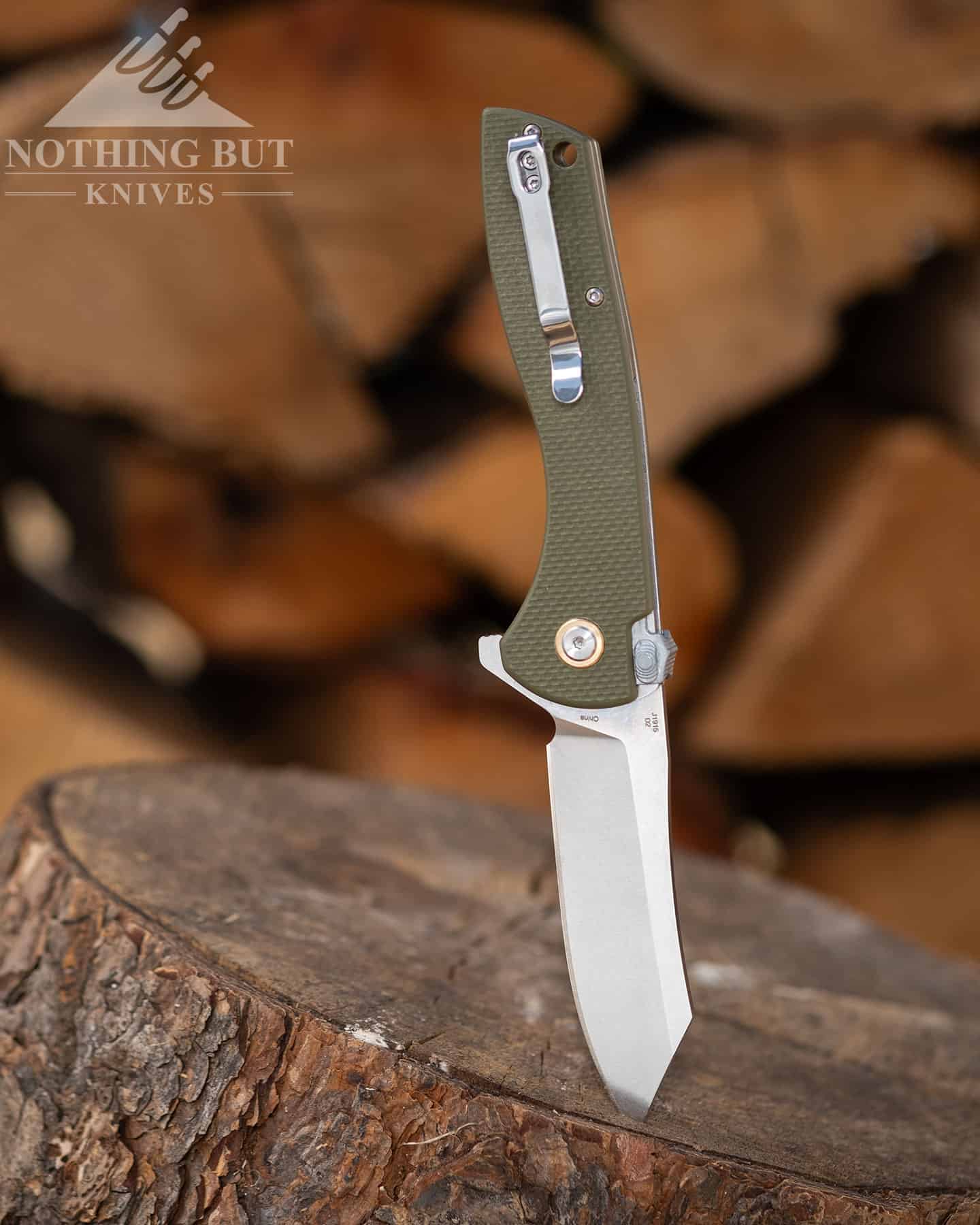 This is a pretty smooth knife that I was not expecting to like at all. The Kicker just has a little bit too much of a sleek look for my tastes, and, honestly, how much can I really expect from a Chinese flipper?
It turns out CJRB is owned by Artisan Cutlery, and all their knives are made in the same factory, so apparently you can expect a lot. The Kicker has a silky smooth action and a comfortable handle. The flat grind has a pretty thin edge geometry, so this is a clean slicer with some really nice cutting ergonomics.
The only thing that really bothers me is the recoil lock tends to rattle a lot, and the flipper tab can interfere with closing the blade sometimes. It doesn't interfere with use much, but it can get annoying and just gives off a janky vibe.
CRKT Bamboozled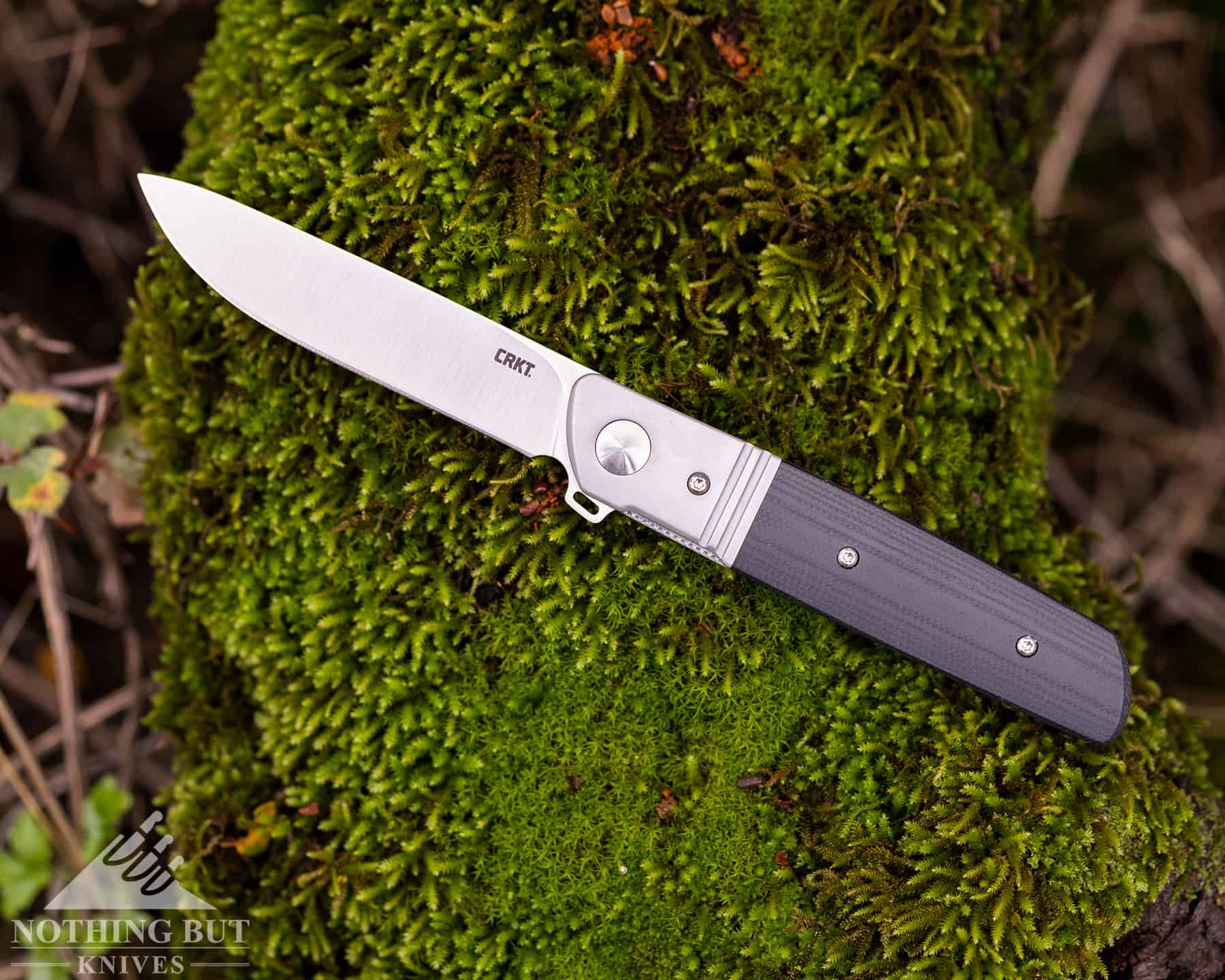 | | |
| --- | --- |
| Overall Length: | 7.81" |
| Blade Length: | 3.34" |
| Blade Thickness: | 0.11" |
| Handle Length: | 4.45" |
| Blade Shape: | Drop point |
| Blade Grind: | Flat |
| Handle Material: | G10 w/ steel bolsters |
| Lock Type: | Liner |
| Activity: | EDC, Gentleman's Carry |
| Designer: | Kenny Onion |
Ken Onion's son (who I've seen called both Ken Onion Jr. and Kenny Onion) flipped the Bamboozled flipper out at his first design in 2023. It's a small knife with a thin, clean-cutting edge, and assisted-open action that feels nicely dialed into a gentle swing rather than the firearm kickback of a lot of AO knives out there.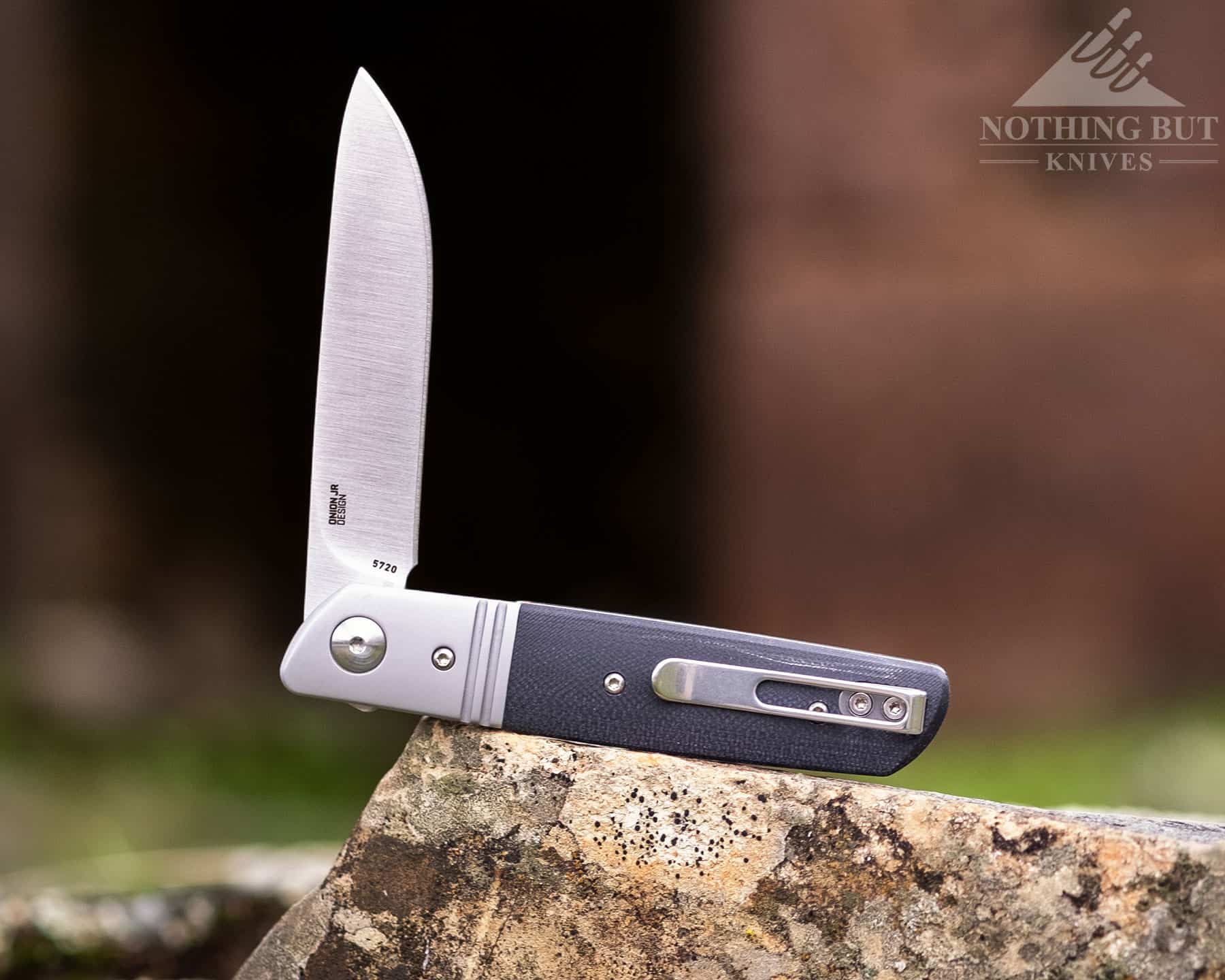 I especially like this blade shape for D2, because it's clearly for slicing. It isn't tall but it has a full flat grind on thin blade stock, which lends really well to cutting thread and paper with a much smoother motion. It just lends itself into the kind of use that doesn't chip a blade very often, so I'd be surprised if you ever needed to do much more than run this thing along a ceramic honing rod and a strop to keep the edge in shape.
Maybe the best way to classify this knife is as a low-key gentleman's carry. It's sleek or good looking, but has a firm feeling to it that makes it feel universally appropriate. In a world where some knives are dirty jeans, and other knives are black tuxedos, the Bamboozled is a clean button shirt.
Ohta Knives FK5
| | |
| --- | --- |
| Overall Length: | 5.5″ |
| Blade Length: | 2.125″ |
| Blade Thickness: | 0.08″ |
| Handle Length: | 3.375″ |
| Blade Shape: | Reverse tanto |
| Blade Grind: | Hollow |
| Handle Material: | Wood |
| Lock Type | Friction |
| Activity: | Gentleman carry |
Ohta Knives really makes neat conversational pieces more than tools, but only because the Higo no Kami design has a history that people like to talk about. As for the knife itself, I think Ohta is making some of the best versions of the design right now specifically because they're updating it with a few modern ideas while still keeping it affordable and practical.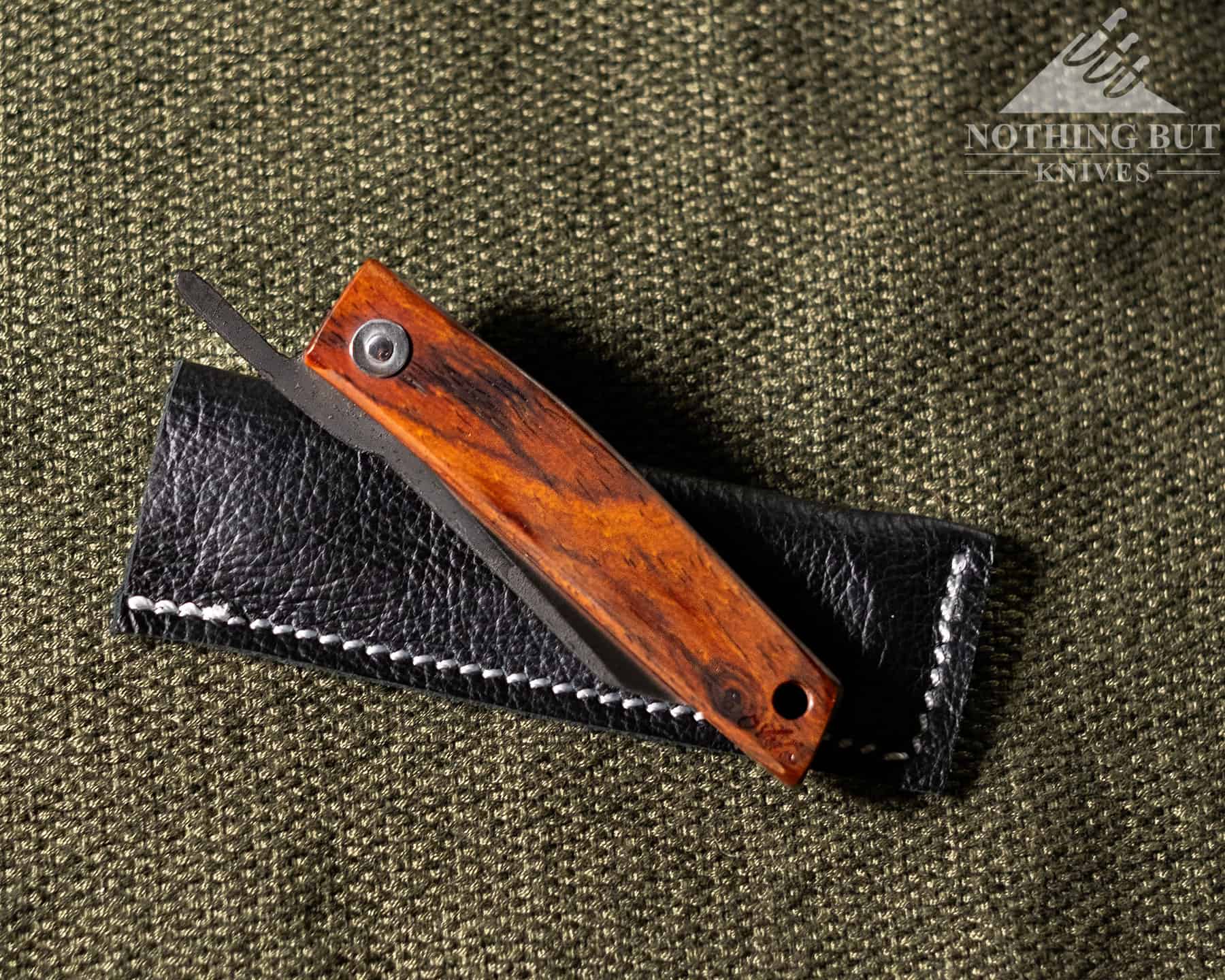 I rarely carry this knife as an EDC, but it's been a useful tool around the house as a package and letter opener, and it was my wife's trusty sidekick for about a year at her office. It has a nice edge with just enough of a hollow grind to make it clean slicing, but not such an extreme one that the blade is especially thin behind the edge, so it ends up being a fairly tough little gentleman carry.
You can read our full review of the FK5 here.
Boker Plus HEA Hunter
| | |
| --- | --- |
| Overall Length: | 6.69" |
| Blade Length: | 2.87" |
| Blade Thickness: | 0.12" |
| Open System: | Front flipper/thumb hole |
| Handle Length: | 3.82" |
| Blade Shape: | Clip point |
| Blade Grind: | Flat |
| Handle Material: | Canvas Micarta |
| Lock Type: | Frame lock |
| Designer: | Sam Abdelrahman |
| Activity: | EDC |
The HEA Hunter is a stylish front flipper designed by Sam Abdelrahman of HEA Designs. The unique look of the HEA Hunter makes it standout from most of the the other knives in this article, but the it's also impressive as a little knife with a lot of cutting power and some pretty incredible fit and finish.
The relatively small size of this knife makes it a comfortable pocket carry, but it's not a deep carry pocket knife. A fair amount of stainless steel real estate is left above the pocket line. The clip point blade is extremely slicey, and this knife handled most of the tasks we threw at it throughout the course of our in-depth review really well.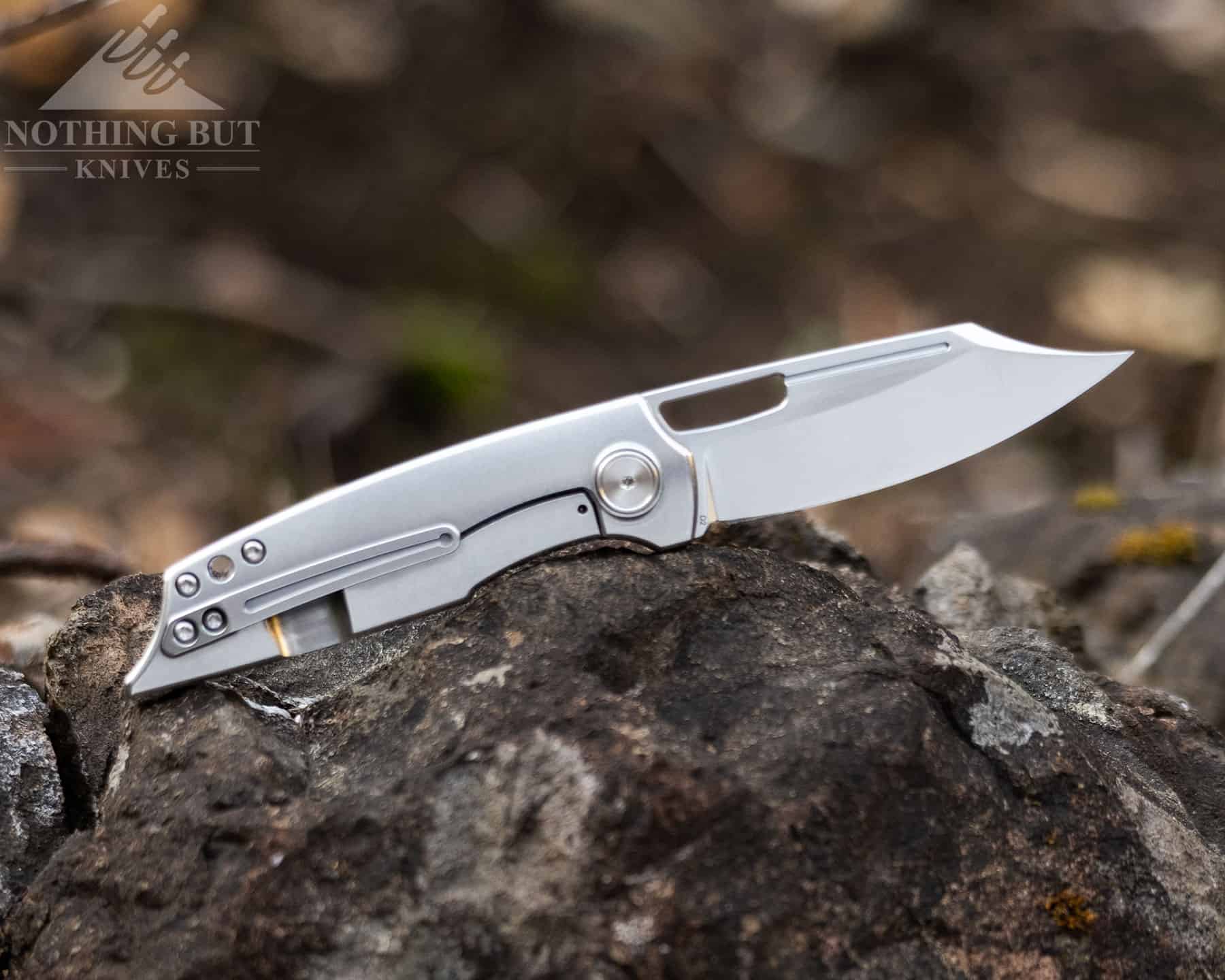 It also has a solid lockup that gives the whole knife a little bit of a small-tank feeling even though the blade is more on the delicate side. I wouldn't be too afraid of dropping this knife so long as it was closed. I'm still a little worried about chipping sometimes down the road, but it's been a trooper so far.
If you are in the market for a small front flipper with a unique style, the HEA Hunter may be a great choice.
CRKT Bona Fide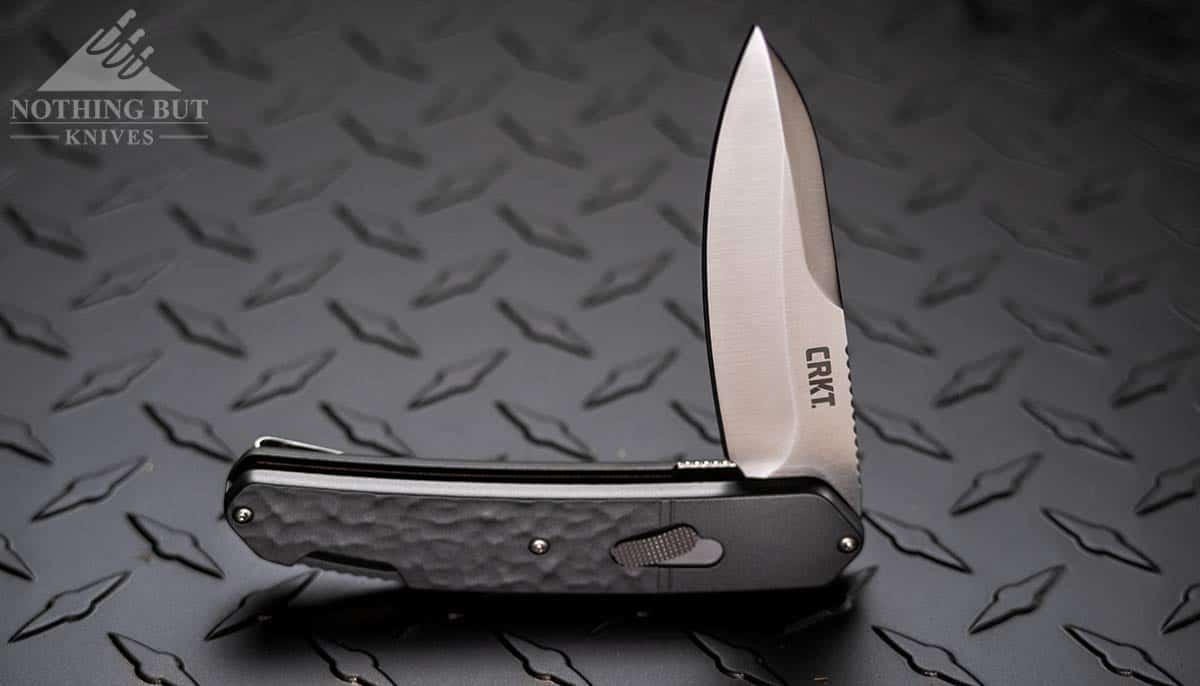 | | |
| --- | --- |
| Overall Length: | 8.125′ |
| Blade Length: | 3.5″ |
| Blade Thickness: | 0.14″ |
| Handle Length: | 4.625″ |
| Blade Shape: | Drop point |
| Blade Grind: | Flat |
| Handle Material: | Aluminum |
| Lock: | Liner |
| Designer: | Ken Onion |
| Activity: | EDC |
Leave it to Ken Onion to breathe this gust of fresh air into the flipper world. The Bona Fide features the updated version of Onion's Field Strip technology, which is significantly easier to deal with than what we saw on the Homefront. Basically it allows you to take the knife apart without any tools so it's incredibly easy to clean.
This is one of the more interesting folders on here when we start talking about D2, though, because CRKT makes two versions of this knife: the gray with D2 and the OD Green with 1.4116 German steel. And while both of these versions have the same basic shape and grind, the 1.4116 version has a full flat going all the way back to the spine where the D2 version has a much more complex shaping with the grind going half the height and featuring a swedge going to the tip.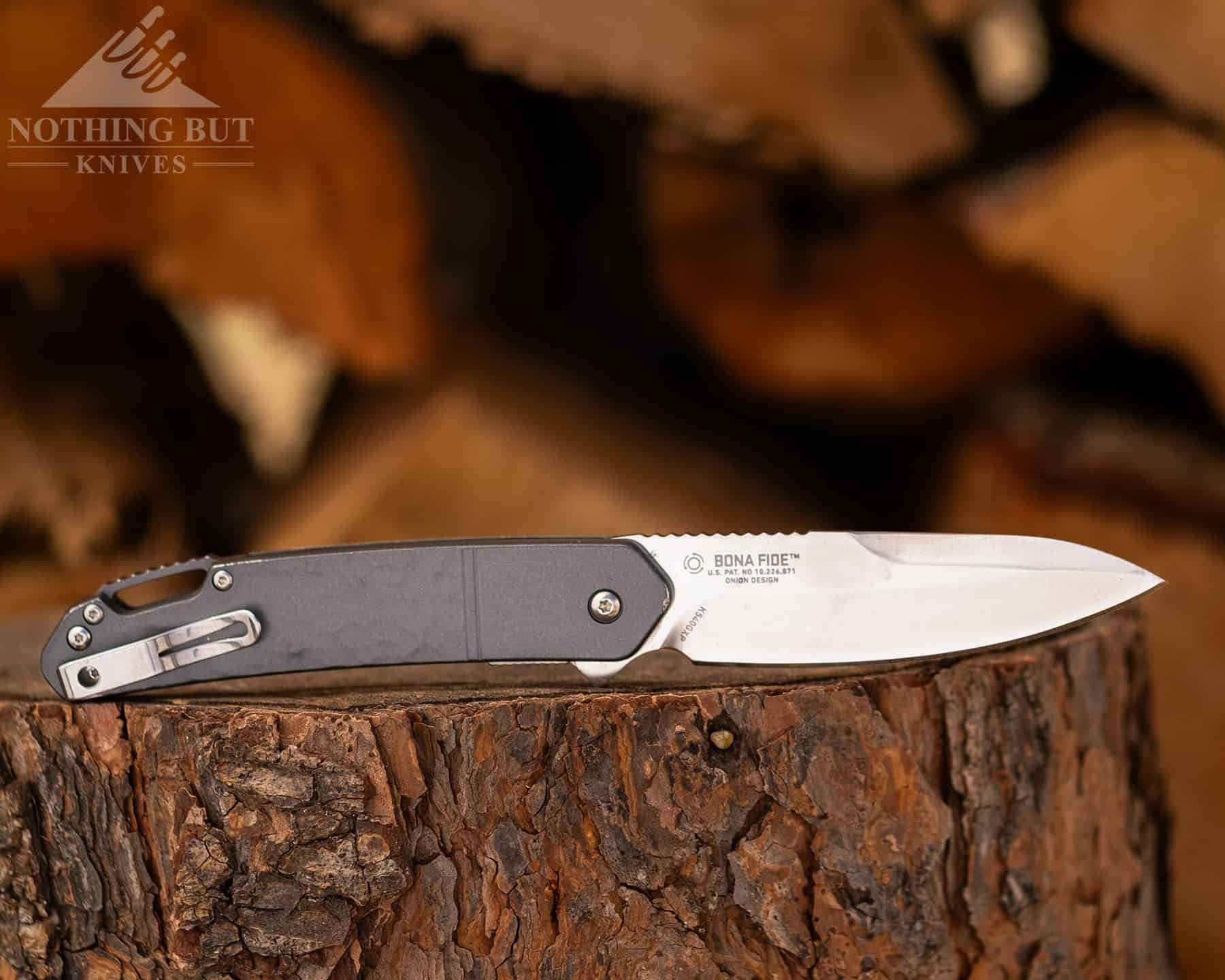 That lower grind on the D2 version of the Bona Fide makes it a little less efficient as a slicer, but I think it also results in a stronger tip because the grinding of the swedge puts a little more material at the halfway point along the blade. I also think it just looks neater, but that's just me.
I could make some semi-educated guesses as to why Onion made the blades so different in regards to the relative toughness of each of these steels, but the bottom line is that there's clearly been some consideration put into making each version perform best with each steel, and I'm willing to trust Onion's process on things like this.
Check out our in-depth CRKT Bona Fide review to learn more about this knife.
SOG Terminus XR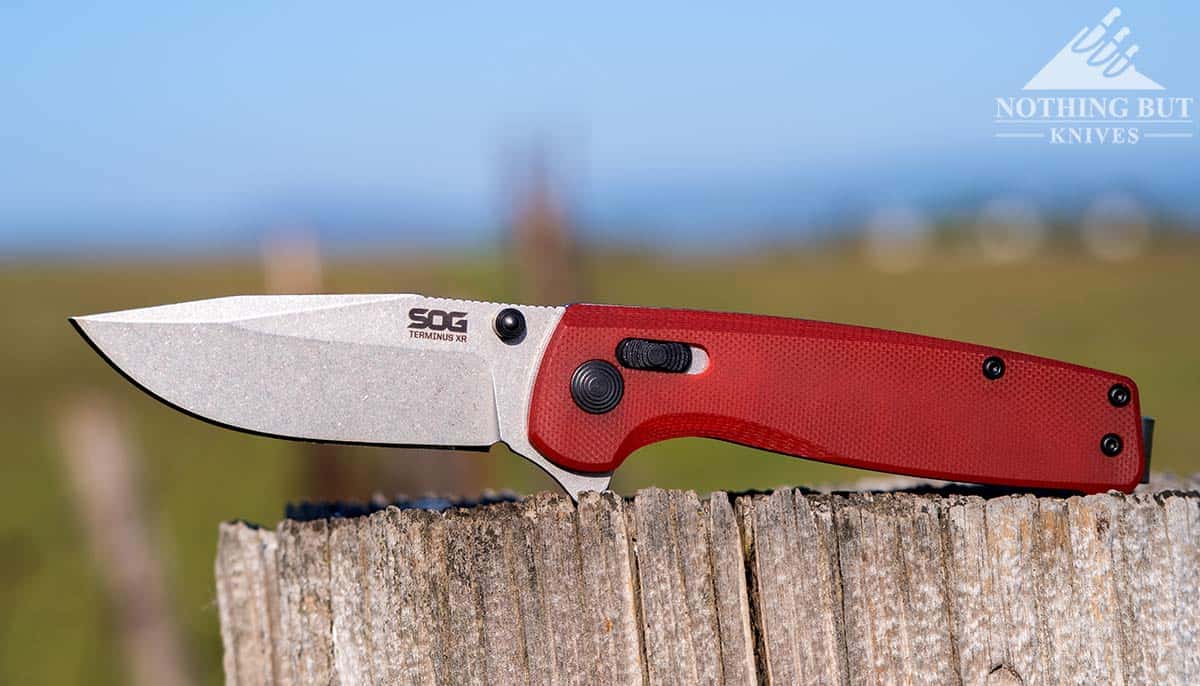 | | |
| --- | --- |
| Overall Length: | 7.0″ |
| Blade Length: | 3.0″ |
| Blade Thickness: | 0.11″ |
| Handle Length: | 4.0″ |
| Blade Shape: | Drop point |
| Blade Grind: | Hollow |
| Handle Material: | G-10 |
| Lock Type: | XR Lock |
| Activity: | Hard use EDC |
SOG got onto something special with the Terminus that I don't usually see from them. Aside from their slide lock mechanism and the redundancy of having both a thumbstud and a flipper tab, this is a no-frills design. Even with the more brightly colored G-10 scales it has the look of something you'd want to pop out in a barn.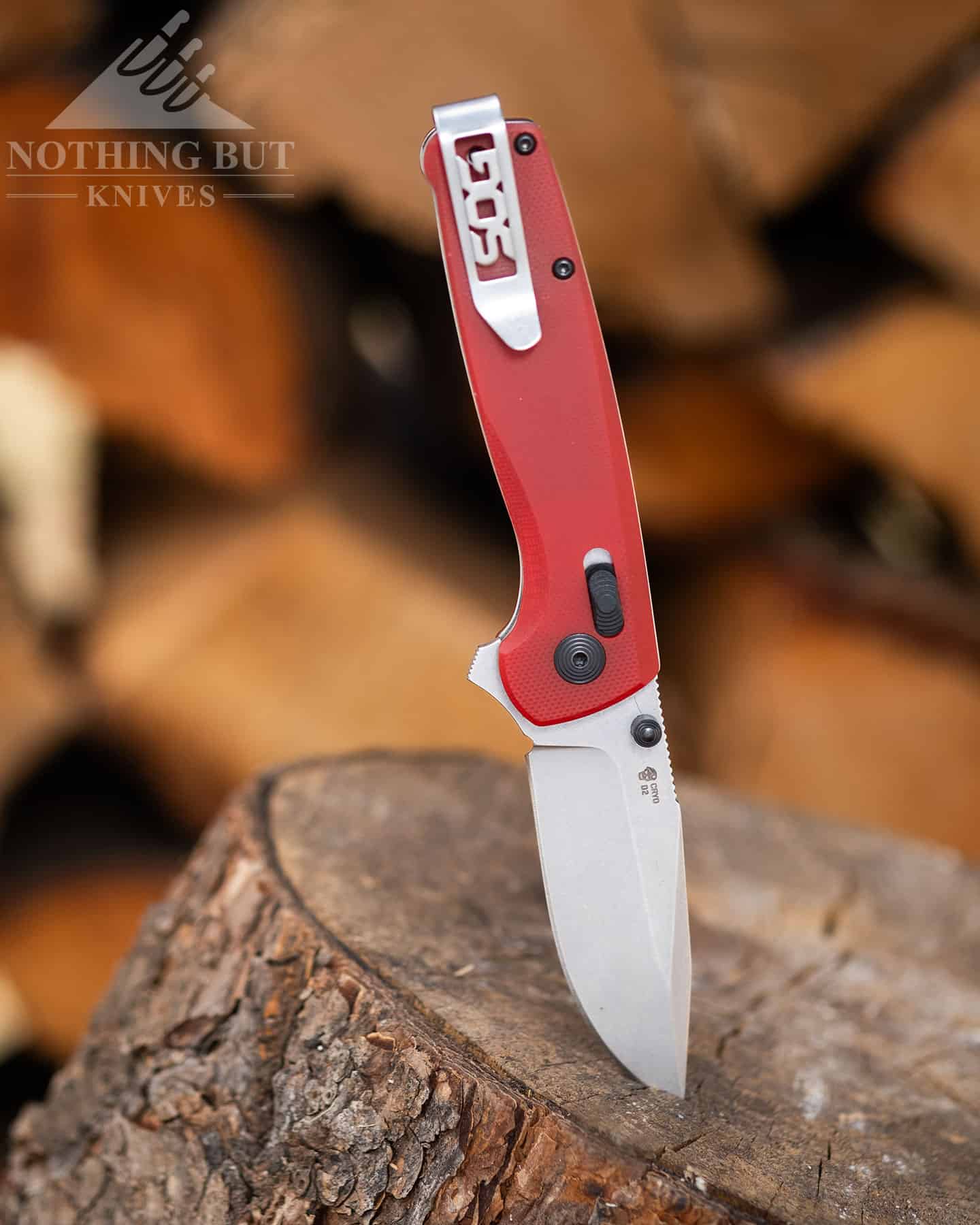 More importantly, they've kept the D2 blade simple with a moderately wide spine. SOG does offer the Terminus in S30V with carbon fiber scales, but that pushes the price up about $100. It's a good example of the kinds of options D2 designs can bring to the industry, though, and it's the kind of thing I hope to see from more knife companies down the road. This is a perfectly good design that can benefit from premium materials, but it feels a lot more in its element as a low-risk investment with a stout D2 blade that can pry into wood and get dropped in the brambles.
D2 Fixed Blades
This can be trickier territory. Since D2 is such a hard steel that it can get more fragile the larger a blade gets, so it becomes even more important here for the steel to have a good treatment and grind. You'll notice there are a couple of very large blades on this section of the list, but these are all from companies that have spent a lot of time workshopping their process to get the most out of the steel, and our experience with these knives shows that they've all found their golden ratio.
Off-Grid Tracker-X2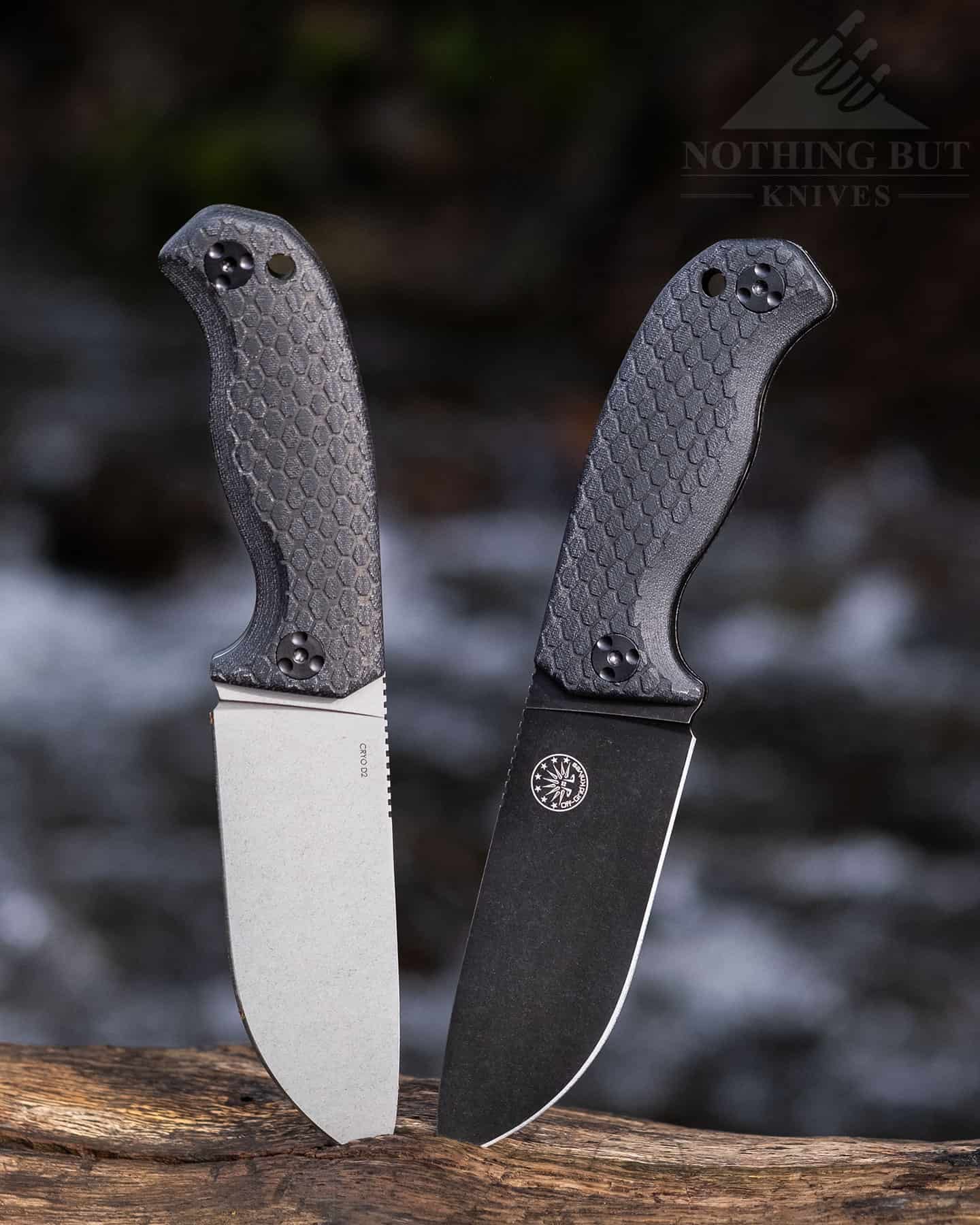 | | |
| --- | --- |
| Overall Length: | 9.5″ |
| Blade Length: | 4.98″ |
| Blade Thickness: | 5 mm |
| Hardness: | 60-61 HRC |
| Handle Length: | 4.5″ |
| Blade Shape: | Drop point |
| Blade Grind: | Sabre |
| Handle Material: | Micarta |
| Designer: | Cary Orefice |
| Activity: | Bushcraft and camping |
This thick-spined monster is the kind of thing I would hope to see on hearing about a bushcraft knife with a D2 blade that's nearly 5 inches long. For all its size, though, it feels weirdly nimble. The balance is great and even though it has a thick grind behind the edge, it cuts and feather sticks like a dream.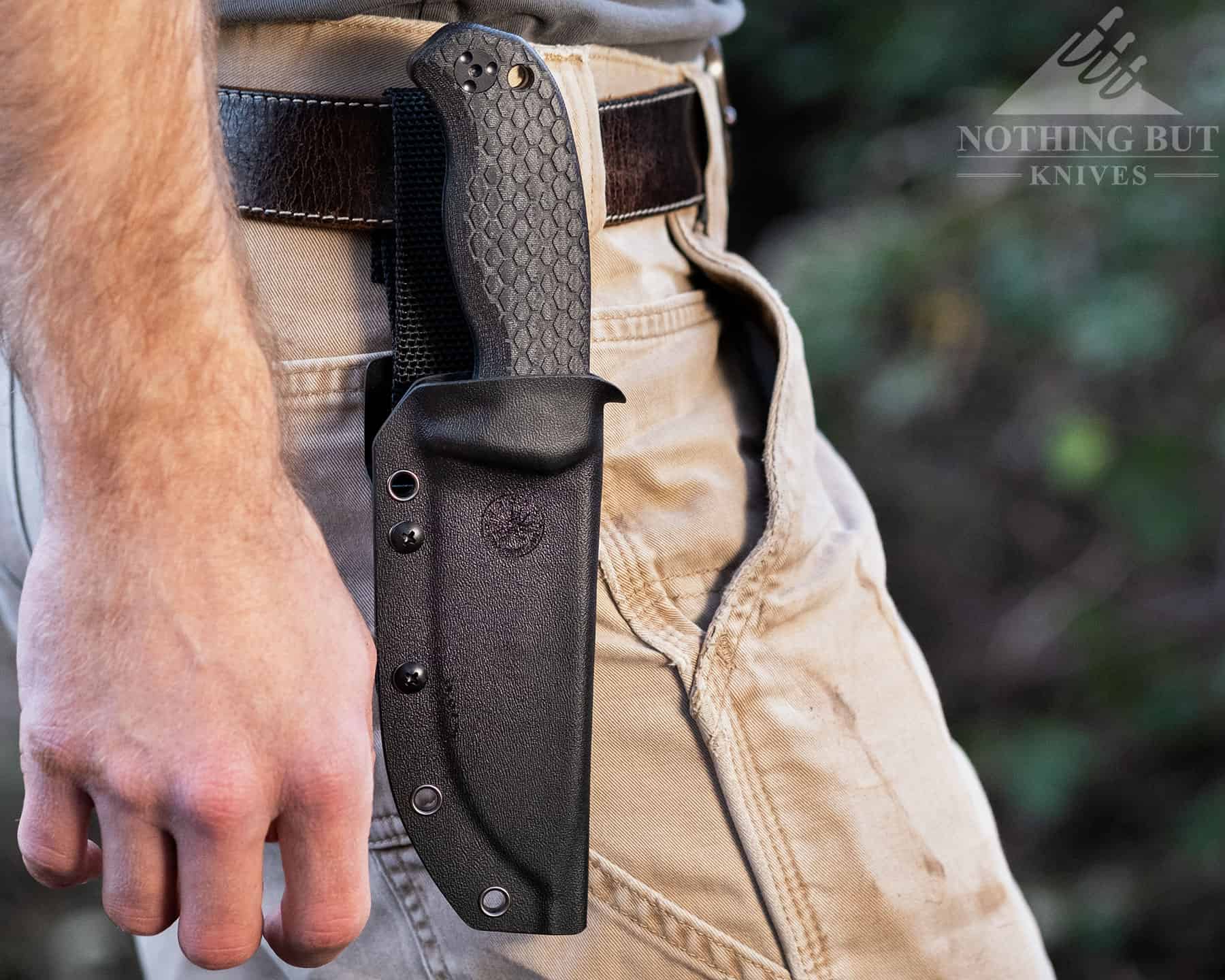 It can be a little awkward on the belt because the placement of the belt loop makes it either sag some in horizontal carry and ride a little high in vertical carry. It also takes some muscle and patience to sharpen, but it takes a lot of heavy use to wear the edge down to where it even needs that, and the performance you can get out of the edge is well worth the time.
We spent several weeks testing this knife. Check out our Tracker-X review to see what we thought of it.
LionSteel M2 Hunter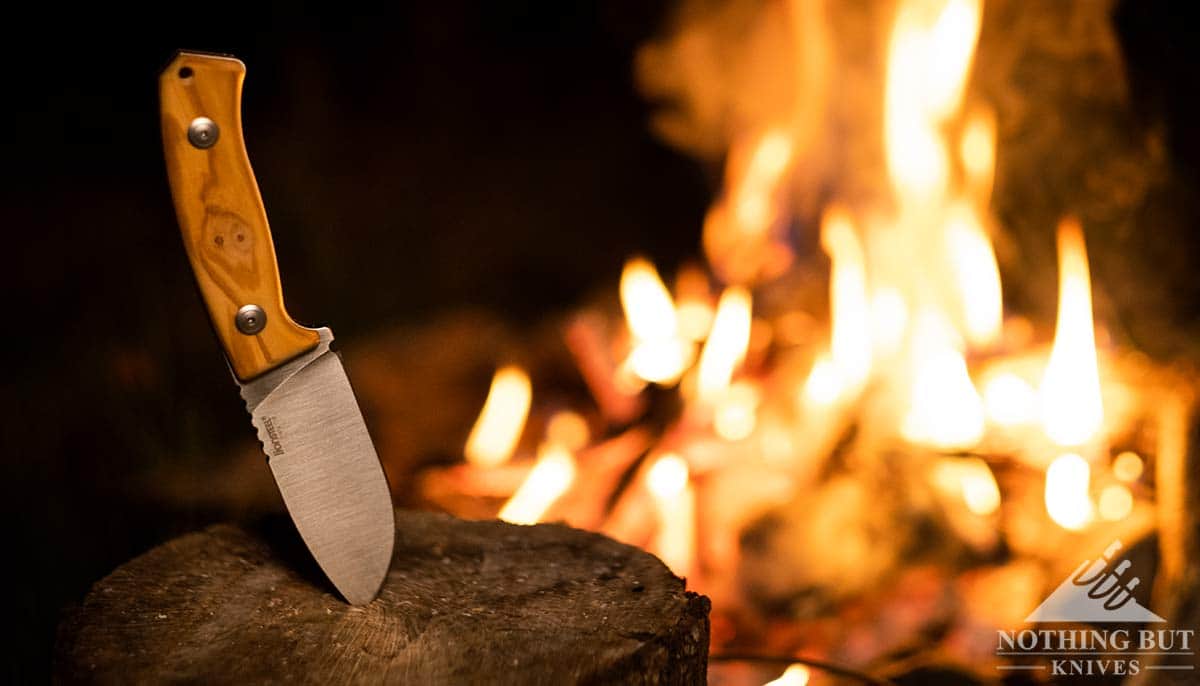 | | |
| --- | --- |
| Overall Length: | 7.68″ |
| Blade Length: | 3.54″ |
| Blade Thickness: | 0.16″ |
| Handle Length: | 4.14″ |
| Blade Shape: | Drop point |
| Blade Grind: | Flat |
| Handle Material: | Olive wood |
| Designer: | Michele Pensato (aka "Molletta") |
| Activity: | Hunting and camping |
This knife is as pleasant to hold as it is to look at. LionSteel also makes this design with G-10 scales and a darker wood. I can't speak to their G-10 stuff, but the olive wood handle is surprisingly grippy even in the rain. The overall ergonomics feel great in pretty much every position, and the jimping manages to be effective without feeling too abrasive.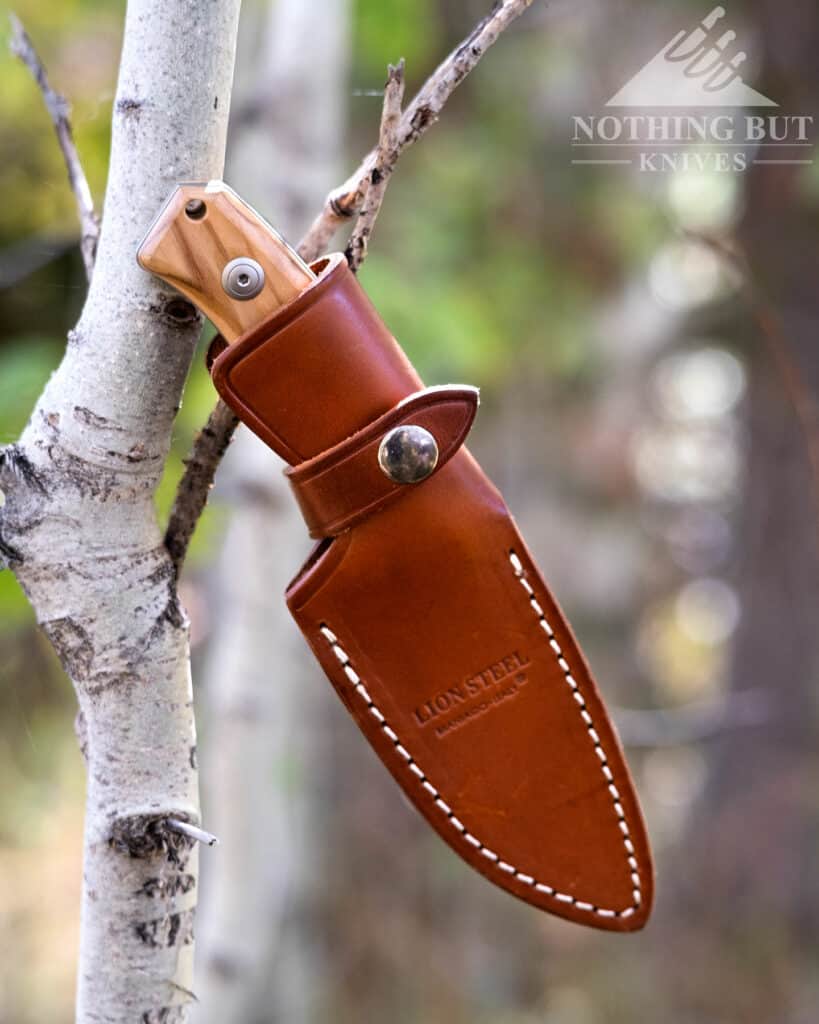 It also has a nice slicey edge on a fairly thick blade stock. That translates into a buttery smooth cut that feels satisfyingly appropriate with the way the knife looks. Really my main complaint about it is that the leather sheath puts the handle in a little bit of an awkward spot for drawing, but in the context of other leather sheaths I've dealt with, this one isn't half bad.
LionSteel has recently updated this design with Micarta scales and Bohler M390 steel. You can check out our review of the M2M here.
Off-Grid Alpha Dog
| | |
| --- | --- |
| Overall Length: | 9.75″ |
| Blade Length: | 4.5″ |
| Blade Thickness: | 5 mm |
| Handle Length: | 5.25″ |
| Weight: | 15 oz |
| Blade Shape: | Drop point |
| Blade Grind: | Flat |
| Handle Material: | G-10 |
| Designer: | Cary Orefice |
| Activity: | Hard use, camping, and bushcraft |
If you like knives with thick, fat bellied blades, you should absolutely check out Off-Grid's Alpha Dog. This thing is a beast. It's not light, but it carries easy thanks to its well-designed kydex sheath. This is a hard use fixed blade that excels at chopping, batoning, and even hammering with the spine. The blade is tall and sports a flat grind, so it does a good job at camping food prep in spite of its thick spine (so long as you don't mind the final dish looking a little rustic).
The blade of the Alpha Dog is made of Off-Grid's cryo D2 which has been one of our favorite steels for hard use or camping knives here at Nothing But Knives for a while. It offers a great combination of edge retention and surprisingly good toughness at a decent price.
Kizer Harpoon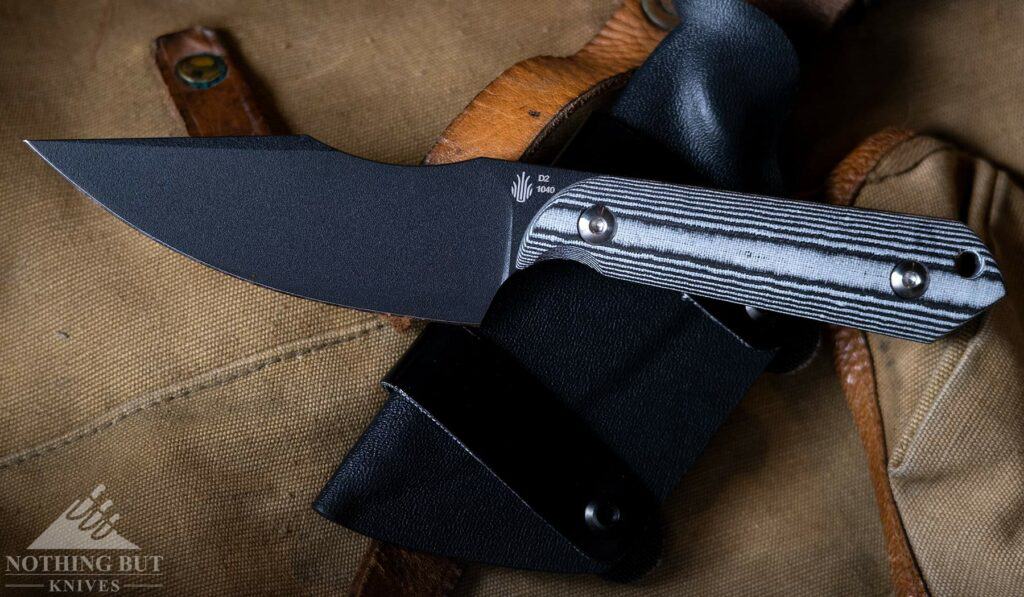 | | |
| --- | --- |
| Overall Length: | 7.75″ |
| Blade Length: | 3.875″ |
| Blade Thickness: | 0.15″ (3.81mm) |
| Handle Length: | 3.875″ |
| Blade Shape: | Harpoon |
| Blade Grind: | Flat |
| Handle Material: | Micarta |
| Designer: | James Buckley |
| Activity: | Tactical and survival |
The Kizer Harpoon is a well designed tactical / camping fixed blade with some great ergonomics. It ships with a horizontal carry sheath, so if you want to carry it vertically you will need to have a custom sheath made. However if you are a horizontal carry fan, the Kizer Harpoon is a great tactical / survival hybrid.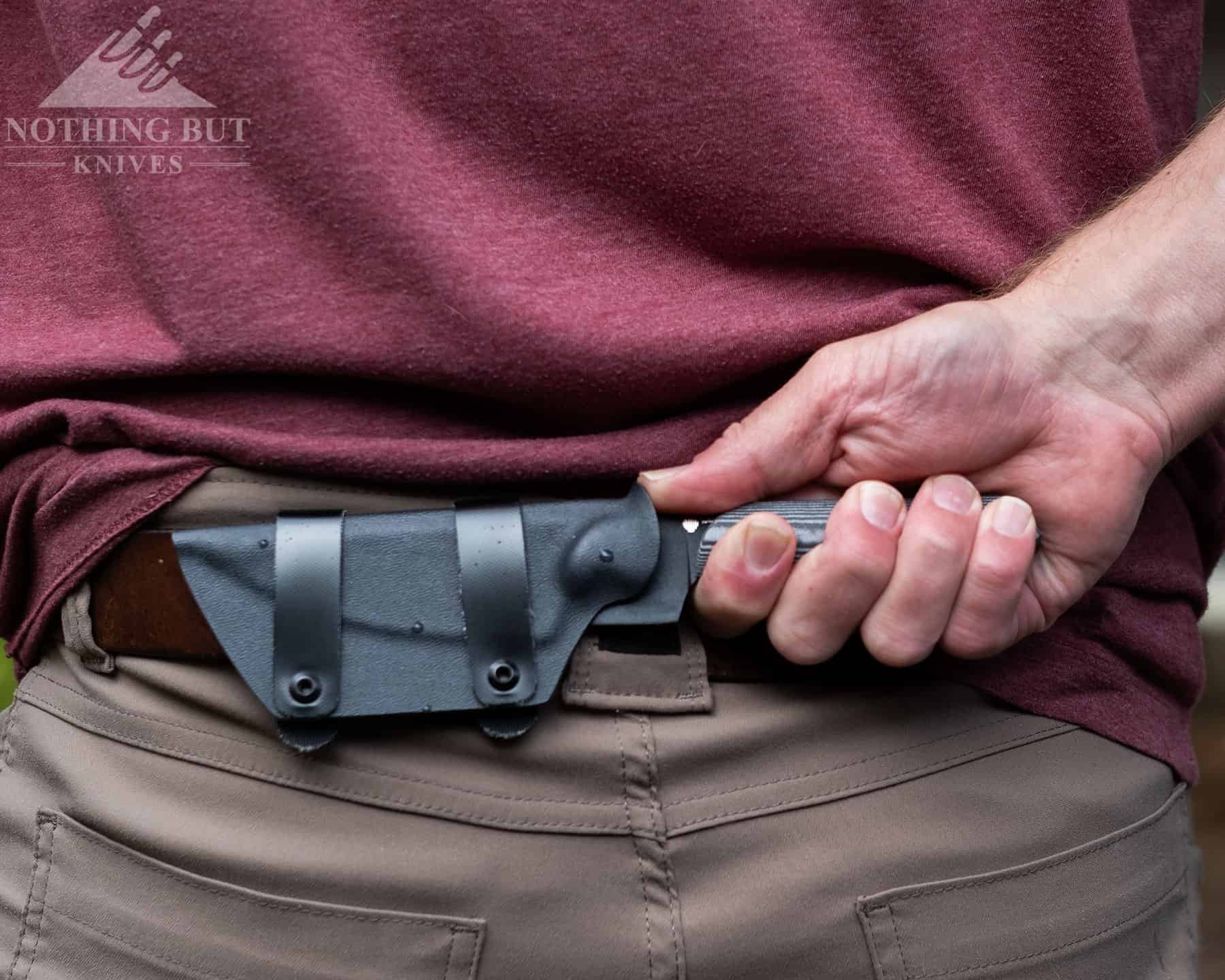 The linen Micarta handle of the Kizer Harpoon is incredibly grippy even when the weather is wet or cold. The thumb rest in back of the blade is handy for extra control when using the Harpoon for detailed work like carving notches, or tent stakes, or carving notches in tent stakes.
The good edge retention, excellent blade geometry, and super grippy handle combine to make the Harpoon a great camping knife. But it's also easy to attach to a backpack strap, so it is a good choice for backpackers as well.
Boker Magnum Collection 2020
| | |
| --- | --- |
| Overall Length: | 12.76″ |
| Blade Length: | 6.81″ |
| Blade Thickness: | 0.20″ (5mm) |
| Handle Length: | 5.95″ |
| Blade Shape: | Drop point |
| Blade Grind: | Flat |
| Handle Material: | G-10 |
| Designer: | Dietmar Pohl |
| Activity: | Bushcraft, tactical, and survival |
This knife is fun. I'm pretty sure that was the intention of the design in the first place. Some knives feel like useful tools or brutally efficient tactical weapons. This one feels like a playground. It's long with a thick spine and a grippy handle, which gives it a pretty incredible full feeling of maximized momentum when you swing. It is a chopper for adults who refuse to finish growing up.
It's also, unfortunately, a limited release for Boker Magnum's 2020 Collection, so not a readily available option. We just like to brag about having it.
Halfbreed MIK-05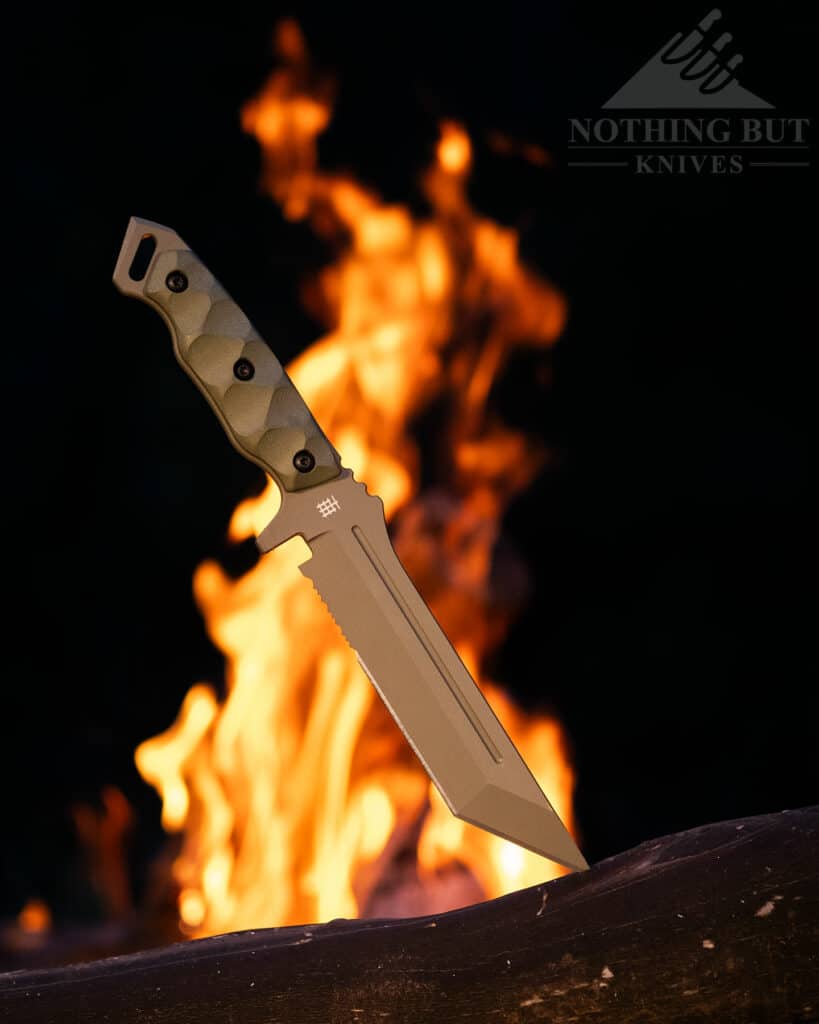 | | |
| --- | --- |
| Overall Length: | 11.77" |
| Blade Length: | 6.69" |
| Blade Thickness: | 6 mm |
| Handle Length: | 5.0" |
| Blade Shape: | Tanto |
| Blade Grind: | Flat w/ partial serration |
| Handle Material: | G10 |
| Sheath: | Kydex w/ MOLLE mounting |
| Activity: | Tactical, military and survival |
The Halfbreed MIK (Medium Infantry Knife) goes against a couple of soft rules I normally have when looking for a good D2 steel blade, but it's also a good example of how something can be an exception to those rules. This is a big tactical fixed blade with a solid (if sometimes harsh) grip. The grind is pretty wide on this, so I'm not too worried about the chippiness inherent in D2, especially since this is technically K110 steel, which seems to have better toughness than the average American counterpart.
It's also well built for impact between the 6 mm spine and the tanto tip. Even though this thing would probably be a pain to grind a chip out of, I feel pretty comfortable using the blade against harsher uses. For me "harsher tasks" typically means heavy-handed camping chores, but the MOLLE compatible carry system opens up the potential environments to take the MIK into by quite a bit.
The MIK base model makes up a large chunk of their fixed blade offerings, so if you like the style but not the shape, you can probably find something more suited to you somewhere on their site.
What is D2 Steel?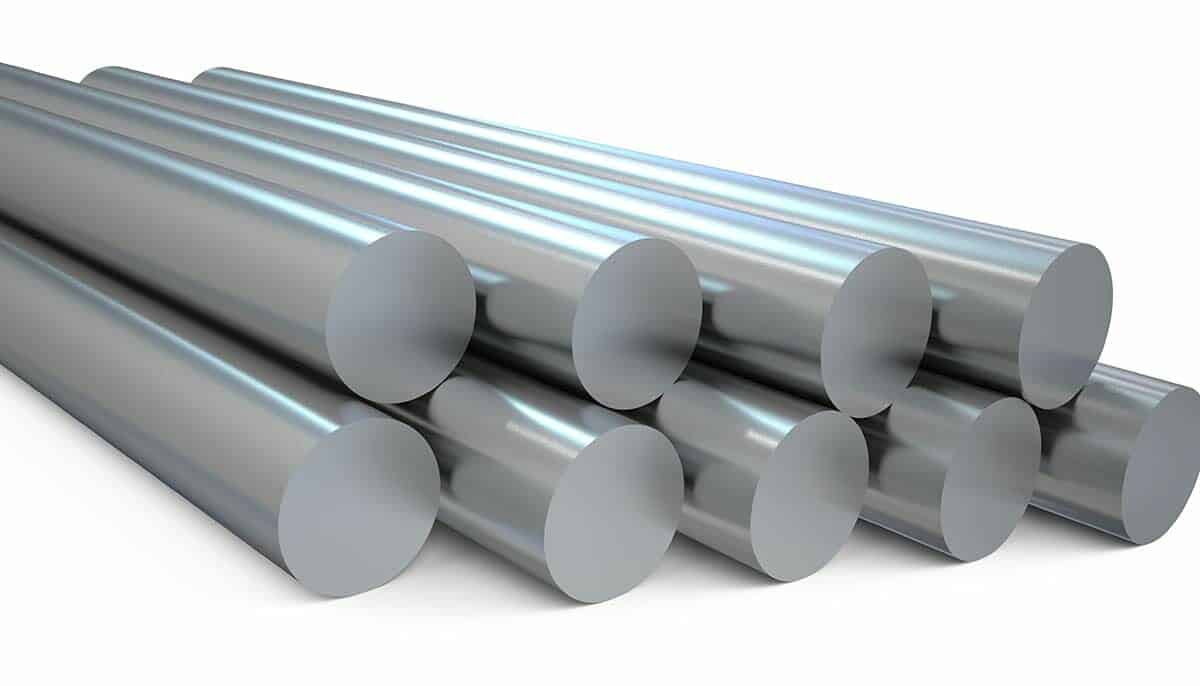 Basically it's a high-carbon, high-chromium, air-hardened tool steel. It has great wear resistance, okay toughness, and an approachable price tag by virtue of it being mass produced for machining purposes. It probably performs best around 60-61 HRC with a flat grind.
D2 Composition:
Carbon – 1.5%
Chromium – 11.5%
Vanadium – 0.9%
Molybdenum – 0.08%
You might also see it as PSF27 (the sprayform version created by Danspray) or CPM-D2 (the powder version by Crucible), and compared to steels like CPM-154 and CruWear.
At the risk of repeating a lot of information that's been told by more competent sources like Blade Magazine (which actually has a pleasantly short and helpful article about D2, if frustratingly non-specific), and Knife Steel Nerds (who are almost too specific), I'll lay this out as simply as I can:
D2 came into common use because of its wear resistance and relative toughness. It got its start in the 30s when it was being used as a die steel. It started getting used as a knife steel in the 60's, but it didn't really get to the popularity and quality we see in knives today until the early 2000's when companies like Crucible and Danspray came out with harder and tougher versions and people like Bob Dozier started playing around with it.
Now it's a staple of budget EDC knives. Of all the tool steels commonly used in knives, it might have the highest carbon content, which also makes it one of the hardest steels. It is highly receptive to heat treatment and machining. In the hands of people who know what they're doing, a D2 steel can get a pretty incredible edge and hold it through months of heavy use.
On D2's Corrosion Resistance: Not as Good As You Think
It sometimes gets mistakenly touted as a tool steel with high corrosion resistance because of the chromium content. That's understandable since that 11.5% Cr just skirts under making D2 a true stainless steel. But as both Blade Mag and Knife Steel Nerds have pointed out, most of the chromium gets tied up in the carbon to make the structure harder so there's only about 6% chromium actually making D2 rust resistant, which is still higher than some tool steels. It's certainly higher than O1, and a little better than A2.
Response to Heat Treatment
One of the reasons D2 has become such a popular steel is that it's very responsive to heat treatment. This is also the reason it gets a bad rep from some people, because if D2 is cooked poorly it can end up pretty frail and have basically none of the benefits you normally get with a tool steel.
Companies like Off Grid and Ka Bar have put a lot of effort into finding the right method for their designs, but since D2 is such a versatile steel where treating it is concerned (it can be hardened effectives from about 54 to 62 HRC), a lot of designers and companies find different ways to cook the steel to optimize it for their designs. So while wear resistance is the big hallmark of D2, you might see that act in slightly different ways with different knives.
Tips on Taking Care of D2
This is a hard-working steel, and when half the knives sporting the stuff cost less as much as eating out for two we tend to think of it in the same temporary terms: there will always be another meal.
But any knife you love is worth taking care of, and D2 can be a very lovable steel, so here are a few quick tips to keep D2 knives in top shape.
D2 is tough to sharpen, and probably worth paying someone else to do it, but if you have to try the quick tip here is that it likes a toothy edge rather than a polished one. It's usually best to use diamond stones with a low grit around 500, and no finer than 1000 grit.
Always wipe it after use, and rub a thin coat of oil on it about once a month if you use it regularly.
For storing it long term it helps to put a coat of wax on it.
If you have a folder, be sure to take it apart to wipe it down thoroughly after using it heavily around dirt or salt water.
In general, don't use a D2 blade for high-impact tasks. Obviously this depends heavily on the design, but since D2 is a harder steel, usually sitting around 61 HRC, it can become a chipping liability.
If you're going to reprofile a D2 edge remember that it's generally too frail for thinner grinds like hollow or scandi. Best to keep to a wide-based edge like flat, chisel, or even convex.
Why D2 Steel
Updates on top-tier knives like the Benchmade 940 and Spyderco PM3 are cool and all, but how often do people actually use these knives after buying them? I have trouble taking out knives in the $150 range for anything more harrowing than a cardboard box, much less the $200-300 tag I see coming with S30V steels.
Meanwhile I've taken my OKC Rat 2 and Off-Grid Badger apart to clean the dirt so many times I could damn near do it blindfolded.
It's Not that D2 is Great; It's Great for the Price
The true values of D2 steel aren't necessarily in its performance, but in its performance for cost. There are dozens of steels out there that are arguably "better" if we're defining the word in terms toughness, edge retention, and corrosion resistance, but there aren't many that can give you the degree of edge retention and mid-tier toughness at a reasonable price. D2 is a bit like an old Honda Civic in that it's reliable and easy to modify while also being very affordable, and by extension more usable.
With the right heat treatment, D2 is comparable to Bohler N690 and Cruwear at a fraction of the price. It's no Ferrari, but it will get you from A to B with a lot less fuss, and you're far more likely to actually use it along the way.