Camping with Mike Wallace's Pennsylvania Church Knife. The Perfect Hard Use Gentleman's Folder to Spruce Things Up Outdoors
The Strategy feels like a Cold Steel knife that bought a nice suit and switched to drinking whiskey instead of beer. But the secret of this knife is that it's not actually an EDC; it's a camping knife disguised as a gentleman's folder, and except for a slight weakness to rust, it's an exceptionally good camping folder.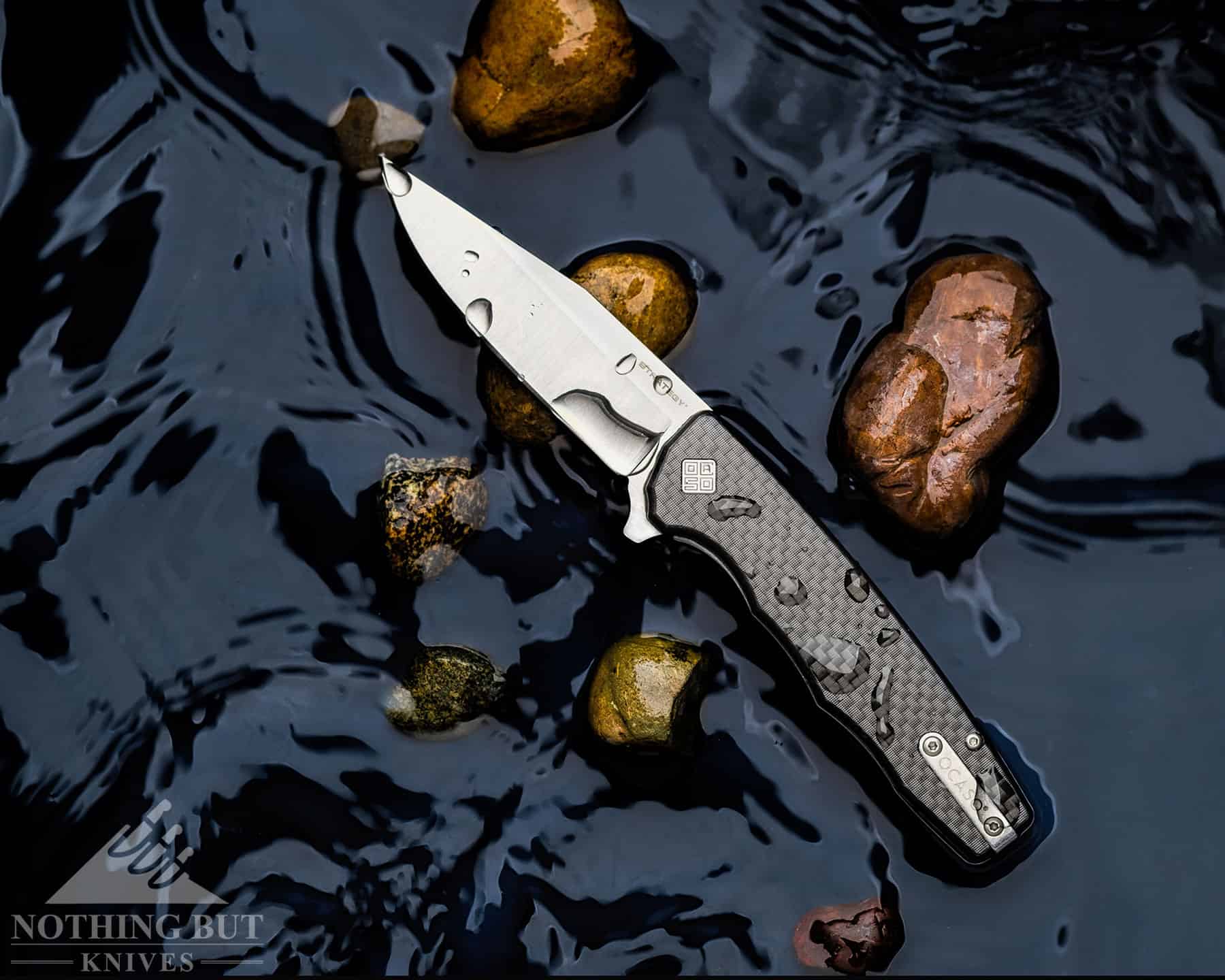 The odd thing here is that Ocaso is all about making gentleman's folders. That's the whole company philosophy, so with all of their designs I have to ask myself "would James Bond carry that?" With the Solstice, the answer was very much yes. The Strategy, though, has a little bit of a different vibe.
In full disclosure, I received this knife for free, and I've had pleasant conversations with both the designer of the Strategy and the owner of Ocaso, so my ability to be unbiased is severely handicapped. Hopefully we can all have a good time here anyway.
Specifications
| | |
| --- | --- |
| Overall Length: | 7.8" |
| Blade Length: | 3.5" |
| Blade Steel: | Bohler K110 (D2) |
| Open System: | Flipper tab |
| Blade Thickness: | 0.12" |
| Blade Shape: | Clip point |
| Blade Grind: | Saber |
| Handle Length: | 4.3" |
| Handle Material: | G10, carbon fiber, or aluminum |
| Lock Type: | Liner |
| Weight: | Around 4 oz (depending on handle material) |
| Designer: | Mike Wallace |
| Made in: | Taiwan |
Pros
A great example of finger scallops done well in a handle
Good pocket clip design with spot-on retention
Strong clip point blade primed for hard work
Surprisingly good camp knife
Cons
Not exactly a fine slicer
D2 is chippy
Liner lock feels a little harsh (solid lock up, though)
Design Talk: Mike Wallace's Church Knife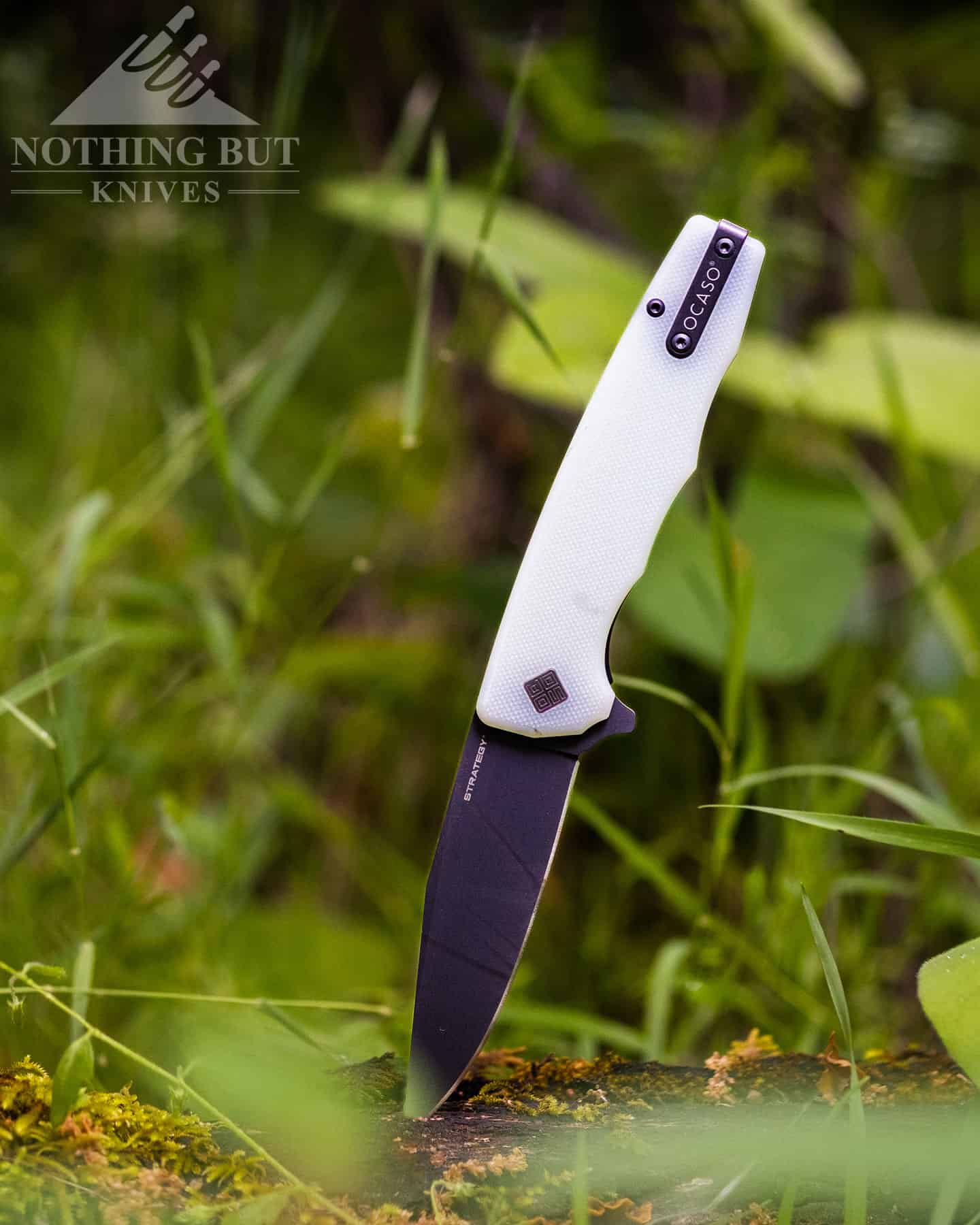 I had a chance to annoy the designer, Mike Wallace, into talking about the Strategy a little bit at Blade Show. I had the same question for him about this knife that I think everyone had about Demko and the Solstice: Did he always want to design a gentleman's carry folder or did he come up with this specifically for Ocaso.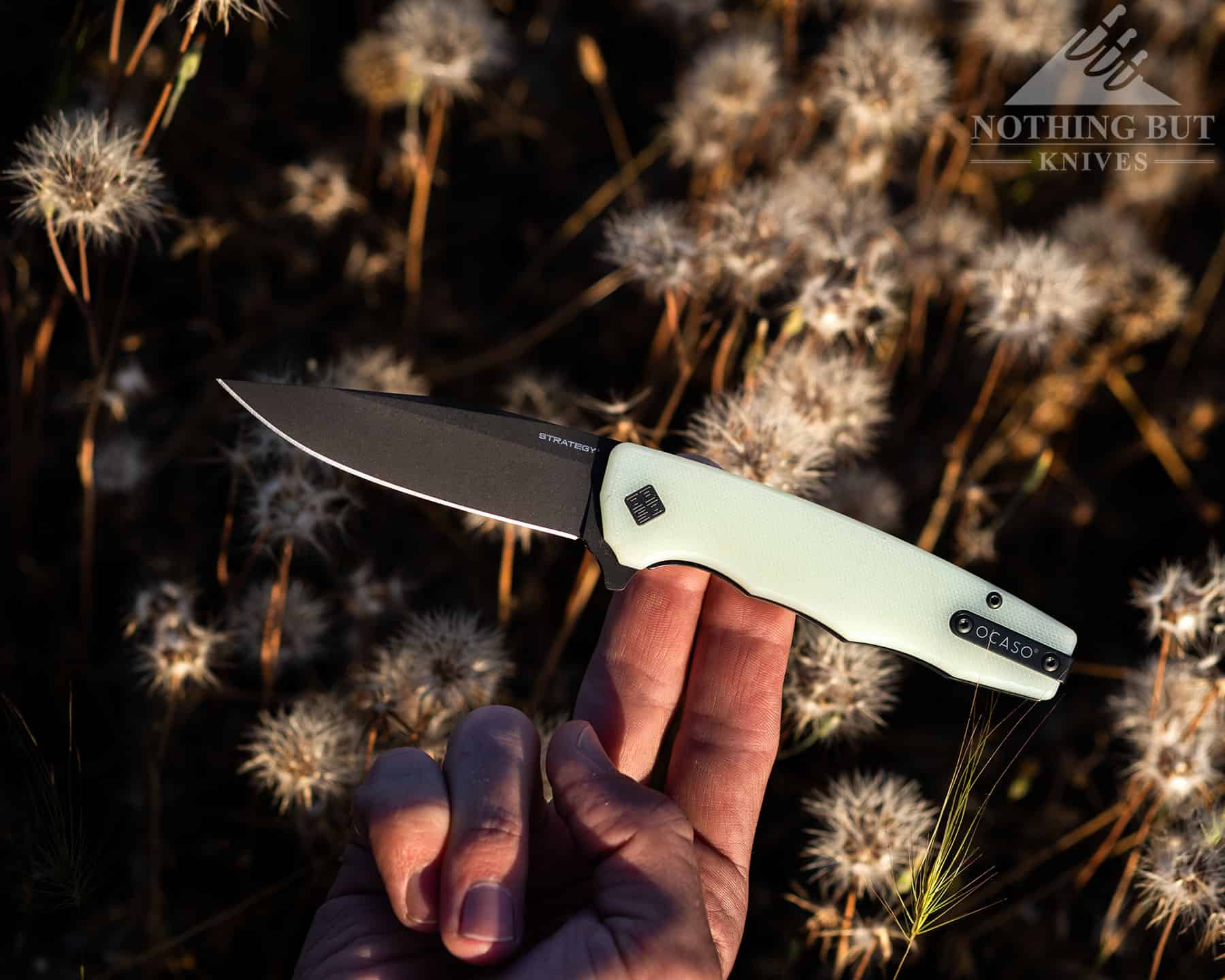 Wallace said that idea for it had been kicking around in his head for years. Ocaso basically just gave him the outlet to finally work it out. In the true, oddly-bashful nature of many good knife designers, he didn't go into a lot of detail about why he wanted to make it or where the idea came from (although it's not too hard to see a few logical progressions from the Cold Steel Bush Ranger). He left it simply at "I wanted a knife that I could take to church".
Church, I assume, is as close as he's ever wanted to get to a gentleman-carry situation; he is (again, like many good knife makers) a man who thrives in casual settings. So I can't help feeling like everyone missed the mark on the name, because ever since I talked to Wallace I've been thinking of this thing as the Pennsylvania Church Knife.
The Grippy Handle with Scale Options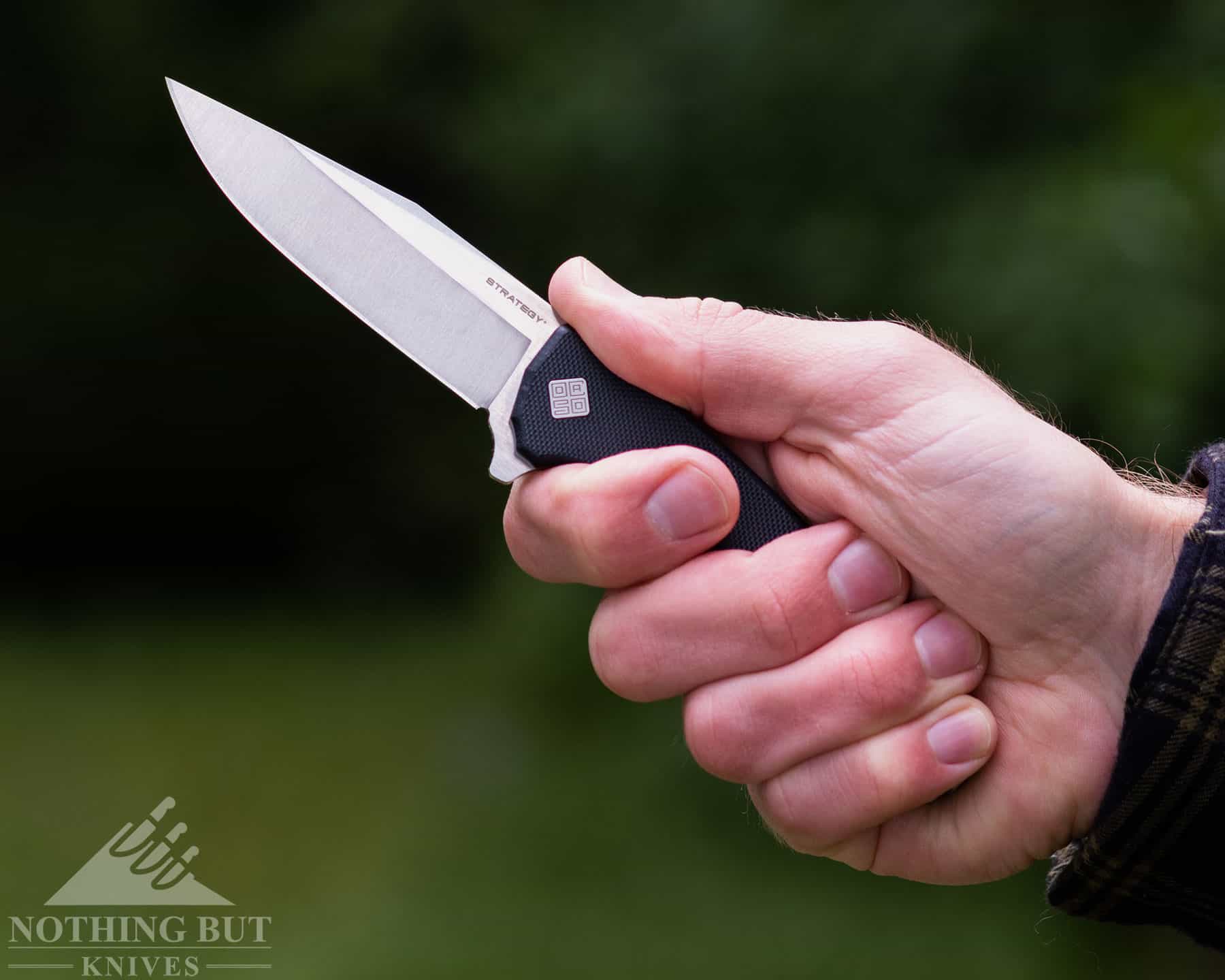 Wallace seems to have hit on a near-perfect universal shape with the handle. It has a full, comfortable, four-finger grip that nearly feels like it was made for my hand.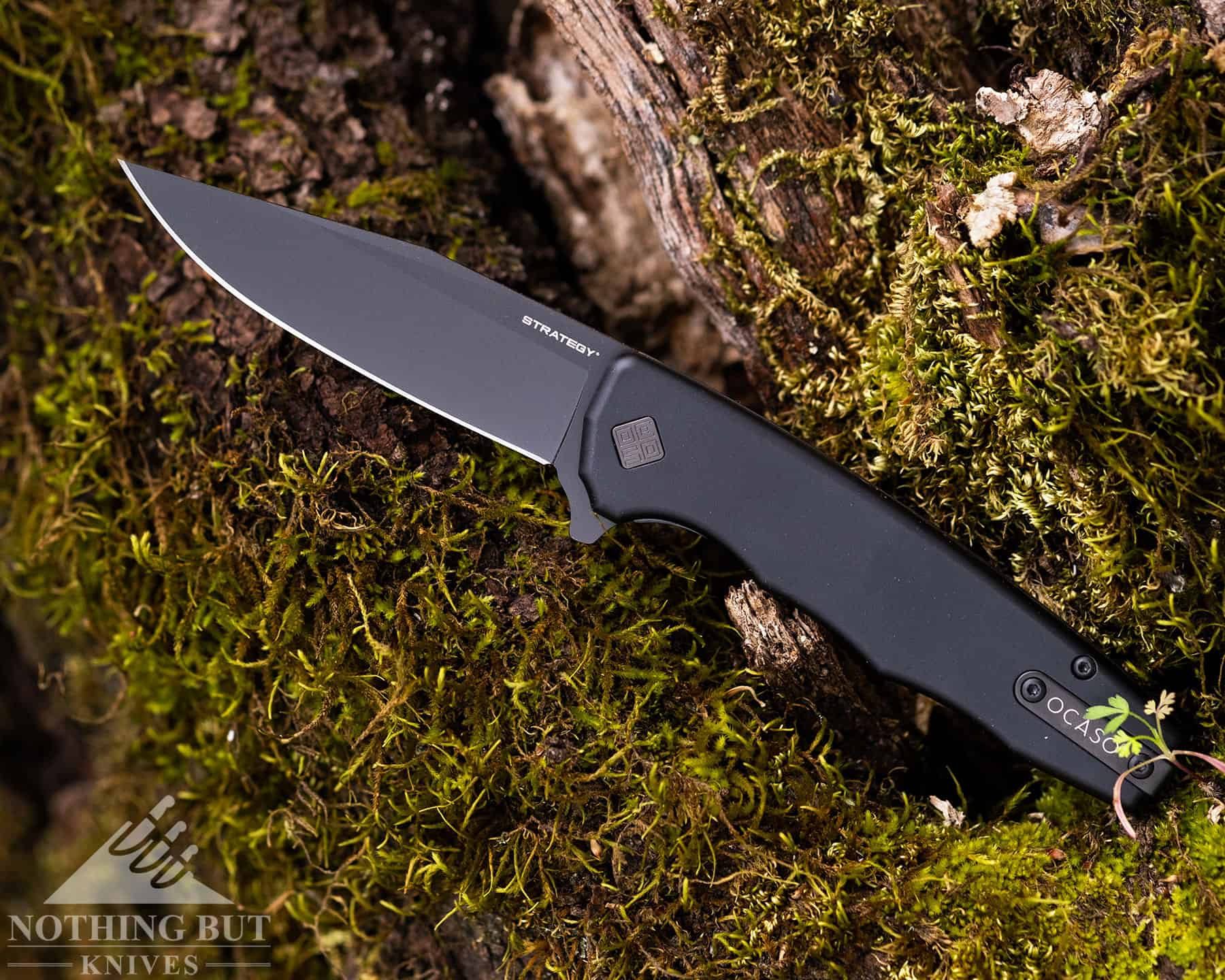 I thought I was just lucky, but my wife actually picked this up and asked if it was made for smaller hands because it felt so natural in her grip (which is a pretty rare occurrence with most of the knives I bring home). The shape just works. All that scalloping along the front hits right in the sweet spot of contouring that gives the hand more angles and material to latch onto before it becomes so overworked that it's just intrusive to the grip. And apparently it feels that way in all kinds of different hand shapes.
Smooth Vs. Textured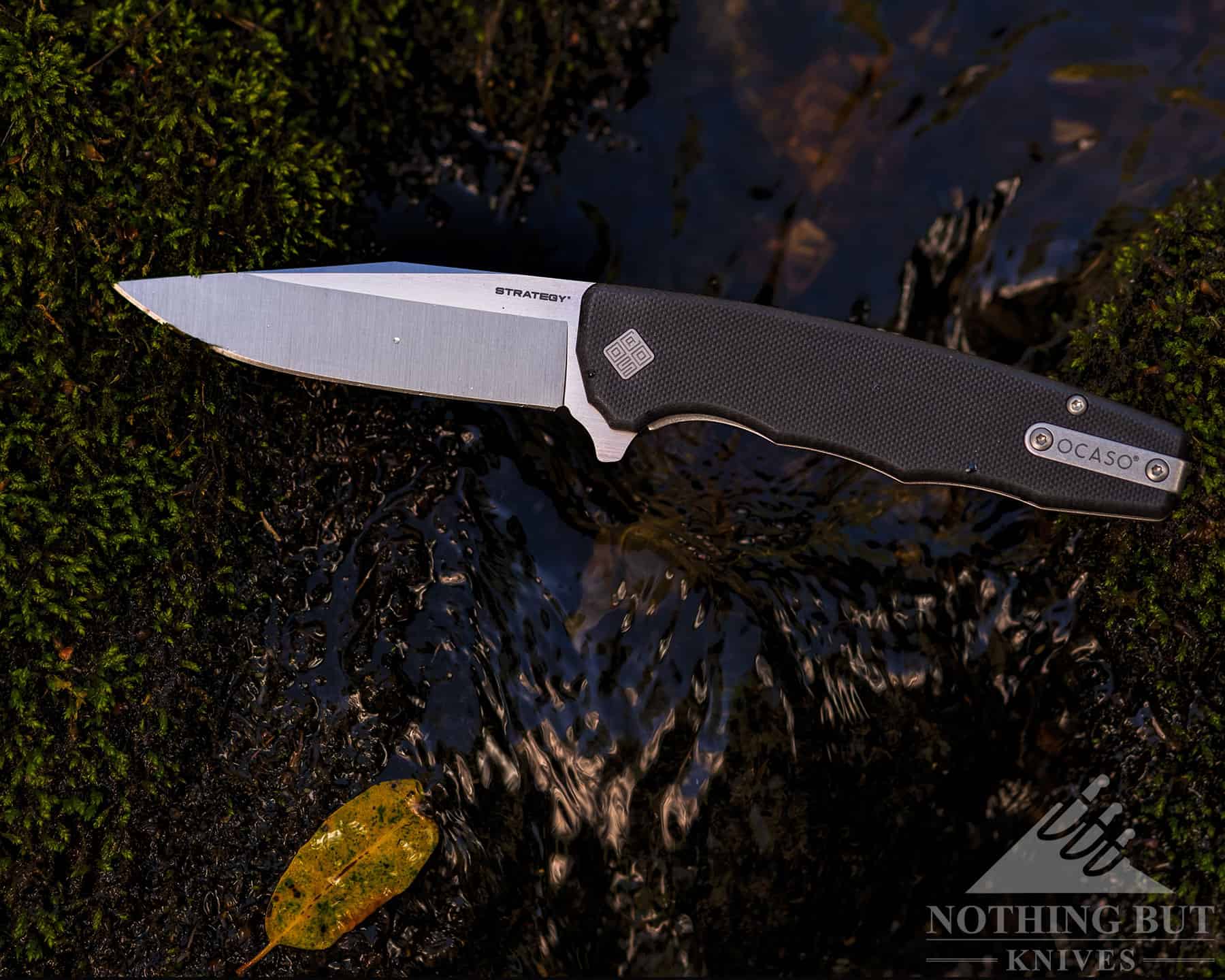 I mostly walked around with the black G10 version of the Strategy because I liked the grip, but they also make it with carbon fiber and aluminum. Both the carbon fiber and the G10 scales have a slightly raised texture that sticks to the hand really well (that was a pleasant surprise with the carbon fiber).
The aluminum scales are completely smooth, which makes for a much more sleek feeling and pocket carry, but most days I put this knife in my pocket I knew I would be getting wet and dirty, and as much as I like the look and feel of the aluminum, the risk of dropping it in a creek seemed a little too high to me.
The Pocket Clip and Heavy Duty Innerworkings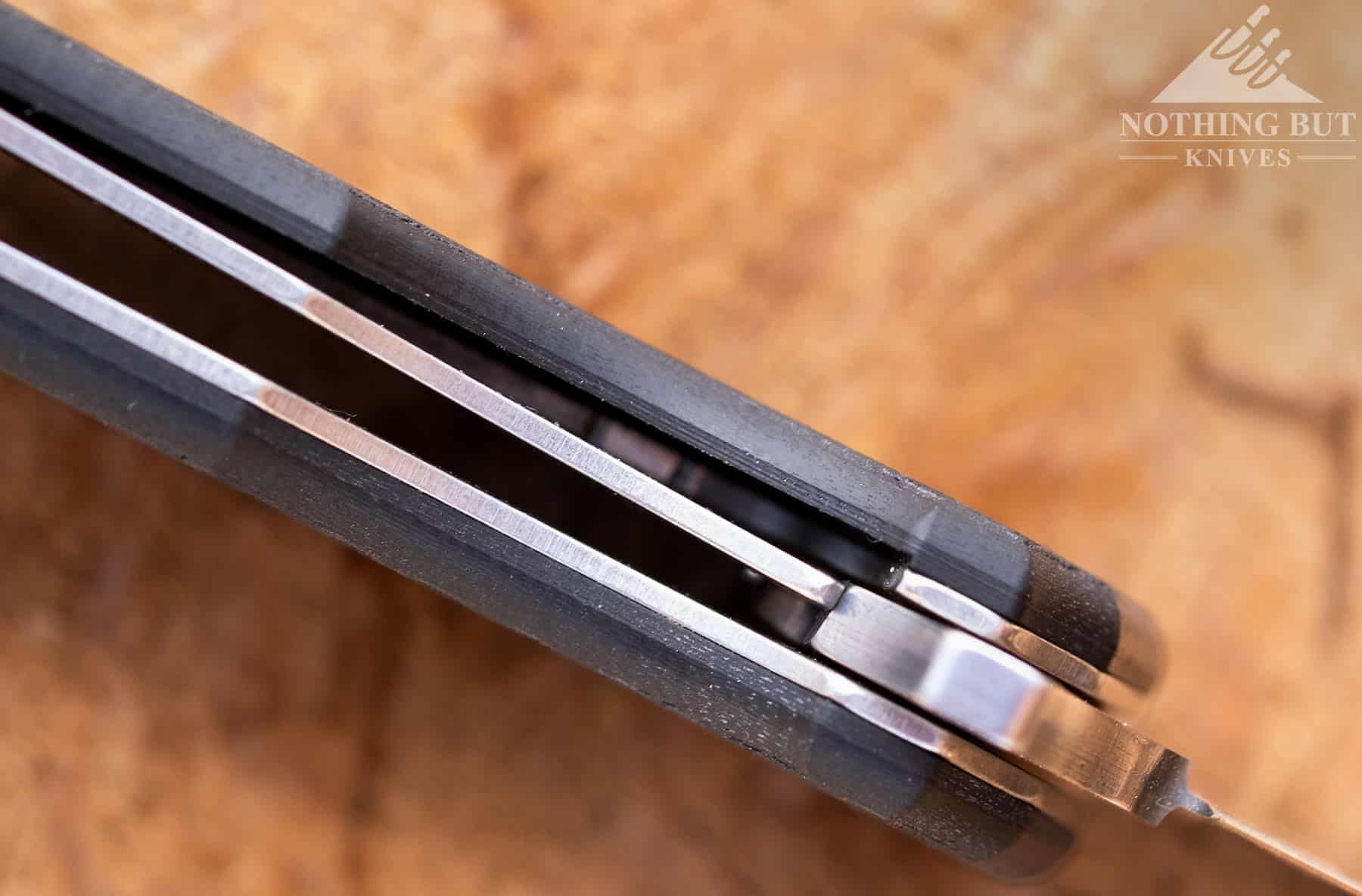 The liners on this thing are… let's call them "healthy". They're thick, but they're milled out pretty thoroughly, so the weight-to-blade ratio stays right around an ounce per inch. Ocaso's doing great there, but it's another element that makes me look a little sideways at the gentleman's folder designation, because the body of the Strategy is pretty damn robust.
One the whole, I think this adds to the classy heavy-hitter feeling of the design, but it also lends into one little problem: The liner lock is pretty stiff, and probably travels farther along the tang than it really needs to, and it could definitely use a little bit of chamfering on the side. I feel it bite my thumb just a little every time I disengage it.
You better believe this is a damn solid lock up, though. To a point where I would almost feel comfortable recommending this as a tactical folder. Between the lock up, the clip point blade, and the solid-grip ergonomics, the Strategy is primed for taking a lot of abuse. But, again, it sort of colors my image of what kind of church Mike Wallace goes to, and what he does after service.
Pocket Clip Joy, and Trouble with Work Pants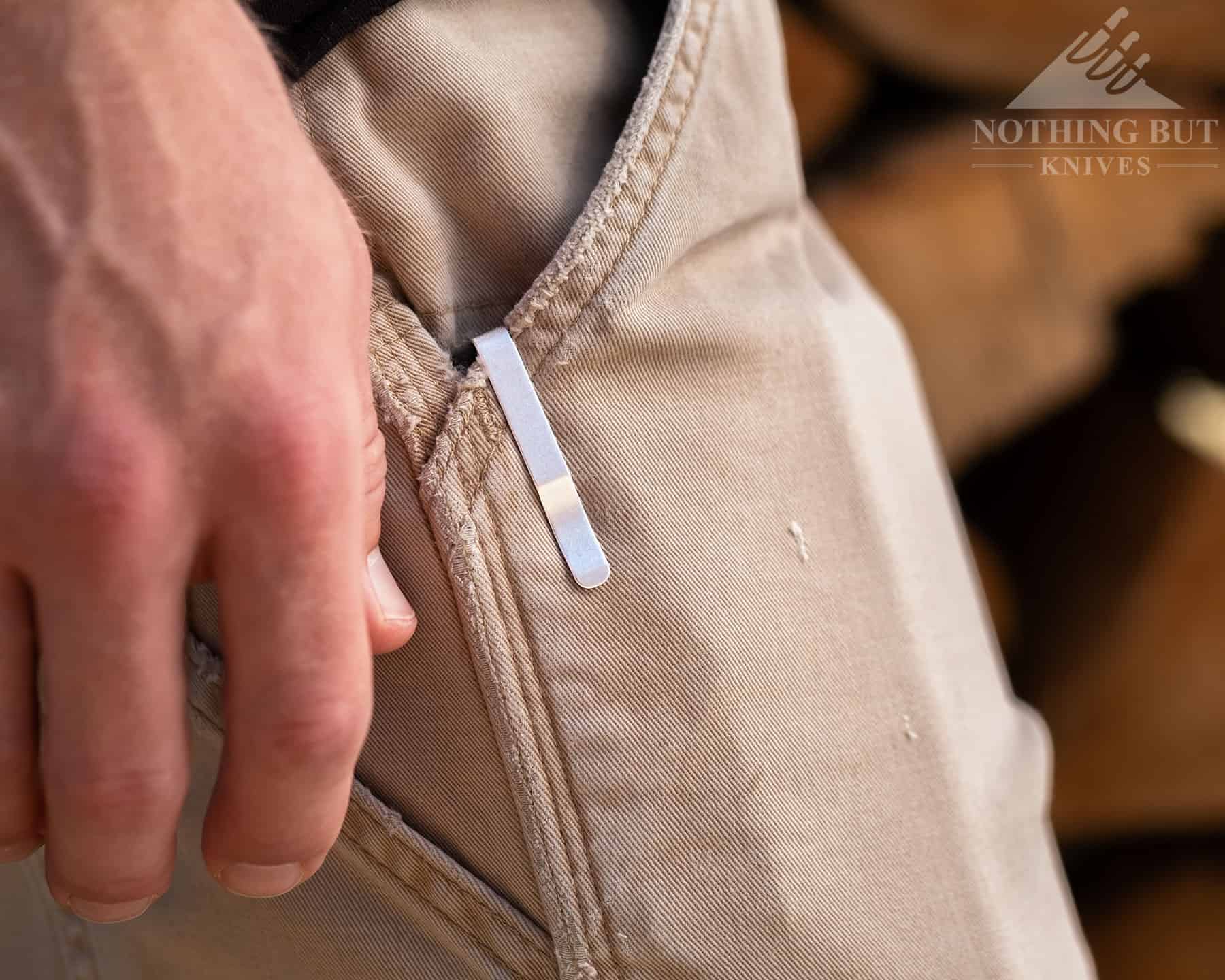 I'm always a fan of wrap-around pocket clips. There aren't many in the knife world, but it seems like the best way to do a deep-carry system. It's a good solution to the problem of screws that aren't flush with the scales tearing at pockets, and it usually looks neat (to me, anyway).
The retention on this clip is excellent. It kept a good grip even when I wore thinner pants. I assume this would work really well if I were to ever wear slacks again. I went the other way, though, and packed it around in my thick Carhartts most of the time, which is why I can tell you that the retention actually feels too tight on thicker pockets.
I had a little trouble pulling it smoothly, so I started wearing it in the tool pockets farther down on the leg. That worked out pretty well most of the time, especially since I was usually drawing the knife in a crouch, so the tool pockets were within easy reach (which is more of a point in Carhartt's favor).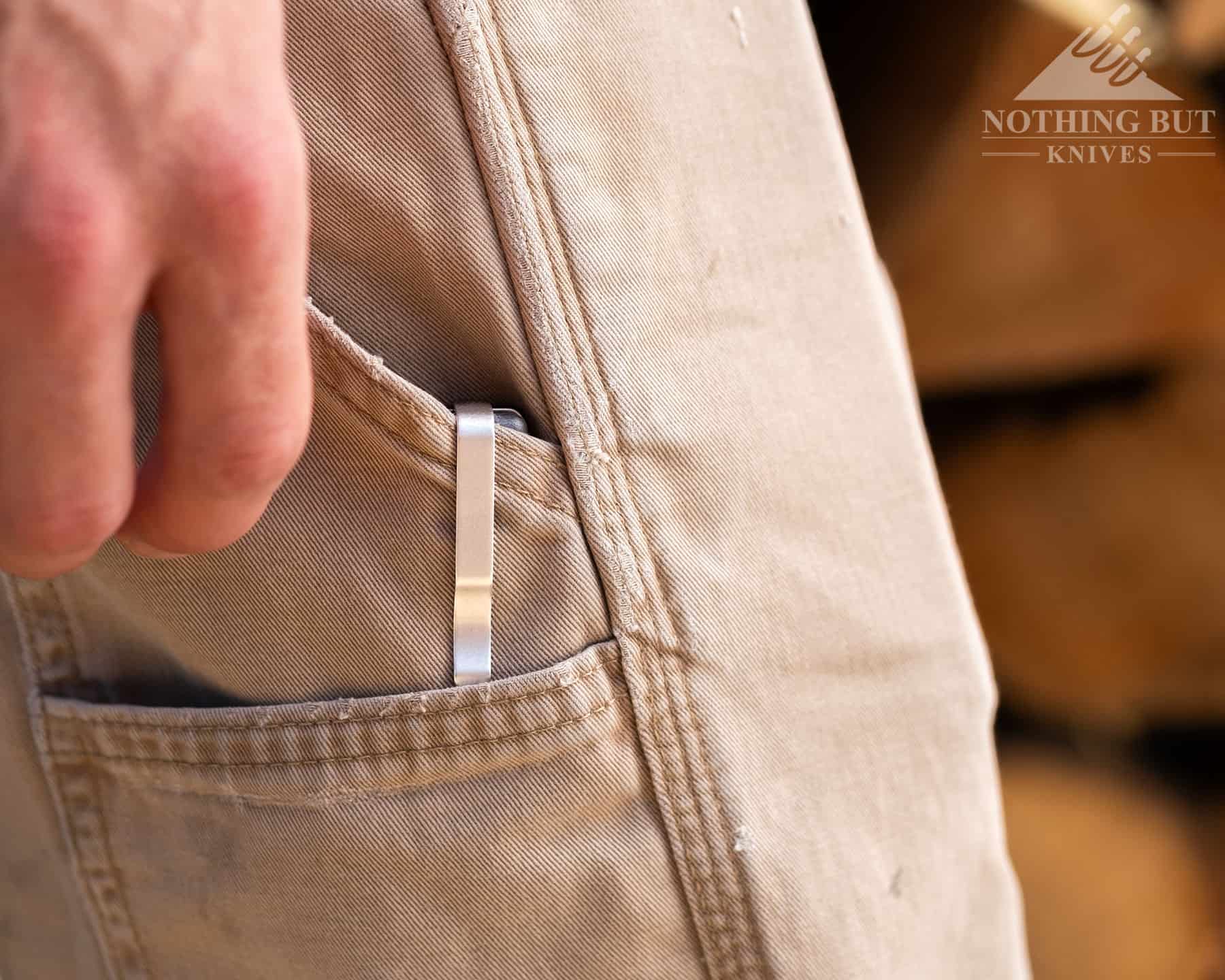 It does complicate taking the knife apart a bit, because it means you have to remove the pocket clip before taking the knife apart. But I only had to do that because of the particular abuse I put it through (I also had just a little trouble with a free-spinning barrel spacer, but on the whole taking this thing apart went pretty smoothly). The action and centering on this thing out of the factory were spot on.
The Cuts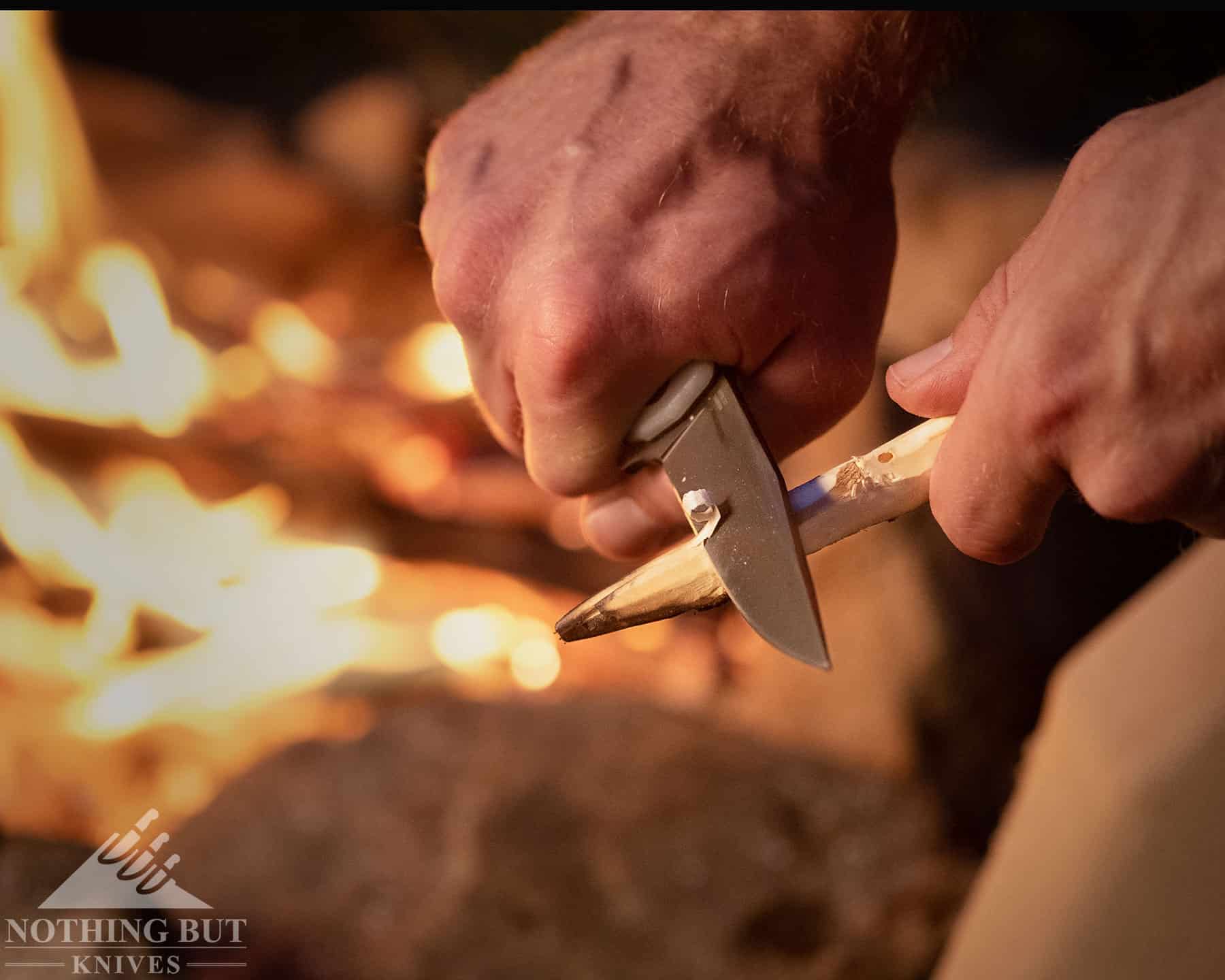 This is a thick blade. Even the microbevel looks big, so it's not exactly an optimized slicer, but it gets work done. Some of that propensity for work comes from the curvature of the handle giving the whole knife a sort of natural feeling of leverage, but the blade has a survival-knife kind of grind that makes it a handy tool outdoors.
It's a great stick carver and notch cutter, as far as folders go. It's also been good for cutting cordage, although that's as much due to the easy-grip ergonomics as the edge of the blade.
I didn't like the Strategy so much around the house, but that's partially because I already have a large collection of mean slicers all around my desk. It feels a little slow through paper, and I would almost describe its action with cardboard as "gummy" if it's a softer kind of board. It'll eat a refrigerator box right up, though. The knife really seems to come into its own as the materials you try to cut get thicker and harder (up to a point). It needs that stiffness to get a good cut started, but once you get it going, it turns into a plow.
Of course, this is mostly going off the factory edge, and I'm comparing it to some of my favorite slicers like the Vosteed Nightshade and the Off Grid Black Mamba, which both have laser cutting action (partly because of the grinds and partly because I use them enough to keep the edges maintained).
Slightly Rusty Steel and Admissions of Abuse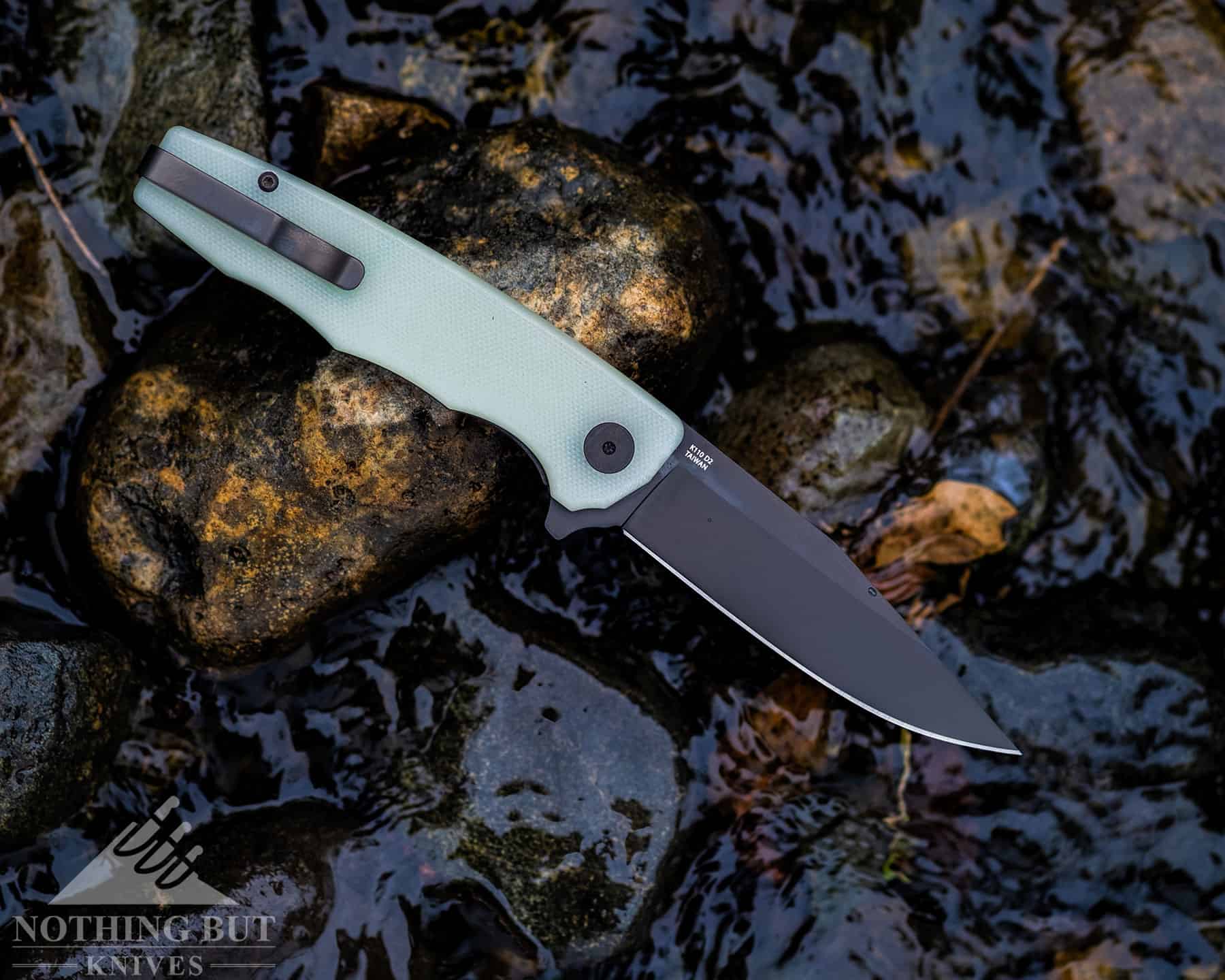 Bohler K110 is, by composition, the same thing as D2 steel, but it's D2 steel made by Bohler. Considering how touchy D2 is for makers to heat treat, that is a very relevant detail to take note of. Bohler knows what they're doing.
That said, this blade will rust pretty quick if you aren't careful. I caught some rust spots about two days after I got drenched in the yard with it and didn't dry it properly because I didn't feel like taking it apart.
That was kind of an extreme case, though. Through all the sap-crusted, dirt-caked, steel-slapping woodland abuse the Strategy encountered, the rust spots have been one of just a few consequences. That and the gouges in the spine from where I scraped it on a fire steel.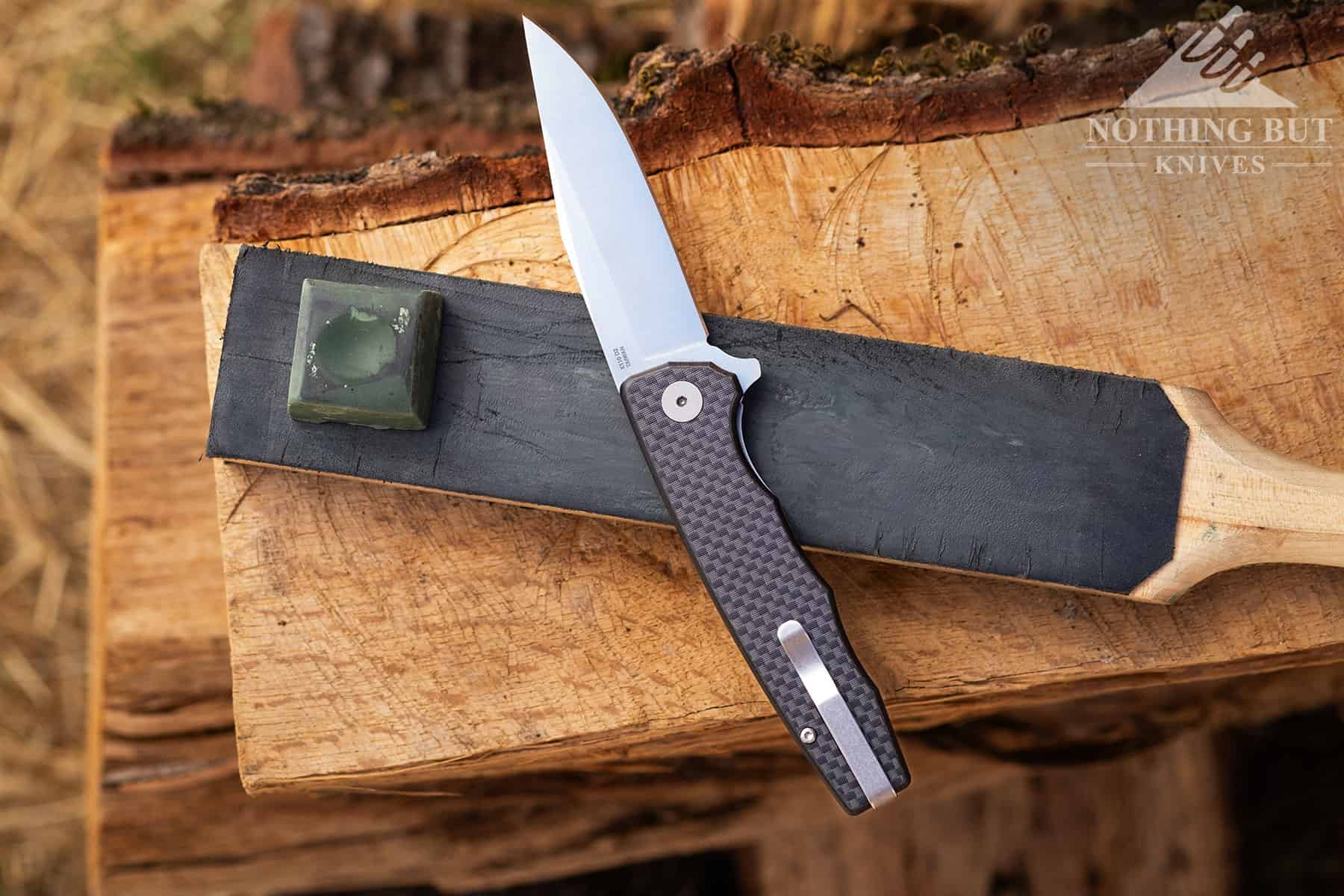 The edge has held up great. I did struggle a little to hone and strop it to a level I was happy with after I had finally beaten it down enough that it couldn't cut a clean line through paper, but that's nothing new with D2.
I also managed to chip the tip of the blade. I'm still not sure how I did it, which means I did it when I was doing something stupid in the woods that was somewhere outside the range of uses the Strategy was designed for. It might be a heavy duty knife as far as gentleman's folders go, but it's still a pocket knife, so I don't think I can count the slightly shortened tip against it with any kind of justice.
Still, don't let my talk of fires in the woods compel you into using this thing for prying and chopping. It's a pocket knife. It's for cutting. So long as you keep it in that wheelhouse everything should go just fine.
The Camp Knife Reality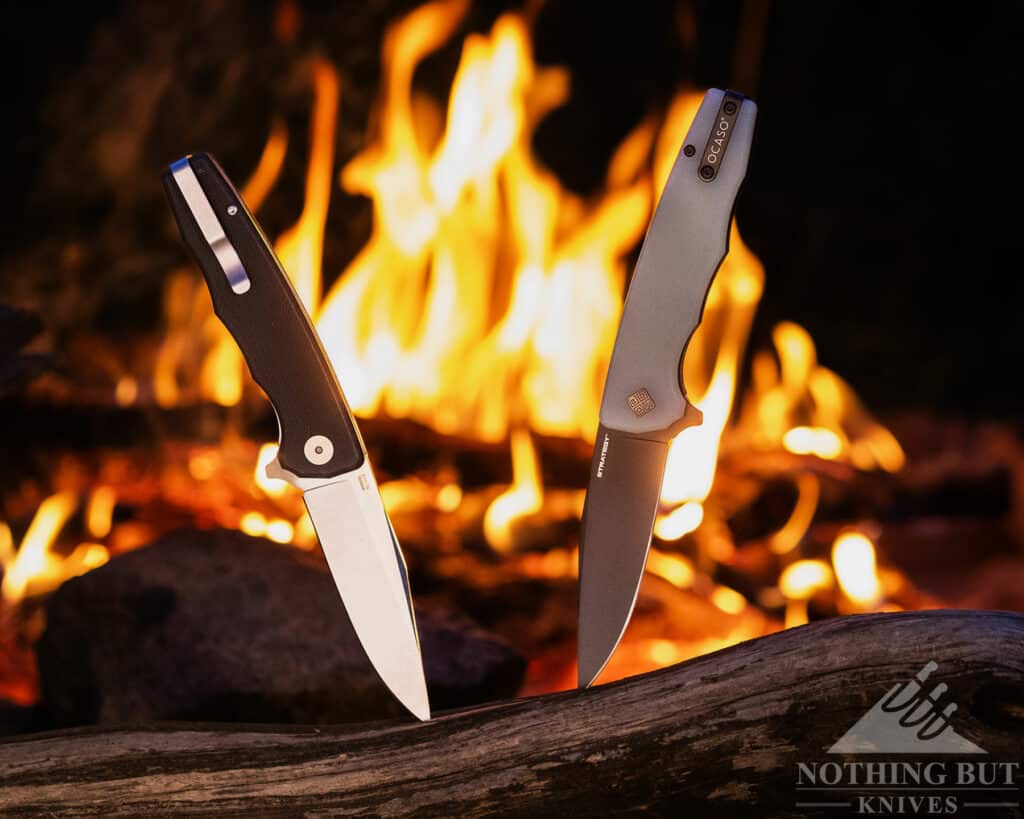 Ocaso popped into the knife scene with a strong gentleman's carry vibe, and I've mostly treated their offerings so far as such. I use them for cutting up junk mail and threads and for shaving spots on my arm in order to demonstrate the sharpness to whoever is too polite to walk away at a party, because I am less capable of talking about anything normal the older I get.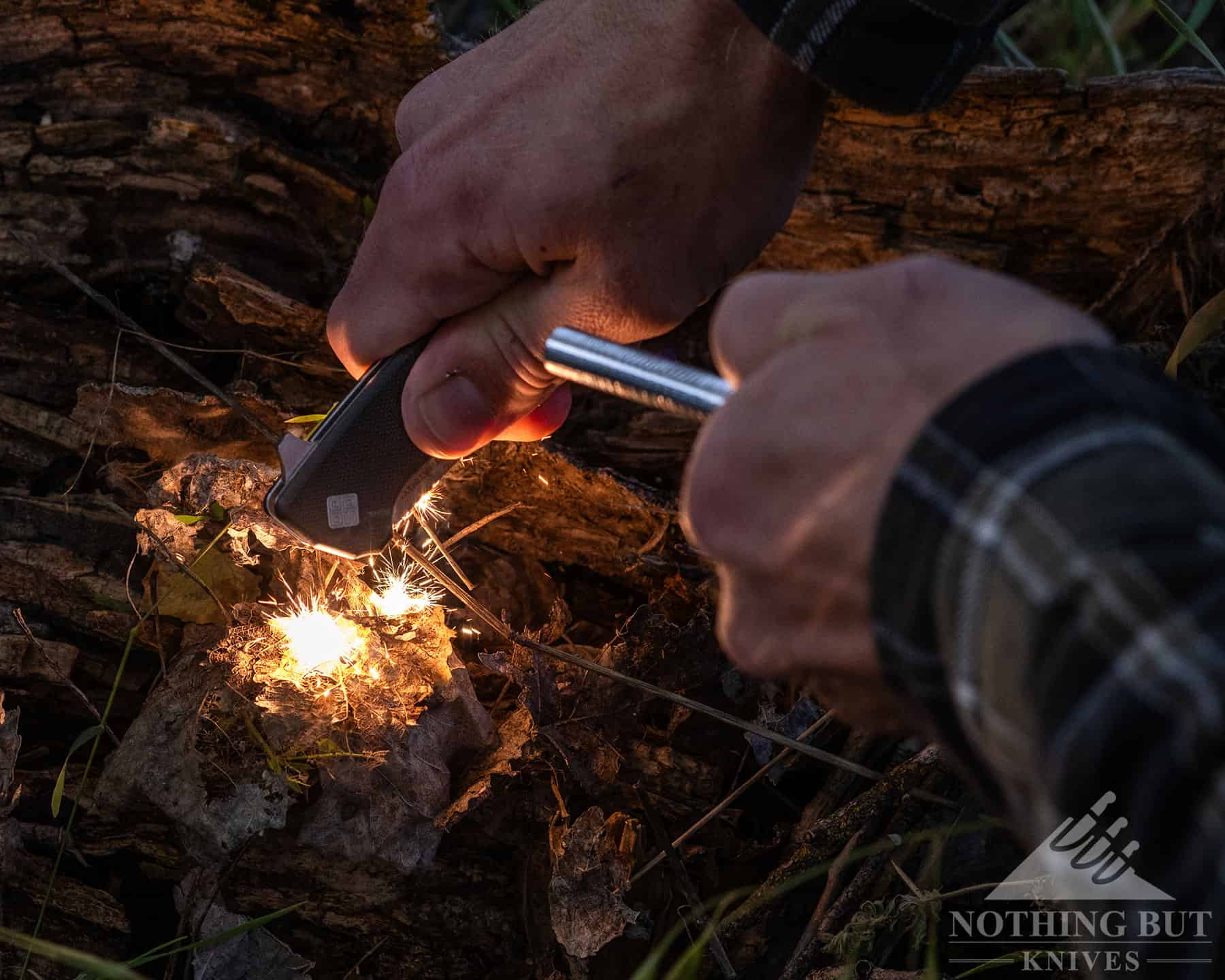 I had intended to use the Strategy with a similar kind of upscale kindness, but the dang thing just kept being the right tool for a lot of hard jobs. I have cut away vines and yard irrigation with this. And when I realized how sharp the spine was, it became my primary tool for starting fires and opening beers. I used the Strategy as the only tool to take me from a food-roasting stick to being drunk by the fire on several occasions and very rarely felt limited for using a folding knife.
Comparison and Alternatives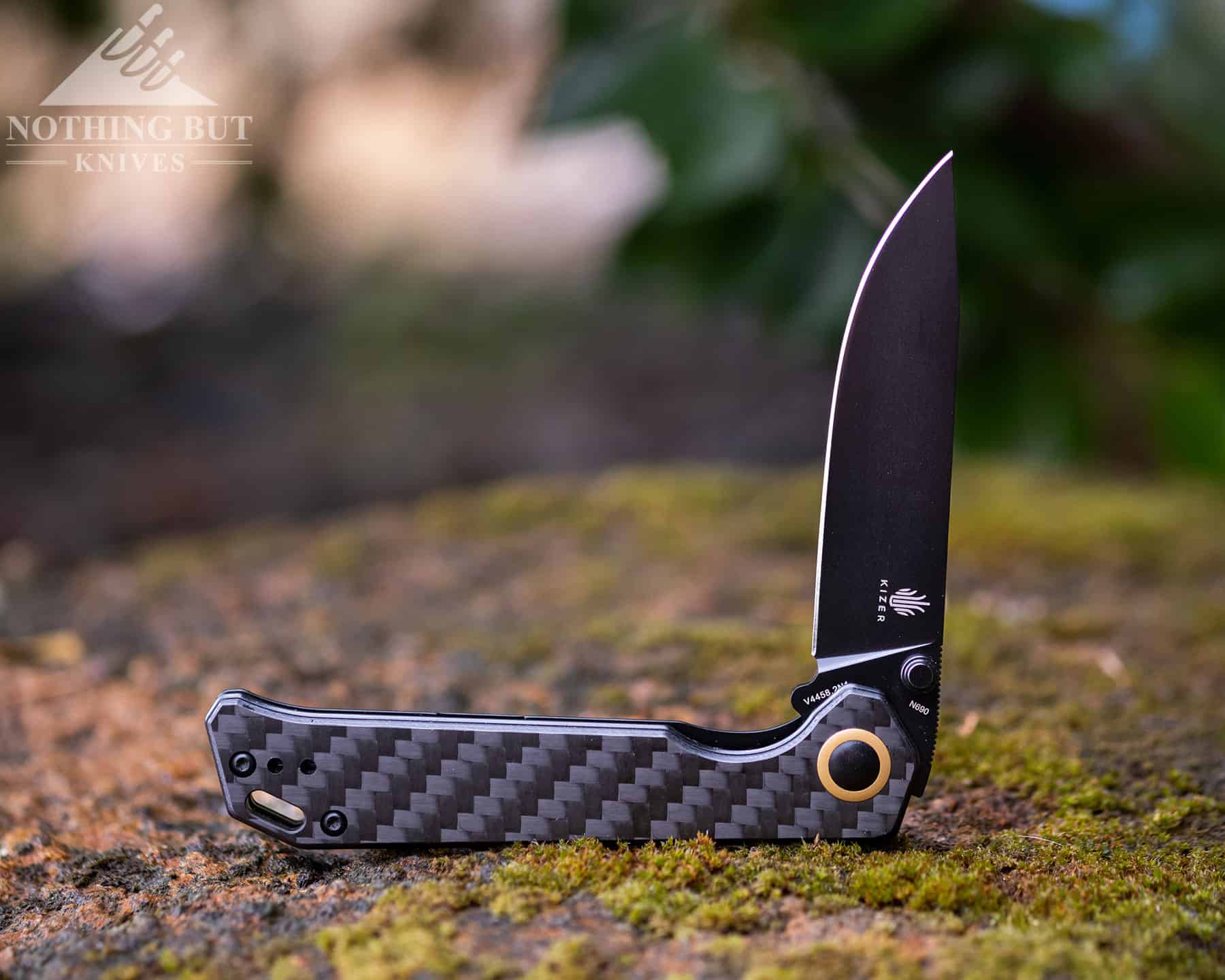 There's no shortage of knives sporting the same steel, and if you want similar performance in more of a hard-use package, you could check out our selections for the best D2 steel knives out there.
Otherwise, one of the first knives the Strategy brought to mind was the Civivi Sinisys (actually it was the Relic, but that's discontinued now). It's lighter and cheaper, and maybe even a little tougher in the blade thanks to the Sandvik steel. The handle is even pretty nice as far as it goes, but it doesn't quite have the same level of grippiness as the Strategy.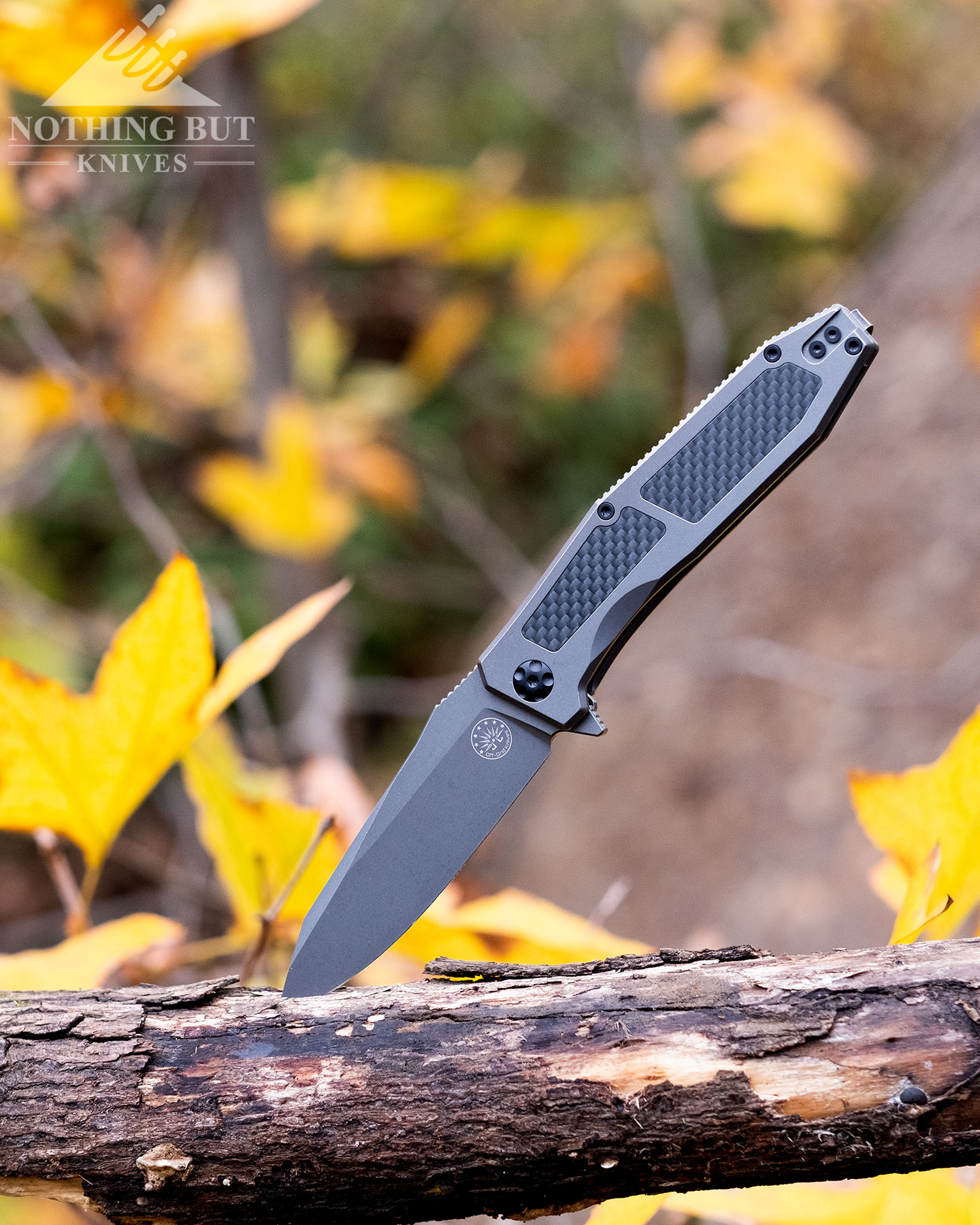 The Off Grid Scorpion V2 is an upgrade in a similar gentlemanly tactical category. The Bohler M390 steel is properly stainless with some pretty great edge holding. Plus Off-Grid knives always have stellar blade geometry. The handle is nowhere near as comfortable, though. It's stainless steel with carbon fiber inlays, so it looks nice and slips into the pocket easily, but it definitely feels harsher.
I'd also put up the Kizer Begleiter as a good budget alternative (although there are a lot of expensive variations you could get). It feels boxier, but the blade has a full flat grind so it's a little bit better as a slicer.
Conclusion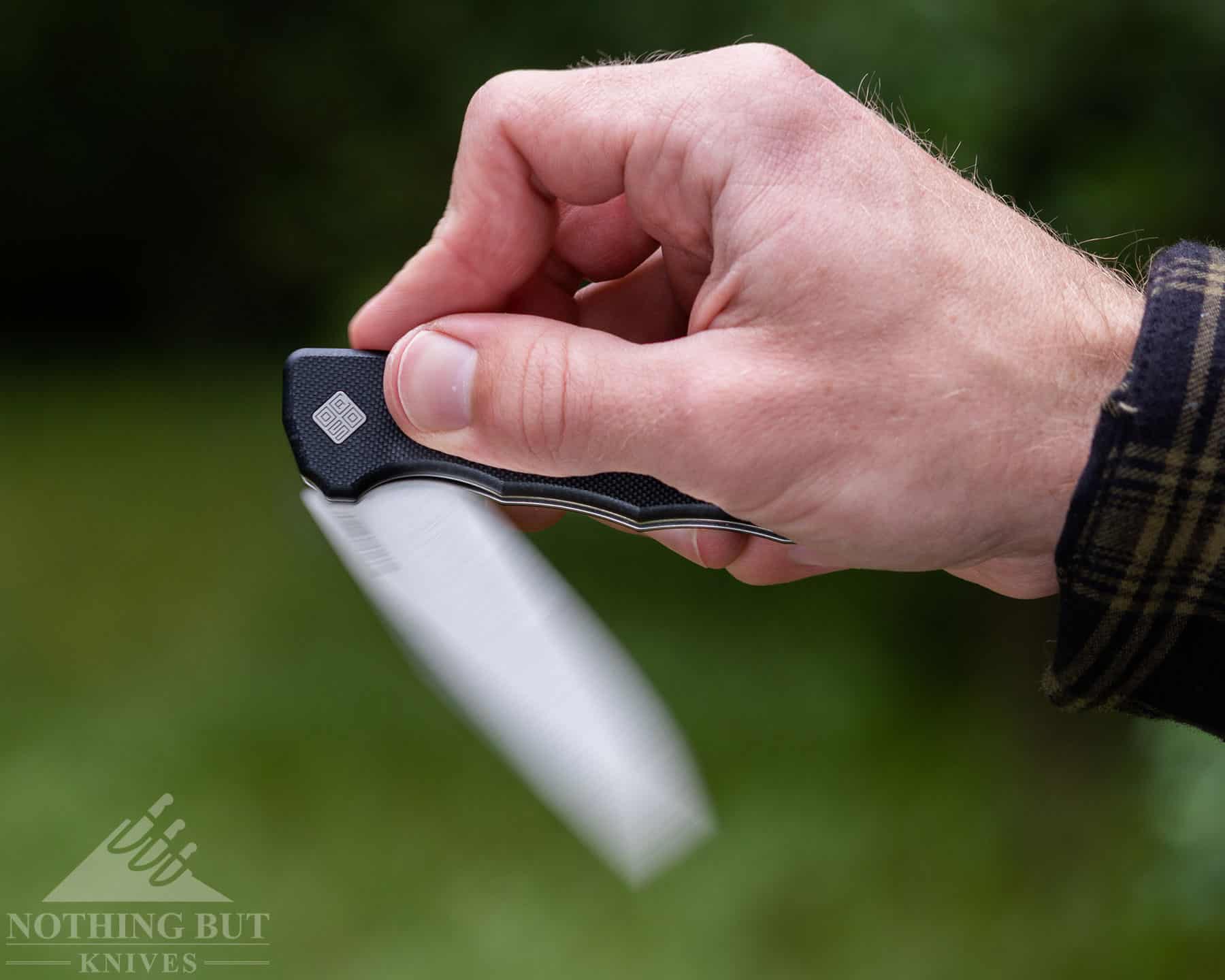 I've had a lot of chef's-kiss moments with the Strategy. For something that looks kind of plain in the current knife market, it feels and operates very well. I'm not sure to what degree it technically counts as a gentleman's folder. My testing didn't involve packing the Strategy around in polite company, and I've never been good at dressing snappy.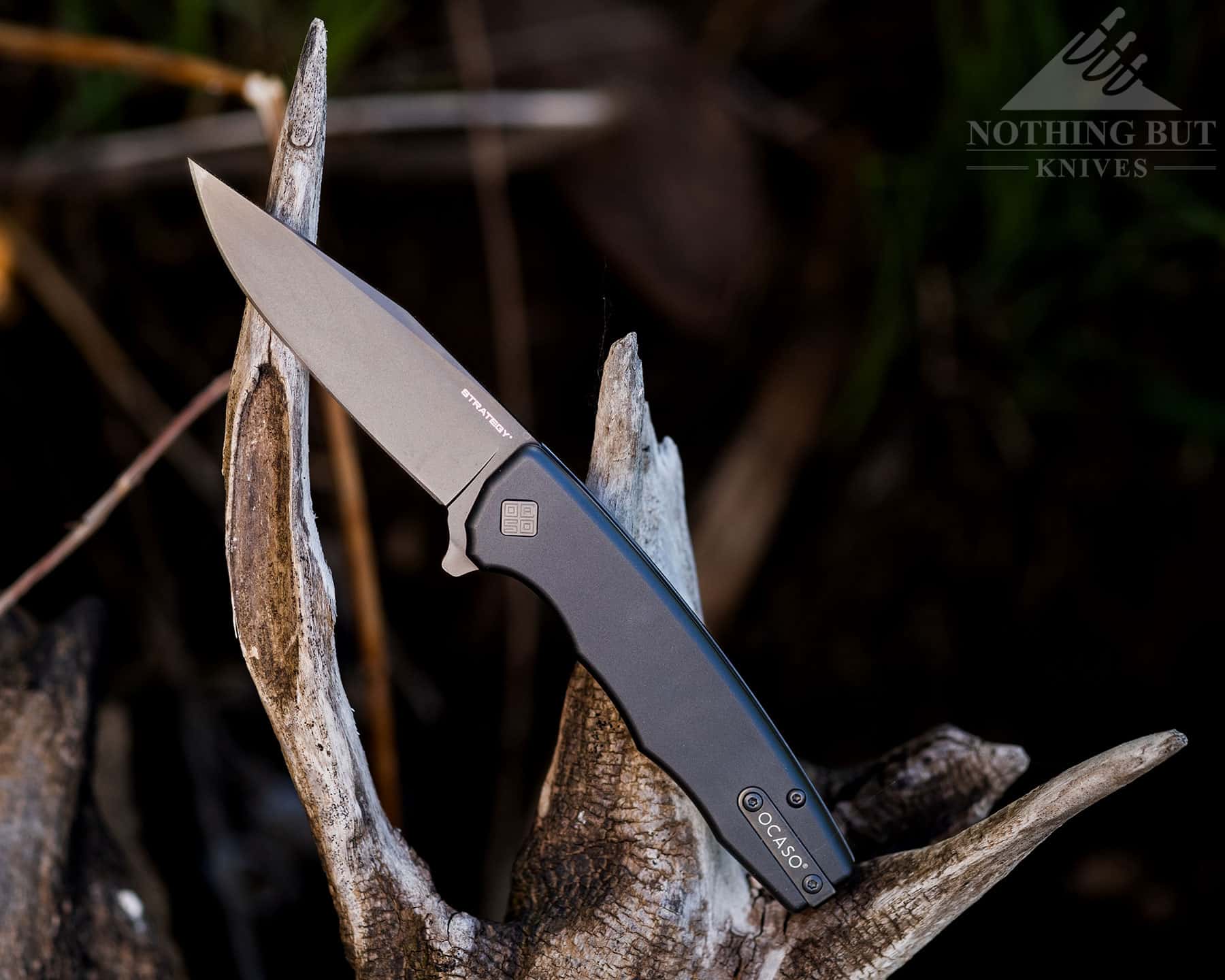 But it has an amazingly comfortable handle and a mean blade. Maybe it could stand to be a little thinner, but then maybe it wouldn't have quite the same kind of body-builder-in-a-tuxedo vibe that I've grown to like about it. So I guess what I'm saying is that this isn't exactly the knife that James Bond would carry, but I could see James Bond fighting someone who carried the Strategy.