The Scariest Legal Carry Utility Knife You Can Own
Off Grid describes the Black Mamba as a "compact tactical knife" which are the kind of words that always set off red flags for me. After using it, though, that really feels like an apt description. This knife is such a brutal combination of heavy duty construction and hair splitting sharpness with snappy action that it really would be a good knife to have in an emergency. This was made to be a California-legal knife sitting just under a 3-inch blade length, but it feels like it's a lot bigger than that when you're using it.
The look and feel of the knife were a little off putting to me at first just because the blade-to-handle ratio is so off balance. I'm still not really a fan of how it looks, but I am more than happy with using it. The weight feels good in the hand, it has a milled titanium frame with a solid lockup, and the blade does wonders on pretty much every material.
Pampered Disclaimer
Before I get any farther, I should mention I received this knife for free, which, considering the price point, makes this review highly suspect. Especially since I fully admit that my love can be bought.
The good news is that I still found things about the Black Mamba to criticize, and I hope those criticisms mean more now that we all know I'm basically riding in the pocket of this small, but super good looking knife company.
Specifications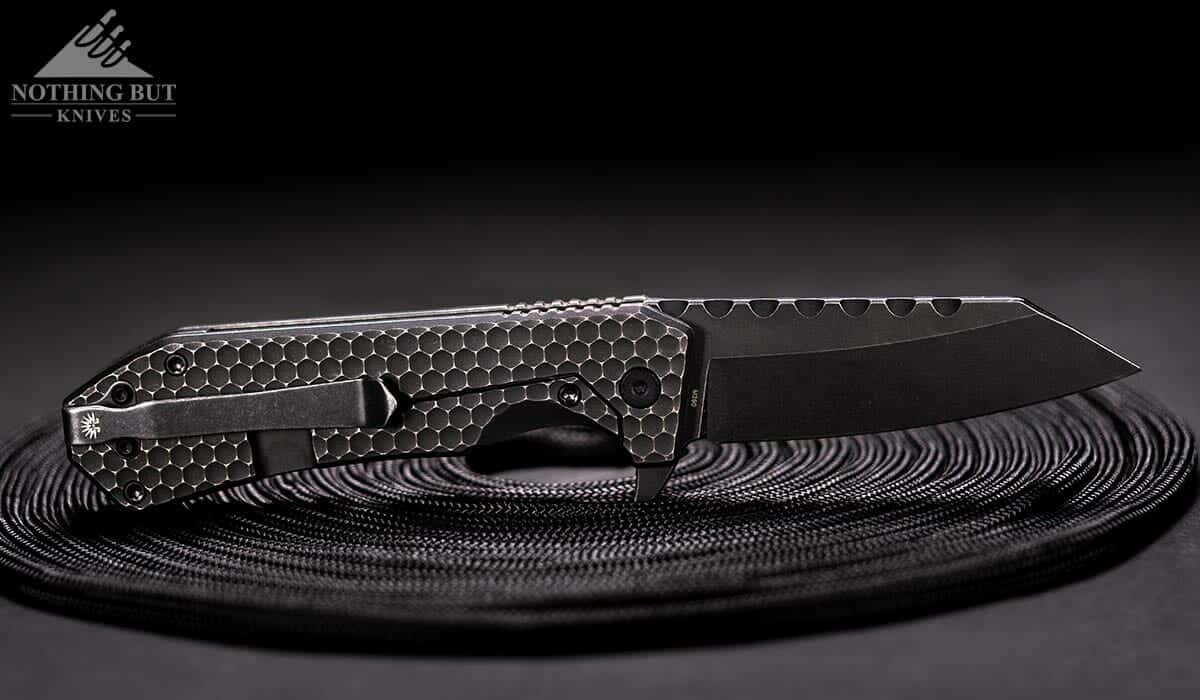 | | |
| --- | --- |
| Overall Length: | 6.78″ |
| Blade Length: | 2.78″ |
| Blade Width: | 0.95″ |
| Blade Steel: | Bohler M390 w/ Black DLC coating |
| Blade Hardness: | 59 HRC |
| Handle Length: | 4.0″ |
| Blade Shape: | Wharncliffe |
| Blade Grind: | Flat |
| Handle Material: | Titanium |
| Lock Type: | Frame lock |
| Weight: | 4.565 oz |
Pros
Super sharp edge in a premium steel
Beast of a milled handle that's been well textured
Great action on bearings
Scales have minimal screws
Cons
Built like a hard use knife, but not priced like one
Pocket clip creates a hotspot with its pointed tip
Pocket clip screws aren't recessed into the handle
Titanium isn't a super comfortable handle material
The Black Mamba V2 Update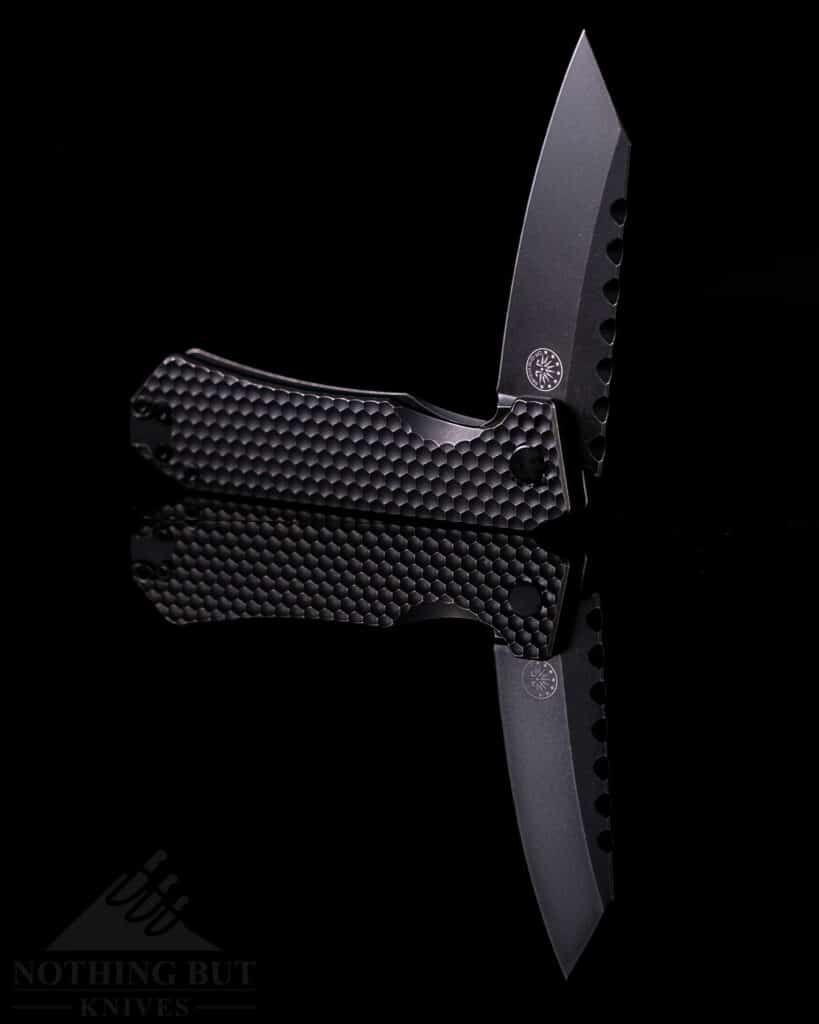 Off Grid came out with a new version of the Black Mamba maybe half a year after we wrote this review, and discontinued the original version. The changes seem minor but they solve a lot of the issues we talk about here.
Black Mamba V2 Changes
The blade was bumped up to 3 inches
The weight was lowered to 4 oz
Pocket clip screws are now recessed into the handle
Also Off Grid is now partnered with Bestech instead of WE Knives to handle their manufacturing. A switch that, as far as I can tell, hasn't affected the quality in any harmful way.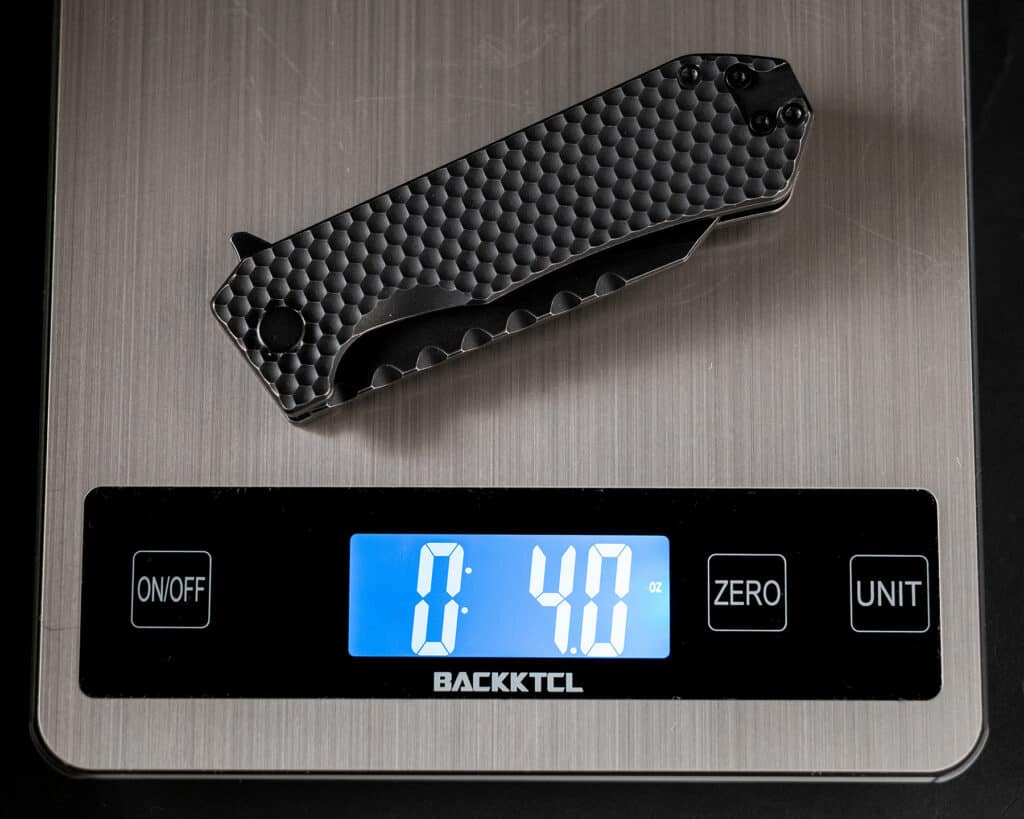 Beyond that, most things between the Black Mambas 1 and 2 are the same. V2 uses the same steel, grind, and ceramic ball bearings in the action, and I can't feel much difference in the way it opens or cuts (which is a great thing, because version 1 does those things incredibly well). The handle is the same size as well, so it takes up the exact same amount of real estate in the pocket, it just carries a lot easier thanks to the reduced weight and recessed screws.
For the purposes of the rest of this review, most of what's said here still applies to the Black Mamba V2, but the 3 inch blade length is probably the most important thing to keep in mind if you're considering this knife, especially if your local knife laws run along a strict 2.5 inch line. This is still a good knife that's legal to carry in a lot of places, but that 3 inch line might mean it's not quite as law-friendly as it used to be.
The Blade is a Helpful Tiny Monster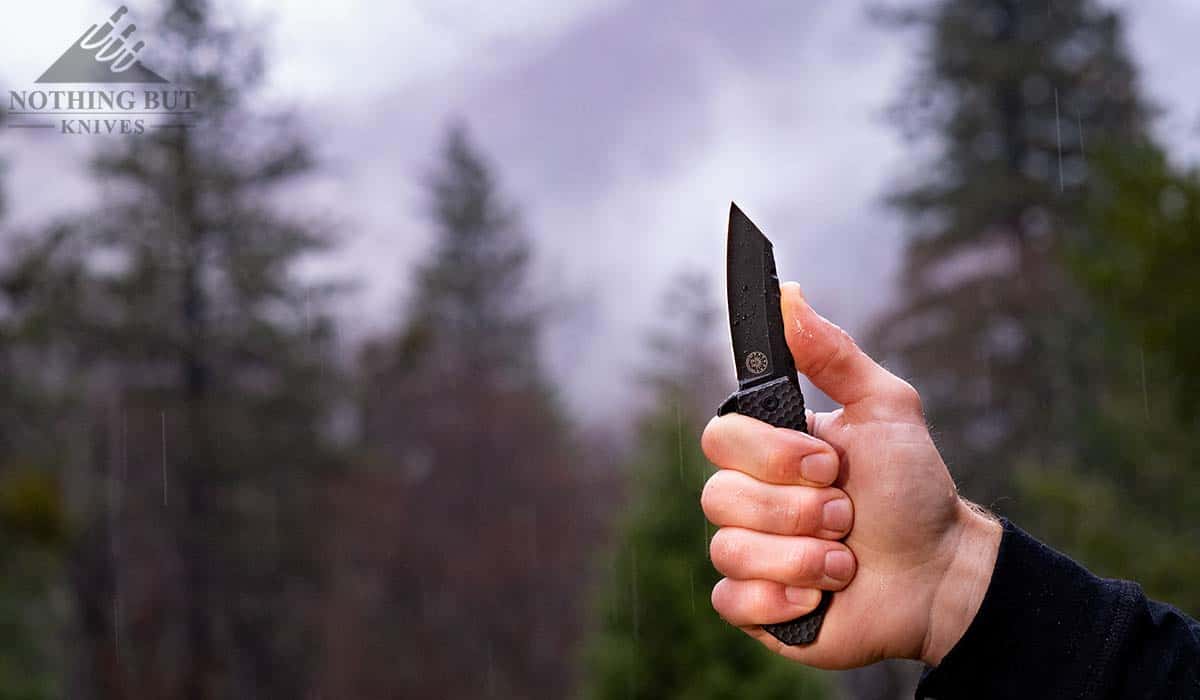 Mother of God, this thing cuts like a lightsaber. This was a rare case of high expectations being exceeded. I looked at the thin grind, the wharncliffe blade shape, and the price and thought this thing better be damn good at cutting, only to be left speechless after doing the initial paper test.
You could do surgery with this thing.
You shouldn't, but I can't help but think of a scalpel every time I cut with it.
To top that edge off, the blade is made from Bohler M390. Which to me is the best of all worlds in the premium steel category. It's incredibly hard and wear resistant, but thanks to the structure of the steel (assuming a good heat treatment) it's a lot more agreeable to grind than something like S30V. And consistently the most impressive feature of every Off Grid knife I've handled has been the edge geometry. The Black Mamba is not an exception, and the high grade steel paired with their edge grinding prowess has produced an incredible blade that just never seems to stop cutting.
The Wharncliffe Tool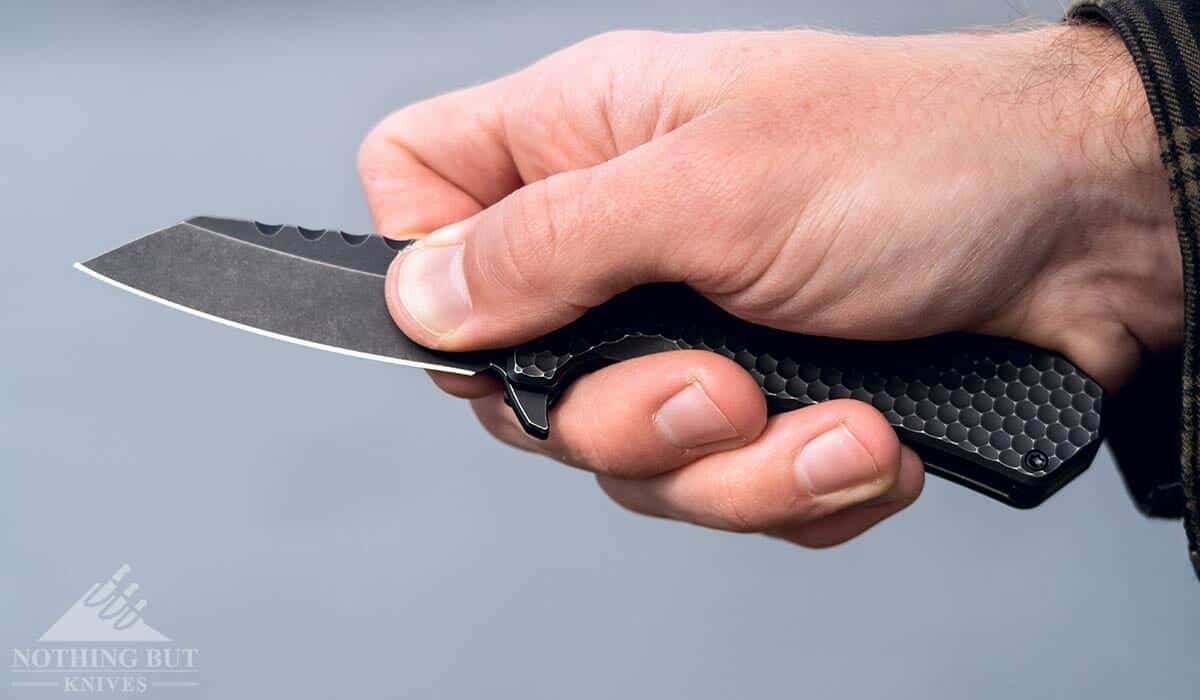 I often find myself using this in a pinch grip, and at first I wasn't sure why. There's so much weight in the handle, it really doesn't seem like it should be held that way, but somehow it ends up feeling okay, and the added control that gives over the tip of the wharncliffe blade makes it an excellent tool for detail work.
I love this knife the most when I'm opening bags of chips, which is, I think, the best thing you can do with a tactical knife. The combination of the strong, thin tip with that (mostly) flat razor edge makes it really easy to pierce into a material and cut to the side. Obviously this has applications with other stuff like cardboard boxes, letters, bandage cloth, jeans, and shirts, but chip bags top the list for me in percentage of use.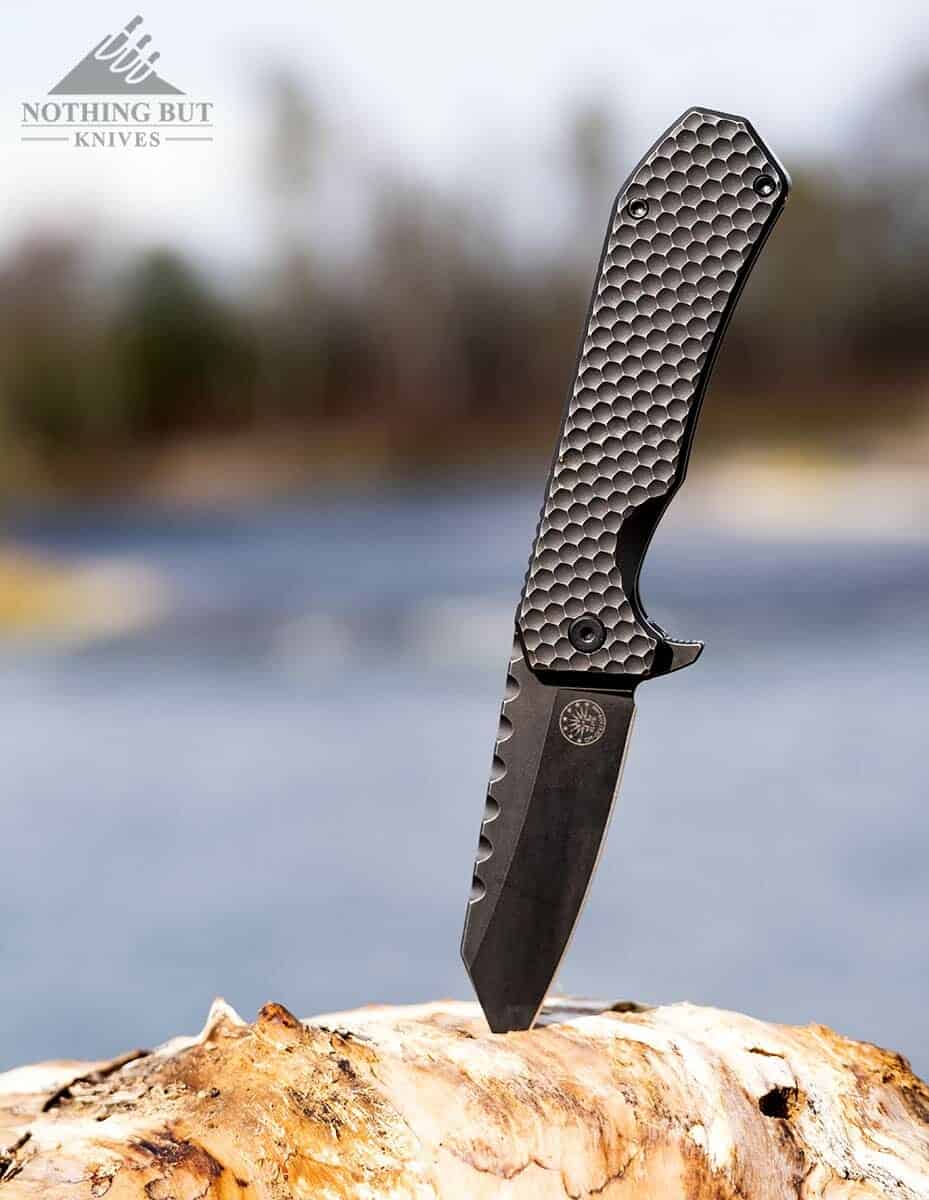 This is a pretty interesting contrast to sheepsfoot knives like the Kizer Sheepdog, which has a great edge (and more comfortable handle) but comes nowhere close to having the same piercing ability when it comes to softer materials that have a little bit of give. The Sheepdog has kind of a stunted tip that doesn't thin out from the thick spine quite so much, where the Black Mamba tip extends a ways past its spine, ending in a much more severe angle, and an edge that has more of a biting action.
The Handle is Clunky and Awesome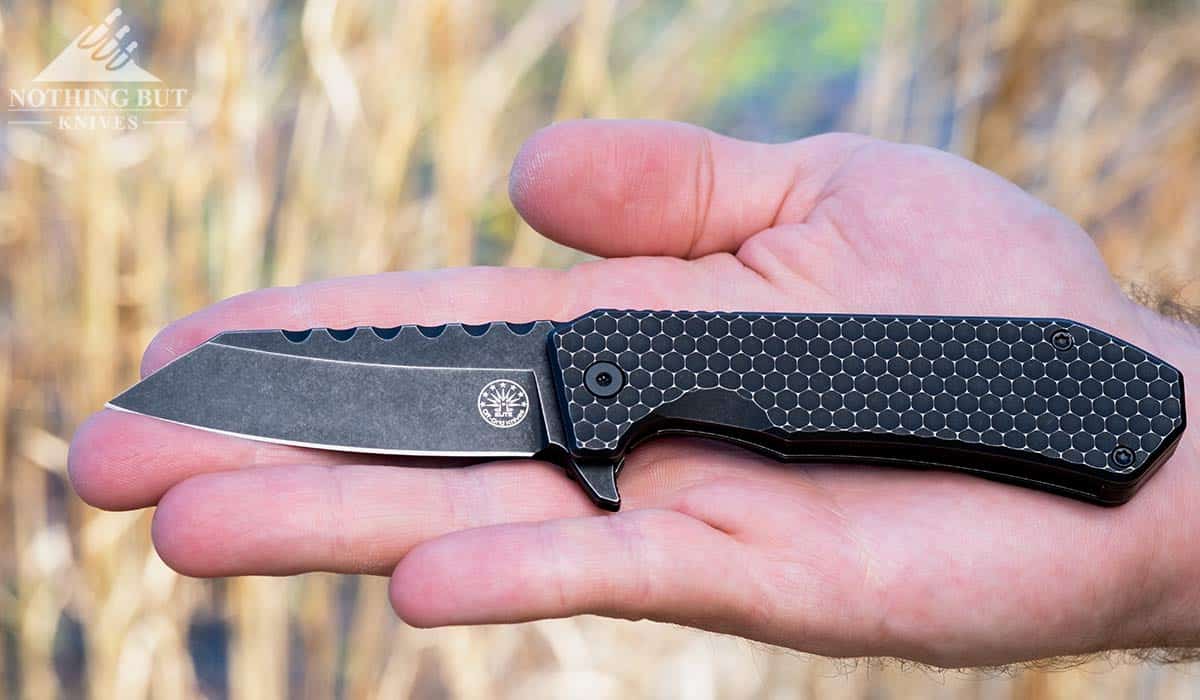 I don't usually like metal handles, and in full honesty I still don't like how this one looks, but that's a personal problem. Putting personal preference aside, Off Grid has done a lot of things right with the ergonomics of the Black Mamba.
Pokiness and Grippiness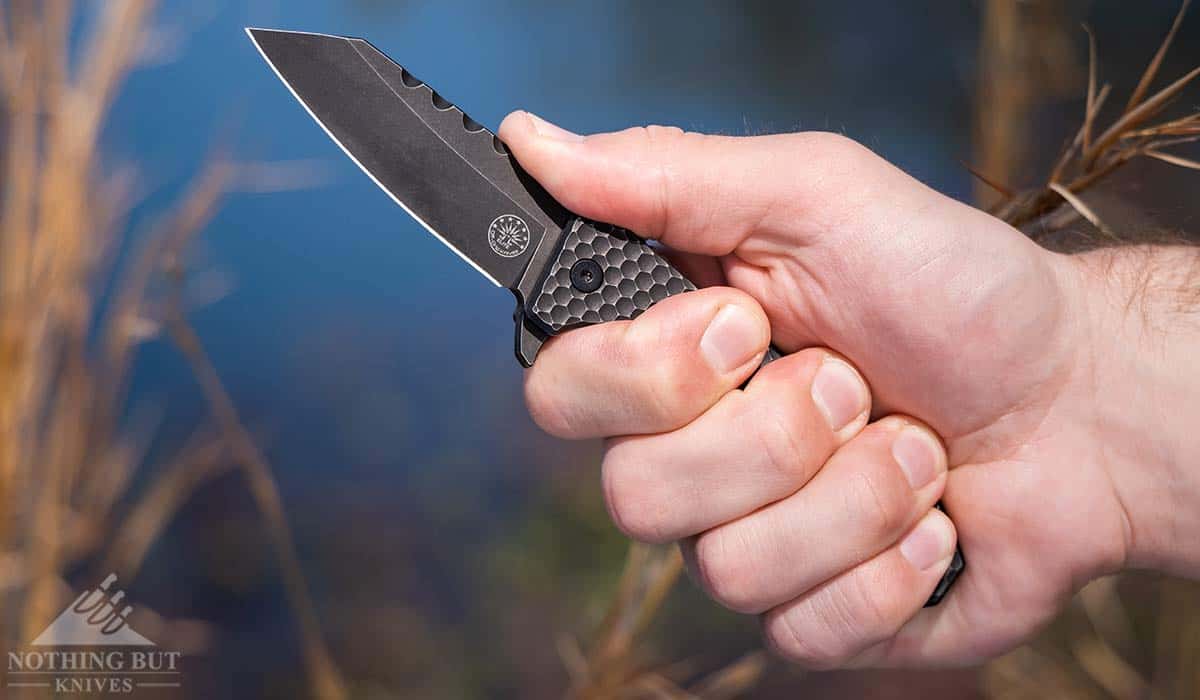 Everything about the handle is just pokey enough. The texturing and the angles have a way of digging into the hand that almost feels painful but creates a lot of traction on what would otherwise be a slippery material.
The flipper tab especially has a shape that threatens to jab, but it feels surprisingly forgiving even with that aggressive upturn at the end. That's one of many testaments to how well everything on this knife was milled.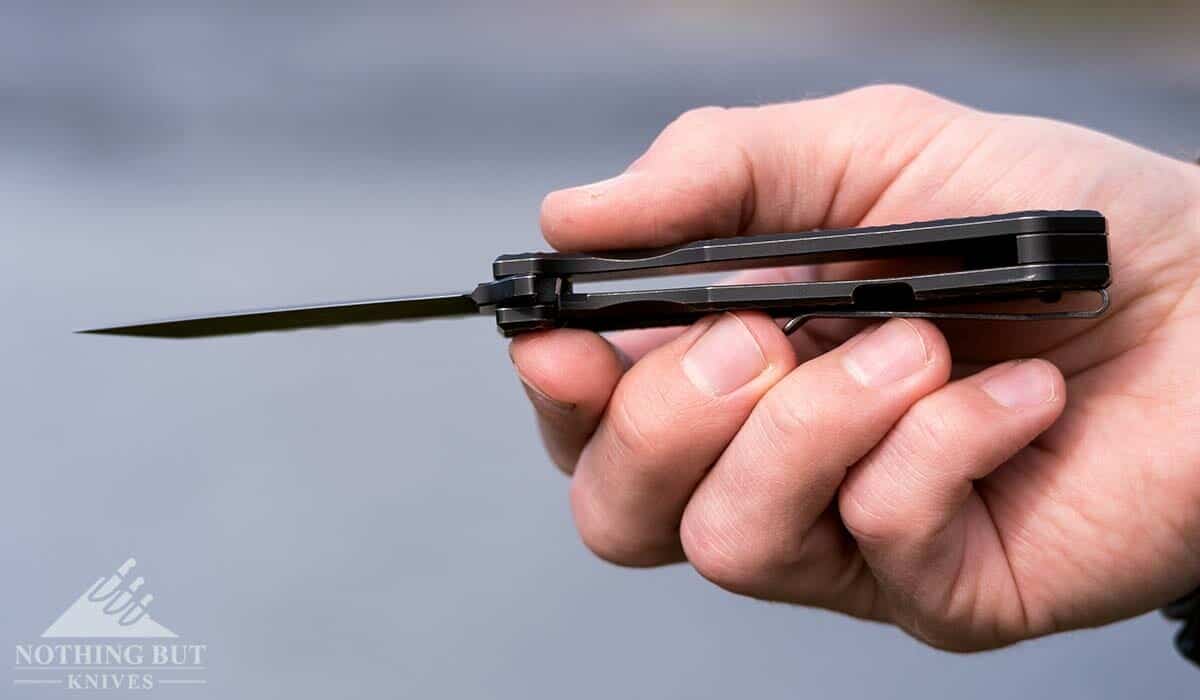 The overall thickness of the handle adds a lot to the grip and security as well. Along with filling the hand, the frame lock makes up a generous chunk of the side, and it locks up beautifully. It takes a little more strength to disengage that most other knives, maybe even more than should be necessary, and this thing is far heavier than most 3-inch blade knives. But there's no denying the sense of security it brings when this thing clicks into place.
Comfort Depends on the Grip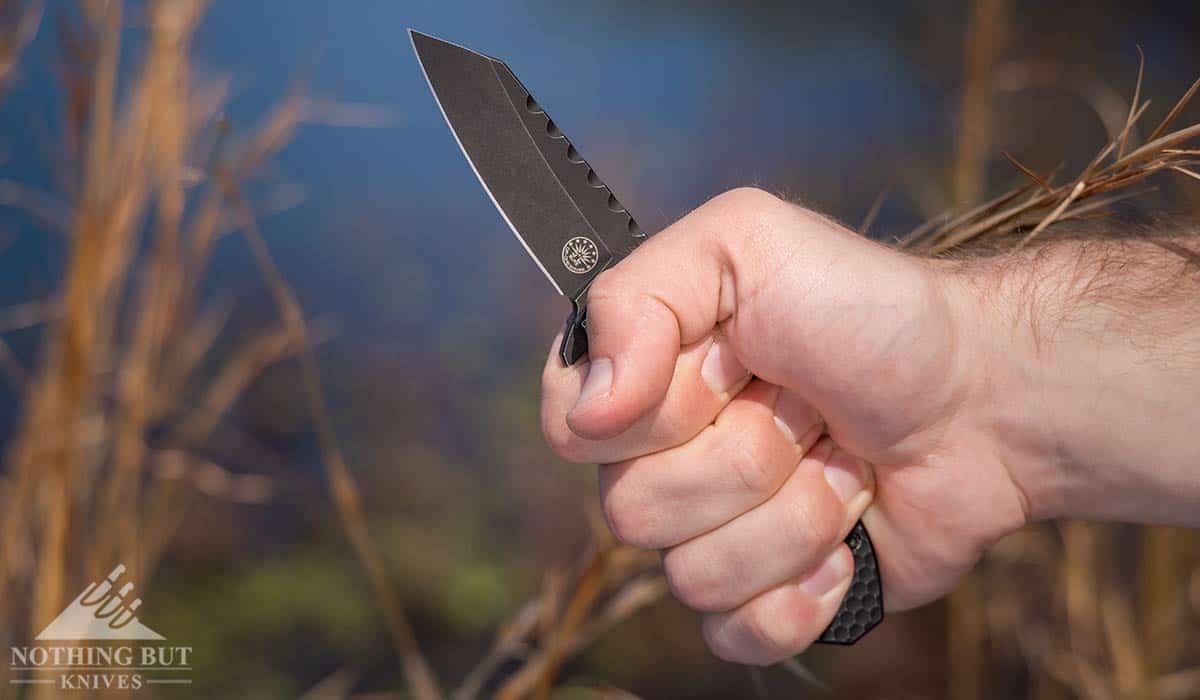 It holds well in a glove, it can get wet without rusting easily and even when it does get wet, the knife as a whole is easy to clean and maintain. Even the pocket clip shape and retention is just about perfect to keep from getting snagged and yanked out of the pocket.
I like the Black Mamba a little less in a gorilla grip. The handle swells out at the bottom a little and makes the titanium bite into my pinky. Plus the swooping angle ends up making the finger groove feel just a little too deep, so the whole hand ends up feeling cramped.
The weird thing is that when I'm actually cutting, I don't really feel those hotspots. I think that's in part because the blade cuts so effortlessly. The only time I've had to tighten down on it in a gorilla grip is when I'm cutting rope, and that's mainly because I have to push more than slice to compensate for the short blade. It's a different world when I'm cutting cardboard, because the edge handles that so well I can hold the knife in a more canted grip, and that feels a lot more natural with the knife.
The Pocket Clip and Other Hotspots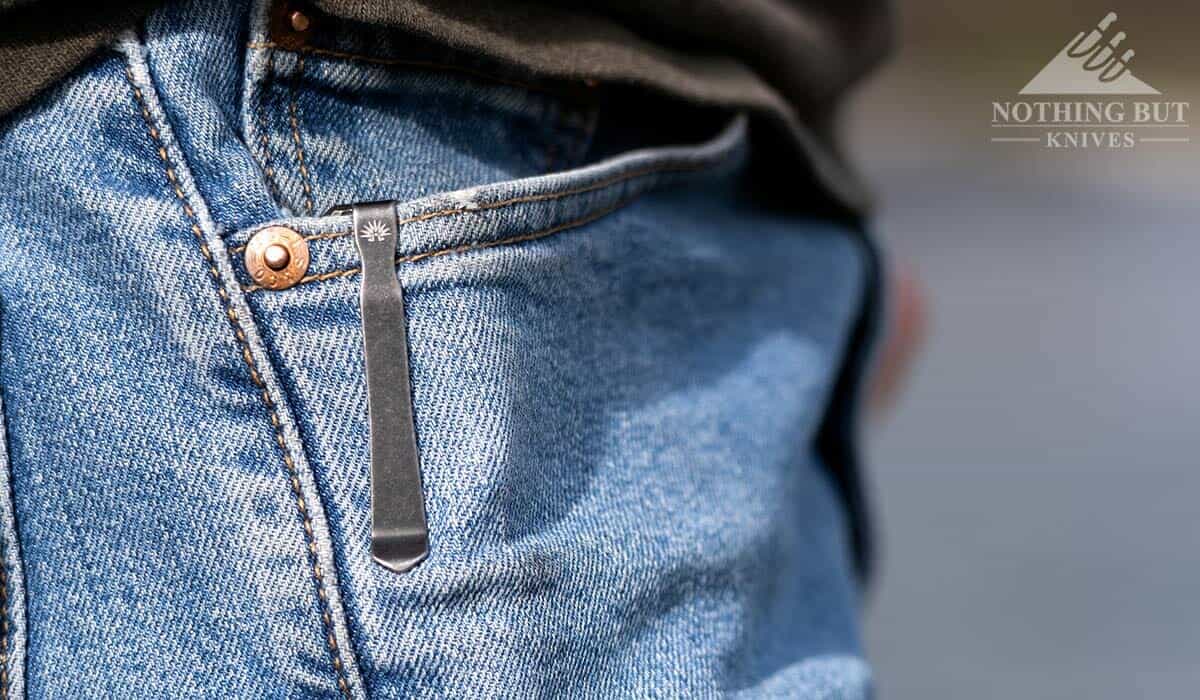 This is where the biggest flaw in the knife is. The pocket clip is too tight, and Off Grid didn't smooth out the scales where the two meet, so this will be a little rough on your pocket lining. Plus the screws aren't recessed, so you do have to shove it down pretty good to make sure the knife is seated in the pocket all the way.
Once you have it down, though, this is a true deep carry. The butt of the handle almost sits flush with the top of my pocket, and it rides surprisingly well for such a thick knife.
Other Clips in the Family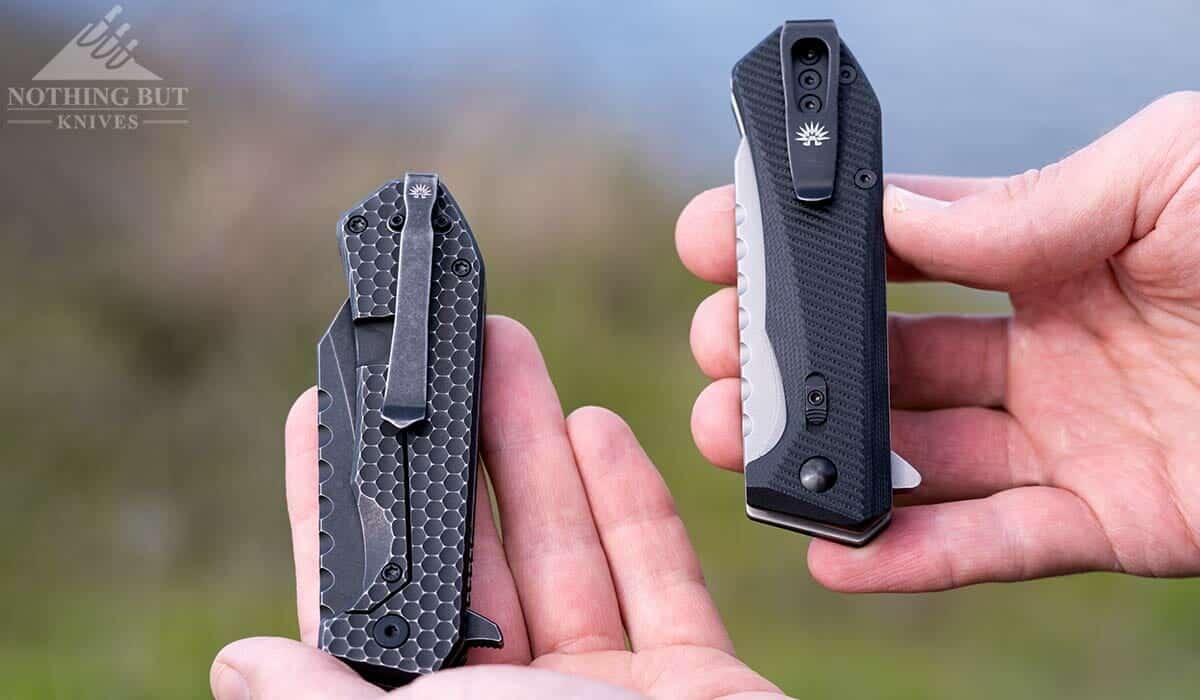 I wish Off Grid had used the pocket clip I've seen on a lot of their other knives with the Black Mamba. For example, the Viper, which is in the same snake-themed family with the weird spine formation as the Black Mamba, has a short and wide clip that slips in and out of the pocket really easily. It doesn't tear at the cloth much, and doesn't seem to have much trouble staying in.
All that said, you can absolutely count on this clip to keep the knife in your pocket, and that's really the most important thing, especially with a knife in this price point.
It's also worth mentioning that Cary Orefice, the designer and owner of Off Grid Knives, has said he has plans to make future iterations of the knife with recessed screws. So clearly he's still looking at this design and thinking of ways to improve it.
Tactical Stuff and the Design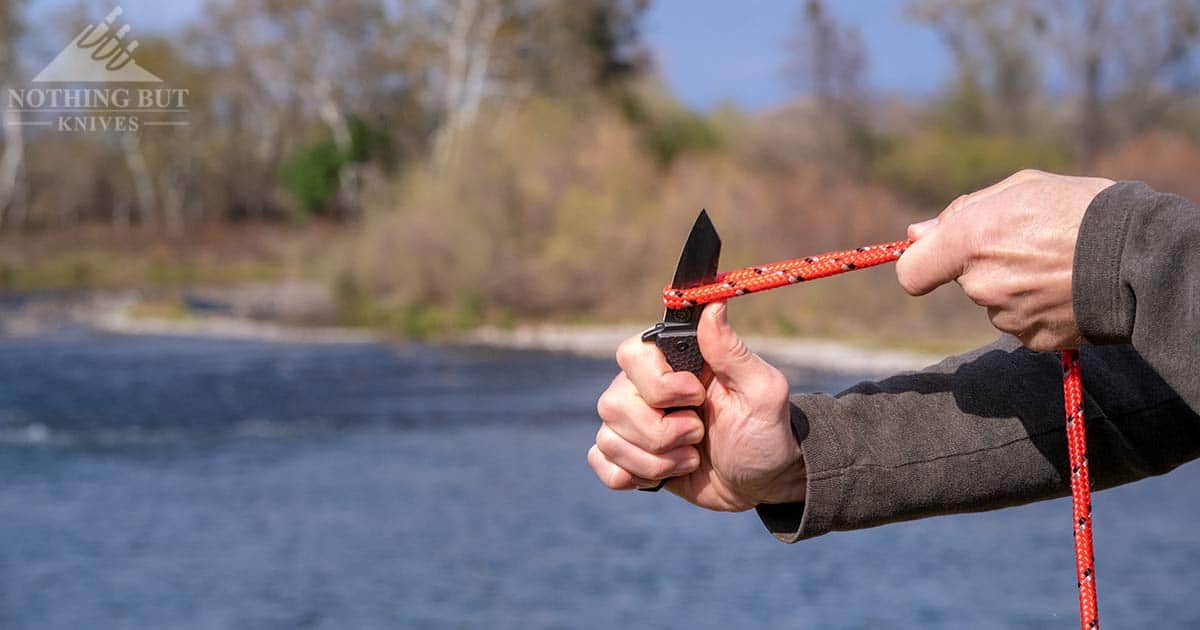 The Black Mamba has both an aggressive look and name, and there's some potential here for it being some kind of law enforcement or first responder EDC. Thinking in those terms, the edge on this blade becomes a big bonus. It cuts everything: paper, cloth, seat belts, you name it. So long as you're not out to pry something, this blade is golden. And even with the hotspots, the thick handle feels good to tighten up on in terms of grip security.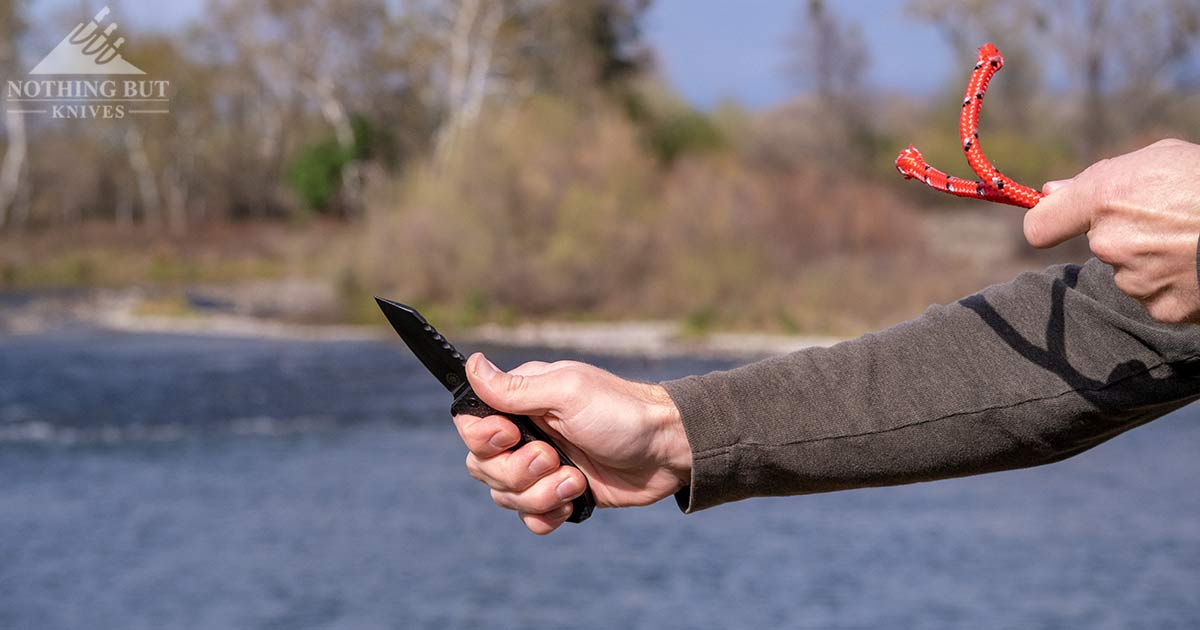 On the other side, the length sits just under 3 inches, so even though this is sort of an aggressive looking knife, it's legally convenient in most places. I think that was one of the main considerations when Orifice first designed this knife, and he's done a great job of making use of every inch of the short size. The sharpening choil is just small enough to still be useful so basically all of that blade length has a cutting edge, and the edge thins down pretty aggressively from a thick spine that provides a good perch for the thumb.
There are a lot of different ways you can hold and use this "little" thing.
Deploying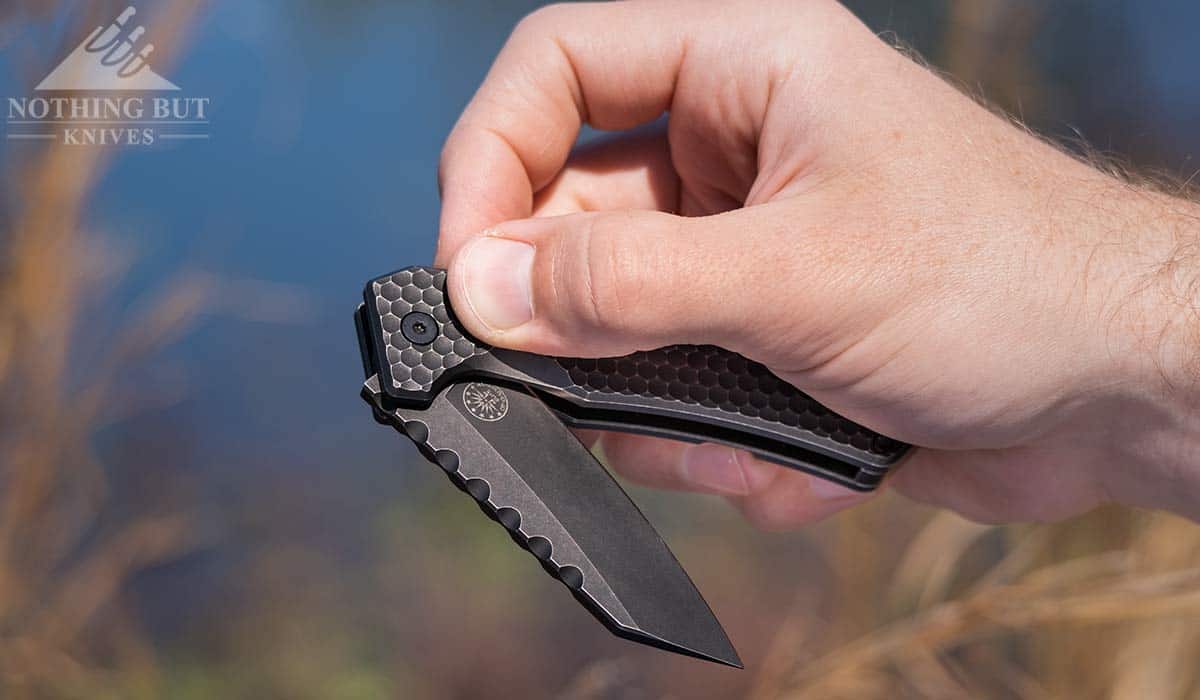 I think its two big detractors as a tactical knife would be its time to deploy and the handle material.
The pocket clip is stiff, and titanium gets slippery even when the texturing is done well. So the odds that your fingers are going to slip off this knife the first time you try to rip it out of your pocket in a hurry are higher than normal. Higher than, for example, if they had gone with a G-10 version and smoothed out the spot on the scales where they meet the end of the pocket clip.
Everything else checks out for me. Once the Black Mamba is in your hand, whatever problem you have in front of you gets a lot easier.
It just might take a couple tries to get there.
Comparison and Alternatives
The Black Mamba is a great knife, but it's also a $200 knife, so it's perfectly understandable to look around for something else. I've already mentioned the Kizer Sheepdog and the Off Grid Viper, which are worthy considerations, but the responsible thing would be to recommend another knife in the same price range.
The best I could do with high-end alternatives is the Spyderco Yojimbo 2, but I'm basing that recommendation on my experience with the Ronin 2, which is much larger and a fixed blade. The Yojimbo 2 was made more or less with the same intention, though, and you still have a 3-inch folder with a mean, straight edge and a tactical mindset.
If you like the blade shape, but want something bigger, Off Grid actually has you covered with the Sea Dog V2 (which also happens to be much cheaper). It has a much softer Aus-8 steel, so it'll need a lot more sharpening, but it's comfortable and more than capable of being a work-horse EDC.
If you like the overall look and feel of the Black Mamba, but you want a tactical knife that is a little bigger, check out the Off-Grid Scorpion V2.
This last one is kind of an awkward recommendation to make, but if it's the blade style and legal carry size you like, I would actually suggest you look at the Camillus 6.5" Pocket Knife with Marlin Spike. It has none of the tactical styling of the Black Mamba, and it's all around worse and jankier, but it does have a similar cutting edge and offers a similar range of blade utility for a much cheaper price, provided you don't need anything bigger than a 3" blade.
Conclusion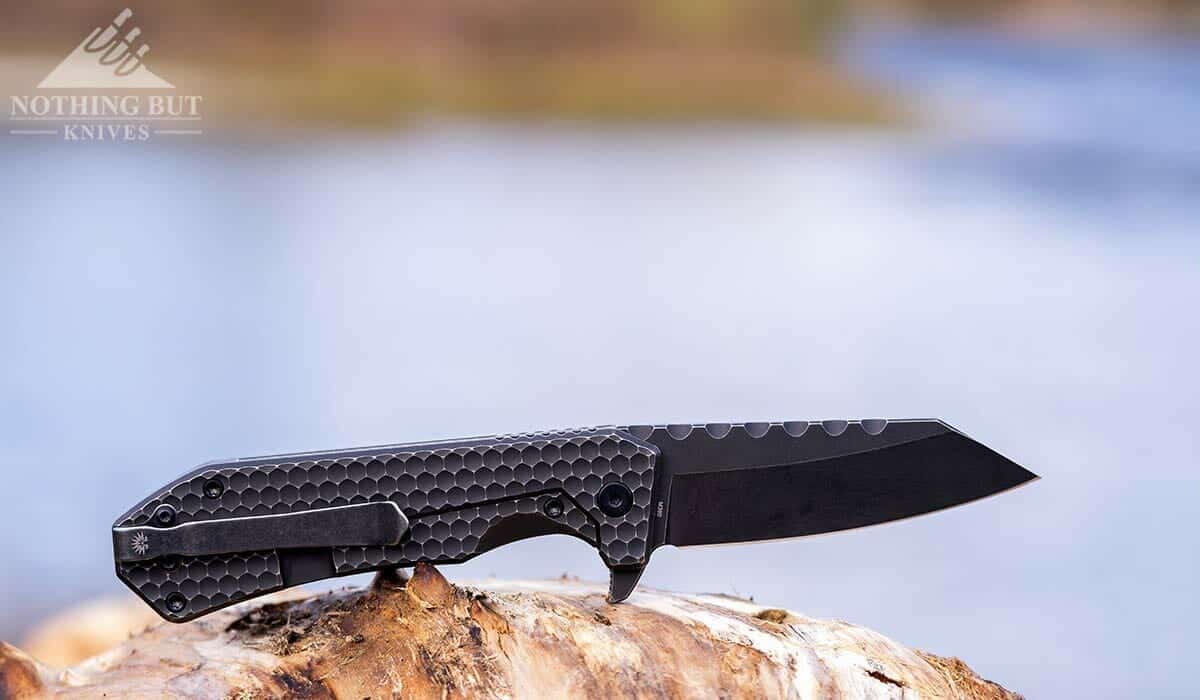 This is a high-end knife that I think lives up to its price tag, which is a tough thing to pull off. The thick titanium scales and well-tempered premium steel with a fantastic grind add up to a formidable tool. While it does have a few minor ergonomic issues with the hotspot from the pocket clip and titanium just in general being a harsh and heavy material, this is the kind of knife that can excel at a hundred different tasks.
If it has any real major issue, it's that this is a high-priced knife that seems to be designed for hard, dirty work. This seems like an appropriate combination at first. I've seen some people get down in the dirt to sweat and bleed over their Benchmade 940s, but not many. It's hard to spend that much on a knife and then run it into the ground. And it gets a lot harder when you consider that even Off Grid makes something like the Rhino, which is significantly cheaper, and a lot easier, mentally speaking, to use in the field.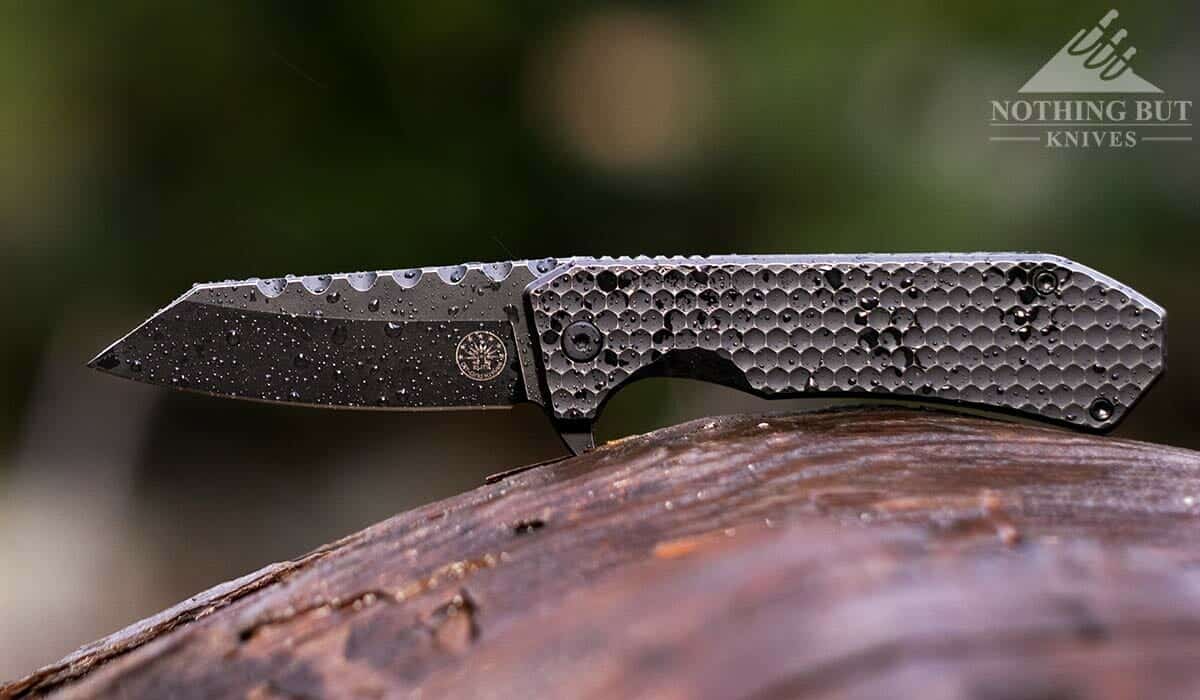 But the Black Mamba is staying true to Off Grid's constant drive to make knives that are overbuilt for abuse. If you get lost in the wilderness with an Off Grid, even if you can't count on making it back alive, you can count on your body being found with a knife in good condition. I've used the hell out of the Black Mamba, and it came out the other side cutting just the same. With that in mind, this knife is absolutely worth the price. This is the kind of knife you could hand down to your grandchildren.
But I've also seen what Off Grid can do with G-10 and D2, and I love this design enough to hope that they'll play around with versions that fall more into the Rhino price category. Off Grid has been pushing out a lot of designs lately, so it's very possible I'll either be getting my wish or eating my words in the following months or years. Until then, though, I will be carrying this tiny, expensive chunk of sharp metal a lot.