This Beefy Tactical Hunting Hybrid Knife is a Fun Work Horse, but It's Tough to Find If You Drop It At Night.
The Backcountry is refreshing as a modern design that is clearly meant for gritty uses. I recently watched a flashy video promo for a popular knife company. It was part lifestyle, part knife close-ups, and part animation. The main lifestyle shots consisted of a dude in a suit with an overpriced late model sedan.
I get that. Marketing to James Bond wannabes is usually a recipe for success. What I found really strange was that the hero product shot consisted of a knife being placed next to a keyboard. "What the hell kinda soft, city slicker crap is this", I thought to myself smugly as I sat at my desk with an arsenal of survival and bushcraft knives completely surrounding my keyboard.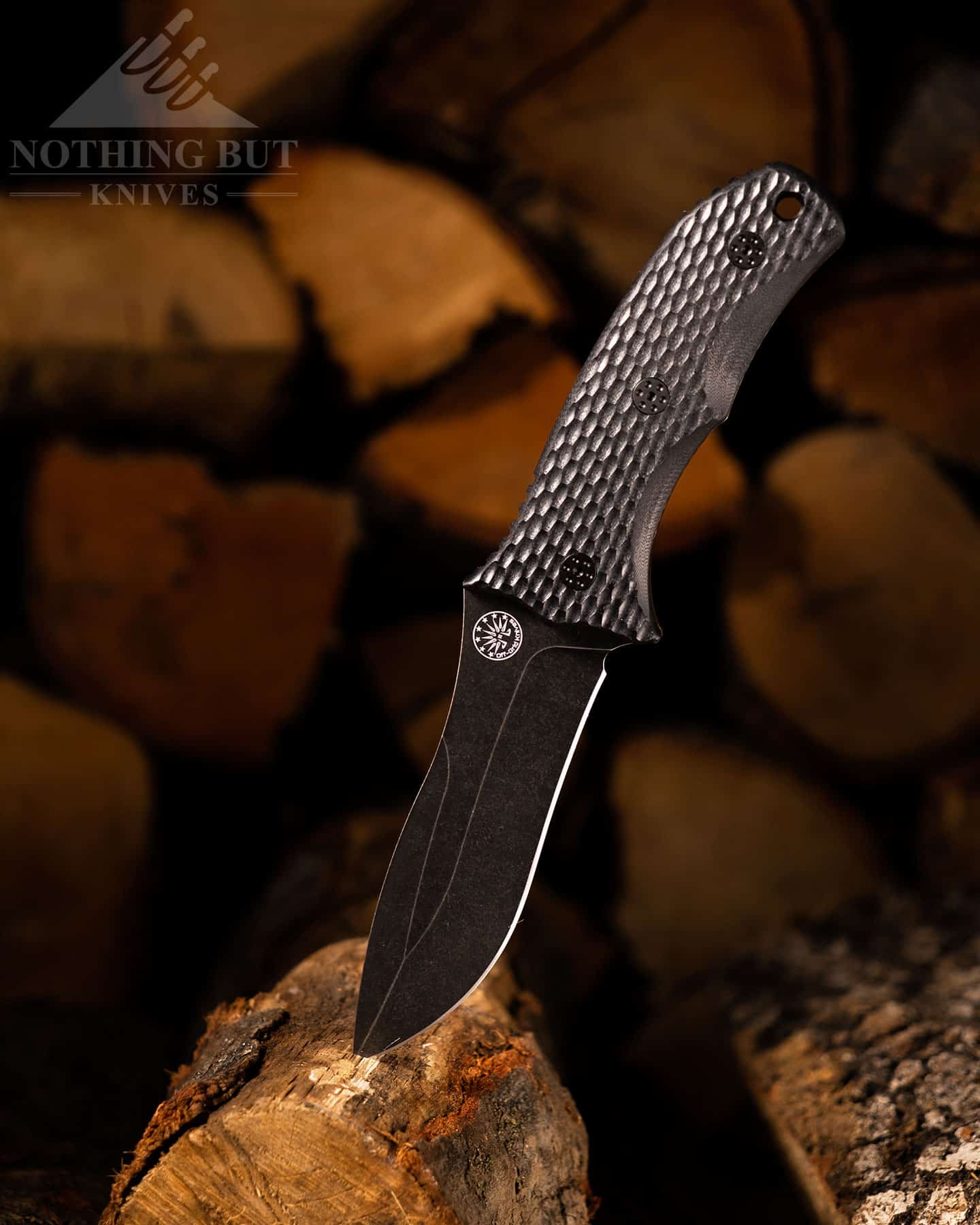 Damn. In spite of my obvious predilection for hypocrisy, you will not find any pictures of the Off-Grid Backcountry sitting next to a keyboard in this review, because it's just not that kind of knife. [Editor's Note: It's probably still sitting by his keyboard, though.]
I do want to mention before I dive into this review that Off-Grid sent me this knife free of charge. This in no way affects my opinion. The Backcountry is cheap enough that even a poor knife blogger can afford it, and we bought our first Off-Grid knife before anyone knew this site existed.
Specifications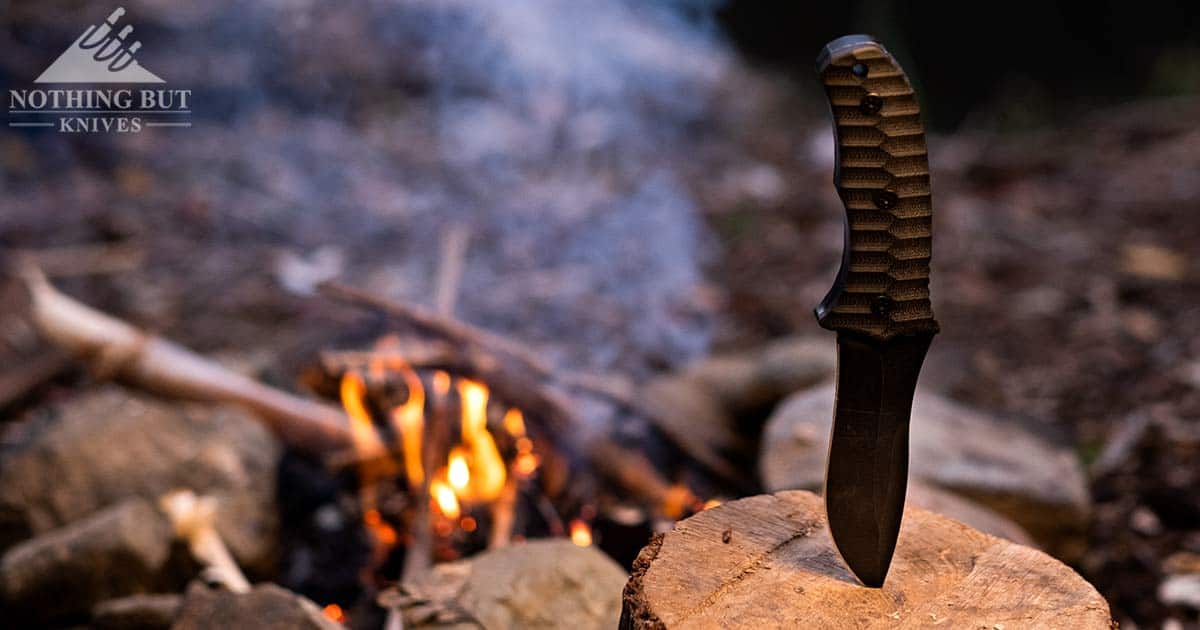 | | |
| --- | --- |
| Overall Length: | 9.25″ |
| Blade Length: | 4.5″ |
| Handle Length: | 4.75″ |
| Blade Steel: | D2 |
| Blade Grind: | Flat |
| Blade Thickness: | 4.1 mm |
| Blade Style: | Drop point |
| Handle Material: | G-10 |
| Knife Weight: | 9.5 oz |
| Weight w/ Sheath: | 12.0 oz |
| Sheath: | Kydex |
| Made in: | Taiwan |
| Price Range: | $75 – 85 |
Pros
Versatile sheath
Practical blade design
Super durable
Great balance
Excellent edge retention for the price
Cons
Handle causes some hot spots after extended hard use
Sheath rides a little high in the vertical position
Off-Grid Backcountry V2 Update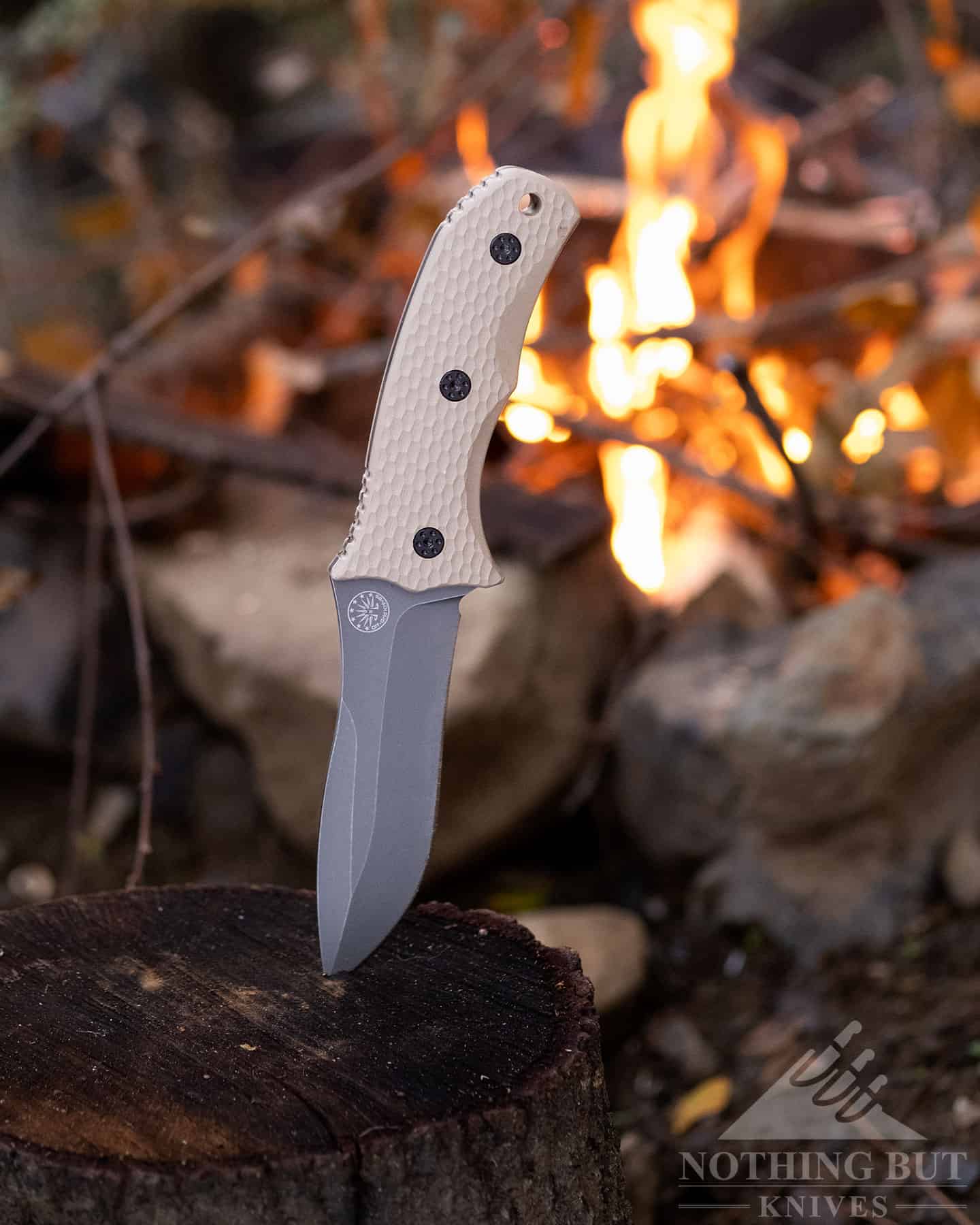 This review was initially written for the original Off-Grid Backcountry. However, I have recently spent some time with the updated Backcountry, and it has been improved to the point that it has become one of our go to fixed blade knives that we have featured in our Best Survival Knives of 2023 article and our Best Survival for Almost any Budget video.
Off-grid Knives is known as a company that listens to their customers and makes changes accordingly. The Backcountry V2 is result of that practice. The few features of the original Backcountry that I nitpicked in this review of the Backcountry were all improved.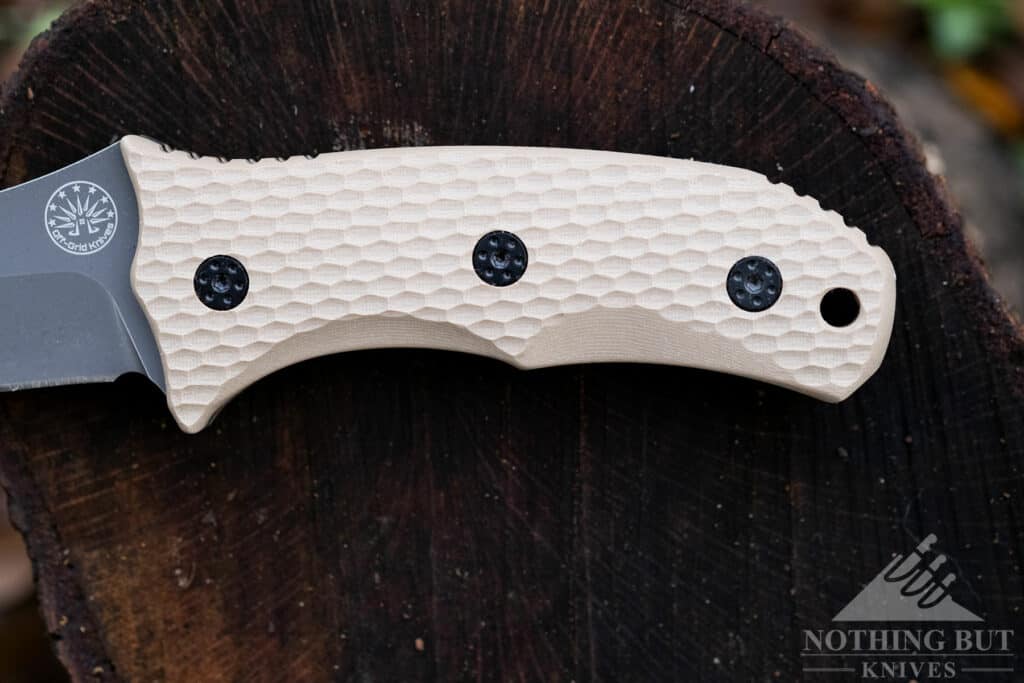 The Handle was slimed down and chamfered in all the right places. The hotspots I felt when working with the original backcountry disappeared. The new and improved handle has made the Backcountry V2 one of my favorite knife for hard use tasks.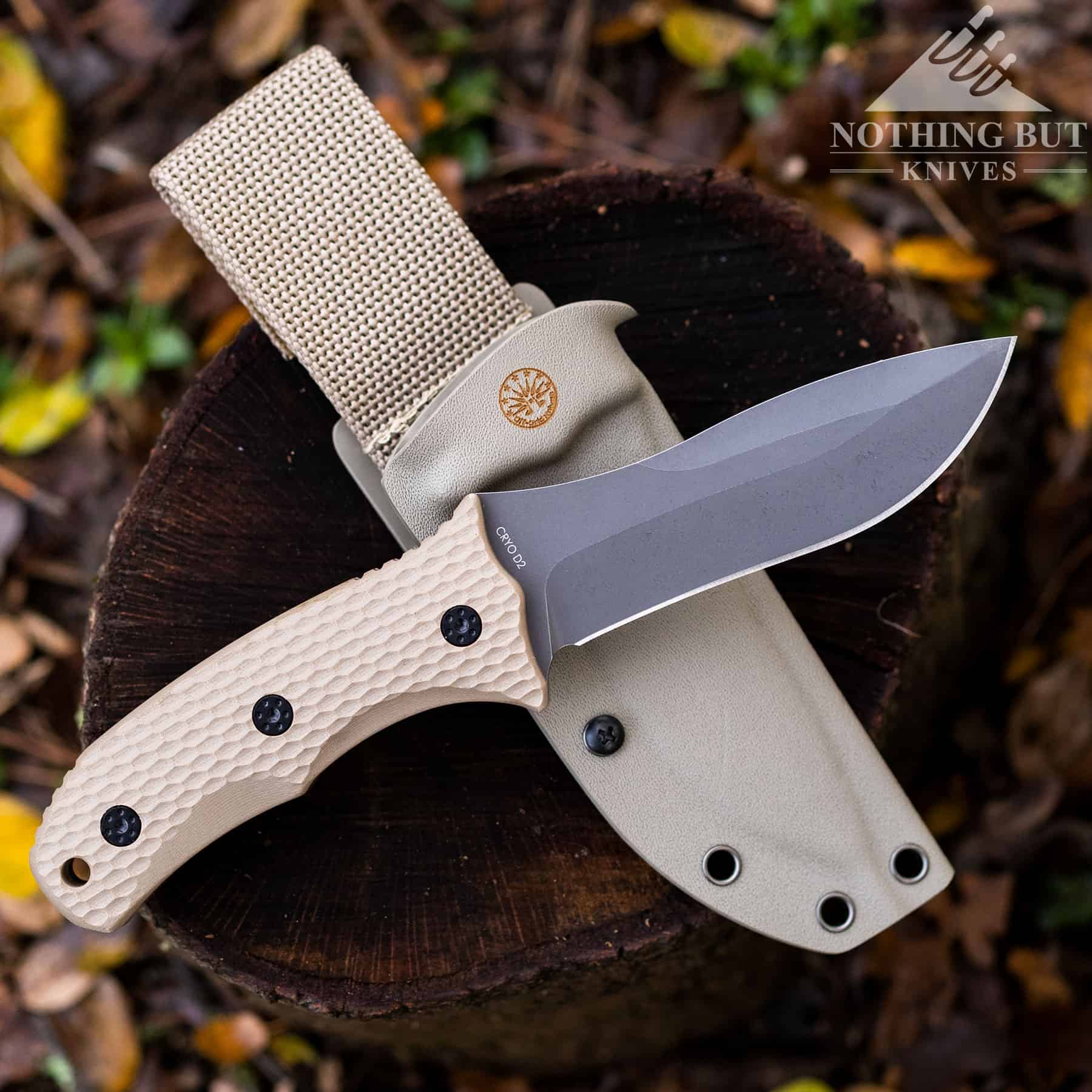 The kydex sheath was also improved. It sits lower on the hip thanks to an extension that is just the right length. Obviously this is subjective. i know some folks like to carry fixed blades high on the hip. This seems weird, but I won't judge…much.
The new Backcountry sheath also features a generous thumb ramp that makes blade deployment quicker and easier. This further improves the Backcountry's tactical credentials for those that need it.
Blade Design And Edge Retention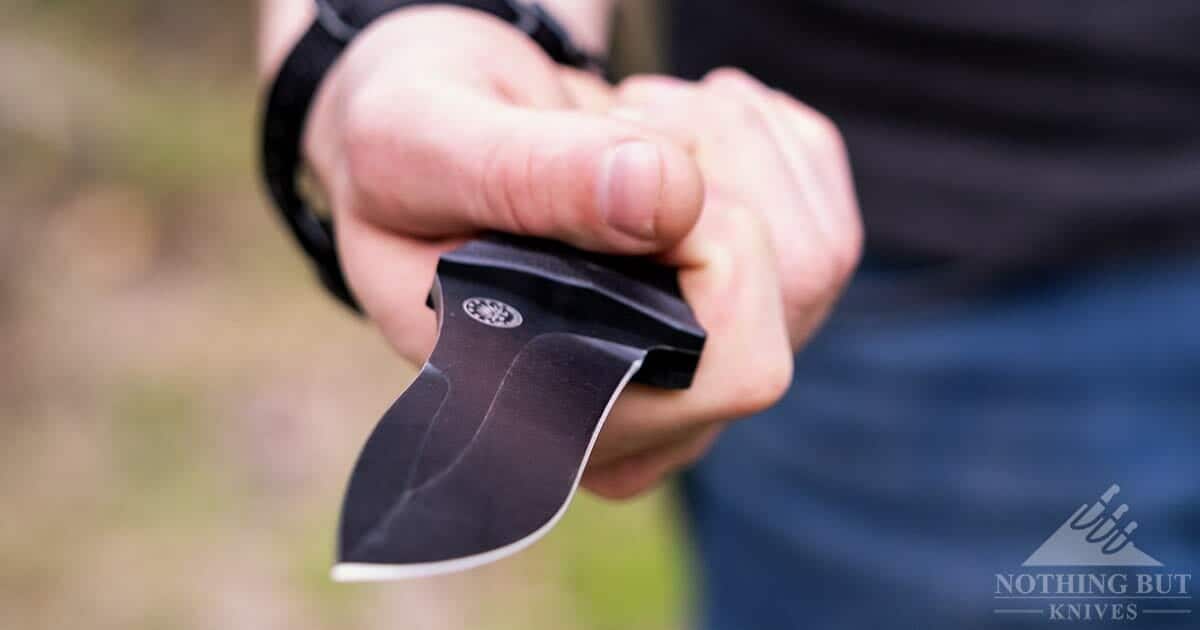 The blade of the Backcountry has a slight recurve to the edge. This is not an uncommon feature in hunting/tactical hybrid knives. The Case Winkler No. 6 and many other popular knives have a similar recurve.
The Backcountry blade is a little different from most other recurve bladed knives in that the spine of the knife also has a bit of a recurve. This feature sets the knife apart aesthetically and gives it a compelling look. I am guessing it may also have a practical application from a tactical standpoint, but that is not really my area of expertise.
The point of recurve style blades is that they have more edge to work with relative to the length of the blade. The curved front part of the blade is ideal for chopping and slicing, and the section closer to the handle is used more for detail work like carving or making notches.
If you have never owned a recurve blade knife before you should know that they are initially a bit more difficult to sharpen, but it doesn't take long to get the hang of it. There are some pretty good recurve blade sharpening tutorials out there to shorten the learning curve.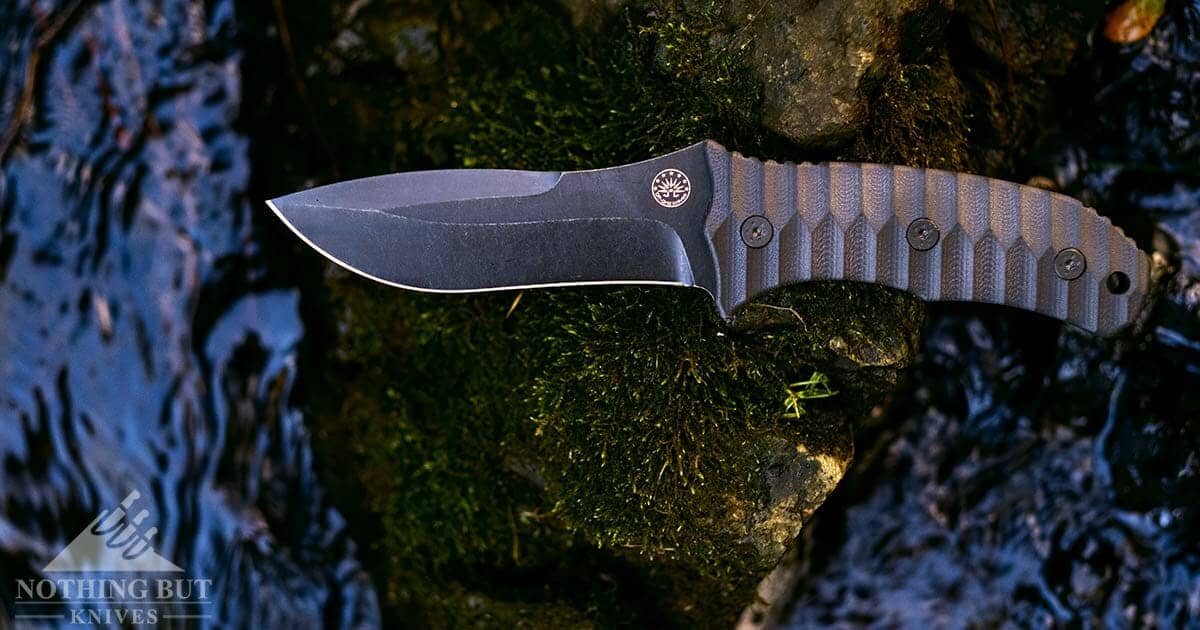 This is Off-Grid's first fixed blade with a hollow edge grind, which I assume leans into its designation as the company's most tactical fixed blade.
The Backcountry is also much thinner behind the edge compared to Off-Grid's other two fixed blades. This helps make the Backcountry an excellent slicer and a great camping food prep tool. It also makes the Backcountry's edge a little more prone to rolling or chipping, but the sturdy D2 steel blade endured everything we threw at it from feather sticking to chopping without sustaining any major damage.
The Backcountry blade does not have a full hollow grind. It tapers quickly to the center section of the blade. While this aggressive taper sacrifices some slicing ability, it also helps make the blade a bit more durable. This is one reason the Backcountry is able to withstand a lot of the bushcraft type tasks that would bend or break other tactical fixed blade knives.
Currently the Backcountry is only available in a blackout version, which looks great, but it does make the knife difficult to find if you drop it at night. Obviously this is not a big deal if you happen to have a flashlight, but for a certain under-prepared and slightly inebriated knife blogger, the complete lack of reflective surfaces on the knife and the thick bed of leaves on the forest floor made me wish the Backcountry had one of those ugly orange handles that are currently plaguing the survival knife world.
Hopefully Off-Grid will come out with an idiot-proof version with a stonewashed blade soon.
Handle Ergonomics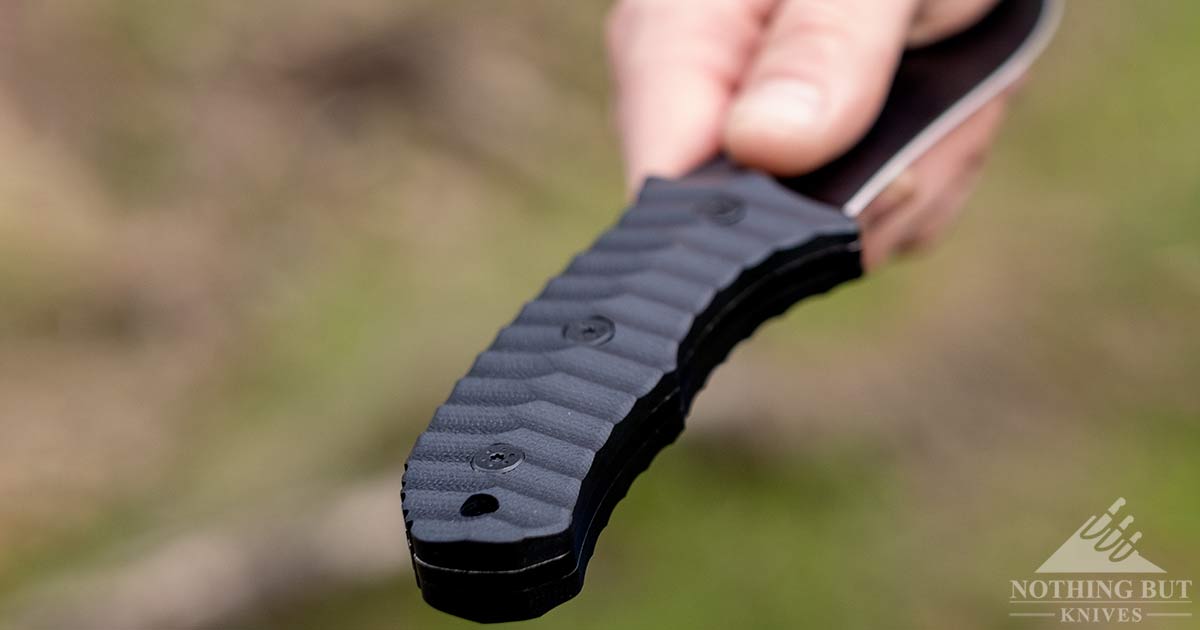 The design of the Backcountry is meant to mimic the Off-Grid Rapid Fire which is one of the company's most popular folders. The Backcountry is quite a bit bigger and heavier than the Rapid Fire, but that is to be expected for this type of fixed blade.
The textured G-10 handle of the Backcountry is extremely grippy and tough, and the thick slabs of of G-10 can take a beating if you need to hammer in a tent stake or crack a walnut.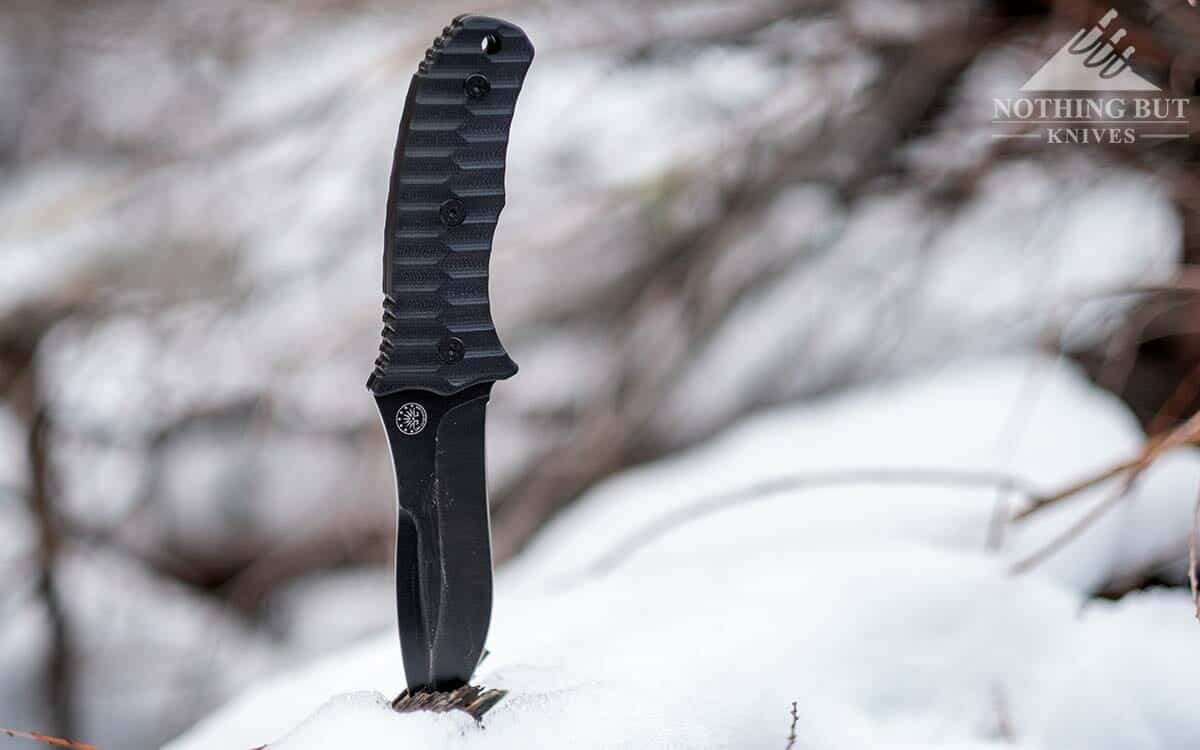 The overall shape of the handle is similar to the handle of the Off-Grid Tracker-X, which is great because the Tracker-X handle is really comfortable. One big difference is that the handle on the Backcountry is a full inch longer, which is nice for tasks like chopping that require the handle to be gripped at the base.
My only complaint about the Backcountry handle is that it causes some hotspots with extended hard use. The texture of the handle and the shallow chamfer help make this handle easy to grip, but the scales will poke pretty hard into the hand after a while. I should mention that when we test knives we use them for much longer periods of time than the average knife owner.
The Backcountry handle is plenty comfortable for most camping and hunting tasks. It is also a good handle from a tactical standpoint, because it is so grippy. However, if you are looking for a hard use survival or bushcraft knife, the Tracker-X would be a better choice due to the more comfortable handle, flat grind, and thicker blade.
The Backcountry Coyote Option
A few months after I finished this review, Off-Grid announced a new version of the Backcountry called the Coyote. The texturing on this handle is quite a bit more subtle. I found it to be a little more comfortable when doing hard use type tasks for an extended period of time. I also prefer the Coyote color to the blackout version, but that is certainly subjective. I do wish both Backcountry versions had a deeper chamfer, for added comfort.
Sheath Versatility And Durability And Ergonomics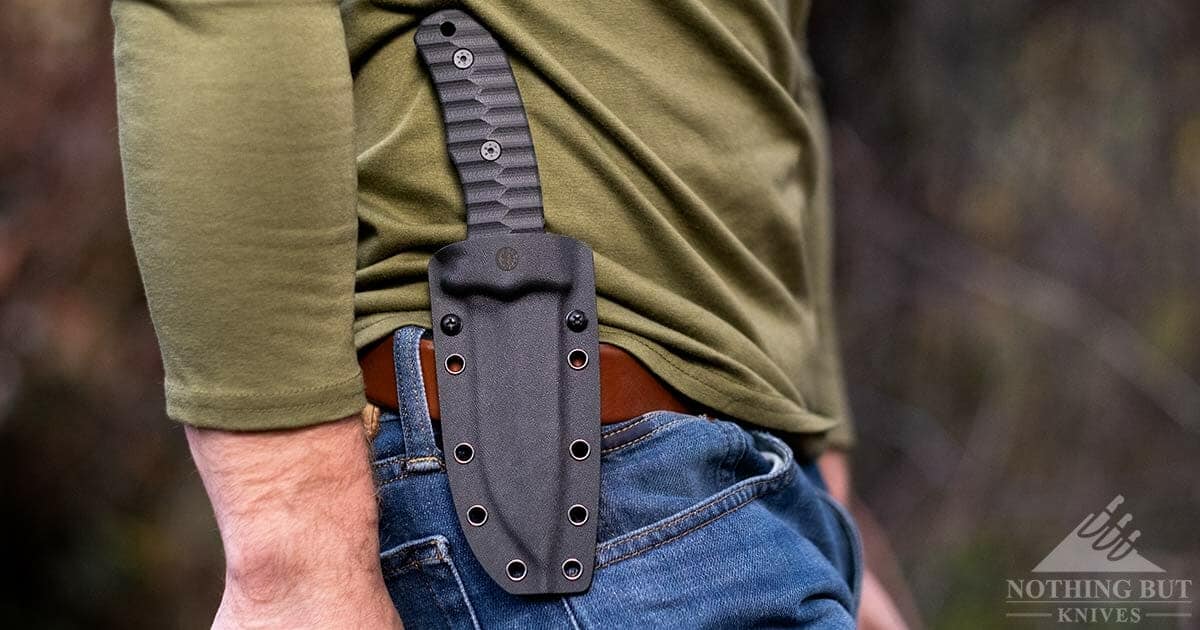 The tough kydex sheath that ships with the Backcountry is the same sheath that ships with the Tracker-X. This is a good thing. It is a truly impressive sheath considering the relatively low price point of the Backcountry. The ambidextrous sheath can be adjusted for either vertical or horizontal carry.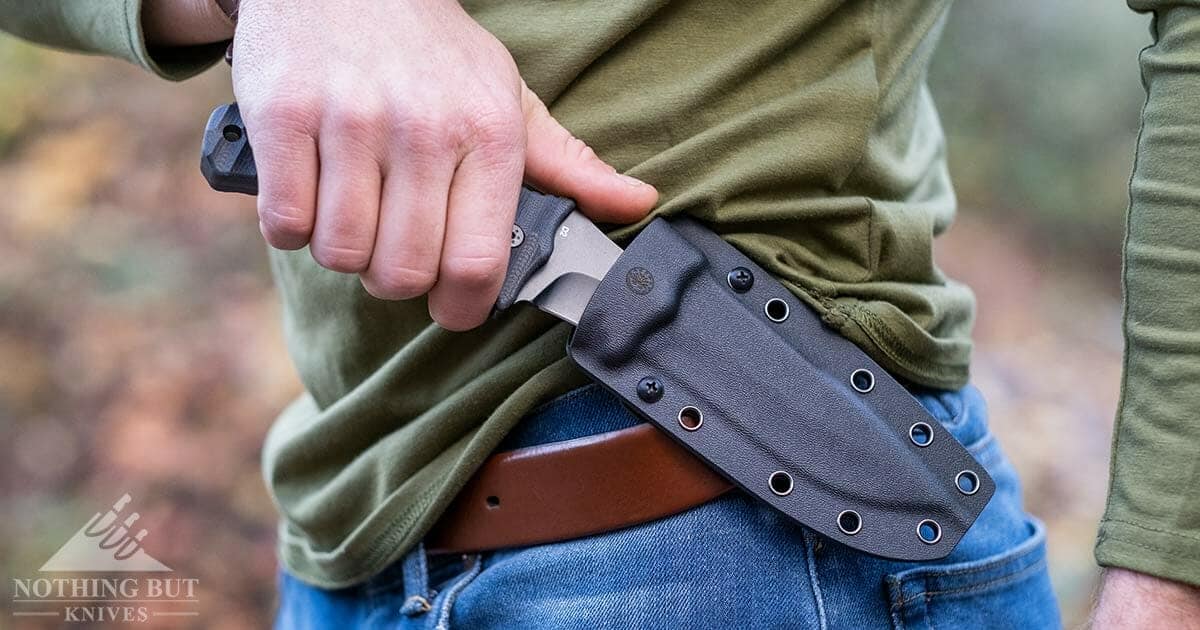 The versatility of the Backcountry sheath makes it a good choice for those who like carry options. It is easy to set up for standard vertical carry or cross draw style.
I do wish the sheath sat lower on the hip when carried vertically similar to the Off-Grid Alpha Dog. But I personally prefer sheaths that sit low. I know others that strangely prefer sheaths that ride high. [Editor's Note: I'm positive all those people are at least a foot taller than both of us.]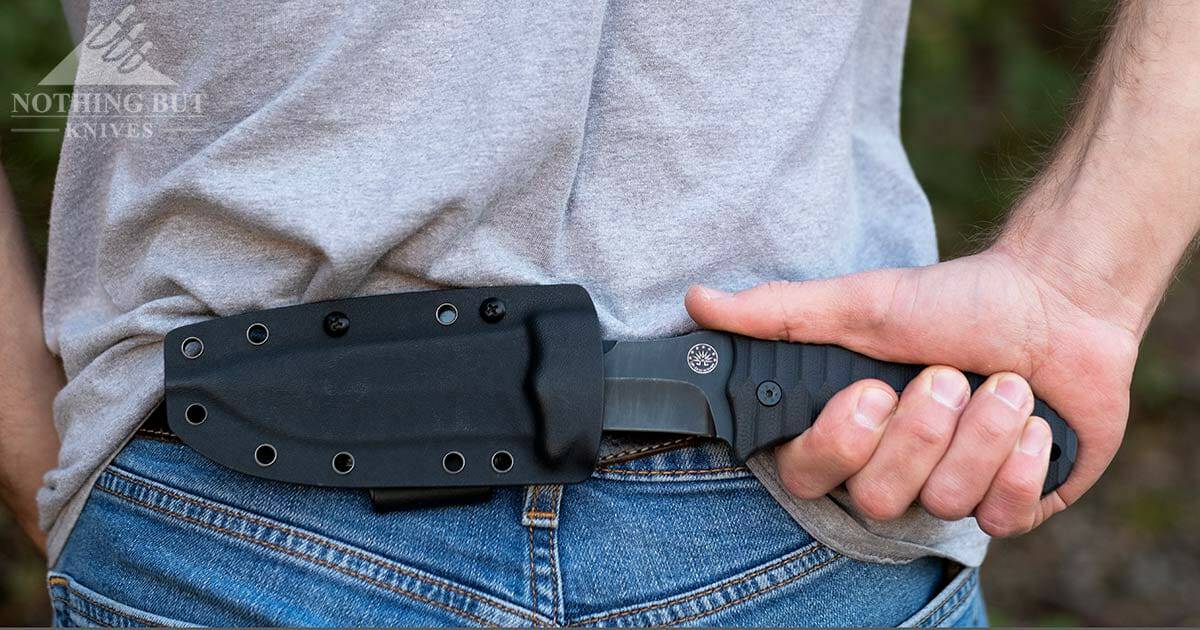 When carried in the horizontal position the sheath does sag slightly towards whichever side the handle is on. However, I have not found that to be much of an impediment when drawing or re-sheathing the knife. The sheath retention is good enough to carry the knife upside down if that is your preference.
The Sheath Extention Upgrade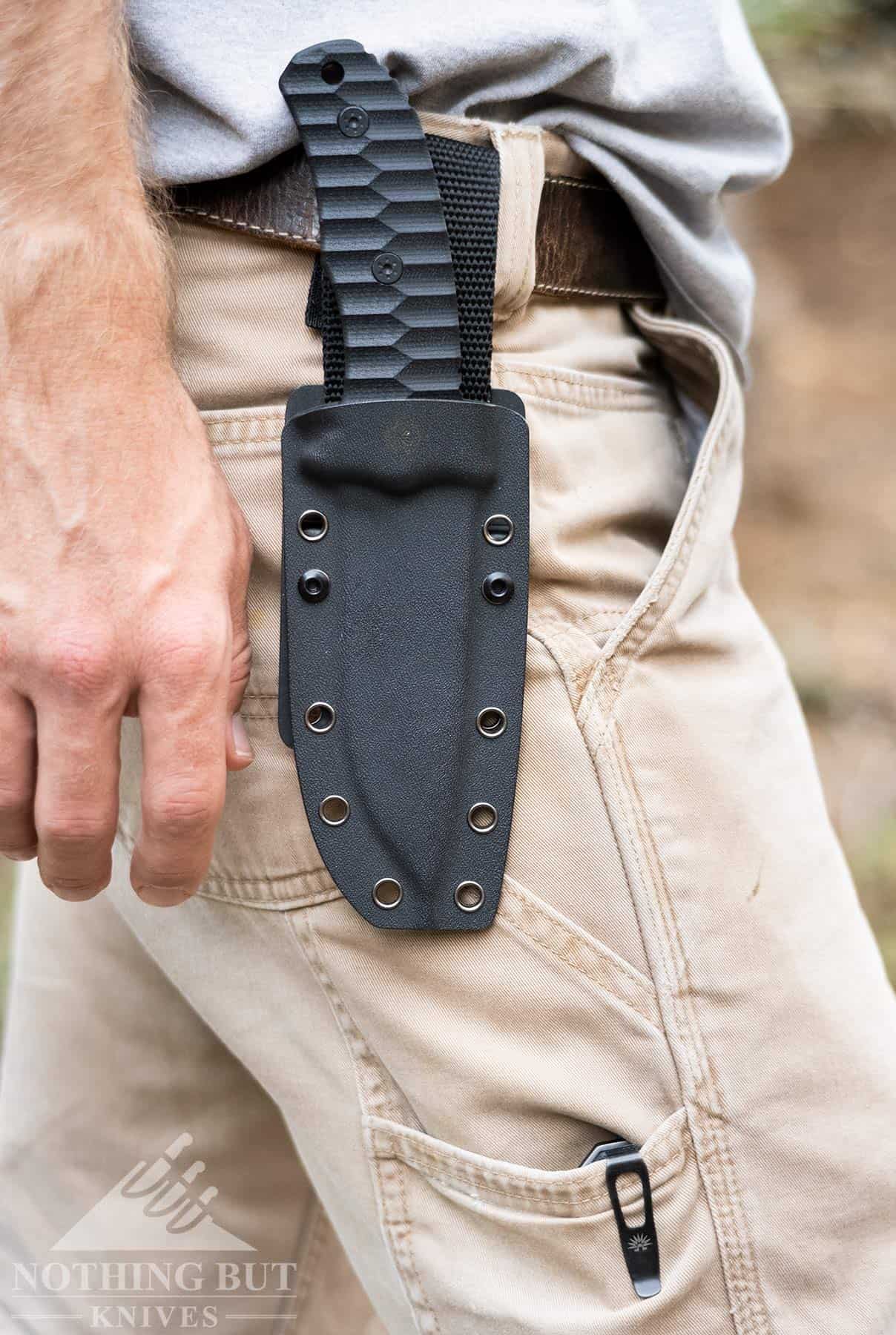 As I mentioned earlier the Backountry sits a little too high on the hip, and caused some discomfort when worn vertically. Fortunately Off-Grid came out with a solution for whiners like myself. The released the OG Low-Pro Sheath Extension upgrade that works for all their fixed blades. It is well designed, easy to attach and priced surprisingly low.
In The Field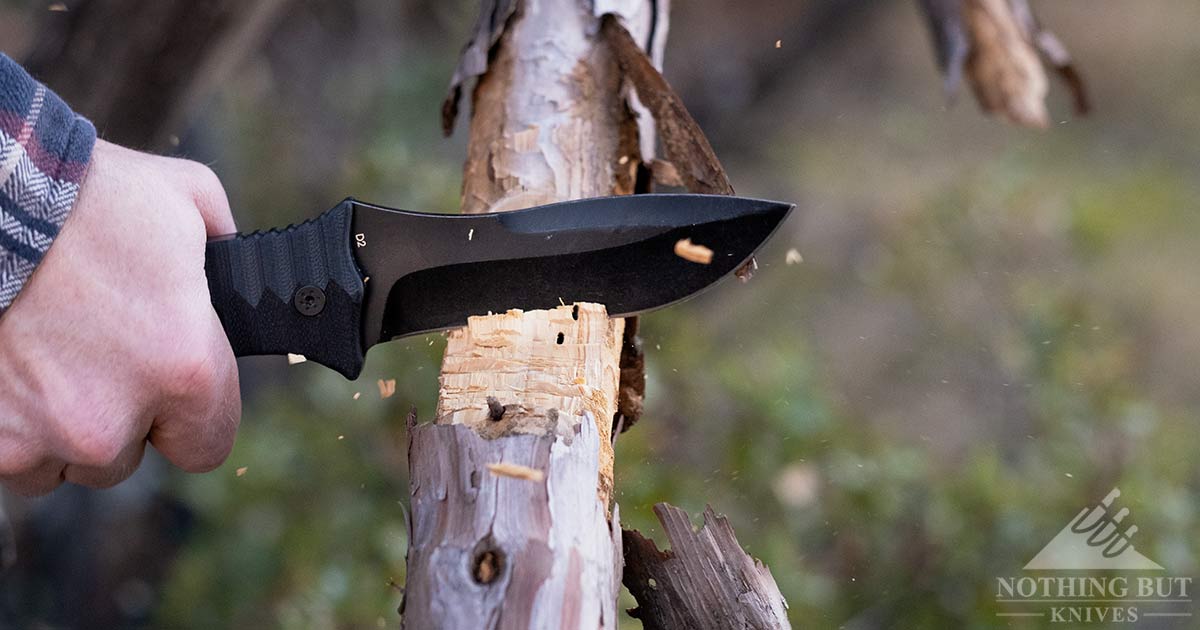 I would consider the Backcountry a tactical / hunting knife more than a survival or bushcraft knife, but we still ran it through our regular bushcraft task gauntlet, because that is what we do here. The Backcountry performed admirably and its edge held up well.
I fully expected to roll the edge at some point when we were chopping through a variety of oak and digger pine limbs, but the edge held up well. I did notice a tiny chip after chopping through an oak limb with an especially stubborn knot, so if chopping hard wood is something you plan to do regularly one of Off-Grid's other fixed blades would be a better option.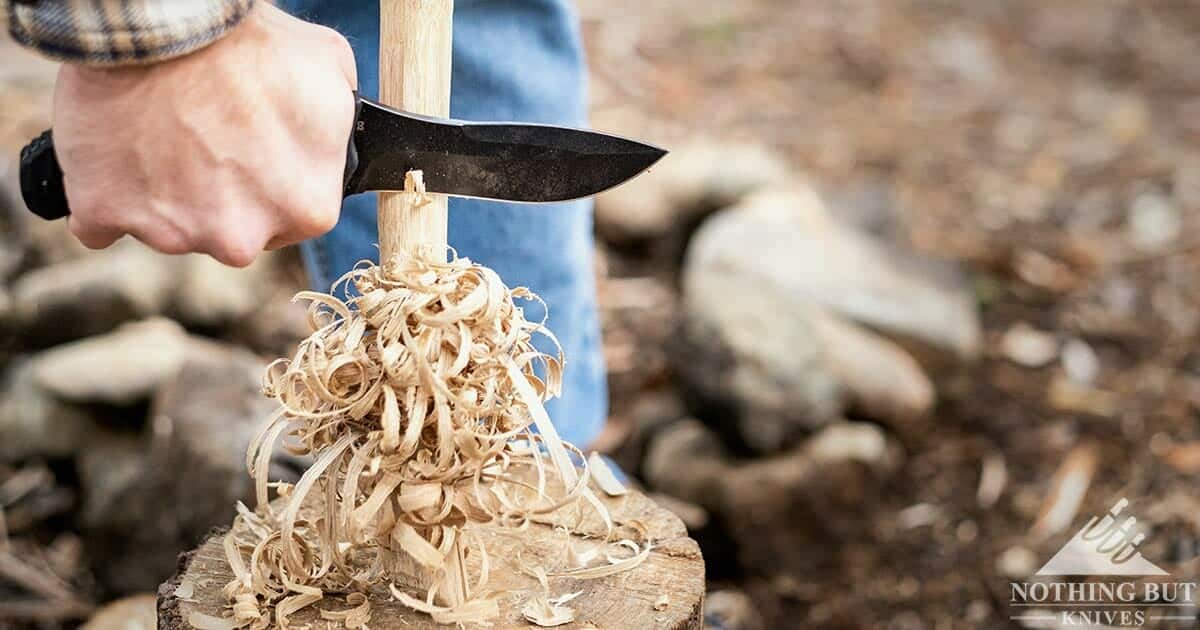 Curls abounded as we moved on to feather sticking with the Backcountry. We tried it out on a variety of wood types, and the curved blade had no trouble creating light-able feather sticks.
We did feel a bit more discomfort in our hands when feather sticking than we did with Off-Grid's other fixed blades which is a tradeoff of the minimal chamfer and aggressive texturing of the handle that make it so easy to grip.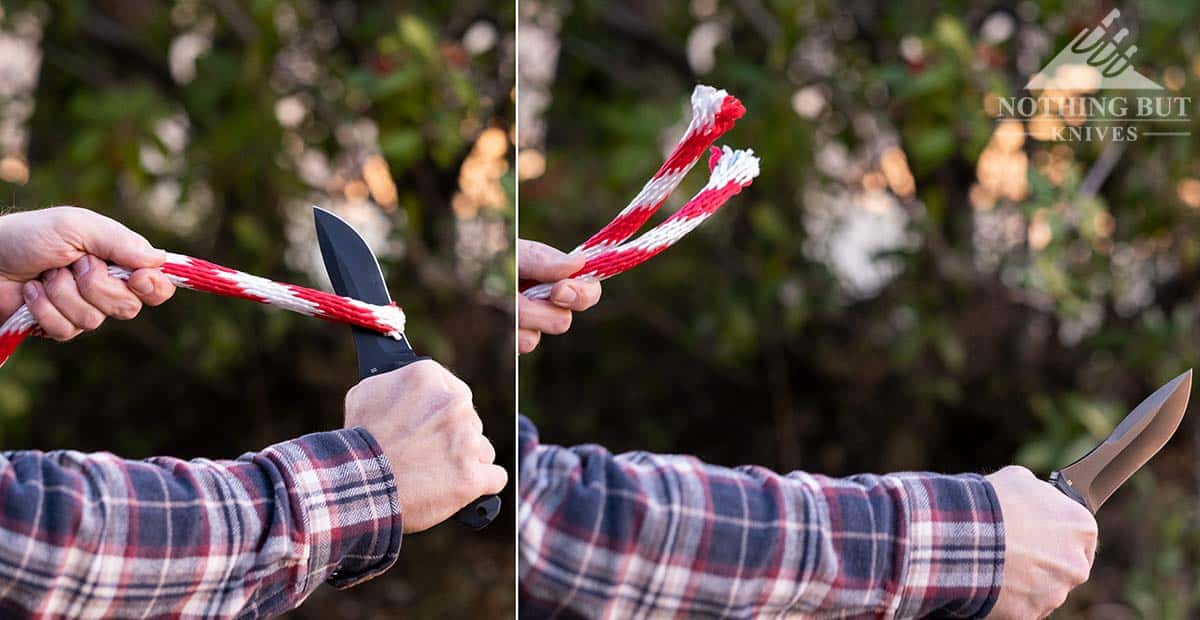 The recurve shape and hollow grind of the Backcountry make it an ideal choice for slicing rope or tubing. We found it to be a fairly effortless slicer even after we had been using the knife for hours on hard use type tasks. This is a credit to the heat treatment Off-Grid uses on its D2 steel.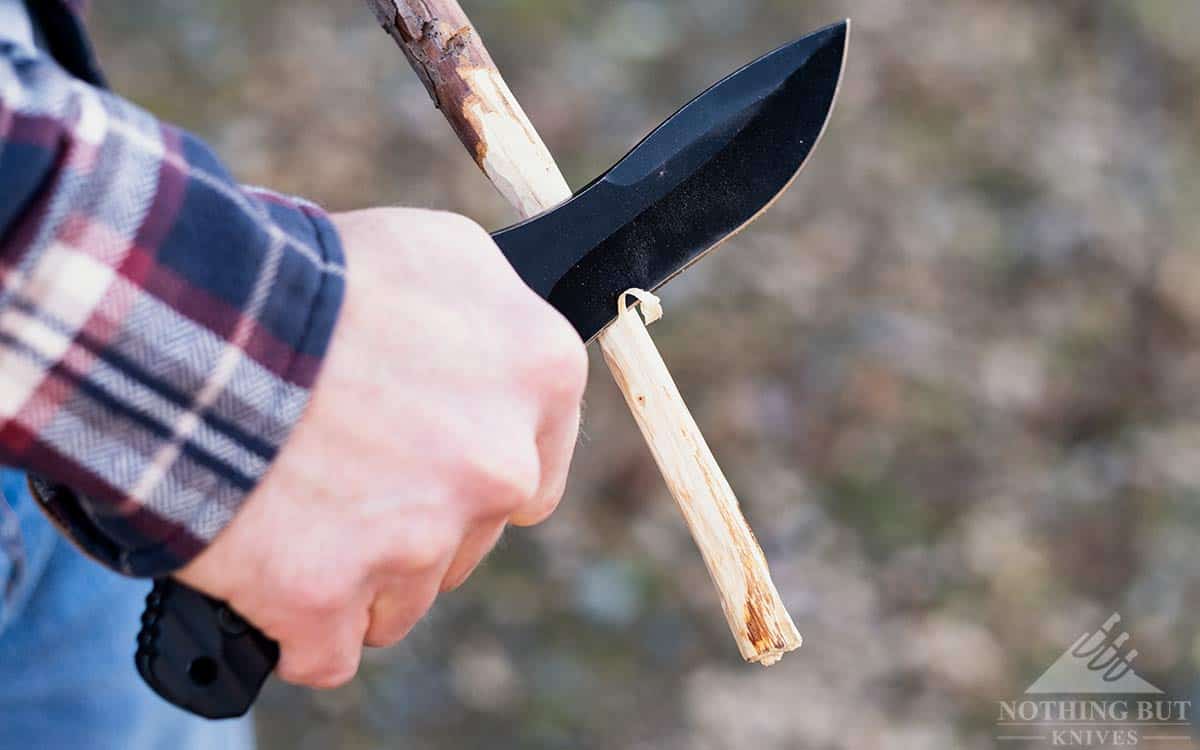 The size of the Backcountry makes it less than ideal for super detailed carving, but it handles most camping type carving tasks like making tent stakes or sharpening hot dog sticks with ease.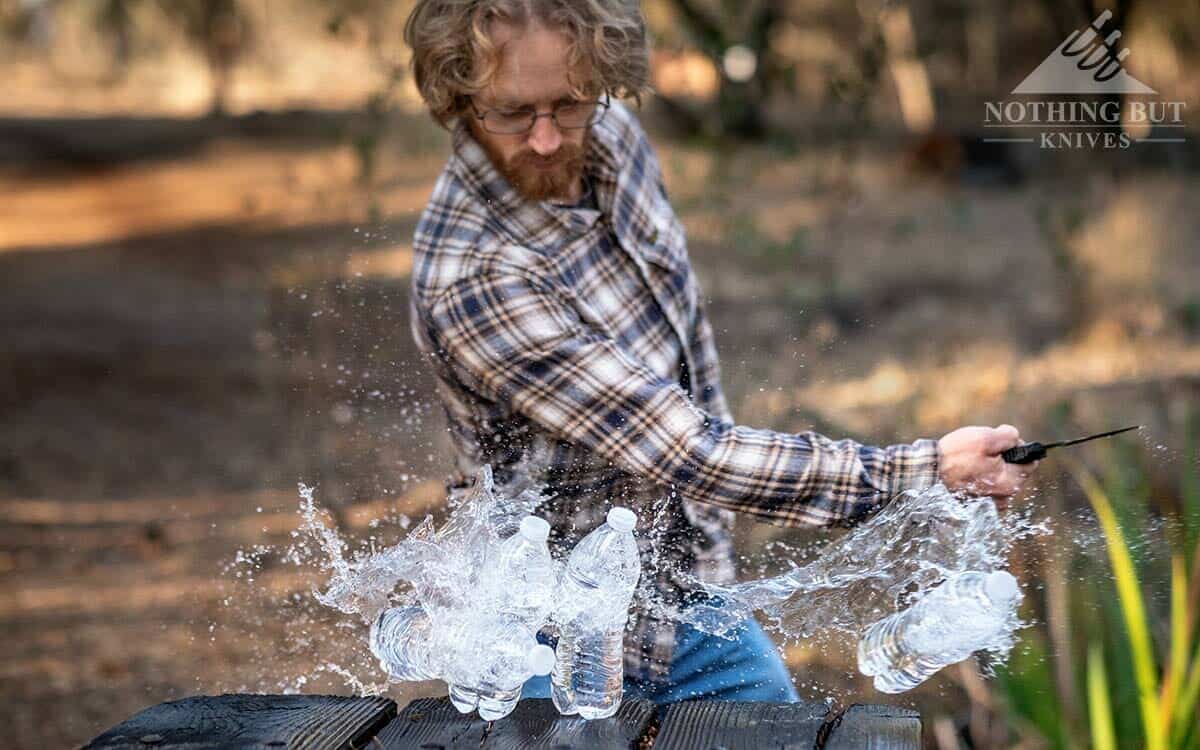 I don't usually spend a lot of time talking about the tactical capabilities of a knife in my reviews, because I don't really feel qualified, but I do feel confident in saying the Backcountry is Off-Grid's best knife from a tactical stand point. It is a great slicer, and the swedge on the top of the blade is more than decorative. It helps give the Backcountry a bit more piercing power.
Obviously the grippiness of the handle is important from a tactical standpoint, and the Backcountry's handle is easy to grip even when wet. This is also a nice feature for anyone looking for a tactcal knife that can be used for field dressing large game.
Food Prep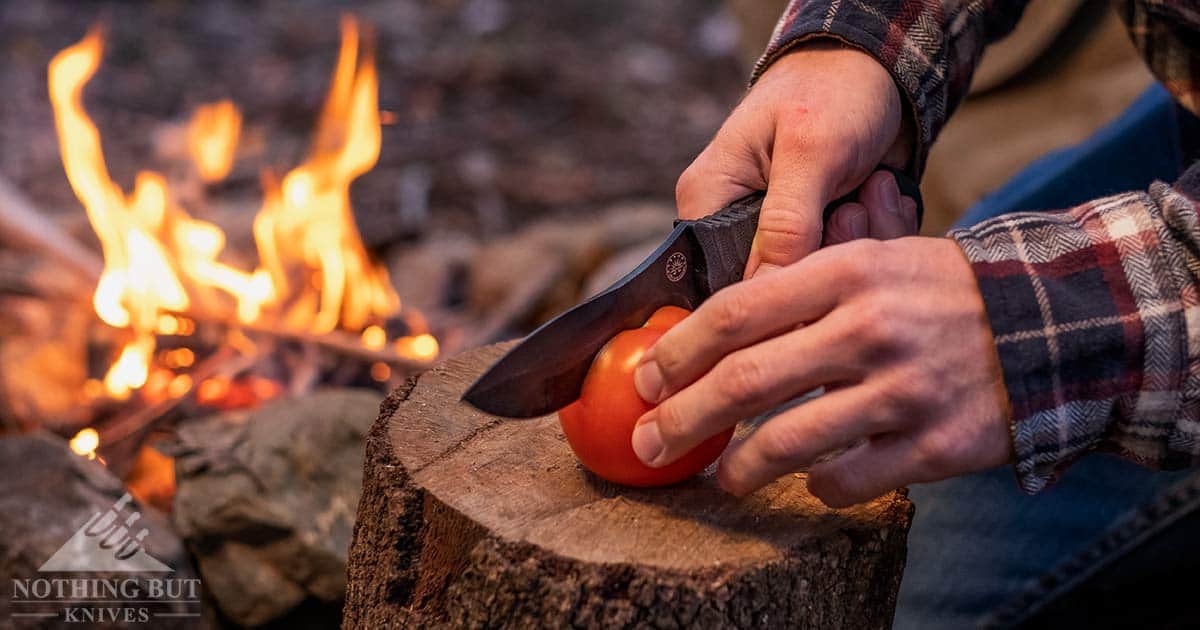 This Backcountry took to camping food prep like a knife nerd to a new super steel. We were able to easily slice through meat and veggies for camp stew right after chopping wood and feather sticking without sharpening or stropping the blade. We didn't even bother to wash the blade prior to food prep, because everyone knows germs don't exist on camping trips. Science!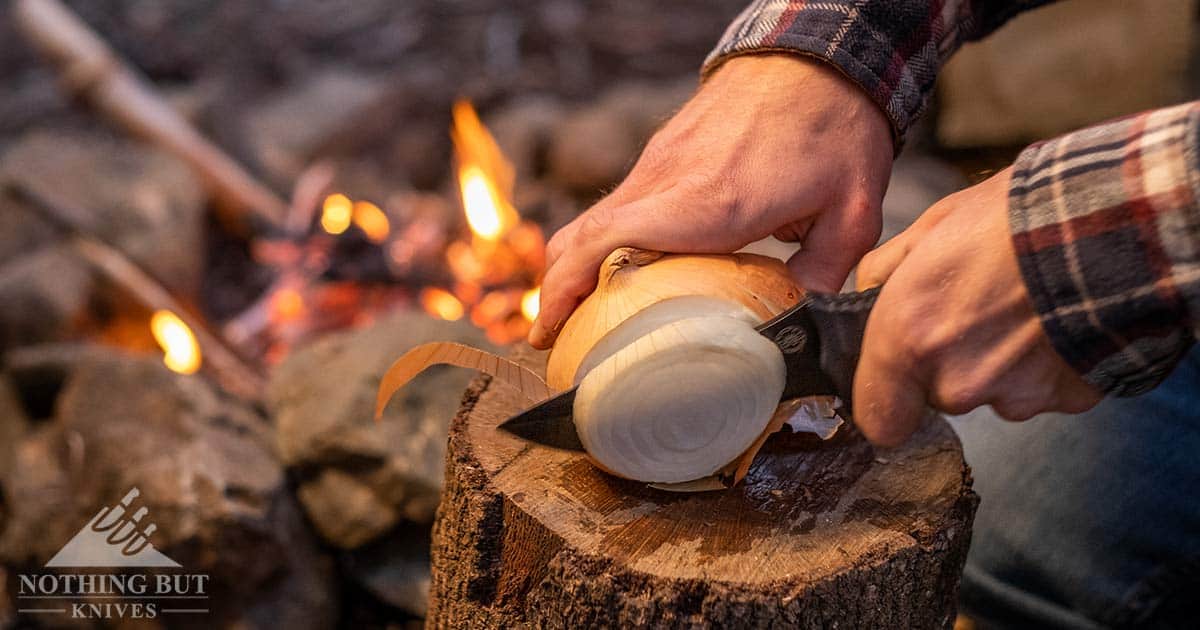 As I mentioned earlier the lack of a full hollow grind sacrifices a bit of the Backcountry's slicing ability, but it still sliced through food with minimal effort. It is no replacement for a good chef knife in the kitchen, but it is a great choice in the outdoors where a knife needs to do more than slice food. [Editor's Note: e.g. cutting water bottles in half.]
Conclusion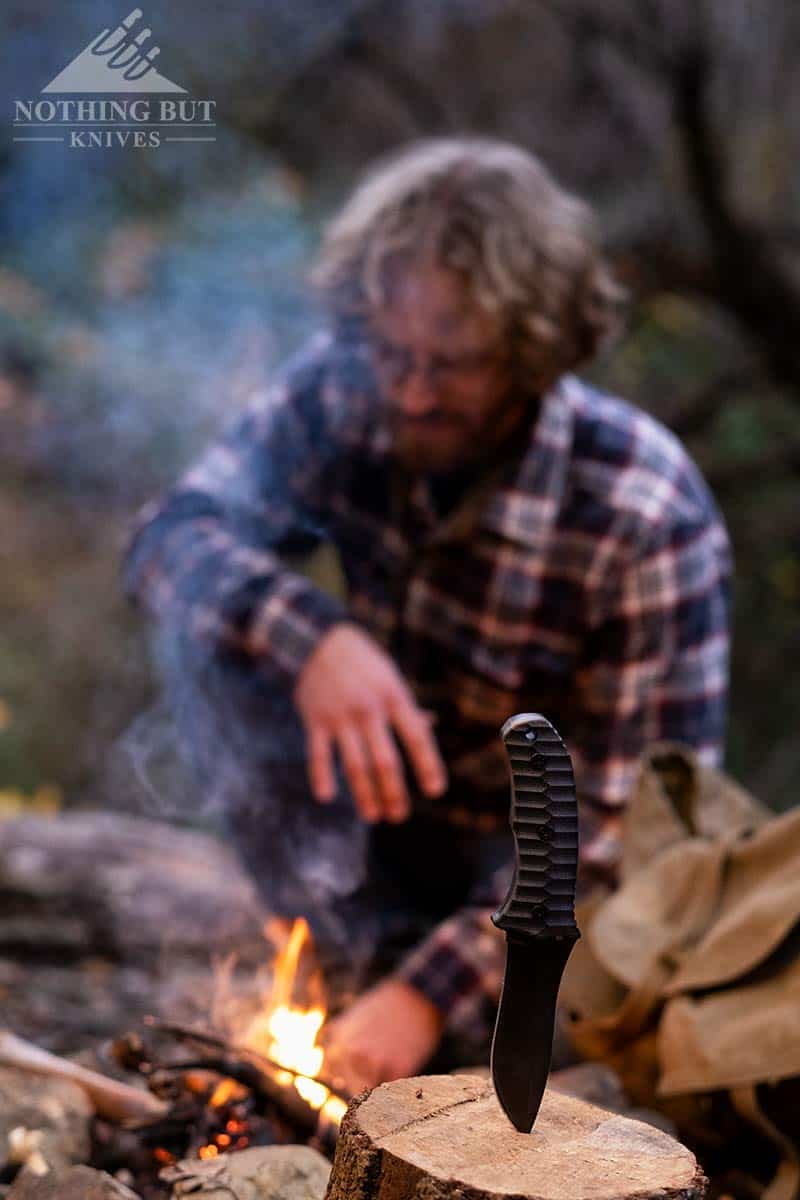 The Off-Grid Backcountry is an excellent tactical/hunting knife hybrid that is versatile enough to be a great camping or backpacking tool.
The hollow grind and handle hot spots make it less than ideal for bushcraft type tasks, but it can tackle those tasks better than most knives that are designed to be primarily hunting or tactical knives. At a current price of around $80 bucks it offers decent value especially considering it ships with a good kydex sheath.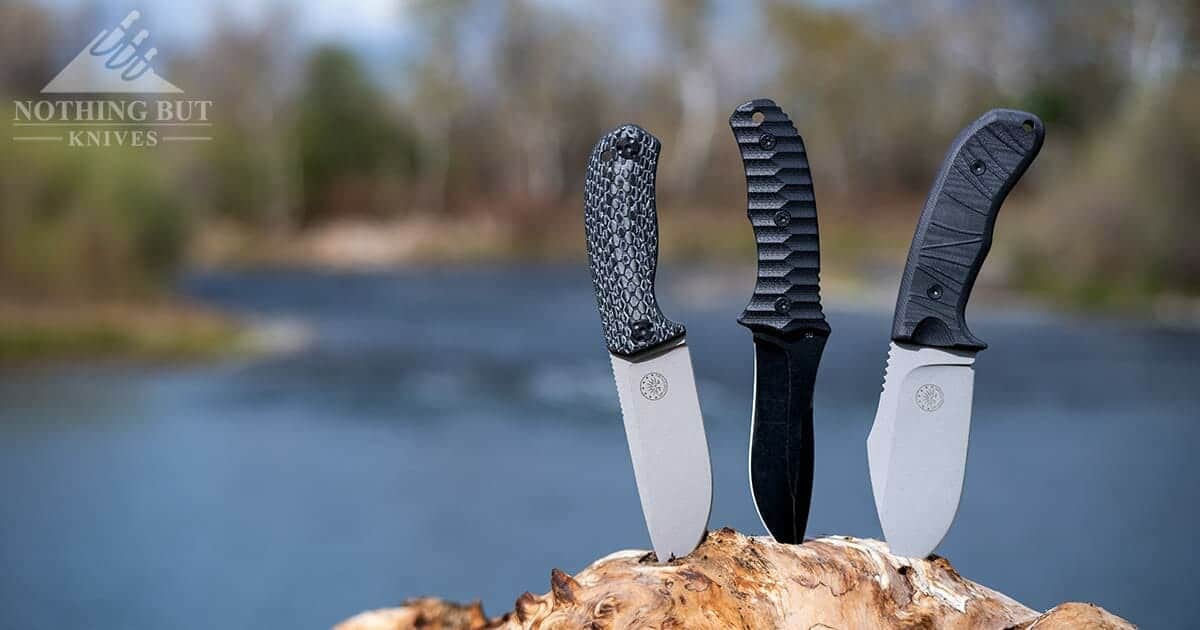 The Backcountry is a great knife, but it is my least favorite Off-Grid fixed blade knife. This is only because I rarely hunt and almost never choose a knife based on its tactical capabilities.
Both the Alpha-Dog and Tracker-X are better for hard use and bushcraft type work, so those are the Off-Grid fixed blades I use the most. Their handles are more comfortable and the blades can take more abuse. However, all of Off-Grid's fixed knives look like they belong in the mountains and they all perform well at most outdoor tasks. This includes the Backcountry. It is an excellent all-around survival knife.
If you want a tactical knife that knows its way around a campsite, the Backcountry is a good option. There are no hero shots of it next to a keyboard in this review, because it belongs on a trail or campsite. Just don't drop it on the trail or campsite at night.