A Tough, Versatile Hard Use Flipper That Looks Kinda Weird, But Slices Like A Dream
I always act like a kid at Christmas when a new flipper arrives in the mail. I open the package quickly using the last folding knife I ordered and immediately begin flipping the new knife open and then closing it over and over again while grinning like an idiot and commenting on the smoothness of the action or some other technical babble designed to endear myself to the knife in an attempt to justify its price tag.
The number of accolades I heap upon the knife during this short ceremony are usually commensurate with its cost. The Off-Grid Rhino ended up being an exception to this rule. It is not expensive, but its build quality, slicing ability, and smooth action make it worthy of the veneration I generally reserve for pricier folding knives, even though the blade looks kinda weird.
Before jumping into this article, I do want to mention that Off-Grid Knives sent me this knife free of charge to review. That fact doesn't affect my opinion of it in any way, because I already have a lot of knives. If the package had contained something I really need like a new identity, a criminal defense attorney or hemorrhoid medication my opinion may have been swayed, but it didn't, so my virtue remains unsullied.
Specifications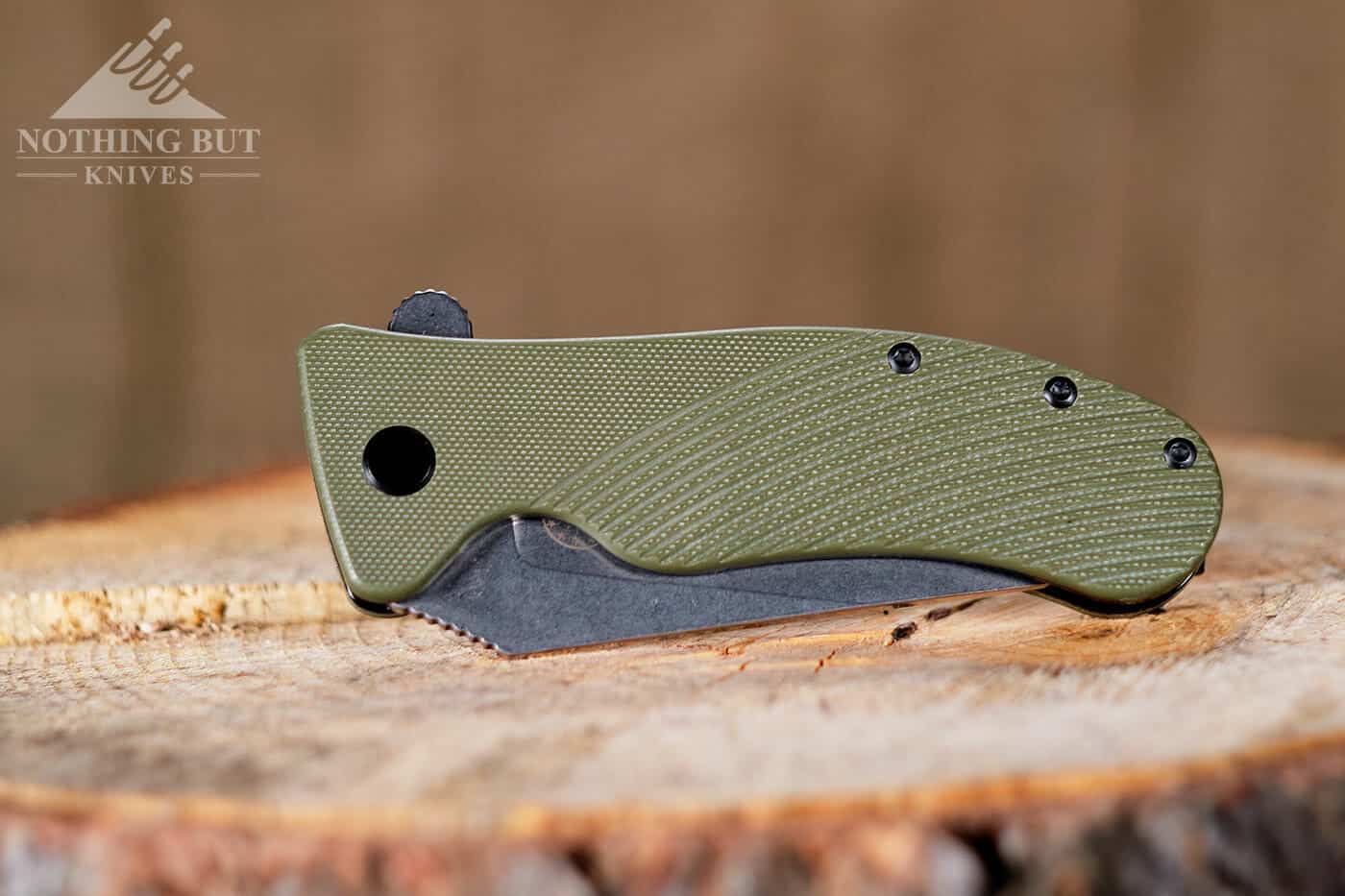 | | |
| --- | --- |
| Overall Length: | 8.5″ |
| Blade Length: | 3.5″ |
| Blade Thickness: | 3.5 mm |
| Blade Steel: | D2 |
| Handle Length: | 4.55″ |
| Blade Shape: | Drop point |
| Blade Grind: | Flat |
| Handle Material: | G-10 |
| Lock Type: | Liner |
| Weight: | 6.6 oz |
Pros
Tough
Holds its edge well
Smooth action
Very comfortable handle
Excellent slicer
Cons
Right side only pocket clip
Tough to close with gloves on
The Blade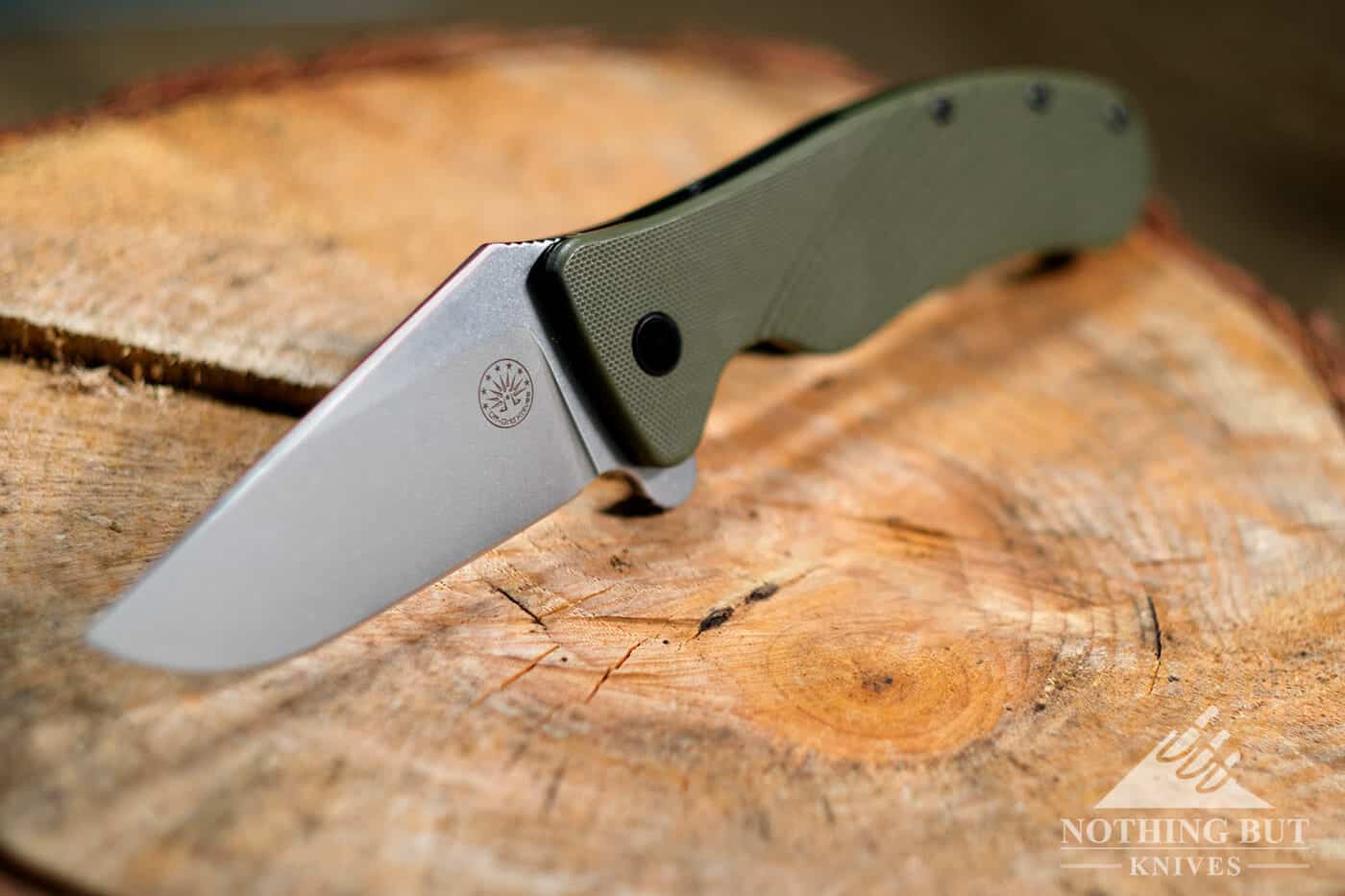 The funny looking blade shape features a dramatic rise which is why this knife is named Rhino. This hump accomplishes more than providing a feature that makes the knife different. It actually helps make the knife stronger.
The spine is 3.5 mm thick which is rare for a folder, and the hump provides a space for a big chunk of thick steel which helps this knife attain its hard use status. The blade is 1.5″ tall at the base. This height allows for the gradual taper to a thin edge which is what makes this knife such a great slicer. I will delve more into the slicing ability of this knife in the performance section of this review.
This blade tip tapers a little late compared to other folders with similar sized blades, but the taper is still gradual enough to make it an effective stabber.
The blade is made of D2 steel which is one of my favorite steels for hard use type folders. I even prefer D2 over S30V for hard use knives, because it is less likely to chip if it hits something hard. D2 steel does not hold its edge as well as a lot of the popular harder steels on high end folders, but that is a trade off I am willing to make to avoid chipping a blade.
When I reviewed the Off-Grid Tracker X, I mentioned that Off-Grid's heat treatment of that knife's D2 steel was excellent. That holds true for the Rhino. This knife consistently passed paper tests after hard use tasks for almost three weeks as my EDC before I had to sharpen it.
The version of the Off-Grid Rhino in this review has a stonewashed blade and a hunter green handle, but they also make an all black model called the Rhino Blackout in case you prefer knives that look cool and are hard to find if you drop them in the dark.
The Action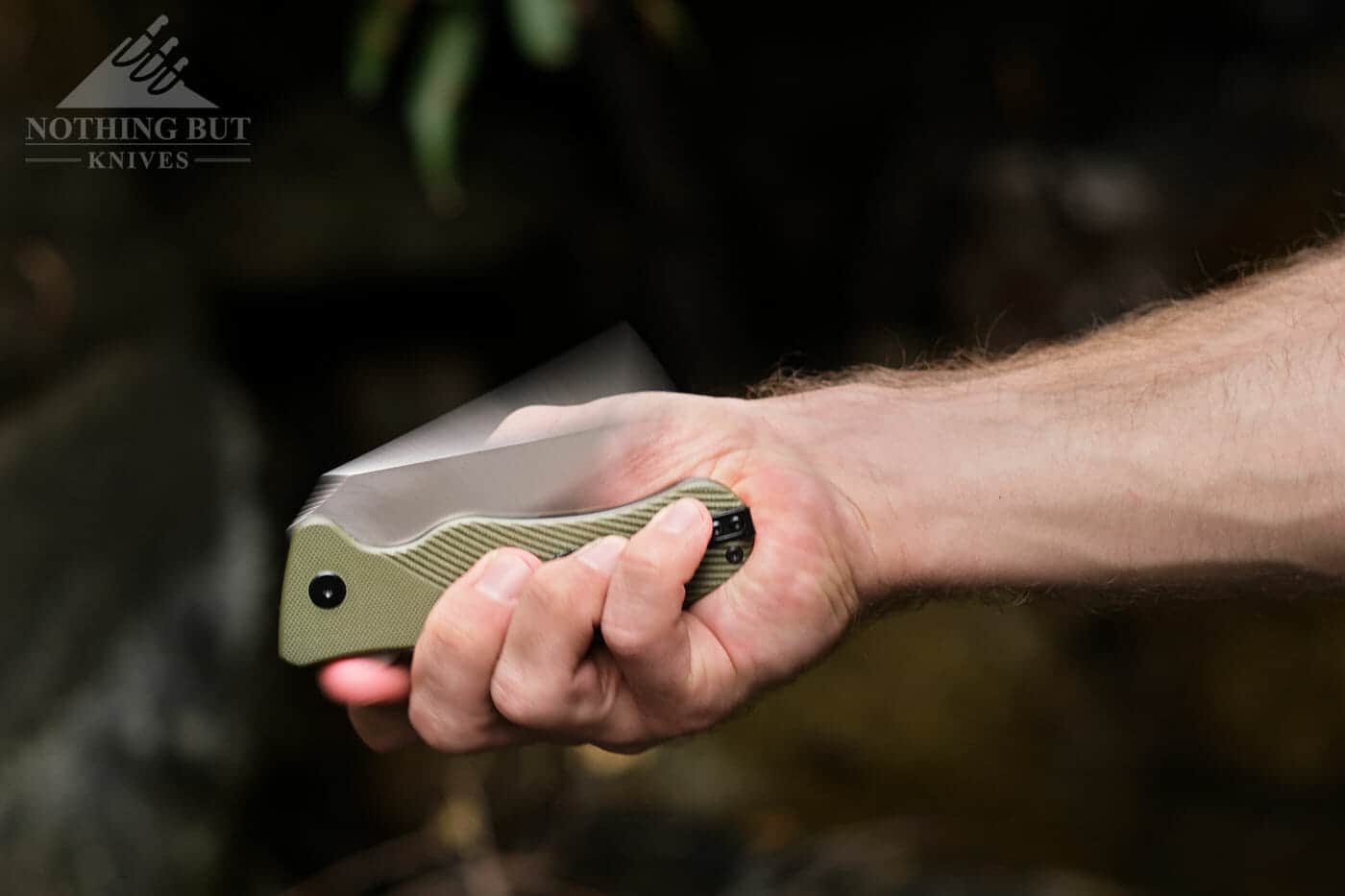 The action of the the Rhino is where it really separates itself from other flippers under $100. It is fast and buttery smooth. It is not spring assisted, but it feels like it. The flipper action on the Rhino I received was a little on the firm side which I like, but pivot can be adjusted with a T8 sized screwdriver, so the action can be slightly customized.
The back of the large flipper has some fairly deep jimping which made it easier to open when my hands were wet or greasy, so if you like to eat potato chips and flip open pocket knives the Rhino may be a good choice.
The Handle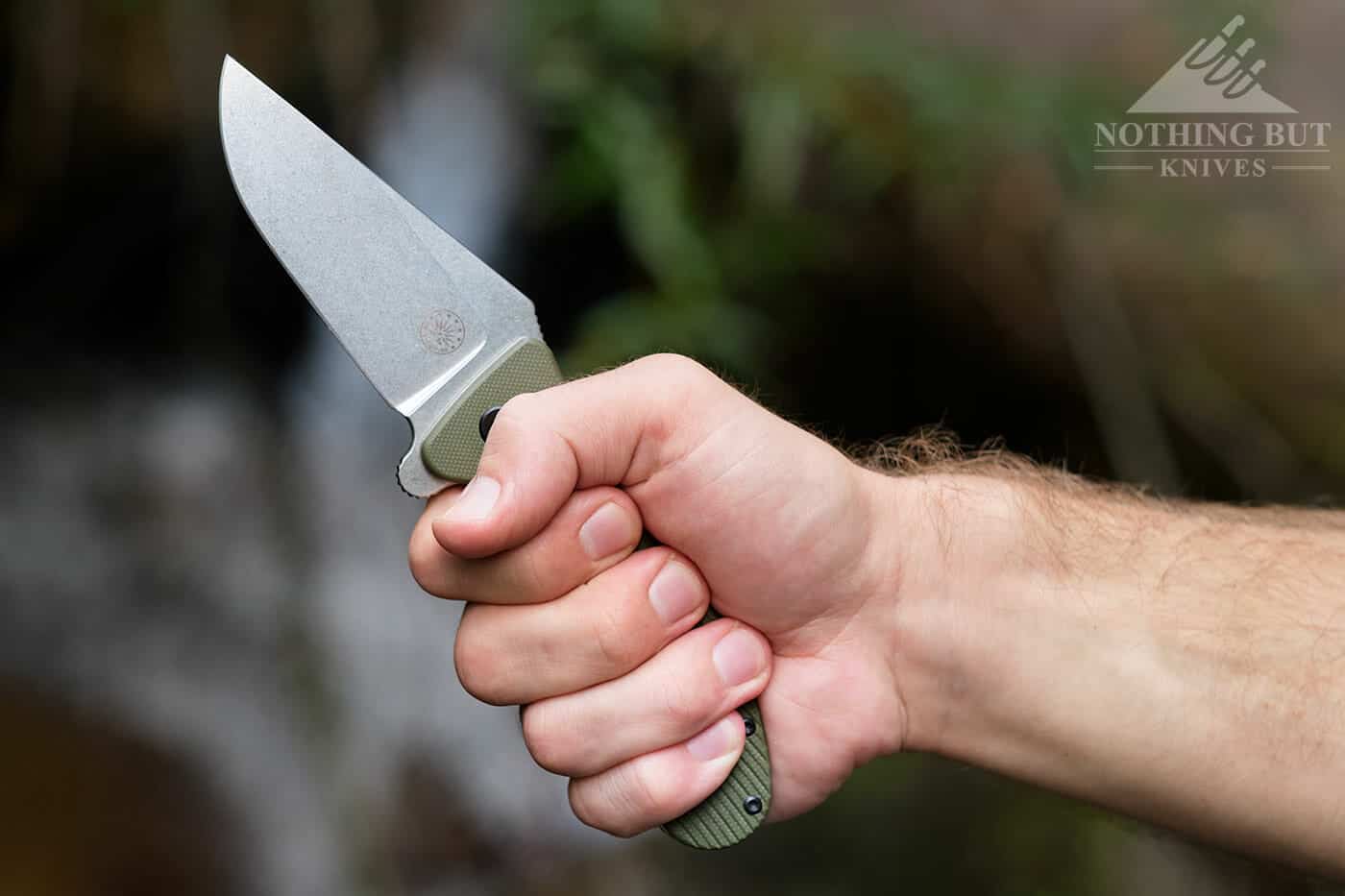 The ergonomic handle of the Rhino is one of its best features. It is bigger than the average pocketknife folder, but nothing about this knife is small. I really dislike it when hard use type knives have small or uncomfortable handles that cause hand stiffness with long term hard use. The Rhino's handle feels like something that would be on a fixed blade.
The handle scales are made of G-10 which is a tough, respectable handle material. The linear texture that runs along the majority of the handle is grippy but not abrasive. The finger groove on the front of the handle is deep enough to be effective, and the slight downturn of the back of the handle makes it easy to hold when utilizing a rear grip for tasks like branch cleaning or light chopping.
The chamfer on the handle scales runs all the way around which is a nice bonus when holding the knife in a rear grip. It kinda drives me crazy when otherwise good folding knives have a generous chamfer on the front of the handle, but no chamfer on the back of the handle.
Fit And Finish
The fit and finish of the Rhino is where I really expected to find some deficiencies. It cost significantly less than $100, so a somewhat lax quality assurance protocol would be understandable. However, I found little to critique in the fit and finish of this knife.
The blade was perfectly centered, there were no visible machining marks and the liner was flush with the handle. The front of the liner lock where it engages the blade may actually be a little too flush with the handle. I found it difficult to one-hand close this knife with gloves on. However, I appreciated the fact that the liner did not dig into my forefinger when carving.
The liner lock engagement was very secure, and I never worried about the spring bar giving way even when cleaning half-inch thick branches of a downed tree limb. I did not quite trust it enough to do some heavy duty chopping even though I am a little curious to see how it would perform. Several of Off-Grid's other knives have a liner lock Off-Grid calls a Grid Lock. I would have felt even more secure in the Rhino's liner lock if it also had a Grid Lock, but I assume sacrifices had to be made to keep the price down.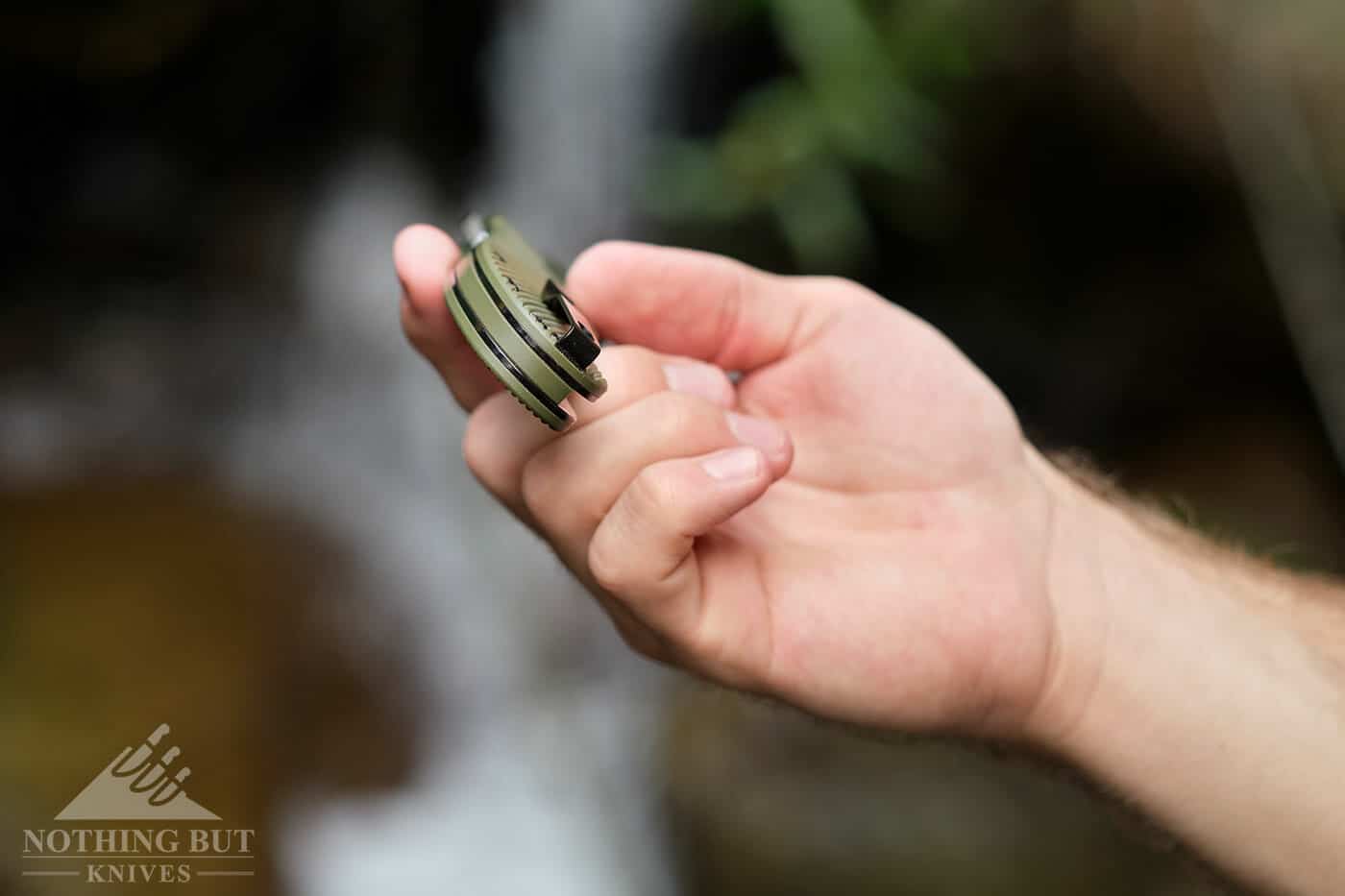 The G-10 backspacer pictured above further strengthens the handle and helps justify the Rhino's hard-use designation. As you can see, the backspacer is perfectly flush with the handle scales and liner lock.
At first glance I thought the body screws were T6 size which I think is a little on the small side for a hard use knife. However, when I tested them I discovered they were T8, so I can't even complain about screw size in this review.
Performance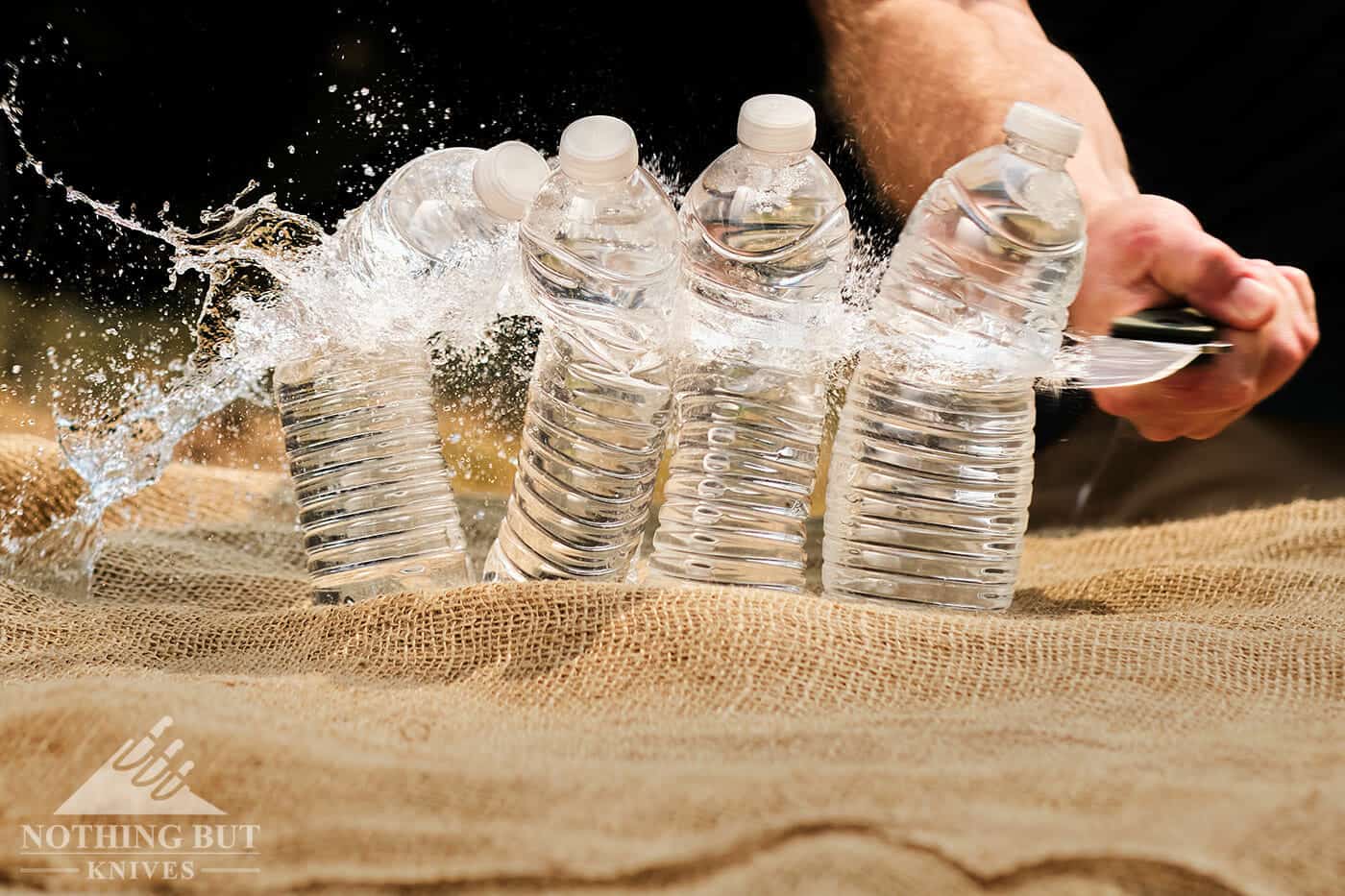 The Off-Grid Rhino is a slicing beast. The gradual taper of the tall blade from the thick spine to the thin edge resembles a chef knife, and the Rhino often behaves like a mini chef knife from a performance standpoint. The relative thinness of the blade definitely come at the cost of durability when compared to something like the Cold Steel 4MAX Scout, but the 4MAX Scout doesn't slice like the Rhino.
As you can see above, the Rhino had no problem slicing through four water bottles which is something I have struggled to do with many fixed blade knives. In fact the Rhino beat two of the three fixed blades we were also testing on water bottles when we took the shot above.
Part of the reason for the Rhino's slashing prowess has to do with its blade geometry, but I also noticed I had an easier time with blade placement testing the Rhino on water bottles than any other folding knife with a blade under five inches.
It is really important when doing this test to have the blade at the right depth otherwise the bottles don't actually split in half. Something about the design of this knife made it quickly feel like an extension of my hand. I think this is fairly important from a tactical standpoint. Using a knife for self defense is not something I know a lot about. I am much better at running than knife fighting. However, the ability to hit what I am aiming at when slashing with a knife seems like it would be pretty important if I were ever in a situation where I had to use a knife for self defense.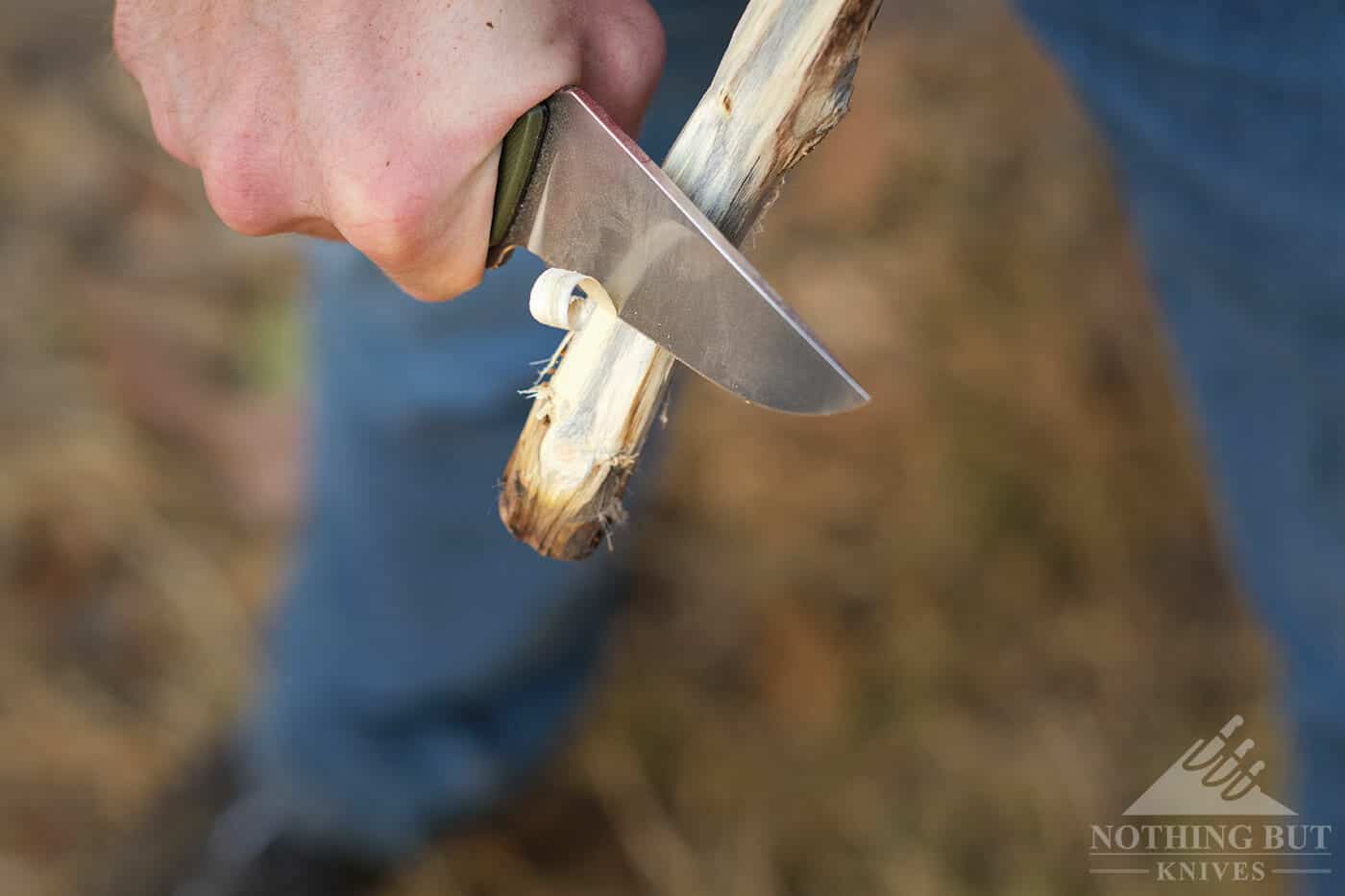 The Rhino performed well at most camping related tasks from making hot dog sticks to carving tent stakes. The tallness of the blade made it a little less nimble for really detailed type whittling, but if you are considering a knife the size of the Rhino I am guessing whittling is not high on your list of desired capabilities.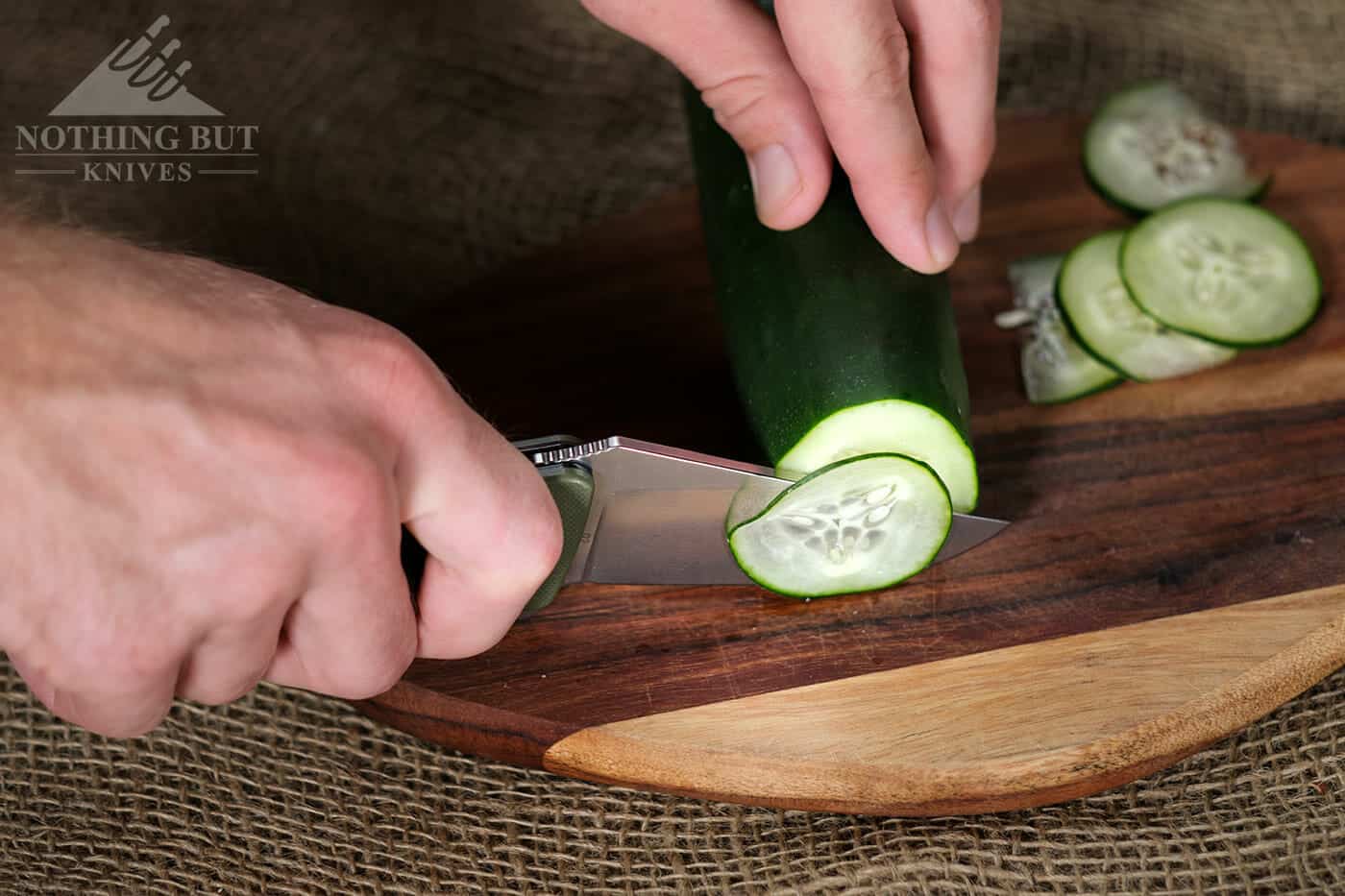 As I mentioned earlier the flat grind and gradual taper of the blade make the Rhino act like a mini chef knife. Needless to say it really excelled at food prep.
As you can see above it is capable of really thin cuts, and the height of the blade make it a proficient spreader of condiments. The Rhino would make a good choice for backpackers who are trying to pack light, but want a pocketknife capable of multiple campfire cooking tasks. It certainly is not as capable as my Condor Bush Slicer, but the Bush Slicer doesn't fit in my pocket.
In The Pocket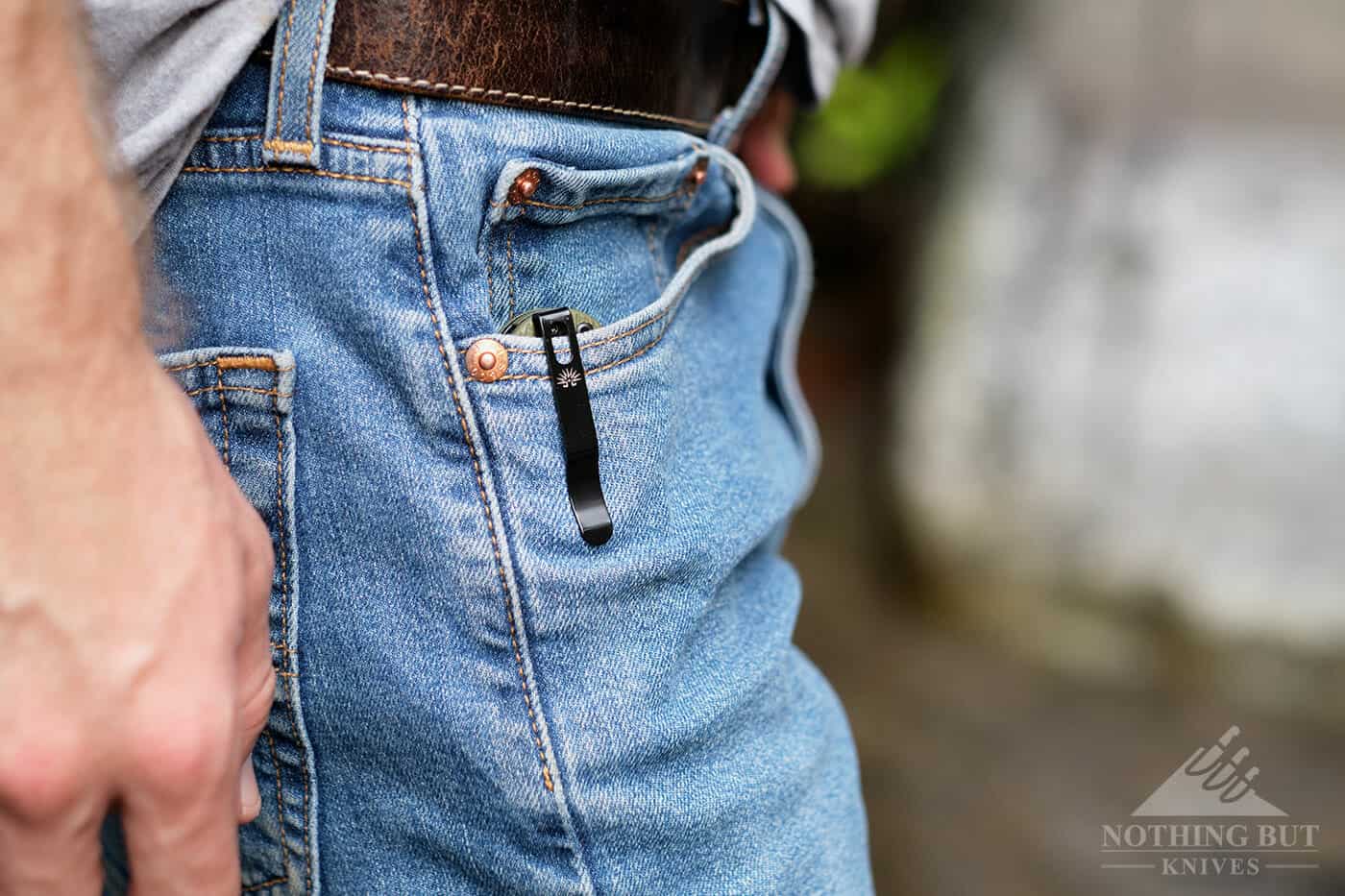 The Rhino is a deep carry pocketknife. The spoon shaped stamped steel clip sits flush with the rear of the handle and allows the Rhino to just about disappear in your pocket.
The black clip is less noticeable than the more common shiny stainless steel clips many deep carry folding knives have. So if you work in an office where you are trying to hide the fact that you are carrying a relatively large knife in your pocket, I feel pretty confident in recommending the Rhino. I would also recommend finding a better place to work. However, I drive a 20 year old truck and buy clothes at Goodwill, so maybe don't take career advice from me.
Unfortunately the Rhino's pocket clip is not ambidextrous. It is right side only. This is one of the few shortcomings this knife had, and it seems like a strange oversight for a knife that is otherwise so well designed.
Conclusion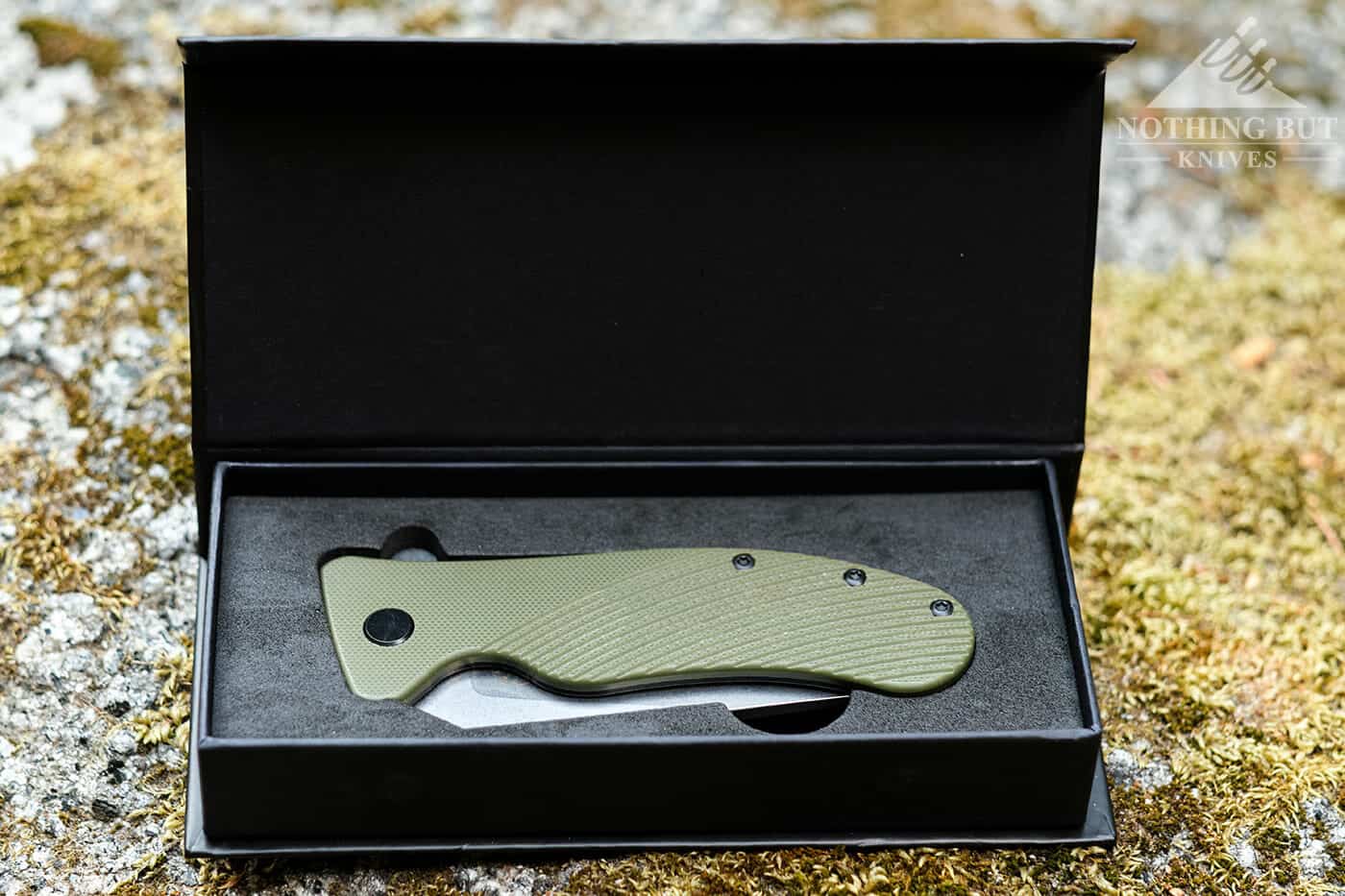 This is the 2nd glowing review I have done of an Off-Grid knife. I think this fact has more to do with Off-Grid's design and manufacturing capability than my inability to be critical. Off-Grid designs practical knives for people who actually use them, and we don't do dining room table reviews here at Nothing But Knives. We take them in the woods and beat the crap outa them.
The last thing I ever want to be when reviewing a knife is a brand fanboy. I have spent much of my life working in advertising, and have had to write adulatory copy for products and services that were sure to fall short of their marketing promises more times than I care to admit. One of the reasons we started this site was to be able write what we actually think, and I actually think this knife is awesome.
I wish it had an ambidextrous clip and a Grid Lock, and was easier to close with gloves on, but the Off-Grid Rhino performs like a knife that cost twice its current price. Its great fit and finish, excellent slicing ability, and tough build really set it apart from most other sub $100 pocketknives out there. The Rhino is a great choice for  those who need a knife that excels at actual hard use tasks.