So TOPS Knives made an Outdoor Chef Knife for Some Reason
This is a confusing knife at first. The handle and sheath mark this as some kind of camping or backpacking knife, but the actual shape of it seems more suited to the kitchen. Put the Frog Market Special in a line up of a hundred other fixed-blade knives and you'll be able to pick it out immediately. That's a refreshing thing to see in an industry that's getting saturated with tactical and survival knives so similar that the companies start to blur together in my head.
It also helps that the Frog Market Special is actually useful.
It was designed by Stephen Dick, who's probably best known as an author and editor of Tactical Life magazine. The inspiration for this knife came on a trip to Vietnam where he saw a lot of the vendors at a fish market using one style of knife to chop, butcher, and slice whatever was in their stall. From that, he's come out with a pretty interesting outdoor knife that can cut meat and fillet fish almost as easily as it chops vegetables.
Specifications
| | |
| --- | --- |
| Overall Length: | 9.5″ |
| Blade Length: | 5.2″ |
| Handle Length: | 4.5″ |
| Blade Steel: | 1095 |
| Blade Finish: | Black River Wash |
| Blade Grind: | Flat |
| Blade Style: | Modified Chef |
| Handle Material: | Micarta |
| Knife Weight: | 3.6oz |
| Knife Weight With Sheath: | 6.5oz |
| Sheath: | Kydex |
| Made In: | USA |
| Price Range: | $95 – $140 |
Pros
Good design and tough materials
Thin blades slices well and strops easily
Lightweight and easy to pack
Versatile fishing and food prep knife
Cons
Left handed only scout style carry
Right hand only versatile carry
Didn't arrive super sharp
The rotating belt clip can't be moved
The Blade and Edge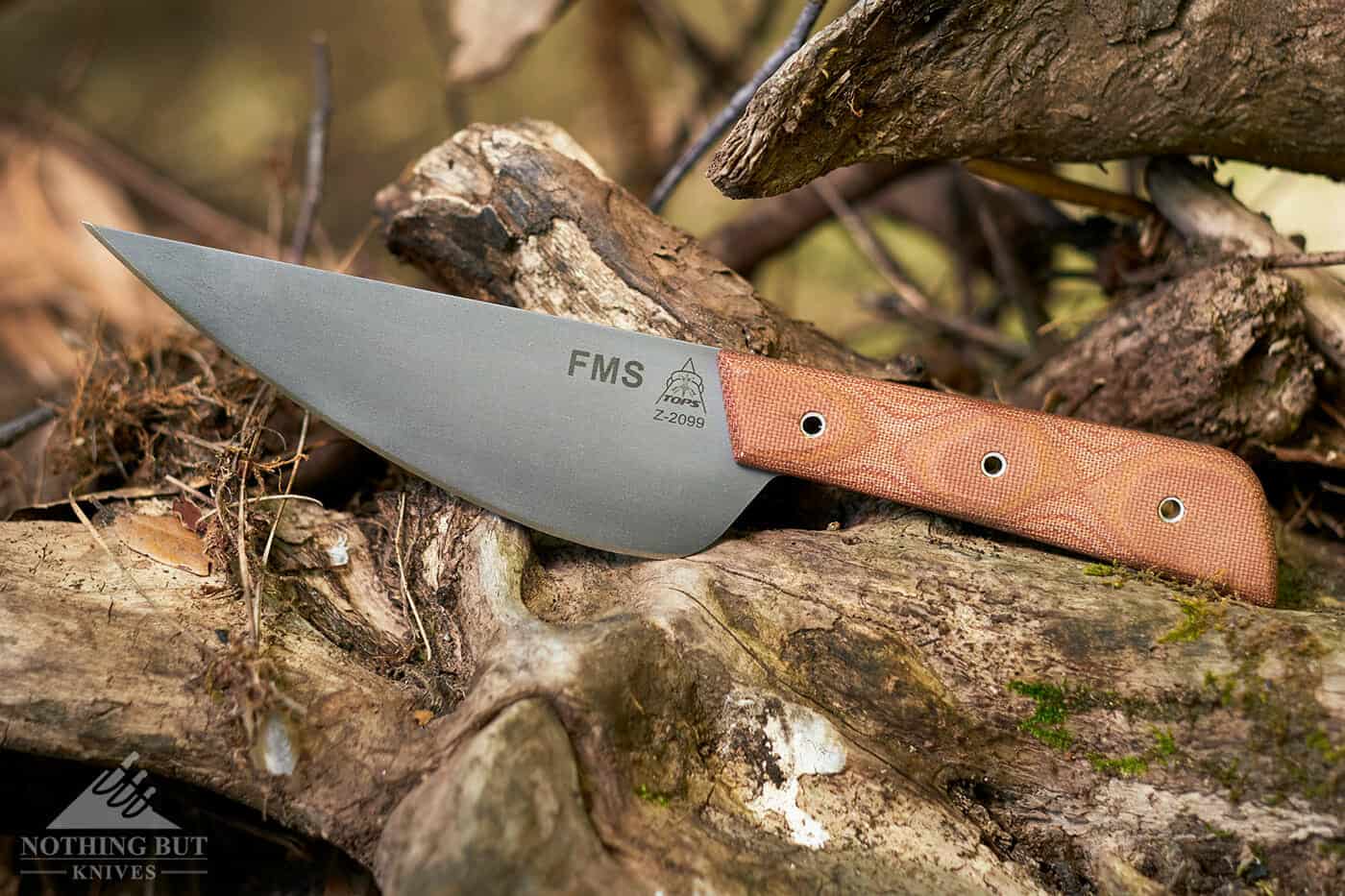 The edge isn't spectacular out of the box, but the blade stock is so thin that if you put this on a stone or just strop for a bit it will cut pretty clean.
But even after that point, there are some interesting things about the way the edge behaves, and it can take a bit of adaptation on your part before it really starts to feel useful.
It seems like they purposely made the top section of the knife sharper and left the bottom part with the belly a little more dull. So when you do detail work like cutting a tendon in a piece of meat or slicing small fruits and vegetables, you'll be using the sharper end. You can get a cut started with the top of the blade then slide the knife up so the thicker part can ease the vegetable or meat slice apart smoothly.
There's probably a cool chef term for that style of cutting, but I'm not a chef. I'm just the idiot who tried to make salsa on a tree stump.
The perk of this blade style is that you can get a lot of work done with the dramatic curve. There's so much belly on this that you get a lot more cutting edge than normal on a knife this size. Once you get used to how the thing cuts, it suddenly becomes a viable option for everything.
It doesn't perform as well as the chef knives in my kitchen, but those knives don't have kydex sheaths.
The Handle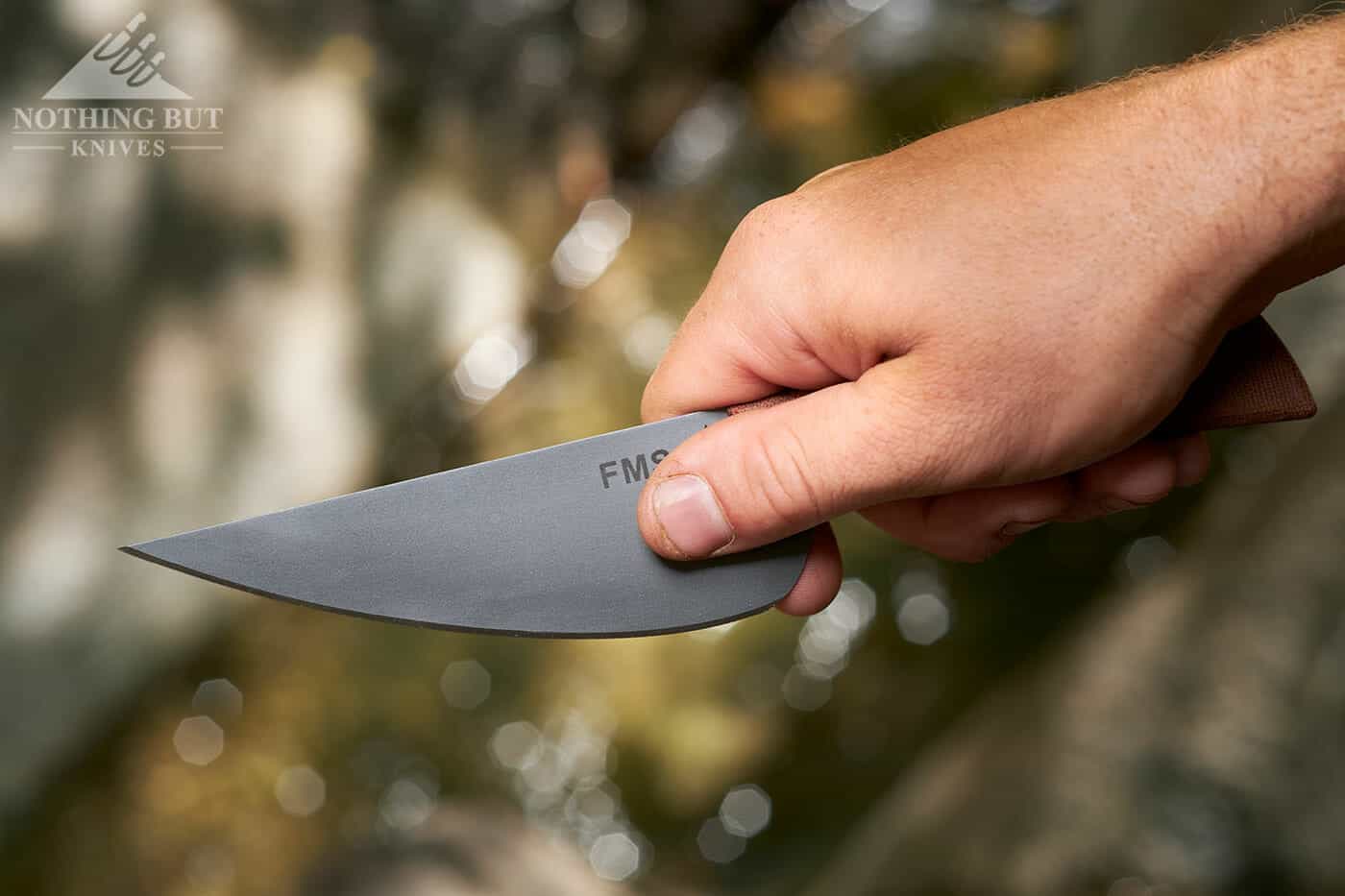 The thin handle can get uncomfortable in a full grip, but this isn't the kind of knife you generally use in a full grip. Most of the time I have it in a pinch or something in between. What's a lot more important is that it's light and well balanced, so it's easy to keep a grip on as I move it around and shift my hand into different positions.
The handle doesn't exactly go out of its way to be comfortable, but there's also nothing about it to get in your way. It's a simple slab, and every which way you need to hold it to get the job done is equally accessible. And it's so light, it feels like the knife could dance in your hand.
TOPS probably could have added a few little features like thumb ramps or jimping or even a bit of swell to the handle to make it that little bit more ergonomic, but I like this knife as it is. Maybe those few extra features would make it better (so long as they were done well), but there's something to the simplicity of these rectangle slabs of Micarta riveted to steel with next to no frills. Whatever improvements could have been done to this handle, I'm more than willing to take it as it is.
The Sheath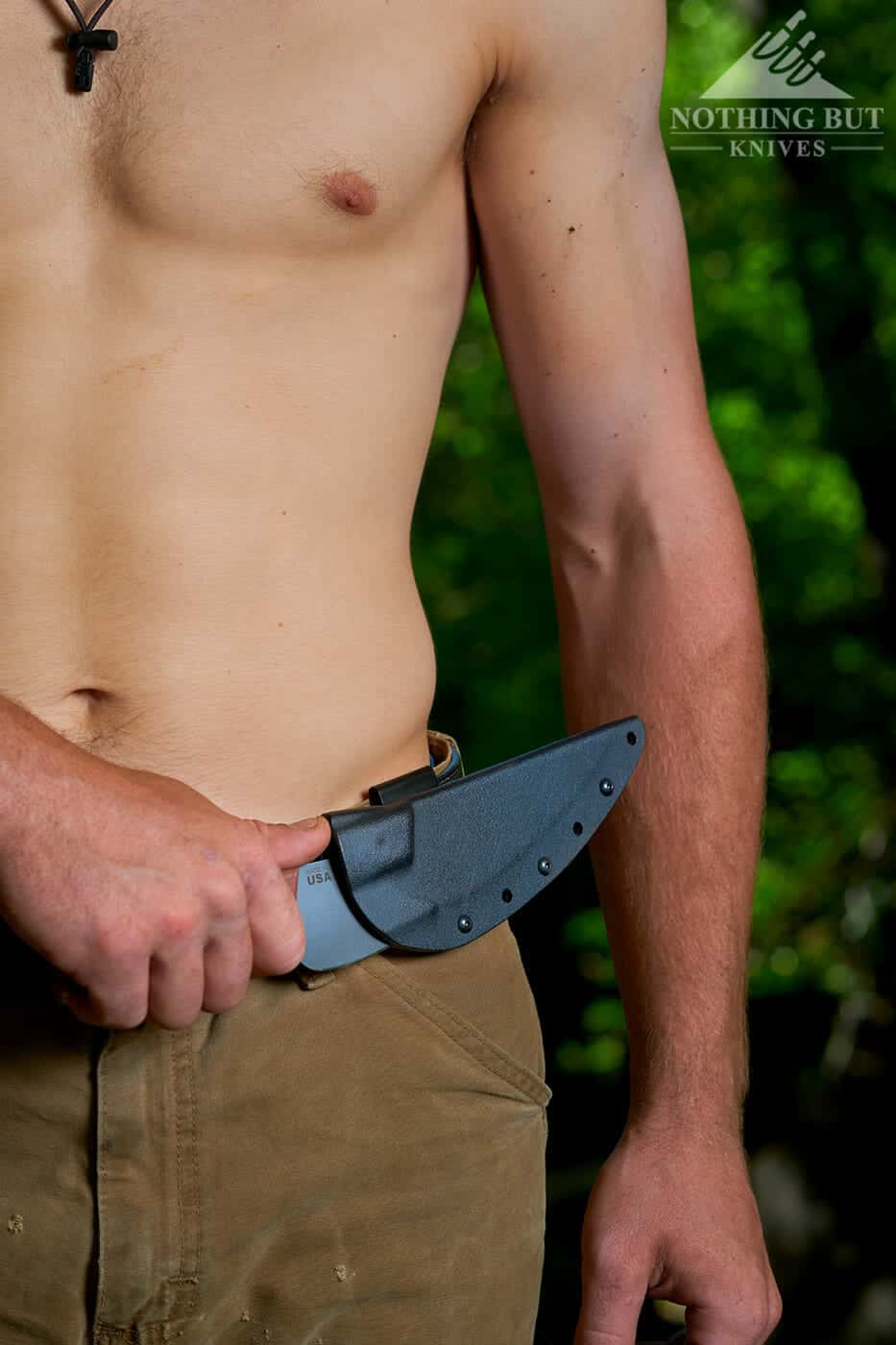 It's simple, lightweight, and versatile. It carries well on the belt, so they've covered the basics well.
The retention feels a little loose. There's quite a bit of rattling when I shake it, although it has yet to fall out or even come loose. Since the knife is so light it doesn't take much pressure to keep it in place, so it's possible I'll never have to worry about that.
The spring belt clip is the most notable feature on the sheath. It's just stuck into the sheath on a rotating pin so it's really easy to carry this knife at any angle you want. I've seen this on a few other TOPS Knives sheaths, and I really like the idea except for one major problem: You can't take it off.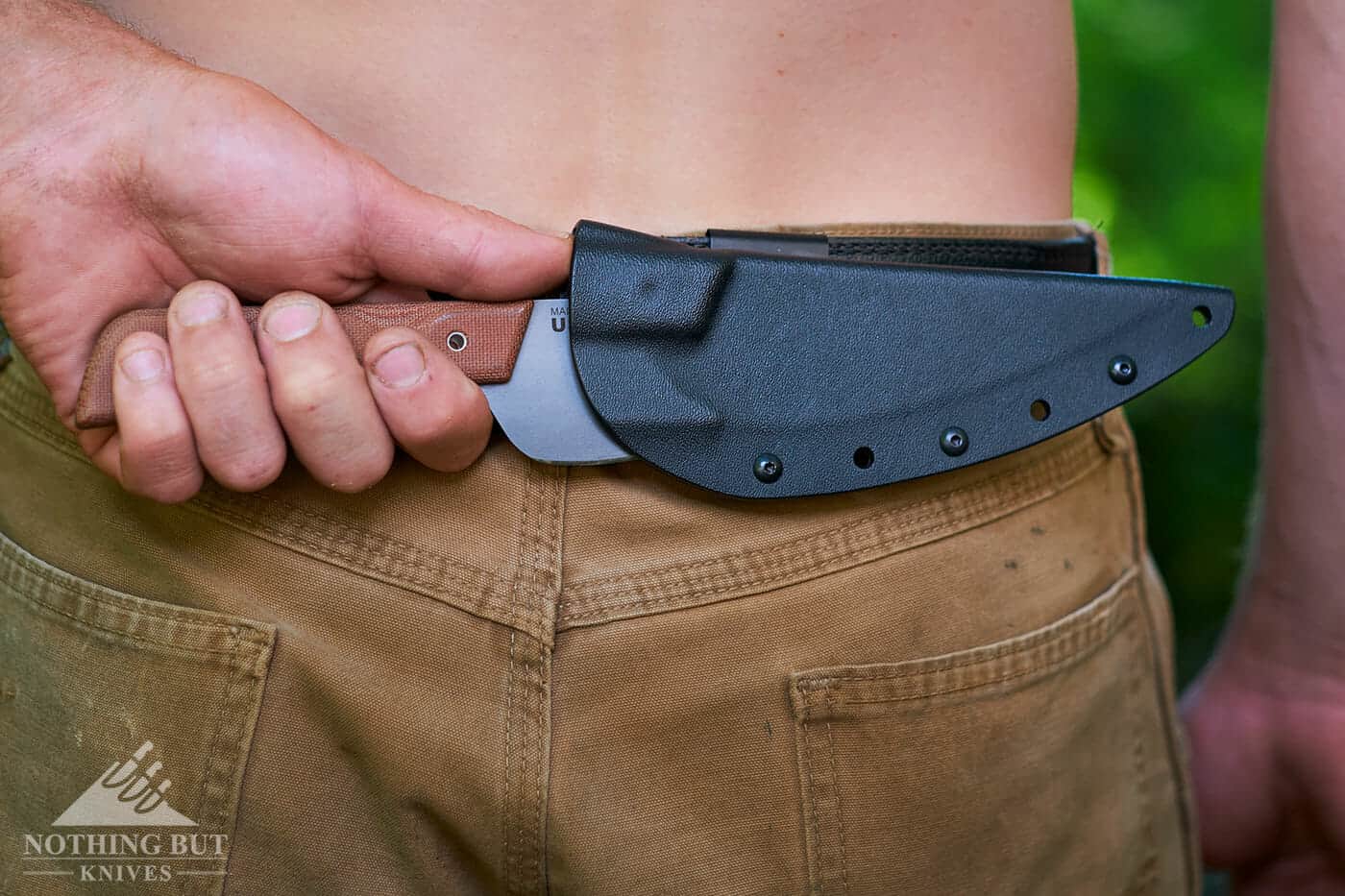 For the most part this isn't a major problem since this isn't really a survival or hunting knife. It wasn't technically made for packing on long hikes. It's primarily for food prep so it doesn't really need to be optimized for rapid deployment. But if you're going to give use a kydex sheath, for God's sake let us modify it.
As it stands you can't carry this in a right-handed scout style, and even if you managed to get a Tek Lok onto it, the factory belt clip would still be there getting in your way. Even if you just throw it into a bag it's annoying, but the clip will catch onto fabric and whatever else you throw in the bag.
This knife will mostly sit in my kitchen, so it's not a huge problem. But if TOPS could figure out a way to let us shift the rotating clip to the other side of the sheath, or at least take it off, it would vastly improve the situation.
As a Kitchen Knife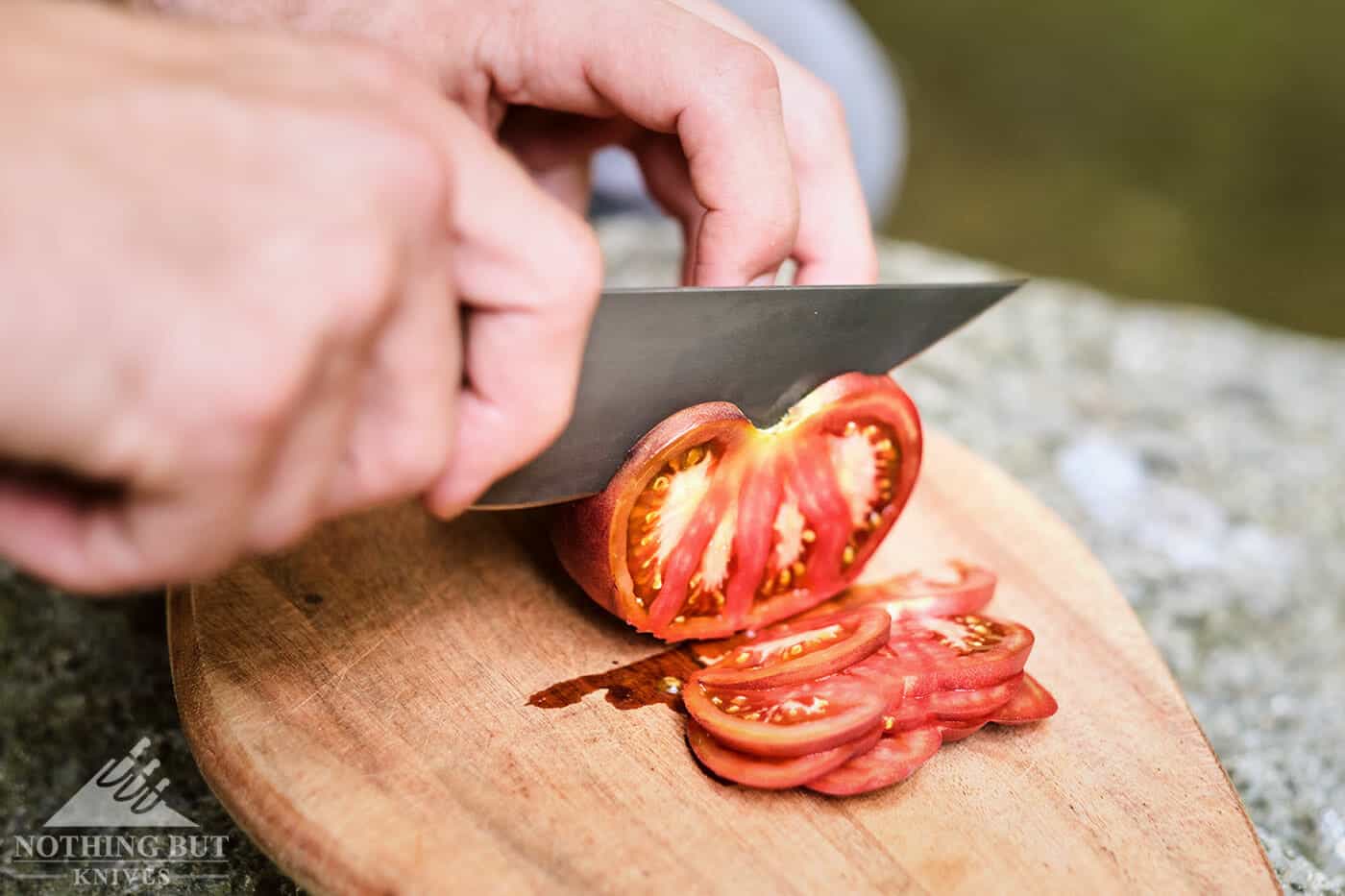 Here's the thing. I'm not a cook. The majority of the people who have and will review this knife probably aren't any kind of chef. This knife was made by a tactical knife company after they were inspired by butchers at a meat market. That should really clue you off to what this knife will excel at:
Butchering.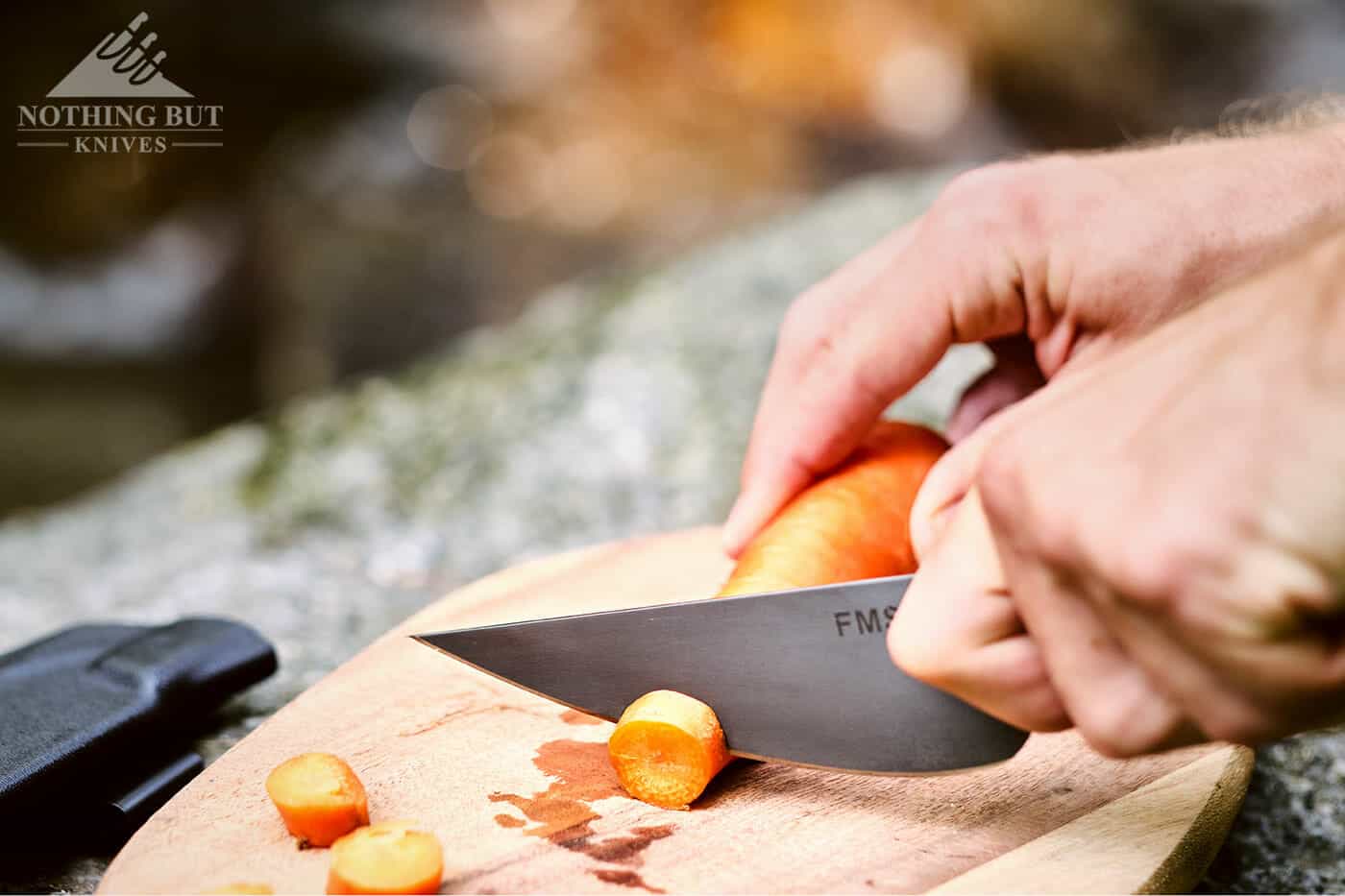 Especially as a boning knife. Aside from the big belly, it fits the thin, flexible blade and sharp tip required of a good boning knife nicely. It is not a great cleaver and it's a sub par chef knife. The point is not that it excels at food over other knives; it's that it excels over other camping knives.
That's not to say you can't do some clean cooking with it. I've diced several pounds of food with the FMS, and made a week's worth of halfway decent stir fries. But if you want to use this knife to its full extent, try using it to make cuts of meat off.
Comparison and Alternatives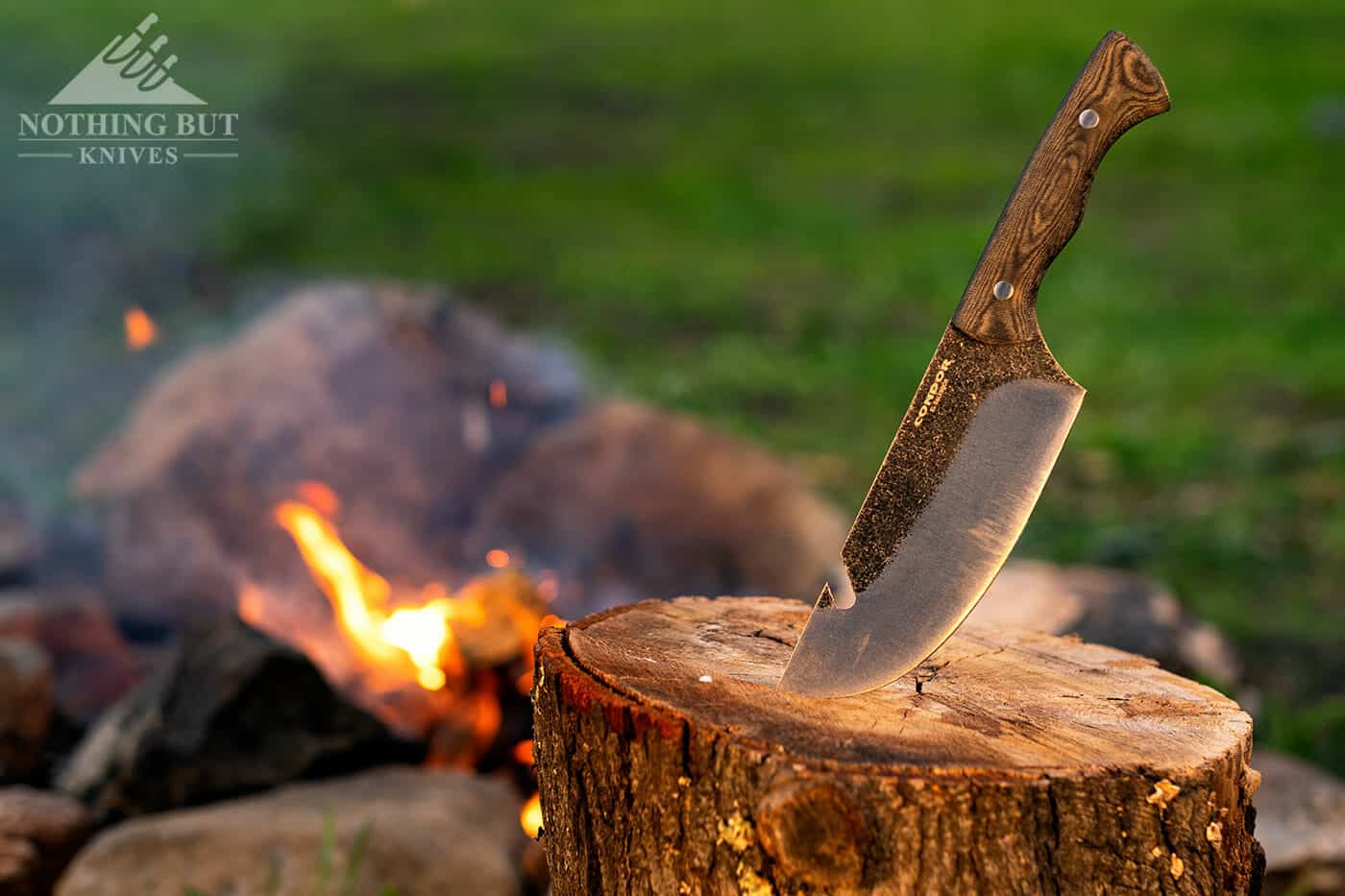 It's hard to think of alternative recommendations for this knife because it's pretty unique as far as fixed-blades go. You don't really see any other knives like out there, aside from the Frog Market XL, so the criteria has to follow function more than form in this case.
The only knife I've used personally that meets that criteria is the Condor Bush Slicer. This was designed to be a hybrid kitchen / bushcraft knife, so even though it is opposite of the FMS in every way except length, it does become the other viable option if your requirements are "a knife I can cook with on my camping trip." They will do different things differently, of course. You can chop and slice vegetables and trees with the Bush Slicer, but the Frog Market handles meat a lot better.
The most similar fixed blade I've found to the Frog Market in terms of both style and function is the Spyderco Bow River, which is about half the price but uses a much softer stainless steel and is made in China. I haven't handled that knife personally so I couldn't say if it's worth saving the $40, but all my experience with Spyderco up to this point tells me the Bow River should perform just fine.
Conclusion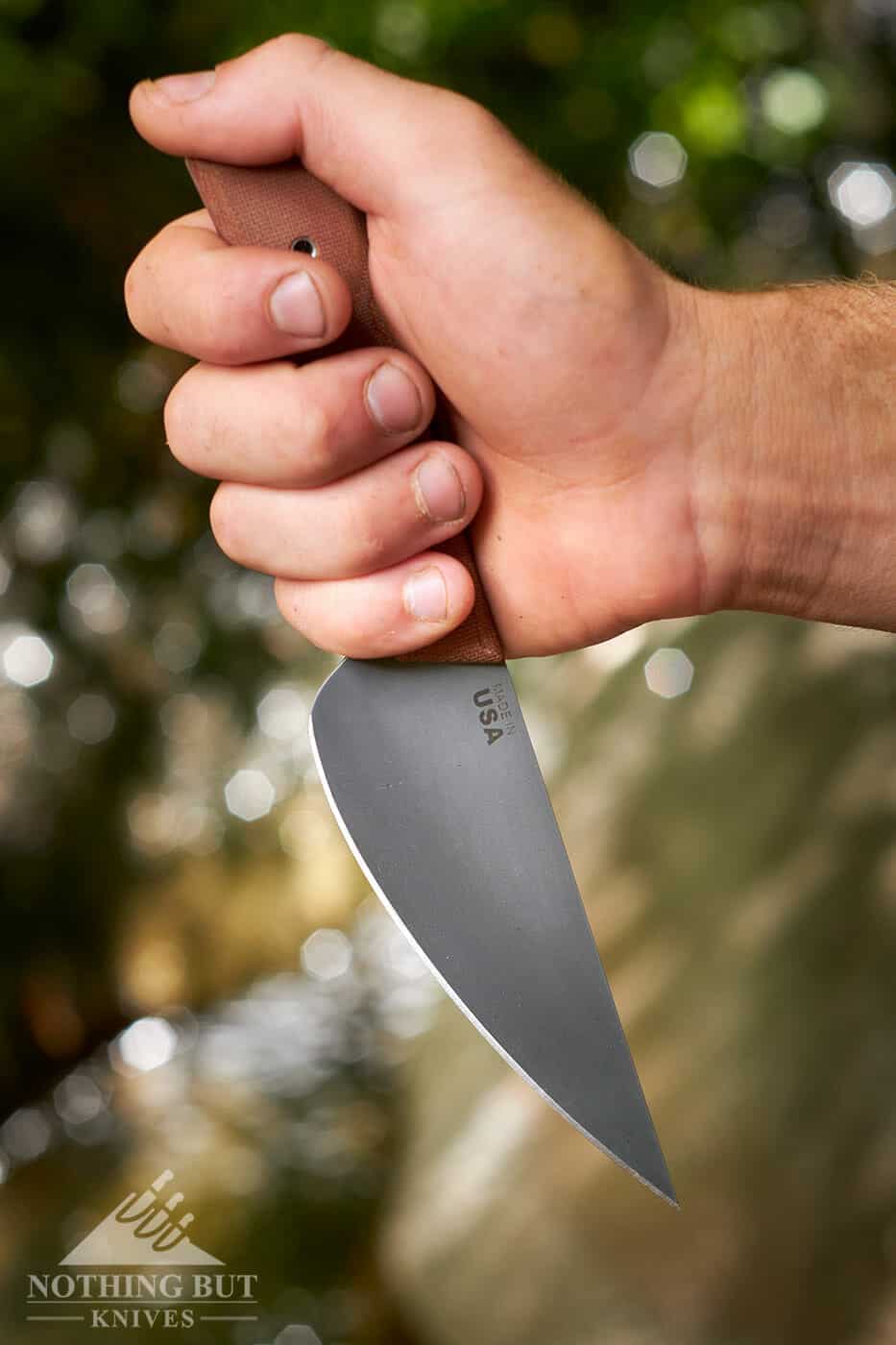 I could live without this knife, but I love having it around. Between this and my Spyderco Bill Moran I have pretty much every food related activity well covered for a camping trip. And I keep finding myself reaching for it in my home kitchen, if not always because it's the better option, but because I just genuinely enjoy using it.
It's probably worth getting a custom sheath for this knife. Not because the factory sheath is bad, it's just slightly lacking in terms of snugness, and it would be nice to be able to pack this as a right-handed scout carry.
It's also arguably overpriced. Not by much, but we're talking about a very bare knife. Everything from the scales to the sheath is light and simple. And while that's the thing I like about this knife, it does make me eye an $85 price tag with a bit of caution. It's riding that line close, though. If this were a $50 knife it would be an unbelievable deal, and if it were $120 I would say, at the very least, that I should be seeing some of that price represented in a better sheath.
But at $80? It feels like something on this should be a little better; I just don't know what it is. Maybe I just have to accept that's the price for an American-made blade.