A Pretty Knife that is Tough Enough for the Wilderness
The Forseti Steel Ironside Tracker is a good looking knife, but it doesn't let its looks define it. This knife can take the type of beating survival knives should all be made to endure. That is not to say that I didn't find some issues with it, but my main problems are with Tracker style knives in general more than Forseti Steel's interpretation of this knife design made popular by "The Hunted" seventeen years ago.
The Forseti Steel Ironside Tracker is the first Tracker style knife I have ever used. Up till now I have managed to avoid the conflict surrounding this design by using my ignorance as an excuse to remain a Tracker agnostic. After weeks of use, I can no longer claim ignorance, but I am also somewhat hesitant to declare the Tracker style of knife as the ultimate design or total crap. There are some aspects of this design I love and a few I could do without.
Tracker knife zealots always declare that it takes practice to become proficient with this style of knife. I found that to be true. Tracker knife detractors generally argue the design is overly complicated, and it results in a knife that does not excel at any one particular survival task outside of maybe chopping. I also found this to be true to some degree.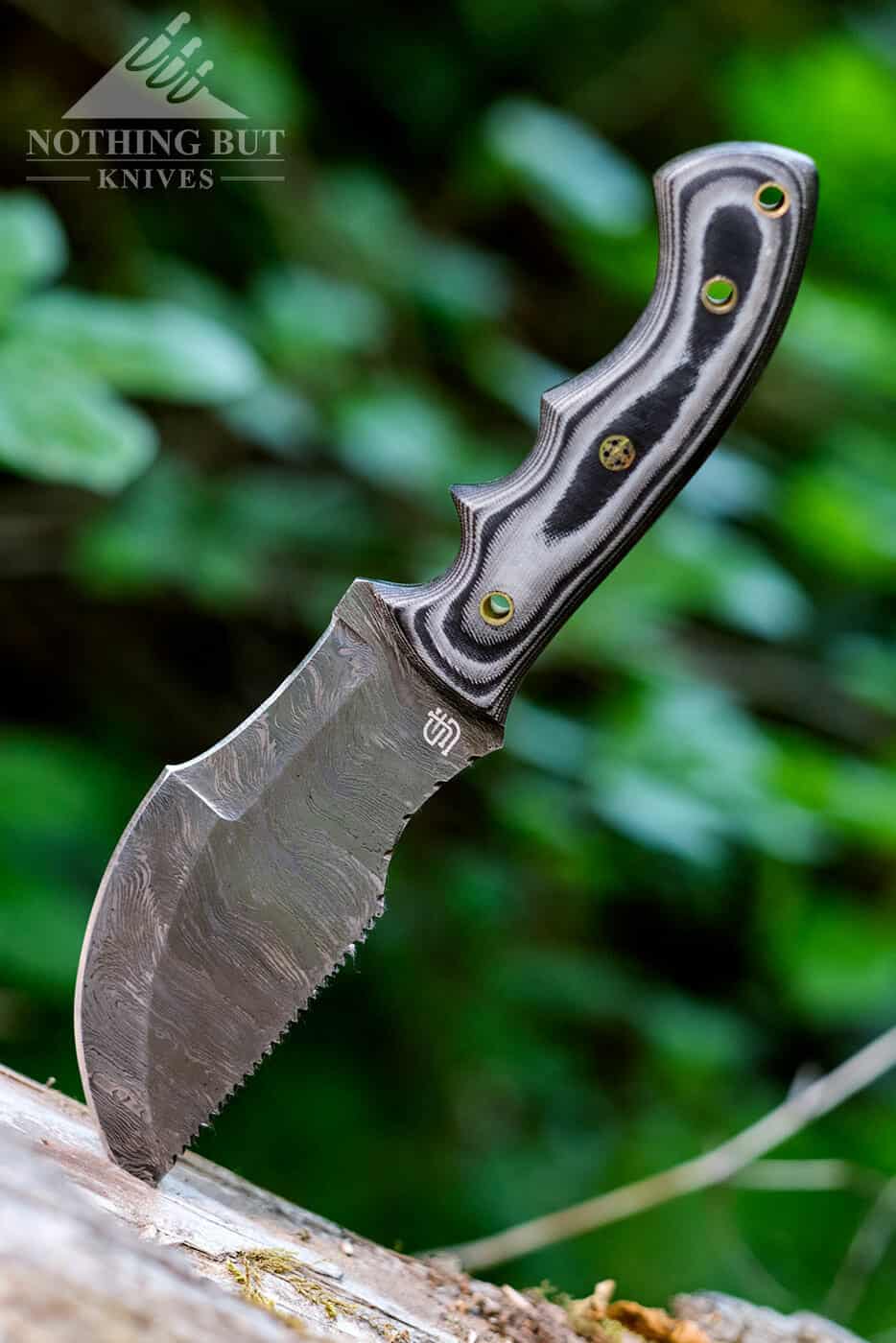 Fortunately my lack of credibility as any kind of hard core survivalist makes my opinion on the subject of the tracker style knife in survival situations mostly worthless. I spend a fair amount of time in the wilderness, but I always take whiskey, coffee and food, so all I ever need is a fire, and the Forseti Steel Ironside Tracker is one hell of a fire starter. (Editor's Note: Bandages would be nice to have once in a while too.)
For the sake of transparency I do want to mention that Forseti Steel sent me this knife to review. As I have mentioned before my opinion can't be swayed by free knives. It can be swayed swayed by free whiskey which is why I don't write for a whiskey review blog even though I really want to.
Specifications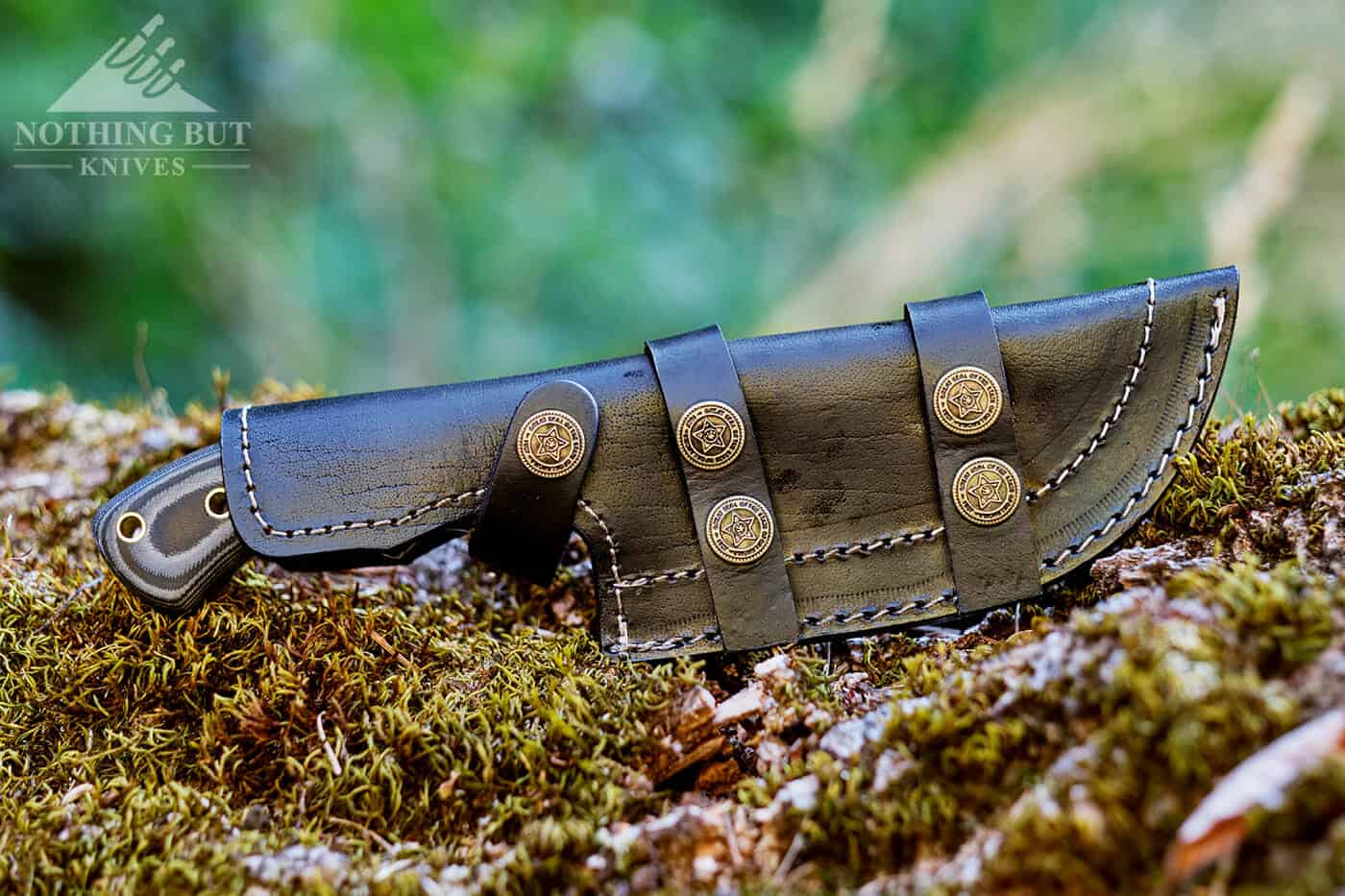 | | |
| --- | --- |
| Overall Length: | 9.5″ |
| Blade Length: | 4.75″ |
| Handle Length: | 4.75″ |
| Blade Thickness: | 4 mm |
| Blade Steel: | Damascus (1095 layered w/ 15n20) |
| Blade Grind: | Flat / Hollow |
| Blade Style: | Drop point tracker |
| Handle Material: | Micarta |
| Weight: | 16 oz |
| Sheath: | Leather |
| Made in: | Pakistan |
| Price Range: | $130 – 150 |
Pros
Great knife for starting a fire with a ferro rod
Excellent fit and finish
Great tool for making notches
Excellent chopper
Cons
Left draw only when worn in the scout carry position
Difficult to sharpen
The History and Controversy of The Tracker Design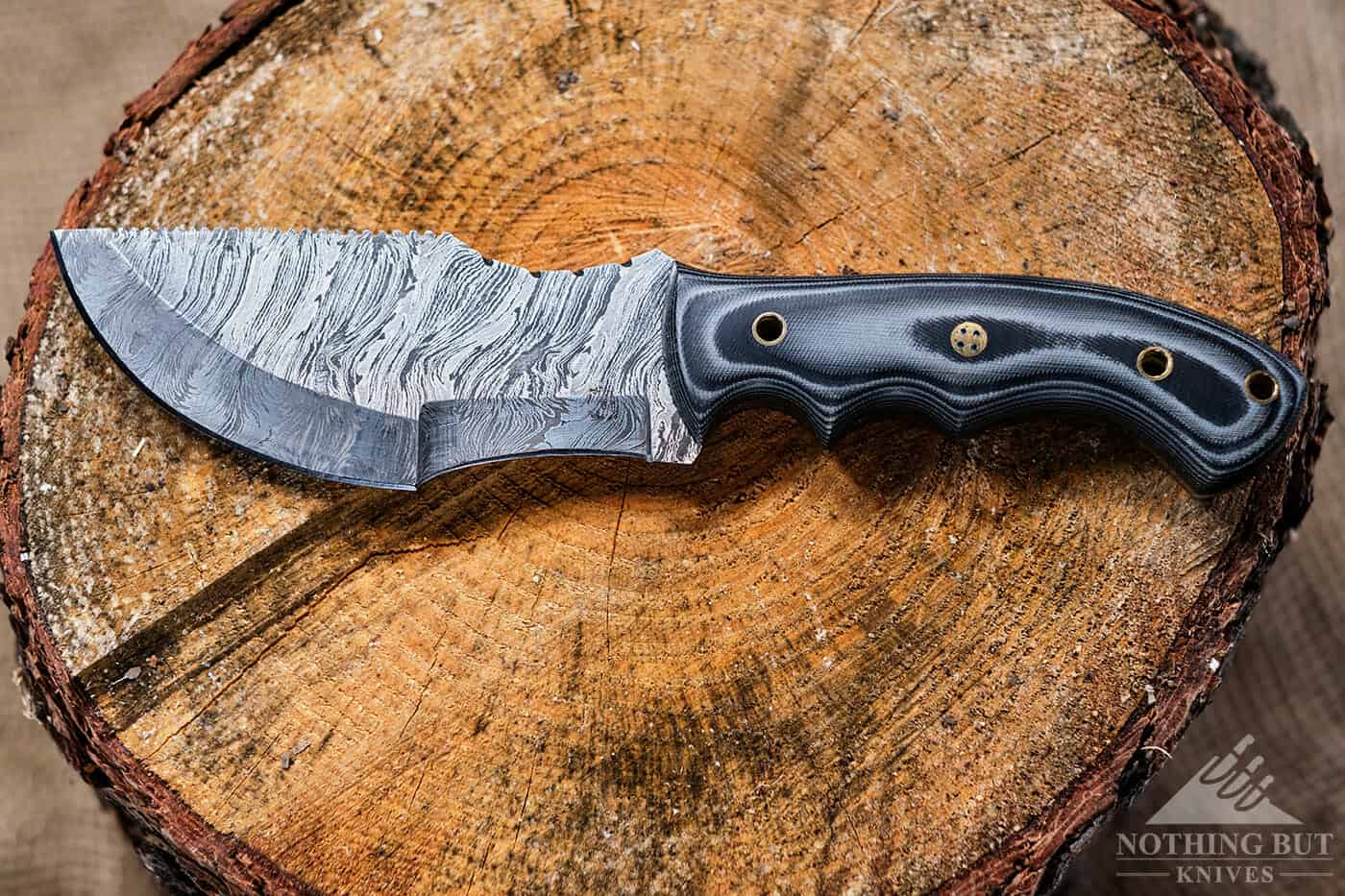 The first tracker style knife was designed by survivalist Tom Brown Jr in the early nineties. The story goes that a reporter asked Tom what single tool was best for survival. Tom responded that that tool had not yet been invented, but the question stuck with him, so he designed the Tracker style knife as an answer to the reporter's question.
The design was produced by a couple of different knife makers throughout most of the nineties until production stopped sometime before the year 2000.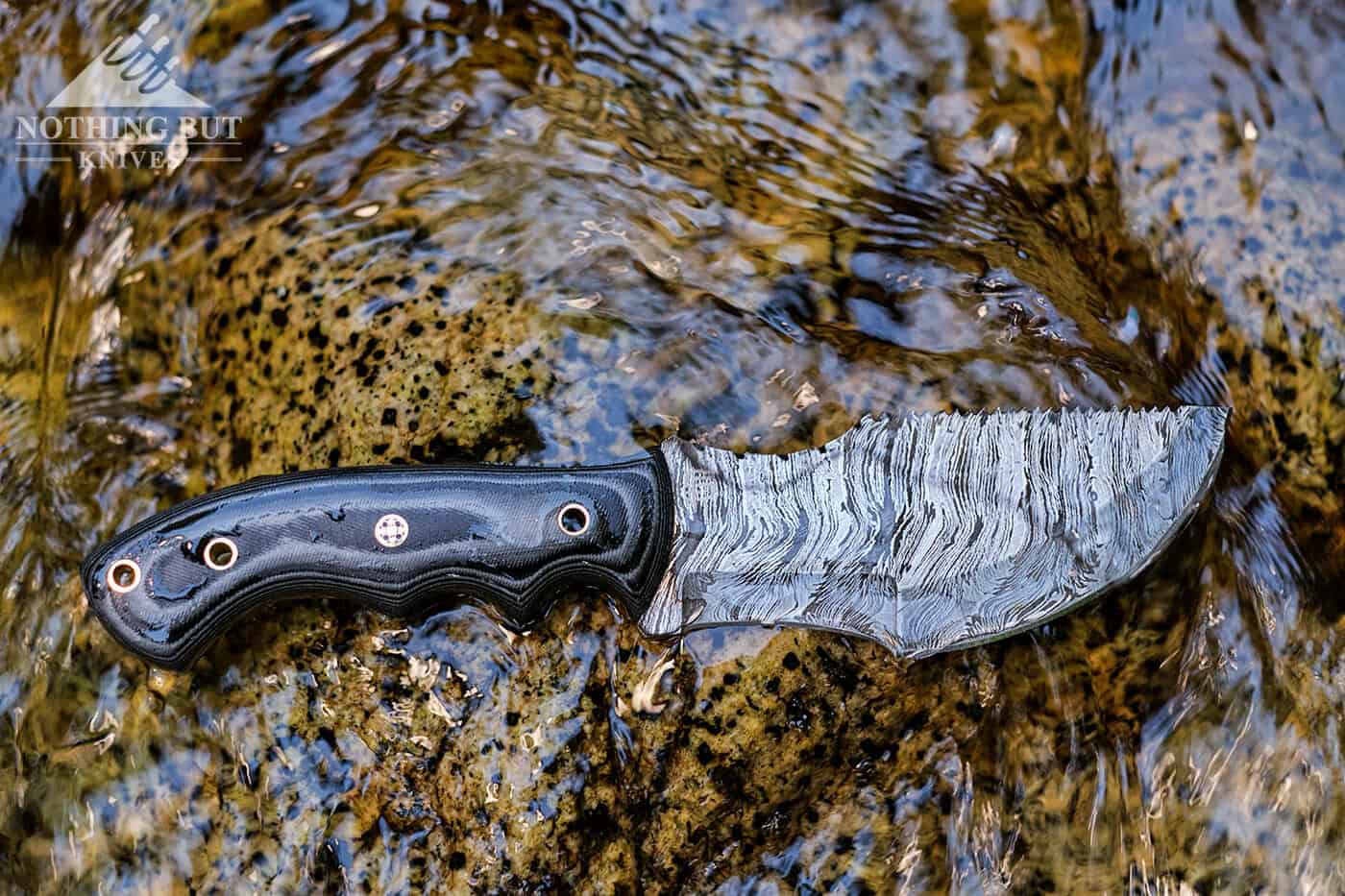 In 2001 Tom Brown got a job as a technical advisor for the movie, The Hunted which was released in 2003. It is no surprise that the tracker style knife was predominantly featured in this entertaining but mostly ridiculous film. After the movie, lots of knife nerds were clamoring for the distinctive looking knife highlighted in the film. Tom Brown licensed his name and design to Tops Knives, but many other companies have created their version. This review is on Forseti Steel's version.
It should be mentioned that at least two other people claim that they are the original designers of the tracker style knife design. I don't have the time, inclination or ability to dig up the truth, which still makes me qualified to work for most major media outlets today, but I will stick with this simple knife blog.
The Blade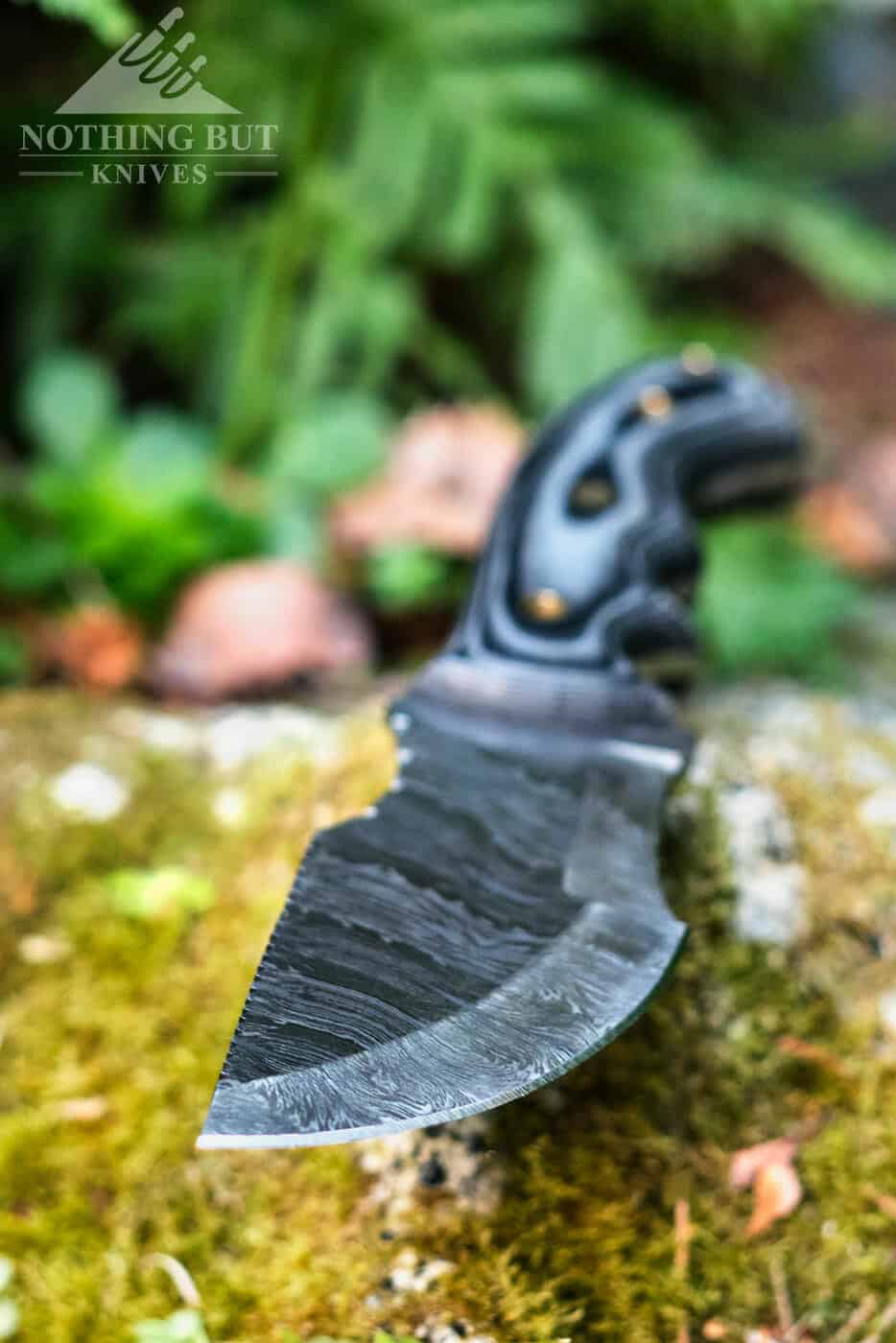 The blade of the Ironside Tracker stays true to the original tracker design in almost every way. It is made up of two different blade types. The rounded front part of the blade is called the chopping blade, and the rear section of the blade is called the carving blade. The chopping section has a low flat grind with a double bevel, and the carving section of the blade has a double-bevel hollow grind.
The idea behind this design is that each section excels at certain tasks. While I found this to be true to a certain extent I would much prefer the blade have a single bevel high flat grind from one end to the other or a Mora style scandi grind, but that is what I am used to. My first week with this knife I absolutely hated the multi grind blade, but my hate turned to slight annoyance as I became more proficient at switching sections for different tasks.
By the end of the second week I was pretty happy with the way the knife performed, but two weeks is a long learning curve for a knife. Obviously a smarter person with decent motor skills could adjust to this style of knife quicker, but those types of people rarely write reviews. They are usually the ones making the knives.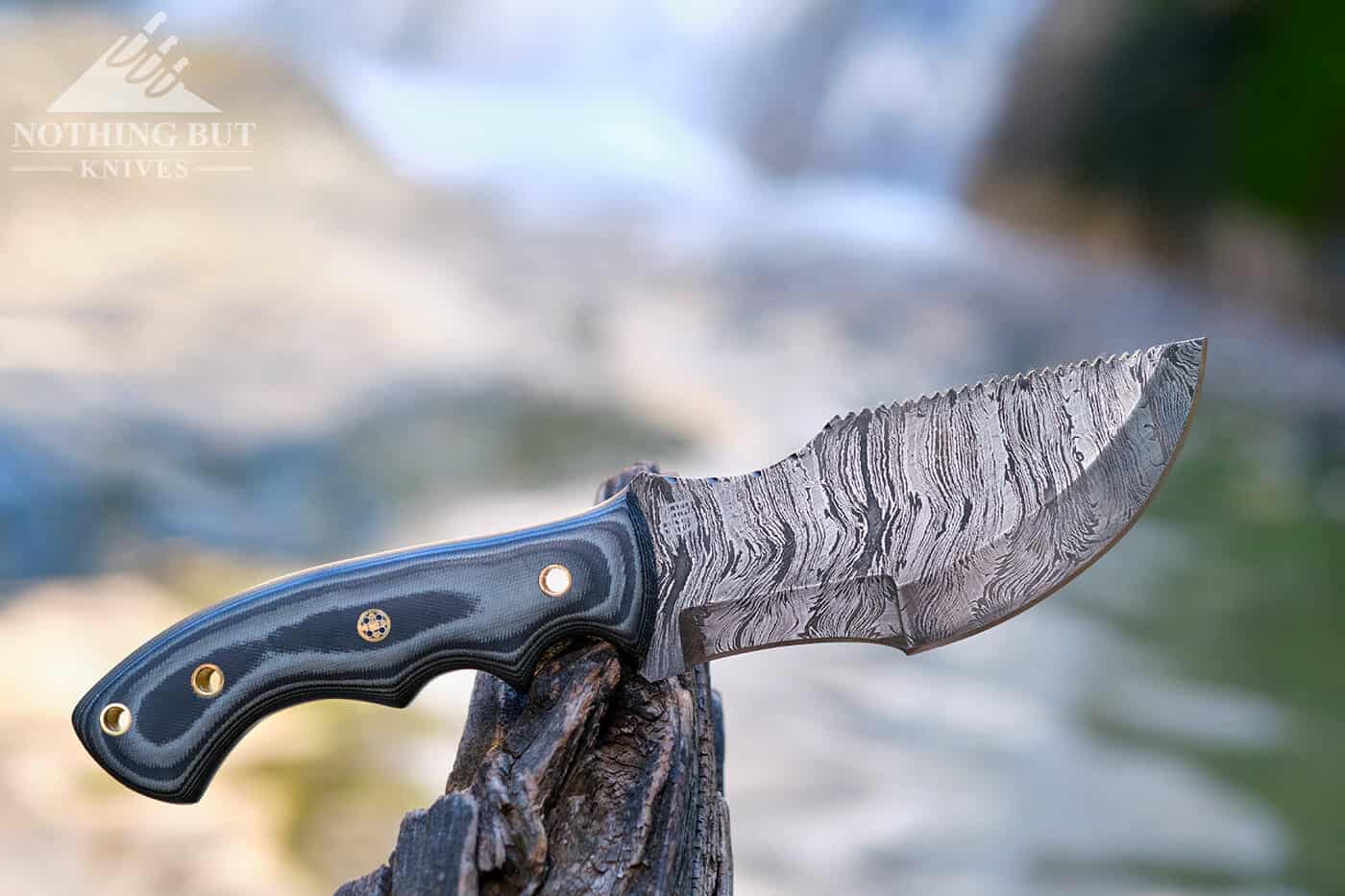 The Ironside Tracker's blade is made of 1095 steel layered with 15n20 steel which results in a fairly tough blade. 1095 is a pretty common steel in survival knives, because it can take a beating, has relatively good edge retention and is fairly easy to sharpen in the field. 15n20 steel is similar to 1075 high carbon steel with a little more nickel thrown in. From an edge retention standpoint the Ironside Tracker doesn't hold its edge as well as some of the survival knives made with the more expensive 154CM steel, but it is much easier to sharpen. I think this is important for tracker style knives, because they are harder to sharpen than conventional knives that have blades with just one grind type.
Overall the Ironside Tracker performed most survival tasks well once I had the hang of the thing. I will talk a bit more about these tasks in depth later on.
The Handle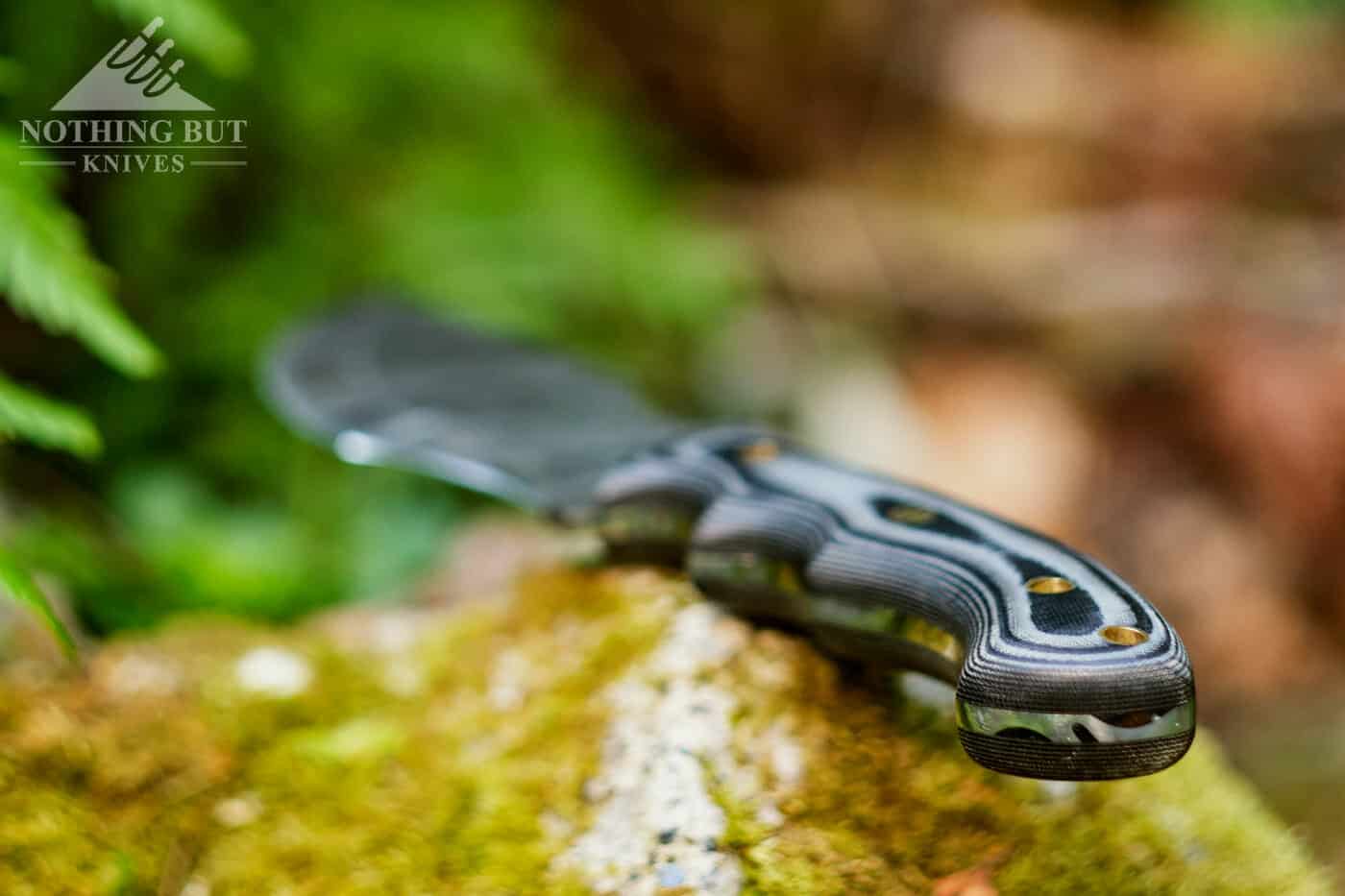 I absolutely love the handle of the Ironside tracker. The great looking Micarta slabs are absolutely flush with the tang of the knife and the finger grooves are sized right to accommodate different hand sizes. The generous chamfering helps to prevent hot spots when using the knife for extended periods of time.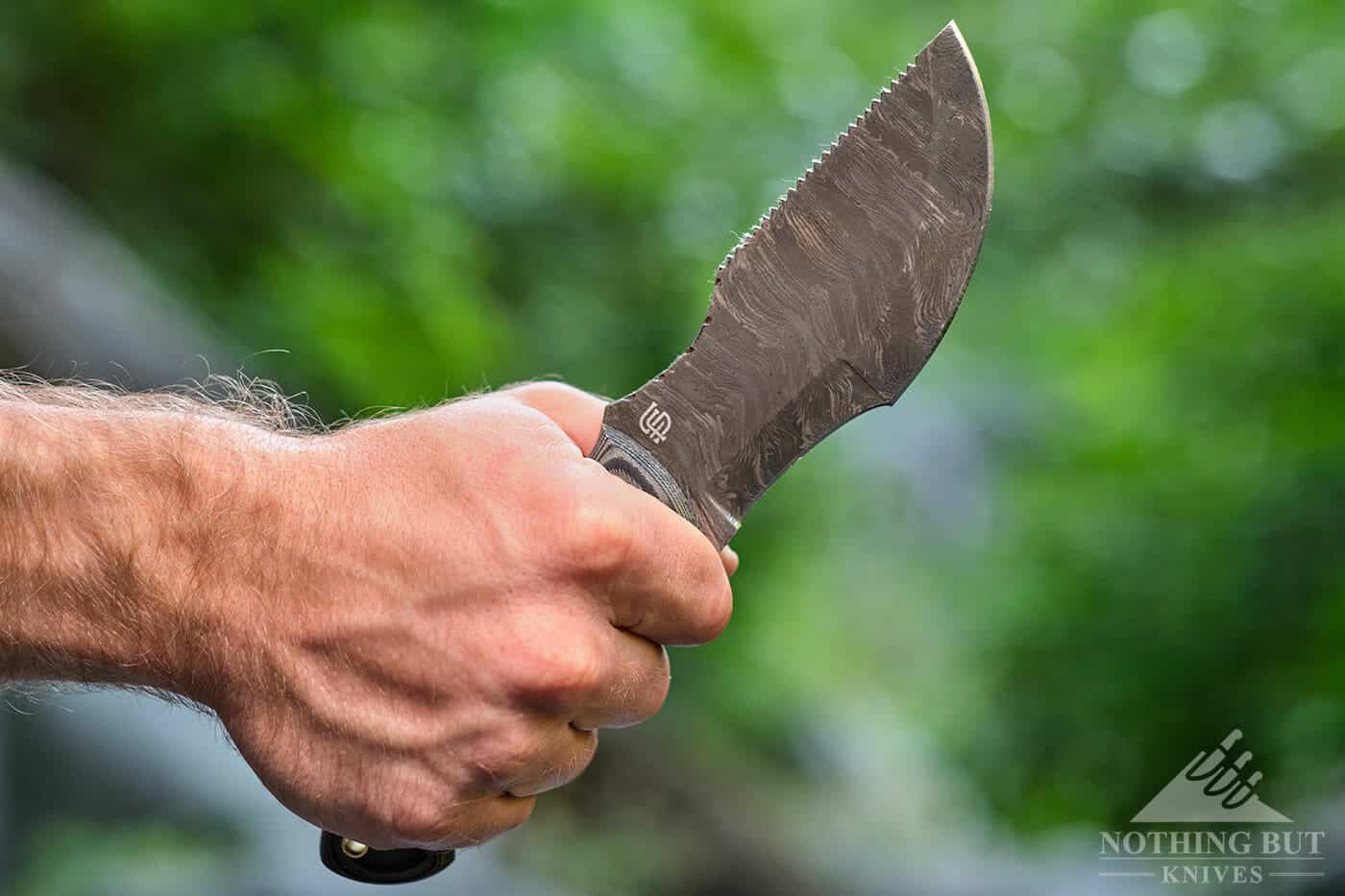 The hand has a rear lanyard hole in case you want to take your chopping to the next level and two lashing holes in case you ever needed to turn the knife into a spear. The micarta handle is a little smoother than some of the textured micarta handles you find on Condor or ESEE knives. This makes the Ironside Tracker handle a little less grippy, but the finger grooves ensure a secure grip even when the knife is wet.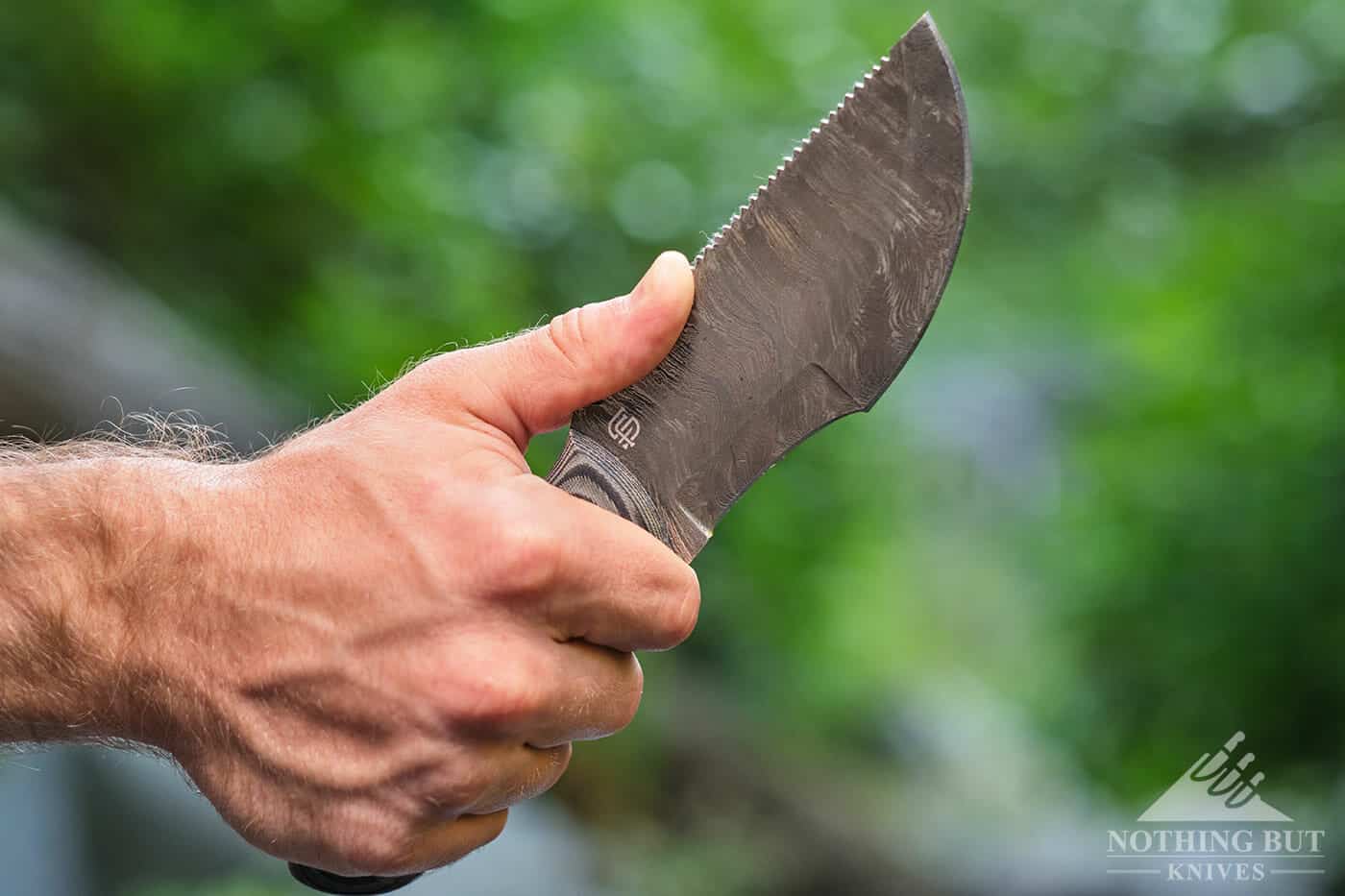 For carving work I found myself automatically placing my thumb on the recessed area of the spine for more control. This is a nice design feature of the Tracker style knife. I do wish the peak between the handle and the spine recess was less pointy, because it did cause some discomfort with certain tasks. I will probably grind it down a bit before using this knife again.
The Sheath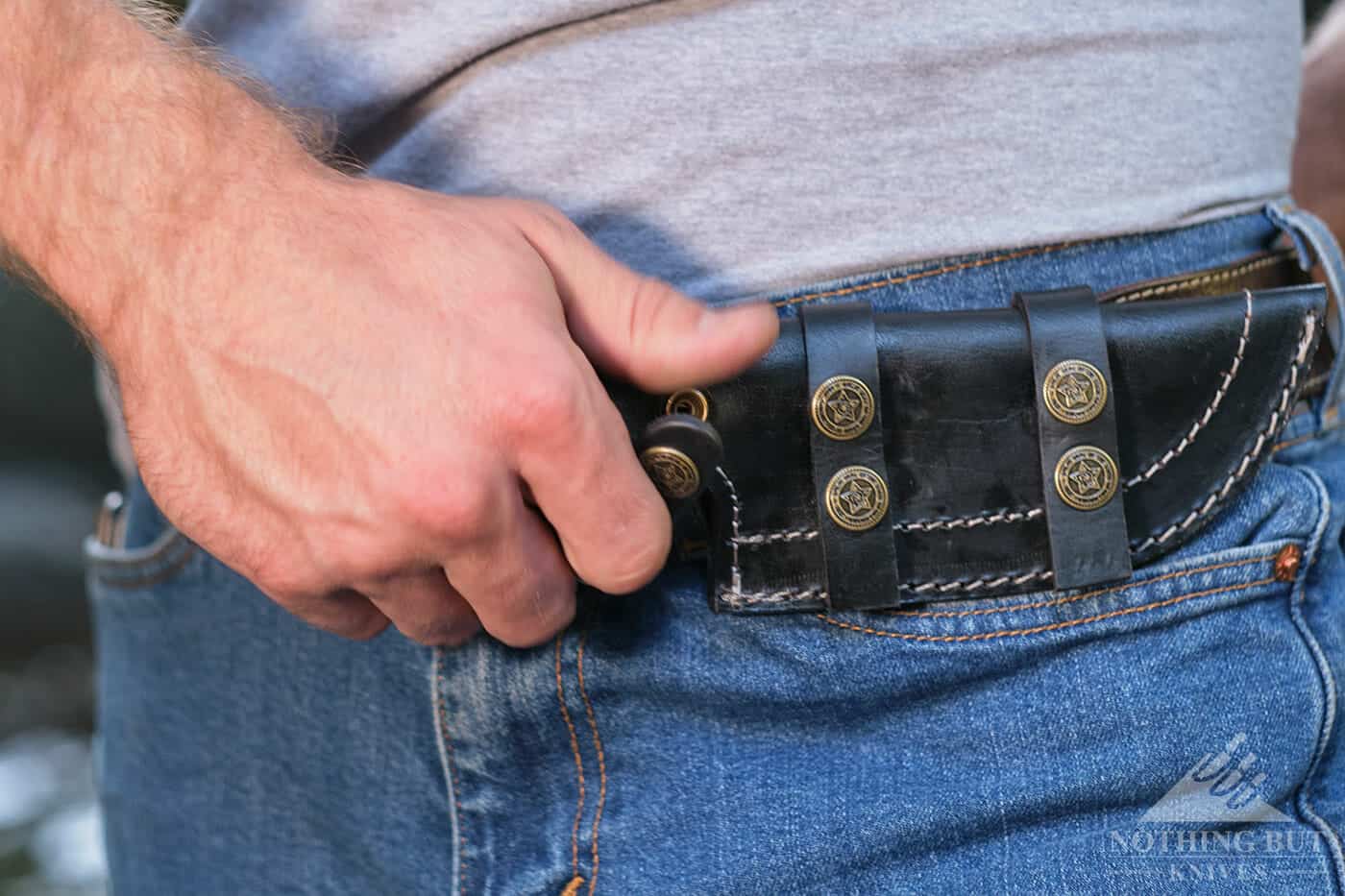 The Forseti Steel Ironside Tracker ships with a horizontal carry only leather sheath. It can be carried scout style behind the back in the left-hand draw position or carried in the front in the right-hand draw position.
This is a really common drawback in horizontal carry sheaths that I hope will change soon. Very few companies make ambidextrous horizontal carry sheaths, but I know the few that do sell more. Forseti Steel has made changes to the Ironside Tracker sheath over the years, so I hope that is a change they make in the future.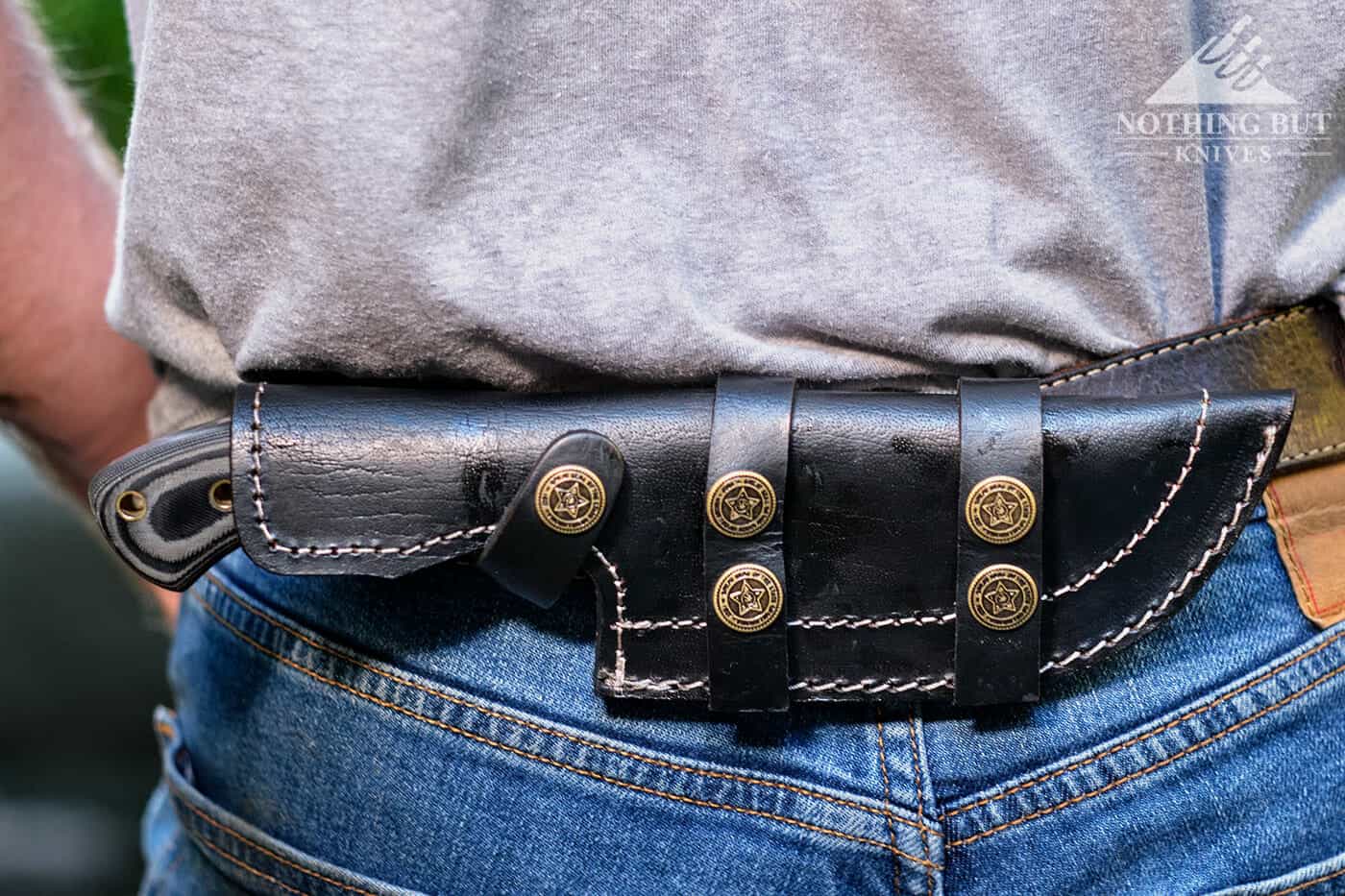 The black leather sheath seems to be well built, and one handed draw is pretty easy in both the front and the back. The heavy duty metal snaps feel durable, and I would expect them to last for years. If that turns out to not be true I will update this article. Overall I liked the sheath, but I think Forseti Steel could increase sales considerably by making the sheath ambidextrous like the Bradford Guardian.
In The Field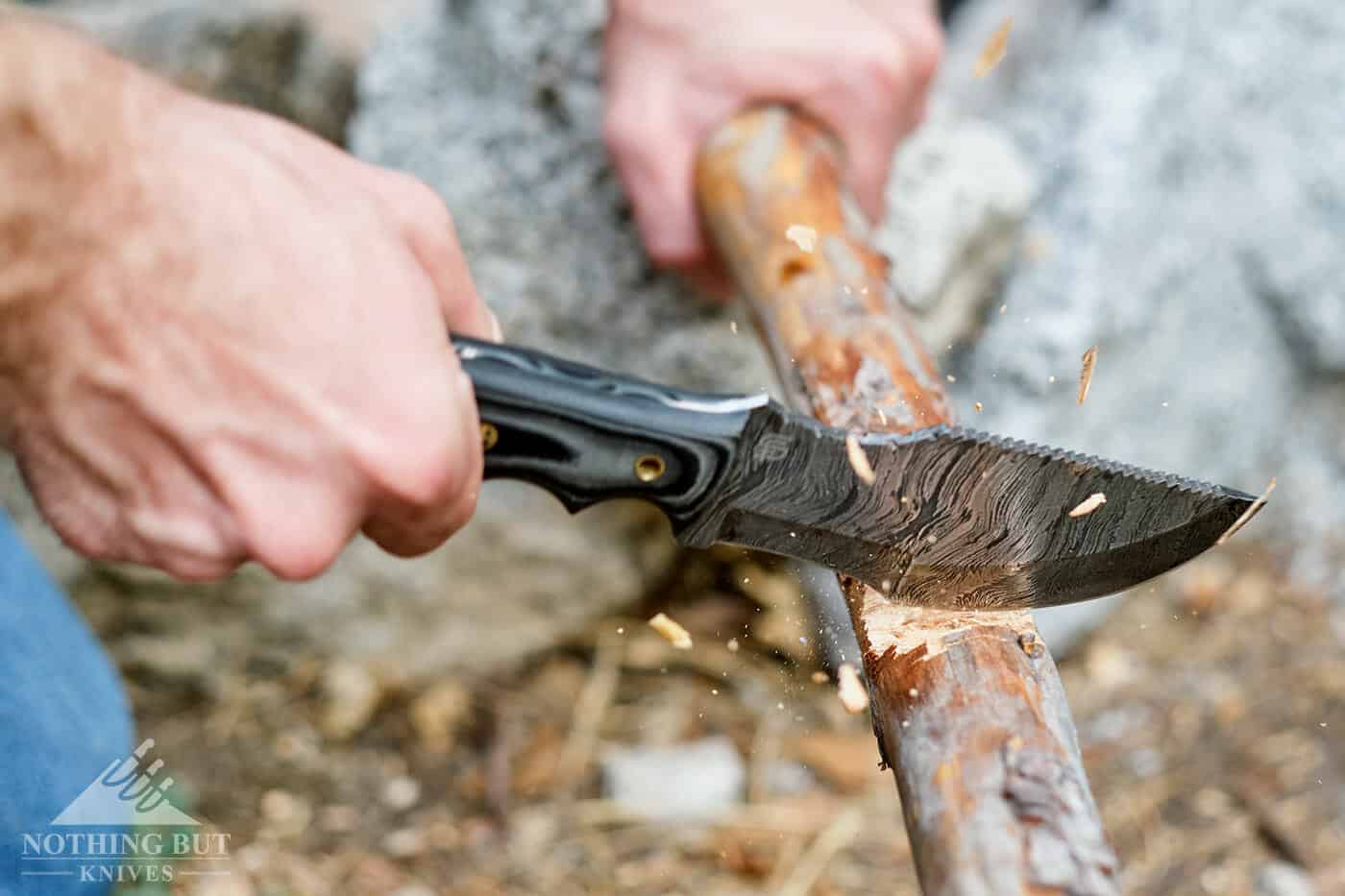 The design of the Ironside Tracker is great for chopping. The wide rounded forward part of the blade behaves like a small axe. The blade bites well and holds its edge for quite a while. The finger grooves and rounded pommel of the handle make it easy to change grips in a way that generates more power. We made short work of several branches and limbs and had fun doing it.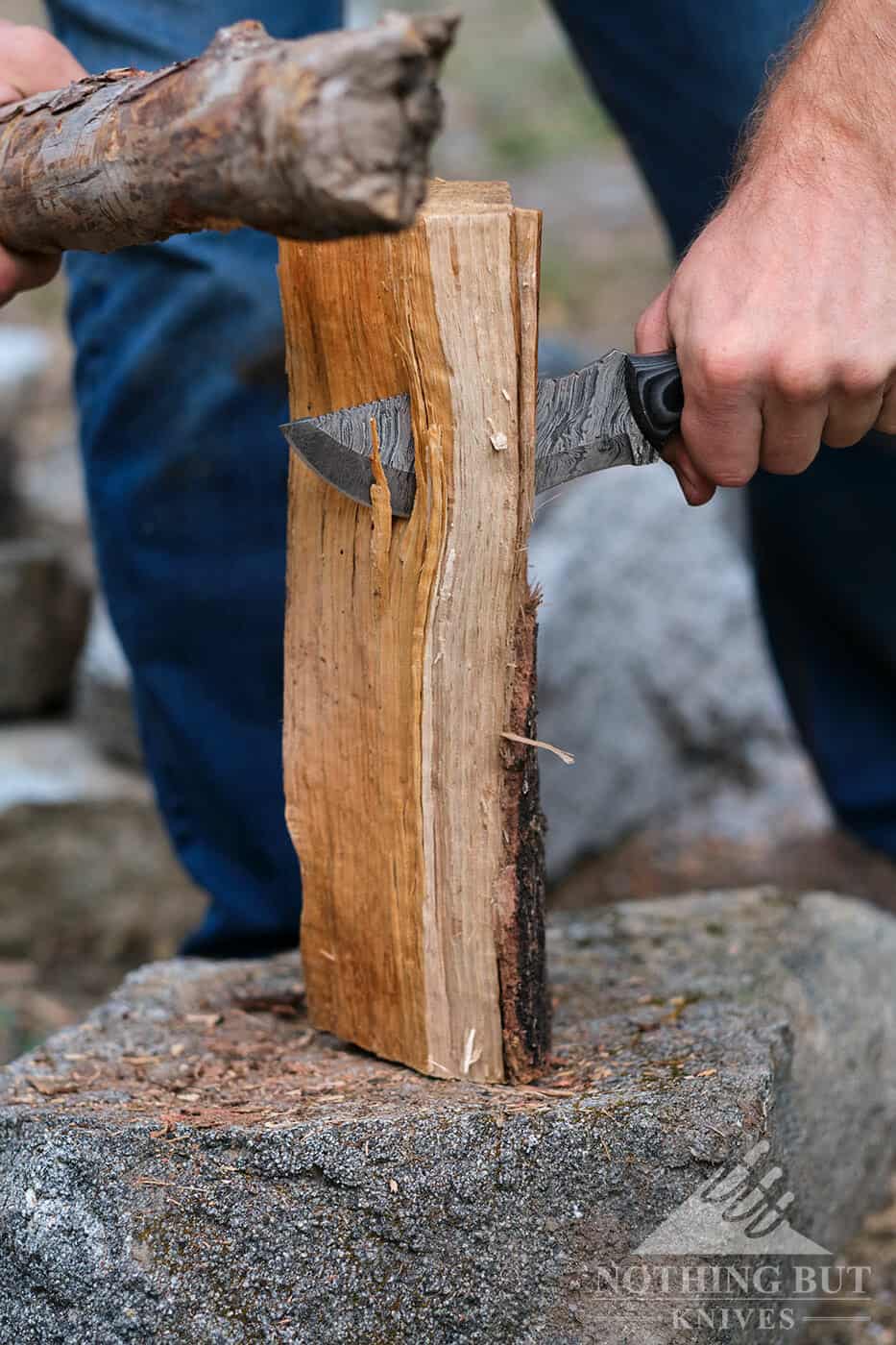 I was initially worried that the weird multi-edge blade of the Ironside Tracker would make it difficult to keep the knife semi-level when batoning, but it was no more difficult than most of the other survival knives we tested. In fact the quarter rounded section of the blade where the hollow grind meets the flat grind seemed to do a good job of getting the cut started, which is normally difficult to do with hard wood like oak.
At 4mm the Ironside Tracker blade is thick enough to cut through tough wood and small knots. 1095 steel is pretty easy to re hone if you happen to role the blade, but that was not an issue for us. This knife certainly didn't blow through wood with a few whacks the way the Off-Grid Tracker X does, but it was considerably more capable than the Condor SBK we recently reviewed.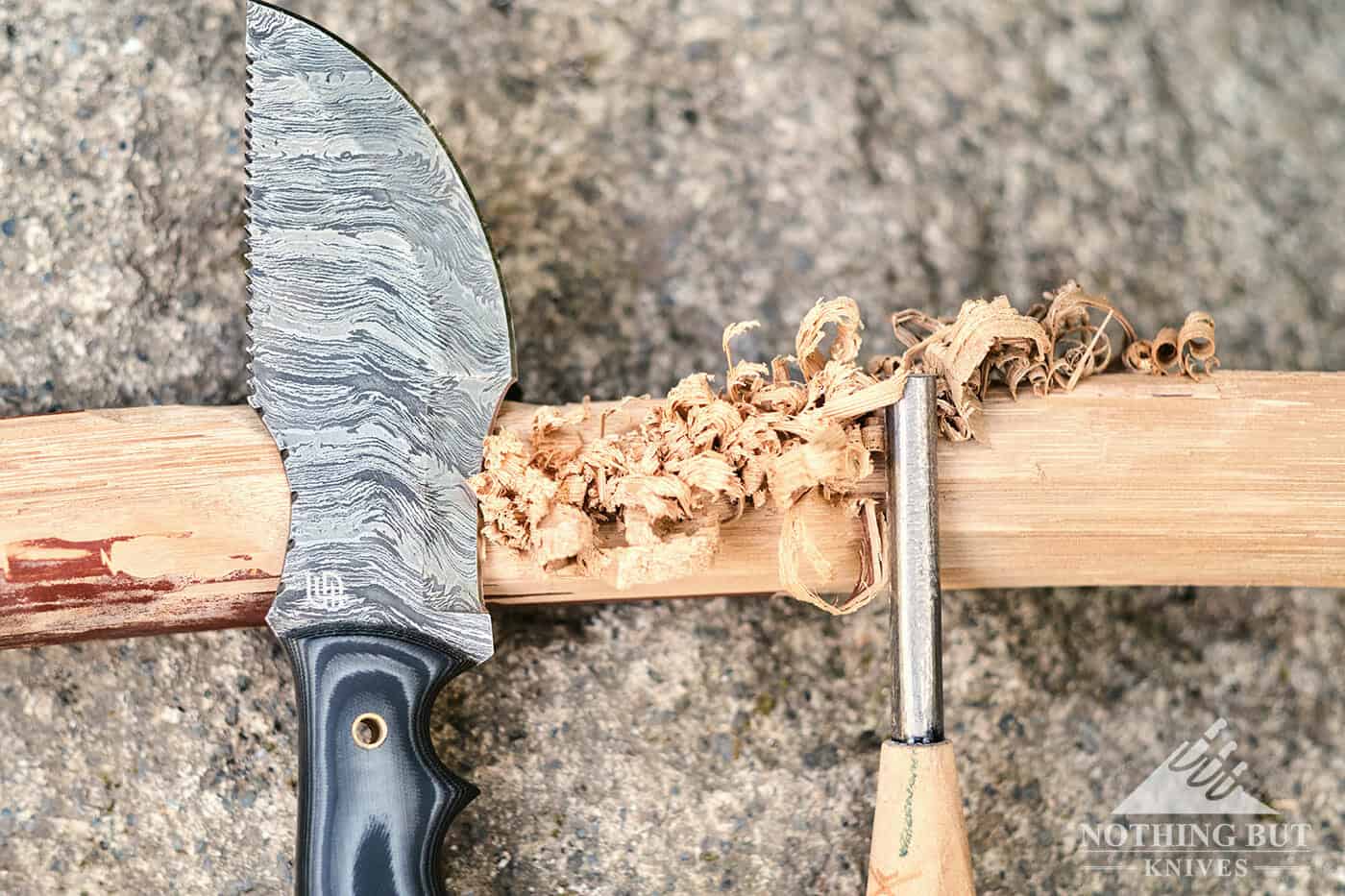 I wasn't able to get either section of the Ironside Tracker blade to make long pretty curls on feather sticks. Both sections created weird, short crimpy curls. Fortunately these curls are thin, and light easily enough.
Someone who is really good at feather sticking may have different results. Ultimately it doesn't really matter, because the recessed section of the Ironside Tracker spine creates a massive amount of spark . This is due to the indentations pictured above which I have titled reverse jimping.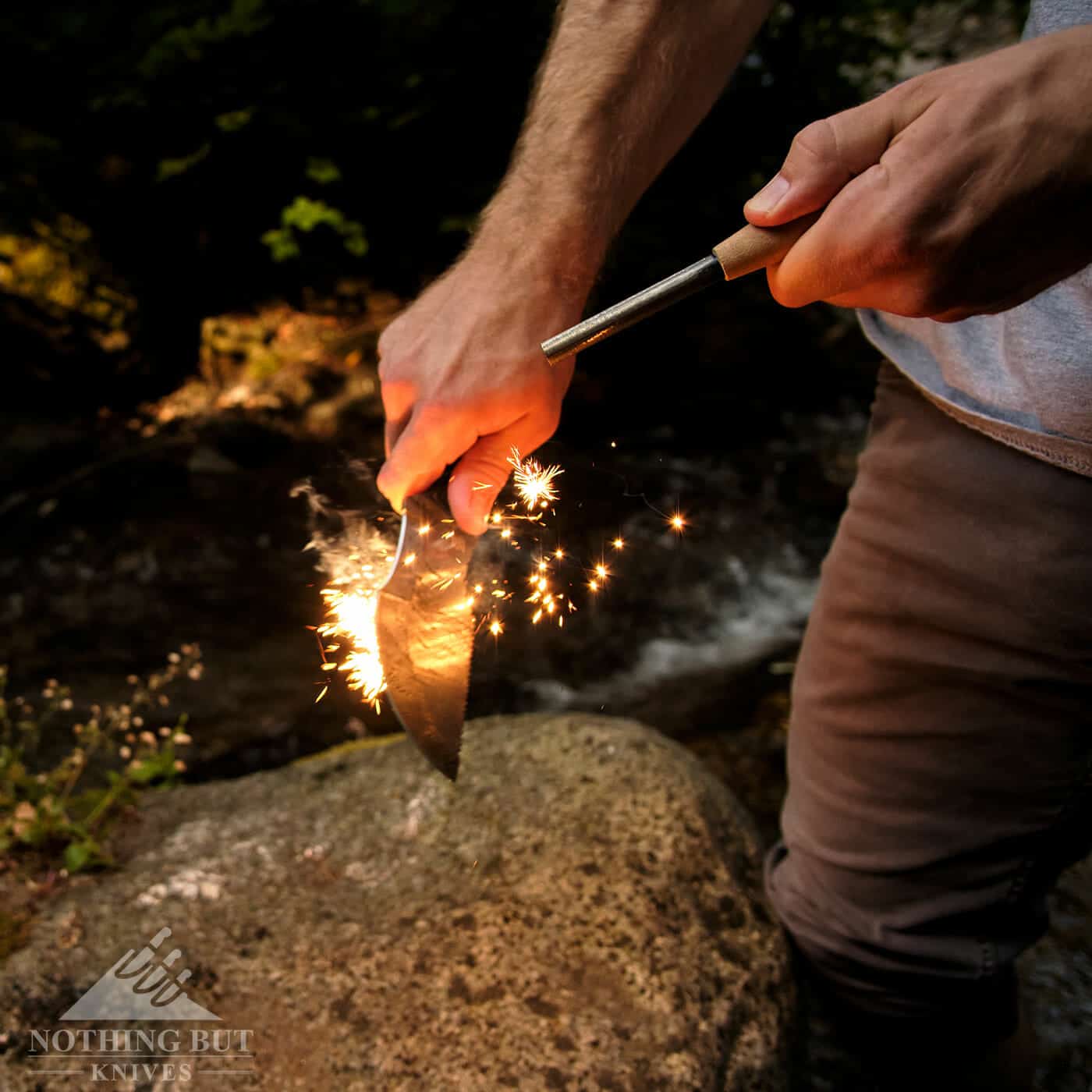 This knife throws so much spark you may not even need feather sticks. A pile of dry pine needles or wood shavings would probably get the job done. The tip of the Ironside Tracker's blade is designed for drilling. Specifically to drill a hole in a piece of wood for a bow spindle.
I personally believe lighting a fire with a bow is a terrible way to spend a day. I would rather freeze to death. Attempting to start a fire with a bow is for masochists, but if that is your thing the Ironside Tracker is a good choice for getting things started. But with this knife, bows are not necessary as long as you bring a ferro rod. Which reminds me. Another upgrade I would like to see to the Forseti Steel Ironside Tracker sheath is a ferro rod holder so there is no chance of forgetting a ferro rod and being forced to start a fire with a bow like some self punishing survivalist peasant.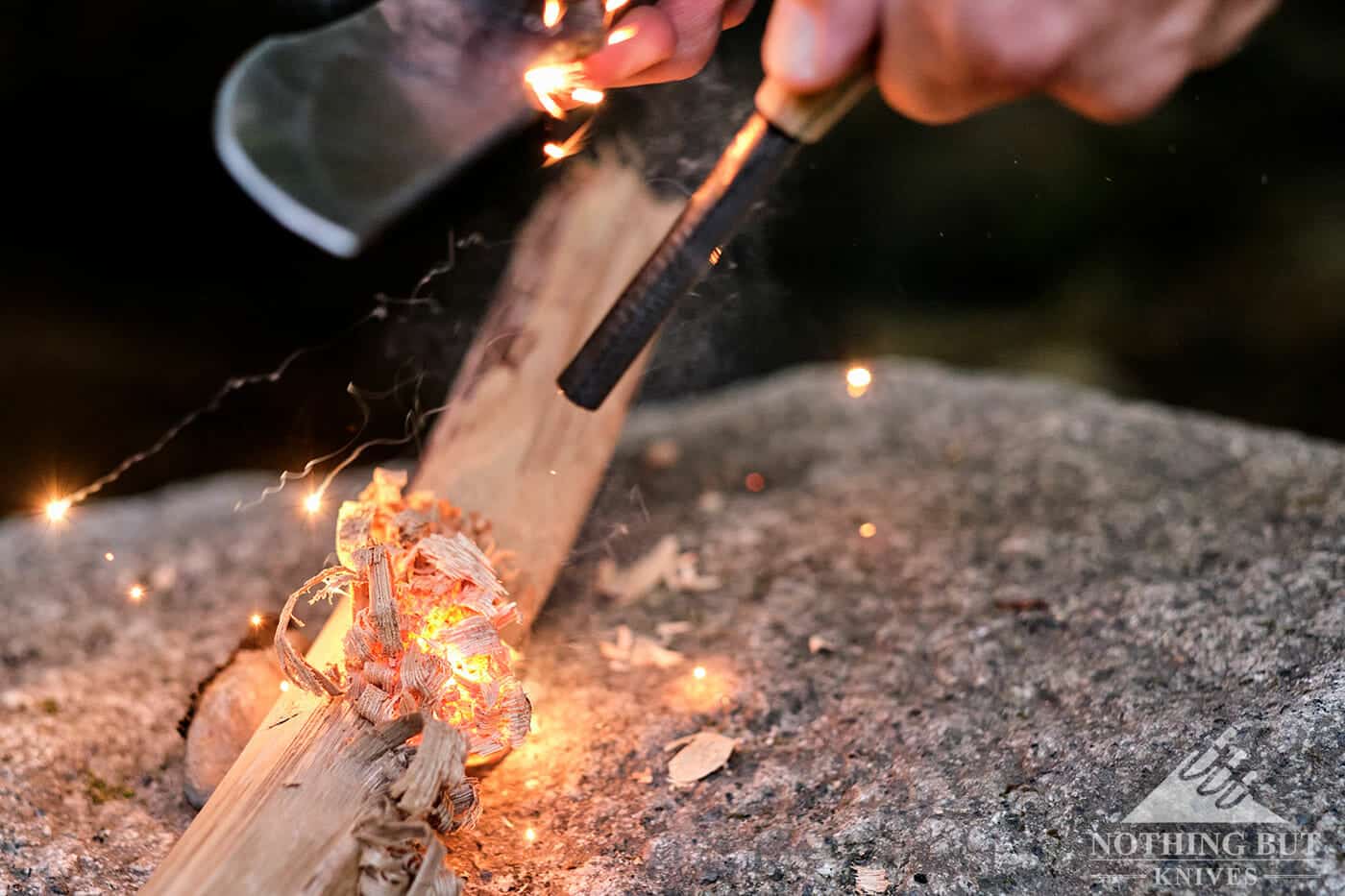 The amount of spark this knife throws makes it a great option for lazy fire starters. Look at the terrible feather stick pictured above. It is the work of a possibly drunk and certainly lethargic outdoorsman, but it didn't matter. The Ironside Tracker lit it up anyway. (Editor's Note: To be clear, we're not advocating for drinking when you use this knife; that's just a problem we have.)
At first I was hesitant to throw spark with this knife, because I didn't want blacken the pretty Damascus blade. Turns out my concern was meritless. The little bit of char that attached to the blade wiped off easily. No degreaser or magic eraser sponges necessary. I assume this is due to the fact that the knife arrived well oiled, but I assume the knife has some sort of coating that does it's job well.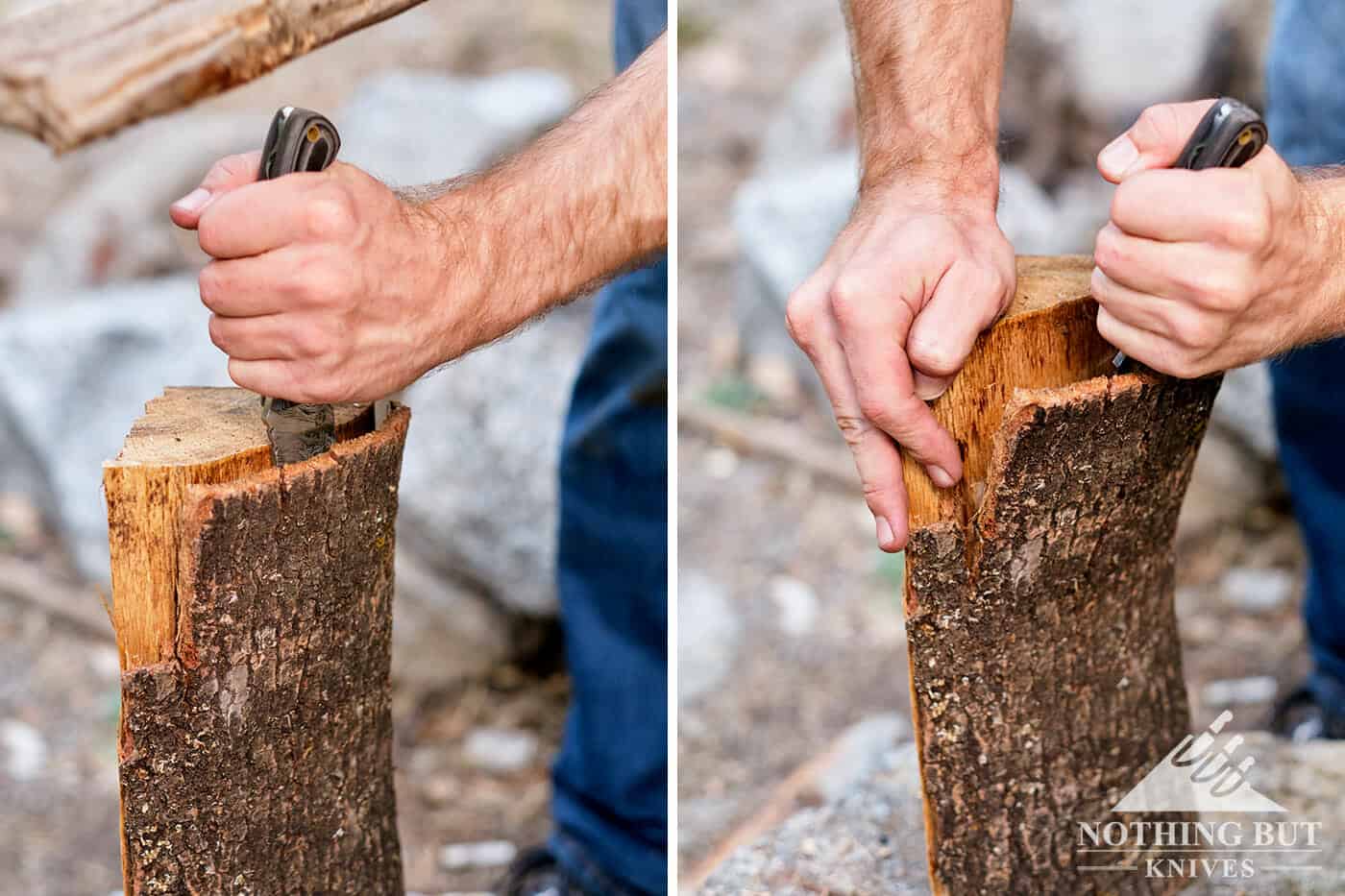 While I personally prefer a high flat grind on survival knives, the shorter grind area of the Ironside Tracker makes it more sturdy when using it as a pry-bar. We peeled off thick chunks of bark and used the knife as a shovel without causing any chipping or rolling to the blade.
I think the 4.75 inch blade of the Forseti Steel Ironside Tracker is about the right size for this type of knife from a versatility standpoint. I know there are much bigger versions out there made by other brands, but longer knives are a bit harder handle for most of us when field dressing or carving.
A bigger blade would be better for chopping or batoning, but it would also cause horizontal carry problems for people with smaller waistlines because it would bump into trees and bushes on narrow trails. (Editor's Note: Look at this guy over here bragging about his small waist.)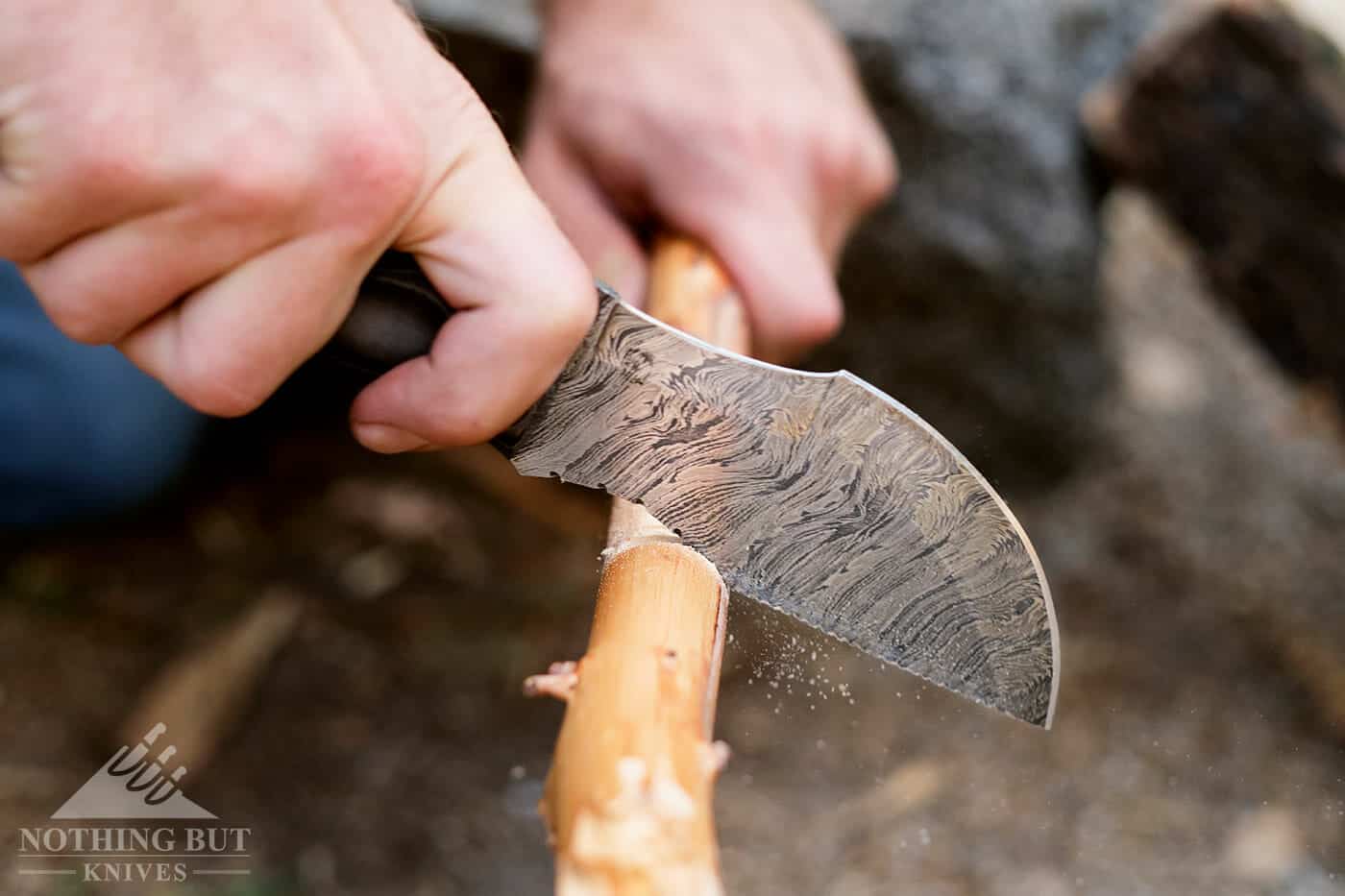 The Ironside Tracker chops so well that I initially though the saw on the forward part of the blade spine was a ridiculous part of the Tracker design, but it turned out to be great for making notches in wood. Notch-making capability is a pretty handy feature for a survival knife or even just a camping knife.
Conclusion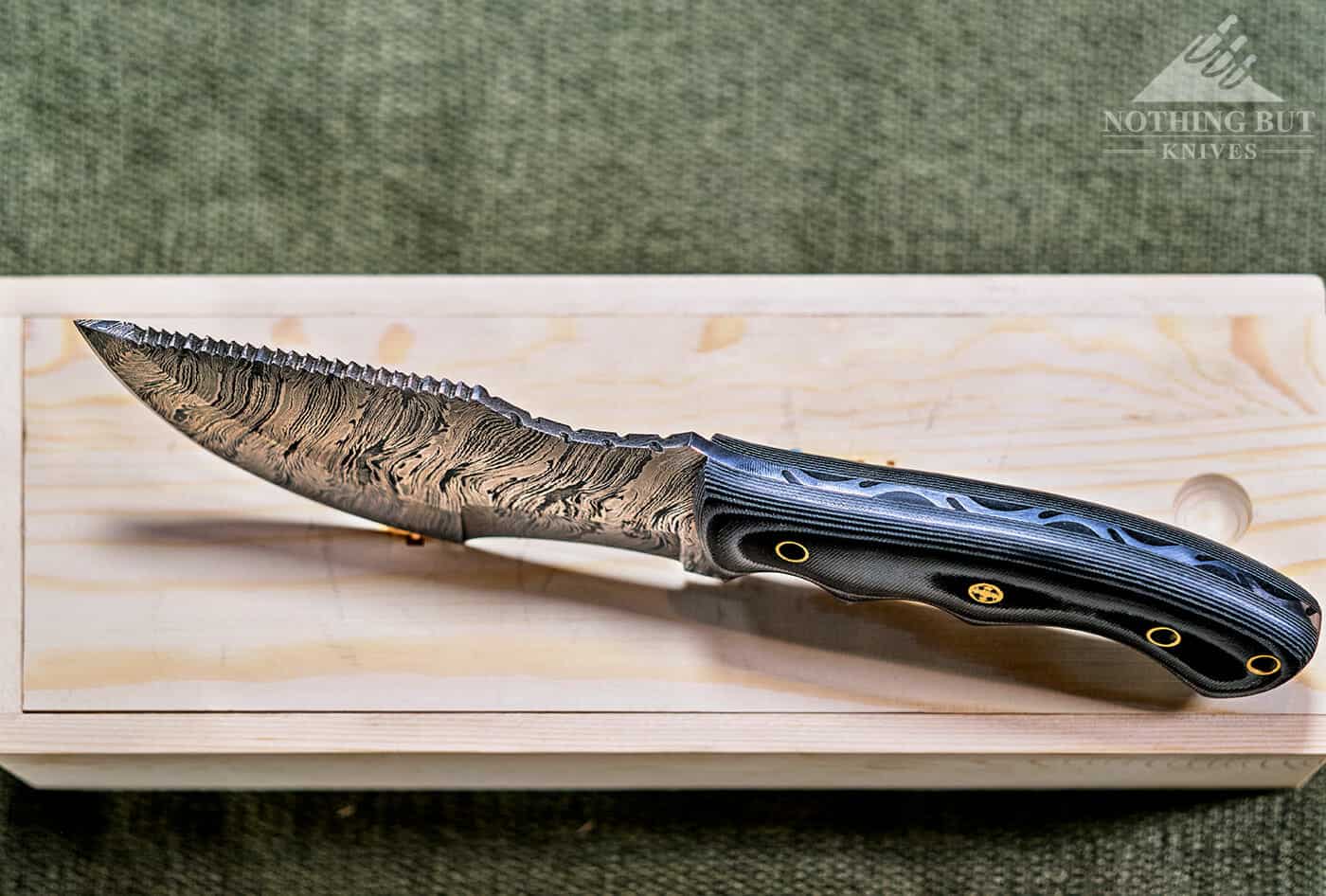 After spending over three weeks with the Ironside Tracker I am still a little unsure about my opinion on the Tom Brown Tracker design. This is a terrible statement to make at the end of a knife review about a Tracker style knife. Initially I disliked the design, but it has grown on me a bit over time. That said, I think I would still prefer this knife with a single edge type from one end of the blade to the other. Especially if that edge had a full flat or scandi grind.
I think fans of Tracker style knives will love the Forseti Ironside. It may be the best looking Tracker knife on the market, but it is still tough as hell. It also makes a great gift for knife collectors, because it ships in a nice wooden box, and the raindrop style Damascus steel pattern is a fairly unique feature in survival knives. Overall this knife is a good survival knife and an excellent fire starter. The design just takes some adjustment.
If you like the look of this knife, but your not sure about the Tracker design, check Forseti Steel's other Damascus steel survival and hunting knives.
If you like the idea of a Damscus steel fixed blade camping knife, but want something with a more conventional design check out our review of the Forseti Steel Jim Baker.
If you just want to learn about Damascus steel, check out our Damascus Steel Knife Guide.