The SBK Is a Good Knife With A Great Sheath
The Condor SBK has been on my "most wanted" list for over a year. I put off the purchase, because I thought the blade was a bit on the thin side for a survival knife, and I kept forgetting about it due to the fact Condor hasn't done much to promote it. This is not surprising. Condor is about as good at marketing as I am at writing knife reviews, and it seems like the Julio Diez-designed Condor knives are a secret that the company intends to keep close to their chest.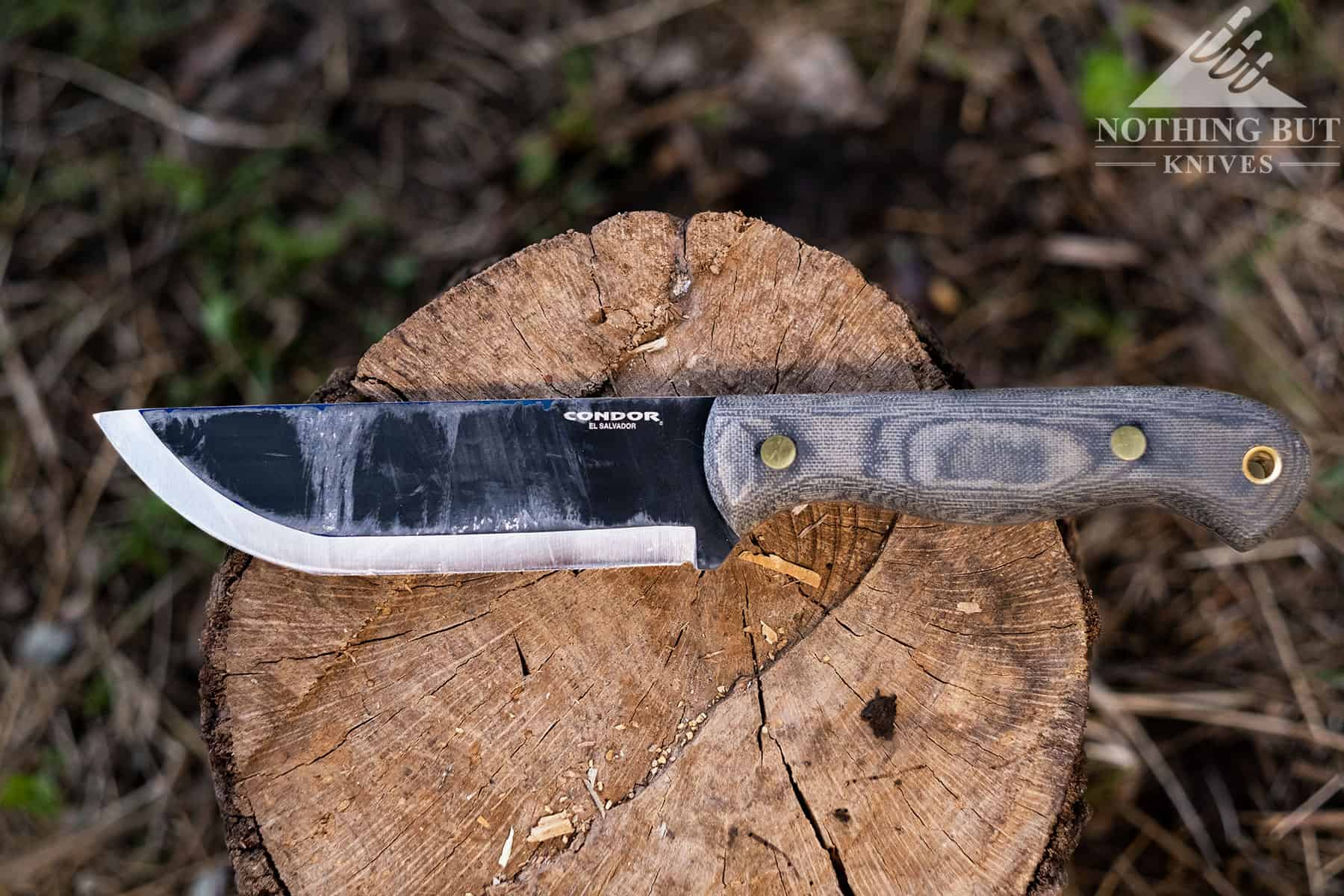 This makes life tough for lazy knife bloggers like myself who have to visit multiple vendor's sites to get actual knife specs rather than just visiting the manufacturers site. Worse yet, there are almost no field reviews of the Condor SBK on YouTube, so I had to actually take this knife into the wilderness to see how well it performed, which was a lot of work.
Hey Condor, have you ever heard of influencer marketing? Send a few of these knives to some entertaining knife YouTubers, so I don't have to get my hands dirty. (Editor's Note: Yes, you must save his dainty camera fingers.)
If you read my review of the Condor Bush Slicer you know I had similar complaints about the lack of promotion or product details on that knife as well. As a result I have had to digitally stalk Julio Diez for several weeks now just to try to learn about his knife designs.
He lives close enough to me that I could physically stalk him, but he owns a lot of knives, so I have avoided peeking through the windows of his workshop. Hopefully Condor figures out a way to get this knife some promotional love soon, because the SBK deserves it.
Specifications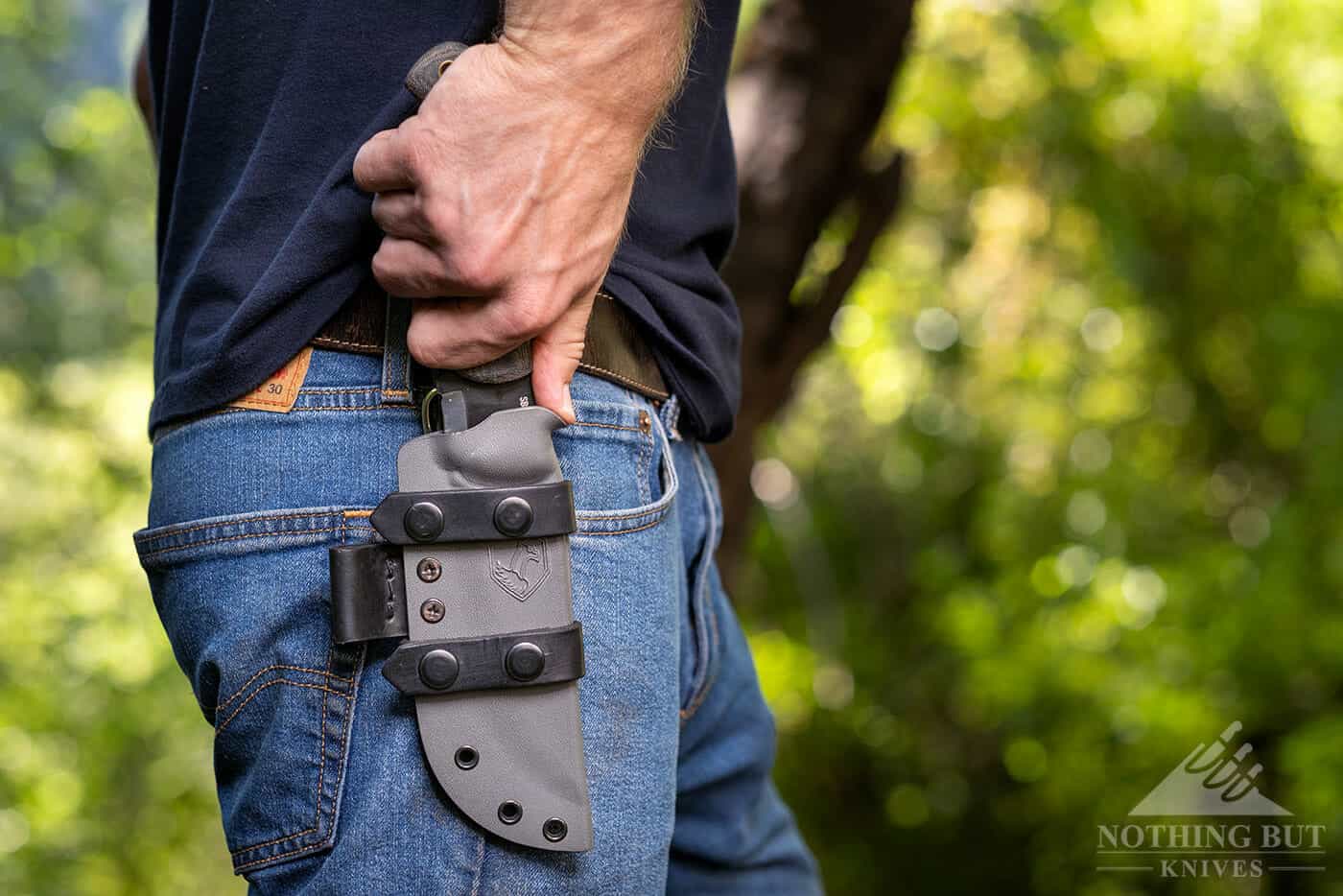 | | |
| --- | --- |
| Overall Length: | 10.5″ |
| Blade Length: | 5.28″ |
| Handle Length: | 5.2″ |
| Blade Thickness: | 3 mm |
| Blade Steel: | 1075 High Carbon |
| Blade Finish: | Black traction powder coating |
| Blade Grind: | Scandi |
| Blade Style: | Standard |
| Handle Material: | Micarta |
| Knife Weight: | 8.5 oz |
| Weight w/ Sheath: | 15.7 oz |
| Sheath: | Kydex w/ leather loop |
| Made in: | El Salvador |
| Price Range: | $110 – 120 |
| Designer: | Julio Diez |
Pros
Great Balance
Versatile sheath
Durable Coating
Comfortable handle
Cons
Doesn't hold its edge as well as similarly priced knives
Blade is on the thin side for a survival knife
The Blade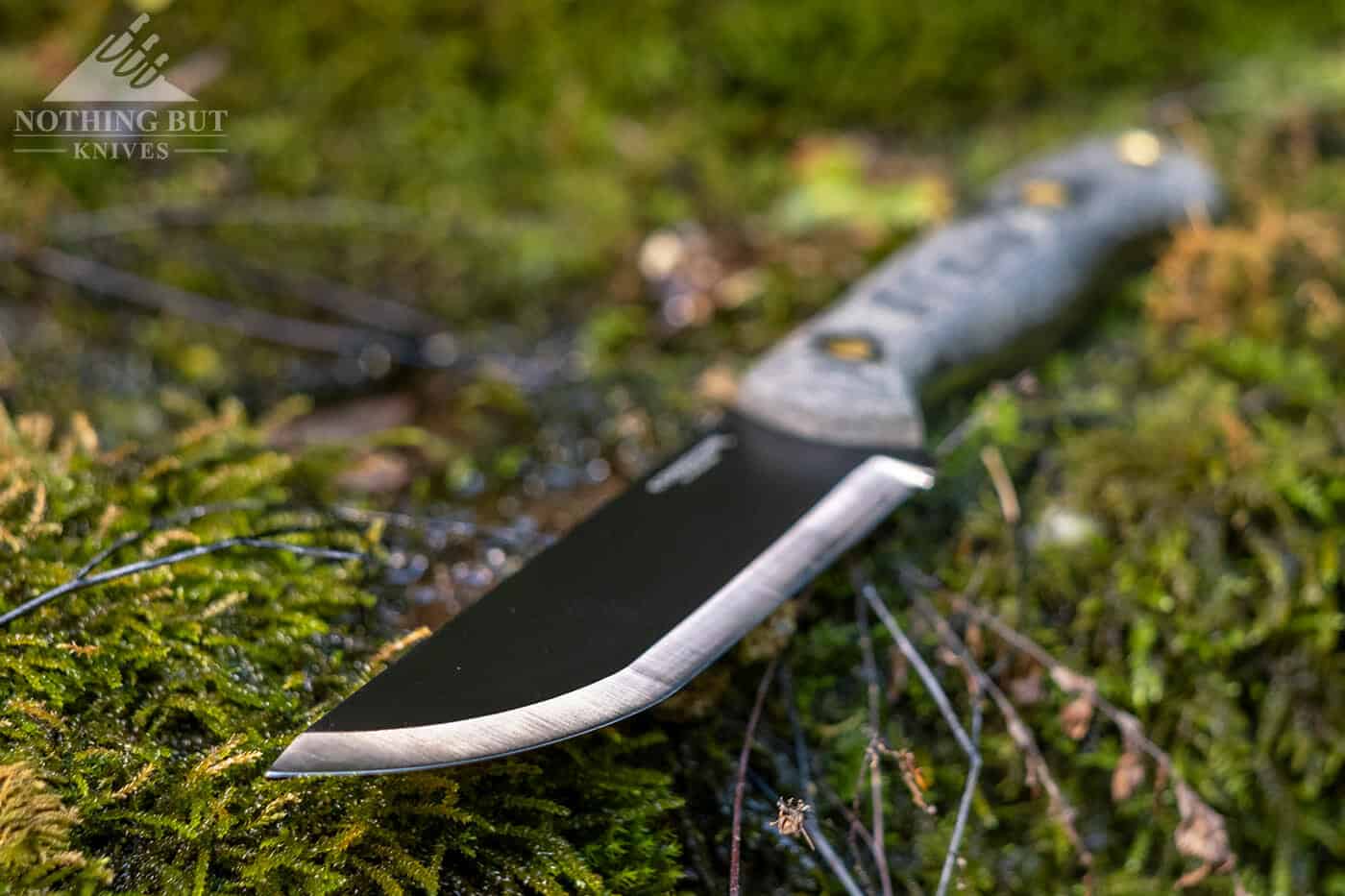 At 3mm wide the blade of the SBK is a little on the thin side for a survival knife. This did cause some performance issues with batoning and branch clearing, but the relatively thin blade of the SBK is what helps make it a good slicer.
I would also argue that the thin blade makes the SBK lighter and a bit better from a tactical standpoint. Feel free to disagree with that assumption though. I am more qualified to argue about whiskey or STD treatments than knife fighting. (Editor's Note: Three things that are equally dangerous.)
The SBK blade is not as tall as a lot of other survival knives with 5 inch or longer blades. I would have liked the blade to be a little taller for tasks like batoning and chopping, but it was much better than other large fixed blade knives I own at whittling and notching, and I believe some of that capability would be lost if the blade where taller.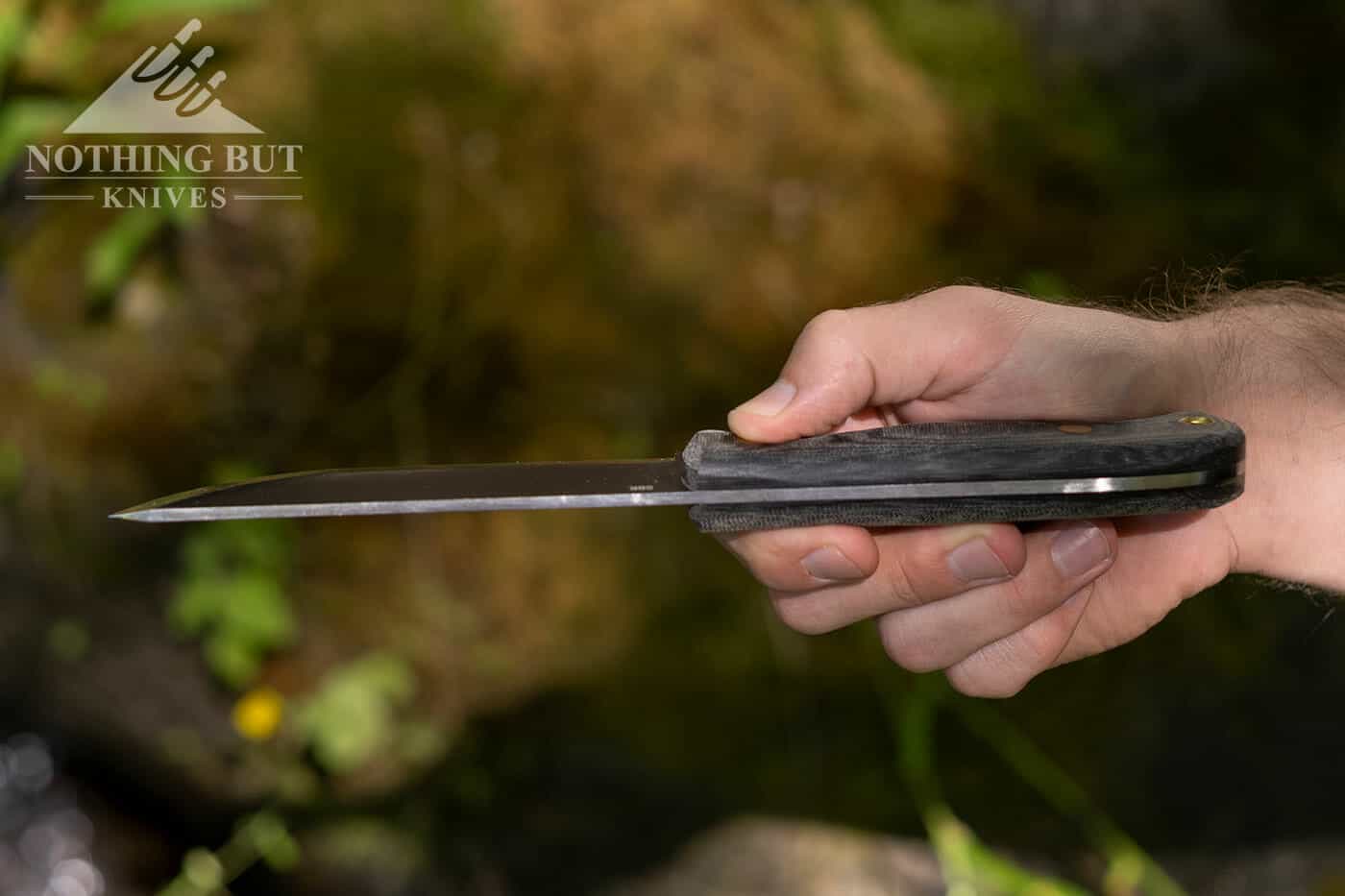 SBK is an acronym for straight back knife. There are no curves or annoying decorative swedges on this knife. It is all business. The 1075 high carbon steel blade has a scandi grind that is easy to sharpen in the field. The blade holds its edge fairly well when compared to most budget stainless steels, but falls short of the impressive edge retention of many of the the newer super steels flooding the higher end bushcraft knife market today.
Condor almost exclusively uses 1075 or 1095 steel on most of their knives, and this helps keep the prices down, but it would be cool if they offered steel upgrade options the way Esee and Buck do.
The black traction powder coating was surprisingly durable. We did some pretty hard core batoning with fairly large oak pieces that would have taken the coating right off lots of other bushcraft knives out there, but the SBK's coating survived with a few scuffs and scrapes.
The Handle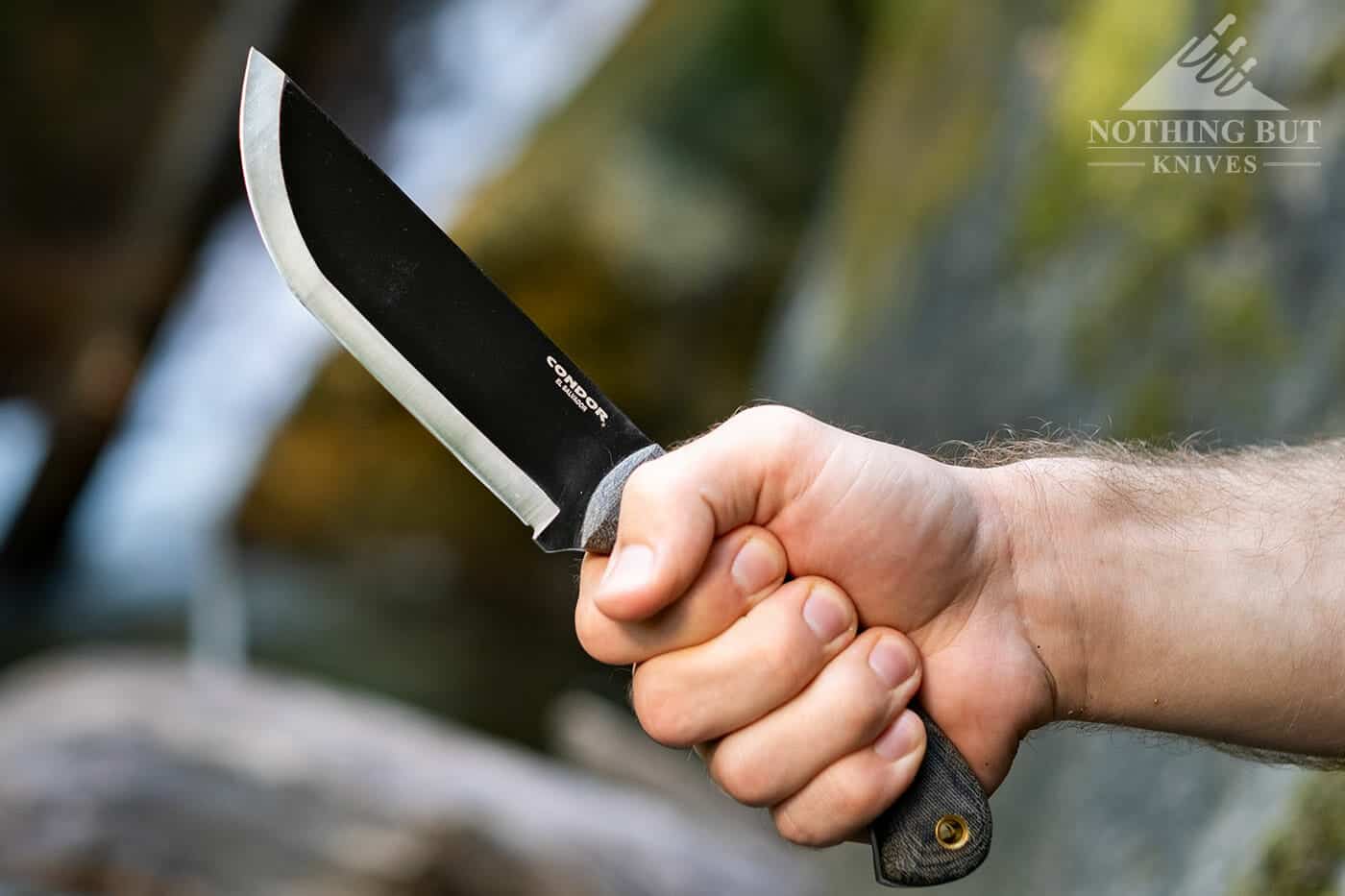 The handle of the SBK is almost identical to the handle of the Bush Slicer which means it is awesome. The contoured Micarta handle is comfortable and sized well to accommodate most hand sizes. The textured Micarta is really grippy even when wet. It is much easier to grip than the Buck Selkirk, but not as easy to grip as the Mora Bushcraft Black.
The palm swell is well placed, and not so big that it is uncomfortable for people with smaller hands. The slight downturn of the handle pommel is not as pronounced as the the pommel of the Bush Slicer, but it was still pretty easy to hold when chopping.
My only complaint about this handle is the same complaint I had about the Bush Slicer handle. I wish the front of the handle scales were tapered to make the knife more comfortable in a pinch grip. The SBK is a pretty good food prep knife considering that is not its main purpose, but it would be much better if the front of the handle was tapered.
The Sheath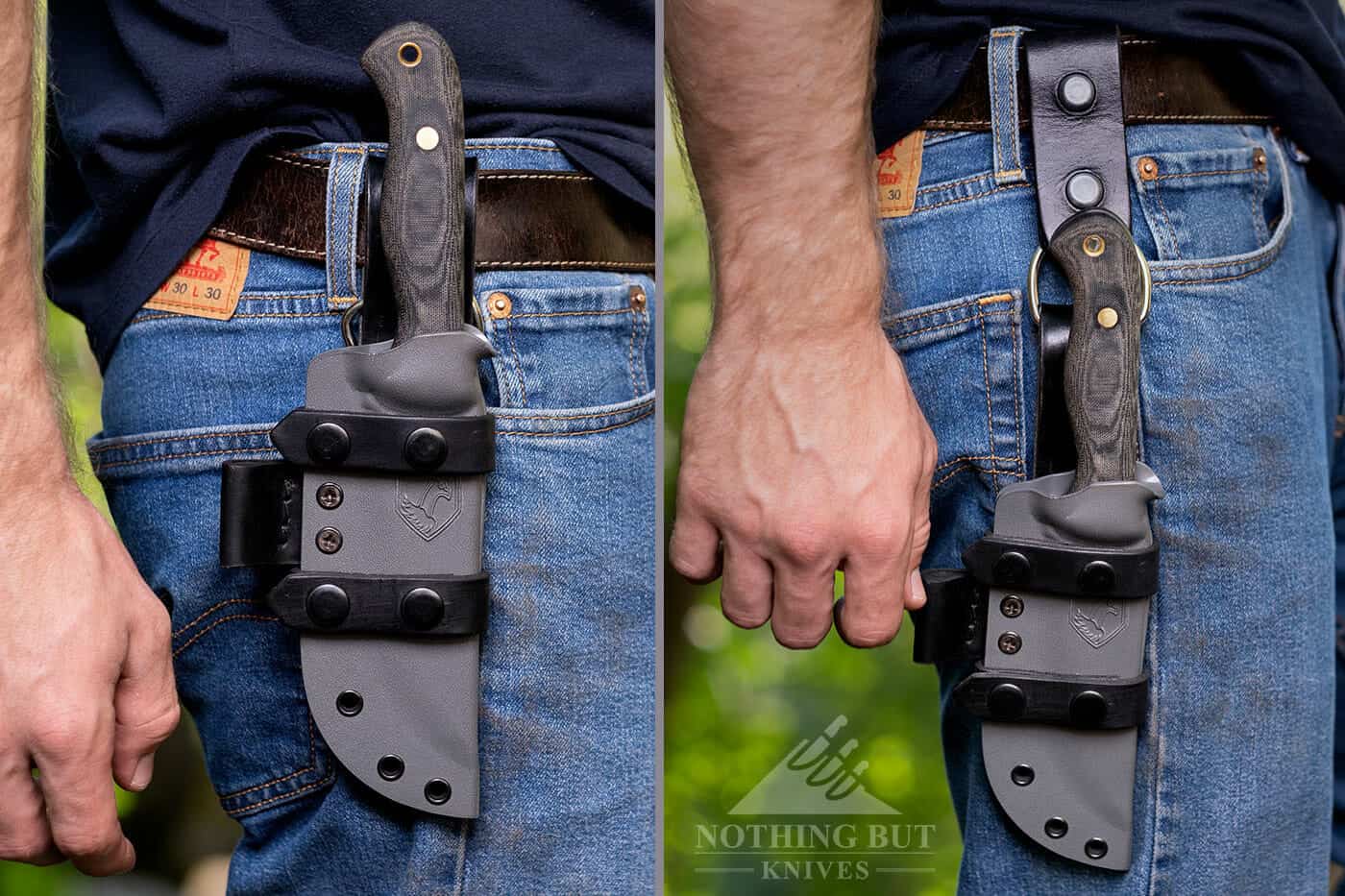 The fully ambidextrous sheath is where the Condor SBK really shines. It is crazy versatile, and pretty easy to convert in the field. The sheath can be worn vertically with or without the leather dangler. It can also be worn in the front horizontal carry position for left or right hand, or the scout carry position pictured below for left or right hand.
The sheath also ships with a removable leather ferro rod holder with a pretty wide gap that is perfect for a 3/8″ wide ferro rod. Our Texas Bushcraft Fire-starter fit like a glove.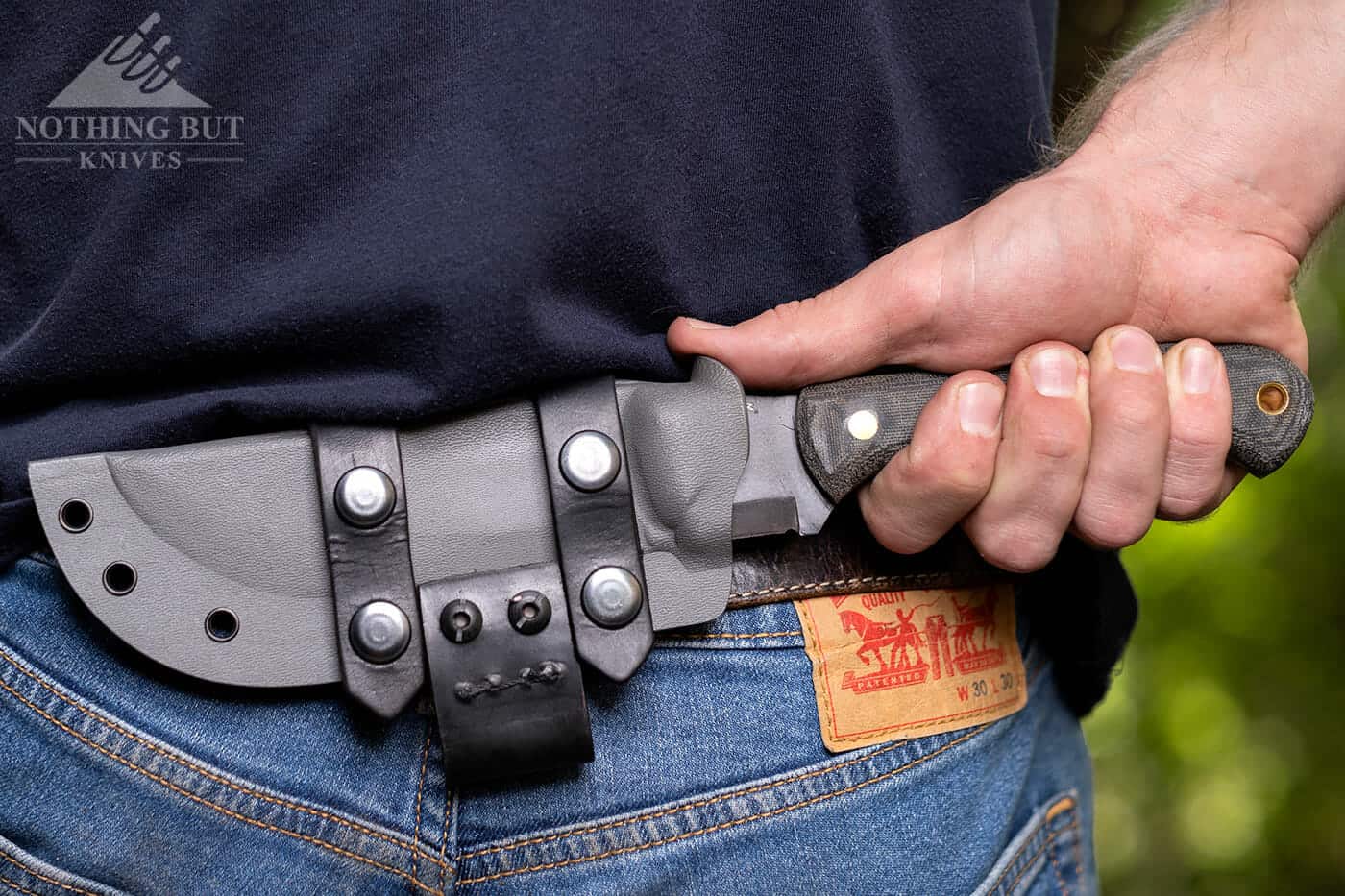 The thumb ramp on the kydex sheath is fairly tall, and it makes it easy to remove the knife regardless of the sheath configuration. I was especially appreciative of the large thumb ramp when wearing the sheath with the dangler. One-handed draw was simple and quick, which is not something I can say about any of my other leather dangler sheaths.
The SBK fits tight in the sheath with no rattle. Even when I carried the knife upside down on a backpack, I never felt like it was in any danger of dislodging from the sheath. This may change over time. If so I will heat up the sheath and reform it. The whole thing feels crazy durable, though. The buttons on the leather straps are heavy duty and they feel tough, and the leather is thick and should last for years. I will update this article if that ends up not being the case.
When worn in the scout carry position the handle of the knife tends to stick out a ways from the waist. This is great if you need to draw your knife fast, but the handle tends to bump into stuff on really tight trails or when crawling through the underbrush.
In The Field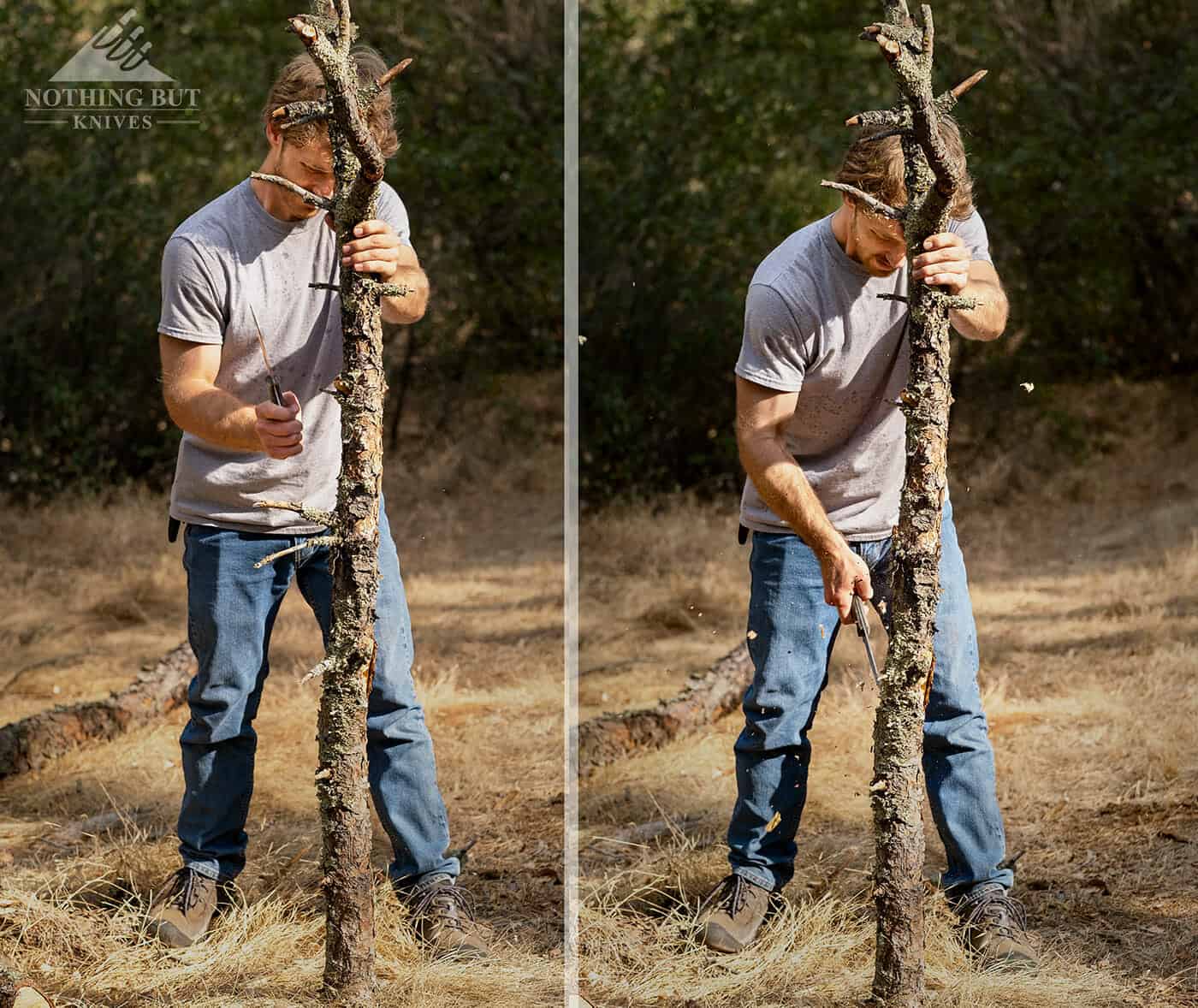 The balance of the SBK is a little handle heavy. This is another reason I wish the blade were thicker. Still this knife performed really well at cleaning branches, making tent stakes and chopping wood.
The super comfortable handle has a lot to do with this. Even after extended use I did not experience any hots pots. I have bushcraft knives with more capable blades that I leave at home because the handle is uncomfortable, so for me handle comfort is a big deal.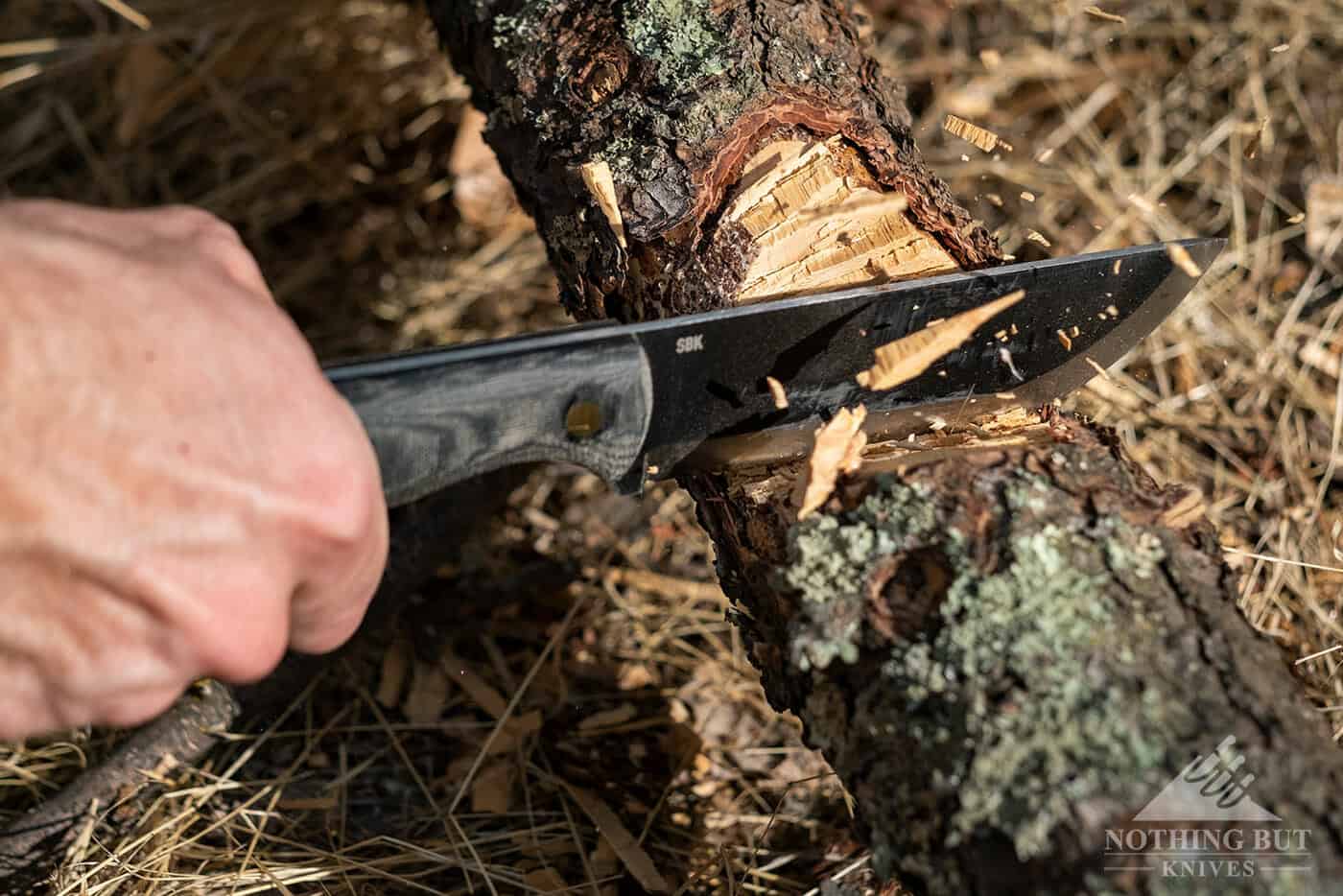 Chopping with the SBK was pretty fun and easy. The scandi grind of the blade bit well but not quite as aggressively as the grind of the Mora Bushcraft Black. In spite of its relatively thin blade the SBK is an efficient chopper, and I didn't have any problems with the blade rolling or chipping when chopping.
I was not surprised when the SBK failed a paper test after an extended chopping session. 1075 steel is pretty soft compared to the steel used by some of Condor's competitors. The upside was that I was able to get the blade back to paper slicing form quickly and easily due to the relative softness of the steel. Also scandi grinds are, in my opinion, the easiest grind to sharpen.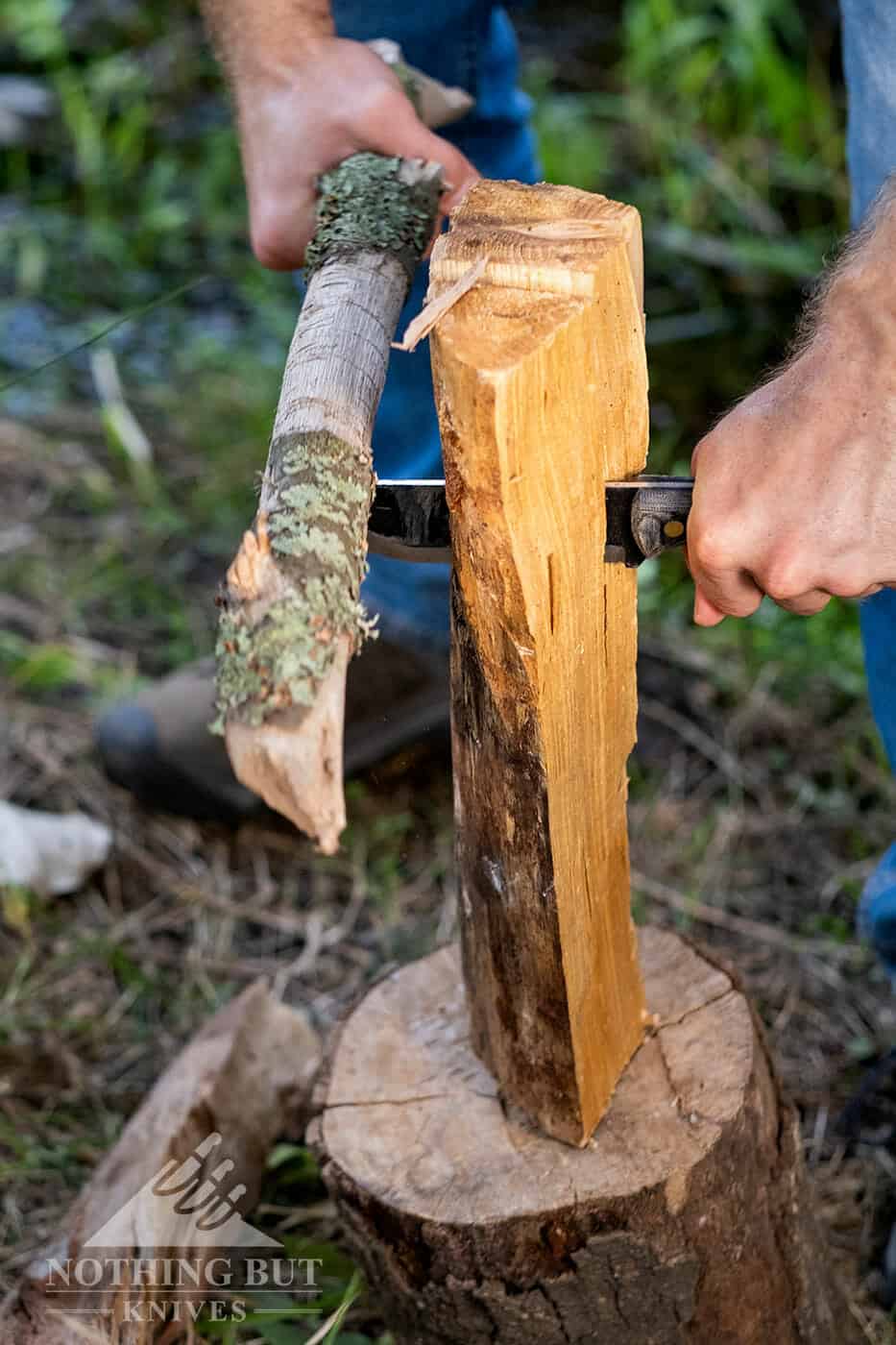 I did not have high expectations for the SBK when it came to batoning. The thin blade and 1075 high carbon steel had some issues with hard wood and knots. By comparison the heavy duty Off Grid Tracker-X blew through similar pieces when we tested it a few weeks ago, but it has a much thicker blade and harder steel.
The SBK made kindling from the smallish logs pretty easily, but it struggled with the wide pieces of hard wood, and it absolutely got wrecked by its first knot. The blade got wedged and was a pain to get out. When we finally were able to remove the knife the edge of the blade had a fairly large roll. (Editor's Note: The knot also had a fair amount of blood and skin samples.)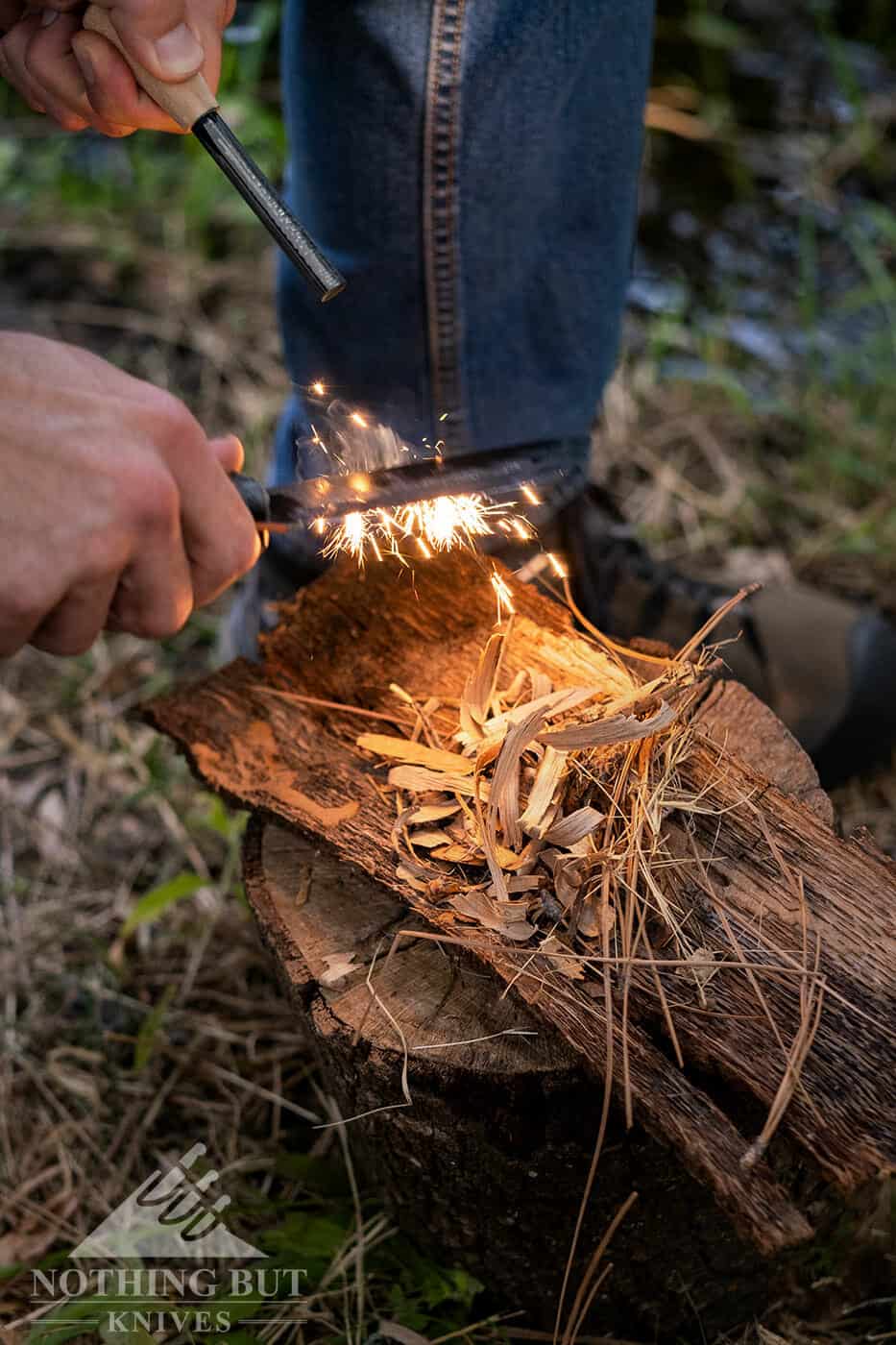 The Condor SBK has a 90 degree spine and throws a decent amount of spark. It doesn't rain down fire like the Forseti Ironside Tracker, but it throws a lot more spark than the Tracker-X mentioned above. It creates enough spark to start a fire relatively easily even if there is a bit of a wind.
The SBK feather sticks fairly well. It is not the best feather sticking knife I have ever used, but it is far from the worst. From a hand comfort standpoint the SBK is great for feather sticking because it doesn't wear the hand out as quickly, and you aren't getting tortured by hot spots the whole time. I still prefer the Mora Bushcraft Black or even the Condor Bush Slicer for feather sticking, but the SBK will get the job done.
Conclusion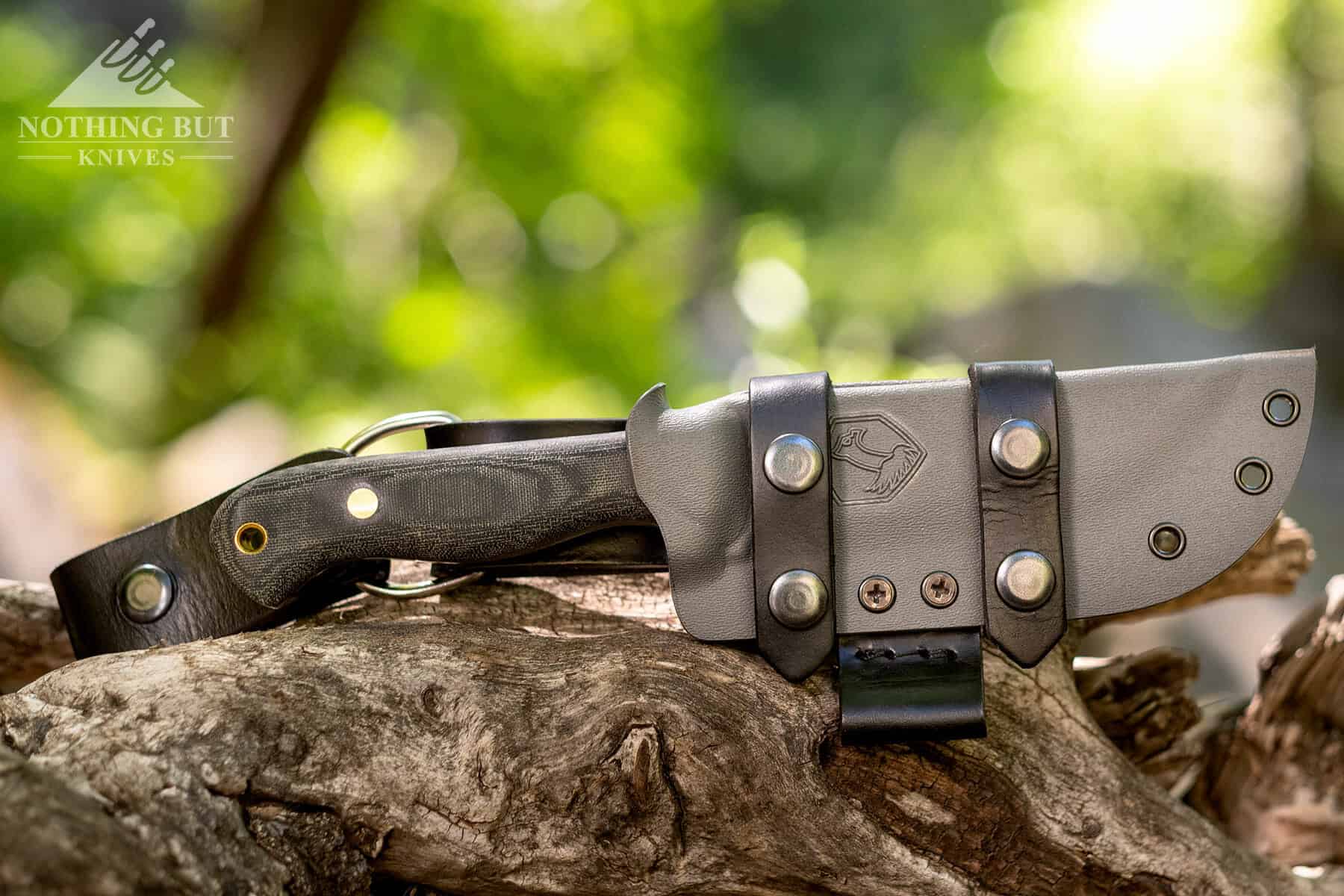 The Condor SBK has a lot going for it. It excels as a camp knife, but falls a little short if you are looking for a hard core bushcraft knife for a post-apocalyptic future. At its current price of a bit over $100 it is a great buy considering it ships with the best production sheath I have ever used. In fact I have seen custom sheaths that cost more than $100 that were not as durable or versatile.
Personally, I will probably get more use out of the Condor Bush Slicer that I reviewed a while back. It out performs the SBK at most bushcraft tasks (other than carving or field dressing) and it is a camp food prep beast (Editor's Note: And it can open our beers). However it is quite a bit bigger, so that will disqualify it for a lot of folks. Due to its comfortable handle and relatively light weight, the SBK is probably better from a tactical standpoint than a lot of its competitors, if that is a consideration you care about.
Overall the SBK has made me a much bigger fan of Julio Diez, and I am looking forward to his future designs. If you hear a story about someone getting beat up for staring creepily through the windows of Julio's workshop it is probably me. Actually, he has a great Facebook group where he shares his current projects. No stalking necessary.