A Classic Looking Damascus Steel Fixed Blade That Is A Handy Campsite Tool.
The Forseti Steel Jim Baker would look right at home in a camping scene in an old black and white movie from the 50s. Its design lacks the popular fighter-jet aesthetic of modern tactical fixed blades, or the over simplified scaled-back barebones look of of a modern bushcraft knife.
The brass finger guard and wood handle are about as hip as using the word hip. But while The Jim Baker might look antiquated, some designs are timeless for a reason. This knife is functional, practical, and cool to look at if we don't get overly concerned with what cool means these days. (Editor's Note: For what it's worth, he says the same thing about himself all the time.)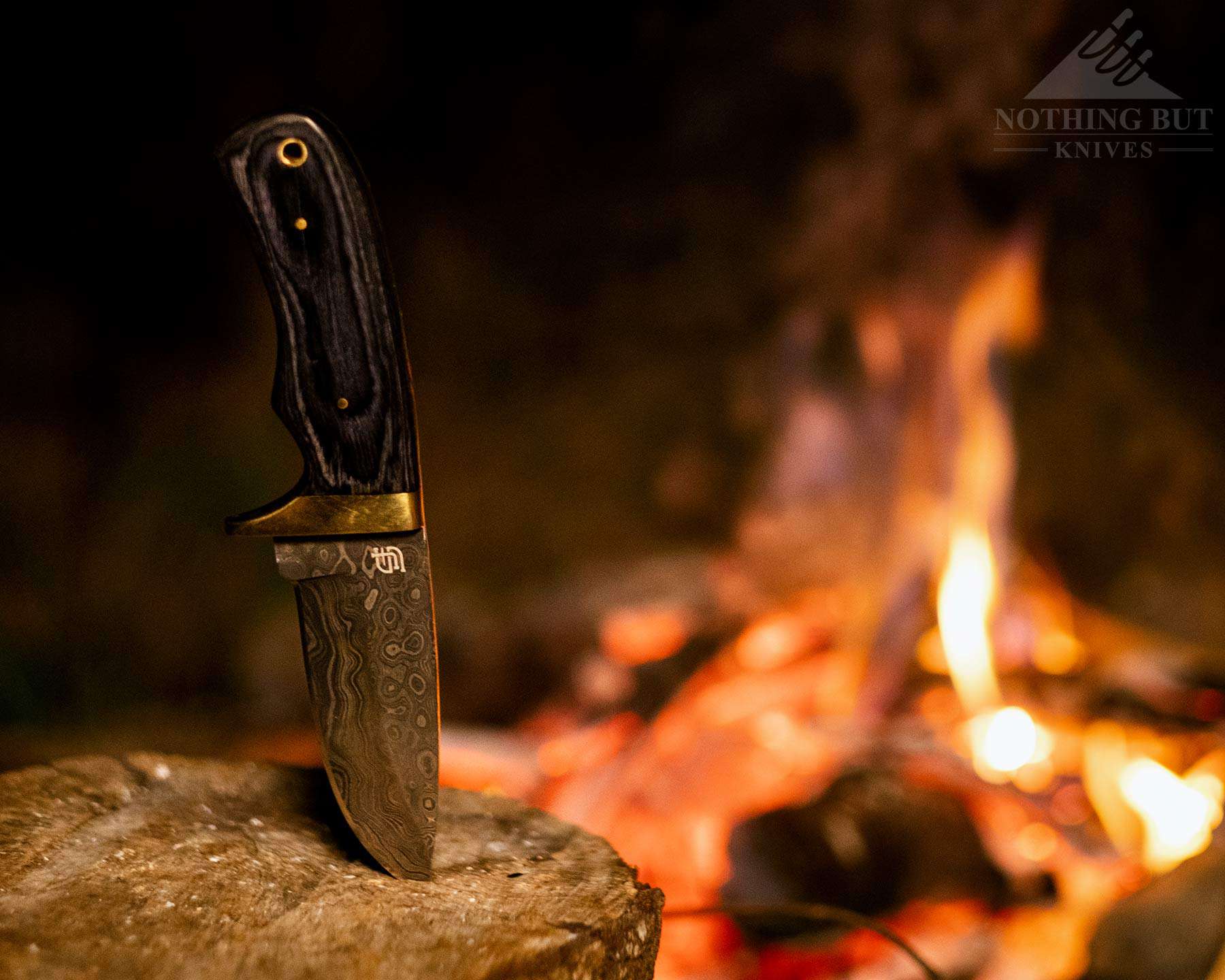 Specifications
| | | |
| --- | --- | --- |
| Overall Length: | | 8.2" |
| Blade Length: | | 4.1" |
| Handle Length: | | 4.1" |
| Blade Steel: | | 1095/15n20 |
| Damascus Layers | | 256 |
| Blade Hardness: | | 57 – 59 HRC |
| Blade Grind: | | Sabre with a Hollow Grind |
| Blade Thickness: | | 0.15" (4mm) |
| Blade Style: | | Drop Point |
| Handle Material: | | Pakawood |
| Knife Weight: | | 9.2 oz |
| Weight w/ Sheath: | | 12.5 oz |
| Sheath: | | Leather |
Pros
Great Look
Versatile Design
Comfortable Pakawood Handle
Comfortable sheath
Full tang
Sharp right out of the box
Lanyard Hole Passes Through The Tang
Ships with a bottle of knife oil
Limited lifetime warranty
Forseti Steel has excellent customer service.
Cons
Blade rusts easily if not properly maintained
Brass finger guard scratches easily (It's brass)
Large ricasso decreases size of cutting edge
A Note About Forseti Steel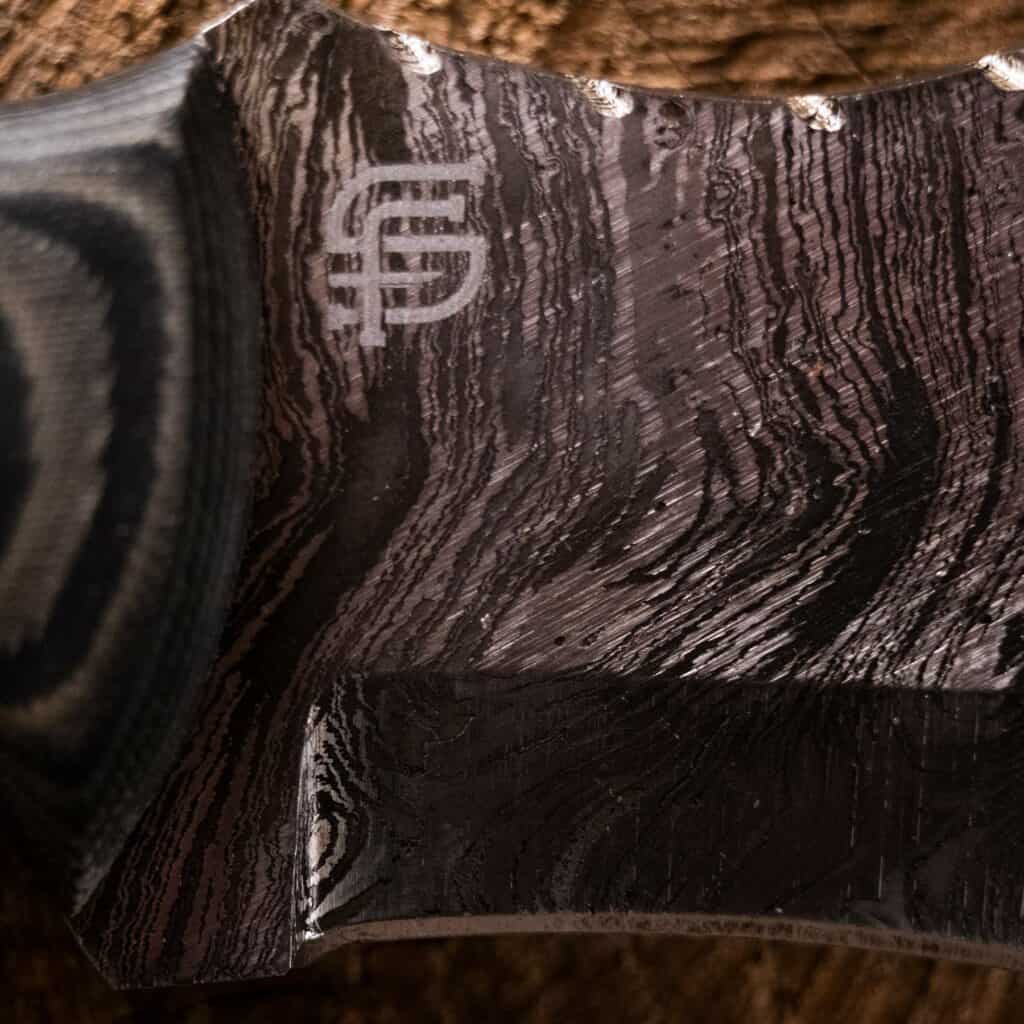 Forseti Steel is not a knife manufacturer. They import knives from Pakistan. Many of these knives are made according to Forseti Steel's specifications, and others are existing designs that meet Forseti Steel's quality standards. Once the knives arrive at the company headquarters in West Jordan, Utah they undergo a round of quality assurance testing, and they are packed in cool looking wood boxes.
If I was a smart knife reviewer writing a clickbait article, I would denounce Forseti Steel knives as crappy imports from Pakistan, and follow with a tirade denouncing all Pakistani knives as garbage. Then I would implore the reader to buy a Benchmade or Zero Tolerance, because that would prove I was a qualified knife reviewer with impeccable standards.
Unfortunately, I am not a smart knife reviewer. I am just a poor one with less than ideal traffic. One thing I have learned from testing hundreds of knives over the course of the last few years is that every country that makes knives has good craftsmen who care about their product. They also have folks that don't.
There is no doubt that the internet is clogged with terrible knife imports from all over the world, and a bit of research is required to ensure you get a decent knife. Forseti Steel steel is a good way to get a quality Damascus knife, because they do all the legwork, and they have a great limited lifetime warranty and excellent customer service. That doesn't mean that every knife is perfect, but if there is a problem the company handles it.
The Blade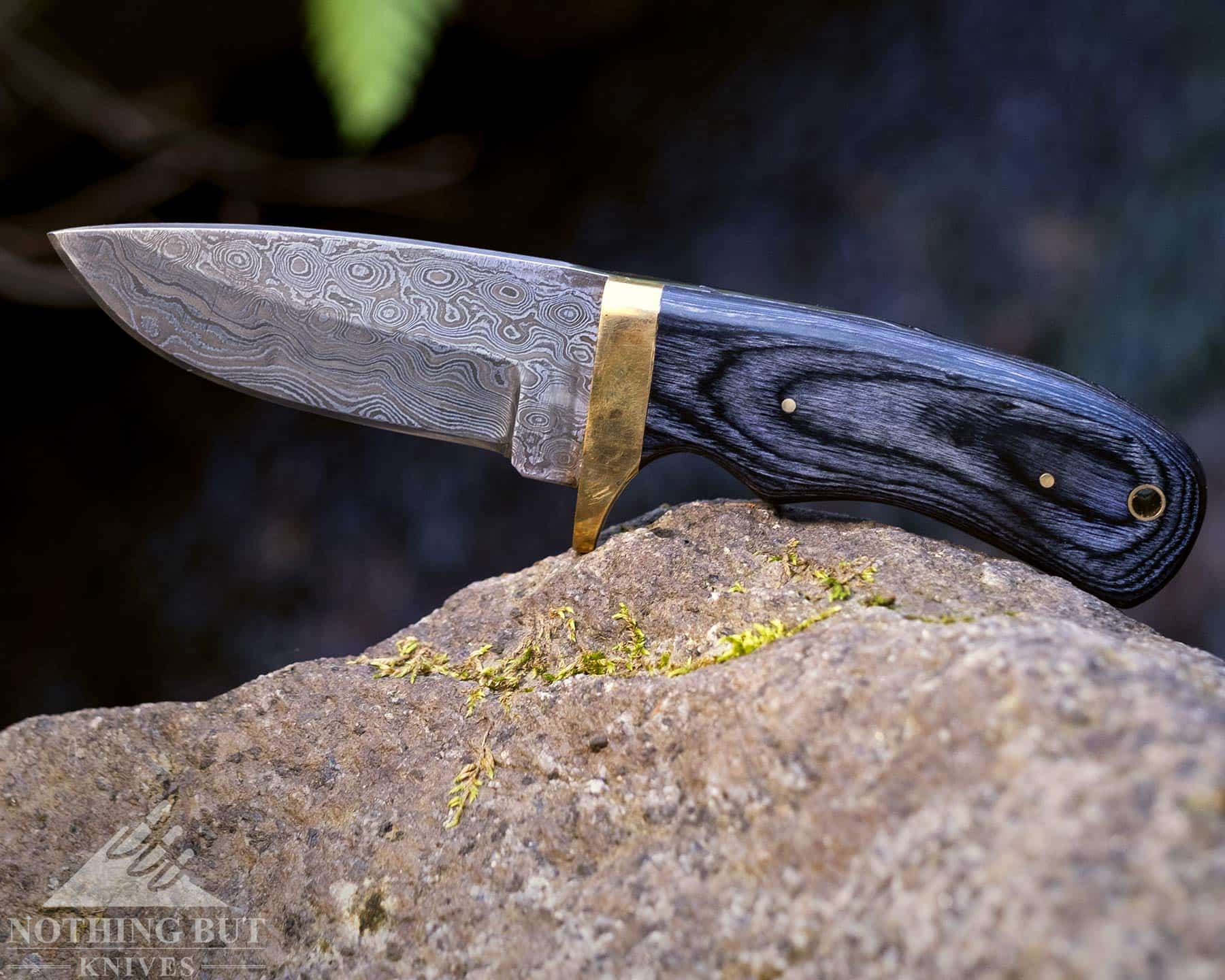 The first thing I noticed about the Jim Baker was the large ricasso between the finger guard and the beginning of the blade grind. It definitely decreases the actual cutting edge of the knife which is a bummer when performing tasks like food prep or light chopping. However the large ricasso did come in handy when I needed a spot to place my thumb or forefinger for added control when carving.
The hollow grind makes sense for the Jim Baker since it is designed primarily as a hunting knife. The grind is thin enough behind the edge that it slices fairly well, but not so thin as to seriously jeopardize blade toughness.
The blade is made of 1095 high carbon steel layered with 15n20 high nickel steel. It holds a decent edge comparable to other 1095 steel knives from most other brands. However, the edge retention did fall a little short of the 1095 Cro-Van steel that Kabar uses and the homebrew stuff from TOPS knives. This could be due to the heat treatment or the addition of 15n20 steel to the 1095 on the Jim Baker blade.
The high carbon content of the Jim Baker blade is great for edge retention, but it comes at the cost of bad corrosion resistance. This blade really needs to be dried after every use and wiped down with knife oil. That isn't abnormal for Damascus steel, though, and fortunately Forseti Steel ships a small bottle of blade oil with the knife.
The Handle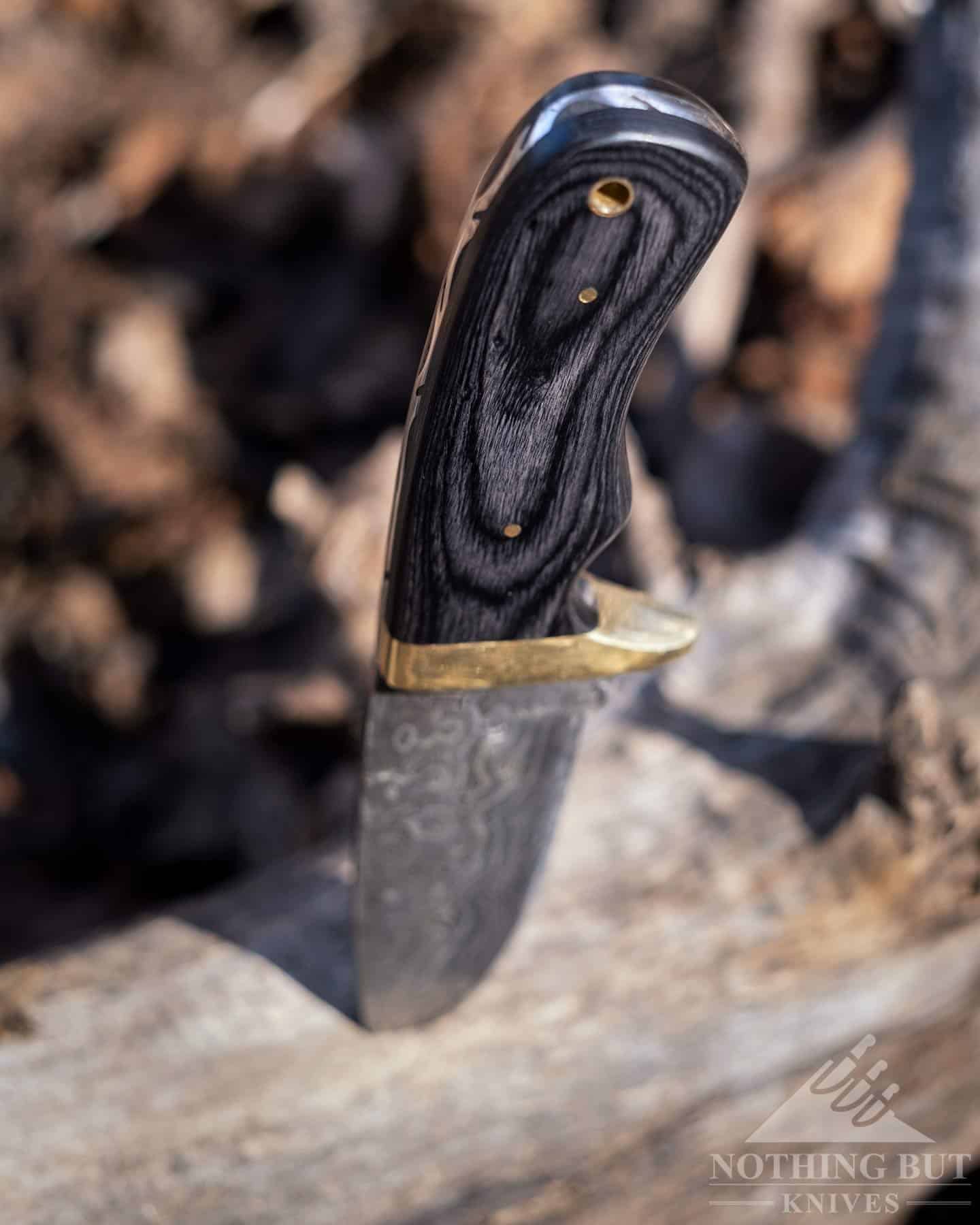 For the most part I found the Pakawood handle to be extremely comfortable. However, the front finger choil might be a little small for those with larger hands. I have average sized hands, and there were a few occasions when my index finger felt a little cramped while performing certain tasks. (Editor's Note: He was too busy using his average hands for the camera, but the hands in the picture below are close enough for reference.)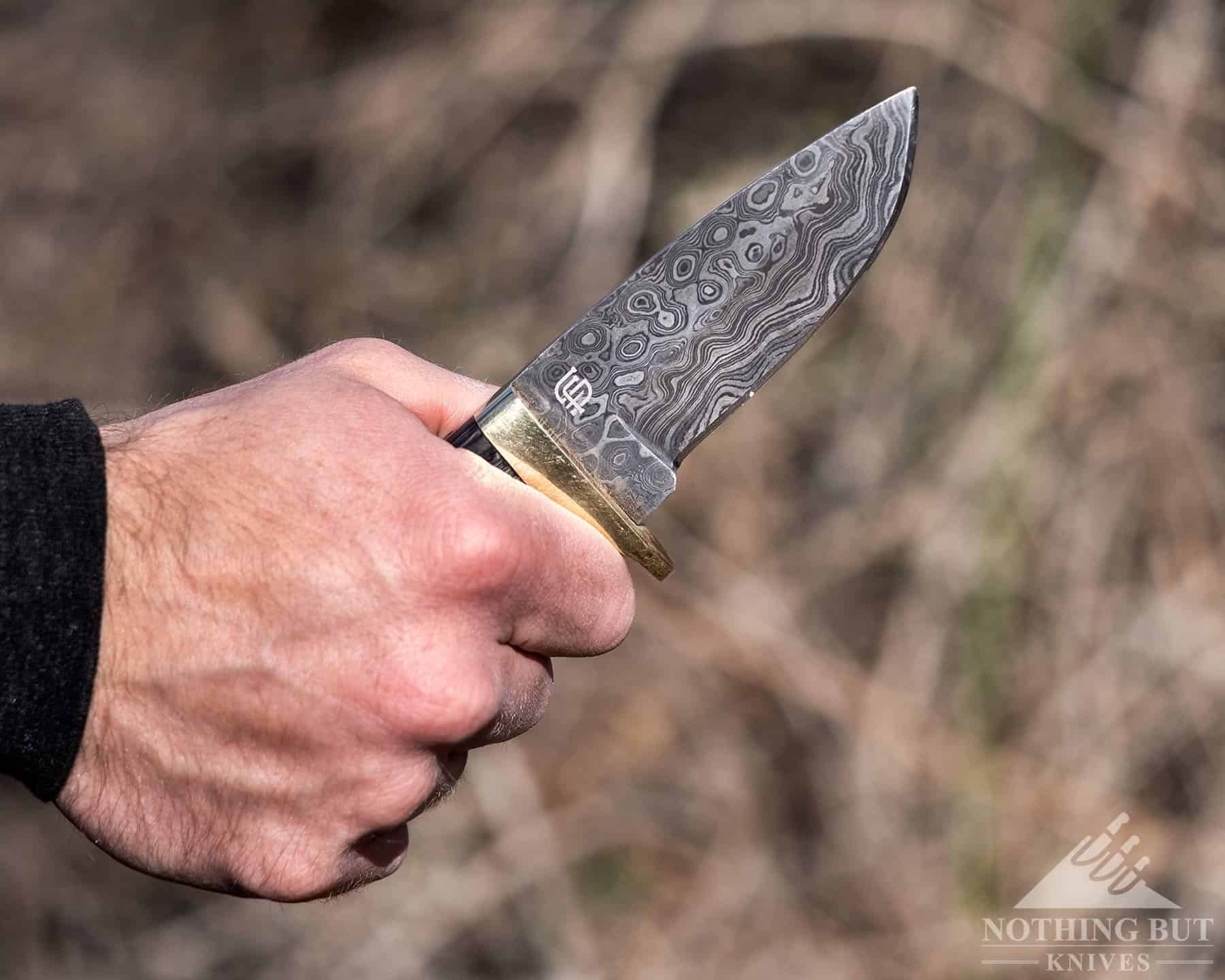 Since the handle is only 4.1 inches, the rounded pommel is a nice design feature. There is no discomfort on the back part of the handle due to poorly chamfered edges or a protruding tang. This came in handy when carving hard wood or making feather sticks. I did not experience any hot spots.
The Sheath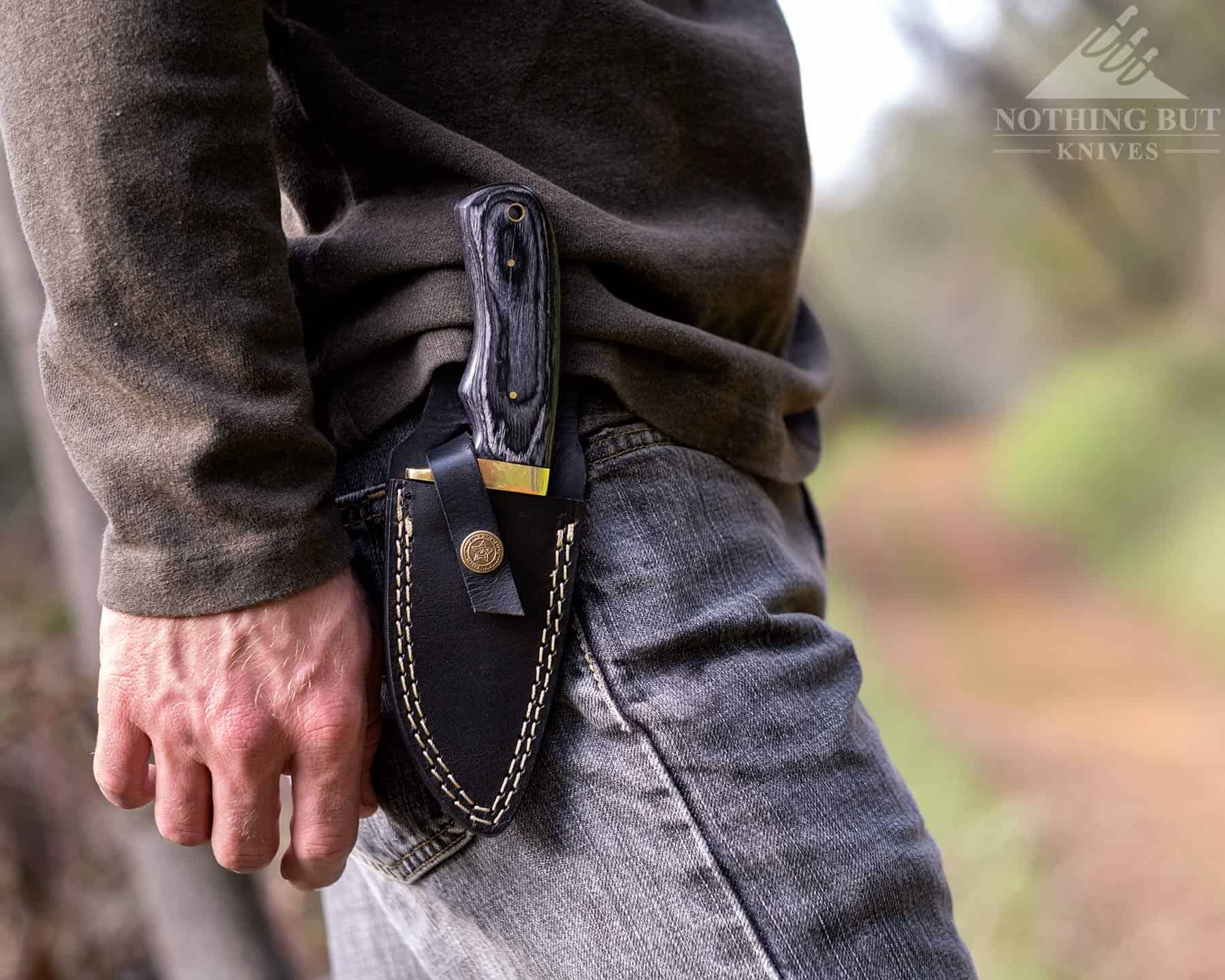 The black leather sheath is well built and holds the knife in place with almost no movement. Whoever designed the sheath found what I consider to be the sweet spot on the hip for a knife to hang. It hangs low enough to avoid poking into love handles, but high enough to avoid being bumped around by the top of the thigh when hiking. If you are type of person who likes to wear your fixed blades high, you will not be a big fan of this sheath. (Editor's Note: It really takes the fun out of mocking him when he brings up his own love handles.)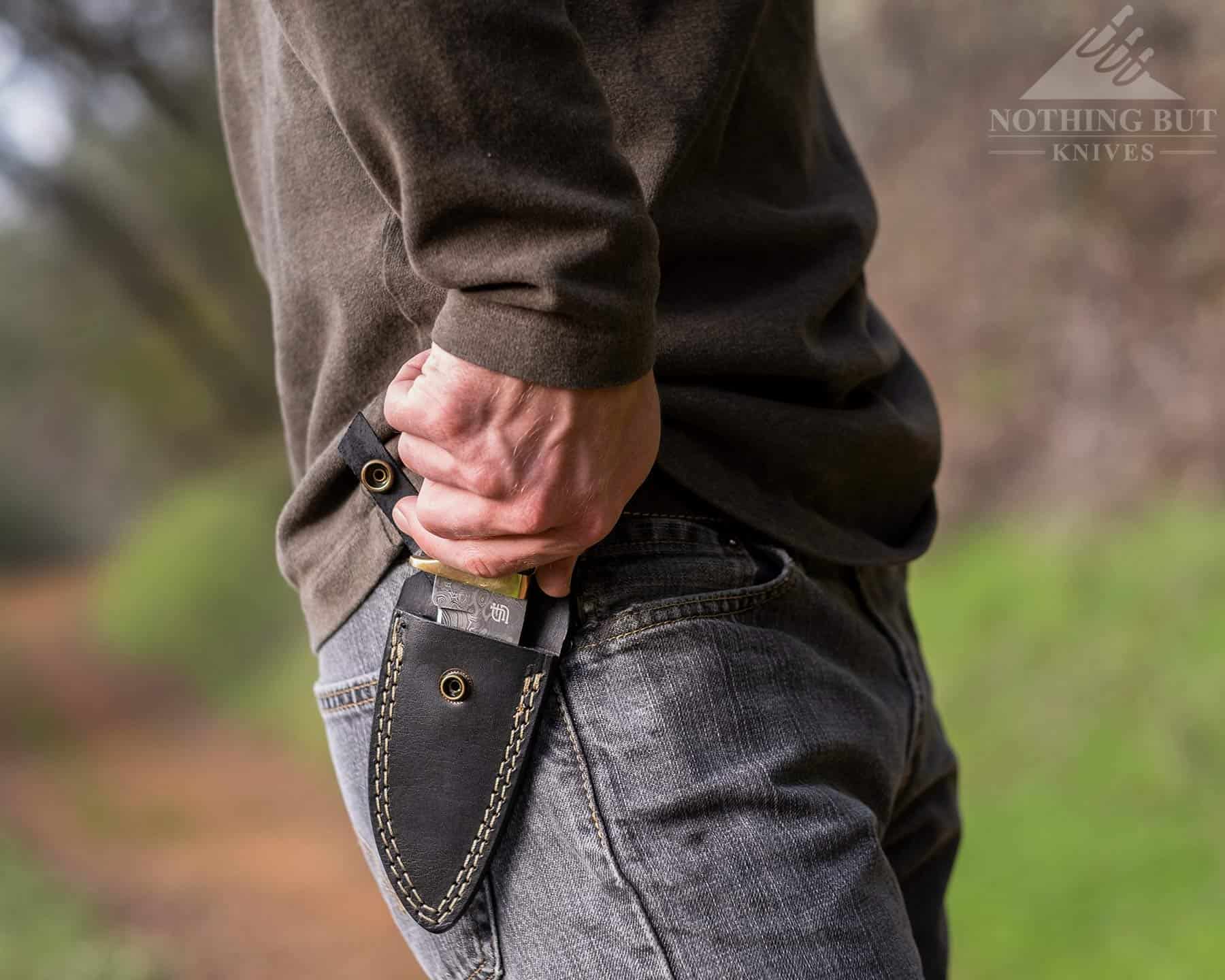 The clasp of the Jim Baker sheath snaps over the finger guard at an angle to hold the knife in place. This works out really well for easy one-handed removal of the knife, but it is a bit more problematic when trying to re-sheath the knife with one hand. The finger guard and the clasp tend to get tangled when trying to quickly place the Jim Baker back in its sheath. It gets easier with a little practice, but I personally would have preferred a horizontal clasp higher up on the sheath similar to the Buck Compadre sheath.
Field Testing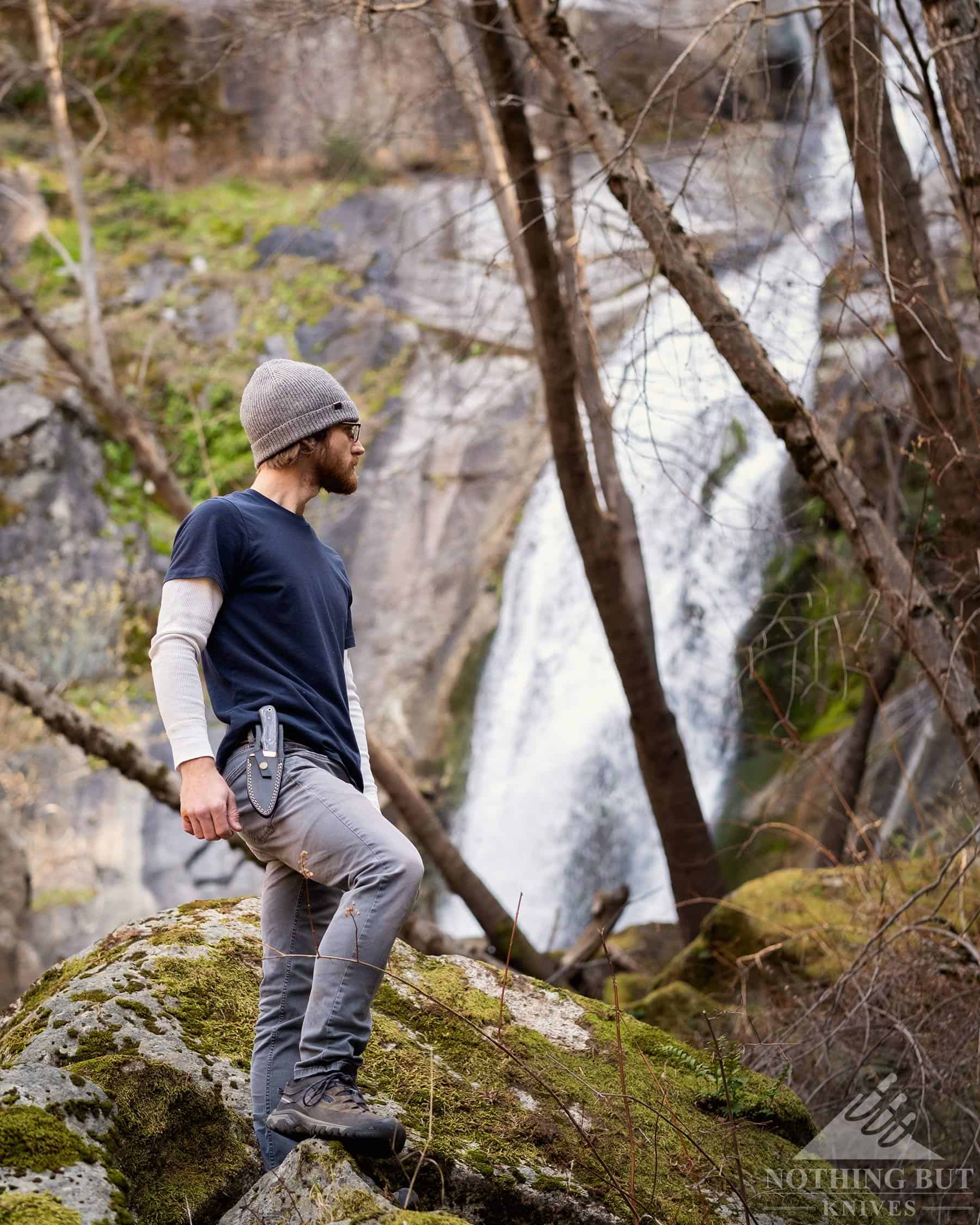 We took the Forseti Steel Jim Baker on a few different camping and hiking trips to test it out. It performed well most of the time. It certainly wasn't as good at bushcraft tasks as a dedicated modern bushcraft knife would be, but the Jim Baker was primarily designed for hunting. (Editor's Note: For hunting and for hip decoration while you stand really still and attempt to stare at stuff in a way that makes you look more capable than you actually are.)
Overall I would say the Jim Baker makes a good camping knife. It handled carving, food prep and feather sticking fairly well. It even throws a generous amount of spark with a ferro rod if you ever want to use it to start a fire.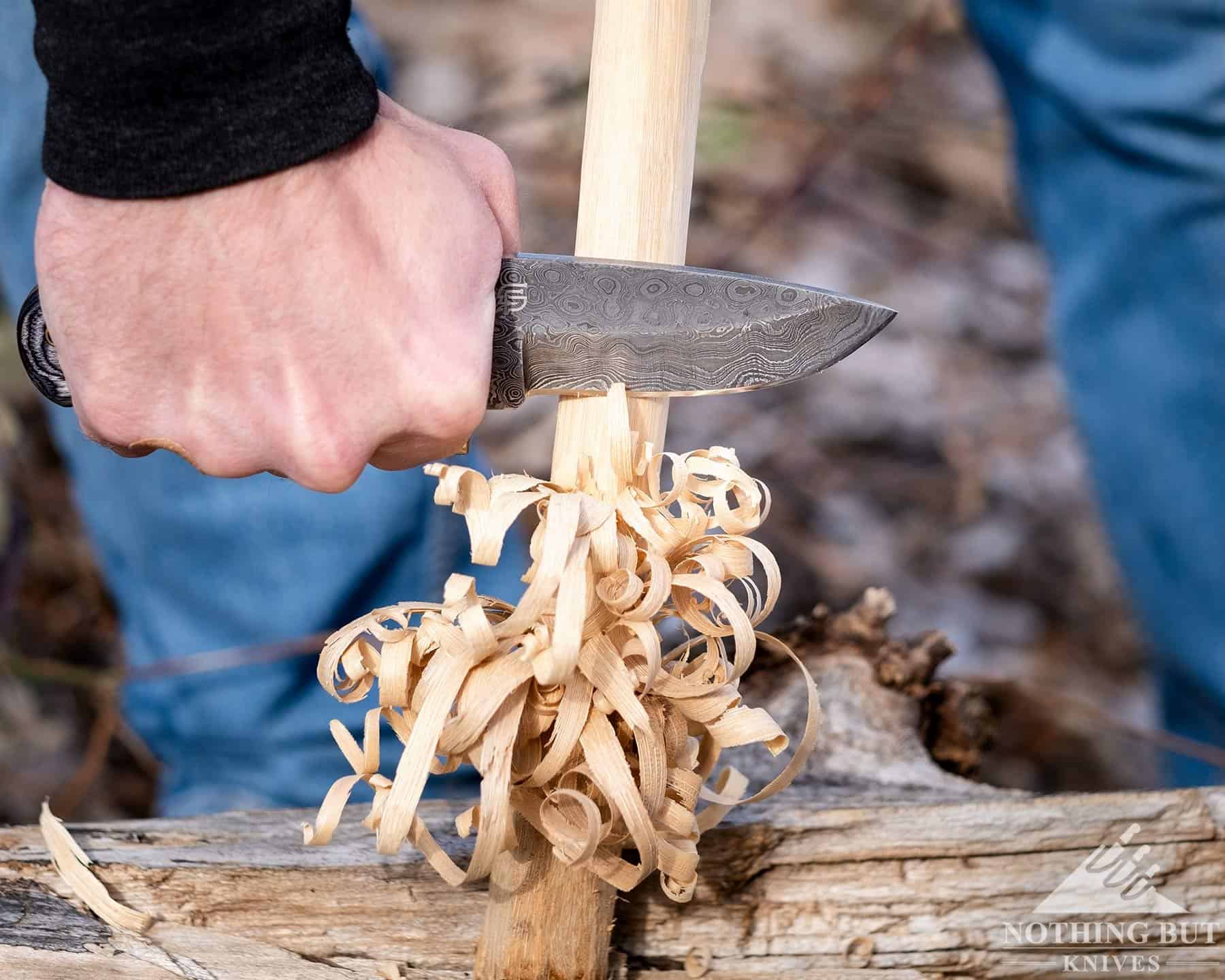 The hollow grind blade of the Jim Baker makes it less than ideal for feather sticking, but we still managed to makes usable feather sticks with it. The well rounded handle was great for this task. We didn't experience any hot spots or hand discomfort.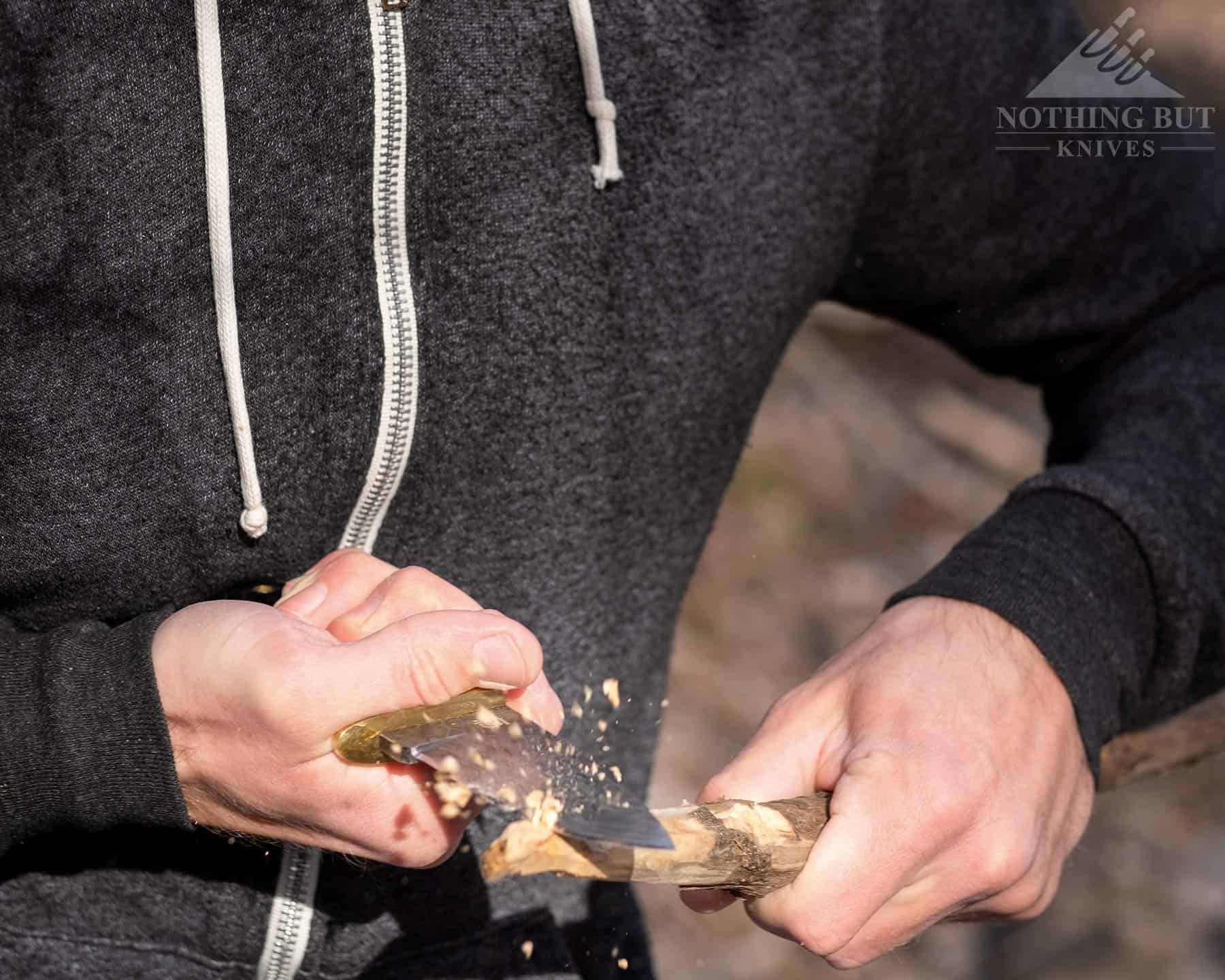 The Jim Baker was tough enough to handle all the camping type tasks we threw at it. It worked well for carving a tent stake, making hot dog sticks and chopping small limbs of a large branch. The blade is a little on the short side to really excel at camping food prep, but it gets the job done.
The blade holds its edge well compared to stainless steel camping / hunting knives like the Buck 119, but it loses its edge quicker than the modern super steel knives like the Bradford Guardian.
We were not able to go hunting while reviewing this knife, but there are several positive consumer reviews online from hunters.
Conclusion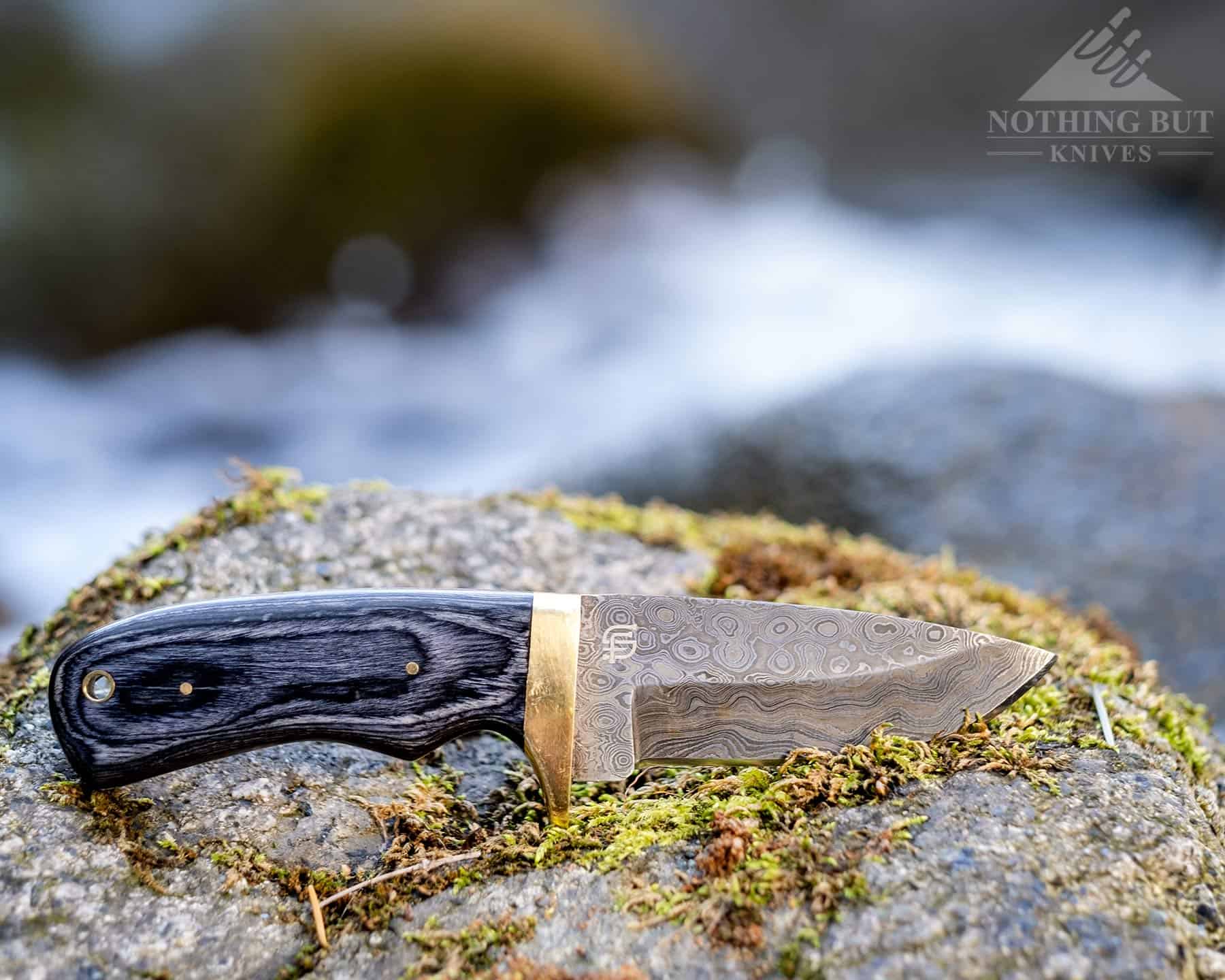 The Forseti Steel Jim Baker has a great classic look. This is cool for those of us who like classic looks. Obviously looks are subjective, so the Jim Baker aesthetic may not be your thing. Since you read this much of the review though, I am going to assume you like the look of the Jim Baker.
The Damascus pattern, wood grain handle, and brass finger guard combine to make this Forseti Steel knife a piece of art in its own right. Fortunately it is a piece of art that is also capable of hard work. It doesn't quite match knives like the Bradford Guardian or Ka-Bar Becker BK18 from an overall performance standpoint, but it is close enough to justify pulling the trigger if you like the look.
The Jim Baker is a capable knife. If it was going to be your only knife or even your only fixed blade, I probably wouldn't recommend it. But lets be honest. You have lots of knives and you're going to buy many more, because you are the type of person who reads long boring knife reviews. For folks like you the Jim Baker is a great addition to an ever growing collection.
If you like the idea of a Damascus steel fixed blade, but you want something a little bigger and a littler weirder, check out our review of the Forseti Steel Ironside Tracker.