A Great EDC Kukri Flipper with a Taiwanese History
This knife was smaller, heavier, and thicker than I expected. That isn't exactly a new experience for me. Shapes can be deceiving, and what seems to be thin and tall at a distance ends up having an entirely different range of curvature and weight distribution from anything you could have reasonably expected at first sight.
I would go further to make a joke here, but my wife does occasionally read my reviews, and as much as I enjoy camping, I also like having the option to come back.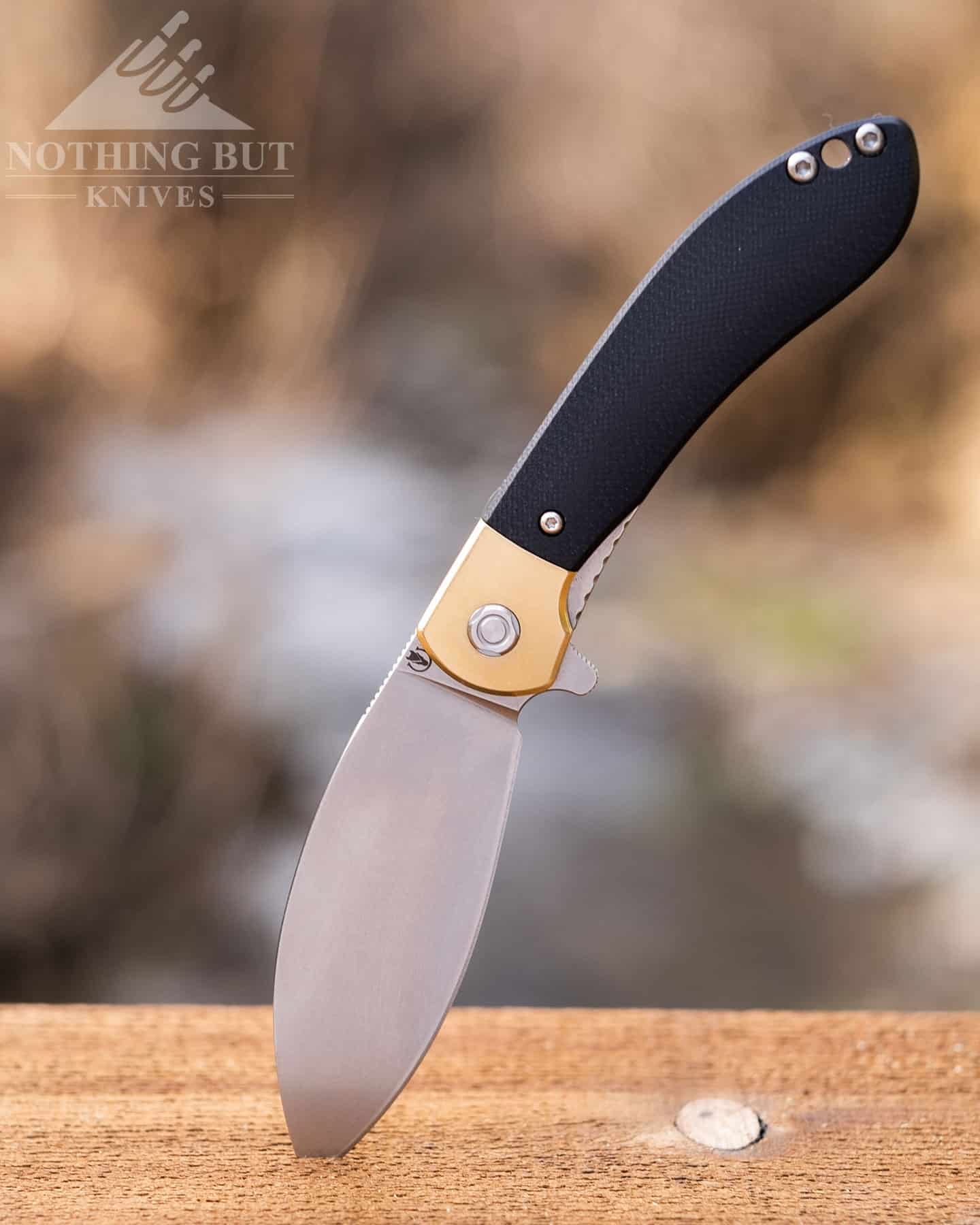 If I had to stay outside a while, though, the Vosteed Nightshade would be a good companion. That surprisingly fat, heavy handle turns out to be incredibly comfortable, and the leaf-shaped blade has a screaming edge that's essentially a free-floating zipper device for cloth and cardboard.
It's also a pretty decent modernization of the Shilin Cutter design and a strong addition to the steadily growing line up at Vosteed.
Specifications
| | |
| --- | --- |
| Overall Length: | 7.48" |
| Blade Length: | 3.26" |
| Blade Steel: | Bohler M390 or 154CM |
| Hardness: | 60 HRc |
| Open System: | Flipper |
| Blade Thickness: | 3.0 mm |
| Blade Shape: | Shilin cutter |
| Blade Grind: | Full flat |
| Handle Length: | 4.22" |
| Handle Material: | G-10 w/ brass bolster or full G10 |
| Lock Type: | Liner |
| Weight: | 4.16 oz |
Pros
Very sharp
Butter smooth action
Comfortable handle with great grip security
Good, modern execution of an older design
Cons
Heavy for its size
The big belly makes edge maintenance a little harder
Pocket clip is right-side only
Who the Hell is Vosteed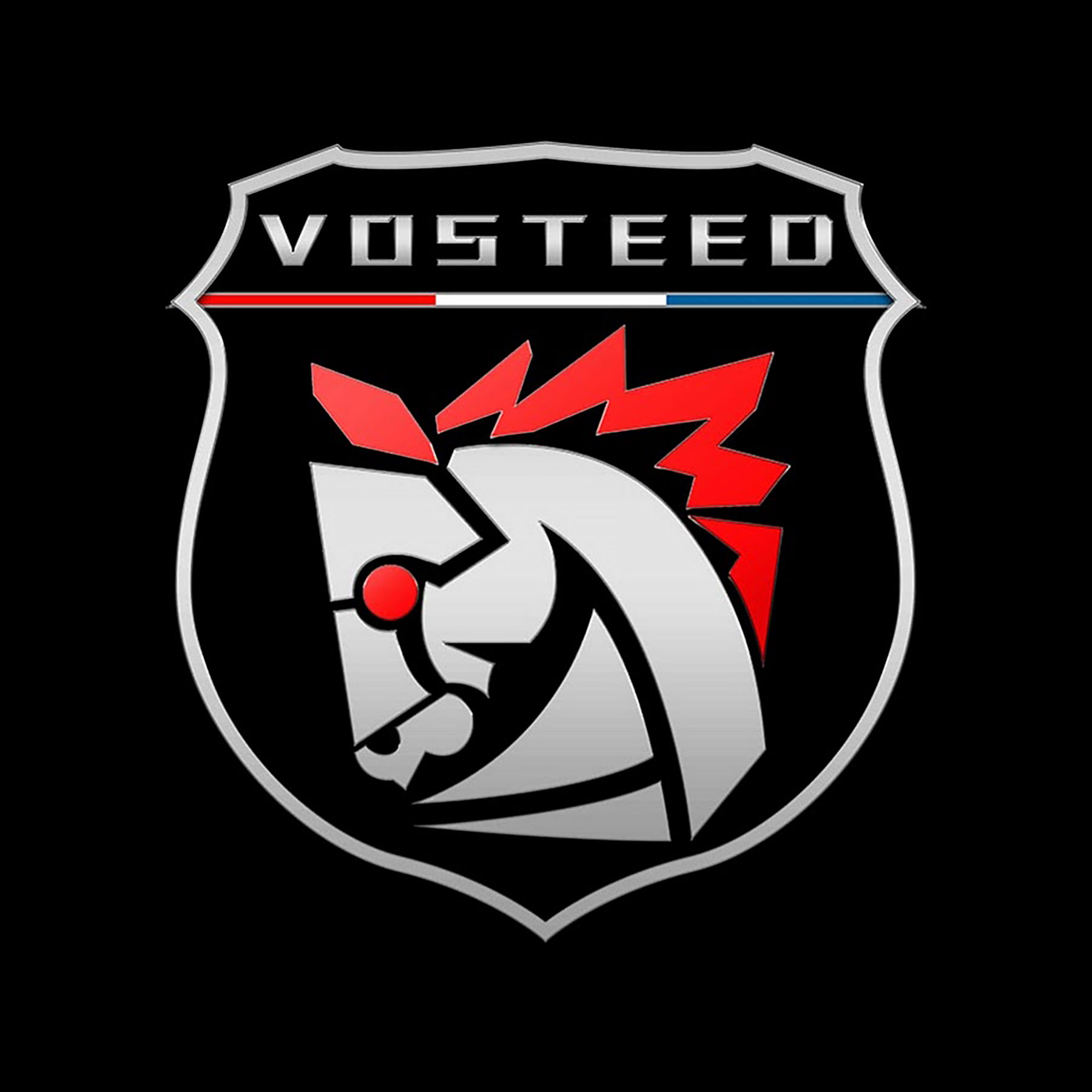 This company is a new kid on the block, but the founders are not. In fact, co founder Yue Dong (aka Doctor EDC) was one of the engineers for Kizer before starting this company. You might have seen his name mentioned in relation to the button lock system in the Kizer Cormorant.
Back in 2021 the Vosteed cofounders launched the Kickstarter for their first knife, which was a pretty unique chef knife. They've since released a couple other knives including another kitchen series and a more hunting-oriented folder. I'm guessing they're using the Kizer factory as their OEM (the action on the Nightshade certainly feels like Kizer action), but I don't have a source to back that up. Whoever they're using is doing great work, though.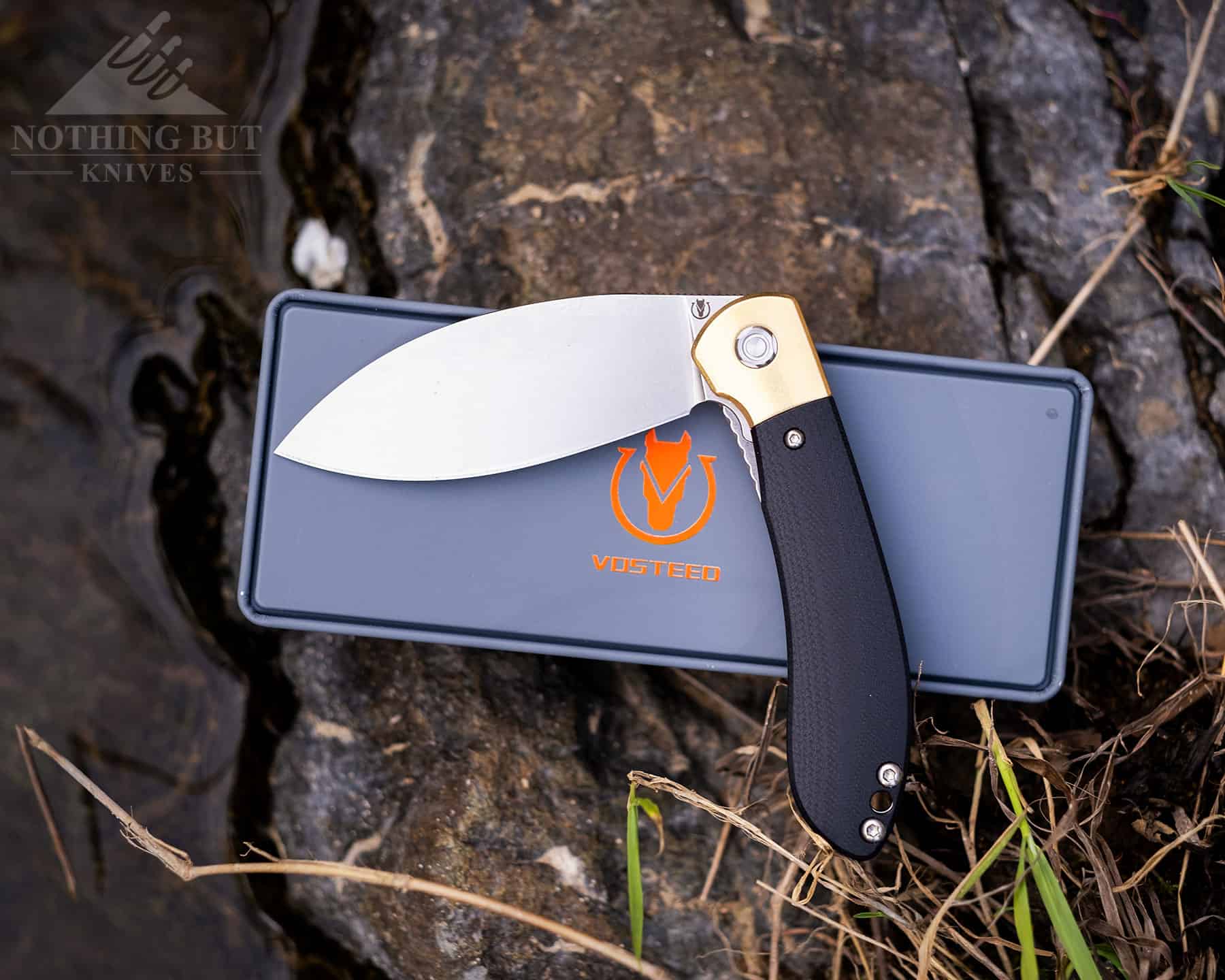 Normally it would be easy to write Vosteed off as another Chinese knife company with a knack for pandering to American EDC hobbyists (and they definitely do fit that category), but damn it if I don't see some genuine love and originality in each of their designs. If the Nighshade is any indication, they're making the kind of stuff that you pick and just immediately know it was designed by a knife nerd.
Vosteed has a pretty fun (and large) Facebook group going. If you want to learn more about the company and their products, or just want a place to talk about knives it'ss worth checking out.
The Nightshade Lt and Model Variations Update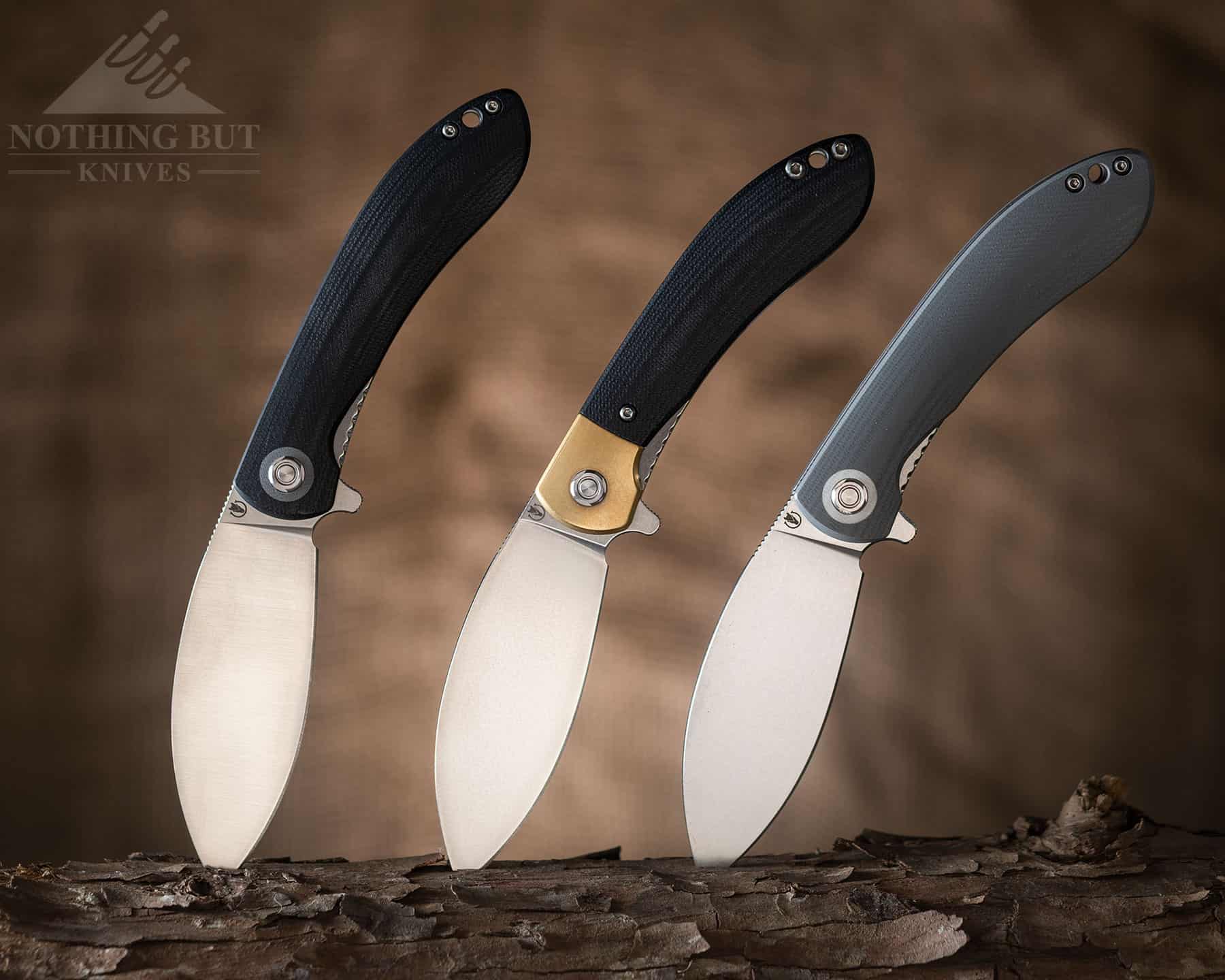 Vosteed sent us the limited edition version of the Nihtshade when it first came out, which has that cool G-10 with brass bolsters combination, and Bohler M390 steel. But Vosteed has been really active in playing with variations on this design. They now make the Nightshade LT, which has full G10 scales and a 154CM blade, and the Nightshade TH version, which has a thumbhole instead of a flipper tab.
The dimensions and grinds between all these versions are identical. The main differences will be in long term performance of the steel and the price (and ergos in the case of thumbhole version, obviously). The M390 is a pretty incredible steel both for wear resistance and ease of sharpening, but 154CM is plenty tough and workable and it brings the price down significantly.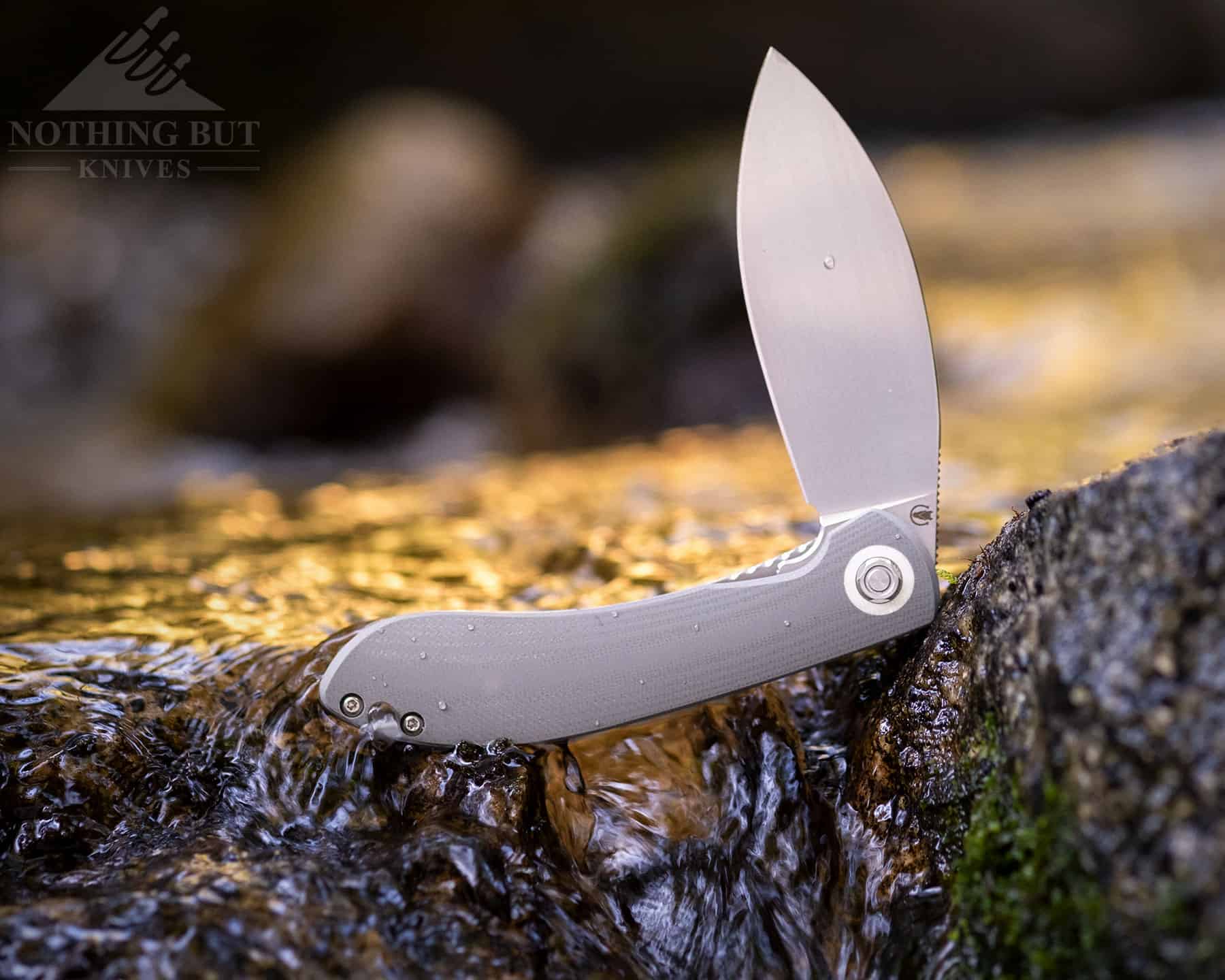 So a couple of fair warnings:
We received several versions of the knife for free and I don't know to what extent that affected how much I love almost everything about the design.
Some of the pictures you see on this review might be of a version you can't get.
I have a feeling that this knife will be to Vosteed what the PM2 is to Spyderco or the Bugout is to Benchmade, meaning there's a good chance they'll release a dozen variations of it over the years. I doubt the Nightshade Lt will be the last "new version" update we add to this review.
The Handle and Pocket Stuff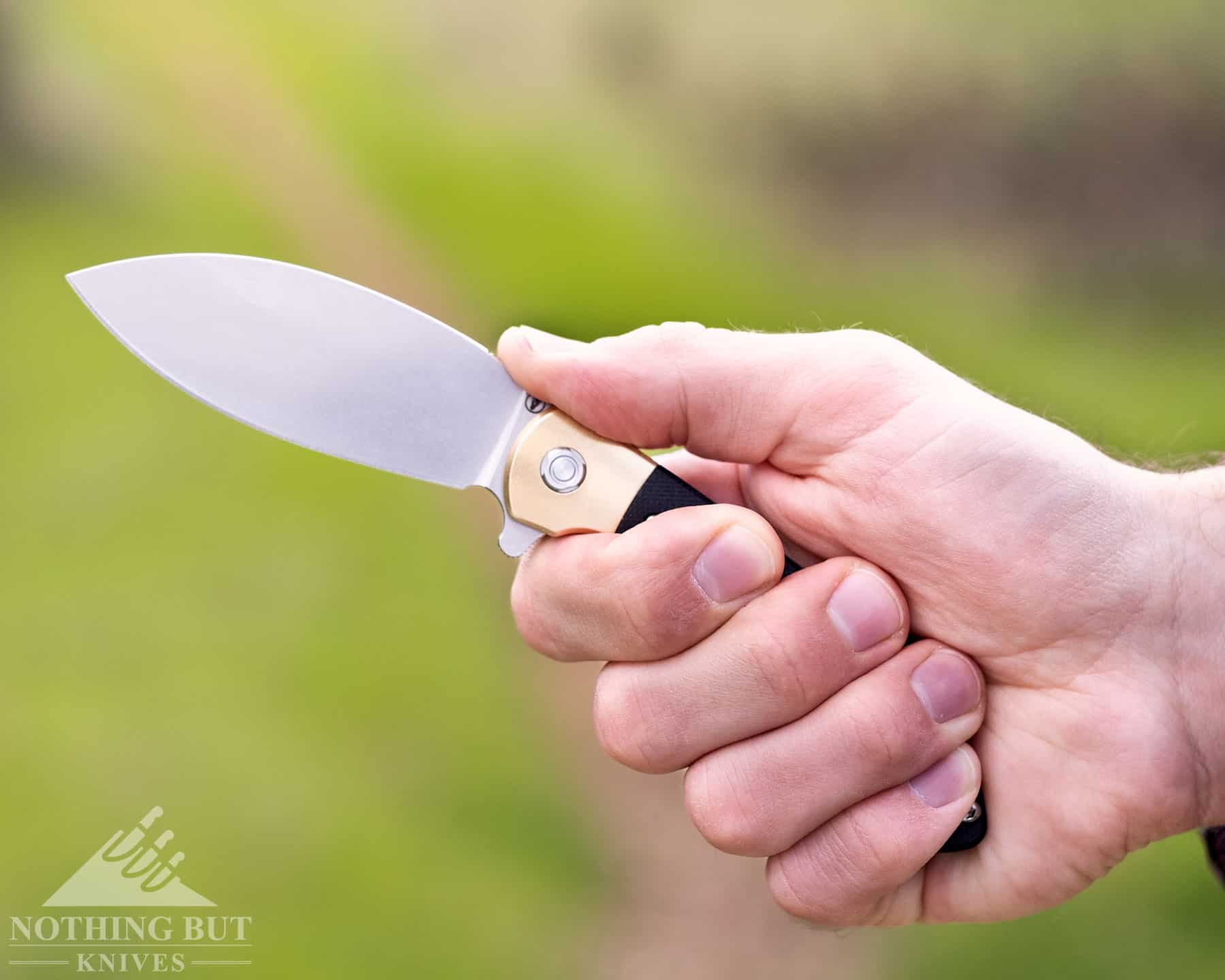 I like the weight of this. It makes the knife look inefficient on paper (ounces-to-blade ratio and all that), but the tactile experience of holding and using the Nightshade is worth the extra ounces. It feels great in a full grip because the handle is so thick, and even though there's not a whole lot of jimping, the scales have a good texture that makes them just grippy enough.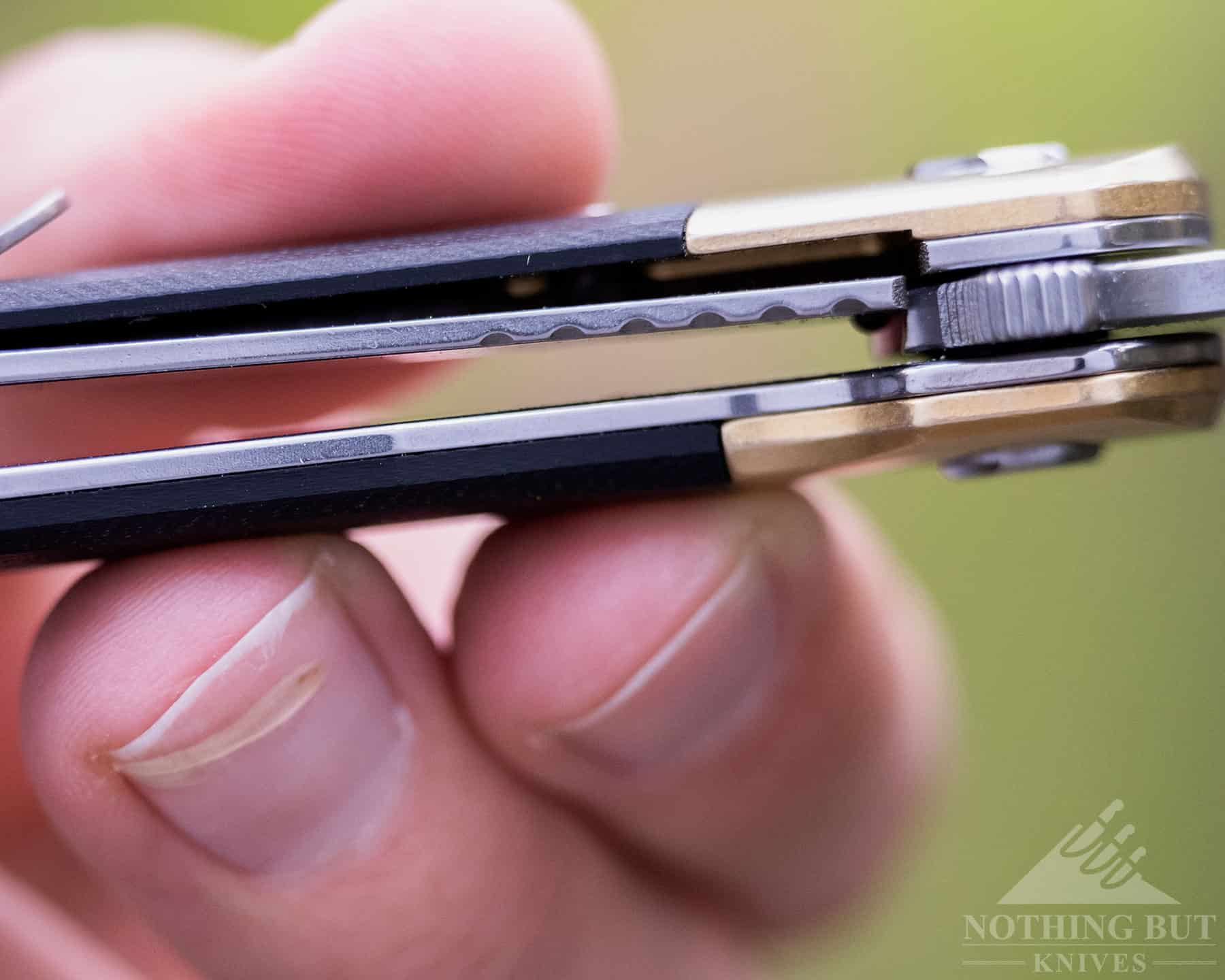 They did try to do some weight management on this. The liners have a bit of milling work, but they are massively thick. They probably account for a good third of the handle thickness, which is off the charts for a 3-inch folder. Especially one with this thin of an edge on the blade.
The fit and finish is nice but not seamless. The transition from the bronze bolsters to the scales feels a little rough, and none of the screws are flush (I don't think they're meant to be). But, my god, this is nice to hold.
I should probably add (as an updated aside) that the Nightshade LT doesn't have that same satisfying heft, but it does feel smoother and a little more deft. It feels a little odd to me because I got so used to the brass bolster, but speaking empirically (or attempting to), the full G10 scales make the design feel much more streamlined.
Ergonomics and the Dangerously Smooth Action
The Nightshade is a fidgety knife with an action that's so smooth it's almost therapeutic.
The combination of the shape and smooth action does kind of invite you to slam the blade closed on your fingers if you're closing it one handed, though. Between the big belly of the blade and the inward curve of the handle, there isn't a whole lot of starting distance between the blisteringly sharp edge and the thumb that disengages the liner lock. Add to that the fact the liner disengages ver smoothly and that this very much has drop-shut action, and you have a fun little game of "Do I get to keep my thumb today" every time you close this knife.
I still have mine, but I would caution new users to take it slow with the Nightshade at first, no matter how much the knife seems to invite you to do otherwise.
In the Pocket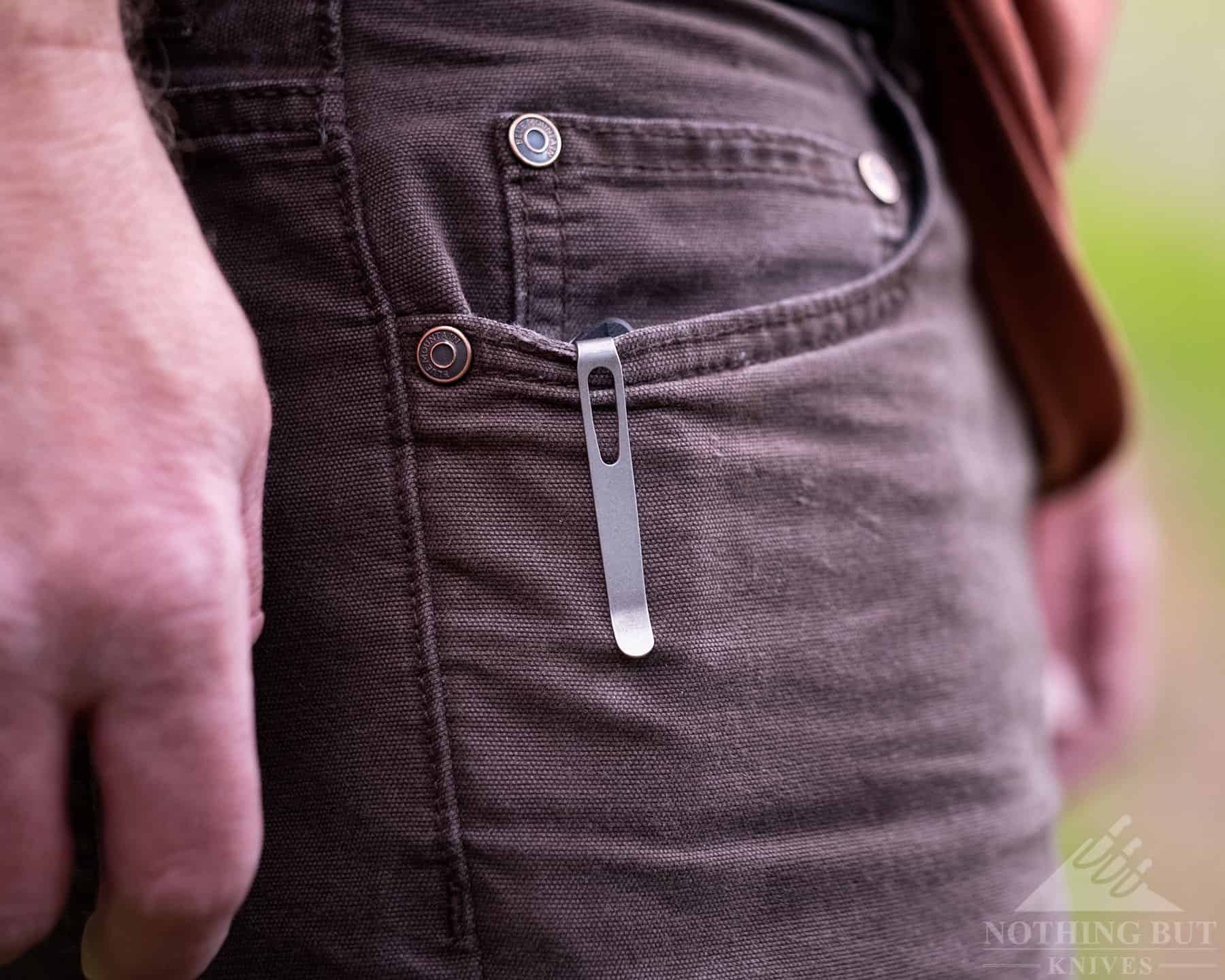 This is a super comfortable deep carry knife. I barely feel it in the pocket, even with the weight, and it's easy to grab onto and pull out fast. They've also done a great job of angling the clip so the prominent flipper tab stays away from whatever else is in the pocket.
There's maybe bit too much of a bend at the point of the clip, and the retention isn't quite tight enough for my tastes. It slips smoothly into the pocket and rides very well, but I'm wary of the day this gets snagged on something.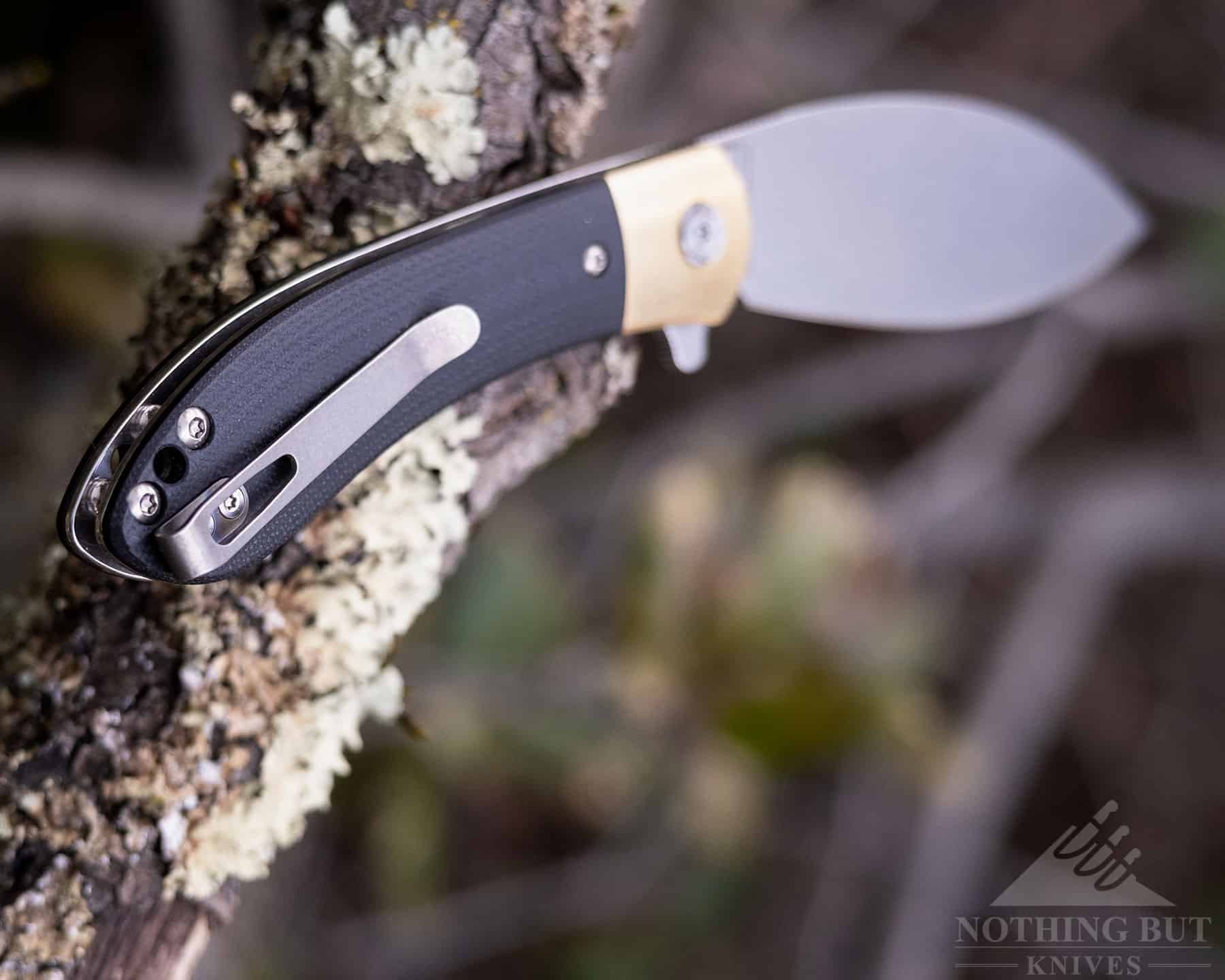 I haven't had any unfortunate interactions with branches, cords, or door frames yet, so the clip has remained unmarred, and the knife has stayed pretty reliably in my pocket. I don't know if this is a sign of personal growth on my part, or if it's mostly thanks to the low profile of the clip. Either way, I'd feel more comfortable if the tip of the pocket clip didn't bend up quite so high.
It also isn't reversible, but they did mill out a recess for the clip's base so it sits almost flush in the scales. Left handers are out of luck, but it creates a fantastically smooth experience for the rest of us.
The Blade and Tricky Edge Maintenance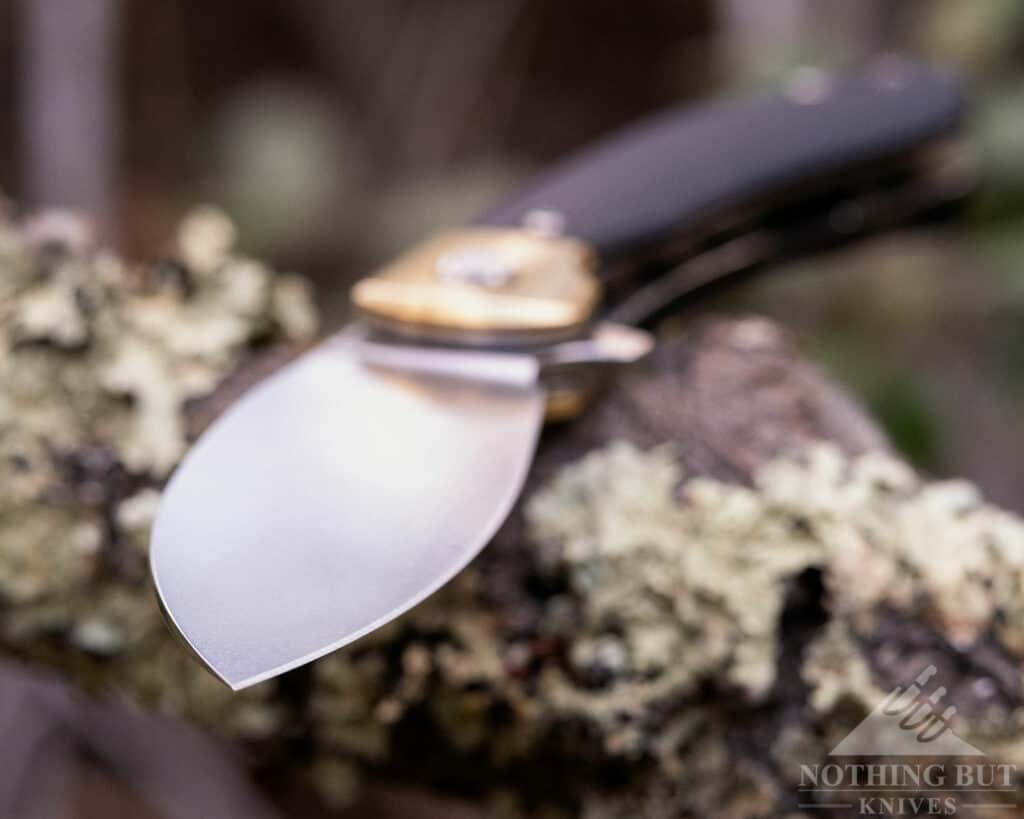 The Nightshade has a biting edge with a full flat grind. It did push cuts on paper right out of the box, and has been one of the best box cutters I've ever used.
I broke down five medium sized boxes with this, and it basically felt like I was cutting through fat paper. That constant curve running through the handle and blade puts an enormous amount of leverage in the hand, so that I don't always realize how much pressure I'm applying to something until the blade gets through and my hand goes flying out of alignment.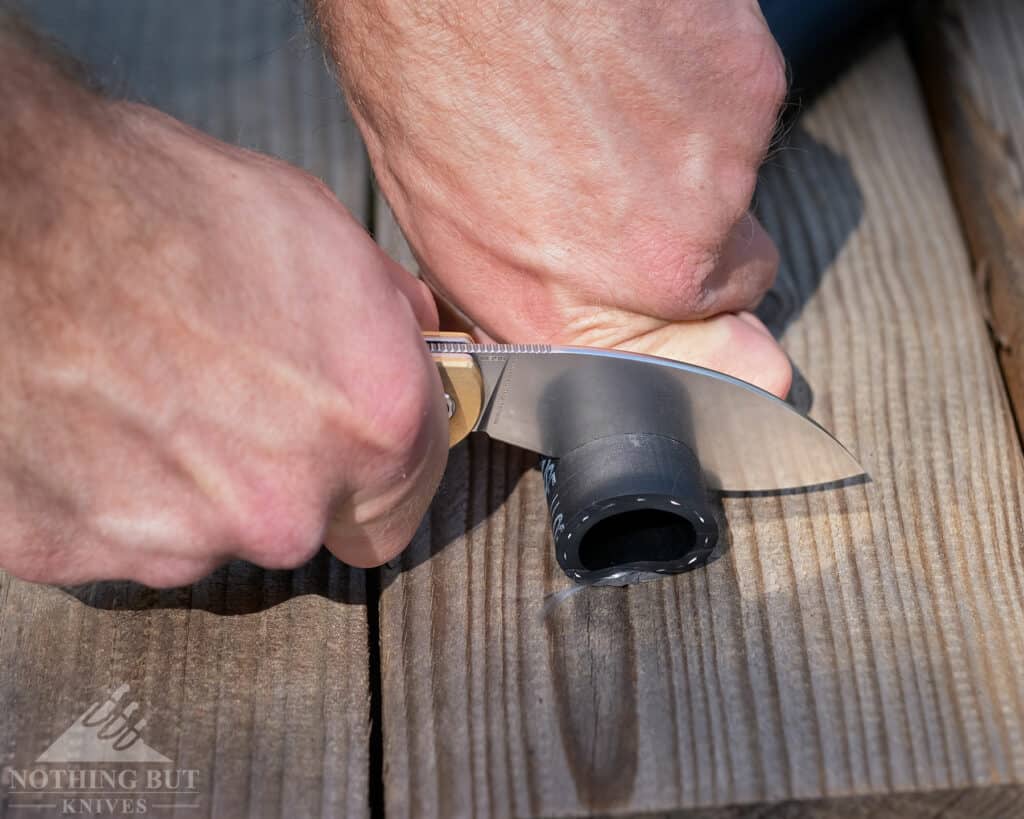 It also feels like they have the heat treat on M390 dialed, because I didn't notice much change on paper tests at all after I was done with the boxes. I finally got the edge to blink on a rope, but it took thirty cuts before paper tests started feeling rough.
The big belly of the blade makes it a little harder to clean up the edge, but I think most people who are used to using hunting knives like nessmuks or anything with a recurve should be familiar with the nuances of honing and sharpening a blade like this.
I did finally manage to get this back into decent cutting shape with a few dozen passes on a honing rod. I haven't felt the need to strop this yet, though. And considering how much I've used it over the past couple of weeks, that's pretty damn impressive.
Somewhere in Between a Paring Knife and a Skinning Knife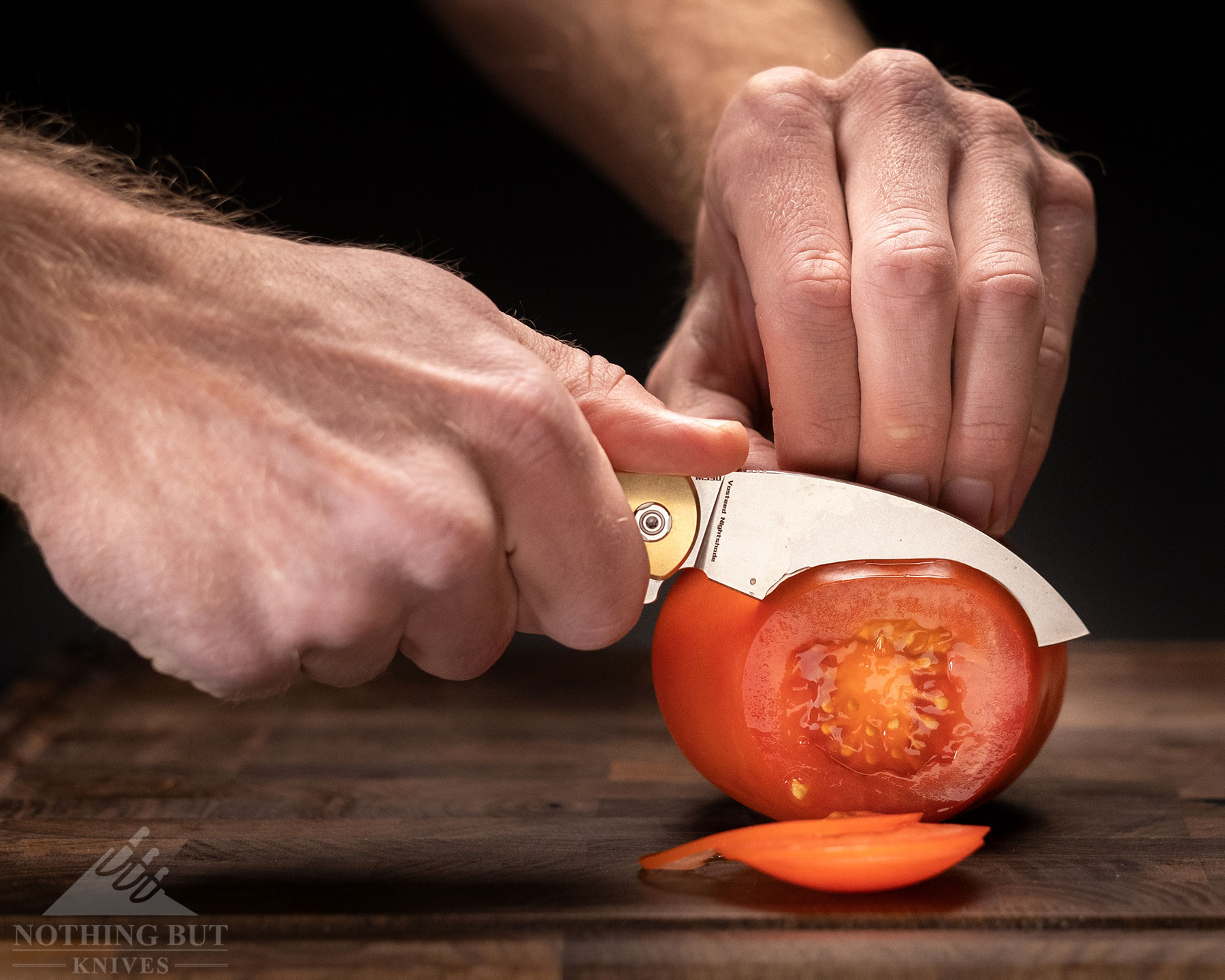 Because of how thin the edge is, I really wanted to use this for food prep tasks, but the shape took me a little while to get used to. It gives you plenty of knuckle clearance if you're fine with only using the top third of the blade, but the leaf shape isn't ideal for push cuts, and rock chopping becomes a different motion altogether.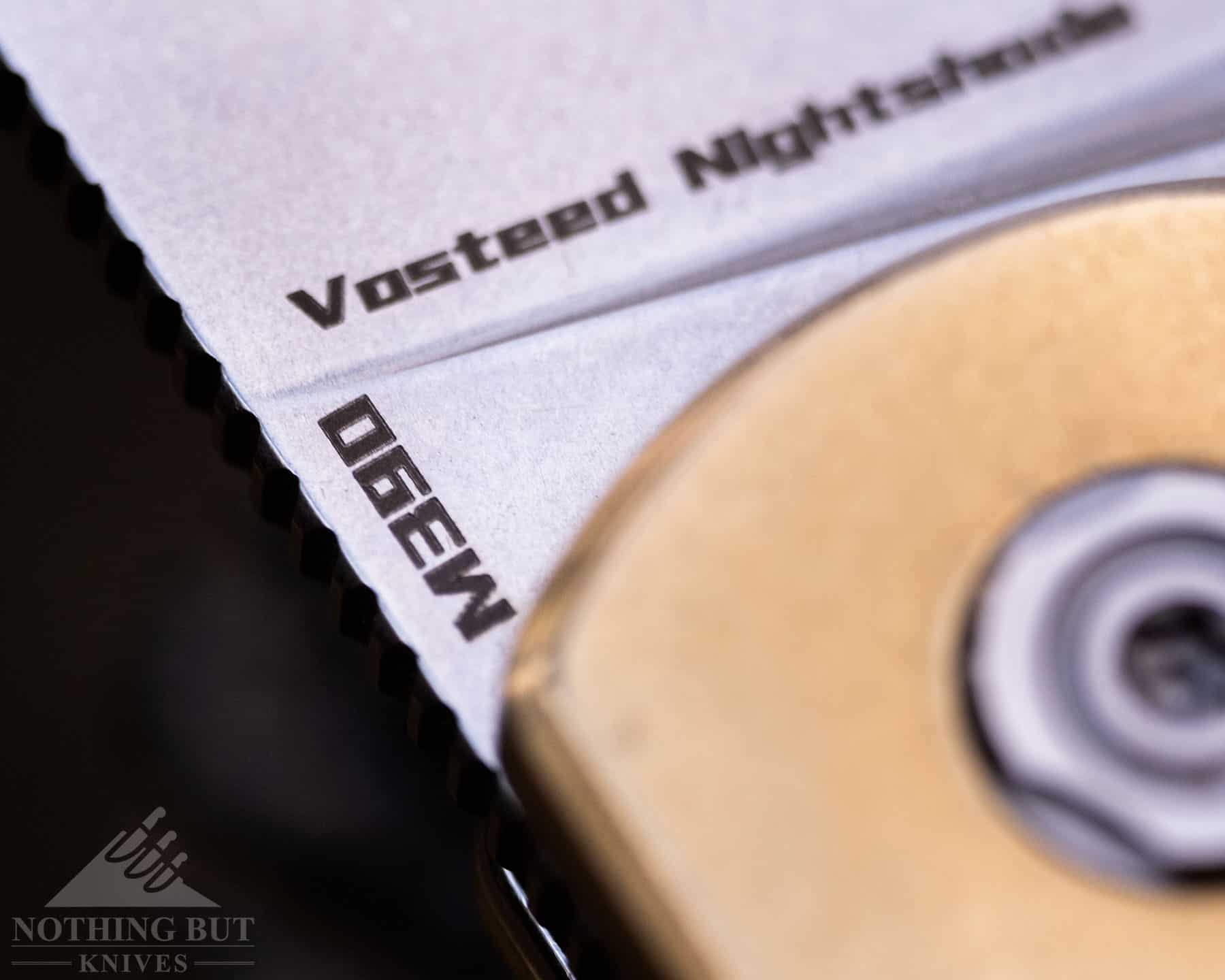 The shape and edge on this lend themselves pretty well to doing draw cuts on a table, though. And since it has a bit of a skinning knife shape it ended up being really nice to use on meat, whether that was cutting a steak into slices or breaking down pork shoulder or even whole chickens.
I was a little nervous about using this particular combination of M390 with a thin edge so close to bone, but the handle makes it easy enough to control where the blade is going that I got over that discomfort pretty quickly.
The Shilin Cutter DNA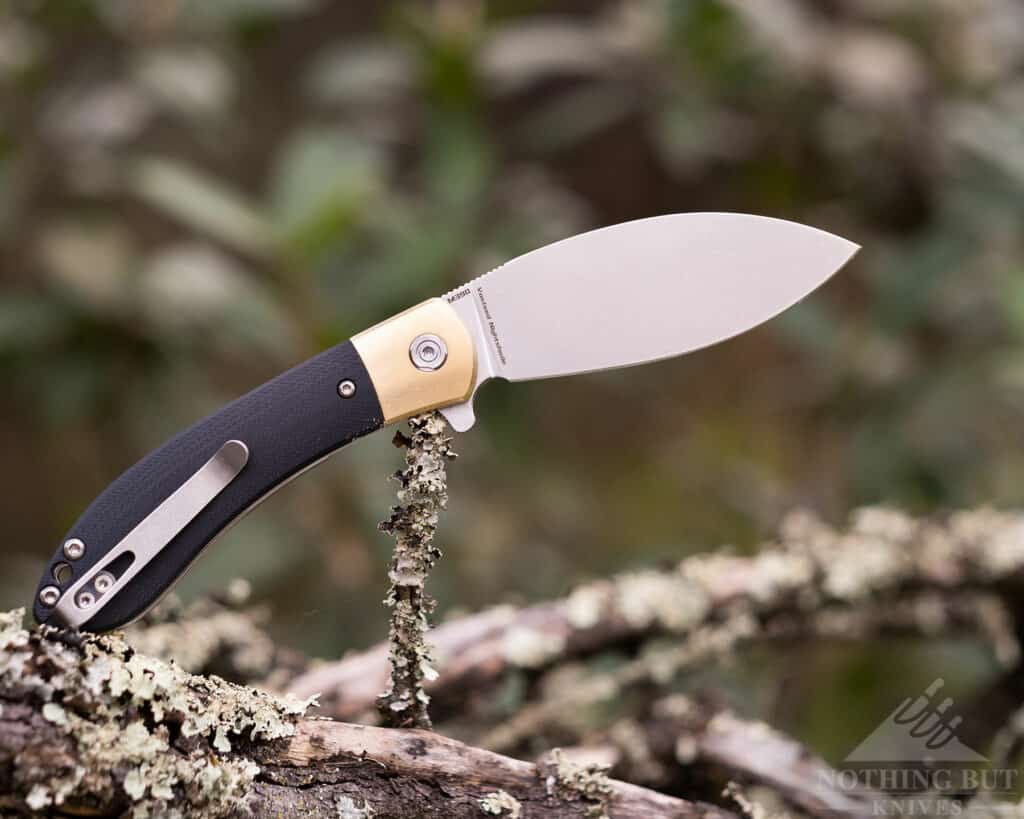 Vosteed claims this is a kukri / Shilin cutter fusion, which sounds cool, but the kukri designation is a little misleading. Mostly because people seem to immediately associate "kukri" with "eastern fight-y knife".
Part of me wonders if Vosteed called it a kukri fusion as a marketing move, because this looks entirely like a Shilin Cutter to me. It doesn't really have the recurve shape I would expect from a kukri. There's nothing wrong with that, except it does make me feel like I need to emphasize that the Nightshade does not fall into the brutal chopping range of use like any traditional kukri would. It follows closely in the footsteps of the Shilin Cutter as a pocket knife to slice things up on the job.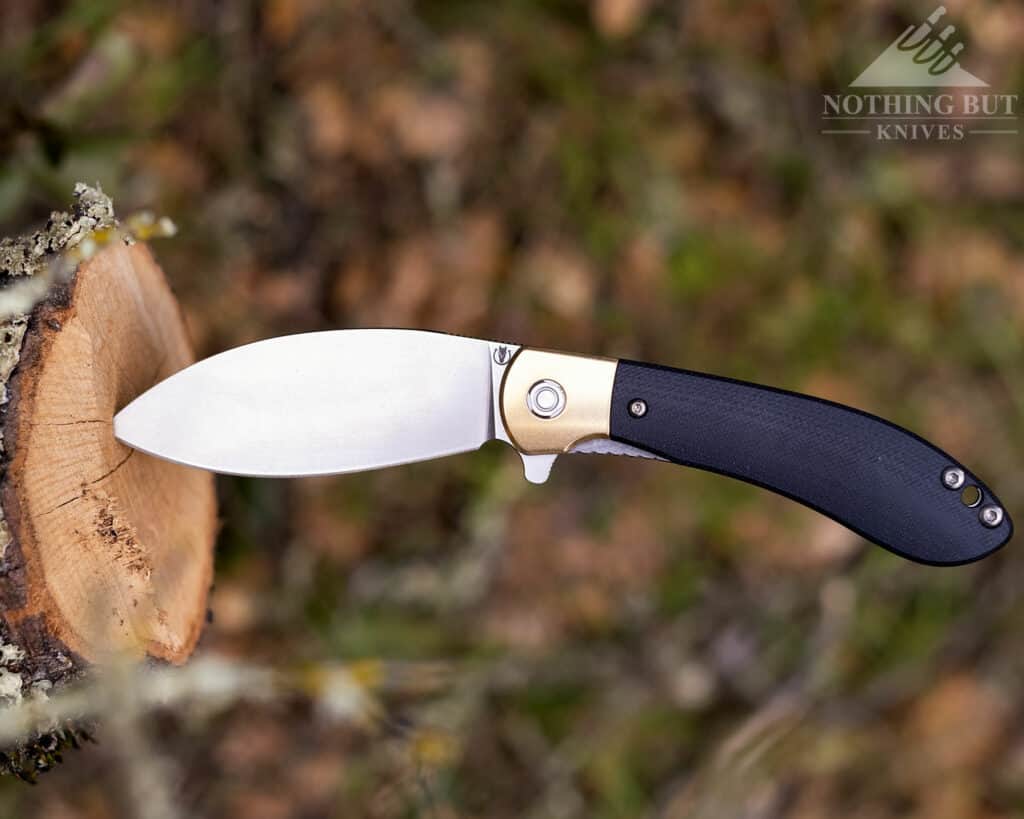 If you don't know (I certainly didn't before researching this knife), the Shilin Cutter is a Taiwanese knife first made by a black smith named Kuo He in the Shilin district of Taipei. Traditionally it's a slip joint with a san mai blade shaped like a bamboo leaf, and an eggplant-shaped handle made out of horn. Normally this is where I would link to a wikipedia article or reference a book I dug up in a library, but I'll be damned if I can find much in the way of published material on this knife, so we'll have to settle with the discussions I've lurked through on knife forums for now.
The Shilin Cutter became incredibly popular in Taiwan, being carried by most blue collar workers and a few aristocrats by the 60s. The Kuo family was working full time and still not meeting demand, so the waiting list grew. Eventually large manufacturers started producing cheaper versions of the design, and people who didn't like the idea of waiting flocked to them, forcing the Kuo family to start making kitchen and collectors knives to make ends meet by the 90s.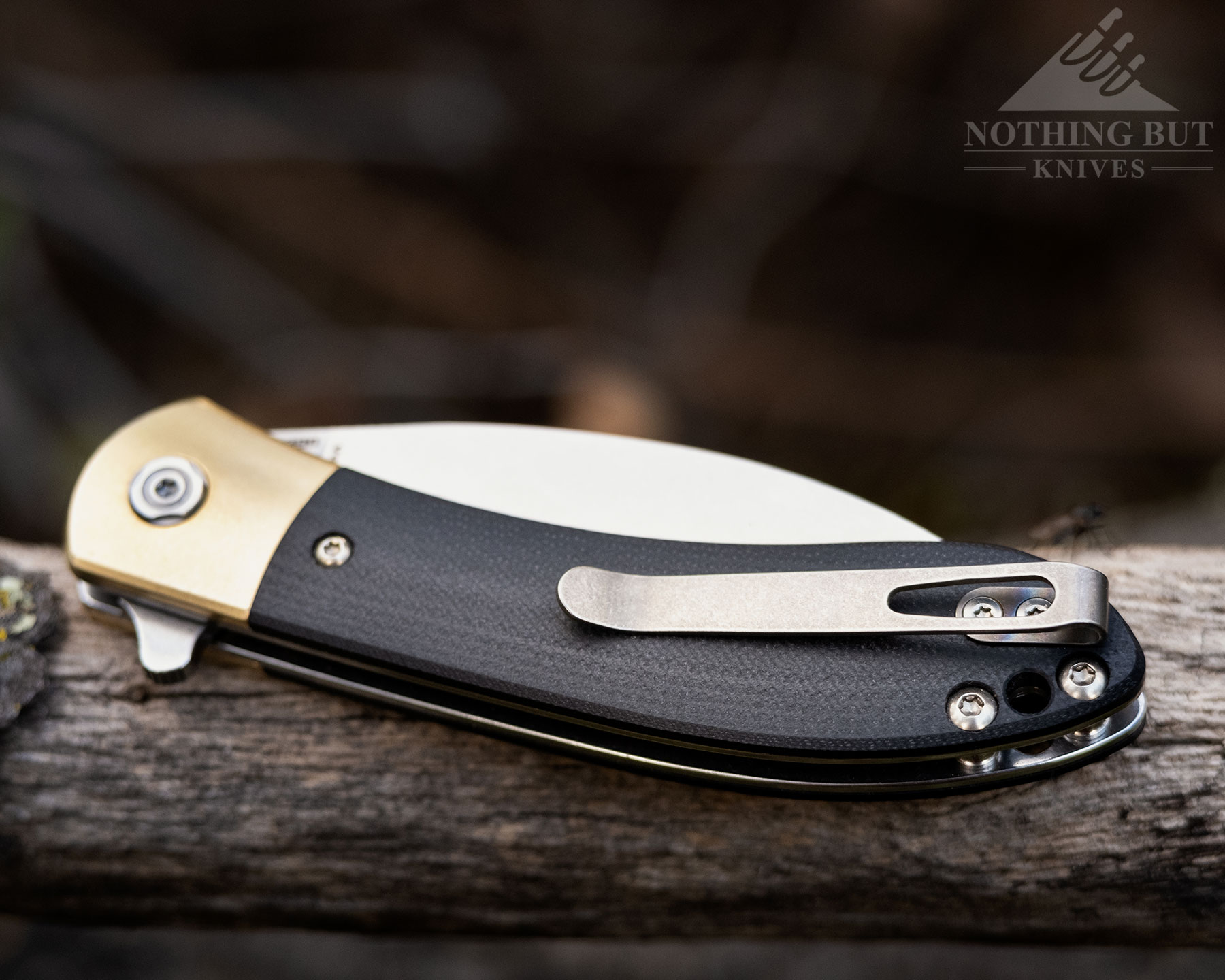 The Kuo family tradition of making these things is apparently dying out. There are other Taiwanese families making them, but they allegedly aren't to the same quality and the last I read, there was a waiting list to get on the waiting list to get a genuine Kuo Shilin Cutter.
Considering there is a danger of the Shilin Cutter name disappearing with the last of the Kuo blacksmiths, I appreciate that Vosteed declares right in their own product description that the Nightshade is inspired by the old design. It's more than other makers like Bob Lum have done in the past with designs like the Spyderco Lum Chinese folder.
Price and Comparison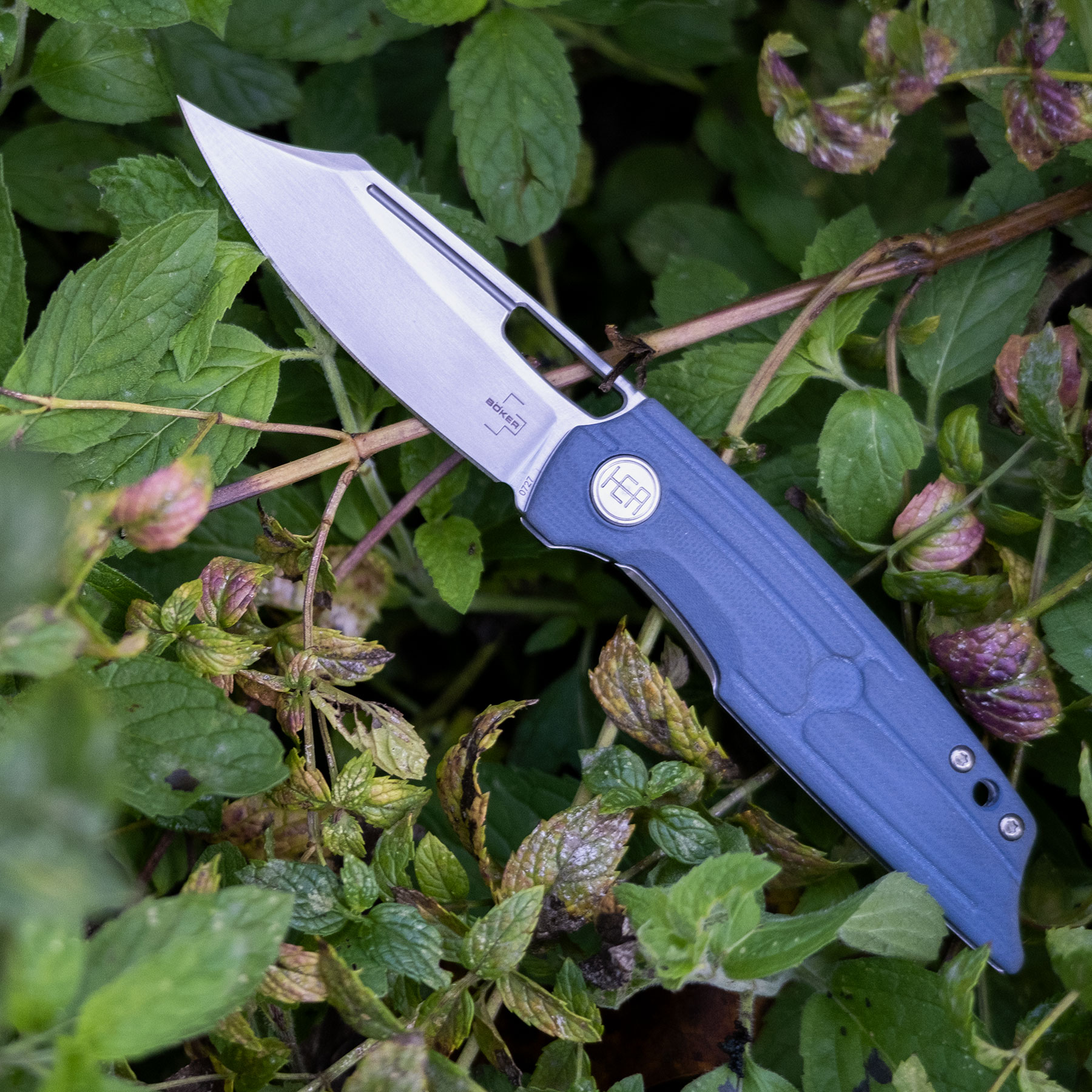 If they made a fixed blade version of this it would be one of the best EDC and hunting fixies on the market. I would almost put it next to the Bradford Guardian 3. But since this is a flipper, I'll keep myself to other folder EDCs. Which is actually harder than I expected. This knife is pretty unique.
If it's slicing ability you want, you could go up a few price points and try the Off Grid Black Mamba. The edge on that has a harder bite, and you get a very different titanium handle that's a lot harsher to hold onto, but paper tests between the two feel pretty close.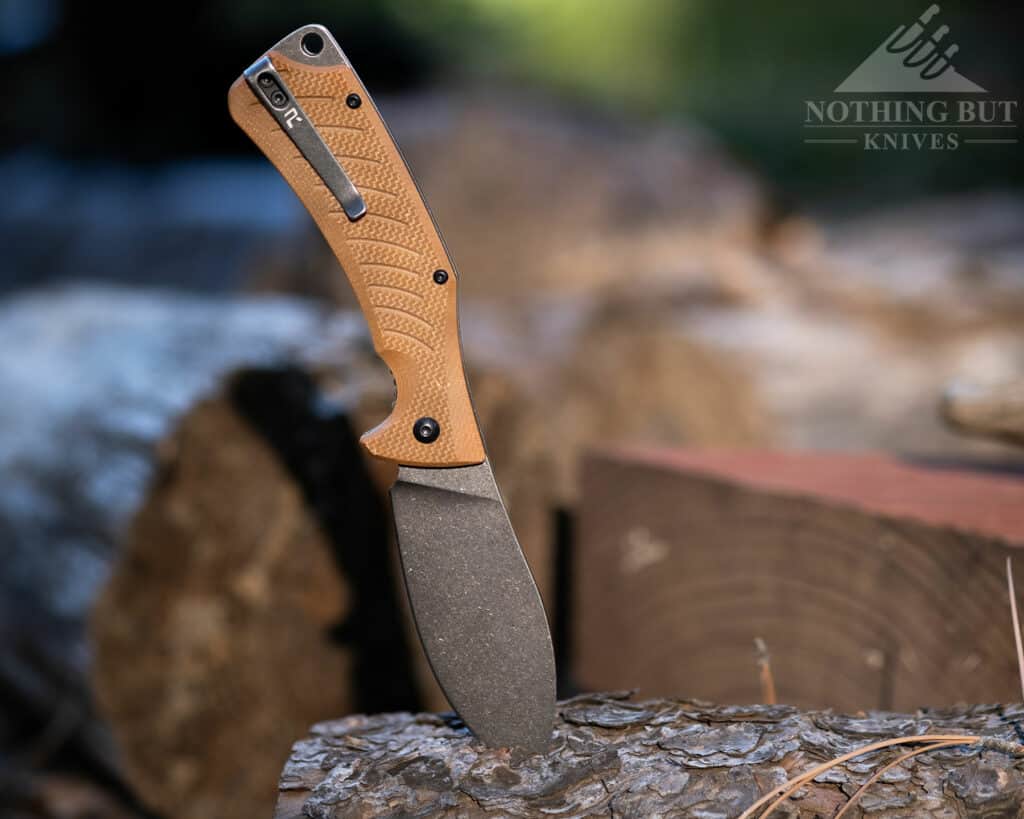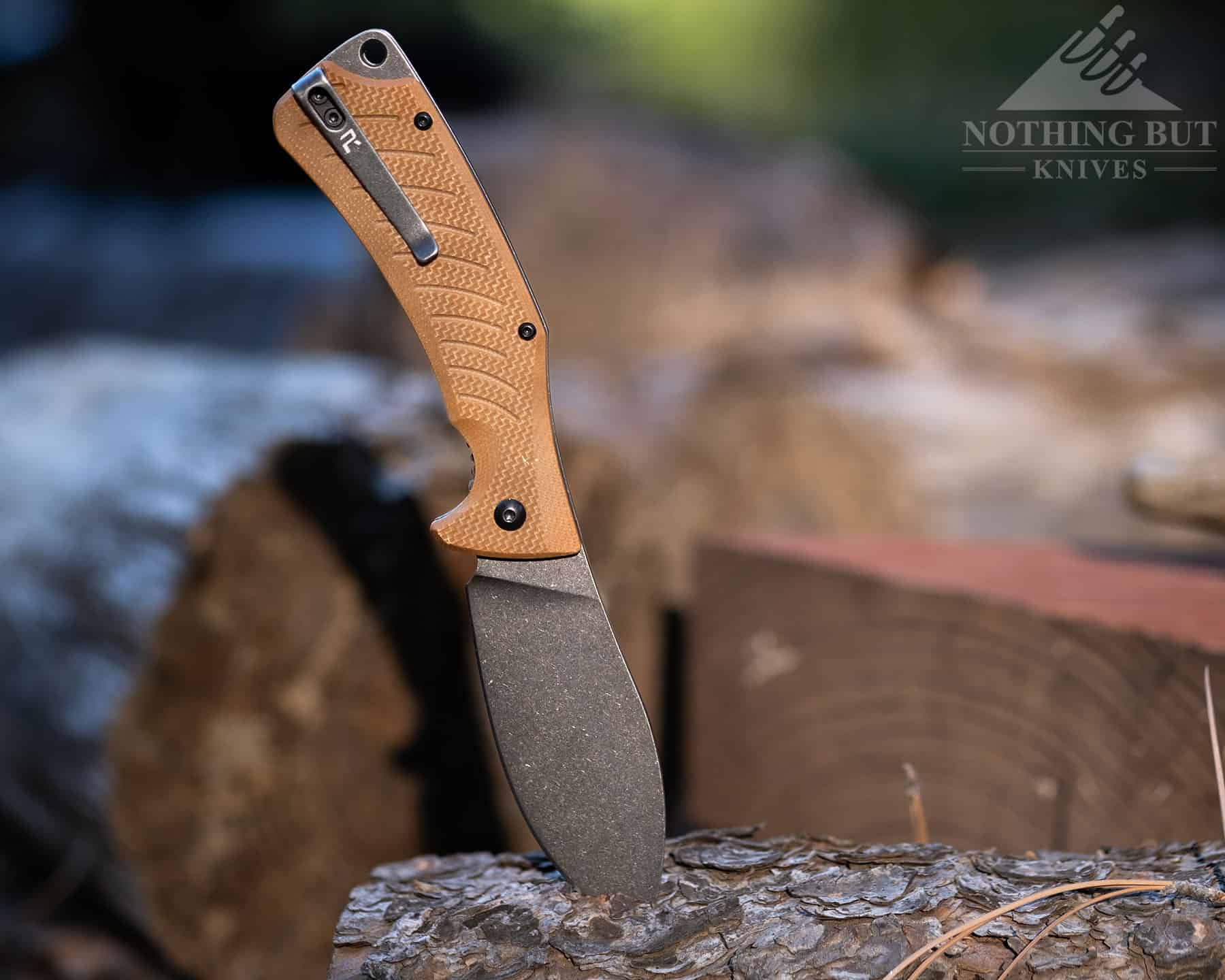 The Revo Ness is a possible alternative. It is not as pretty as the Nightshade, but it is a handy camping pocket knife that can hand dirt and abuse well.
If you just want something that's different and slicey, you could also check out the Boker Plus HEA Hunter. It's a little cheaper and has a similar cutting experience, but it doesn't ride or cut as smoothly as the Nightshade.
If you're willing to go fixed blade, though, the Condor Pangui would be worth a look (we mention it in our Best Neck Knives article). It's not quite as slicey, and the scandi grind was made for different things, but it's close in length, and the curved handle and big belly on the blade provide a pretty similar cutting experience.
Conclusion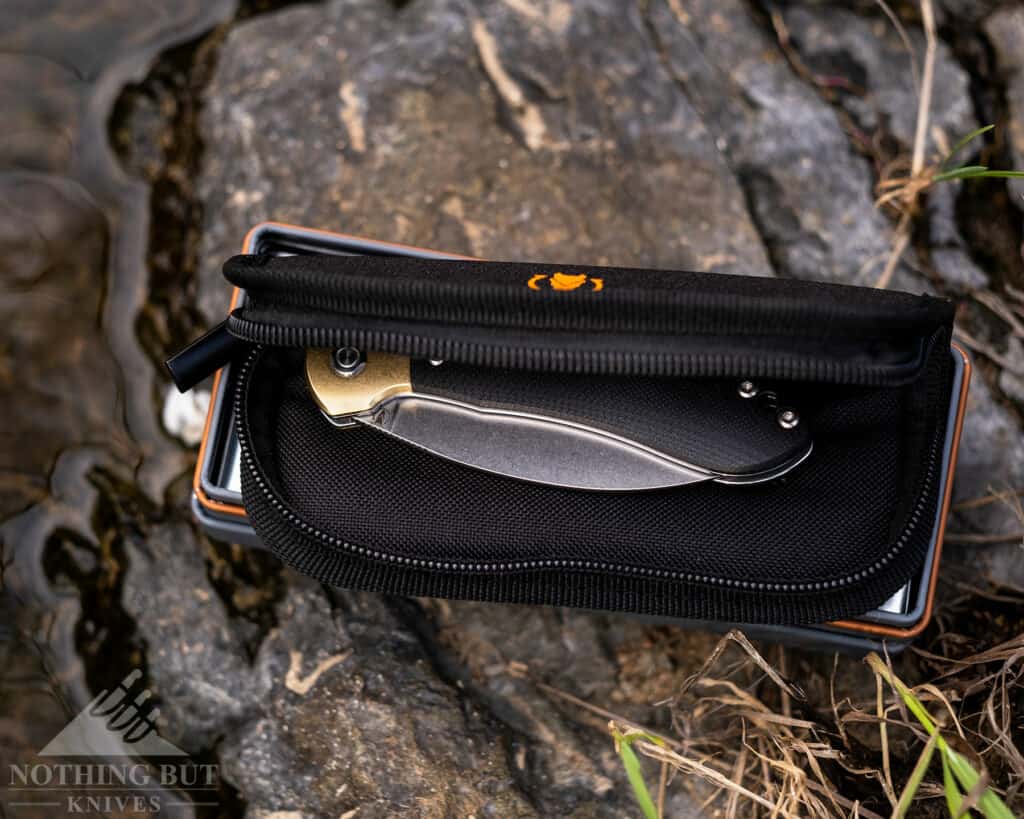 This fat, fidgety little thing will probably cut off one of my fingers someday, but it's gonna look great doing it.
The Nightshade manages to be both different and accessible. A lot of the time when I try out a knife that seems genuinely original or just different from all the other designs out there, I have to travel a bit of a learning curve. The only adjustment I had to make with this knife was learning to move my thumb a little quicker when I close the blade.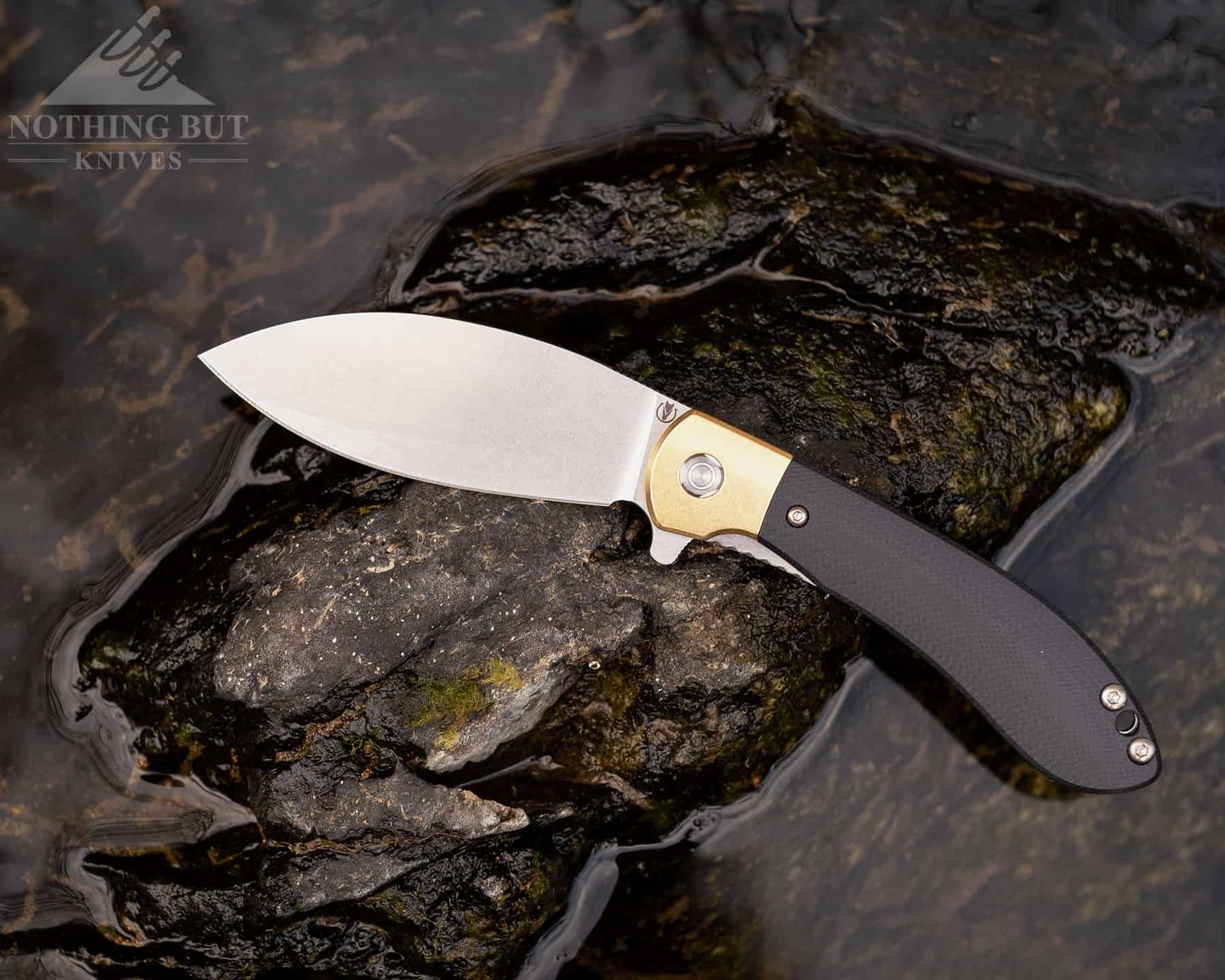 The Nightshade looks good, cuts well, and has a great story, both from the side of the new Vosteed start up, and the Shilin Cutter inspiration. It's well worth considering for someone in the market for a mid-range EDC slicer.