This Survival Knife is all about Control and Comfort
There are only so many things that can be done right or wrong on a fixed blade, but the harder you use one the more obvious (and sometimes painful) it gets when just one or two of those things are done poorly.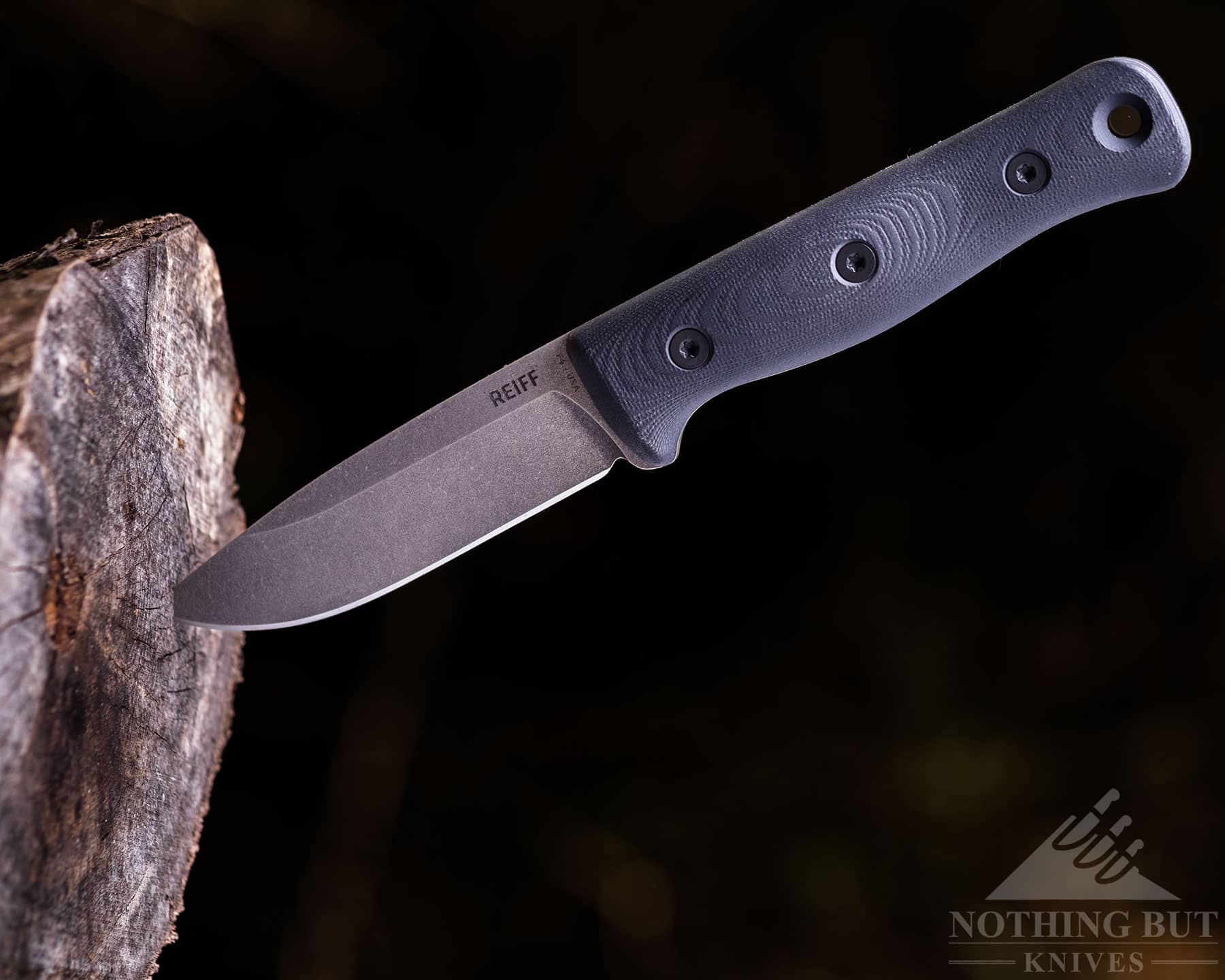 Basically everything felt right with the Reiff F4: The blade is sharp enough to carve easily and tough enough to chop wood without chipping, the sheaths (both of them) ride well and have excellent retention, and, most important of all, it has one of the most comfortable handles I've ever felt.
Reiff describes the F4 as a "general purpose bushcraft style survival knife", which feels like calling Captain America a veteran in excellent physical condition: That technically covers the whole scope of the thing, it's just that it doesn't get across the extent to which it fills its role.
Specifications
| | |
| --- | --- |
| Overall Length: | 9.0" |
| Blade Length: | 4.0" |
| Blade Steel: | CPM-3V |
| Hardness: | 58 – 60 HRC |
| Blade Thickness: | 0.16" (4 mm) |
| Blade Shape: | Drop point |
| Blade Grind: | Saber w/ convexed V |
| Handle Length: | 5.0" |
| Handle Material: | G10 scales |
| Weight: | 7.8 oz / 221 g |
| Designer: | The Reiffs |
| Made in: | USA |
Pros
Fantastically contoured handle
Great geometry throughout the blade
Excellent at bushcraft tasks
Solid Kydex sheath design (the leather one is okay too)
Cons
Some limitations on how to carry the sheaths
Good quality comes with a hefty price
Reiff Knives and Heirloom Tools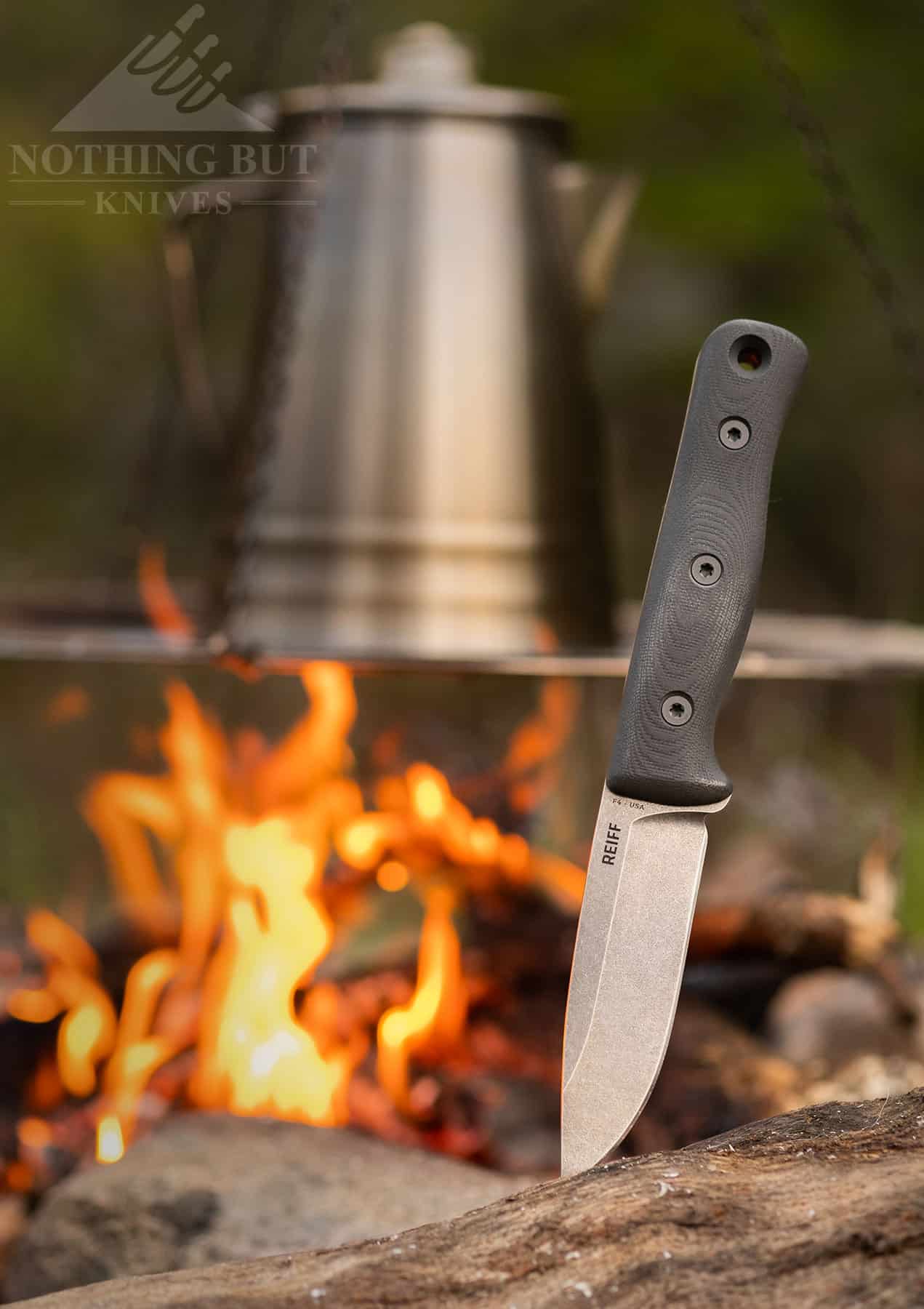 This is a new company founded by brothers Ben and Stu Shank. I assume, at this point, that they've already heard all the jokes.
They started with the mission to make "heirloom" quality knives entirely within the US, and they seem to have accomplished that goal pretty thoroughly. Only time will tell on the heirloom part, but my experience with the F4 so far makes me pretty certain it will outlive me.
They have a simple line up right now, but it's a strong one. Everything they make has CPM-3V steel and 3D-printed G10 scales with stainless torx screws fastened through a full tang. They have the basic sizes covered: a 3-inch with fixed-blade EDC energy, a 4-inch blade for general-purpose outdoorsy activities, and a 6-inch leuku that is essentially the hack-and-slash piece of their line up.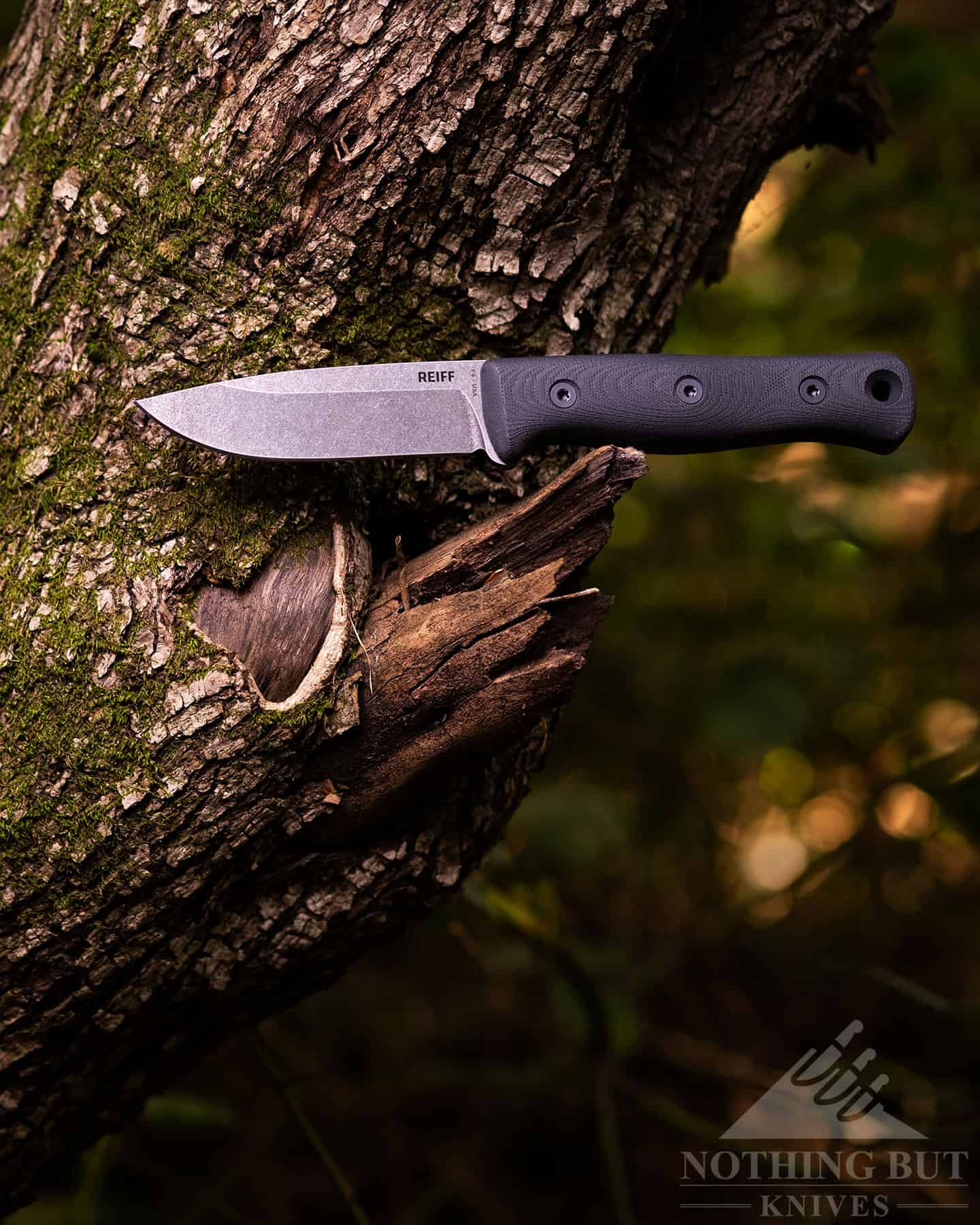 Reiff was one of those companies that had been on my list to check out for a while, but I never quite got around to. From a distance a lot of their knives look great, but they look great in a way that puts them next to established makers like LT Wright or Bradford, and it was always a case of having other shiny things to distract me.
Then I bumped into their booth at Blade Show West, picked up one of their knives, held it in a full four-finger grip, and had a dumb-realization moment that just made me say "oh".
I get it now. Reiff knives might look similar to stuff from LionSteel or White River, but they feel very much like their own thing.
Reiff Knives Cannot Get Enough Praise for this Handle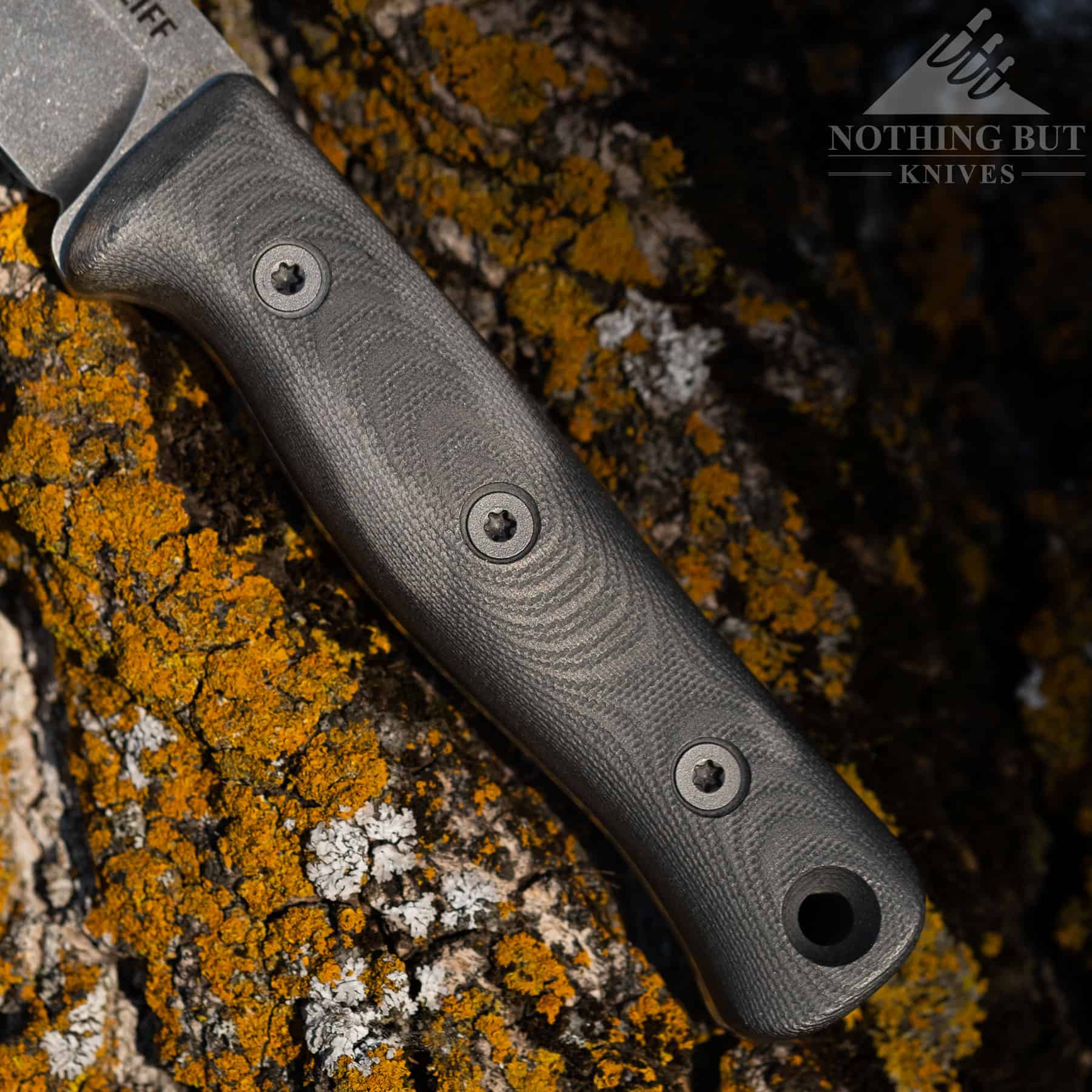 Some knives have a certain feeling that just makes you want to do something. Blade-heavy knives like the Ka Bar BK9 make you want to chop. Folders with smooth action like the Vosteed Thunderbird make you want to fidget. The Condor Plan A Bowie makes you want to run around in the woods and paint your face with mud.
The Reiff F4 makes me want to carve, which, Predator-related fantasies aside, is all I actually want to do when I'm camping. The handle of this puts a lot of control into the strong fingers of my hand so it's easy to find and maintain different angles and push through tough material and knots in wood.
Expert Handle Geometry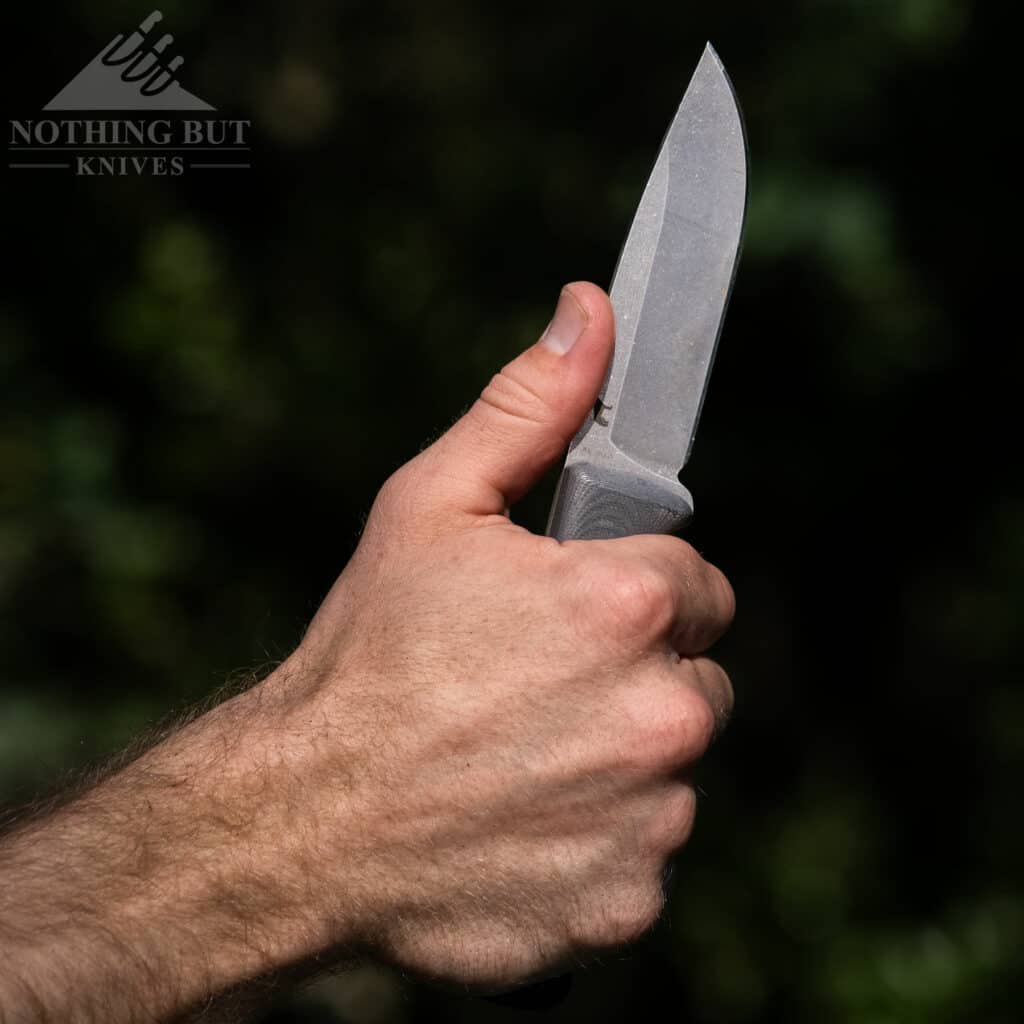 It's a lot wider at the top which puts more material under the index and middle finger, then tapers toward the pommel in a way that fits the meat of my in a very natural way. It feels like they've hit on a perfect 1:1 surface to skin ratio here where my hand can grip on the whole shape of a knife.
If that statement seems confusing, try gripping down on a more squared off handle or a coffin handle. It might look good, and even be comfortable, but it always feels like you can't quite grip the whole thing. The F4 has a glove-like quality.
The weight of the whole knife is also balanced right in that swell of G10, so even though it's fairly heavy compared to something like the Fallkniven F1 or the Ka Bar BK18, I don't really feel that weight because it's centered right at the spot where my grip is the strongest.
Good Work on the Scales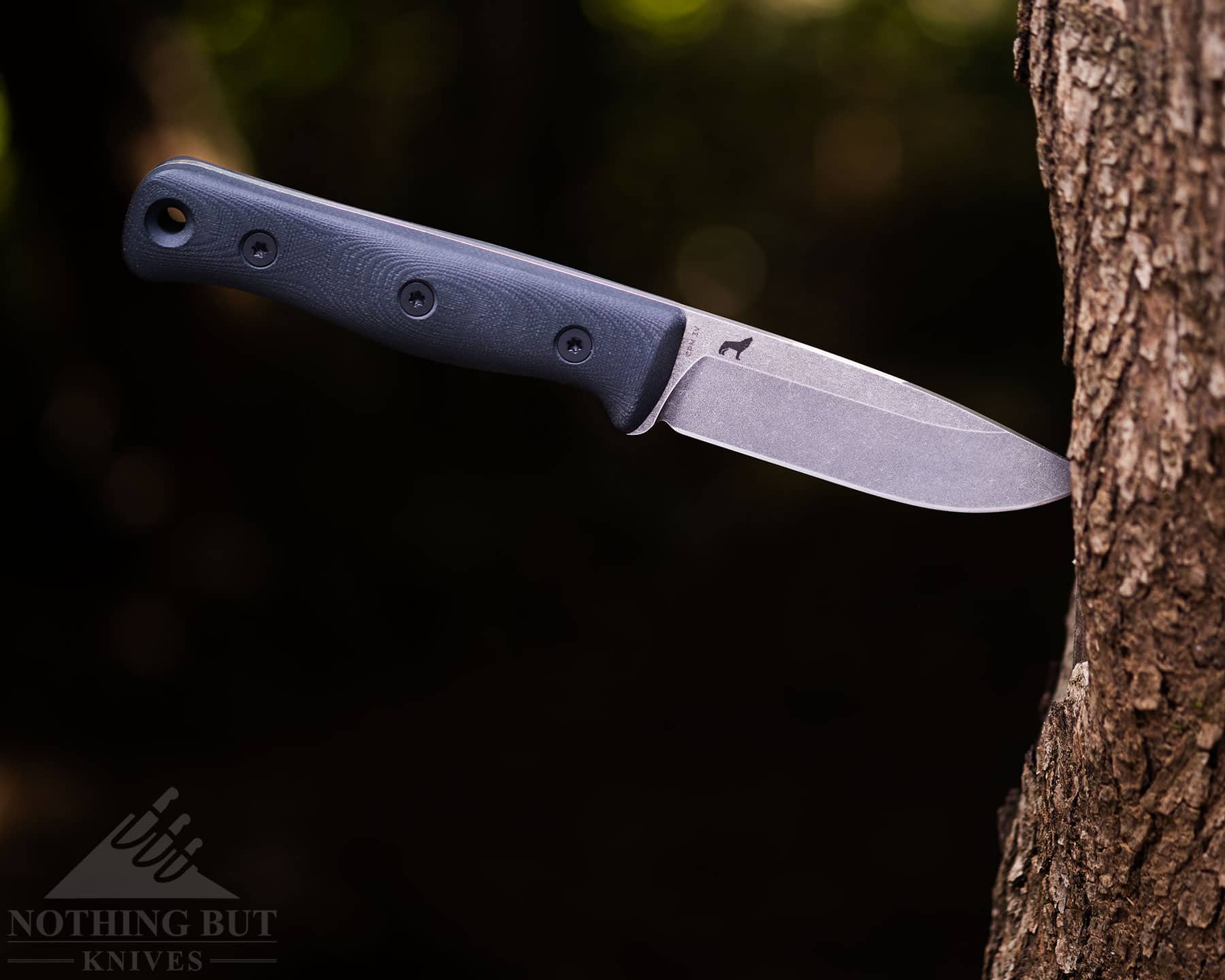 The G10 scales have also been expertly textured here. I've accidentally said this knife has Micarta scales a dozen times because the tactile experience and even the look from the grind lines provide a Micarta-adjacent experience. It's a little bit gritty but not rough, and it only seems to get grippier the more I work.
It doesn't have the natural grippiness of a good, dry Micarta handle, and the more I play with the knife, the more I wonder if the handle could stand to have a little bit of scalloping at the top, and a finger groove instead of a guard so I could choke up closer on the blade. But beyond that there's nothing to complain about here.
It otherwise looks a lot like any other well-made, high-end survival knife out there, and it is like any other knife out there in that category. Pick up an LT Wright GNS or a Bark River Bravo and you'll be able to do the same things and probably expect similar results, but the ergonomic experience with the handle is starting to make me compare every other knife in the category to the F4, rather than the other way around.
The Blade is Pretty Good Too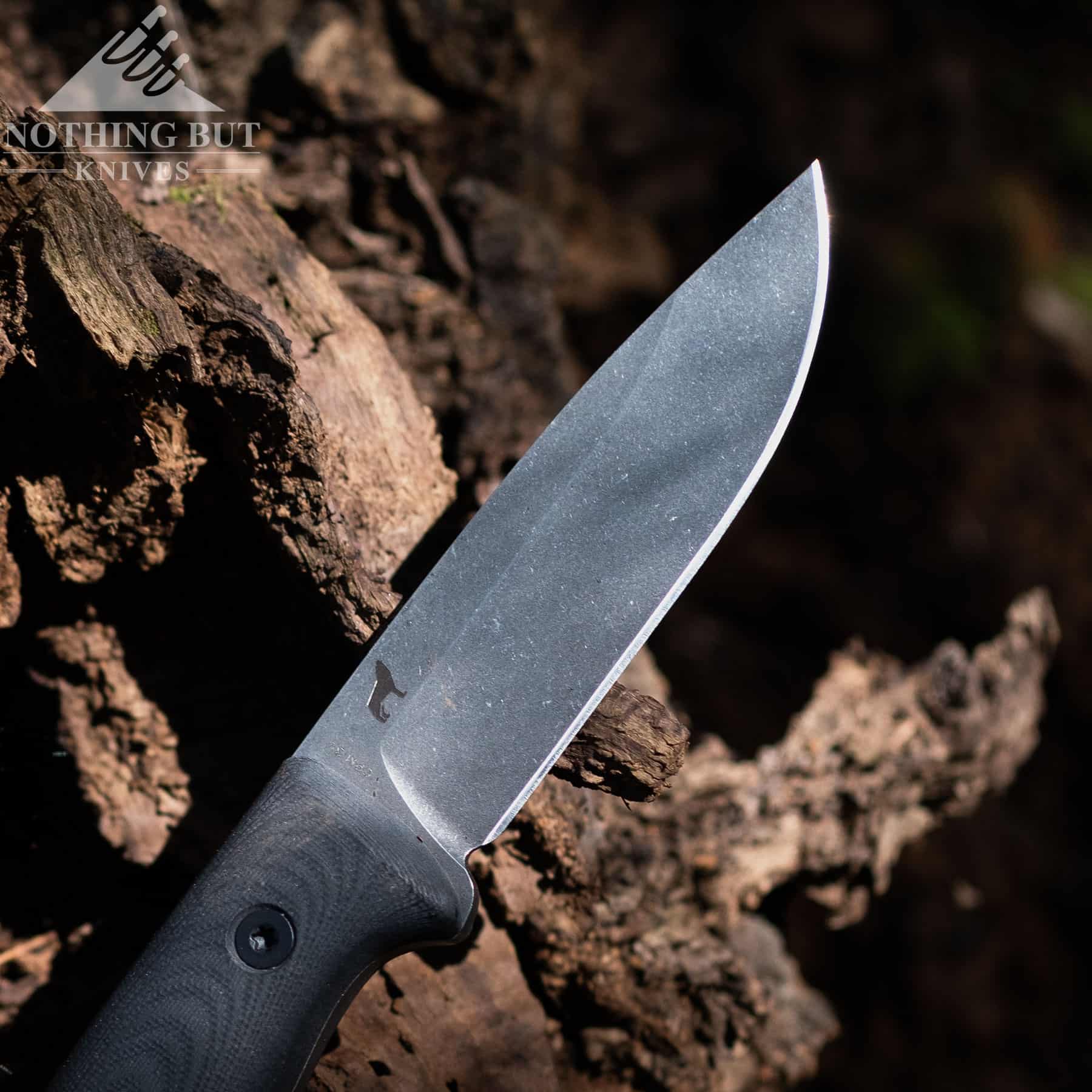 It's a coated drop point blade with a high-ish flat grind. A tried and true shape, and it's been executed very well here.
This does all the things you should expect a good high saber grind with a convex edge to do: which is to say it carves wood in a very easy, gentle way and batons phenomenally well.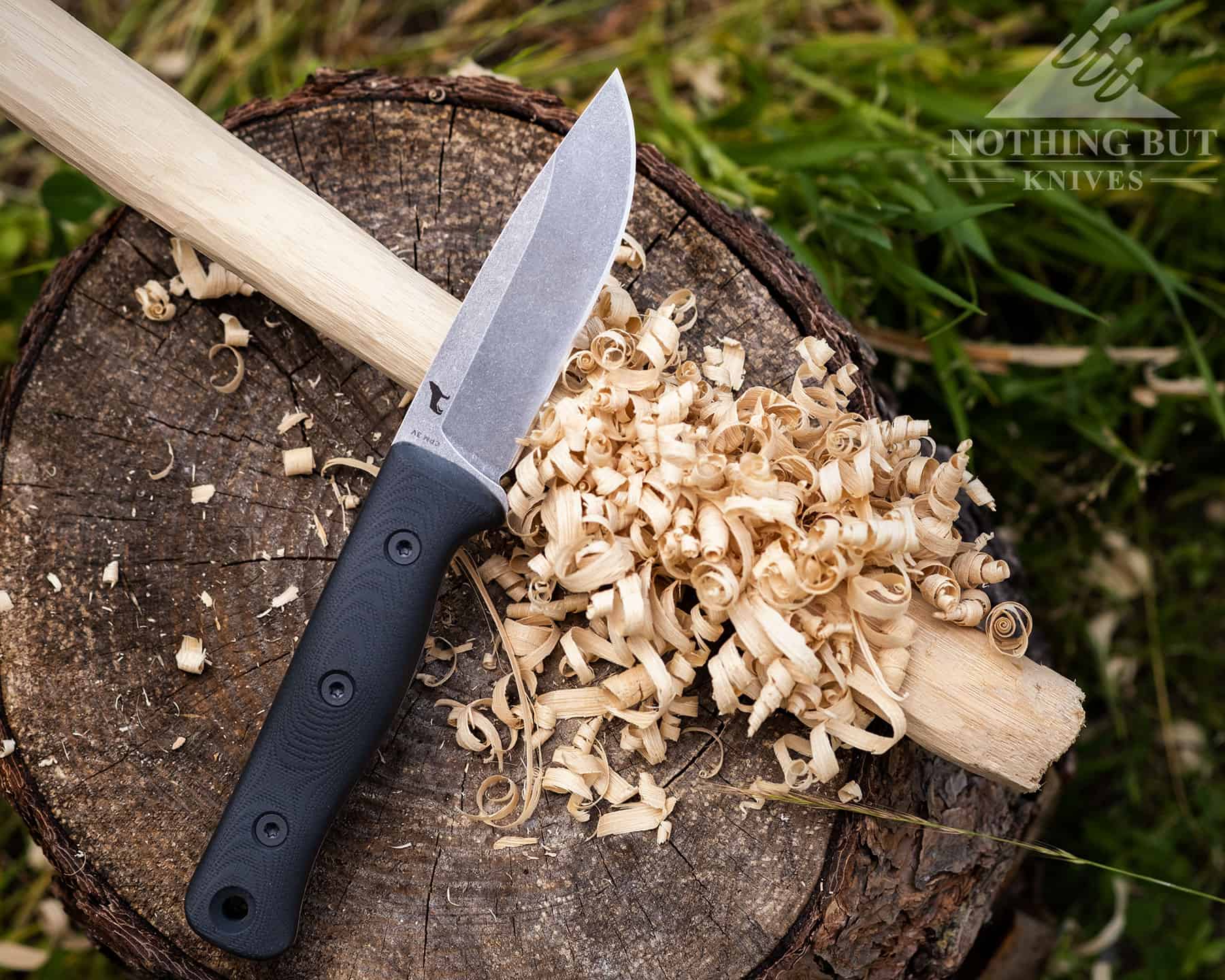 There doesn't seem to be a bad angle for feather sticking with this edge. It can carve out superfine pieces through a large range. That does mean that you have to dig in a little harder when you want to take chunks out, but the edge is plenty sharp and the handle does a lot to facilitate changes of motion.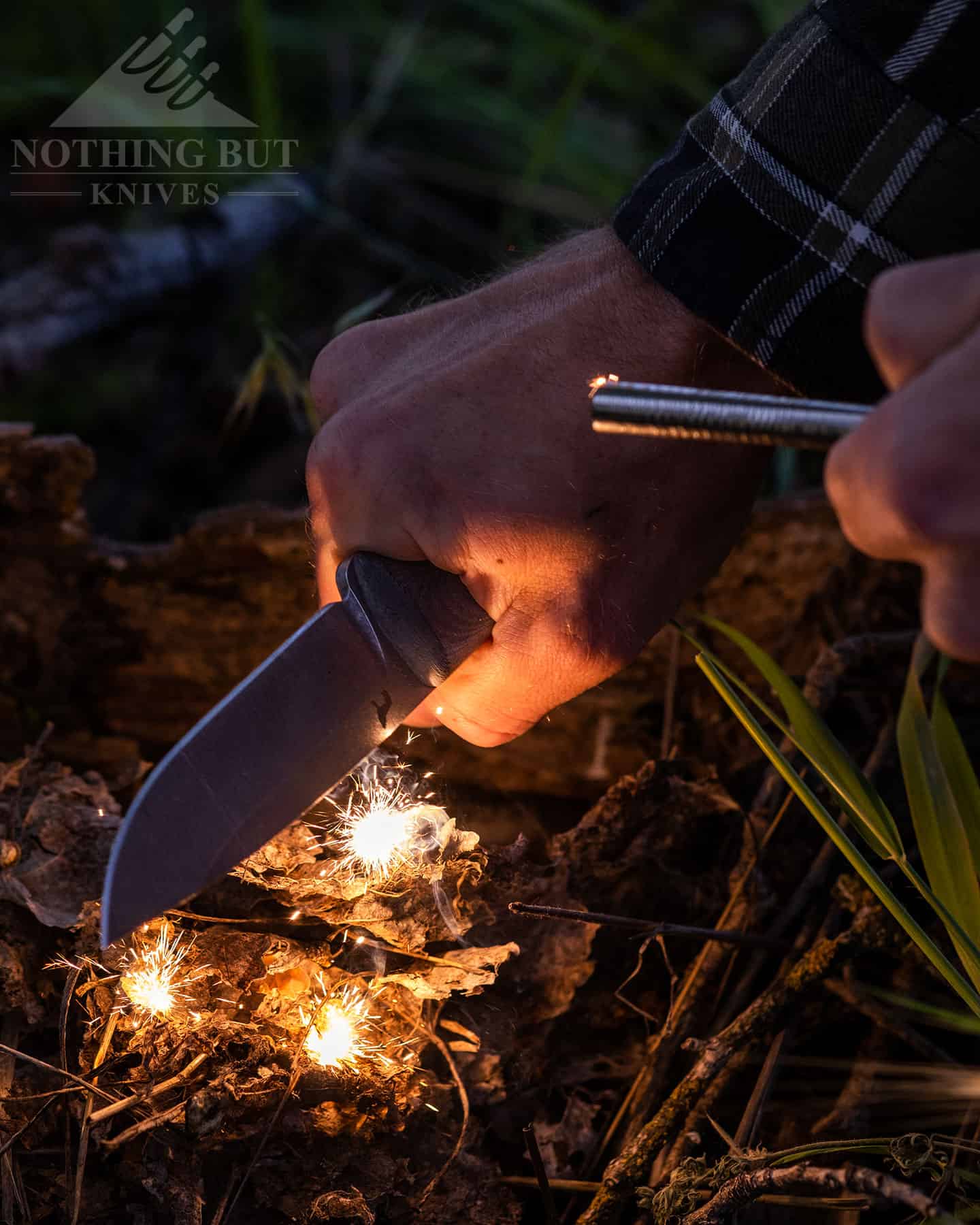 I've used knives that are better at batoning, but not many, and even fewer that are as capable at other tasks. The length and standard drop point shape limits the F4 in a way that's pretty normal to see in 4-inch survival knives. It can only split something so big due to the blade size and the drop point shape. After a certain point it gets difficult to hit because it doesn't usually split until at least halfway down a log (obviously depending on what kind of wood you're splitting; we have a bad habit of finding super-dense logs for our tests).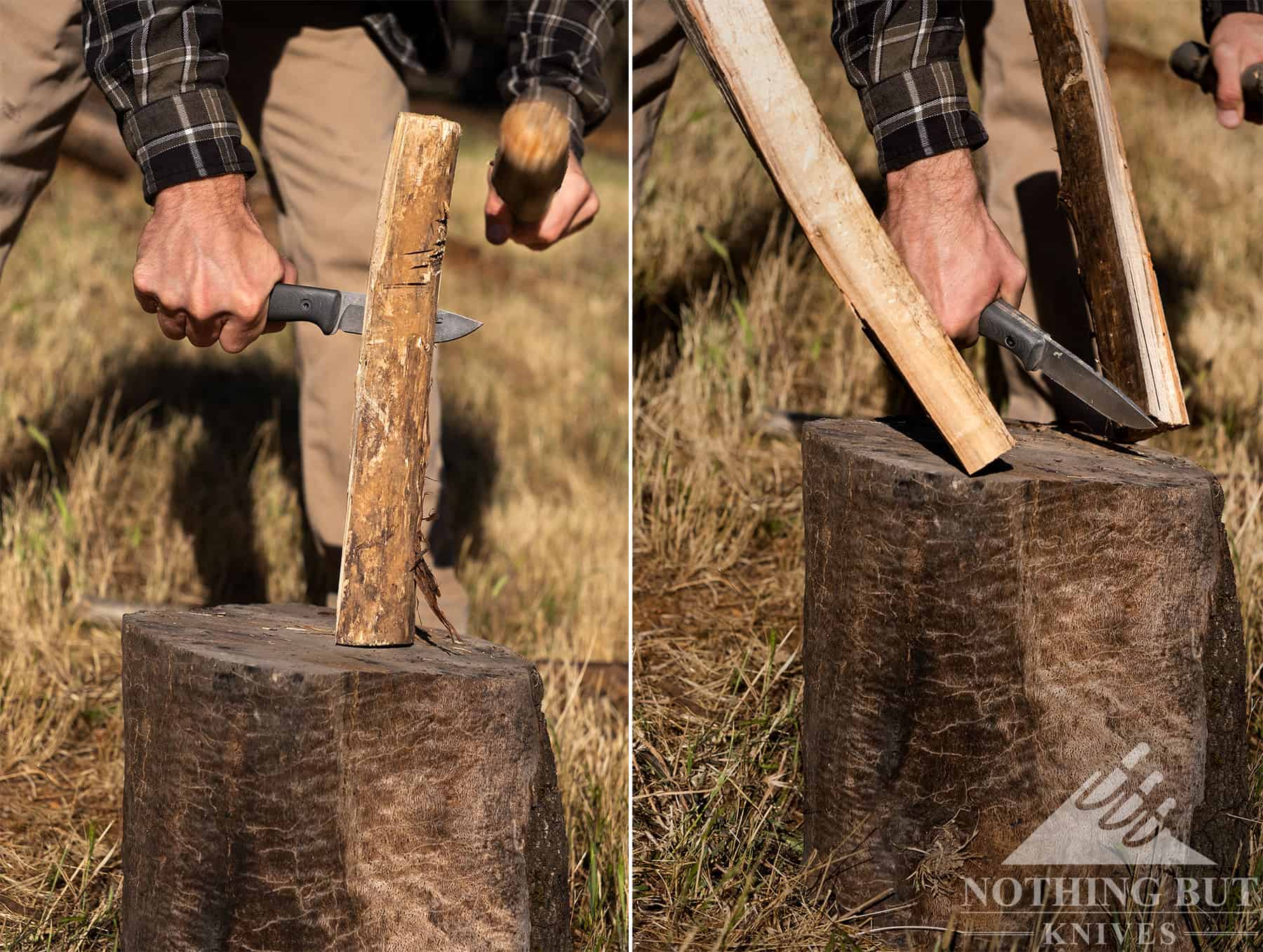 But a couple of things come out clear even after struggling to split a full round (which is a test I never really expect any knife to excel at): The handle absorbs shock very well, especially for G10, and the blade took the abuse without chipping or even rolling.
Sheath Options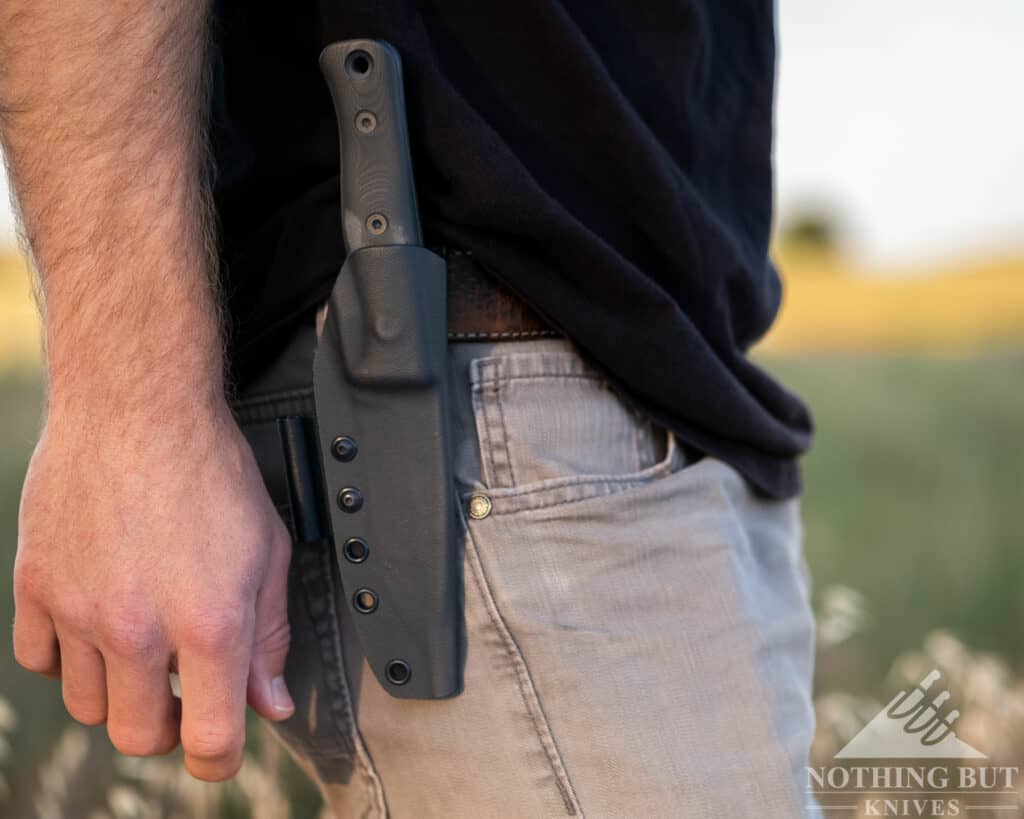 Reiff is generous with their sheath options. They sent us the F4 with both the Kydex and the leather sheath, and as far as I can tell, that's how it will come if you were to order it from your favorite knife vendor.
Both sheaths are nice, but the Kydex feels like the better option to me (or for me), not only because I've never much liked danglers, but because they design the polymer sheath particularly well.
The best feature is probably the rotating belt clip. It spins freely so I can wear it in appendix carry, and when I wear in a vertical position I can adjust it as I draw until it's pointed in a more natural position.
The retention almost feels too strong, but I actually like that in combination with the free spinning clip because it gets shifted around a lot when I'm hiking.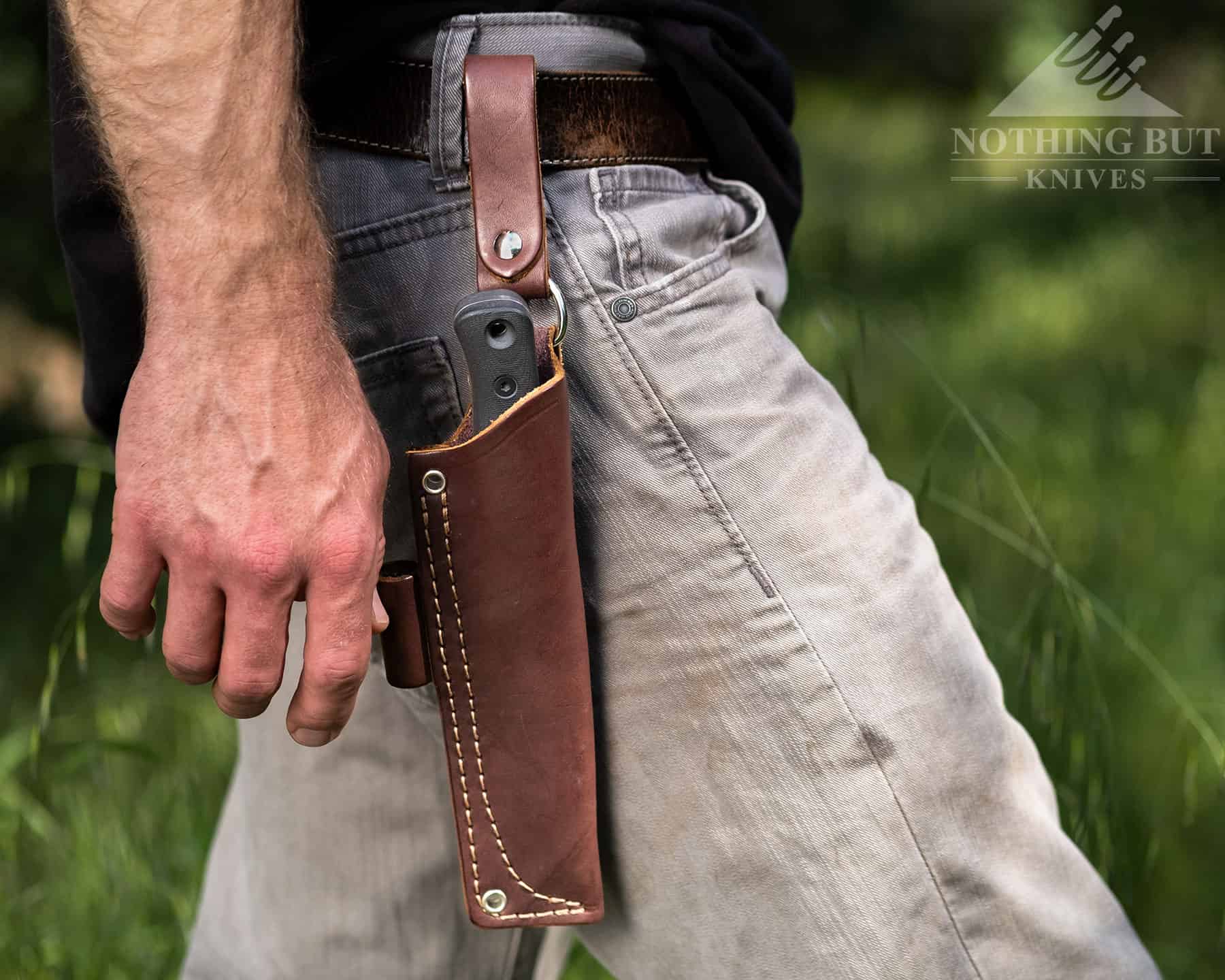 The leather sheath is fine too if you like a good drop-leg carry. It looks good and it has a firm grip. I did notice that when I used it the first time, whatever polish they put on the sheath rubbed off on the handle. That's not such a big deal to me, partly because these are G10 scales, but mostly because the handle was doomed to get scuffed and stained from testing and camping anyway.
But if you want to keep the knife looking pretty for a while you might want to wipe the inside of the sheath down just a little.
Check How You Want to Carry Before You Buy
One of the downsides of both sheaths is that there are certain limitations on how you can carry them. The leather sheath is really only suited for right-hand vertical (nothing new there), and the clip on the Kydex sheath cant be switched to different sides so it's really only best for right-hand vertical or appendix, or left-hand scout carry.
I did notice that on Reiff's site you can specify a sheath for right or left hand carry (and which sheath you want), but I can't promise that you'll always have such an easy option if you're getting it anywhere else. So southpaws take note.
Comparison and Alternatives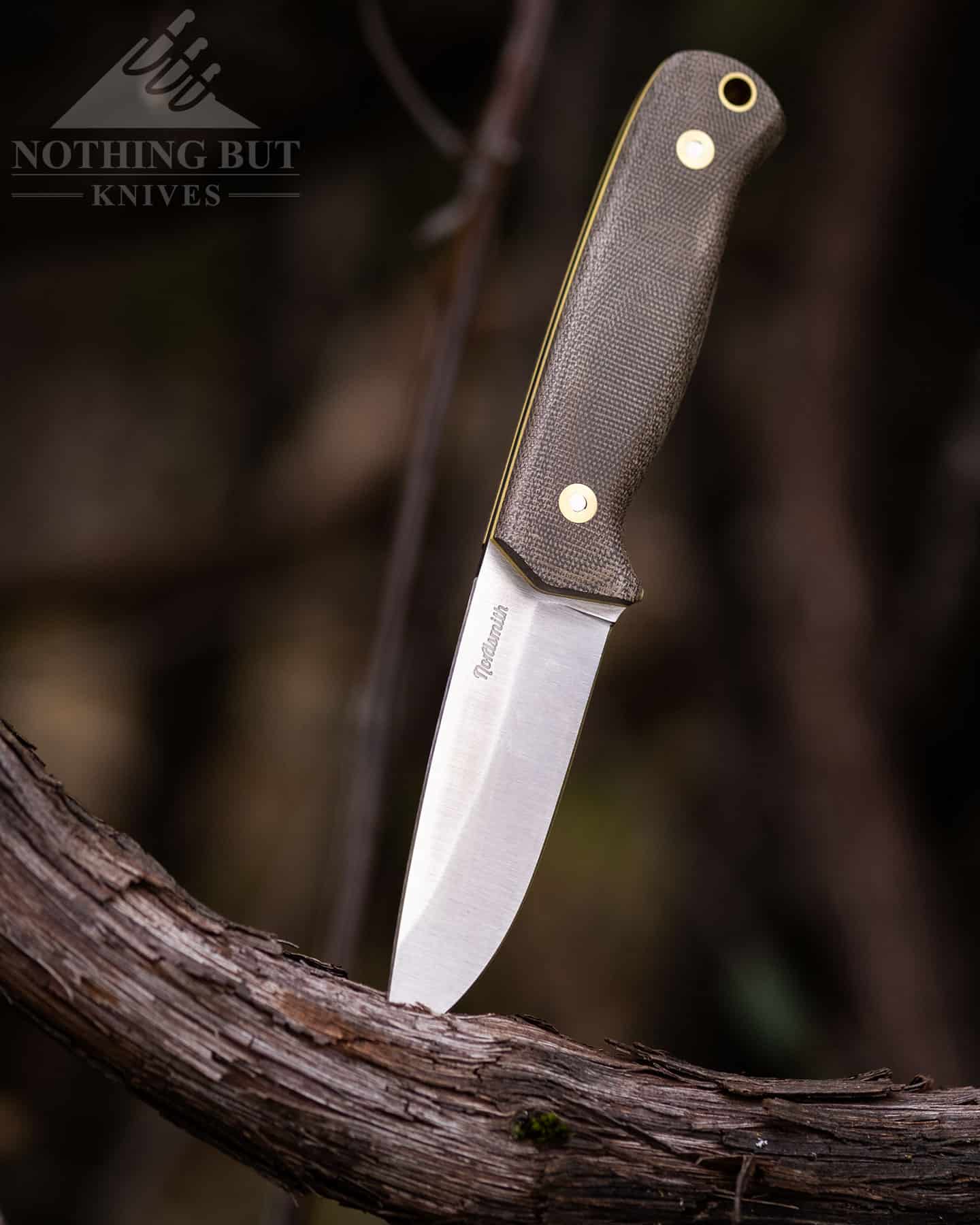 We've messed around with a lot of knives in this particular size and category, and I feel like I've already mentions too many models up to this point so I'll try to be brief here. If you want to see a lot of other options you could take a look at our favorite survival knives.
In the short form, look at the LionSteel M2M if you want something that looks good and has a really nice Micarta-handle grip. The edge grind doesn't feel quite as luxurious for feather sticking, but the handle is a whole different kind of comfortable.
If you want something more bushcraft-y and less expensive, we're still pretty fond of the Condor Swamp Romper. It's quite a bit cheaper too, but the handle does have a tendency to turn in the hand for some tasks.
I also happened to have picked up a Nordsmith Pilgrim LT around the same time Reiff sent us the F4. I could probably write an entire article just nerding out over the slight-but-significant differences between these two. But I'll summarize it by saying the F4 seems to fit my hand better. I think if my hands were a bit bigger, though, the Pilgrim would end up being my preference. Also the Pilgrim only comes with a drop-carry leather sheath, which is fine, but I enjoy having options.
Conclusion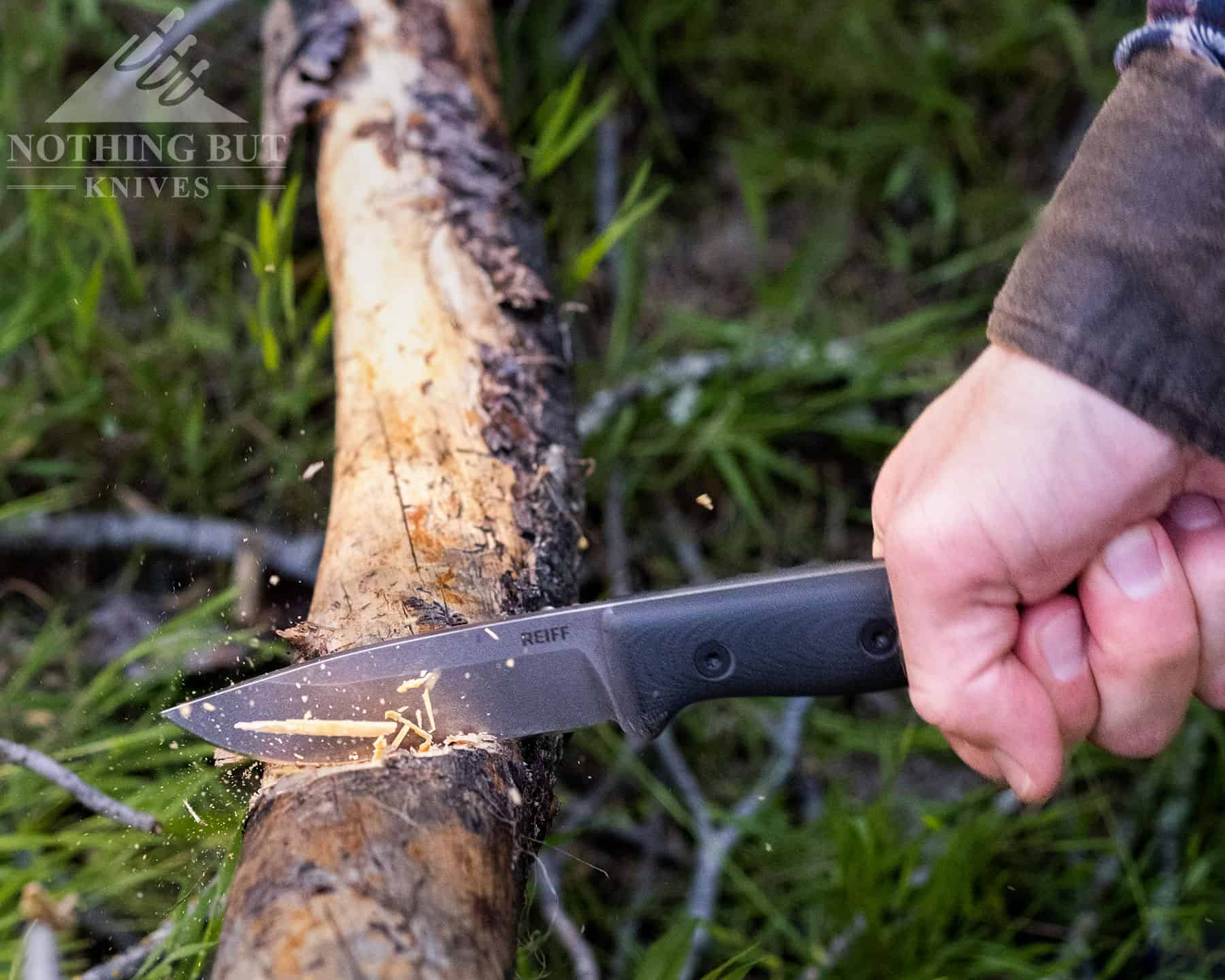 As far as the knife goes, this should be on your shortlist of knives to get if you're any kind of camper or hunter in the market for a mid-range production knife. When something breaks the $300 plane it often feels like a race to justify the price, and I think the F4 has done that and then some. There are definitely cheaper knives that are arguably just as functional, but the comfort and longevity of this design will absolutely get you your money's worth.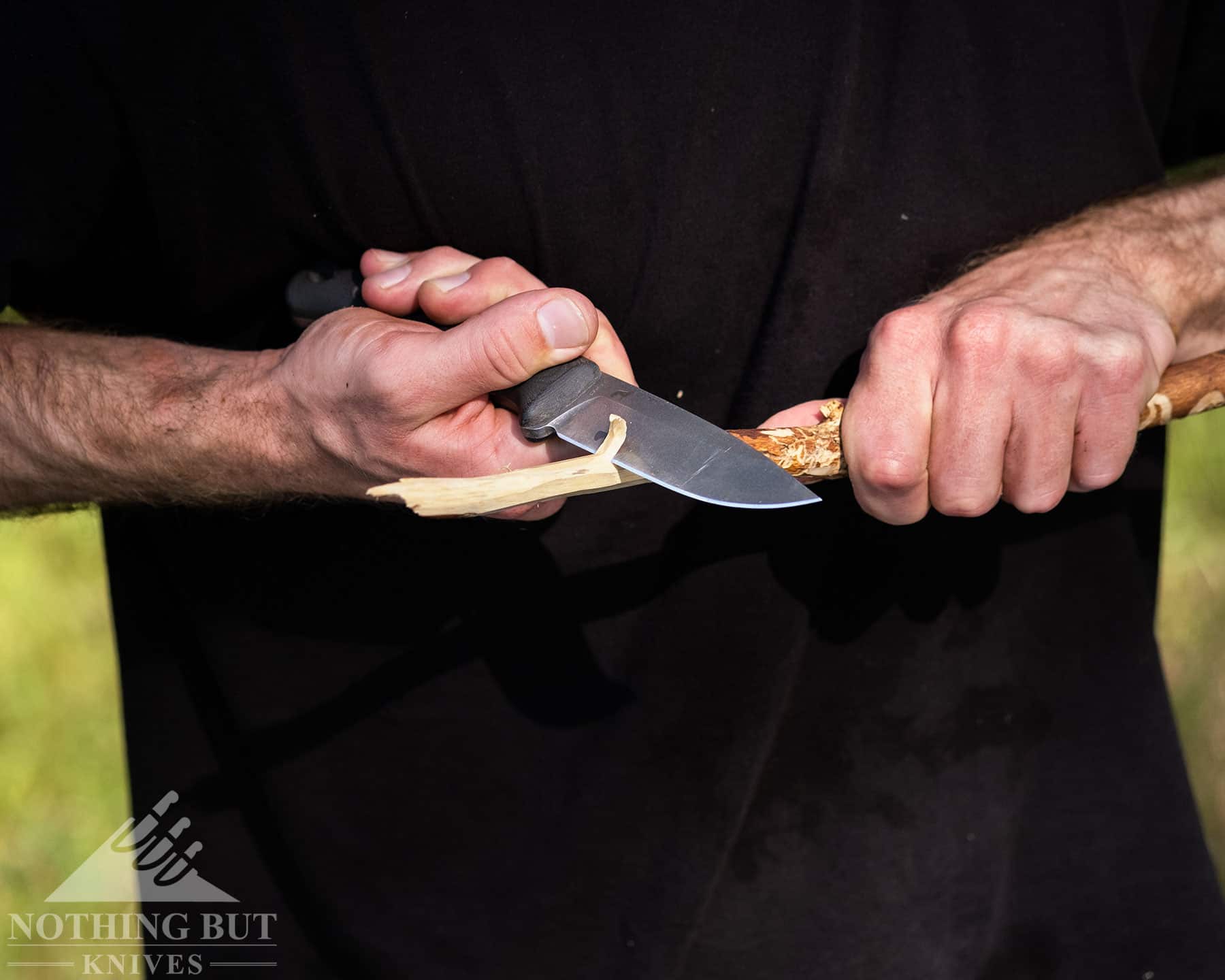 Reiff is on track to become something like LT Wright or Bark River (not that those companies need a replacement). The kind of fit & finish and subtle design acumen they're showing in their initial designs is the kind of thing you always hope to see from a fresh American company. Everything about my experience with the F4 makes me want to see more from them.