A Compact Draft Horse of a Knife that's the Proof In Steel That Fixed-Blade EDCs Do Exist
Hard-earned experience – and I contend that having endured more than one season of The Walking Dead qualifies as such – suggests to the initiated that there's basically two types of knives caused to be invented by the good Lord:
(i) those that could be firmly relied upon to get you through a zombie apocalypse, if not unscathed, then in reasonably good health (the Busse Team Gemini comes to mind); and
(ii) those knives that would simply get you killed in extremely short order, or cause you to join the ranks of the ghouls, which latter eventuality (even taking a short-to-midterm view) looks like an experience that's bound to lose its charm in the time an average coffee-machine takes to warm up. In other words, knives for losers.
That's one way to look at it, anyhow. I wanted to get the foregoing out of the way because LionSteel's M2M, there's no denying it, would be a solid contender in the second category.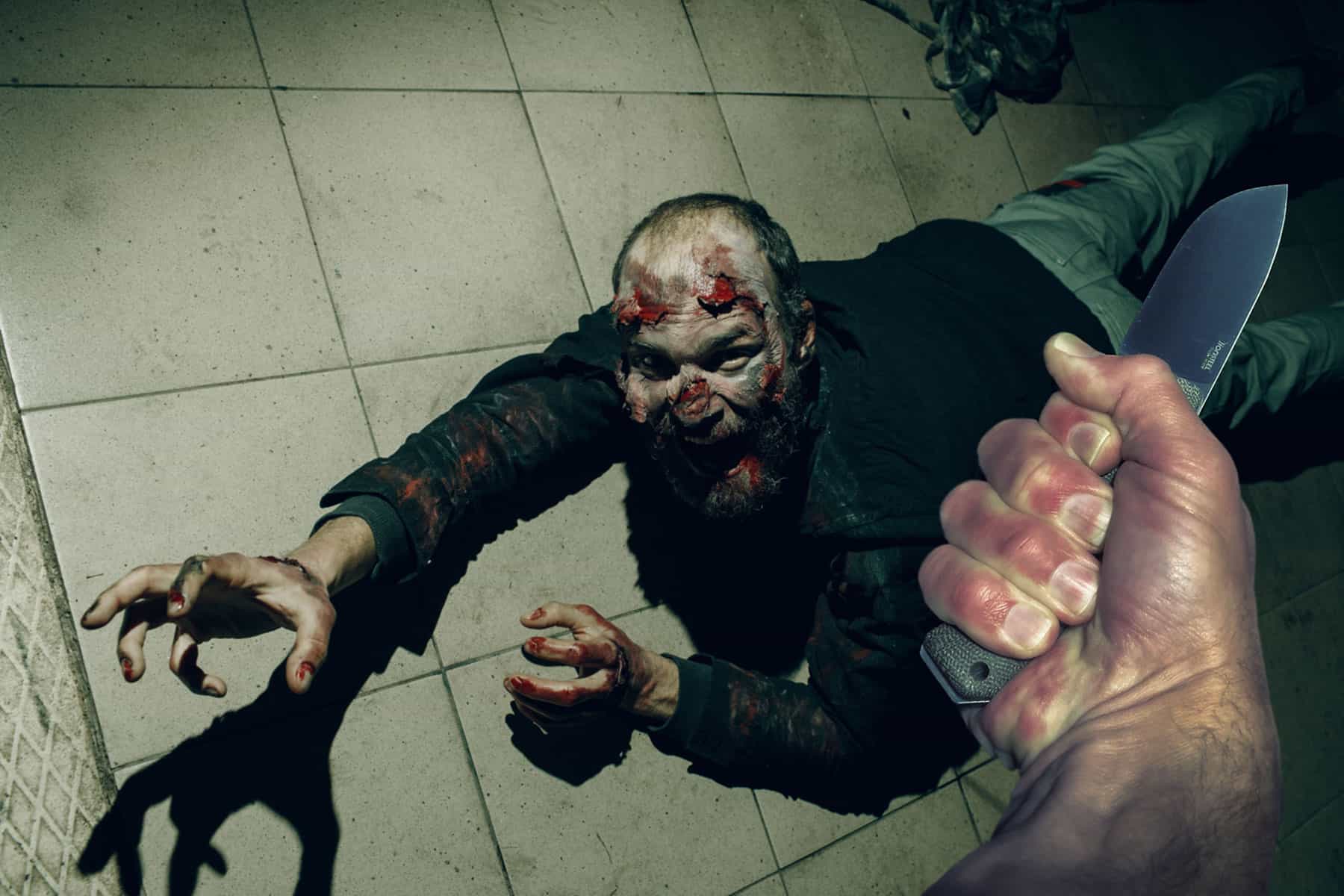 In a generalized-unpleasantness-involving-the-undead scenario, this knife could, however, give you a fighting chance in an unexpected way: by the time the zombies finish doubling-up with booming, uncontrollable laughter at its sight, sweep dirt off their pants, and catch their breaths (assuming they had any to begin with) you can put some decent distance between yourself and the stinking creatures.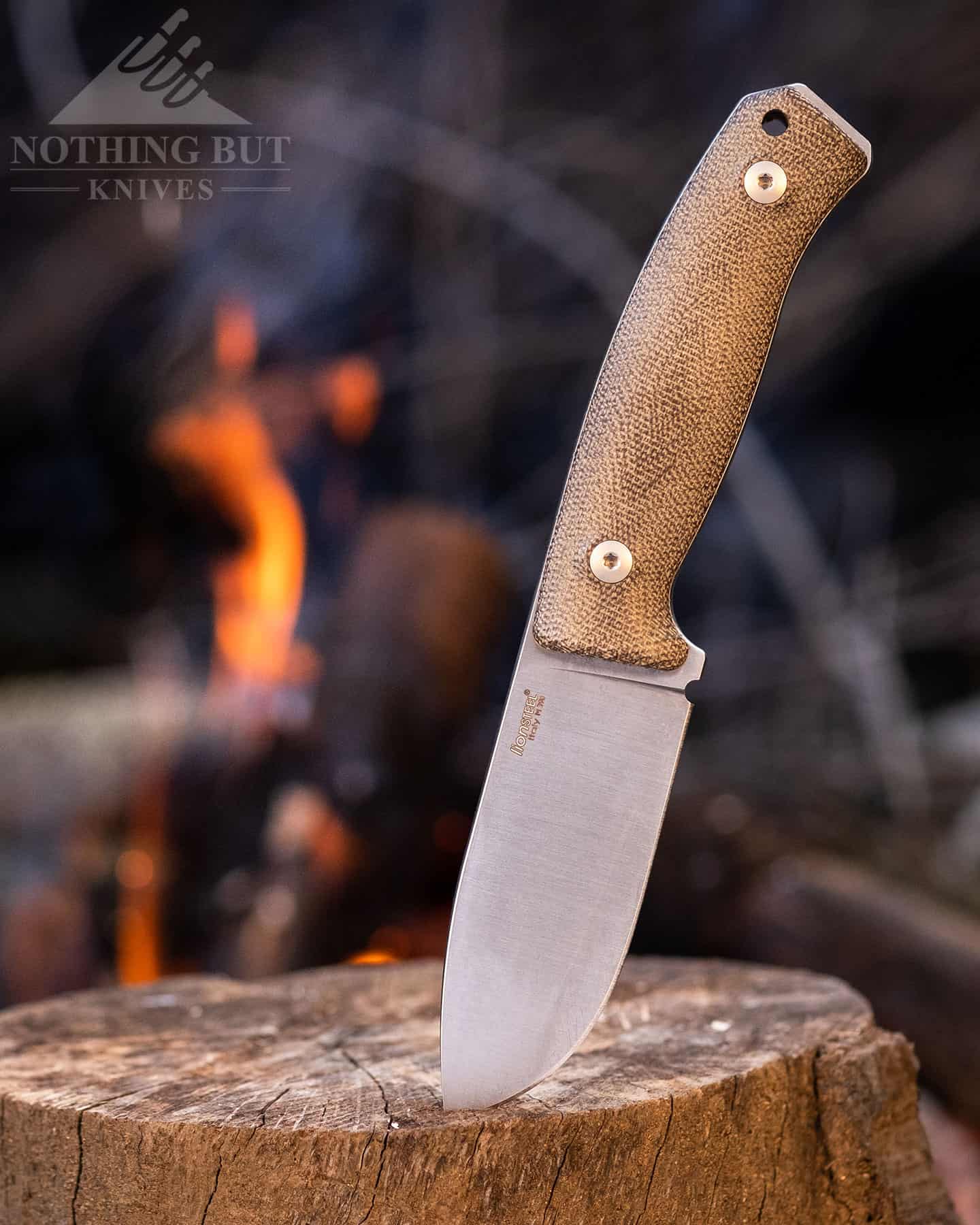 Just be sure not to leave the M2M behind. Because, its shortcomings in the badass department notwithstanding, this is about the best and most versatile fixed-blade EDC/utility knife that I've ever encountered.
In other words: this knife is a badass – just a different kind. Which is weird, because until now I wasn't even convinced that fixed-blade EDC knives had a legitimate place under the Sun: why haul, said I, a fixed-blade knife around with you all day, every day, when a wisely-chosen folder (besides enabling you to carry it comfortably and inconspicuously) will be able to do anything you could reasonably ask of an EDC, while the same can't necessarily be said for a fixed-blade knife.
But the general idea of a fixed-blade EDC had intrigued me enough that once I got my dirty paws on the LionSteel M2M, I decided there and then that this was my turn to stand up and be counted: I would carry this knife – takes what it takes – every damn day for a month, and see how that works out.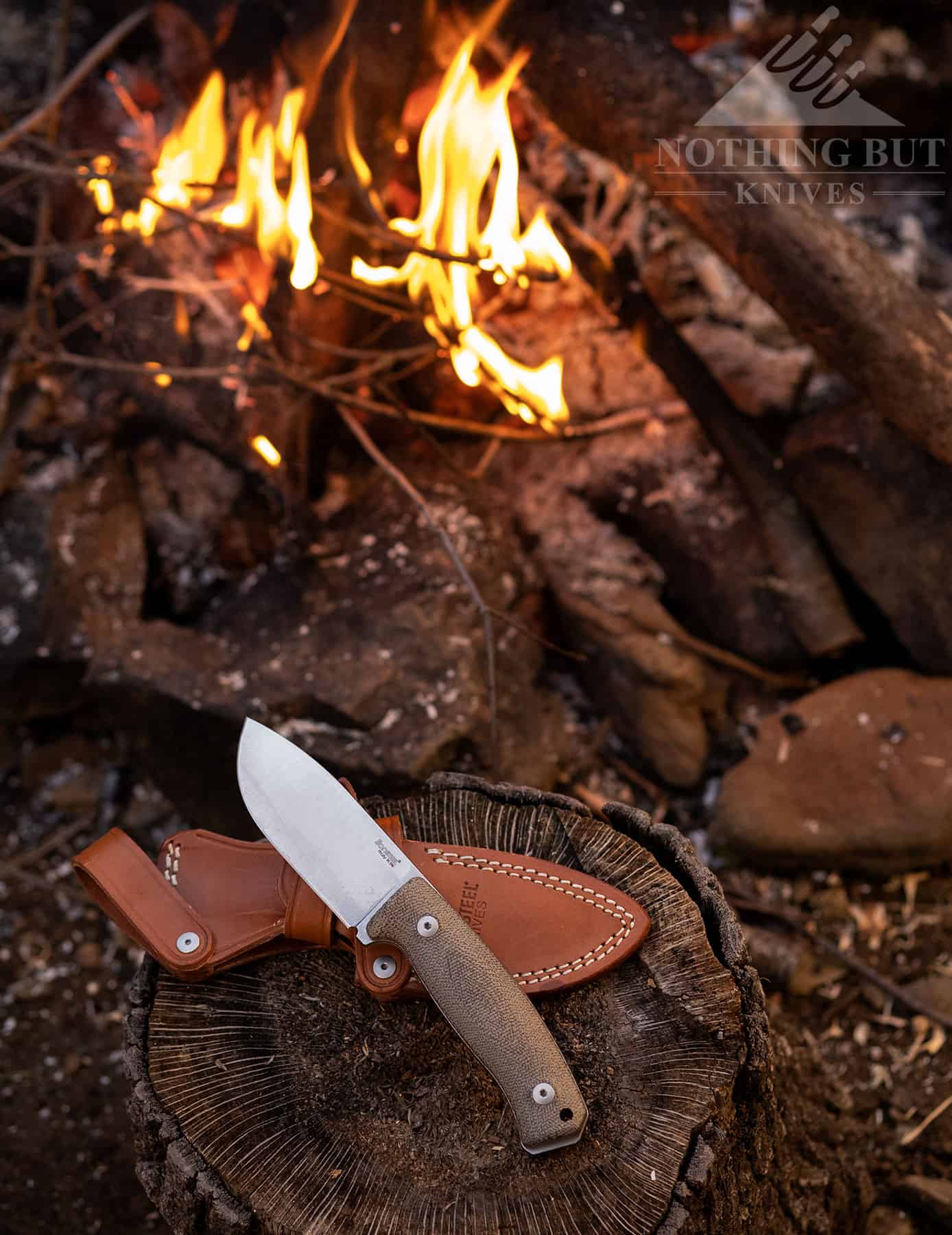 As luck would have it, this knife turned out to represent one of those extremely rare, where-was-this-knife-till-now-type experiences. I can honestly tell you that in a dystopic scenario where I would have to cut and bolt (for whatever reason) and could choose only one of my knives to take with me, the LionSteel's M2M would probably be both my impulsive and my considered choice in the matter.
Specifications
| | |
| --- | --- |
| Overall Length: | 8″ |
| Blade Length: | 3.5″ |
| Handle Length: | 4.5″ |
| Weight: | 4.9oz |
| Blade Thickness | 0.12″ |
| Blade Material: | Bohler M390 |
| Handle Material: | Micarta (Other options available) |
| Blade Grind: | Flat |
| Sheath material: | Leather |
| Designer: | Michele Pensato – aka "molletta" |
| Manufacture Location: | Italy |
PROS
One of the most practical all-around utility knives I have ever owned
Versatile, timeless design, top-shelf materials and an admirable fit and finish
The modified sheath enhances the functionality of this knife to an unexpected degree
LionSteel turned a good design into a great one, based on customer feedback
Cons
I have a long-standing, purely subjective animosity towards bead-blasted hardware
Doesn't tell the time – an egregious oversight on the manufacturer's part (that brilliant
piece of criticism took me some pains to come up with; included here in the purpose of
my holding on to the tattered remains of an image of the seen-it-all, hard-to-impress
connoisseur graciously acknowledging the limited merits of the knife reviewed)
Versatility and Attention-To-Detail: Evolution of an Acclaimed Design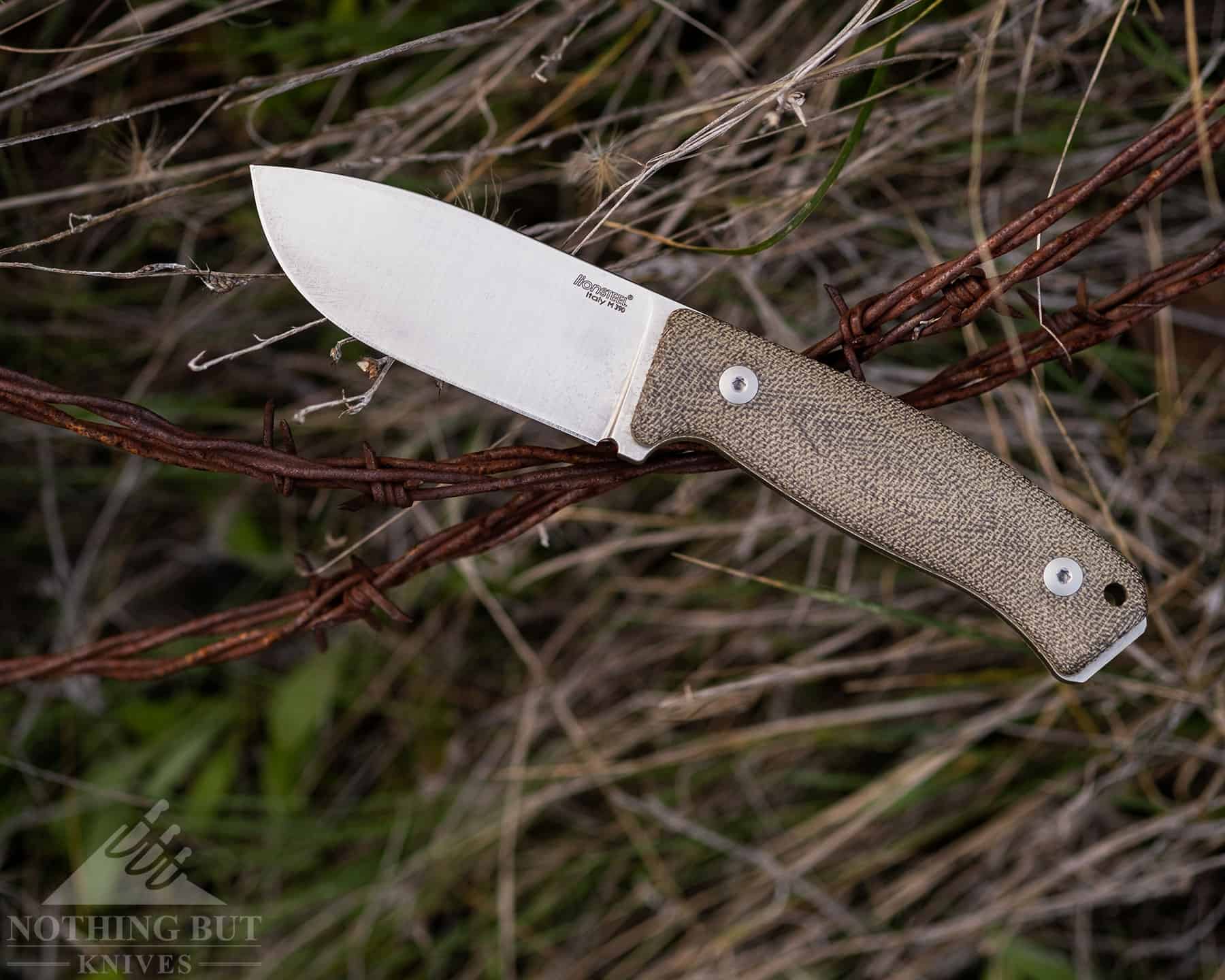 Upon taking this knife in your hand, one thing becomes immediately apparent: that when Mr. Pensato [it's fun to consider that this Italian family name in English means – inter alia, and depending on the context (used as an adjective or past participle) – 'thought', 'designed', 'figured', 'considered', 'conceived', 'created' or 'planned'; all in all, a name that's maybe too close to home for a knifemaker and designer, which is presumably why he went with 'Molletta' – meaning 'clothespin' – instead] sat down to design this compact utility blade, his first and-foremost consideration was versatility.
You can take this knife and use it: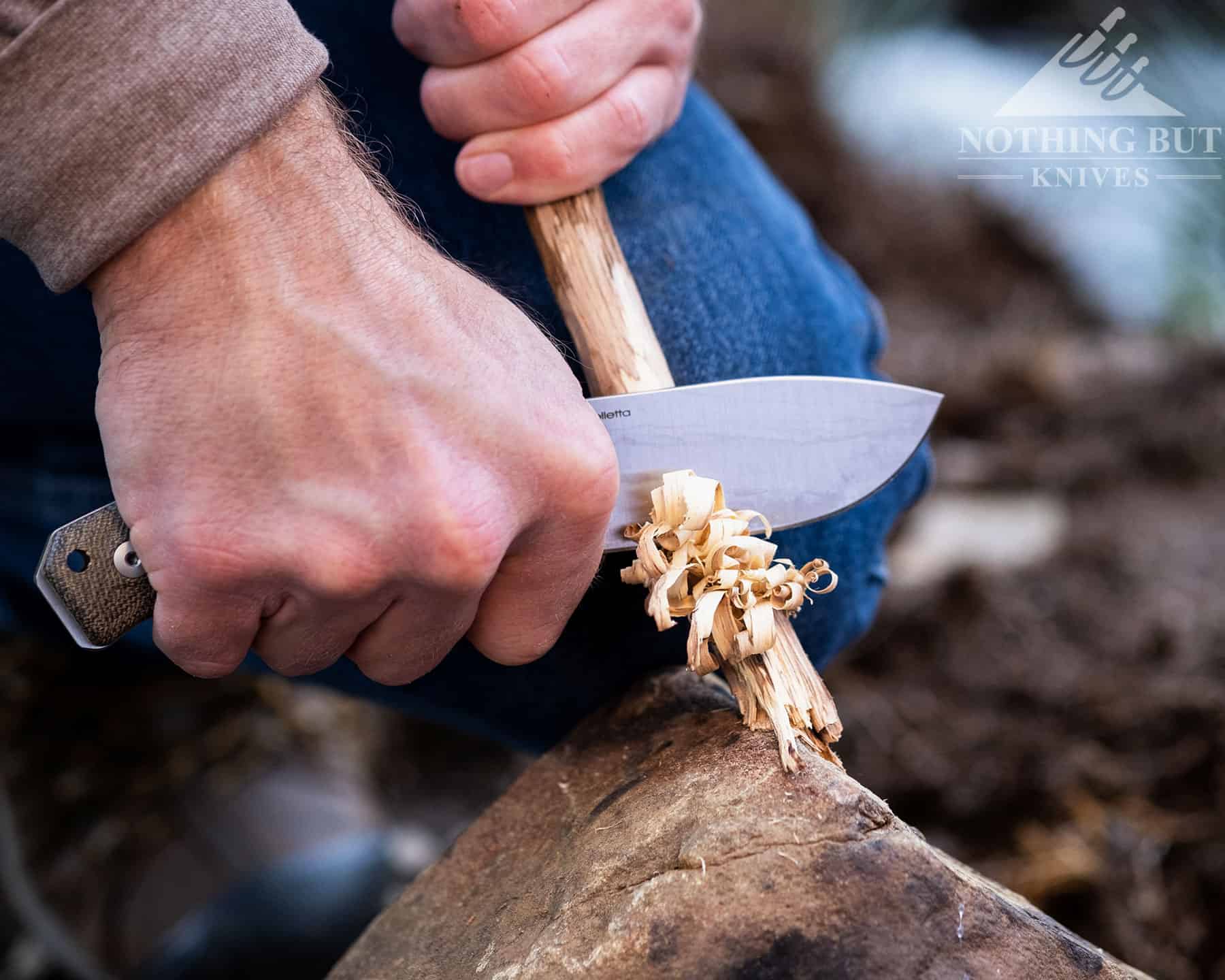 as a hiking knife;
as a camp knife;
as a fishing blade;
as a general utility knife / EDC;
To ask of it to perform as a bushcraft knife would perhaps be a stretch – you can try, nevertheless. Maybe even to save cats from trees, too. And I stop there only because I've never had a lot of imagination.
(Editor's Note: We did a little bushcrafting with it on our end, and it was okay. Also, Ben ran out of the house chasing after one of his cats with the M2M on his belt one time, but I don't think it helped him get the cat back in the house.)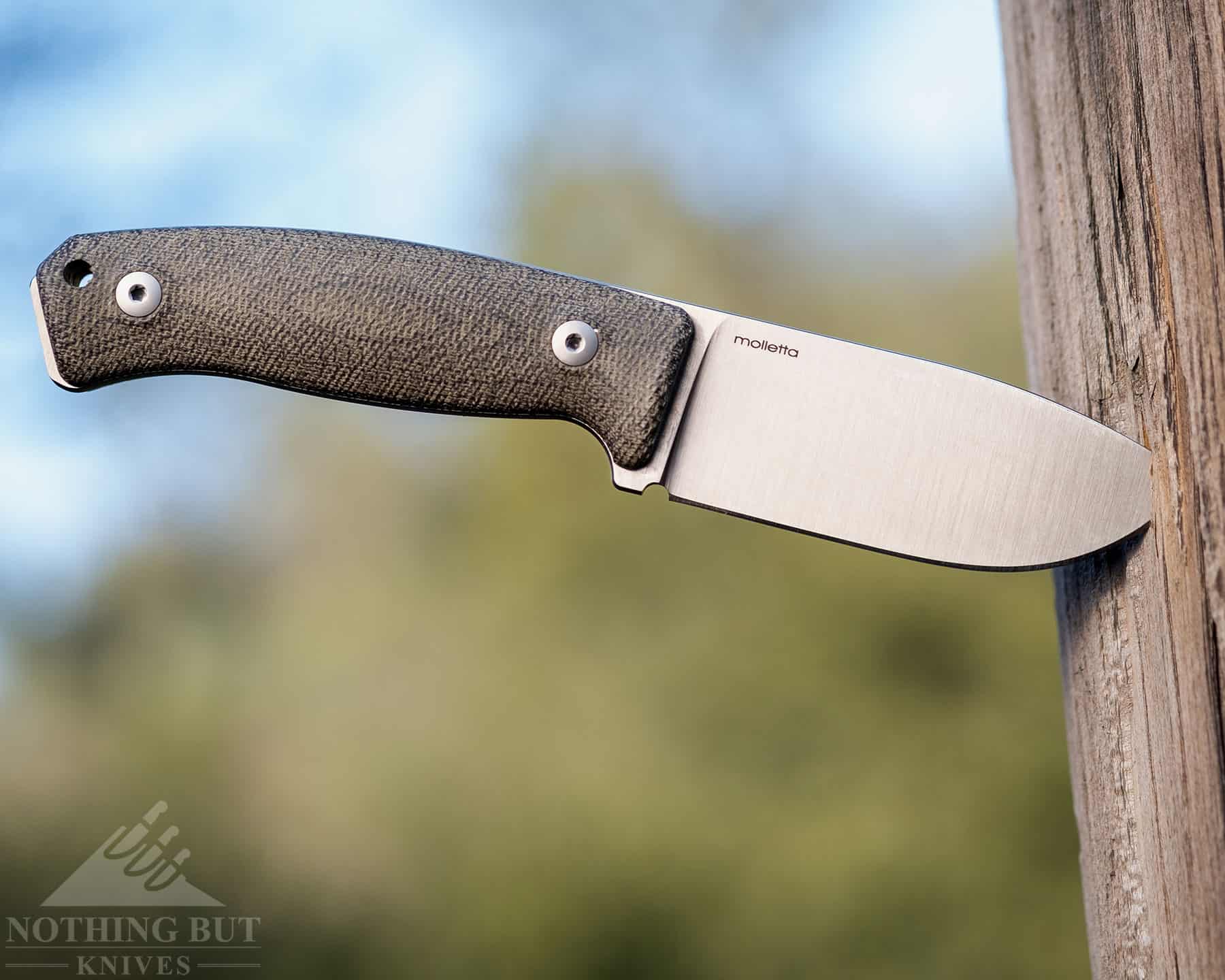 Another impression that you immediately get is the sense of how thorough a consideration the designer must have given to every facet of this knife's construction, from the crowned, deliciously smooth spine of the sturdy, full-tang blade to the extended tang intentionally left sharp-cornered to accommodate a ferro rod. From the enhanced, high-quality, double-looped sheath to the latter's torx-fitted hardware (making the leather-loops of the sheath removable and changeable, if need be).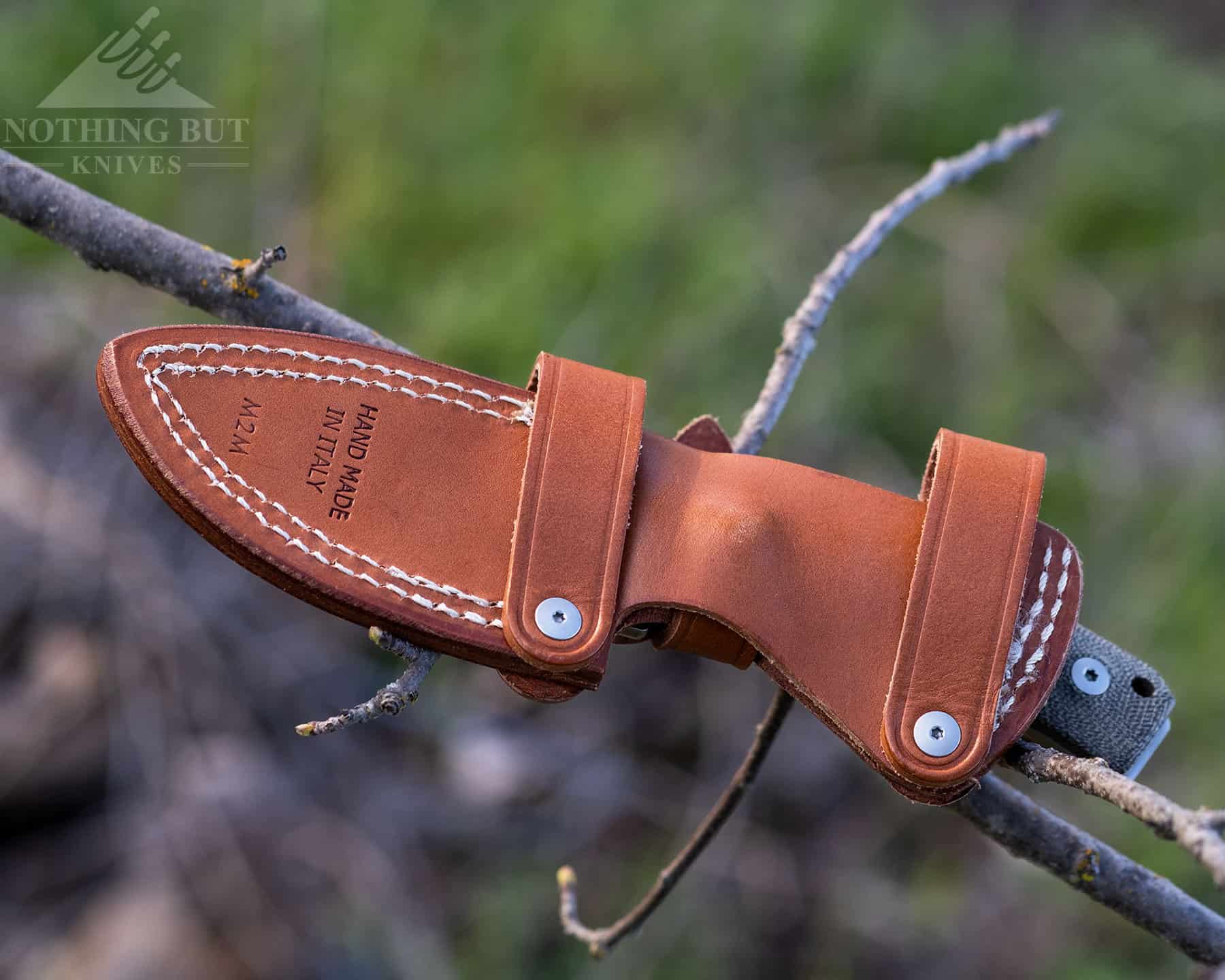 Even the size of the knife betrays the manufacturer's giving long and serious thought to the exact dimensions required to make this knife even better than its predecessor, the universally acclaimed LionSteel M2.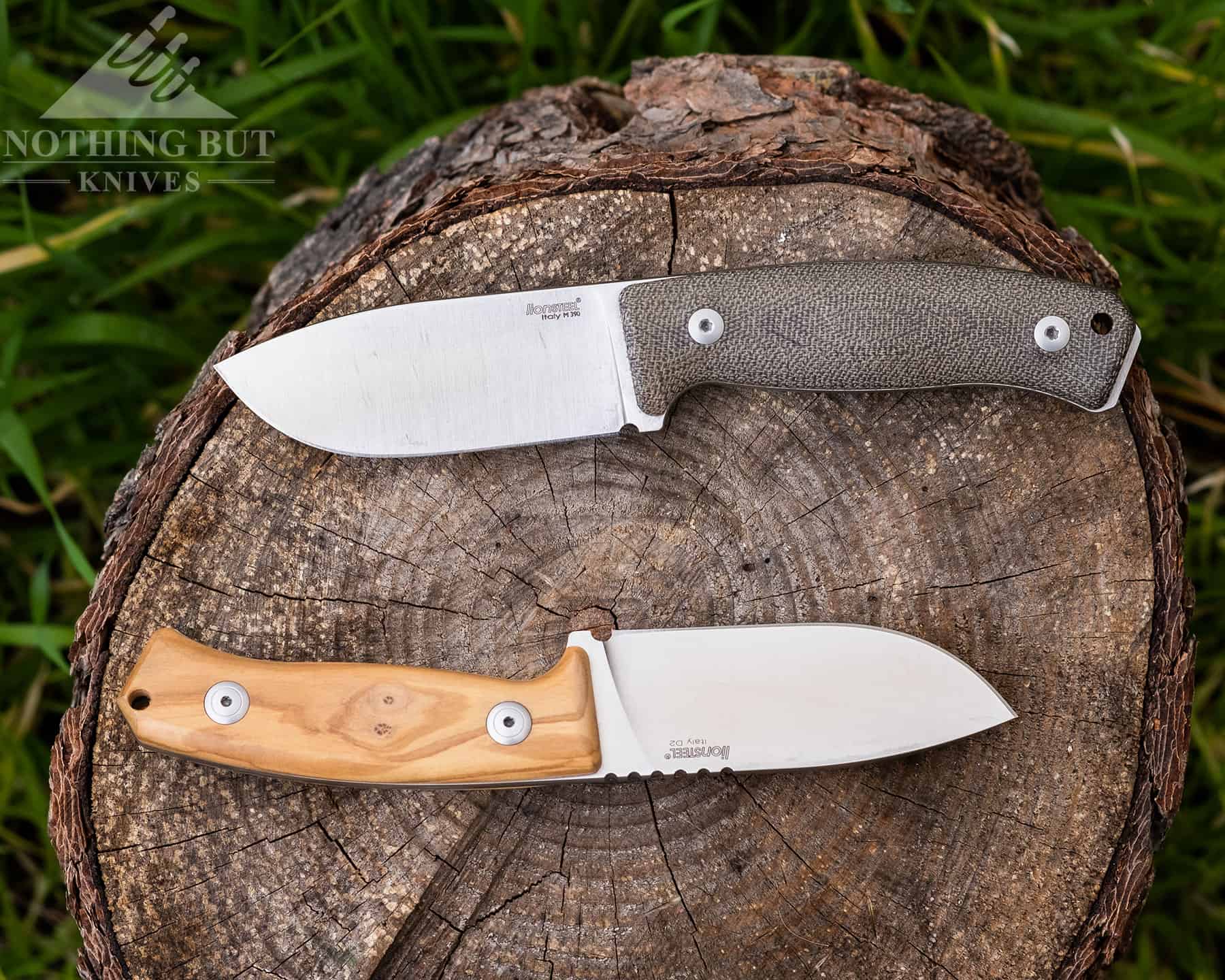 The last 'M' in this knife's designation must indeed stand for 'modificato' – meaning 'modified', 'amended', 'revised' or 'updated' in English –because, as I have mentioned earlier, this is an update to the earlier model.
In the manufacturer's own words, "(…) M2M is [the fixed-blade knife] evolution of [its] older brother M2, it features a longer handle in order to have a better grip when using the knife throughout different works. At the same time, the handle scales have been 3D milled in order to have a more ergonomic shape. The blade is built out of M390 sintered steel and satin finished. The sharp cornered extended tang can be scraped against the fire striker steel rod, so that it generates the sparks needed to light the fire. For the final user it is safer to proceed in this way, since the knife can be held when inside the sheath, so there's no risk to slip to the edge of the blade. (…)".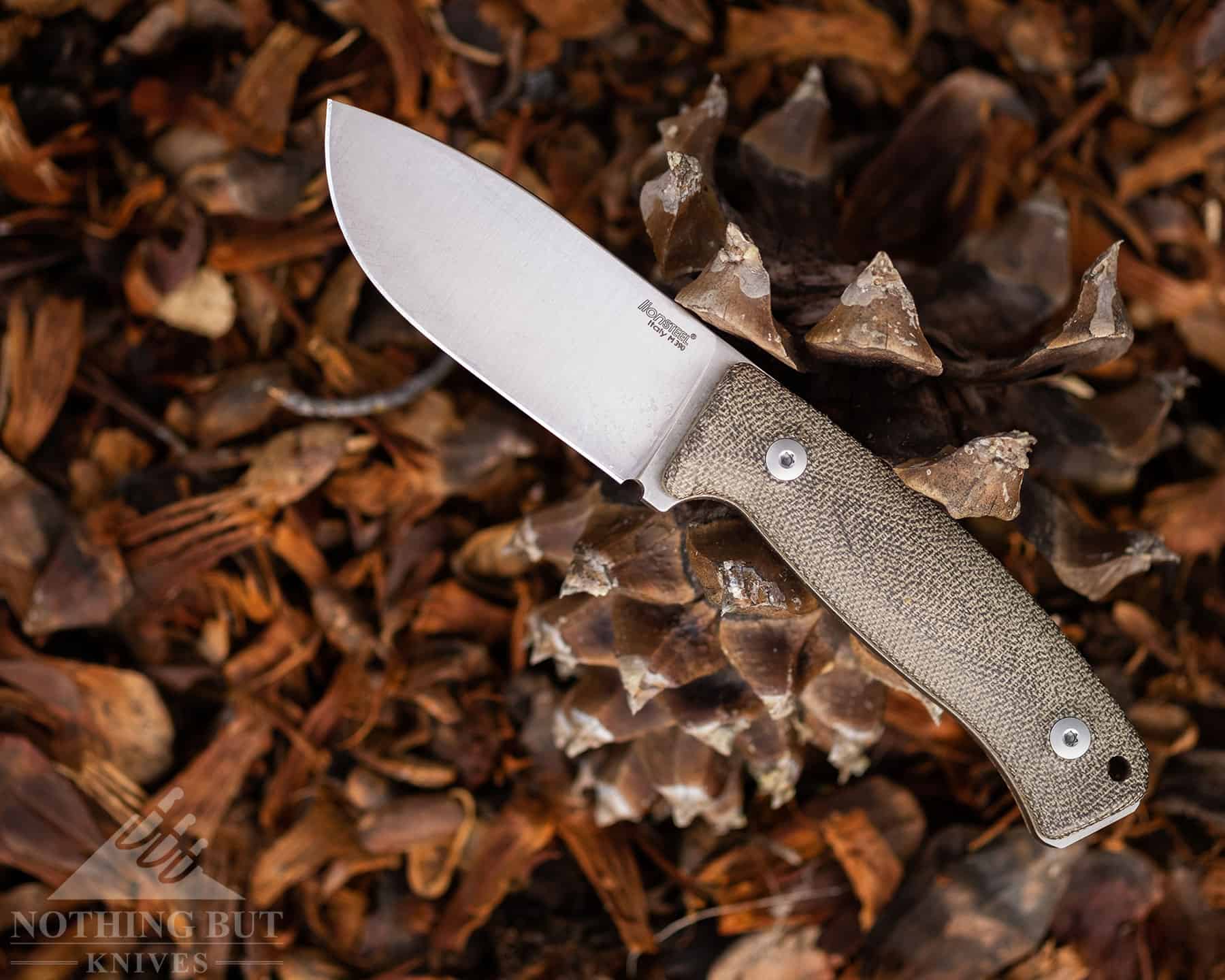 For me, the most welcome ameliorations involved are – not necessarily in the following order – the upgrade of steel from D2 to M390 (not that there's anything wrong with the former); the modifications directed at improving versatility of the sheath; and the extension of the handle enabling the user to get a solid, four-finger grip on the knife. The first two are also important, but to me, the thirdly-mentioned factor is essential. I'll talk some more about the improvements to the sheath later.
THE BLADE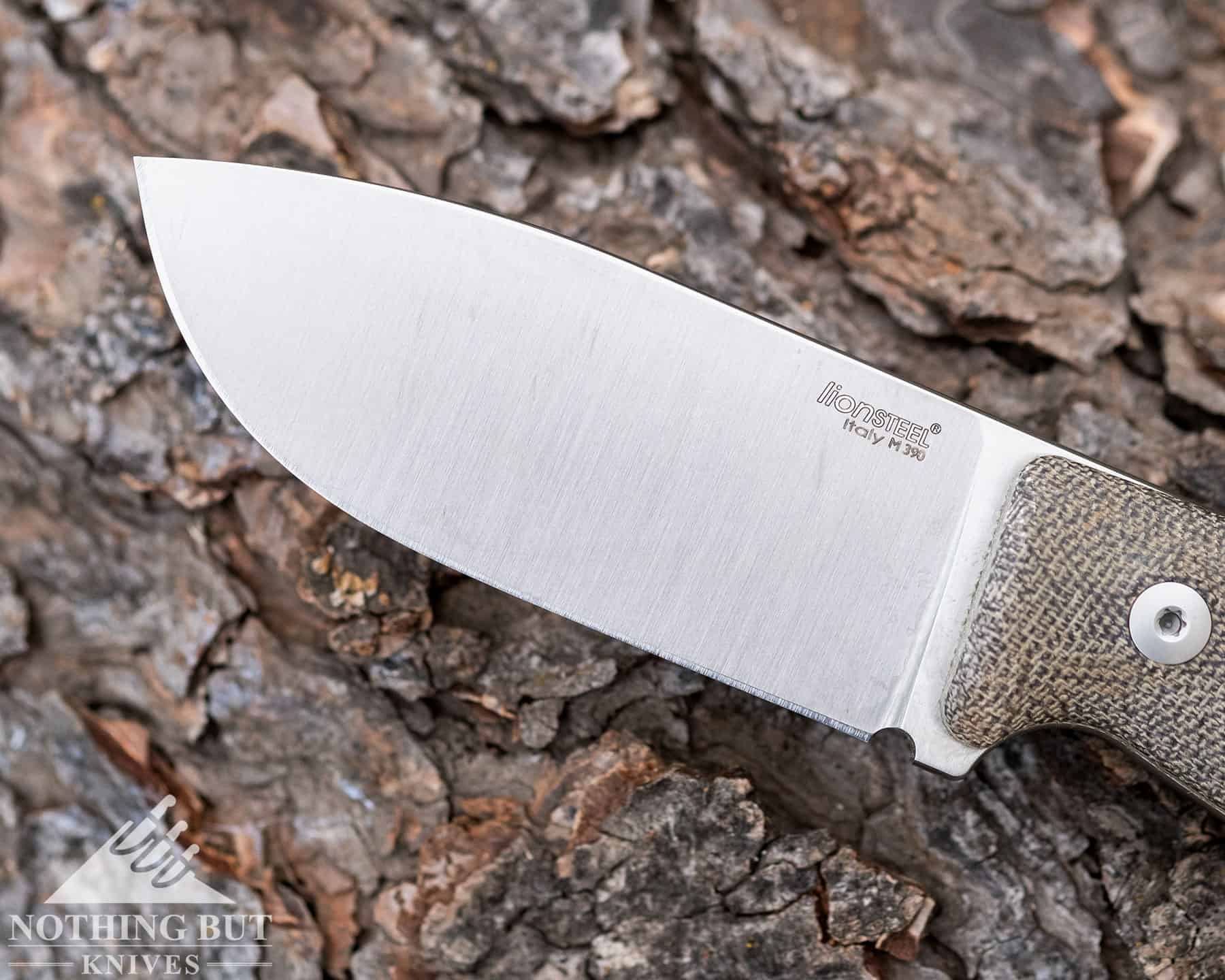 Prior to my getting the M2M for the purposes of this review, the only fixed-blade knives in powder-metallurgy steel that I've tried were certain Cold Steel products featuring CPM 3V.
I've heard some people say that powdered steels don't always work well in larger outdoor blades due to the simple fact that these steels are usually cooked much harder than their traditional counterparts, in the interest of achieving an improved wear resistance, and said enhancement comes at the price of these steels being more prone to chipping when used in an outdoors-setting (chopping, batoning, etc.). Those same people almost always add to the foregoing that with smaller, compact fixed-blade knives, the aforementioned concerns are not as acute, since these blades are not usually used for high-impact activities anyway.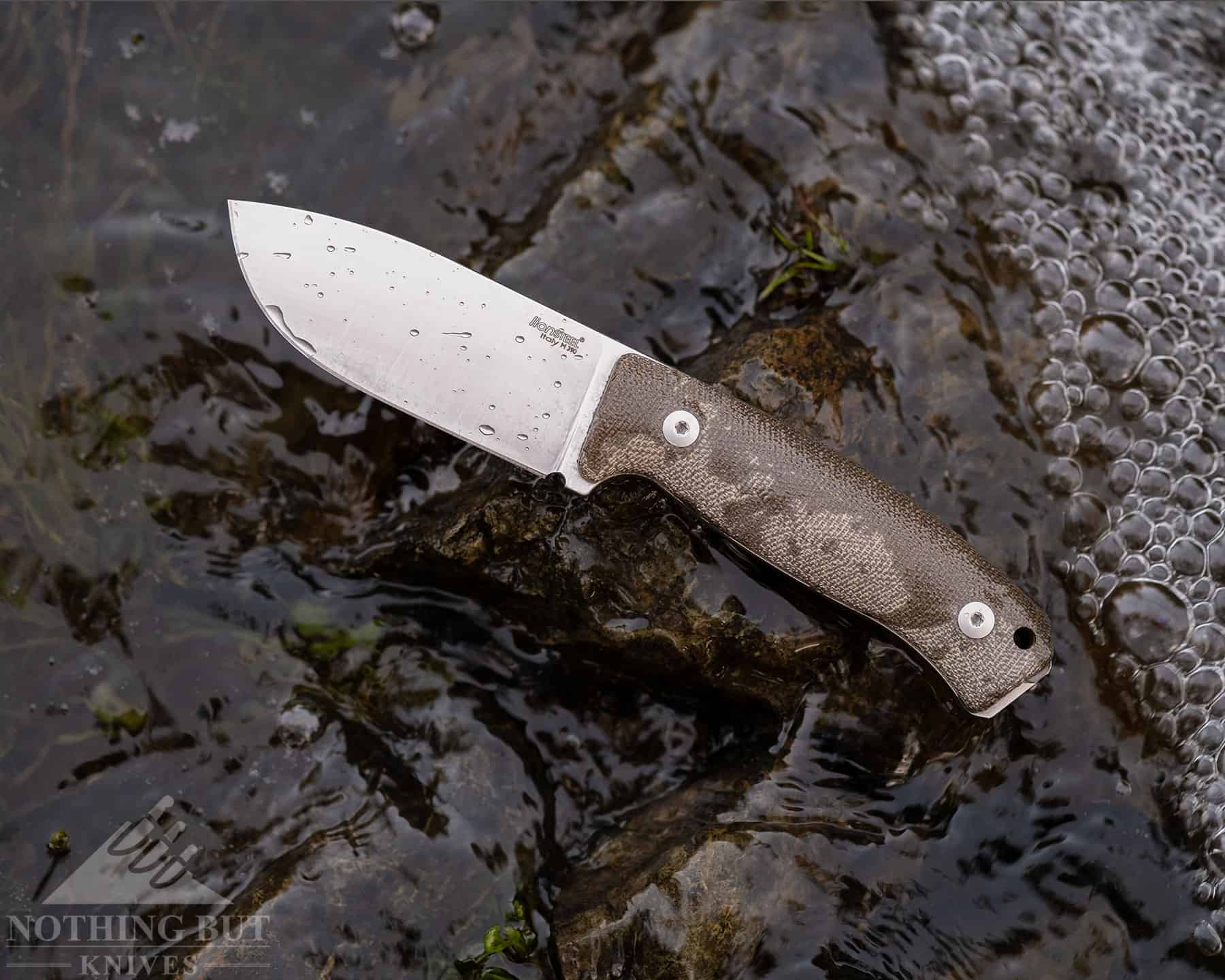 At BladeOps Blog, we read that "(…) M390 steel is one of the most hardened new steels on the market – and it might be just what you need to find your perfect cutting partner. (…) Where traditional steels rely on ingot casting methods to shape, the manufacturers at [Böhler-Uddeholm] developed a technique that ensures an excellent spreading of carbides. (…) M390 was first developed as a more hardened, stronger, more wear-resistant metal that could be used in the development of tools that undergo high-stress. What we have found is that it makes a sturdy, hardened knife that is not quick to lose its edge. [Böhler] themselves maintain that there are many benefits to using this type of steel. Some of these are as follows: M390 steel is durable, more so than many other types of metal. (…) M390 steel is very resistant to corrosive materials and rusting. (…) Sometimes known as the new 'super steel', M390 performs well in most categories. This powdered steel is incredibly tough, hard wearing and corrosion resistant, as well as being great at keeping an edge. Many users report that after a month of hard outdoor use a knife cast in M390 steel barely needs a stropping. (…) The unique method of manufacturing this steel allows the producer to use several different metals melted together so that they can get the benefits of each type. (…) [T]he composition of M390 steel goes some way to explaining why it is so often chosen in the production of knives. Due to its hard-wearing nature, M390 steel knives are often favored by hunters and extreme outdoor use."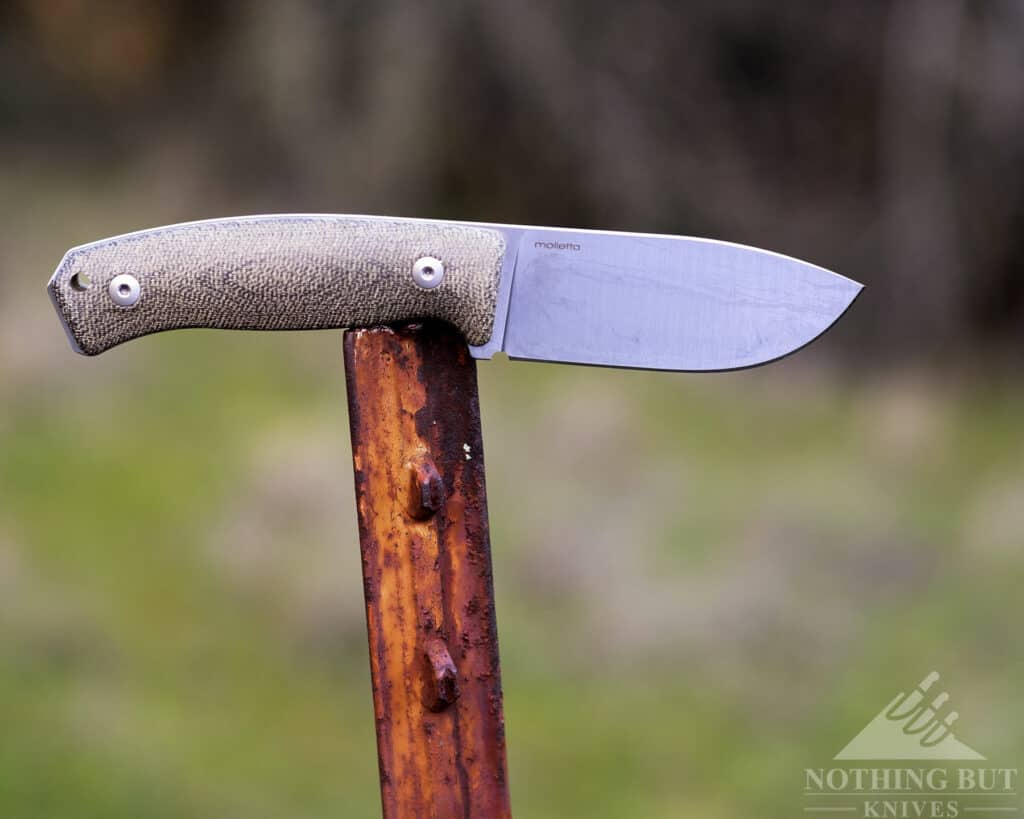 You can read up further on this lovely steel if you check out the article on the Bradford Guardian 3 here on NBK; that article also provides some intriguing comparisons between this and some other high-performance steels which the different versions of the latter knife can be acquired with.
(Editor's Note: Larrin Thomas has also written extensively about M390 steel.)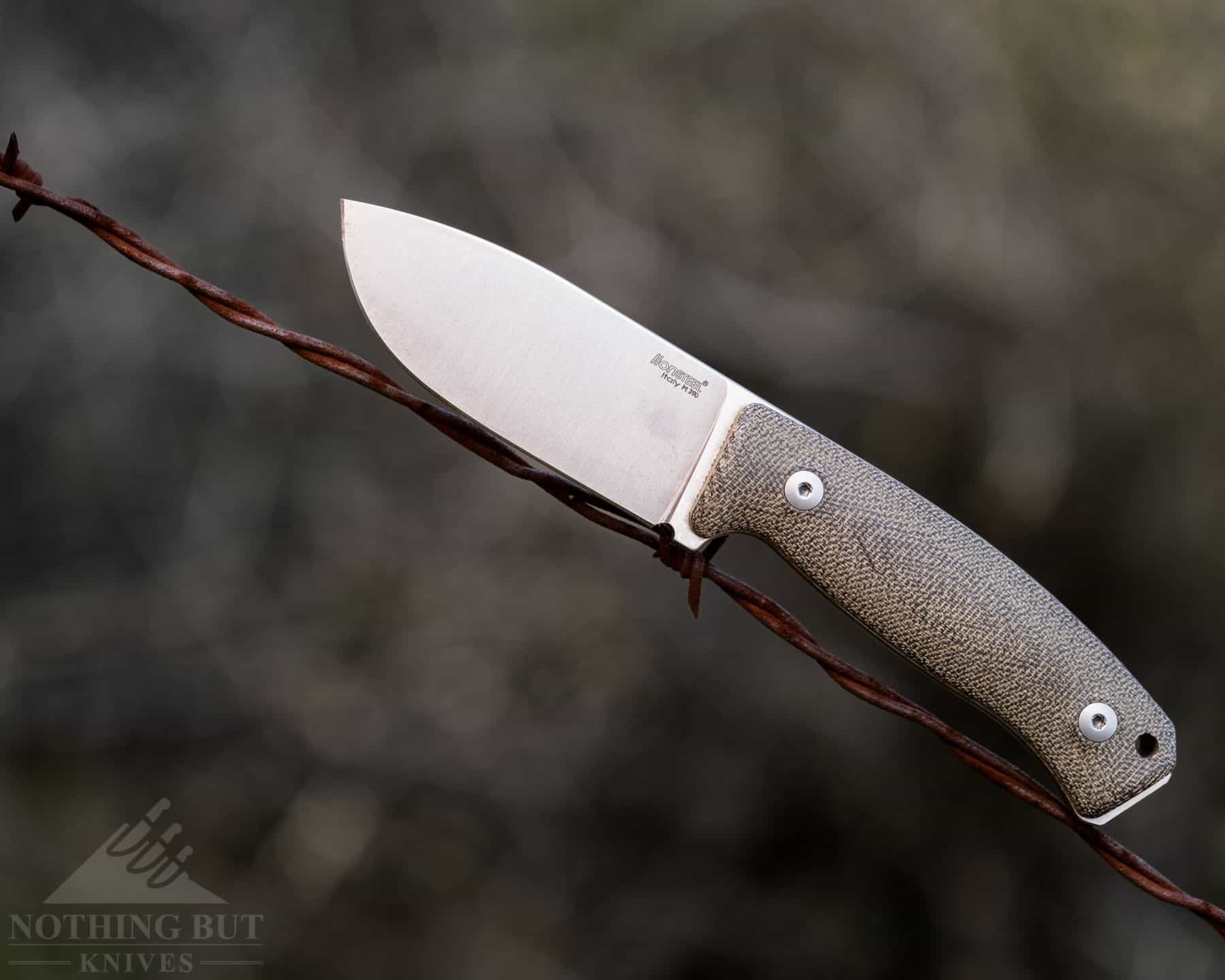 The tall, sturdy drop point blade of the M2M fashioned out of that splendid powdered steel has, at 4 mm (0.16"), more thickness than the average bushcraft knife can boast, but thanks to that efficient, V-shaped cross section, cutting with the blade makes you feel like it could produce clean, crisp cuts through a steaming, quivering noodle.
Also, powdered steel blades reveal their insane hardness to the naked eye when they finally start picking up scratches. My M2M has only one so far that I've noticed – so shallow as to produce barely a glint under harsh light. If you compare that one to scratches left over time in a blade made out of, say, 8Cr13Mov steel (or any kind of softer steel, at that), you will immediately see the difference in character between the former and the latter scars in the material.
The Handle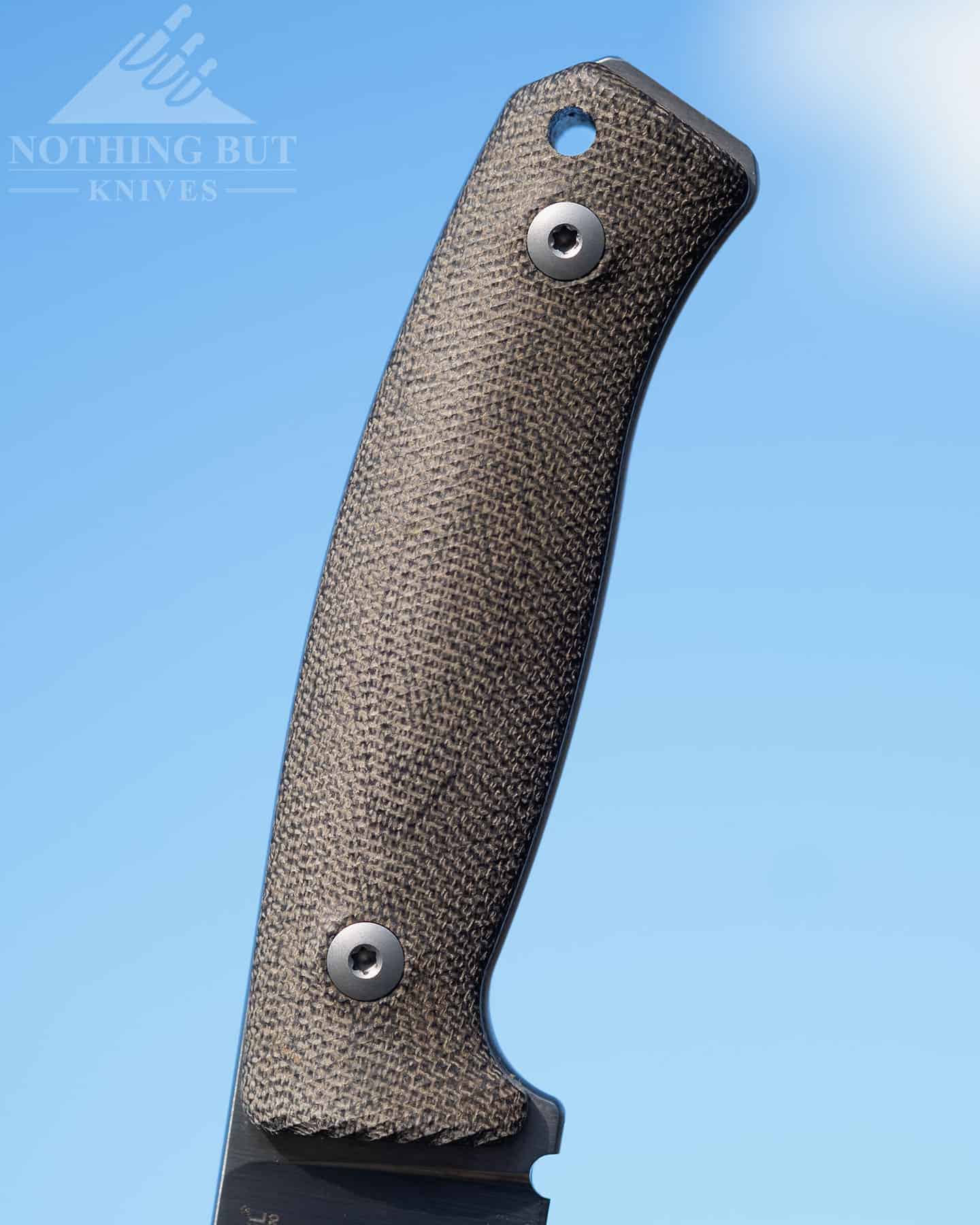 One of my main worries concerning smaller fixed-blade knives is that I really appreciate a comfortable, palm-filling handle, and proportionately resent the lack thereof in a knife. That's why finding the M2M's handle to possess sufficient real estate for me to get a good grip on it flooded me with quiet relief and met with my utmost approval.
This knife is big enough to be useful in a variety of different tasks while at the same time sufficiently compact to allow more-than-sufficient ease of carry. This, gentlemen (and ladies), is a Tom Hardy of a knife: as if a regular-sized knife were fed into some kind of compressor to produce, on the other side, a compact, capable blade of frightening intensity, its molecules forced close together into a downscaled, functional unit, with no room left in their midst for non-essential frivolities.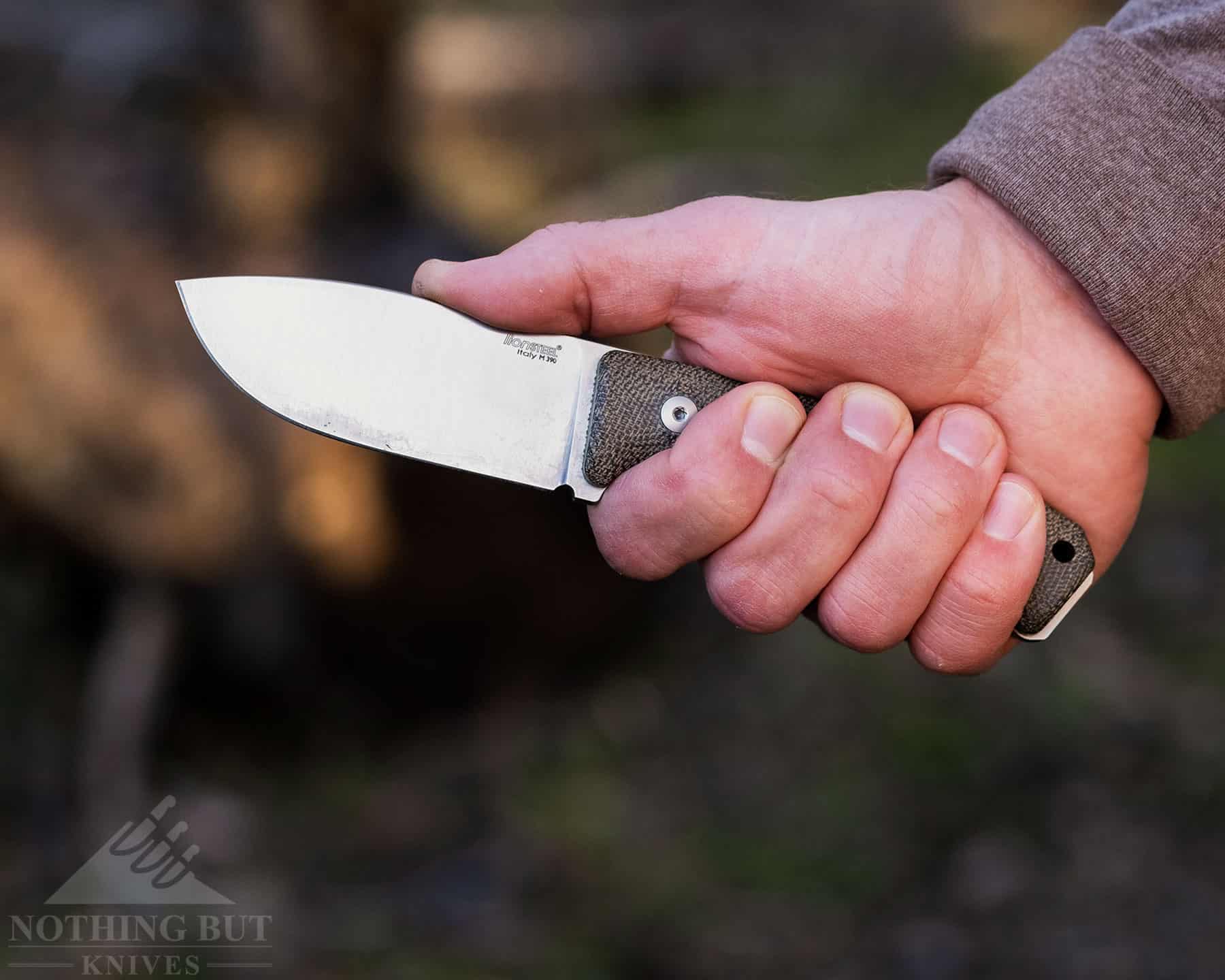 The handle scales on my example are fashioned out of green canvas Micarta, but the knife is also available equipped with handles in black G-10, natural-colored canvas Micarta, Olive Wood and Santos Wood. Of these, I prefer the versions featuring Micarta because these provide the best traction, but I would not turn my nose up at any of the other handle configurations either.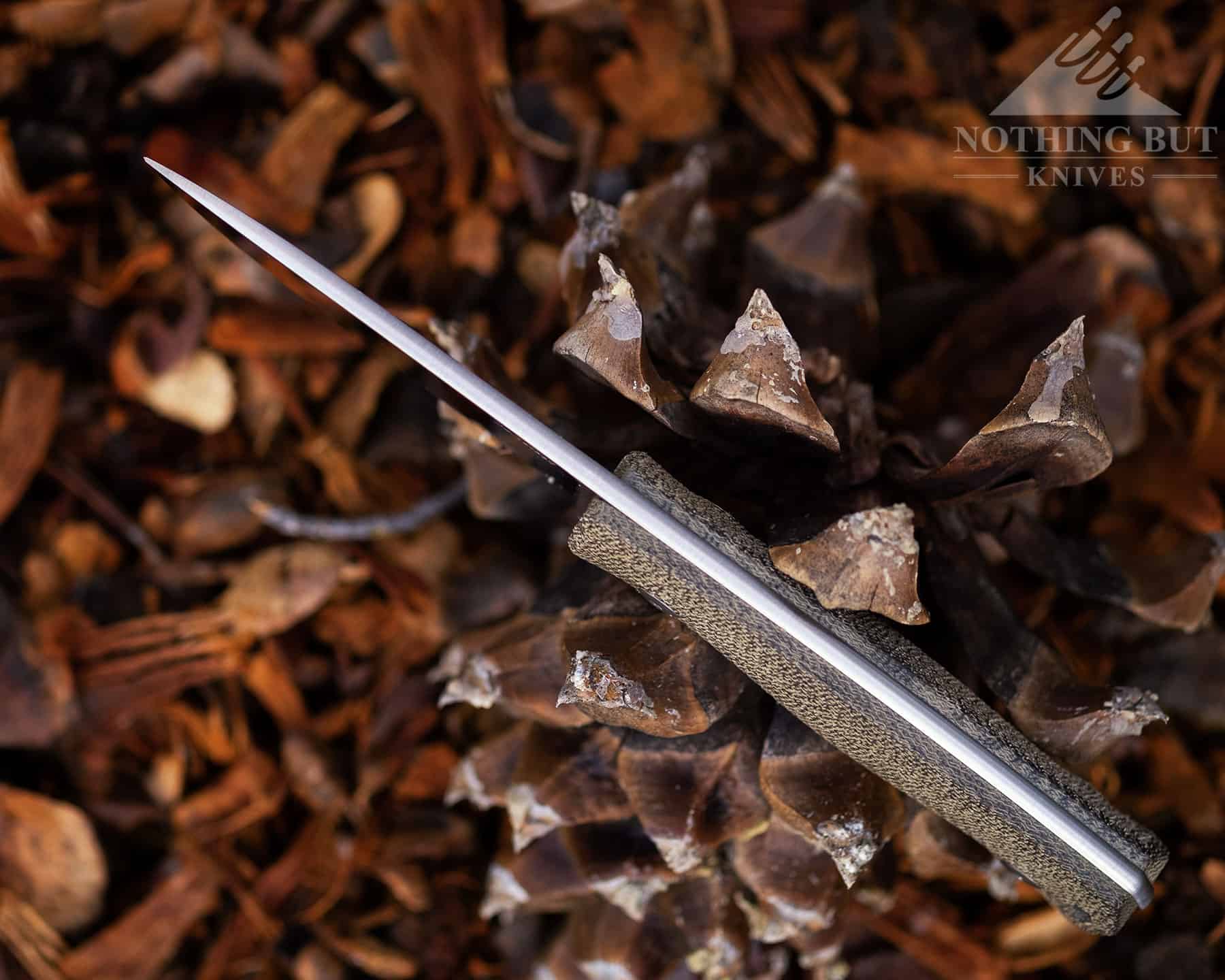 The full, crowned tang of the blade stands proud of the handle scales for additional comfort and added grip security. Overall, the handle feels very comfortable in the hand in a variety of grip positions. Fencing and pinch grips are what I find my hands settling most naturally into with this knife, but if you try a reverse grip, you'll find that the designer has clearly anticipated this knife to be held in that position as well.
The Sheath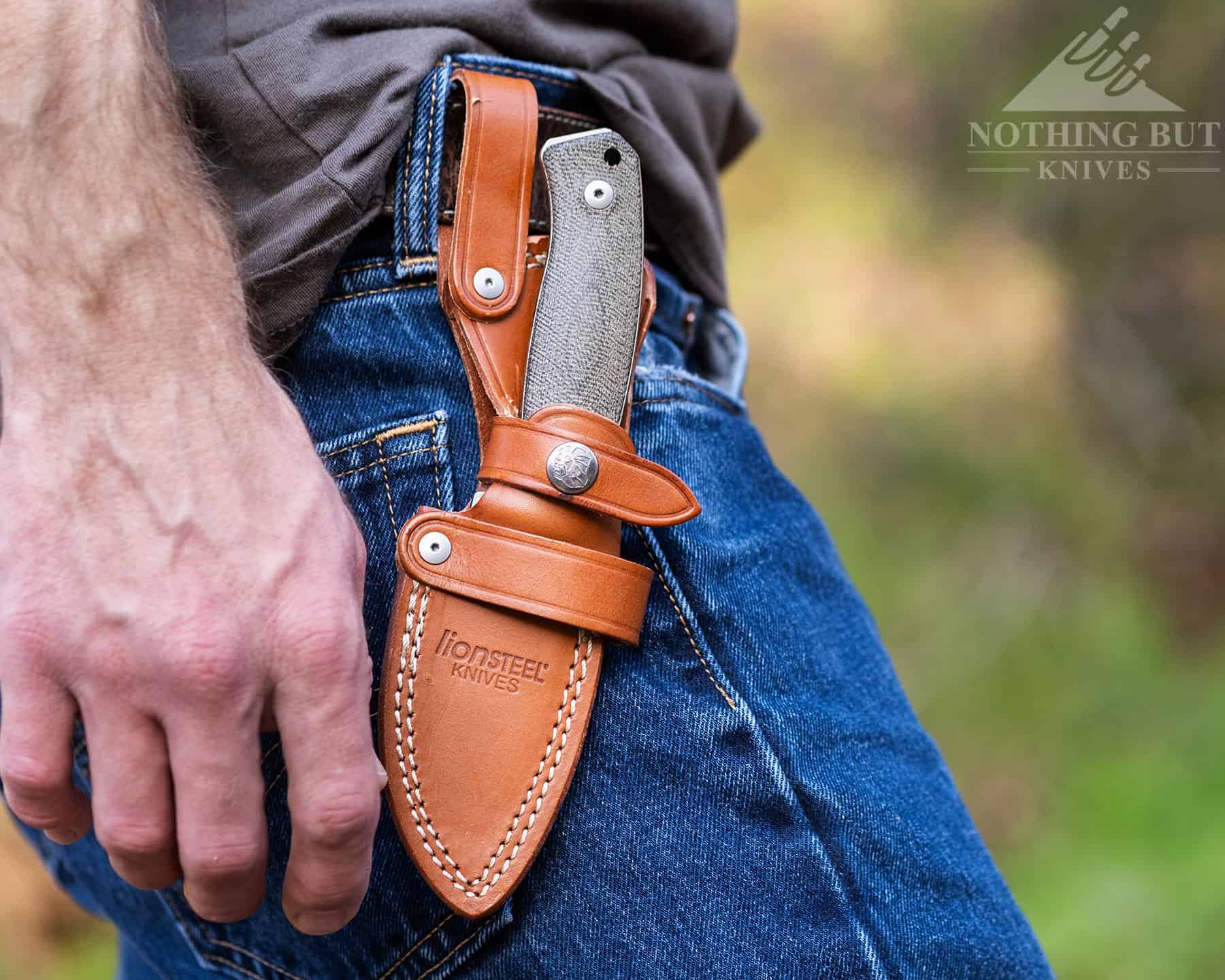 Damn, that sheath: with the LionSteel M2M, that's where half the fun comes from. It's a huge leap forward compared to that of the M2.
Simply put, Molletta took the old sheath and made it M.O.L.L.E.-compatible. According to LionSteel's website, "(…) The leather sheath is stronger and more flexible, it has been improved with a double seam and adding two removable leather straps with screws. In this way the designated holster allows whether vertical or horizontal carry, also on M.O.L.L.E. systems, in various positions and solutions. (…)".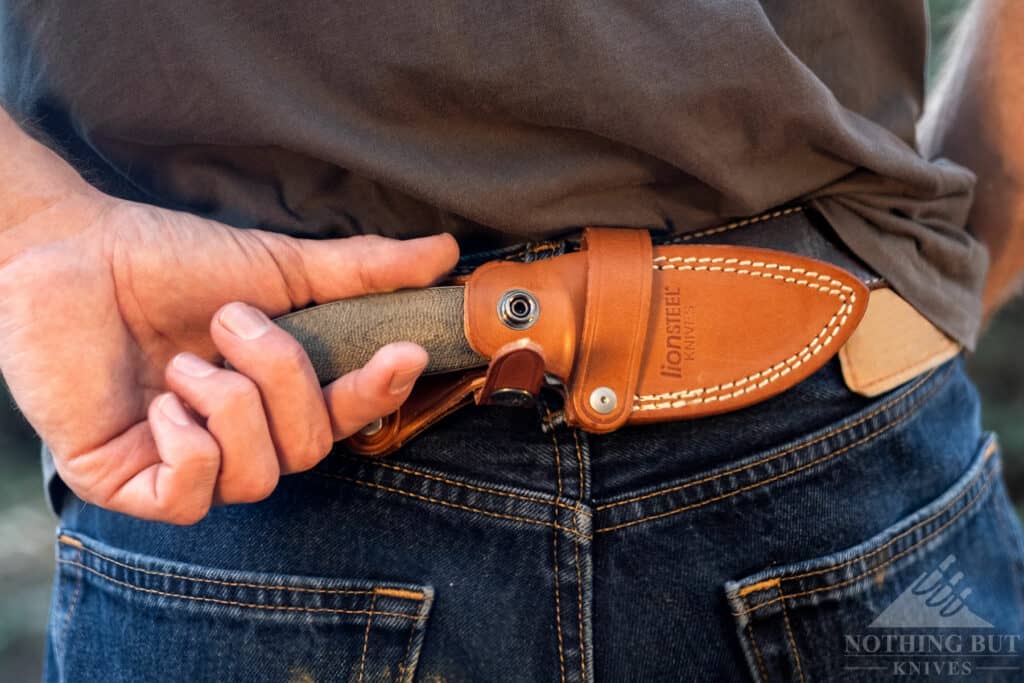 By way of illustrative photos, the manufacturer provides no less than six different suggestions as to carry positions (and presumably they stop there only because they really lack imagination); the sheath holds the blade securely even in an inverted configuration.
After trying vertical hip carry and scout carry, I myself have finally settled on horizontal carry over my right front pocket, so that the sheathed knife disappears completely beneath an untucked T-shirt or a hoodie (and that way, if someone gets curious about the bulge, you can say with all the more conviction that you're happy to see them).
In Use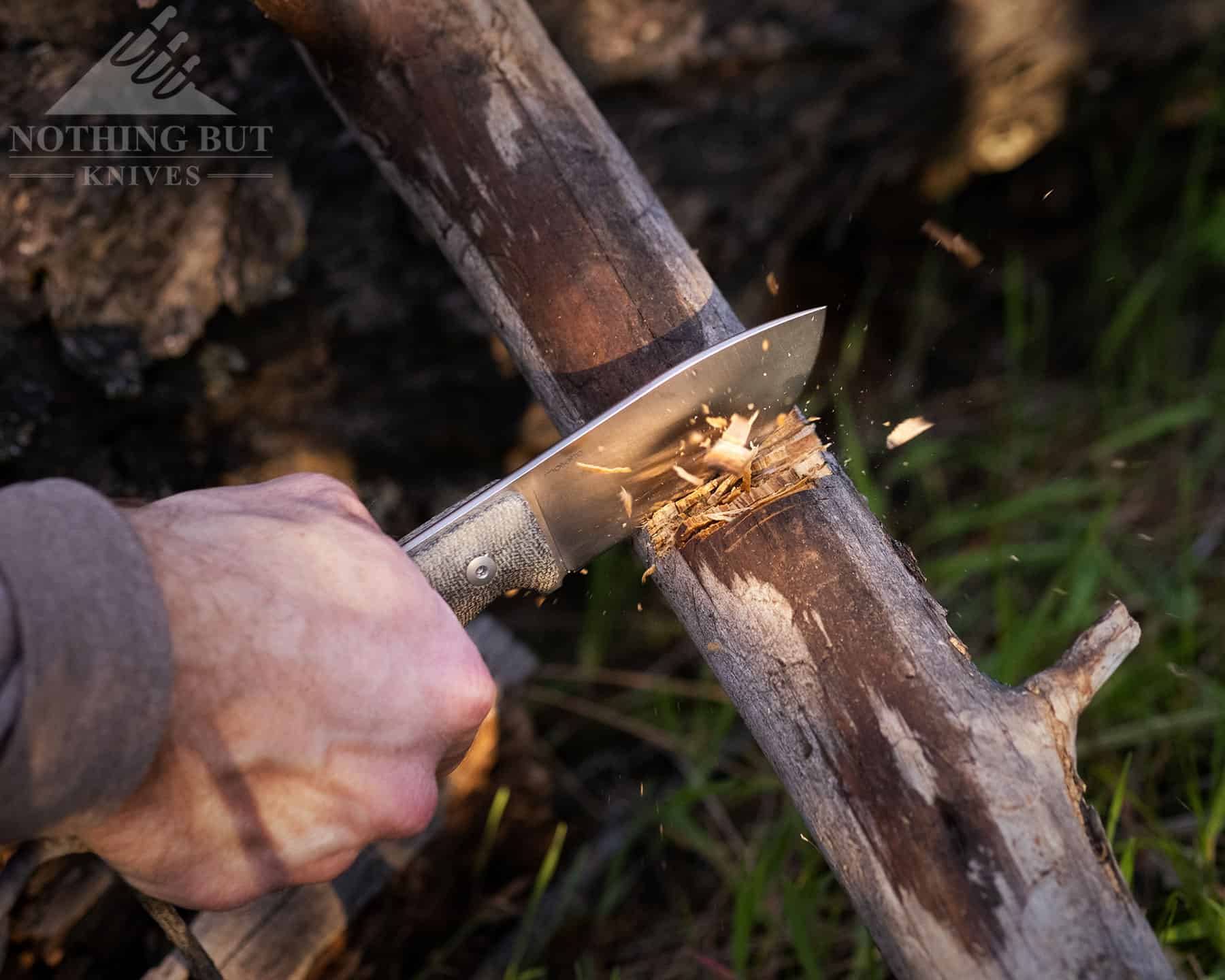 Thirty days of carrying the M2M with me to every conceivable place and setting from work to hiking and back again have left me with the impression that this knife can virtually do all I can – more or less reasonably – ask of it, and perform those tasks with some kind of an Old World charm, while leaving little room for doubt as to its efficiency.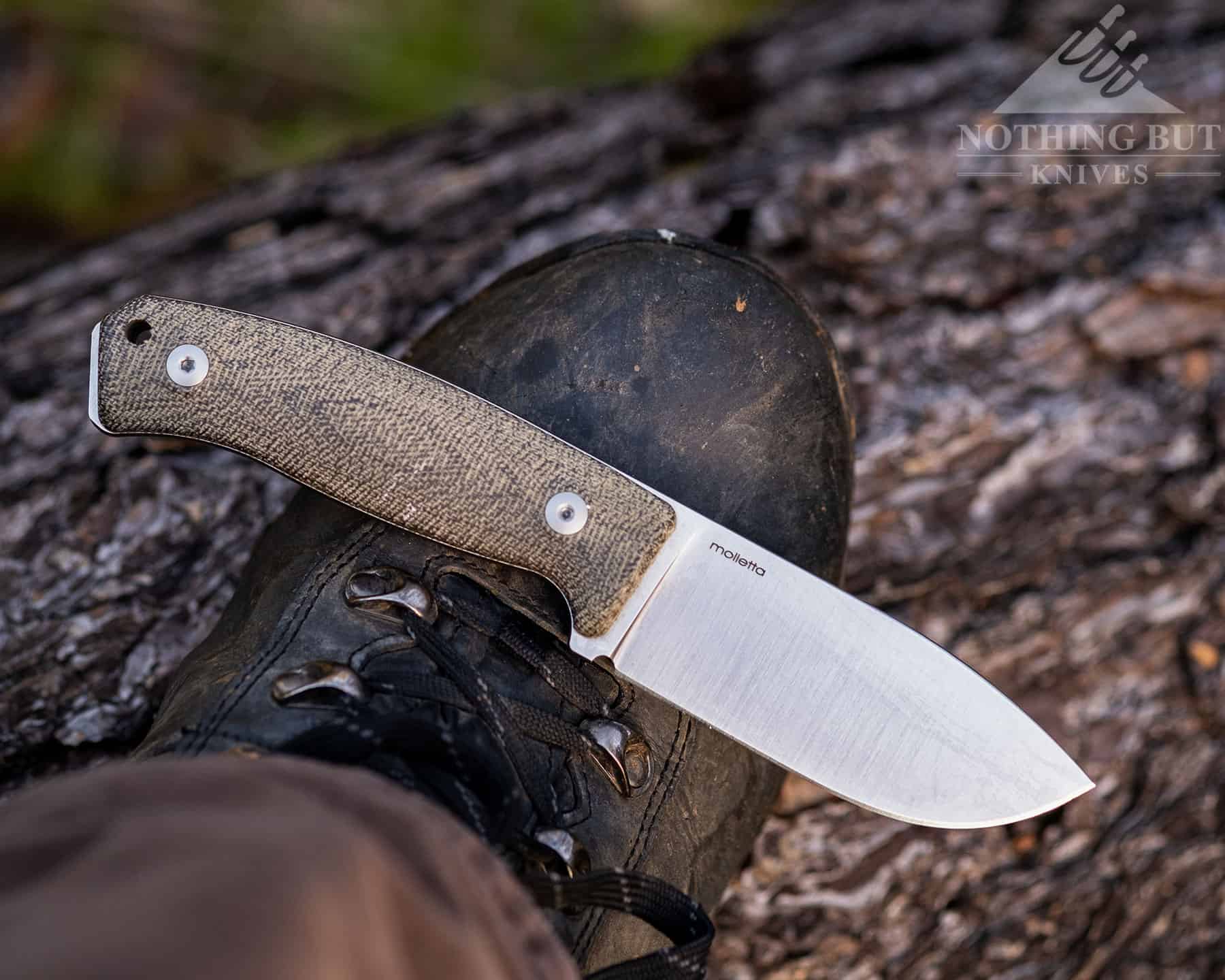 This knife is something lovely to use, and although the prescribed period of testing has now expired, I see no reason not to continue carrying it as before.
At the risk of repeating myself, I can only say that, to me, this may be the fixed-blade knife to measure all fixed-blade knives against: Il coltello di tutti coltelli.
Comparison and Alternatives
If you are still not convinced as to the abilities of this knife, and/or you're looking for a different but comparably good, EDC-able fixed-blade knife, I recommend that you take a look at the following reviews on NBK: Böker Arbolito El Héroe; Bradford Guardian 3; CIVIVI Tamashii.
Any of these knives, obtainable at different price points, should serve you well as an alternative to the M2M. For both safety reasons and its sheer entertainment value, do also check out the NBK article 'Urban EDC Knife Guide For Country Boys'.
The CRKT Bugsy is also a possicble alternative if you are looking for an American made compact survival knife.
Conclusions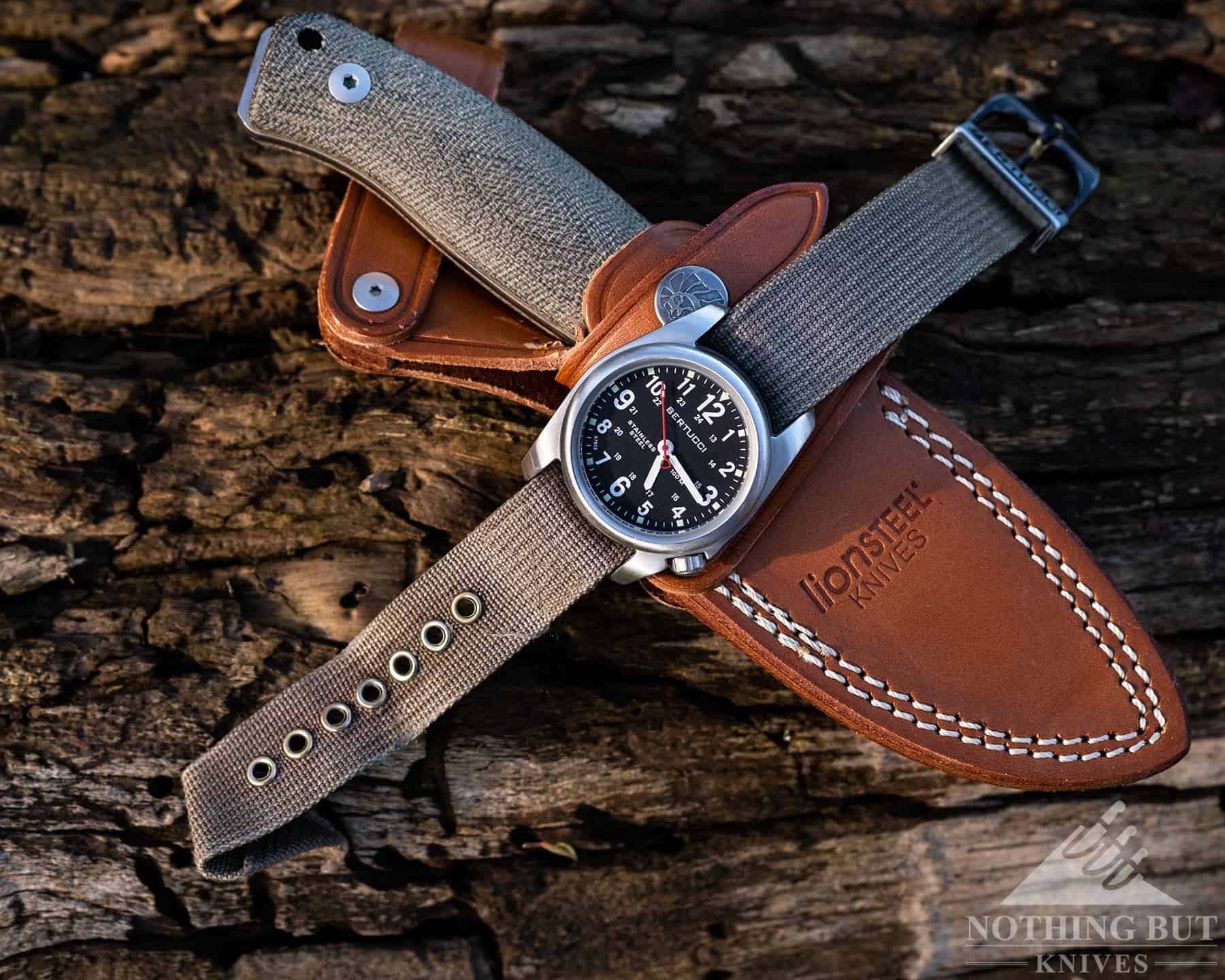 The foregoing notwithstanding, it still doesn't tell the time.