The Cooking Knife for the Off Roading Community
The name of this thing might perk up the ears of someone who spends a lot of time climbing mountain sides in their trail rig. Off-road adventures checkered with fireside cookouts was apparently the use case in mind for the designer Jason Nicosa, who spends an enormous amount of time cooking in front of Toyotas on mountain sides.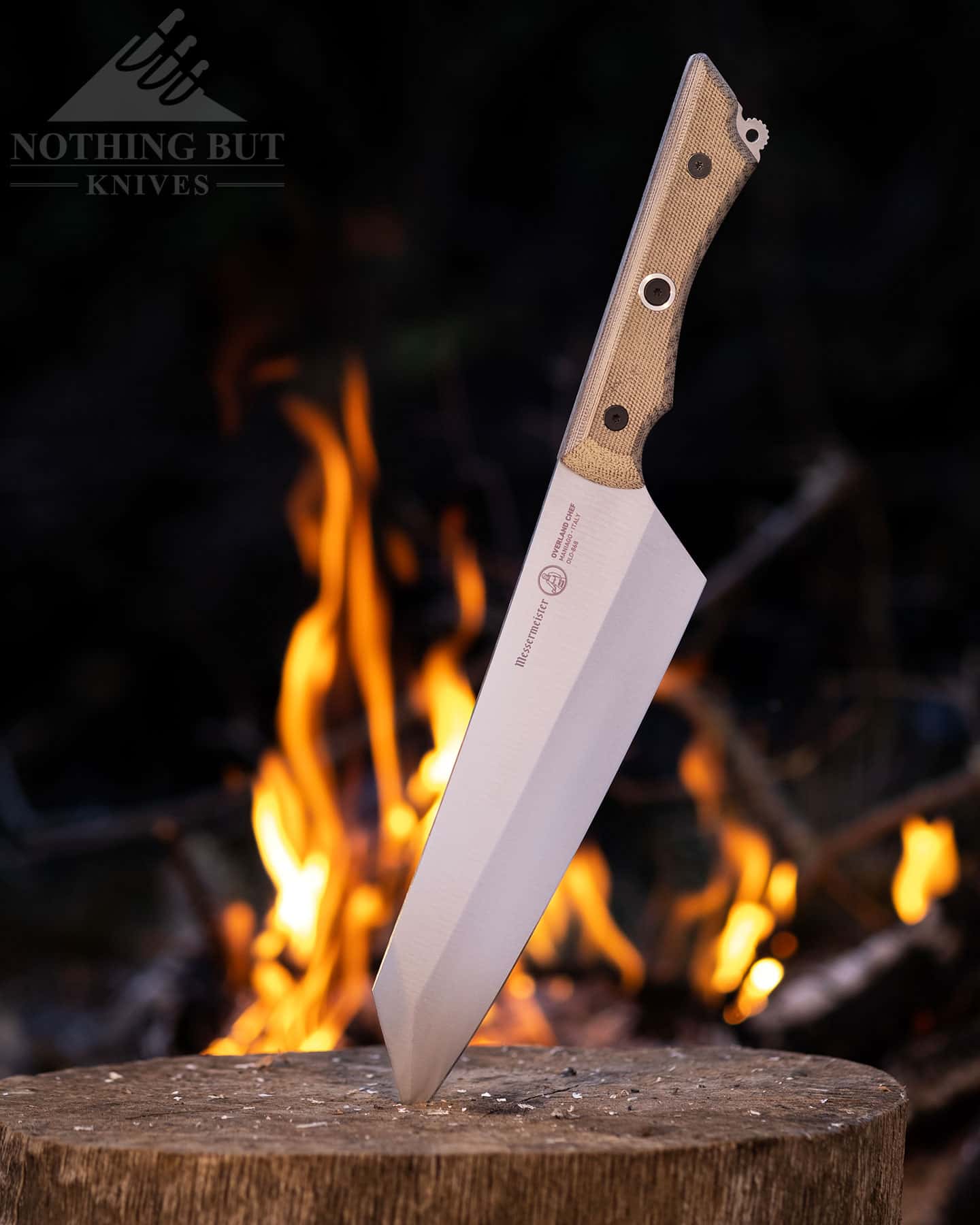 I've played around with a few different kinds of camping chef knives in the past. Enough that I'm generally skeptical when I see someone insisting a knife is optimized in that category. Usually it's either from a survivalist who doesn't really know how to cook, or from a chef who doesn't really know how to survive, and you end up with weird ergonomics for both cases.
The Overland got me, though. It's a weird thing, but it's one of the best knives for cutting meat that I've ever used, and even though I'm a little wary of the steel and hardness, the blade survived a couple trips into the woods with me.
Specifications
| | |
| --- | --- |
| Overall Length: | 13.25" |
| Blade Length: | 8.0" |
| Blade Steel: | Nitro-B |
| Hardness: | 61 HRC |
| Blade Thickness: | 2.5 mm |
| Blade Shape: | K-tip chef's |
| Blade Grind: | 60/40 asymmetric |
| Handle Length: | 5.25 |
| Handle Material: | Micarta |
| Weight: | 9.4 oz (11.4 oz w/ sheath) |
| Designer: | Jason Nicosia |
| Made in: | Maniago, Italy |
Pros
Great edge in spite of thickness
Good edge retention
Comfortable in a full grip
Can process wood and throw spark if you really want it to
Better than average at preventing food stickage
Cons
It's a heavy thing
Not at all made for a pinch grip
Hard corners on the spine
Doesn't come with sheath
It's a Weird Blade, but It's a Wonder with Meat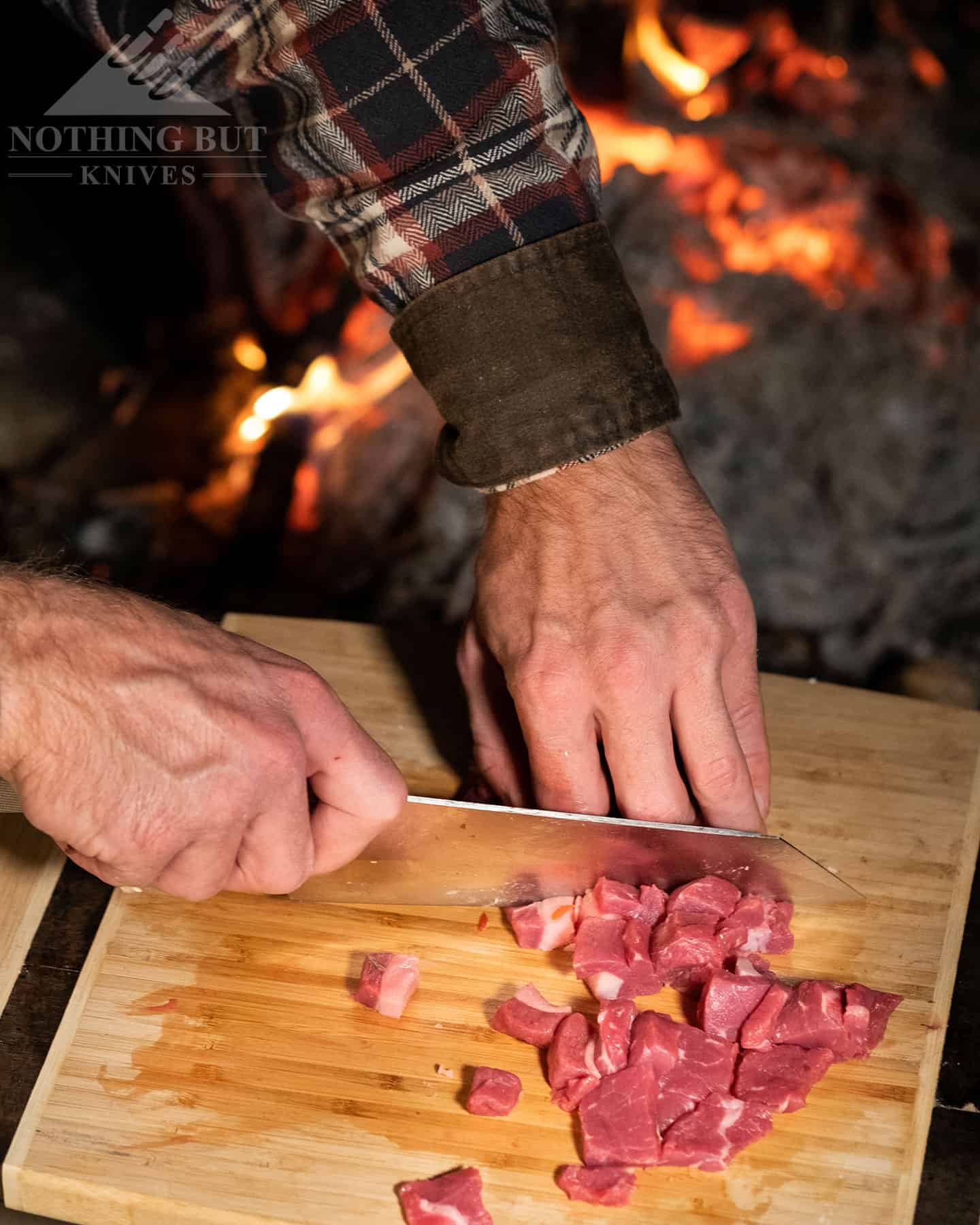 This is a k-tip blade with a 60/40 blade grind in Nitro B steel, which is good list of things I'm not super familiar with.
It's a thick blade with a wide, low asymetric grind. It's almost closer to a chisel than a proper flat grind, so the cutting action is odd. It takes some getting used to, and no matter how sharp the edge is, the knife is going to give you a pretty strong wedging feeling.
But this is a camping knife.
Normally I don't go in for asymmetric grinds because it seems like an unnecessary complication both for cutting and sharpening. This kinda works though, and I'm willing to put the geometry up as a big reason why the Overland handles meat so well. It has a way of pushing foods that are normally sticky away from the side of the blade so they don't get stuck as much.
I do still get food stick with this, but it's mostly with lighter foods like squash and tomato. Meat just seems to melt right off the side.
Pondering the Nitro B Steel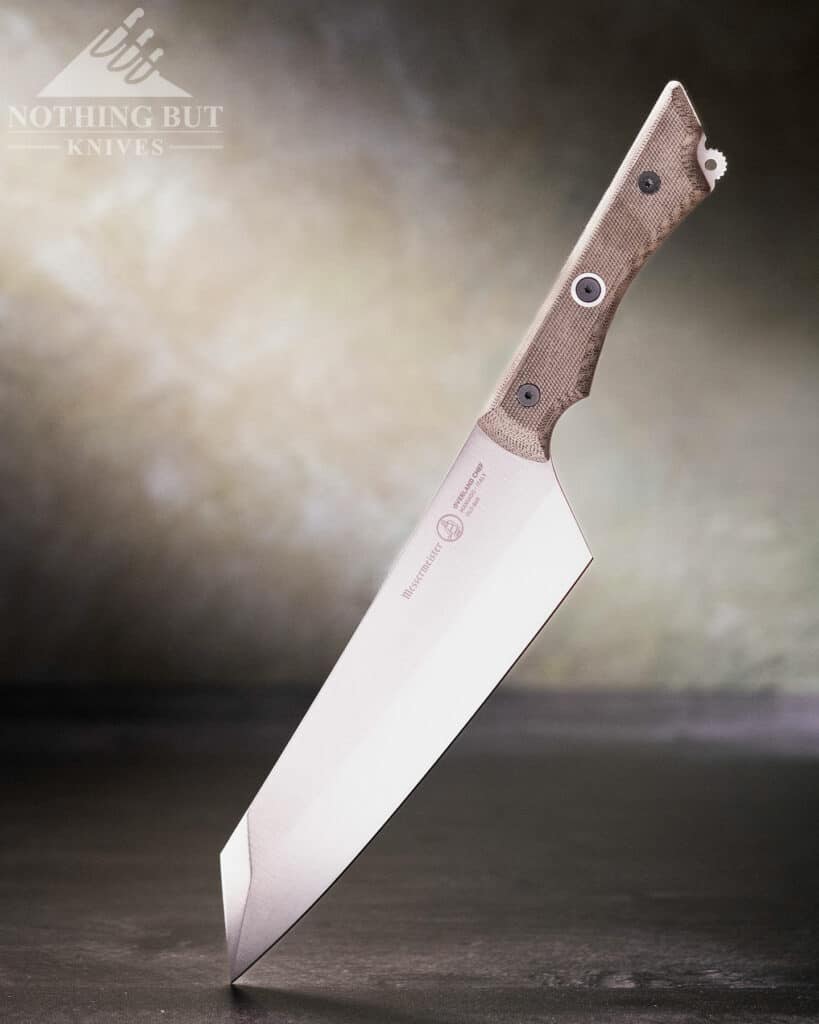 I'm not sure what's going on with this steel. The recommended hardness for Nitro B steel is a bit lower than what Messermsieter cooked it to. It's especially weird since companies will usually go softer when they make something for the outdoors.
The Overland is pretty damn thick, though, so the toughness still seems to be pretty decent despite the blade being a little harder than it probably should be. It survived the half dozen or so cooking sessions around campfires and on tiny plastic cutting boards, tree stumps, and upturned crates covered in stray bark and rocks without getting chipped, so that speaks volumes.
I was also impressed with the edge retention. I still haven't noticed a big drop in performance, ever after I used it as my primary kitchen knife at home for a couple weeks. It took a bit of work with a strop before I felt any noticeable improvement when cutting paper, to say nothing of actually cutting food. It's not the kind of knife I'd want to touch up out in the field, but it has the kind of edge retention that would hold up long enough to keep cutting well long enough to get home.
A Great Handle for the Outdoors, but Rough Ergos for the Kitchen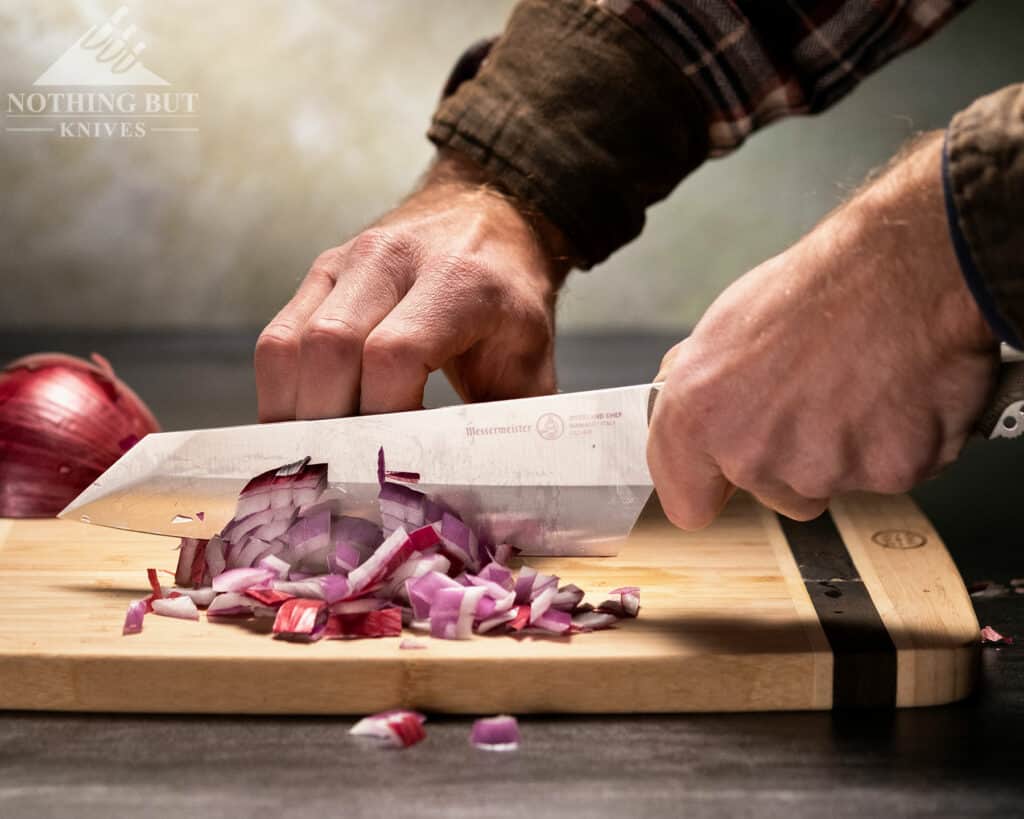 This has a great handle for a camping knife. It's thick and grippy. There's no danger of it slipping, and there's a lot of room to shift your grip around. It gets a little trickier the more you try to handle it like a regular kitchen knife, though. It's so heavy that a pinch grip becomes a bit of a work out for the wrist and fingers.
It's a heavy thing. There's no getting around that. I suppose the thick tang makes it a good candidate for the tough outdoors, but it feels like overkill to me. Also the spine is not crowned even a little bit. That's a fully 90°, finger-killing spine, and the weight makes it worse.
That would suck a lot if this were a straight kitchen knife, but as a camping knife it adds a little extra utility as a fire starter if you have a ferro rod in your pack. Even for that, though, the weight makes it less than ideal.
The lesson you should really take from this section is that this knife isn't meant to be used in a pinch grip. The spine cuts pretty hard into the finger, and the weight makes it unwieldy. I did find I was able to use it comfortably enough in a canted grip on the handle proper. The Micarta is pretty dry, so it grips really well, and even though that top finger choil feels like it interrupts my grip a little, it seems to play well in the hands of other people with more normally proportioned hands.
The Separate Sheath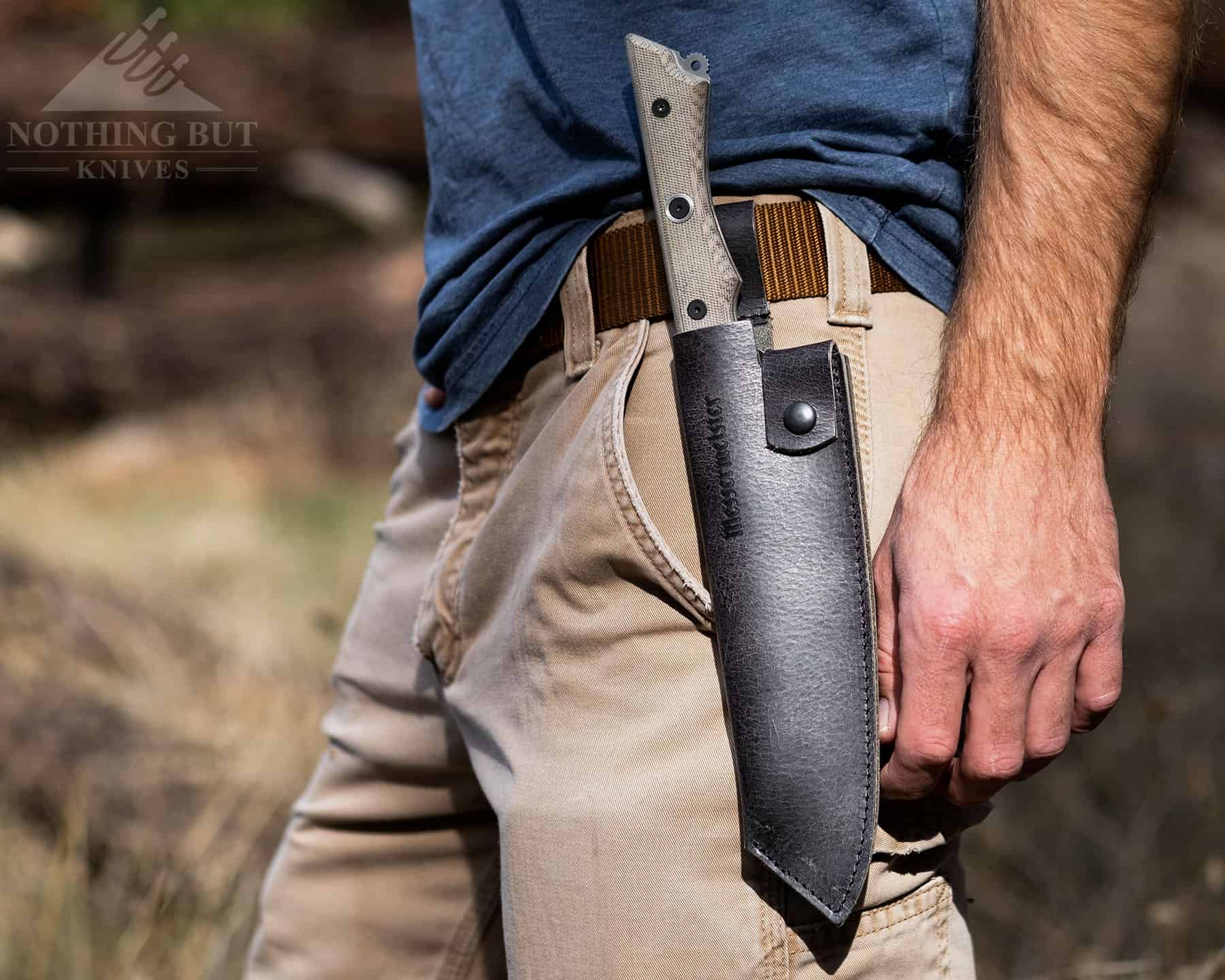 One of the things I always look at for a camping chef knife is the carry option, so it was pretty disappointing to see that the leather sheath for the Overland is sold separately and only fits the left hip.
I never had any intention of hiking with this knife, so on principle this shouldn't bother me. It just seems a little odd to make the sheath separate, since this was made specifically for use at a campground and traveling in general. It also doesn't feel like especially nice leather, and it's only single stitched, so it's not what you'd call a robust set up.
But in Messermeister's world maybe everyone has a knife role, and it was comfortable enough on my left hip for the length of time it took me to cook up a mangled pile of finely cut bell peppers and steak.
Food Performance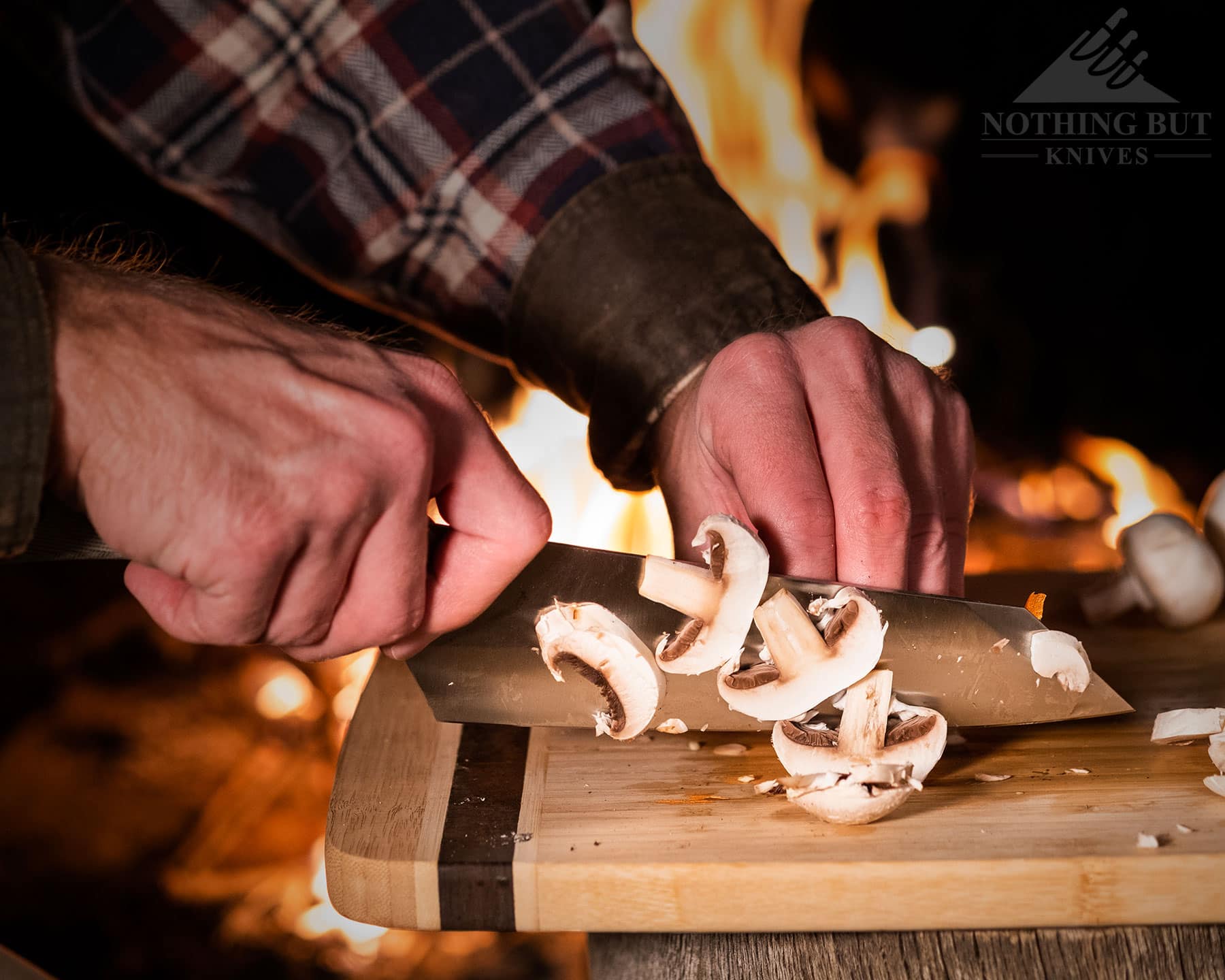 For being such a beast, the Overland can be a pretty smooth operator with more food. It gets a little dicey for me on harder, rounded foods, but overall it gets the job done without a problem.
Meat
This is incredibly nice for cutting raw meat. The thick grind limits it somewhat in this regard. If you want to cut super thin slices off a raw chunk of beef, it might give you a little trouble. But for just cutting up manageable strips for a hearty sandwich or cubes for a shish kebab, this is an incredible knife for prepping raw meat. And if you're just cooking a whole steak before cutting it up, all the better.
Onions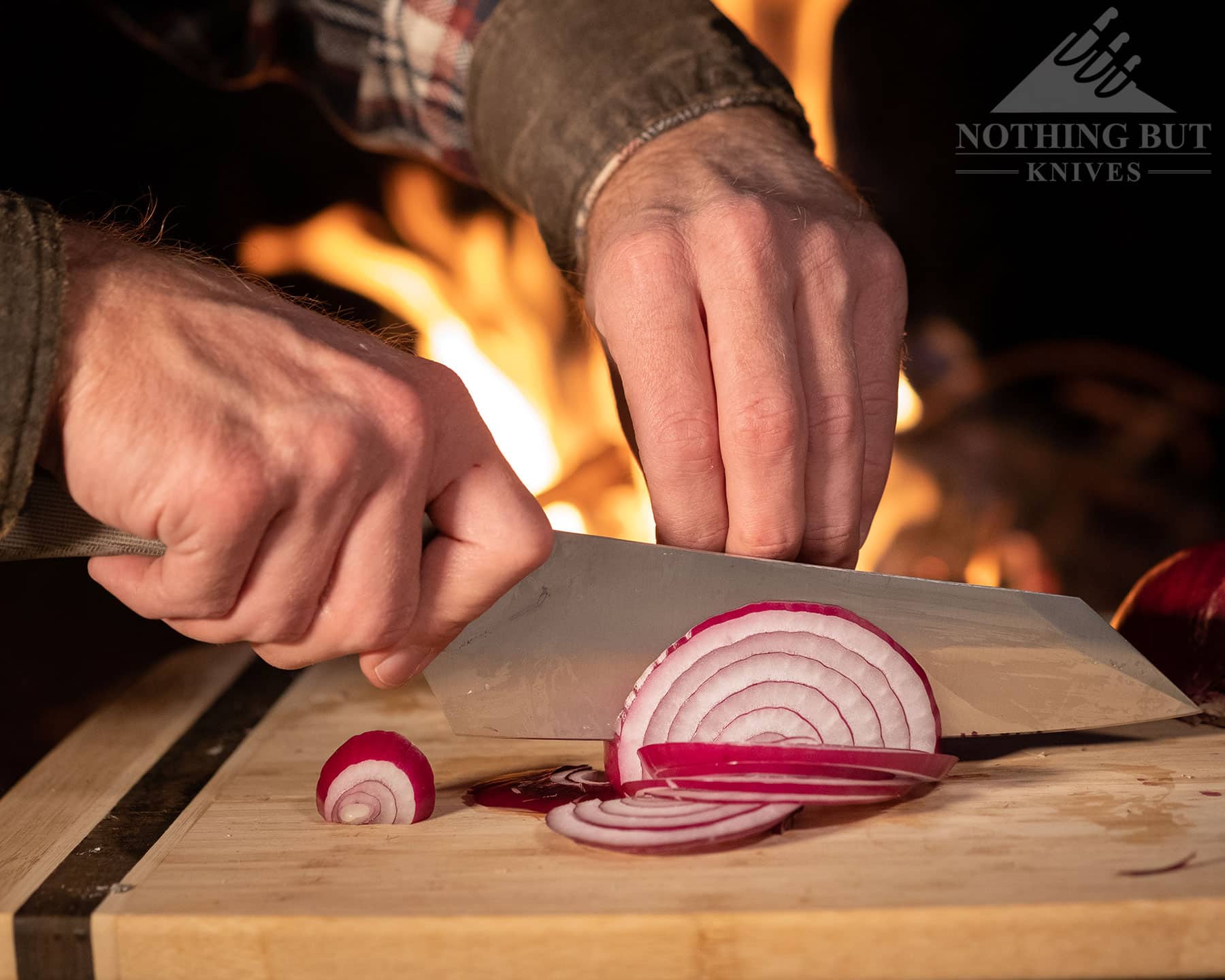 The cuts feel beautifully clean, but the thickness comes into play a lot here. That wedging feeling starts very early in a cut, and it takes a lot more pressure than I'd like to get this through an onion half. But it'll get the job done.
Squash and Other Semi-Soft Fruit Things
The edge of the blade glides right through the hard skin and soft meat of squash, but the wide asymmetric grind really starts testing my ability to cut a straight line with this kind of food. It took a lot of adjusting before I was able to cut even halves with the Overland.
Carrots
I'm always a little nervous cutting carrots, and this knife doesn't help that feeling. The wide grind just makes it feel too hard to cut through lengthwise without making the carrot roll. I should specify this applies when trying to julienne a carrot, which I don't generally do when camping. In fact, I don't really cut carrots at all when I'm camping.
Comparison and Alternatives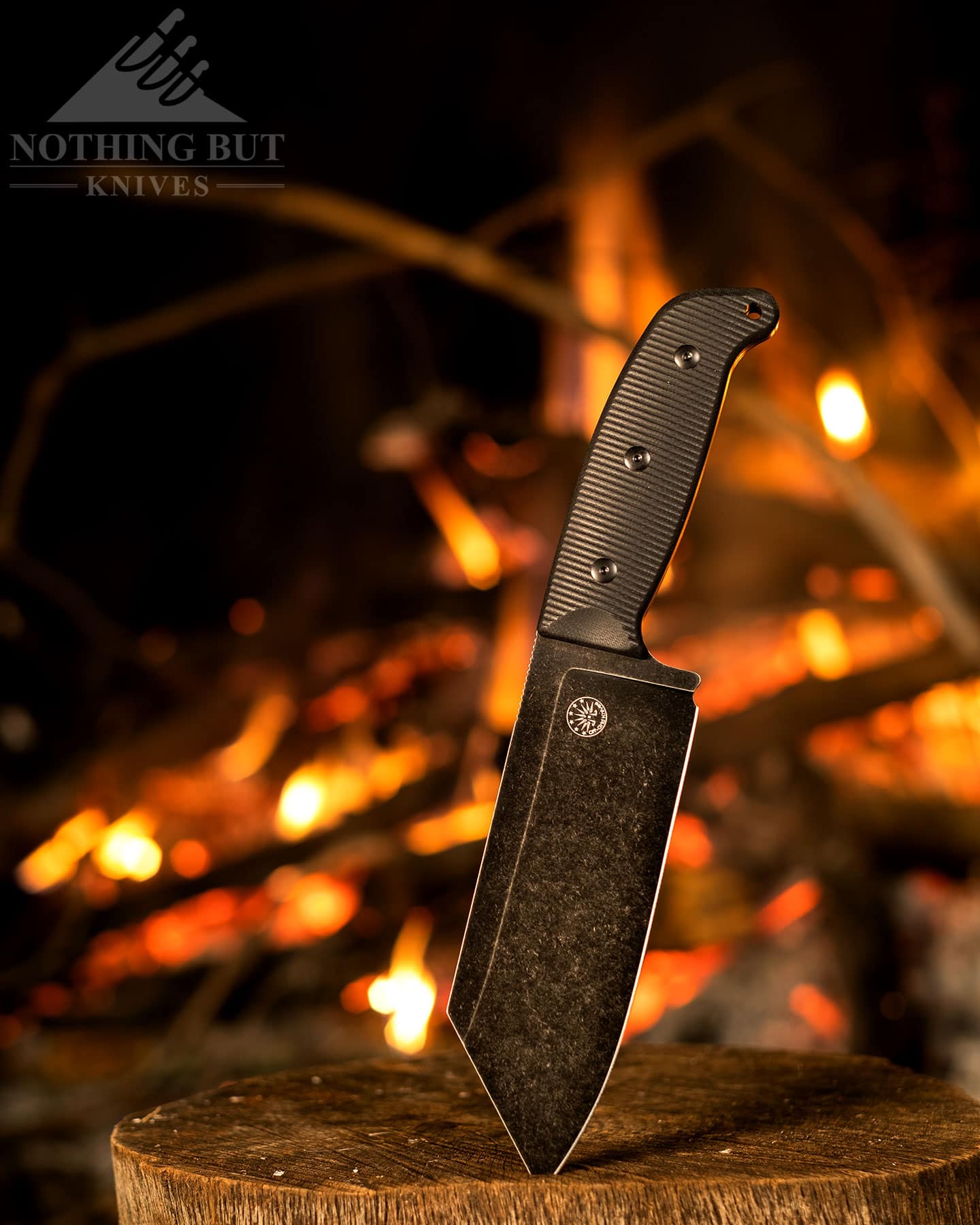 The shape and design intention of this knife makes it an interesting thing to find alternatives for. It's sort of a k-tip cleaver type of thing, so the temptation is to put it next to a nakiri or an actual cleaver, but since this was made for outdoor cooking, it seems reasonable to pull from our selection of camping food-prep knives.
For a similar shape, but a lot less weight, the Off Grid Grizzly is an especially rugged alternative. It's a hell of a lot sharper out of the box, and the AUS-8 steel strops up a lot quicker (most of the time you'll only need a strop for it). It's also a lot cheaper.
I'd also recommend the CJRB Silax, not just as an alternative, but a companion knife. It's a lot smaller, but it has a similar blade shape that gives it a really strong tip. I've fed a group at a bonfire a couple of times with this knife, and it's one of my favorite tools for fireside food prep. It's just so light and manageable that it's really easy to work on small surfaces.
For something more rugged but a little different in style, I always like to point out the TOPS FMS. It doesn't have any of the flat edge or ballistic tip shape of the Overland, but it's one of the few outdoor food prep knives that comes with a sheath that's ready for the belt. In some cases it can be a lot easier to use, especially if you're planning on cooking fish or smaller game.
If you are looking for a chef knife that is tough enough to double as a bushcraft knife, check out the Condor Bush Slicer. That thing can chop up firewood, and then cut up food for a campfire meal. It also has a blade notch for removing hot pots from the fire.
Conclusion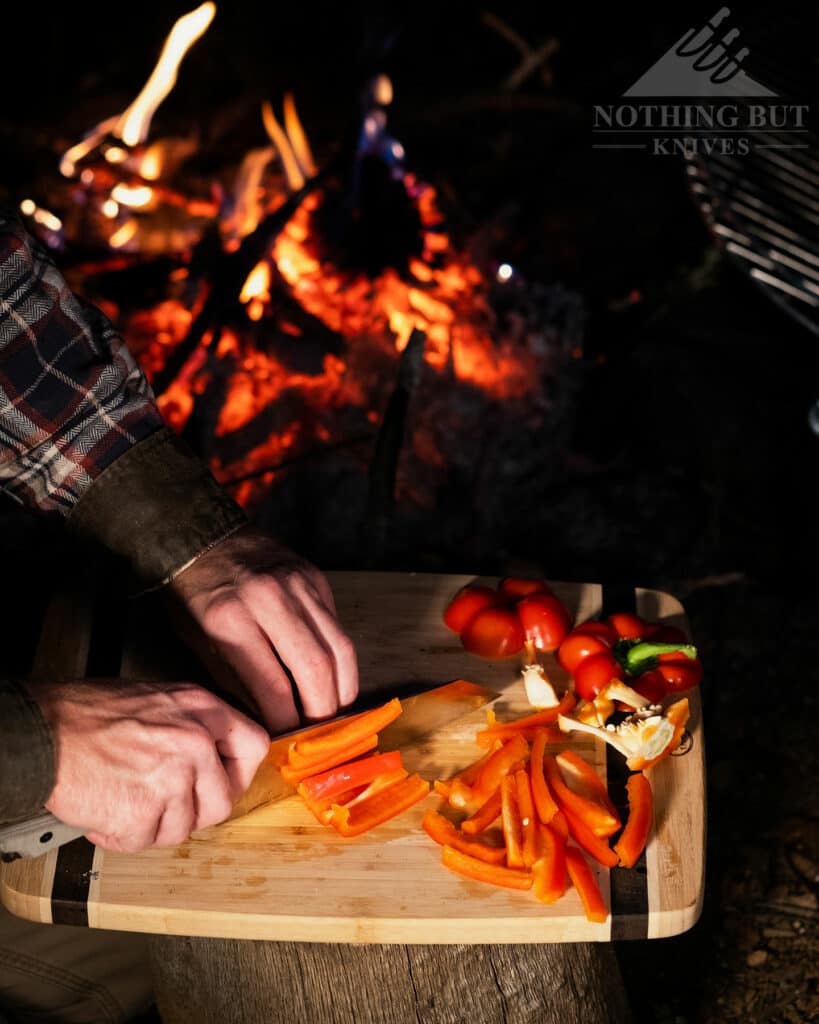 I wouldn't hike with it, but in a scenario where I'm driving everywhere in the wilderness that I'd want to go, I don't mind having the Overland in the car. I can get a lot of finer work done with the edge, and if I can just get used to cutting food in a gorilla grip with asymmetric grind, I just might manage to make a meal by the campfire that doesn't look like a mangled pile of wood shavings.
That said, it's just a bit too big and heavy for me. Especially when I have knives like the Artisan Silax that's both lighter, cheaper, and easier to clean. That's something I don't mind packing on my belt. But there's something to be said for Italian manufacturing and the utility of an 8-inch blade.