Here are a Few Great Camp Cooking Knives that have their Place at the Campfire
Good food needs good tools, even if it isn't in the kitchen. The older we get the more we find we need good food on our camping trips, so we put together this list of our favorite outdoor-friendly knives to cook with.
Most of these knives we used with a single cast iron pan, grill, and a stump. Sometimes there was a cutting board when we had room to pack it along, but we also went out for some side-by-side testing for the initial round of picks, and that involved a picnic table by necessity.
That means that each of the knives on here have been used beyond the bounds of what a regular kitchen knife is used for, which brings us to the crux of the matter:
What Makes a Good Outdoor Chef's Knife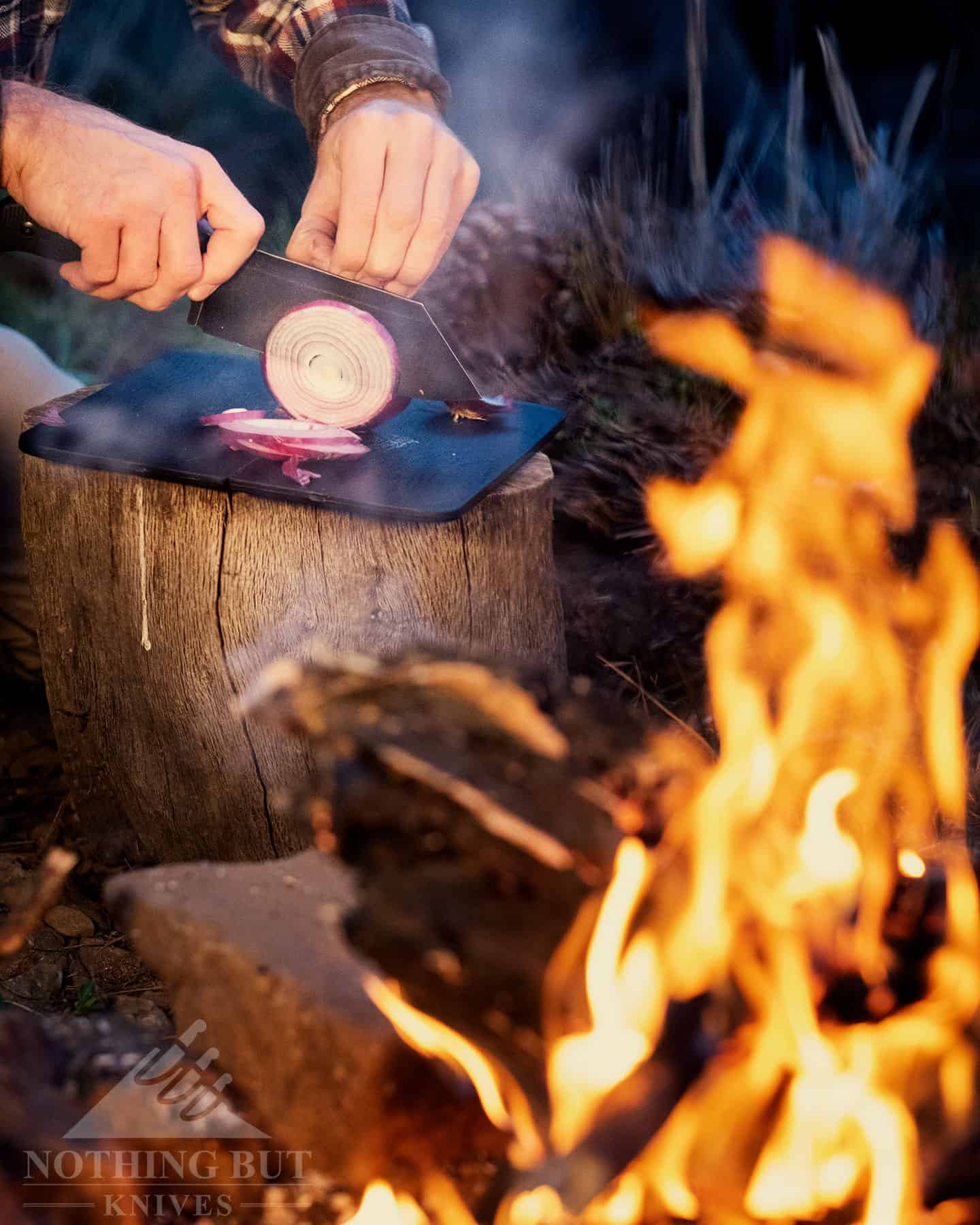 A good set of criteria to use for a food prep knife on the campground is thin edge geometry, toughness, and mobility. So basically a knife that emphasizes food preparation with a nod to toughness that's easy to carry or pack.
The importance of each of those elements will probably be different depending on what kind of camping you're doing, though. When we tested all these knives, mobility usually wasn't quite as important to us as toughness, but we always have to prepare for the fact that we are not the most careful people, and things happen: knives get dropped, and rocks find their way onto the cutting board (assuming we remembered to bring a cutting board in the first place).
You could simplify it as any knife you're brave or dumb enough to take to a camp site. I know people who camp with fully custom chef's knives packed in a knife roll, but even they usually take that knife because something makes it tougher than the other stuff in their collection.
If you're not into the whole hybrid-use thing, though, you can always just get a regular kitchen knife.
For a reasonably priced chef's knife, you can check out some of the brands in our Best Kitchen Sets Under $200 (a Buck or a Victorinox wouldn't be bad options). Or if you want some of that sweet Japanese kitchen cutlery, we have a whole article about that (we'd personally recommend a MAC or Tojiro for this kind of thing).
Easy Packing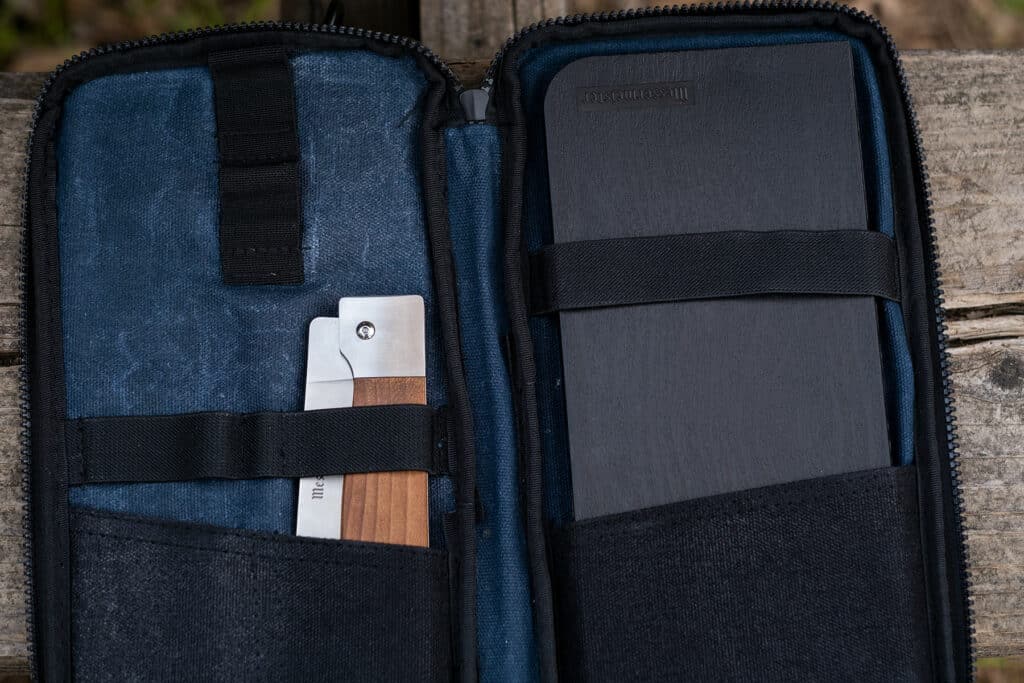 It either needs to be able to pack up cleanly in a bag or on our belt. Ideally it can do both. Anything that comes in its own belt sheath is a plus, but it's good enough if it can be tucked into a backpack or box without taking up much space.
Sheaths are a big deal for us because we tend to have a lot of gear, and it's easier to keep track of the food-prep knife when it's strapped to our hip. If a big thin knife had a kydex sheath we could either strap to the belt or run paracord through, it had a greenlight to chop up onions in the woods.
Knuckle Clearance
Just like in the kitchen, we need some room for our hands at the campground. There are usually ways around needing that clearance when you're cutting something on a stump, but it helps a lot when a knife has a tall blade that helps keep the hand clear of whatever we're using as a cutting board.
Durability and Versatility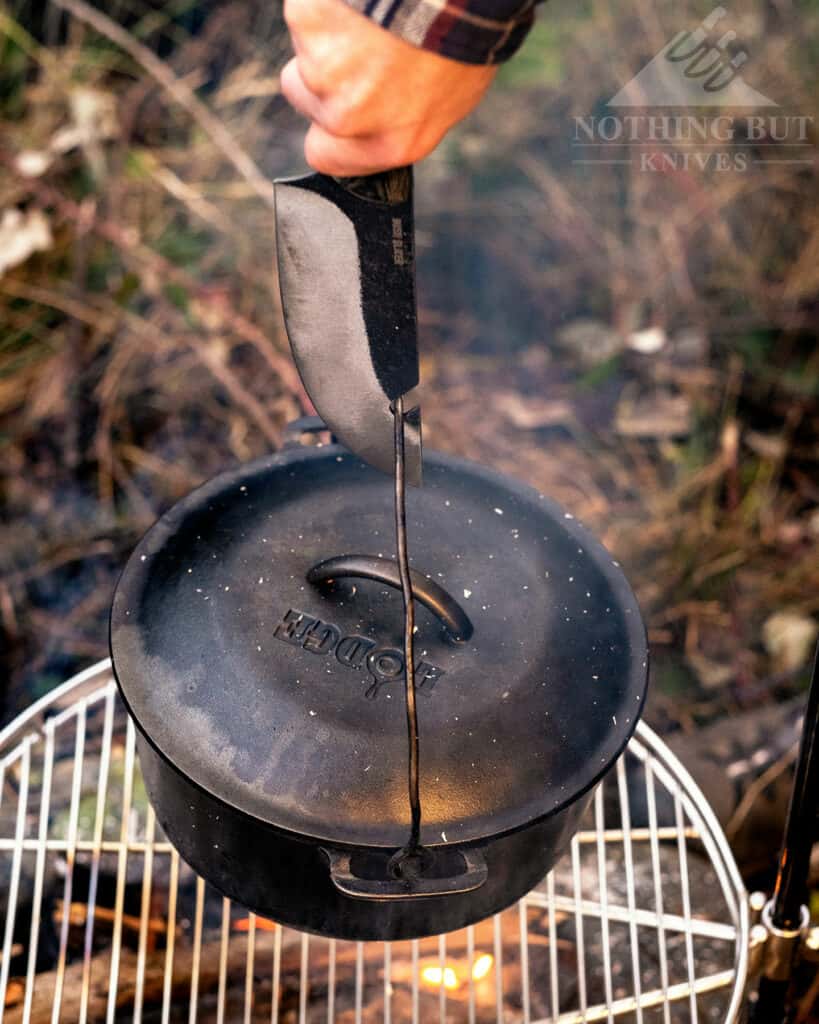 A lot of our picks tend to be knives made of steel that's tough and easy to fix up and reprofile.
It's not that we want our camping chef's knives to be able to chop and baton (although some of our picks can), but when we use a knife for cooking outdoors we tend to use the one knife for food prep and cooking and usually a little extra. A lot of the time we can't count on having much empty table space for extra knives and tools lying around, so one knife might need to be the fork, spoon, and spatula.
Thin Edge
A knife should at least be able to break the skin of an onion easily. Because of this, we mostly pick flat grinds for this list. Things like scandi grinds don't usually make it on here because even when an edge like that is sharp, it's hard to cut even slices through larger foods.
A thin edge is a little hard to find in the outdoor knife world, but we weren't exactly looking for 12-degree Japanese angles. Sometimes a thin edge means a gradual slope from the secondary bevel, and sometimes it means a highly acute microbevel. We just like the knife to cut food cleanly. And if it can't do that, it should be easy to grind it down so that it can be made to cut food cleanly (see durability and versatility above).
Here Are Our Top Picks For The Best Camping Chef Knives
Off-Grid Grizzly V2
CJRB Silax
Messermeister Overland Chef Knife
Off-Grid Sierra
Messermeister Adventure Chef Folding Knife
Condor Bush Slicer
Civivi Kepler
OKC Camp Plus Kitchen Folders
Off Grid Grizzly V2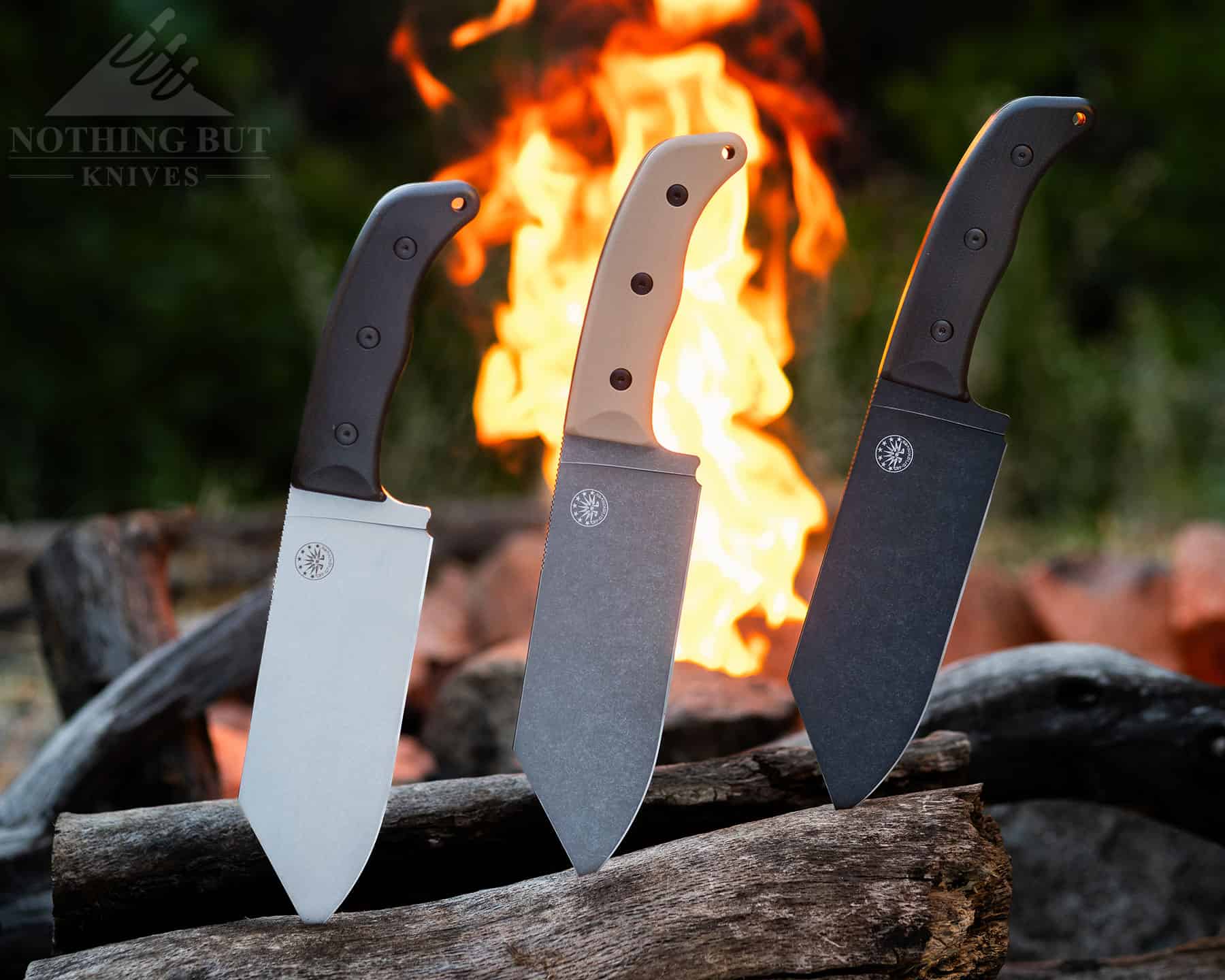 | | |
| --- | --- |
| Overall Length: | 12.75" |
| Blade Length: | 6.125" |
| Blade Steel: | 14C28N |
| Blade Shape: | Reverse tanto |
| Blade Grind: | Flat |
| Handle Length: | 4.75" |
| Handle Material: | G-10 |
| Weight: | 11.1 oz (12.9 w/ sheath) |
| Sheath: | Kydex |
| Made in: | Taiwan |
| Designer: | Cary Orefice |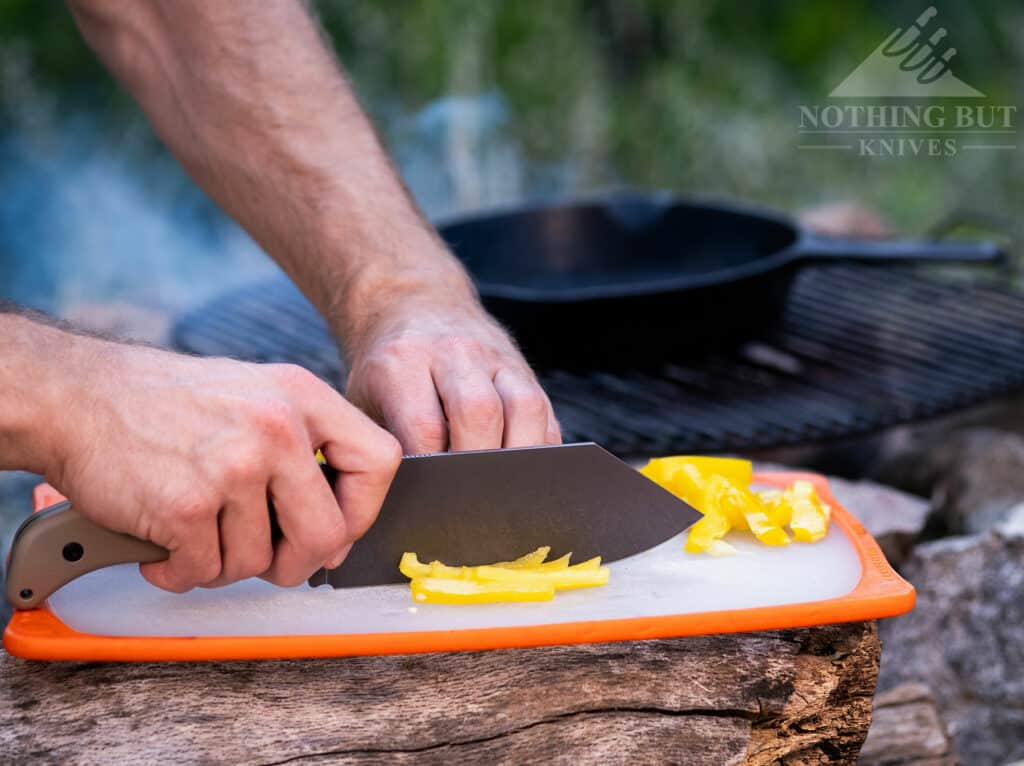 The Grizzly V2 cuts so much smoother than it looks like it should, but that's par for the course with Off-Grid Knives. Those people know blade geometry. So when I say that they made the Grizzly V2 with food prep in mind, it shouldn't be surprising that it cuts as well as any high end santoku I've ever used.
The edge cuts so well because it's very thin, so bear in mind that the edge should stay within the range of food preparation.
Top that off with the meaty handle with a bit of tapering at the top, and you have something that genuinely feels like a respectable kitchen knife.
Off-Grid chose to go with Sandvik 14C28N steel in the upgraded version of the Grizzly which has better edge retention than the AUS8 steel used in the original version without sacrificing corrosion resistance.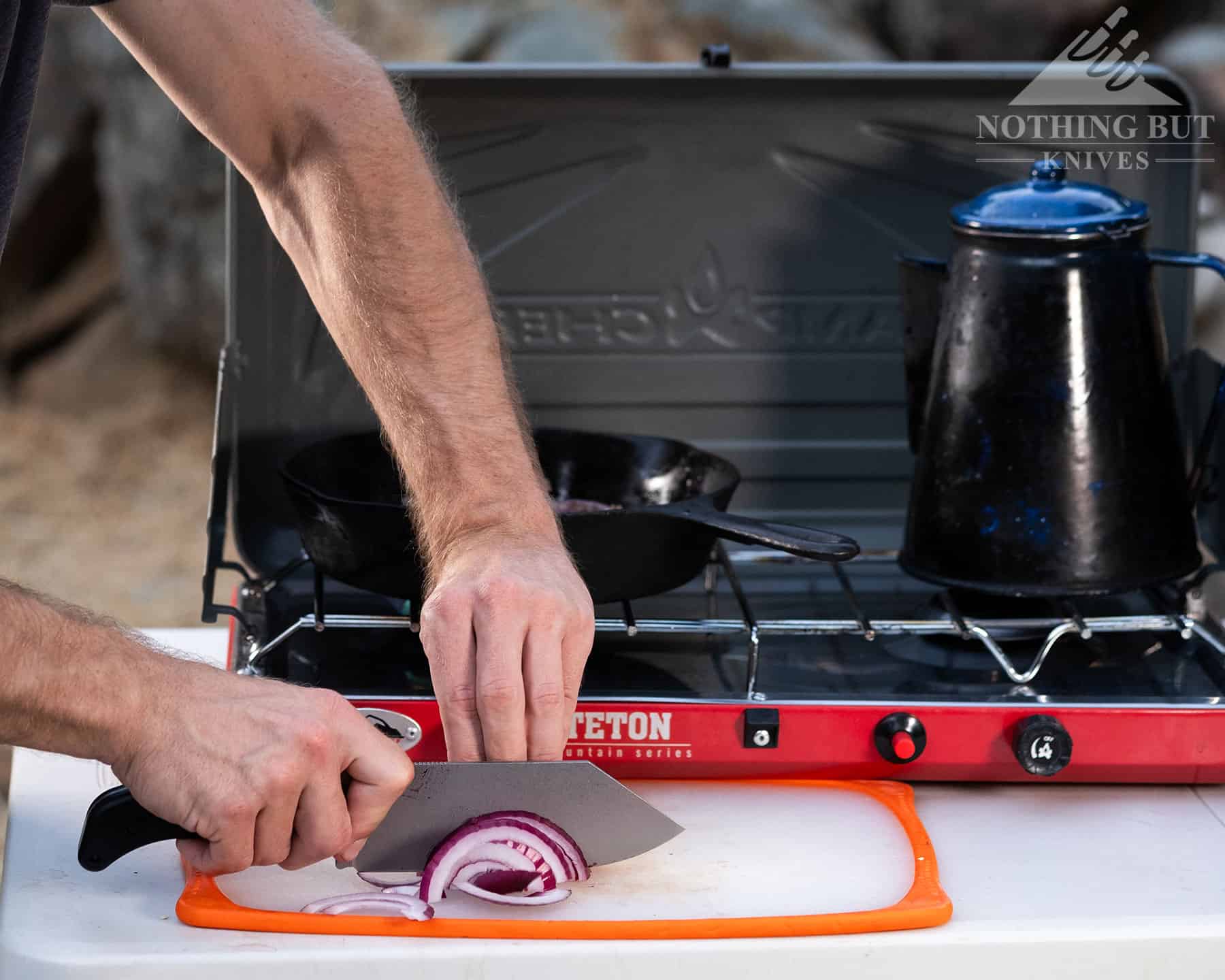 Sandvik 14C28N steel is one of our favorite steels for outdoor or indoor knives, because it is easy to sharpen, it takes a great edge, and it has good corrosion resistance. It may seem a little outdated compared to some of the modern super steels that have recently been released. But of everything we tested for this article, the Grizzly consistently stood out as one of the best in terms of comfort and cutting ability.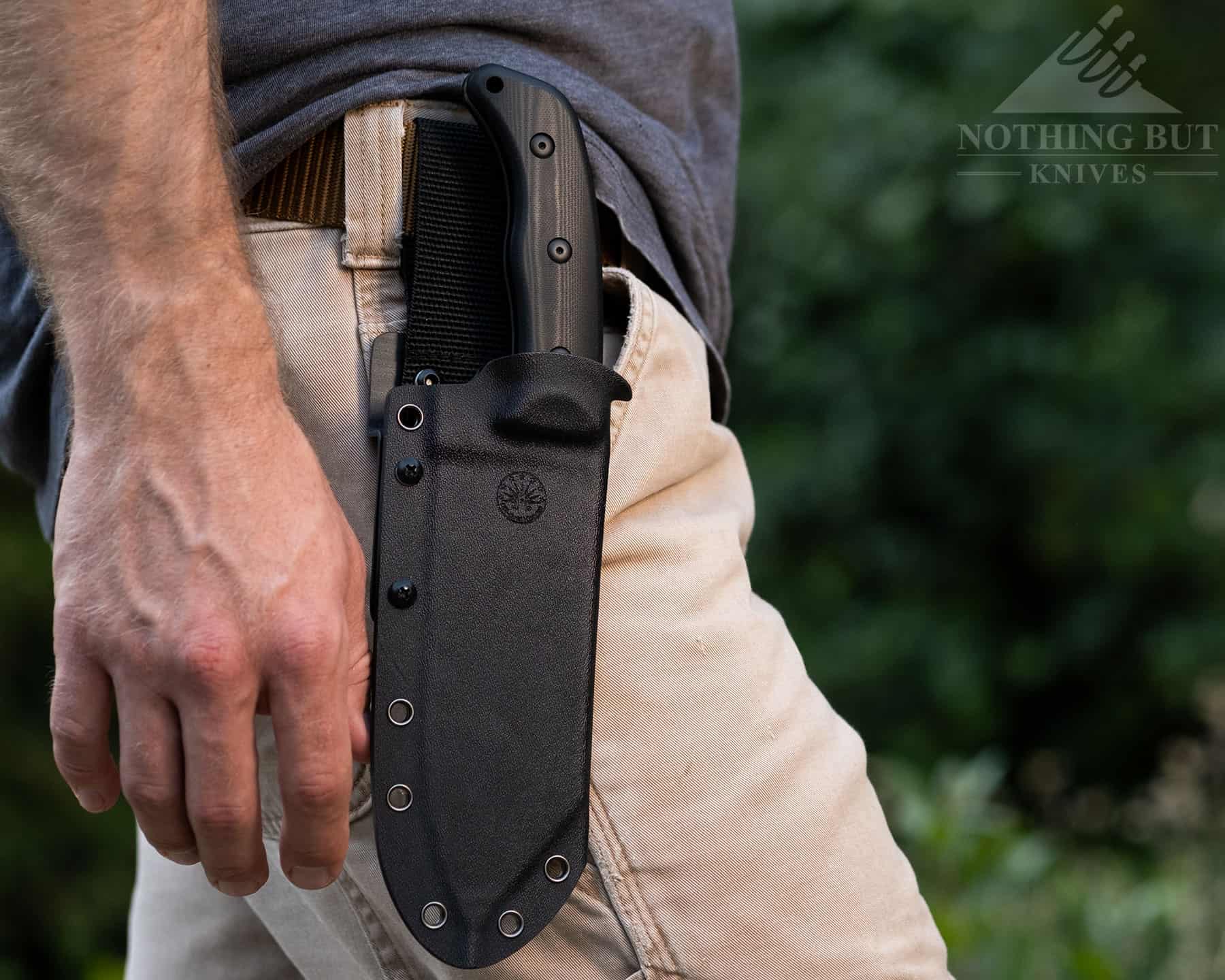 The effortless slicing ability of the Grizzly V2 is what sets it apart, but its kydex sheath is also a standout feature. The sheath sits low on the hip for maximum comfort, and it has a large thumb ramp to make blade deployment quick and easy.
CJRB Silax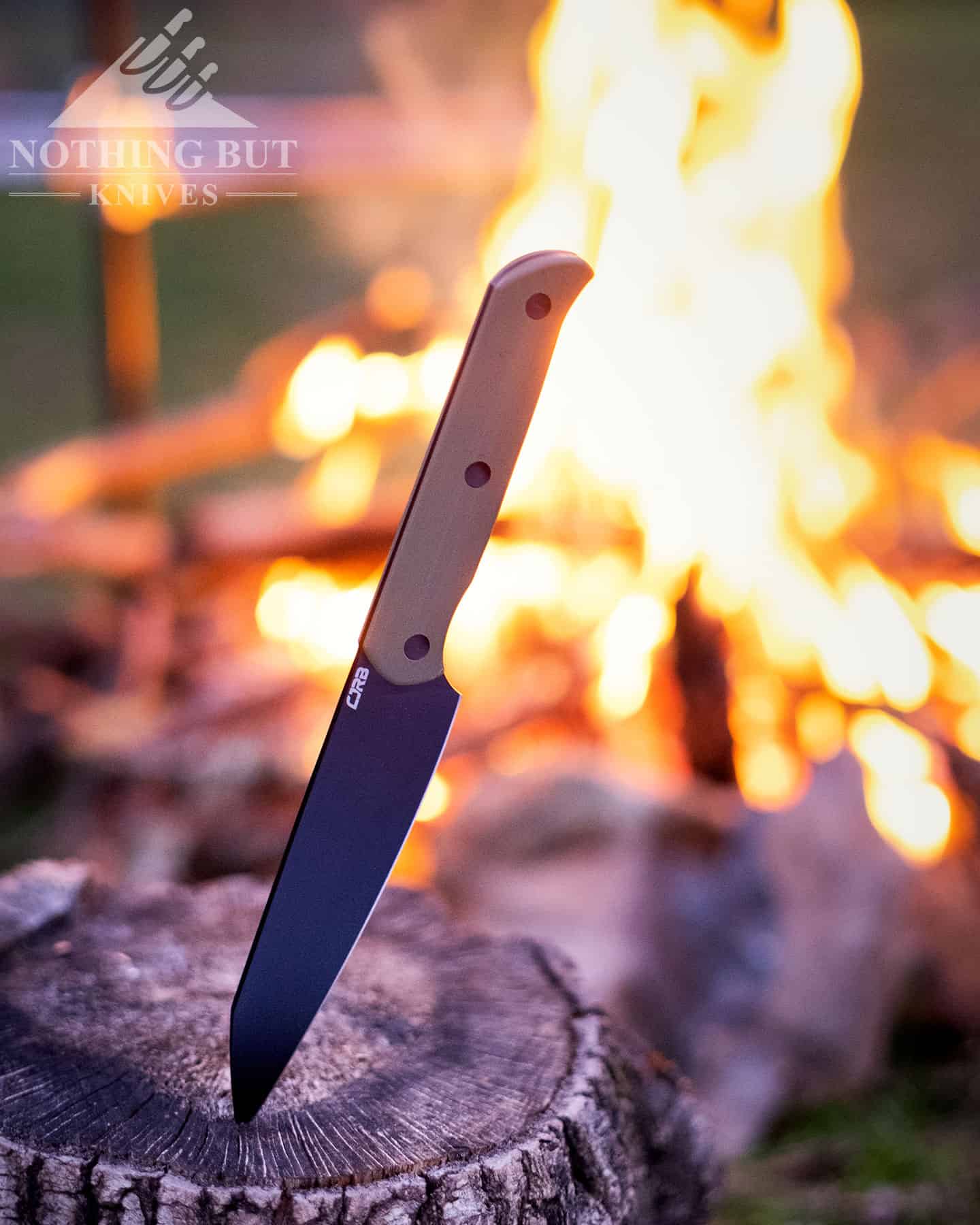 | | |
| --- | --- |
| Overall Length: | 9.75" |
| Blade Length: | 5.25" |
| Blade Steel: | AR-RPM9 |
| Blade Shape: | Modified wharncliffe |
| Blade Grind: | Flat |
| Handle Length: | 4.5" |
| Handle Material: | G-10 |
| Weight: | 4.9 oz |
| Sheath: | Kydex |
| Made in: | China |
| Designer: | Dylan Mallery |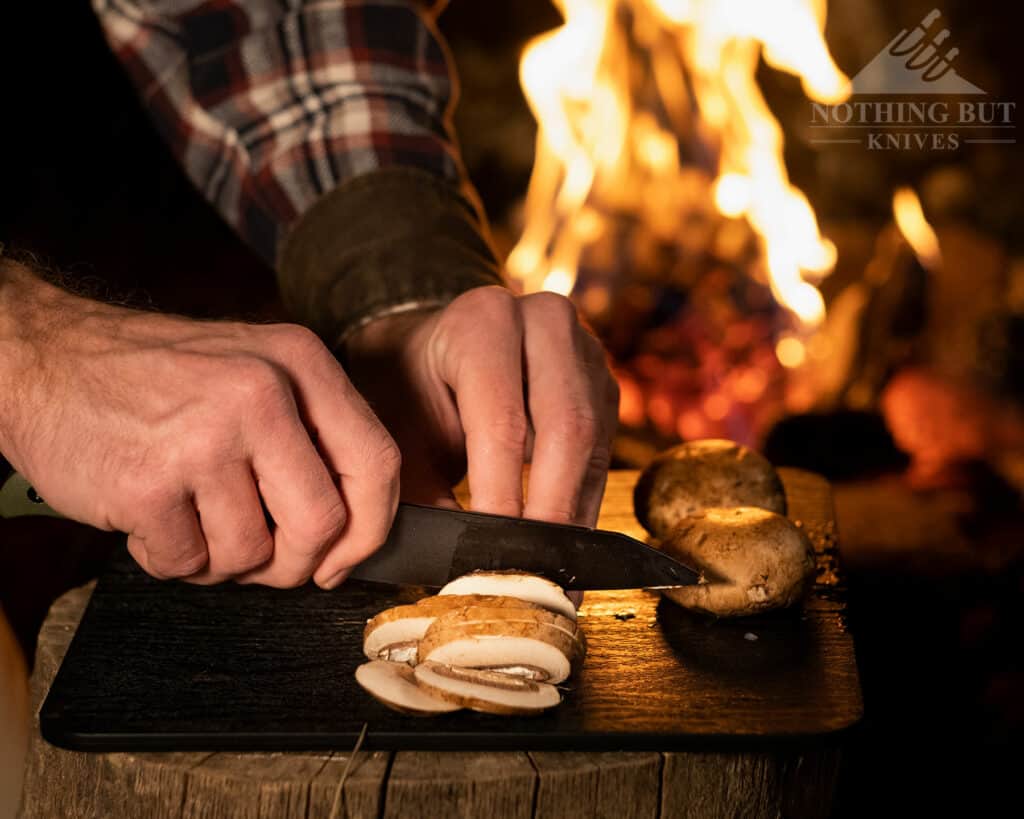 While it isn't chef's-knife size, the Silax is one of the few knives on here that I'd use in my kitchen day-to-day. It's very lightweight and has good balance while having a great edge with manageable steel.
What makes this a good camping chef's knife is that the steel is tough, but has good edge stability, so there's a certain ease in maintenance that is especially useful on a long camping trip.
But I love this knife as a whole. Not just for food prep. I love the blade shape because it creates such a strong tip that can get an enormous amount of work done despite the relatively small size. In kitchen-knife terms this is more of a utility knife than a chef's knife, but the edge is so well done and the handle is so comfortable that I'm more likely to pick this up over the majority of the other picks on this article for a quick cut.
Messermeister Chef Knife
| | |
| --- | --- |
| Overall Length: | 13.25" |
| Blade Length: | 8" |
| Blade Steel: | Nitro Cobalt |
| Blade Shape: | Ballistic clip point |
| Blade Grind: | Facet |
| Handle Length: | 5.25" |
| Handle Material: | Canvas Micarta |
| Weight: | 9.4 oz |
| Sheath: | Leather |
| Made in: | Italy |
| Designer: | Jason Nicosia |
There is a lot to like about the Messermeister Overland chef knife. It has excellent fit and finish, a nitro-cobalt steel blade with amazing edge retention, a hidden bottle opener and a tough canvas Micarta handle. It's also one of the best knives we've tested for cutting raw meat, which is especially useful when camping.
Unfortunately all of this comes at a cost. At $250 the Overland is by far the most expensive knife in this article.
Some of the other knives we talk about here are capable of campfire cooking tasks and other camping relating tasks like chopping or carving. The Overland is really just designed for outdoor food prep, but it does that extremely well. It cuts meat better than most indoor kitchen knives we've tested, but its thick spine and low grind give it a little more tensile strength than other kitchen knives.
The 60/40 blade grind makes it a little weird to cut with, but it's also probably the reason it cuts soft-textured things so well. The Nitro-cobalt steel blade is hardened to 62HRC which means it has a good corrosion resistance, but the edge retention is complicated. It will hold an good edge for a while, but since the grind is so low (compared to normal kitchen knives), it's going to get harder to keep the edge thin the more you sharpen it.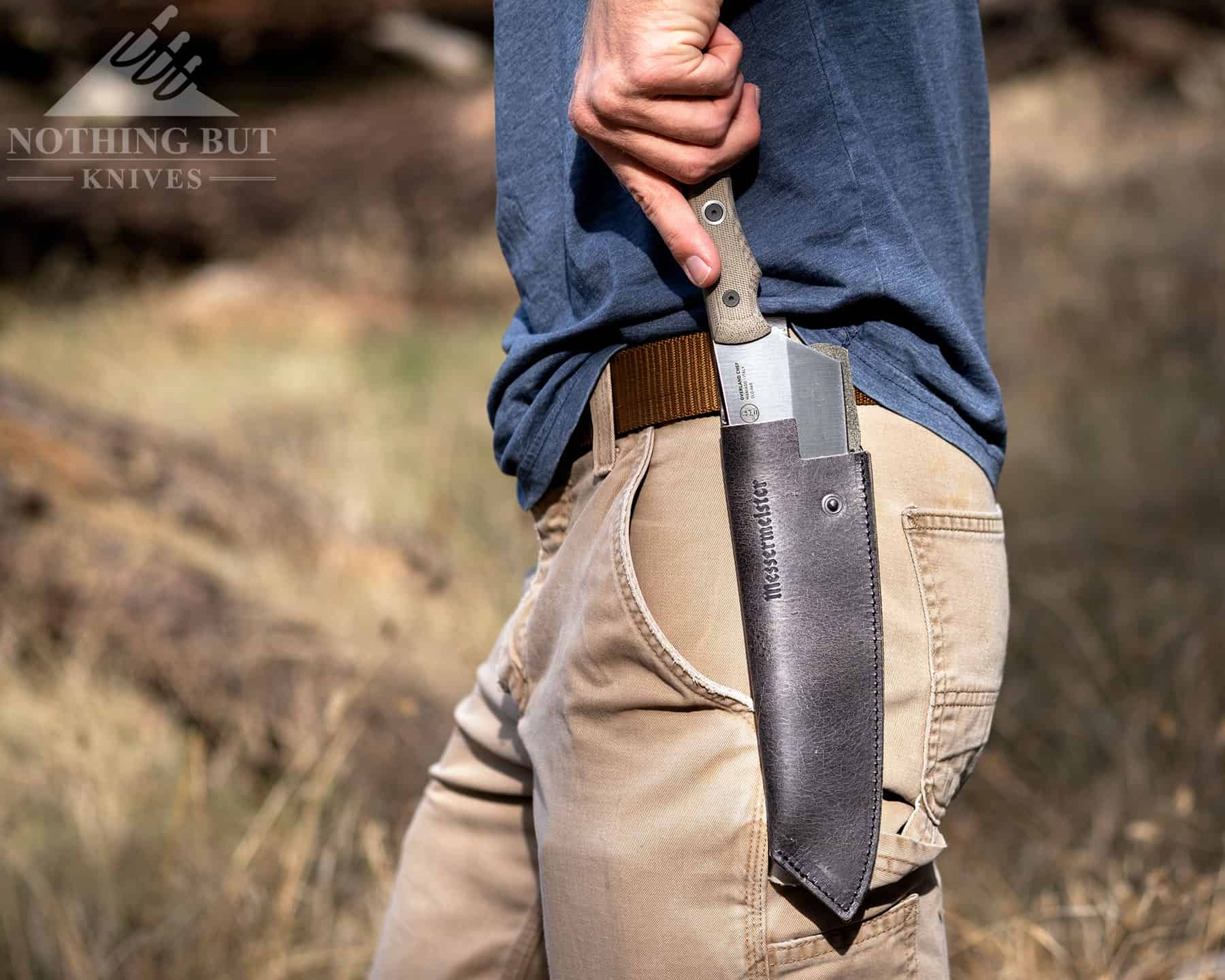 The Overland does not ship with a sheath, but there is a compatible leather sheath that can be bough separately from Messermeister, which pads the price a little more. But it rides surprisingly well for being made by kitchen cutlery company.
Check out our in-depth review of the Messermeister Overland to see if it might be the campfire hero on your next overlanding or camping trip.
The Messermeister Overland is a 2022 Drunken Hillbilly Award winner.
Off-Grid Sierra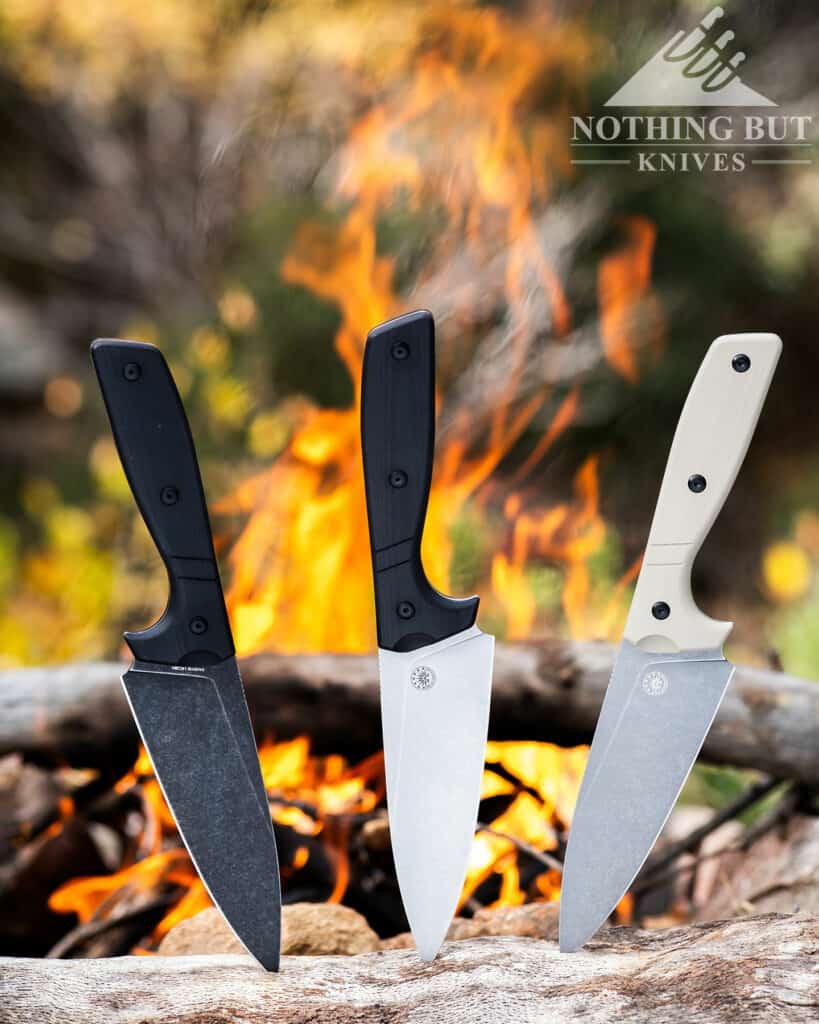 | | |
| --- | --- |
| Overall Length: | 11.0" |
| Blade Length: | 6.0" |
| Blade Steel: | Sandvik 14C28N |
| Blade Shape: | Drop point |
| Blade Grind: | Flat |
| Handle Length: | 5.0" |
| Handle Material: | G10 |
| Weight: | 10 oz |
| Sheath: | Kydex |
| Made in: | Taiwan |
| Designer: | Cary Orefice |
As is usual for Off Grid knives, the Sierra has an aggressive edge that cuts for days. The handle is a little thinner than most other Off Grid fixed blades, though. The way it's shaped gives you a lot of knuckle clearance in a gorilla grip, and it leaves a bit of room for a good pinch grip.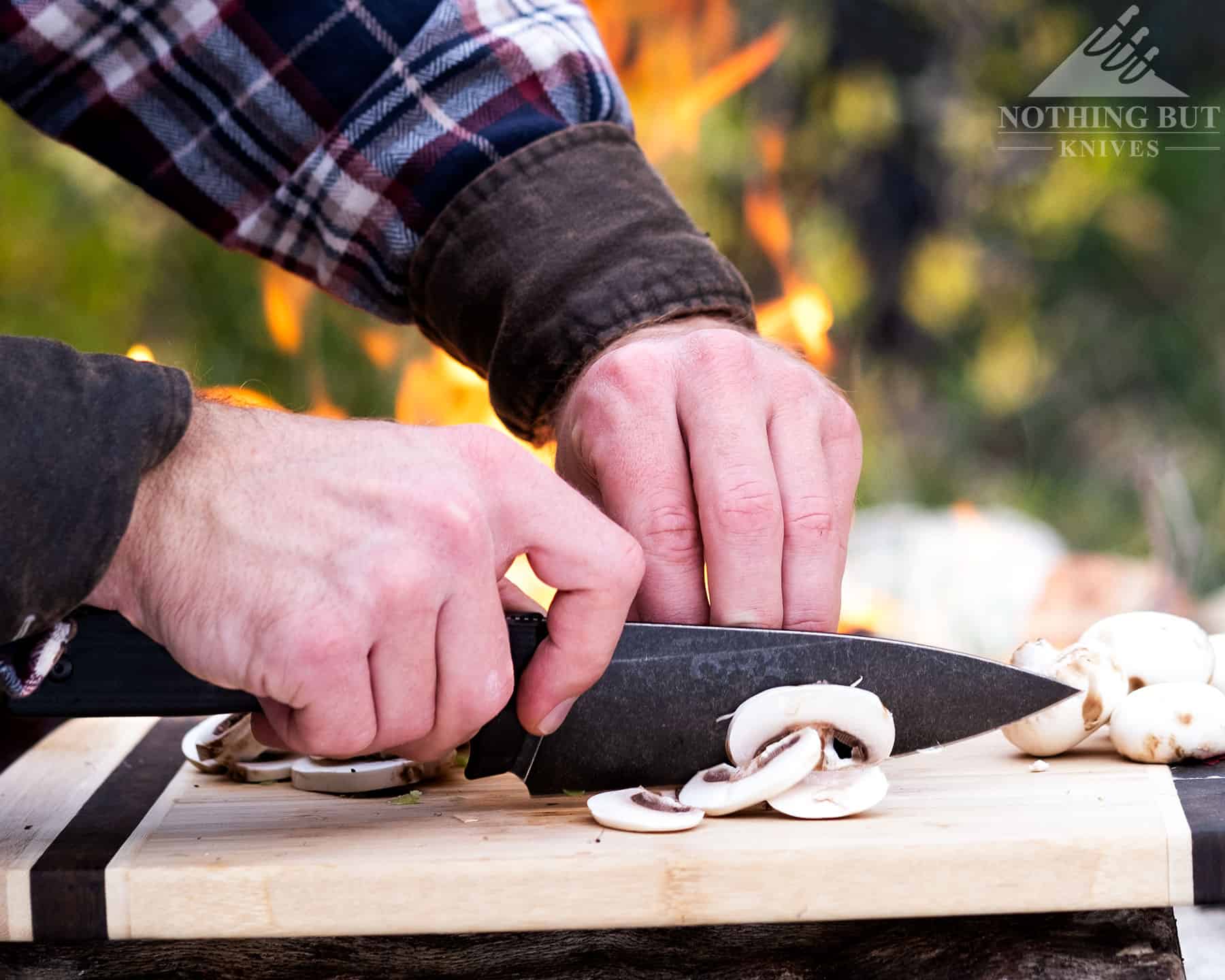 This joins the Off Grid Grizzly as an outdoor knife with food prep in the intended design, which is to say that even though this looks like a mean, overbuilt survival knife in some ways, it was not meant for chopping wood. It's a great knife for cutting up meat.
Where the Grizzly has a santoku shape that we liked quite a bit for cutting vegetables and other produce, the Sierra leans more French chef's knife. It has a thin point that's nice for scoring steak or breaking down whole birds.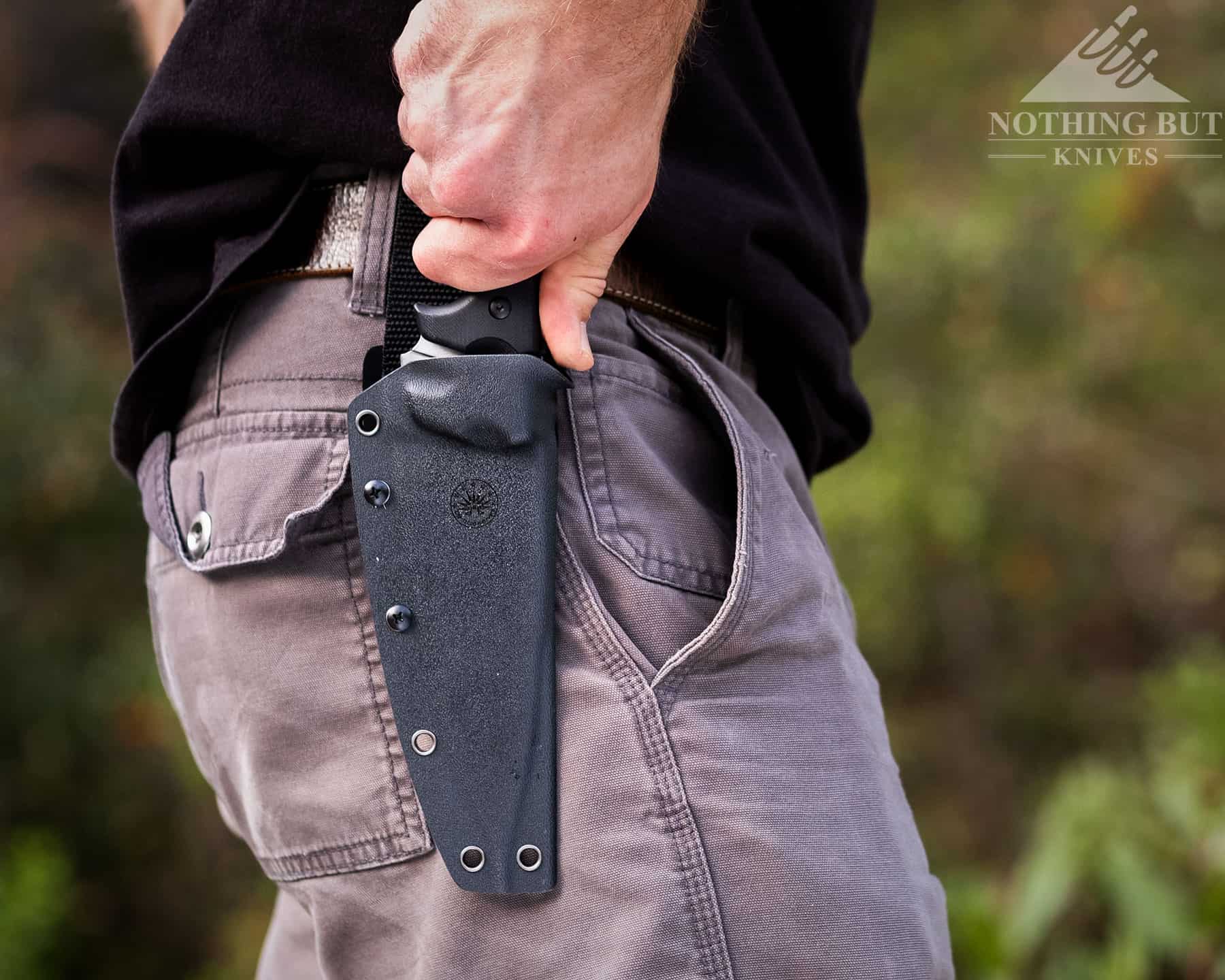 It rides pretty well in the sheath. We found it comfortable enough for wearing around the campsite. It doesn't flop around much, and it's nice to draw thanks to the updated thumb ramp Off Grid started putting on all their sheaths. The only thing is the handle is pretty long, so it can still be awkward to draw sometimes and every now and then it would poke at the ribs if we leaned too much one way while sitting or crouching.
Other than that, the Sierra packs easy, rides well on the belt, makes nice, clean cuts, and has a steel that can hold up great against the elements.
Messermeister Adventure Chef Folding Knife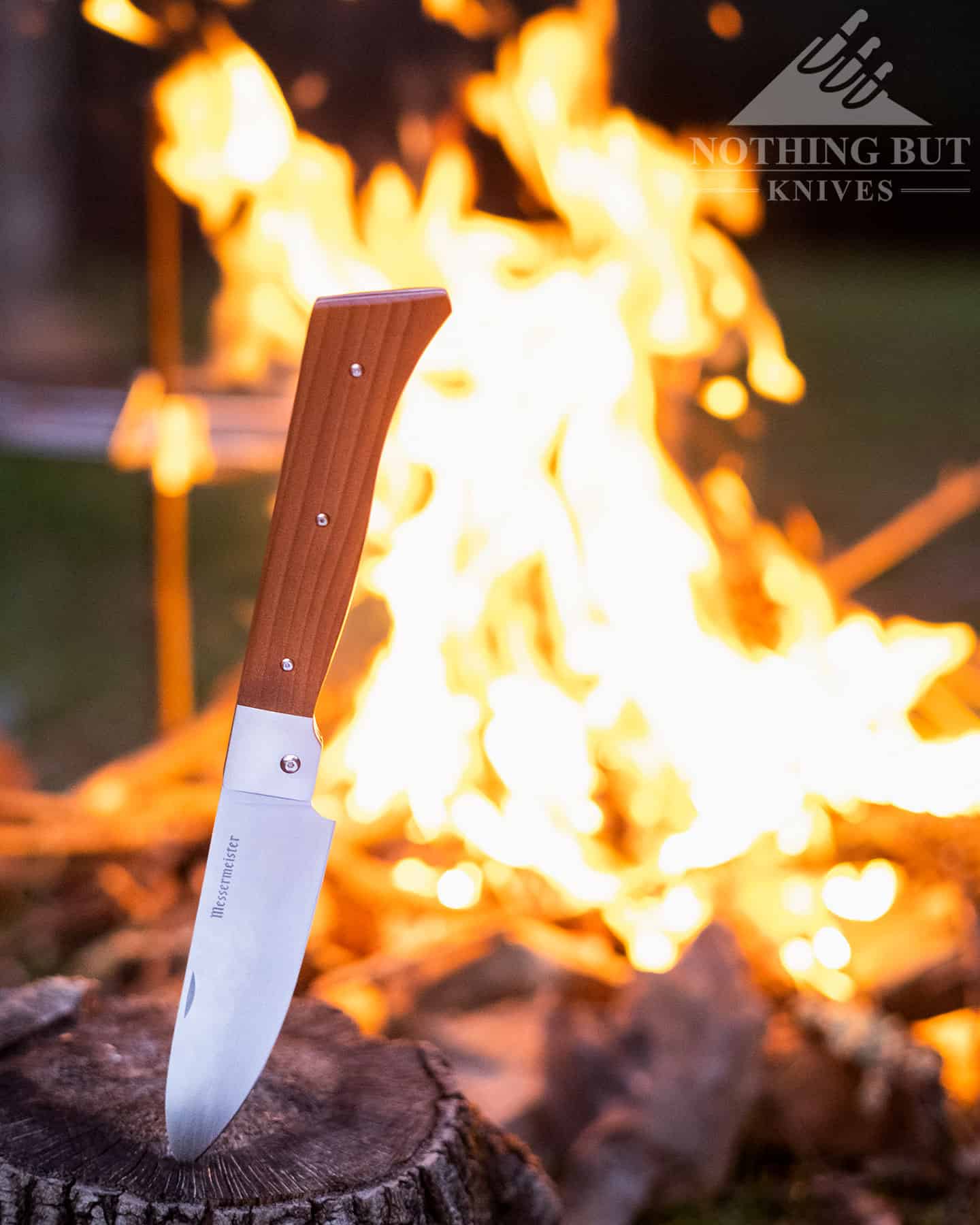 | | |
| --- | --- |
| Overall Length: | 13.5" |
| Blade Length: | 6.0" |
| Blade Steel: | 1.4116 |
| Blade Shape: | Western chef |
| Blade Grind: | Flat |
| Handle Length: | 7.25" |
| Handle Material: | Maple wood or linen Micarta |
| Weight: | 7.6 oz |
| Sheath: | None, but comes in zipper pouch |
| Made in: | China |
| Designer: | Adam Glick |
It's odd that one of the only knives on this list that highlights itself specifically as a chef's knife is actually my least favorite to cook with, but the concept is solid.
The handle is clunky, the blade isn't all that sharp, and I don't know who thought it was a good idea to put a liner lock on an 8-inch folding knife, but it makes for a pretty janky experience.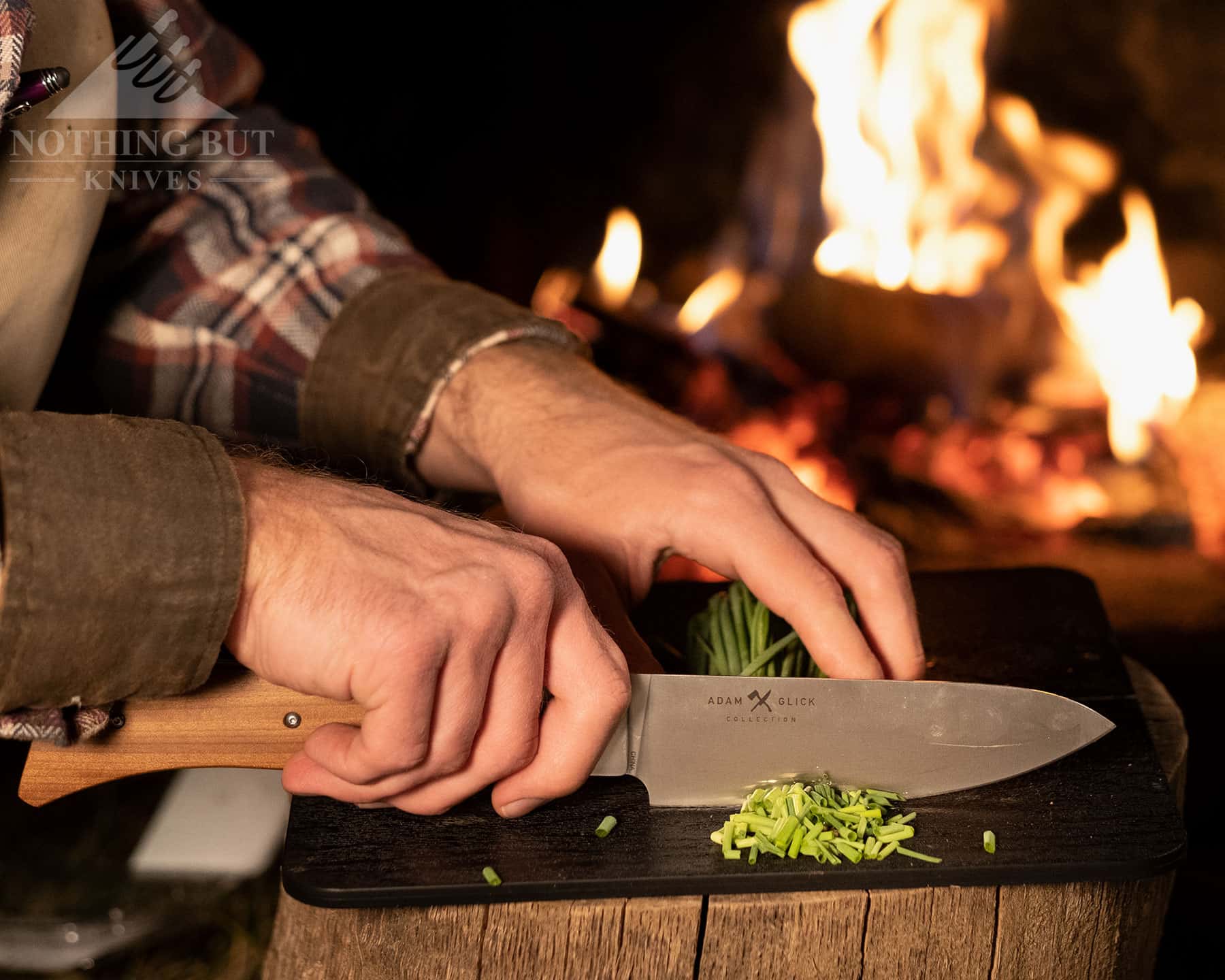 With all that said, the zipper pouch and little folding cutting board that comes inside have been used extensively by us (you can see the cutting board in a lot of the pictures in this article). The whole thing easily fits inside boxes and backpacks without creating much bulk, so this is a pretty low investment option in terms of weight and space.
The knife itself really doesn't need much modification to become something genuinely good. Some of those modifications (sharpening and stropping) can be done easily enough by the end user. But with a better handle and a better lock, I'd probably keep this in my regular camping kit.
As it is, I like the idea enough to take it out every now and then, and it's the only pick here that has something like a traditionally western chef's knife shape.
Condor Bush Slicer
| | |
| --- | --- |
| Overall Length: | 11.75" |
| Blade Length: | 6.5" |
| Blade Steel: | 1075 |
| Blade Shape: | Standard |
| Blade Grind: | Convex |
| Handle Length: | 6.5" |
| Handle Material: | Micarta |
| Weight: | 10.98 oz |
| Sheath: | Kydex w/ leather strap |
| Made in: | El Salvador |
| Designer: | Julio Diez |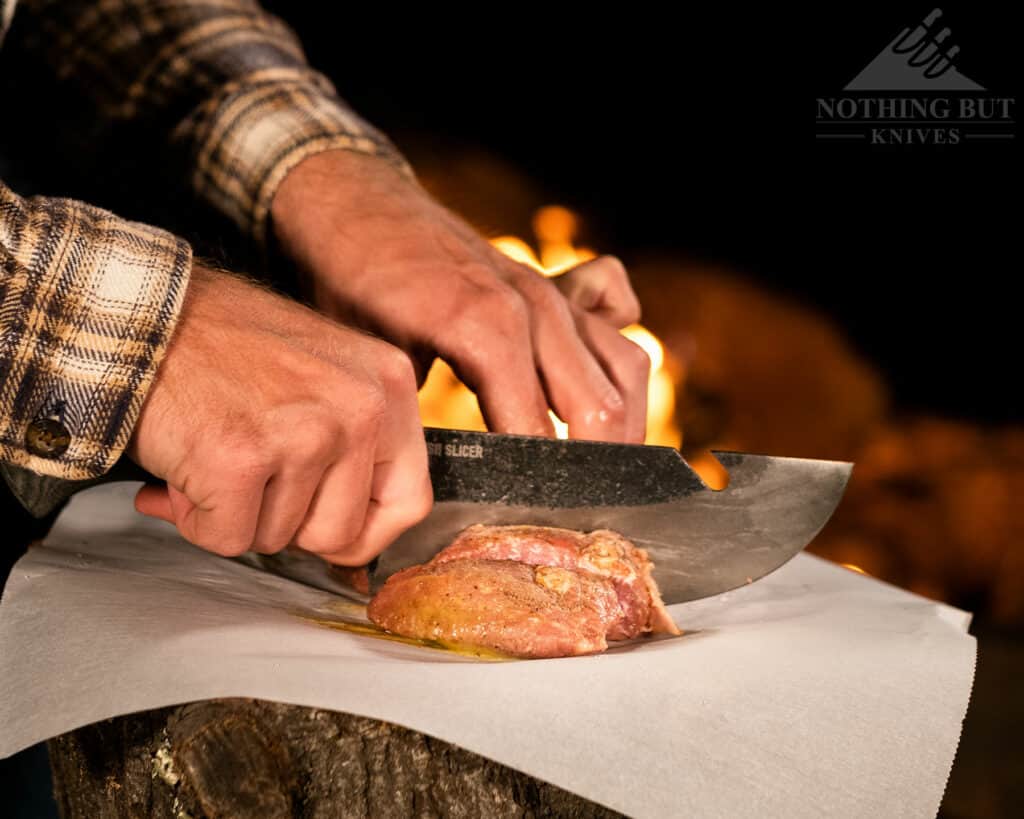 The "slicer" in the name of this knife is misleading. It's more of a bush chopper. Slicing can get tricky with it, especially where food is concerned, but there's so much edge to work with that you can get the job done one way or the other.
The real benefit here is that the Bush Slicer is the only knife you need to take. You can chop wood and start the fire that you're going to cook on, and while the food might not always look pretty or delicate if cut with this knife, it will be cut and the benefit of having a chopping edge on a tall blade that can double as a spatula makes cooking on the pan pretty nice.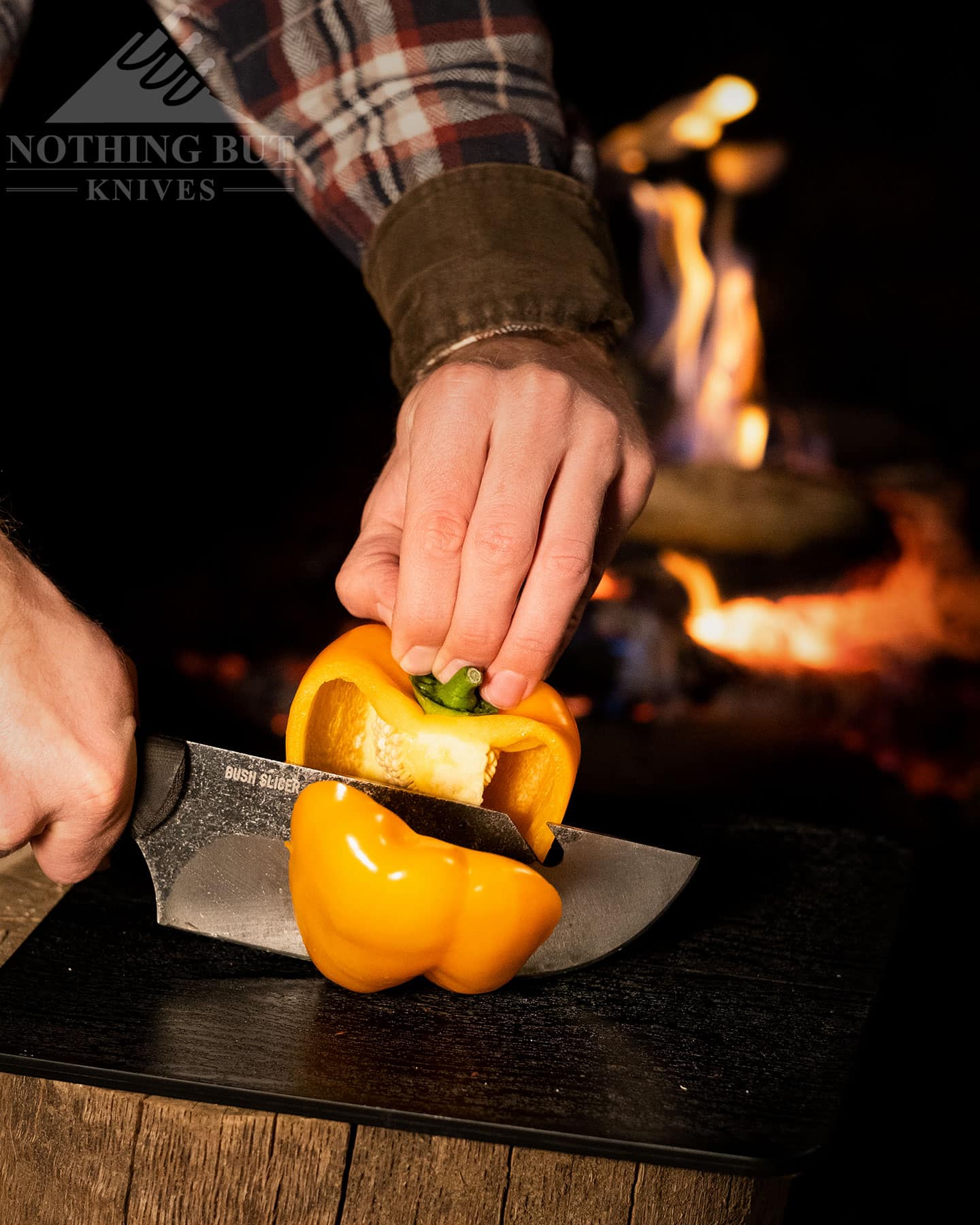 It's also nice that I never feel particularly concerned about damaging the edge even when I'm stirring food on a cast iron pan because 1075 steel is pretty easy to work with, and there is an enormous amount of it here in a convex grind. In a worst case scenario I can just reprofile the blade, but until then there's something to be said for managing your entire campsite, from tent stakes to beef steaks, with a hefty cleaver.
If you want to learn more about the Bushslicer, check out our in-depth review.
Civivi Kepler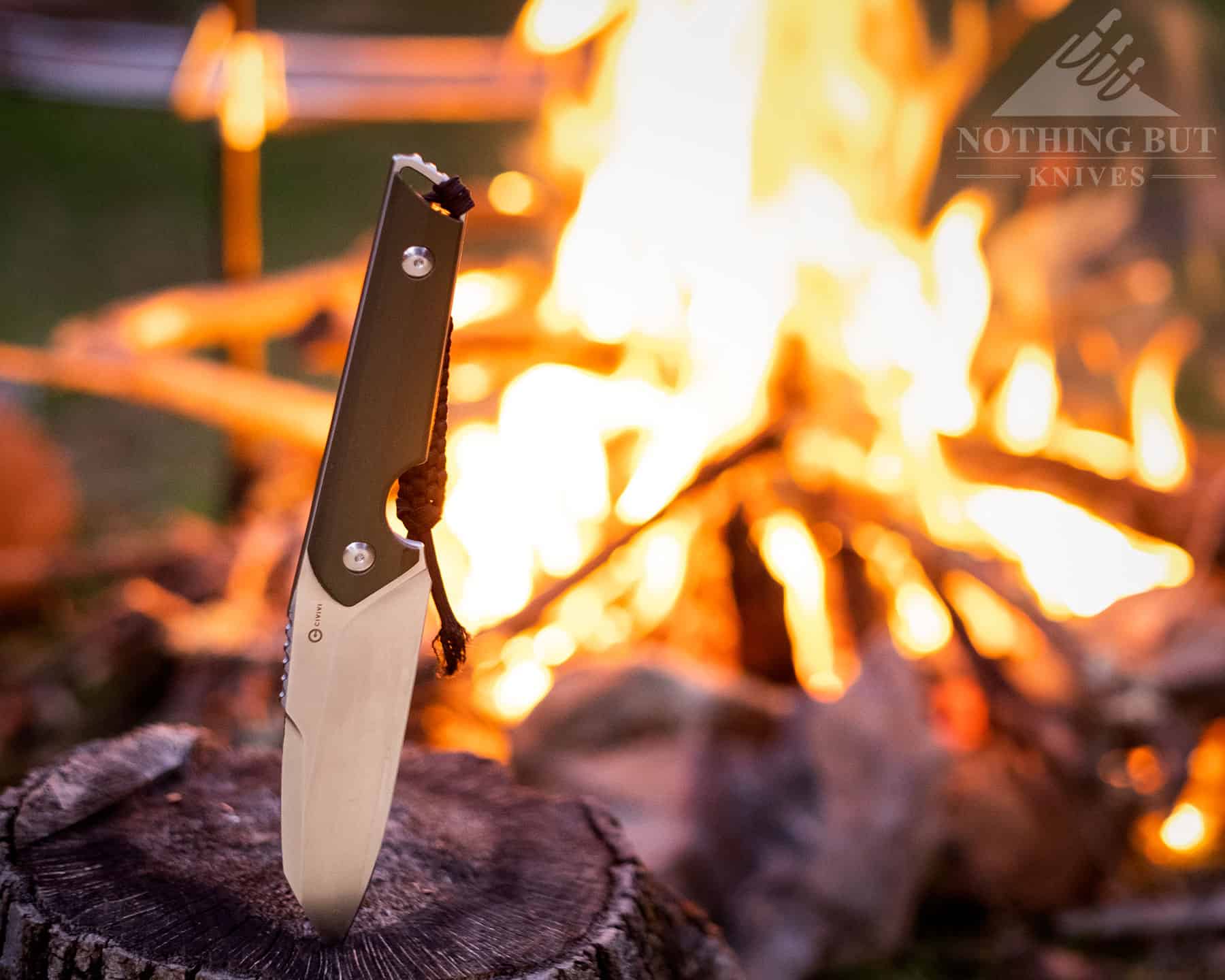 | | |
| --- | --- |
| Overall Length: | 10.0" |
| Blade Length: | 4.5" |
| Blade Steel: | 9Cr18MoV |
| Blade Shape: | Wharncliffe |
| Blade Grind: | Compound flat |
| Handle Length: | 5.5" |
| Handle Material: | G-10 |
| Weight: | 7.7 oz (11.25 oz w/ sheath) |
| Sheath: | Kydex |
| Made in: | China |
| Designer: | Maciej Torbe |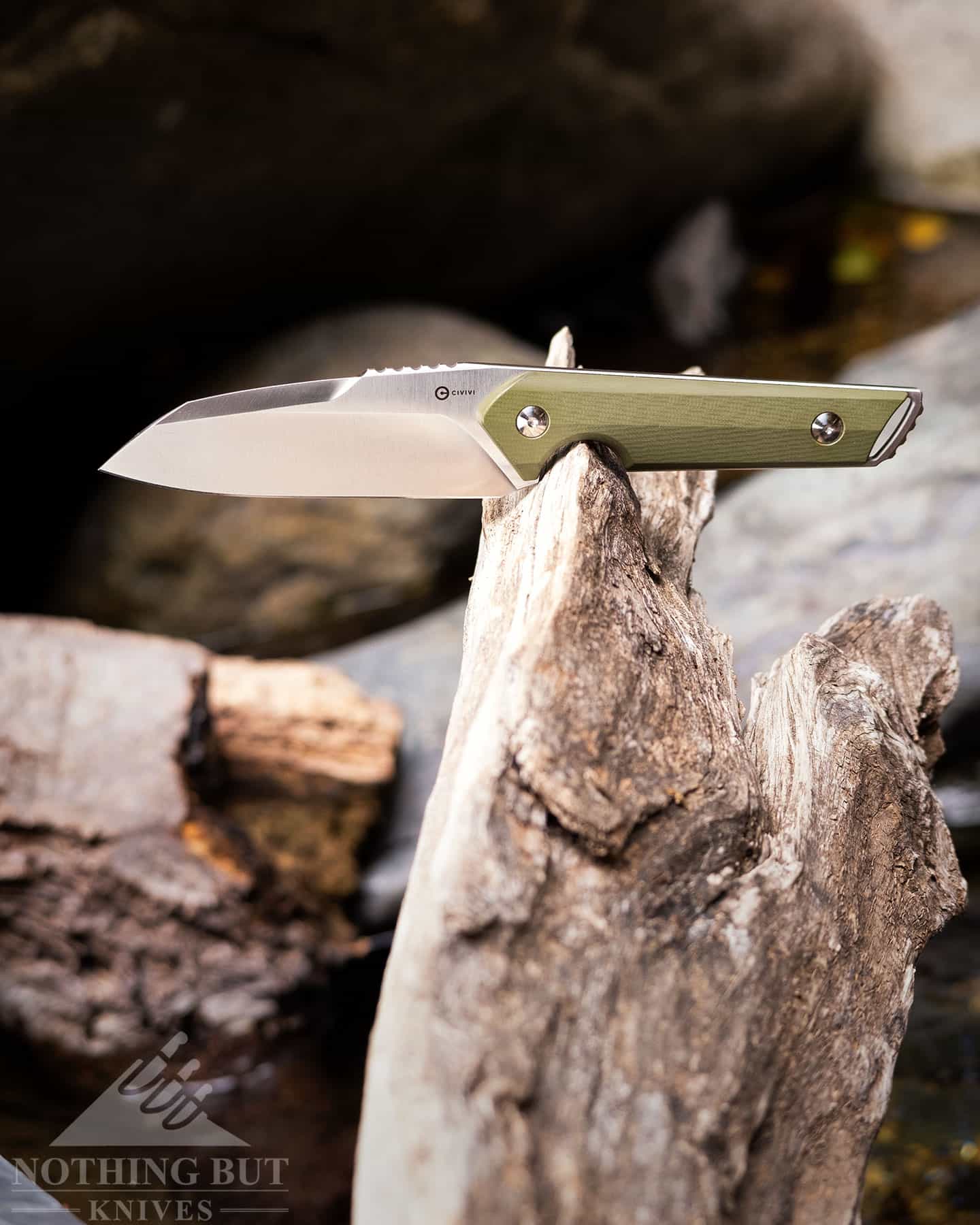 The shape is mostly what makes me like the Kepler for food prep. There's a lot of knuckle clearance, and you can get a fairly comfortable pinch grip on this. Also the cleaver shape provides some of the same strong-point benefits as the Silax and the Grizzly.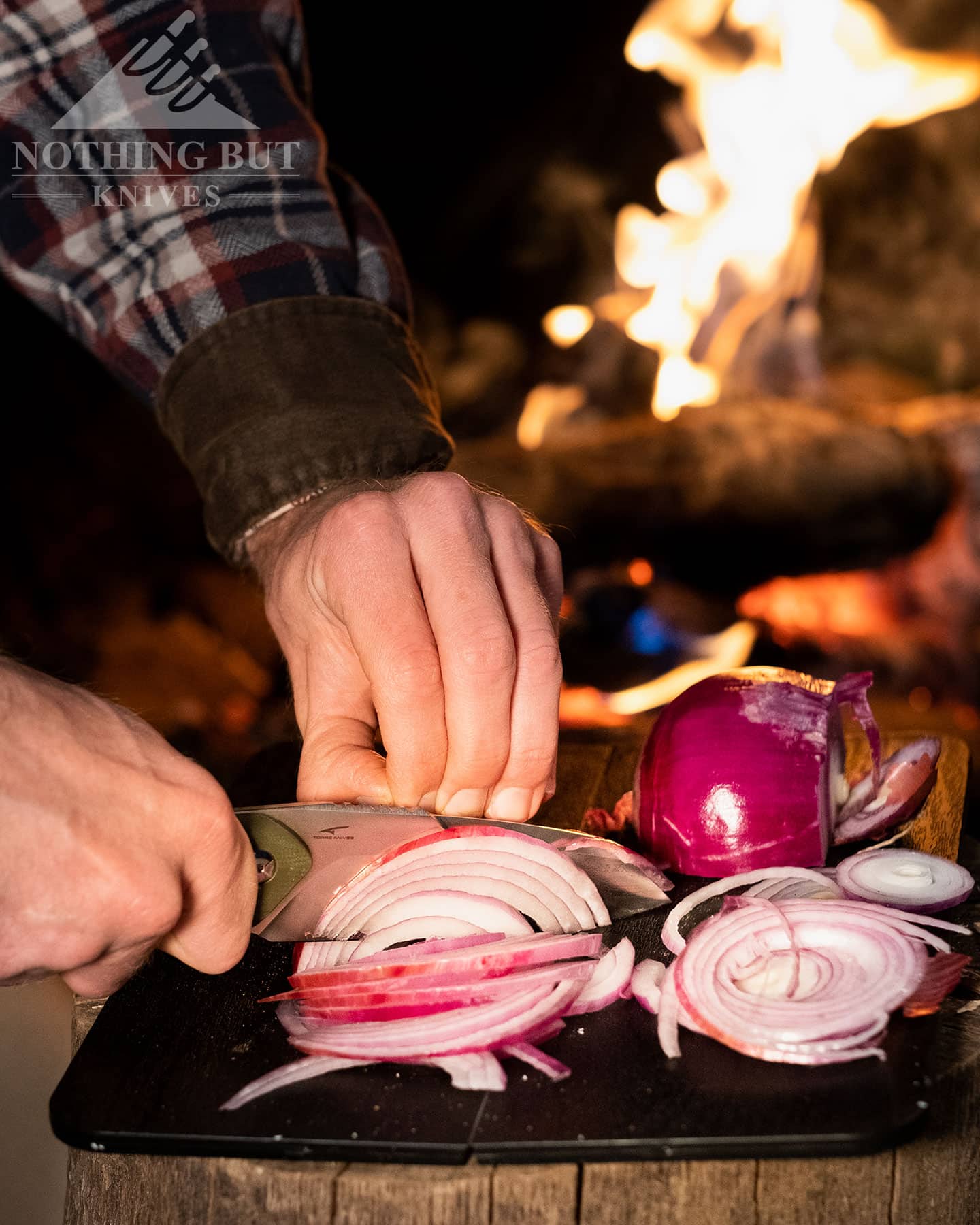 Except that the edge grind is much wider. This was not designed for food prep, after all. In that sense it falls more in line with the Bush Slicer, but it has the benefit of stainless steel. The blade is impressively durable and a mean chopper, but it takes some stropping to get this into any kind of satisfying food-cutting shape.
Even then the angle of the grind is so wide that it has a habit of making your cut turn on larger, harder foods like onions and apples. But so long as you're content with a rustic spread, the Kepler can take you pretty easily from a pile of meat and vegetables to a halfway respectable sandwich melt.
I wrote an in-depth of this review of the Civivi Kepler if you want to learn a bit more about this knife.
OKC Camp Plus Kitchen Folders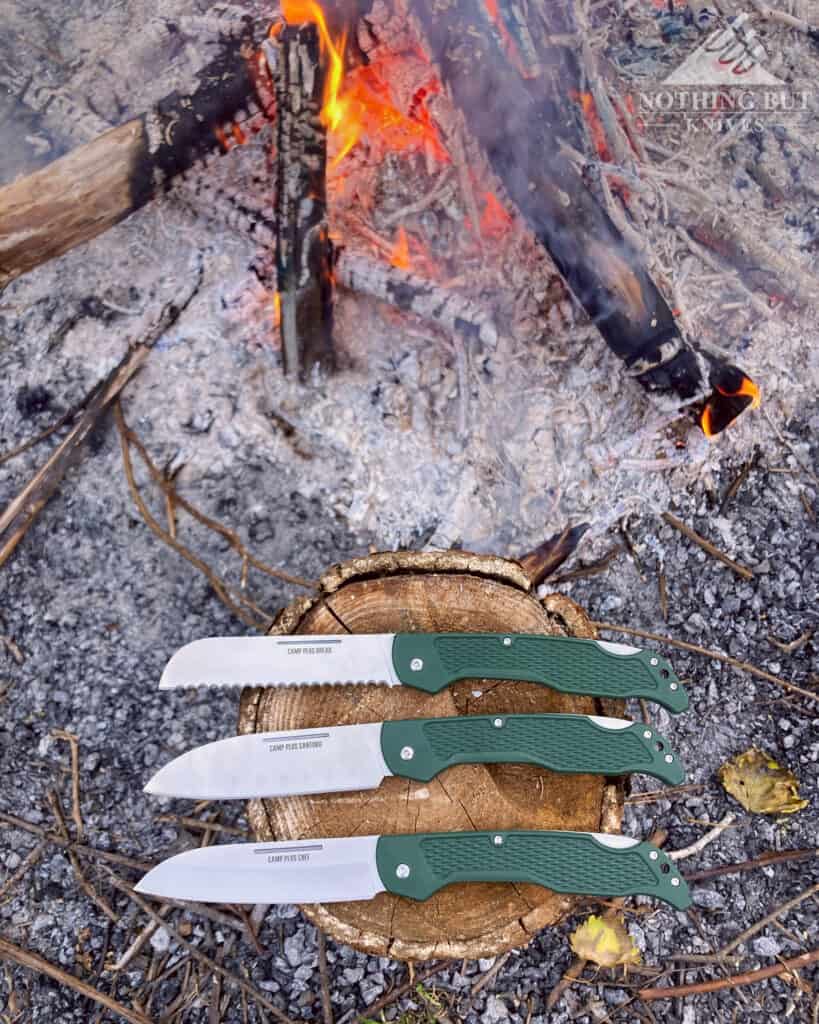 | | |
| --- | --- |
| Overall Length: | 9.51" |
| Blade Length: | 4.25" |
| Blade Steel: | 420 |
| Blade Grind: | Chef (Hollow) Santoku (Flat) Bread (Flat) |
| Handle Length: | 5.5" |
| Handle Material: | GFN |
| Made in: | China |
| Weight: | 3.6oz |
This is the design Messermseister needed for their Adventure Chef knife: a smaller backlock folder with a reasonably sized handle that manages to fit the blade without creating too much complication with the grip. They're not exactly optimized for knuckle clearance, but they're still enormously usable knives for the price.
Ontario's trio of Camp Plus kitchen folders hits a lot of other points right for fireside camping. The blades are thin, but they're made with a soft steel that doesn't feel like much of a risk around rough terrain; each knife is very lightweight and pretty comfortable considering the material and purpose they're working with; and all three knives together end up being cheaper than every other knife on this article right now (with the exception of the Old Hickory butcher knife, which is also happens to be made by Ontario).
None of these knives are going to be winning performance awards, although they do cut pretty well out of the box and that plain 420 steel can take a pretty mean edge. But Ontario Knife Co. excels at making absurdly tough, cost-effective designs that somehow end up getting used twice as much as anything else I own.