A Large Kitchen Knife Set With a Small Price Tag and a Confusing Moniker
It seems like there is a new kitchen cutlery company popping up on a weekly basis these days. I quit trying to keep track of them a long time ago. Most of the new cutlery startups disappear in a year or two, but a few have managed to stick around long enough to become recognizable names in the industry. Imarku is one of those companies.
Imarku has been on my radar for a few years. Their products have consistently improved from both a performance and raw materials standpoint. It's obvious that they have been listening to their customers and the knife industry trends based on the changes they made. Their premium kitchen knives were on my short list of new knife companies to review, so when they reached out to me about reviewing their 16 piece cutlery set, I said yes.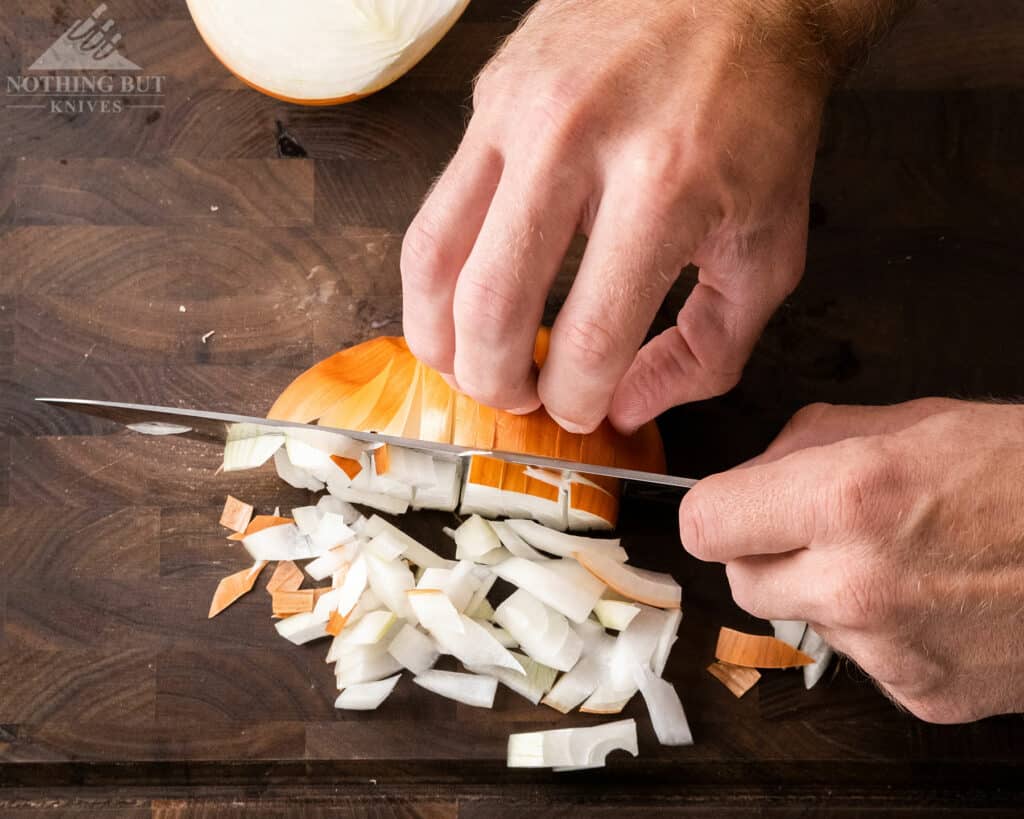 Overall I was mostly impressed with the set. The knives are not perfect, but they offer better performance than most other brand's knives in sets of this size in the under $300 price range. I am not sure why Imarku calls this set a Japanese style set considering it is made up of mostly Western style knives with German steel, but the slight branding confusion does not take away from the overall value this set provides.
Specifications
| | |
| --- | --- |
| Blade Steel: | ThyssenKrup German Steel |
| Handle Material: | Pakkawood |
| HRC Rating: | 58 HRc |
| Blade Grind: | Flat |
| Edge Angle: | 16° |
| Set Size: | 16 Pieces including the storage block |
| Storage Block Material: | Wood |
Pros
Excellent performance for the price range
Large set
Sturdy kitchen shears
Good edge retention
Removable steak knife storage block
Great warranty
Cons
No empty storage block slots
Steak knives are made of a lower grade steel
The Imarku 16 Piece Japanese Knife Set includes the following: 8 inch chef knife, 6 inch chef knife, 7 inch santoku knife, 8 inch bread knife, 5 inch utility knife, 8 inch slicing knife, 3.2 inch paring knife, 4.7 inch steak knives x 6, 8 inch sharpening steel, kitchen shears, and a wood storage block.
Overall Quality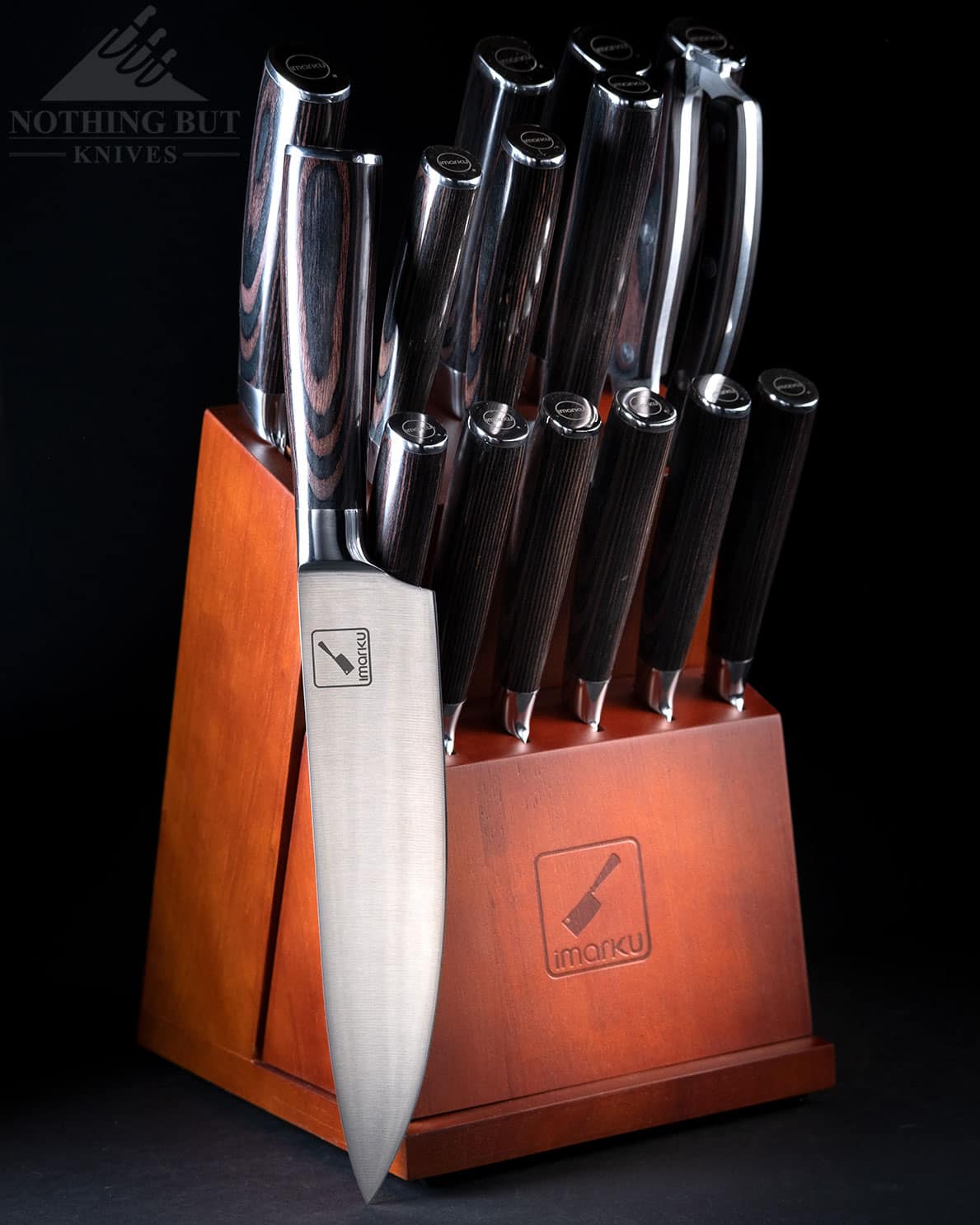 Every knife in this set arrived quite sharp right out of the box. I did not feel I needed to sharpen or strop any of the knives to fairly compare them to similar products for this review. This is not always the case when I receive knives from a manufacturer. Reviewing an entire knife set is a lot of work, so it was nice to be able to jump into the testing phase without the extra step of sharpening and/or stropping. Kudos to Imarku for appealing to my laziness.
The fit and finish of the knives was acceptable for their current price point. The handles were symmetrical, and the blades were straight. The bolster and the end cap did not quite merge seamlessly into the pakkawood handles on any of the knives. There were no visible gaps, but the rough transition is something I could feel when ran my finger over it. This was not a huge surprise at this price point, but if this set were closer to $500 I would consider it an issue.
There are a few consumer reviews that mention warped blades or handles. This is not something I noticed on any of the knives in the set I received. However, it is something you may want to check if you buy this set. Fortunately Imarku has great customer service, so exchanging any knives that show up warped or damaged should not be a problem on the outside chance that there was an issue.
The ThyssenKrupp steel blades hold their edge well, and they are fairly tough. I like that Imarku went with a Rockwell hardness of around 58 HRc. That is hard enough to hold an edge well, but not so hard that they will chip as easily as a knife with a 60 or 61 HRC. Many companies tout the hardness and edge retention of their blades without mentioning that it also makes them more brittle. The relative softness of these blades is what allows them to be thinner behind the edge compared to most other knives at this price point. This is a big part of why these knives are able to separate themselves from a lot of their competitors from a performance standpoint.
The 8 Inch Chef Knife
The Imarku 8 inch chef knife is a Gyuto style chef knife which means that it is a bit of a Western and Japanese hybrid. Gyuto knives tend to be lighter and thinner than Western style chef knives. They also tend to have a straighter cutting edge than a Western style knife. This is where the Imarku 8 inch chef knife differs from most Gyutos. Its cutting edge has a fairly pronounced curve which means it is a little better at rock chopping than your average Gyuto. This of course means it is not quite as good at push cuts, but this set has a santoku knife with a straighter edge for that type of work.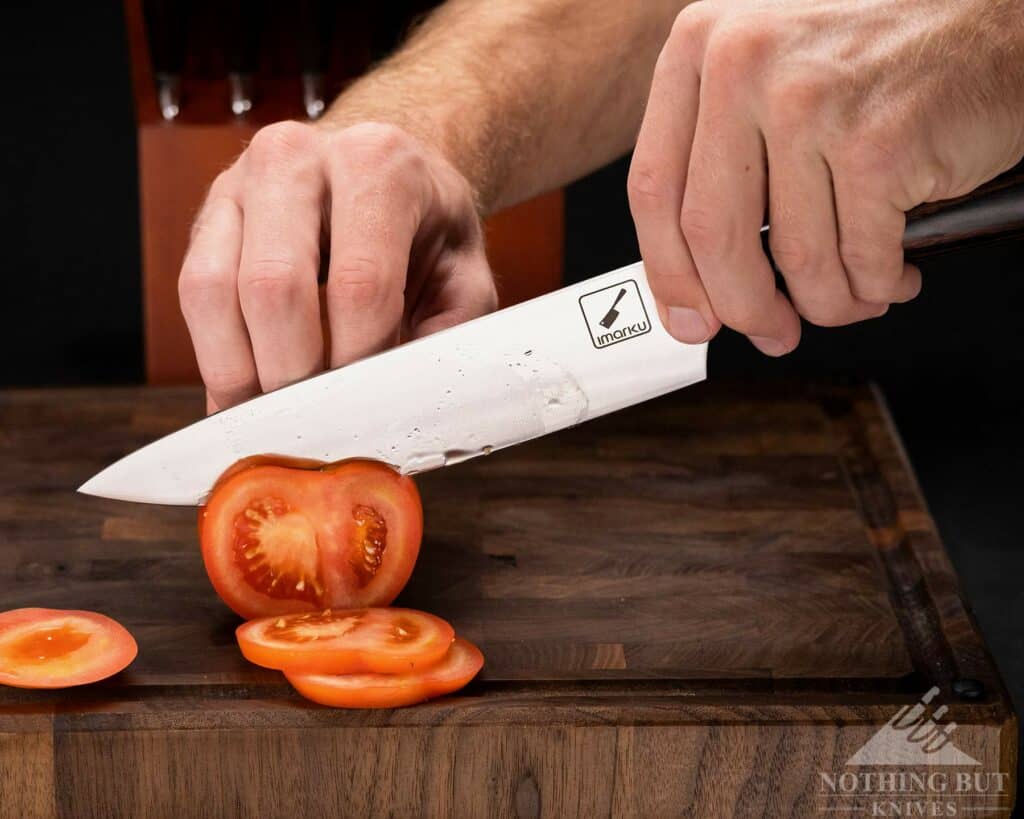 The Imarku 8 inch chef knife is balanced at the bolster which is my personal preference. However, if you are overly partial to the pinch grip you may be better served with a knife that is a little more blade heavy. There is also a good chance that you won't care much where the blade is balanced. That is generally the case for those who are bit more more casual about cooking than a chef, or an over zealous home cook like my wife who seems determined to fatten all those who venture into our house.
My biggest complaint about this chef knife is the relatively short slope on the blade side of the bolster. I appreciate the fact that is slopes at all, because many chef knives don't have that feature, but I prefer a more gradual slope on my chef knives. It is not a huge deal, but a more gradually sloped bolster is more comfortable to hold in a pinch grip.
Overall this chef knife performs well above its price range. It is well balanced, lightweight, sharp and comfortable to hold for long periods of time. It still falls short of the Tojiro DP 8 inch chef knife which is the knife I consider to be the best chef knife under $100. However, a Tojiro DP set has less than half the knives of this set, and it is still more expensive.
In my not-so scientific head to head tests, the Imarku chef knife out performed the slightly more expensive Misen chef knife at almost every task. This is primarily because the Imarku chef knife blade is thinner behind the edge, but I I also preferred the balance and handle ergonomics of the Imarku compared to the Misen.
The Imarku chef knife even held its own against the Shun Sora 8 inch chef knife from a performance standpoint. I could not find any comparably priced chef knife in our very large collection that could beat to the Imarku chef knife from a versatility and performance standpoint. Western style chef knives like the Cold Steel Classic and the Zwilling Gourmet are tougher and more durable, because they have thicker blades with wider bevels, but they fall short of the Imarku chef knife from an overall performance standpoint.
The Santoku Knife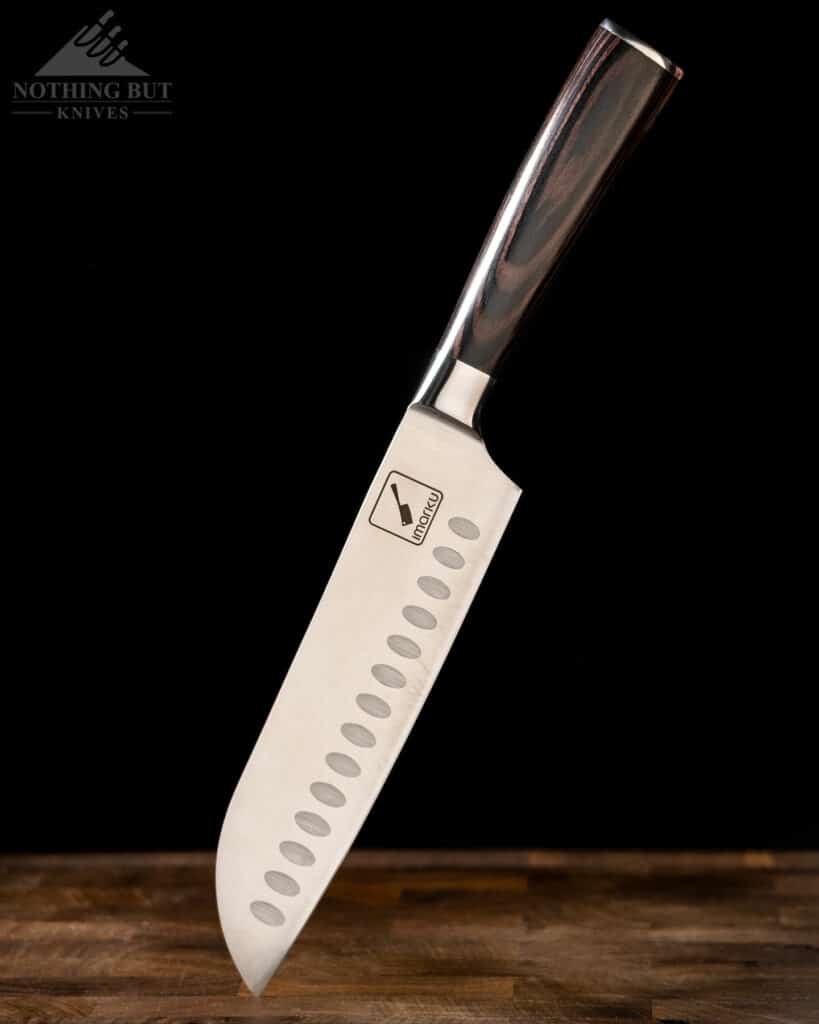 The Imarku 7 inch santoku knife performed well at all the tasks you would expect a double bevel Western style santoku knife excel at. It made thinner more precise cuts than the chef knife which is the whole purpose of a santoku. However, the difference in the performance of the santoku and the 8 inch chef knife in this set was not as drastic as it is in most Western style knife sets. This is because the 8 inch chef knife mentioned above has a 15° blade angle, and it remains fairly thin behind the edge.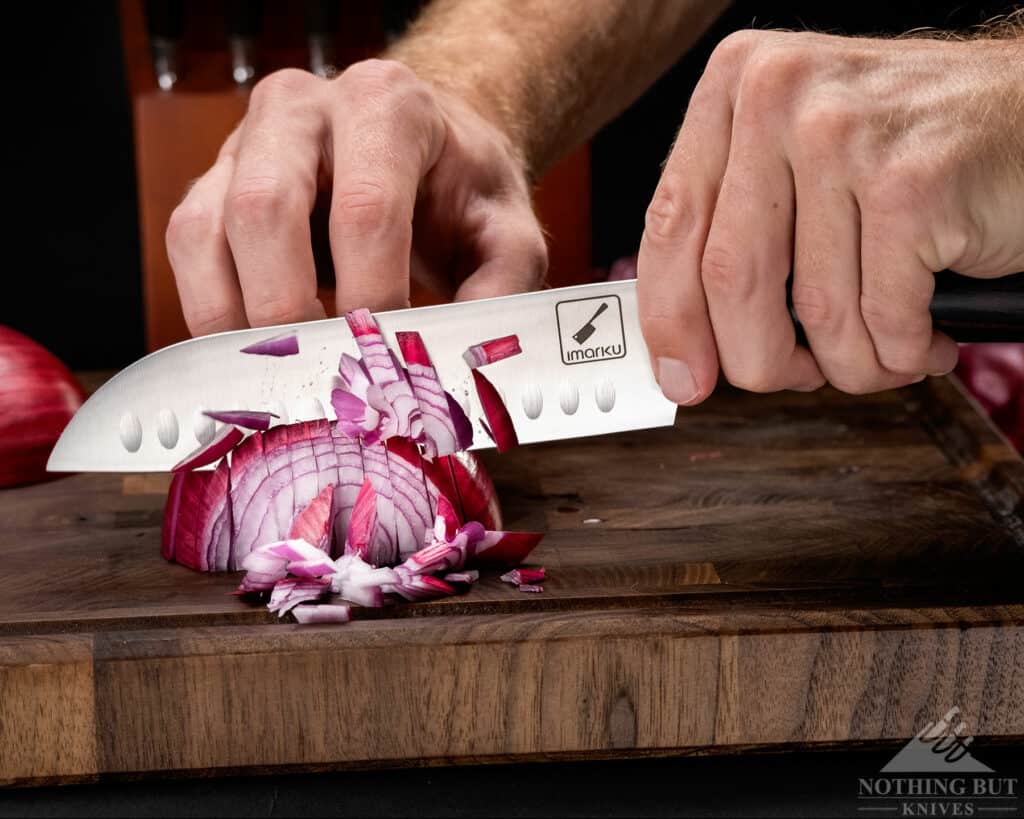 The edge of the santoku knife in this set is not perfectly straight, but it is less curved that the chef knife edge which makes the santoku the best knife in the set for push cuts. The santoku knife did well at mincing herbs, dicing fruit and vegetables and cutting thin slices of raw meat.
It did not quite separate itself from its comparatively priced competitors the way the included chef knife did, but it performed well. I had an easier time getting precise cuts with the Imarku santoku knife than the more expensive Zwilling Henckels Twin Signature santoku knife, but the difference wasn't huge. I also put the Imarku santoku knife up against the much more expensive Enso HD santoku. The Enso had the slight edge over the Imarku, but the difference was not as drastic as the price.
The 6 Inch Chef Knife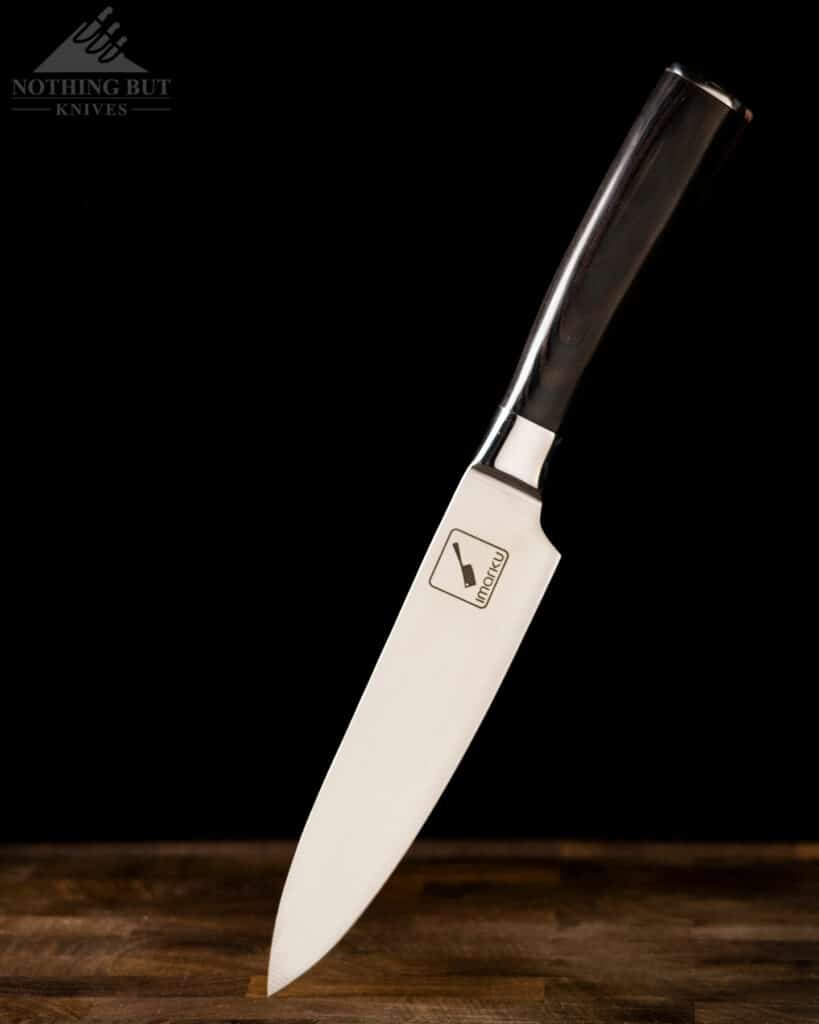 I rarely use a six inch chef's knife. Partially because I am just too lazy to reach for a different knife on the occasions that I feel I could use a smaller chef knife that is easier to control, but also because I am still constantly trying to improve my skill with the standard 8 inch knife, and I don't want to make an already long learning curve longer. So keep all that in mind as you read this section.
The Imarku 6 inch chef knife handled itself well. It held up to the competition from the few budget 6 inch chef knives I had on hand, but it fell a little short of the much more expensive Wusthof Classic Ikon 6 inch chef knife. However, the performance difference was much less than the price difference which seemed to be a reoccurring theme as I tested the Imarku knives in this set against the knives from the professional knife sets we had on hand.
I think it is safe to say that fans of the six inch chef knife will not be disappointed by the Imarku at its current price point. But I did notice that the short slope of the handle bolster was more noticeable and more annoying on the 6 inch chef knife vs the 8 inch chef knife.
The Slicing Knife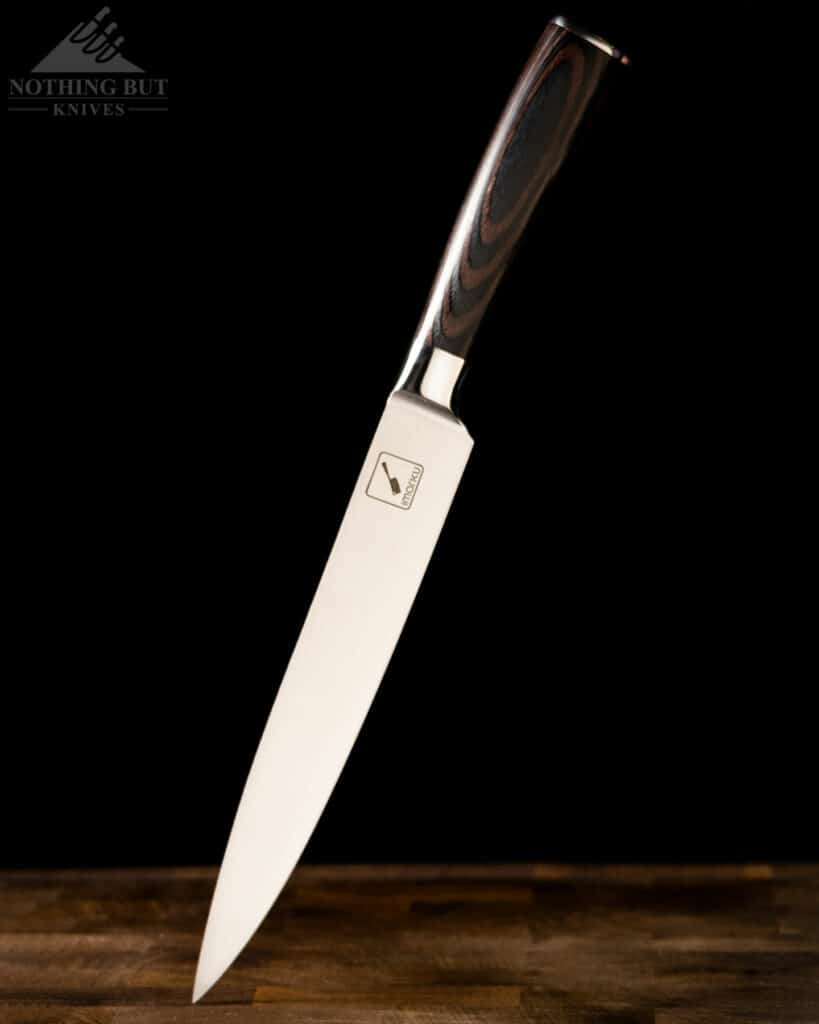 If you are vegetarian you can skip this section, because it just occurred to me that I never tested this knife on anything but meat. I guess that is OK since that is its main purpose. The Imarku 8 inch slicing knife was my second favorite knife in this set. It is a meat cutting machine. It did a great job at cutting thin slices of both raw and cooked meat, but I did find that I wished it had another inch or two of blade for large roasts or briskets.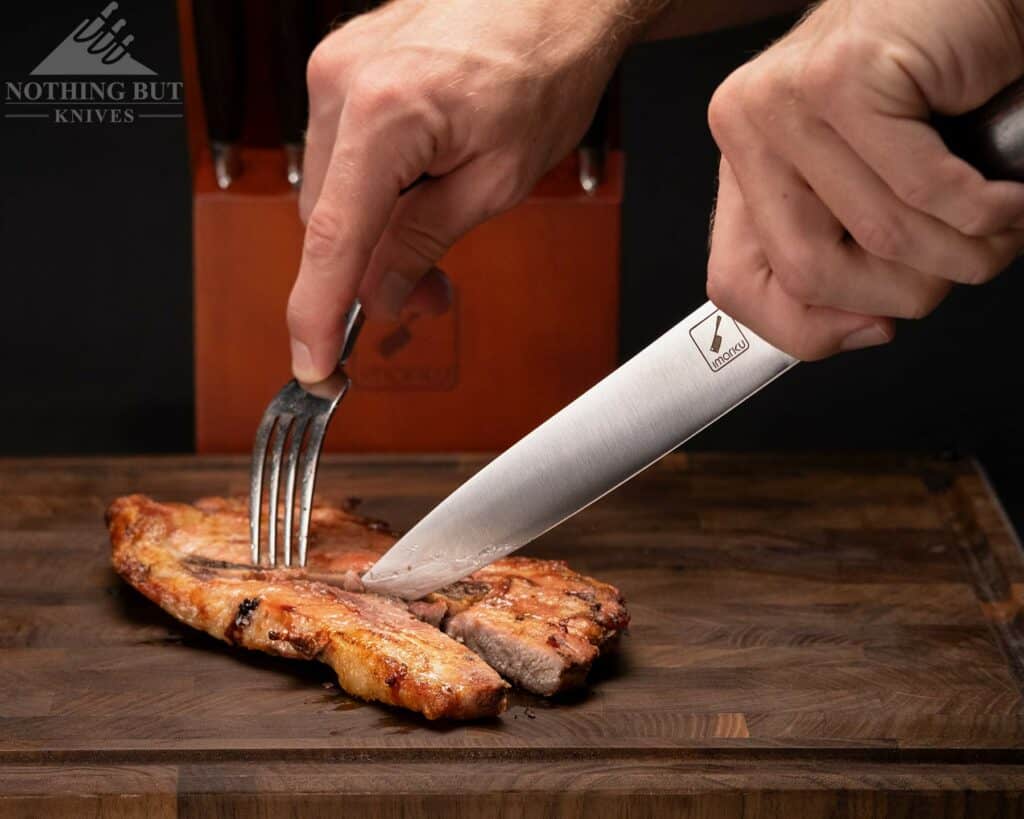 It was easy to control the carving knife and make precise cuts around the bone when necessary. I prefer oval shaped handles to the more conventional Western shaped handles on slicing knives, so the Imarku Slicer scored points for me there, but your handle preferences may be different depending on the size of your hand and your preferred grip.
The Bread Knife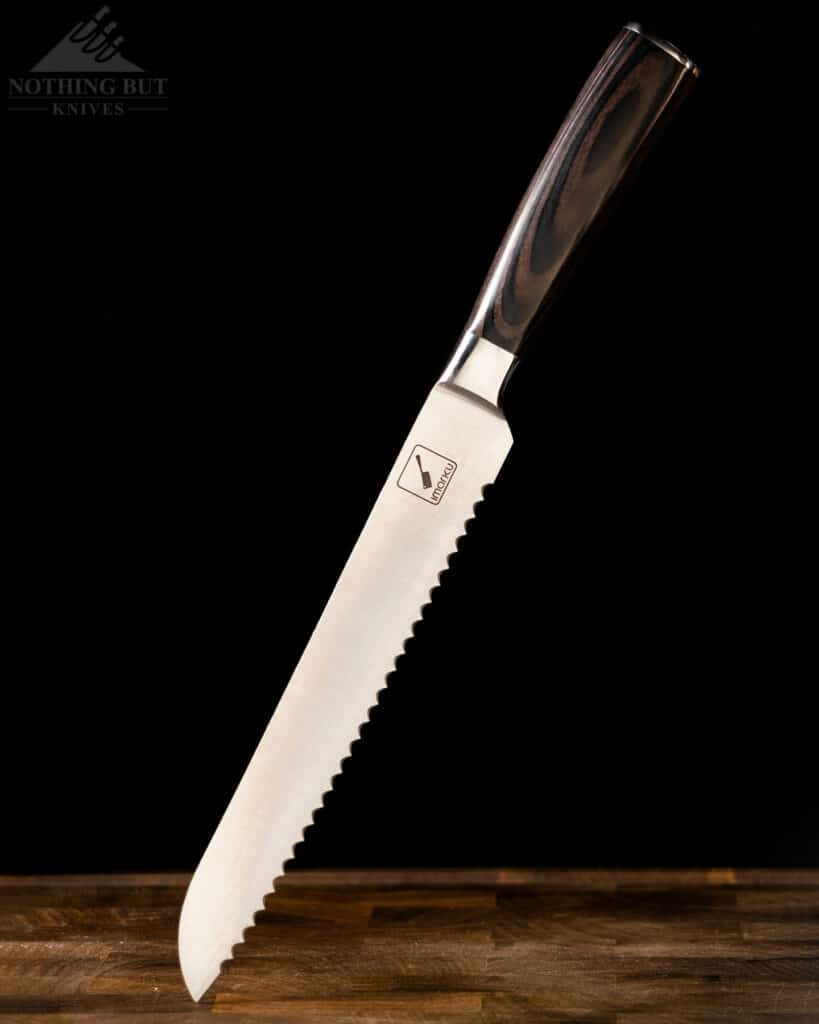 The 8 inch bread knife was probably the most disappointing of all the non-steak knives in this set from an overall performance standpoint. It got the job done, but it didn't cut through bread as effortlessly as the similarly priced Tojiro F-737. It did compare favorably to the budget friendly Henckels Definition 8 inch bread knife and the Cuisinart C77WTR bread knife on all types of bread.
I was able to cut relatively even slices of bread fairly well, but if this set were going to be the main knife set in my kitchen, I would probably upgrade to Imarku's 10 inch bread knife. It is nice to have the extra blade for bigger loaves of bread.
The Utility Knife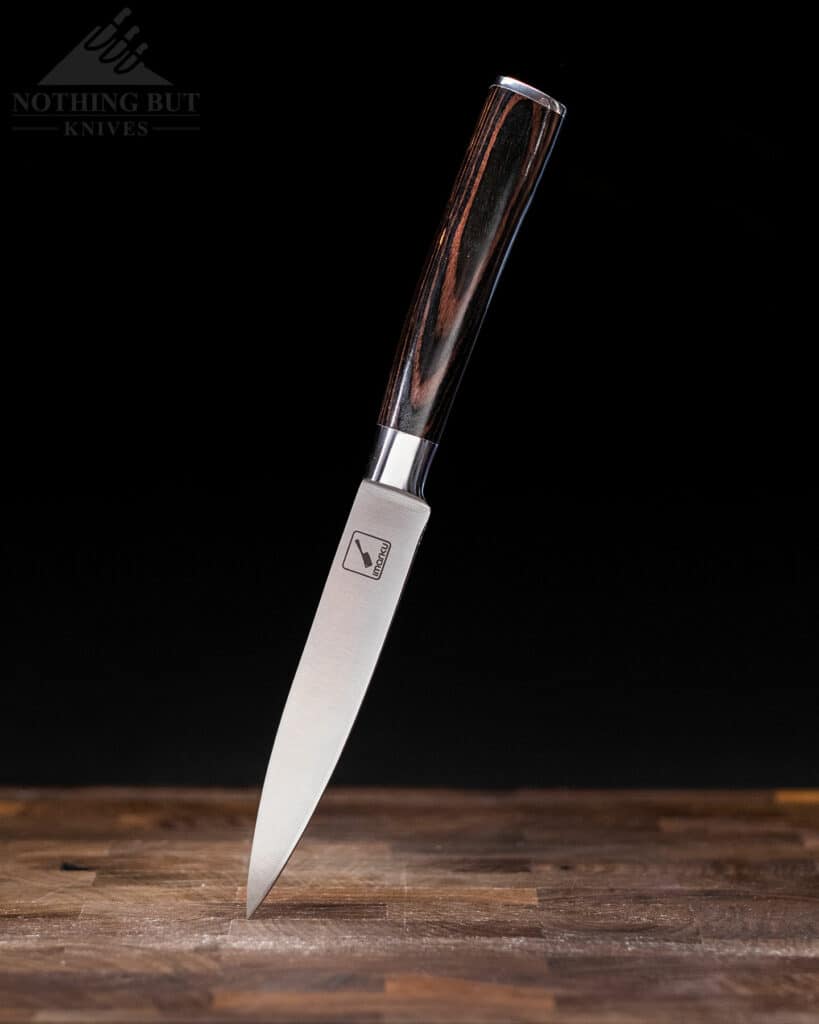 The 5 inch utility knife included in this set is thankfully free of serrations and quite versatile. The thin blade was great for making small accurate cuts that would be more difficult with the larger knives in this set. The Imarku utility knife out sliced the budget Kinsu Chikara and Cuisinart Triple Rivet utility knives, but it fell a little short of the much more expensive Dalstrong Shogun utility knife.
The Paring Knife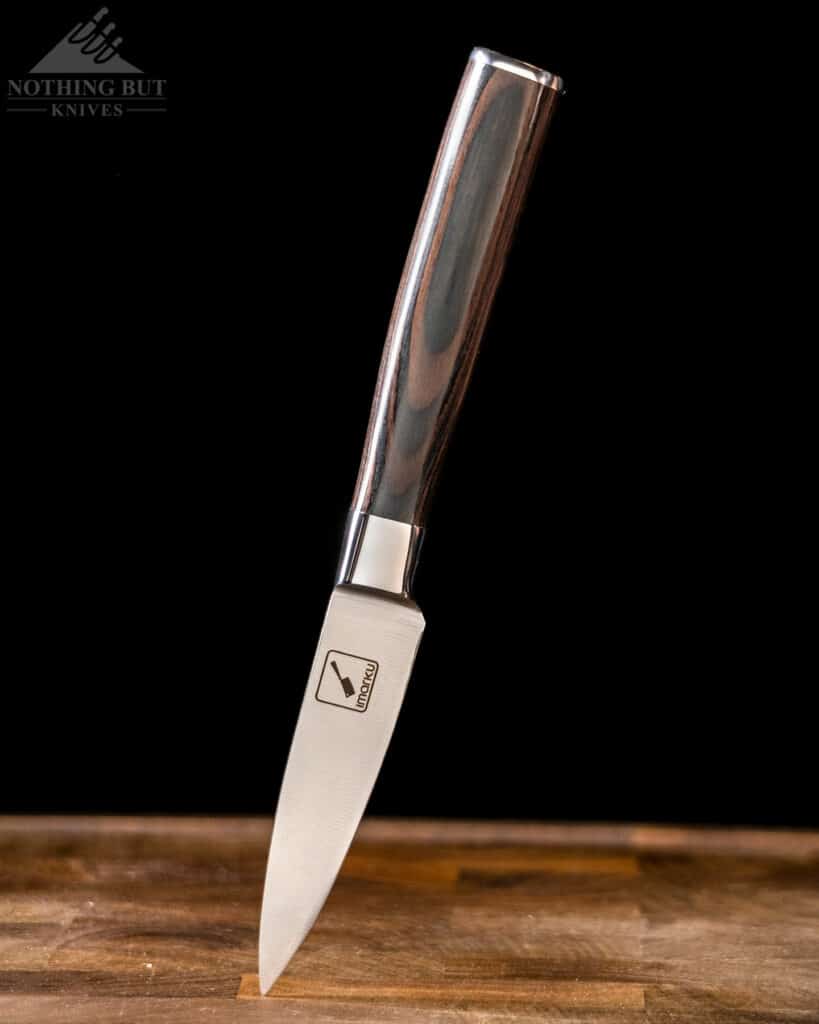 The first feature of the Imarku 3.2″ paring knife that caught my attention was the sheared off blade heel. I wish more companies would adopt this practice. One could argue that the knife loses a little of its cutting edge, but that is small price to pay for the added comfort.
All too often knife companies leave a fairly sharp point on the blade heel of their budget friendly paring knives. This point has a tendency to prick or catch fingers which usually leads to profanity and a bad review on my part. Kudos to Imarku for having the foresight to protect my delicate digits.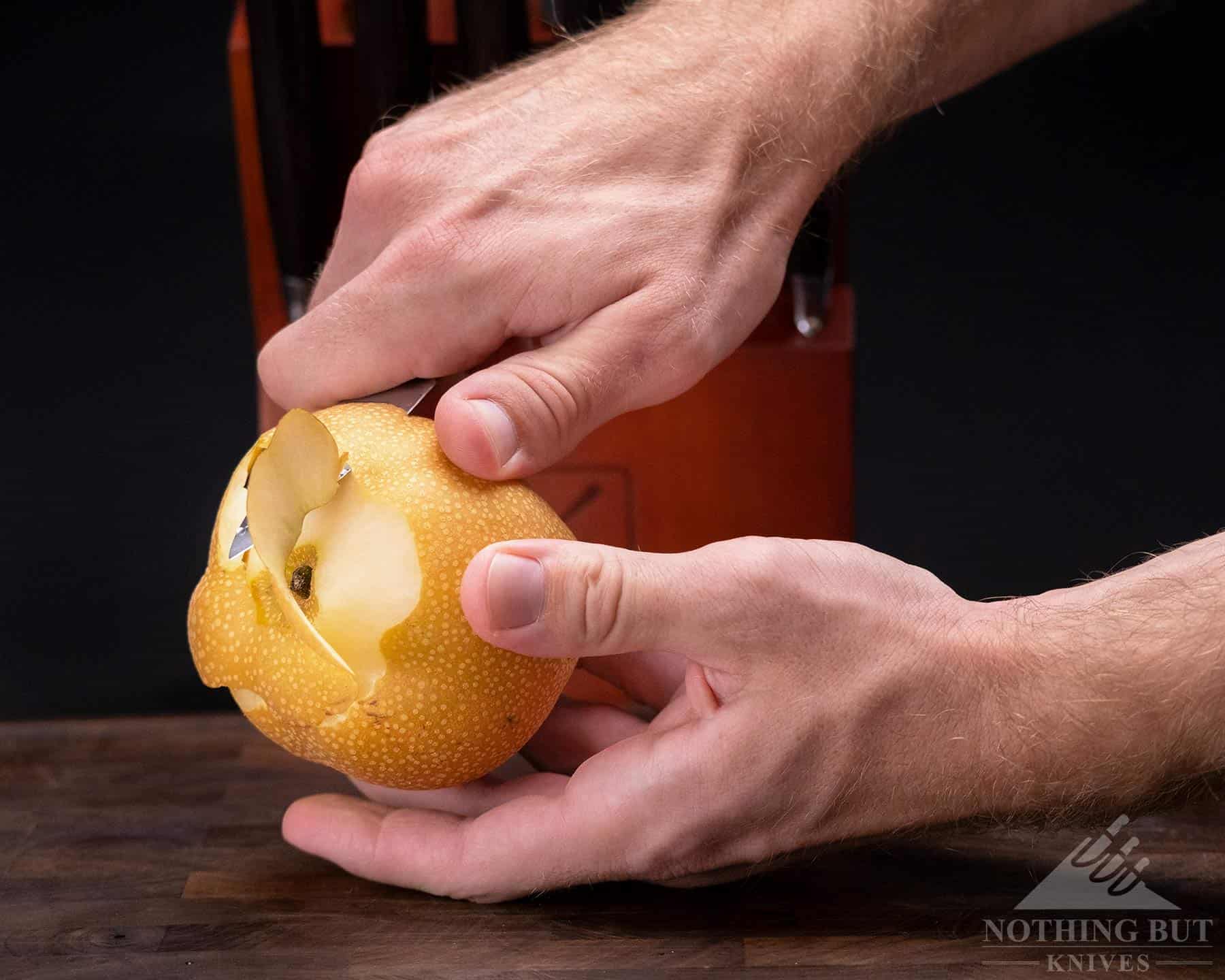 The Imarku paring knife peeled pears, cored strawberries and segmented citrus like a champ. The oval handle was comfortable and grippy enough to handle the weird grips sometimes required for angled cuts and slices. In a head to head match up it easily bested the clunky Henckels International Definition paring knife, but fell short of the Wusthof Classic Ikon paring knife from a performance and comfort standpoint.
The Steak Knives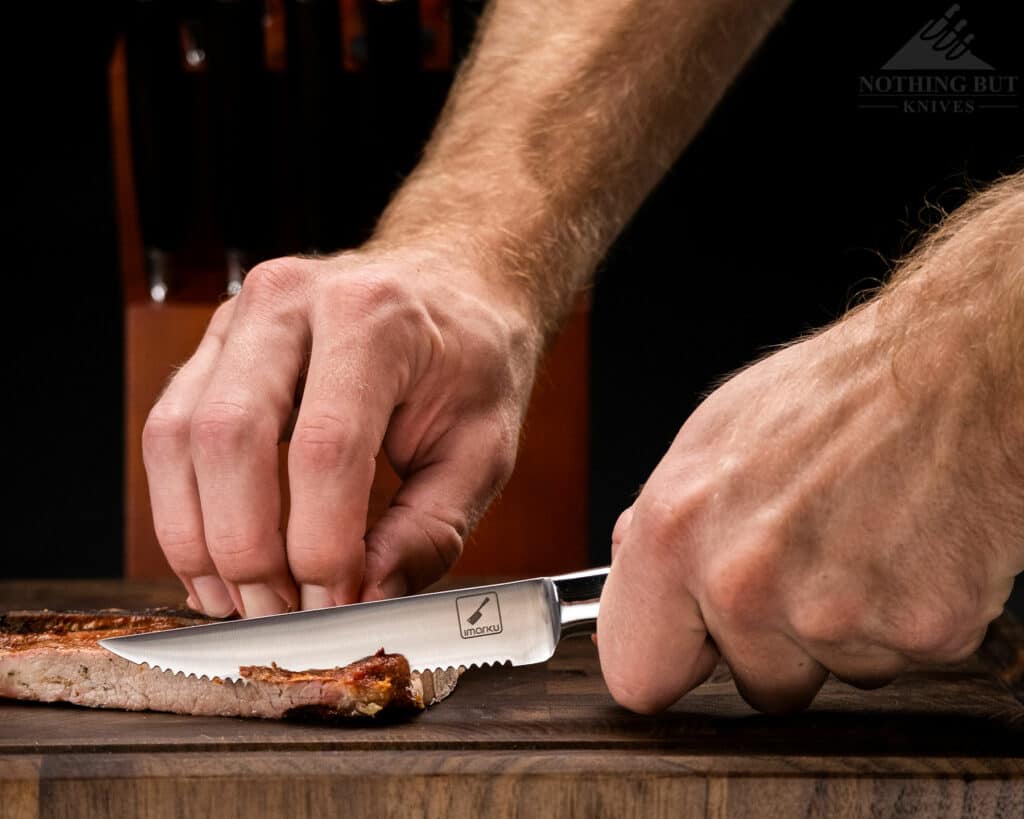 Unfortunately the blades of the steak knives Imarku included in this set are made of 3Cr13MOV stainless steel which is inferior from an edge retention standpoint to the steel of the other knives in the set. This is pretty standard operating procedure for large sets at this price point. Sacrifices have to be made to keep the price down.
The serrated steak knives performed well enough. They easily cut pieces off over cooked meat with minimal effort, but they will lose their edge over time, and sharpening serrated knives is difficult. I prefer fine edges to serrated on steak knives with soft steel, because they are much easier to sharpen. These will get the job done, but not without me occasionally complaining about it.
The Kitchen Shears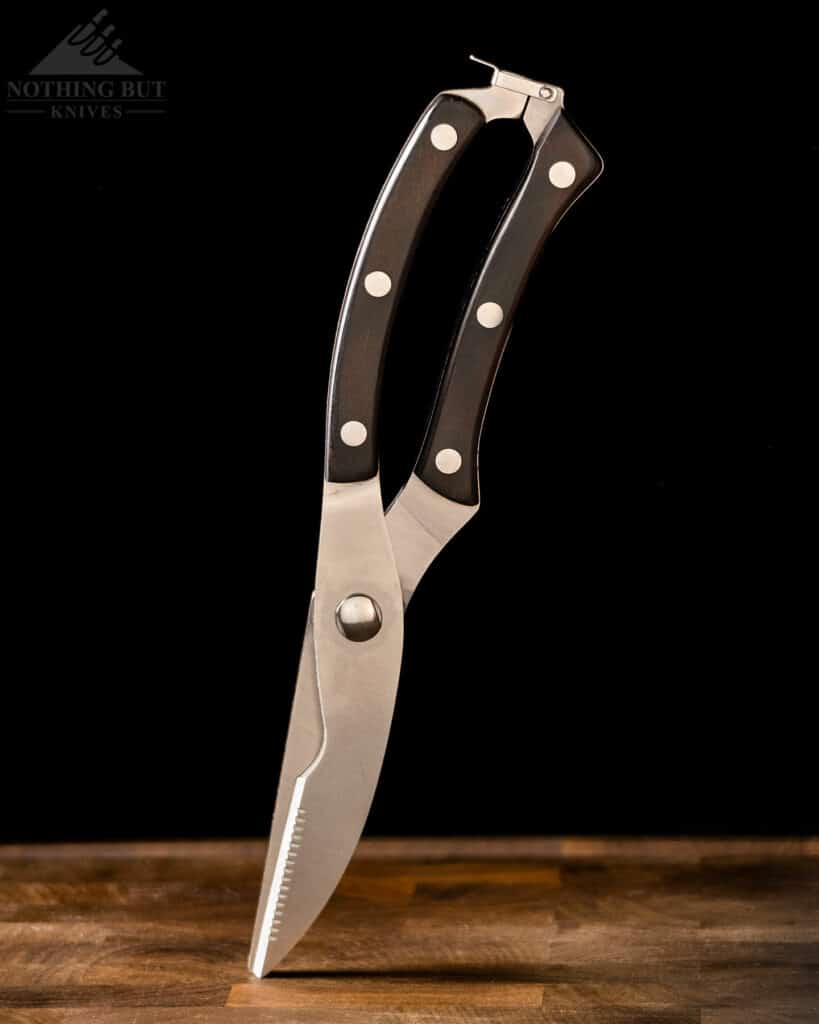 The kitchen shears included in this set are tough but bulky. They can handle tougher tasks than the kitchen scissors found in similarly priced knife sets, but they are not as good at making small accurate cuts due to the lack of finger holes.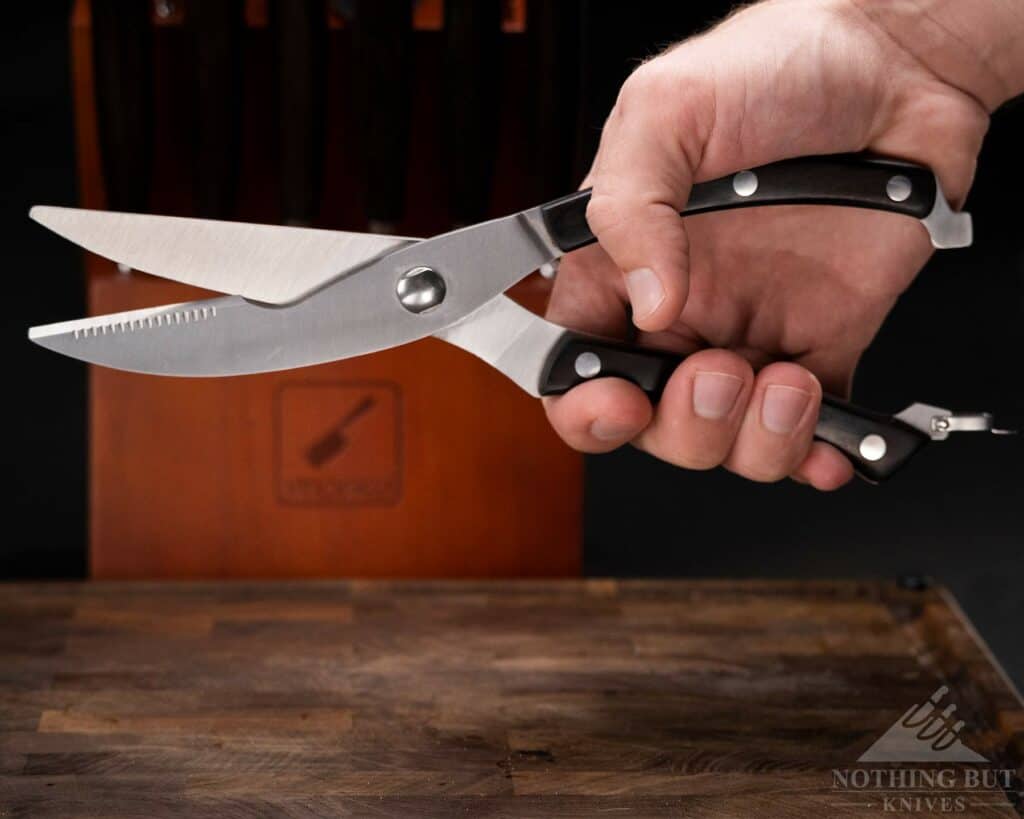 The handles of the Imarku shears are comfortable and the blades handled packaging and poultry breakdown well, but came up short with more detailed tasks like herb snipping. But overall these are much more heavy duty than what you would typically get in any large knife set, much less one in this price point.
Similarly Priced Alternatives to The Imarku 16 Piece Japanese Knife Set
My first recommendation for an alternative set would be the Cangshan S1 17 Piece Knife Set. It is a large set that offers similar performance and quality, but it costs almost $100 more. The Dalstrong Gladiator 8 Piece set has a similar price tag to the 16 piece Imarku Japanese set, but the Dalstrong set is much smaller.
Imarku offers a hammered steel version of this set that might be a great alternative if you like the look. I have not used those knives but they should offer similar performance to the knives of this set with the possible added benefit of reducing food stick.
Conclusion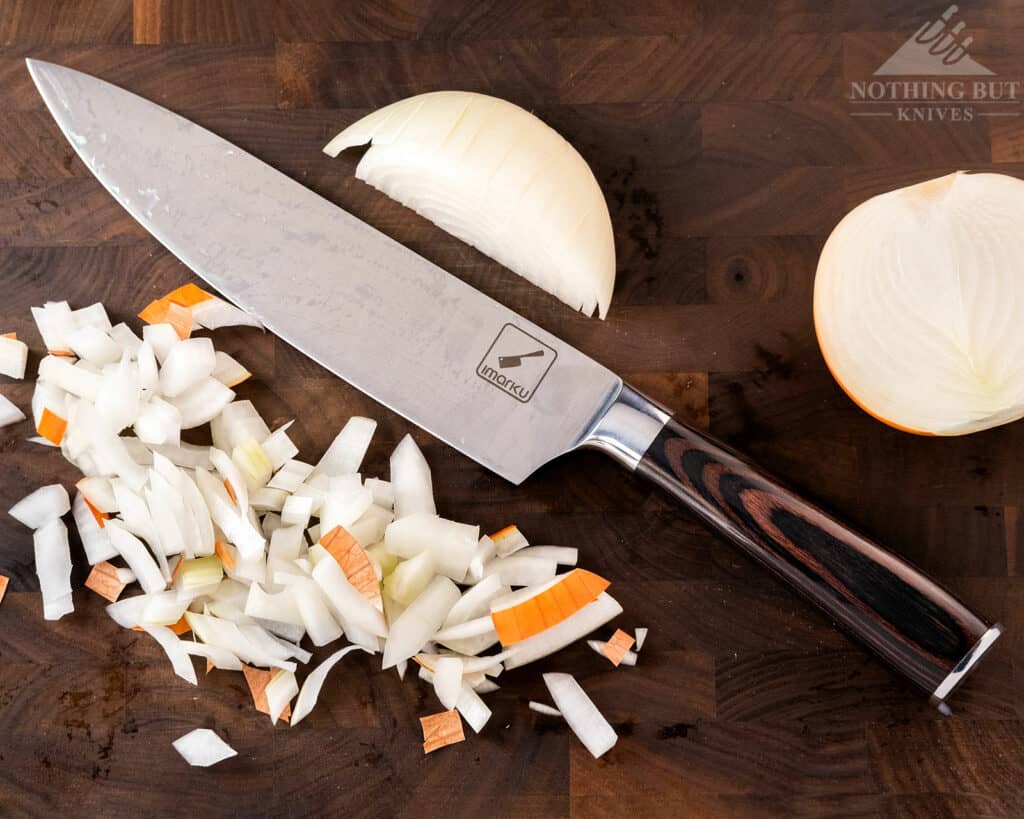 The Imarku 16 piece Japanese set offers excellent performance and good build quality for the money. I tested these knives over the course of several months, so I can not speak to their long term durability. However, I did not have any issues with fading handles, water spots, or chipping.
One of the reasons the knives of this set perform well for the money is that they are fairly thin behind the edge. This is probably the most Japanese feature of these Western-styled knives. This added performance comes at the sacrifice of durability. These knives are excellent slicers, but they are a little more likely chip than the underperforming budget knives that are thick behind they edge. I would recommend buying a tough cleaver to cut up frozen meat or any other hard material that is outside the scope of average kitchen knife tasks. It is also a good idea to hand wash and immediately dry these knives to avoid spotting.
The Imarku 16 Piece Japanese Knife Set is one of the best large knife sets under $300. I found other reviews on these knives that were less complimentary, but they are all several years old, and Imarku has upgraded their steel and quality assurance procedures over the last few years. It was this consistent improvement in quality combined with the recent popularity of Imarku that led me to do this review. These knives outperformed just about everything else in their price range, and I feel pretty confident recommending them.