These Professional Knife Sets Offer Premium Quality And High End Performance For Pro Chefs or Busy Home Cooks.
Advances in metallurgy and manufacturing in the last 50 years have led to an increase in quality and a decrease in price of the average kitchen cutlery set in 2021. That being said, the old adage "You get what you pay for" still rings true. There are a lot of elements that can separate a $50 chef's knife from a $200 professional chef knife. Steel quality, handle material, balance and aesthetics are all factors that set the knives in these professional sets apart and justify their relatively expensive cost. If you are done with low to mid range kitchen cutlery sets, and are ready to shell out a bit more to have an elite level knife set that makes your kitchen counter look its best, here are some great options.
The price range of the cutlery sets highlighted in this article ranges from around $500 to $2400. Due to price fluctuation there are often a few sets in this article a little under $500. Obviously the term "high end" is subjective, but $500 seemed to be a good starting point for what most people would consider a premium level. If that range is a bit more than you want to throw down on a cutlery set, check out our post on the best kitchen knife sets under $300.
How We Test
We spend a lot of time here at Nothing But Knives working with a large array of outdoor knives and kitchen cutlery. For this article we tested a variety of professional knife series and sets.. We also reached out to chefs, cooks, butchers and even a busy food truck owner to get their opinions on the best professional knife sets and high end chef knives. We continue to test new knife sets and series as they are released to ensure this article stays current.
Here are our top picks for the best Professional and high end kitchen knife sets in 2021.
Wusthof Classic Ikon 7-piece Knife Set
Specifications
X50CrMoV15 High Carbon Steel Blades
Triple Riveted Polypropylene Handle
15 Slot Walnut Knife Block
Full Tang
Forged not Stamped
Wusthof's Precision Edge Technology
Half Bolstered Blade Which Allows The Entire Blade To be Sharpened
Made in Germany
Set includes the following knives: 5 inch serrated utility/tomato, 3.5 inch paring, 8 inch bread, 5 inch santoku, 8 inch chef's, one pair of come-apart shears and a 6 slot storage block.
Upon initial inspection of this set, it is pretty obvious that Wusthof plans on this being the last kitchen cutlery set you ever need to buy which is why the Classic Ikon series is popular with professional chefs. The knives look and feel tough enough to survive the apocalypse. That doesn't mean they are heavy, just well built. Wusthof went to great pains to make sure the Ikon series is well balanced and easy to maintain. You won't find the same out-of-box slicing prowess as the most of the Japanese knife sets, but the classic Ikon series knives are more durable and less likely to chip.
This seven piece set is a great starter set for anyone wanting get started with professional kitchen knives, because it offers excellent value compared to buying these premium knives separately. I do wish the storage block has some empty slots, so the set could be added to over time. Fortunately Wusthof does sell a variety of storage blocks separately, so upgrading to a bigger block down the road is an option.
While these knives are superior in every way to most other knife sets on the market, the craftsmanship is not quite on the same level as the premium Karamer By Zwilling Euroline set or Zwilling J.A. Hickels 1731 Series sets listed later in this article. This set is still durable enough to be the last set you ever buy even if you are in your twenties, and they still very much offer you professional level performance.
In spite of it's full the bolster the Professional S chef knife pictured above is fairly light for a German knife. It is also well balanced, and it's 15° blade edge cuts easily through produce and meat.
The Classic Ikon blades are made of a high carbon stainless steel that utilizes Wusthof's precision edge technology which gives its blades a sharper edge and doubles the edge retention so these knives will require less sharpening. The precision edge technology is reserved for Wusthof's premium knives that are designated with the Classic Ikon title.
The Classic Ikon handles are contoured for comfort and made of a sturdy polypropylene that is triple riveted to the tang, so it will not come loose after extensive use like cheaper knife handles have a tendency do. Wusthof also forges metal end caps at the butt of the handle to give the knives their impressive balance. While the Classic Ikon handles are not as visually appealing as some of the other high end knife sets, they are sturdy, secure and comfortable.
Zwilling Profesional S 16 Piece Knife Set
Specifications
Full Tang
High carbon no stain stainless steel blades
Forged not stamped
Ergonomic polypropylene handles
Full bolster
57 Rockwell Hardness
Made in Germany and Spain
Great Balance
Limited Lifetime Warranty
Set includes the following: one 4″ paring knife, one 3″ paring knife, one 5″ serrated utility knife, one 5.5″ fine edge prep knife, one 7″ santoku knife HE, one 8″ bread knife, one 8″ chef's knife, six 4.5″ steak knives, one 9″ sharpening steel, one pair of kitchen shears, and a storage block
The Professional S knives are one of Zwilling Henckels premium series. They are similar to the Zwilling Pro series knives, but they have a more traditional blade profile compared to the Pro Series more curved blade. The Professional S series also has a full bolster while the Pro Series has a half bolster. The bolster is the section of the knife where the handle meets the blade. The bolsters gives the Professional S series knives better balance and act as a hand guard to protect the hand from slipping onto the blade. However, the bolster does make it a little more difficult to sharpen the back of the blade. My biggest complaint about the Professional S series is the name. It is so similar to the Pro series that it causes confusion.
The Profesional series knives are made in Solingen, Germany except for the steak knives which are made in Spain. Solingen is one of the two most famous knife making cities in the world. The other is Seki, Japan.
These knives are all made using Zwilling's Sigmaforce one-piece precision-forged construction which is well respected, and it is impressive that they have managed to offer knives made with that technique at a relatively affordable price point. The remarkable durability of the steel used on this set is due in part to Zwilling's Friodur ice hardening process which has proved to be more than marketing speak.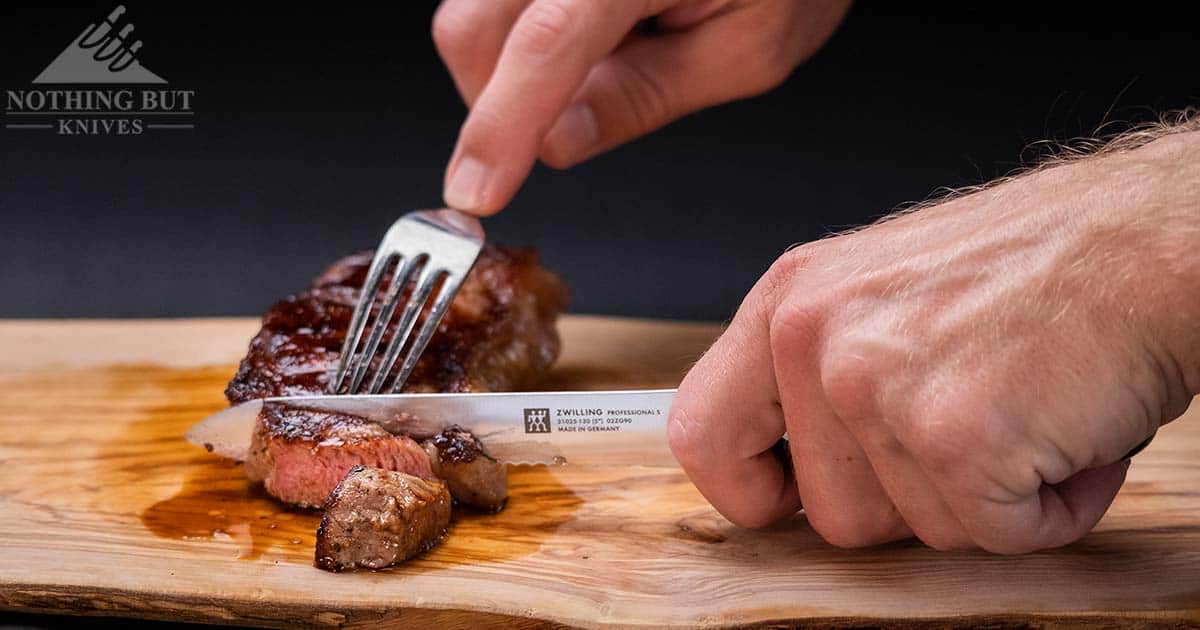 This set contains all the knives most busy home cooks would need, but there are two empty slots in the storage block, so more knives can be added as needed. I do wish Zwiling would offer this set with storage block color and wood type options. Maybe that will happen eventually.
Ultimately the Zwilling Professional S line of knives are poorly named but well designed. They offer a professional level performance at a good price. The knives in this set were designed by Matteo Thun to be modern, performance-driven knives that don't cost a fortune. Zwilling Professional S series knives are used by a lot of chefs around the world, but they are relatively affordable when compared to a lot of other premium knife sets.
You can learn more about Zwilling knives and the difference between the different knife series with the help of our handy Zwilling Knife Guide.
Cangshan TC Series 17 Piece Knife Set
Specifications
Full Tang
Swedish Sandvik 14C28N Steel
Great Edge Retention
Forged not Stamped
Made in Yangjiang, China
Extremely Sharp
Lifetime Warranty
Hand Crafted Walnut Block
Set includes the following: 8″ chef, 8″ bread, 7″ santoku, 6″ boning, 5″ serrated utility, 5″ tomato, 3.5″ paring, 2.75″ peeling, six 5″ steak knives, honing steel and kitchen shears
Cangshan is a relatively new kitchenware company that has jumped into the cutlery game in a big way. Initially they made more budget-friendly knives that were well received and generally respected as a good value. Recently they released their high-end TC series of knives that are made with a great Swedish Sandvik steel that has excellent edge retention and is incredibly durable.
While the high quality steel is a big plus for this knife set, it is really the design of the knives that make them worthy of this list. Cangshan utilized a design that is a hybrid of Western style knives and Japanese style knives in a way that is reminiscent of Tojiro's DP series. The TC knives perform very well, but it is hard to rank them from a durability standpoint since they are so new. However, based on the materials used and the feel of the knives I would guess that they will last for a very long time if they are cared for properly.
One of the reasons this set made the list is because it maintains decent quality throughout the set which is rare for such a big set. Usually cutlery companies throw some low-quality steak knives or kitchen shears into a set this size to save money, but Cangshan maintained consistent quality on all the knives in this set.
Shun Classic 6-piece Knife Block Set
Specifications
D Shaped Ebony Pakkawood Handles
Full Tang
VG-MAX Stainless Steel Core With 34 Layers (Each Side) of Stainless Damascus Cladding
4 Empty Knife Slots on the Block To Make Set Customization Easier
Hand Crafted
Forged not Stamped
Made in Seki, Japan
Set includes the following: 3.5 inch paring, 7 inch Santoku, 8 inch chef, wood storage block, kitchen shears and a honing steel
The Shun Classic 6 Piece is a basic set that makes it possible for consumers to jump into the premium knife world for just under $500. It ships with the most essential knives, and their are two empty slots, so more can be added later. Tis set offers a lot of value from a cost vs performance standpoint. The Shun Classics have a VG-MAX steel that's folded several times with a high carbon steel to make the blade a little tougher and maintain a cutting edge longer.
They also sport the traditional D-shaped handle in Pakkawood, which you don't get in a lot of Shun's other knife series. If you have never used a knife with a Japanese style D shaped handle you may want to try one out before buying a whole set. Most people find them to be comfortable, and many professional chefs and serious amateurs use them, but some people who are accustomed to western style contoured handles do not like using D shaped handles for extended periods of time.
The Shun Classic 10 Piece set is an excellent option if you are looking for a happy medium between quality and quantity in a Japanese knife set. But if you're curious about what else Shun makes, you'll want to take a look at our Shun Knife set guide. We recently did an in depth review of the Shun Classic Santoku knife that is included in this set. Check it out to see how one of the Shun Classic knives performs in the kitchen.
Shun Classic 8 Piece Student Knife Set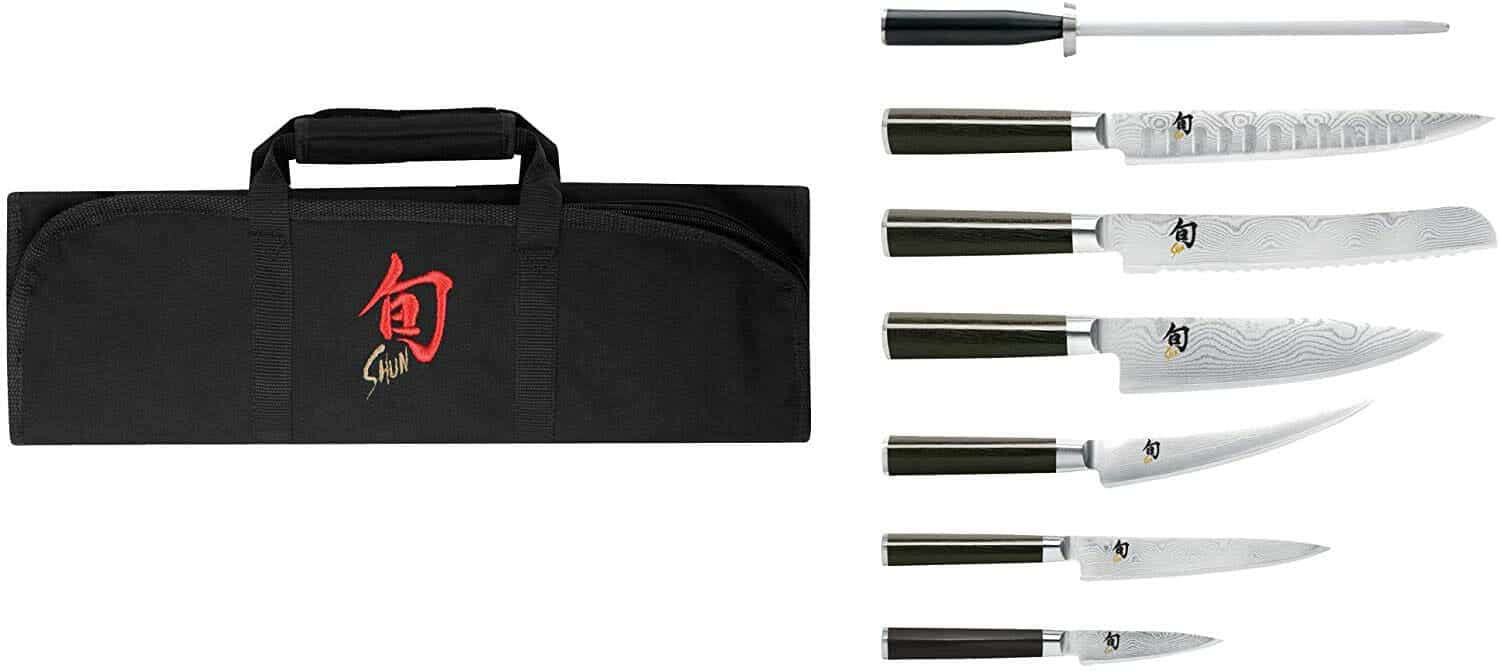 Specifications
Full Tang
VG-MAX steel
D-shaped Pakkawood handles
2 empty slots in roll for set customization
NSF certified
Made in Seki, Japan
Set includes the following: 8" Chef knife, 6" boning knife, 6" utility knife, 3.5" paring knife, 9" slicing knife, 9" bread knife, honing steel, 8-slot knife roll.
All the careful crafting and thin edges from Shun rolled up into a student set makes for an impressive start for anyone looking to carve their way into the professional arena. While it's admittedly a lot more than a student might need when they're first going into culinary school, it would certainly provide a big head start in handling high-quality tools. It provides a good mix of western and Japanese style knives, opening the beginning options of a few different culinary worlds.
Buck 13 Piece Rosewood Kitchen Cutlery Set
Specifications
Full Tang
420HC steel with Paul Bos heat treat
58 Rockwell Hardness
Made in the USA
Handles available in Rosewood Dymalux, Slate Paperstone, and elk bone.
Triple Rivet Handles
Covered By Buck's Forever Warranty
Set includes the following: 8″ chef knife, 8″ slicer, 2.75″ paring knife, 4.0″ paring knife, 4.785″ spreader, BBQ fork, 6 steak knives.
Buck Knives is an odd name to show up in the kitchen cutlery, and they've entered this part of the knife industry in a very Buck Knives style.
On these knives you get the standard Buck 420HC steel with the Paul Bos heat treat, which is technically a lower grade material but I would be more than ready to put it up against 440C or any of the kitchen knives rolling out with the German 1.4116 steel. It's a little soft, but it grinds super easy and takes a very thin edge so when it's handled right it can produce some incredible, long-lasting blades. Buck has been working with this steel for decades, and famously have this stuff dialed in.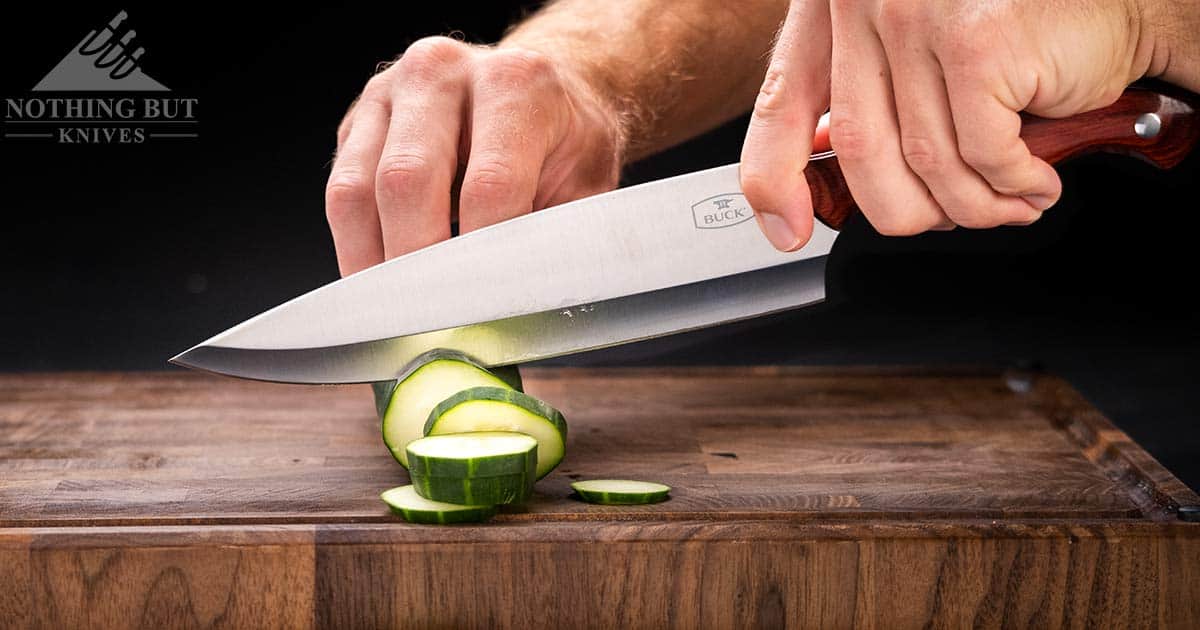 Buck's kitchen knives, and especially their chef knife, are going to have a very different feel from most other knives because of the handle shape and the grind. One big difference is that the shallow hollow grid on the blade significantly reduces food stick, but will make long smooth cuts through a lot of material a little trickier. Basically that means these knives are great to use on vegetables and most cuts of meat, but could be a little tougher cut clean through a large slab of something because that grind is going to drag a little more than the full flat on other kitchen knives.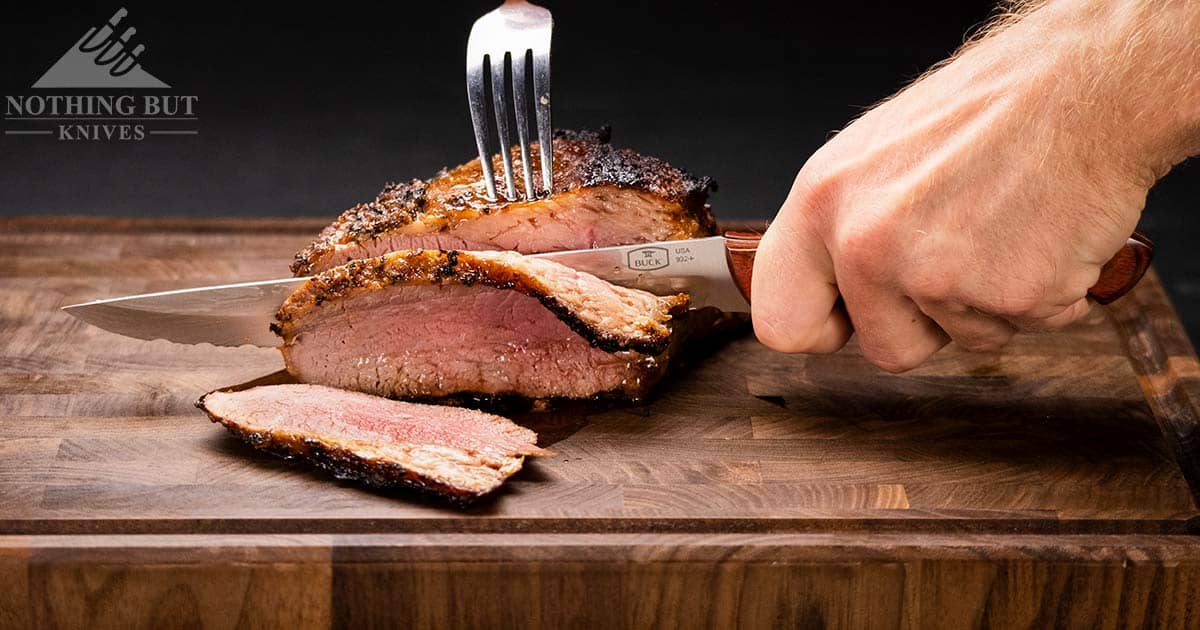 The other stand-out element is the handle. Where most kitchen knives keep a fairly straight-lined profile, Buck has molded their handles with some pretty dramatic curves that provide a lot in terms of traction by virtue of increased surface area. In short, these are really easy to keep a grip on, but they are not optimized for a traditional pinch grip.
These are great knives for most home cooks. Professional cooks will probably find them a bit frustrating because the pinch grip and the grind are far outside standard chef knife shapes, but they're otherwise incredible comfortable and have a great edge with an aggressive bite. Buck doesn't say what they grind their knives to, but it looks (and feels) like it's at least 15 degrees. When you top off the performance of these with Buck's forever warranty, these knives become a really good option for the home kitchen.
Lamson Premier Forged 10-Piece Block Set
Specifications
One-piece, hot-drop hammer forged
Full Tang
Three different handle options
American made
Triple rivet handles
Hand Crafted
Great balance
Lifetime warranty
Set includes the following: 3″ paring knife, 3.5″ paring knife, 6″ utility knife, 6″ fillet knife, 7″ Kullenschliff santoku knife, 8″ bread knife, 8″ chef knife, 10″ slicing knife, 10″ honing steel, sharpening steel and a 9 slot wood storage block
Lamson is an American Cutlery company that has been producing quality knives for over 183 years. To their credit they have continued to update their manufacturing and heat treatment processes to ensure their knives are competitive with the big name brands from Germany and Japan. The combination of old school craftsmanship and modern production methods is evident in their Premiere Forged knife series. These well designed knives offer great performance and are incredibly durable. Lamson backs up their quality claims with a confidence boosting forever warranty.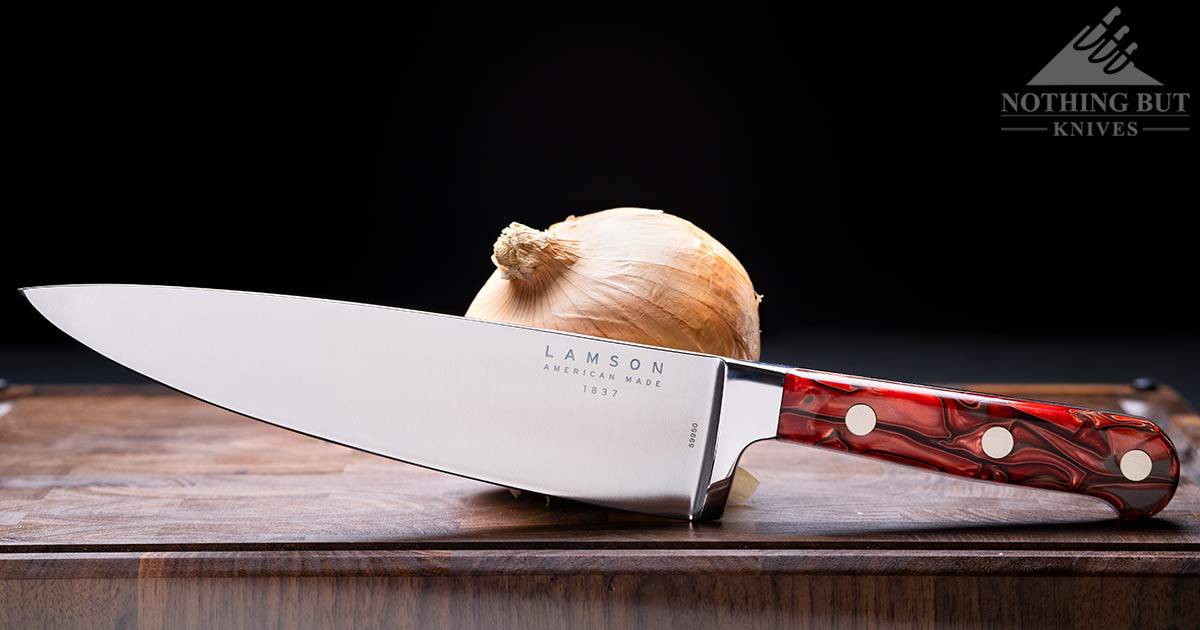 The Premiere Forged Chef knife pictured above and the Kullenschliff Santoku knife are two of the standouts in this ten piece set.
The blades of the Premiere Forged series of knives are made of 4116 German steel which is a steel often found in budget hard use pocket knives. This is a tough steel, but it is a little softer than most of the steels used by other high end cutlery makers. However, Lamson's heat treatment process seems to produce a harder version of 4116 steel than is found in most other knives made the same steel. The edge retention will still be a bit less than many of the other knife sets listed in this article.
The upside is that the blades of these knives will be more likely to roll or bend a bit rather chip. In short, these knives will need to be sharpened a little more regularly, but they are less likely to suffer permanent damage from hitting a hard bone or surface. Fortunately Lamson has a great sharpening program called Sharp for Life that will help make the sharpening process easier.
The Premiere Forged series of knives are available with three different handle options: Fire, Silver and Rosewood. The handles of the Fire knives are made of a purpose-made acrylic that seems to be tough and easy to grip. The handles of the Silver knives are made of Pakawood which is an engineered wood/resin composite that is commonly found in premium knife handles. The Rosewood knife handles are, of course, made of rosewood. The handles of the Premier Forged series knives are all really comfortable, but they do lack the ergonomic friendly handle swell of a lot of other kitchen knives. This is good news to some and bad news for others depending on the person's preference.
This 10-piece set is definitely worthy of being listed with the premium German and Japanese sets listed in this article, and the company's great customer service is another big plus.
Hammer Stahl 21-Piece Classic Knife Set
Specifications
X50CrMoV15 High Carbon Steel Blades
Full Tang
Forged not Stamped
Quad tang Packwood handles
Sloped bolster
Lifetime warranty
Great storage block design
Sloped bolster makes sharpening easier
Set includes the following knives: 3.5″ paring, 7″ vegetable cleaver, 4.5″ santoku, 7.5″ santoku, 8″ carving knife, 6″ carving fork, 8″ bread knife, 10″ slicer, 5″ cheese knife, eight 4.5″ steak knives, 10″ sharpening steel, one rotating bamboo block and two removable steak knife blocks.
I am always a little skeptical of large knife sets. All too often quantity comes at the cost of quality. However, every knife in this 21 piece set from Hammer Stahl is well built. Even the steak knives provide good bang for the buck from both a performance and durability standpoint.
The rotating bamboo storage block is unique and practical. It is designed to sit in the corner of a counter, so only two sides of the storage block contain knives. The backside is empty and a little wide, so if this block is not in a corner it sits out a ways from the wall or edge of the counter. If space is an issue and/or you don't have a kitchen counter corner available this block may not be ideal. the size of the block can be decreased by removing the two steak knives sections which is a feature I hope other companies adopt.
From a performance standpoint these knives all do well, especially the two santoku knives and the 8″ chef knife pictured above. It is no surprise that Hammer Stahl makes a good carving knife, because they have been active in the barbecue world for many years. Hammer Stahl calls these knives quad tang, because the steel is exposed on all four sides. This design feature definitely makes the knives look great, and it should also make them more durable. Overall it is an impressive set for the money, and the storage block is really practical if you have the counter space. This set has been somewhat difficult to find for the last few months. I assume this has something to do with the supply chain problems a lot of companies have been experiencing over the course of the last year. Fortunately this set does seem to eventually show up on Amazon and the Hammer Stahl site every few weeks, so it looks like it is still in production.
Zwilling Pro 10 Piece Knife Set
Specifications
Made in Solingen, Germany
Sigmaforged German steel with Friodur cryo treatment
Curved Bolster
Full Tang Construction
Full tang
Polymer handles (available in black and white)
Lifetime warranty
55 – 58 HRC
Set Includes the following: 3" paring knife, 4″ paring knife, 5″ serrated utility knife, 5.5″prep knife, 7″ santoku knife, 8″ bread knife, 8" chef knife, Twin sharpening steel and and a 16-slot wood block.
The bolster-less version of the Professional S series, which is unfortunately called Pro to make things confusing, has become one of the more accessible standards in the kitchen cutlery world. It's made with the same Sigmaforge process out of a single piece of steel, and put through Zwilling's own particular set of cryo treatments.
All of that results in a blade that's more tough than hard. They only take these to 58 HRC at the most, so these will have a typically Western edge retention in that they will need to be sharpened or at least honed after a day or week of heavy use. But that use will feel great. The Pro knives have a nice balance and the curved bolster make for one of the most comfortable grips you'll find on this list.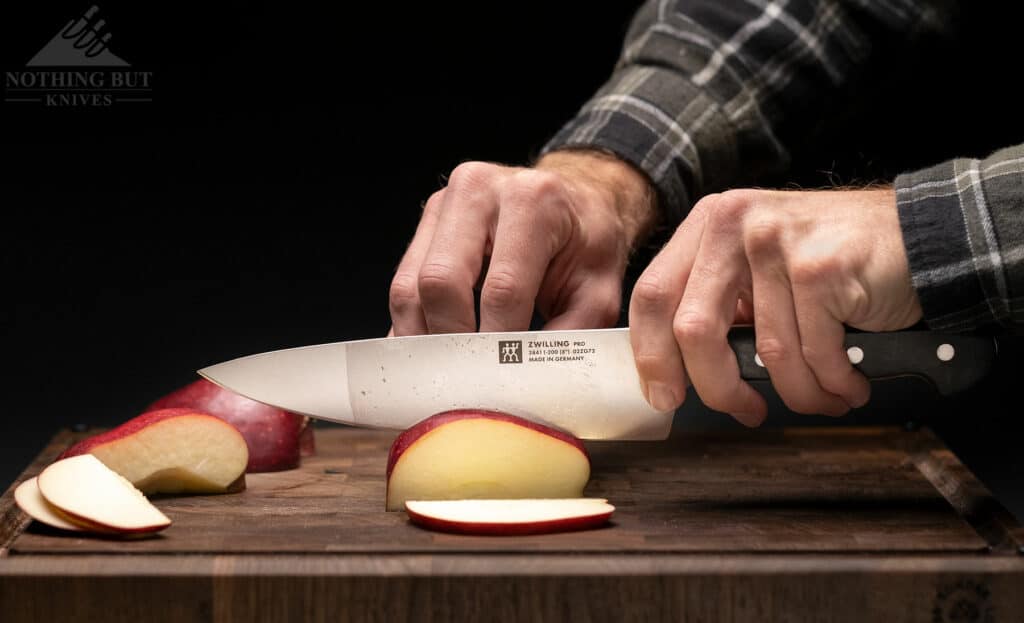 As for the 16 piece set itself, it's likely more than most people need, but at least it will be too much of a good thing. With two paring knives and a utility knife you'll have a lot of detail work covered nicely. Between the Santoku and the standard 8-inch western chef's knife, this set can handle basically every kind of food from fine vegetables to hardy cuts of meat.
The Pro series has been around for a while, so you can find a lot of different variations of it in both size and color of handle. Just be sure you pay attention to the lack of an "S" in the name if you're particular about full bolsters
Kramer By Zwilling Euroline Damascus Steel 7 Piece Knife Set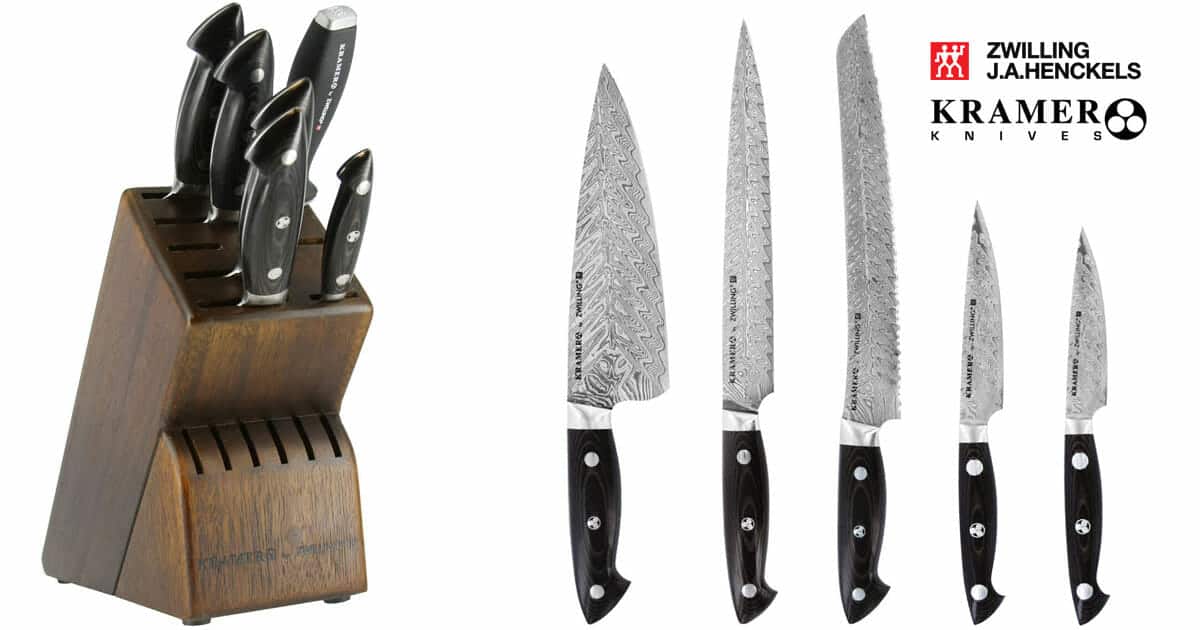 Specifications
101 layer Chevron Damascus pattern
Full Tang
Very ergonomic contoured handles
Amazing edge retention
The ultimate combination of quality and aesthetics.
Forged not Stamped
63 Rockwell hardeness
Made in Seki, Japan
SG2 (MC63) micro-carbide powder steel
Lifetime Warranty
Designed by Bob Kramer
Set includes the following: one 8″ chef knife, one 9″ slicer, one 9″ bread knife, one 5″ utility knife, one 3.5″ paring knife, one 12″ sharpening steel and a 14 slot storage block.
The Euroline Damascus Collection is a result of a partnership between master blade-smith Bob Kramer and Zwilling Henckles. Bob Kramer's knives have been long time favorites of famous chefs around the world. Unfortunately they are difficult to buy and very expensive. Fortunately the partnership with Zwilling Henckles has made it possible for the rest of us to buy a Kramer designed knife or even a knife set.
The knives in the Zwilling Karmer Euroline Damascus Collection are works of art. They are definitely some of the most beautiful and unique knives on the market, but they are not another example of form over function. These knives are designed for hard working chefs who put in long hours. The comfortable micarta handles, great balance, excellent steel and outstanding blade geometry combine to make this set of knives one of the best performing sets manufactured today.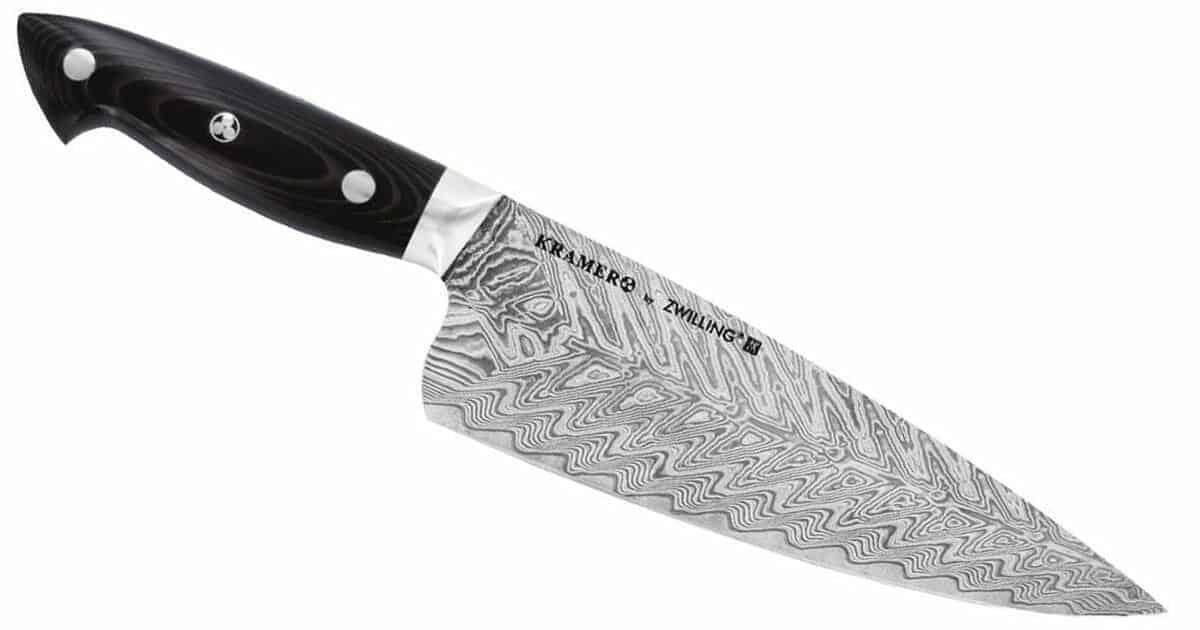 This Kramer Zwilling set ships with a rather ordinary looking wooden block which seems kinda weird considering the high quality and great looks of the knives in this set. Fortnatly the wood block does have empty slots in case you want to add one of the other knives from this set like the Santoku knife that I assume Zwilling left out to keep the set below $2,000.
No steak knives ship with this set, but Zwilling did make a set of matching steak knives that can be bought seperately. The steak knives are made of the same high quality raw materials by the same craftsmen as the other knives in this collection, but they are not cheap.
From a quality, performance and aesthetics standpoint there are very few premium knife sets that can compete with the Kramer Zwilling Euroline Damascus Collection.
Enso SG2 7 Piece Knife Set
Specifications
101 layers of stainless steel Damascus over an SG2 steel core
Canvas micarta handles with a Samurai Crest
Full Tang
Forged not Stamped
Lifetime warranty
63 Rockwell hardness
True Damascus pattern
Made in Seki, Japan
Set includes the following knives: 3.25 inch paring, 6 inch utility, 6.5 inch santoku, 8 inch chef's, 9 inch bread knife stainless steel come-apart shears and a dark ash storage block.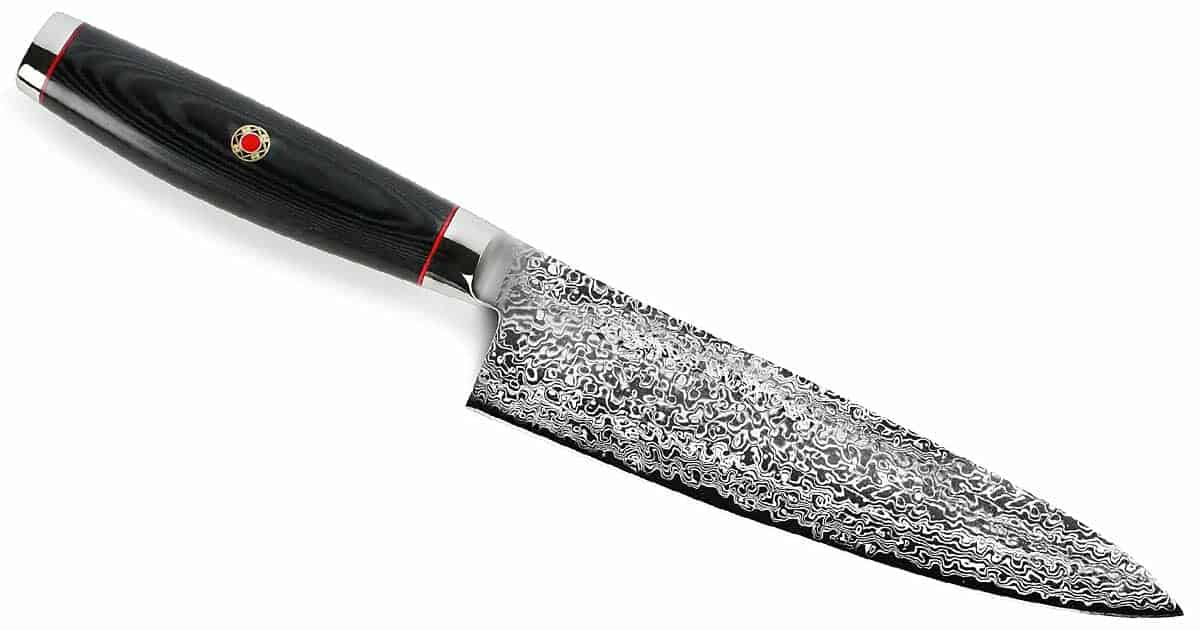 The handles of the SG2 series knives are made of linen micarta which is by far my favorite handle material. It more commonly found on high end survival knives than kitchen knives. It is extremely durable and easy to grip. Even these knives are made in Japan they have a more western style handle which makes the knives a bit of a East/West hybrid.
The Damascus pattern on the blades is a result of steel actually being layered. It is not the fake etching found on so many of the budget knives on the market today.
Zwilling J.A. Henckels Twin 1731 Series 7 Piece Knife Set with Block
Specifications
High-performance Cronidur 30 steel
Precision forged
Friodur ice-hardened
Untreated oily ebony handles
Full Tang
Forged not Stamped
Made in Germany
Designed by Matteo Thun
Set includes the following: paring knife, bread knife, Santoku knife, slicing knife, sharpening steel and a magnetic storage block
Set includes the following: paring knife, bread knife, Santoku knife, slicing knife, sharpening steel and a magnetic storage block
This elite level cutlery set was designed by architect and product designer Matteo Thun. He and his firm are responsible for some of the most functional and visually appealing products and buildings in the world. In order to match great design with top-of-the-line quality, J.A Henckels chose Cronidur 30 stainless steel for this set which is one of the highest quality knife steels, but it is rarely found in kitchen cutlery due to it's high cost. However, J.A. Henckels pulled out all the stops when they designed the 1731 series and the $2400 price tag reflects that.
Not only are these knives made of a superior steel, they are tempered with J.A. Henckel's proprietary process called Friodur ice hardening. This tempering method is reserved for their premium knives, because the process is relatively labor intensive. The combination of high end steel and an advanced tempering process has resulted in blades that set the standard for edge retention, corrosion resistance and flexibility.
The handles of the 1731 Series set are made with untreated ebony which is a feature that makes this set truly unique and will greatly contribute to the overall aesthetics of your kitchen. The handles are comfortable and very durable, but so are some knife handles on sets that cost a fraction of this one. It is the look and feel of the handles and the knives themselves that help justify the price tag. When you a hold a Twin 1731 knife in your hand you are holding what is quite possibly the most exceptional kitchen tool on the market, and its performance more than matches the hype and expectations.
Wusthof Crafter 7-Piece Knife Set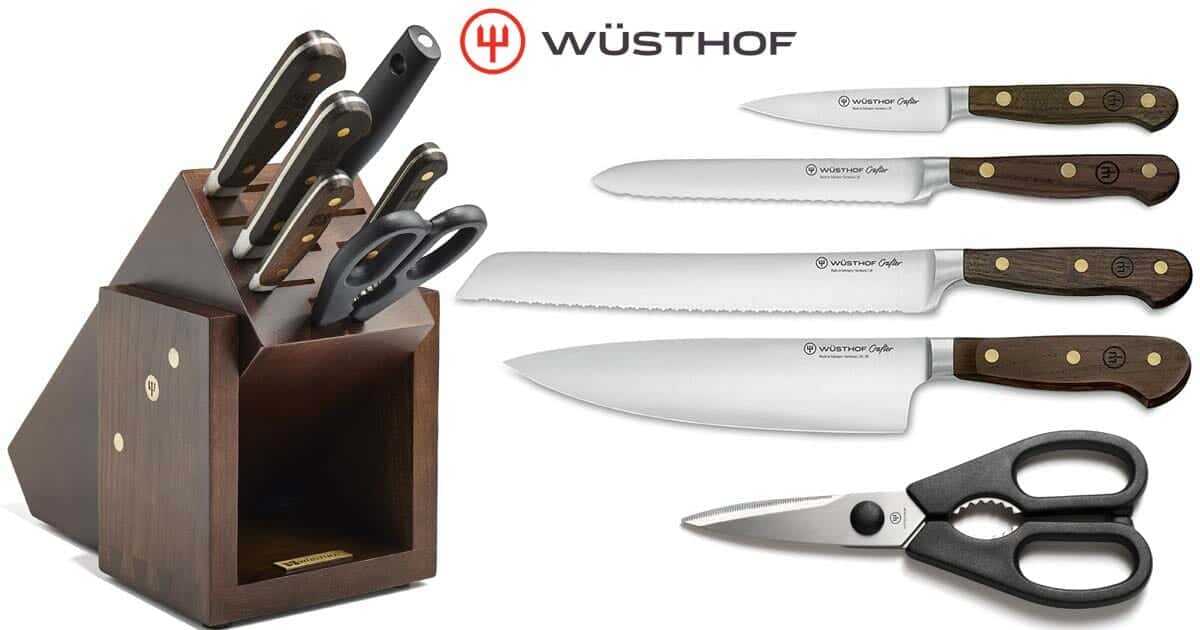 Specifications
X50CrMoV15 High carbon steel blades
Full tang
Forged not stamped
Triple riveted Smoked Oak handles
Wusthof's Precision Edge Technology
Half bolstered blade which allows the entire blade to be sharpened
PEtec blade edge
Made in Germany
Set includes the following knives: 3.5 paring, 5 inch serrated utility, 9 inch double serrated bread, 8 inch chef's, come-apart shears, 9 inch honing steel and a 9 slot Oak wood storage block.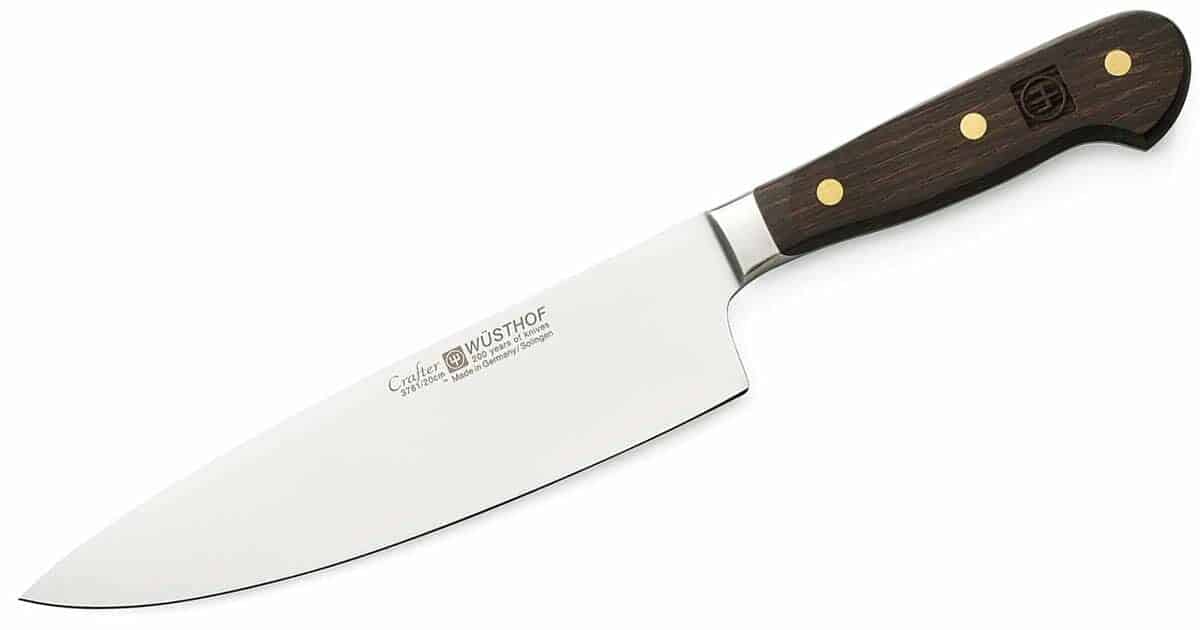 The Crafter series from Wusthof has been out for a few years now, and it seems to have been overlooked by most consumers. That is a shame, because the Crafter series knives combine modern manufacturing with a classic aesthetic that I think has resulted in a great looking and performing knife series. The water resistant Oak handles are comfortable and unique in a world full of fancy new synthetic knife handles. Obviously the rustic look of this set is not enough to justify it's price. Fortunately these knives deliver from a performance standpoint. They hold their edge extremely well, the handles are comfortable and the overall design of the knives makes them a great upgrade for just about any busy home cook looking to improve their kitchen cutlery.
I do wish that Wusthof would offer a version of this set with steak knives, because the they do make some great Crafter steak knives. However these can be purchased separately if you decide you want matching steak knives down the road. There is also an excellent santoku knife in the Crafter series that is not included in this set. Fortunately there are empty slots in the storage block, so more knives can easily be added. The Oak handles on the knives in this set are water resistant, but they should not be put in the dishwasher.