These Professional Knife Sets Offer Premium Quality And High End Performance For Pro Chefs or Busy Home Cooks.
Advances in metallurgy and manufacturing in the last 50 years have led to an increase in quality and a decrease in price of the average kitchen cutlery set in 2023. That being said, the old adage "You get what you pay for" still rings true.
Here are our top picks for the best professional and high end kitchen knife sets in 2023.
There are a lot of elements that can separate a $50 chef's knife from a $200 professional chef knife. Steel quality, handle material, balance and aesthetics are all factors that set the knives in these professional sets apart and justify their relatively expensive cost. If you are done with low to mid range kitchen cutlery sets, and are ready to shell out a bit more to have an elite level knife set that makes your kitchen counter look its best, here are some great options.
The price range of the cutlery sets in this article ranges from around $500 to $2400. Due to price fluctuation there are often a few sets in this article a little under $500. Obviously the term "high end" is subjective, but $500 seemed to be a good starting point for what most people would consider a premium level. If that range is a bit more than you want to throw down on a cutlery set, check out our post on the best kitchen knife sets under $300.
How We Test
We spend a lot of time here at Nothing But Knives working with a large array of outdoor knives and kitchen cutlery. For this article we tested a variety of professional knife series and sets. We also reached out to chefs, cooks, butchers, and even a busy food truck owner to get their opinions on the best professional knife sets and high end chef knives. We continue to test new knife sets and series as they are released to ensure this article stays current.
Wusthof Classic Ikon 7-piece Knife Set

(Best German Made Set)
Specifications
X50CrMoV15 High Carbon Steel Blades
Triple Riveted Polypropylene Handle
15 Slot Walnut Knife Block
Full Tang
Forged not Stamped
Wusthof's Precision Edge Technology
Half Bolstered Blade Which Allows The Entire Blade To be Sharpened
Made in Germany
Set includes the following knives: 5 inch serrated utility/tomato, 3.5 inch paring, 8 inch bread, 5 inch santoku, 8 inch chef's, one pair of come-apart shears and a 6 slot storage block.
It is pretty obvious that Wusthof plans on this being the last kitchen cutlery set you ever need to buy which is why the Classic Ikon series is popular with professional chefs. The knives look and feel tough enough to survive the apocalypse.
The stand out feature of the Ikon knives is that they are heavily weighted toward the butt of the handle, which makes rock chopping feel a lot more comfortable and natural (for most people). Wusthof went to great pains to make sure the Ikon series is well balanced and easy to maintain. You won't find the same out-of-box slicing prowess as the most of the Japanese knife sets, but the classic Ikon series knives are more durable and less likely to chip.
This seven piece set is a great starter set for anyone wanting get started with professional kitchen knives, because it offers excellent value compared to buying these premium knives separately. I do wish the storage block has some empty slots, so the set could be added to over time. Fortunately Wusthof does sell a variety of storage blocks separately, so upgrading to a bigger block down the road is an option.
While these knives are superior in every way to most other knife sets on the market, the craftsmanship is not quite on the same level as the premium Karamer By Zwilling Euroline set or Zwilling J.A. Hickels 1731 Series sets listed later in this article. This set is still durable enough to be the last set you ever buy even if you are in your twenties, and they still very much offer you professional level performance.
The Classic Ikon handles are contoured for comfort and made of a sturdy polypropylene that is triple riveted to the tang, so it will not come loose after extensive use like cheaper knife handles have a tendency do. Wusthof also forges metal end caps at the butt of the handle to give the knives their impressive balance. While the Classic Ikon handles are not as visually appealing as some of the other high end knife sets, they are sturdy, secure and comfortable.
You can learn a bit more about the performance of the Wusthof Classic Ikon Series by reading our in-depth Review of the Wusthof Classic Ikon 8 Inch Chef Knife.
Zwilling Profesional S 16 Piece Knife Set
Specifications
Full Tang
High carbon no stain stainless steel blades
Forged not stamped
Ergonomic polypropylene handles
Full bolster
57 Rockwell Hardness
Made in Germany and Spain
Great Balance
Limited Lifetime Warranty
Set includes the following: one 4″ paring knife, one 3″ paring knife, one 5″ serrated utility knife, one 5.5″ fine edge prep knife, one 7″ santoku knife HE, one 8″ bread knife, one 8″ chef's knife, six 4.5″ steak knives, one 9″ sharpening steel, one pair of kitchen shears, and a storage block
The Professional S knives are one of the more traditionally styled designs on here. They are similar to the Zwilling Pro series knives, but they have a more drop-point blade profile compared to the Pro Series' more curved edge with a straight-edge spine.
The Professional S series also has a full bolster (the section where the handle meets the blade) while the Pro Series has a half bolster. The full bolsters gives the Professional S series knives better balance and act as a hand guard to protect the hand from slipping onto the blade. However, it also makes it a little more difficult to sharpen the the full edge.
The Professional series knives are made in Solingen, Germany except for the steak knives which are made in Spain. Solingen is one of the two most famous knife making cities in the world. The other is Seki, Japan.
These knives are all made using Zwilling's Sigmaforce one-piece precision-forged construction which is well respected, and it is impressive that they have managed to offer knives made with that technique at a relatively affordable price point. The remarkable durability of the steel used on this set is due in part to Zwilling's Friodur ice hardening process which has proved to be more than marketing speak.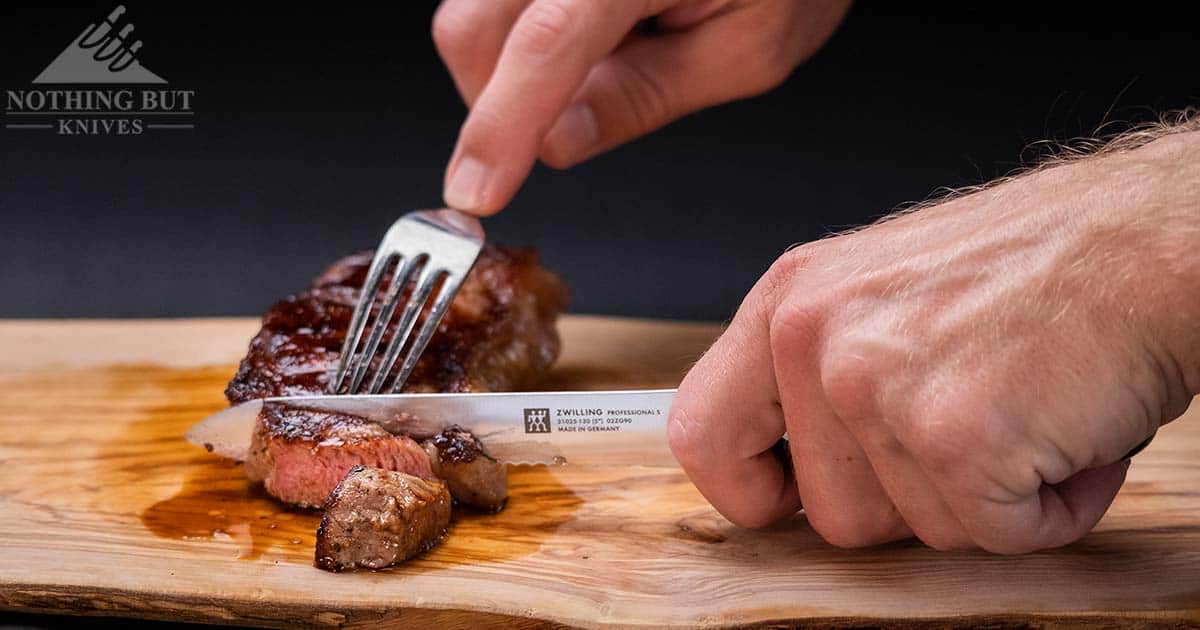 This set contains all the knives most busy home cooks would need, but there are two empty slots in the storage block, so more knives can be added as needed. Zwilling also make a few different colors and sizes of knife blocks that can fit the Zwilling Pro knives.
Ultimately the Zwilling Professional S line of knives are poorly named but well designed. They offer a professional level of performance at a good price. The knives in this set were designed by Matteo Thun to be modern, performance-driven knives that don't cost a fortune. Zwilling Professional S series knives are used by a lot of chefs around the world, but they are relatively affordable when compared to a lot of other premium knife sets.
If you are looking for a smaller set from this series, check out the Zwilling Professional S 10-Piece Set. #AD
You can learn more about Zwilling knives and the difference between the different knife series with the help of our handy Zwilling Knife Guide.
Cangshan TC Series 17 Piece Knife Set
Specifications
Full Tang
Swedish Sandvik 14C28N Steel
Great Edge Retention
Forged not Stamped
Made in Yangjiang, China
Extremely Sharp
Lifetime Warranty
Hand Crafted Walnut Block
Set includes the following: 8″ chef, 8″ bread, 7″ santoku, 6″ boning, 5″ serrated utility, 5″ tomato, 3.5″ paring, 2.75″ peeling, six 5″ steak knives, honing steel and kitchen shears
Cangshan is a relatively new kitchenware company that has jumped into the cutlery game in a big way. Initially they made more budget-friendly knives that were well received and generally respected as a good value. Recently they released their high-end TC series of knives that are made with a great Swedish Sandvik steel that has decent edge retention and is incredibly durable.
While the high quality steel is a big plus for this knife set, it is really the design of the knives that make them worthy of this list. Cangshan utilized a design that is a hybrid of Western and Japanese style knives in a way that is a little reminiscent of Dalstrong's Shogun series or the Misen chef knife. It's thick bladed like a western knife, but thin behind the edge with a 16 degree angle that's similar to Japanese knives.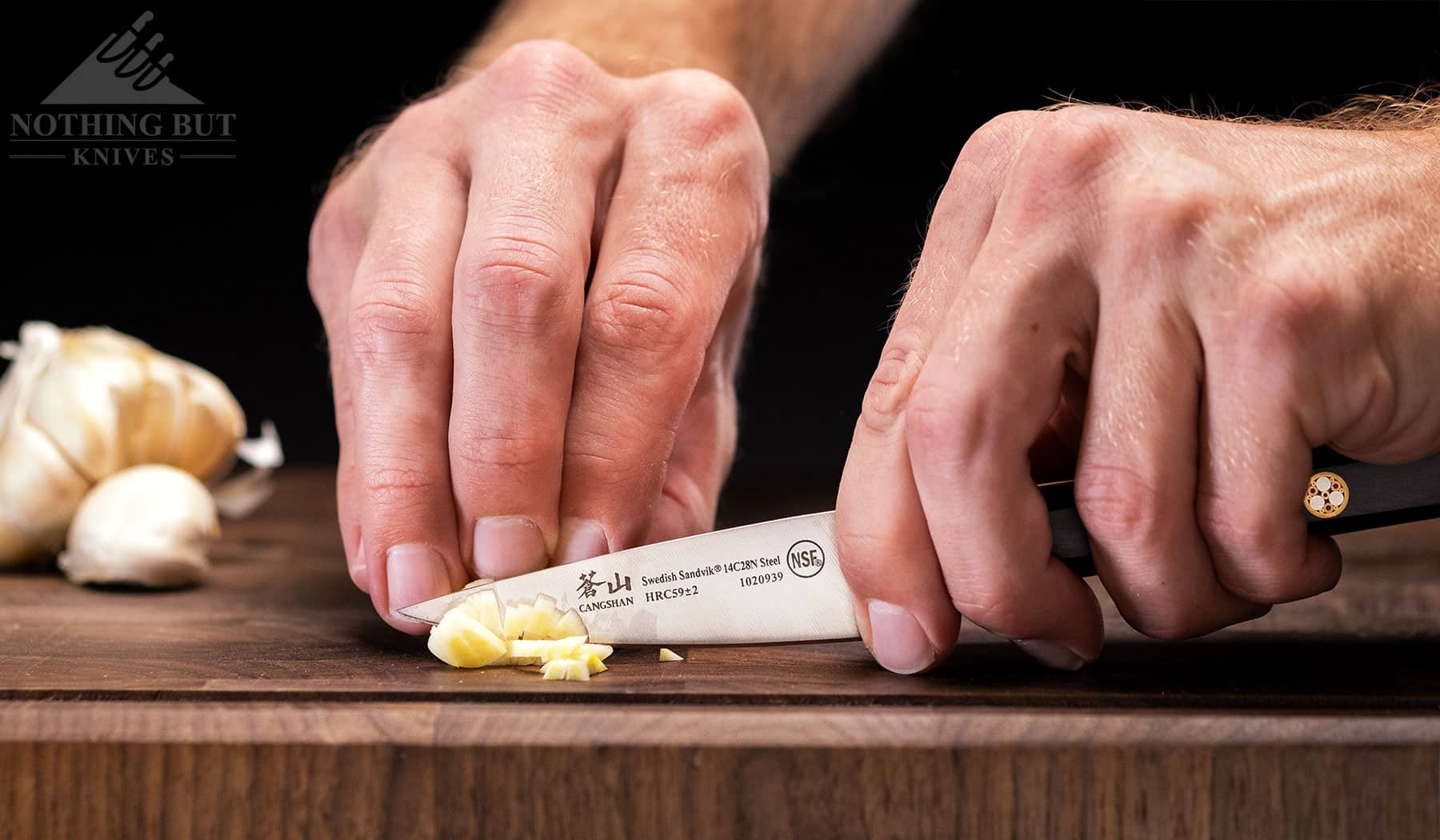 The TC knives perform very well, but it is hard to rank them from a durability standpoint since they are so new. What makes them interesting is the semi-octagonal handles that flare out toward the top. The shape creates a good spot for a secure pinch grip that seems to especially comfortable for people with smaller hands.
One of the reasons this set made the list is because it maintains decent quality throughout the set which is rare for such a big set. Usually cutlery companies throw some low-quality steak knives or kitchen shears into a set this size to save money, but Cangshan maintained consistent quality on all the knives in this set.
We reviewed the Cangshan TC chef's knife a while back if you interested in a little more detail about the quality and performance of the Cangshan TC series..
Kanetsune Seki KC-950 9-Piece Knife Set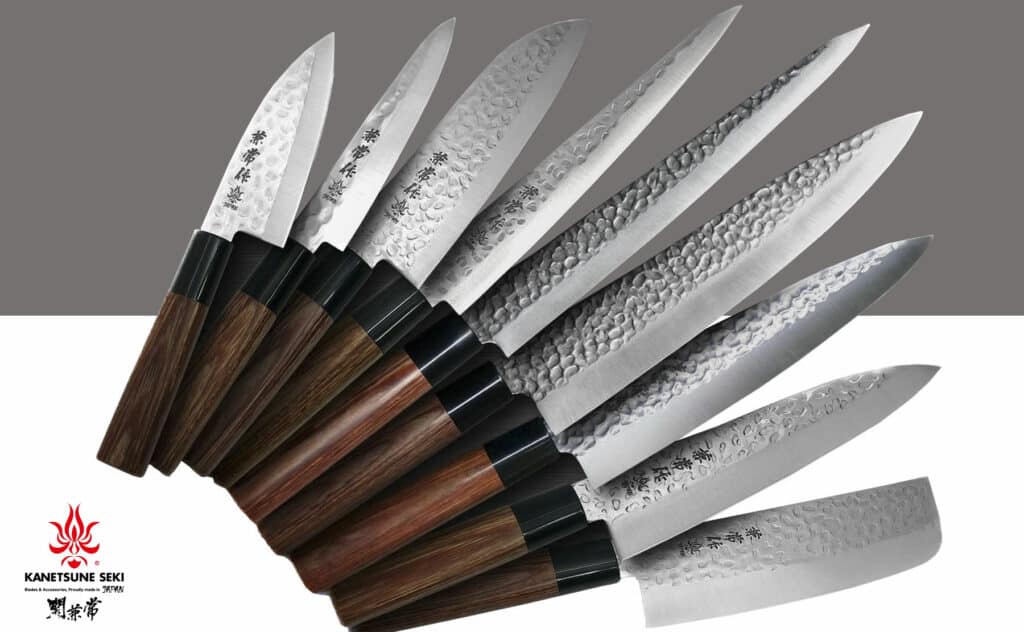 DSR-1K6 Japanese stainless steel
Hammer finish blades
58 – 59 HRC
Laminated wood handles
Plastic bolsters with wood pin
Lightweight w/ neutral balance
Made in Japan
Set Includes: 9.4" gyuto, 8.3" gyuto, 7.1" gyuto, 6.5" santoku, 6.5" nakiri, 4.7" petty, 9.4" slicer (sujihiki) 8.3" slicer (sujihiki), 8.5" Mini Deba.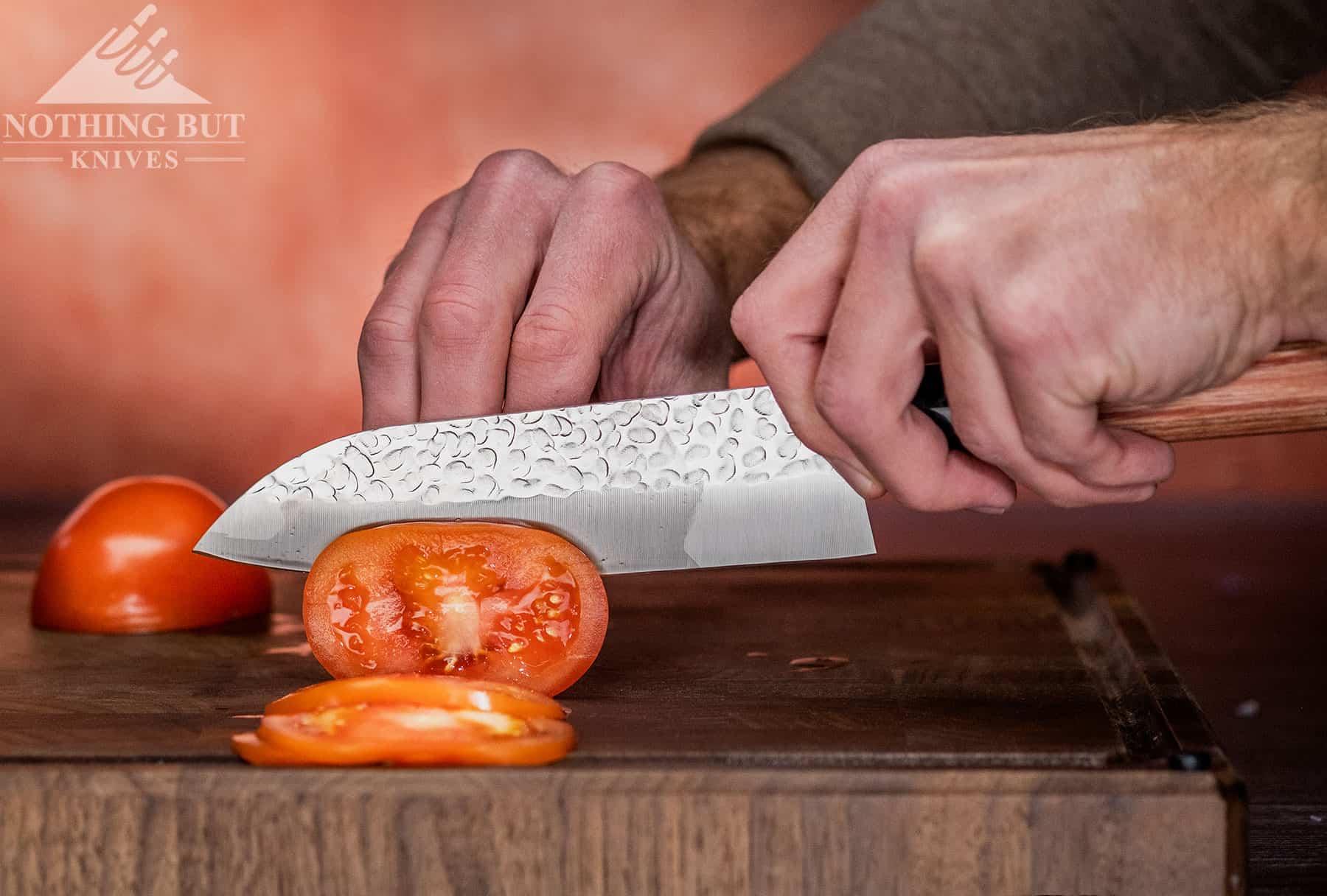 There's a certain element of quantity over quality in this set, but the quality is still on par with most mid-range knives. Kanetsune is a big company with a strong reputation for good fit and finish and quality control in an approachable price range.
This is one of the larger sets they offer, and, frankly, it gives you more sizes than you really need. But between the three different sizes of gyutos, two different sujihiki, a nakiri, and a mini deba, it will be very easy to pick out a knife of whatever size is most comfortable for any fruit, vegetable, or fish you have in front of yo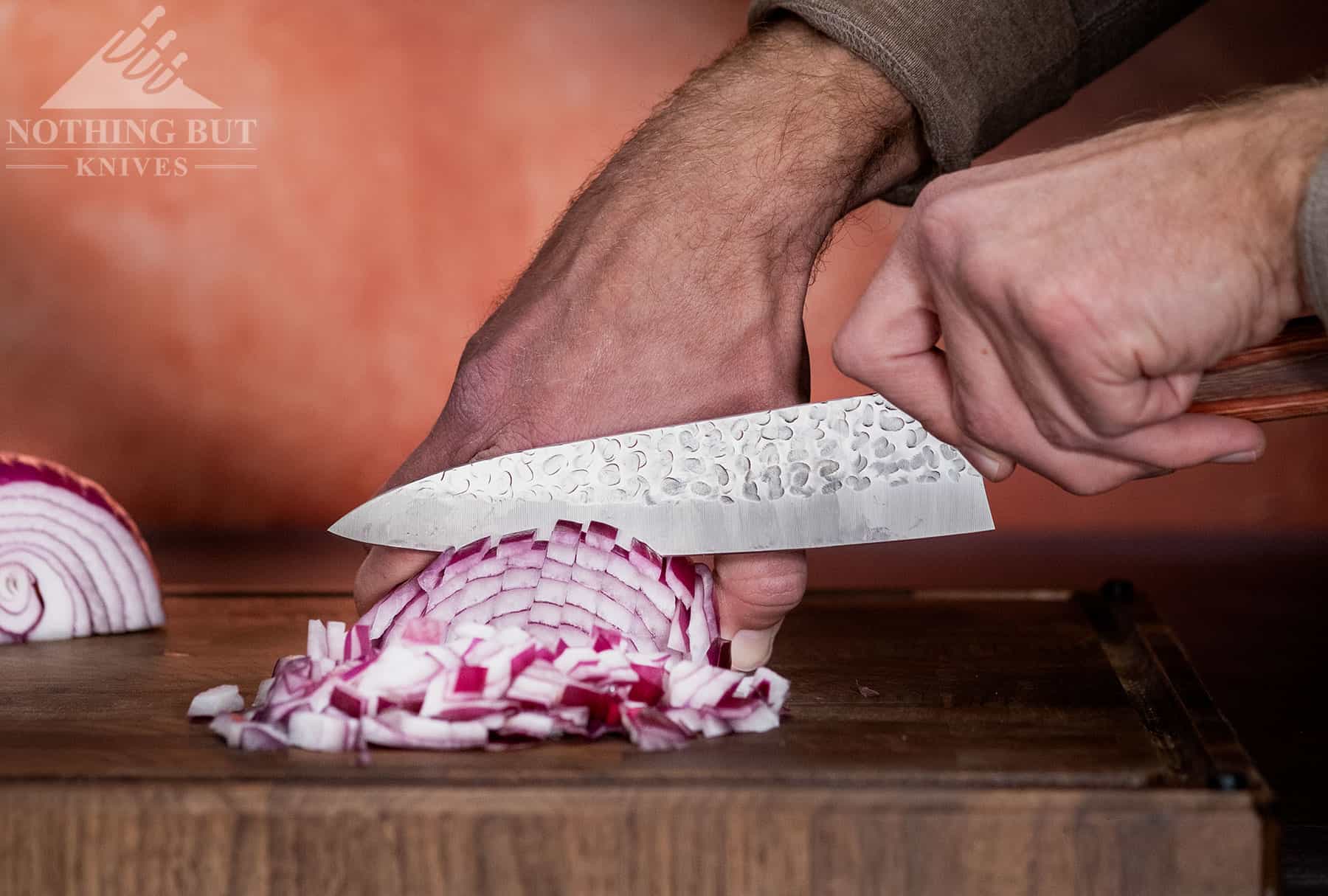 The materials on the KC-950 knives might not be as impressive as some others on this list. The stainless steel leans a little soft for Japanese cutlery, and the laminated wood handles with plastic bolsters don't carry quite the same high-end gravitas as other expensive sets, but they are incredibly lightweight and comfortable.
These knives are sturdy workhorses compared to your typical Shun knife. They might not hold an edge quite as long, but they'll be easier to sharpen, less prone to chipping, and offer a more neutral balance as opposed to the blade-heavy balance that's standard in most Japanese cutlery.
A word about Hocho Knife.
Hocho Knife is one of the few places where this set is available online. They are very well known and trusted in the kitchen cutlery industry. We happen to have an affiliate deal with them, but we were happy customers of Hocho Knife long before we were an affiliate.
Cangshan Thomas Keller 17 Piece Block Set
RWL34 powder steel at 61 HRC
Good edge retention and stability
16° edge
Designed by Michelin star chef Thomas Keller
Made in Yangjiang, China
Set Includes: 8" chef's knife, 8" bread knife, 8" honing steel, 7" santoku, 6" boning knife, 5" steak knife (6), 5" tomato/cheese knife, 5" serrated utility knife, 3.5" paring knife, 2.75"peeling knife, 16-slot walnut block.
Designed by the multi-Michelin Starred chef behind French Laundry and Bouchon Bakery, the Thomas Keller series of knives made by Cangshan is amazingly smooth cutting and comfortable.
It uses a premium powder steel made by the Swedish company Damasteel (which is responsible for making the steel used in some of the best Damascus knives in the world). While these knives are made of Damascus, RWL34 is a fantastic material that's capable of high hardnesses and can take a super thin edge.
As for the actual feel of the knives, they are somewhere in between the Zwilling Pro series and the Kramer knives. The slanted bolster makes the larger knives very comfortable in a pinch grip, and the slightly rounded handle is easy to grip and doesn't have any harsh corners to bite into the palm of the hand.
This is an especially complete set, including a bunch of knives you probably won't use, but who's to say you won't find some blocks of cheese to slice up with that tomato/cheese knife? And the santoku can be a nice change of pace if you want to push cut through a lot of vegetables when you get bored with the western style chef's knife. The point is, there's a lot of options in this set.
If want want in in-depth look at how the Thomas Keller Signature Collection performs in the kitchen, check out our review of the 8-inch chef knife.
Shun Classic 6-piece Knife Block Set
Specifications
D Shaped Ebony Pakkawood Handles
Full Tang
VG-MAX Stainless Steel Core With 34 Layers (Each Side) of Stainless Damascus Cladding
4 Empty Knife Slots on the Block To Make Set Customization Easier
Hand Crafted
Forged not Stamped
Made in Seki, Japan
Set includes the following: 3.5 inch paring, 7 inch Santoku, 8 inch chef, wood storage block, kitchen shears and a honing steel
The Shun Classic 6 Piece is a basic set that makes it possible for consumers to jump into the premium knife world for just under $500. It ships with the most essential knives, leaving two empty slots in the block so more can be added later.
This set offers a lot of value from a cost vs. performance standpoint. The Shun Classics have a VG-MAX steel that's folded several times with a high carbon steel to make the blade a little tougher and maintain a cutting edge longer.
They also sport the traditional D-shaped handle in Pakkawood, which you don't get in a lot of Shun's other knife series. If you have never used a knife with a Japanese style D-shaped handle you may want to try one out before buying a whole set. Most people find them to be comfortable, and many professional chefs and serious amateurs use them, but some people who are accustomed to western style contoured handles don't like the feeling of that little bump on the side.
The Shun Classic 10 Piece set is an excellent option if you are looking for a happy medium between quality and quantity in a Japanese knife set. But if you're curious about what else Shun makes, you'll want to take a look at our Shun Knife set guide. We also did an in depth review of the Shun Classic Santoku knife that is included in this set. Check it out to see how one of the Shun Classic knives performs in the kitchen.
Shun Premier 7-Piece Essential Set
Specifications
Full Tang
VG-MAX steel
Oval Shaped Walnut Pakkawood handles
3 empty slots in roll for set customization
Hammered Finish
Made in Seki, Japan
Set includes the following: 8" Chef knife, 4" paring knife, 6.5" utility knife, 9" bread knife, herb shears, combination honing steel and an eleven slot bamboo knife storage block.
The Shun Premier series of knives has a lot of similarities to the Shun Classic line such as: VG-MAX steel blades, Packwood handles and similar bade geometry. However, there are a few upgrades that set the Premier line apart. The handles are oval rather than D-shaped, the Pakkawood handles have a Walnut finish, and the top of the blades are hammered to help prevent blade stick.
Another upside to the Premier line is that it is one of Shun's largest series of knives, so there are more options if you want to fill the empty slots in the storage block down the road. The utility knife pictured above is one of the standout knives in this 7-piece set. The blade shape is similar to the Shun Classic utility knife, but I found the oval handles made the Premier utility knife easier to grip over a larger variety of tasks the D shaped handle of the Shun Classic utility knife. Obviously D shaped handle fans would disagree, but they can write their own article.
This set has been out of stock at most retailers for large parts of 2021 and 2022, but I personally think it is worth waiting for if you are in the market for a high performing Japanese knife set that looks like a piece of art on your kitchen counter. From a straight performance standpoint the Shun Premier series is tough to beat in the production knife world, but the thin edges, hard steel and hammered finish do make these knives a little more prone to chipping. You definitely want to avoid cutting through bones or frozen food when using Shun Premier knives. I like to keep a tough cleaver with soft steel on hand for those types of tasks.
You can learn more about how the Shun Premier set stacks up against other cutlery brands by reading our Shun Premier Chef Knife Review.
Shun Kanso 6-Piece Knife Set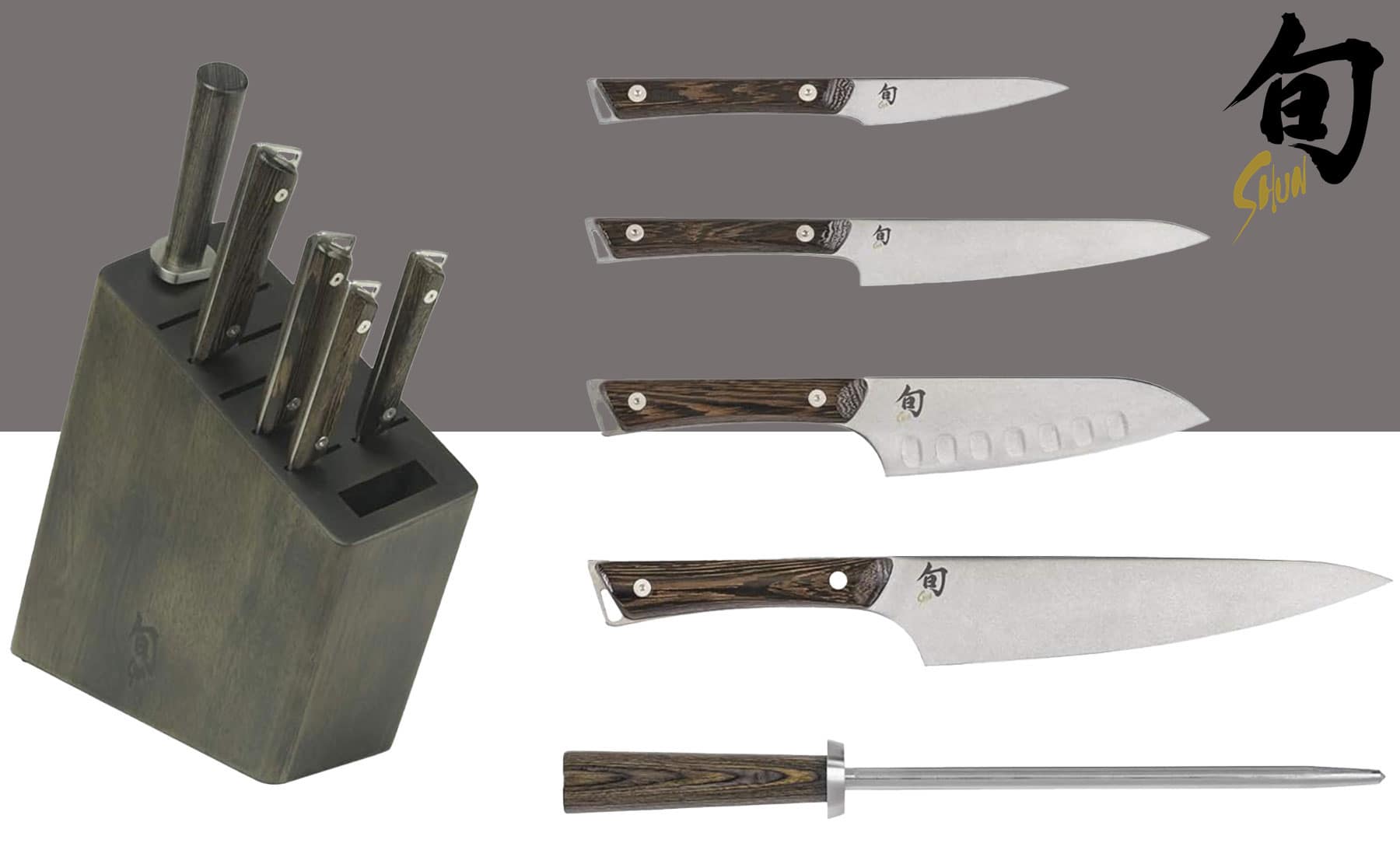 Specifications
AUS10A steel
Stonewash finish blades
16° cutting edge
Wooden Tagayasan style handles
Full tang
Neutral balance
Made in Japan
Set Includes: 8" chef's knife, 6" utility knife, 5" hollow ground santoku knife, 3.5" paring Knife, 9" honing rod, 8-slot wood block.
Shun went for a rustic feeling for the Kanso series. It has wood handle scales with an exposed tang, and a rarely-seen stonewash finish on the blade. The AUS10A steel also doesn't show up too often in Shun's line ups.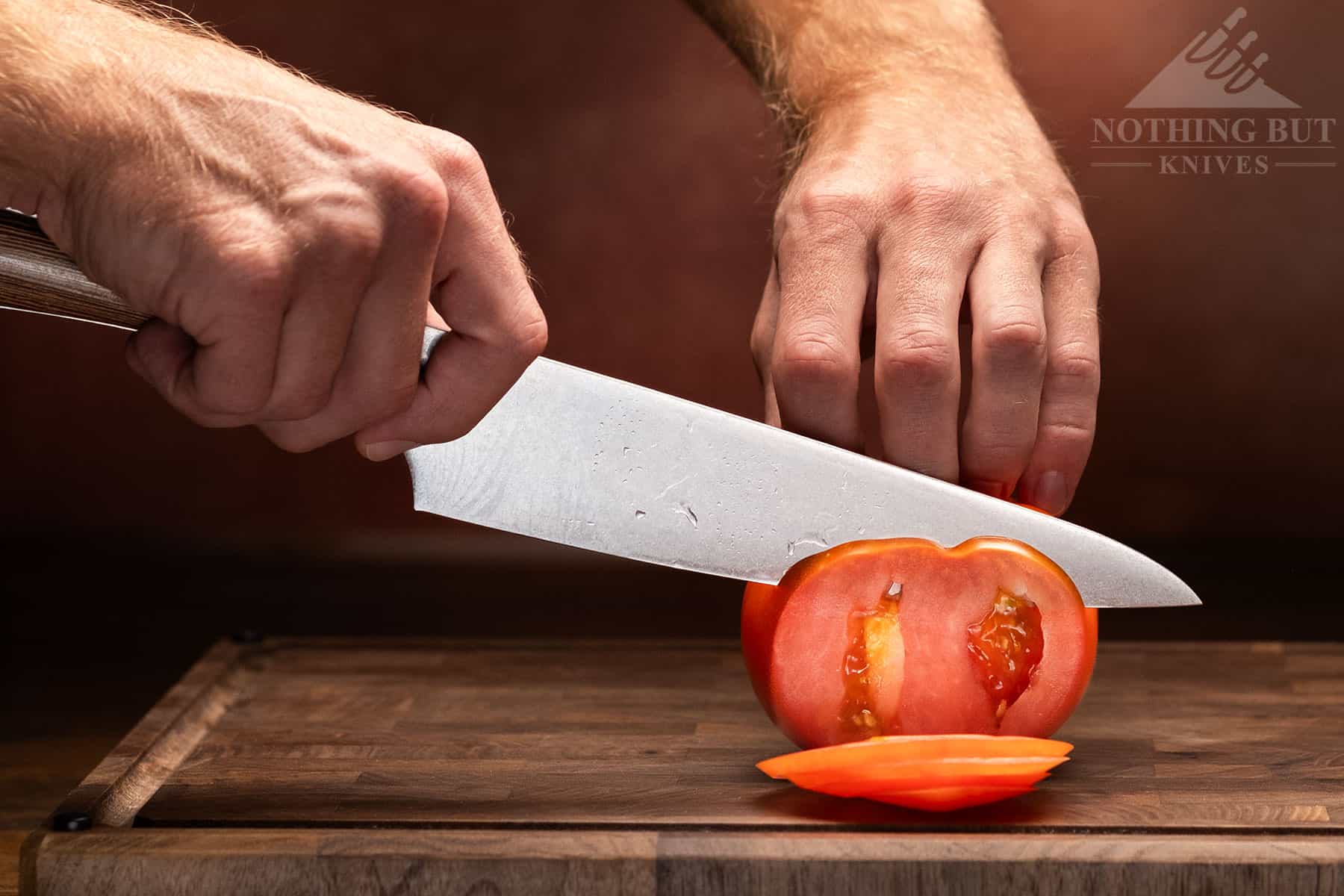 That's a steel that leans more tough than hard compared to the VG-10 in their other stuff, so the edge retention on the Kanso knives won't be as good as their Classic or Premiere series, but it also has a significantly lower chance of chipping. It's a work-horse knife with a little bit of personality.
It's not so easy to see in pictures, but the handle scales are pretty wide, and you can actually feel the texture of the wood, so there's a lot of material and texture for your fingers to grip onto even in a pinch grip. The only issue with the ergonomics is that neither the spine or any part of the tang is crowned, so you might feel the metal pinching into your hands after you've been cutting for a while.
Rustic as the look and feel of the Kanso knives might be, the edge is very polished. It has a very smooth cut, and even though it's a little thicker behind the edge than other Shun knives (and other Japanese knives in general), these blades have a buttery feel to them when cutting most kinds of foods.
You can learn more about the performance of the Shun Kanso series by checking out our Shun Kanso Chef's Knife Review.
Zwilling By Kramer Euroline Essential Collection 7-Piece Set (Best Quality Pick)
Specifications
FC61 Steel
Full Tang
Very ergonomic contoured handles
Amazing edge retention
Forged not Stamped
61 Rockwell hardness
Made in Seki, Japan
Lifetime Warranty
Designed by Bob Kramer
Set includes the following: one 8″ chef knife, one 7″ santoku, one 10″ bread knife, one 5″ utility knife, one 4″ paring knife, one 12″ sharpening steel and a 14 slot storage block.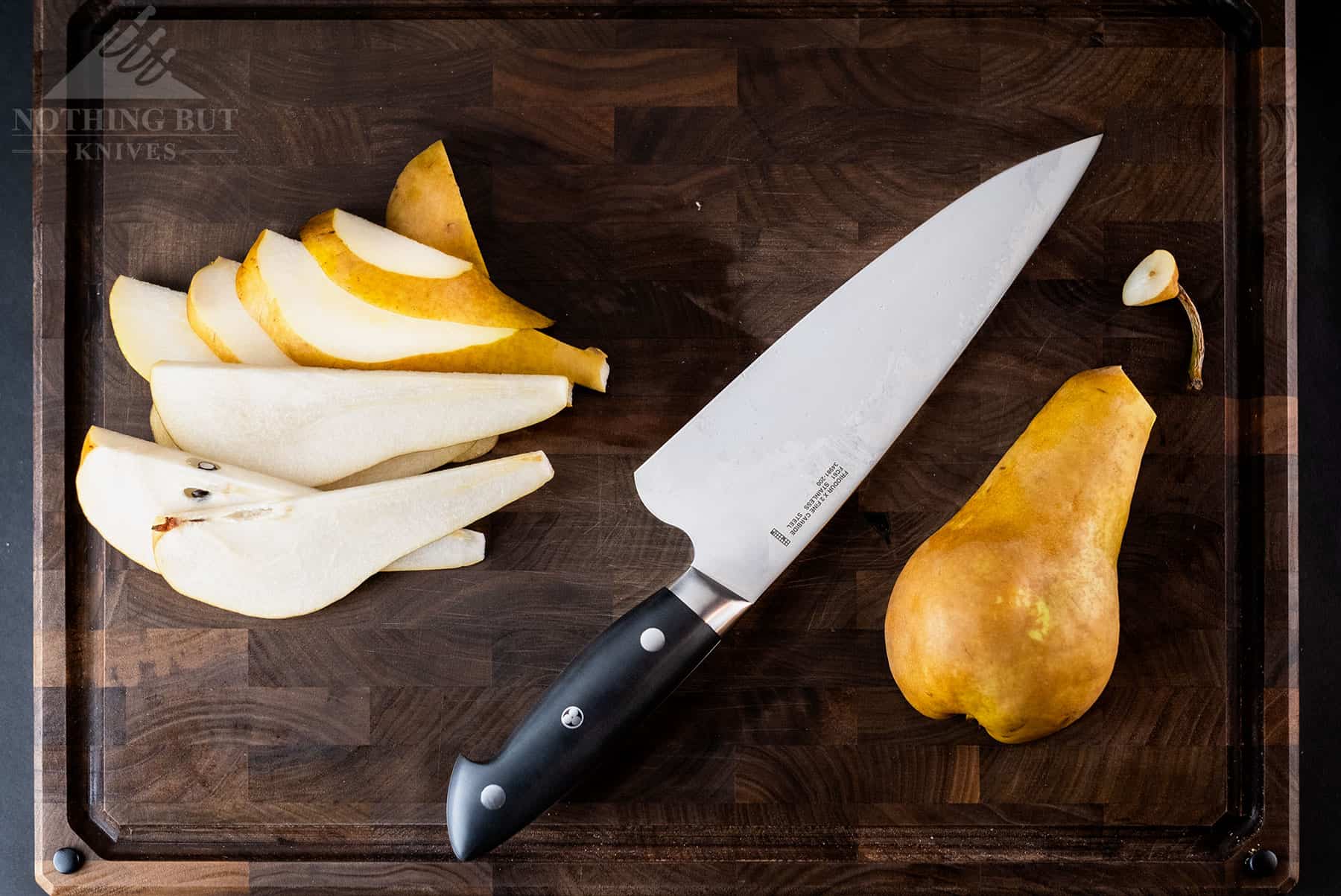 The Euroline Essential Collection is a result of a partnership between master bladesmith Bob Kramer and Zwilling Henckles. Bob Kramer's knives have been long time favorites of famous chefs around the world. Unfortunately they are expensive and difficult to buy. Thankfully Zwilling Henkels made his work more accessible by licensing a few designs from Kramer.
The knives in the Zwilling Kramer Euroline Essential Collection are functional works of art made in Zwilling's Japanese factory in Seki. They're designed to be comfortable and well balanced with thick Micarta handles for hard working chefs who put in long hours, with big-bellied blades that allow for edge modification provide a good space for scooping food up. It's easily one of the best performing production kitchen sets being manufactured today.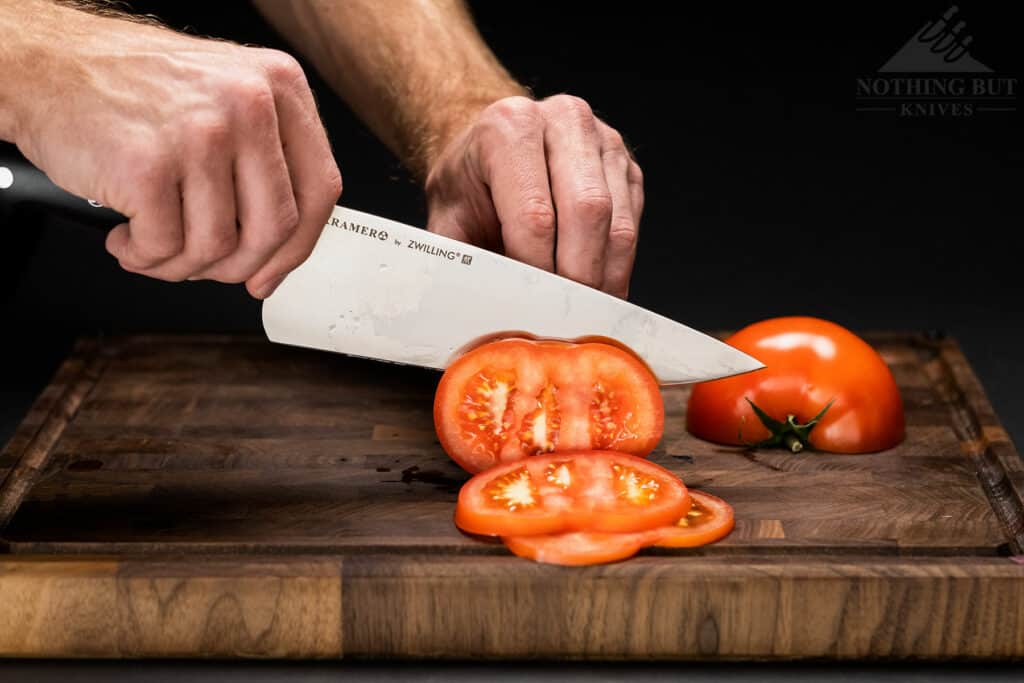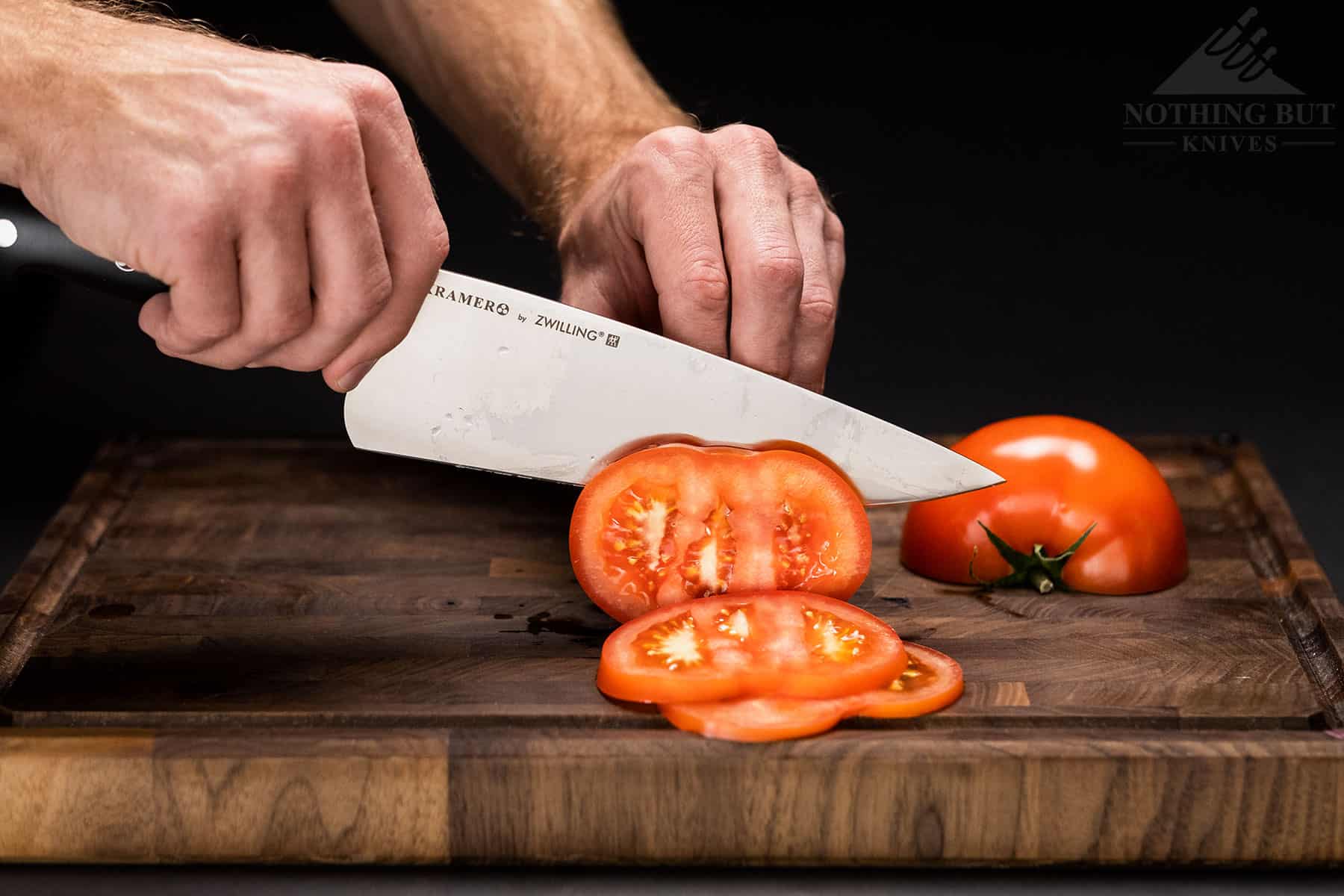 This Kramer Zwilling set ships with a rather ordinary looking wooden block which seems kinda weird considering the high quality and great looks of the knives in this set. Fortunately the wood block does have empty slots in case you want to add one of the other knives from this set like the 6 inch chef knife that I assume Zwilling left out to keep the set below $1,000. This set does not ship with steak knives, but there are 6 empty slots in the storage block, so steak knives can easily be added later.
From a quality, performance and aesthetics standpoint there are very few premium knife sets that can compete with the Kramer by Zwilling Euroline Collection except for maybe the Zwilling Kramer Meiji or Carbon 2.0 sets (but we haven't had a chance to test those).
Check out our in-depth review of the Kramer By Zwilling Euroline Essential Collection 8 Inch Chef Knife Review to learn more about these knives.
Bavarian Knife Works 19 Piece DreamCut Set – (Best Value)
Specifications
X50CoMoV15 German steel at 58 HRC
Full Tang
Includes 10" chef's knife
19-slot wood knife block
Crowned spines
Great storage block design
Half bolsters
Made in Germany
Set includes: 10" chef's knife, 10" carving knife, 9" off-set bread knife, 8" boning knife, 7" santoku, 5" paring knife, honing steel, diamond steel, carving fork, kitchen shears, six 4.5" steak knives
This is a pretty new company that hit the kitchen scene in kind of a new way. This set comes with a 10-inch chef's knife and an off-set bread knife, which we don't see very often (at least, not in the big-kitchen-set world), but honestly it's a breath of fresh air. We love off-set bread knives almost as much as we love bread.
It's important to note that this doesn't come with an 8-inch chef's knife like basically every other set on this list. Instead it has a 7-inch santoku. Most of the professional chefs we've talked to seem to prefer a 10-inch knife for most of their work anyway. If you really need that standard-sized chef's knife, it's less than $100 to add on, and they've left an empty slot in the block for it just in case.
As for the actual function of the set, these knives feel incredible. They're very lightweight and well balanced for western-style knives. The company has spent a lot of time working on the edges of these things so that the weight of the knife does most of the cutting, so these are very pleasant to cut with. And since it comes with both a honing rod and a sharpening rod, you'll have everything you need to maintain those edges at hand.
Check out our in-depth Bavarian Knife Set Review to learn more about this set.
Zwilling Pro 10 Piece Knife Set
Specifications
Made in Solingen, Germany
Sigmaforged German steel with Friodur cryo treatment
Curved Bolster
Full Tang Construction
Full tang
Polymer handles (available in black and white)
Lifetime warranty
55 – 58 HRC
Set Includes the following: 3" paring knife, 4″ paring knife, 5″ serrated utility knife, 5.5″prep knife, 7″ santoku knife, 8″ bread knife, 8" chef knife, Twin sharpening steel and and a 16-slot wood block.
This is one of the more accessible standards in the kitchen cutlery world. It's very basic in the sense that when some uses the term Western or German chef knife, you can just picture the Zwilling Pro chef knife.
I should emphasize that this is called the Zwilling Pro set. Zwilling also makes the Pro S, which is roughly the same design, but it has a full bolster and a blade shape that's a little closer to a gyuto because of the way the spine drops down and leaves less of a curve to the edge.
Both versions are made with the same Sigmaforge process out of a single piece of steel, and put through Zwilling's own particular set of cryo treatments, but I prefer the bolsterless version because it's easier to sharpen the whole edge, and a whole lot more comfortable in a pinch grip.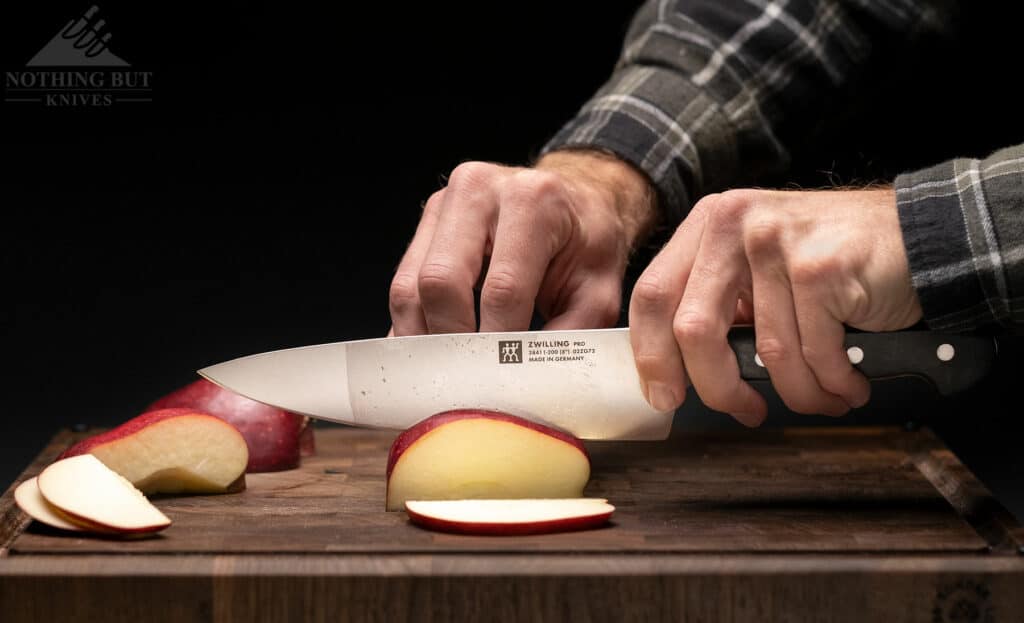 These knives are more tough than hard. Zwilling only takes these to 58 HRC at the most, so these will have a typically Western edge retention in that they will need to be at least honed after a day or week of heavy use, and sharpened one to two times a year (again, depending on how heavily you're using it). But that use will feel great. The Pro knives have a nice balance and the curved bolster make for one of the most comfortable grips you'll find on this list.
As for the 16 piece set itself, it's likely more than most people need, but at least it will be too much of a good thing. With two paring knives and a utility knife you'll be well covered for detail work. Between the Santoku and the standard 8-inch western chef's knife, this set can handle basically every kind of food from fine vegetables to hardy cuts of meat.
The Pro series has been around for a while, so you can find a lot of different variations of it in both size and color of handle. Just be sure you pay attention to the lack of an "S" in the name if you're particular about full bolsters.
There is a 16-piece version of the Zwilling Professional S #AD set if you need steak knives.
Artisan Revere 3-Piece Knife Set (Best American Made Pick)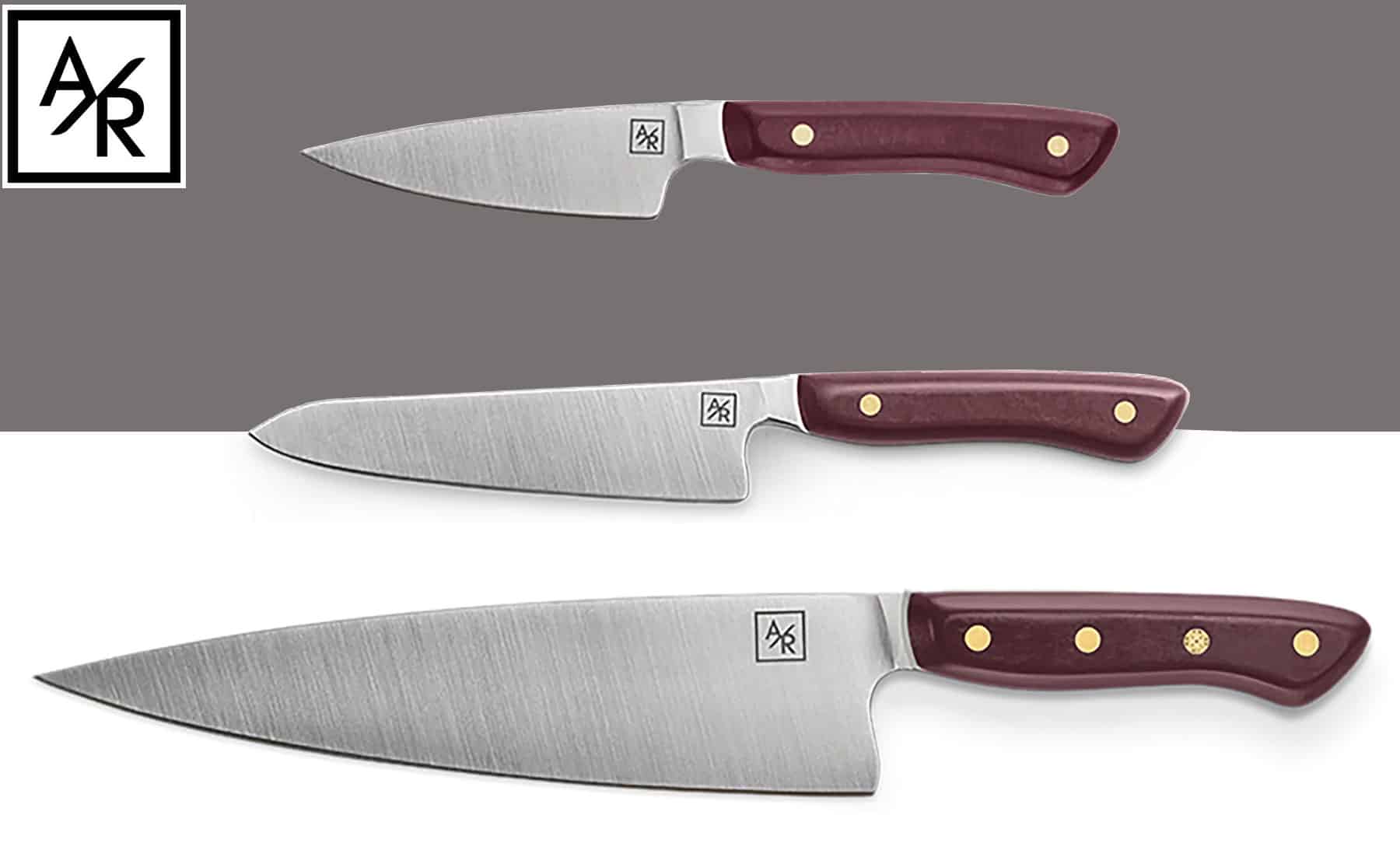 Specifications
Elmax Super Steel Blades
Full Tang
60-61 HRC
12° Edge
Wood Richlite Handles
Hand Crafted
Leather Sheath Included For Each Knife
Made in the USA
Set includes the following: 8″ chef knife, 3.3″ paring knife, 6.4″ small petty knife and 3 custom leather sheaths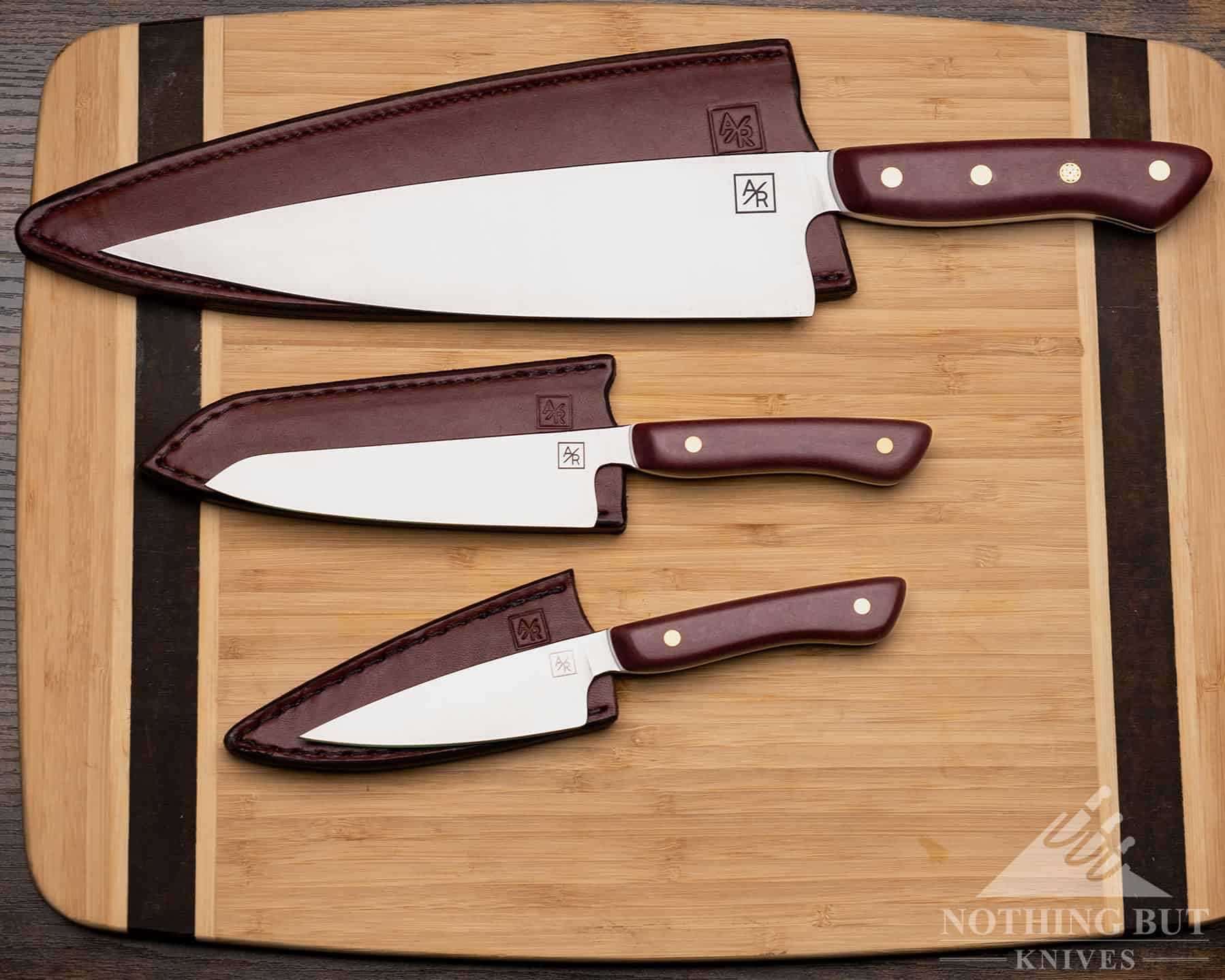 The Artisan Revere VIP set is quite possible the best over all knife set we have ever tested. There is no question that the Elmax steel blades have the best edge retention of any kitchen knife we have ever tested.
Artisan Revere knives have excellent performance, impressive toughness, and perfect balance. All of this comes with a relatively steep price tag, but if ultimate quality is what you are looking for, Artisan Revre is tough to beat.
Every knife in this set feels like it was designed with ultimate comfort and performance in mind. The knives feel like somthing boght from a high-end custom knife maker which helps to justify the price tag.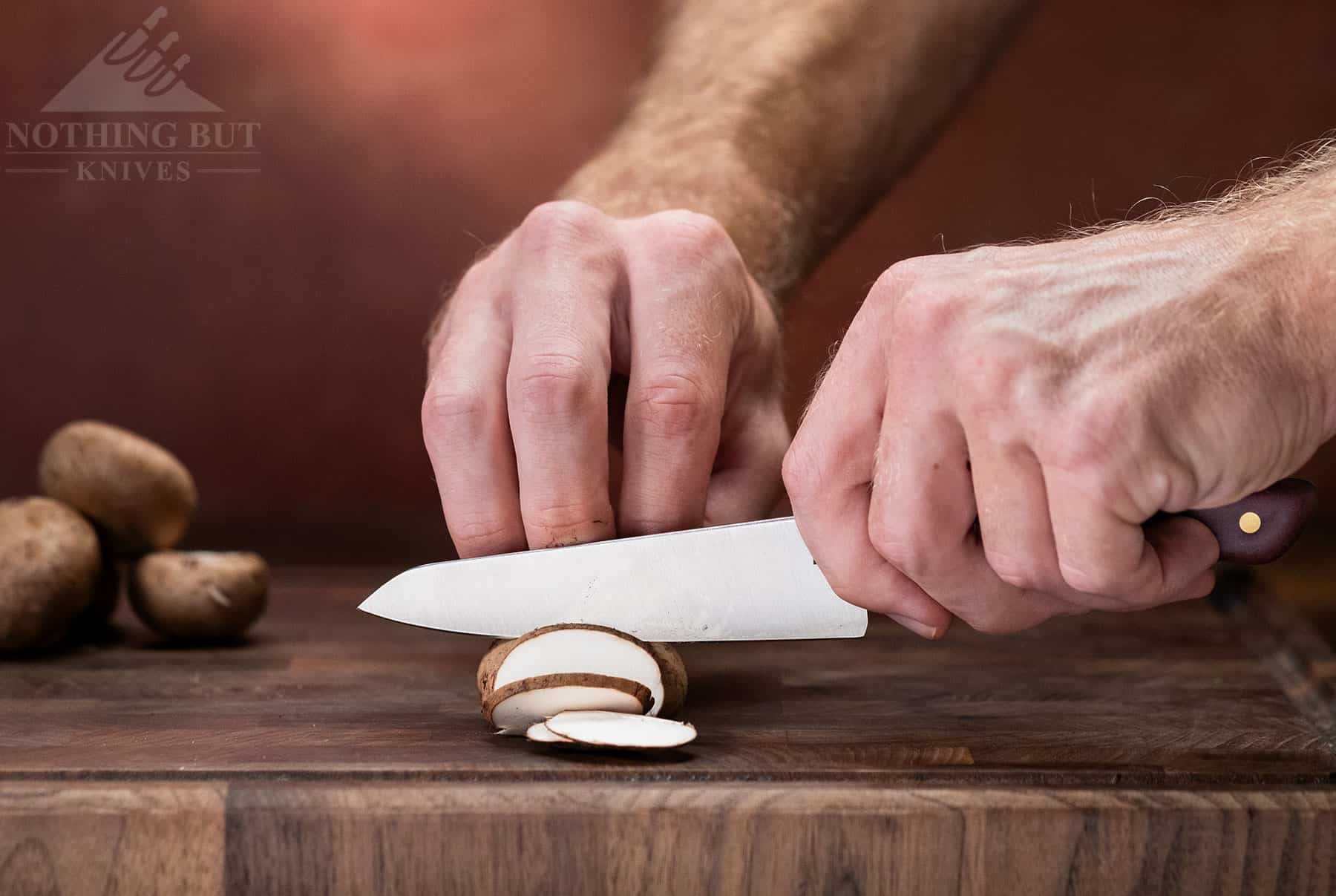 The 6.4 inch small petty knife included in this set has become an all time favorite here at Nothing But Knives. It is versatile enough to be able to be used for almost any cutting or slicing task. The fact that it ships with a leathe sheath makes it a good option for a road trip or camping knife, and it is small enough to toss in a backpack or compact RV or boat drawer.
The 8 inch chef knife that ships with the Artisan Revere VIP knife set has become the knife we compare any and all high -end kitchen knives to. Its impressive balance, edge retention and overall performance make it the knife to beat in the crowded premium kitchen cutlery world.
You can learn more about our thoughts and opinons on this knife by checking out our Artisan Revre Chef Knife Review.
All the knives in this set can be purchased seperatly or all togethor on the Artisan Revere website. We have been dealing with them for some time, so we can vouch for their excellent customer service.
Enso SG2 7 Piece Knife Set
Specifications
101 layers of stainless steel Damascus over an SG2 steel core
Canvas micarta handles with a Samurai Crest
Full Tang
Forged not Stamped
Lifetime warranty
63 Rockwell hardness
True Damascus pattern
Made in Seki, Japan
Set includes the following knives: 3.25 inch paring, 6 inch utility, 6.5 inch santoku, 8 inch chef's, 9 inch bread knife stainless steel come-apart shears and a dark ash storage block.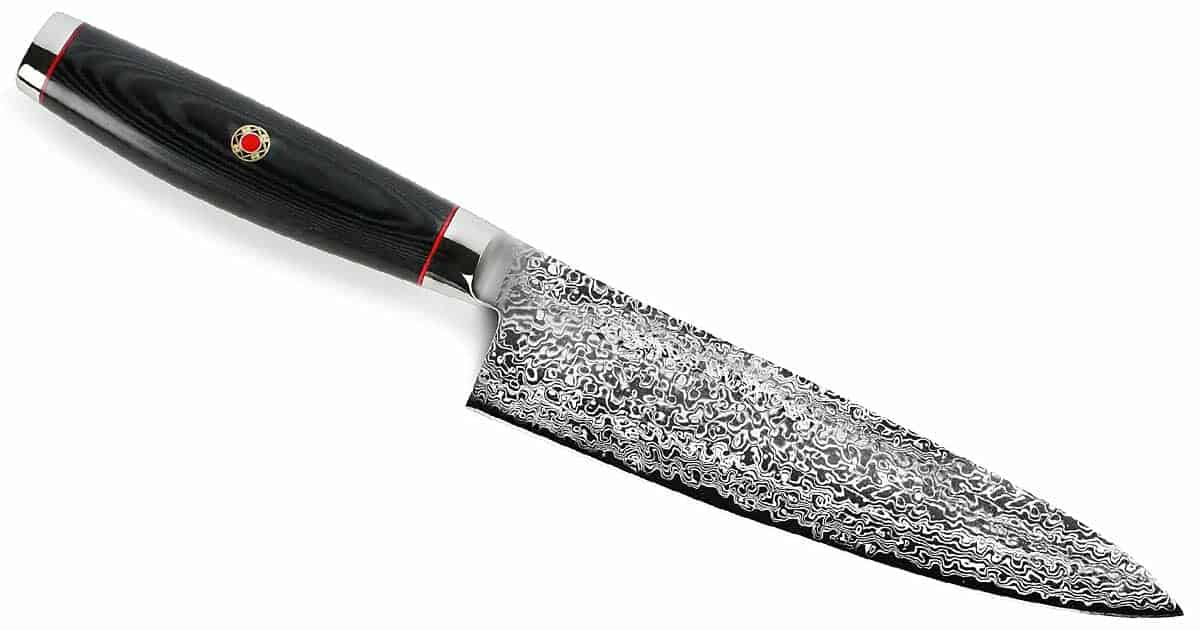 The handles of the SG2 series knives are made of linen micarta which is by far my favorite handle material. It more commonly found on high end survival knives than kitchen knives. It is extremely durable and easy to grip. Even these knives are made in Japan they have a more western style handle which makes the knives a bit of a East/West hybrid.
The Damascus pattern on the blades is a result of steel actually being layered. It is not the fake etching found on so many of the budget knives on the market today.
Miyabi Mizu SG2 7-Piece Knife

(Best Japanese Made Pick)
Specifications
SG2 Super Steel Core With Layered Damascus Steel
Precision forged
Friodur Ice-hardened
63 HRC
Full Tang
Limited Lifetime Warranty
Made in Seki, Japan
Micarta Handles
9-12 Degree Blade Angle
Set includes the following: one 3.5″paring knife, one 5.5″ utility knife, 9.5″ bread knife, 9″ tungsten sharpening steel, kitchen shears and a bamboo wood block.
The knives of the 7 piece Miyabi Mizu set checked so many boxes from and aesthetics and performance standpoint. These knives ship as sharp as any production knives we have ever tested. They require very little pressure to slice through tomatoes or even onions.
The SG2 steel blades of the Miyabi Mizu SG2 knives are hardened to 63 HRC. This combination of high end steel and relatively extreme heat treatment means these knives hold their edge for longer than almost any other production knife set. However, this also means they need to be treated with care. These premium knives always need to be hand washed and dried immediately. They should also never be used to cut through bone or frozen meat.
The D shaped Micarta handles of these knives are are comfortable and resilient. The sloped bolster makes these knives a good option for fans of the pinch grip. All the knives in this set are well balanced and fun to use.
Miyabi is a Japanese company that is owned by a German knife company called Zwilling which is known for their excellent Friodur ice-hardening heat treatment. The result of these two companies merging is that it has allowed Miyabi to combine their highly respected Japanese craftsmanship with Zwilling's proprietary heat treatment. The Mizu SG2 performs at a high level thanks to the combined knowledge of German and Japanese knife makers.
Check out our in-depth review of the Miyabi Mizu 8 inch chef knife to get a detailed breakdown of the Miyabi Mizu series performance and durability.
If you want to learn more about our thoughts on the on performance of the Miyabi Mizu knife series, check out our in-depth review of the Miyabi Mizu 8 Inch Chef Knife.
Tips on Caring for Your Kitchen Knife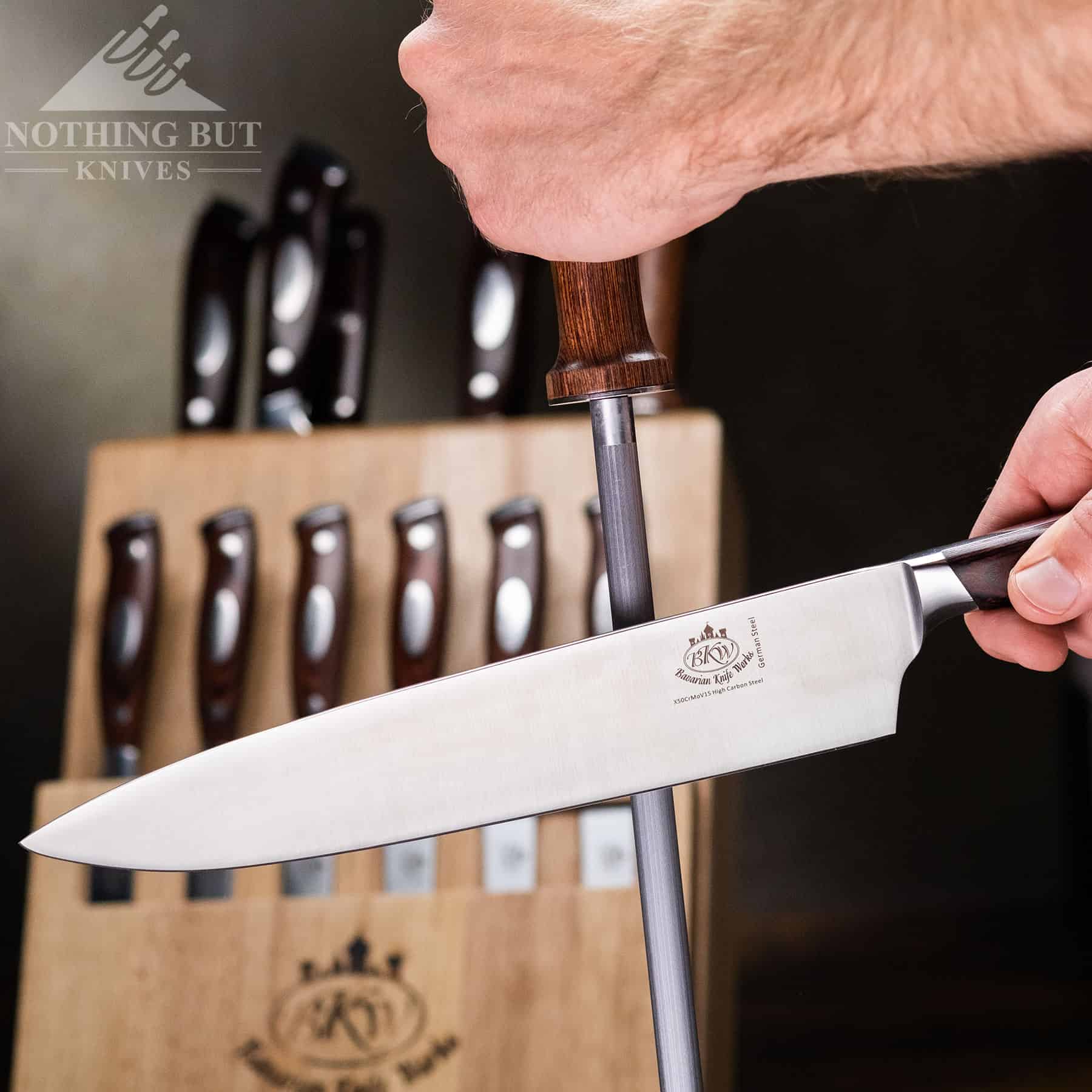 High end knives deserve high end care. Remember that just because something costs a lot of money, doesn't mean it's invincible. Here's a quick guide on how to properly use and care for your knives.
Cutting
Don't cut anything frozen
Cut with a smooth, straight motion (Don't twist the knife)
Only use wooden or rubber cutting boards (Bamboo is fine too, but it will dull your knives quicker)
Cleaning
Always hand wash your knife
Wipe the blade right after you're done cutting something (especially if you're cutting acidic foods like citrus, and especially if you have a carbon blade)
Always dry a knife completely after you're done using it (even stainless knives rust if left wet)
Never leave your knife in the sink
Put a light coat of food grade mineral oil on carbon steel knives for long term storage
Sharpening
Most knives will need to be honed after heavy use (a fine grooved steel or high grit ceramic rod are preferable)
Find a professional sharpener you trust and take your knife in at least once a year
Or sharpen them yourself when they no longer cut paper easily (it takes practice but anyone can do it)
Differences Between Japanese and Western Kitchen Knives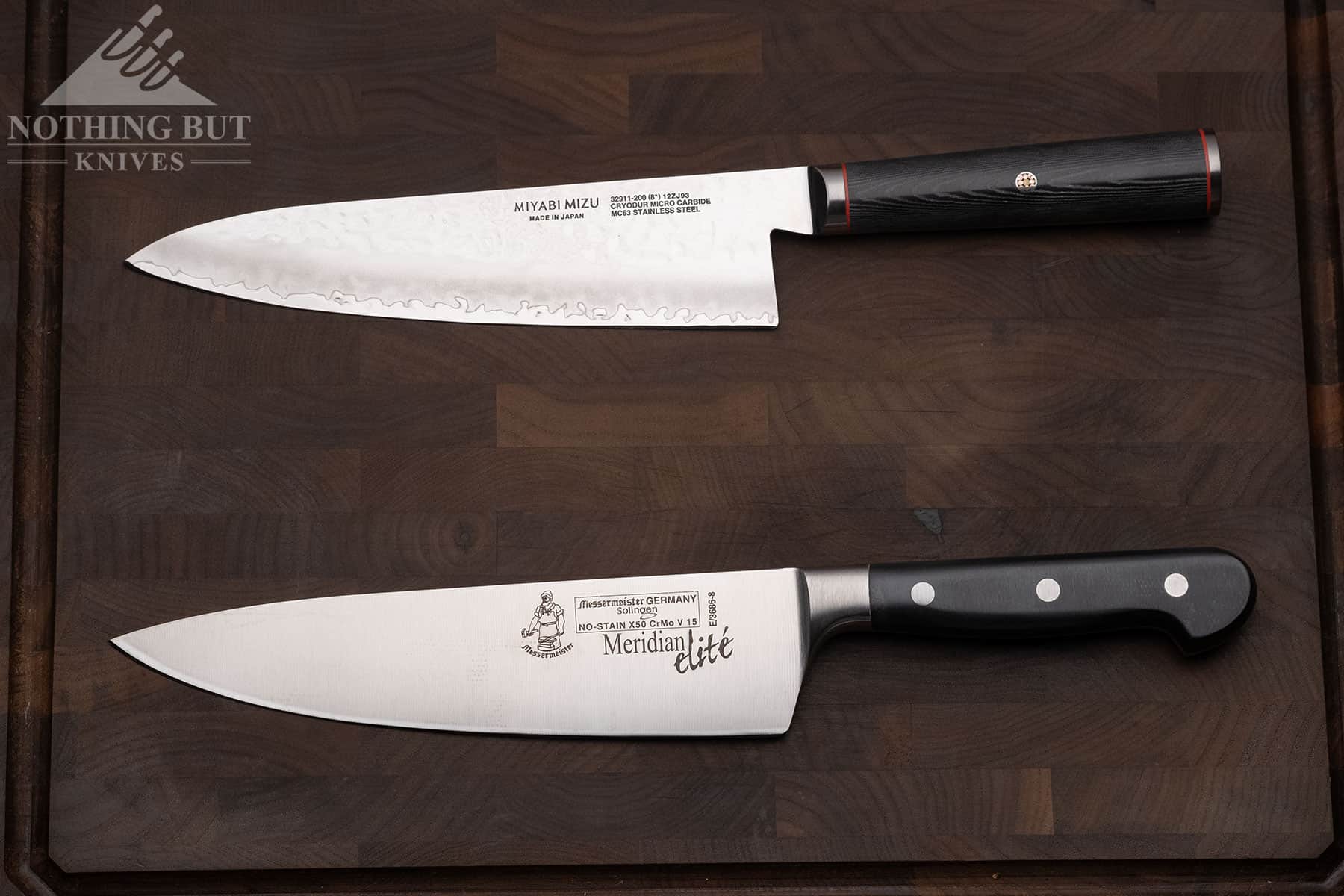 You might have noticed a lot of references to "Japanese" or "Western" knives. And you also probably noticed a distinct aesthetic difference when one of those words pops up. There's an increasing mentality that Japanese knives are better by default, but the truth is that it's largely a matter of personal style and what you're cooking.
Here's a quick run down of the differences.
| Western Knives | Japanese Knives |
| --- | --- |
| Heavier, with thicker blade stocks and edge geometry | Thinner, lighter, and (usually) weighted toward the blade |
| Tend to have either a neutral or handle-heavy balance | Great for cutting finer foods like vegetables and fish |
| Blades have more pronounced bellies along the edge | Steel is usually harder (more frail but with better edge retention) |
| Good for rock chopping | Mostly balanced for push cuts |
| Handles are usually squared with a belly and have a full tang | Handle shapes range from oval to octagonal, and often have a stick tang |
Steel Guide to High-End Kitchen Cutlery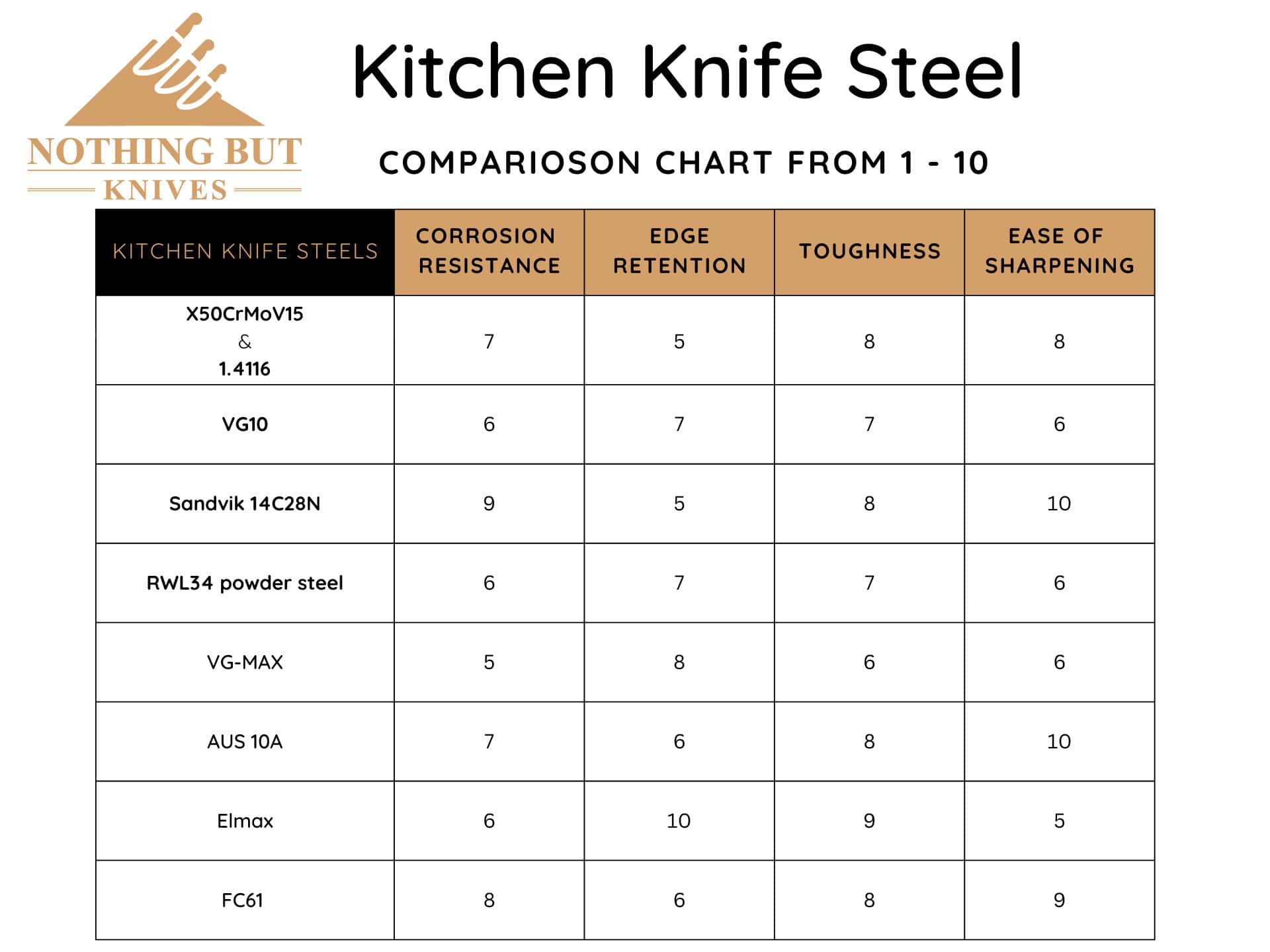 Different kinds of knives call for different kinds of steels, and it's worth knowing a bit about why as long as you're planning on spending the equivalent of a tank of gas on the thing. I'm about to make a lot of broad-stroke claims that that are worth discussing in greater detail. If you really want to get into the weeds, you could check out the work of Larrin Thomas. He's significantly more competent about this kind of thing than we are.
If you want a more simplified run down of steel nuance, you can check out our steel guide.
Stainless vs Carbon
The first thing you'll probably want to know about a knife's steel is how stainless it is. Here's the egregiously oversimplified summary of the stainless vs carbon steel for the general consumer:
Stainless steel takes a lot more exposure to rust. It's also typically harder, which can make the edge retention better but they'll be harder to sharpen.
Carbon steel is a lot tougher and easier to sharpen (and can usually take a much thinner edge) but it will form rust spots very quickly if left damp for very long.
If we really wanted to get deep into it, we would break this down to carbon, low alloy, high alloy, and stainless steels. But, again, this is meant to be a quick guide. I'll refer you again to the Knife Steel Nerds link above.
Carbon Steels Will Form a Patina
It's a slight discoloration of the blade due to surface oxidation. For collectors and fans of carbon steel knives in general, this is a good thing. It means the knife has been used, and different foods will make a carbon blade discolor in different ways, so it makes the coloring a little more unique to the user and what they normally cook.
Some people find it unsightly, though. If you want a blade to stay looking basically the same color as when you bought it, stainless steel is the way to go.
Steels From Around the World
It goes far beyond steels just being stainless or not. There are hundreds of types of steels in each category, and different styles of knives tend to do better with certain kinds of steel. Conveniently, different styles tend to correlate with different countries and the steels made in those countries.
So here it goes.
Japanese Steel
In production kitchen knives you're most likely to see VG-10 or VG-MAX. But more traditional or specialized Japanese knives often have variations of high carbon white or blue steel.
The short version is that Japanese knives are generally made thinner and harder for doing much more precise cuts, so they're usually made with steels that can take very thin edges, and can be tempered to a high hardness (generally in the 60 – 64 HRc range).
German Steel
German or western-style knives are made thicker and tougher so they can handle things like breaking down whole chickens without chipping an edge on bone. They tend to use stainless steels tempered to a softer range, generally 56 – 58 HRc.
A lot of German companies use the same steel. They might use different words for it, but almost every western-style kitchen knife is going to be made of some variation of 1.4116 steel, which is close enough in composition to be basically the same thing as X50CrMoV15 (they're made by different companies, though). In fact, any time you see a company pushing a knife with "high quality German stainless steel" or something equally vague, there's a very good chance it's some form of 1.4116.
On paper, it's not very impressive compared to other things, but it's a very tough steel that German companies have been working with for a long time. Wusthof has it dialed in very well, and Zwilling has played with it so much they started making up names like "Friodur hardening" to describe their processes. Both of those companies have been making knives that last decades for a long time, so it's really all about how the steel is handled.
Other European Steels
You aren't likely to see anything out there called a "Swedish chef's knife", but more and more companies are starting to incorporate Swedish and Austrian steels into designs. Most often I see it being used in Western style knives because companies like Bohler and Sandvik are very good at making tough, grindable steels.
AEB-L is a favorite for a lot of custom makers, and a form of it is used in Zwilling's stainless Kramer line. 14C28N and 13C26 are pretty similar to AEB-L, although apparently tougher with better edge stability, and a manufacturing dream in terms of churning out consistent, mass produced quality.
Hey, You Forgot American Steels
Almost. The thing is, most production kitchen cutlery makers don't use American steels very often. Even companies like Lamson, who are based in the US, still prefer the tried-and-true durability of 1.4116.
Kitchen knives with American steel aren't unheard of, though, especially in the custom knife world. Bob Kramer is a huge fan of 52100, for example. That's what Zwilling puts in their Kramer Carbon 2.0 line. And a lot of the time when an EDC-centric company like Benchmade or Spyderco makes kitchen knives, they use Crucible's S45V, Carpenter's CTS-BD1N, or even 440C, if they really want to cut costs.
Most of those steels are high priced and difficult to work with, though. Established kitchen knife makers usually don't want to change up their manufacturing process to deal with them, so it's highly unlikely to see Wusthof or Messermeister popping out a CPM 154 blade any time soon.