A Tough Capable Chef Knife That Almost Lives Up To The Marketing Hype
Direct to consumer knife company marketing tends to be fairly hyperbolic. I assume this is because they can not depend on the promotional efforts of their resellers, so they really talk the knives up in the limited marketing real-estate available to them.
It was with this in mind that I began the Misen chef knife review with more than a little bit of skepticism. For the most part my skepticism was unfounded. Overall it is a good chef knife. It did fall a little short of the higher end knives it is meant to compete with from a performance standpoint, but it held up surprisingly well from a toughness and durability standpoint.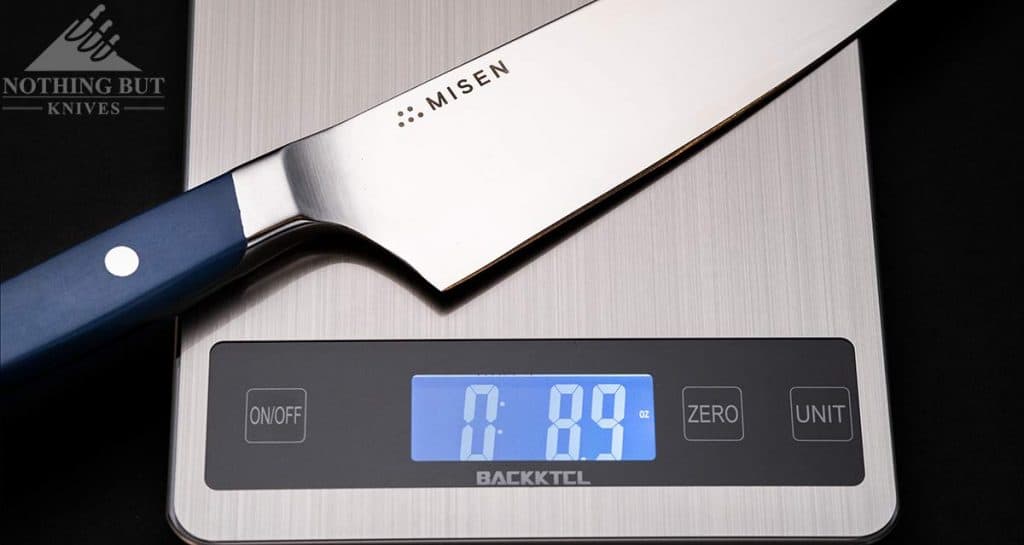 Specifications
| | |
| --- | --- |
| Overall Length: | 13.5″ |
| Blade Length: | 8″ |
| Style: | Gyuto Chef |
| Handle Length: | 5.25″ |
| Handle Material | TPE |
| Blade Steel: | AUS-10 |
| Blade Grind: | Flat |
| Blade Angle: | 15 ° |
| HRC Rating: | 58 |
| Weight: | 8.9 oz |
Pros
Tough
Good fit and finish
Good steel with decent heat treatment
Lifetime warranty
Unique look
Lifetime free sharpening
Full tang
Cons
A little too thick behind the edge
Sub par at dicing
Blade is stamped rather than forged.
A Tale of Two Knives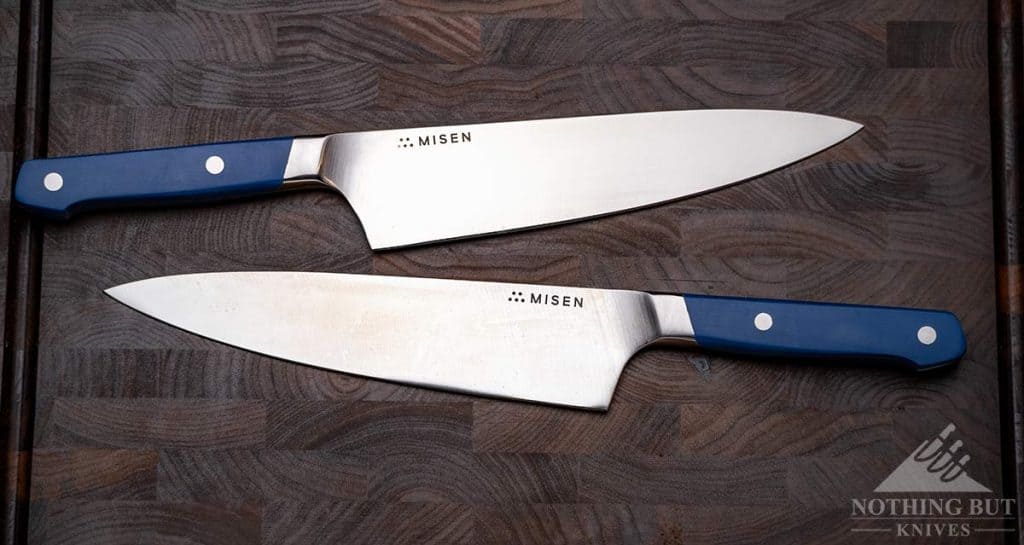 Misen contacted us a few months back, and asked if we would be interested in reviewing the new version of their 8 inch chef knife. It was on our very long list of chef knives to review, so we said yes. Unfortunately the knife I received was quite dull and had water spots. A quick perusing of existing reviews told me this was an aberration, so I ordered a second Misen chef knife. The one I ordered was sharp right out of the box and totally free of water spots. I am not sure what happened with the first knife we received, but I assume that is a very rare occurrence based on the mostly positive reviews of this chef knife I have read or watched. I only mention it for the sake of transparency.
The up side of having to order a knife rather than doing the review on the subpar version I first received is that I can say from experience that Misen's site is easy to navigate, and the checkout experience was quick and easy. This is especially important for direct to consumer companies like Misen.
Fit An Finish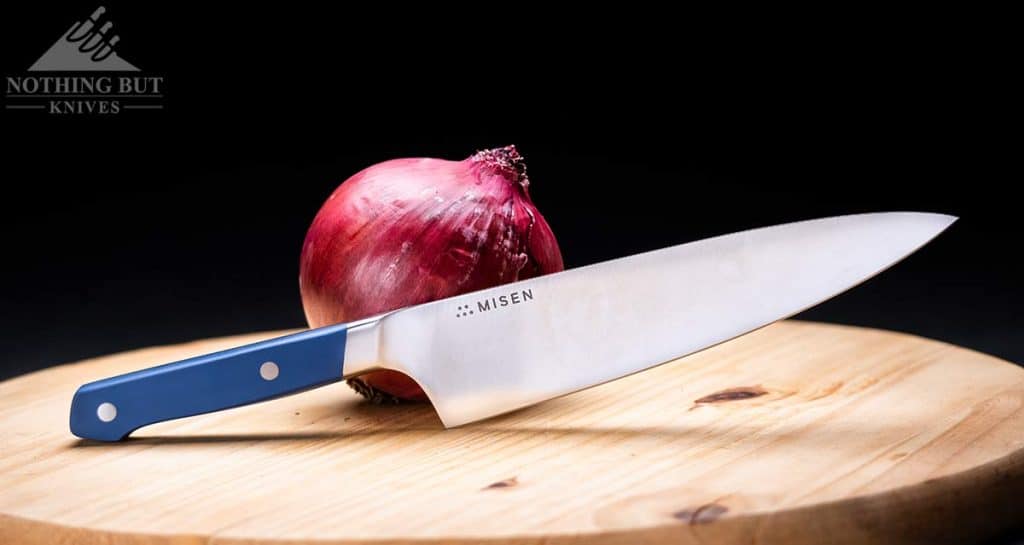 The fit and finish of the Misen chef knife was pretty good for a sub $100 chef knife. The blade grind was even, there were no glaring gaps between the handle and bolster and the handle scales were flush with the tang of the knife. The handle chamfering was also really even which is not always the case on knives at this price point. Overall I was pretty happy with the look and feel of the knife right out of the box.
Overall Performance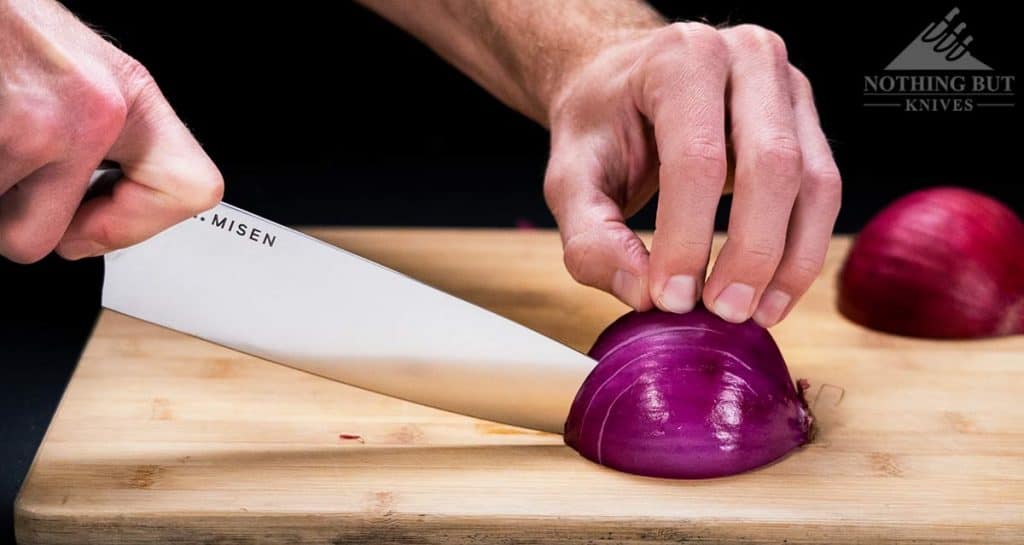 For the sake of comparison I decided to test the Misen chef knife against the more expensive chef knives Misen mentioned in their marketing – The Global G-2, The Wusthof Classic and Shun Classic 8 inch chef knives – along with the more moderately priced Tojiro DP, Nexus BD1N and Shun Sora 8 inch chef knives. From a straight slicing standpoint, the Global G-2, Shun Classic, Wusthof Classic, Nexus BD1N and Tojiro DP chef knives were far better. It wasn't even close. The Misen just required more pressure to make the same cuts through the same materials. The Misen chef knife's performance was comparable to the Shun Sora chef knife which is impressive, because the Sora is popular and costs about $15 more than the Misen.
I think it is safe to say that from a performance standpoint the Misen's marketing may have overstated its capability in their advertising material, but their new chef knife holds up well against most sub $100 chef knives not named Tojiro DP. I still maintain the Tojiro DP F808 is the best sub $100 chef knife on the market.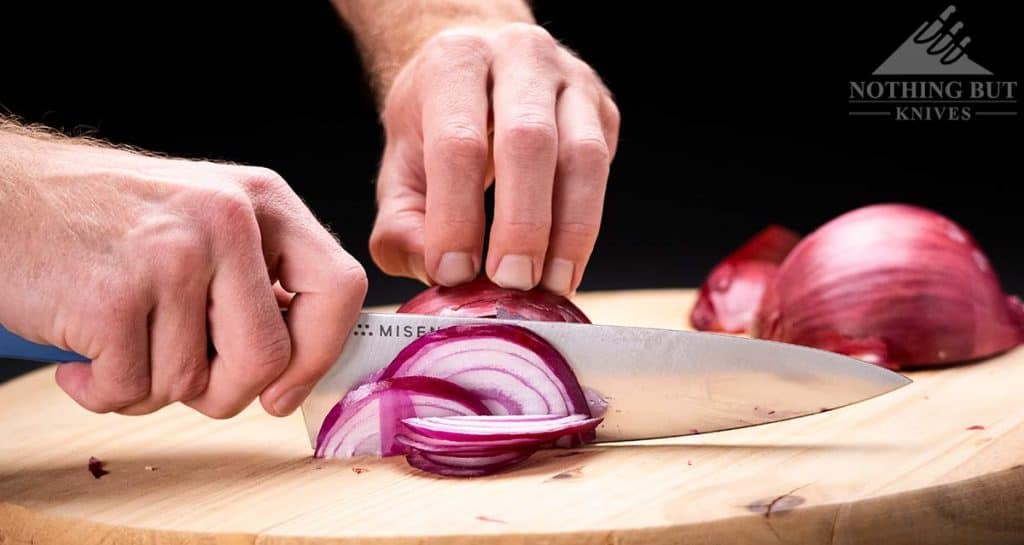 The main reason the Misen came up short against the higher end knives I tested it against was that it is thicker behind the edge. Misen touts their 15 degree edge in all of their marketing material, but the performance that generally accompanies a 15 degree edge is absent with the Misen due it the fact that after the 15 degree edge, the blade gets thick really quick.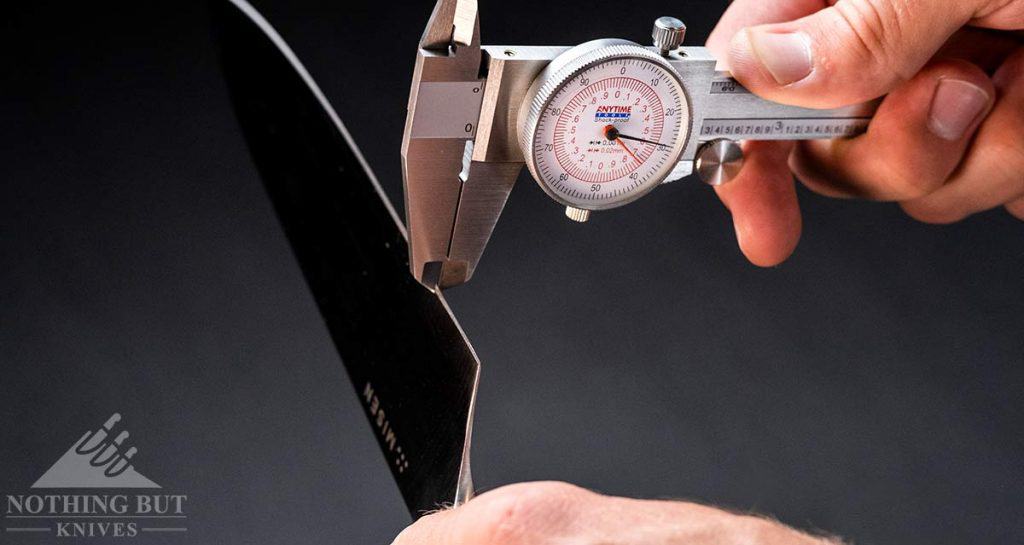 While it is true that thickness of the Misen's blade behind the edge diminishes it's slicing ability it does increase it's durability. This is especially true considering the blade is made of AUS-10 steel which is tough enough to be used in a variety of survival knives and hard use pocket knives . It is interesting that Misen does not spend more time promoting this chef knife's durability in its marketing descriptions, because that really is the thing that sets it apart.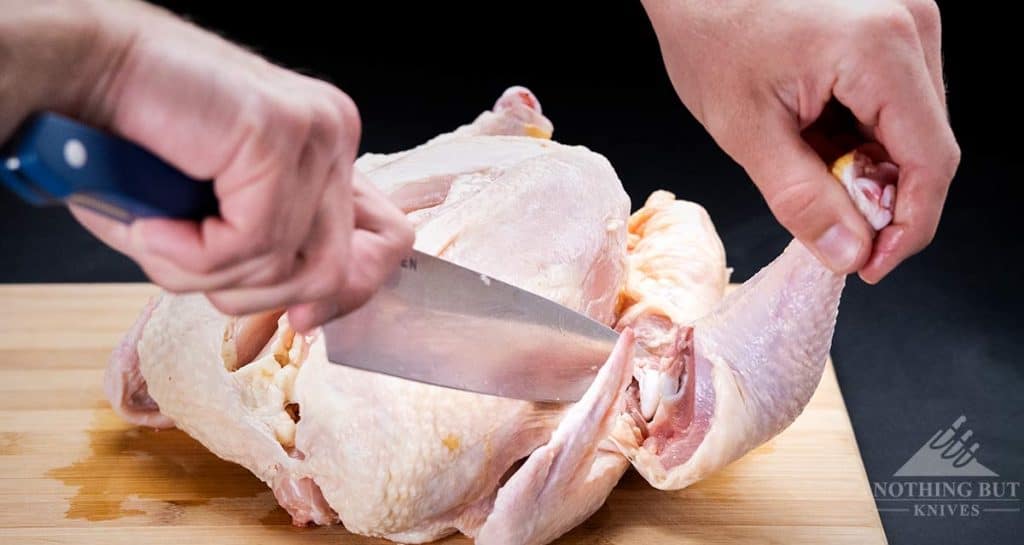 The Misen chef knife did a good job carving up this chicken. We were not gentle or easy on the knife during this process. We purposely hit bone and cut quickly to see if the knife sustained any damage, but the knife came through unscathed.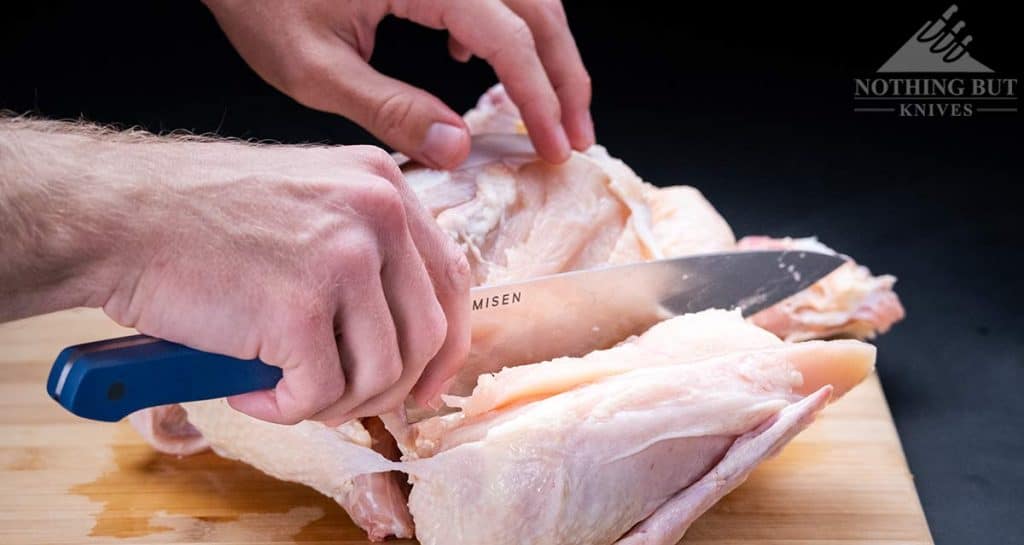 The Misen chef knife has a rockwell hardness of around 58. This is harder than many budget chef knives, but a bit softer from most higher end knives. I actually think this is a sweet spot for a kitchen knife that was designed for multiple tasks. The steel is not so soft that it needs to be sharpened all the time, but it is not hard enough to easily chip.
The Tojiro DP chef knife I mentioned earlier is much better than the Misen from a performance standpoint, but it is also less durable. This is because the Tojiro DP is thinner behind the edge and has a harder steel.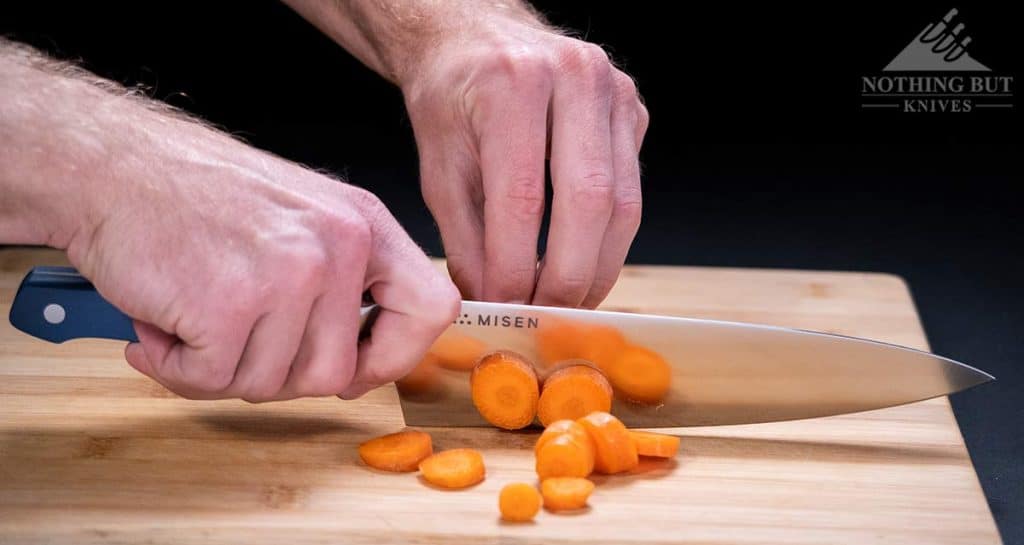 I found the TPE handle of the Misen chef knife to be pretty comfortable when using the knife for extended periods. The sloped bolster made the pinch grip feel natural and the fact that it is a half half bolster makes sharpening the entire cutting edge of the blade easy.
The handle felt a little too smooth when I first began using this knife, and I was worried it would be too slick if it got wet. I ran some water over my hand and the knife handle in order to test this theory. I was pleasantly surprised to find that the handle remained quite grippy even when it was wet.
The Gyuto style blade of the chef knife is a great option for a jack of all trades style blade. The idea behind a gyuto style blade is that is curves enough to be decent at rock chopping, but it is straight enough to be decent at push cuts. The down side is that it does not excel at either type of cutting. The Misen is less curved than most other Gyutos I have tested, so if rock chopping is your thing, you may want to look elsewhere. It was much easier to push cut with the Misen.
I am a big fan of AUS-10 steel. I think it was a great choice for this knife, because toughness is its best attribute. AUS-10 takes a great edge, and it is easy to sharpen. It is also less likely to chip than a lot of the more brittle steels used by other kitchen knife companies.
Comparison and Alternatives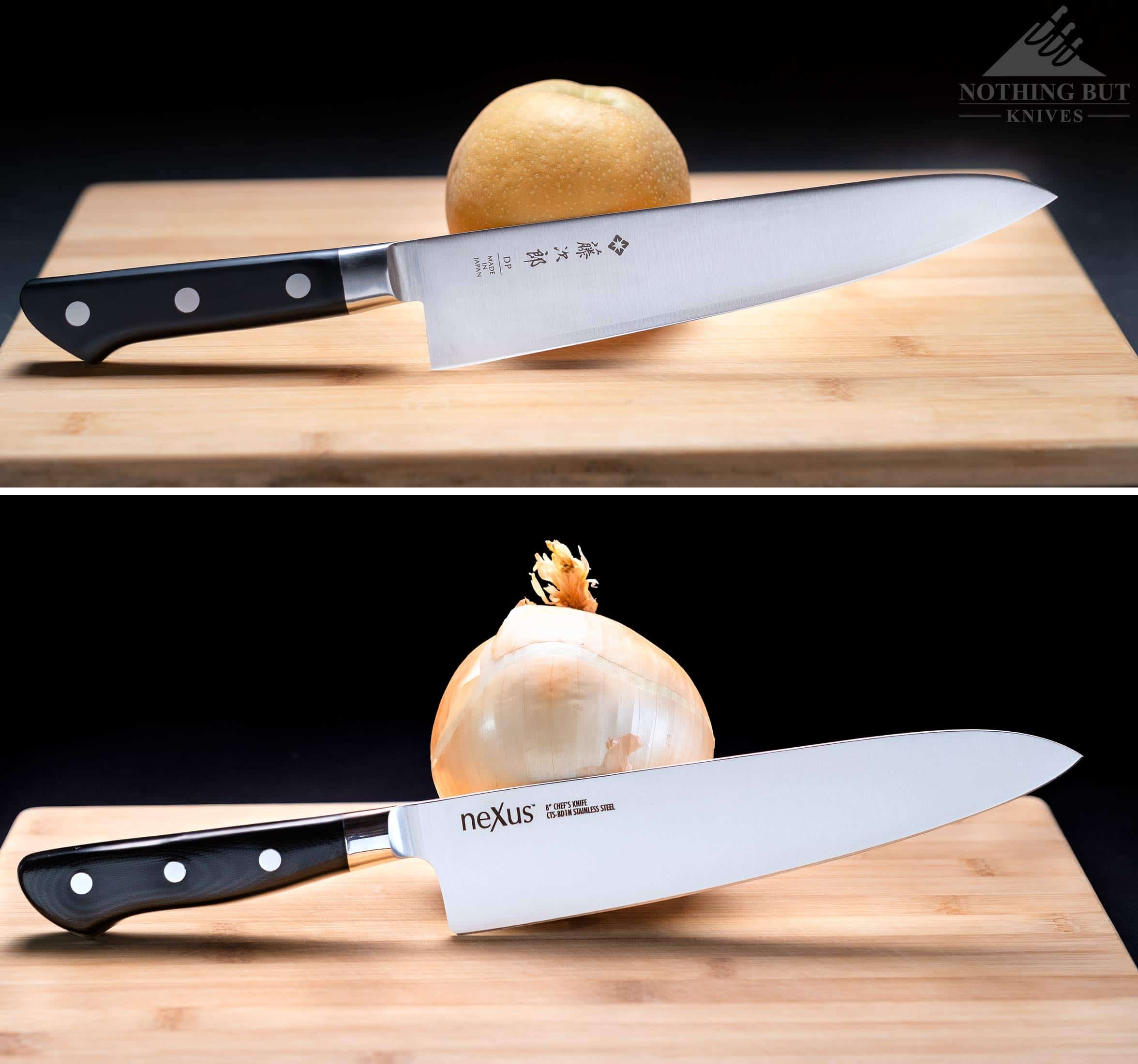 I have mentioned the Tojiro DP 8 inch chef knife throughout this article. We consider it it the gold standard for sub $100 chef knives here at Nothing But Knives. It costs about $12 more than the Misen, but it offers a slightly more comfortable handle and better overall slicing, dicing and cutting performance. It also has a slight edge (pun intended) over the Misen from an edge retention standpoint. However, the Misen chef knife is tougher. The blade is less likely to chip from hitting bone or other hard objects. It is also a little easier to sharpen. But that won't be necessary, because Misen offers free sharpening.
The Nexus BD1N chef knife is another possible alternative to the Misen. It has the slight ege in performance and truly impressive edge retention, but – like the Tojiro – the blade is more prone to chipping.
Conclusion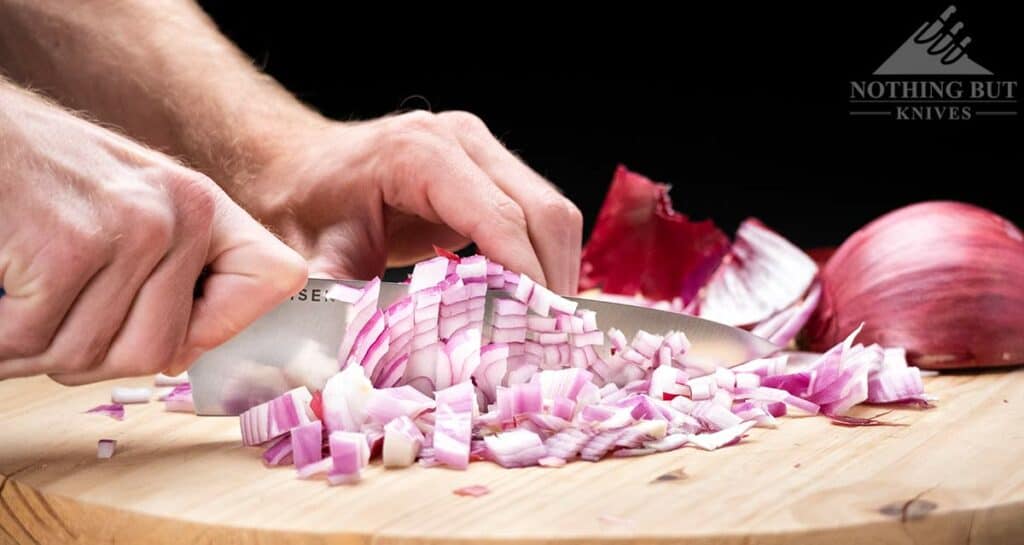 From a straight performance standpoint we did not find that the Misen chef knife held up to the higher end chef knives from Wusthof and Shun that are mentioned in Misen's marketing material. It did not even match the top chef knives under $100 from a performance standpoint. However, it offers a pretty good compromise between performance and toughness which makes it a good option if it is going to be your only chef knife. Also Misen's lifetime free sharpening policy makes this chef knife a great for folks who hate sharpening knives.