A Good Budget K Tip Kitchen Knife from a Fresh EDC Company
I like Vosteed quite a bit. The owners have a good long history in the knife world, and they seem to design their products with an enthusiast's eye. But I was skeptical about them making a decent chef's knife.
Something about a K-tip blade made by a Chinese-based knife company that specialized in EDC folders up to this point felt concerning to me. It doesn't help that it looks over-stylized in a way that is pretty typical of low-effort Chinese manufacturers who are more focused on making the knife look like something you'd want to buy in a mid-life crisis.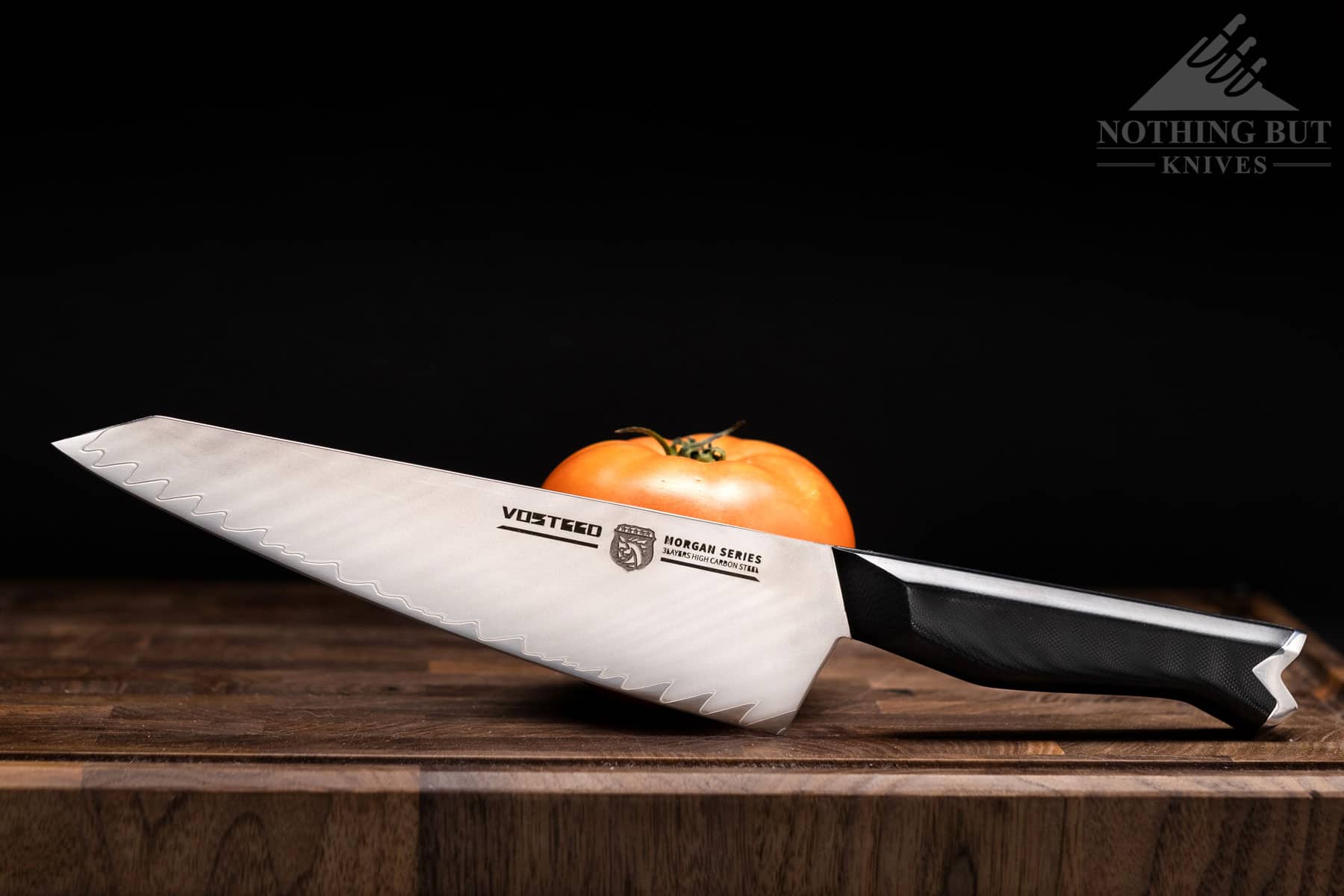 But the Morgan chef's knife actually turned out to be pretty good. It falls in a price range that puts it pretty squarely between two knives I recommend a lot (the Victorinox on the extreme budget side and the Tojiro DP on the budget to mid-range side), and in terms of performance and comfort, the price matches pretty well. This is a well balanced knife with a comfortable handle, decent edge geometry, and a steel that's doing a lot of work for being a budget option.
Specifications
| | |
| --- | --- |
| Overall Length: | 13.11" |
| Blade Length: | 8.0" |
| Blade Steel: | 9Cr18MoV |
| Hardness: | 58 – 60 HRc |
| Blade Thickness: | 2 mm |
| Blade Shape: | K tip chef's knife |
| Blade Grind: | Flat w/ 12/18° asymmetric angle |
| Handle Length: | 5.11" |
| Handle Material: | G-10 |
| Weight: | 7 oz |
| Designer: | Yue Dong |
| Made in: | China |
Pros
Lightweight, comfortable, and well balanced
Super thin edge that works great on fruit and vegetables
Budget knife with good performance
Steel and handle materials are easy to clean and maintain
Cons
Not the most exciting steel
Asymmetrical grind might make it harder to use left handed
Tricky to clean spots off the blade finish
Just kinda funny looking
Looks and Presentation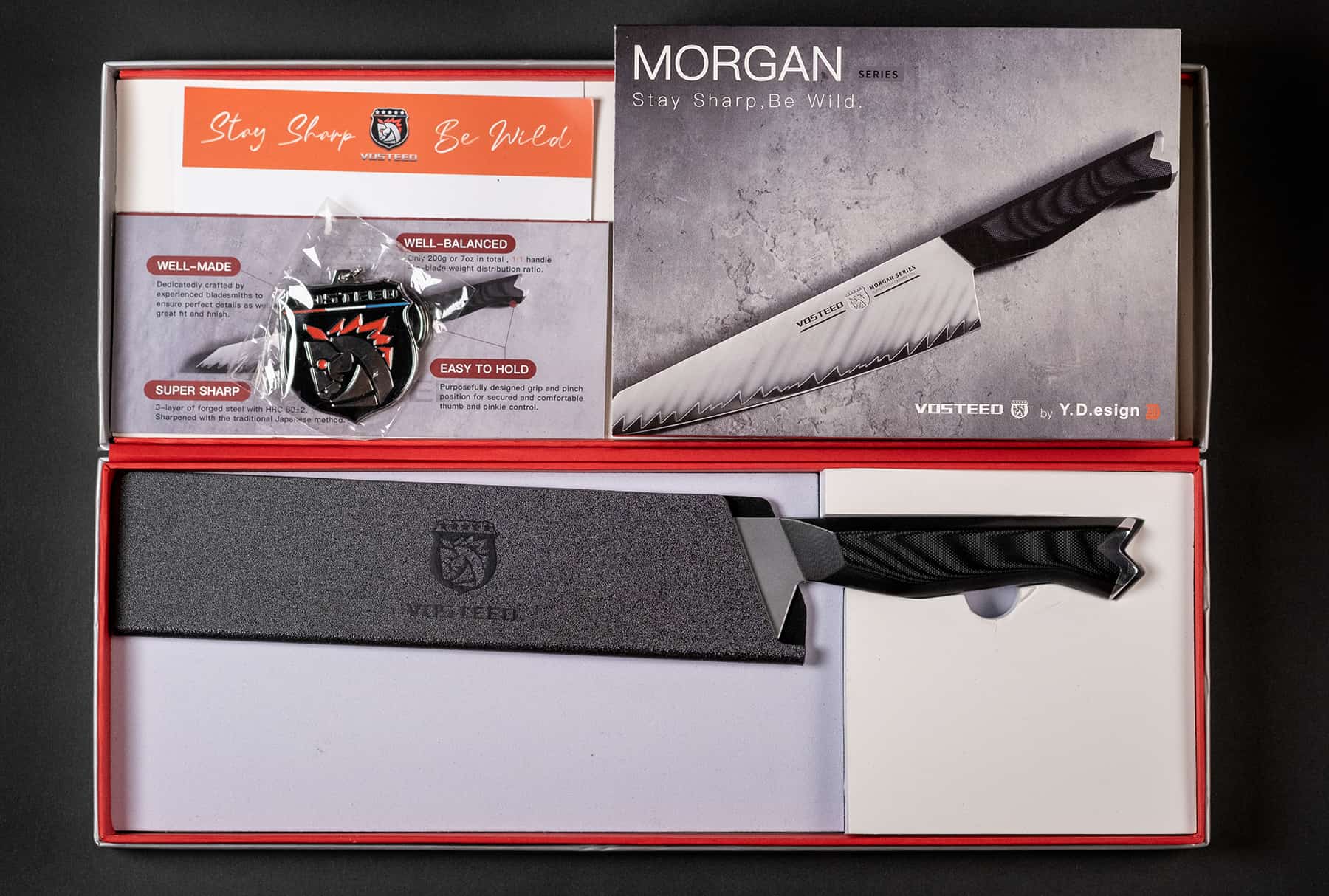 The Morgan line reminds me a lot of Dalstrong's knives in its presentation. Vosteed even sends it out with a similar array of pins and brochures and flashy pieces of paper that end up weighing more than the knife. In fact the angular design of the Morgan looks reminiscent of Dalstrong's Shadow Black series, although just going off specifications and my past experience with both companies, the Vosteed Morgan is likely to be the better performer.
All that to say is that Vosteed has a similar problem to Dalstrong with the kitchen cutlery. It all looks too flashy. Even the lines and finish of the knife itself look odd and garish to me. Plus the rough finish has a way of holding onto stains, making it a little harder to get completely clean (although it's no more frustrating than cleaning a mirror polished blade). That alongside the way the knife looks overall leaves some visually ugly first impressions for me.
That's a personal thing though. Vosteed has their aesthetic, and some folks are into it. I just feel the need to point out that I found myself liking the Morgan in spite of its looks, not because of them, which is a credit to the overall performance and ergonomics of the thing. And even I have to admit that all the pageantry of opening the box and taking out all the flashy pieces makes it more exciting to open, so this particular aspect actually makes it a good gift knife, especially if you like to make a show of your presents.
The Thin Blade and Asymetric Grind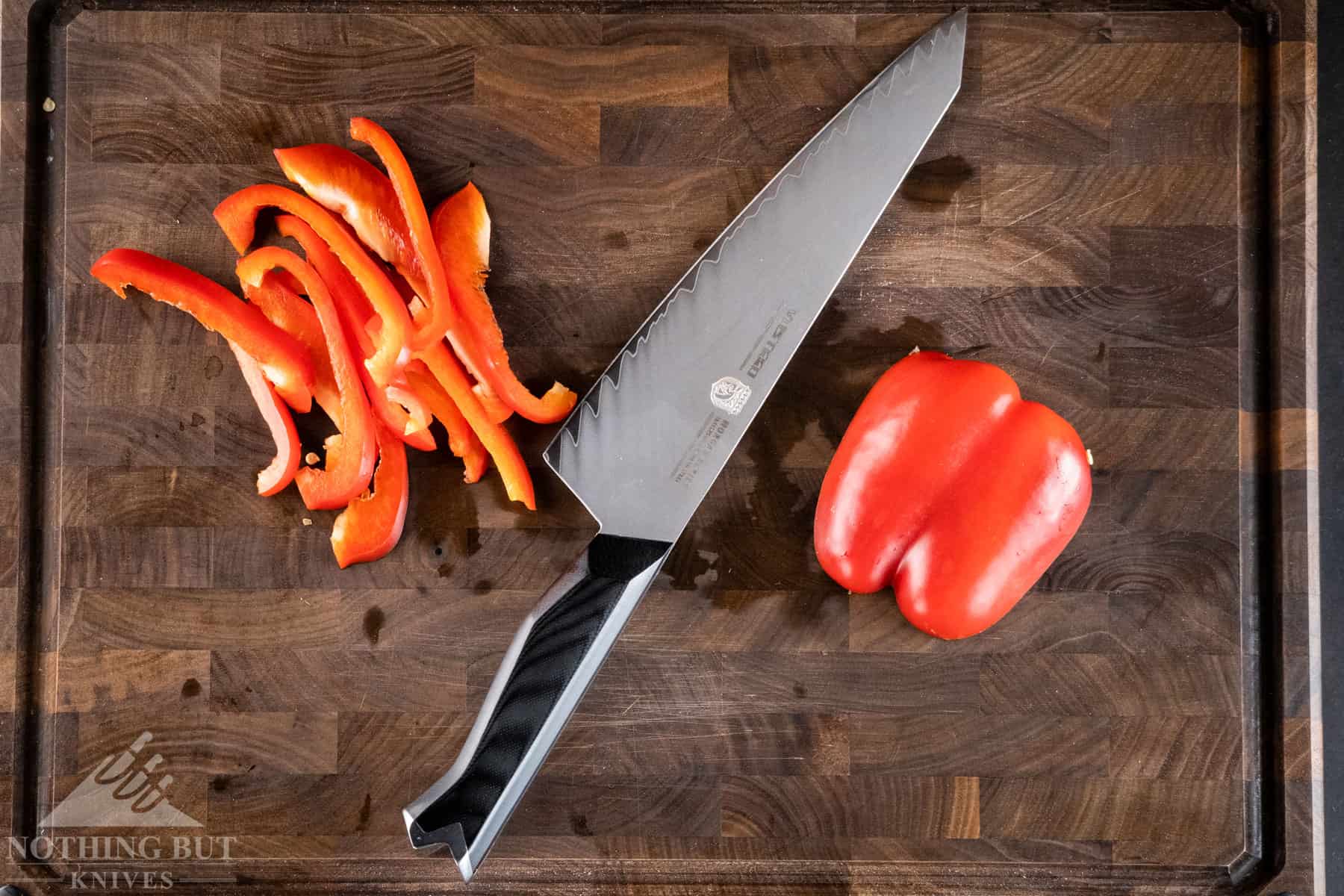 This has a really nice edge with some odd characteristics. It's a thin knife that glided right through paper even after I'd been using it for a couple of days, so it seems to have great edge stability. It did wonders with vegetables, but I felt a bit of wedging sometimes as I was cutting tougher foods.
That's not really a bad thing at this price point, but it was surprising considering the specifications. At its thickest, the spine is only about 2 mm, and the cutting edge is 12 and 18° on either side, which makes for a cumulative 20°. That is super slicey thinness. But there's something about the shaping of the microbevels that makes the Morgan cut in a way that reminds me of the Yaxell Mon: sometimes it just feels thicker than it should.
I mostly felt that wedging on larger, starchy things like potatoes, carrots, and apples, but it was a dream on onions, poultry, and a few different cuts of pork, probably because I was mostly using the tip of the knife on those things. Whatever else might be weird on the Morgan, that K tip has been executed very well.
Cutting Meats and Trouble with Skins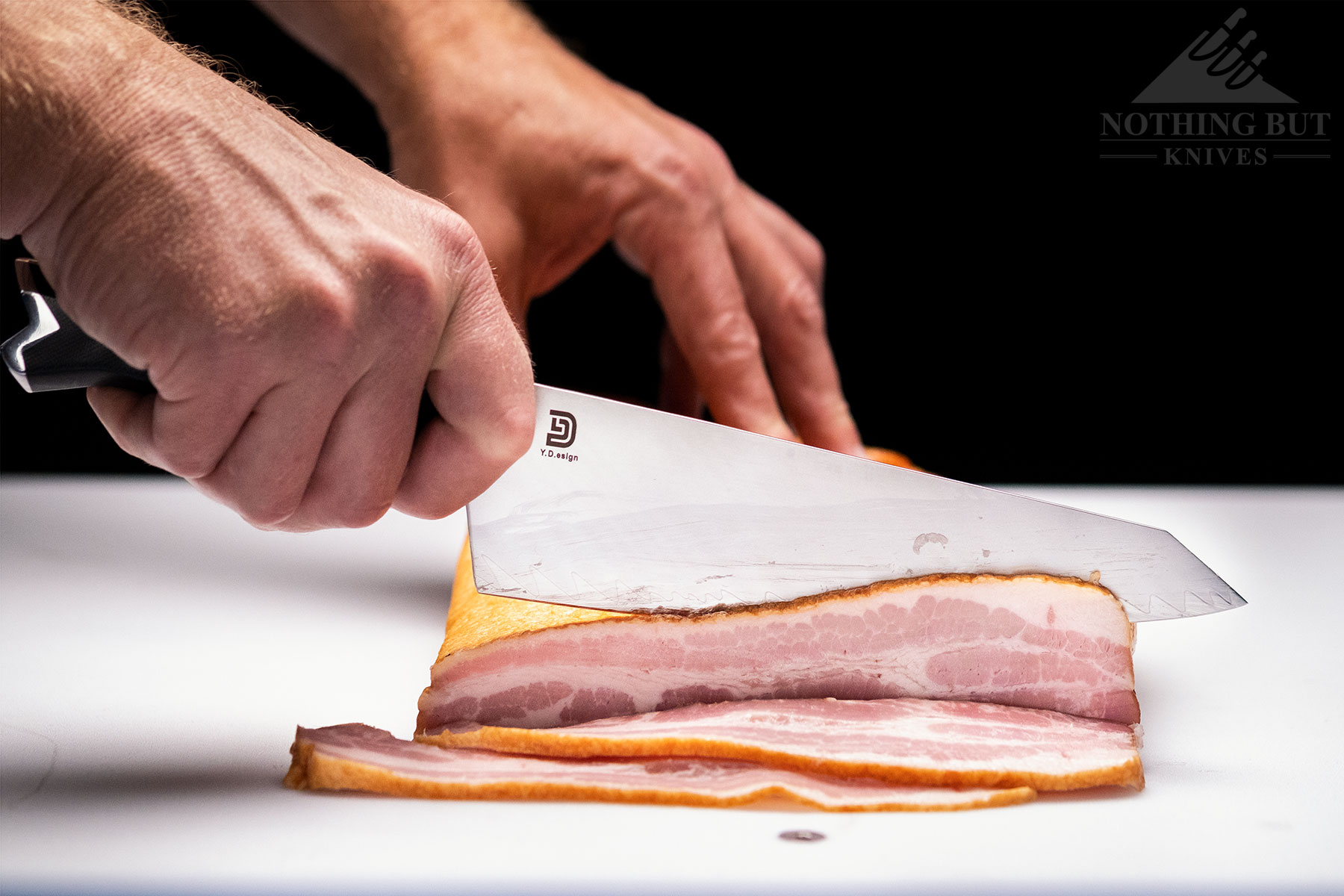 The edge bites pretty well, and the follow through on larger pieces of food like tomatoes and eggplant is pretty smooth. I did notice it had trouble biting through the skin of a properly ripe tomato, but that particular tomato seemed to have an abnormally thick skin.
The Morgan handled raw meat well, although if I'm honest the biggest raw meat test I did with the Morgan was a slab of uncut bacon with the skin still attached. That turned out to be a tougher test than I bargained for. The knife cut through the meat just fine, but it struggled to cut all the way through the skin.
I really had to test the comfort of the spine by bearing down on the knife, and there were a few times my cut veered more rightward than I intended. I'm not sure if this was due to the asymmetrical grind, or the strange consistency of the bacon, or my own error.
I took my Global G-2 to the same cut of bacon and it went much smoother. I think that's more a credit to the geometry on the Global than an admonishment of the Morgan, but the fact remains that this Vosteed definitely comes out better suited for lighter fruits and vegetables.
Pigskin aside, the Morgan does fine with meat overall. I suspect it would be especially impressive with fish, but most of my testing was with fruit and vegetables, and it performed great on all those aside from the hiccup with the bacon and a thick tomato skin.
So I guess the takeaway here is it does well on everything until the skin gets too tough.
The Steel and Edge Geometry
There's no getting around the fact that the Morgan is equipped with a budget steel, but it still seems to have good edge stability and retention for what it is.
9Cr18MoV is similar to 440B but with a little more chromium and vanadium. That should (in most cases) make it more corrosion resistant and stable. I've never felt the need to have anything more corrosion resistant than 440B, but it's not terrible to see in a kitchen knife in a budget range.
They've made a bold move here doing a 12 and 18° asymmetrical grind here. That's a very Japanese-knife thing to do, and has a lot of theoretical benefits for hand alignment, stickage, and cutting precision. It also arguably makes this knife easier to use for right handed people.
I did test this knife a little bit left handed and found cutting paper and dicing onions to feel quite a bit more awkward, but obviously that's not a very reliable observation from a right handed person. The grind does seem to be minimizing drag, though, which is a huge plus in Vosteed's favor.
Vosteed seems to have a good heat treatment dialed on this steel, because the edge retention felt a little above average even for a blade this thin. But the edge will roll on you, so if this is going to be your daily workhorse you should definitely keep a honing rod handy. I ended up having to use one every time I cooked a large dinner. I'd recommend a nice ceramic one, but the Morgan seemed to respond just fine to my Victorinox Fibrox honing steel.
The Handle and Ergonomics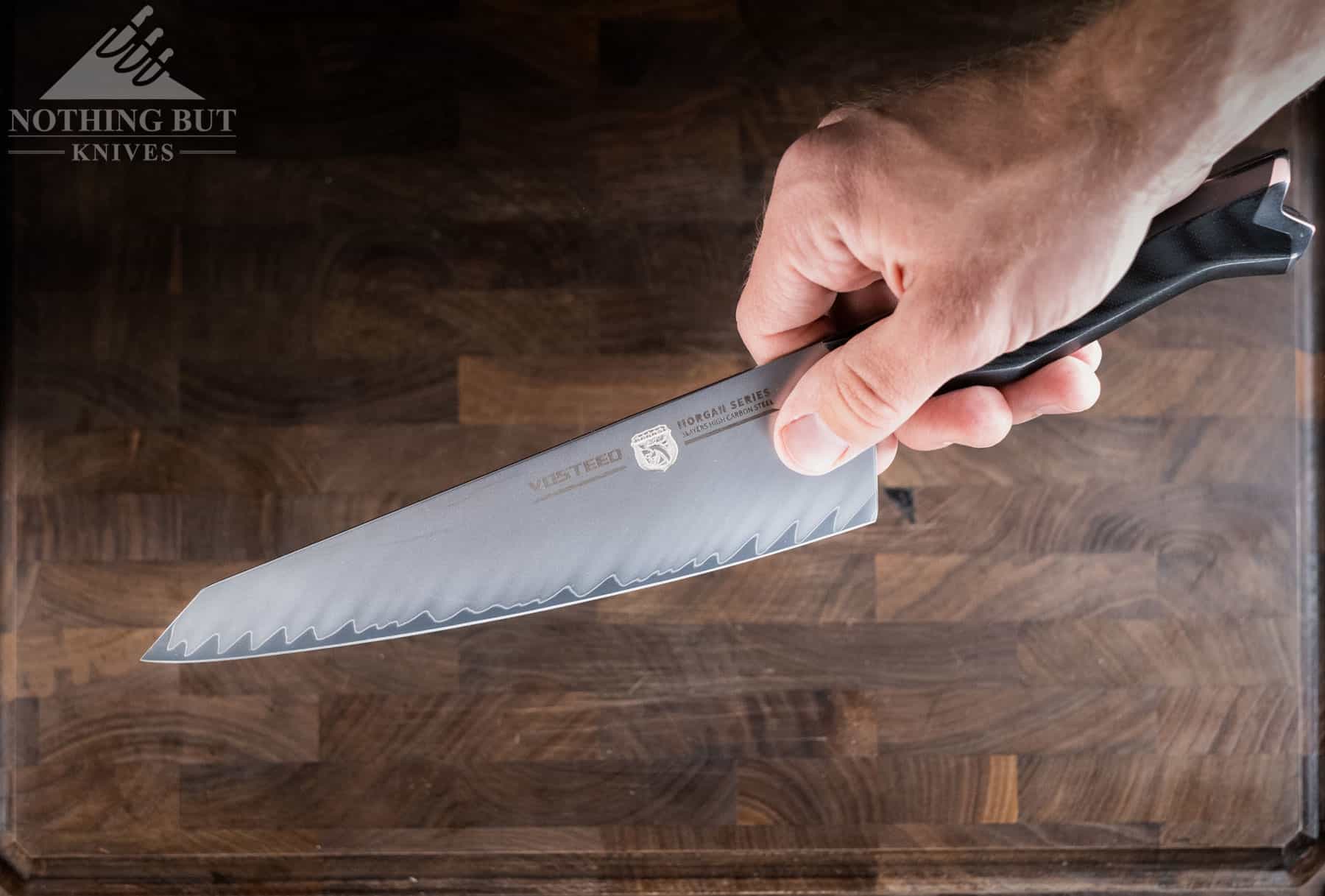 This is a very comfortable knife with a decent neutral balance. The tapering at the top of the handle makes for a natural pinch grip at the joint between the blade and the handle. I don't feel it grating into my hand, even on tough cuts.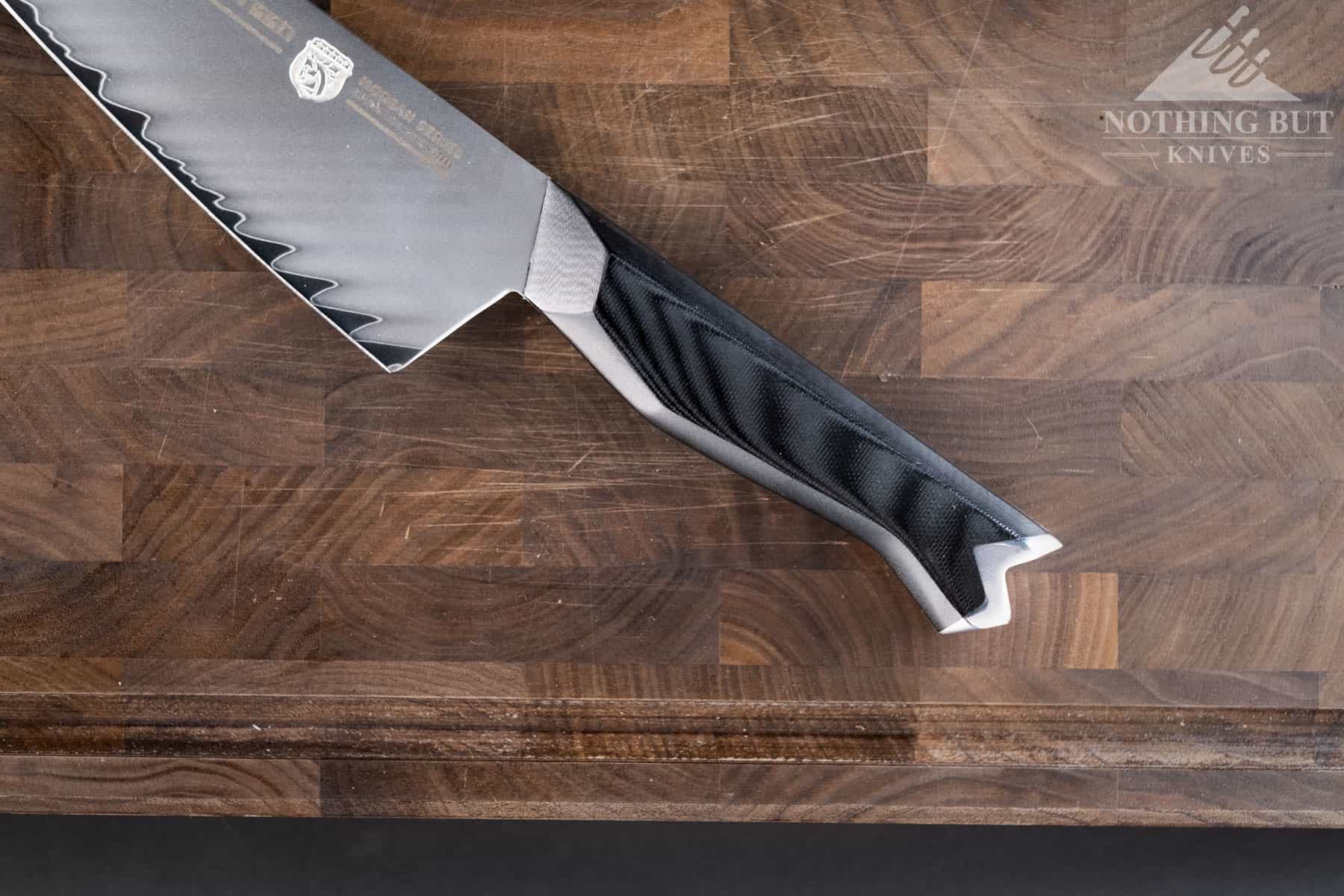 I've already mentioned that I don't particularly like the look of the angular design here, but ergonomically it works. It provides a good amount of purchase for my lower fingers to adjust the range of leverage I'm applying to a cut. Those weird angles work into the folds of my hands in a way that makes my grip feel a lot more secure without making the knife feel stuck in position.
The handle material does feel a little slippery, but that only becomes an issue when I'm picking it up or putting it away. It doesn't interfere with active use, though. I'd even argue it helps keep the angles of the handle from feeling stuck in my grip while cutting, but it's still an issue worth considering.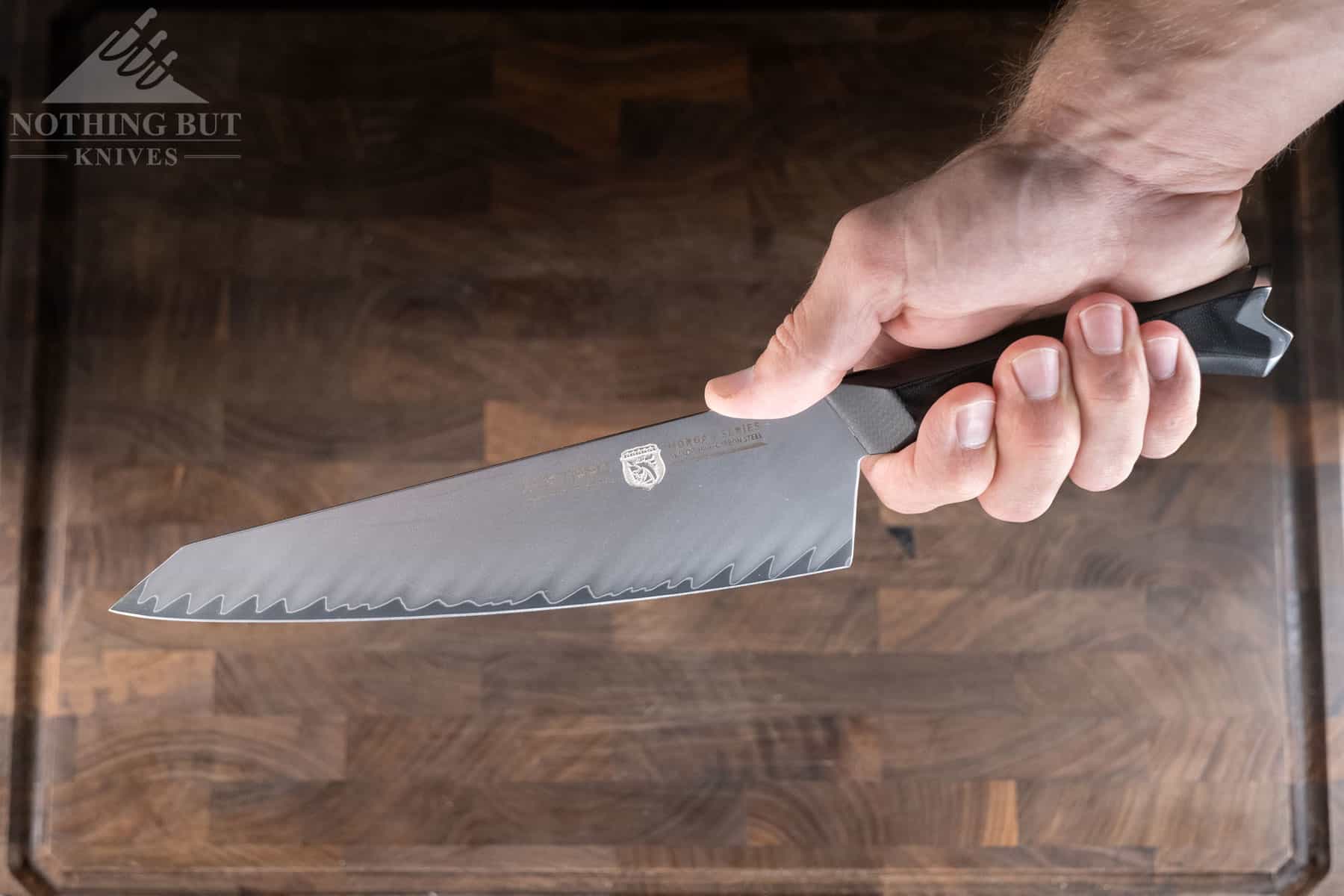 I also have to give Vosteed a lot of credit for how well they rounded out the spine of the Morgan. There were a couple of times I really leaned into the knife (see Cutting Meats section), and while the feeling of thin steel grating into my hand was still there, I didn't feel the spine bite at all. In fact, I don't recall ever having a moment where I stopped while using this knife to wish something about it was smaller or bigger or tweaked one way or the other.
Obviously there are things I would change about the materials, and the way it looks, but as far functional design goes, Vosteed really hit a lot of good notes in terms of the size and shaping of the handle. It's damn good designing, and I honestly didn't realize how good it was until I stopped to look back later at what might be wrong with it.
Comparison and Alternatives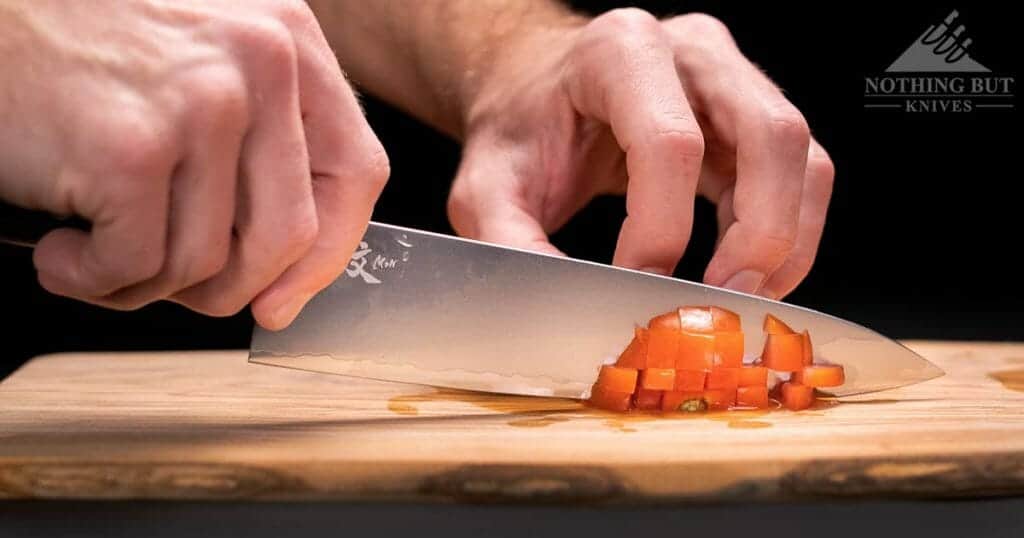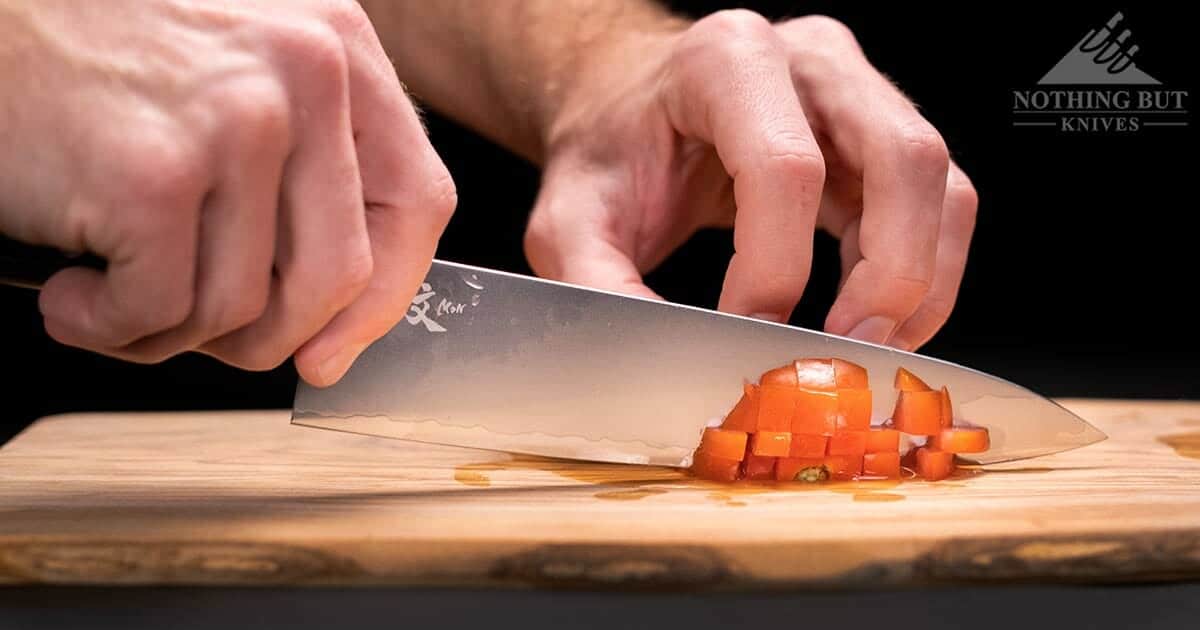 As far as knives I've tested personally, the Vosteed Morgan is in its own price category, which is a pretty good argument in its favor. Pulling from our own collection, the Misen Chef's Knife is the closest in price, and I think the Vosteed Morgan easily outstrips the Misen in everything besides looks.
I mentioned earlier in the review that the Morgan cuts a bit like a Yaxell Mon. I would suggest looking that direction if you want something with a more understated look. It's not much more expensive and I really like the way most Yaxell knives feel, even if I'm not a big fan of the edges they put on their knives.
If you are looking for an American made chef knife that is similar to the Morgan from a performance standpoint, check out the Bradford 8 inch Chef Knife.
The Cutluxe Artisan 8 inch chef knife is a similarly priced alternative that has a more classic look when compared to the Vosteed Morgan, but falls a little short in the performance department.
But finally we come to the tried and true recommendation that is the Tojiro DP. I have yet to test a Japanese-styled knife that didn't make me immediately think hard about how well it justifies itself over the DP. I'd say the Morgan falls short of it, but the handle is different enough that I'd probably recommend the Morgan as a cheaper alternative to the Tojiro DP if you don't like western handles.
Conclusion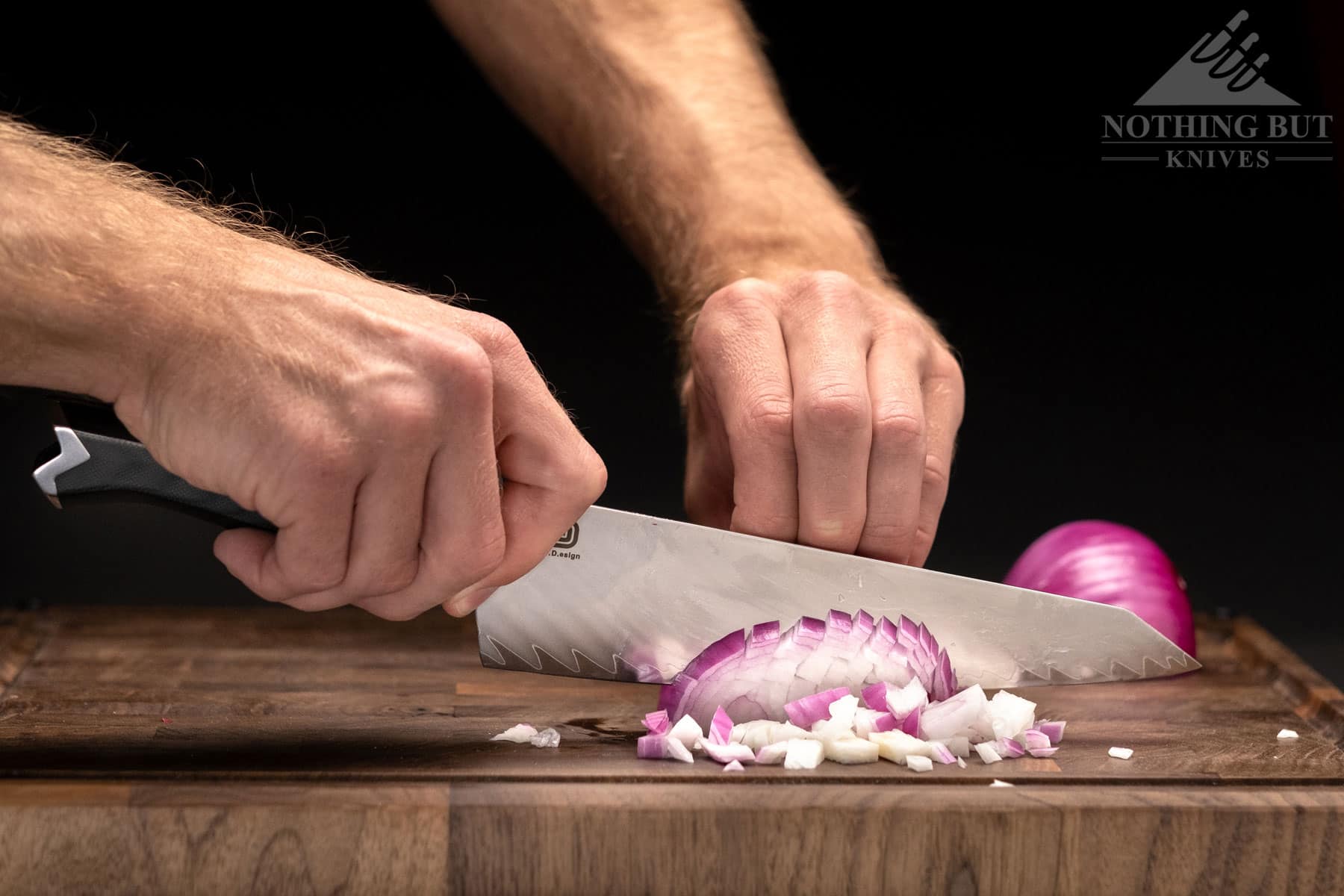 For a company that started out with a couple strong EDC knives, Vosteed did a surprisingly good job with this chef's knife. I don't think this is going to impress the chef's knife connoisseurs out there, but it impressed me, and I'm just drunk enough to think that counts for something.
It might cut a little weird sometimes, but it's easy to adjust, and it stays comfortable through a lot of hard work. I'm not crazy about the looks or the tactile feeling of the handle, but I can respect the fact that people like different things, and a smooth handle with G-10 on a $60 knife that performs this well is perfectly acceptable to me. That price also makes it a good option for a gift during the holidays or for a birthday. Thats why we added it to our Knife Gift Guide. We also added the Vosteed Morgan set our article on the Best Knife Sets Under $100.
There were a lot of ways this knife could have gone wrong, but Vosteed seems to have designed past those dangers and produced a chef's knife that's a great entry-level option for people either just getting into cooking, or just getting into Japanese knives.
Check out our interview with Yue Dong (the designer of the Vosteed Morgan) if you want to learn more about Vosteed's founder and head designer.