A Surprisingly Comfortable, Surprisingly Tactical Budget Knife Design
This is a good hard use tactical knife with a nifty steel and great ergonomics all around.
It has a lot of function as a camping knife (which is how I mostly used it), but the really impressive talking point is the drawing ergos with the sheath and handle. Either CRKT or designer Darrin Sirois did some genius measuring and outlining here, because the Ramadi draws so fast, and seats into the hand so securely that I'd be willing to call it a good tactical knife if the blade were made out of cardboard.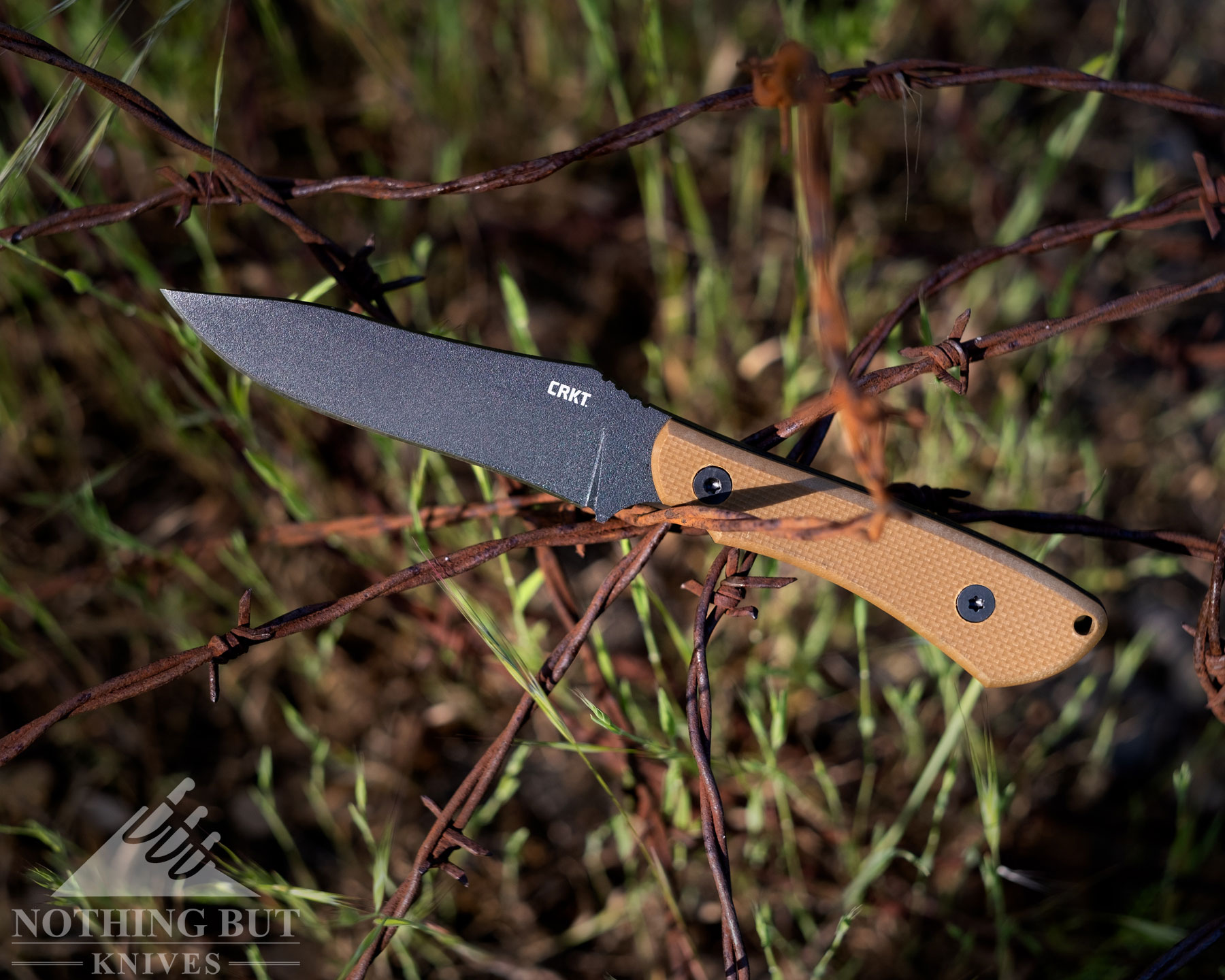 Specifications
| | |
| --- | --- |
| Overall Length: | 8.5" |
| Blade Length: | 4.37" |
| Blade Steel: | SK5 w/ black powder finish |
| Blade Thickness: | 4.32 mm |
| Blade Shape: | Drop point |
| Blade Grind: | Flat |
| Handle Length: | 4.13" |
| Handle Material: | G-10 |
| Construction: | Exposed full tang |
| Carry System: | Kydex sheath w/ small Tek Lok |
| Weight: | 5.6 oz |
| Designer: | Darrin William Sirois |
| Made in: | China |
Pros
Comfortable handle with a secure grip
Great quickdraw ergonomics
Well balanced
Tough steel in a thick blade
Cons
Wide grind not ideal smooth slicing
Middling edge retention at best
Recurved blades makes edge maintenance a little trickier
The Veteran Designer
Darrin William Sirois is a veteran with the kind of work history that makes you want to get him drunk and ask what all he's had to do with a knife. He served in the army for twenty five years, during which he was involved in the Ranger Regiment, Special Forces, and Special Operations before finally retiring as a Sergeant Major.
Going through all that doesn't necessarily qualify him as an expert on knife making, but the line up in his company TCT Knives is a good start. And since he's the man behind the CRKT SIWI, (which is a ridiculously comfortable horizontal EDC for being so small) his name has reached a point that I'm willing to assume any fixed blade survival or tactical knife he comes out with will be good.
The question then becomes whether CRKT has executed the design well, and in this case I think they've actually done a good job.
Blade Stuff and Some Survival Tasks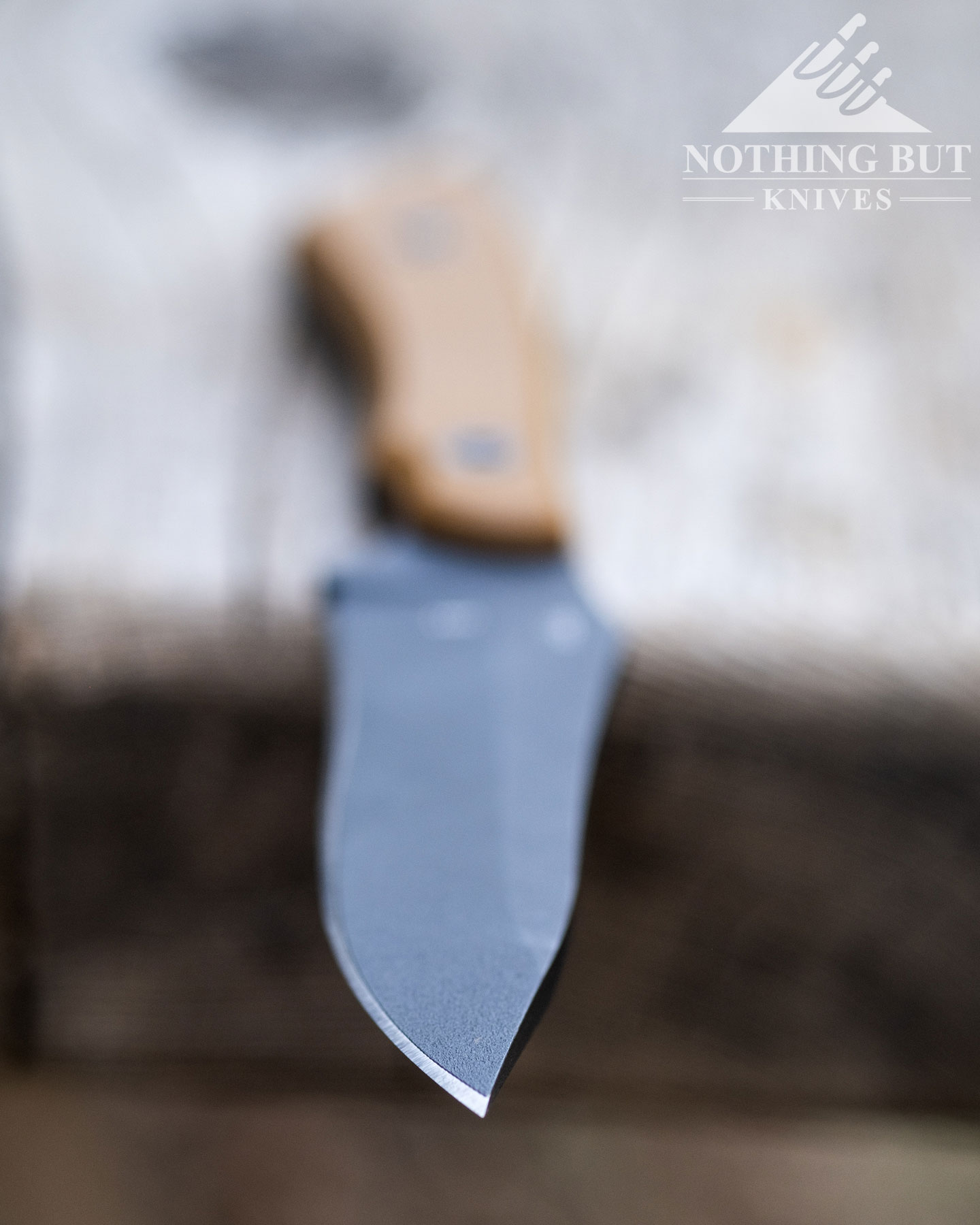 The Ramadi doesn't have a great factory edge. It had trouble doing a draw cut on paper at first, but you can get it smooth with a honing rod. A strop helps a lot too but it's a little harder to use with this because of the recurve (more on that later). Either way, the Ramadi is never going to do a push cut without reprofiling the blade.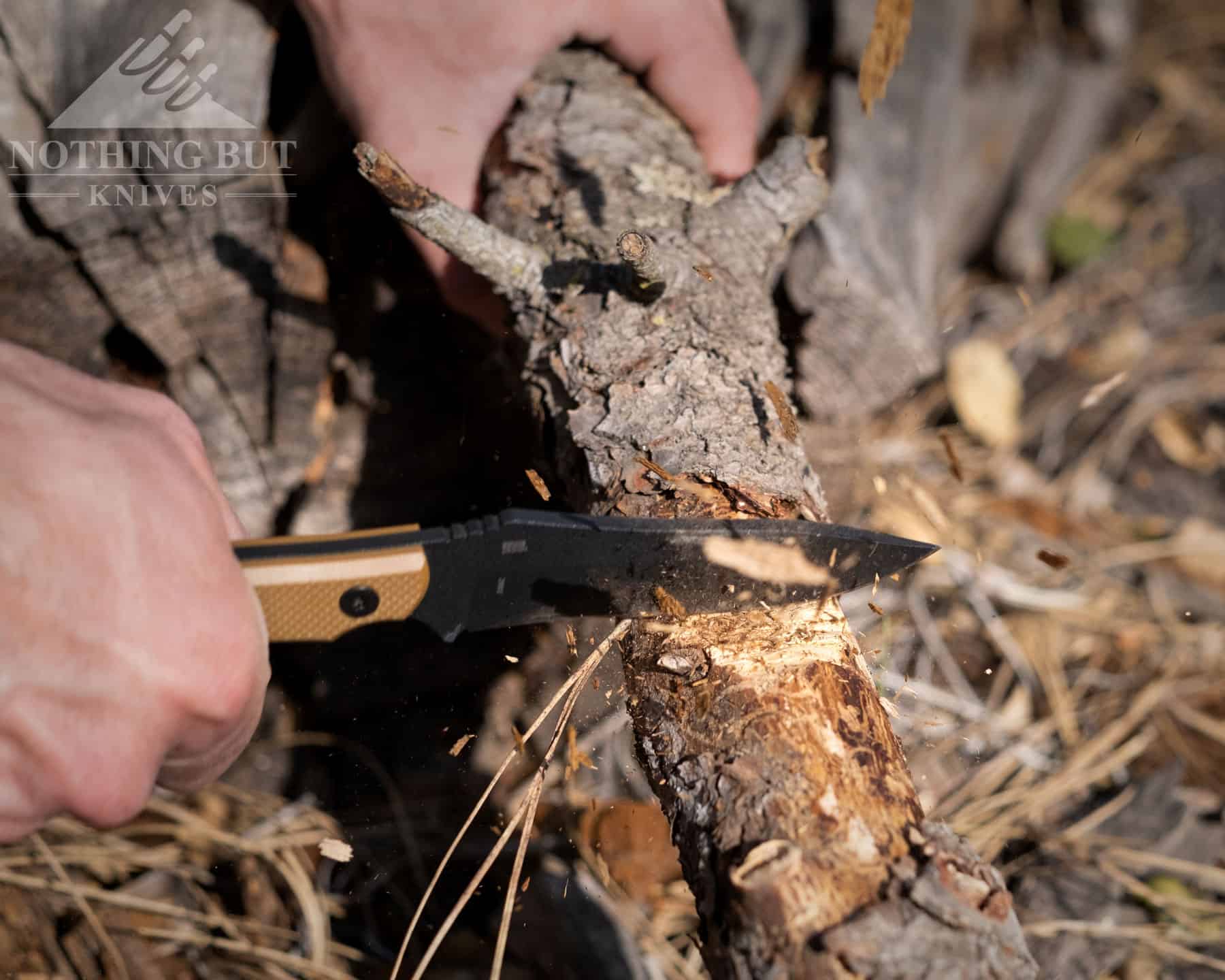 It's a good chopper for a 4-inch blade, though. Mostly because it stays in the hand so easily, and takes the abuse well. This is where the wide edge becomes a good thing, because when this hits wood, it bites then bursts and indexes well, so it's pretty easy to create a V shape in a branch.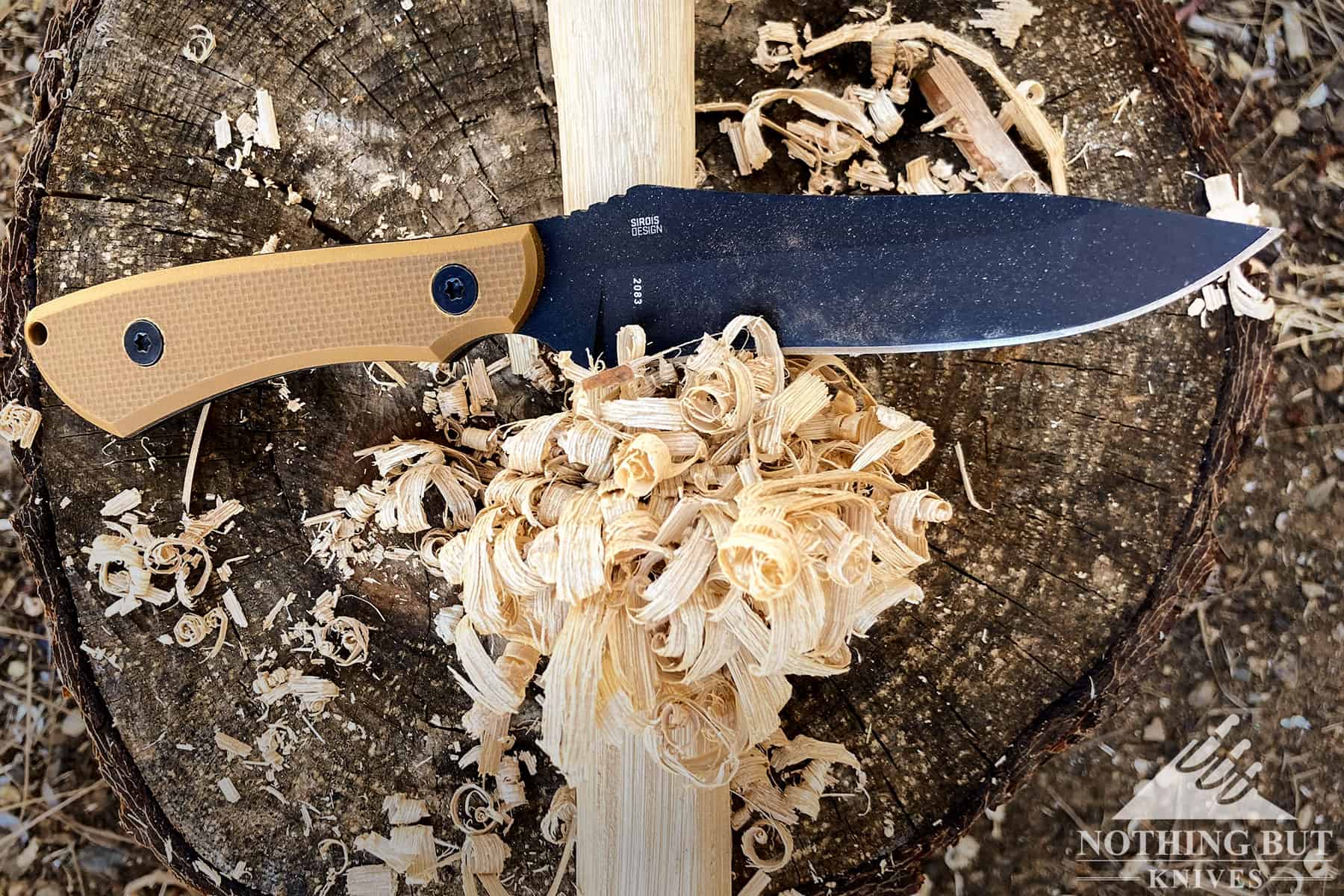 As for starting fires, it's not too bad in that category. I needed to press in at a pretty steep angle to get decent curls off a stick with this, but once I found the angle it did a great job separating those curls from the wood and giving the feather stick a nice clean structure. There are also a few different places on the blade I was able to pull sparks off of, and thanks to the handle and balance of the knife, it was pretty comfortable for starting fires overall.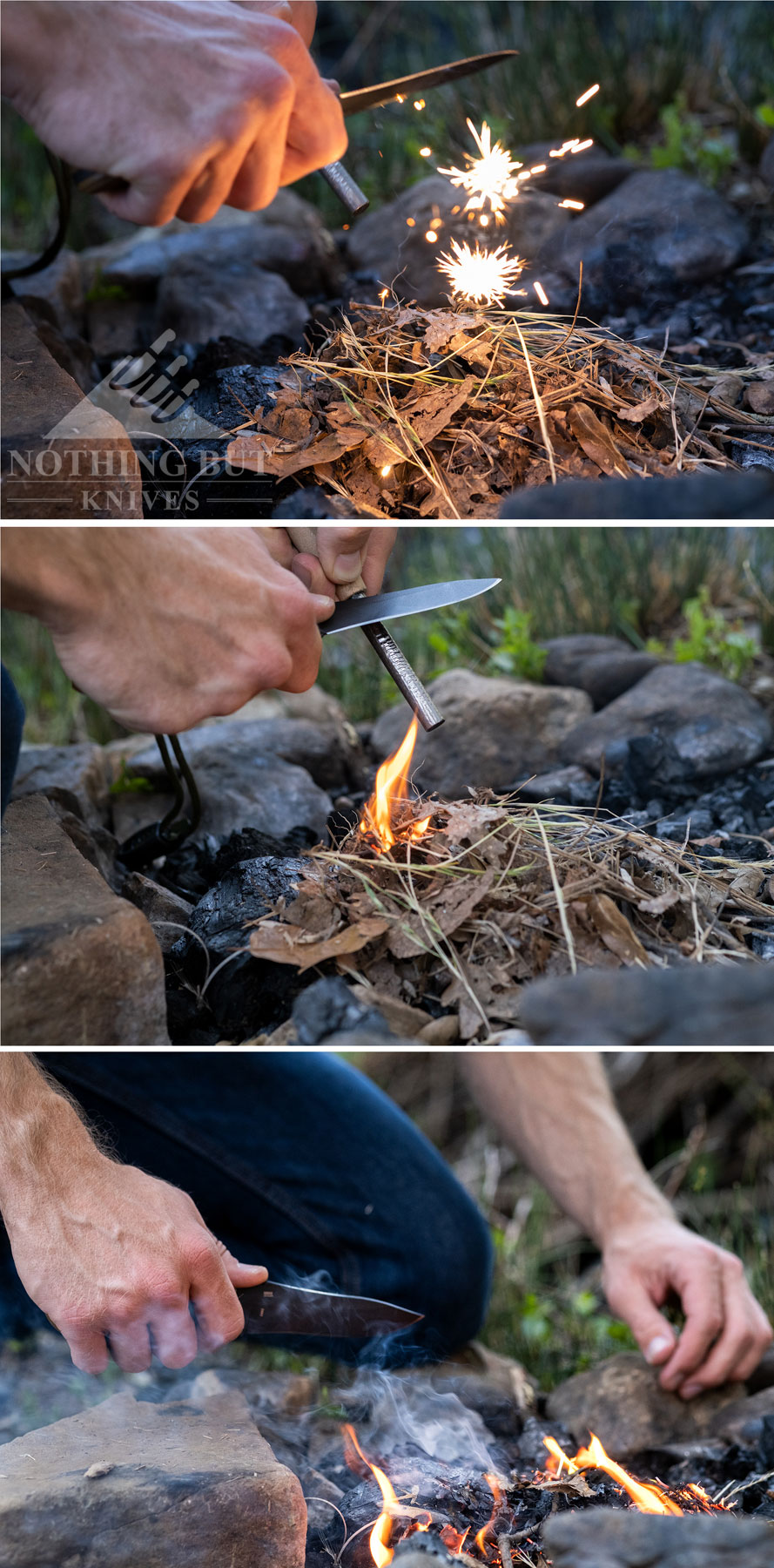 I like this knife quite a bit for survival and general camping tasks. Even though it doesn't exactly excel at anything over a lot of our other survival knives, it's more comfortable through most of those tasks, and it has the feel of an ESEE blade when it comes to steel durability.
As far as this being tactical, I can vouch for the blade being able to withstand a lot of impact. I'm not sure I like how thick it is, but the minimal guard they've carved into this thing actually seems to be an effective little piece for keeping the hand in place. A little reprofiling would make it a lot more effective, but it's more of a pointy pry bar out of the box. I think the handle and sheath are the more effective tactical elements, but I'll get into that later.
Stropping and Honing
This steel strops up okay, but the combination of the slight recurve and the protrusion of the guard makes it difficult to get a good finish on the main part of the edge. Even with the sharpening choil (which I'm thankful for), it was kind of tricky to match my motion to the angle of the recurve with that bump of metal beneath the heel of the blade hitting my strop.
I got the hang of it eventually, but honestly it's simpler to just use a honing rod. It's easier to match the recurve, and with SK5 steel you don't even need a ceramic rod to get a good edge. Obviously it's a different story if you want to polish the edge into perfection, but if you're that type of person, I'm guessing you already know more about ways to sharpen this knife than I do.
Edge Retention and Stability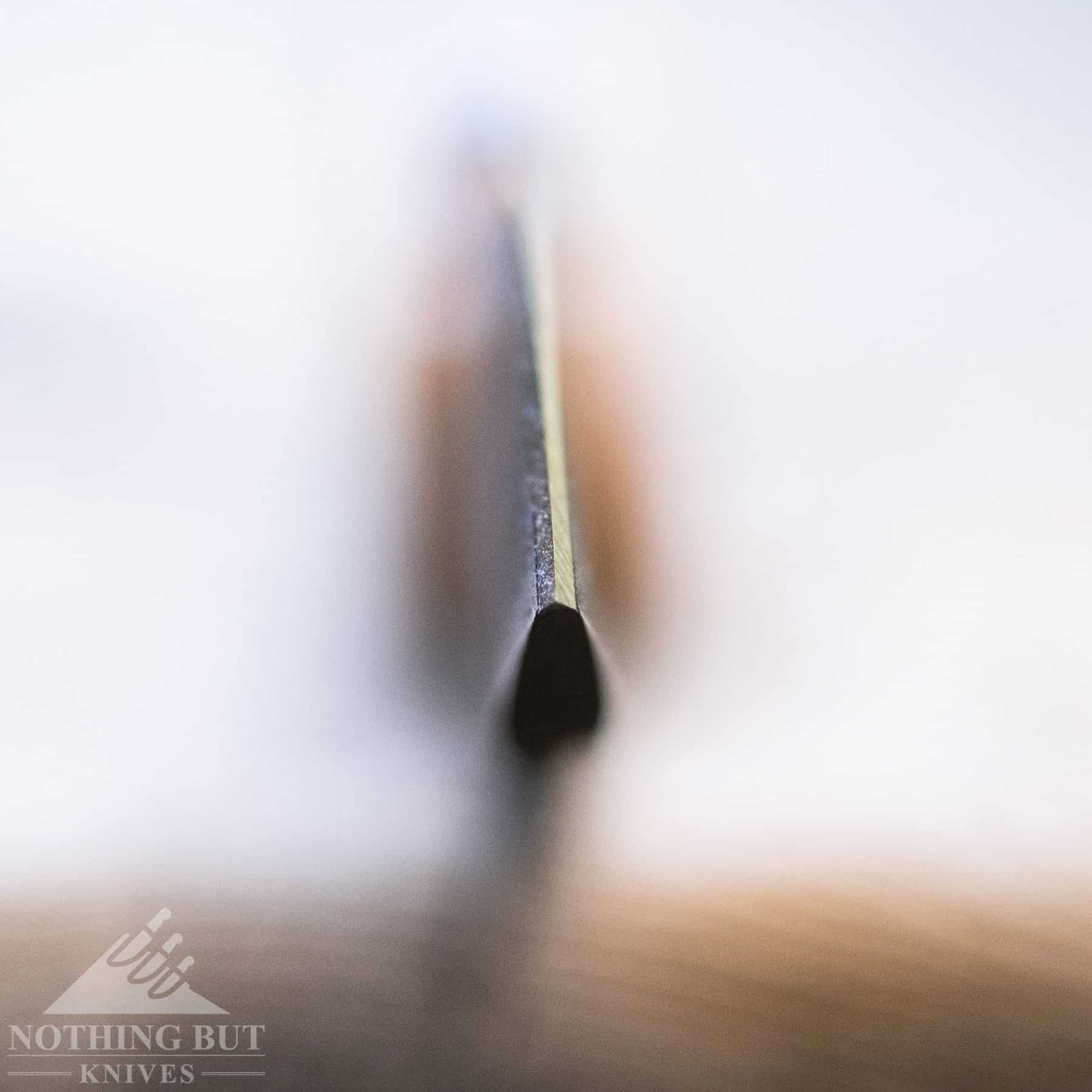 The edge retention is mostly okay. Actually it's better than I expected it to be, but between the soft tool steel and the wide edge, none of us should be expecting miracles out of the Ramadi. This started feeling rough on paper after I broke down one box. It would probably take a hell of a lot more work to get the edge properly dull, but I noticed a fairly quick drop from optimal performance (meaning fresh off the strop and honing rod).
What did surprise me was how well the Ramadi cut through cardboard even after it dulled a bit. I'm not sure if it's because the handle makes it so easy to hold and shift as I cut or if there's something about the edge geometry, but it felt really smooth as I was breaking down my daily quota of boxes even after it passed the point of tearing paper rather than cutting it.
Steel Stuff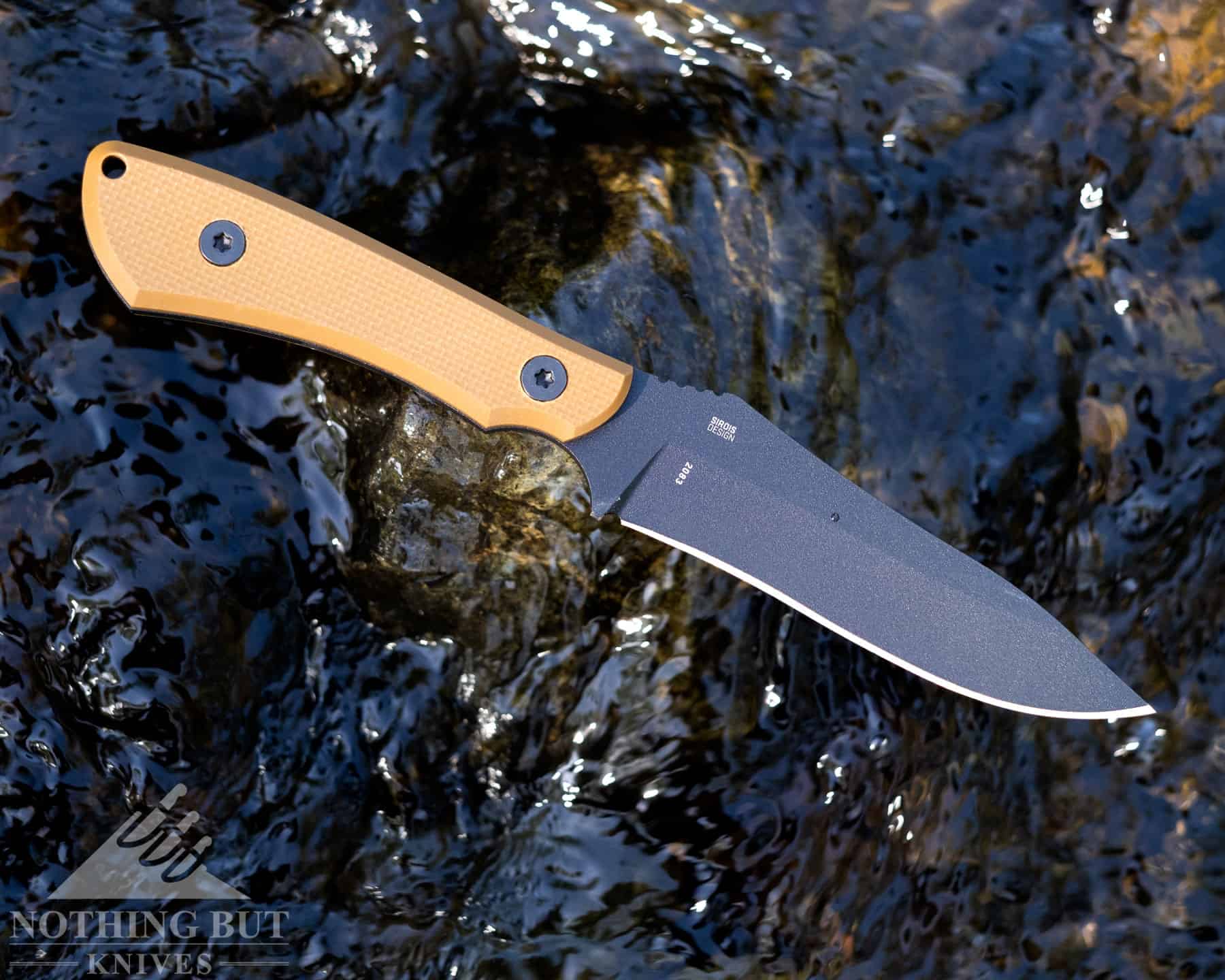 SK5 steel gets used a lot in tactical and survival knives. The Cold Steel SRK is the most relevant one that comes to mind here, as well as the CRKT SIWI.
It's a tough tool steel, which fits in nicely with the Ramadi's design. You'll also see it under the names W108 and SK85. It's a Japanese carbon steel that mostly offers a good range of toughness for knives. It's similar to 1084, although the composition is a little more complex. Cold Steel likes to use it because it can be made to be highly impact resistant within a reasonable price range.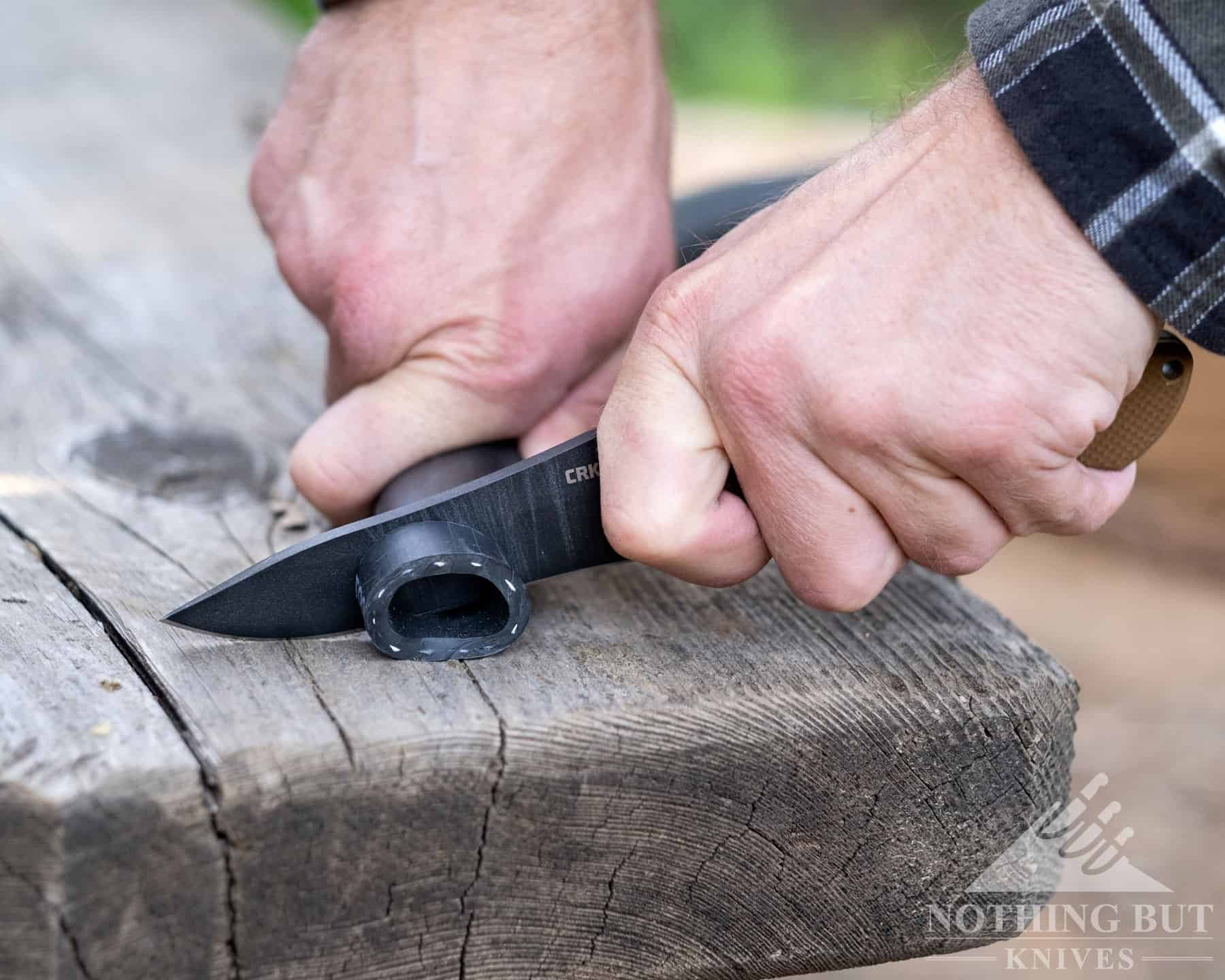 It's not really optimized for grindability or edge retention, and it has very little corrosion resistance which is why you pretty much always see it with a heavy coating. But when you need to hack through a branch, dig a hole, or pry open a can, you can usually count on an SK5 blade to take the abuse without seeing major edge or structural damage.
It's exciting for me to see it on a CRKT because they have a bad habit of making great designs that I love, but holding the thing back with 8Cr13MoV and a substandard QC operation. SK5 isn't exactly a premium steel, but here it feels like a good choice for the design rather than just a means to reach a certain price point.
A Comfortable Handle from Every Angle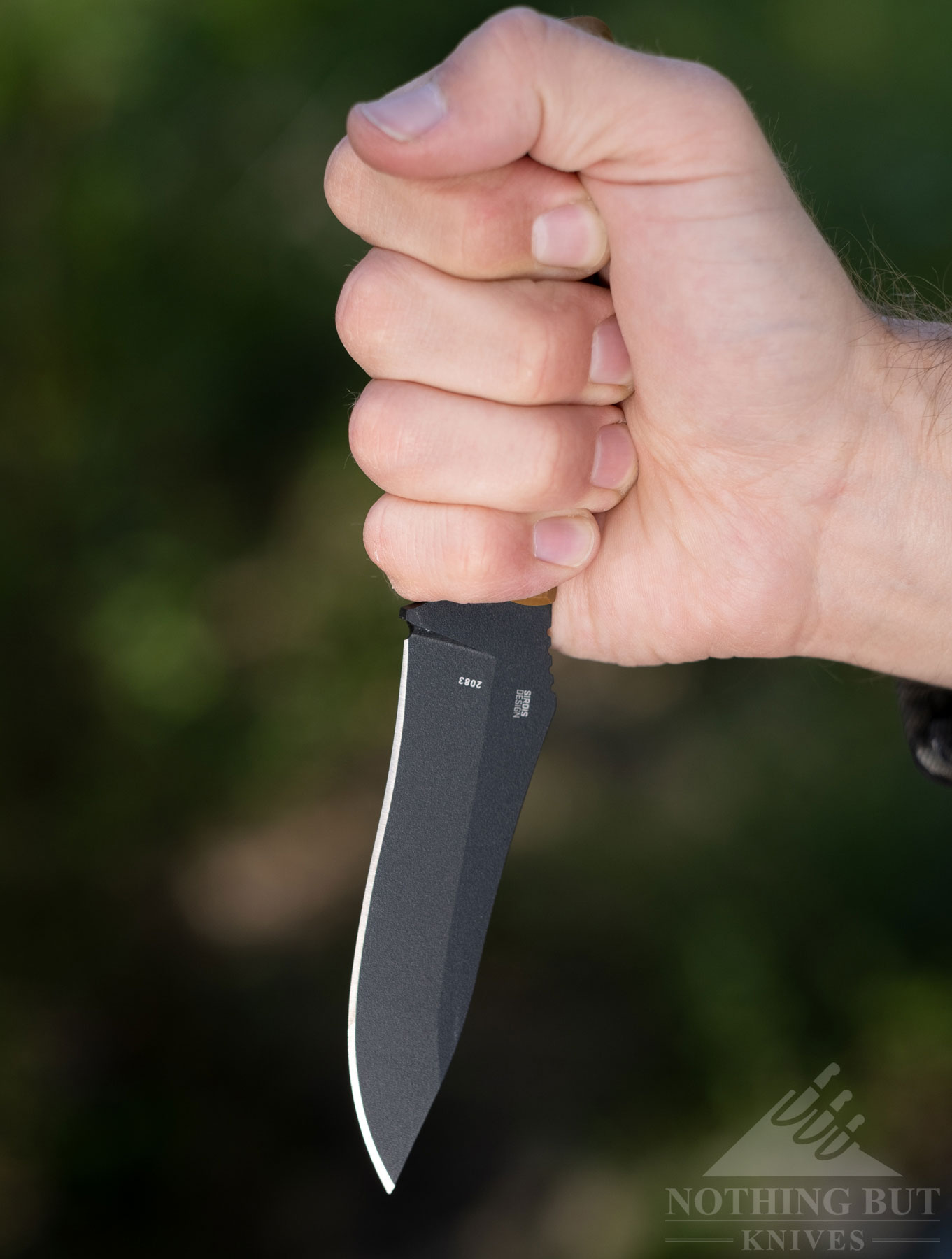 The handle is the highlight of this knife. It's comfortable, feels secure in a lot of different grips, and it nests into the hand as soon as it leaves the sheath. I'll talk more about drawing the knife in the next section, but I really want to emphasize just how easy it is to set my hand into a solid grip with this. Some combination of the handle shape, the texturing, and the way it sits in the sheath just make this ideal for finding a good grip in a hurry.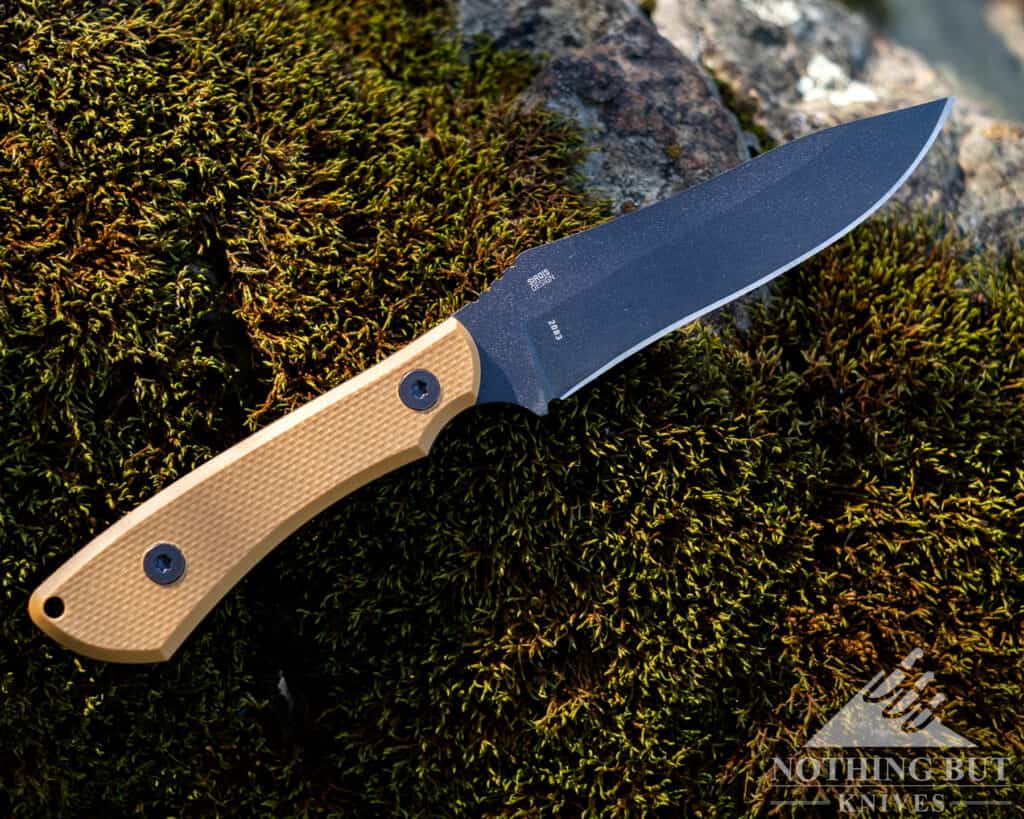 There are a lot of good things about the shaping of the handle. The way it's curved inward with a bit of a flare at the butt makes it a lot easier to hold from the bottom for chopping. The texturing on the scales and the overall shaping of the handle make this incredibly easy to hang onto. Even when I start getting sweaty, it feels like this thing just sticks harder.
There's some pretty good chamfering on this too. I think this is the element that is the most responsible for how easy it is to index the edge. The angles in the scales are all fairly large, but they seem to fit into my hand in a way that just naturally aligns with my middle knuckles, and I can feel it immediately when I'm holding it in a way that doesn't have the edge aligned with my knuckles.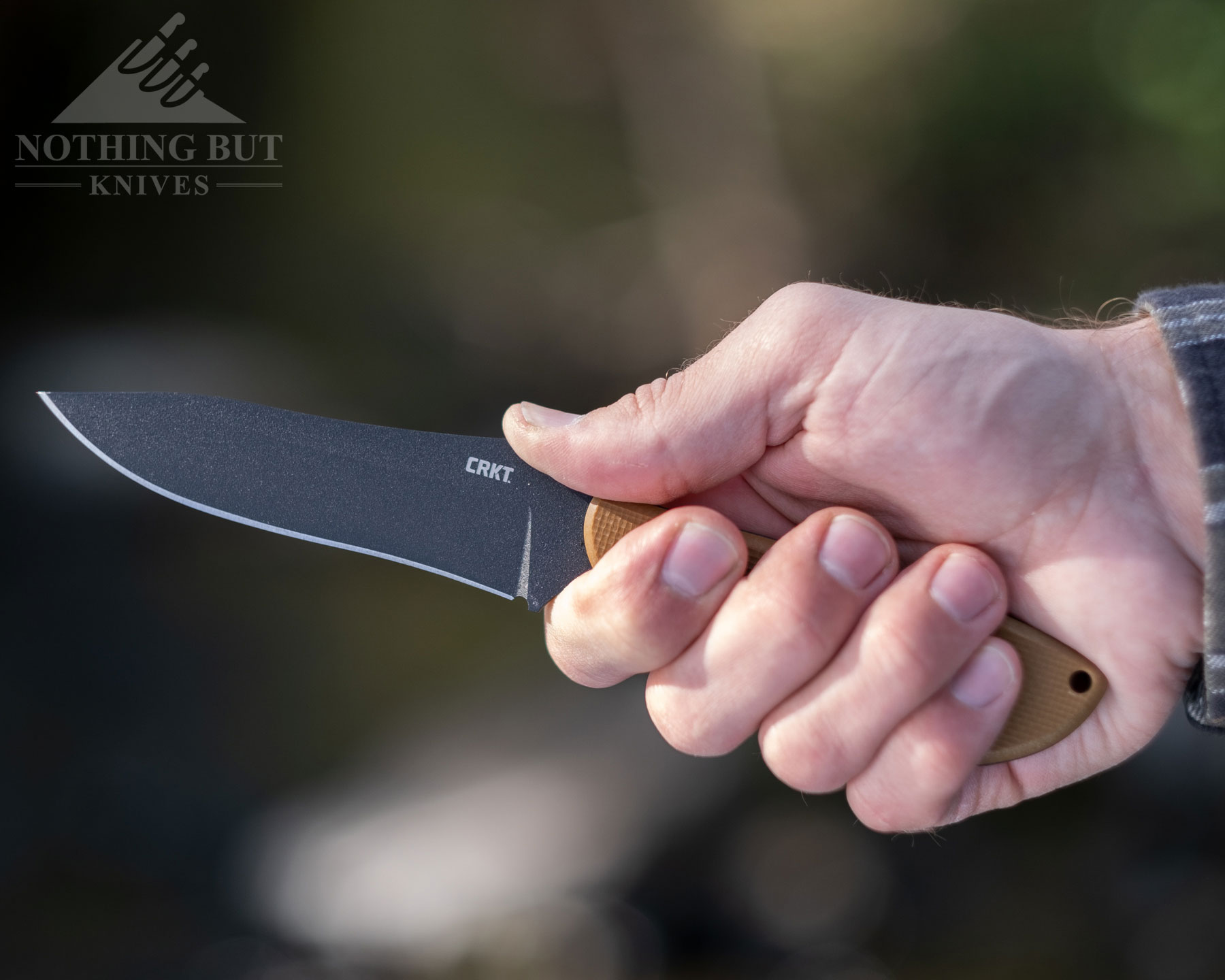 Hell, I even like the slight ridge beneath the finger choil. That's usually the first thing I find to complain about on any knife that has this deep of a finger choil, but the shaping here is subtle enough that I don't feel it interfering with my grip.
I do get a little bit of a hotspot from the top side of the finger choil where the guard curves into the handle. It's pretty much a ninety degree angle on the sides there, so if I happen to have a bout of soft keyboard fingers from writing too much or I just tighten down too much, I can feel a bit of a pinch from that area.
But, damn it, this is a hard use tactical knife. In that sense, feeling those pinching areas are actually nice because it's at least one sign that this knife is sitting firmly in your hand.
The Sheath and Drawing Quickly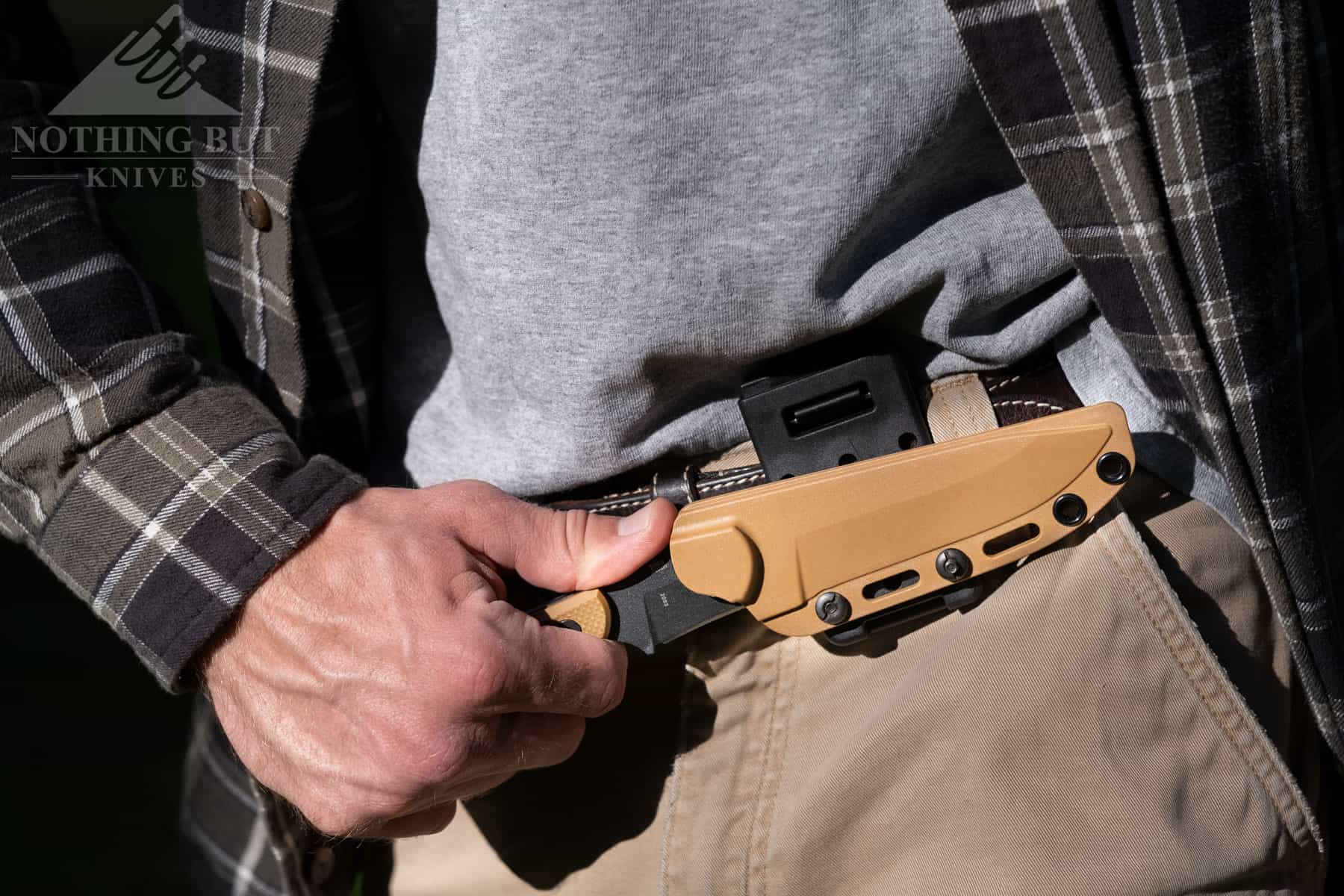 This ships with a kydex sheath and a small Tek Lok which is fantastic. I found I preferred carrying it on a backpack strap, but it sits really well in a horizontal position. The handle rides a little too high for me as a vertical carry, but I'm a short guy so that's pretty much always going to be a problem.
The drawing ergos on this are great. It has a generous thumb ramp and the retention is in a good middle ground that keeps the knife secure in the sheath but still allows for an easy draw without too much pressure.
The most impressive thing, though, is how naturally the knife seats into the hand as I draw. I don't have to adjust at all once the knife leaves the sheath because my thumb gets immediately planted onto the jimping on the spine, and my index finger falls easily into the groove.
I never have to look at the knife to see how it's sitting in my hand even when I'm drawing it behind my back. Most of the time, this thing is sitting comfortably in my grip before I even remember what I'm taking it out for.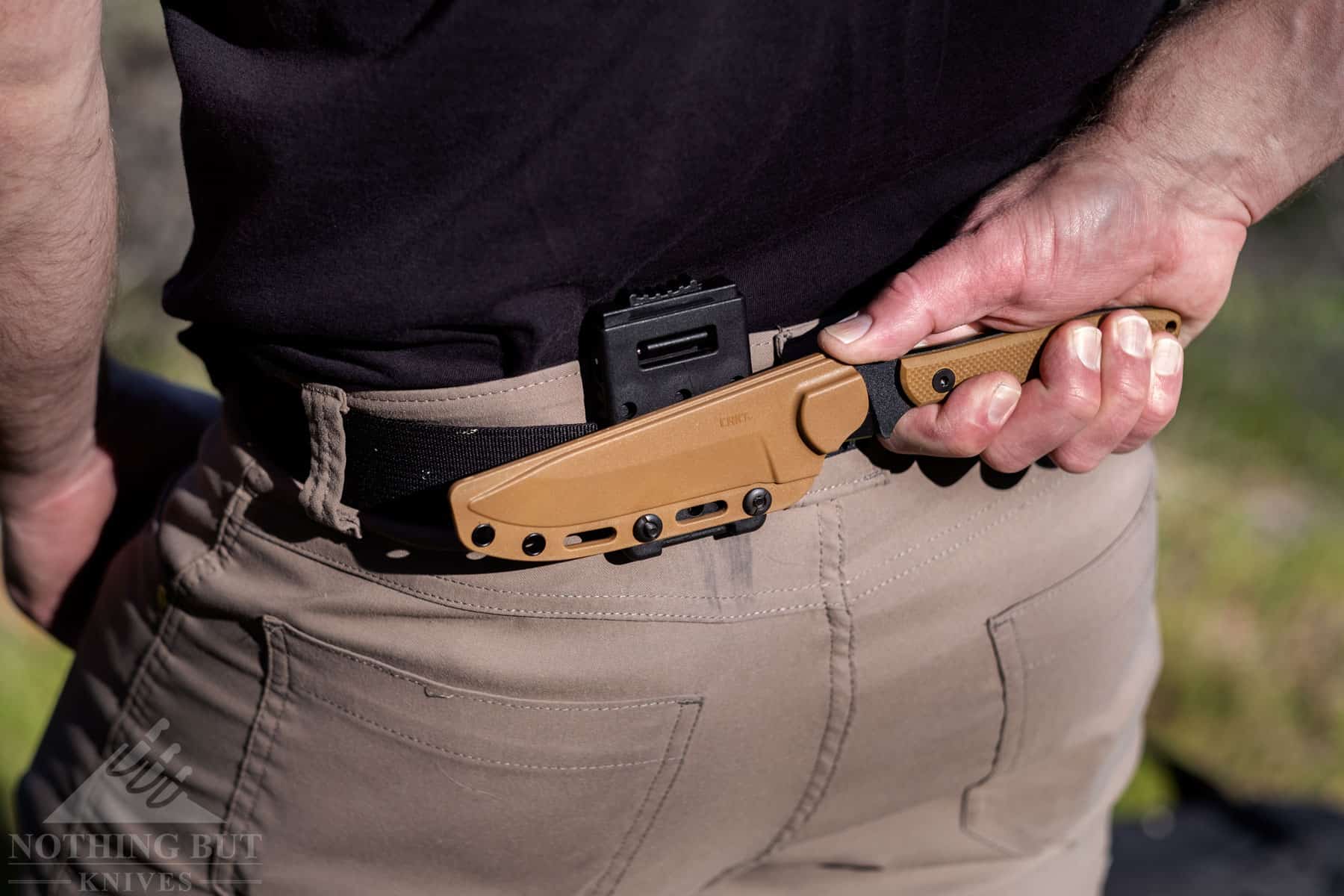 That little element feels like it's faster than thought, which is always a big thing I look for when messing around with a knife that's supposed to be tactical. This sheath and handle design do everything they can to get into my hand fast. The slowest element in pulling the Ramadi into a ready-to-use position is me.
As a bonus thought here, the little guard on the blade is actually nice from guiding my finger away from the cutting edge. There have been more than a few designs where I kept running my finger just at the bottom of the cutting edge every time I drew the knife, so I kept giving myself tiny cuts throughout the day. With this, I feel that little protrusion hitting my finger and bumping it down where it's supposed to be. It's from my own stupidity, but sometimes I run into little details on knives that predict that stupidity, and I appreciate that.
Comparison and Alternatives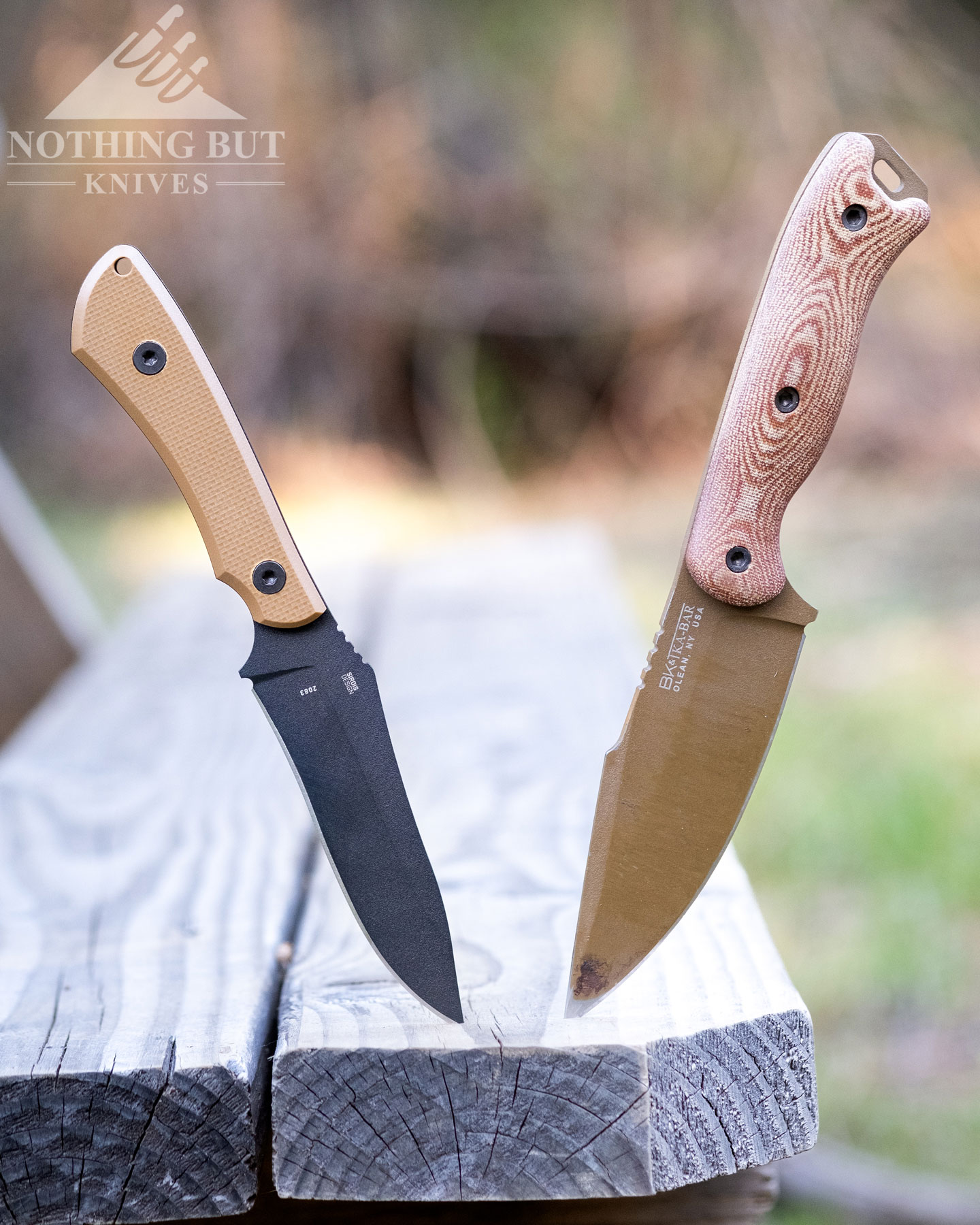 A survival / tactical knife with a 4-inch blade is a common sight these days, so competition is pretty stiff, but I think the Ramadi holds its own pretty well.
The Ka Bar BK18 feels like the most similar thing I've handled personally. It's a little pricier, but the steel is harder and there's just… more of it. It also has a much more comfortable handle, although we found it to be a little too smooth until we switched out the scales for Micarta. Overall I'd say it's a lot more comfortable and a little better as a survival tool. It's also made in America, so it's a pretty viable alternative here, even if it is a pricier one that requires a little more personal effort to perfect.
If we're talking tactical, the Cold Steel SRK presents a cheaper option that's arguably better thanks to having a grippier handle, a longer blade, and a slicer edge. The main detractor here is that the SRK is bigger overall, so it doesn't carry as easily, and the sheath is more frustrating to draw out of because it tends to grip the whole blade rather than clicking with the guard.
The Artisan Cutlery Wreckhart is similar in size, weight and price, but it is more of a tactical leaning knife than the Ramadi.
The White River Knives Exodus 4 is a good alternative if you want something a little lighter and smaller.
Conclusion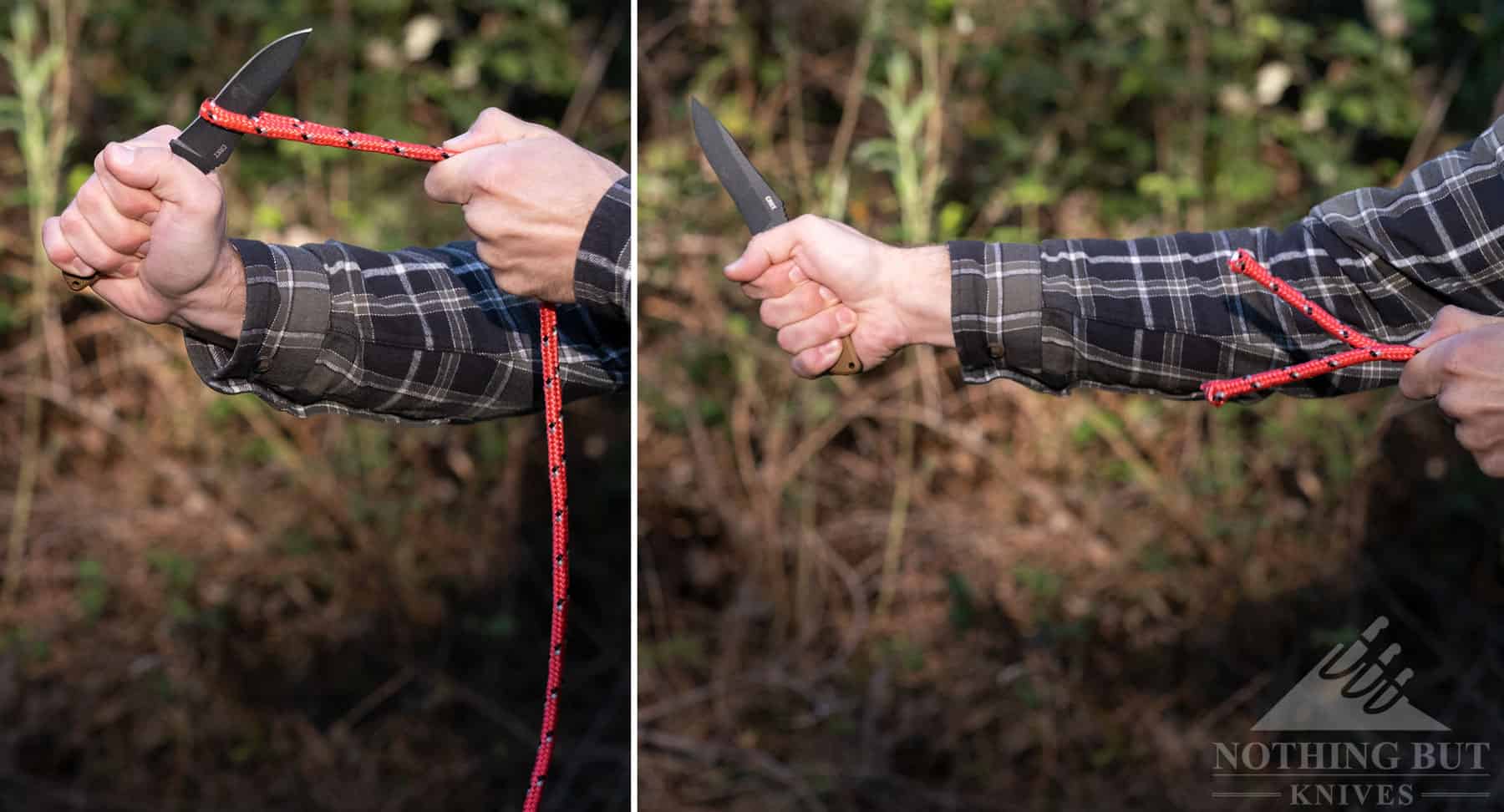 I figured going into this that the Ramadi would be tough and comfortable if the CRKT SIWI was any reliable indication. The Ramadi is both of those. No question. Sioris is a great designer in the tactical and outdoor genre, and it seems like CRKT is getting pretty comfortable with putting out well made versions of his ideas.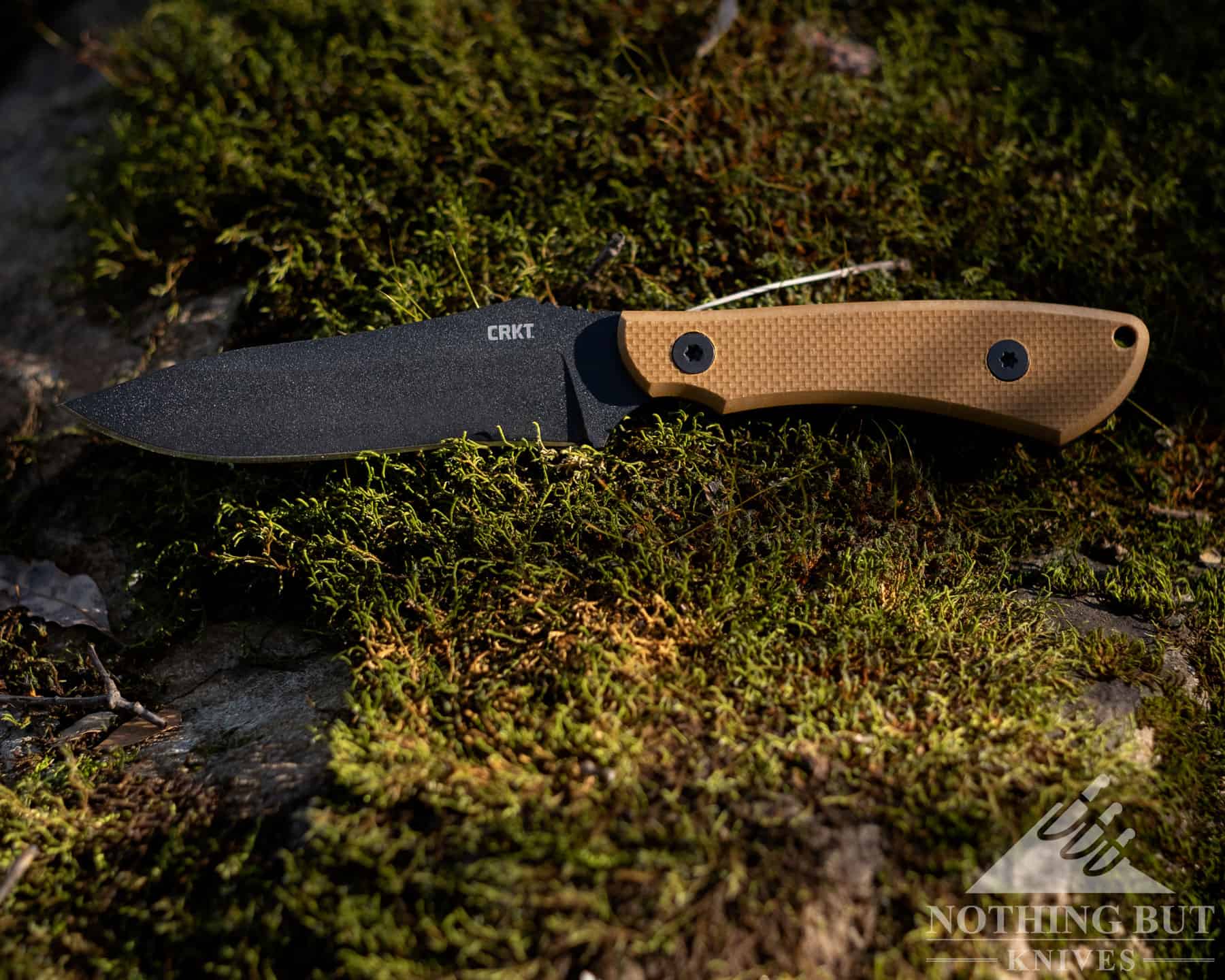 They probably could have smoothed out the few things I didn't like about the knife by making the edge a little thinner, but ultimately the Ramadi does what it was made to do plus a little more, and it does those things well. It's comfortable on the belt, the sheath does everything it can to help you pull the knife out quickly, and the thick blade with a tough steel is a good recipe for dealing with a lot of high impact work, whether that's a myriad of survival tasks or whatever the hell it is you think counts as tactical.
The Benchmade Weekender is a 2022 Drunken Hillbilly Award winner.