A Lightweight Bushcraft Knife with EDC Ambitions
Small fixed blades are a tricky beast to wrestle. People expect it to be rugged and comfortable like a regular sized fixed blade, but also lightweight and slicey.
A lot of smaller designs end up being lightweight and rugged but with a blade that can't do much like the now discontinued Gerber Ghostrike, or it's something that can slice a finger off, but the blade is thin and fragile like the Spyderco Moran (no shade there, though, I still love that knife).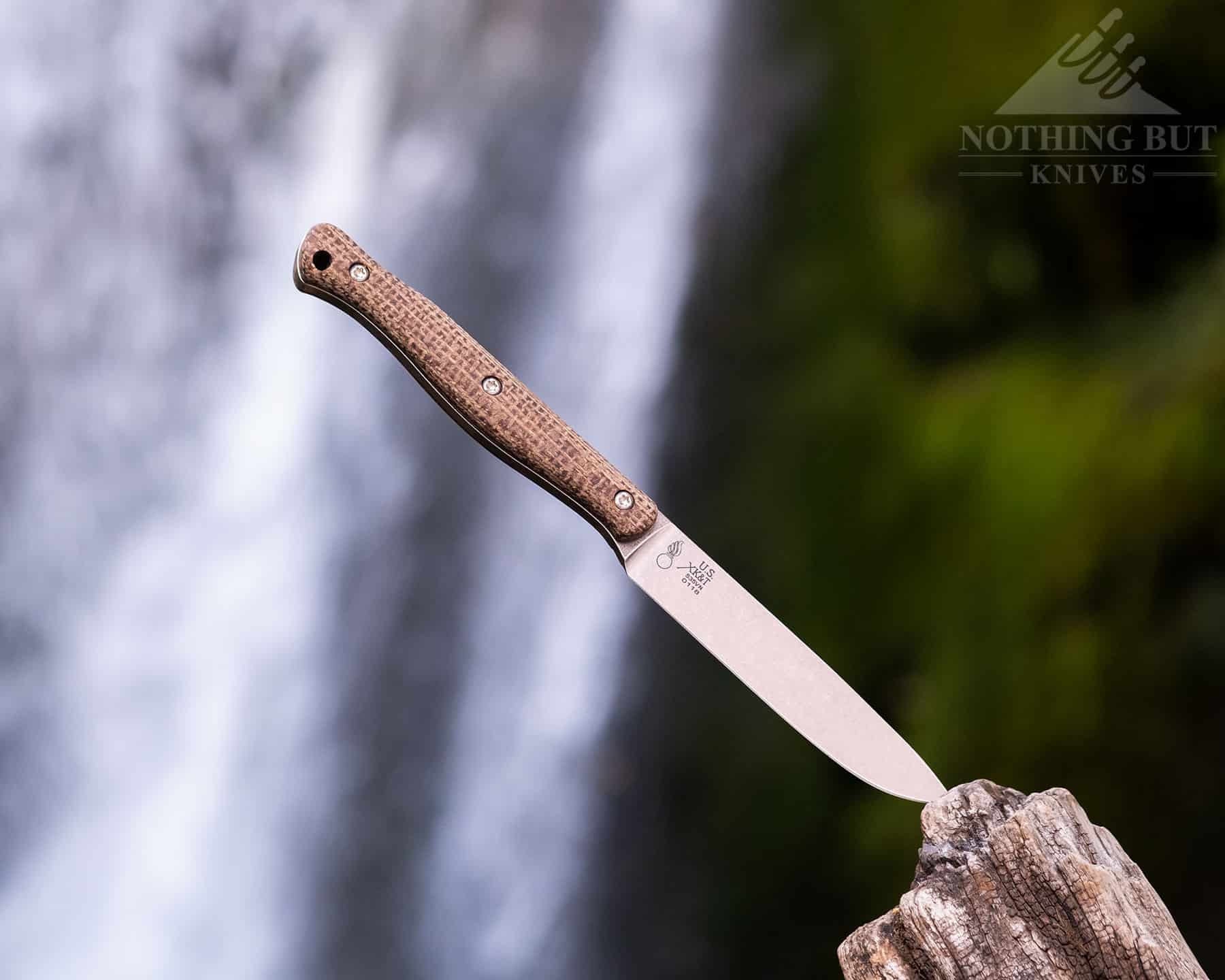 The Exodus 4 is in a certain range of weight-to-function ratio that makes it endlessly useful on a long hunting trip and a pretty low investment for backpackers. It's rugged and comfortable, and the blade can cut just about anything you need on a campsite without too much trouble, and with little to no risk of chipping the edge.
Specifications
| | |
| --- | --- |
| Overall Length: | 8.5" |
| Blade Length: | 3.88" |
| Blade Steel: | S35VN |
| Hardness: | 58 – 60 HRc |
| Blade Thickness: | 0.13" (a little over 3 mm) |
| Blade Shape: | Drop point |
| Blade Grind: | Flat |
| Handle Length: | 4.6" |
| Handle Material: | Canvas Micarta |
| Sheath: | Kydex w/ loop |
| Weight: | 3.5 oz |
| Designer: | Jacob Peterson |
| Made in: | USA |
Pros
Excellent camping knife
Great for making tinder and starting fires
Handle has a good grippy texture
Good sheath quality with snug retention
Very good edge stability
Cons
The round handle wants to turn on harder cuts
Handle is a bit thin overall for some hands
The Exodus Origin and Purpose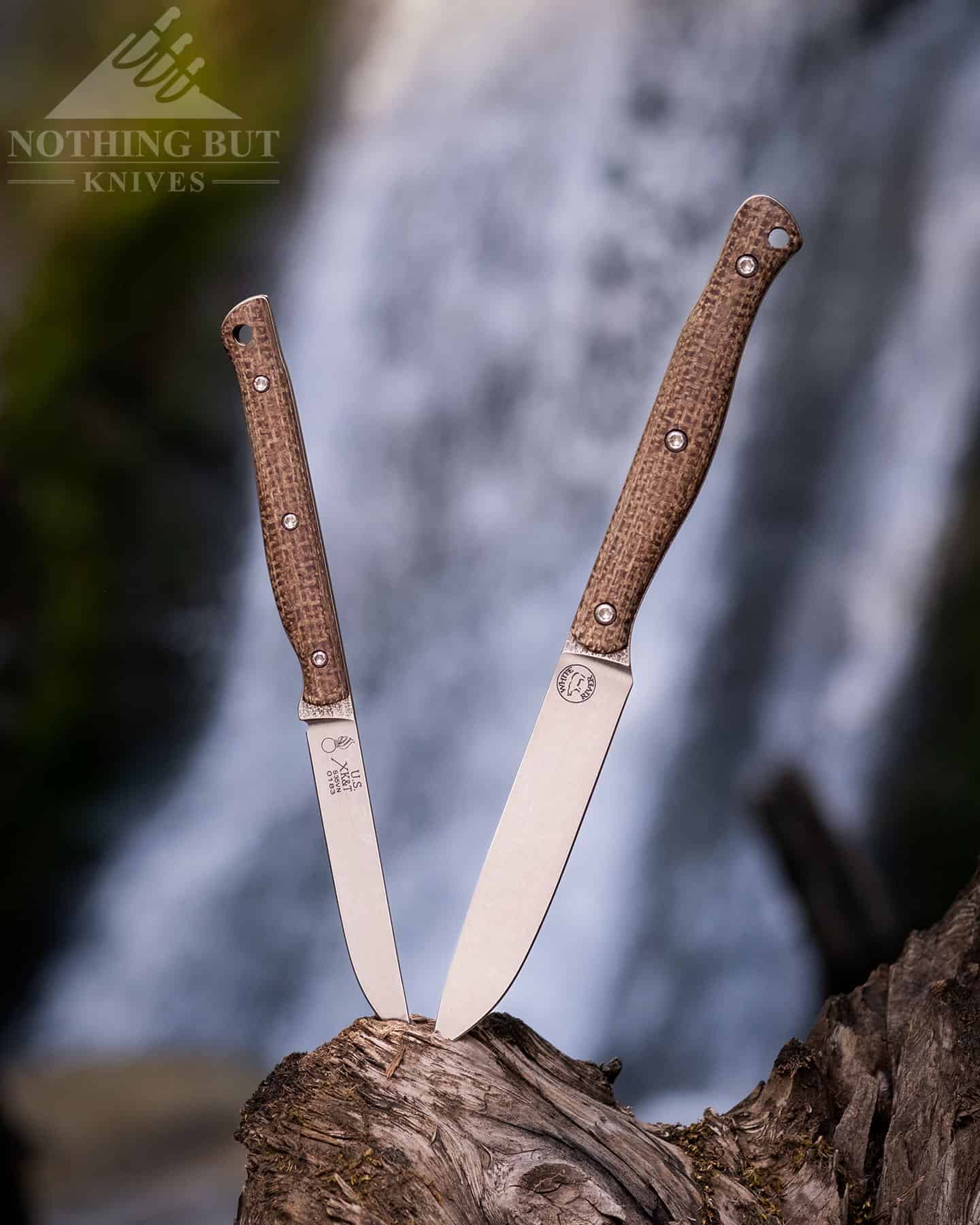 This design comes by way of Jacob Peterson of Exodus Knife and Tool where the Exodus 4 is known as the Jackelope. It's a larger version of the Adventurecraft (the Exodus 3), which might fit a little more cleanly into the fixed-blade EDC category for some people.
The 4, though, is more of a purebred bushcraft tool that happens to be light and thin enough to carry as an EDC.
Fit, Finish, and Presentation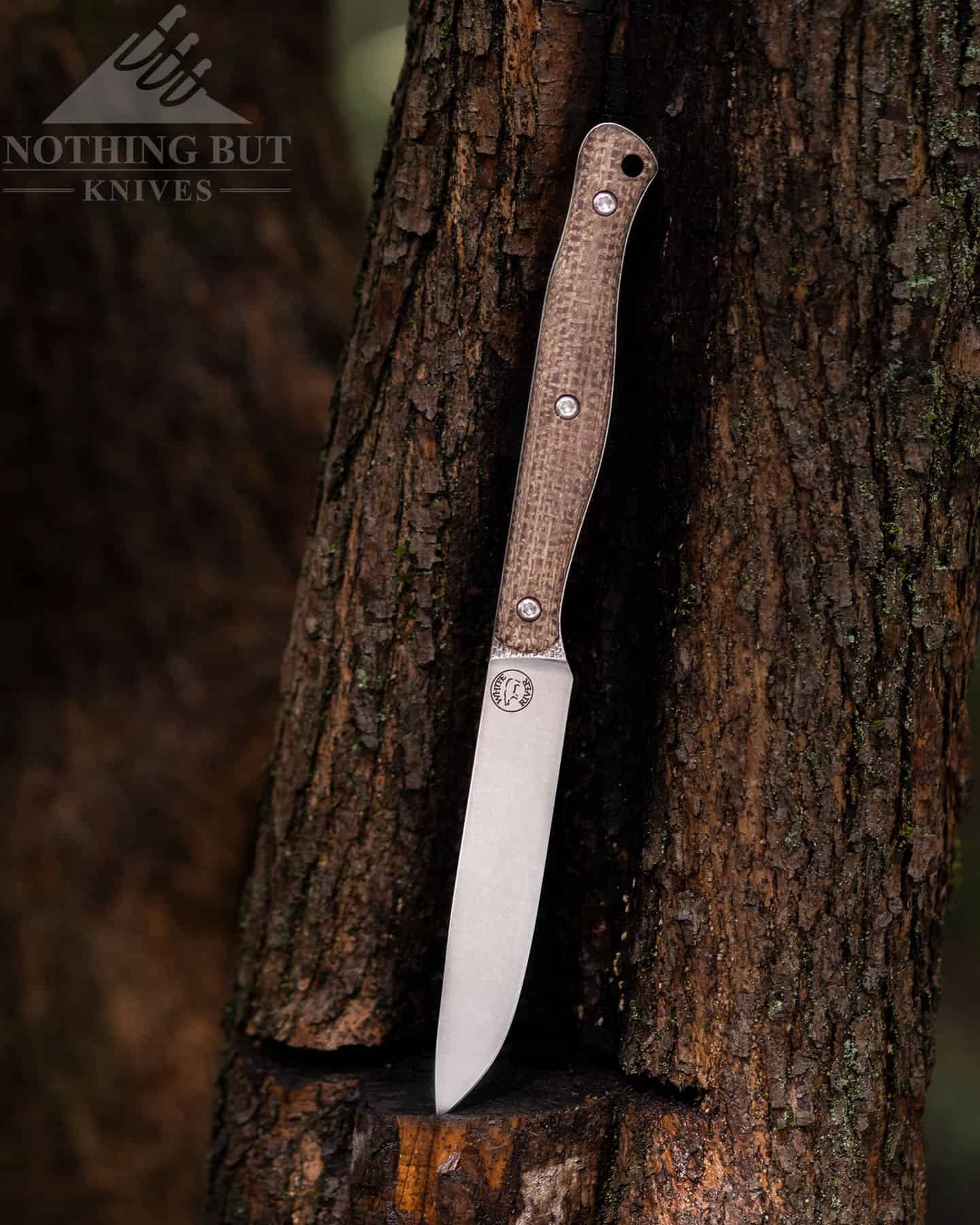 White River Knife and Tool is clearly geared toward making heritage knives. They want the knives we're buying now to be handed down to another few generations. You can feel that in the build of the knives and in the way they ship their knives off.
Both the knives they sent us came in wooden boxes with identifying cards saying what the knife is with a signature of what I assume is the person who did QA on the knife before they boxed it up. There are just a lot of really nice touches that make their knives come out of the box feeling well cared for.
I think the only thing I could say against the fit and finish on the Exodus 4 is that the tang protrudes out from the scales just a little bit. I don't feel it come up a whole lot except when I'm shifting my grip, though. It's really only enough that I can't call the transition there seamless.
But that lends into the streamlined rustic vibe of White River. They're using some really nice materials for their knives, but they still make them rustic and ready to be used.
A Thick Blade with a Hard Working Edge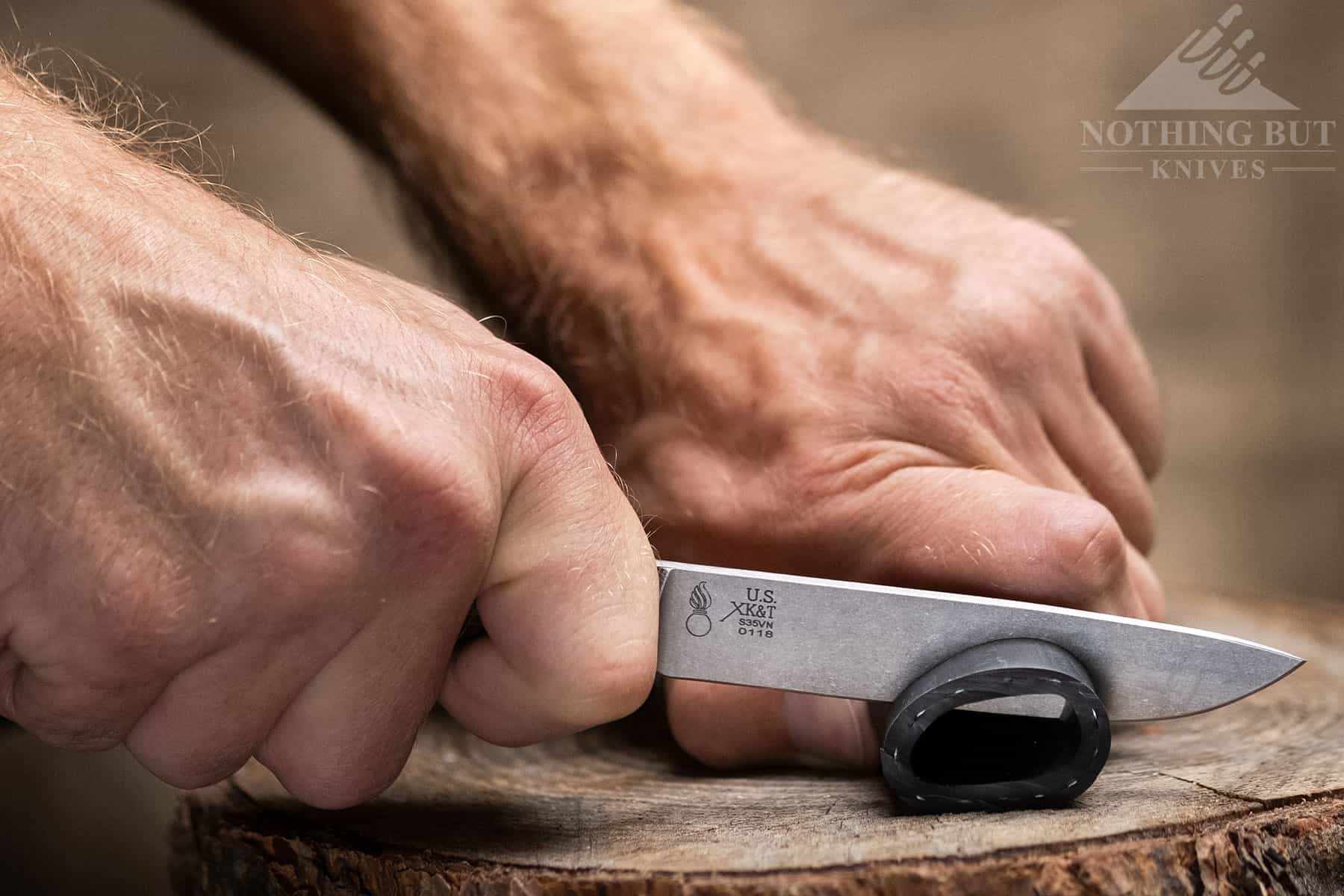 At no point should you expect it to be slicey. It's over 3 millimeters thick with a short secondary bevel. For all that, though, it does come with a biting edge, so you can cut rough materials like rope and burlap pretty well, and it cuts meat better than your typical steak knife. The follow through on longer cuts doesn't feel clunky at all like some other thick knives I've used.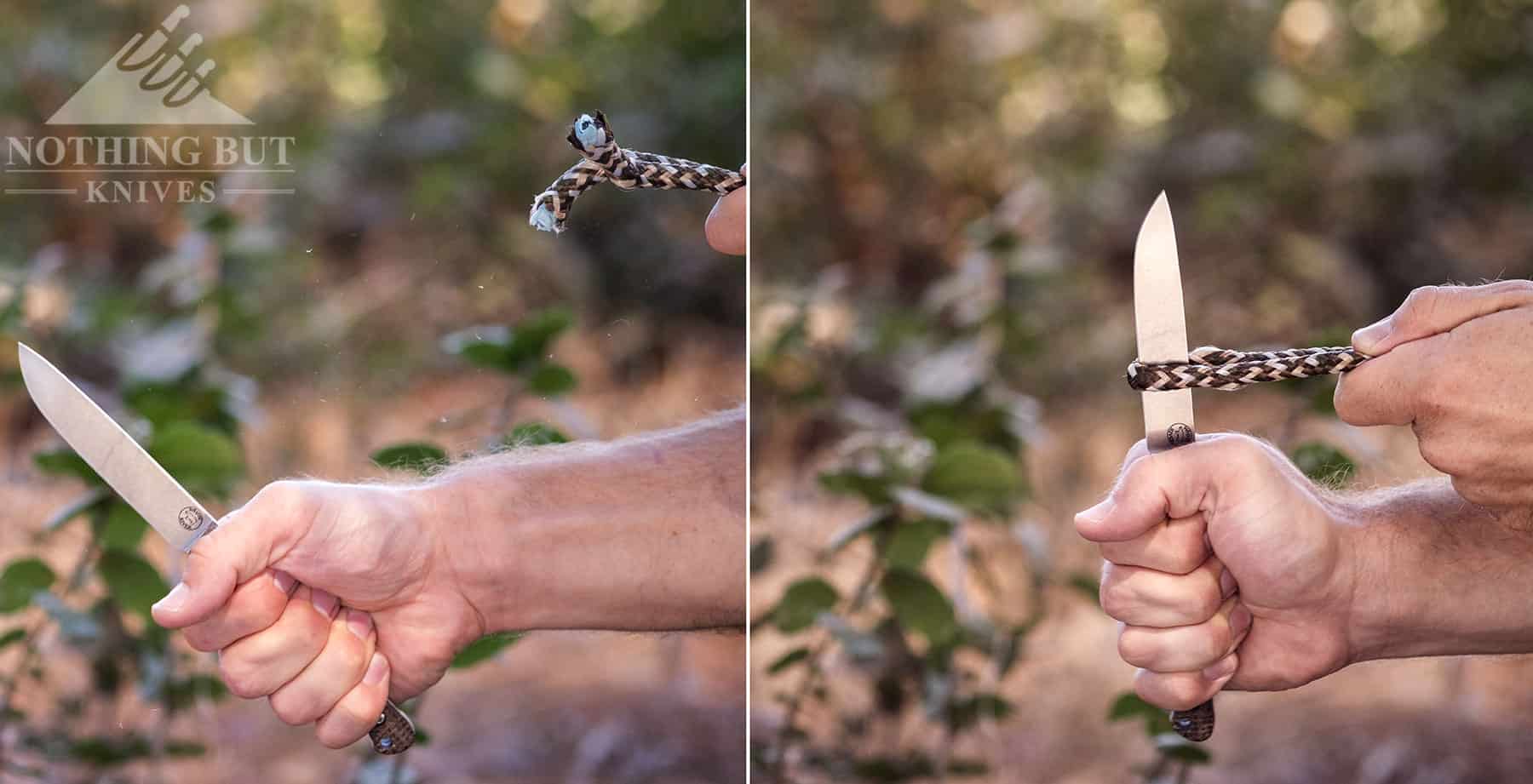 I would still call the edge rugged, though. It's kind of rough cutting paper, but very smooth when cutting cardboard. It's that biting edge with a rapidly expanding chunk of steel behind it. Even though 3 mm is a typical thickness in the realm of outdoor knives, the blade gets to that thickness from edge to spine in less than an inch.
What I've learned about this kind of geometry is that it's fantastic when you're cutting up tough material like thick cloth and wood. It's not so great for more delicate tasks (whatever those might be). I wouldn't want to try cutting out a complex shape out of a piece of paper with this.
Bushcraft and Firestarting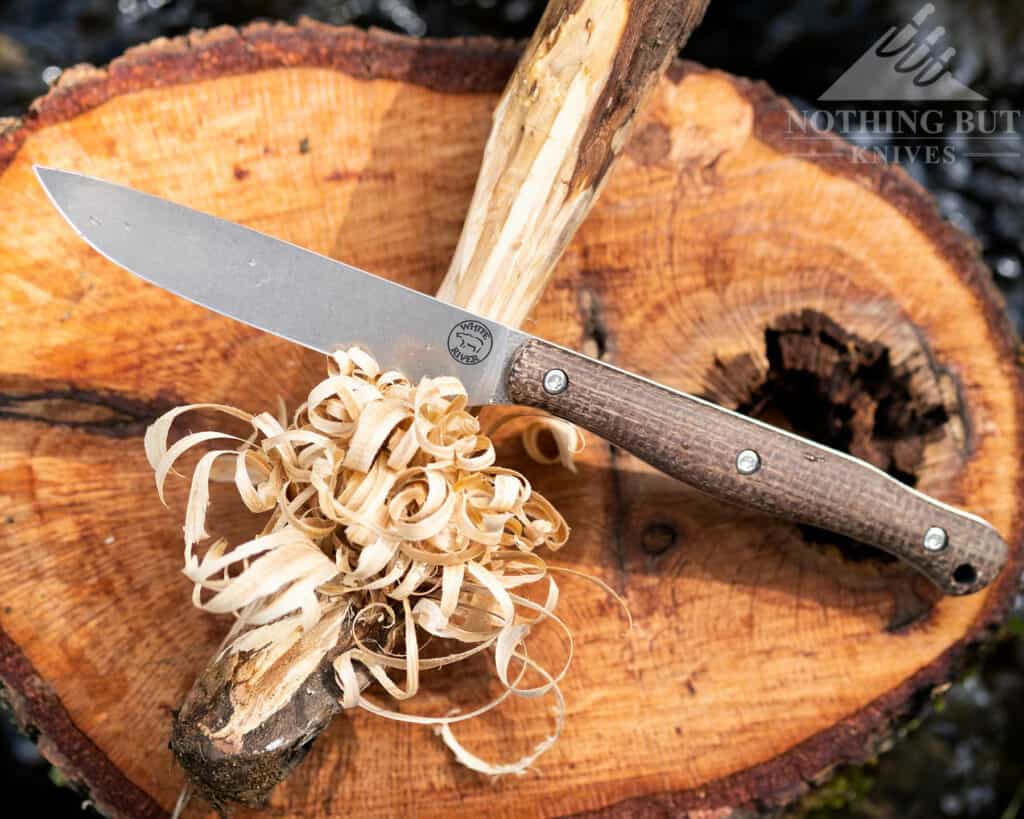 I would carve with it, though. Wood responds really well to this knife. It batons nicely through smaller pieces of wood, so pretty good for taking thinner half rounds down to kindling (I wouldn't want to go any bigger than that, though). And it can make super fine feathers. It was reasonably easy to control the thickness once I got the hang of negotiating with the handle, but even before I acclimated to the ergonomics of the knife, it didn't feel like it wanted to bite into the wood all that much.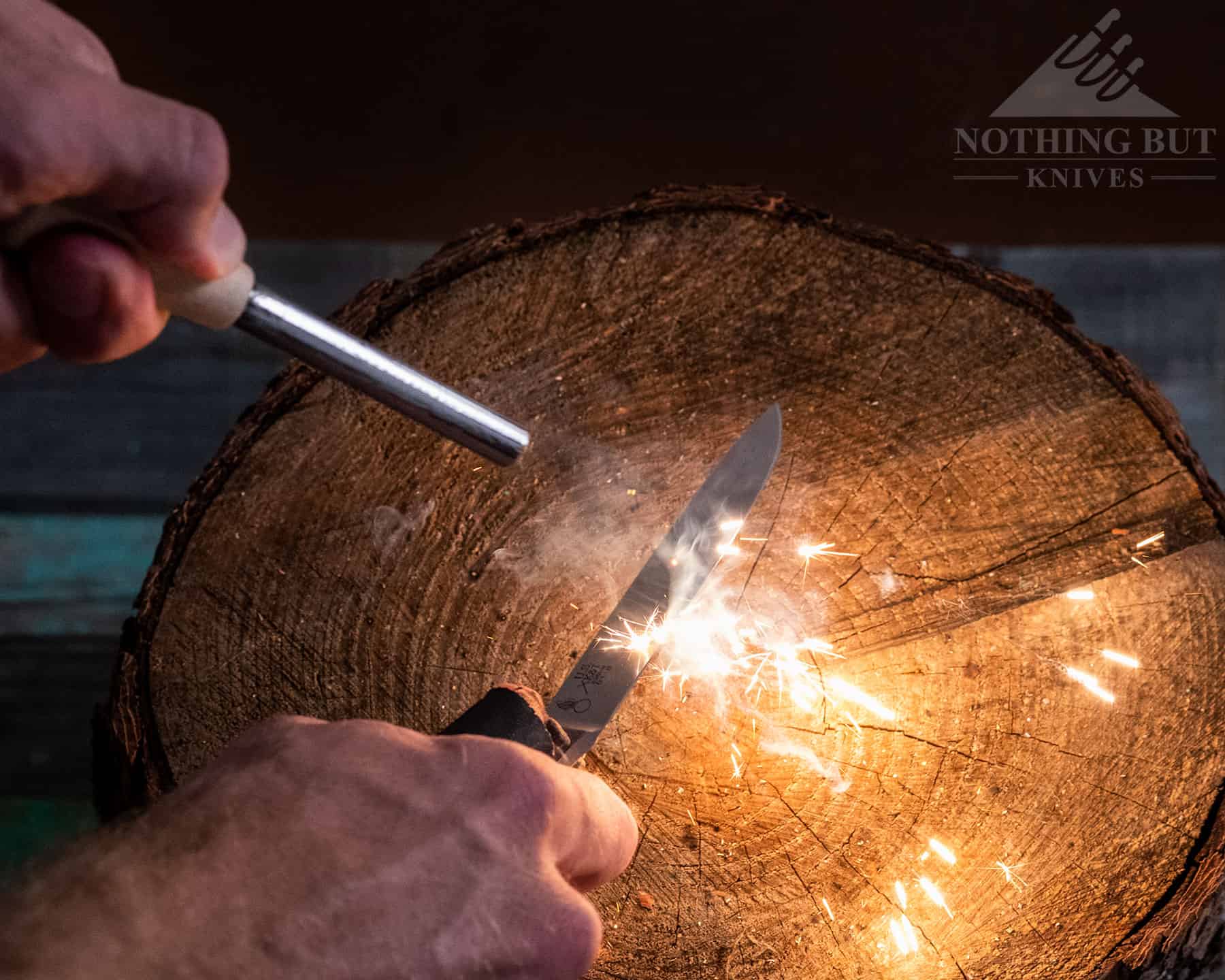 It's also a walk in the park to throw sparks off the spine. And since it's so small and light, it's easy to control the direction of those sparks. Between all the tinder making, fire starting, and even a bit of food cutting after everything was cooked up, the Exodus 4 really felt at home by the camp fire.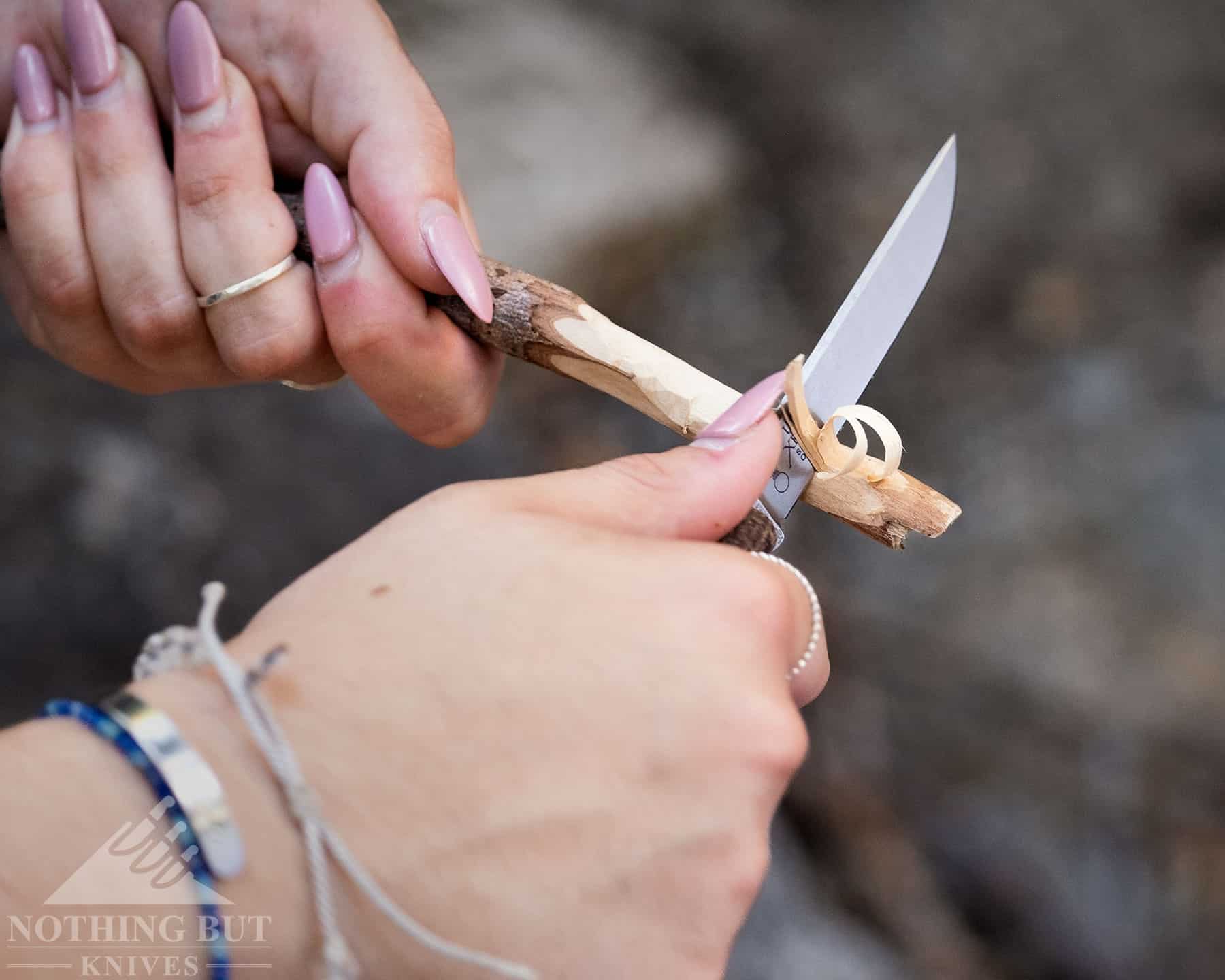 If you want to get into serious bushcraft work (meaning work that I'm too incompetent to do most of the time), the Exodus would probably do fine for building traps. It can bite into wood when you want it to, and it shaves it easily enough. I think the main thing holding it back there is that the grind is so shallow you might have trouble taking off wood in larger chunks. If it's all you have then getting a stick or branch down to a rough shape will take a little longer, but when it comes to making notches and refining points for stakes (or, in our case, hot dog sticks) the Exodus 4 is a really nice knife to have around.
Soft(ish) Steel and Easy Edge Maintenance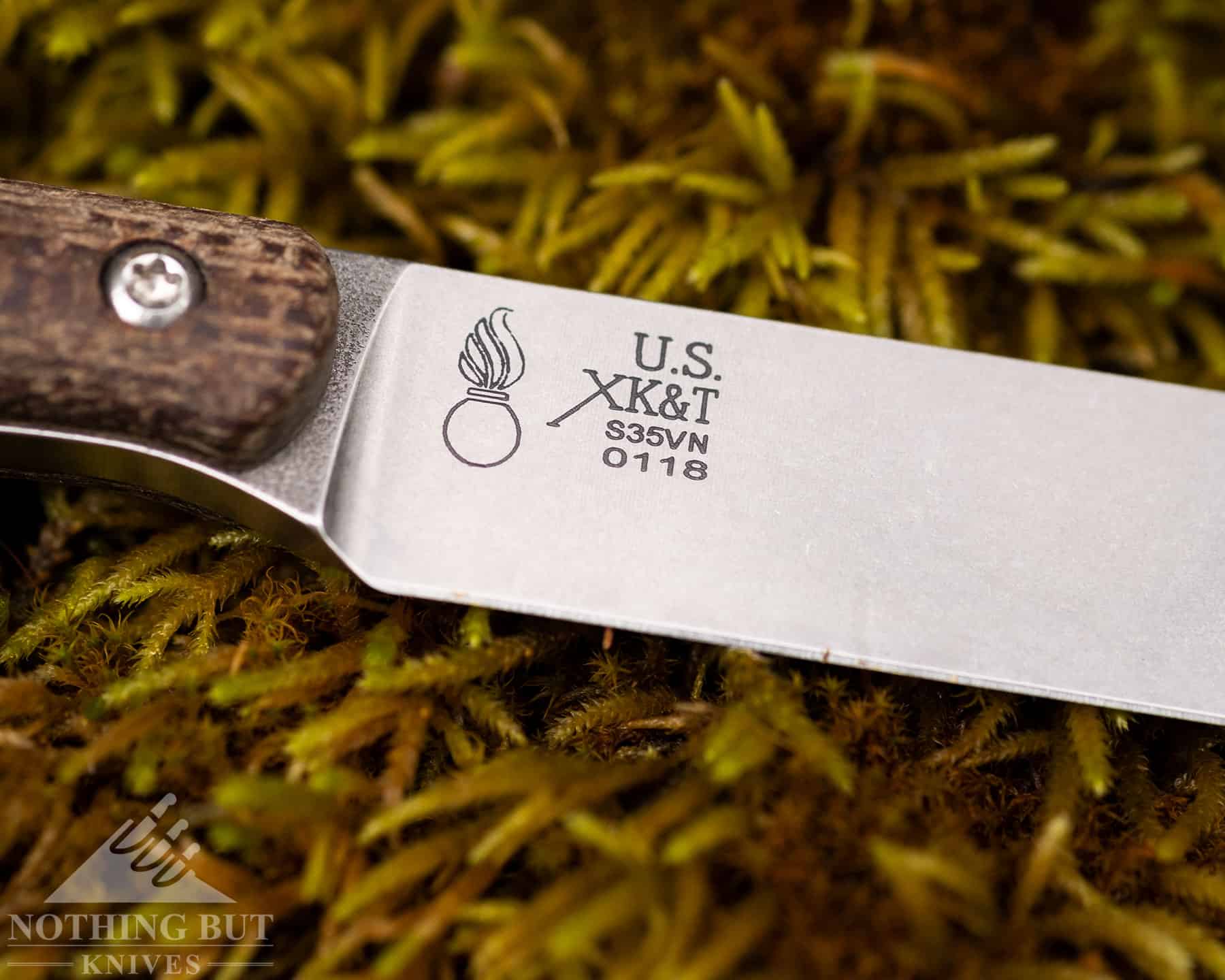 They treated this blade to 58 – 60 HRC, which is testing the lower boundaries of what S35VN hardness should be. But considering White River prioritizes their designs for outdoor use, this seems like a well calculated decision on their part. I feel the edge fading after sectioning off a medium sized box, but it strops up really easily and can take a nicely polished edge without too much effort.
Part of me does wonder if they could get away with hardening the blade at least up to 60 – 62 HRC area. S35VN has shown to be pretty tough at high hardnesses in other knives, and the blade is so thick that chipping seems like a low risk on this design anyway. But that's just the enthusiast's imagination abusing itself over a blade that is otherwise doing its job just fine.
The point here is that despite this knife having a powder super steel (is S35VN still cool enough these days to be called that?), you'll only need a strop to keep it cutting well most of the time.
The Round Handle and the Importance of Leverage
I love the look and feel of the handle. There's just enough texture coming through the resin on this burlap Micarta that it feels grippy, but it's still smooth enough to keep from chafing the skin of my tender writer's hands.
It's long enough to hold in a full grip, which is really nice for breaking down wood. It also allows me to make stronger cuts when I need to cut really thick rope, or come across something that the edge just isn't up to slicing on the power of its edge alone (which didn't happen often). Even if the knife starts getting a little dull, there's room here to work around and find a position that cuts better.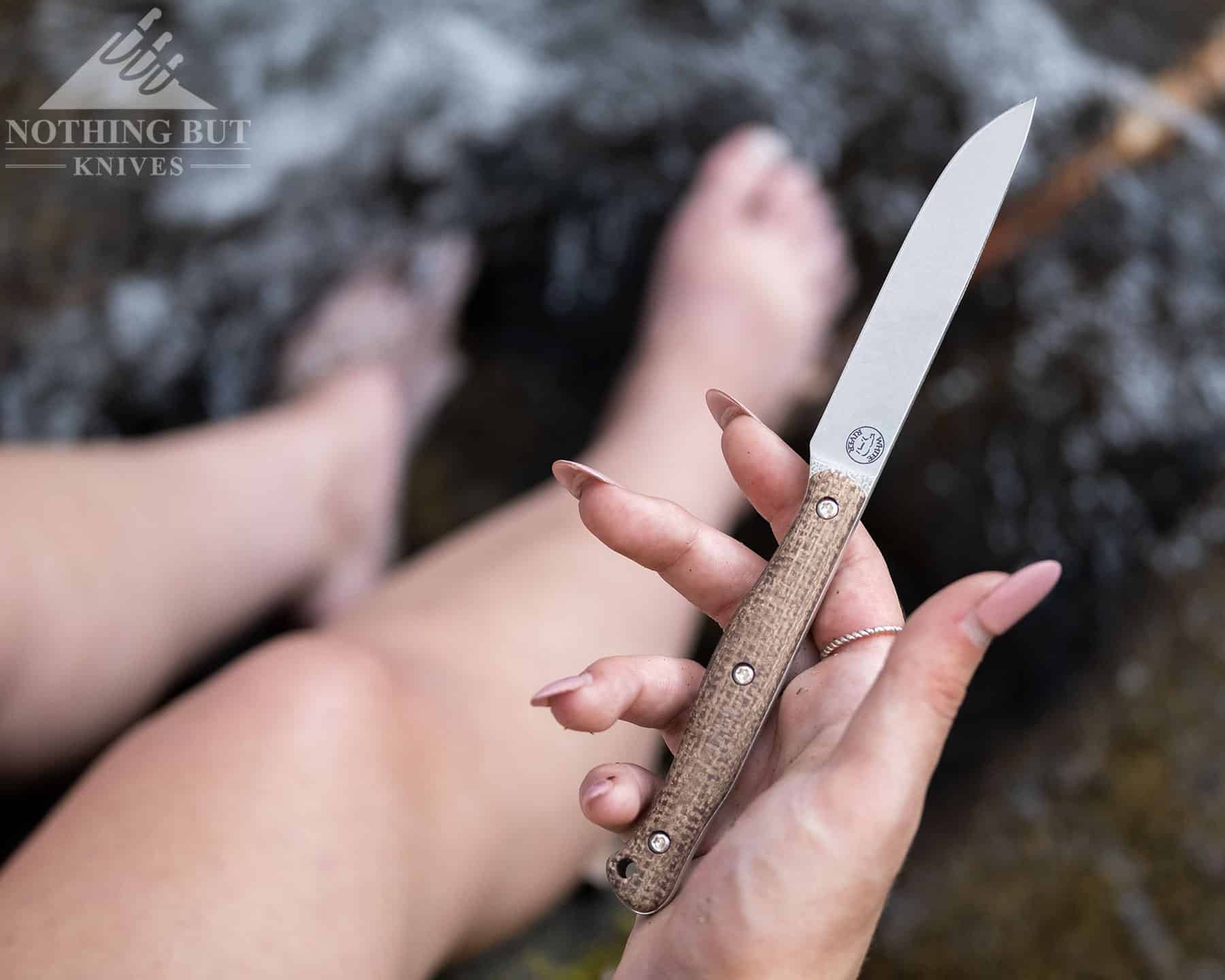 I came up against a tricky downside to the handle when I started prepping for a campfire. The round handle wants to turn if I press too hard. This made it a little more difficult to make a feather stick at first, because it felt like the edge kept wanting to turn into the wood and make the feathers thicker than I wanted.
It basically takes a lighter touch to compensate for that. As long as I keep a light even pressure on the knife and don't try to push to hard or fast, it makes really nice, thin feather sticks pretty effortlessly. That holds true for most tasks that are more involved than just cutting something in half with this knife.
Things went smoothly with this knife once I adjusted to keeping the handle in line, but I still think it could stand to be a little broader (looking at it from the side, I mean). But overall, it's comfortable, and the length has turned out to be a nice source of leverage.
The Sheath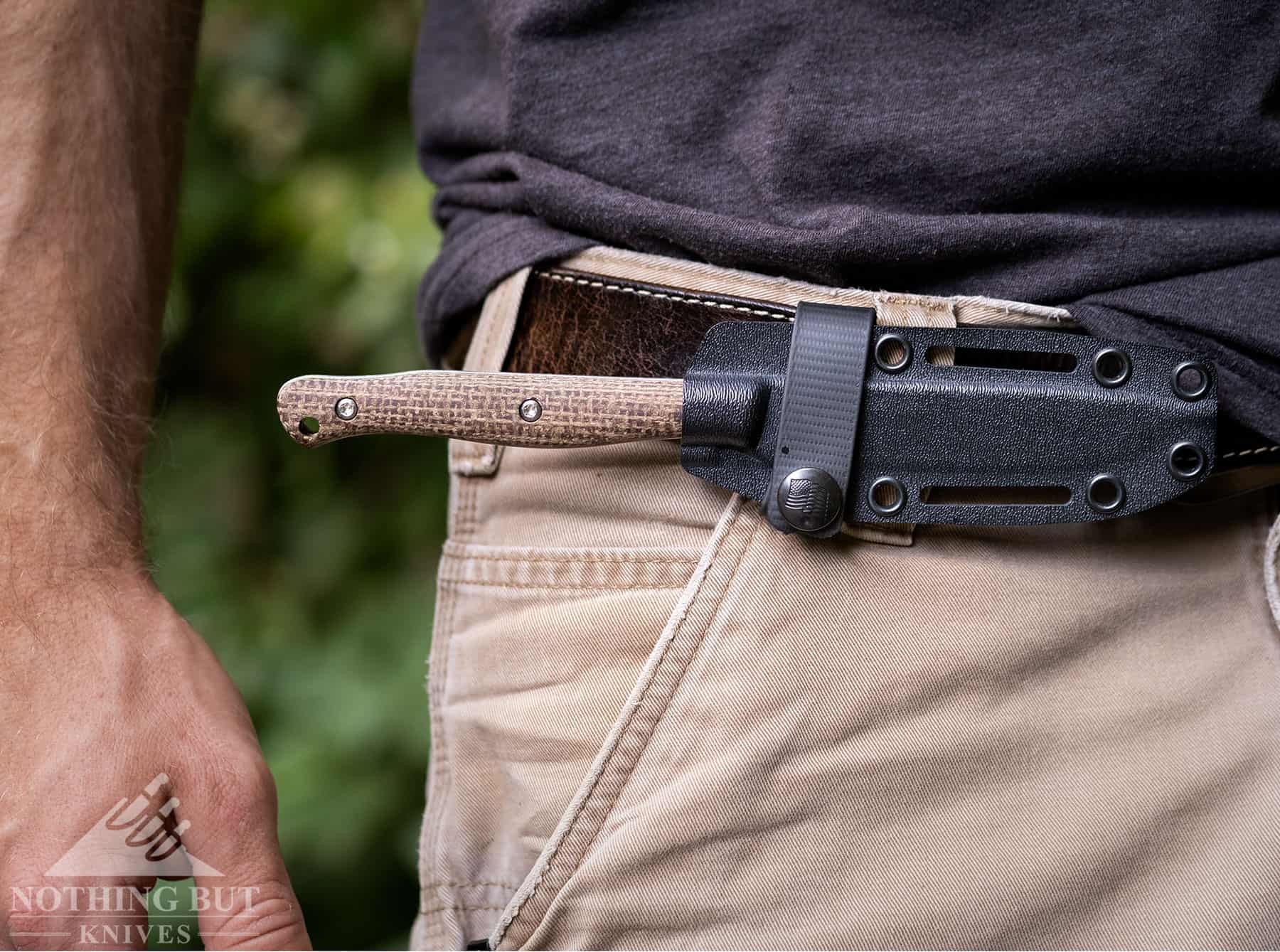 I love the simplicity of this sheath, and the knife feels light on the belt, so for the most part it's a pleasant thing to carry.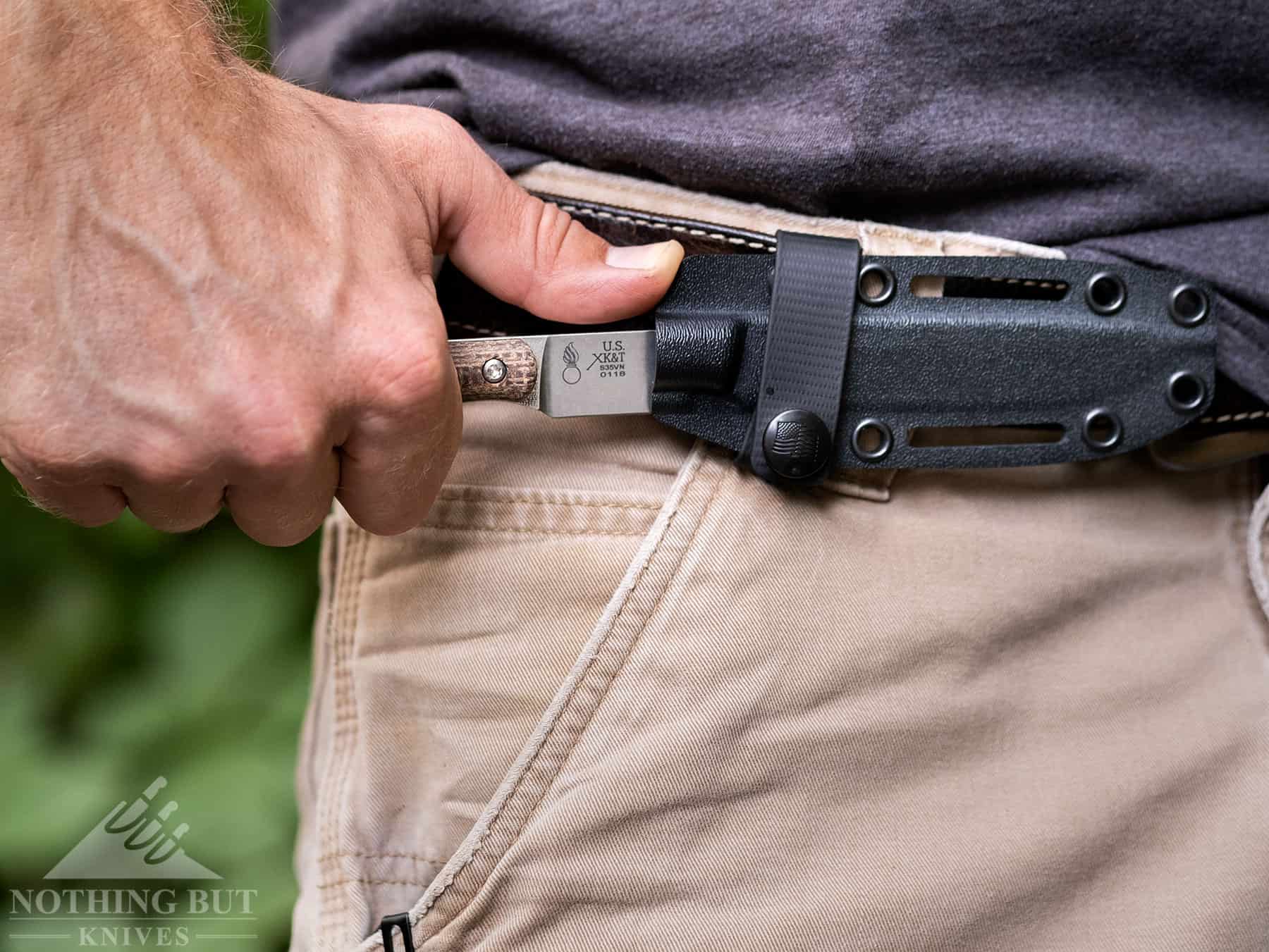 It comes with a single loop with a strong snap closure. That loop is just long enough to fit on most parts of my leather belt, but it takes some tugging to get it situated comfortably. I never encountered anything while hiking that made me worried it would come loose or that the knife would fall out. White River makes some super snug Kydex sheaths.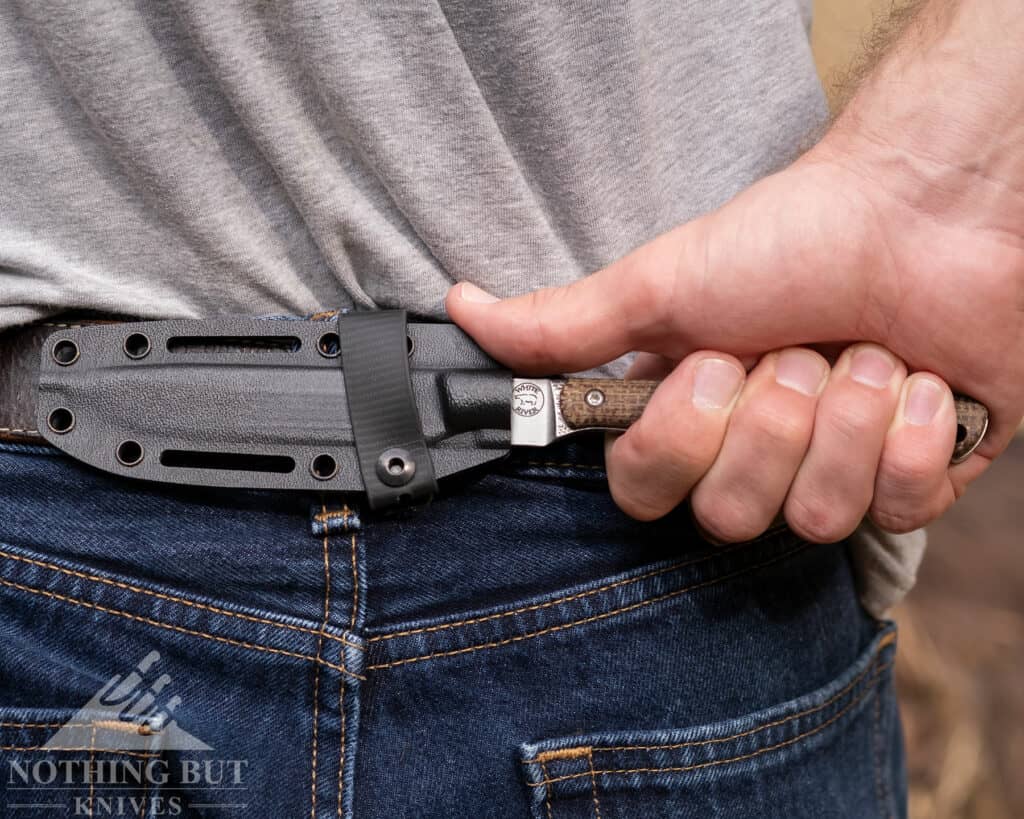 The length makes it a little awkward, though. This is a common problem for me as a reed-shaped man. Handles like to stick out from my side when I do horizontal carries. But something about the Exodus 4 seems to make it a bigger catching hazard. I wore it on the back of my belt while I drove around a while and met someone for breakfast, and it somehow found a way to clunk against the door on my way out of the car. The knife didn't fall out, but I'm pretty sure the woman who happened to be walking nearby gave me a weird look, and probably walked away wondering if that furry headed man's butt just clunked against his car.
Clunky butt aside, this could very well be a problem specific to me. It's still a very casual belt knife for being eight inches long, and it's so secure that I'd be comfortable throwing it in my pocket or backpack, or even as a neck knife, if I'm in the wilderness.
Comparison and Alternatives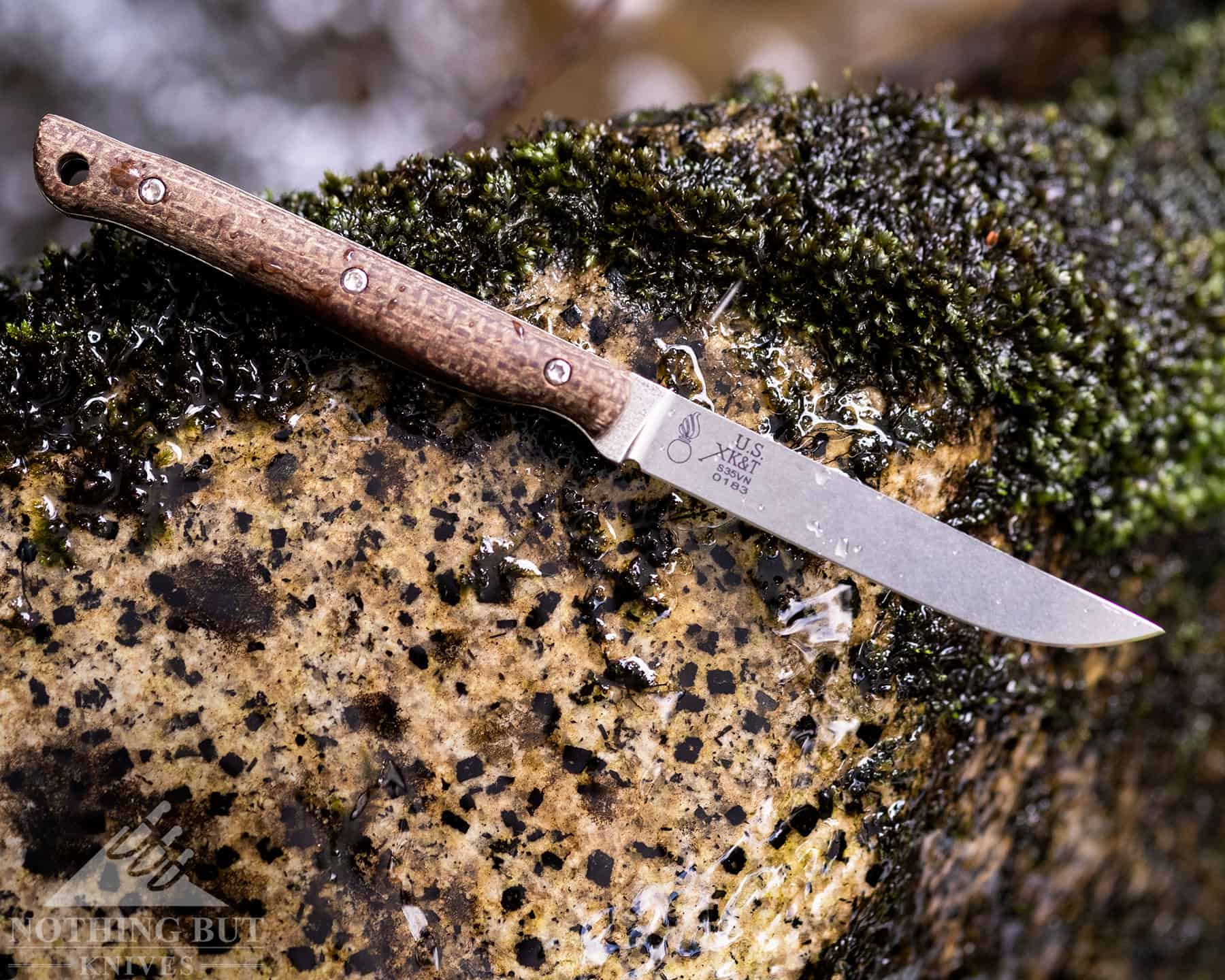 The Exodus 4 was sent to us along with the Exodus 3, and I would definitely recommend that knife if you're looking for something more firmly in the fixed-blade EDC category. In fact, Peterson himself said he designed the Exodus 3 so it could be carried almost like a folder. It's even lighter than the 4 and it's so thin that it doesn't feel intrusive in the pocket at all if you take the belt loop off the sheath. The problem is it isn't meant to be your main belt knife to survive with. It's a backup knife or an EDC.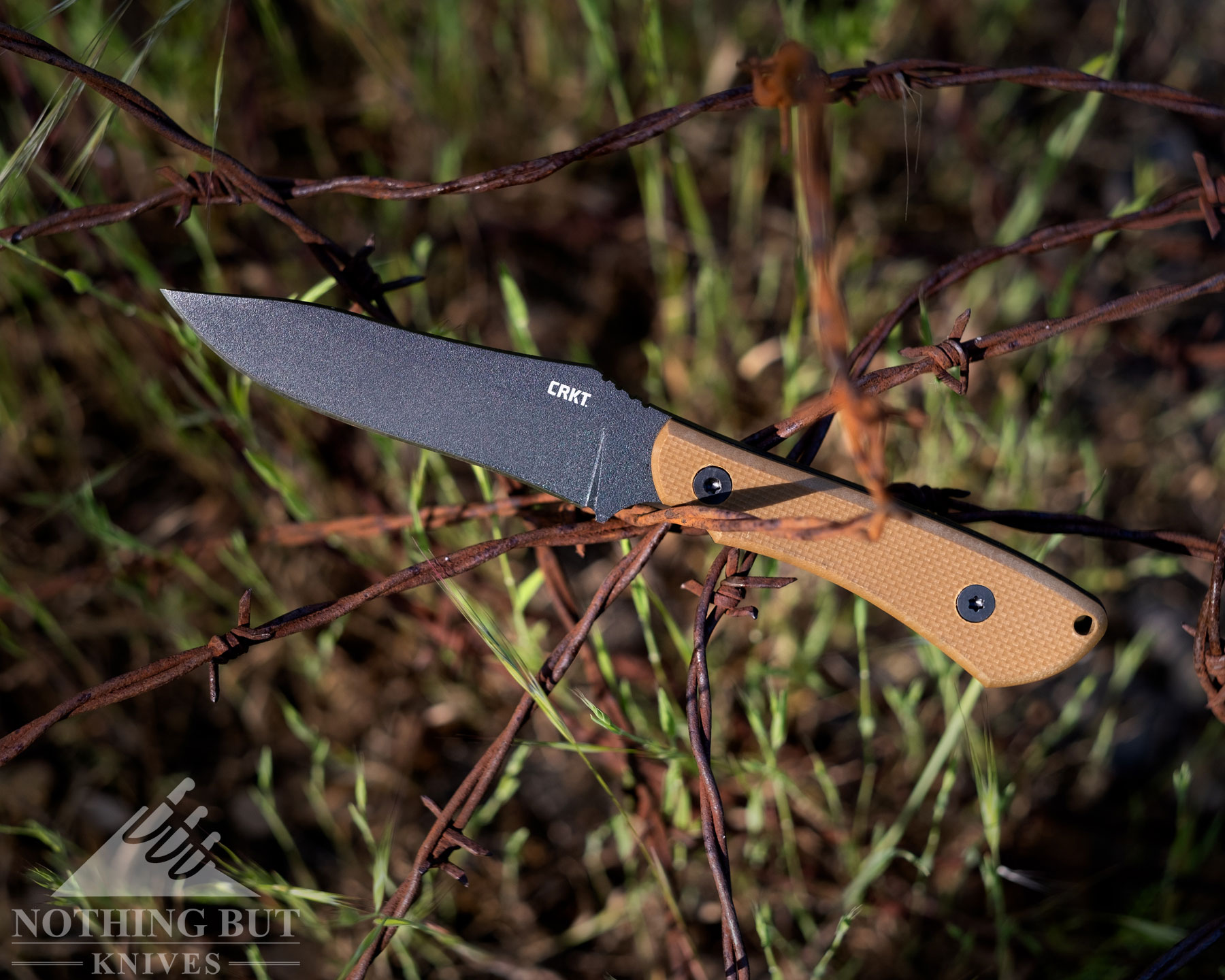 If you want something about the same size with roughly the same function, I'd probably point you to the CRKT Ramadi. It's a bit cheaper and won't want to turn in your hand the way the Exodus 4 does. But it has a much thicker blade stock with nowhere near as sharp of a factory edge. I don't want to get into a drawn out comparison between CRKT's manufacturing and White River's, but I will say that the prices of each knife feel appropriate to me. Still, the Ramadi is a solid option if you want to stay under the $100 mark.
The Guardian 3 is also a good option in the same price range as the Exodus 4, but that has a very different range of ergonomics. The Guardian has a smoother cutting action thanks to being thinner behind the edge, but you can only get a three finger grip on the handle. I think I like the way the Exodus shaves up a feather stick better than the Guardian, and it's definitely better for starting a fire in general, but ultimately I think a choice between the two is an issue of grip preference.
If you are looking for somthing from White River Knives that is a little bigger and a bit more bushcraft friendly, check out the Firecraft Puukko.
Conclusion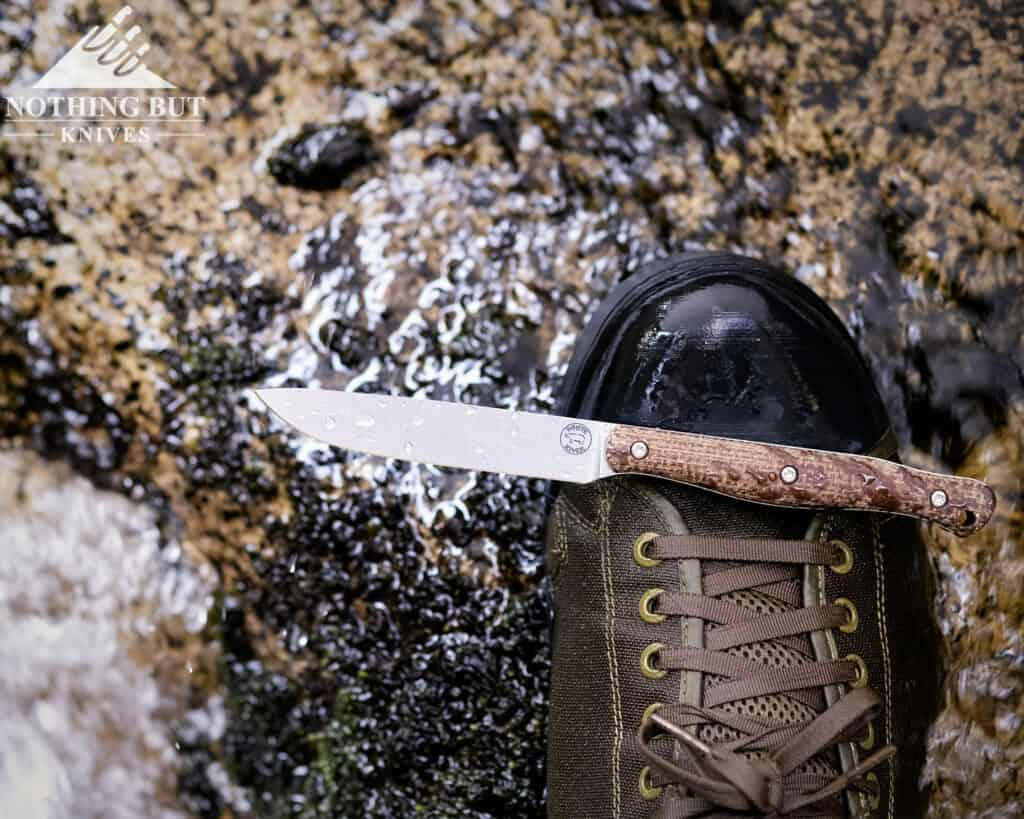 The Exodus 4 is now in my short list for favorite camping knives. Not just because it works so well for starting fires and general camp tasks, but because it looks and feels so different from other knives in my collection.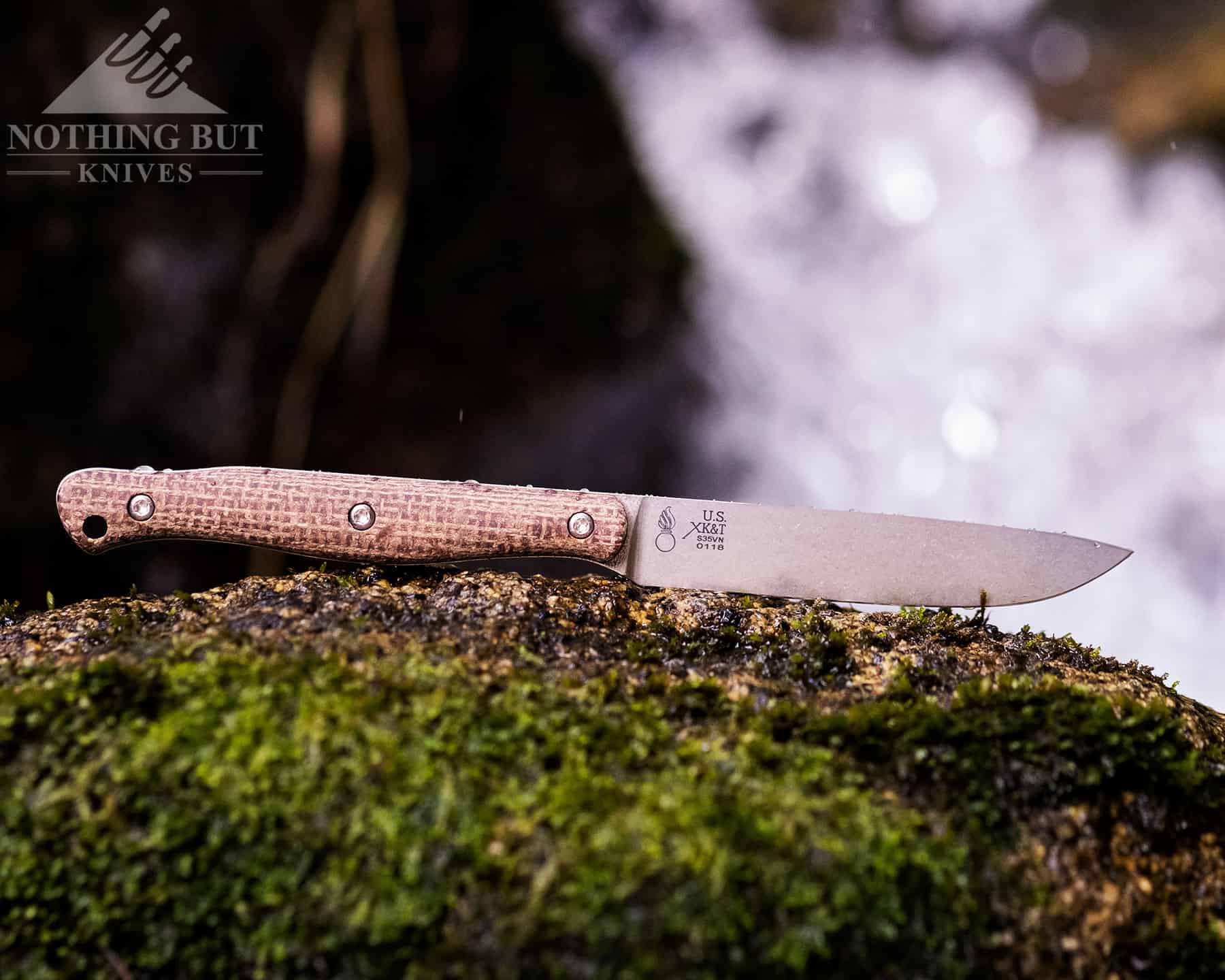 At first I thought it was too long and skinny, and that the blade was too thick. I was even skeptical about the sheath with only one belt loop. There are just a lot of things that could be wrong with a knife with this shape, but just about everything about this knife seems to work. It's also priced competitively, usually coming out around the same price as most versions of the Bradford Guardian 3, the TOPS Mini BOB, and a handful of smaller ESEEs while packing a high quality Crucible steel.
The style of it might not be for everyone (some people just need thick handles and broad blades), but campers, backpackers, fishers, hunters, or whittlers would get along great with the Exodus 4.