A Big Handled Kitchen Knife that Cuts Above Its Price Tag
The Artisan Chef's knife is the purebred Western knife in Cutluxe's modest line up.
Currently their other offerings are a more thin handled series with Swedish steel (the Olivery series), and a heavier-set series featuring harder Japanese steel (the Shinobi series). The key difference between these designs is in their handles (the blade shapes all appear to be the same), and the Artisan series handles are about as boxy and handle-heavy as a knife can get before it gets to be too much.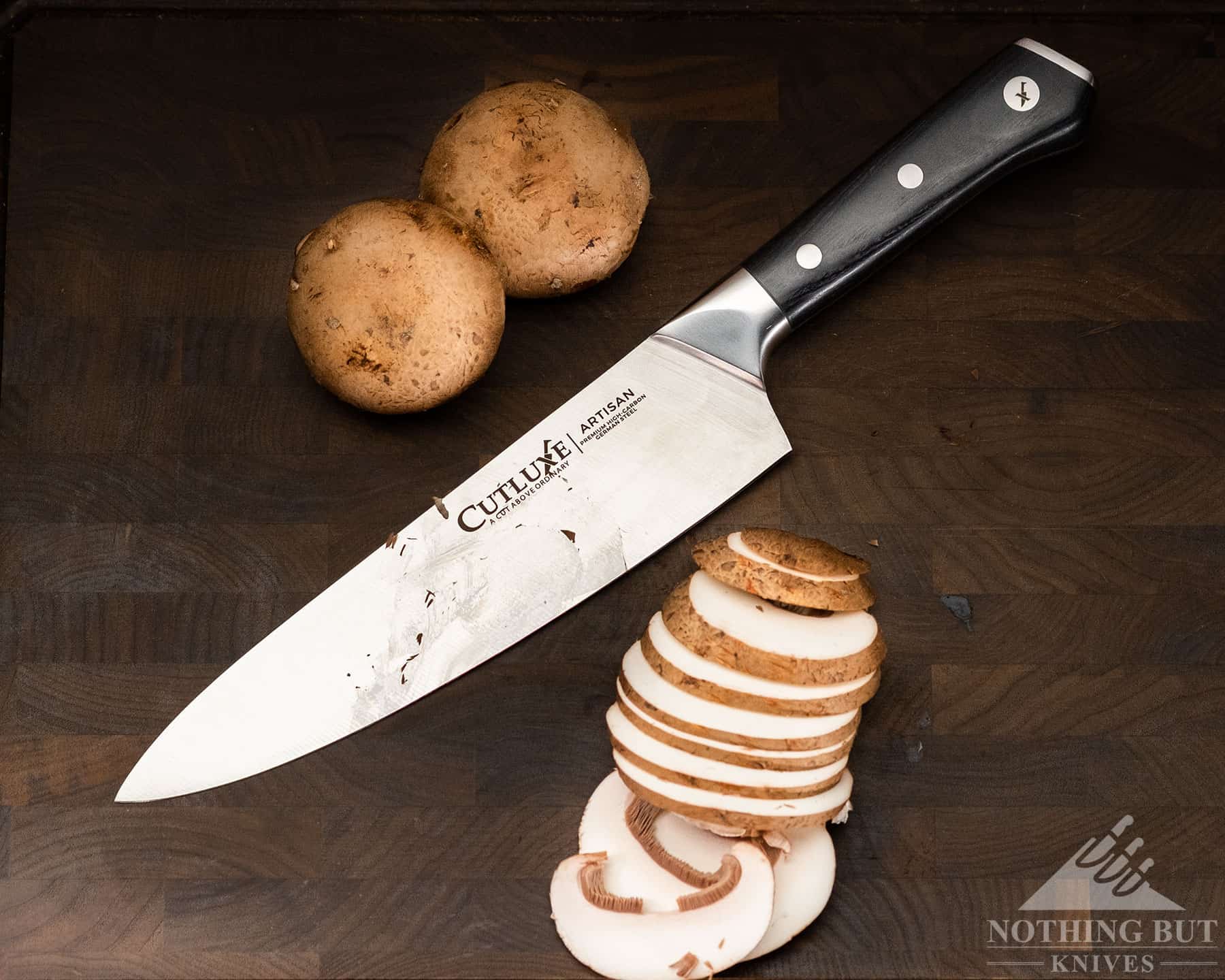 I was actually surprised at how much this knife reminded me of the Wusthof Classic Ikon in terms of feel and weight. In fact, I think I like the way this knife cuts better than the Ikon. Not so much that I would say the Cutluxe is outstanding, but the low price of this makes a loud argument for looking outside the bounds of established names in the kitchen cutlery world.
Specifications
| | |
| --- | --- |
| Overall Length: | 13.0" |
| Blade Length: | 8.0" |
| Blade Steel: | 1.4116 |
| Hardness: | 56 – 57 HRC |
| Blade Thickness: | 2.3 mm |
| Blade Shape: | Western |
| Blade Grind: | Flat w/ 14° – 16° angle |
| Handle Length: | 4.0" |
| Handle Material: | Pakkawood |
| Handle Type: | Squared |
| Weight: | 9 oz (255 g) |
| Made in: | China |
Pros
Big, comfortable handle
Easy blade maintenance
Surprisingly slicey for a thick blade
Excellent performance for the cost
Cons
Pretty heavy
Soft on edge retention
Might not be ideal for smaller hands
Fit, Finish, and Another Chinese OEM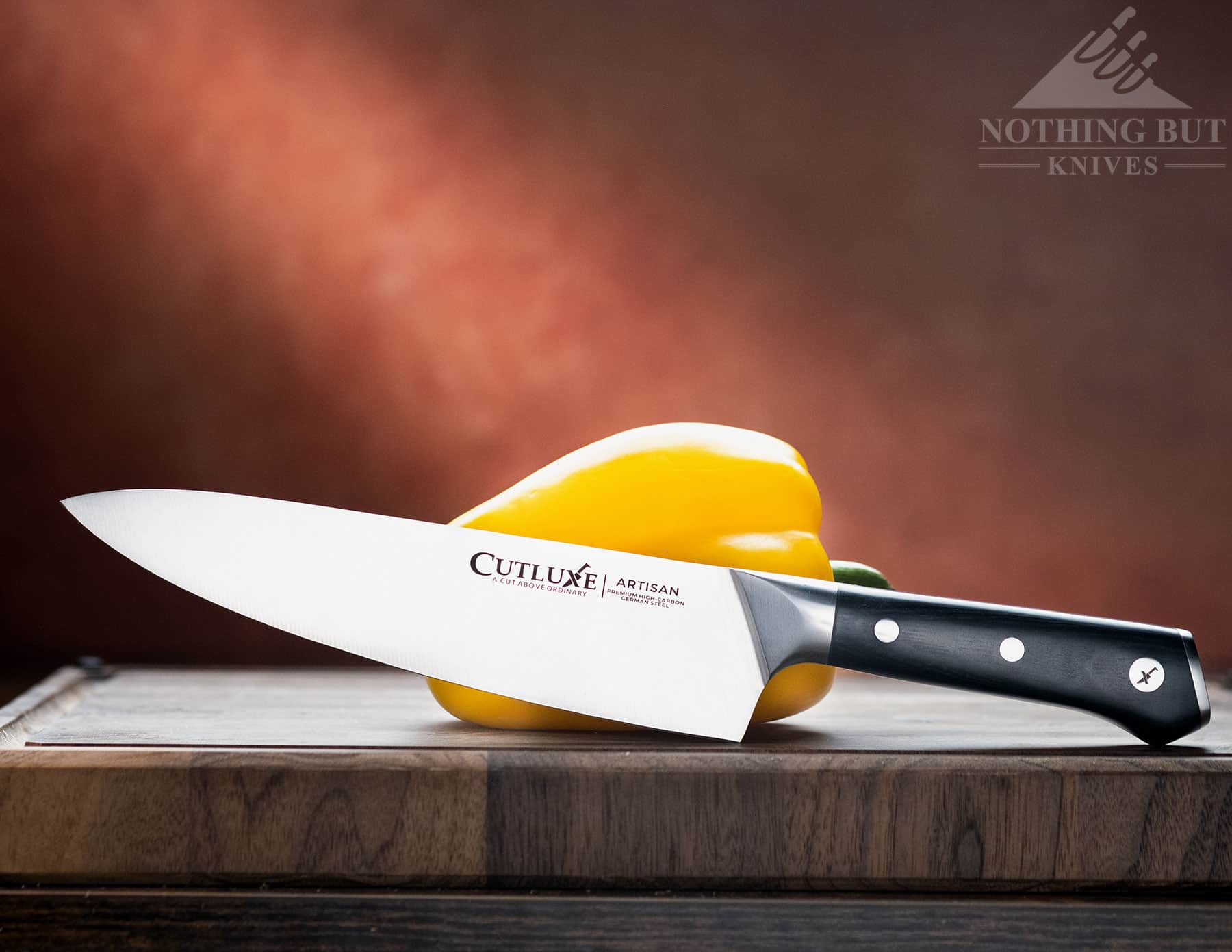 It's hard not to look down on a company like this from the start: new and flashy with some vague promises about quality, but "made in China" stamped on every blade. There are so many new kitchen cutlery companies out there pumping out low-priced knives from the same mysterious factory and trying to stand out on the power of their colored handles and product copy. In that context, Cutluxe has a big hill to climb to earn any kind of respectable reputation.
I don't know much of anything about their manufacturing practices, but so far their end product isn't half bad. The Artisan chef's knife came out of the box feeling pretty well put together: the blade and grinds are both straight, the transitions between the tang and the scales feels almost seamless, and the rivets in the handle are ground to be perfectly smooth around the edges. I don't feel anything catching on my hand when I shift the knife around and cut, and even the balance has a nice handle-heavy weight that feels pretty comfortable in a pinch grip.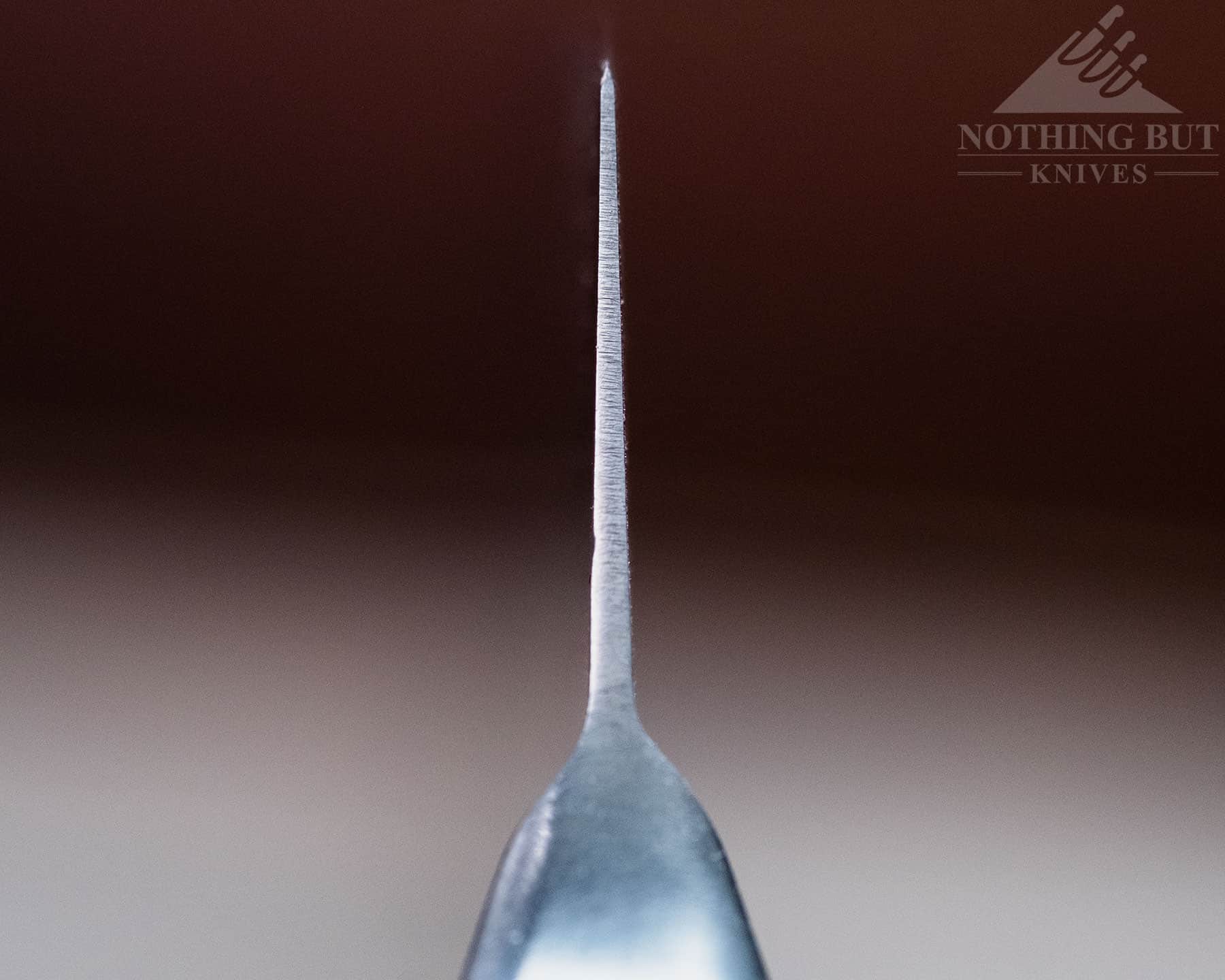 Going off this initial experience with Cutluxe, it looks like they have some good quality control in place, and even some impressive design acumen.
It's a little heavy, but pretty comfortable overall. The spine does start to bite into the finger after a while, but that's to be expected at this price point. Honestly, for under $50, I'm surprised at how few hotspots this thing has.
The Big Blade Cuts Clean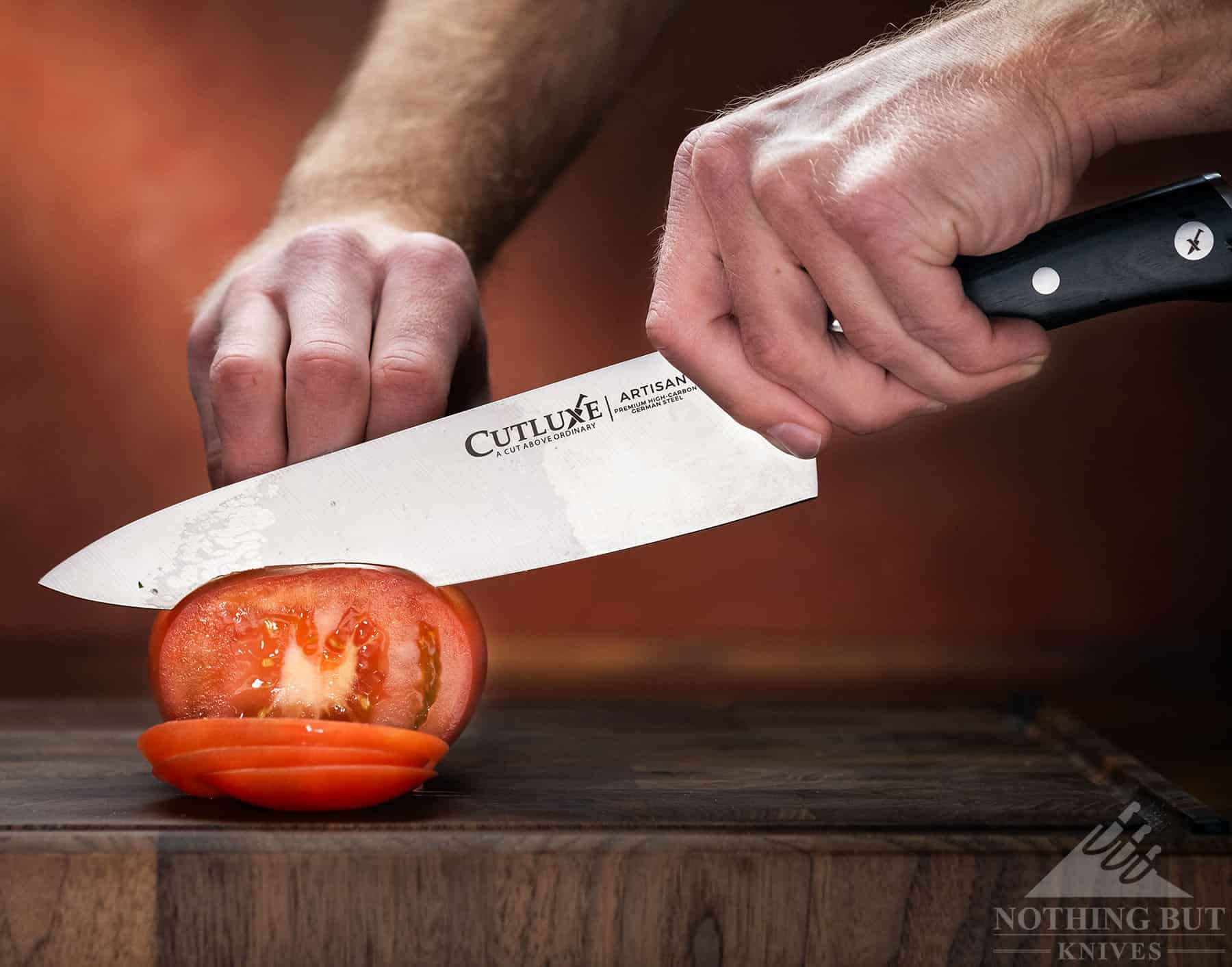 The blade is thick for a chef's knife, but it's still sharp enough that I can cut straight down on most semi-soft foods like mushrooms, tomatoes, and sausage without moderate ease.
I started to feel the edge lose its bite after about two hours of cumulative use, which is right around what I was expecting for 1.4116 steel. It's a thick blade, and even a high secondary bevel can only do so much for edge retention on that kind of blade stock.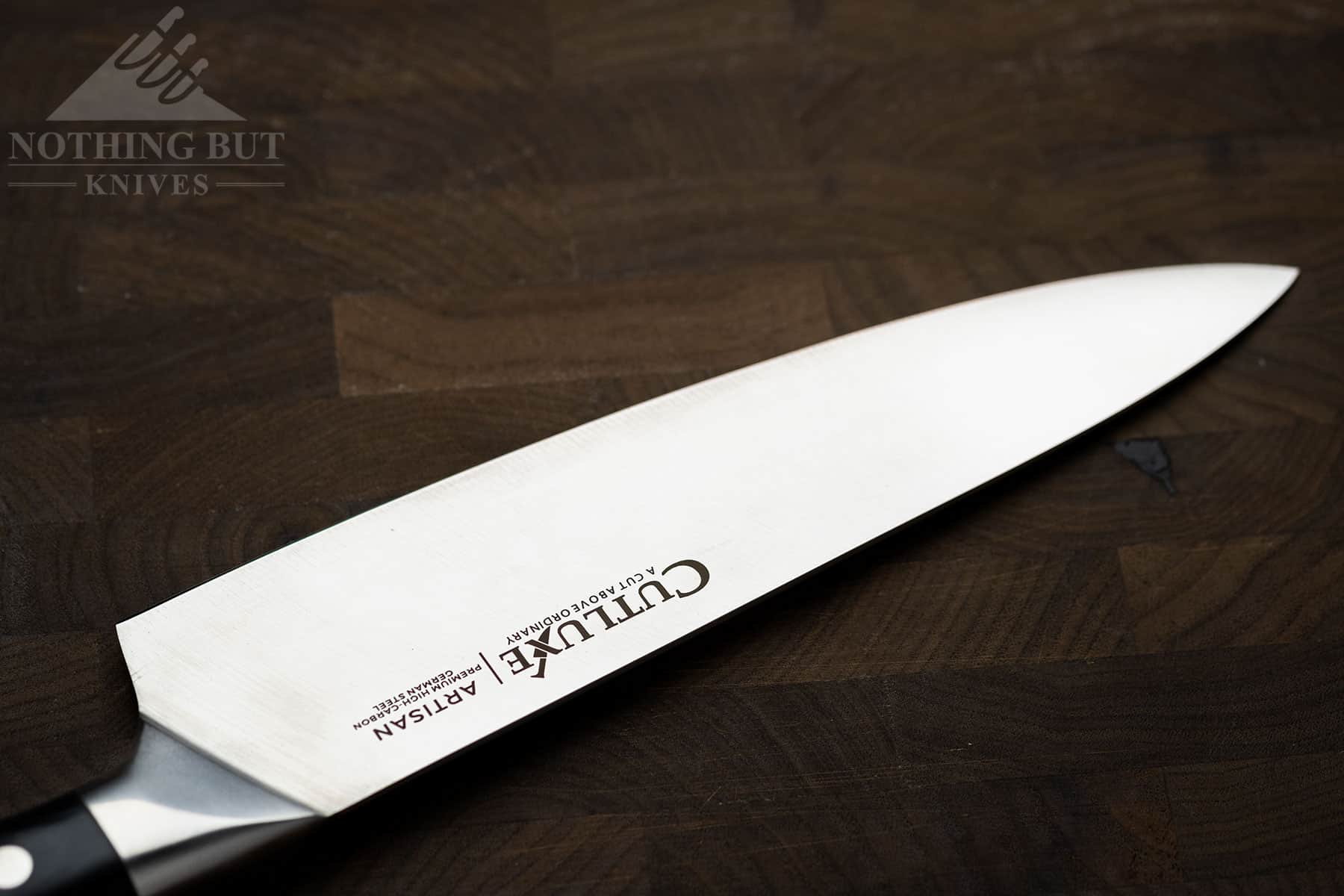 The shape of the blade seems to make more of the edge usable. It feels easier to me to finish cuts on more areas of the blade, where normally I find the sweet spot on a knife and just settle into using a three inch area of the edge for the rest of that knife's life. With this, though, I was using the whole edge and finishing cuts easily.
Ten passes on each side of the blade on a honing rod got it back into halfway decent push cuts through paper. But a strop brought into that really satisfying, clean-cutting, laser-ish kind of cutting. I haven't used it to the point that I really needed to put it to a stone, but it feels like the 1.4116 steel and geometry on this blade is as good in the moderately short term as a Wusthof knife.
The Wusthof Blade Comparison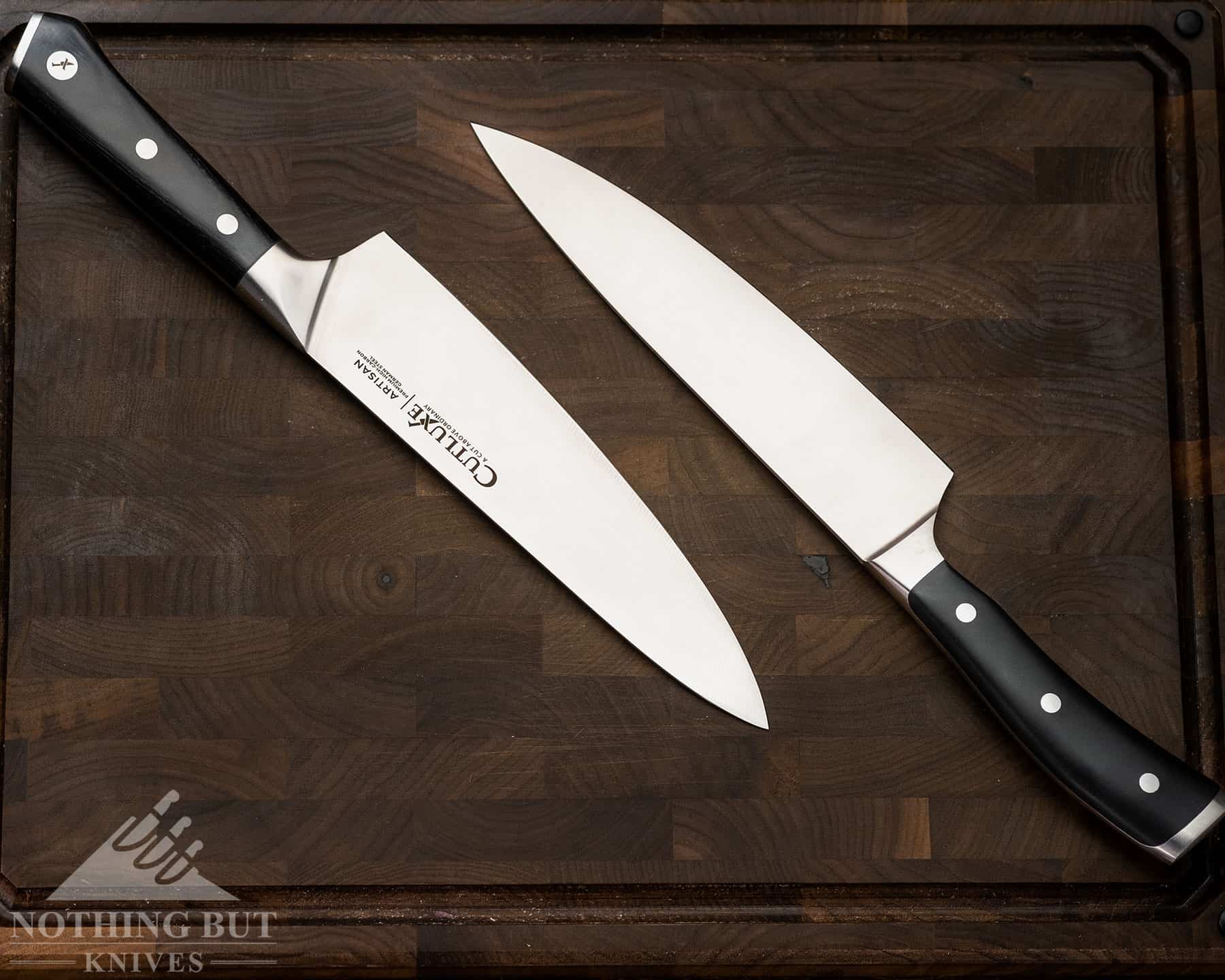 The blade is pretty similar to a Wusthof Ikon, but maybe with a little more drop to the spine, putting the point at a slightly lower level in relation to hand position.
That won't make much ergonomic difference. This rock chops about the same way, but there seems to be something thinner about the distal taper (the spine's bolster-to-tip width) that makes the top portion of the Artisan blade cut a little cleaner.
Either that, or the blade is taller at the top, making the grind behind the edge more gradual. If I were a more practiced sharpener I could probably say with more certainty. But whatever the reason, the Cutluxe seems to have a smoother action nearer the tip than my Wusthof Classic Ikon.
Squarish Handles are Good for Squarish Hands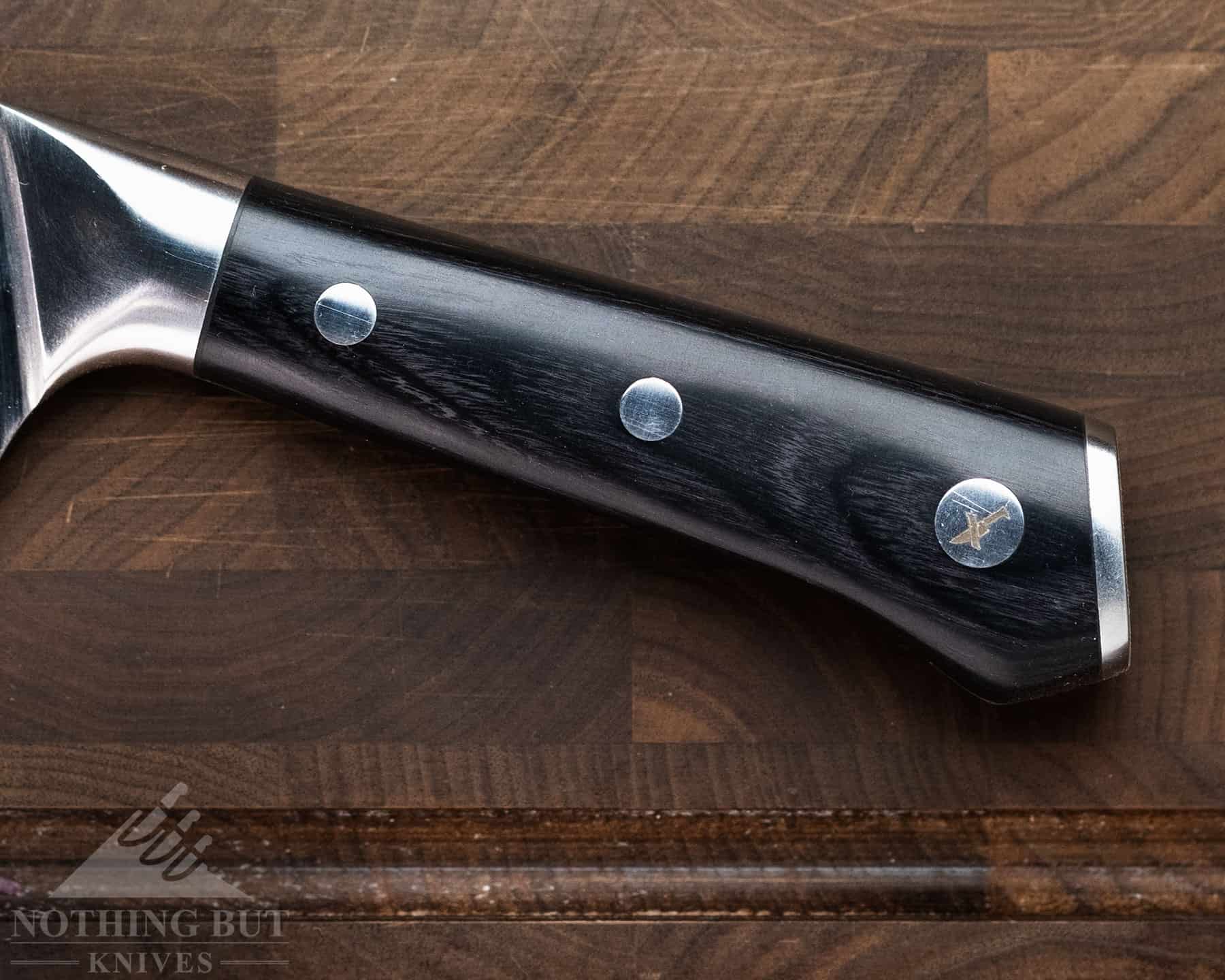 Cutluxe has done a good job of making a very boxy shape comfortable. The corners are well rounded to the point that they aren't really corners, but they leave enough of the impression of corners to give the hand some great traction.
I suspect this handle shape will be polarizing, though. My hands are an odd mix of stubby and slender with a generous lower portion that gives them a square shape of their own, and that seems to play nicely with this knife's handle shape. It has a way of locking into my palm, but since the corners are so smooth and heavily rounded, it's still easy for me to shift my grip as I'm cutting food.
I haven't passed it around during my month or so of testing, so I'm treading dangerously into conjecture, but, as much as I like the feel, I'm pretty sure someone with slimmer or smaller hands will find this knife a little too bulky even in a pinch grip.
Food Performance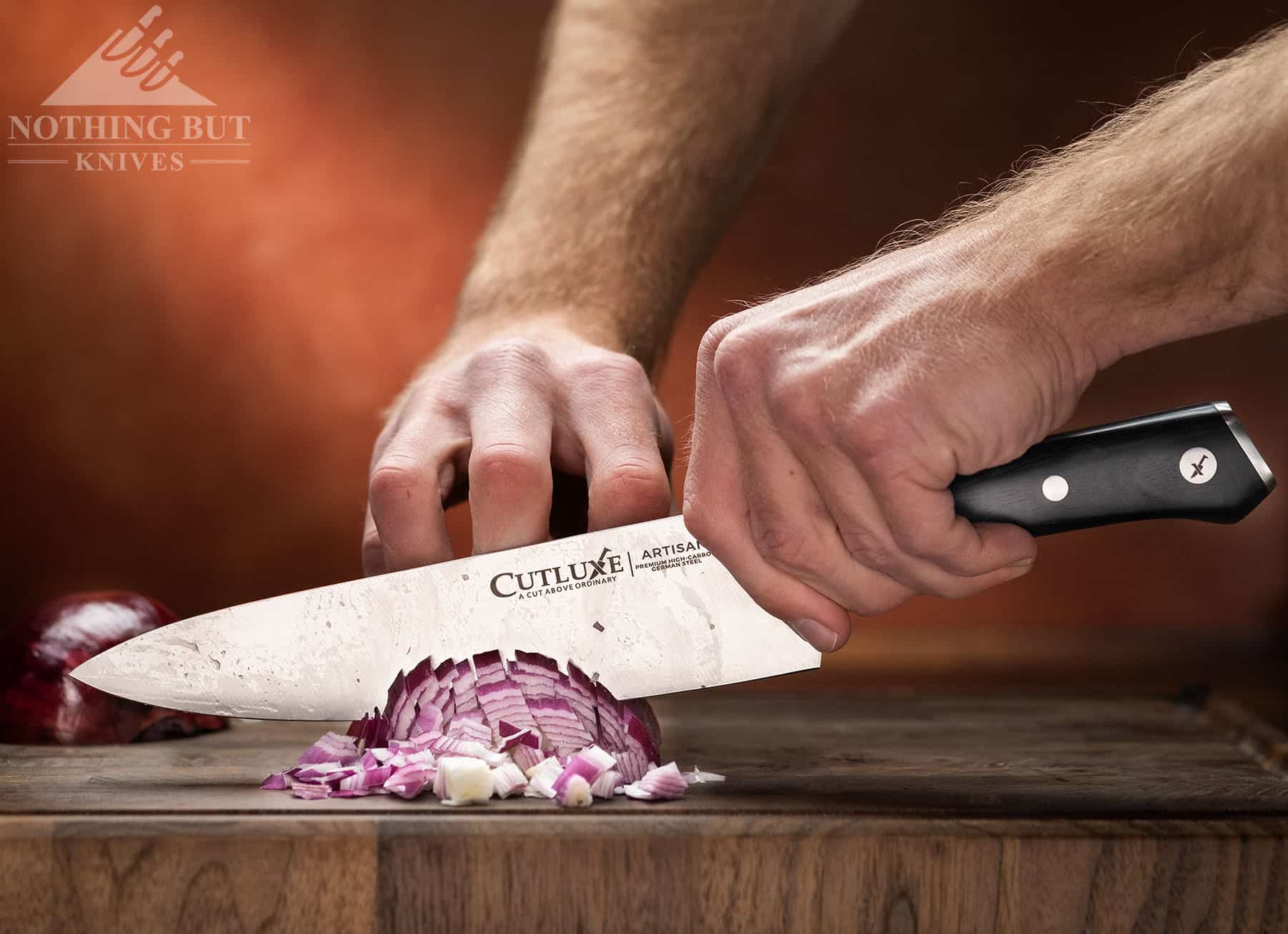 I mostly put the Artisan chef's knife to work making soup, chili, and lasagna, so there wasn't a lot of fine chopping to be done. That said, it did a fine job on just about everything, although it seems to lose performance quickly with aging produce (not rotten, but softer than ideal; there were some ambitious fridge-cleaning days during the testing period).
Onions
I felt a little bit of slipping on the outside of a few onions, but it handles the inside layers very cleanly. I didn't feel it wedging any worse than a Zwilling Pro or a Wusthof Ikon.
Mushrooms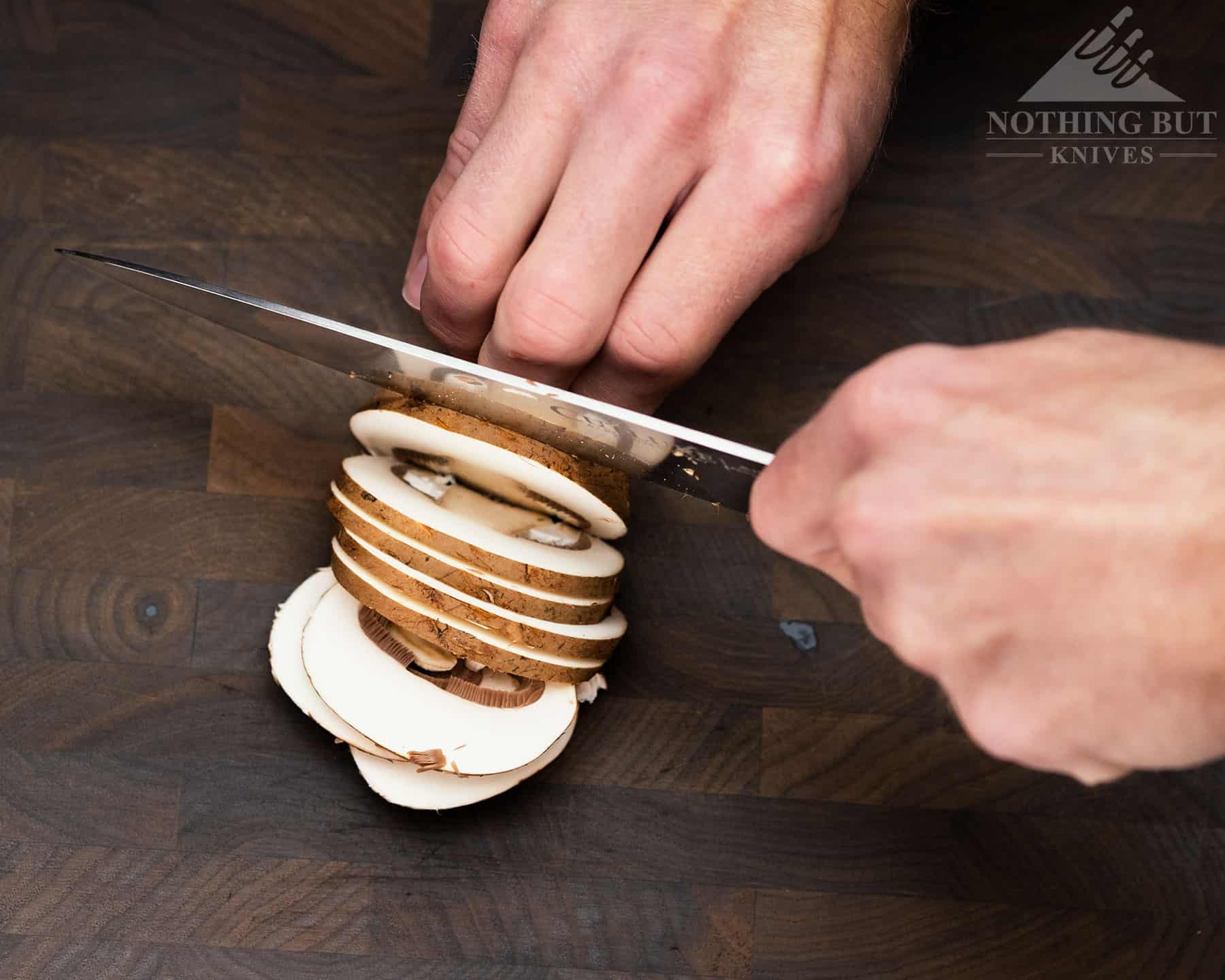 It's surprisingly good at cutting mushrooms. There was no tearing at all, and I was able to make clean cuts most of the time with a straight chopping motion. That's not something I get even on premium-priced knives.
Peppers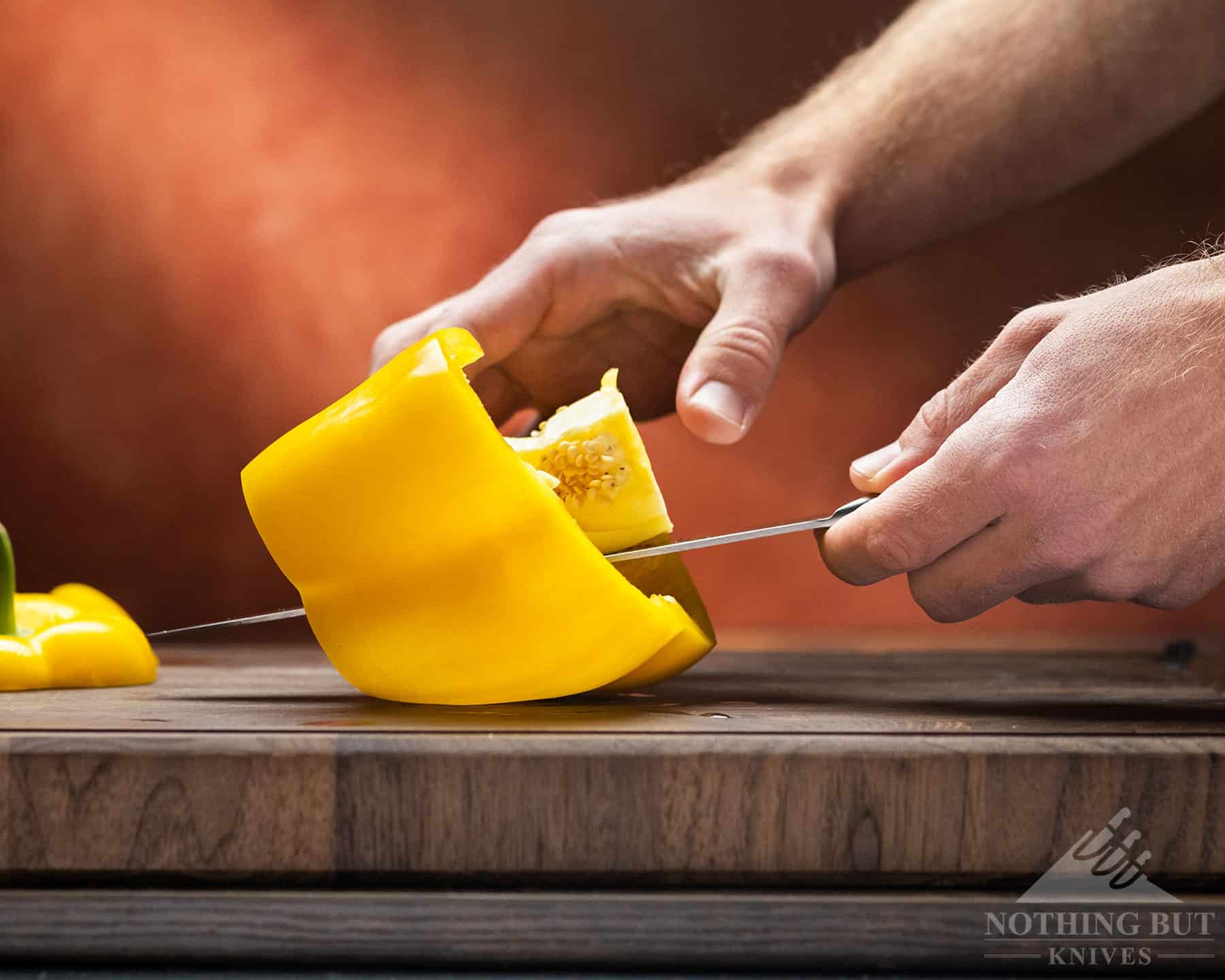 Oddly, I felt a little slipping on really smooth foods like bell peppers. That wasn't a problem for long since I usually cut bell peppers from the inside, but it's worth looking out for.
Apples
This cuts apples like a thinner knife. It has that snapping action that I'm used to feeling in knives like the Bradford chef's knife.
Carrots
This has exactly the right level of bite and behind-the-edge geometry to make cutting slices of carrots feel easy and smooth. I was mostly cutting round slices for soup, but I never felt the carrot trying to roll under the knife's edge as I was cutting (although to be fair, I made sure to hone the edge before, because cutting carrots absolutely terrifies me).
Comparison and Alternatives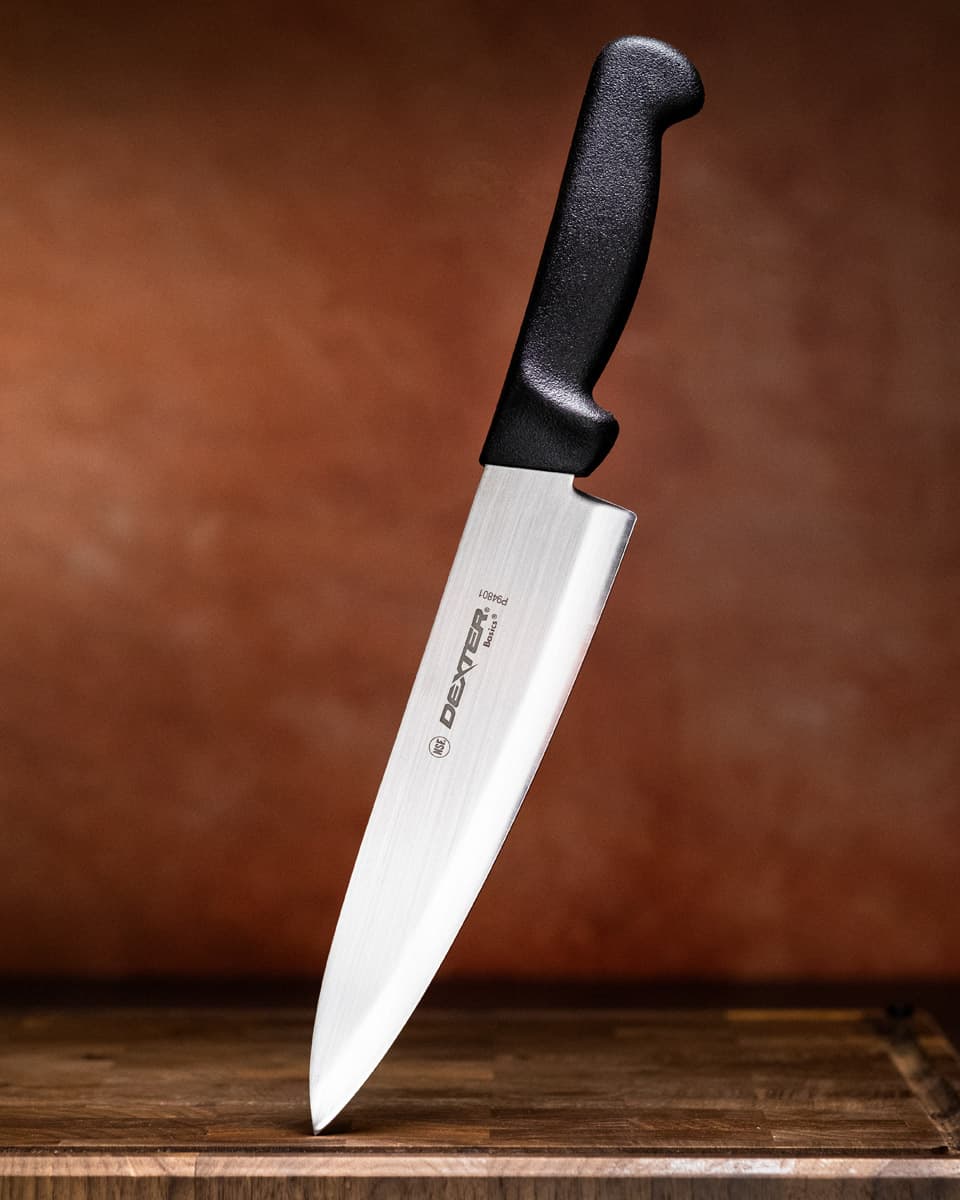 It's hard to beat the price-to-quality ratio on this knife without getting more expensive, so without defaulting to the standard low-cost alternatives in Victorinox Fibrox Pro #AD and Dexter Russel Basics #AD, it seems proper to focus on the handle shape.
That brings us to the Cangshan's TC series chef's knife. It's sort of similar with a squared off style of handle and weight distribution, and it's only a little higher up on the price bracket. The shape is more octagonal than square, which I like more visually, but I felt my hand cramping less with the Cutluxe.
The Wusthof Classic Ikon is pretty similar in blade shape and weight distribution. The big difference (besides the price) is that the handle on the Cutluxe Artisan is more square where the Ikon is oval. The shaping of this Cutluxe handle feels a lot better for my hands, but I think this is probably a personal thing.
Conclusion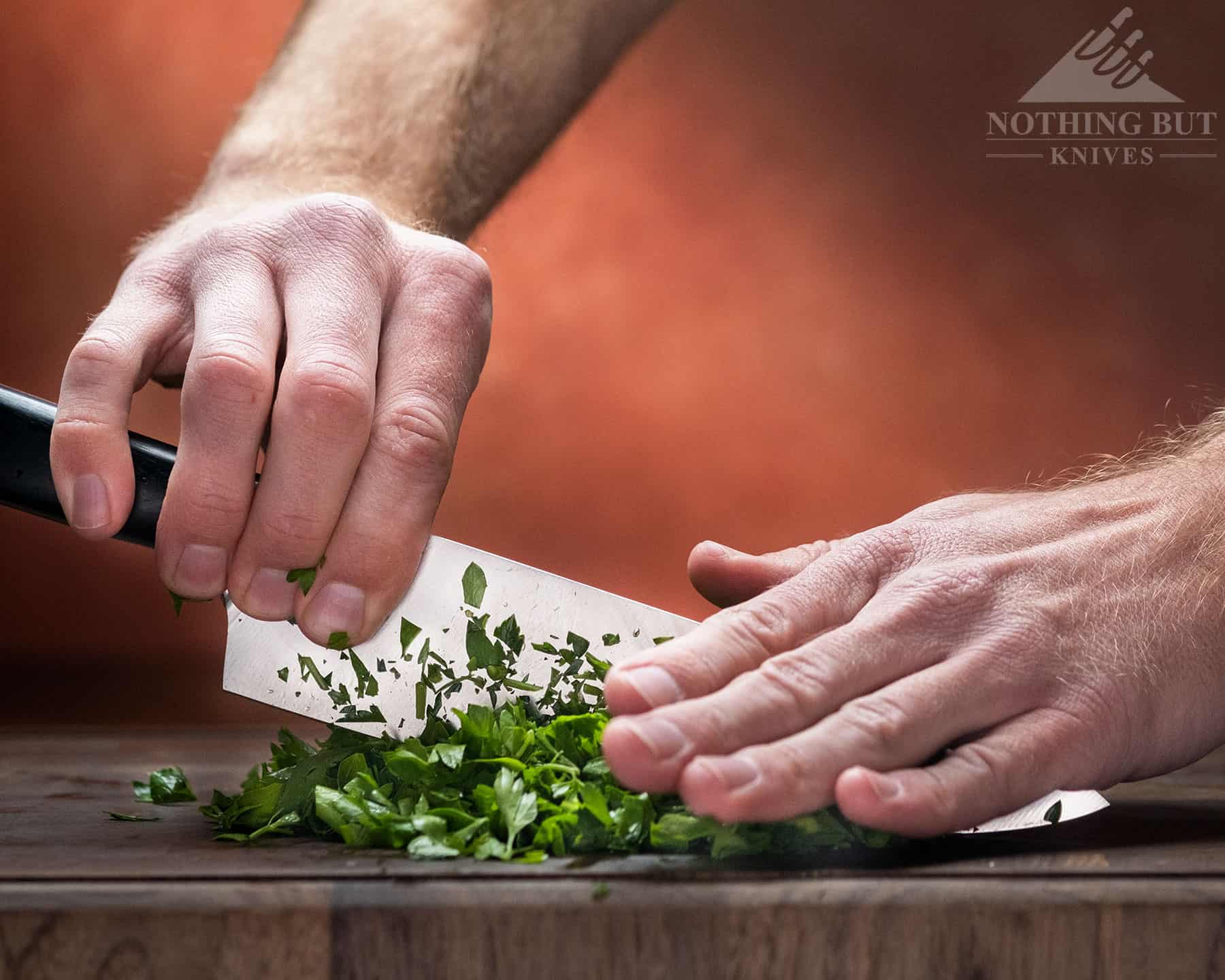 The Cutluxe Artisan Chef's Knife didn't really have a high bar to clear, but I could have raised my expectations a fair bit without being disappointed.
I think the strength of this design comes in large part from the fact that it doesn't try too hard to be different or optimized. It feels like it's responding to a real person's genuine ergonomic preference. That person probably has large hands with a fat ham hanging on the bottom, but cooks come in all shapes. The decisions Cutluxe made on the shape and flow of this knife add nicely to the overall performance. It's a tough and comfortable western chef's knife with a handle that manages to be big and boxy without feeling too heavy or obtrusive.
The Artisan Series is available in a 8-piece cutlery set that we liked so much, we included it in our article on the Best Knife Sets Under $300.