Another Military Fixed Blade Design Evolved for the Campground
Zero Tolerance dropped into Shot Show 2023 with this thing and the rest of us had to put on water wings to wade through the drool. It's the slightly more camp knife-oriented version of the ZT-9 Bayonet designed by Mike Strider. It's a little smaller and meant to be easier to choke up, carve, and hike with.
It fits neatly into the same category as some other updated military designs we've come across lately. The Artisan Wreckhart and John Ek Commando Short both took legacy knife designs that saw a lot of active duty, then shrank them down and gave them shapes that are a little more suited to a casual time around the campfire.
The significant difference here is that the ZT-6, being bigger and more expensive than both of those knives combined, has retained a certain Rambo-ish element from the original design, so it's important to be honest with ourselves when we look at this knife and ask whether we really expect it to be good, or if we expect it to be finely crafted fun. Zero Tolerance did make this to be a more widely practical blade than the oversized bayonet it came from, but it's still a shrunken, expensive homage to a big military blade.
Specifications
| | |
| --- | --- |
| Overall Length: | 10.62" |
| Blade Length: | 6.0" |
| Blade Steel: | CPM 3V w/ Cerakote |
| Hardness: | 59 – 61 HRC |
| Sheath: | Kydex |
| Blade Thickness: | 0.189" (4.9 mm) |
| Blade Shape: | Clip point |
| Blade Grind: | Flat |
| Handle Length: | 4.5" |
| Handle Material: | G10 |
| Build: | Full tang |
| Weight: | 292 g (10.3 oz) |
| Designer: | In house, but Mike Strider inspired |
| Made in: | USA |
Pros
Super well balanced
Great edge on a tough powder steel
Rock solid build, fit, and finish
Comfortable handle with a good grip
Cons
Hell of a price
Hardware gave me a little trouble
Not a lot of room on the blade to use with fire steel
Not much to the sheath
How to Turn a Bayonet Design into a Camping Knife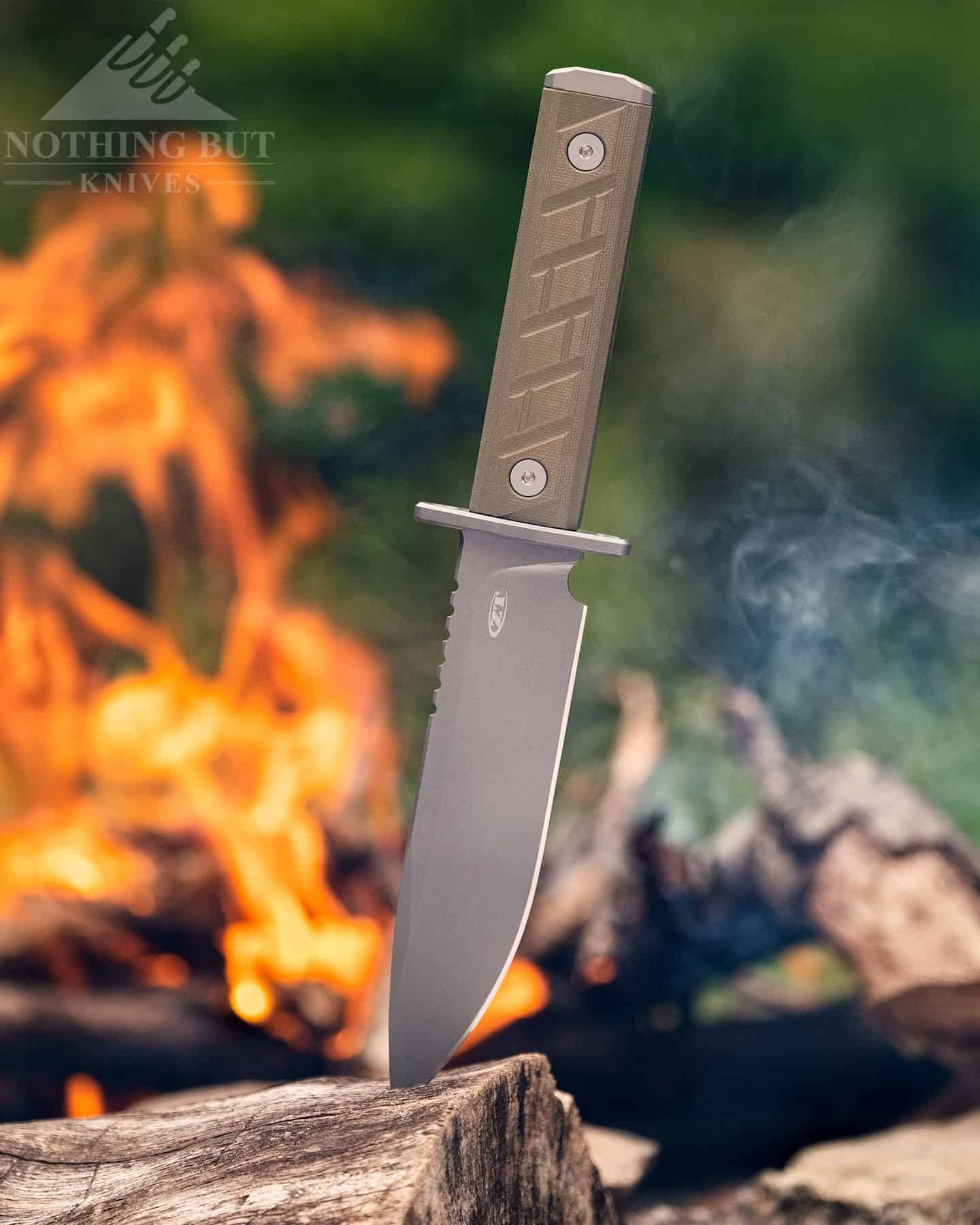 When the ZT-9 first came out, they called it the strongest production knife on the face of the earth, which sounds like a fun claim to test. But we don't have the funds to test it the way we'd like.
Regardless of whether that absolute statement was true, the ZT-9 was pretty damn tough. It was designed to mount onto an M4, M16, or AR15 and leave about 6 inches of blade in front of the barrel. The ZT-0006 dials that Strider design back a few notches and just puts a six-inch blade right in your hand, but let's get into the nuts and bolts of this update:
What's the Same on the 0006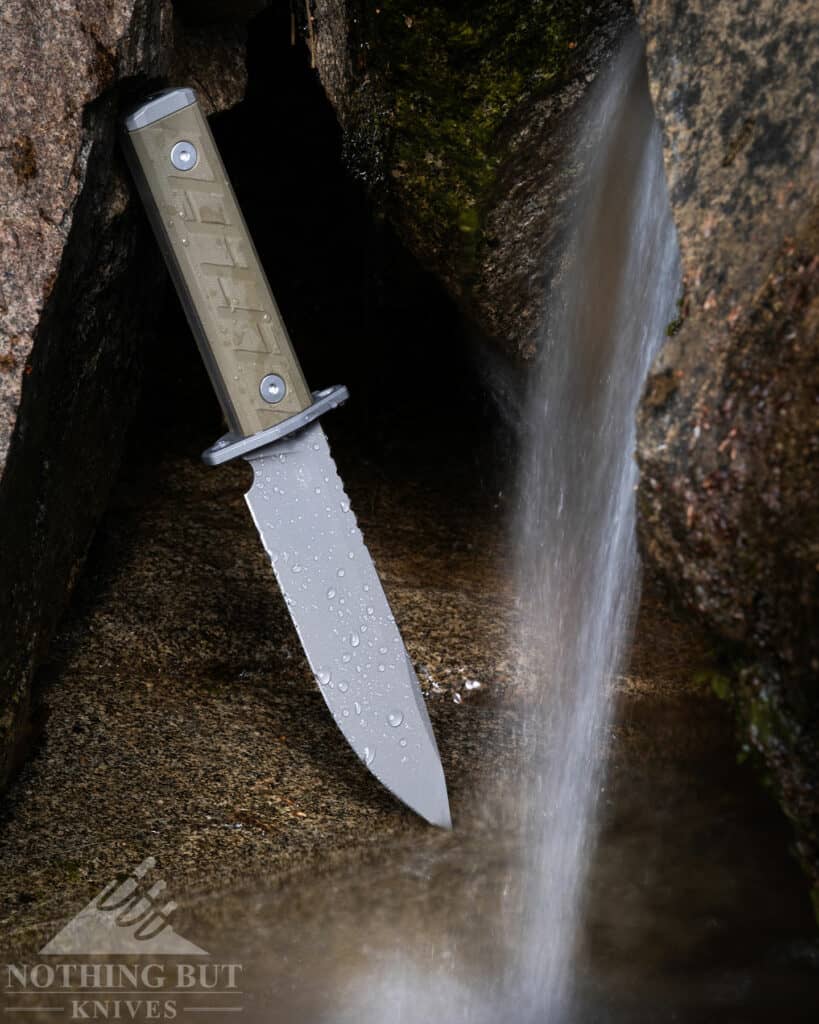 Basic coffin-style G10 handle in Ranger green,
Full tang,
Prominent handguard,
Jimping on the spine,
Still huge and overbuilt,
What's Different on the 0006
Has a 6" blade instead of 7, and 2" shorter overall,
Blade is a powder tool steel w/ a Cerkote coating instead of stainless S30V,
Slightly thinner blade stock (went from 0.25" to 0.189"),
Smaller handguard,
No muzzle ring or latch plate,
Handle texturing,
The choil is much smaller,
Has a plain clip point blade instead of a drop point with a swedge grind,
Other Neat Details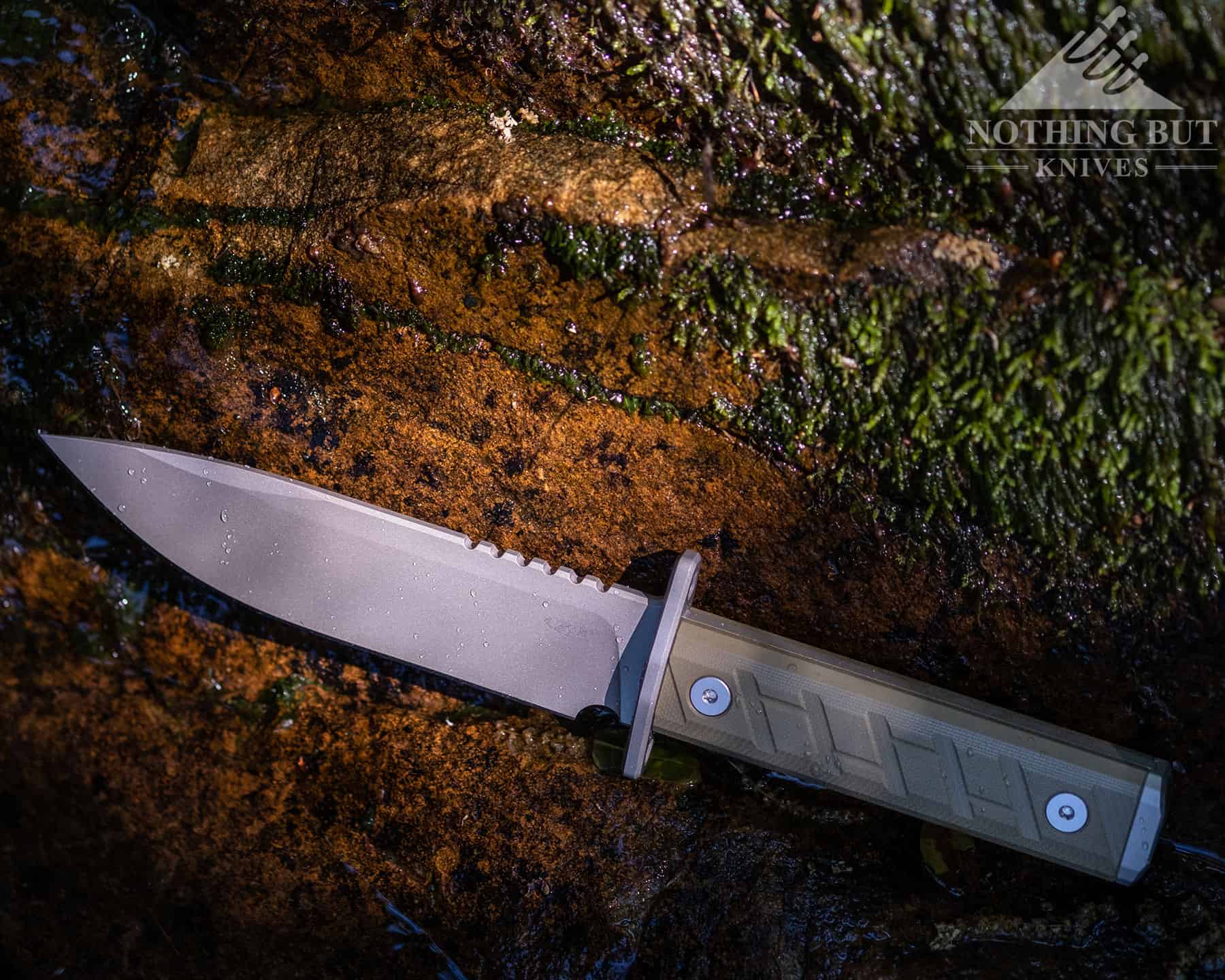 Even though they took some hardware off the original design, there are a couple interesting mechanical details on the ZT-6, mostly in the way they've fixed the handguard to the knife.
There's a hidden hex nut in the handle that lets you tighten up the pommel. If you loosen up the scales first, tightening that pommel will push the scales up against the handguard to lock it in more firmly.
They've also put a clear Cerakote finish on the blade. It's a small detail, but it's a nice aesthetic move. This way we can all enjoy the bead blast finish on this high carbon steel without having to worry so much about corrosion. It also makes the knife a million times easier to take pictures of, which tends to be the best feature a knife can have for us, because we spend less time trying to get a shot right, and more time actually using the knife.
The Sheath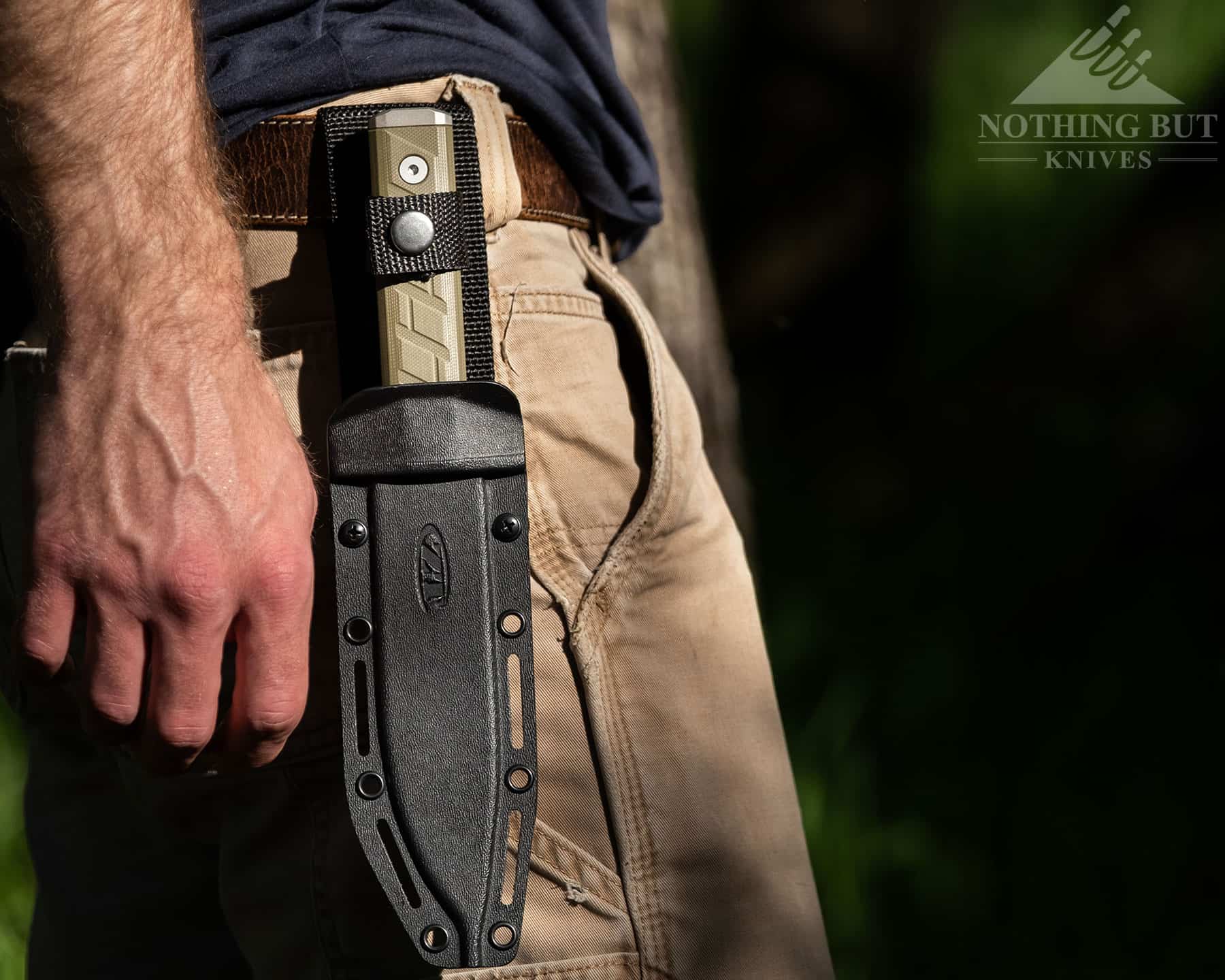 There's not a whole lot to the sheath. It's a little plain, and drawing always feels kind of awkward, but it's hard to make a good sheath for a big knife with a full handguard.
It has a nylon back with a retention strap. The back can be changed for right or left hand vertical carry, and moved up or down on the sheath, which was great news for the hobbits around here who decided it was a good idea to review a 10-inch knife.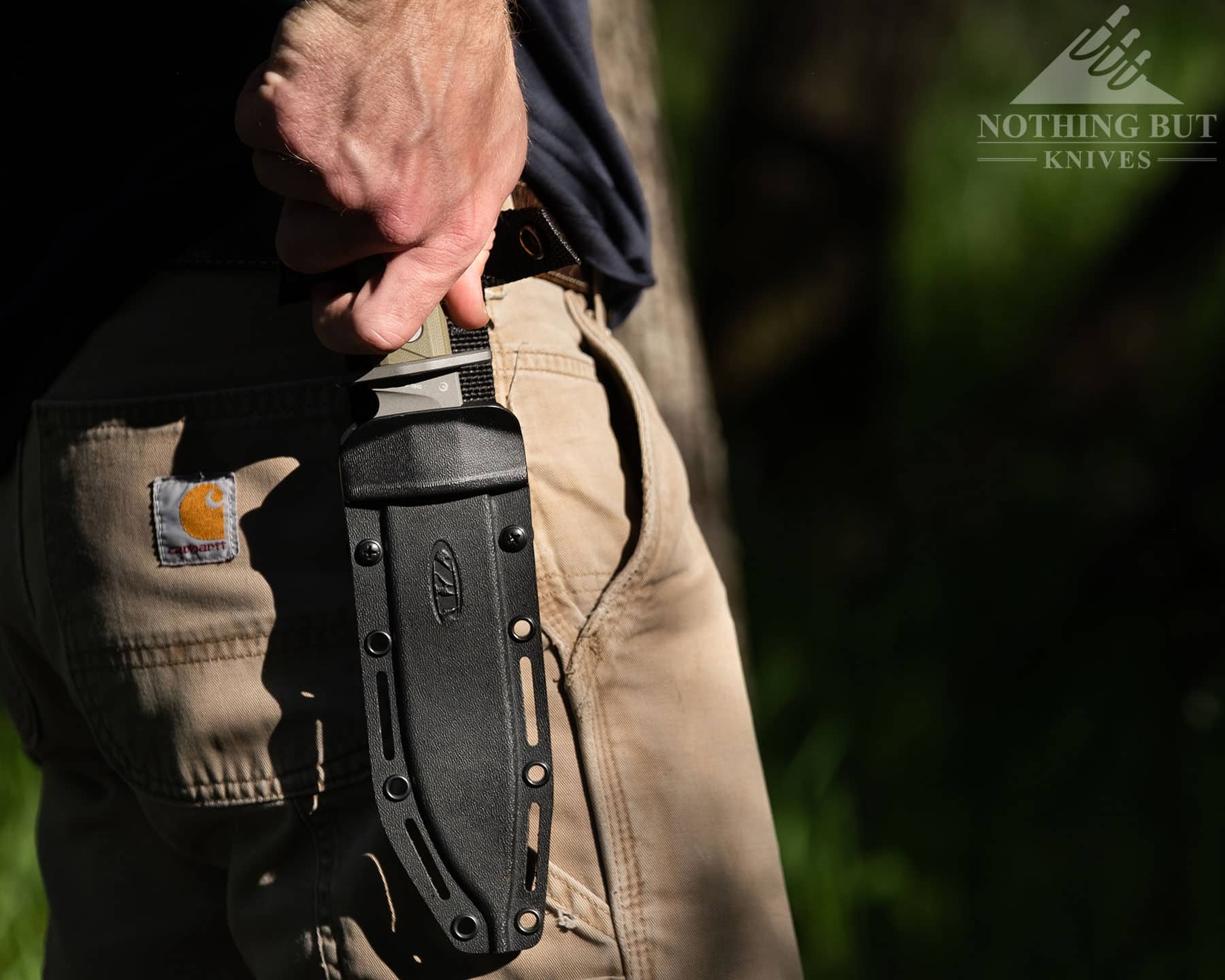 It's somewhat compatible with a regular sized Tek Lok. You'll have to utilize the slot on the sheath, though, so it's a little janky, but it'll work okay.
This feels like it badly needs a cord at the bottom of the sheath to wrap around the leg. I hiked up and down some steep inclines with this thing and you could have followed the rhythm of my walk from two hundred yards from how loudly it was slapping against my leg. If I strapped the thing a farther back on the belt I could have sued it for sexual harassment.
Trouble with Hardware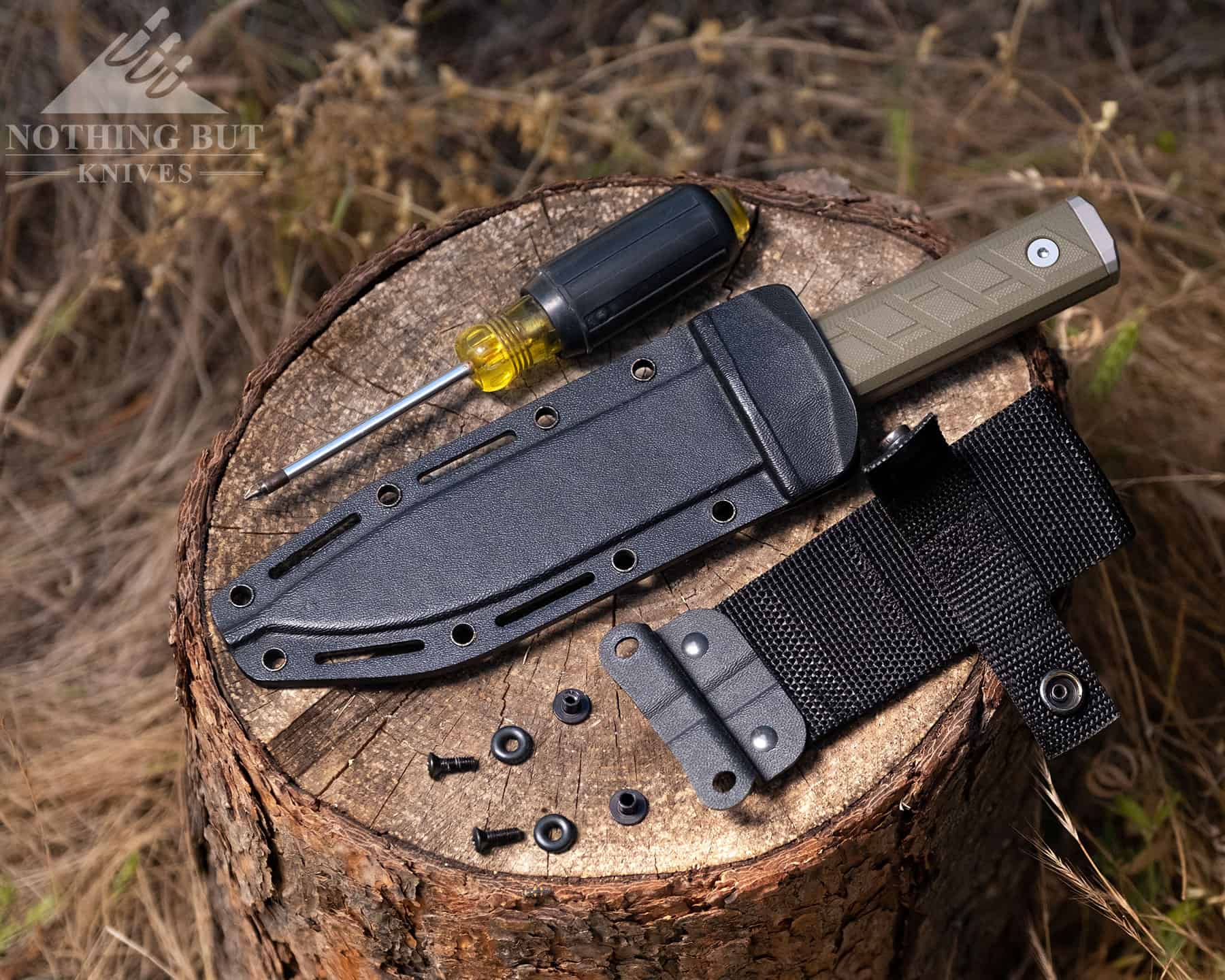 The mounting plate can be moved up and down, but I had a hell of a time adjusting it the first go around. Some kind of locktite or resin-y stuff had gotten down into one of the screws so I had to clamp one of the nuts down in place with pliers in order to keep the screw from free spinning the whole thing.
This trouble continued into the handle, although that's easier to deal with. The bottom torx screws also kept free spinning, so I had to hold another screwdriver into the other side to crack the thing loose and play around with the handguard-tightening feature.
These are all fixable problems. I'm used to dealing with stubborn hardware, and this might have been just a little hiccup from the factory. Normally I would just make a passing comment about the hardware being tricky, but I wasn't expecting to deal with it on a knife that was this expensive.
In the Field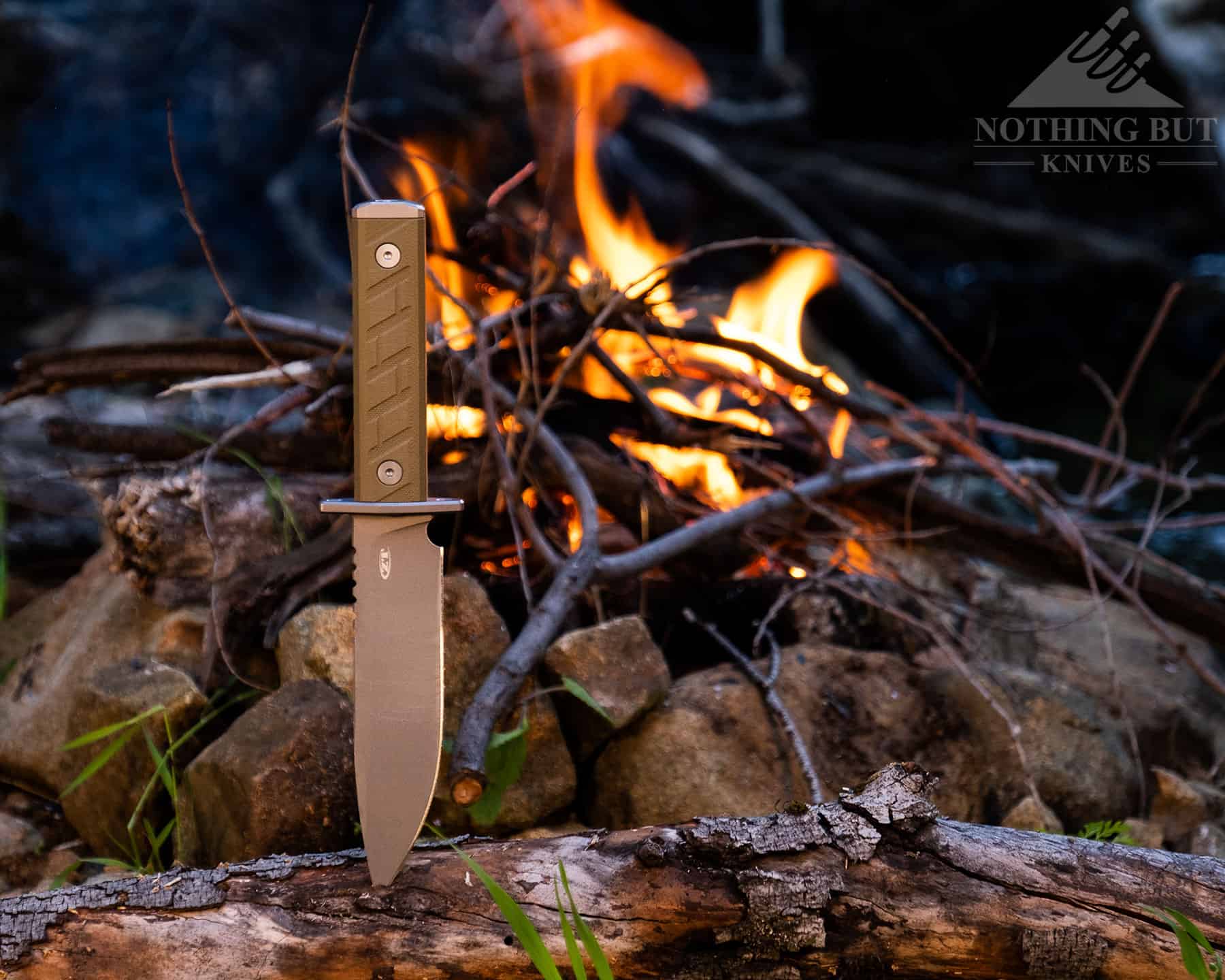 The principle shift is from a dedicated war-time knife to a more general purpose survival / tactical design. So they used a tougher steel, made it lighter, and optimized it for starting fires and splitting wood. Of course, there's no getting away from the tactical vibe. The handguard alone makes it an obvious candidate for self defense even if the size would keep you from actually carrying it anywhere that you'd end up using it that way.
But we're campers, first. So that's how this thing got tested.
The Blade is a Wood Eater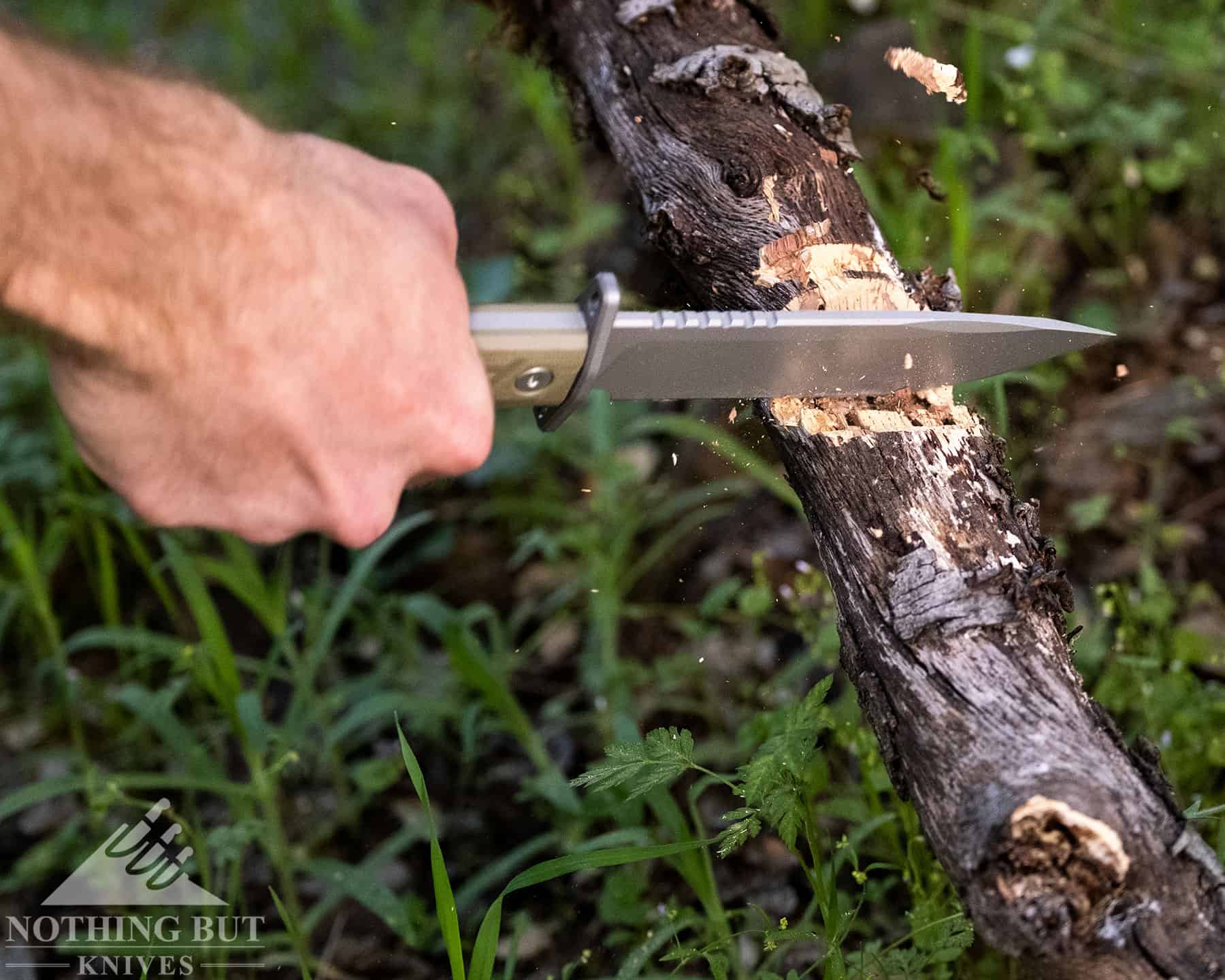 There's some pretty dang nice work on this edge. It bit into every kind of wood we threw it at (literally and figuratively). It ripped branches apart when I was chopping, and the balance even made it feel easier to do over a longer period of time. I don't feel my arm getting tired with the ZT-6 the way I do with more blade-heavy knives.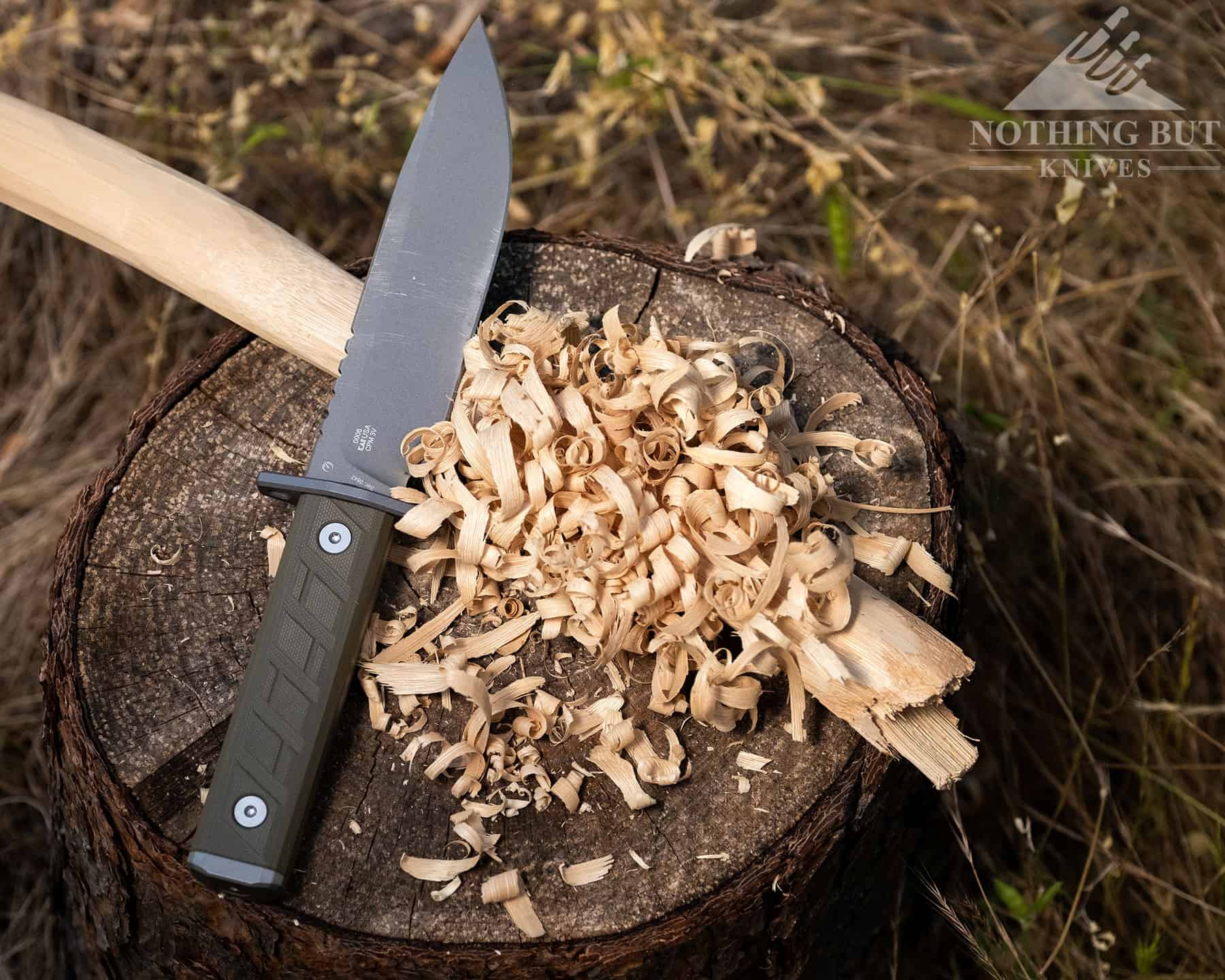 It can make a great feather stick too, although it has the problem of an aggressive edge that likes to bite, so you have to really control the angle to keep from carving out feathers that are too thick. Over the years, though, I've found this is more ideal for the stubborn oak branches we often have to work with in our testing grounds. Softer wood like pine or spruce takes a little more finessing with the ZT-6, but once you acclimate to the feel it goes pretty smoothly.
The ZT-6 is less good if you want to do anything detailed with food. I did a pretty horrid job deboning a lamb steak on one of our cook outs, and I'm pretty sure that's where I chipped the edge of the blade near the tip. But as long as you're carving or chopping you'll be in good shape.
Trouble with Fire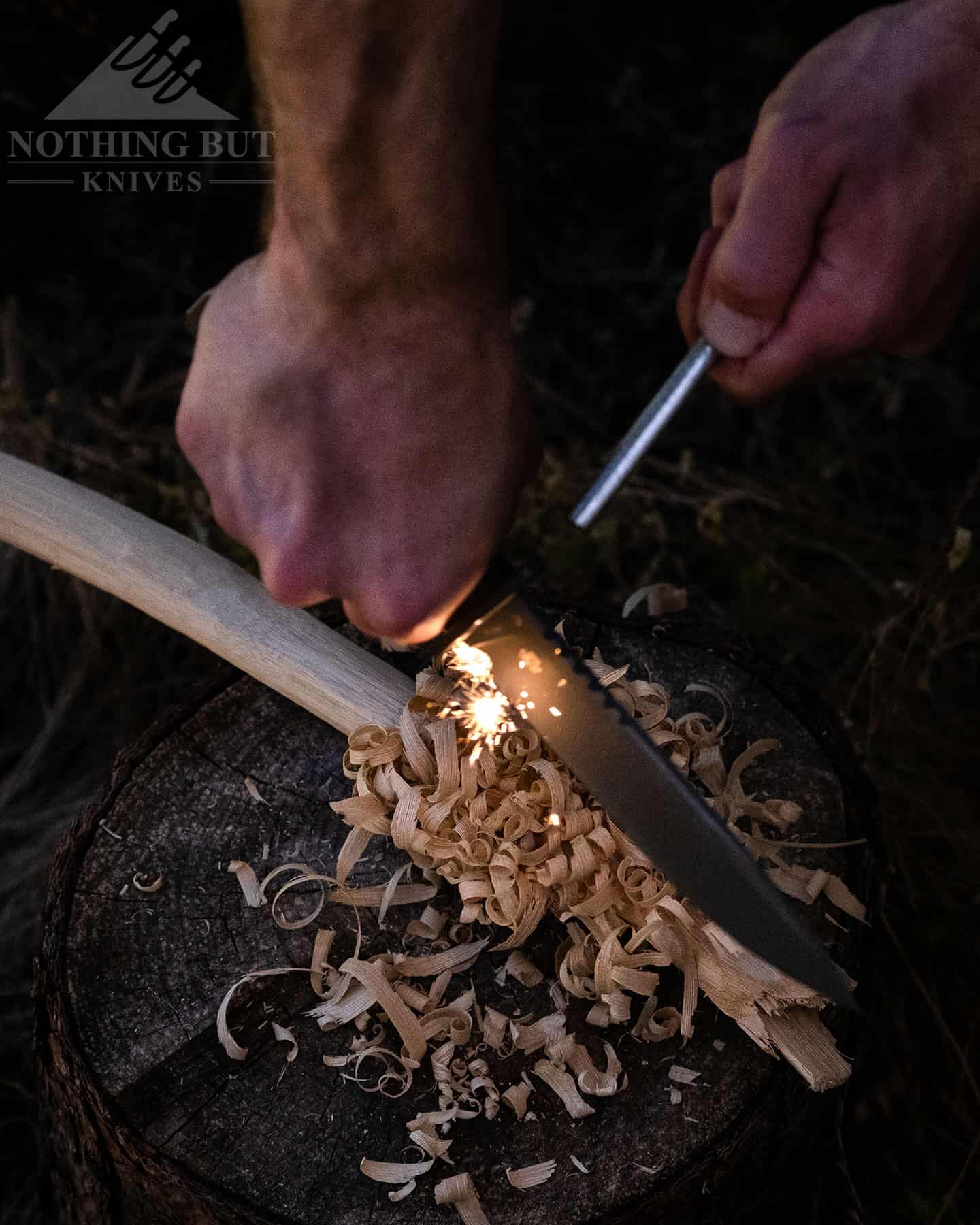 The spine on the blade is well chamfered, so the only option for fire scraping here is the sharpening choil. They've left it just big enough for any size of ferro rod to fit in there, but it still feels like a hassle.
We did manage to throw spark with a few different ferro rods, but it's hard to keep up a good pace when you have such a small area to scrape with. We gave up on actually starting a fire with it after the fourth or fifth time we watched a smoldering feather go out.
The ZT-6 could definitely start a fire if you really need it to, but it's going to make you get really good at aiming your sparks before it lights anything. I wish they had just given all that comfy jimping on the spine a 90° angle. I barely ever rest my thumb on the spine, even though it's easy enough to reach my thumb over the handguard. That kind of grip just never came up with the way I use the ZT-6. I'd rather have the ability to start a fire.
The Handle is Grippier than it Looks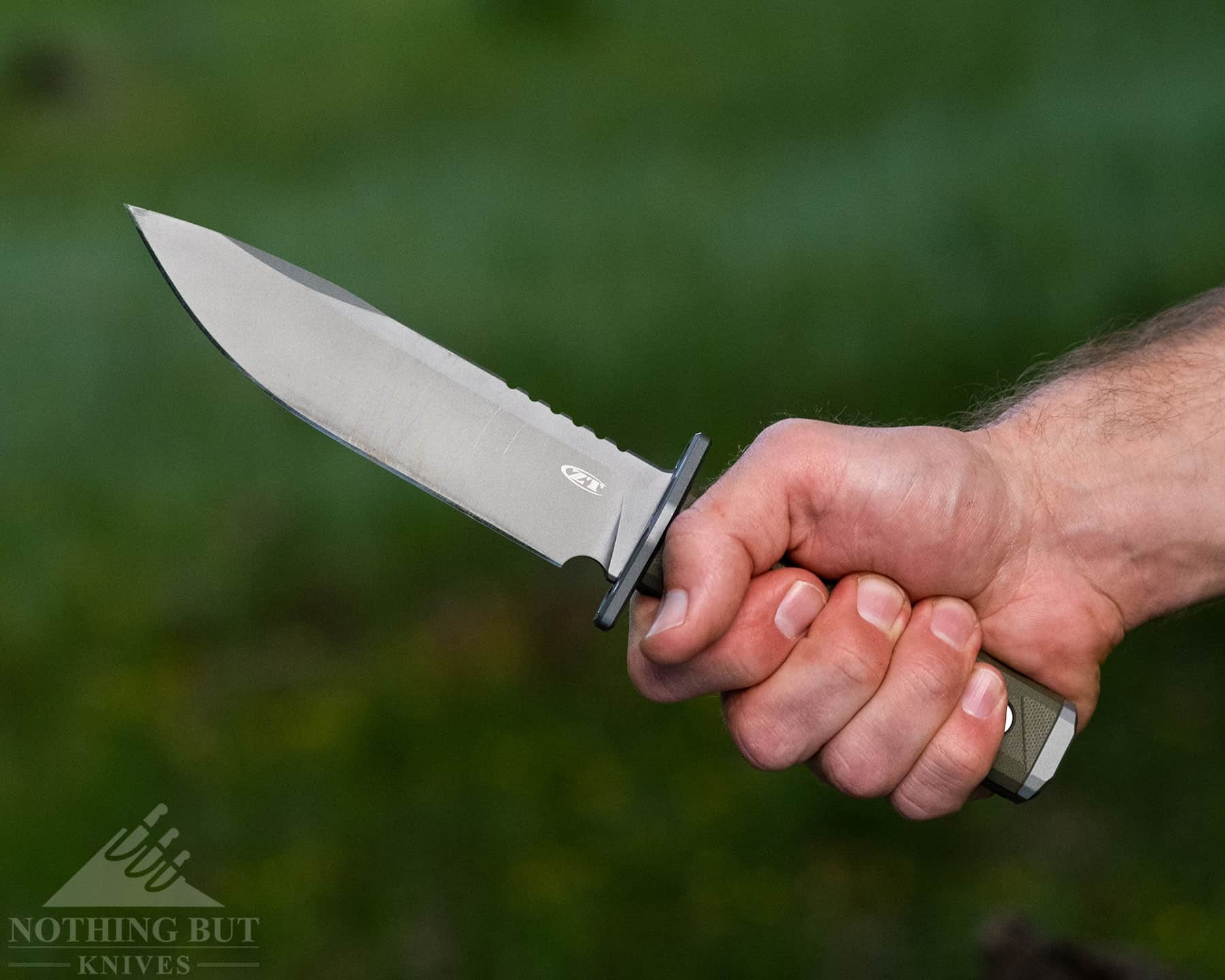 The handle stays in hand surprisingly well. I thought for sure it would have a slipping problem since it doesn't have any curvature for the hand to wrap around, but that texturing is doing a lot of work.
Not only did it not slip out of my hand when I was chopping (at least no more than a good handle with some curvature), it's really easy to index the edge. It has just enough of a boxy shape that my fingers can get a firm grip, but the chamfering is subtle and placed well enough that the corners don't bite into my hand. I always have a good sense of where the edge is pointing, and feel like I have plenty of control over any shift in that direction. This handle is damn near a work of art.
Comparison, Alternatives, and Military Legacies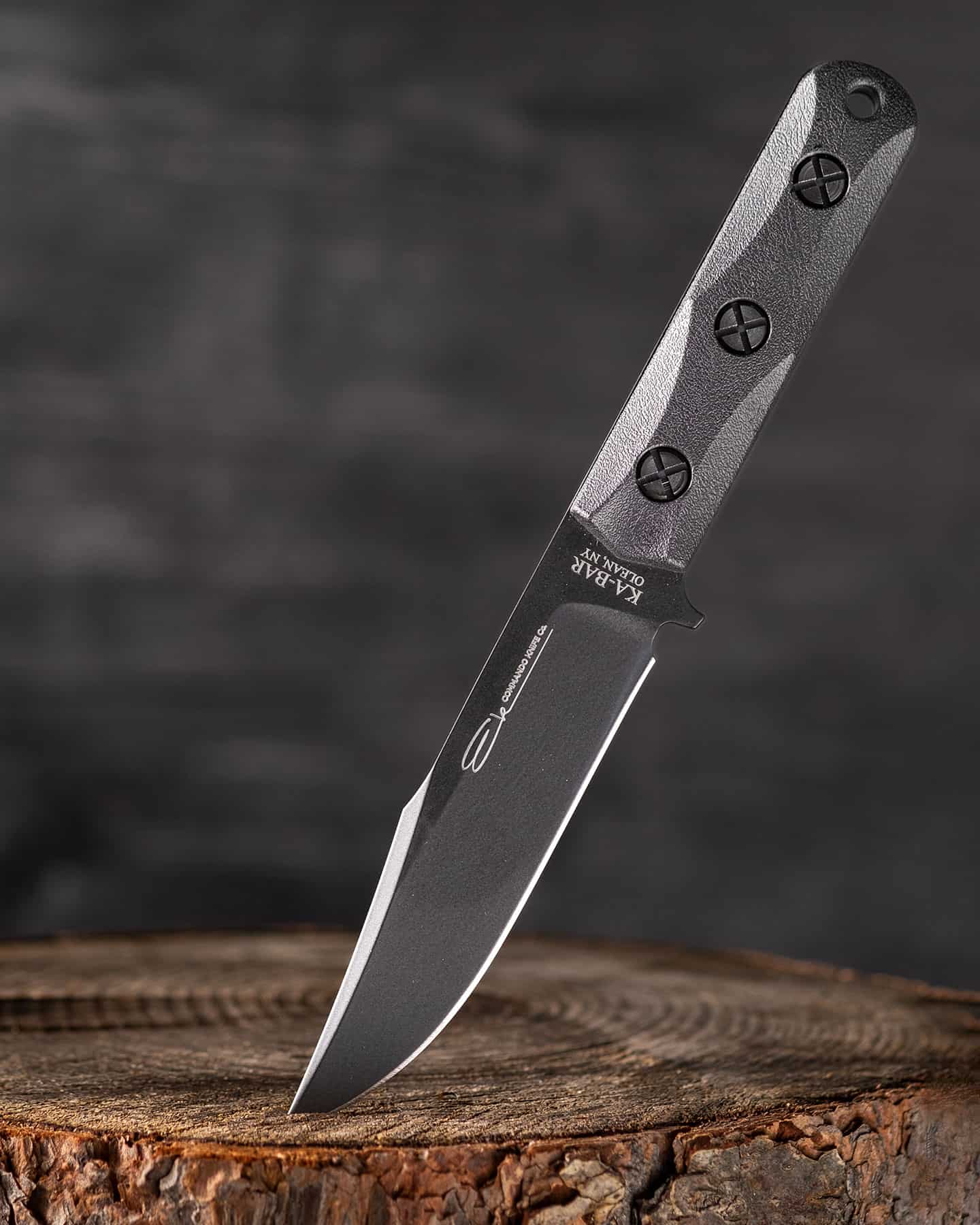 Three knives came to mind when I picked the ZT-6 up, because they're also smaller versions of big, classic military knives. Two of them are made by Ka Bar, possibly not by coincidence.
The first was the Short Ka Bar. It's a similar size, although it has significantly less bulk, and costs about a third of the ZT-0006. The real choice is between the leather-ring handle and leather sheath or the coffin, G10 handle and a Kydex sheath. The Short Ka Bar rides on my belt a lot better, so that's my preference, but the sheath isn't as adaptable, so there's a lot of give and take to consider here.
The other Ka Bar option is the Ek Commando Short, which is definitely the best option for camping, and maybe just the best option overall. It's a compact but highly efficient design that makes really good use of the handle scalloping of the original John Ek knives to make a smaller knife with a ton of grip traction. It has a ghost of the old handguards, but it's still pretty effective.
The Artisan Wreckhart is a bit of a different story. It combines an old camping knife design with an old WWII design to make something that comes dangerously close to being a curiosity for history buffs and knife nerds, but the powder steel and the neutral coffin handle make it an infinitely useful tool, and having a spear point blade out in the wild turns out to open up its own range of possibilities.
If you think you are in the market for somthing that is more of a bushcraft knife than a survival knife, check out our Bushcrat Knife article that covers out top picks at
Conclusion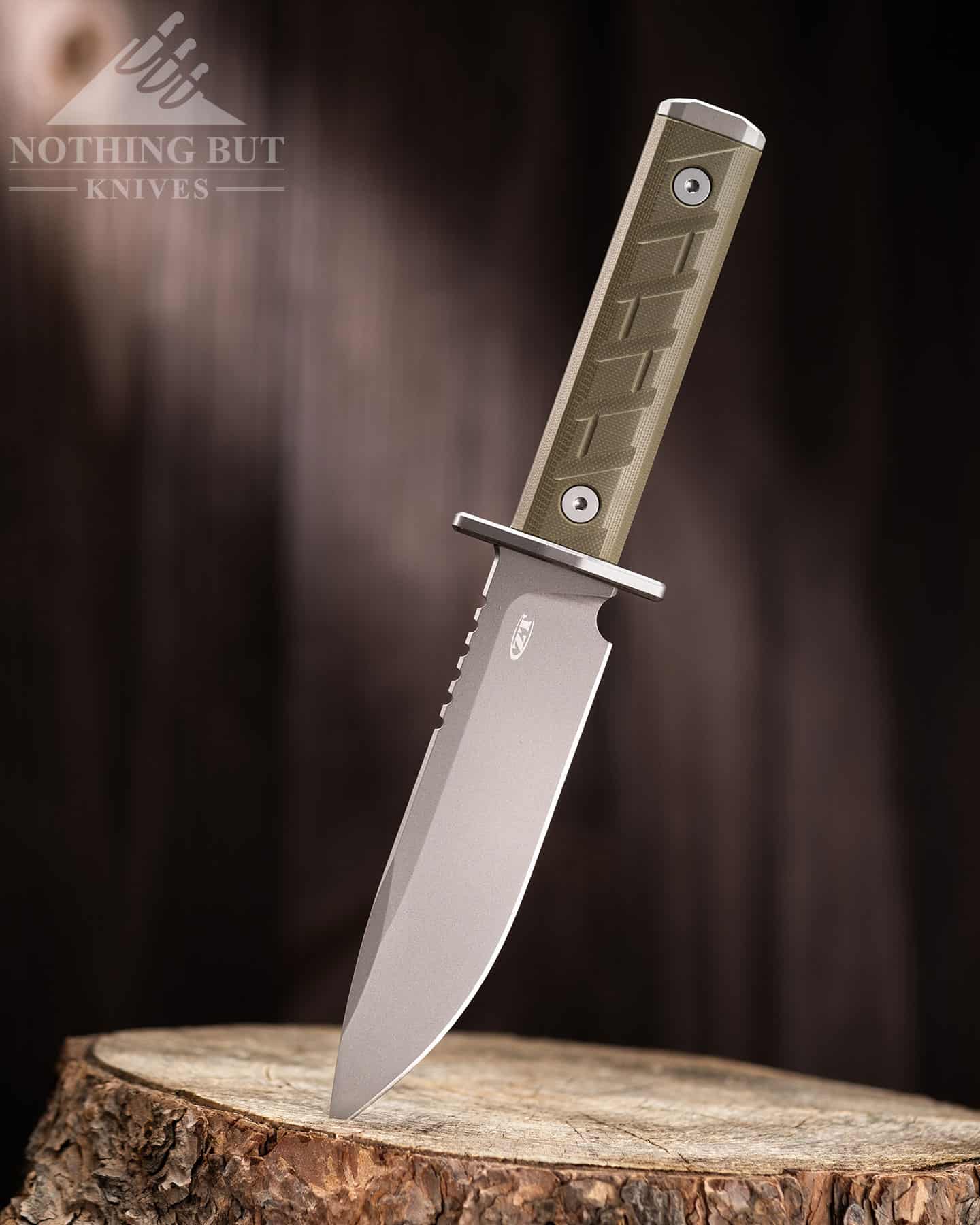 The real purpose of the ZT-6 was to invoke an old, highly effective design to make something that is, essentially, a toy for grown ups. It fills that role incredibly well, but it's hard to justify it outside of that context.
The problem with the ZT-6, when compared to other military-gone-camping knives, is that the price kind of puts this thing into the collector's category. Even though it's an incredible knife that could turn your campsite into a playground full of finely processed wood, it really challenges the buyer to ask themselves how much they like the style and the CPM steel before pulling the trigger.
I'm sure there are a handful of people out there who would drop a couple hundred dollars and take this thing out into the elements. It's a sweet knife, and it's fun to use. If you have the money, you should absolutely take this thing camping. You'll have a good time. But if you don't have the money, there are similar options that are almost as good.