This is a Set of True Kitchen Essentials in a Very Tall Package
Most chefs and knife makers (custom makers, anyway) will tell you that you only really need a chef's knife, a paring, and a bread knife. And yet, most kitchen knife companies will push huge sets containing twenty knives insisting it gives you "everything you need" in the same way a car dealership might say you need paint insurance.
The Dreamcut set from Bavarian Knife Works is something a bit different from a lot of block sets I've come across over the years, though. It still has more than the average person needs, but it has more in a very deliberate way.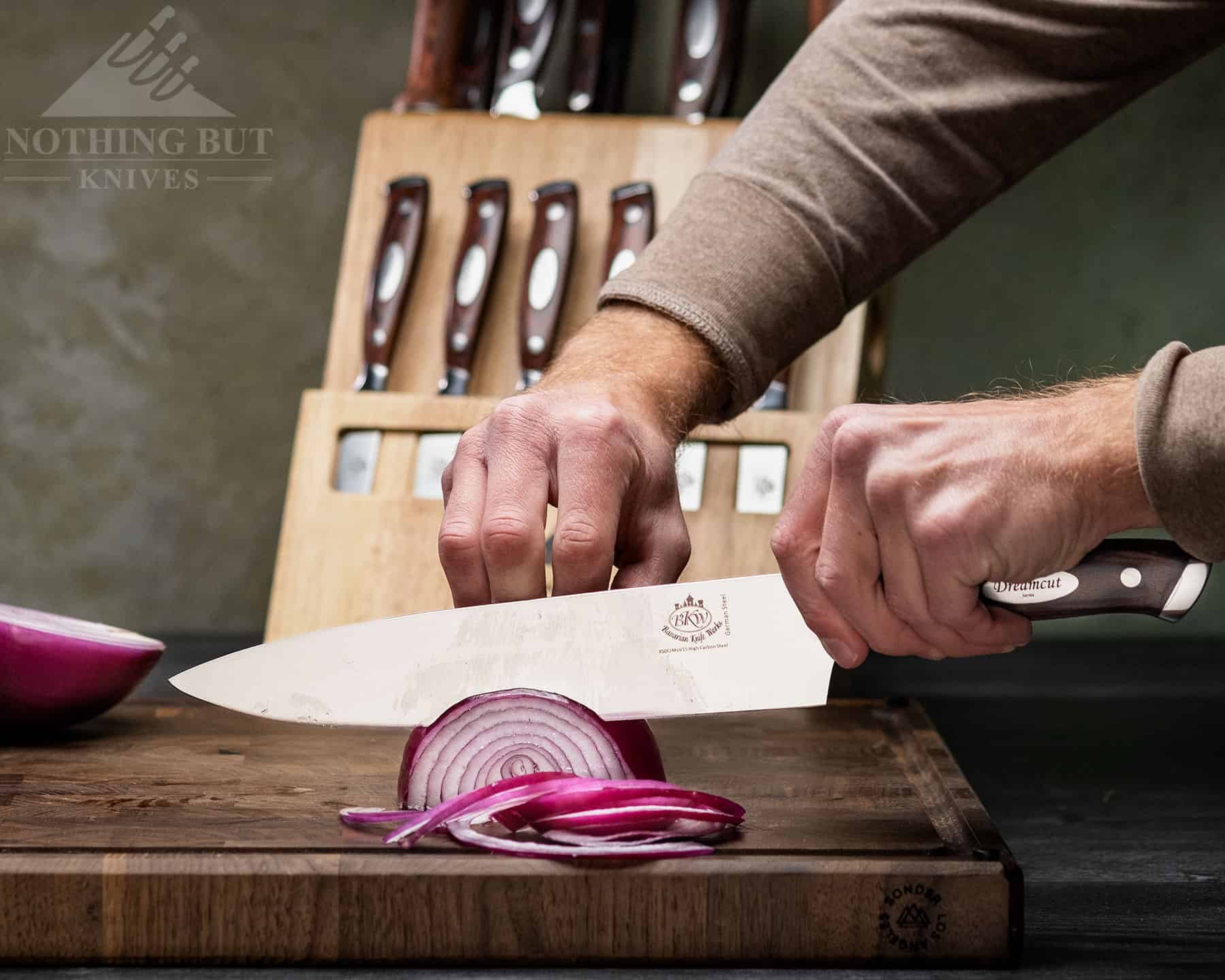 Each knife included in it actually feels like it has a different, essential use. Besides the chef, paring, and bread knife staples, the santoku is good for herbs, the slicer is great for portioning meat, and the cleaver is a heavy-duty all-purpose tool.
These knives are also very light, and have crowned spines, which makes them some of the most comfortable production kitchen knives I've ever held.
Specifications
| | |
| --- | --- |
| Steel: | X50Cr15MoV |
| Hardness: | 58 HRC |
| Handle: | Pakkawood w/ steel bolster & cap |
| Construction: | Full tang |
| Block Dimensions: | 9.7"W x 7"D x 10.5"T |
In This Set
10" chef's knife
10" carving knife
9" off-set bread knife
8" boning knife
7" santoku
5" paring
Honing steel
Diamond steel
Carving fork
Kitchen shears
Six steak knives w/ detachable block
Pros
Excellent edge geometry
Surprisingly lightweight and well balanced
Crowned spines make these even more comfortable
Good selection of essential tools in the set
Cons
The block set feels like it's for taller people
It's hard to find a good way to place the block with the steak knife add on
Comfort and Balance
Whatever kind of performance I can get out of these knives (which is a fair amount), it's nothing to how comfortable they are. Everything is made easier by the fact that the knives are light with a mostly-neutral balance, and handles that are shaped perfectly for a pinch grip and a full grip.
This is the key element, because I can fix a bad edge, but I don't know what the hell to do with a bad handle.
Surprisingly Lightweight
These look like big knives, but they don't really feel like big knives.
Just going by a chef knife comparison, the Dreamcut series is heavier than the knives from the Wusthof Classic Ikon series and lighter than the Zwilling Pro knives. But they're so thin, and the blades average out a little taller than your typical kitchen knives (both chef's knives are 2.5 inches from edge to spine at the heel) so they look big, but feel significantly lighter in hand.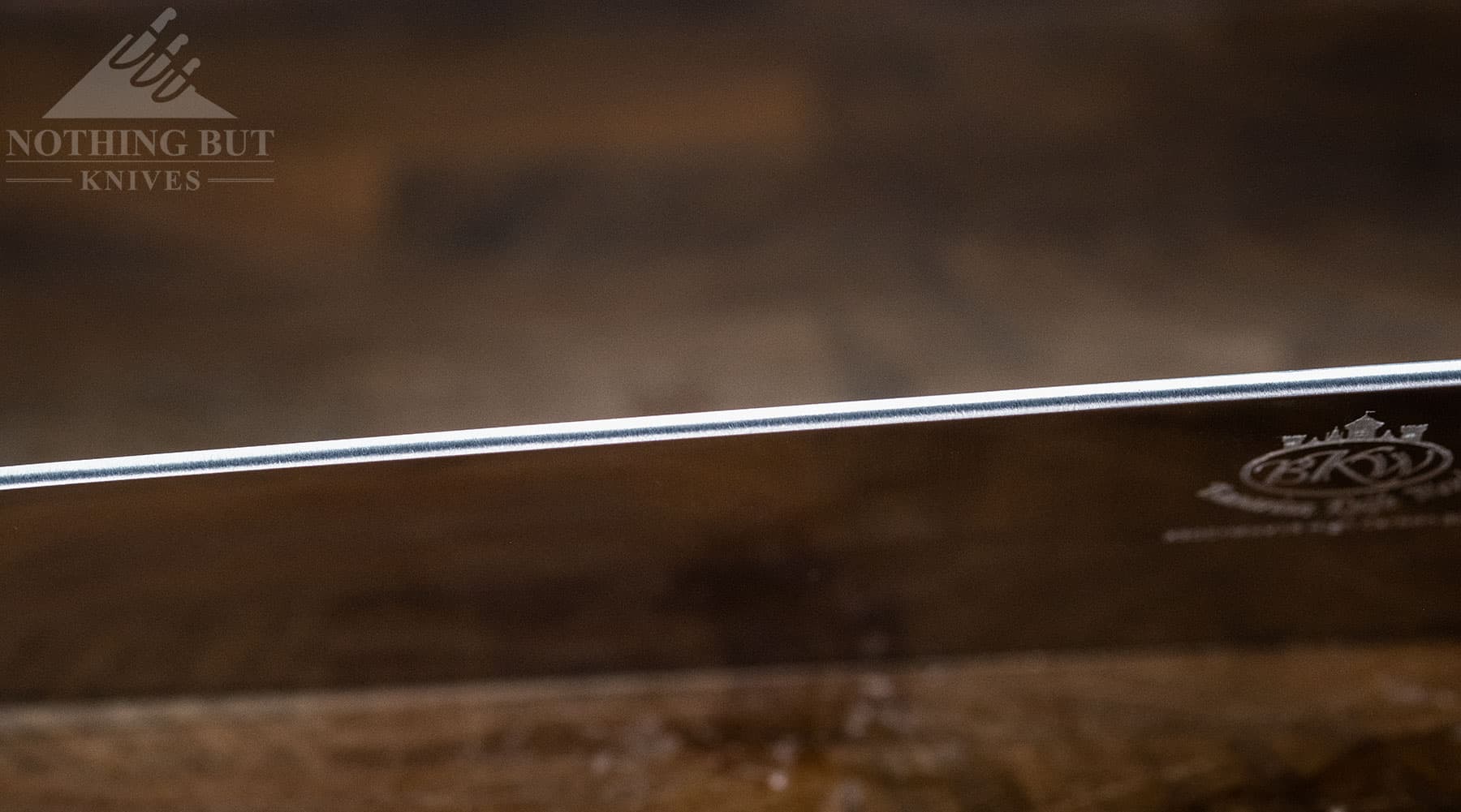 It took a lot of chopping before I felt any kind of significant fatigue in my wrist or arm, and the spines are crowned so there's nothing to bite into the fingers.
One possible downside is that since the balance is mostly neutral on the 7-inch-and-above knives it might feel like a little more effort to keep rock chopping for a long time, but the edge usually helps make up for the lack of weight in the handle.
The Block is for Tall People with Big Counters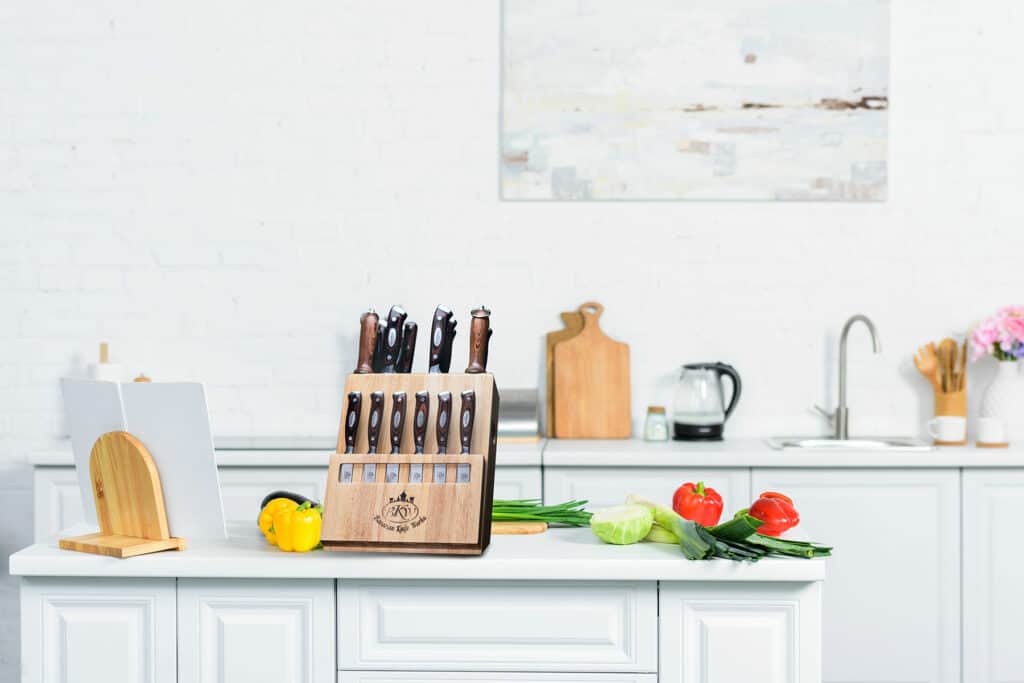 This is one of the few sets I've seen out there that comes with a 10-inch chef's knife and no 8-inch in sight. The 7-inch santoku takes the place of that (we got the 8-inch chef separately to fill the block out, though). That ended up being great while I was actually using the knives, but it caused a bit of complications for the ergonomics of my kitchen as a whole.
I don't personally like having a big set in my kitchen, because I'm a mess and even when I have the counter space, that space is a chaotic timeshare owned by cutting boards, spices, two to four different coffee making devices, and assorted bags and boxes of whatever processed food I've chosen as the method of slow suicide this week.
So as nice as it was to have the range of knives and sizes in this set, I found it awkward to actually have around. It takes up a good chunk of counter, and I quickly discovered I couldn't put it under cabinets, because the tall block and the tall knives mean I end up smacking the bottom of a cabinet with a pommel every time I try to take a knife out.
Another awkward size element is that the tall block puts the handles in an awkward reach for short people, and my home is populated exclusively by short people. Not being able to keep it under a cabinet limited its spot to slightly more inconvenient (meaning higher) locations that make it feel like climbing up a cliff to get the 10-inch chef's knife out of the block.
That's not going to be a problem for a lot of people, and it could be solved pretty simply by just storing the knives on a magnetic strip, which is my preference anyway. I'm just not a block set guy.
Maintenance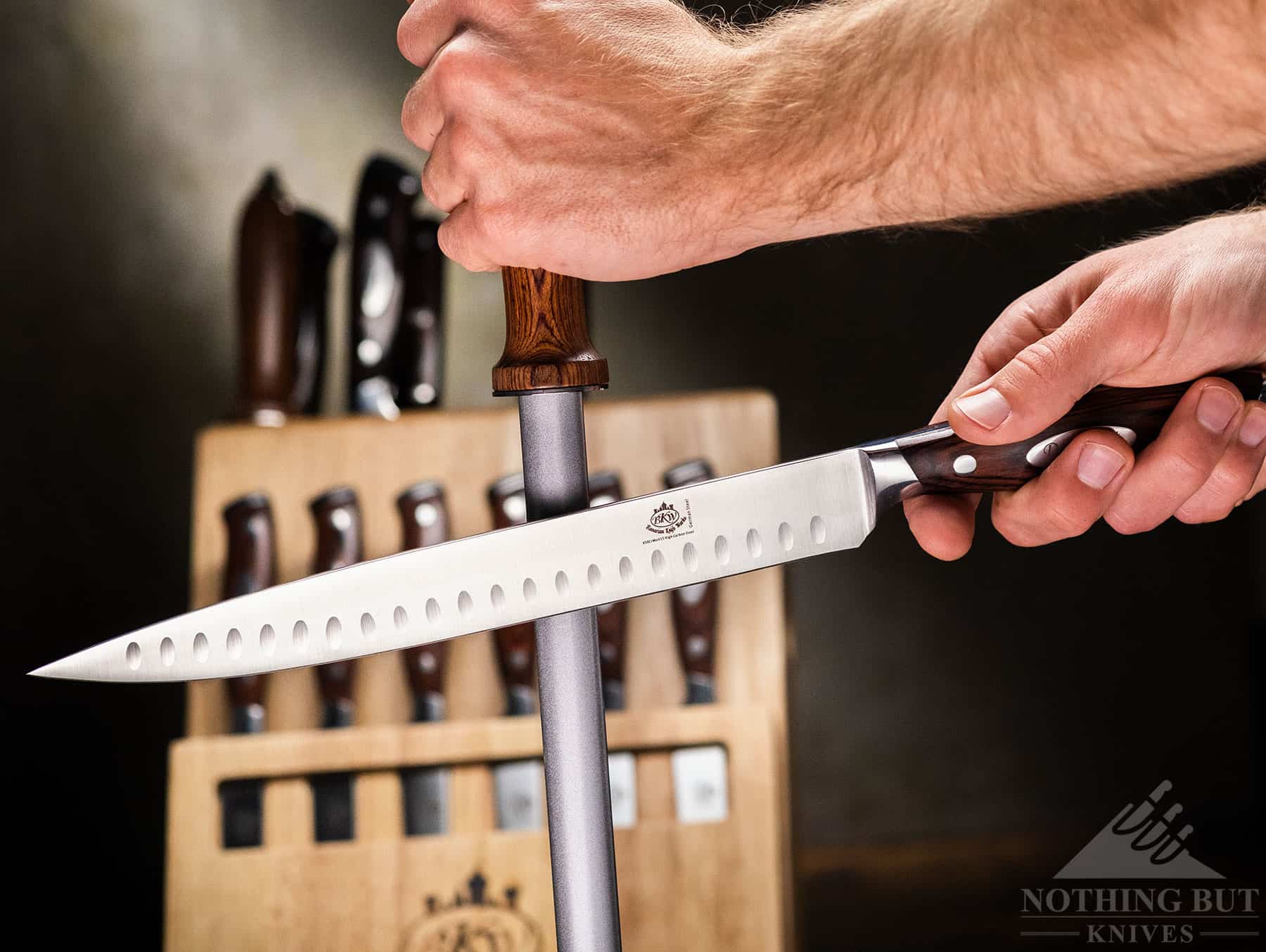 I like the feel of the honing rod. Weight and balance don't really matter that much with these things, but I like the weight anyway. It helps keep it in place when I'm touching an edge up, and the steel itself seems to be pretty effective with the steel on the BKW knives.
I'm a little torn on the diamond steel. It's pretty low grit, so it's aggressive and does fast work, but I think it'll be a little too short when the 10-inch chef's knife finally needs a new edge, and it's definitely not going to put a polished edge on these knives. It's a good fast-and-ready tool when you're just trying to get things done in the kitchen, but I'd still want to take the larger knives to a good sharpening stone afterwards.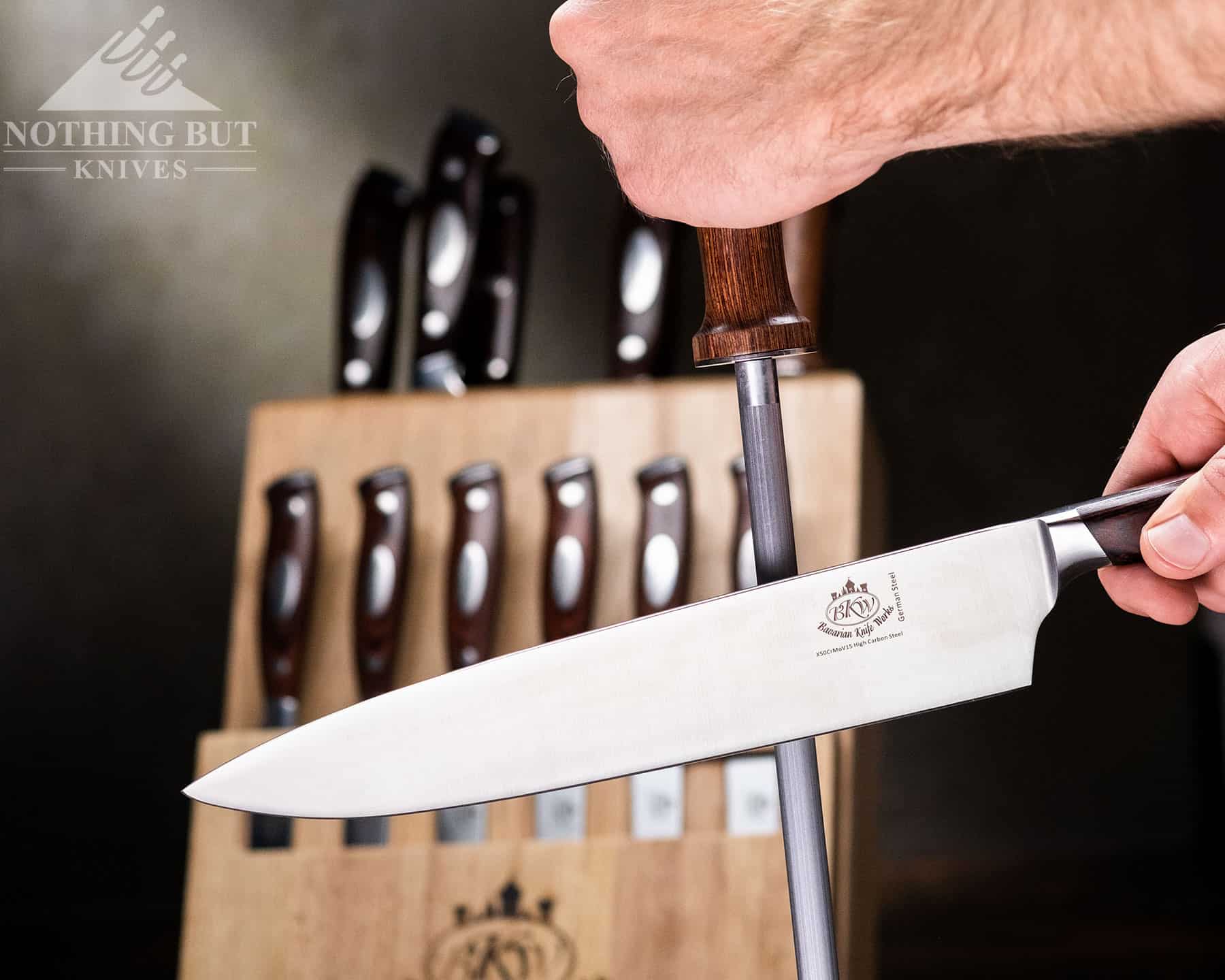 The truth is, though, I can't say a whole lot about the honing and sharpening rods included in this set because I didn't have to use them very much. I tried to use these knives enough to really need these things, but I was trying to wear all of them down. So between me splitting time between all the tools, and the fine edge geometry on these things, these knives just haven't needed that much touching up.
I finally took one of the old cheap knives lying around the house – the kind simply marked "surgical steel" or "forever edge" or something that basically translates to "soft steel that had a toothy edge when you bought it, but is now basically a butter knife" – and put one of those through about fifteen passes on either side on the diamond.
The sharpening steel does indeed sharpen, and you can use the base of the handle as a guide to approximate a 20° angle. The old cheap knife I was testing the rod with was doing push cuts on paper within a few minutes (of course that's not going to last; bad heat treatment only goes so far). I still don't particularly like the sharpener in this set for normal use, but it's not a bad place to start when you have a knife with an especially messed up edge.
The Knives in Action
Overall I like the way these knives feel at the cutting board. I definitely used some more than others, so this section is going to skew heavily.
The 10-Inch Chef's Knife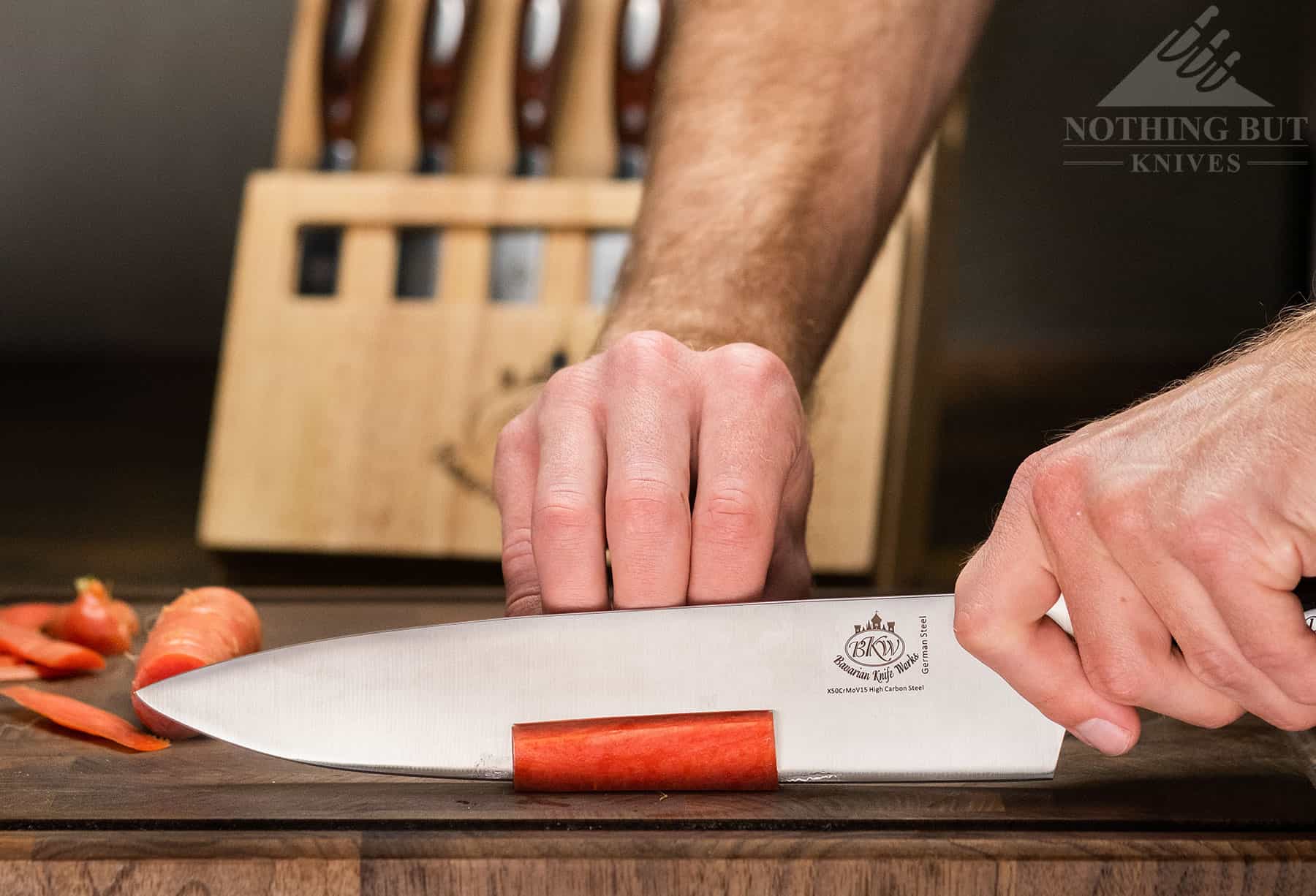 I've never had such an easy time julienning carrots as I did with the 10-inch chef's knife in this set. Not only because I feel like I have a lot of control over the blade, but the edge bites into the carrot before it has a chance to roll off my other hand.
It also does a beautiful job with mushrooms. I never felt like it was tearing at any point. The edge makes a clean break and follows through without a hitch. The only thing that kept me from chopping at a good pace was my own lack of skill.
I did have some trouble finishing cuts completely. The shape of the edge near the heel seems to taper back just enough that it doesn't quite meet the board flatly, but most of the cutting happened about halfway up the blade anyway, so that didn't come up so much.
The Santoku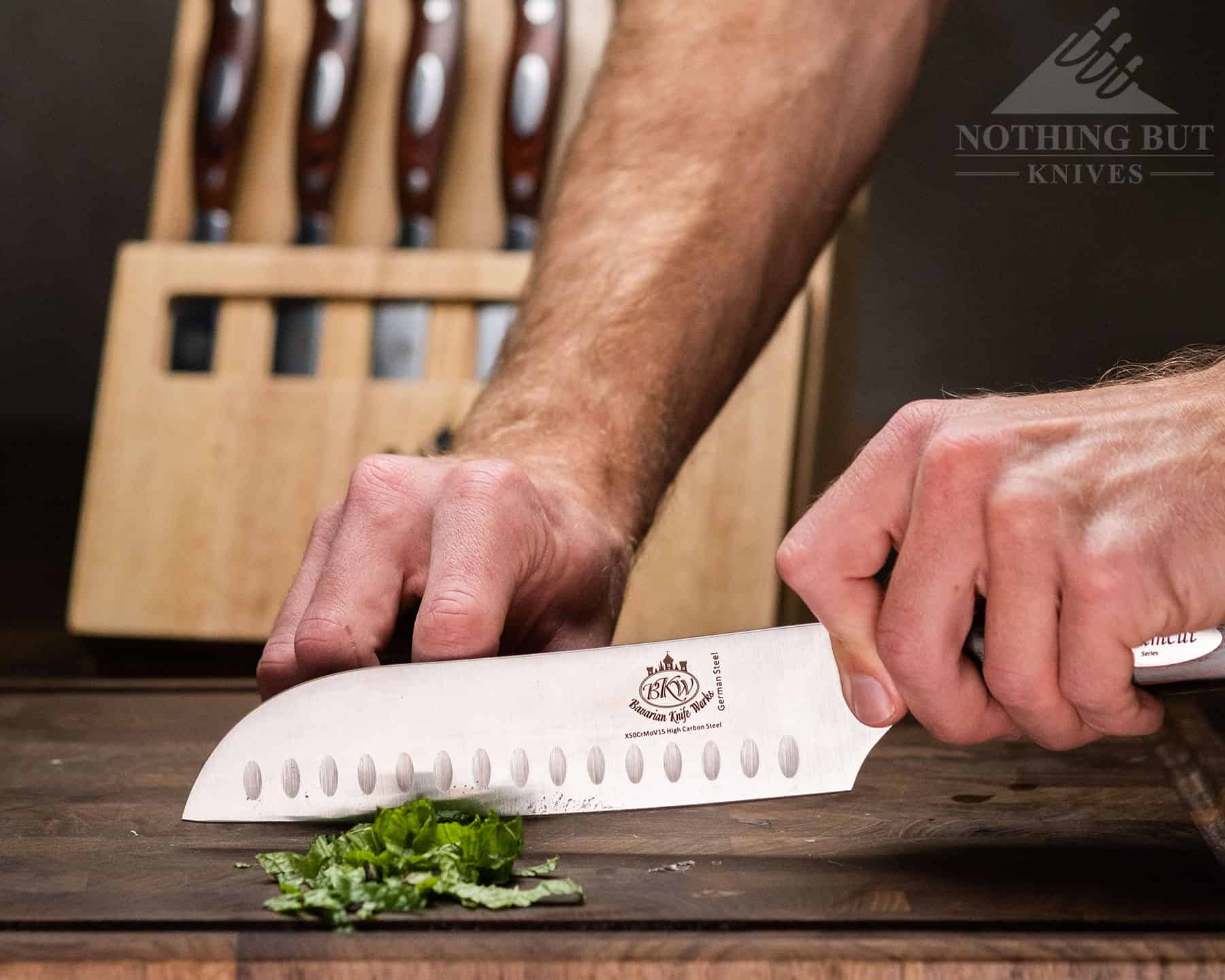 I'm not really a santoku guy, but I really liked this knife for mincing herbs and lighter vegetables like basil and green onions. It has an aggressive bite, so even very fine leaves are pretty easy to cut up with it. I had one of my more successful attempts at a chiffonade cut with this thing.
It also seems to be better at finishing cuts near the heel than the 10-inch chef's knife, so it became my go-to for parcing foods down into really fine sizes.
The Off-Set Bread Knife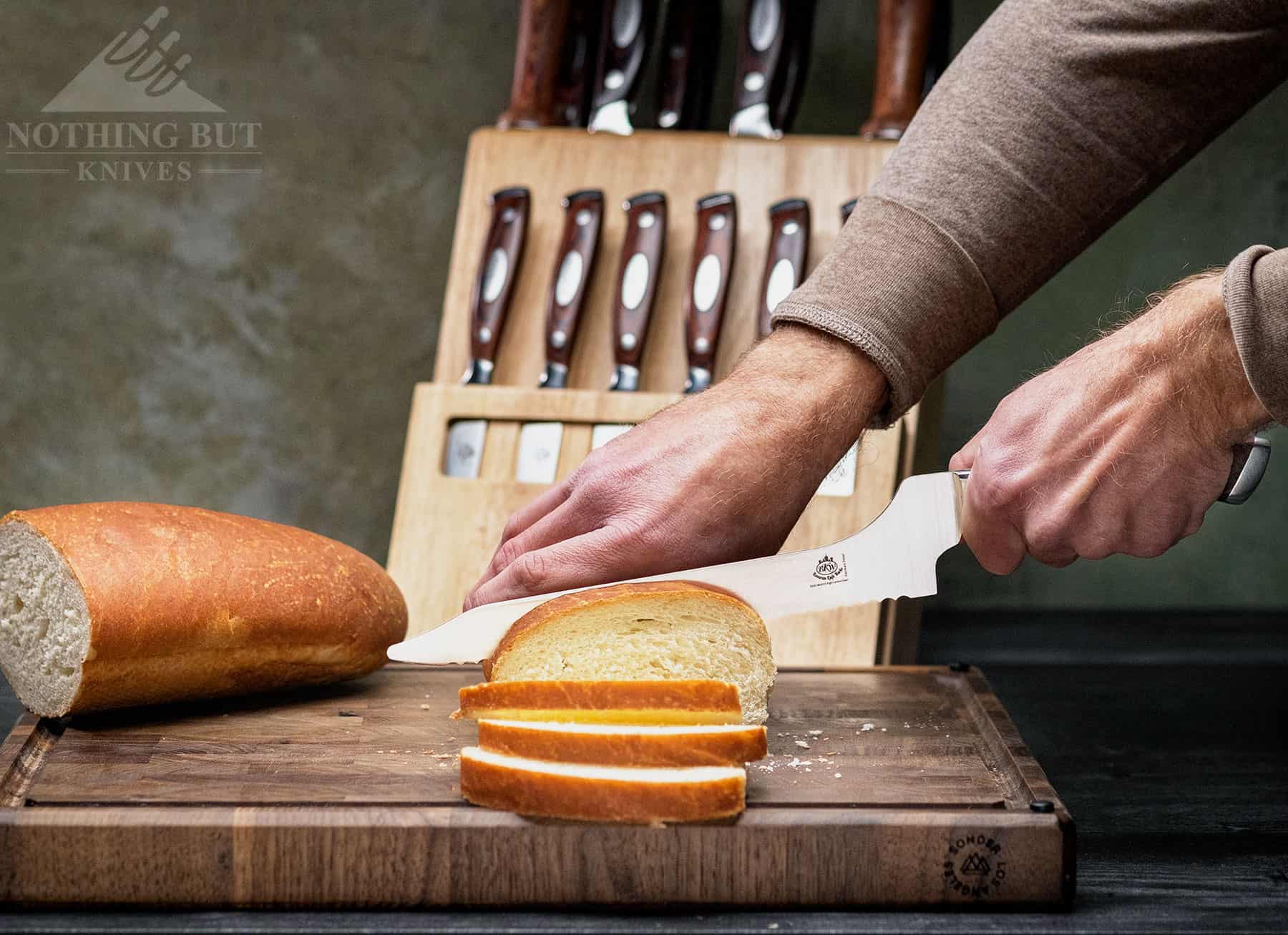 I love this thing. The serrations are wide and shallow so they're almost more like scallops than teeth. They're also very sharp. This has one of the most gentle cuts of any production bread knife I've ever used.
It also turned out to be a great cake knife. Or brownie knife, really. The spacing of the teeth seems to be just right to cut into really lightly texture cakes without crumbling it much.
The Slicer
I'm not sure how this ended up being my most used knife, but somehow, despite its length, it became my utility knife around the kitchen. Any time I was cutting anything that either seemed too big for the paring knife or not involved enough to break out the cutting board, I picked up the slicer. It just doesn't feel as long as it is, so it felt natural to open up packages of food and slice up fruit over the sink when I just wanted a quick lemon wedge.
The slicer also did some tidy work on raw beef. I did my damndest to do a butterfly cut then fingerling cuts. It didn't exactly cut fast, but it always cut. It did drag and pull a lot if I cut a piece too thin, though.
The Paring Knife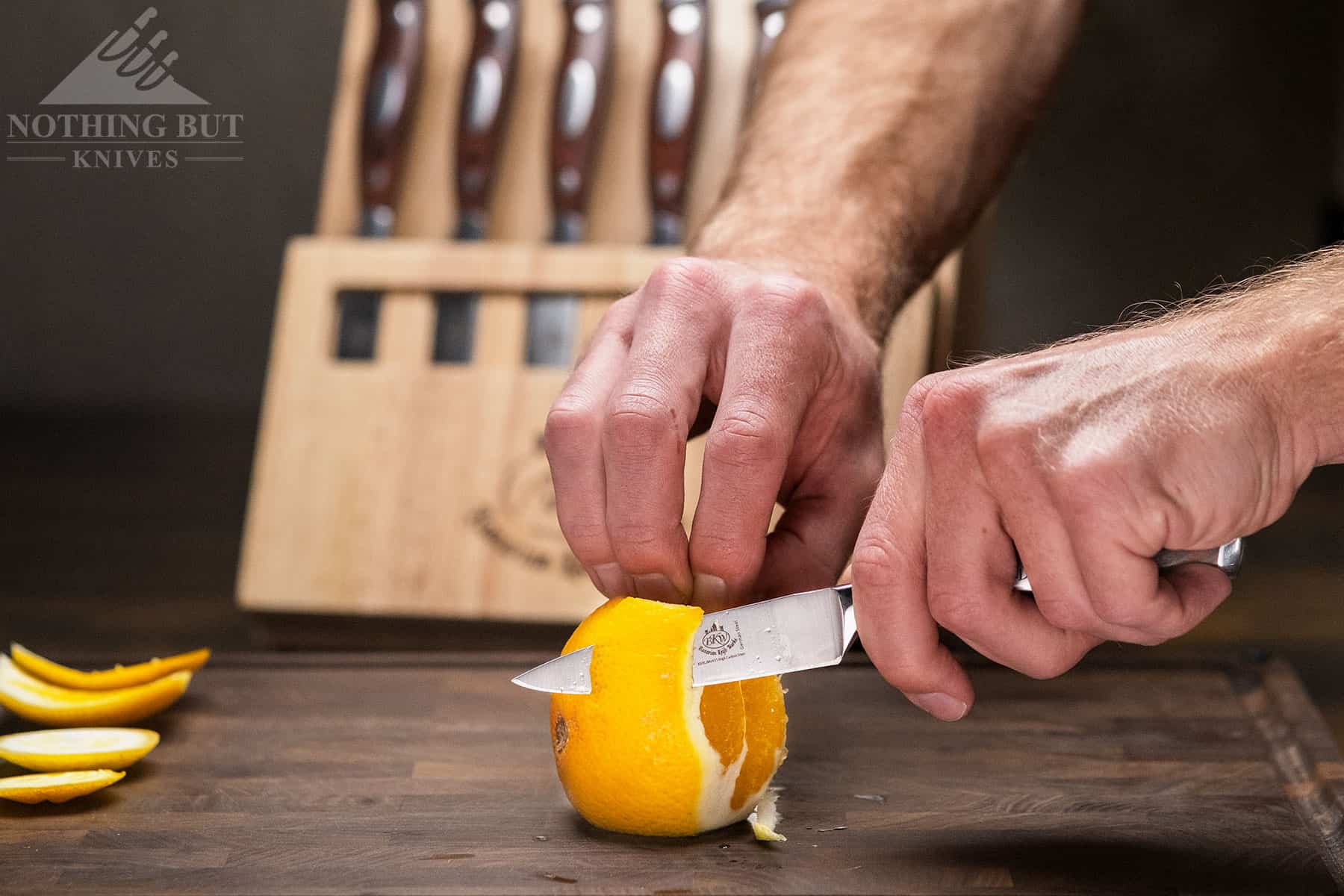 The edge is great. That part makes it a lot easier to avoid digging too deep into something like a potato that has thinner skin, and it's a breeze with oranges and lemons.
But the handle tapers a little too much toward the blade for my own comfort. I lose material in the handle where I generally need it most to maintain good control of the blade. I can still guide the blade with the bottom half of my hand, but if the edge on this blade weren't so damn good I would have made a big mess of a lot of soups.
It's important to note that this is how it feels for my hand in a standard paring-knife grip. My wife has much smaller hands and this became her most used knife in the house.
The Cleaver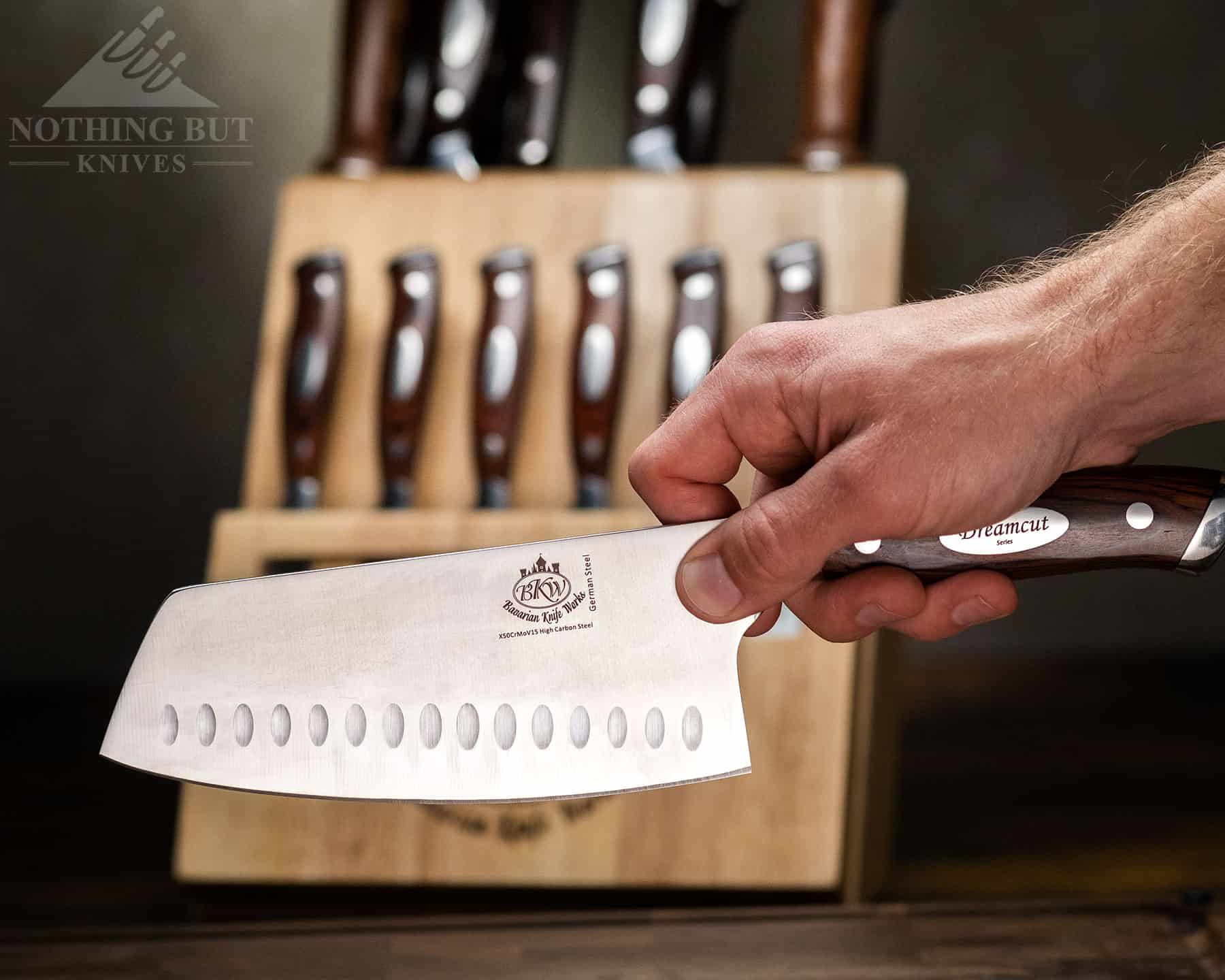 I didn't have much occasion to use the cleaver at first, but I love this design, and it might actually be the best knife in this set.
I took it out for some vegetable chopping a couple of times just for the fun of it. It's definitely the heaviest knife in this set, but it's still pretty maneuverable as far as cleavers go. The blade is kind of short but it's very tall, and the edge has a healthy curve so it's really nice to rock chop with it.
I didn't really start using it consistently until after we had gotten most of the photographing out of the way, so we don't have pictures of it cutting, but I have now used it to cut just about everything, and in most cases I prefer it to either of the chef knives. The cuts feel gentler on hard, root vegetables, and it eats up herbs into neat little mince piles a lot easier than the santoku (at least for the way I seem to cut things).
The Steak Knives
I should be more excited about these. BKW did a cool thing with them by making them half serrated and putting them in a detachable block that fits neatly onto some slots in the side of the regular knife block, but the truth is I just never really think of using steak knives that often.
I've lived in households where they were in constant use because there were so many people, and they were the easiest blade at hand most of the time. But these days there are fewer people around me. When I need a knife I either reach in my pocket or I reach for one of the star blades in the knife set.
The steak knife block presents a weird issue of shape and angle to the set as a whole. The steak block seats onto the upper side of the main block, which puts it both out of sight and a little out of reach for the short and scrappy, ragtag bunch in my household. But if we turn the whole block around, the other knives get angled toward the wall, making them almost impossible to draw.
The easy solution would be to take the steak block off and let it have its own space somewhere on the counter, but I didn't think of that until I was writing this review, and I have limited counter space as it is. So the steak knives have gone largely untested.
The Shears
These things are strong enough to cut a chicken in half, they feel fairly comfortable in the process, and they come apart so they're easy to clean. So the essential characteristics are all there.
It's several more points in the shear's favor that there's also a bottle opener off the base of the handle. I don't use kitchen shears a lot, but these things get five stars as far as my needs go.
Should You Get the 8 Inch Chef's Knife
It's really important for you to keep in mind that this set doesn't come with an 8-inch chef's knife. There's an empty slot for it, but if you really want that size, you'll have to order it separately.
Honestly, though, I don't think you'll need it. It was sitting in my block unused for almost a month before I finally took it out specifically because I realized I still needed to see how it performed. It's a great blade and all. It's like the ten-inch chef's knife only lighter and balanced a little more towards the handle. But I grew to like the ten inch so much that I just never felt like picking the shorter one up.
That said, this would be a great knife on its own. If you're building your own set from various brands, and you want a good, lightweight, western chef's knife, it would be a great way to start your collection off.
Comparison and Alternatives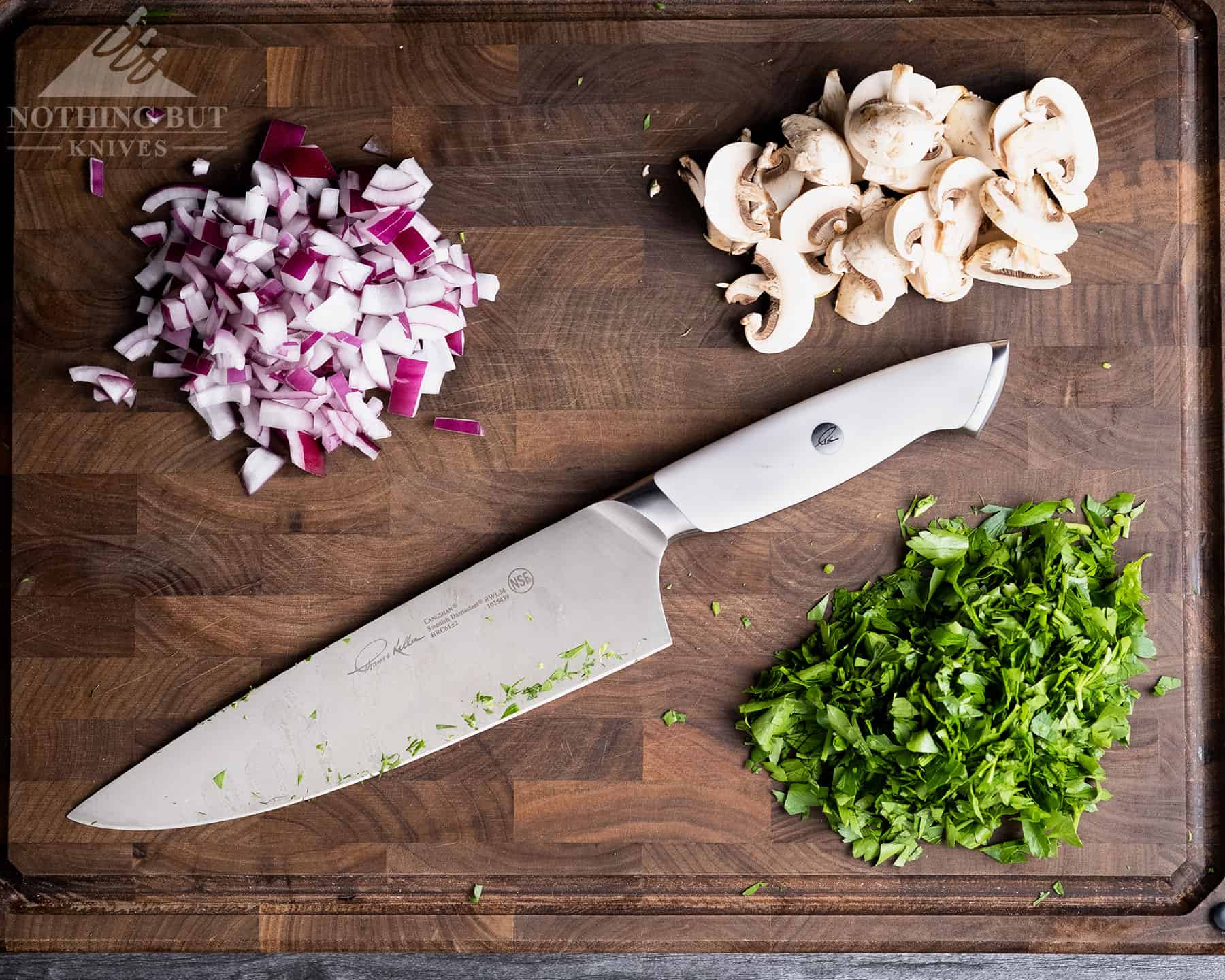 As good as these knives are, it's possible you'll want something with a different look or balance. I already mentioned the Zwilling Pro and Wusthof Classic Ikon knives. They're decent western-style options with a handle-centric balance.
The Hammer Stahl series is a bit cheaper and has a pretty unique look. I like the chef's knife from that line quite a bit, but everything is a little heavier and not quite as comfortable because of all the exposed steel in the handle. It's also a lot heavier, and the weight is very much toward the handle.
If you want something more comfortable, I'd point you toward the Cangshan Thomas Keller knives, or (if you want to get a little fancier) the Kramer by Zwilling series. Those both have fatter handles that practically melt into your hand.
Finally, if you like the look, but want something more budget friendly, we've been pretty surprised by the quality of the Imarku knives. The edge geometry isn't as good, so there'll be a drop in edge retention and performance, but they're balanced about the same, and they work pretty well for the price.
Conclusion
I don't think I've ever come across a full set of knives that I actually want to recommend in whole. The rule of thumb is that if you want new knives, you start with a chef's and a paring and work your way up. You don't need a whole set.
While The Dreamcut set isn't exactly bare essentials, everything in it feels reasonable to have. Anytime I felt like one knife didn't quite feel right for what I was doing, there was something in the block that was a little better suited to the job.
My default recommendation is still to just start your collection with a chef and paring knife, especially if you're on a budget or have limited counter space. The block is huge. I like having it, but I don't like the space it takes up. But if you've got the space and the height, this is probably one of the best options out there for production Western cutlery.