A Survival Knife Worth Getting Blasted out Of The Sky With
The moment I first found out that I would get to review the Fällkniven F1 – a compact survival/utility blade that has, by this point, probably gotten more unforced laudation than the late and unlamented Idi Amin Dada (third president of Uganda, and generally considered one of the most brutal despots in modern world history) had in his whole life –, I was immediately aware of the enormous potential for immature fun that the situation held.
Although I did have my initial doubts about the knife.
You see, when a blade casts this long a shadow at high noon, reputation-wise; when after a while it gets downright tiresome to suffer through one more enthusiastic review with "this-is-the-knife-to-end-all-knives" for a bottom-line – sometimes all that just brings out the asshole in me (not that that result takes much to achieve), and I start actively looking for flaws to take issue with.
Which, in this case, takes the whole process to a new level of frustrating, because this knife denies you even a chance to vent: the shortcomings you're looking for, until blue in the face
just
are
not
there.
This is an understated knife in the noblest sense of the word. The designers have clearly gone to some lengths to develop a tough, no-frills, function-oriented survival knife that offers no visual distractions to cloud the main issue to be covered here: whether it is a blade that deserves all the eulogy lavished upon it, or it is just another case of over-hype (and a warning about the infectious nature of public opinion).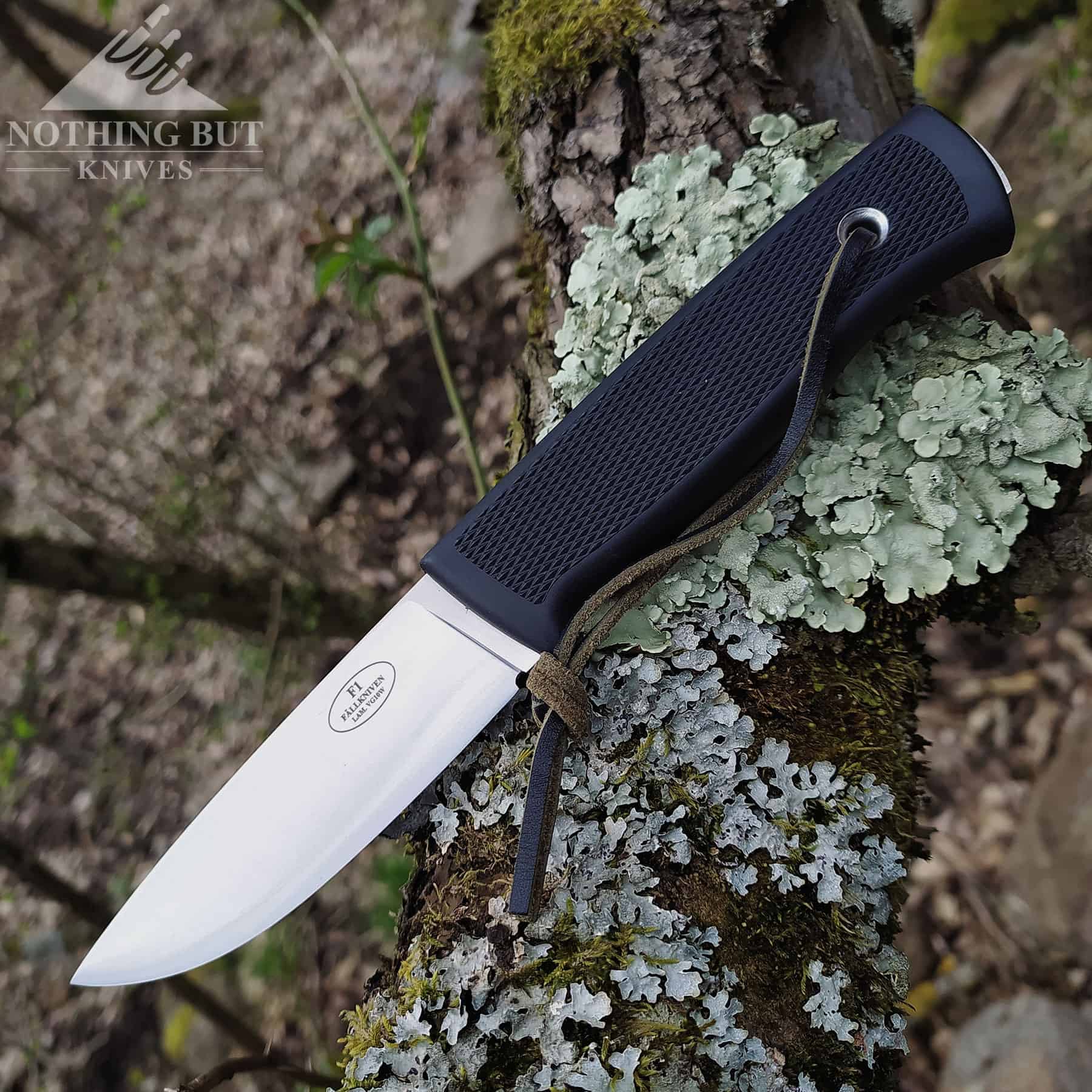 There is an important clarification to make here, before we venture any further. While I find it perfectly understandable that there's nothing like a good survival knife to set the imagination ablaze with fantasies about manly feats in the wilderness, I also think you can get far more use and fun out of a knife if you consider your real, unadorned day-to-day activities, and then try to see where – if at all – a knife fits into those.
Let's take myself as an example. No one whose opinion matters to me a bit will think the less of me when I admit that I'm merely a hiker and amateur nature photographer who spends the majority of his free time in the field but – due to the real-world parameters of my outings – I don't build campfires, set up primitive shelters, hunt wild boar with makeshift spears or catch fish with my bare hands. On the other hand, I have spent a good bit of time around sharp and shiny material, if that helps salvage something.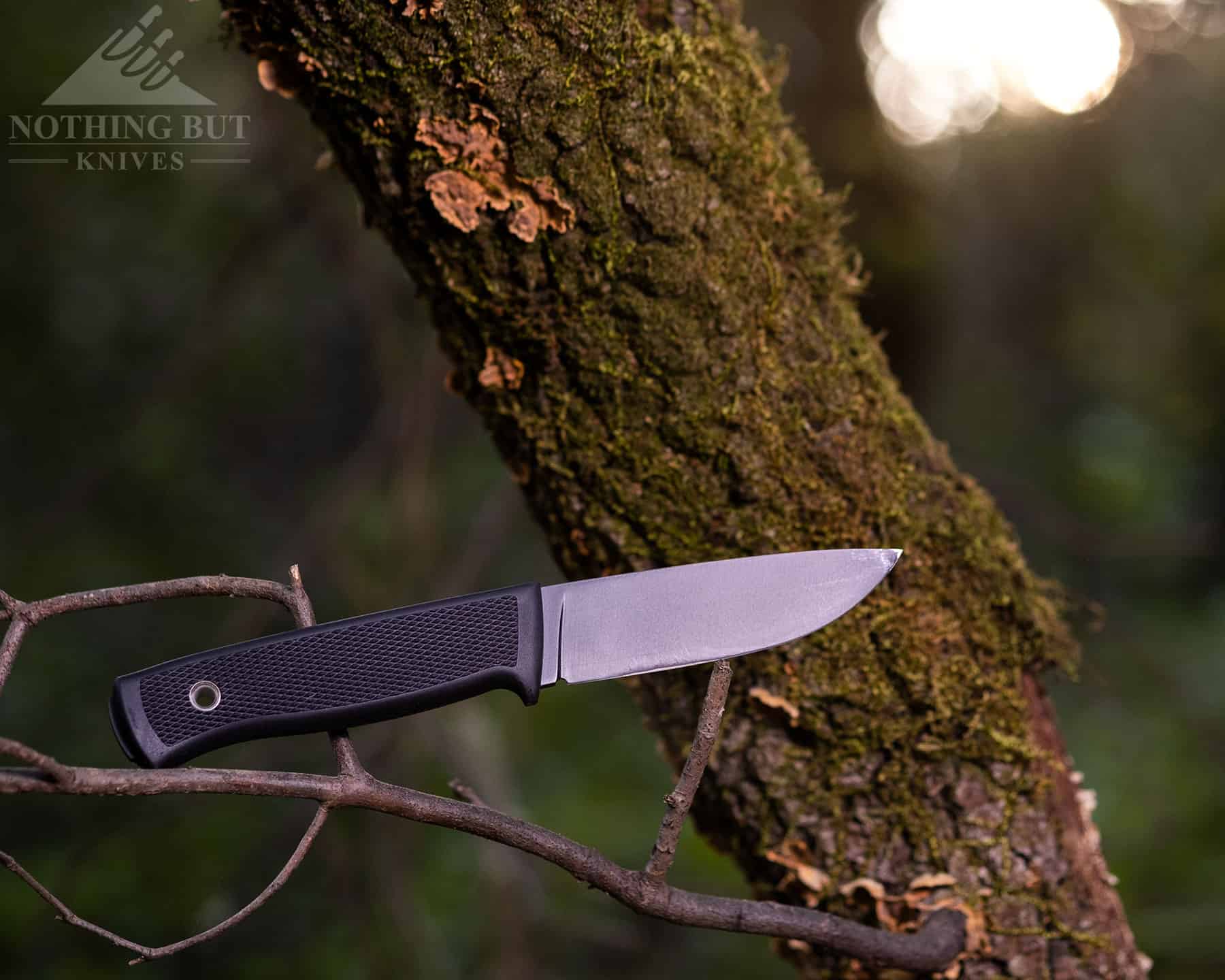 And since there is already a number of great reviews out there featuring in-depth analysis of the F1's capabilities as a survival/bushcraft knife, let us spare you one more of the same, and take this article in different directions.
SPECIFICATIONS
| | |
| --- | --- |
| Overall Length: | (210mm) |
| Blade Length: | (97mm) |
| Handle Length: | (103mm) |
| Blade Steel: | Laminated VG10 (with options of either laminated Cobalt Steel (CoS) or 3G Steel, as well as the new laminated VG7) |
| Hardness: | HRC59-60 |
| Blade Thickness: | (4.5 mm) |
| Blade Style: | Drop Point |
| Blade Grind: | Convex |
| Blade finish: | Satin (with option of Ceracoat for the laminated VG10 version) |
| Sheath Material: | Leather |
| Tang: | Protruding broad tang |
| Handle Material: | Thermorun |
| Knife Weight: | (148g) |
| Weight w/ Sheath: | |
| Made in: | Japan |
PROS
I have a notable faiblesse for the convex blade grind
Hard not to like the simplicity of this knife
Thermorun represents a home-run as a handle material
CONS
Looks a bit like a VOLVO 242 GT car (with the same number of sexy curves)
DESIGN HISTORY; SOME STUFF ON SURVIVAL KNIVES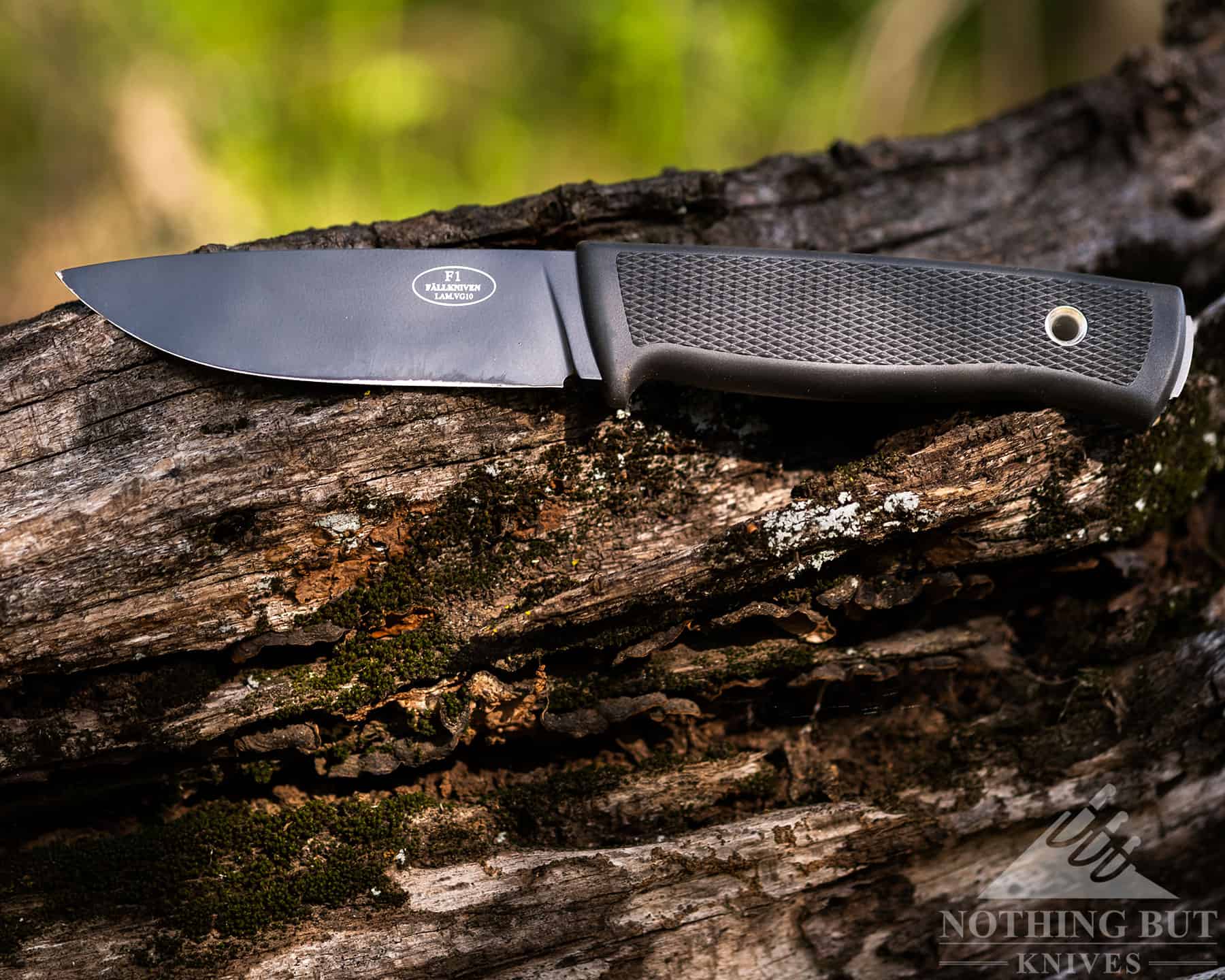 Since the F1 is my first Fällkniven blade, I wanted to read up a bit on both the Swedish company responsible for unleashing it unto us and the history behind the design itself.
According to info available on the Internet, Fällkniven AB is a Swedish manufacturer of knives and knife-related gear and apparel. Boden-based Fällkniven was founded in 1984 by Peter Hjortberger. It was in 1987 that the company started designing knives. In 2009 Eric Hjortberger, the founder's son, took over presidency of Fällkniven AB. Fällkniven is known as a producer of military/outdoor knives, supplying the Swedish military. Since 1995, the Fällkniven F1 has been the official survival knife for pilots in the Swedish Air Force. Fällkniven also produces outdoors-, hunting- and kitchen knives. While Fällkniven is a Swedish company, most if not all of its production is done by subcontractors. Early F1 knives, using ATS-34 steel, were manufactured in Germany (by Linder-Solingen). Since Fällkniven replaced ATS-34 steel with VG-10 and 3G (SPGS-powder steel) core laminates in its products, production has been moved to Seki, Japan. Hattori manufactures all of their fixed blades, whereas Moki makes their folders.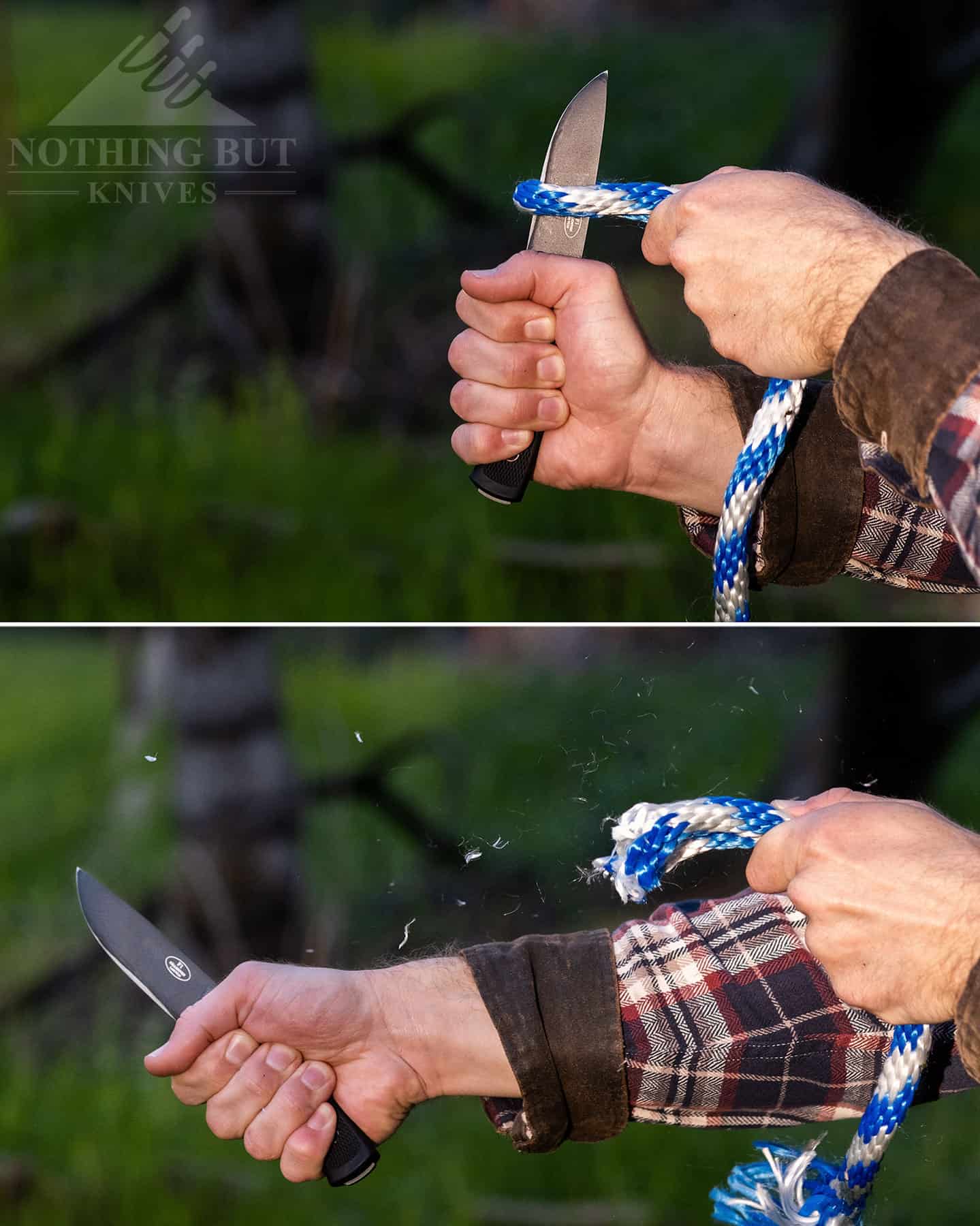 (It's difficult to remain unimpressed by a knife that has been in production since the time I was fourteen.)
I found it interesting to learn that Fällkniven AB (as a company) has been established in 1987 specifically in the purpose of meeting the Swedish Air Force's demand for a pilot's survival knife.
While the F1 model was at first produced in Germany (by Linder, using ATS-34 as blade material), "(…) [i]n time [Fällkniven] sought other makers in Europe and the U.S. who could manufacture knives with their preferred materials and to their strict standards at a cost that would allow bringing it to market. Only Hattori Seki stepped up and suggested a new steel heretofore not widely used; Takefu Specialty Steel's VG10. In mid-1997 Hattori started making the F1s which were solid VG10. Later the VG10 core with 420j2 side laminate was introduced, and [Fällkniven] claims a 20% increase in strength over the solid VG10 blade with well over 200 lbs of lateral strength as tested by Lulea University, Sweden. (…)" [source: The Hattori Collector].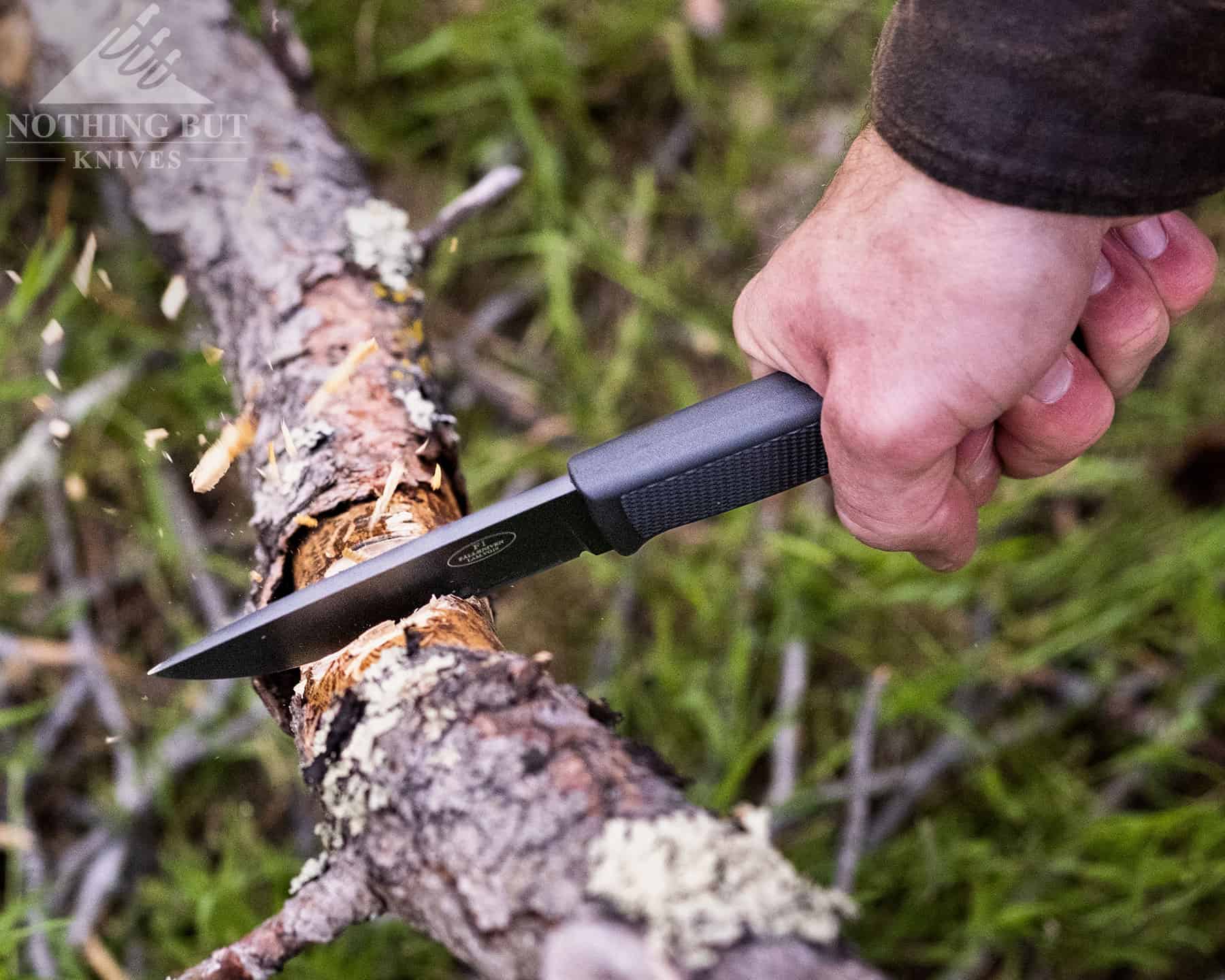 In 1995, the Swedish Air Force – following extensive testing – adopted the F1 as their pilots' regulation survival knife.
In 2000, the F1, S1 and A1 models were tested by the US Naval Air Warfare Center in Patuxent River, Maryland. The F1 and S1 were accepted for use by USMC and USN aircrews (although the A1 had also passed every hurdle, it was too large for the air-crews' survival vests; nevertheless, the A1 is used by Special Forces units of the U.S. and other nations as well).
As is the way with the majority of successful, time-tested knife designs, the F1 has seen many iterations since those times.
In late 2015, Fällkniven introduced three new models, namely the F1Pro, S1Pro and A1Pro. Based on the F1 and A1, these new models offered a laminated Cobalt Steel (CoS) blade, and a stainless-steel guard. These models sporting somewhat different grinds and thicker blades are even more rugged than the original series, itself remaining in production. The 'Pro' series come with an improved sheath which allows for connections, as well as a sharpening stone stored in a waterproof carry-case.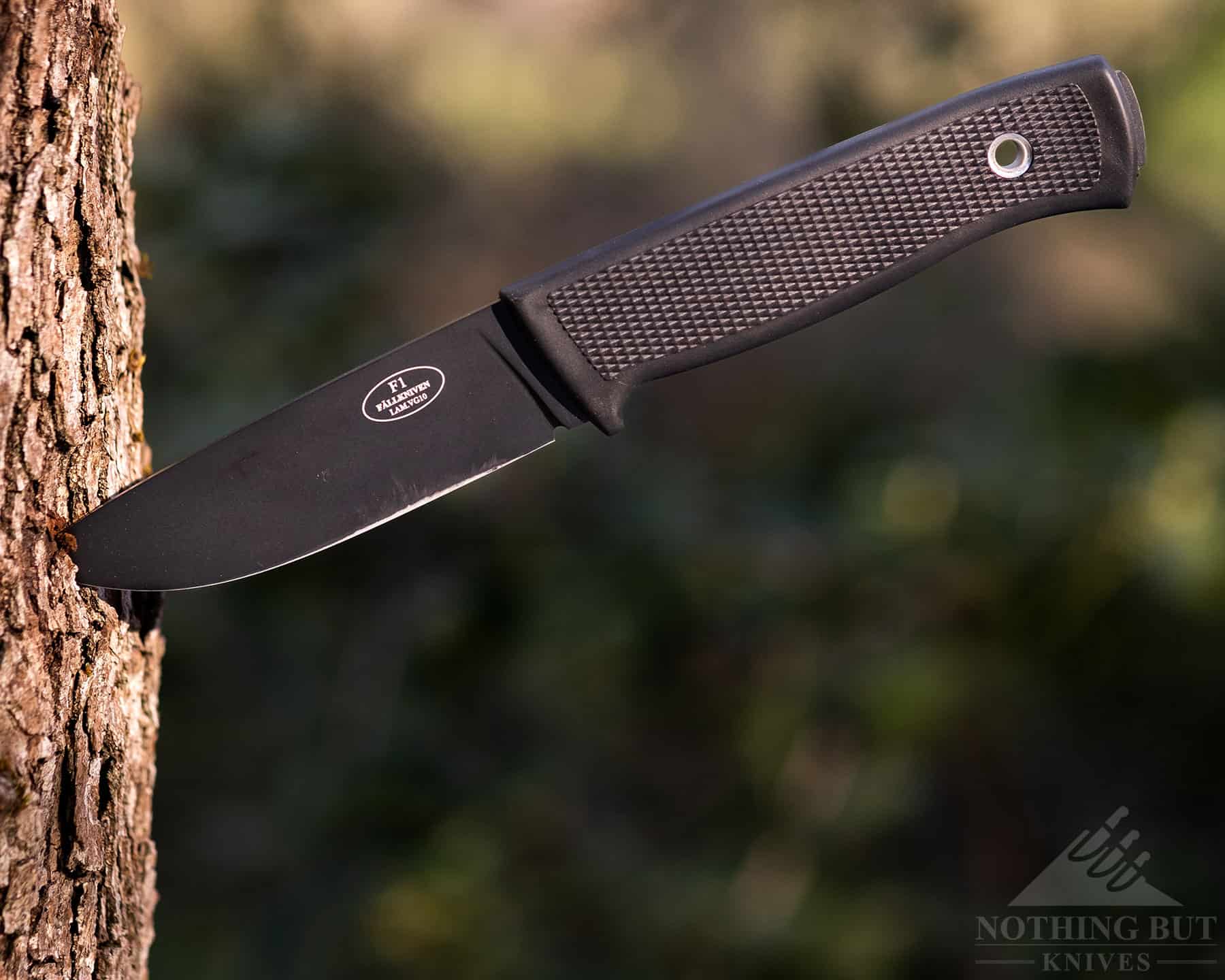 The basic F1 model is currently being offered with laminated Cobalt Steel (CoS) or the 3G powdered steel (as well as laminated VG7 for their newest, "Wolf" version). This review is about the basic iteration of the F1, featuring laminated VG10 as blade material.
Although I'm not aspiring to become a modern-day Hugh Glass (see above), I still wanted to read up a bit on the subject of survival knives.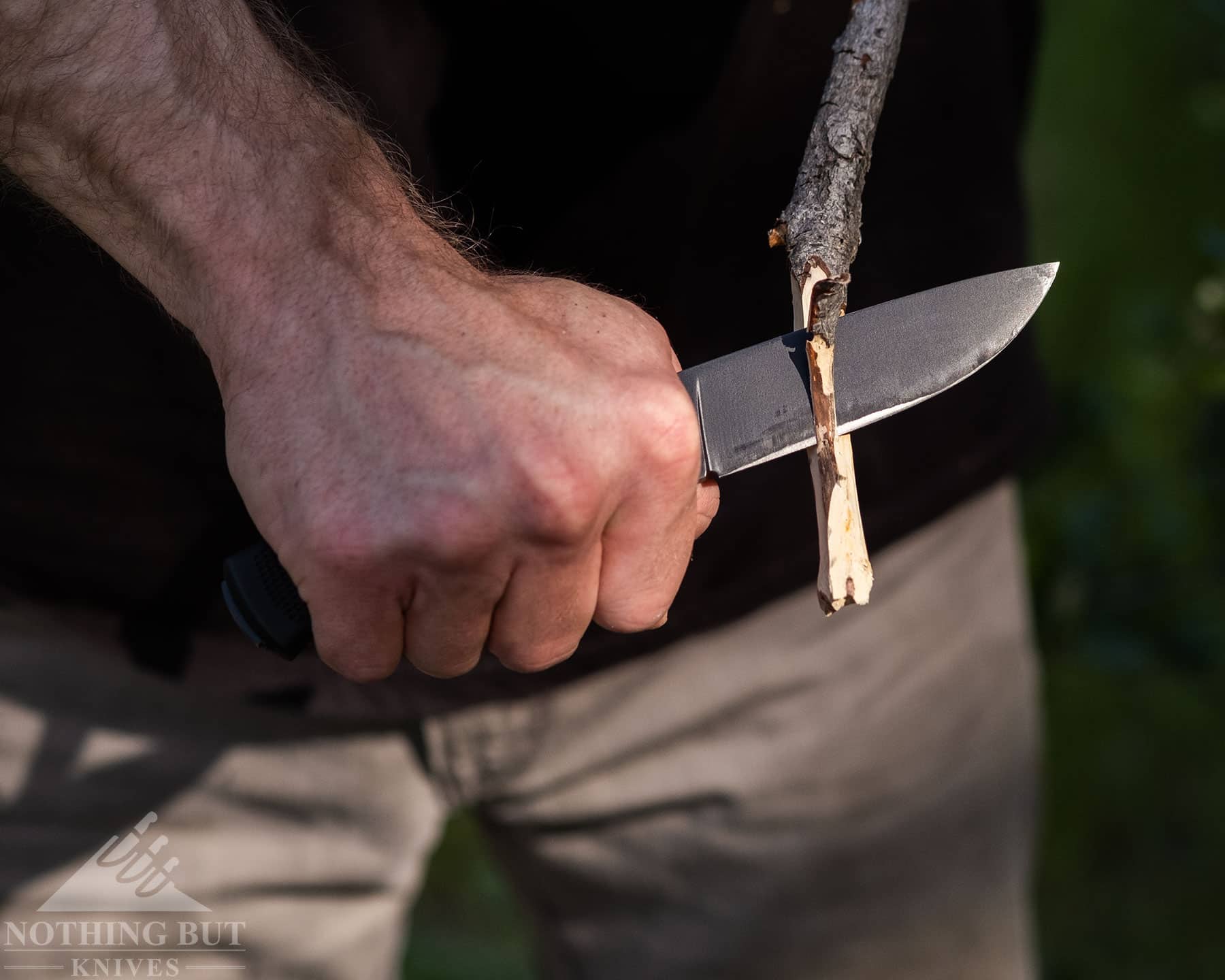 In that process I learned that survival knives have blades designed for survival purposes in a wilderness environment – often in an emergency, when the user has lost most of their main equipment. Most military-aviation units issue some kind of survival knife to their pilots in case their aircraft are shot down behind enemy lines and the crew needs tools to facilitate their survival, escape and rescue. Survival knives may be used for trapping and skinning, wood-cutting, wood-carving, as well as for other tasks. Hunters, hikers and outdoor-sport enthusiasts routinely use survival knives.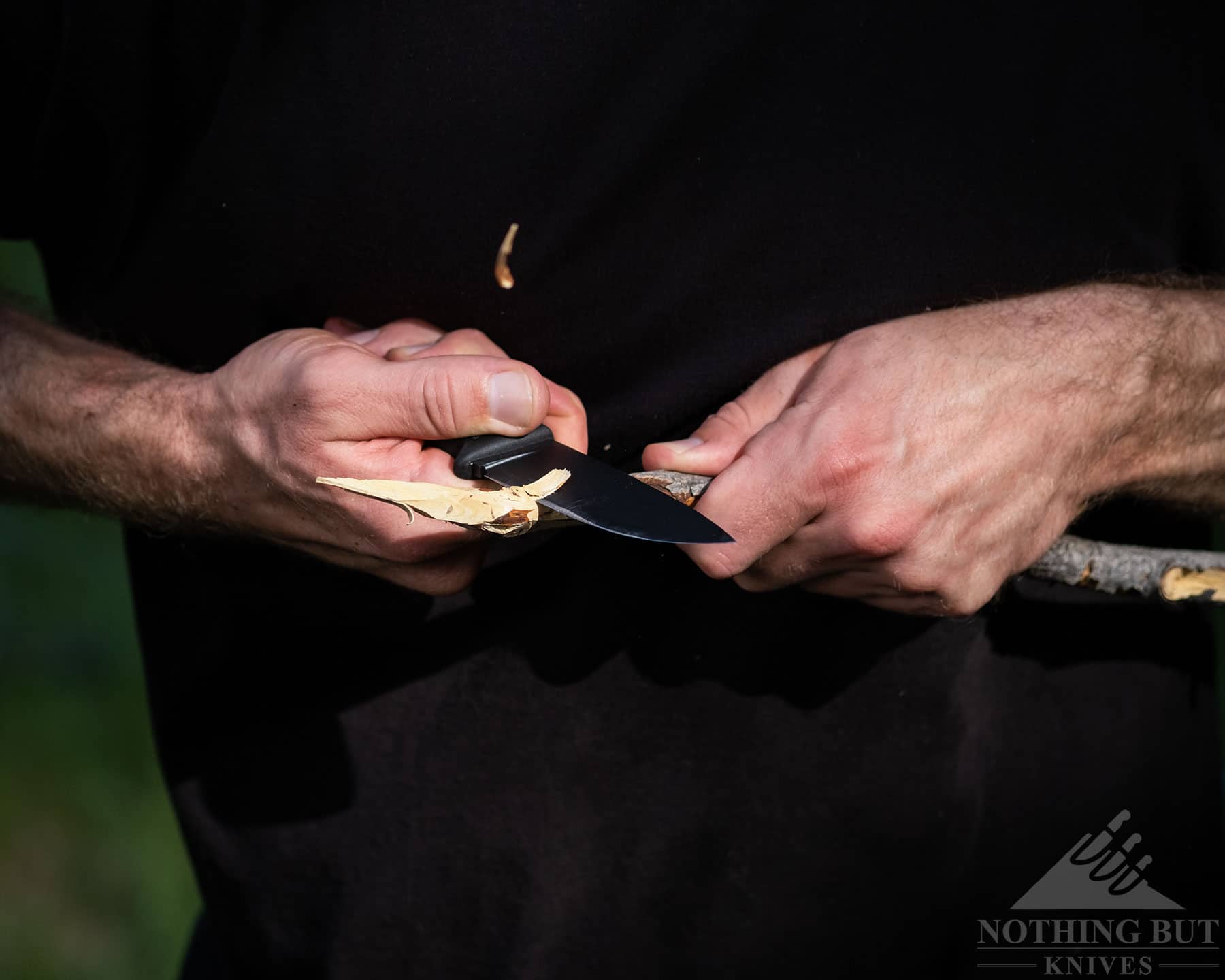 Some survival knives are heavy-bladed and thick, while some are lightweight (or even folders) in order to save weight and bulk as part of a larger survival kit. Their functions often include serving as a hunting knife. Features like hollow handles that could be used as storage space for matches and similar small items began gaining popularity in the Eighties. Custom or semi-custom makers, such as Jimmy Lile, Bo Randall and Chris Reeve, are often credited with inventing those features.
During WWII, survival knives were issued to military-aviation crews, since the possibility for these personnel to get shot down over wilderness or behind enemy lines clearly existed. Lifeboats aboard naval vessels also frequently contained survival kits (including knives). These knives varied in design across different branches of the service, and from one nation to another. The majority of them were commercially-produced knives, purchased in bulk by the military. From the Vietnam-era to the present, purpose-built survival knives have evolved. Bo Randall is credited with making the first of modern survival knives.
THE BLADE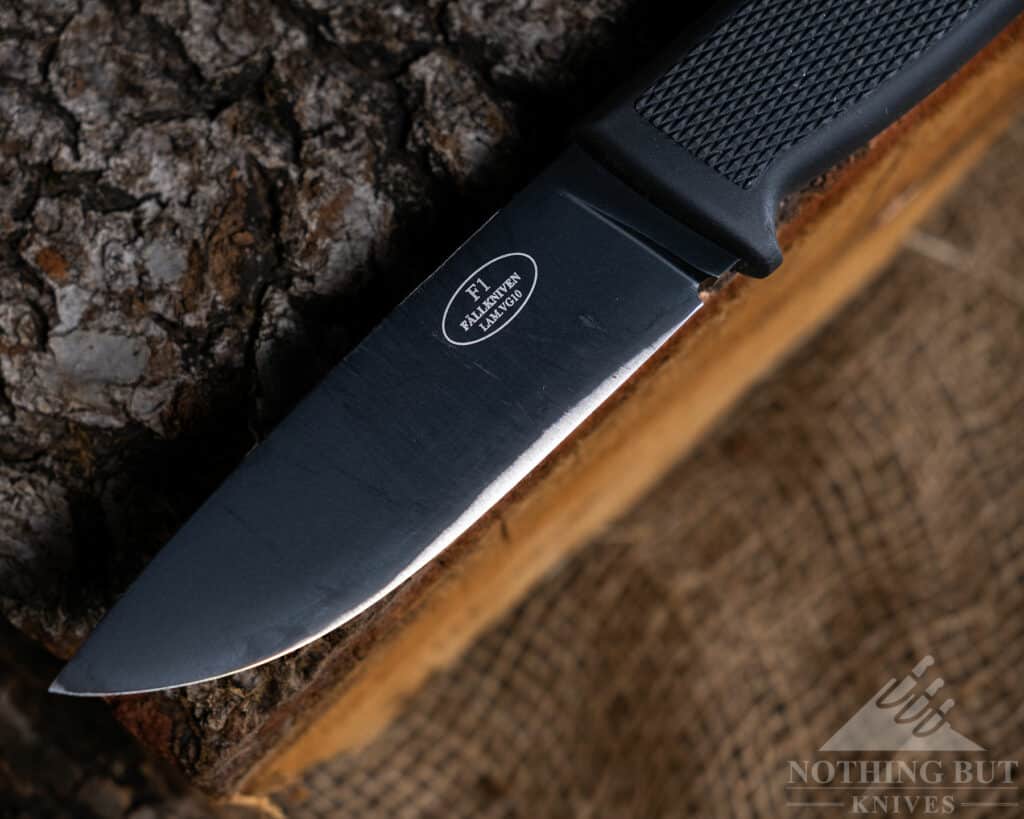 I've read a review somewhere that compared the shape of the F1's blade to a scalpel. This is spot-on: the blade shape is indeed reminiscent of a beefed-up surgical tool. If pressed, I would describe it as a drop point, but only because 'scalpel point' sounds somewhat unscientific.
This is a deceptively delicate-looking, very utilitarian blade shape that will serve you well at basically any outdoor task you may throw at it. The point is acute enough to be good at piercing but stops well short of being overly delicate.
The blade's grind (its cross-sectional shape in a plane normal to the edge) is one of my favorites: a convex grind. In that configuration, rather than tapering with straight lines to the edge, the taper is curved (in the opposite manner to a hollow grind). Such a shape keeps a lot of steel behind the edge, thus making it stronger, while still allowing a good degree of sharpness. (This grind can be used on axes and is sometimes called an axe grind.) Convex blades, where the angle of the taper is constantly changing, usually need to be made from thicker stock than other blades. The technique is also known as hamaguriba (meaning 'clam-shaped edge') in Japanese kitchen knives, both single- and double-beveled.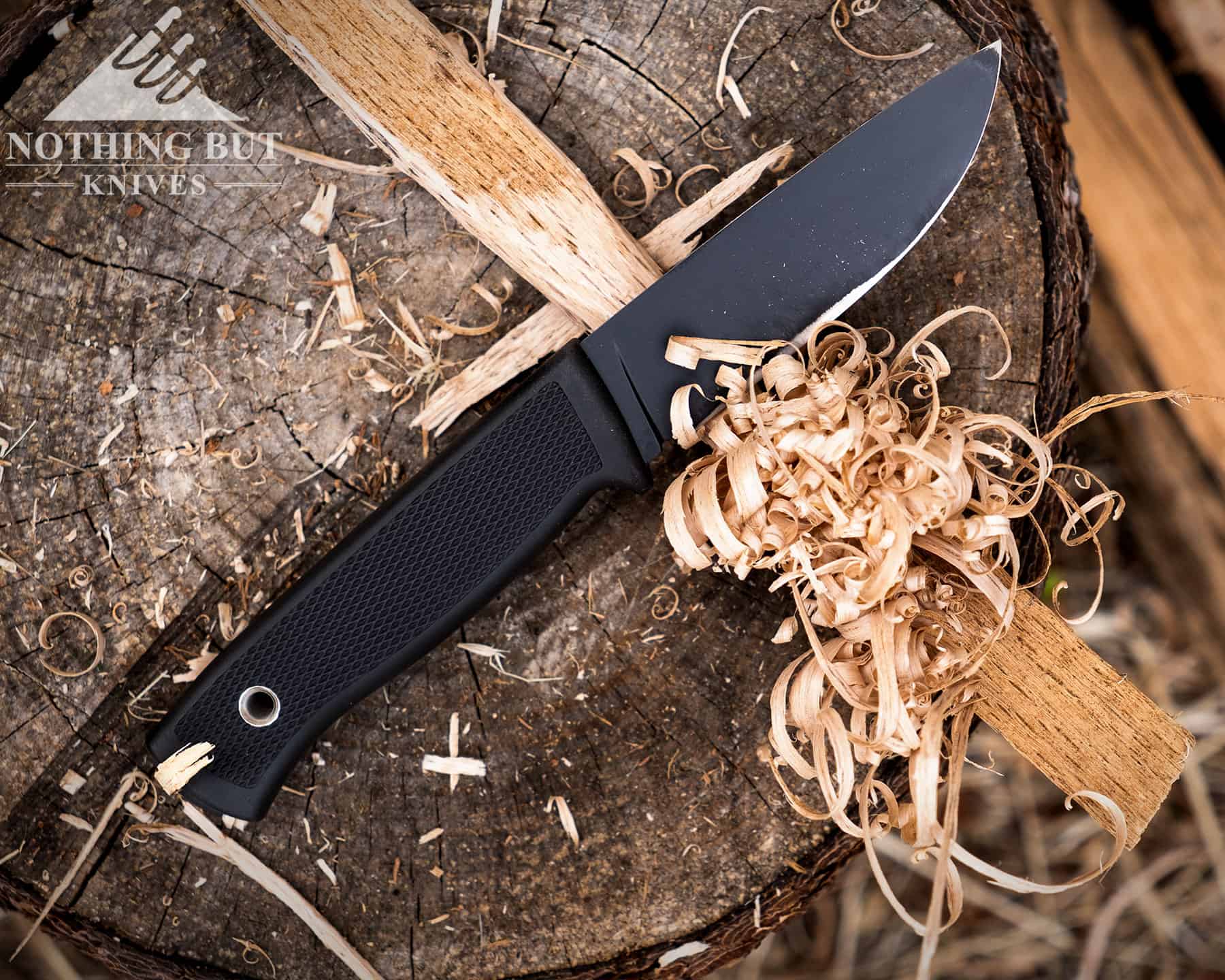 Now a bit on laminated steel. Lamination refers to a method of blade-making, rather than being an expression indicative of a specific type of steel. A laminated steel blade or piled steel is a knife, sword, or other tool blade made out of layers of differing types of steel, rather than a single homogenous alloy. The earliest steel blades were laminated out of necessity, due to the early bloomery method of smelting iron, which made production of steel expensive and inconsistent. Laminated steel offered both a way to average out the properties of the steel, as well as a way to restrict high carbon steel to the areas that needed it most. Laminated steel blades are still produced today for specialized applications, where different requirements at different points in the blade are met by use of different alloys, forged together into a single blade.
Basically, with three-layer laminated blades like the one the F1 features, the steel used in the middle (or core-) layer will determine the overwhelming majority of the blade's properties. (So my F1 is, for all intents and purposes, sporting a blade in VG10.) What adding the two outer slabs of softer 420j2 steel does is one thing: it improves the blade's toughness (i.e. its response to lateral stress). Which, with such a short and relatively delicate blade, might seem superfluous (since, in the normal course of business, it would be downright barbarous to use such a great blade as a prybar). But let's keep in mind that this knife was designed with such situations in mind where considerations regarding the blade's well-being are rendered secondary to those regarding the survival of the user.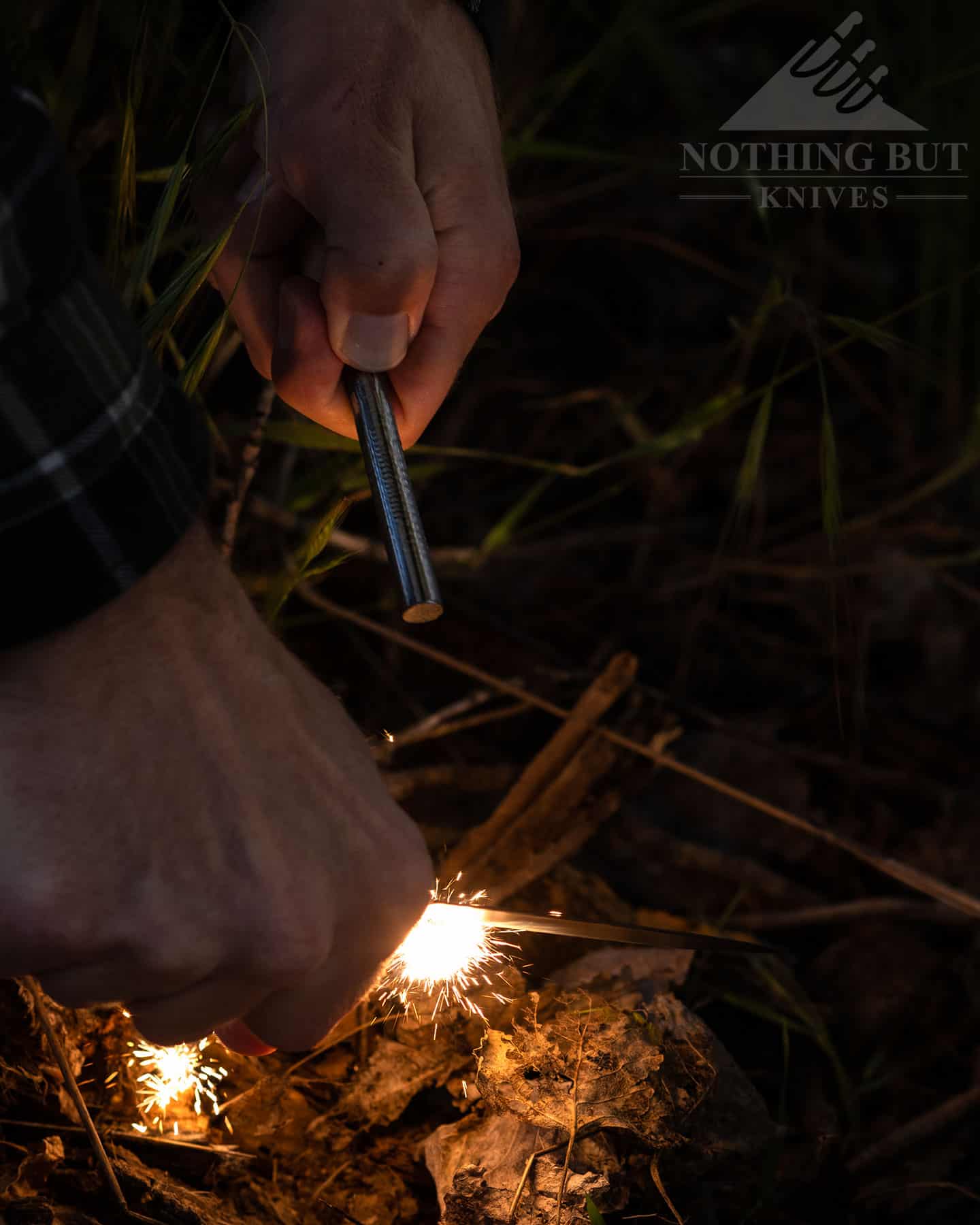 There is one obvious downside to using soft outer layers on laminated blades: although the ninety-degree spine of the F1 facilitates the use of a fire-steel, do expect some ugly, deep scratches on the edges of the spine afterwards. Then again, this knife is not winning beauty contests anyway – not the conventional sort, at least (seriously, this is a beautiful knife to those with eyes to see).
THE HANDLE AND THE SHEATH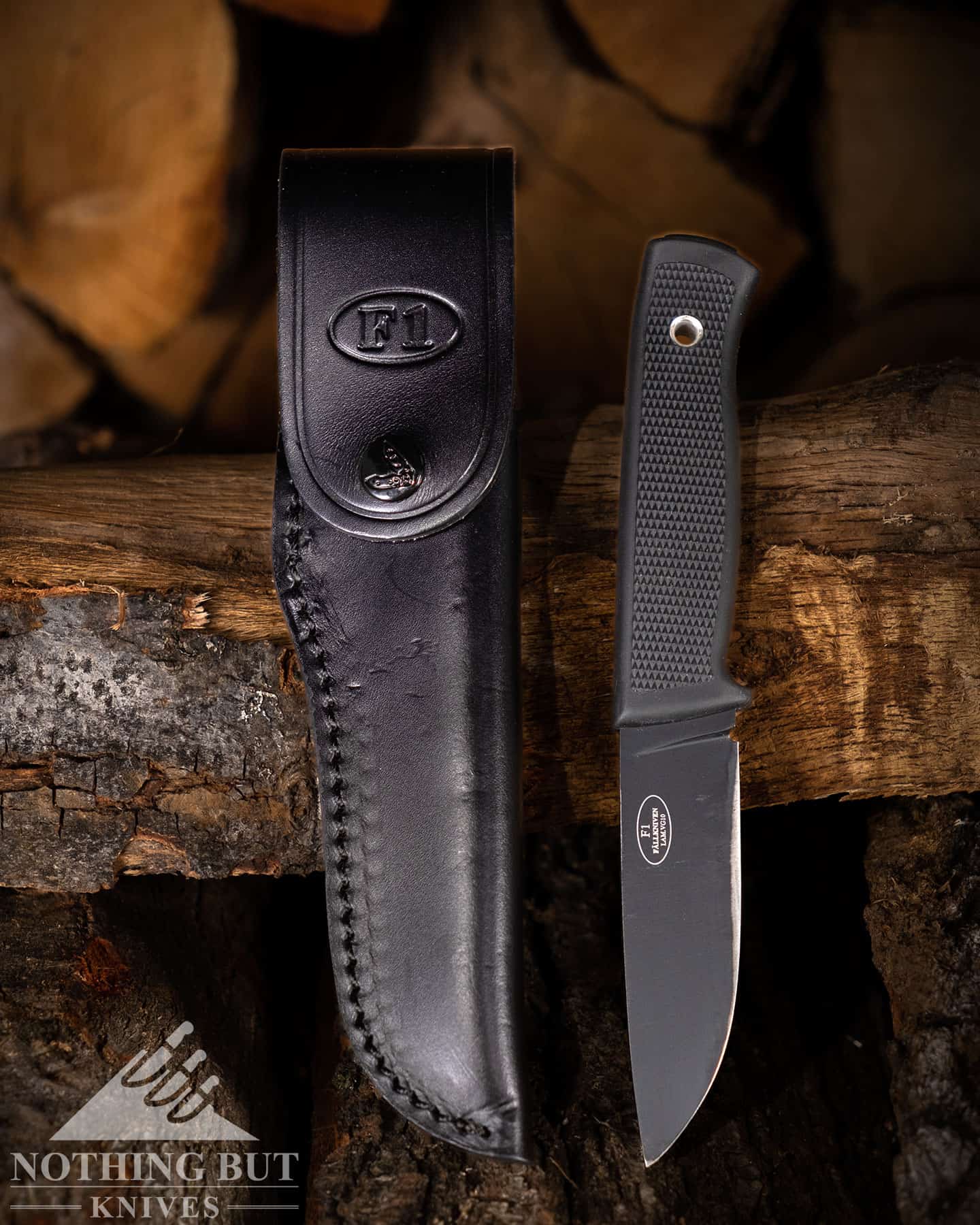 The F1 features a good, neutral handle shape that will accommodate most hand sizes.
The lower guard is little more than a bump to keep your fingers from sliding forward onto the edge.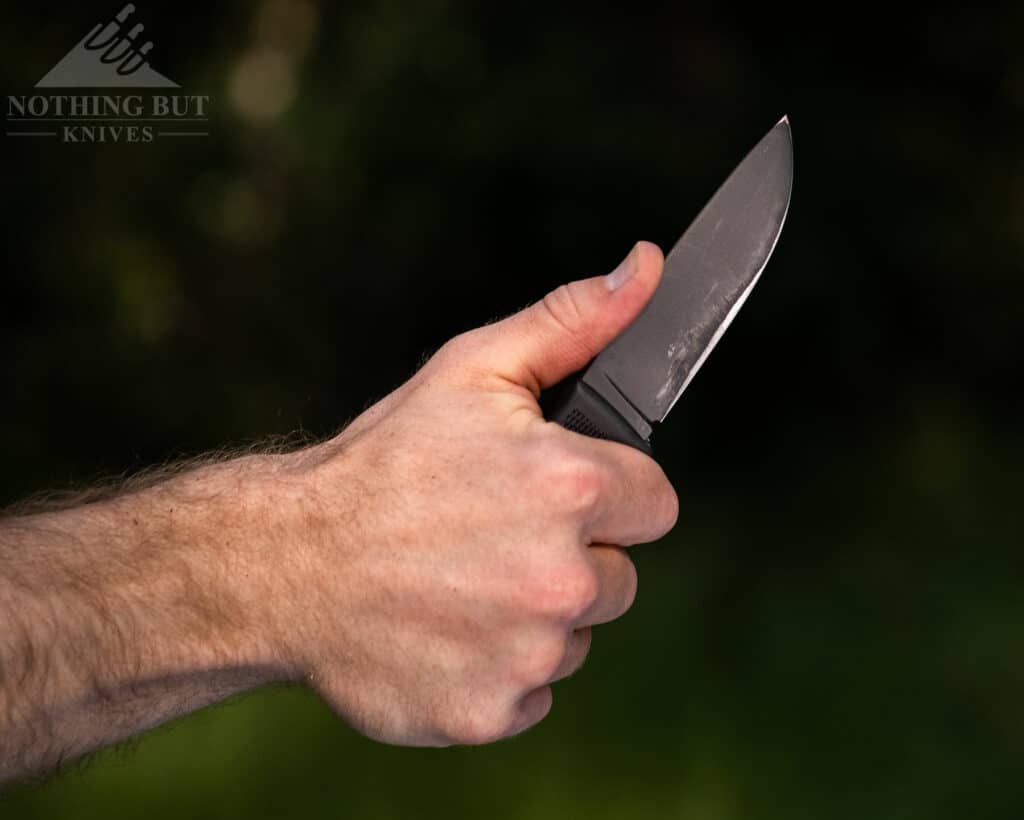 The blade tang protrudes backwards out of the pommel of the injection-molded Thermorun handle. This may (or may not) serve the same purpose as seen with the LionSteel M2M: to provide a platform to use a Ferro-rod on while keeping the knife sheathed.
Thermorun, in my experience, provides good traction while feeling less tacky and smoother than Kraton, and helps keep your fingers away from the metal parts in cold weather.
The sheath I'm not in love with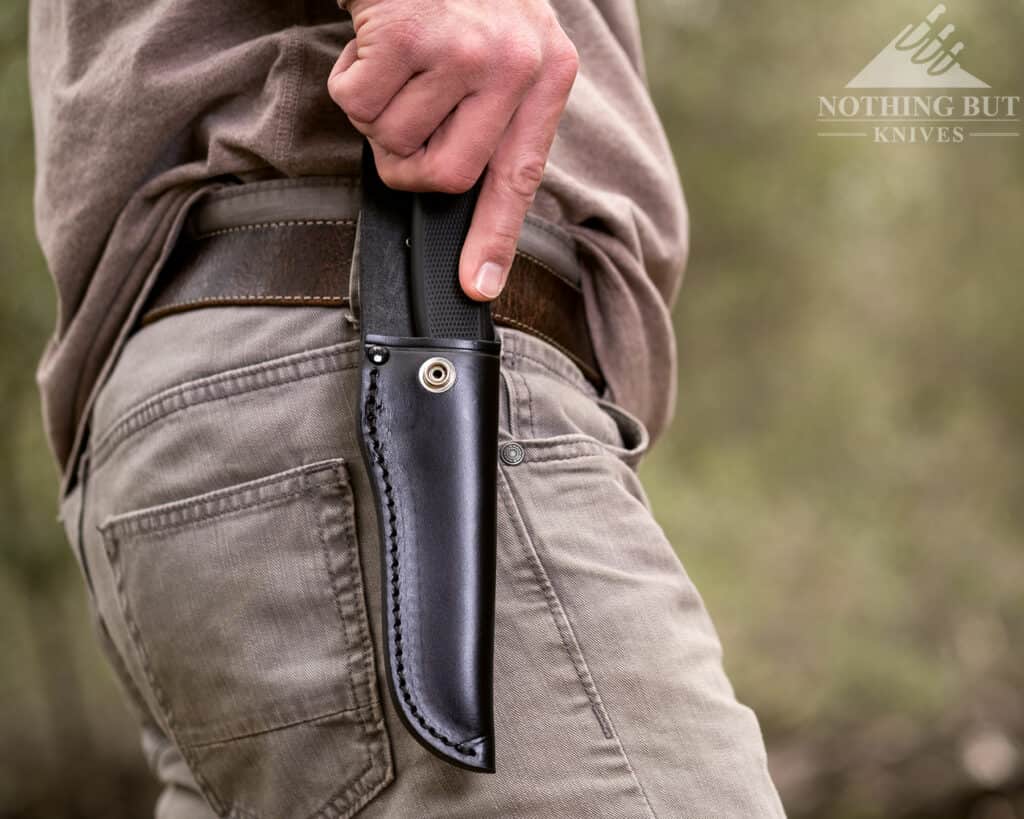 It's certainly one of the sturdiest leather affairs I've ever encountered in my life, but despite its high quality, its over-flap construction makes getting the knife in and out of it a two-handed, full concentration exercise.
IN USE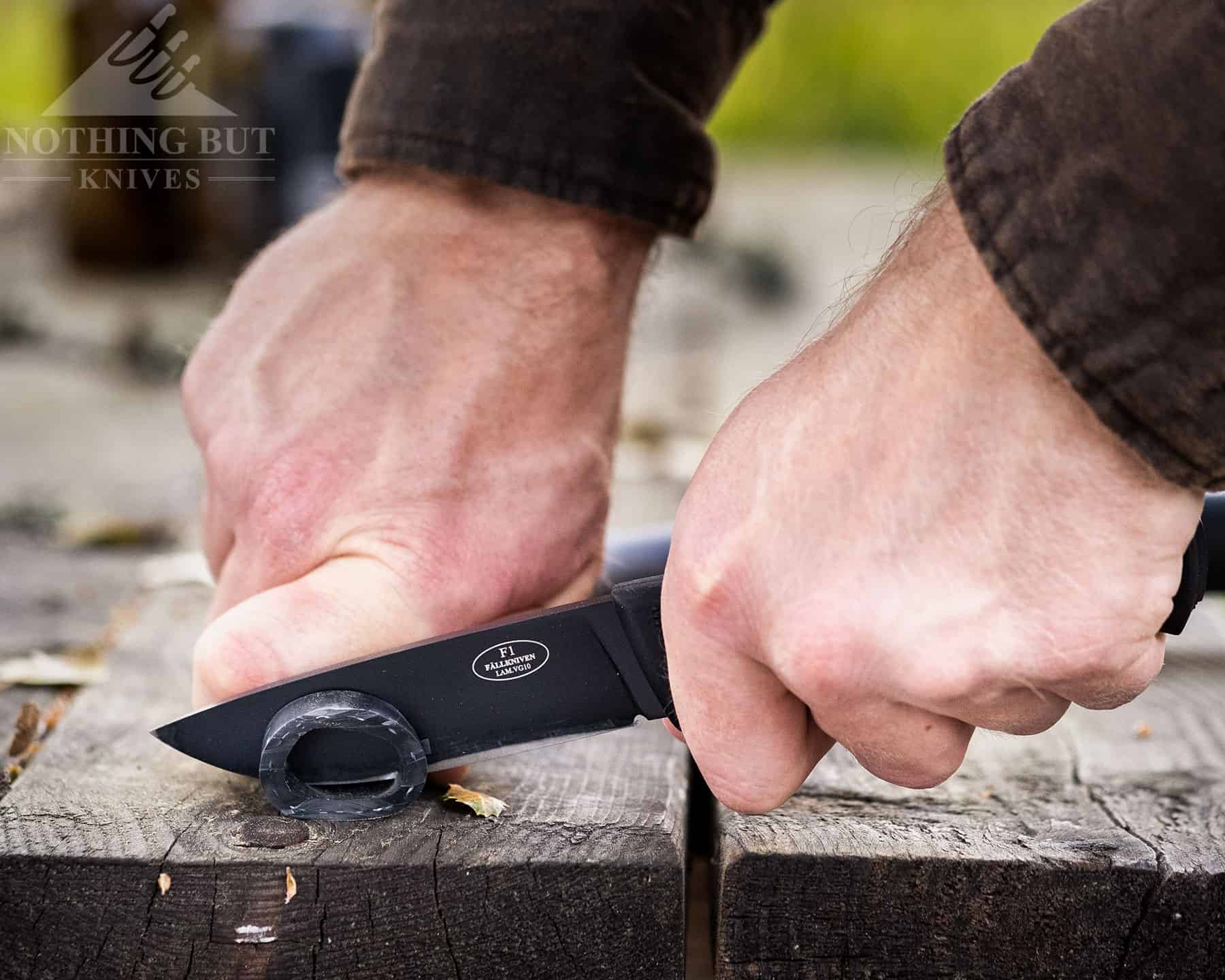 I've been using this knife every day for a while now, both on my daily hikes (it being a Fällkniven, it would have constituted criminal negligence on my part not to try it out on bad-weather hikes as well) and at home in the kitchen, with the predictably impressive results that I have come to expect of it. It's a great knife that shows its true value more and more with each new shared adventure.
COMPARISON AND ALTERNATIVES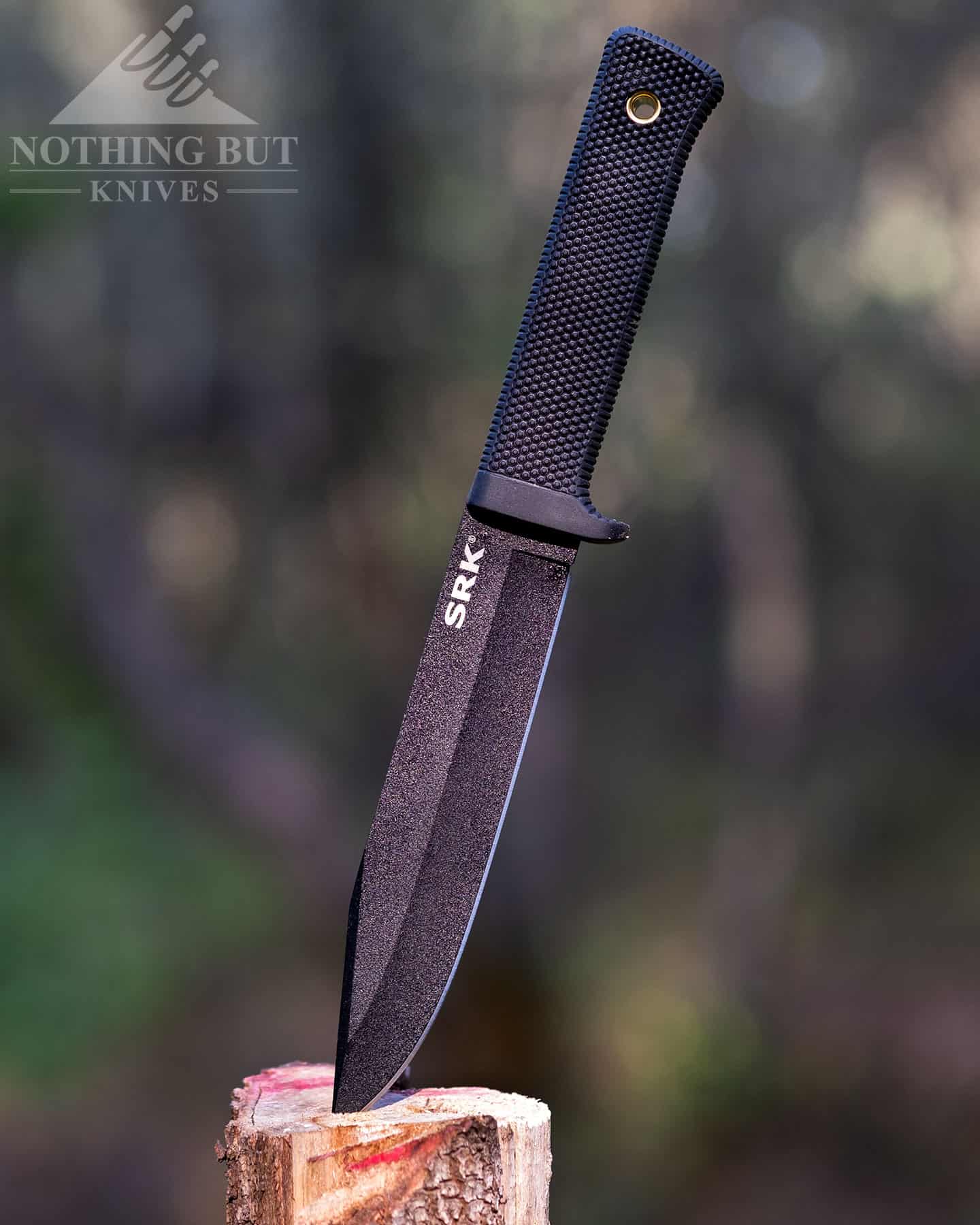 Off the top of my head, I would recommend three knives for you to look at as alternatives to the F1.
The Cold Steel SRK Compact represents an affordable alternative, fashioned out of humbler materials, but a well-liked blade at a fraction of the F1's price.
The other two knives are made by LionSteel: the M2M is reviewed elsewhere here on NBK; and LionSteel's M4, although not itself a survival knife, is a dedicated bushcraft blade in the same price range as the F1.
CONCLUSIONS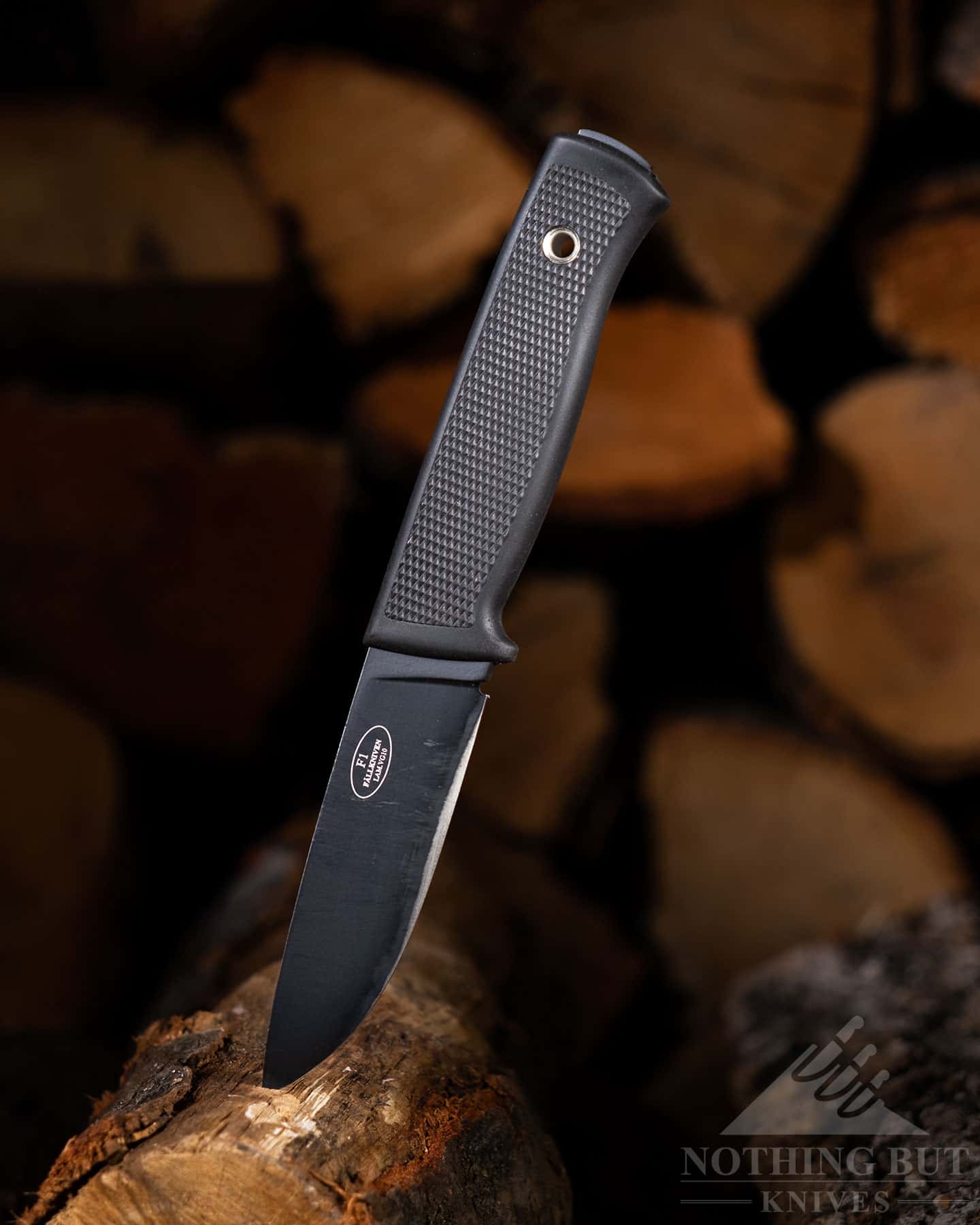 Past a certain age, it becomes easy to lose track of the numerous ways in which you've become a wuss (especially after having graduated to parenthood – you don't know fear until then). But if I had any inclination to eke out a living as a pilot in military aviation, and assuming my aircraft got shot down, leaving me stranded in the wilderness, I would then definitely want my Fällkniven F1 by my side. This knife has grown on me in some unexpected ways, doing nothing in the process to belie its legend.