A High Class Western Chef's Knife with a Hard Bite and Smooth Looks
Cangshan has been putting out some great designs lately that showcase a genuine love and attention to detail with kitchen knives. The Thomas Keller series chef's knife is the first one of their knives I've tested that felt like it was really meant for the "high end" category, though.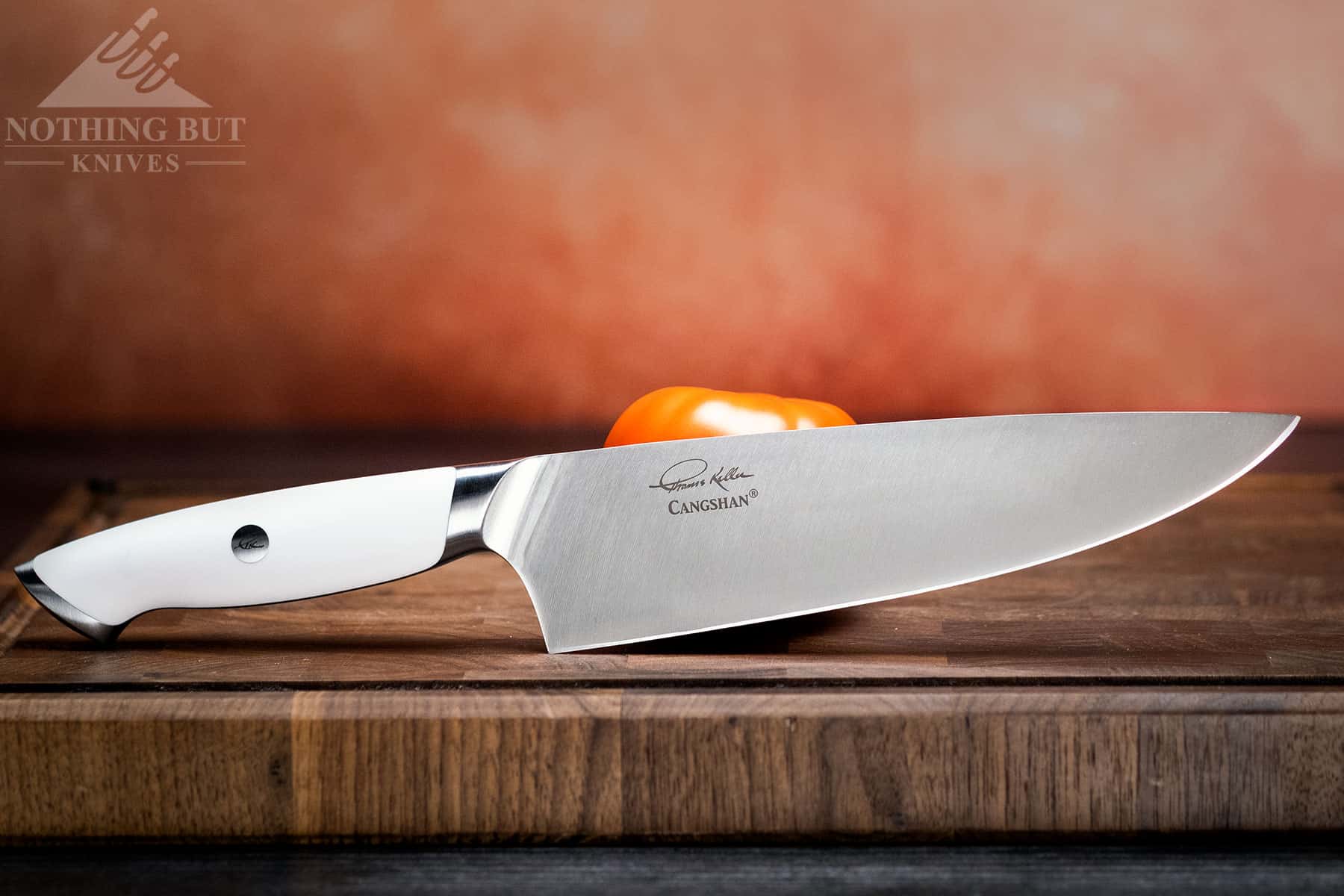 This is a collaboration with the chef and restaurant owner Thomas Keller. It feels like an egregious understatement to call the man behind French Laundry, Ad Hoc, and Bouchon Bakery a "restaurant owner", but here we are. While this knife won't turn you into a Michelin star chef, I did find it especially easy to use to the point that I almost looked like I knew what I was doing some of the time.
The edge is aggressive, the handle is comfortable while having a nice contour that helps keep control of cuts, and overall it just looks nice.
Specifications
| | |
| --- | --- |
| Overall Length: | 13.0" |
| Blade Length: | 8.0" |
| Blade Steel: | RWL-34 |
| Hardness: | 61 HRC |
| Blade Thickness: | 3 mm |
| Blade Shape: | Western chef's |
| Blade Grind: | Flat w/ 16° edge |
| Handle Length: | 5.0" |
| Handle Material: | Polymer |
| Handle Type: | Western |
| Weight: | 234 g (8.25 oz) |
| Designer: | Thomas Keller |
| Made in: | China |
Pros
Blade is premium steel with a great edge
Nice handle-sided balance
Good pinch ergos with a sloped bolster
Cons
Corners of the spine are pretty sharp
The smooth handle can start to feel slippery
Fit and Finish
The handle isn't perfectly seamless, but it's pretty darn close. I can feel just a little bit of a lip between the handle scales and the tang. I don't feel anything in the higher part of the handle where the scales transition into the bolster, though, so the important parts of this knife are ground down very well.
The blade is also perfectly straight and has a really nice distal taper going from 3 millimeters behind the heel to somewhere in the range of half a millimeter at the tip. My only issue here is they didn't crown the spine, so it has harsh edges that don't feel so great on the index finger.
Overall the look is pleasant. The pin is understated as far as these things go. Cangshan's logo isn't the most exciting thing out there, but the cursive font fits the vibe of the knife well. The thing feels classy. Which makes a lot of sense since the way it cuts reminds me of driving a luxury car. It's smooth in a straight line and over a lot of rough road, just don't try to take a corner too fast.
Handle and Ergos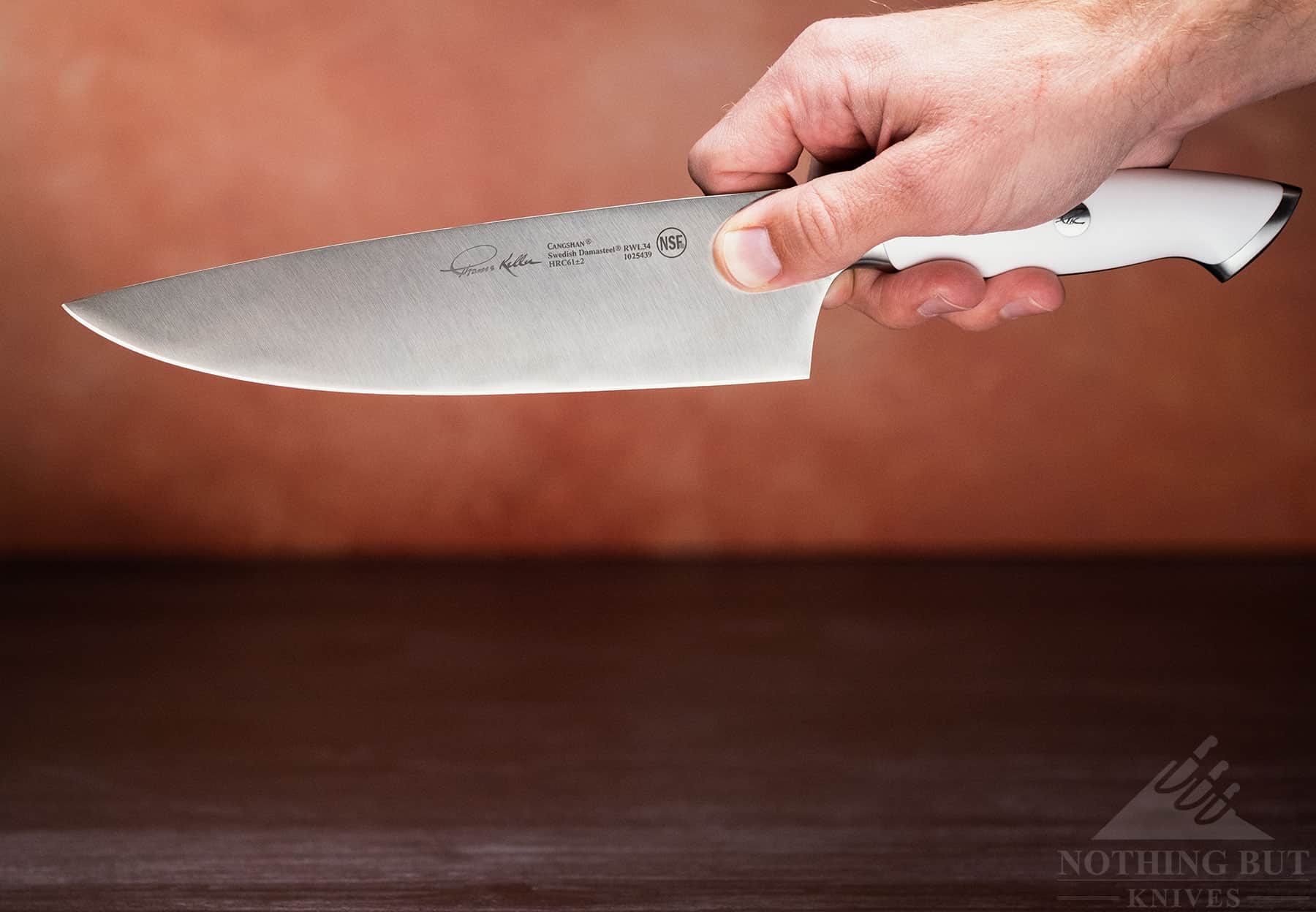 The balance just slightly favors the handle. The actual balance point is somewhere in the bolster just below the transition from the blade, but I can definitely feel the weight sitting in my fourth finger and pinky when I'm working in a pinch grip.
It feels really nice when I'm cutting through something thick like a large potato or halving a big onion and need to put some force down on the belly. But the blade still feels nimble when I'm just cutting with the tip. Overall this is a really comfortable knife with classic western-knife ergonomics.
There are a couple of sticking points I have with it here, but they aren't glaring enough to be big problems.
The spine is pretty sharp, so the comfort of this knife comes with some long term concerns. It'll probably rub some pretty intense calluses on your finger after a while. It's not so bad that it creates a hot spot as soon as I pick the knife up, but I definitely feel the corners of the spine after I've been cutting for a while.
The handle can start to feel a little slippery because the tang protrudes out a little in the belly of the handle so it's mostly steel sitting in the hand along the front, and the scales are pretty smooth. If things start getting really messy and the handle gets wet, it can start to feel a little precarious. I have yet to lose my grip with this knife, and so long as I'm keeping my station and work flow smooth and clean the handle never gets wet enough to be much of an issue, but it's something worth being aware of.
The Blade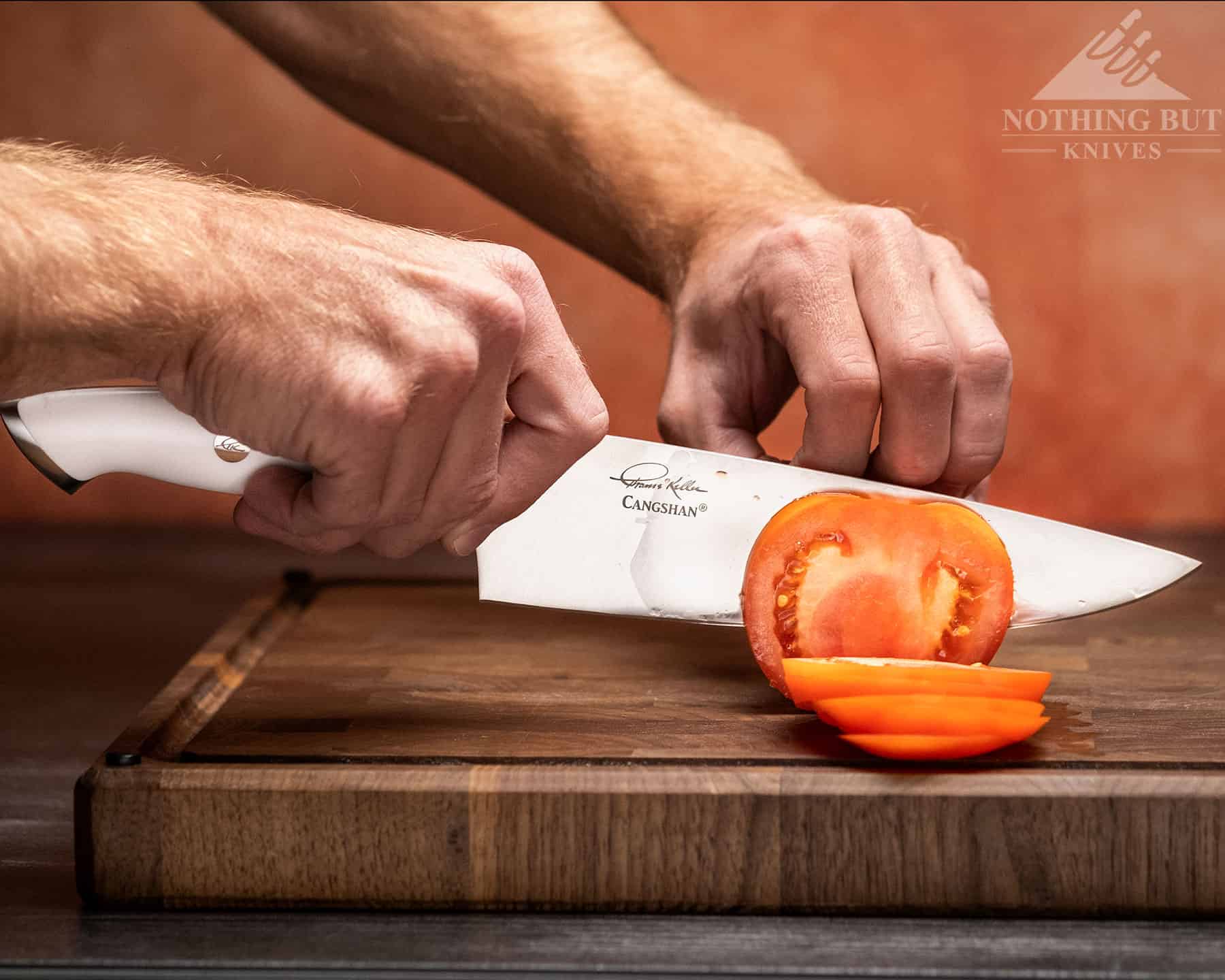 Everything feels smooth with this knife. The edge has a good bite that cuts right into soft skins, and the follow through has just enough resistance so that I feel like I have control over the pace of my cut. I haven't noticed much in the way of wedging. The blade is pretty thick, but the grind behind the edge seems to have a smooth enough transition that things like potatoes and tomatoes slide right along the blade without much resistance.
The edge is toothier than I'm used to feeling in kitchen cutlery, even with western style knives. That's helpful in cutting softer fruits and vegetables, and it seems to be a good match for harder root vegetables as well. I never really had a problem getting a cut started, although it can be a little rough with herbs.
The profile of the blade doesn't have a lot of belly, but it has enough for rock chopping. The sweet spot for finishing a cut on this blade seems to be right below the halfway point. And while I favor gyuto profiles these days because I tend to prefer using the higher parts of a blade, I actually found it fairly easy to do tip work with the Thomas Keller when I needed to.
The New Steel with a History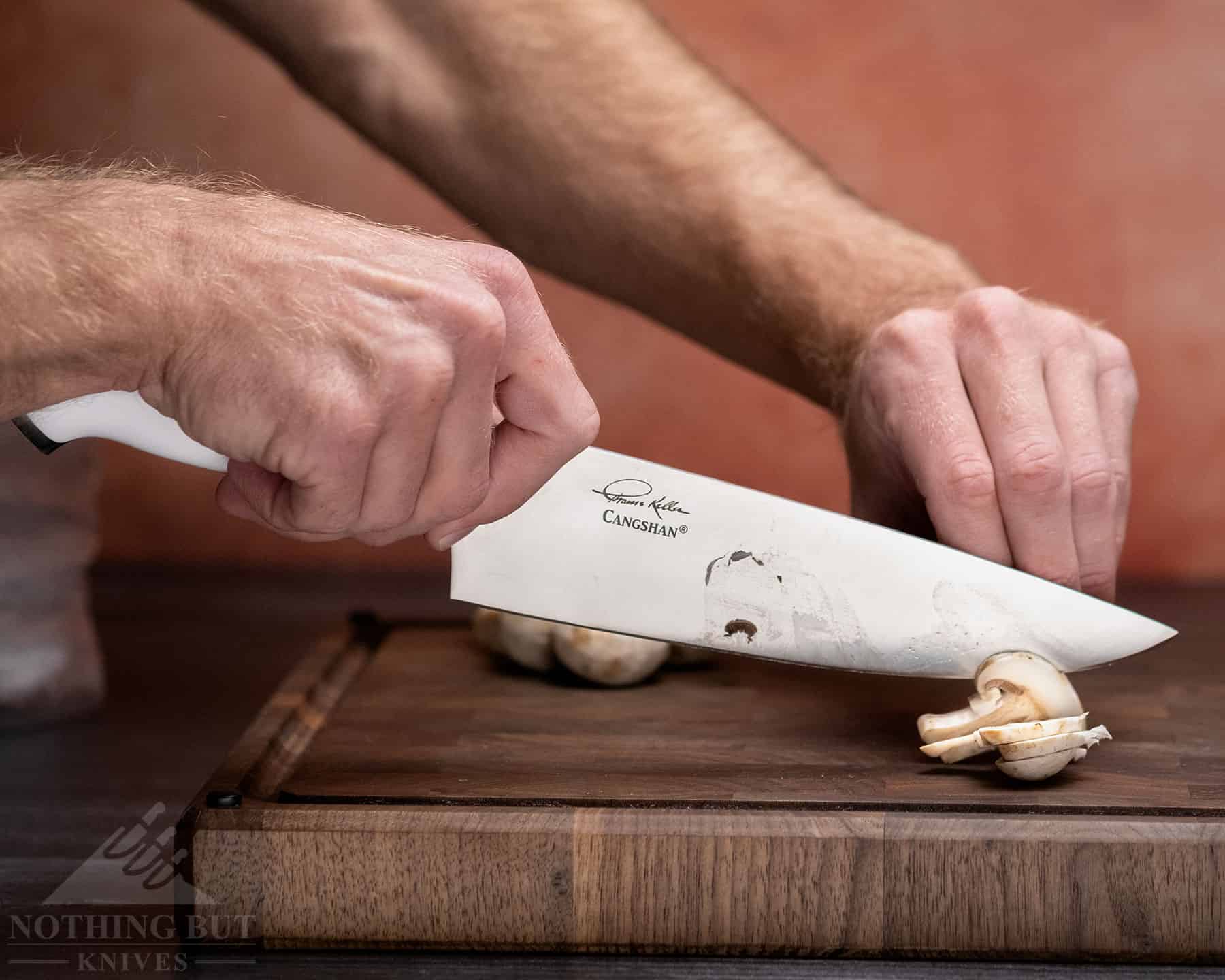 I've been wanting a knife with RWL-34 steel for a while now. On the practical side it's a fantastically clean powder steel with great wear resistance and edge stability. On the enthusiast side, though, it's a fun little reference to a bit of knife steel history.
RWL-34 was specifically developed to be used in knife blades by Damasteel, who might be more famous for the wealth of incredibly high quality Damascus patterns used by custom knife makers across the world. The composition of this stuff is very close to 154CM, which is likely by design since "RWL" stands for "Robert Waldorf Loveless", a legendary knife maker who started using the stuff in knives in the early 70's (it was mostly used in jet engines previously). At that time, 154CM offered a great mix of edge retention and corrosion resistance (and still does).
Crucible stopped making it for a little bit before bringing it back as a powder steel (called CPM-154) in 2006. By that time it had become so established as a quality steel for knives that other companies had started making their own versions of it. Hitachi was making it as an ingot called ATS-34, Carpenter made a powder version called CTS-BD4, and now Damasteel joins in with a direct homage to Loveless as RWL-34.
Food Performance
I didn't cut much with the Thomas Keller that didn't feel great, but I also didn't cut too much in the way of meat. It was a soup, stew, and salsa kind of month when I tested it.
Onions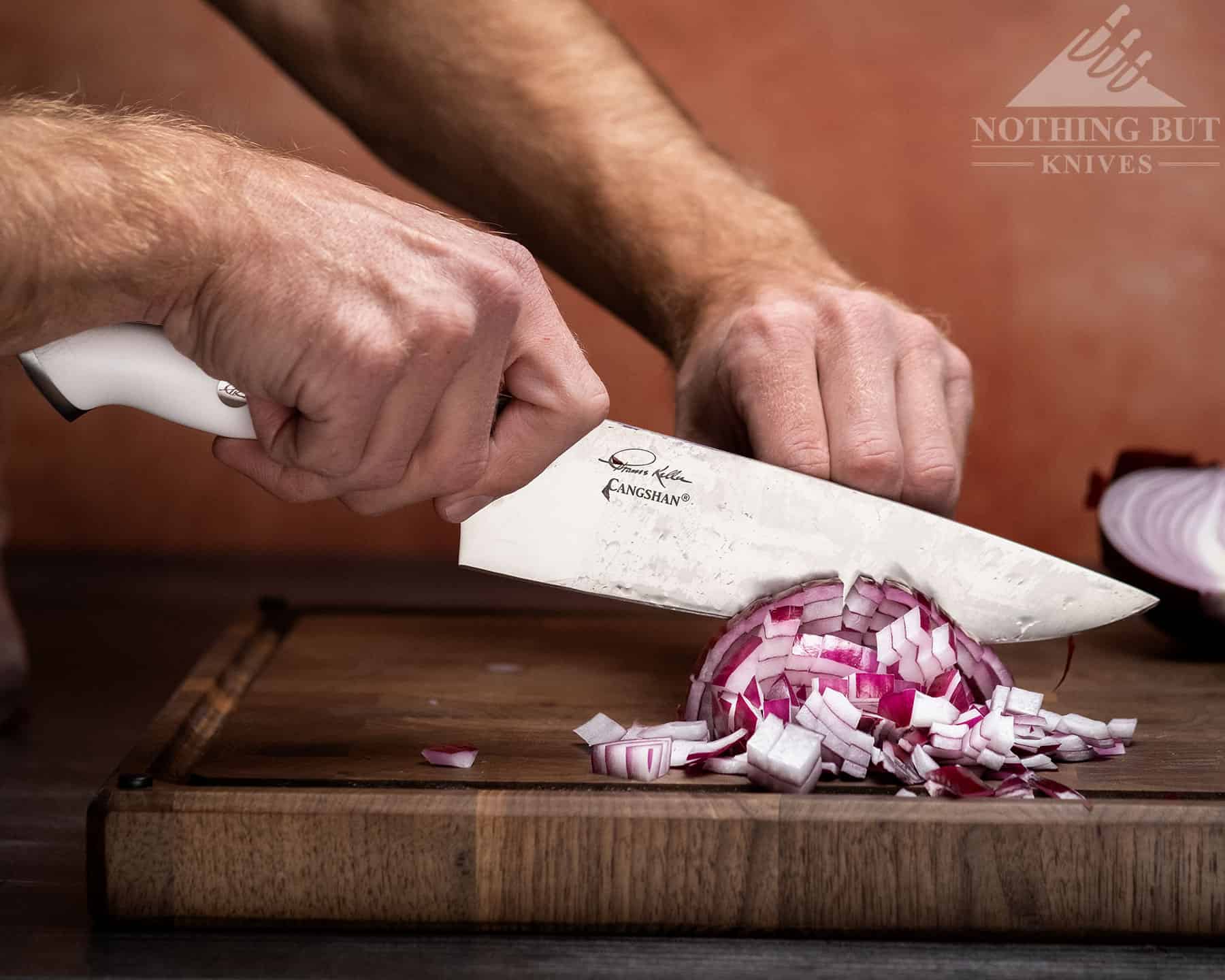 I haven't messed with too many western knives that cut an onion like this. It is perfectly smooth. The only issue I had was having to tilt the knife so much cutting lines into the onion for dicing, but that's just the nature of the beast with a western blade.
Potatoes
Normally I don't talk about cutting potatoes in reviews too much because they tend to be too easy to say much about a knife, but they're a good way to get a feel for the blade geometry because they're so thick and starchy all the way through. The Thomas Keller has a way of cutting in a very effortless but gentle way, and I felt that the most with potatoes. They've done a great job on the geometry behind the edge here.
Carrots
The toothy edge comes in really handy with carrots. I don't feel too out of control when I'm flattening one side to do a julienne cut since it bites in so easily. In the follow through cut it feels like it's actually separating slices off carrot rather than prying them apart, which is very helpful in maintaining the right pressure on the carrot and keeping it from sliding or rolling while I cut.
Cilantro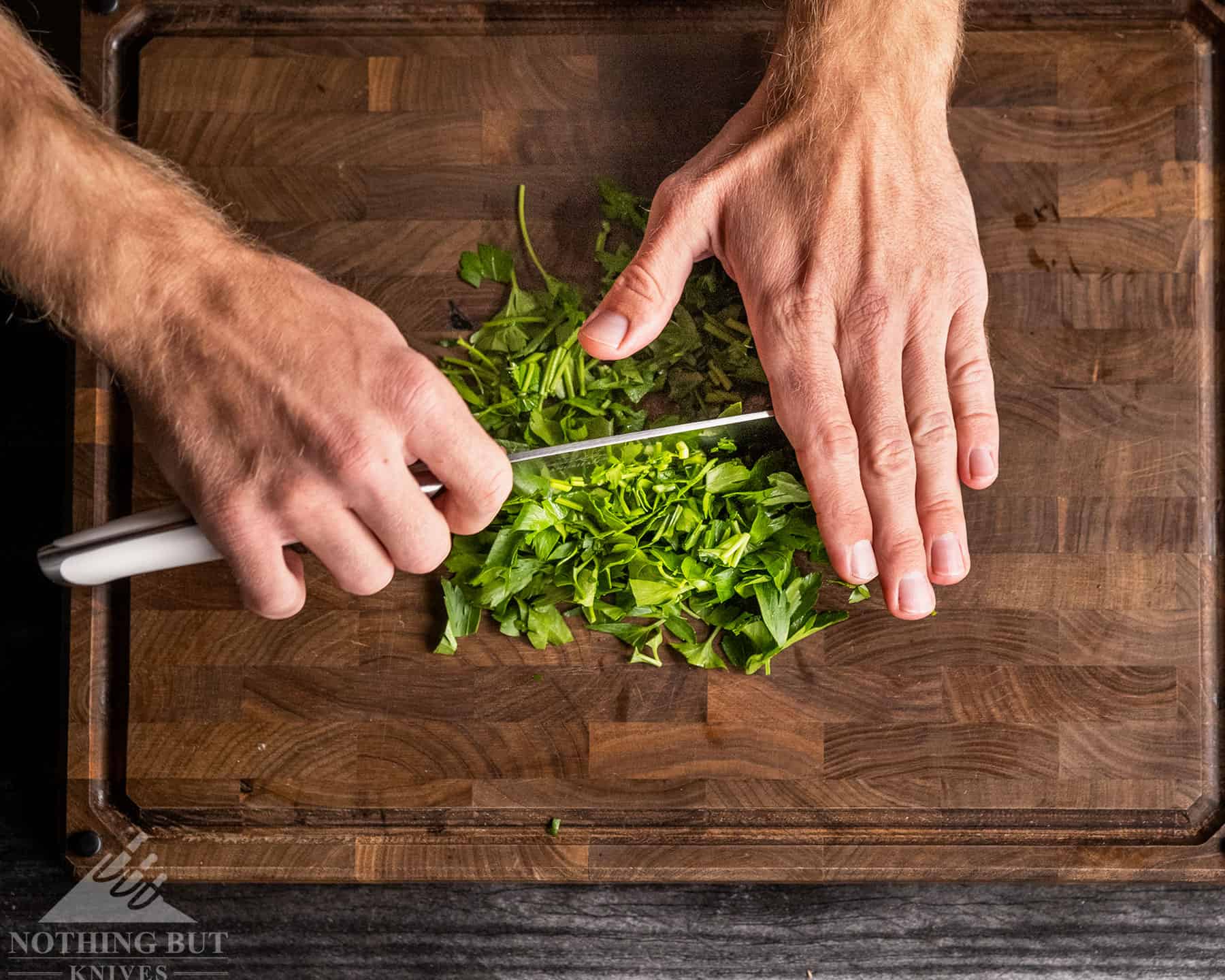 I think this is the only thing I wasn't crazy about cutting with the Thomas Keller. The shape is great for rock chopping, but this is where the edge would be better if it were more polished, because it wants to tear as things become more delicate. I still got a decent enough pile of minced cilantro out of it. This knives works well enough with herbs, it just doesn't feel like its strongest point is all.
Comparison and Alternatives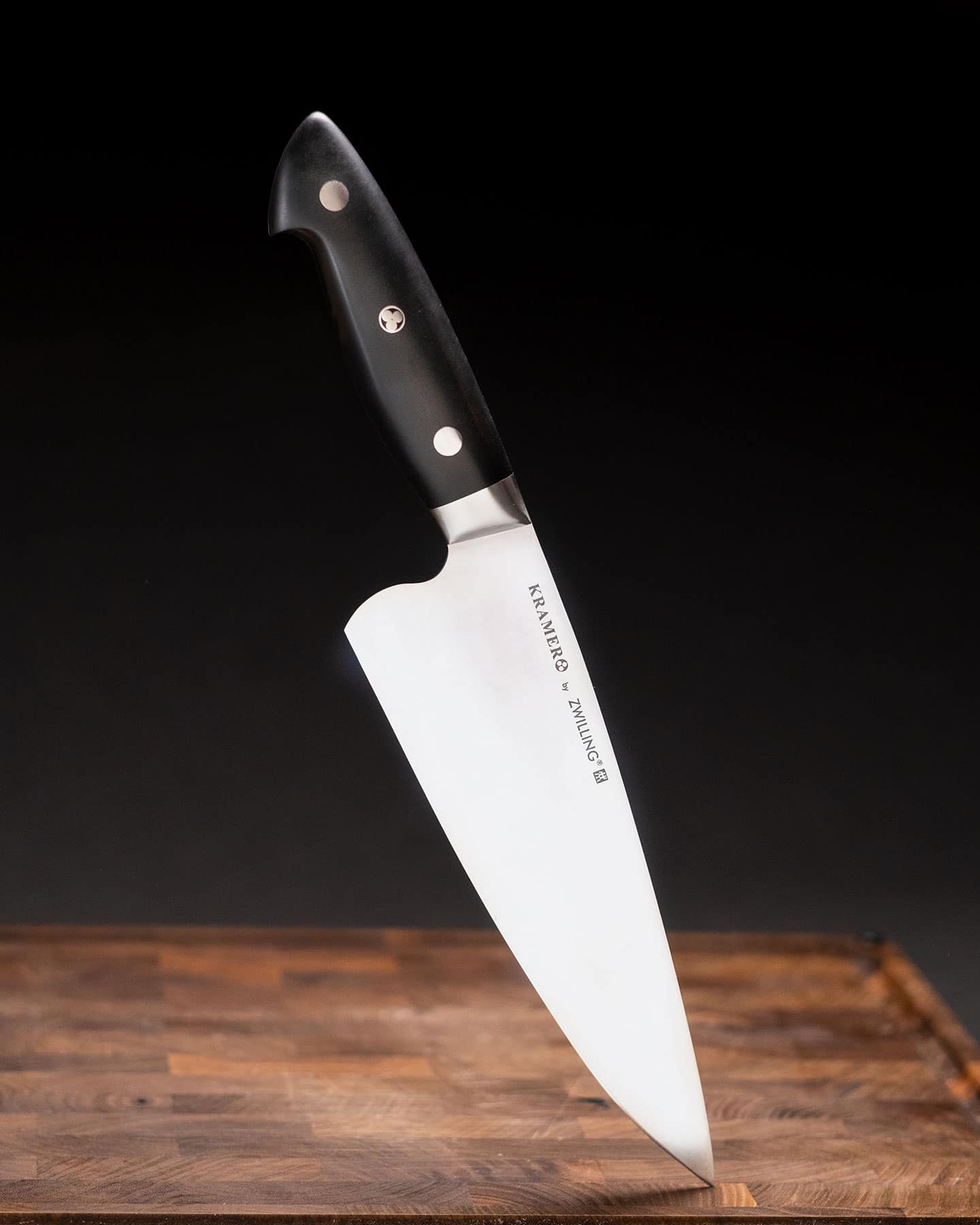 The price puts the Thomas Keller in the same range as the Wusthof Classic Ikon. They both have similar blade shapes, but the handles are very different. I won't get into which one is "better", but I will say the Wusthof is weighted much more heavily toward the handle. That's probably the most relevant difference. Also the steel in the Wusthof isn't as exciting. It's got the tried and true X50Cr18Mov at a slightly lower hardness, so edge retention won't be quite on par, but that stuff has been working great in German knives for decades.
If you want to get a little fancier, the Zwilling Kramer Euroline is the best alternative from my own experience. It's pricier, but if you want a taller blade and a thicker handle, a Kramer is hard to beat. It's also available in FC61 stainless steel or 52100 carbon with a couple different kinds of handles.
If you want to go a little cheaper, the Dalstrong Shogun has a pretty similar handle shape and it's a little lighter. It's also thinner, but the Thomas Keller is by far the better performer. Still, the Shogun works well enough and it's certainly the way to go if you want a knife that looks a little more dramatic.
Cheaper still, but still in the Cangshan family, is the Cangshan TC. That has a very similar blade shape and pinch-grip ergos, but the handle is an interesting hybrid, almost-octagonal shape. The blade doesn't have quite the same edge retention, but it's one of the more unique knives I've tested, and it has a similar cutting performance.
Conclusion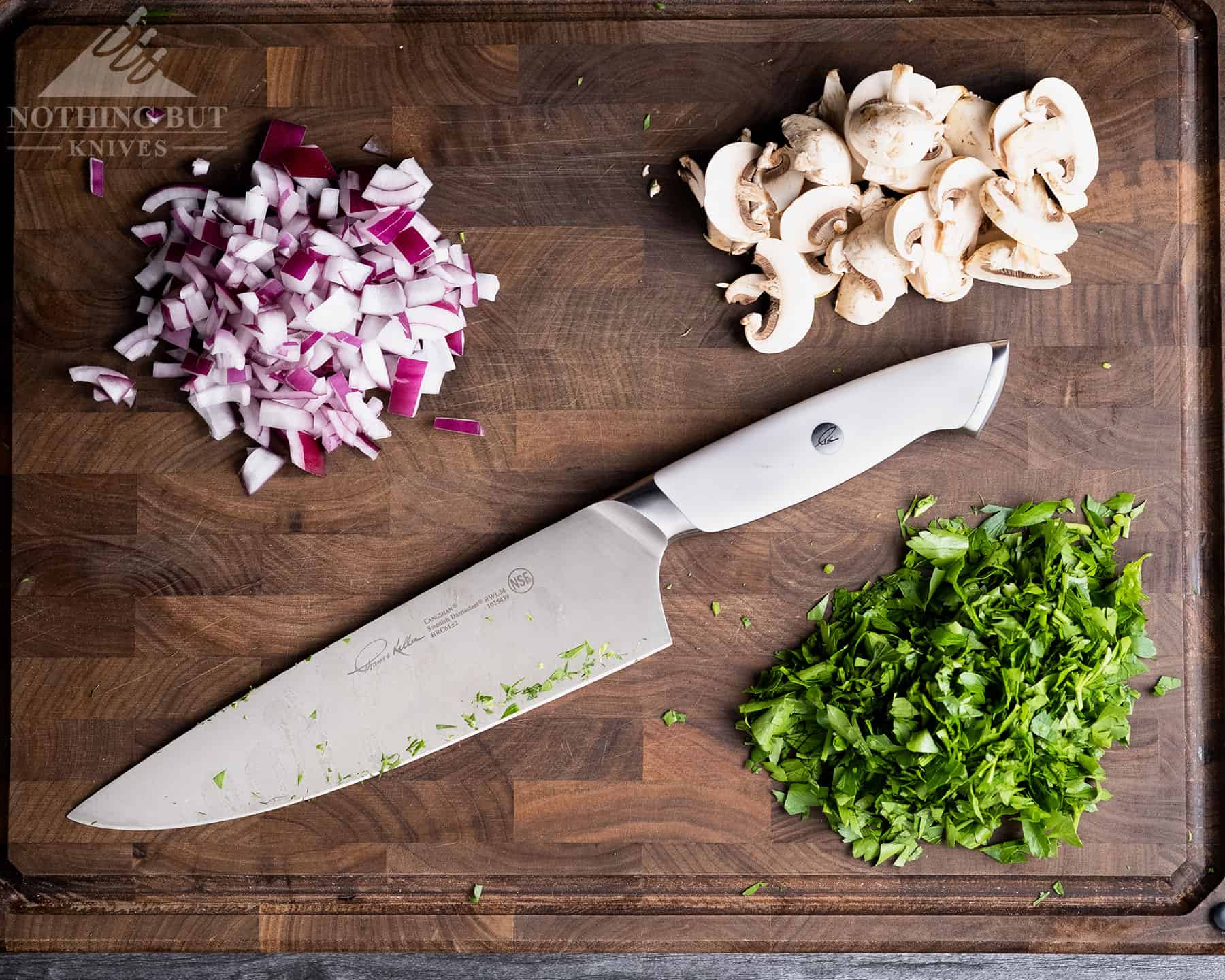 Up to this point, I had seen Cangshan as a solid budget brand. If you needed a good knife in the hundred-dollar range, they had become one of the companies I recommended (alongside the Zwilling Pro, Global G2, and the Tojiro DP, typically).
The Thomas Keller chef's knife puts them in a different category, though. This knife is swinging for the high seats where household names like the Wusthof Ikon and Shun Classic are sitting. It's the range where you have to start saying things like "the knife is good, but there's something that works just as well for half the price", which means there needs to be something about the knife that takes its value beyond just the functional.
I think it manages to do that. It feels good in a significantly different way than other knives in the same price range, it has a classy look, it features a cool powder steel that nerds get to gush over, and most importantly it cuts beautifully. Not just in a way that gets the work done, but in a way that makes chopping vegetables pleasant and easy.