An Award-winning Tactical Fixed-blade Design That Turned Out To Be An Unexpectedly Good Utility/EDC Knife As Well
One-and-a-half decades of experience with knives has left me with one, overriding article of faith: that your blades will, sooner or later, reveal themselves to be falling into one of three main categories.
First, there are those few of your knives (if that many) that you probably wouldn't much mind to be buried with (although, on general principle, it's best not to get ahead of yourself by making precocious funeral arrangements).
Then at the opposite end of the arc, you have those knives that, being a reflective person, you would be embarrassed as hell to be caught dead with.
And finally, somewhere in between the foregoing categories, there is a variety of knives that, upon sufficient acquaintance, end up leaving you with different degrees of satisfaction.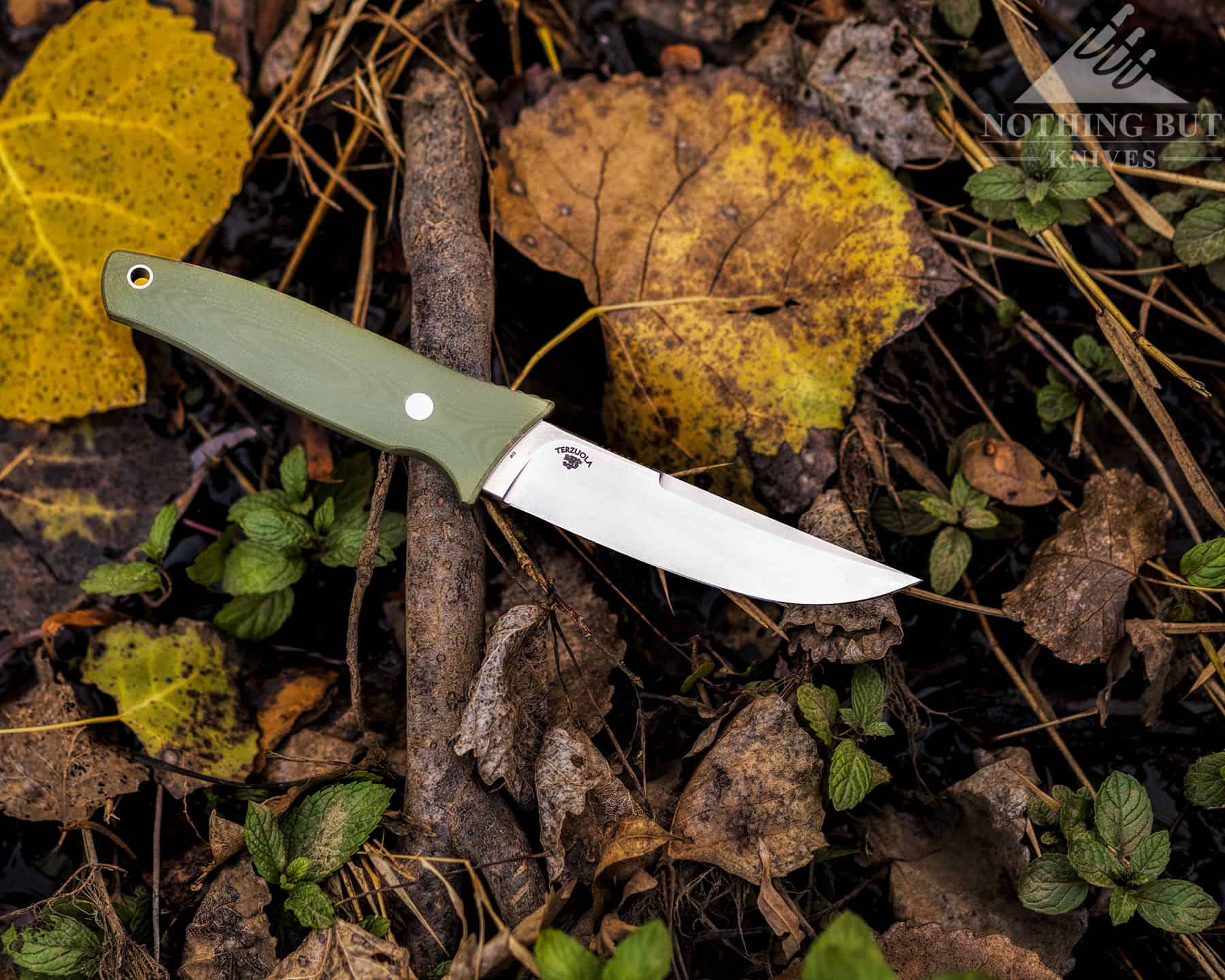 The CIVIVI Tamashii, a fixed-blade design collaboration between CIVIVI – a brand introduced in 2018 by WE Knife Co. Ltd. (one of the largest Chinese manufacturers of quality cutlery) in the express purpose of establishing a functional, utilitarian EDC product line at more affordable prices [N.B. the name "CIVIVI" takes its origins from the Chinese characters "CI" (happiness) and "VI" (joy)] – and Mr. Robert G. "Bob" Terzuola [professional knifemaker and -designer, member of the Knifemakers' Guild, author of books and articles, and a universally respected figure in the world of cutlery, often dubbed "the Godfather of tactical folding knives" – so, that Bob Terzuola], looked like an intriguing knife from the start.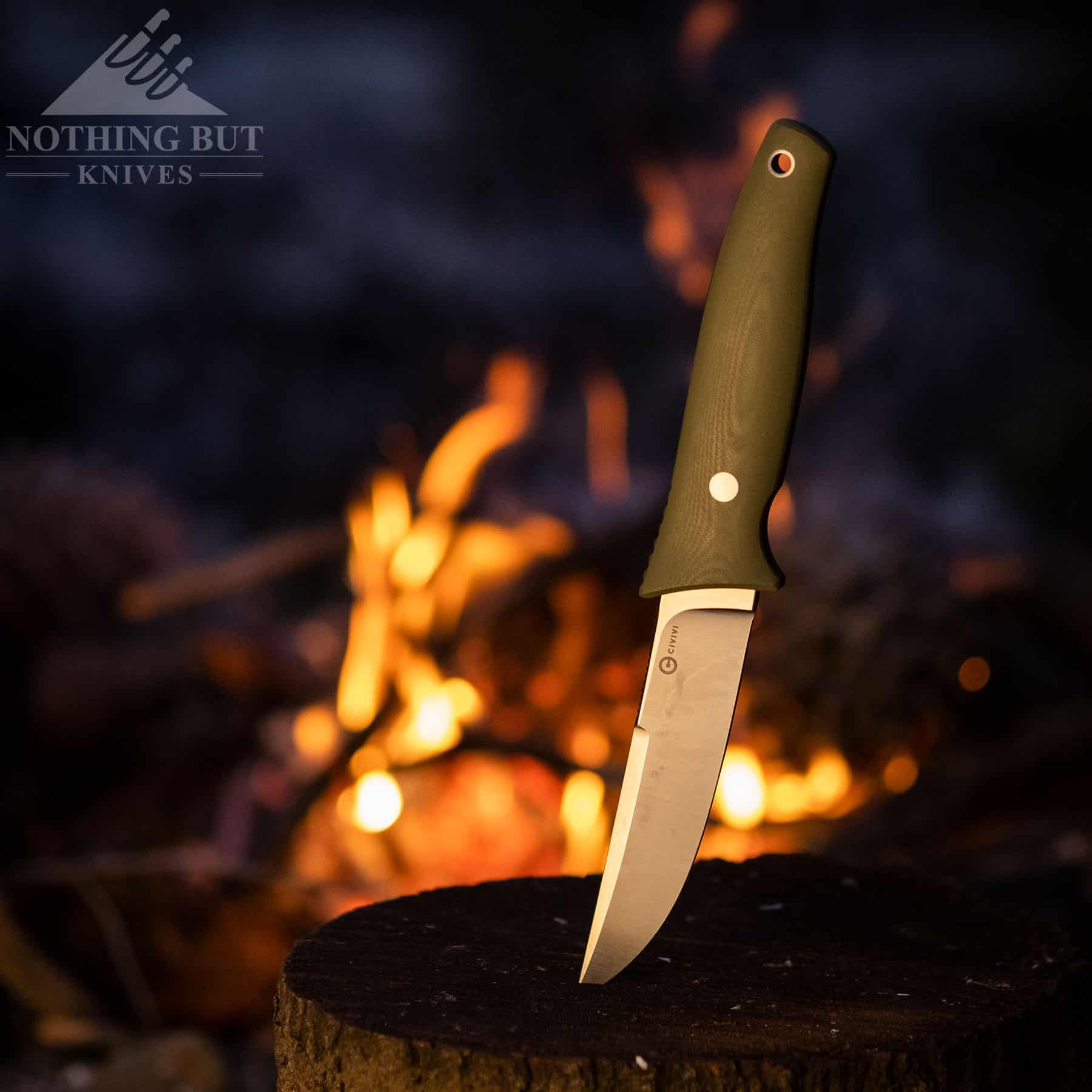 While I sometimes resent the overwhelmingly widespread mis-, over- and abuse of the term "tactical", I also appreciate the beauty of a weapon as much as the next guy, which is probably why it did not take much more than a glance for me to begin actively seeking the chance to check this knife out in person.
My first real surprise came right on the heels of finally taking a Tamashii into my hands. Whereas I have to admit that CIVIVI's folding-knife offerings (at least those that I'd theretofore had the chance to handle in person) had not made a lasting impression on me (not that I could fault them for any significant shortcoming, they just hadn't passed the threshold of my attention), it was clear from the get-go that this compact fixed blade was going home with me.
The knife displayed an unexpected level of quality of design, materials, and workmanship, with some pretty unique design solutions thrown in for good measure, and although at that point I was still a long way from being convinced that it had much more to it than being a well-made, beautiful, and affordable product, in the end I couldn't bring myself to part with it (just ask my friends: I'm a weak, weak person).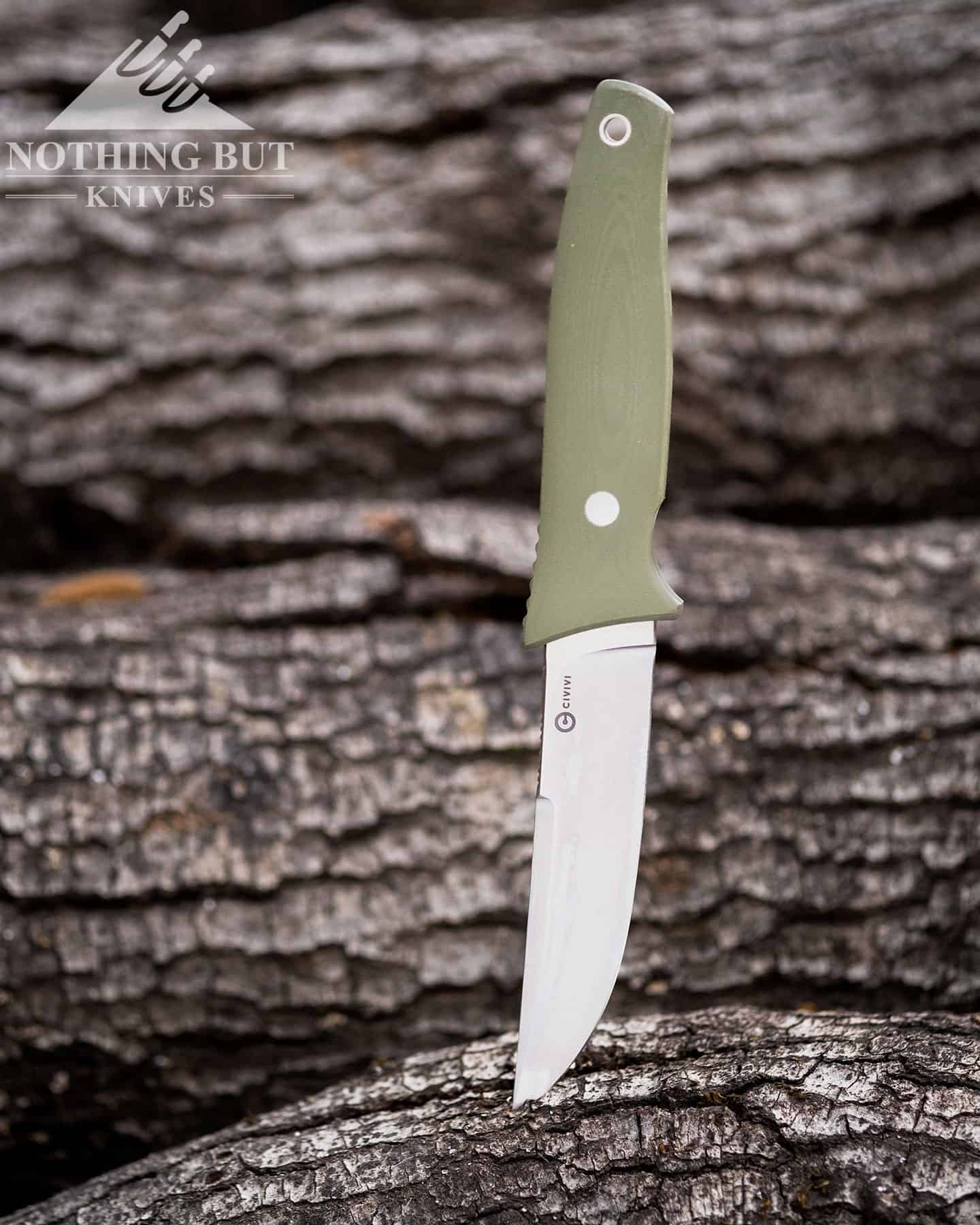 The nature of my lingering doubts was, in retrospect, reminiscent of complaints I sometimes hear from the more attractive of my female colleagues about their appearance conspiring against them professionally; that their male co-workers (and certain female colleagues) refuse to take them seriously, on the often mistaken assumption that these beautiful people are nothing more than that – not hard on the eyes, but lacking in what it takes to be really good at their jobs.
All this to say that it cost me a period of mental adjustment to finally come to terms with the Tamashii's being a good, deceptively simple, and convincingly effective compact general utility and EDC knife. As it turned out later on, this knife also makes a more-than-decent light hiking knife as well.
Specifications
| | |
| --- | --- |
| Overall Length: | 8.8″ / 223.5 mm |
| Blade Length: | 4.0″ / 101.6 mm |
| Blade Steel: | D2 |
| Blade Thickness: | 0.18″ / 4.5 mm |
| Blade Shape: | Trailing Point |
| Blade Hardness | 59-61 HRC |
| Blade Grind | Flat |
| Handle Length: | 4.73″ / 120.2 mm |
| Handle Material: | G-10 |
| Weight: | 4.43oz / 125.8 g |
| Designer: | Bob Terzuola |
| Made in: | China |
Pros
A compact, sophisticatedly simple design from one of the most renowned knifemakers alive.
A tough little blade that hits well above its weight-class in terms of general-utility (EDC) and outdoors applications
Fit and finish – and all the other aspects of the Tamashii – are difficult to take issue with
Cons
Fit and finish – and all the other aspects of the Tamashii – are difficult to take issue with
The braid CIVIVI includes with this knife is next-to-useless
Did I mention that this knife is annoyingly difficult to take issue with?
A TACTICAL KNIFE WITH A WIDE ARRAY OF PRACTICAL APPLICATIONS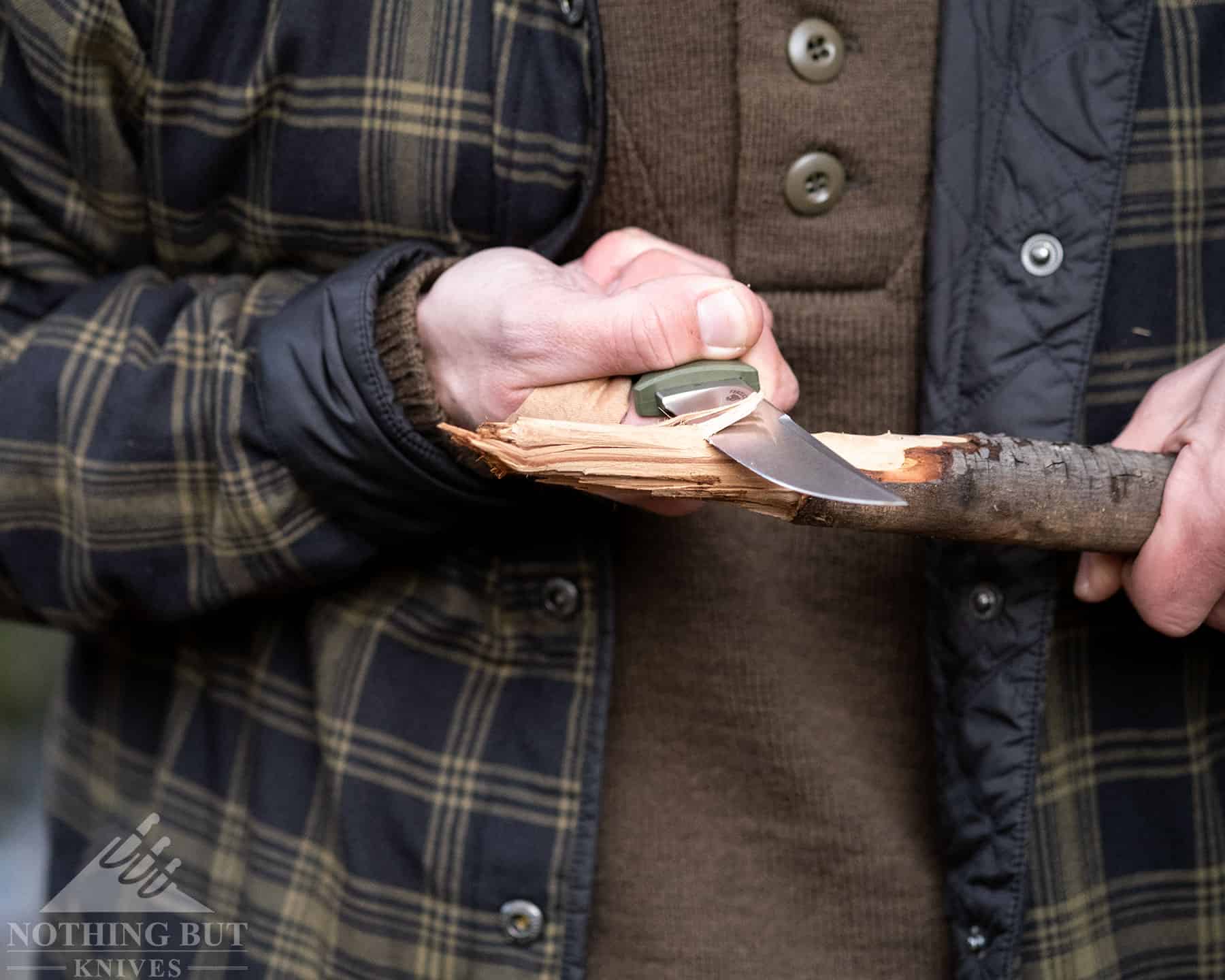 I think Robert G. Terzuola needs no extensive introduction. If you look him up on the Internet, it's pretty much all there. A professional knifemaker and member of the Knifemakers' Guild (on an endorsement from Bob Loveless) since the early Eighties – that is, his mid-thirties –, Terzuola's first knives were fixed blade combat designs made for soldiers, CIA operatives, and security personnel working in Guatemala, El Salvador, and Nicaragua. In 1984, he began making folding knives, coining, in the process, the term "Tactical Knife". Terzuola's most popular model is the ATCF (Advanced Technology Combat Folder), a linerlock folding knife. He is widely considered to be the first maker and "Godfather" of tactical folding knives. Terzuola has collaborated with other knifemakers and production companies including Spyderco, Strider Knives, and Microtech Knives.
Before going on with this review of the CIVIVI Tamashii, I'd like to dwell a little on the subject of the term 'tactical knife'.
People who know their way around this subject better than me seem to be quite keen on the distinction between a fighting knife and a tactical knife. According to them, a fighting knife has a blade designed to most effectively inflict injury in close-quarters physical confrontations. Fighting knives were traditionally designed as special-purpose weapons, intended primarily if not solely for use in personal or hand-to-hand combat.
This singleness of purpose originally distinguished the fighting knife from the field knife, fighting utility knife, or in modern usage, the tactical knife. The tactical knife is a knife with one or more military features designed for use in extreme situations, which may or may not include a design capability as a fighting or combat weapon. Since WWI, the fighting knife in military service has gradually evolved into a dual-purpose or "fighting-utility" knife, suited for both knife fighting and utility roles. As a consequence, the terms "fighting knife" and "tactical knife" are frequently employed interchangeably.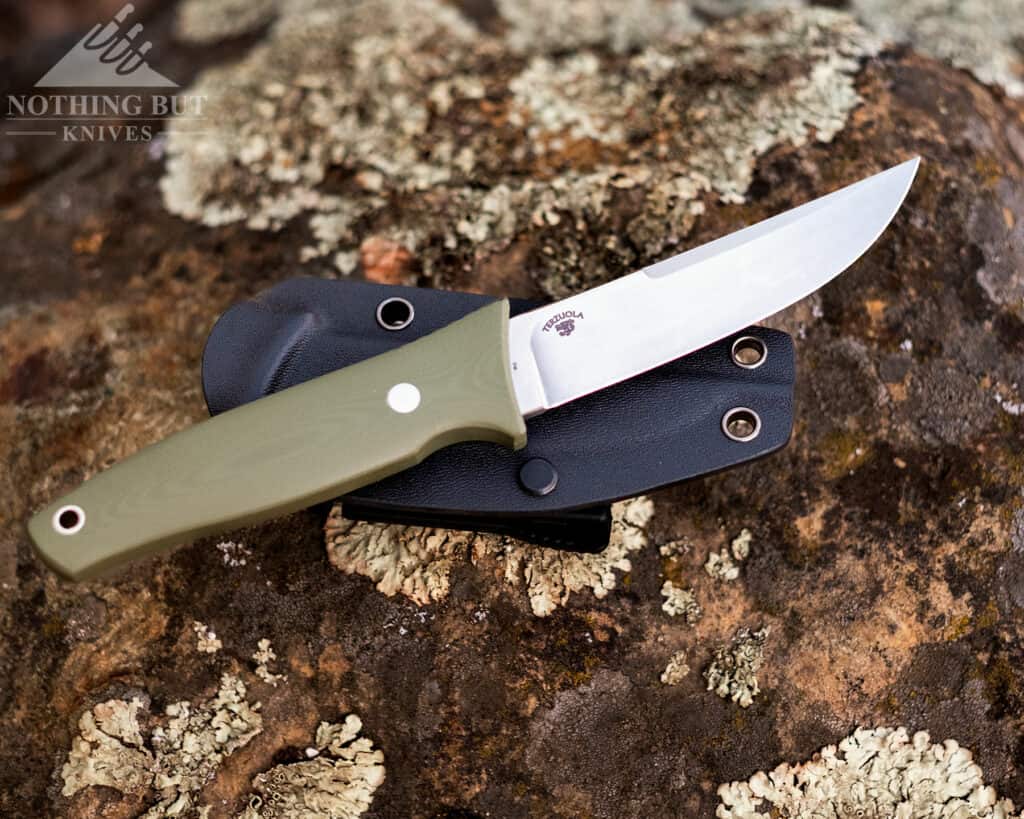 While the foregoing makes perfect sense, I also think that conjuring the mental image of the couch tactician imposing himself upon various knife- and/or gun-related Internet forums to impart his hard-earned and extensive knowledge to his fellow forumites and to generally share his prehensile mind (with anyone willing to listen) on all things tactical (how I treasure their bits of wisdom; let me never say otherwise) is going to make you cringe as much as me.
Point being, while no serious person is likely to deny that a knife is (was, has always been, and will continue to be) a weapon (or also a weapon, depending on the stated purpose of the specific design), there are some noteworthy, peaceful applications of man's oldest tool that, while admittedly lacking the glamour sometimes associated with meat-sacrifice, are pretty much guaranteed to bring the user more "CI" (see above) and "VI" (also see above), as well as the longevity that is widely considered a prerequisite to make the most of the previous two items.
In an interview with Terzuola that I've read somewhere recently, the designer himself mentioned (about the non-tactical applications of the Tamashii) that "(…) the Tamashii can be a defensive weapon but is also suitable for everyday tasks, camping, fishing and hunting. Its size and profile make it a very versatile and efficient companion. (…)".
THE BLADE AND THE HANDLE (TOGETHER COMMONLY REFERRED TO AS 'KNIFE')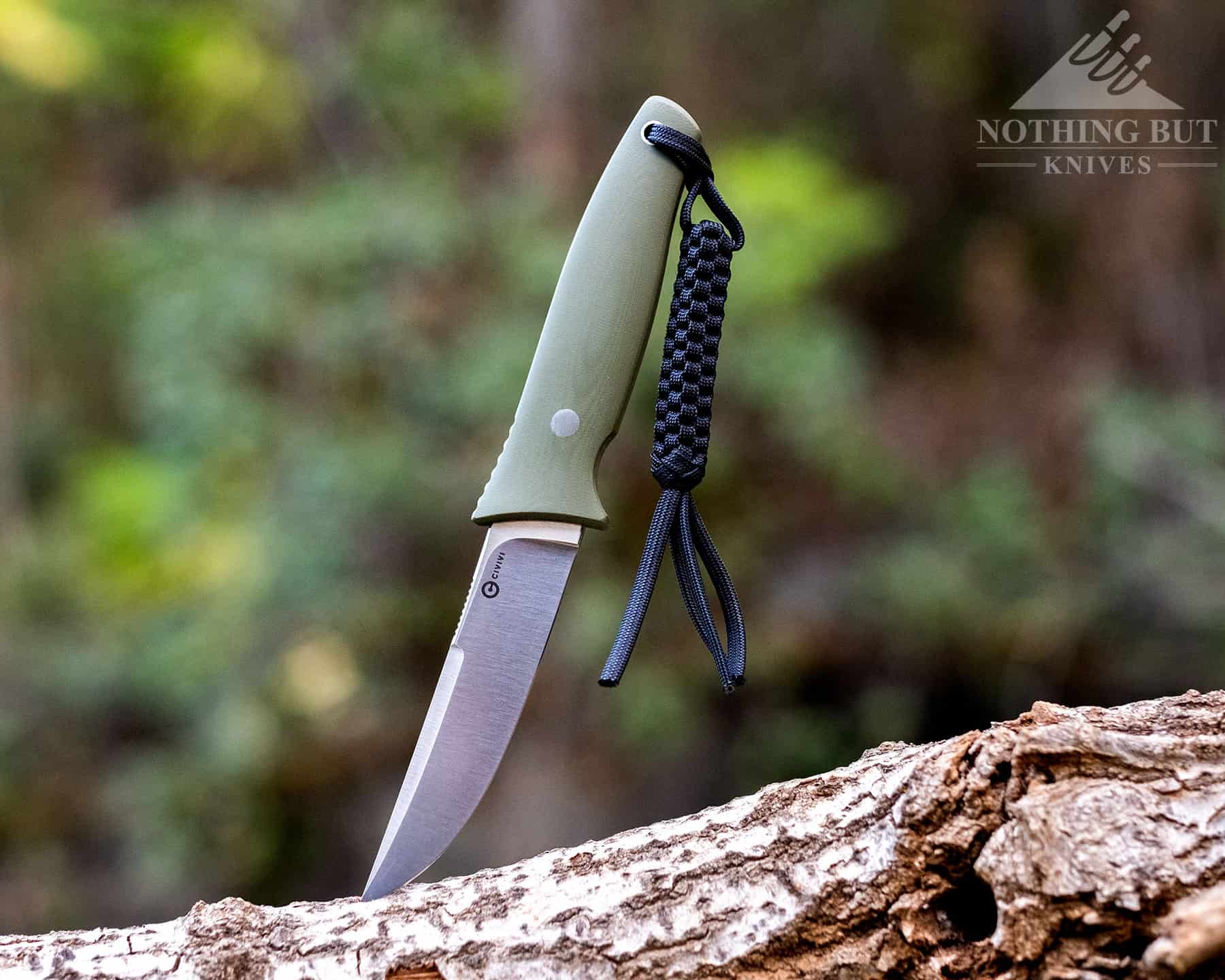 As acclaimed novelist Thomas Harris has very perceptively noted in his book 'Hannibal', we are all elaborations of carbon. That observation, while admittedly a bit reductive, may appeal to your sense of order by reminding you of how we share the materials of our own elementary constitution with those of our better inventions.
Or maybe you don't give a damn about carbon. Anyway, it would stand to reason for all of us to be something of a metallurgist, but that not being the case gives me a good-enough excuse to spare you a lecture on the merits and shortcomings of D2 steel, the material used in the Tamashii's blade. If interested in doing so, you can read up on this steel elsewhere on NBK.
Suffice to say here that D2 steel is an air hardening, high-carbon, high-chromium tool steel, boasting high wear and abrasion resistant properties. It's heat-treatable and offers a hardness in the range 55-62 HRC. D2 steel's high chromium content gives it mild corrosion-resisting properties in the hardened condition. Although it works well in shorter fixed-blades, you are more likely to come across this steel in various good-quality, affordable folders.
Since most of my other fixed blade knives are rendered in a high carbon steel, I'm used to and entirely comfortable with taking regular care of my knives. It's also worth pointing out that in the case of the blade on the CIVIVI Tamashii, the manufacturer went with a brushed satin finish which, in my experience, is less prone to developing corrosion than a stone-washed blade surface would be.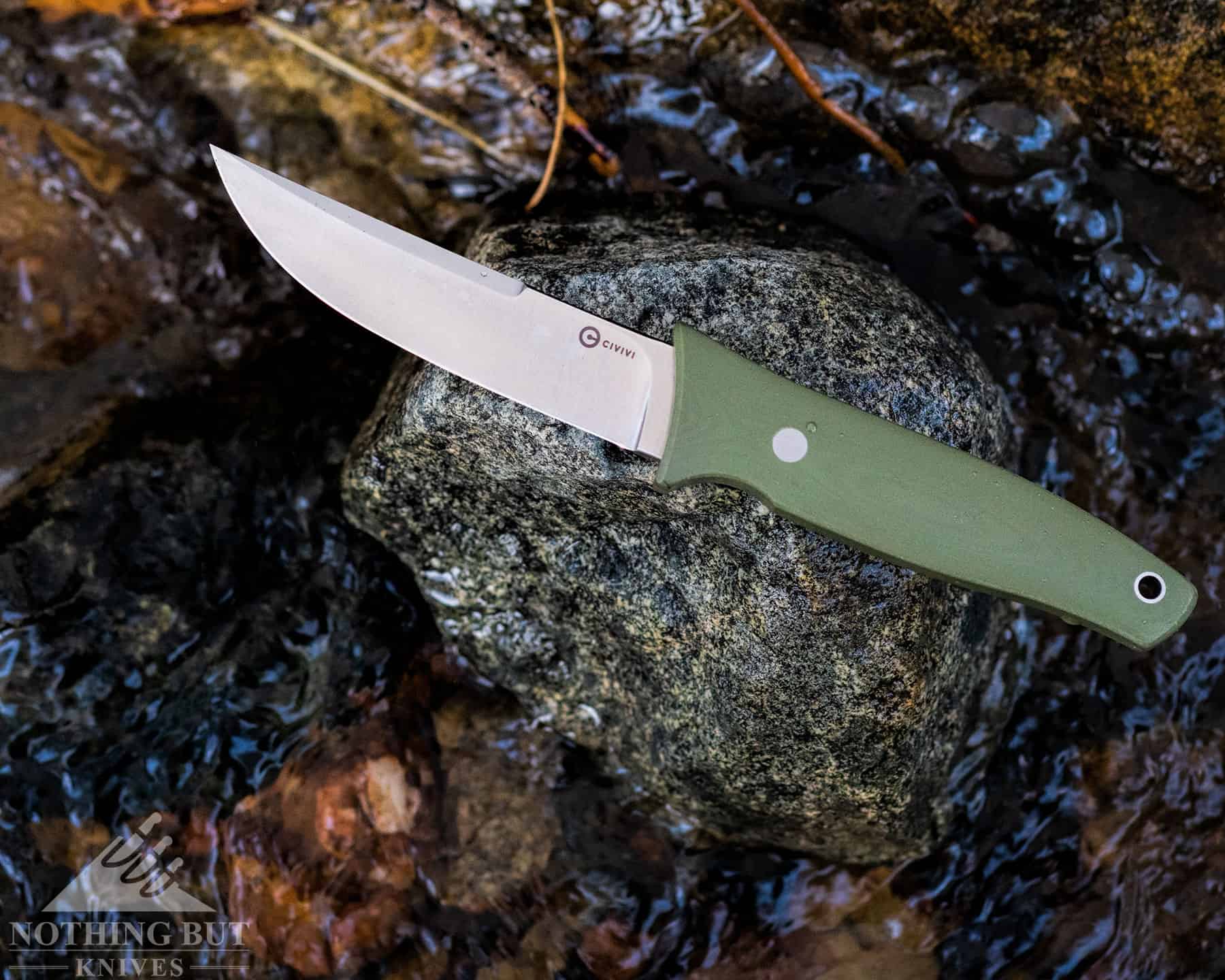 The full-tang blade of the Tamashii and the handle encapsulating it work well together to create not only a singular, fish-like appearance for this knife – reminiscent of a sabrefish (Pelecus cultratus) –, but also an impressive maneuverability.
The blade shape is clearly derived from that of a traditional Japanese Tanto, but is not an exact match to any known version thereof. It can be described as a slightly upturned, trailing point blade with a swedge machined into the forward section of the spine (extending backwards over three-quarters of the length).
On the rearmost quarter, there's a slight knurling that allows the thumb of the strong hand to rest safely. Terzuola has also put some light jimping onto the after part of the spine which, while presumably making the knife more difficult to throw sparks with, will do wonders when you try a forward grip on the knife.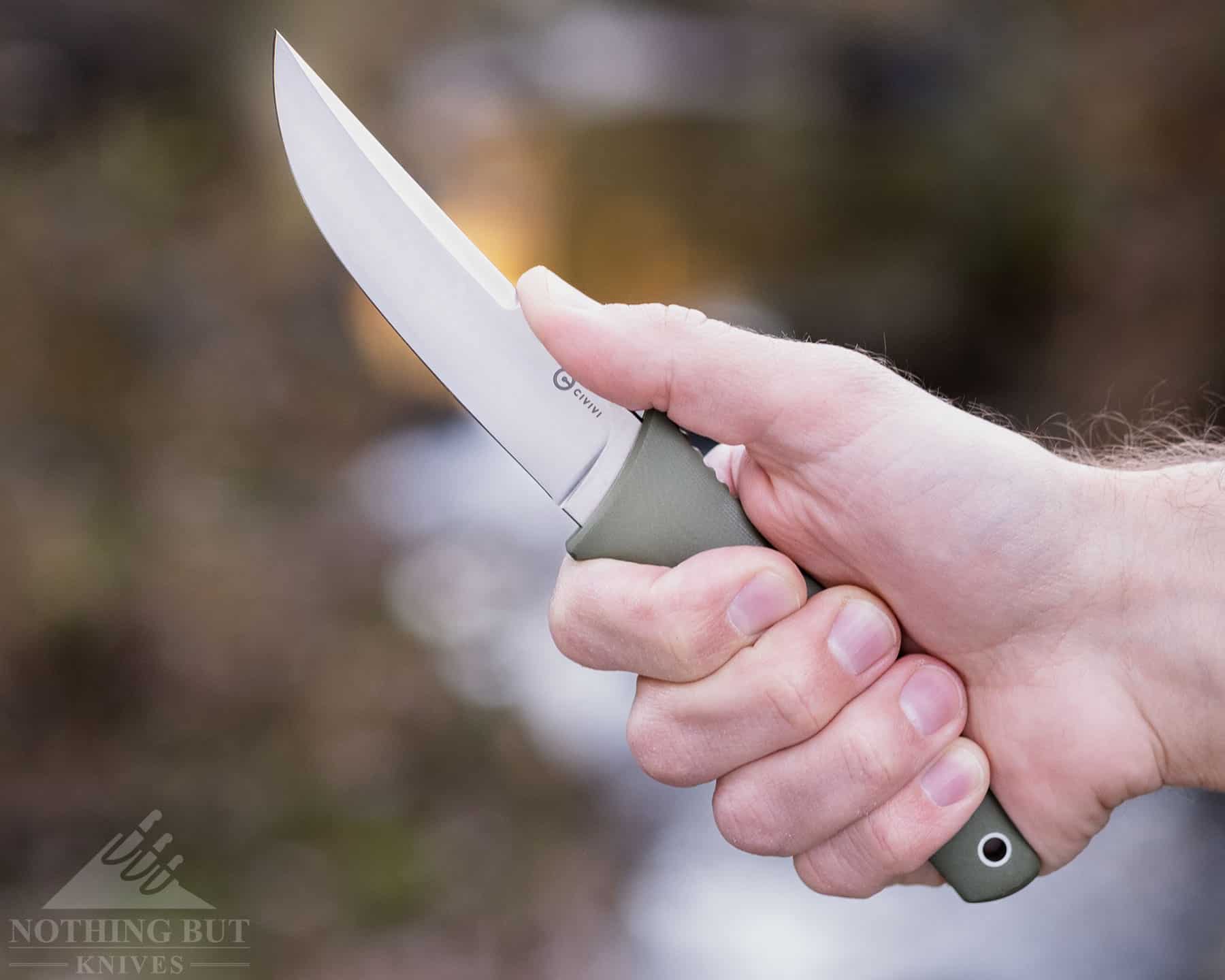 Besides the aforementioned forward grip, a fencing grip is what I've found the most comfortable and natural position to hold the knife in. Which brings us to the subject of the bell-shaped handle, arguably one of the most attractive features of this knife.
Made of G-10, the handle of this knife feels soft and comfortable in hand (in ways bordering on immodesty) while, by virtue of its unique form, also providing a firm and secure grip, obviating the need for a metal hilt [which Terzuola finds "(…) superfluous and unnecessary, especially on a smaller knife designed for simplicity, light weight, and carry comfort. (…)"]. It is fixed almost seamlessly with stainless steel pins to the tang and features a lanyard hole at the pommel.
One braided paracord lanyard comes with the knife; when used on a fighting knife, this feature usually improves grip security by helping the user to mitigate the effects of centrifugal force while making dynamic, circular slashing motions, and/or rapid changes in direction of movement. Since I could see no use for the lanyard in the field, I ended up removing it almost immediately.
THE SHEATH AND THE T-CLIP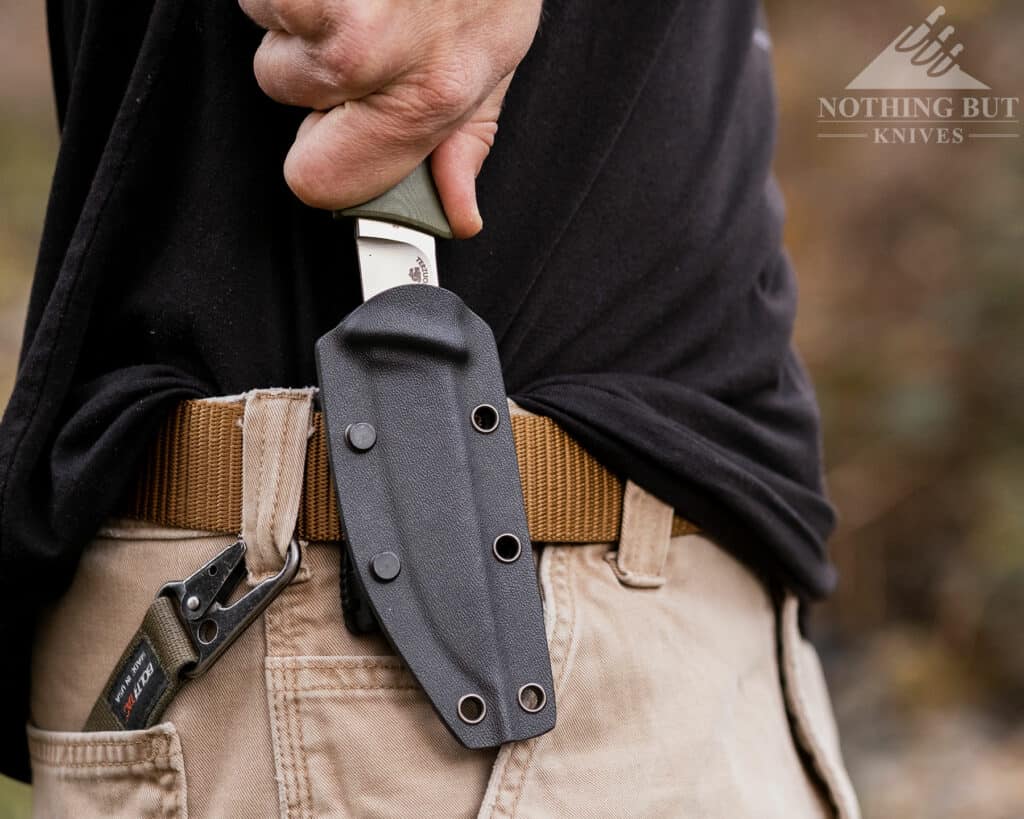 The Tamashii is shipped with a well-fitted Kydex sheath, consisting of two separate halves joined by six grommets, the latter also serving as anchor points to the T-Clip – a Terzuola-designed belt and gear clip, often compared to a Tek-Lok. It can be configured to allow vertical, horizontal, or diagonal carry.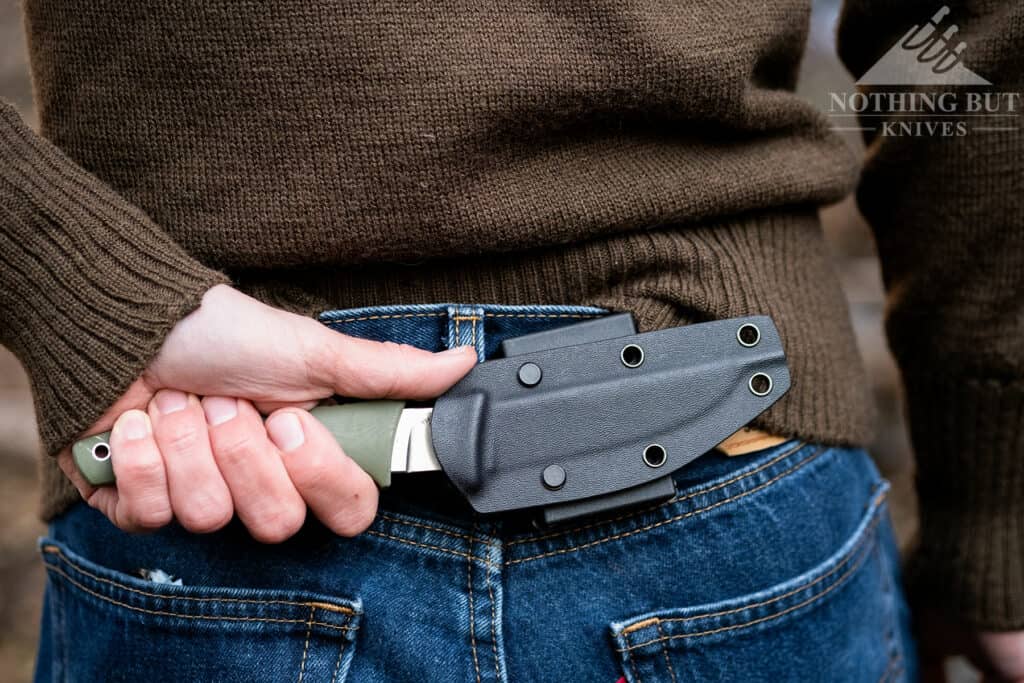 Chances are that, after the first time you've clipped the sheath onto your belt to carry the knife in its original, vertical configuration, at least one of two things is going to happen: (i) you'll find that the vertical carry option is probably designed with hobbits cursed with unusually short arms in mind; and/or (ii) you take a knee to tie your shoes and you end up with your right lung punctured by the knife's pommel. Upon your release from the ICU, you will probably take a screwgie to the T-Clip to reconfigure the sheath for diagonal or horizontal carry. Which, for me, has been working well ever since. The sheath snaps in securely and doesn't rattle.
PERFORMANCE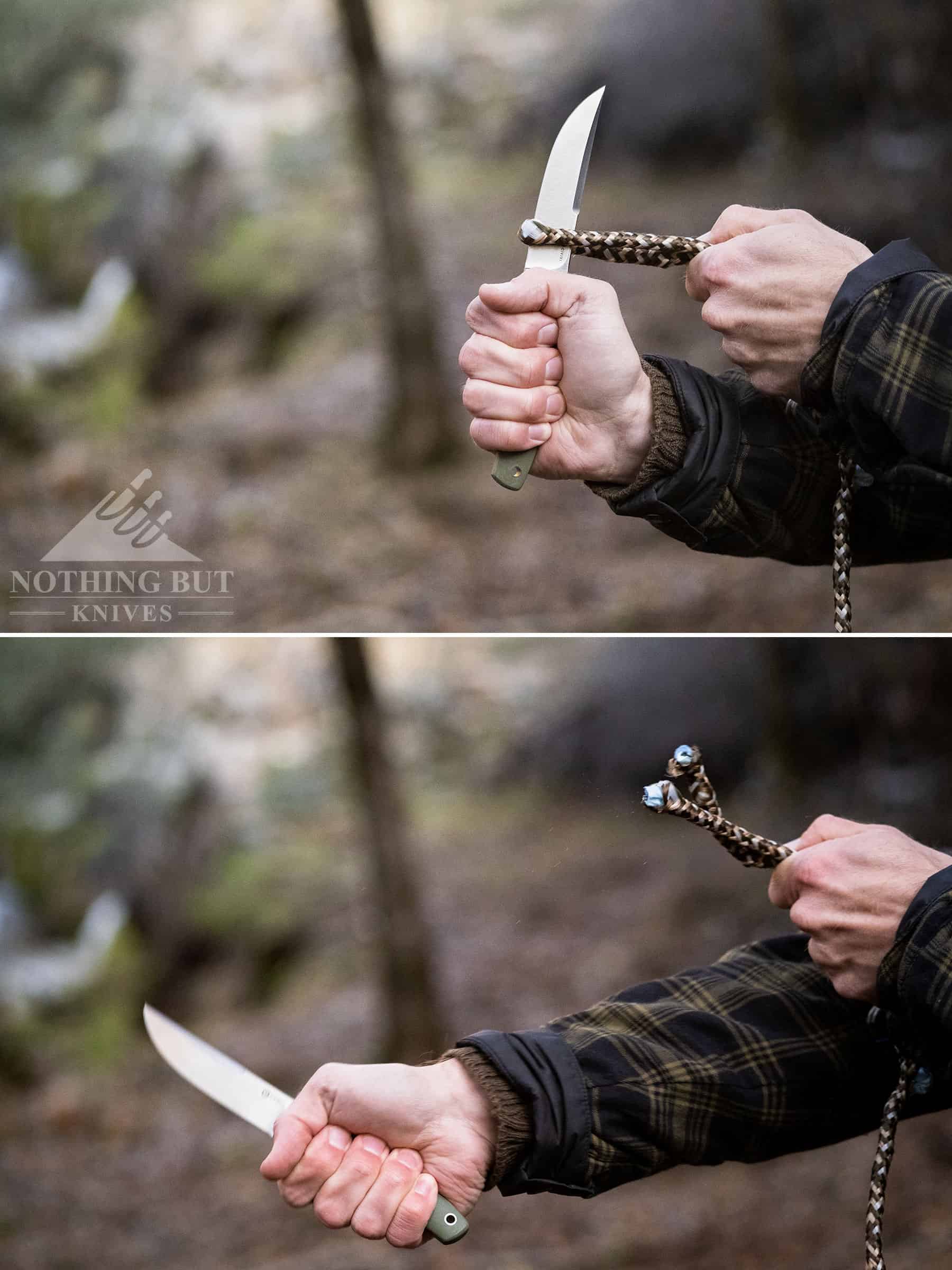 In use, the Tamashii has quickly established itself as a solid, compact general utility/EDC blade: if you keep your expectations reasonable (I'm not talking about lowered expectations here: there's a difference), I can't see you ending up with any kind of disappointment in its abilities. The Tamashii's blade is perfectly capable of everyday tasks using both the point and the edge.
My example works especially well in the kitchen; particularly on bread and meat. I am particularly counting on its help at Christmas with carving up the garlic- and dried-plum- stuffed duck breast I make each year. As an outdoors knife, I would recommend it to be used as a companion in lighter hiking that does not involve heavy woodwork. The blade material, size, weight and balance of the Tamashii conspire against its ever becoming a good chopper; it is certain, on the other hand, to excel as a light camping and outdoor-food-prep knife.
COMPARISON AND ALTERNATIVES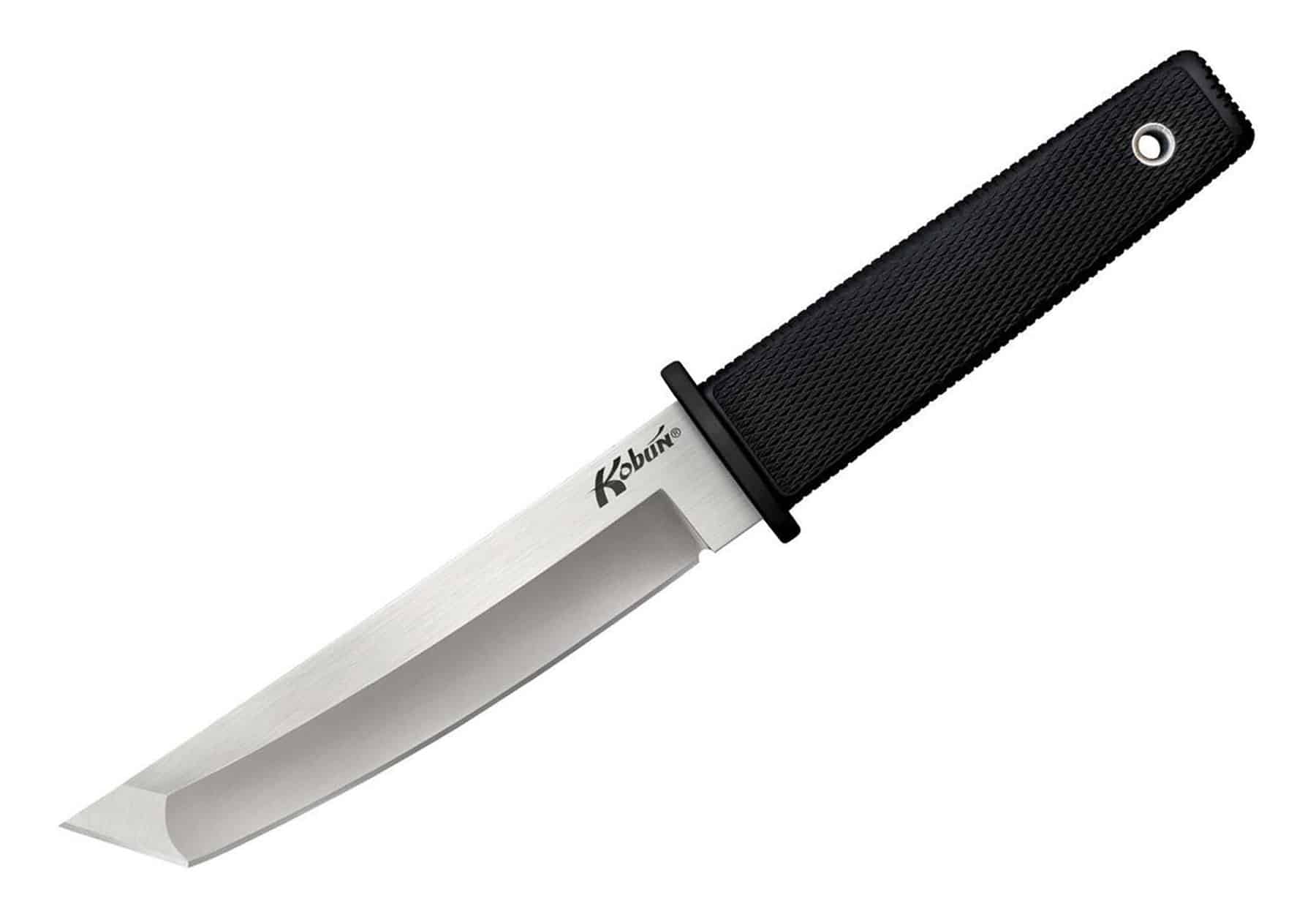 Due to its Eastern aesthetics, size and design purpose, I would recommend the Cold Steel Kobun #AD as an alternative for your consideration. Advertised by its manufacturer as a boot/utility knife, with an Americanized Tanto blade, it is admittedly a rougher-made but also less fragile knife than the Tamashii. Made out of Japanese AUS-8 steel, it is now offered in the same price range, here in Hungary, as the Tamashii. I've only ever had one Kobun in my life, and while I'll be the first to admit to its good general quality for the price, it simply has not made the same overwhelmingly good impression on me as the Tamashii did.
If you are looking for a tactical fixed blade that is a little better than the Tamashii at camping tasks, check out the Ka-Bar Ek Commando.
if you like the versatility of the Tamashii's sheath, but you want somthing a little more hunting and camping friendly check out the LionSteel M2M. It costs a bit more, but it is made of a higher end steel.
CONCLUSION
If you look it up, you'll find that in Japanese, the expression 'Tamashii' [魂 (たましい] stands for a 'soul' or 'spirit'. In the course of the last few months, I have repeatedly been reminded of the fact that the name, whichever of its specific interpretations I consider, befits a knife that packs as much personality, quality and value into such a compact and venerable package as Terzuola's and CIVIVI's new brainchild does.
So, to turn my opening statement into a question: would I mind being buried with the Tamashii? Yes, I would. Living (that includes using the Tamashii) holds more appeal to me.