This Budget Folder Features a Big Comfortable Handle and a Blade That is All About Finger Placement.
The harpoon is rapidly becoming a go-to shape for knife designers, and for good reason. The concavity ground into the spine is an often-graceful addition that adds versatility to the blade. And Artisan Cutlery specializes in functional knives with an air of aesthetic sophistication. Their new Ahab folder is a solid addition to their catalog.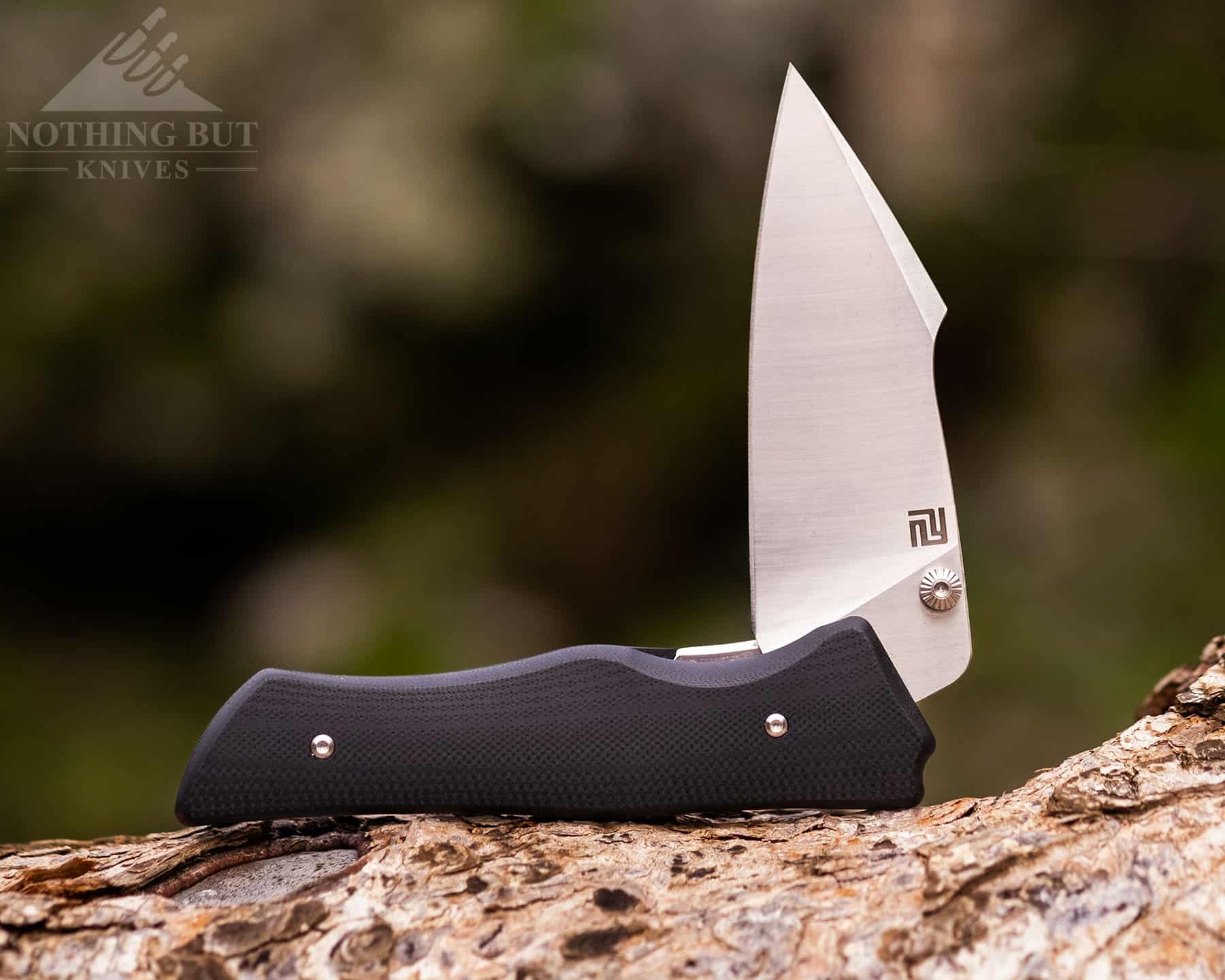 Ahab Specs
| | |
| --- | --- |
| Blade Length | 3.31″ (84mm) |
| Blade Type | Flat Ground Harpoon Drop Point |
| Blade Steel | AR-RPM9 |
| Blade Thickness | 0.11″(2.7mm) |
| Overall Length | 4.61″ (117mm) |
| Handle | Black G10 (wood also available) |
| Pocket Clip: | Right side tip-up titanium clip |
| Lock Type | Liner Lock |
| Blade Finish | Sand Polish |
Pros
Great conversation starter
Harpoon ergonomics are both graceful and functional
Excellent pocketknife for camp kitchen use
Cons
Would like jimping on back of blade
Could use more jimping behind the cutting edge
This design deserves more handle material options
The Harpoon Blade Shape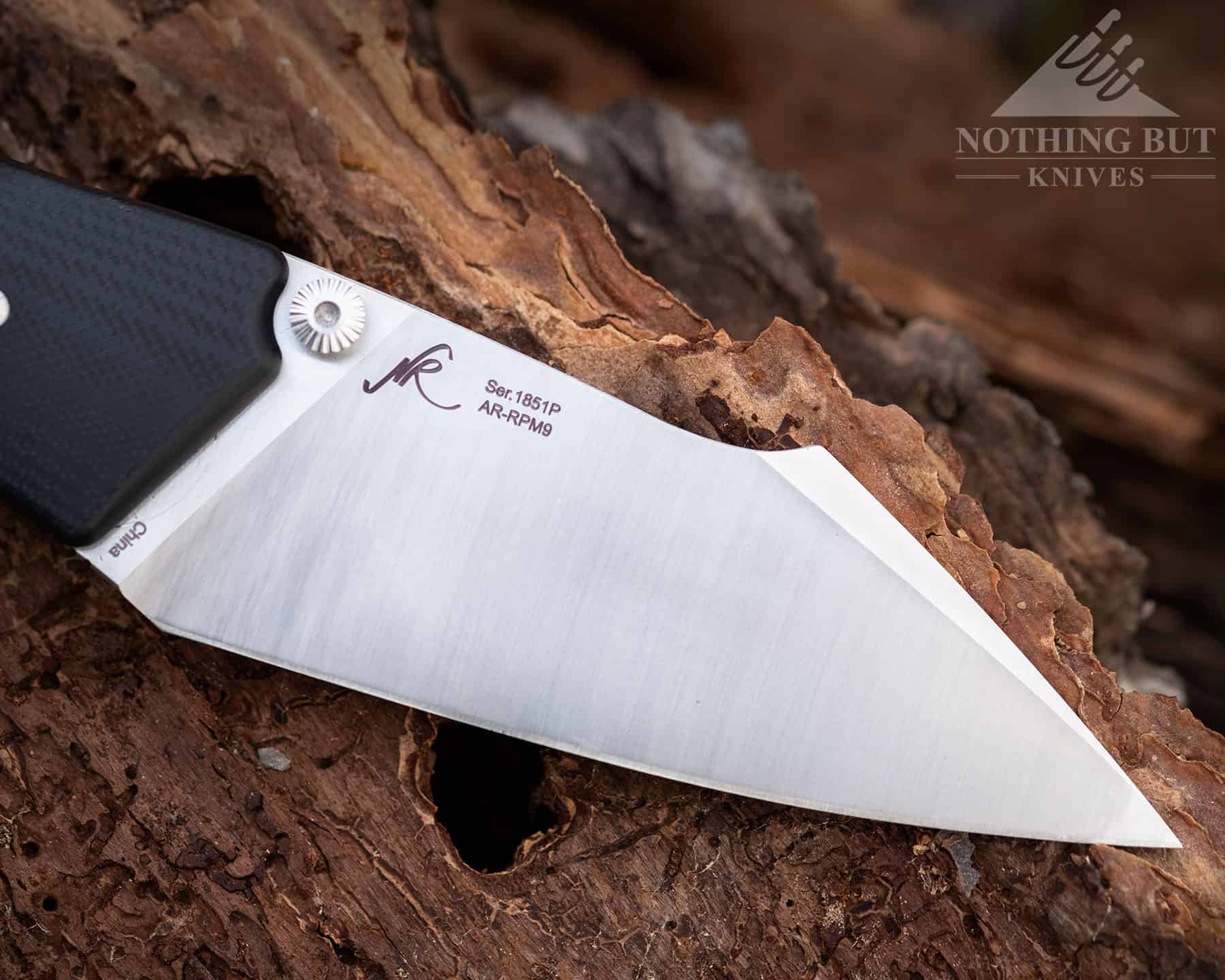 The blade shape takes inspiration from centuries of projectile evolution that culminated in the backswept barb on a harpoon. These points cut deep and bind inside. In the whaling tradition, the harpoons were lashed to ropes and, once jammed inside the whale, would allow whalers a tether to the animal that could prevent it from diving out of reach.
The harpoon wasn't as much of a killing blade as a means-to-an-end. The whale, dragging around a boat full of whalers, would become exhausted. When the fight died, the whale would too.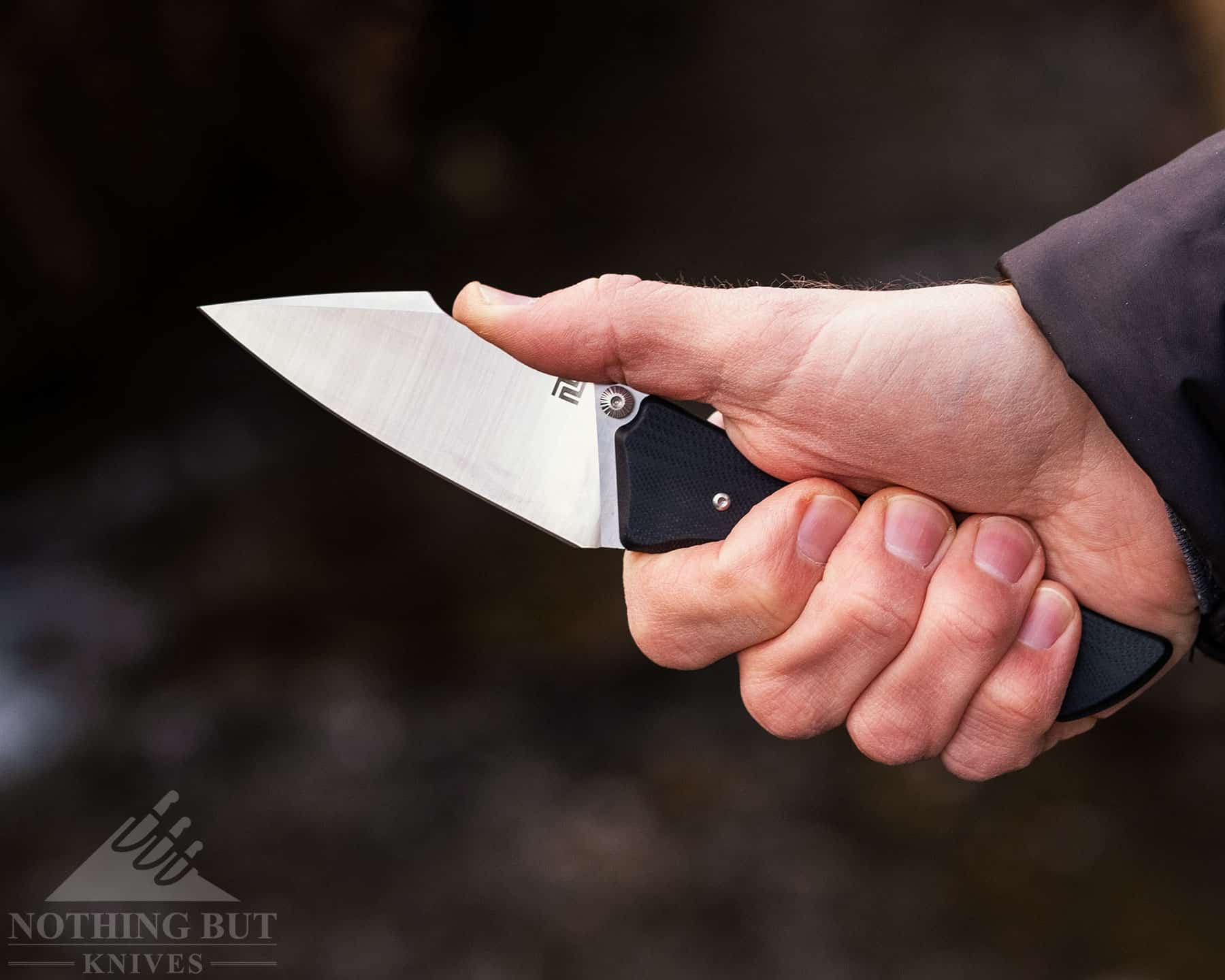 Say what you will about whaling. The harpoon blade shape has nothing to do with exhausting marine mammals. It is all about finger placement. The blade shape allows a finger to be placed way down on the spine for fine slicing, or for a thumb to ride the back of the blade for extra leverage on a deep forced cut.
Literary Namesakes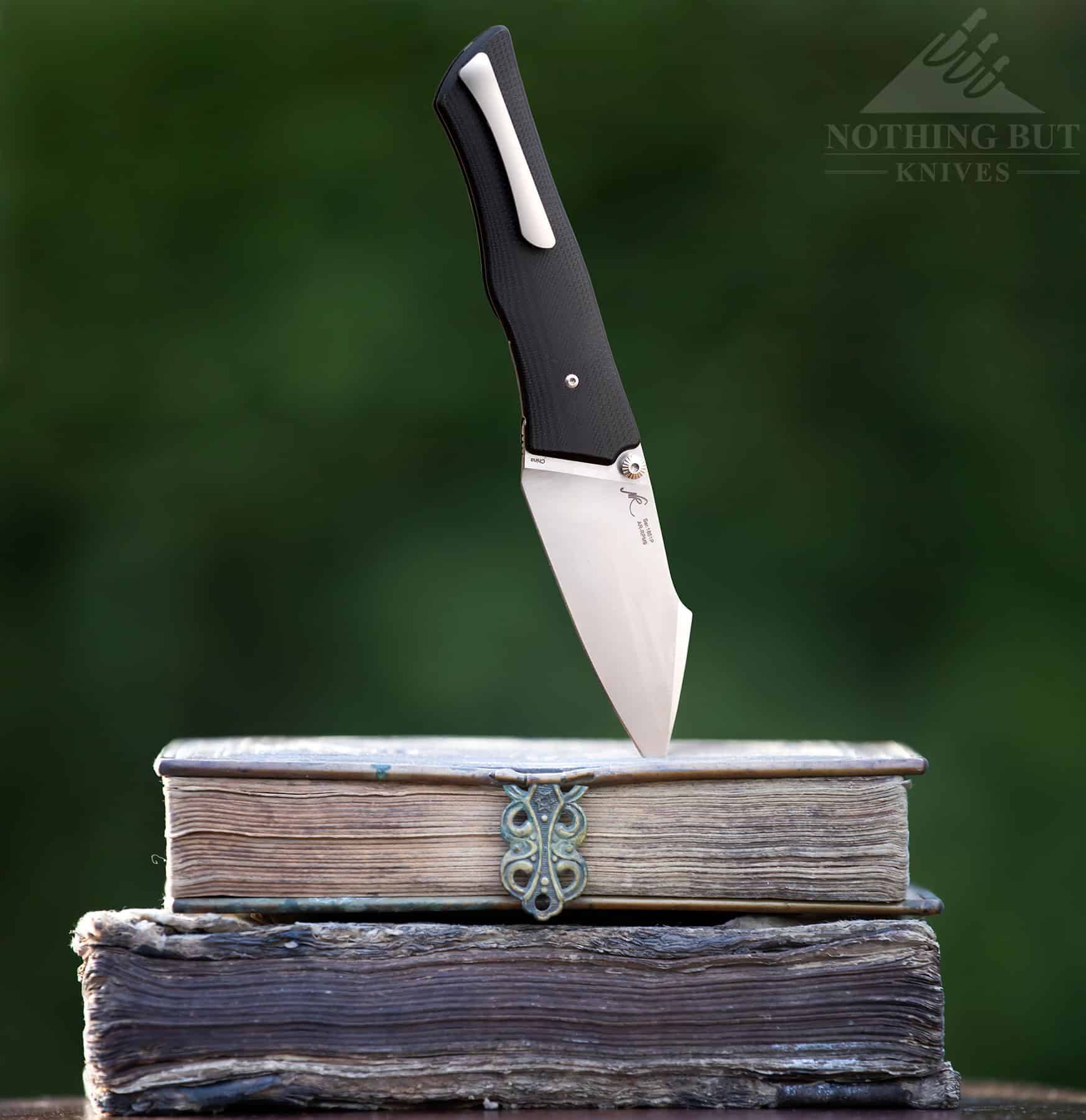 Captain Ahab—Herman Melville's 19th century literary character—is the perfect inspiration for a harpoon themed folder. Ahab, as the novel Moby Dick opens, is a whaler. Sort of. Its complicated.
He had been a simple whaler when he got into a tussle with white whale, a massive sperm whale that got the better of that first fight and made off with one of Ahab's legs. The loss of limb fueled a monomaniacal desire for revenge. Ahab will harpoon this beast or die trying.
Spoiler alert: this book is really long.
Let's just say it doesn't end well for Ahab or his ship: The Pequod. Nearly a century later Ahab's penultimate realizations were echoed in another film about a big fish, when Martin Brody, land loving Police Chief, caught sight of the great white that had been eating locals off the coast of Amity Island: "You're gonna need a bigger boat."
Artisan's Ahab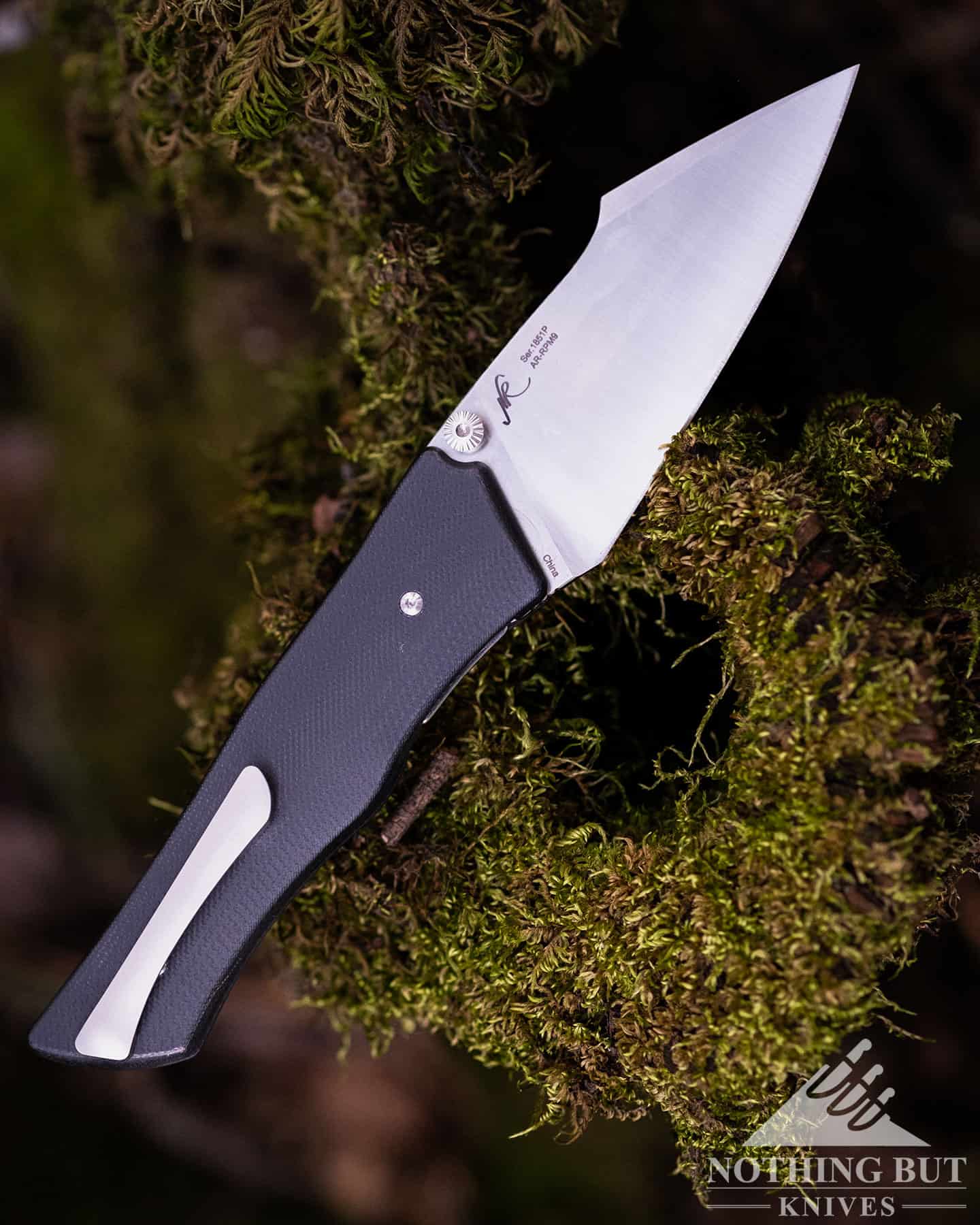 There are two things I really like in this design above all of the others. The first is one many might not really like. The blade has an almost smooth transition into the handle, without much in the way of an artificial hilt or finger stop.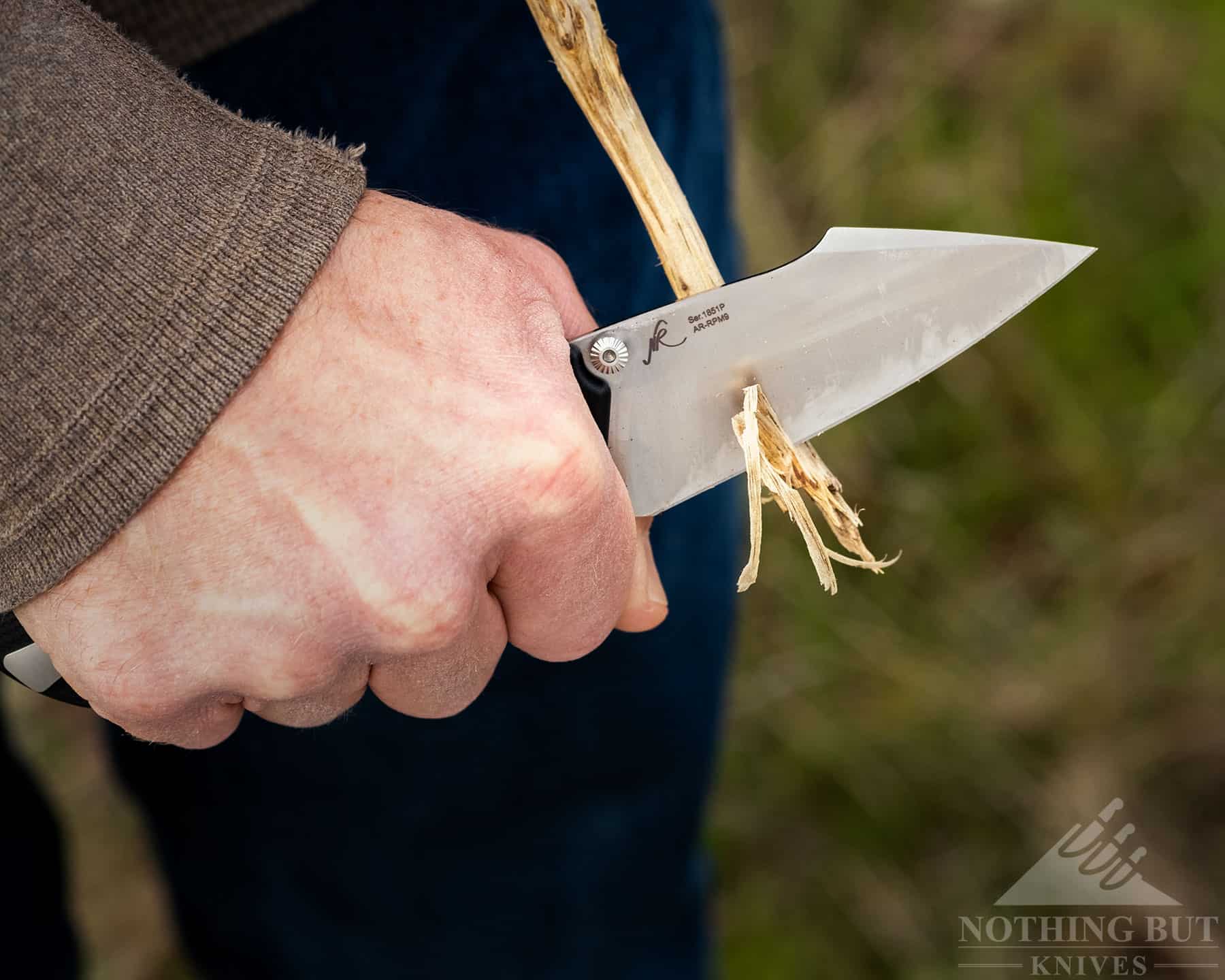 This makes this knife exceptional among pocketknives for doing small kitchen tasks. It slices much better than most as the blade's cutting edge can contact a cutting surface almost all the way to your fingers. And the thin stock, and that harpoon shape I keep harping on, make this an ideal slicer, and the perfect knife to keep clean on a campout for camp kitchen tasks.
The second is the highly subtle whale shape of the open knife. While I do think Artisan missed the boat with black G10 (come on, Artisan—Ahab was hunting the white whale), this is both a solid and well-crafted pocketknife and about as solid as literary homages get in cutlery.
The Blade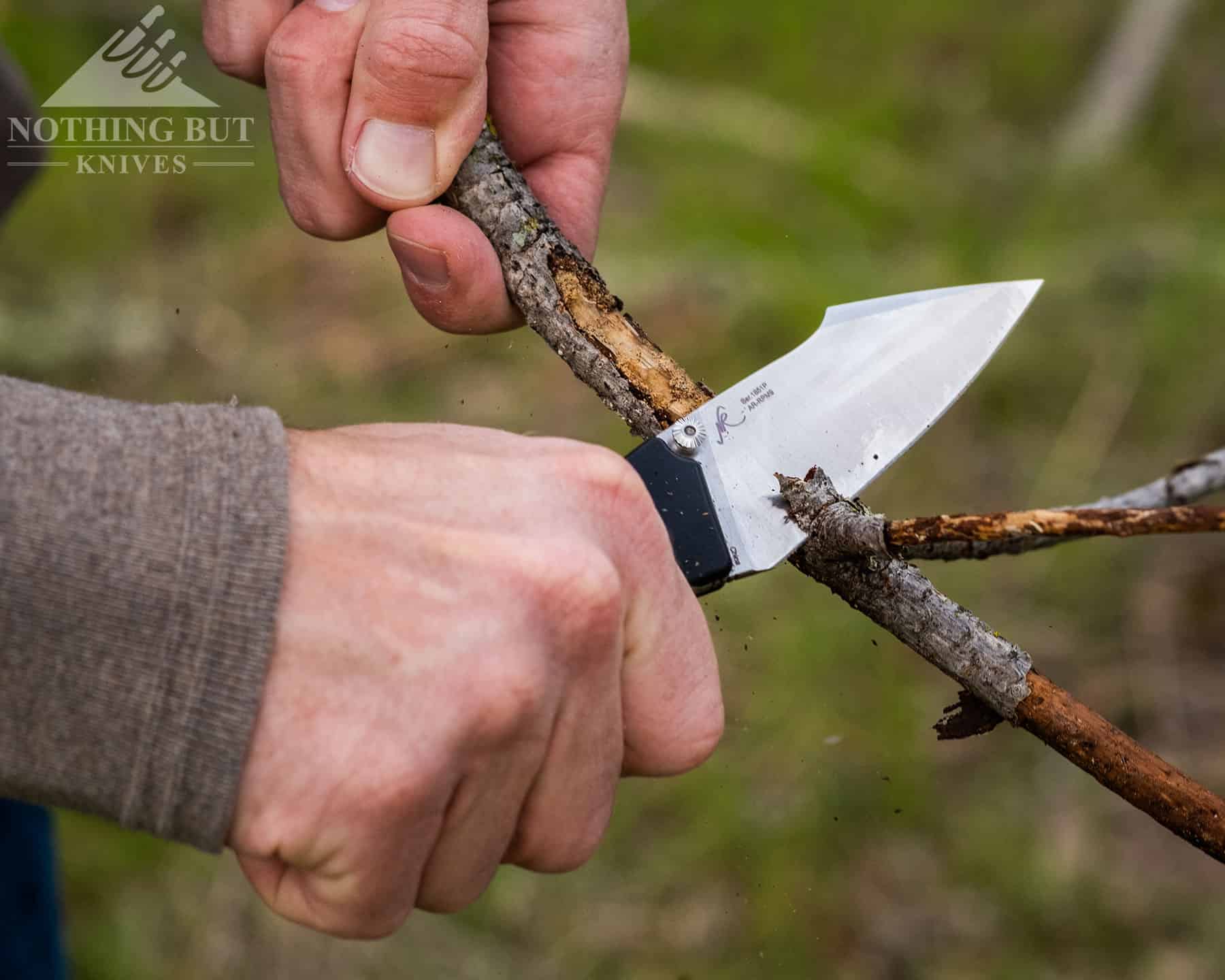 Let's get away from the shape. This dude is sharp, as you'd expect. The AR-RPM9 blade is thin—just over a tenth of an inch. AR-RPM9 is a powder formed steel that is supposed to be slightly better with corrosion than D2, but you'll have to do some digging into the details as this is a proprietary steel for Artisan, and one they list as having a blade hardness of HRC59-61.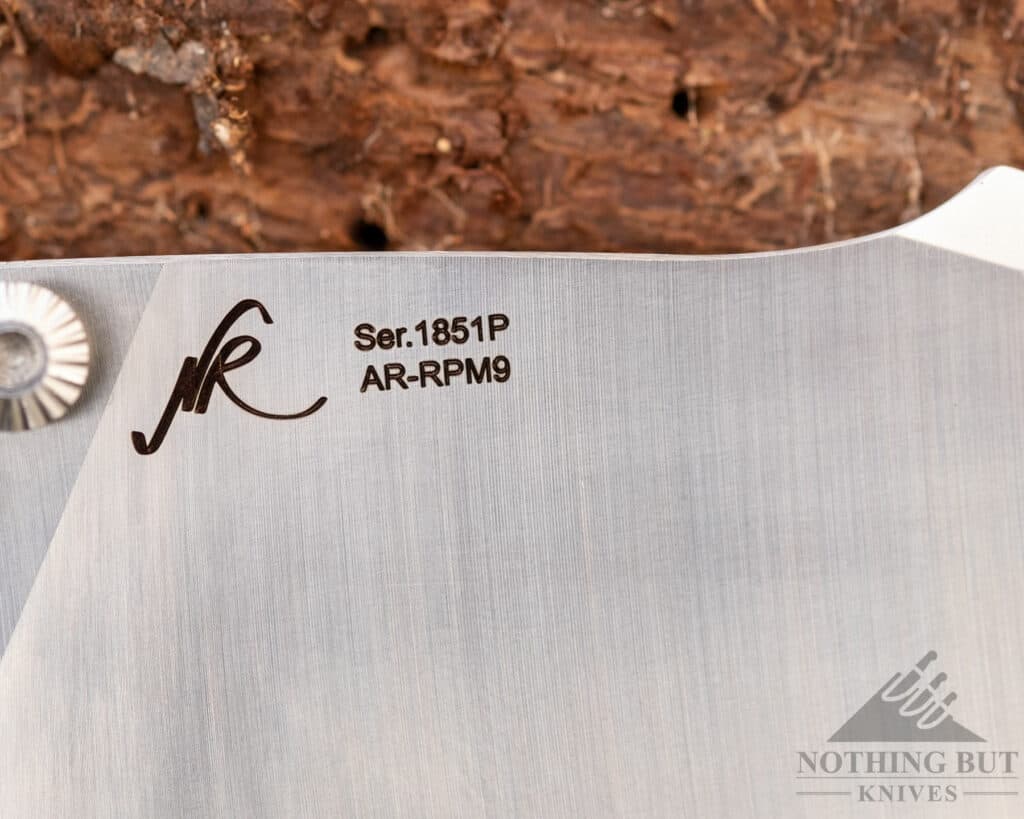 If you geek out on steels is a company's reliance on a proprietary alloy enough to turn you off? I can understand how it might. From where I sit, though, I like to look at it from a more practical lens.
These steels are all exceptionally close in their composition. The companies producing the steel try to monopolize opportunities with their closely held trade secrets. But unless something really takes an alloy in a brand-new direction, the performance of many of these will be both very similar and highly dependable. It isn't like the 1970s, when stainless was mostly junk and carbon steels would rust before you got a knife out of the box.
The Extras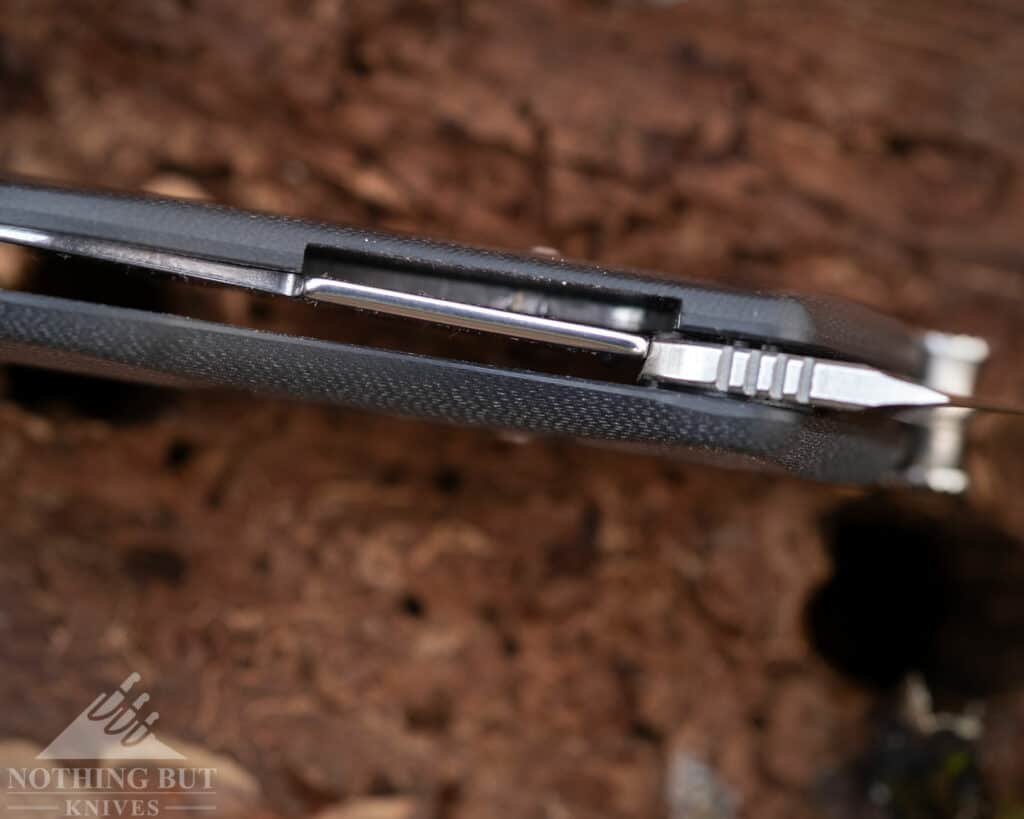 Apologies for the Ahab-like rant there. I'll get back to the knife. The Ahab, as clean and simple as it looks, has a couple of small extras that stand out.
The liner lock is steel. That provides strength, of course, and the thin stock adds minimal weight. In fact, the liners are skeletonized internally, and this keeps the entire design easy to carry.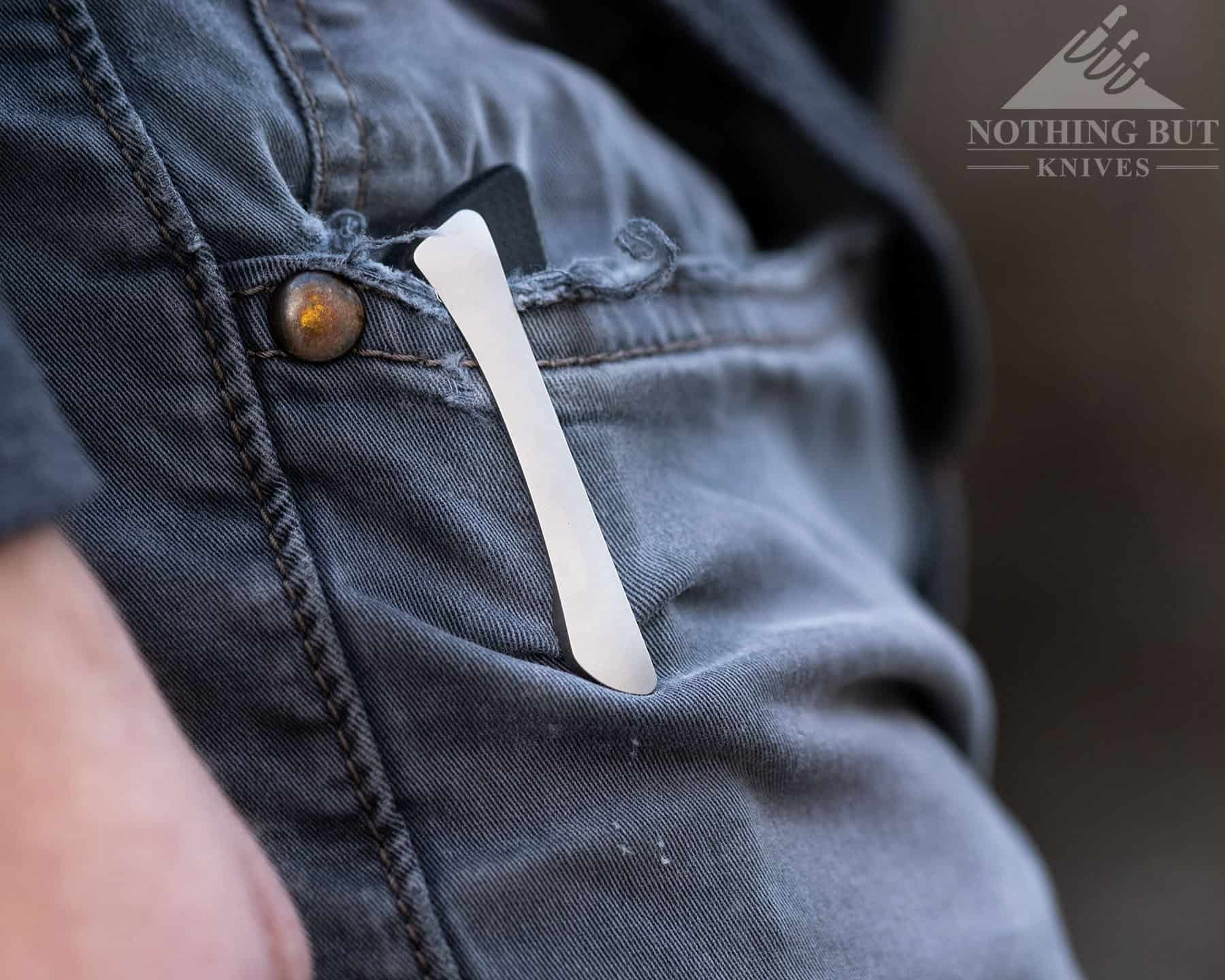 While this is the first real departure from the whale motif that shapes this design, the weight matters. EDC knives, especially those with wide blades, can be too heavy for some. Artisan has even made a very stylish clip for this knife, and made it out of titanium, to keep things lean.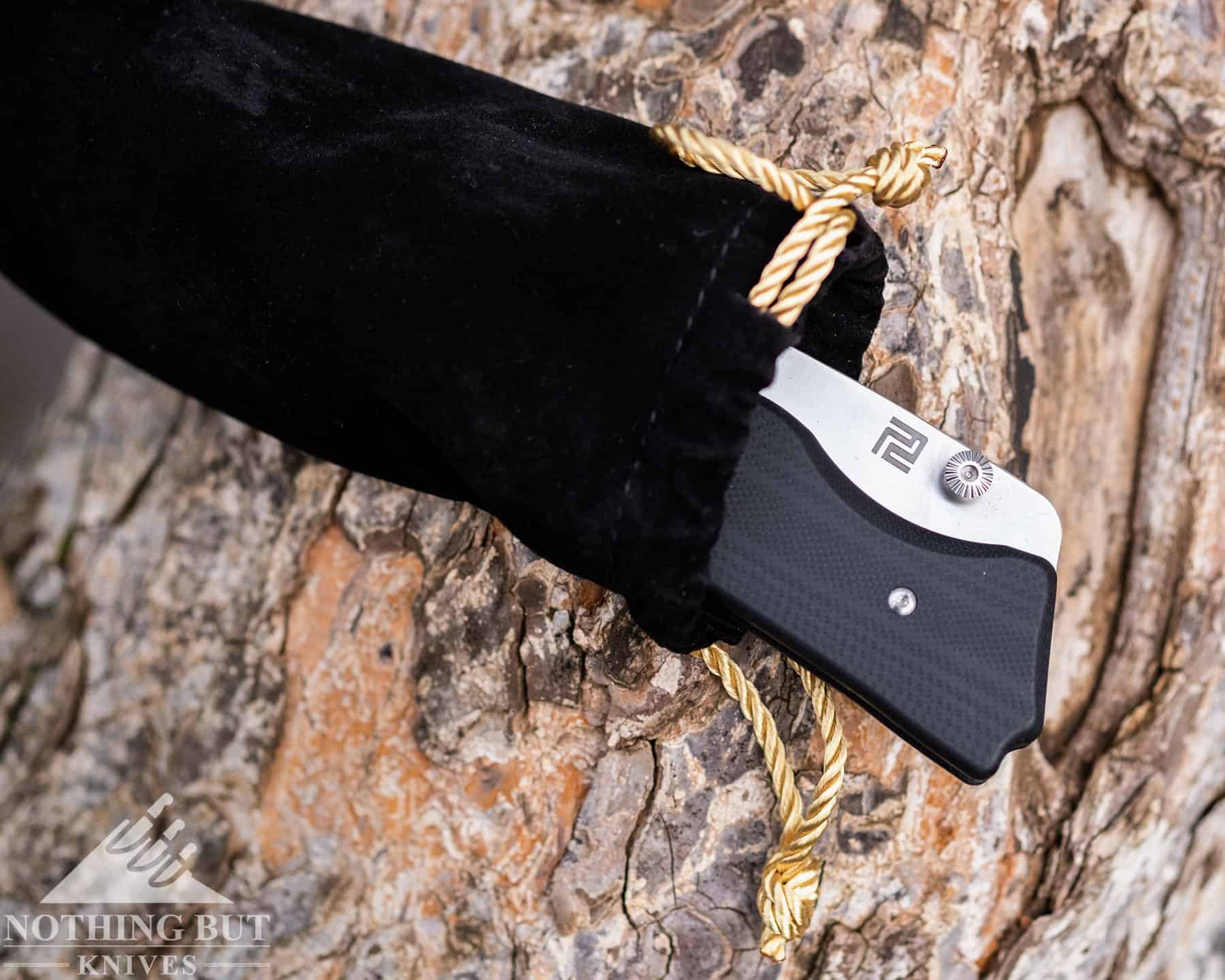 With the extras, like a titanium back spacer and lanyard post, the Ahab rounds out to an exceptional choice for EDC. Every detail seems intentional—and I wish I could write that statement about more knives. Even the G10 handles have a radius to them (that appears to be done by hand as it follows the line of the screws and isn't perfectly even).
Artisan is making these with wooden handles, too. The specifications on what kind of wood isn't listed, but it looks like acacia perhaps. Without one in hand, I'd have a hard time telling. They may be built with leftover deck timbers from the Pequod, or from offcuts of Ahab's wooden leg.
Either way, I impressed with what Artisan has done. This Ahab is snappy, sharp, and far more reliable than its namesake.