The Rustic Gyuto Style 8 Inch Chef Knife from Shun is a Surprisingly Polished Slicer
I expect Shun knives to cut well, but the Kanso is a different experience from their Classic and Premiere lines. Obviously the visuals stand out. The blade doesn't have that mirror-polish shine, and the handle has an exposed tang with wood scales instead of the black pakkawood on most of their other knives.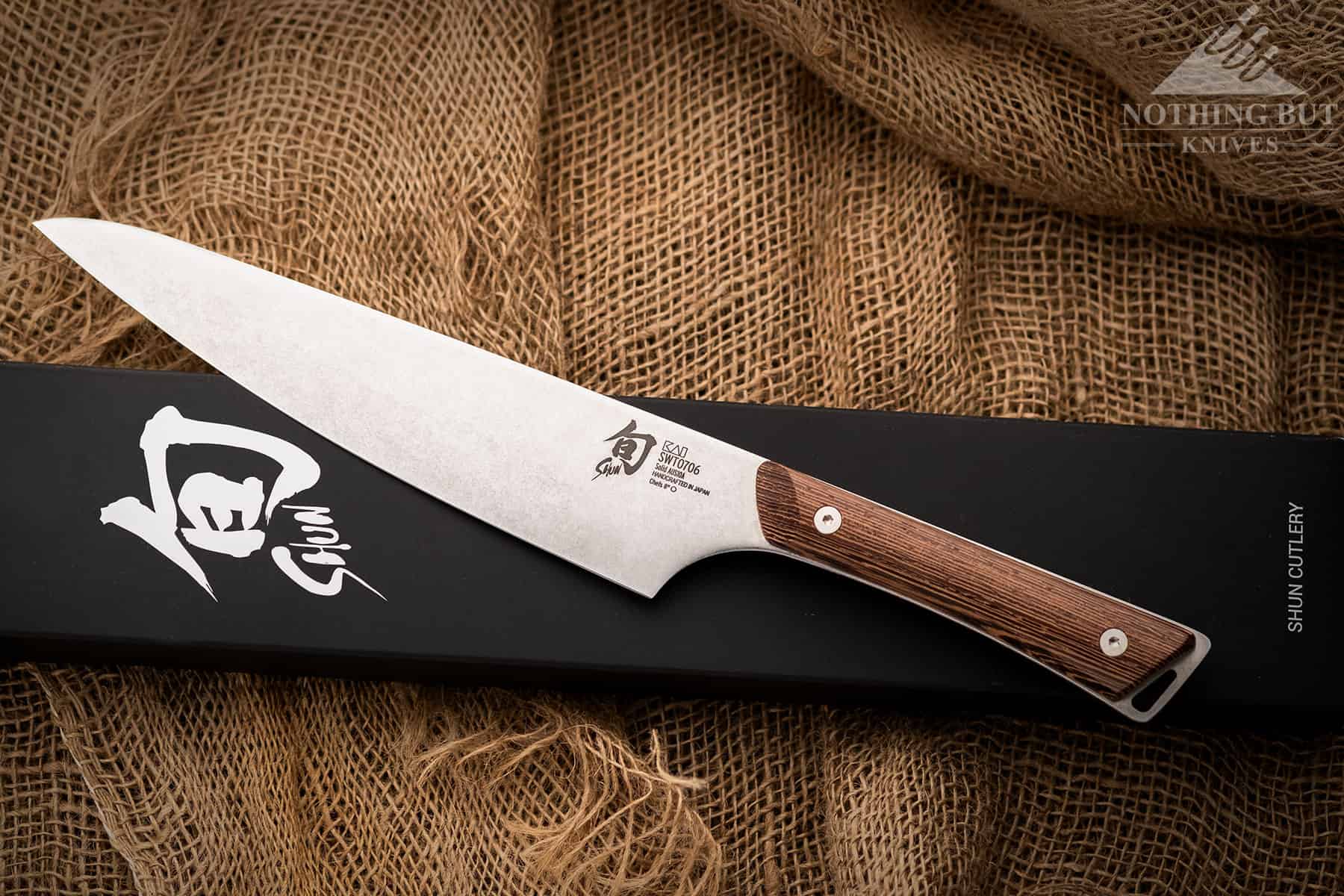 Shun clearly wants this to look like an older style of Japanese knife. My initial concerns about that aesthetic decision having some uncomfortable consequences have been partly alleviated after spending some time with the knife. All that exposed metal does more to help the grip than harm it, and the blade has some interesting qualities I'm not used to feeling in a Shun knife.
Overall, it turned out to be a nice knife for vegetables and herbs, and while the handle was a little less comfortable than Shun's D-shaped handles, it was far from uncomfortable.
Specifications
| | |
| --- | --- |
| Blade Length: | 8.0" |
| Blade Steel: | AUS10A |
| Blade Shape: | Gyuto |
| Blade Grind: | Full flat |
| Handle Material: | Tagayasan wood |
| Made in: | Japan |
Pros
Smooth-cutting polished edge
Steel is a lot tougher than other Shun knives
Rustic, wood-handled aesthetic holds up well over time
Cons
It's a step down in edge retention
Exposed tang in the handle can be a hotspot
The Handle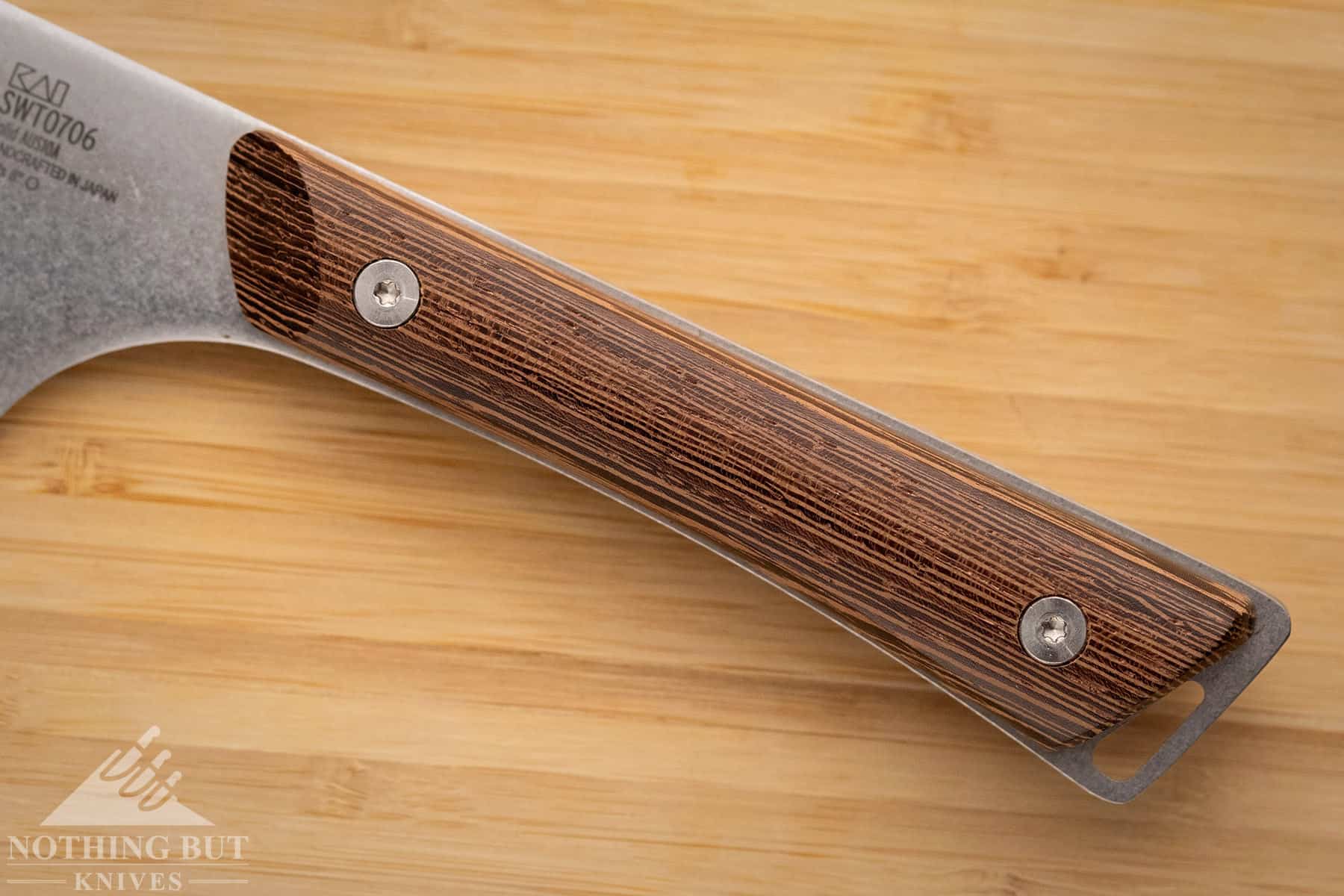 What I love about this handle is that I can actually feel the wood grain. The scales aren't high polished, resin-packed pieces. It almost feels like raw wood compared to most other knives with the same material.
I should say, I love the look and uniqueness of it. It's actually not the most practical thing for a kitchen knife, but there's some give and take:
The texture is rougher, but it's also a little easier to grip onto;
The handle is going to discolor a little more over time, so it won't keep it's new look for long, but it will have more personality;
The angle of the scallops at the top of the handle feels too abrupt for my own personal comfort, but still facilitate a firm pinch grip;
And while I don't personally like how wide the scales go out for myself, it does make it easier to control and hold my angles as I'm cutting.
The end result is a handle that works really well in the sense that I always feel like I have good control over the blade, but it doesn't quite feel ideal for my hand, because I'm not used to kitchen knife handles being wide in this way..
I should also add that, while I mentioned the possibility of the wood handle fading in color over time, it actually stayed pretty vibrant through many weeks of hand washing.
The Blade
Cuts with this knife feel pretty fantastic, but it took some adjusting for me to find the sweet spot for finishing vegetables and leafy foods.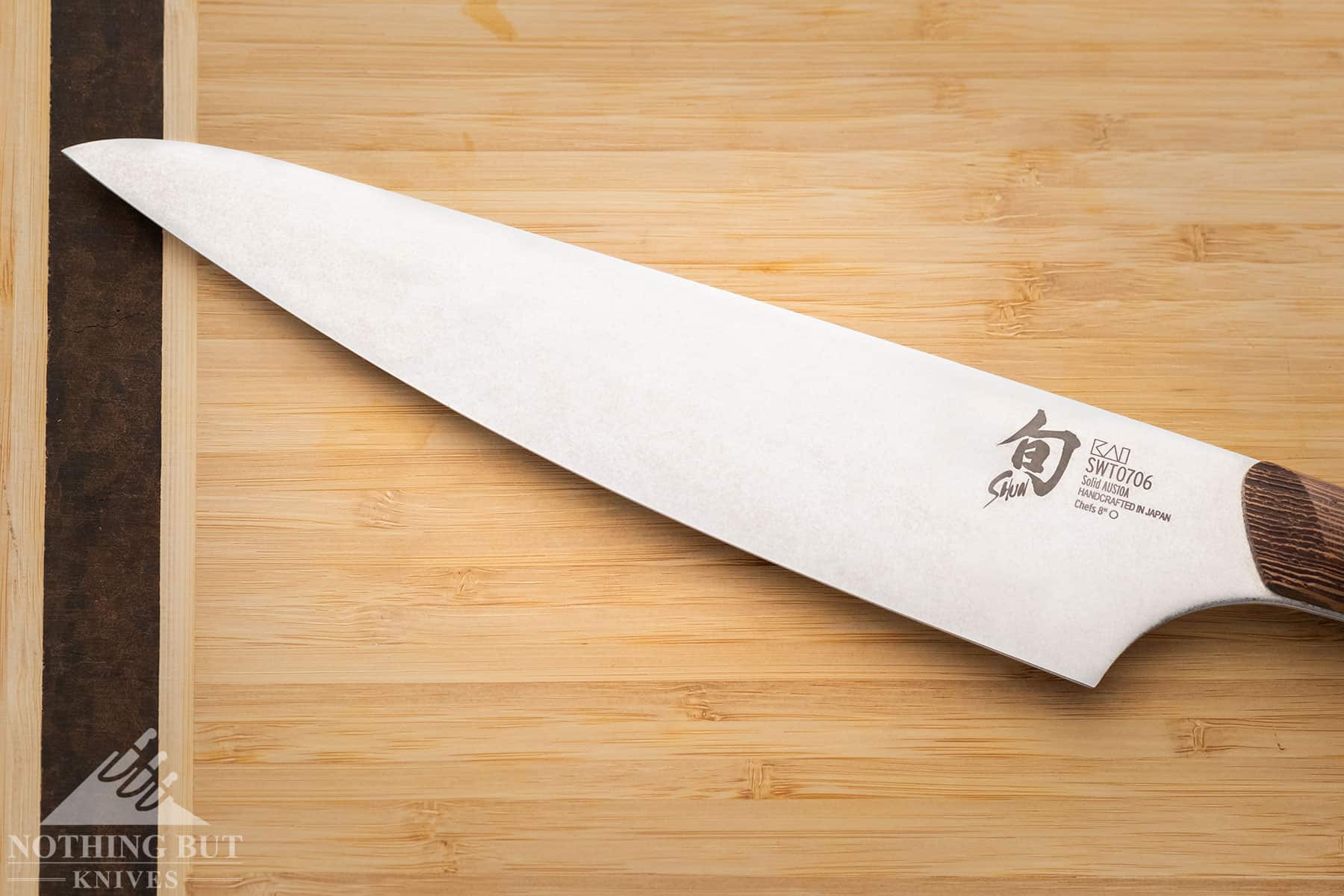 There's more belly to the blade than it might look like. This was the reason I had a little trouble finishing cuts at first. There's no straight edge at all, and it even curves back just a little at the heel, so when I was cutting in that area, I had to exaggerate my chopping motion a little to get a complete cut. Most of the time, the sweet spot was an inch or so above the heel.
Toughness and Edge Retention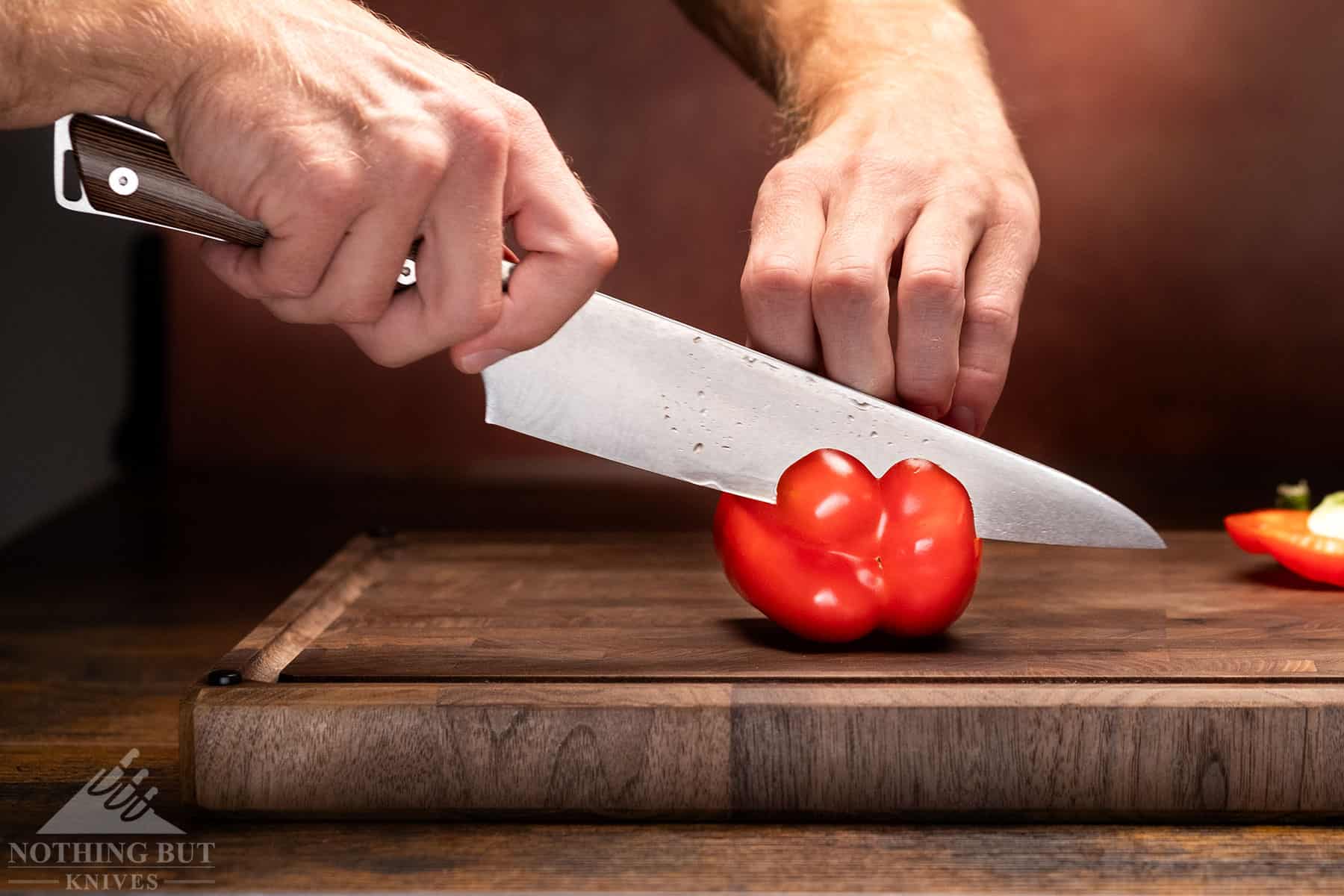 The edge retention is just fine. It's not spectacular, but it holds up for as long as I need it day to day. I got into the habit of honing it on a ceramic rod before every use, though. It will definitely roll and dull under regular hard use, but this gets into the neat part about this knife.
It's a lot tougher than other Shun knives. I ended up using this knife longer than my usual one-month testing period, so it's been through some dicey situations (pun very much intended) like getting left on the counter around a lot of glass and ceramic, being left in the sink, being used to scrape food along the cutting board, and, yes, it even met a little bit of bone. So far I've only had a few little rolls along the edge.
All that to say is the Shun Kanso qualifies as a tough workhorse. Props to Shun for stepping away from their VG10 comfort zone and putting out a decent AUS10 steel blade. I've gotten to the point where I'm comfortable letting other people handle it without much concern beyond warning them that the edge is sharp.
Food Performance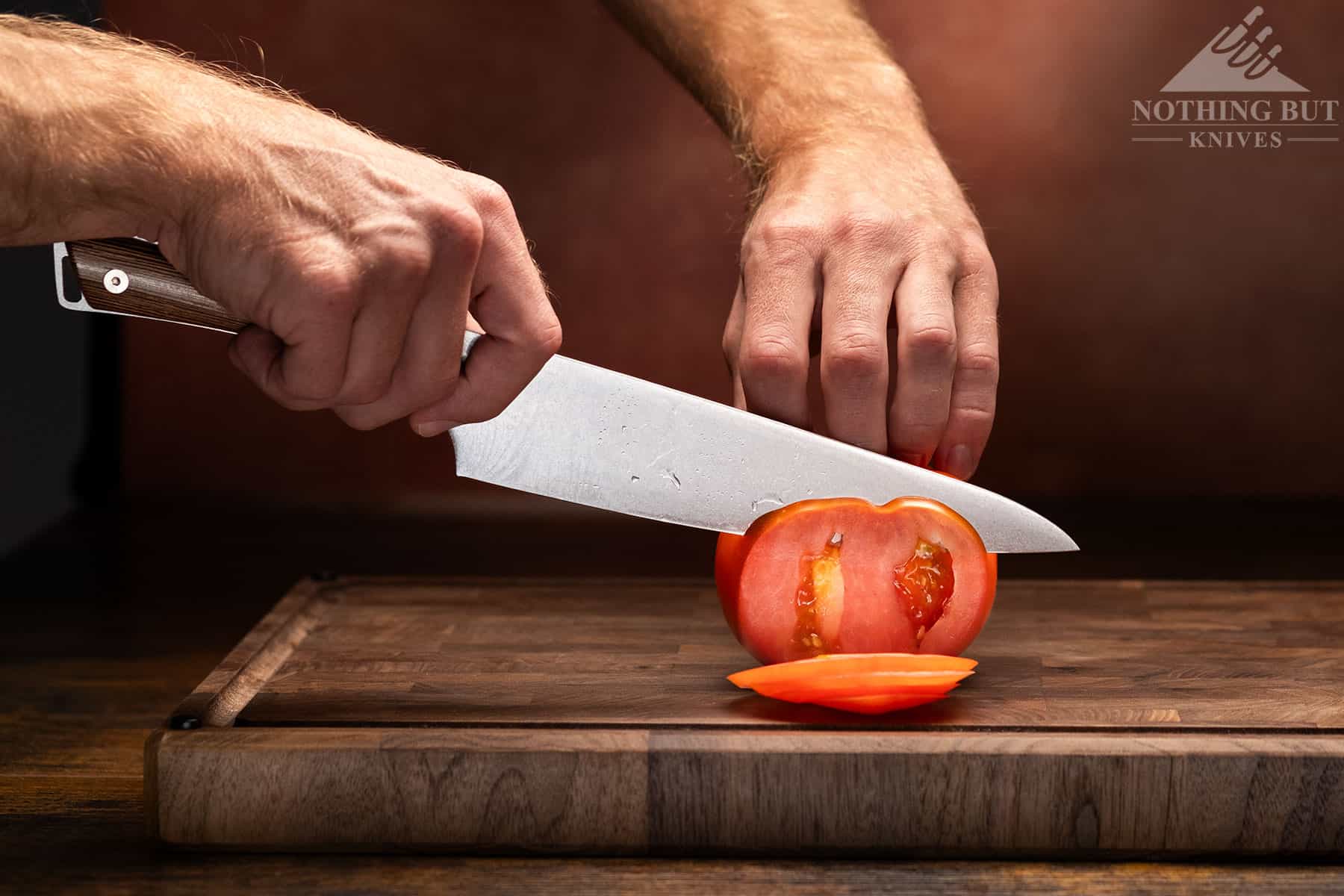 There are a couple of important things to reiterate here: this knife has a polished edge, which can sometimes have trouble with hard, smooth surfaces of food, but it's plenty sharp.
Because of the slope of the edge, it can be a little hard to finish cuts with some foods. Unless, I assume, you're already used to blades shaped like this, which I wasn't.
Tomatoes
Surprisingly, I liked the way this cut whole slices off of tomatoes. It started the cut easily enough, and even when I cut especially thin slices it didn't wrinkle them too badly.
Onion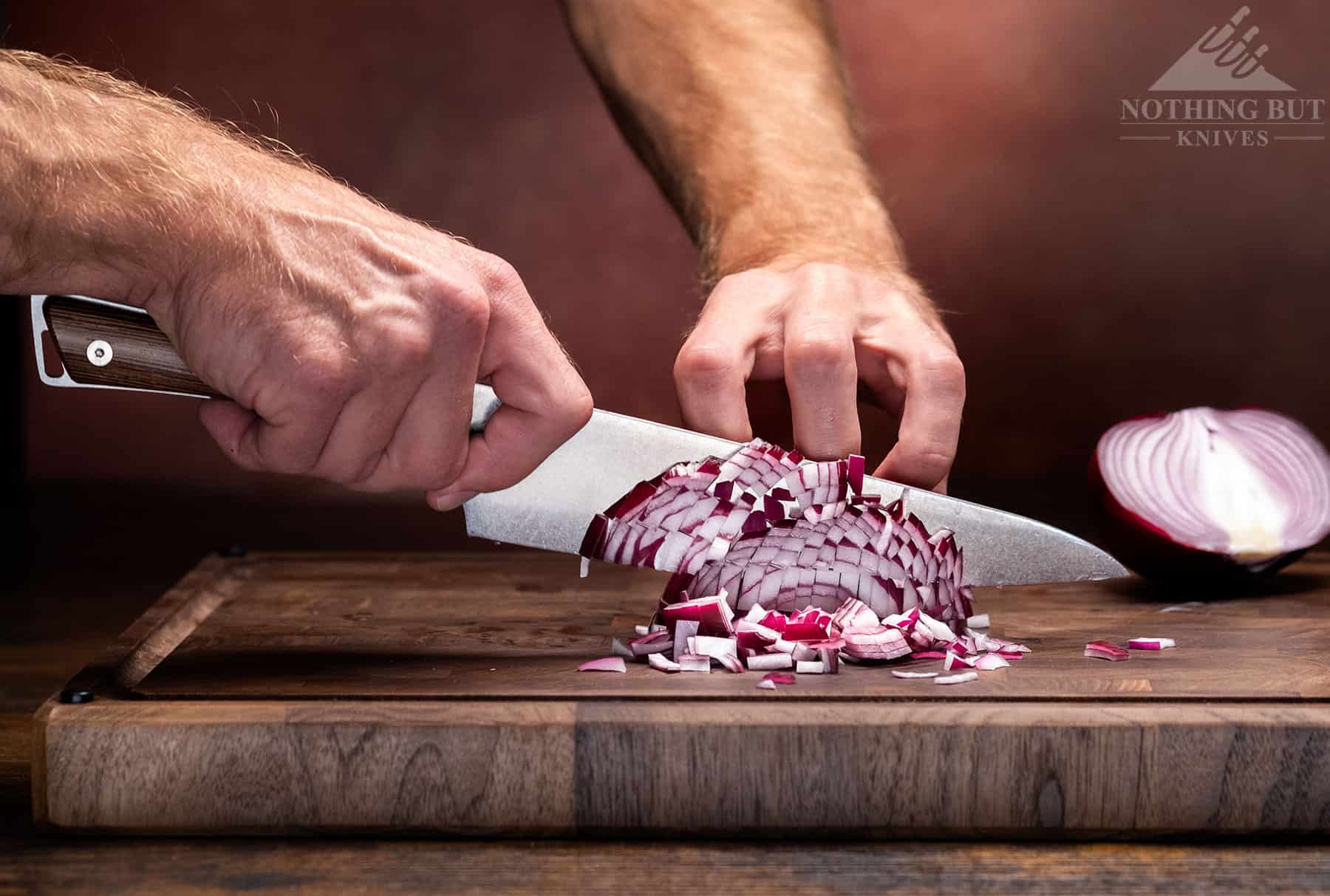 I really liked the top part of the blade for the first stage of dicing. It slips into an onion half pretty easily, which makes it that much easier to make my dicing even. I didn't like it so much for the full cuts. I always felt a little cramped when I used the belly of the blade to cut into the full width of an onion. Eventually I started cutting onions into quarters, and that felt a little nicer.
Carrots
When I tried julienne cuts I had trouble keeping everything stable, and the blade liked to wedge and then pop pieces away like a spring when it finished a cut. This wasn't my favorite for cutting harder root-type vegetables. It got easier as I got the feel for it, but still one of the harder nice knives I've used on tricky carrot cuts in a while.
Cucumbers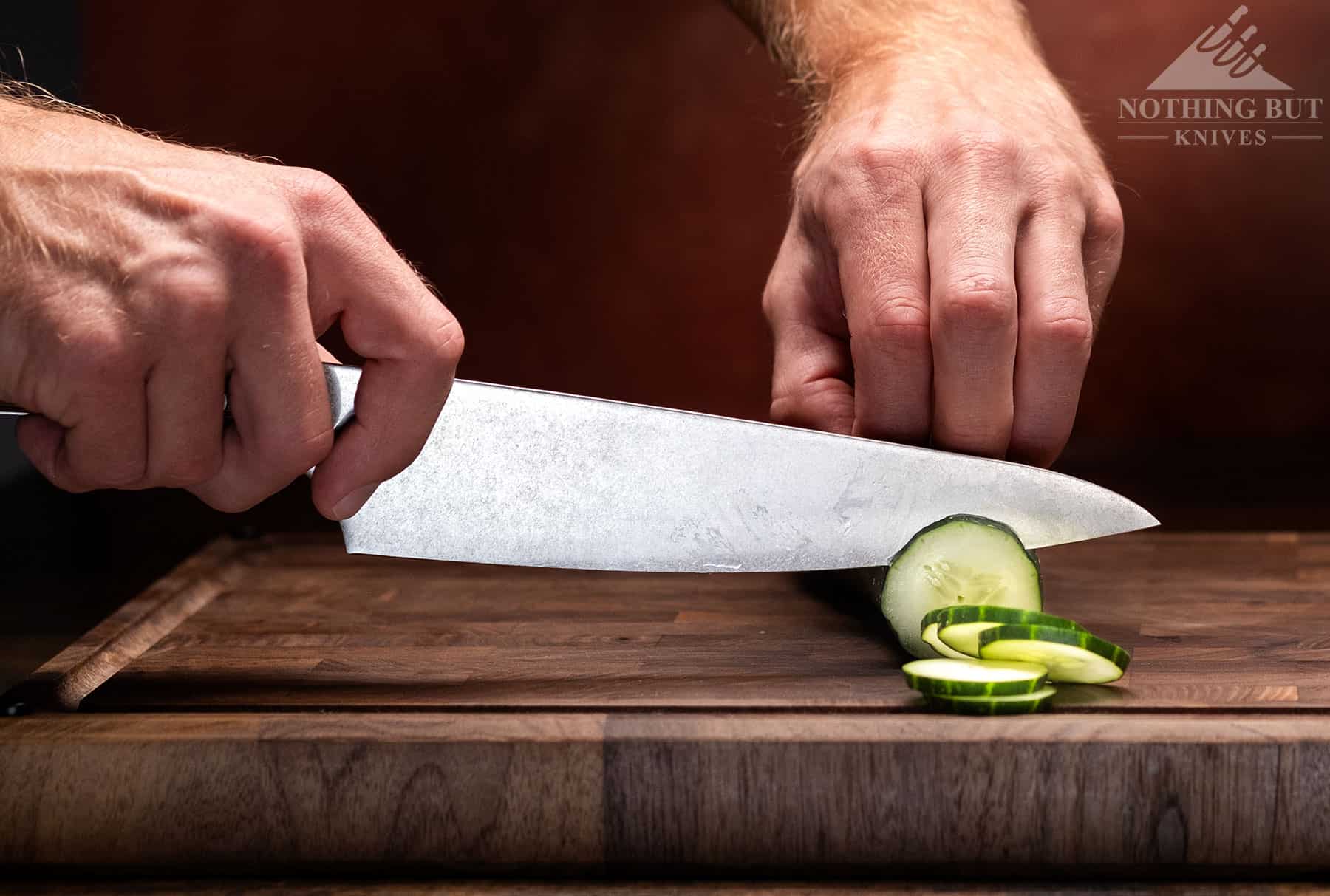 This is where I started to feel fast with the Kanso. Chopping with the top part of the blade, I was able to cut slices pretty rapidly. Food stick wasn't too much of an issue because there's only room for one slice at a time at that section of blade.
Herbs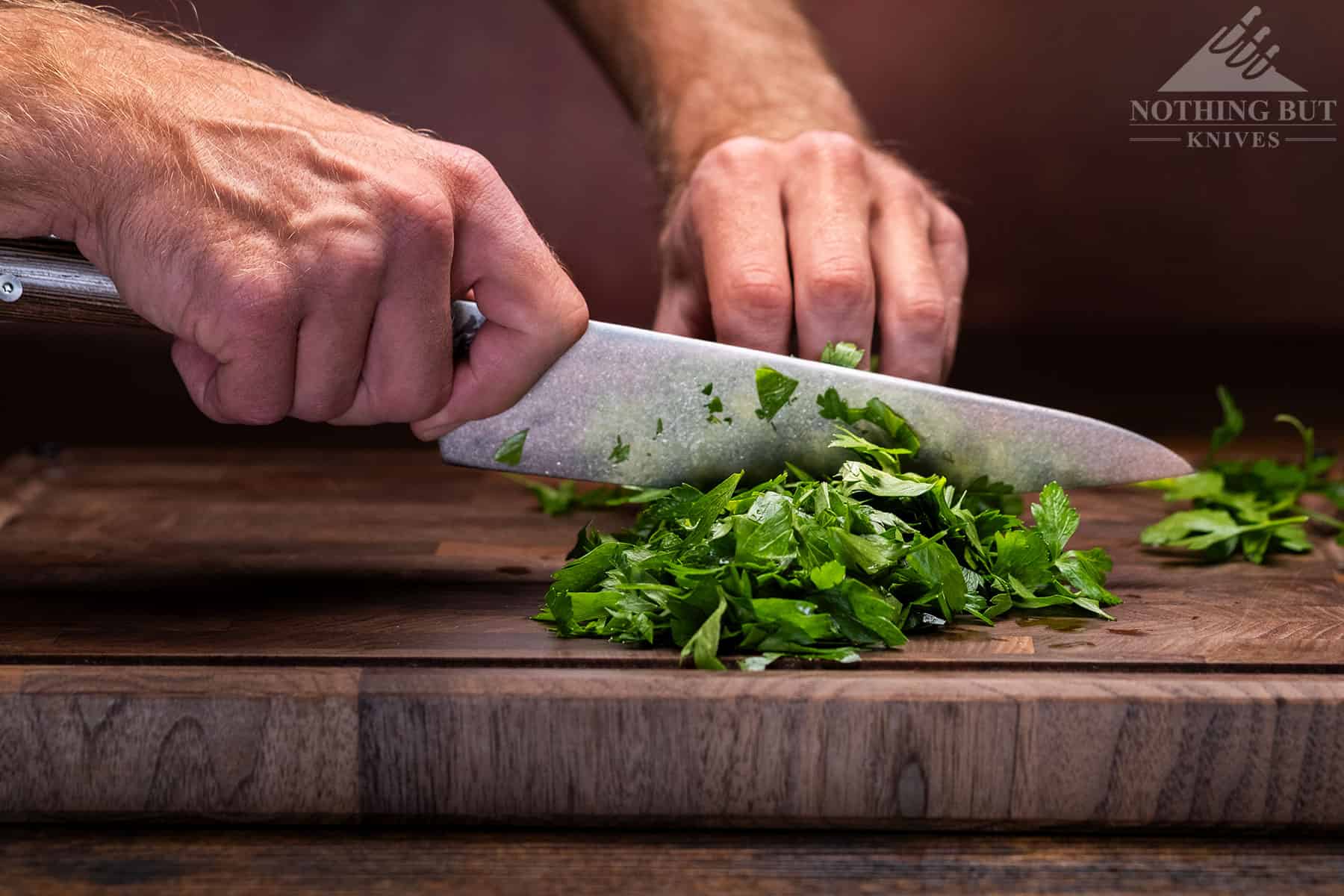 It'll mince herbs and cut a nice chiffonade, if you're so inclined (and usually I'm not). I still have some trouble finishing cuts every now and then. I go over piles of cilantro and peppers and a lot more with the Kanso than I usually do just to make sure I avoid accordion cuts. That's an issue of motion, though. The edge makes the cuts just fine; I just have to make sure I'm getting the edge all the way down toward the heel.
Comparison and Alternatives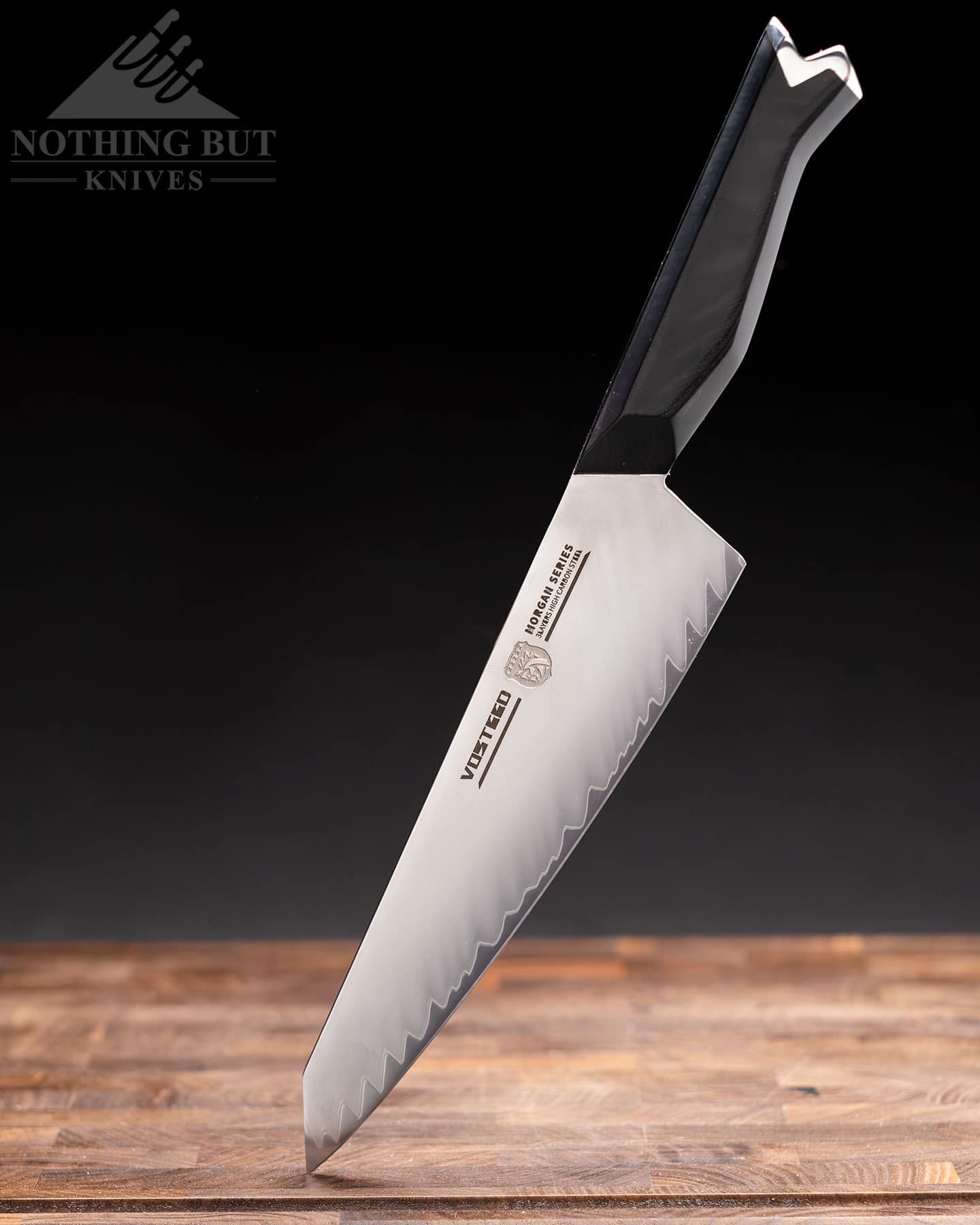 The handle is what makes the Kanso stand out. I haven't really tested other knives that look and feel quite like this. Which isn't to say there aren't other rustic, exposed-tang gyuto's out there; I just haven't personally tested many.
If you want to go a lot cheaper, the Vosteed Morgan has a similar shape with a much more aggressive bite in the edge. It's more sleek and modern to the Kanso's traditional rustic look, and the long-term performance doesn't match up too well (the Morgan's blade steel runs a lot softer), but it definitely outperforms its price.
On the more practical side is the Tojiro DP. I can never stop recommending that knife, because it never stops being one of the better workhorses available for the price. It would blend into a long line up of other Japanese knives, but when you talk about years of use per dollar, it's hard to pass on Tojiro.
Still, neither of those choices gets you the rustic wood look of the Kanso. For that you might like the Xin Cutlery Xincraft. It has a similar wood-handled, tough-bladed workhorse vibe. The blade isn't as clean cutting, but it's plenty capable and quite a bit cheaper.
We cover a lot of similar knife series in our article on the Best Professional Knife Sets and our article on the Best Japanese Knife Sets. It may be worth looking through those articles to get a better idea of the competition.
Conclusion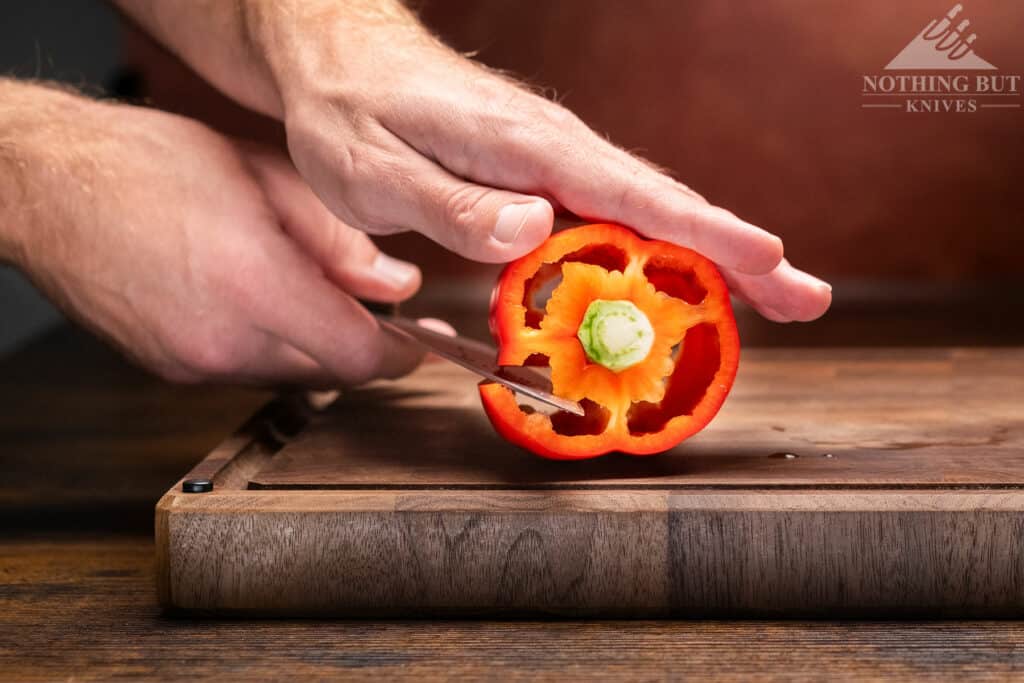 In one sense the Kanso is like any Shun in that the price is a little more for flash than fire. It cuts beautifully and looks cool. But it's kind of a lot to pay when there are so many other decent options at half the price (even though the price isn't all that bad for a Shun).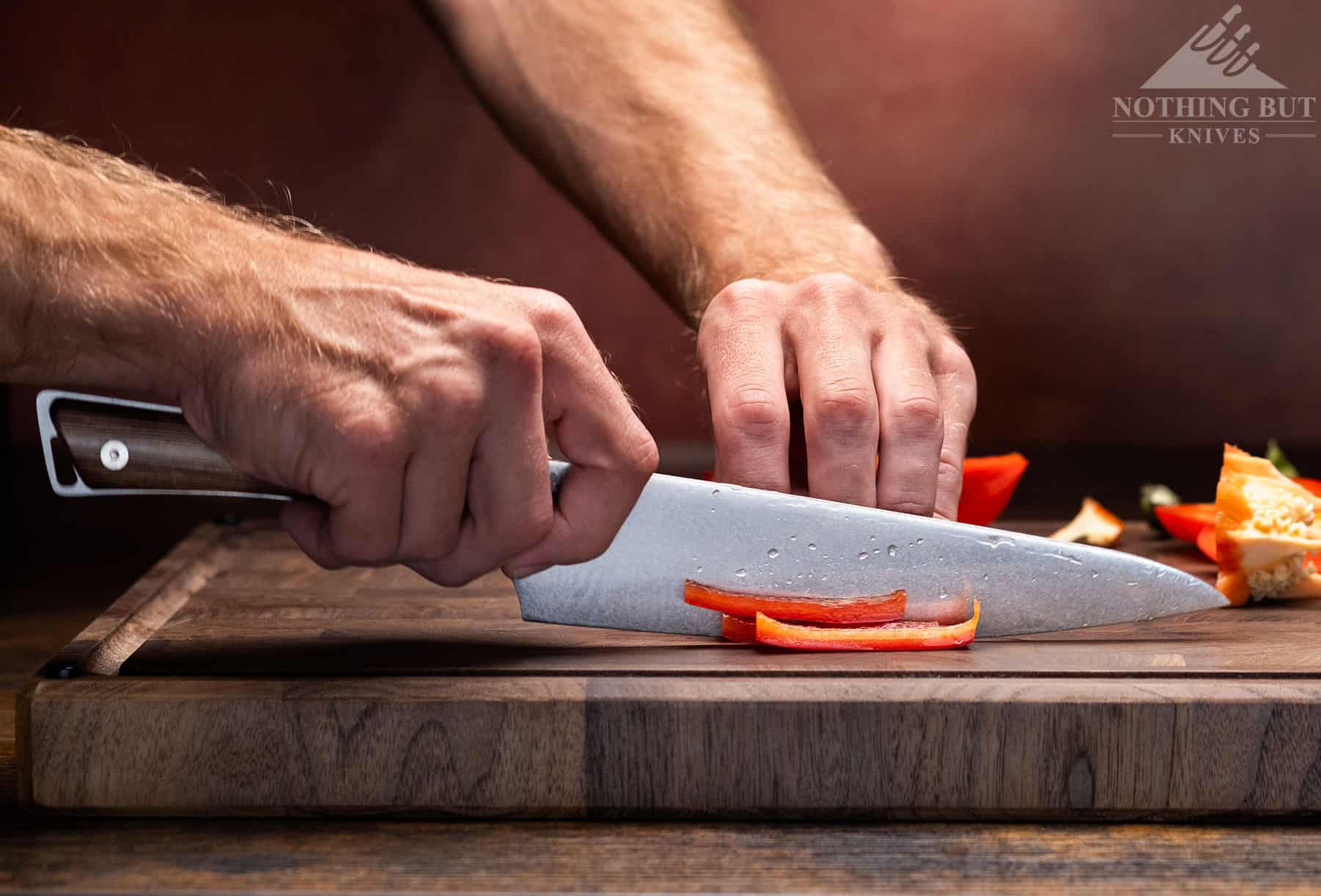 It comes back to the styling, though. How much is it worth loving the way your kitchen looks with a Kanso knife in it? If you're just going to roll your knives up and pack them off to a restaurant… well actually this would be good in that scenario because it looks unique and it would survive a bit of abuse from other cooks' sticky fingers. But beyond that, this is a choice of functional aesthetics, but still mostly aesthetics. I like the knife. I enjoy having it around. I've even learned to enjoy cutting with it over some of the others in my collection. But I'm not about to tell you it's the answer to any specific kitchen woes.
It works well, it looks nice, and some things are worth having just for that.