Bestech's Weird Foray into Kitchen Cutlery Makes a Good Knife for Small Counters
This knife is rustic and comfortable and odd for a lot of different reasons. Not least of which is that it's made by a company started by Bestech, a name that should be familiar to anyone with a modern smooth-flipping folding knife.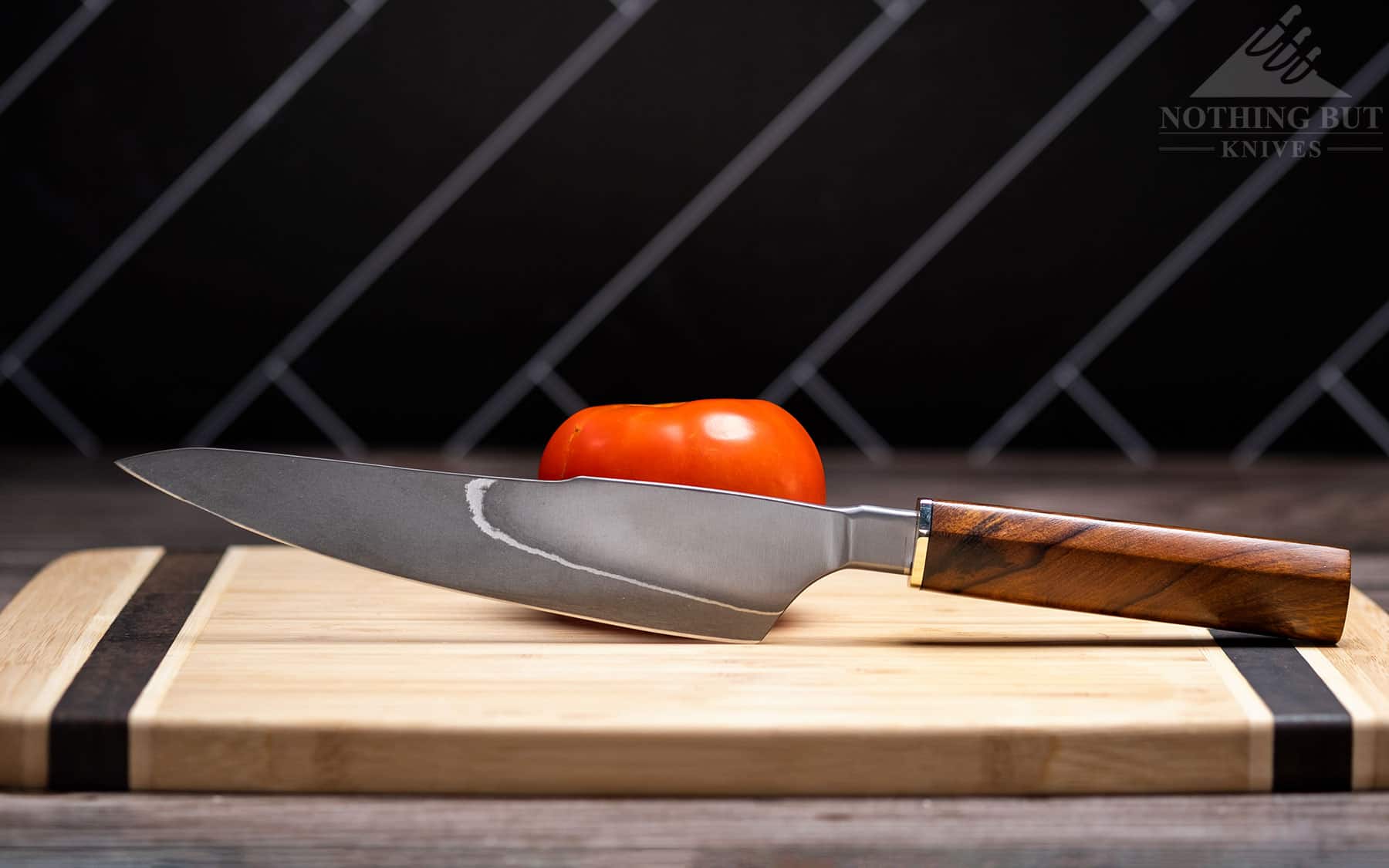 The other oddities come in the name and the shape and the grind and… well everything feels a little unique about this thing. Most of it is weird in a good way, though. The edge is sharp and tough, the odd shape of the blade makes it good for some detail work, and every corner of this thing is rounded and crowned so it's incredibly comfortable.
Plus if you hold it in a pinch grip, the 7-inch blade is really nice for using in a small kitchen with limited counter space.
Specifications
| | |
| --- | --- |
| Overall Length: | 13.1" |
| Blade Length: | 8.4" (7" cutting edge) |
| Blade Steel: | 440C w/ 410 cladding |
| Hardness: | 58 – 60 HRc |
| Blade Thickness: | 3 mm |
| Blade Shape: | Petty gyuto |
| Blade Grind: | Flat |
| Handle Length: | 4.6" |
| Handle Material: | Stabilized maple |
| Handle Type: | Modified oval |
| Weight: | 6.2 oz (178 g) |
| Made in: | China |
Pros
All around comfortable and easy to use
Sharp and sturdy edge with a high polish
Great for using on small counters
Tough blade with surprising edge retention
Cons
Not quite a full sized chef's knife, not quite a little petty knife
Pretty thick behind the edge
This thing needs a proper name
Fit and finish is "rustic"
Fit, Finish, and the XinCraft Series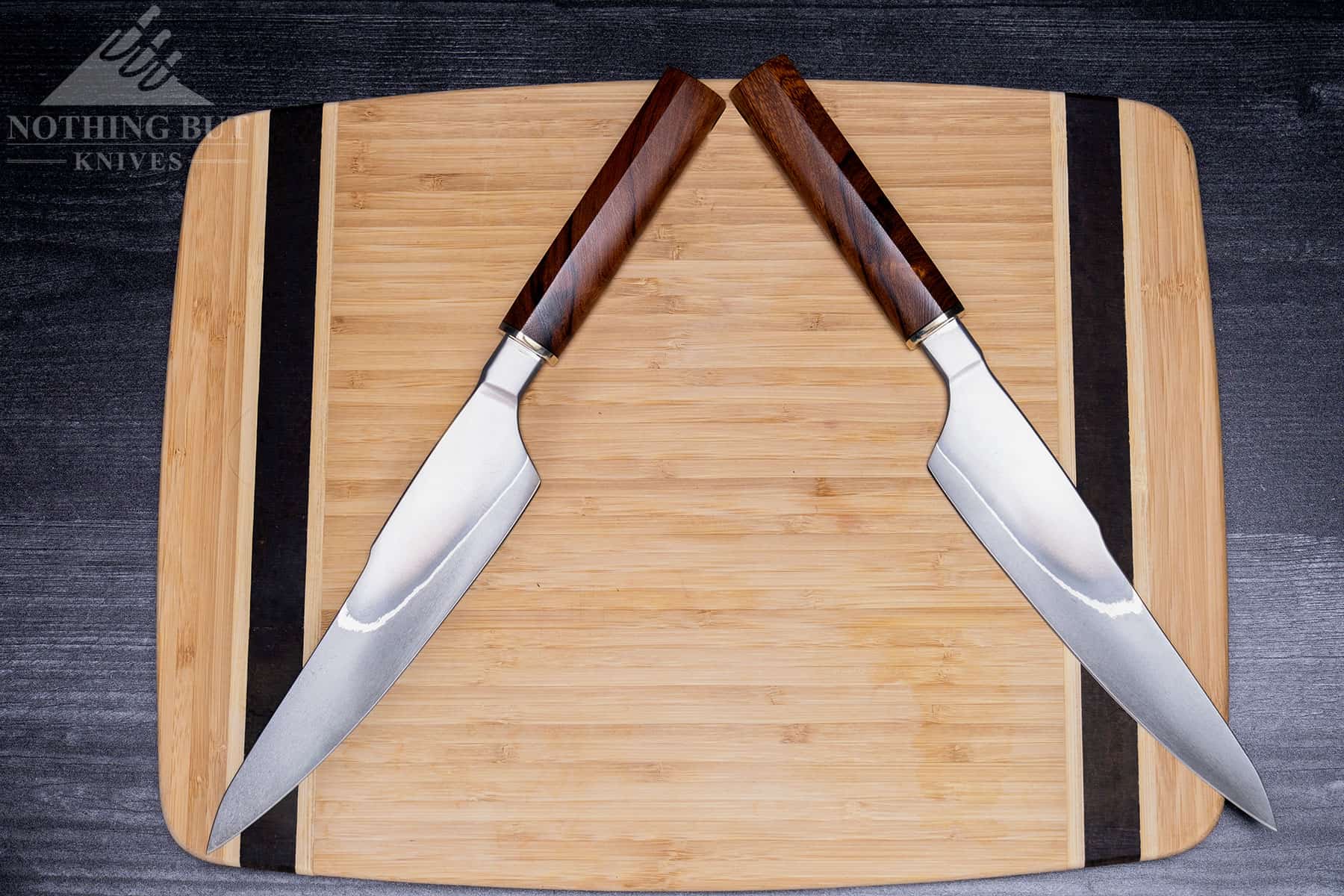 This is, according to Xin's website, a handmade knife. That's the theme of the XinCraft series of knives from this new branch of Bestech. I assume that means that every knife is going to be a little different, but I haven't handled enough Xin stuff to be able to say for sure.
This knife certainly looks handmade in the sense that it has a strong rustic appeal. The transition from wood to the brass collar isn't exactly seamless, and I can see small gaps of various sizes between the tang and the brass collar as well.
It also looks like there's a slight warping in the blade towards the right when I look at it closely from the spine. So it doesn't have a perfect fit and finish, but I think the point of the XinCraft knives is that they all look like something that just came out of the forge.
I haven't noticed any of these rustic details interfering with my use of it (even the slightly warped blade). I've come to like the imperfect look and feel of the knife, especially considering I am, at best, an imperfect and rustic cook.
The Bestech Parent and Polish Designers

Bestech has earned their reputation as one of the best knife makers out of China. I think at least half of my folding knives were made in the Bestech factory, and I could pick up almost any of them and gush about how smooth the flipping action is, or how well the steel seems to be treated, or that the edge geometry is spot on for one task or another. It's the reason so many new companies are slotting them for designs.
So what happens when one of the best EDC knife OEMs decides to start a whole new company dedicated to kitchen cutlery?
Well, you get a kitchen knife company for EDC enthusiasts.
In that vein, Xin Cutlery is riding on two main designers: Grzegorz Grabarski and Ostap Hel, who are both Polish knife makers with a strong portfolio of folding knives. I don't know which one designed this knife, or if either of them did (although that angular drop along the spine somehow feels like something Ostap Hel would do).
This knife in particular carries a sense of being a Polish designer's interpretation of a gyuto chef's knife. It's small but thick, inexplicably lightweight and simple, but still with far more angles built into the design than anyone realizes until they actually handle the thing. All those elements have a way of looking strange and impractical, but when you actually start using the knife they all come together.
The Little Rustic Blade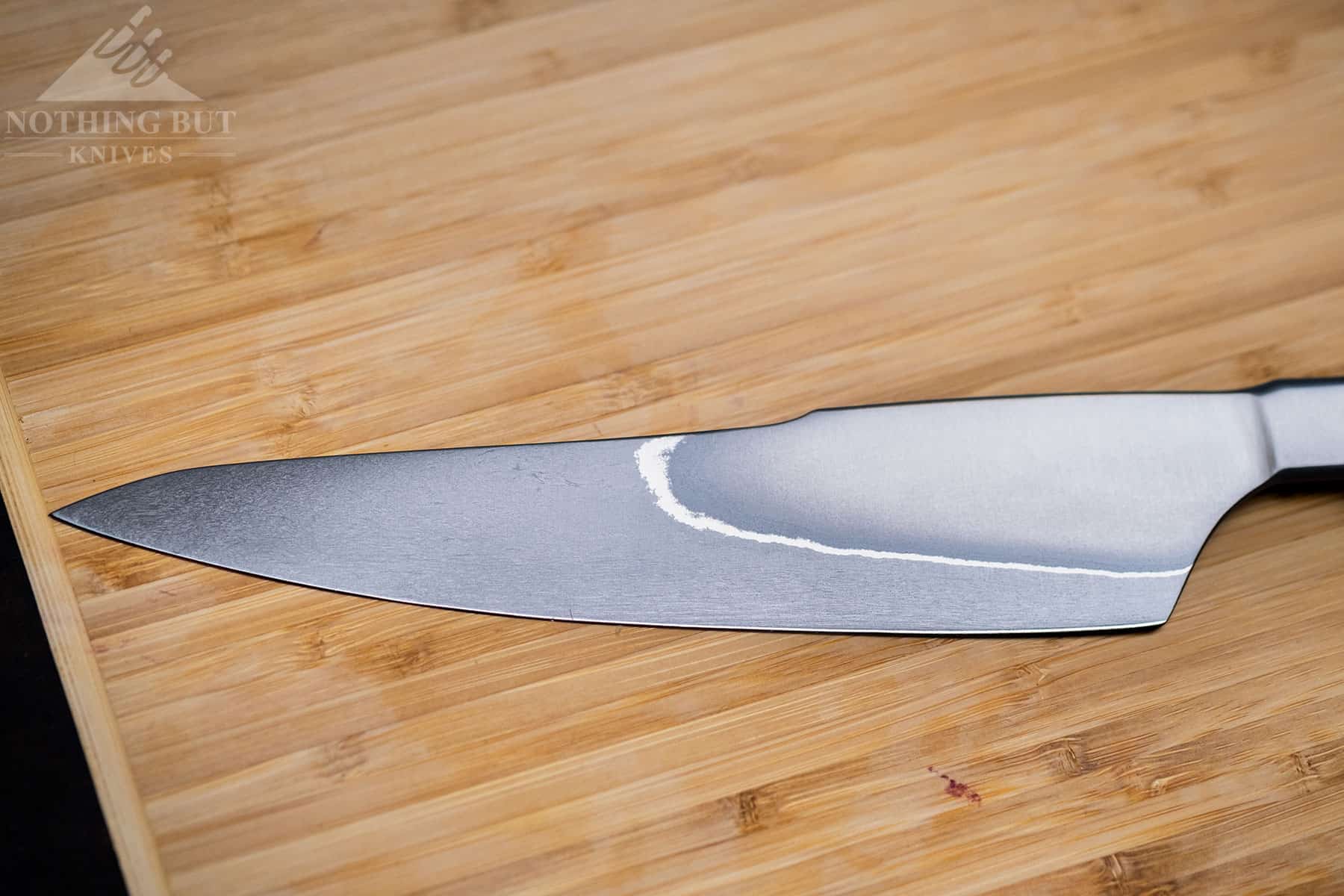 Xin labels this thing as an 8 inch chef's knife, but I've been around enough to know a 7-inch petty when I see it. They seem to be measuring the blade from the top of the handle, but there's at least an inch and a quarter of neck before you get any cutting edge in that measurement. I've measured the actual cutting portion of the blade to be almost exactly 7 inches.
This isn't a criticism. There are plenty of seven inch chef's knives out there (although not as many that are over thirteen inches in overall length). I just want to make sure you're clear on how much cutting edge you're actually getting if you order this knife.
That aside, this cuts smoothly, and it probably has my favorite finish of any kitchen knife I've used. Partly because it's incredibly easy to shoot, but mostly because it just doesn't stain. Fingerprints and food stains either don't show up or they're really easy to clean off.
It also doesn't drag on my knuckles as much. So many kitchen knives with perfect satin finishes feel like they're pulling at my knuckle, but this slides right along from the beginning.
The Edge and Blade Shape
I'm a little mystified by the edge on this. It's highly polished, and it's pretty sharp. Cuts feel incredibly smooth except for when I'm dealing with especially challenging foods like a ripe tomato with a smooth skin. But it's also thick, and since the blade isn't very tall, I feel that thickness in the cuts a lot more.
Sometimes it feels more like a German knife than anything, which brings us to the other weird thing about this knife. The look of the knife makes me want to use it like a gyuto, but the feel of it leans more toward western-style chopping. There's a lot of curve and belly for a blade this small, but it's slight enough that I sometimes feel more comfortable doing push cuts.
Even after a few weeks of using it regularly, I still find myself switching pretty easily between pushing and rocking, and I honestly can't say if it's because I'm so used to cutting in different styles with different knives, or if this knife is just made to be that versatile.
The Angular Shape Might Have an Actual Purpose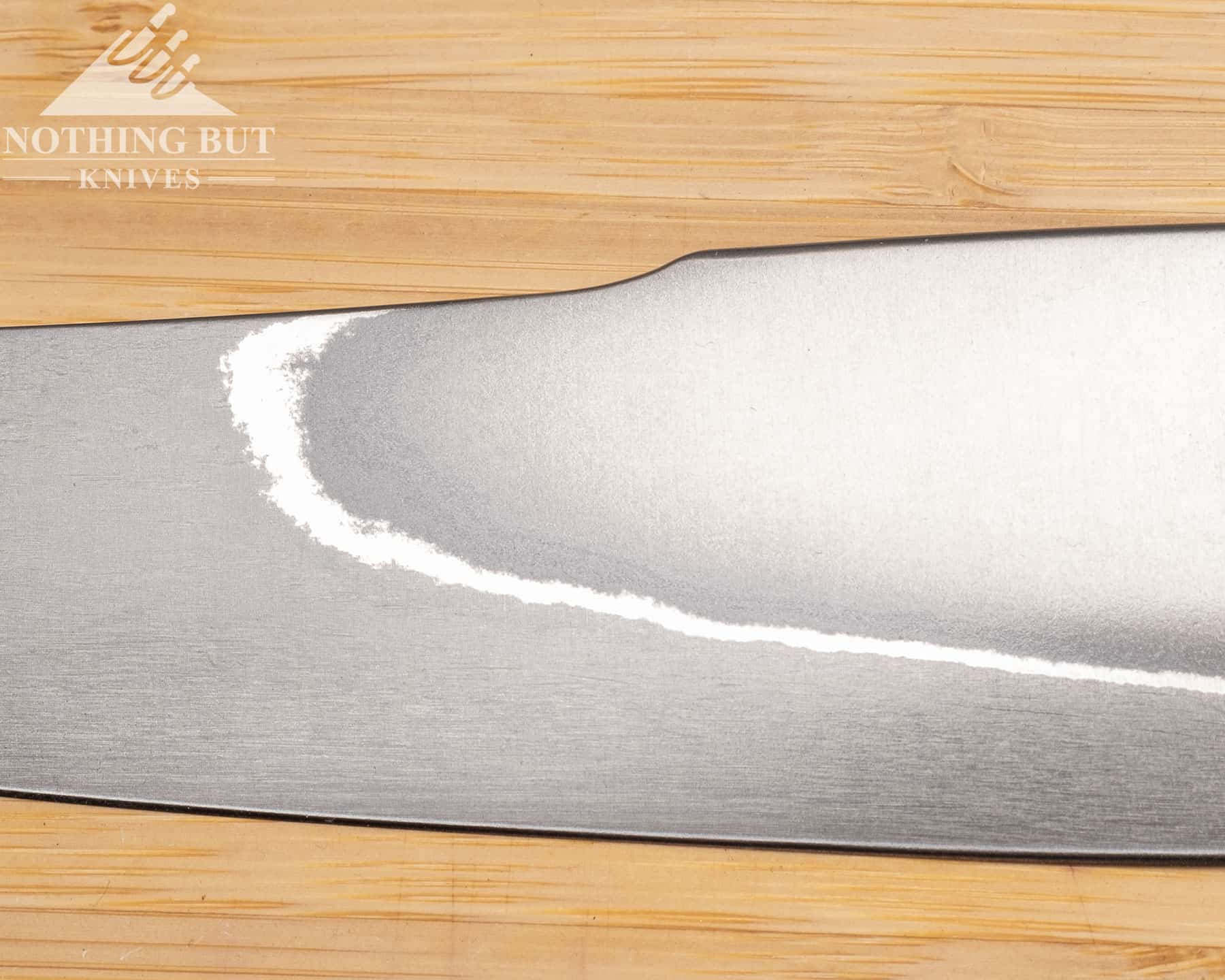 That dip along the spine makes the blade a lot slimmer for the top four and a half inches. I'm not sure if that was put there in order to make the distal taper more dramatic and reduce drag near the tip of the knife, but that's what it accomplishes.
As a result, the top half of the blade is fantastic for getting into the nooks and crannies of chickens and medium sized fruits, while the bottom half has enough meat for heavier rock chopping and other miscellaneous tasks like crushing garlic cloves.
Steel, Hardness, and Preconceived Notions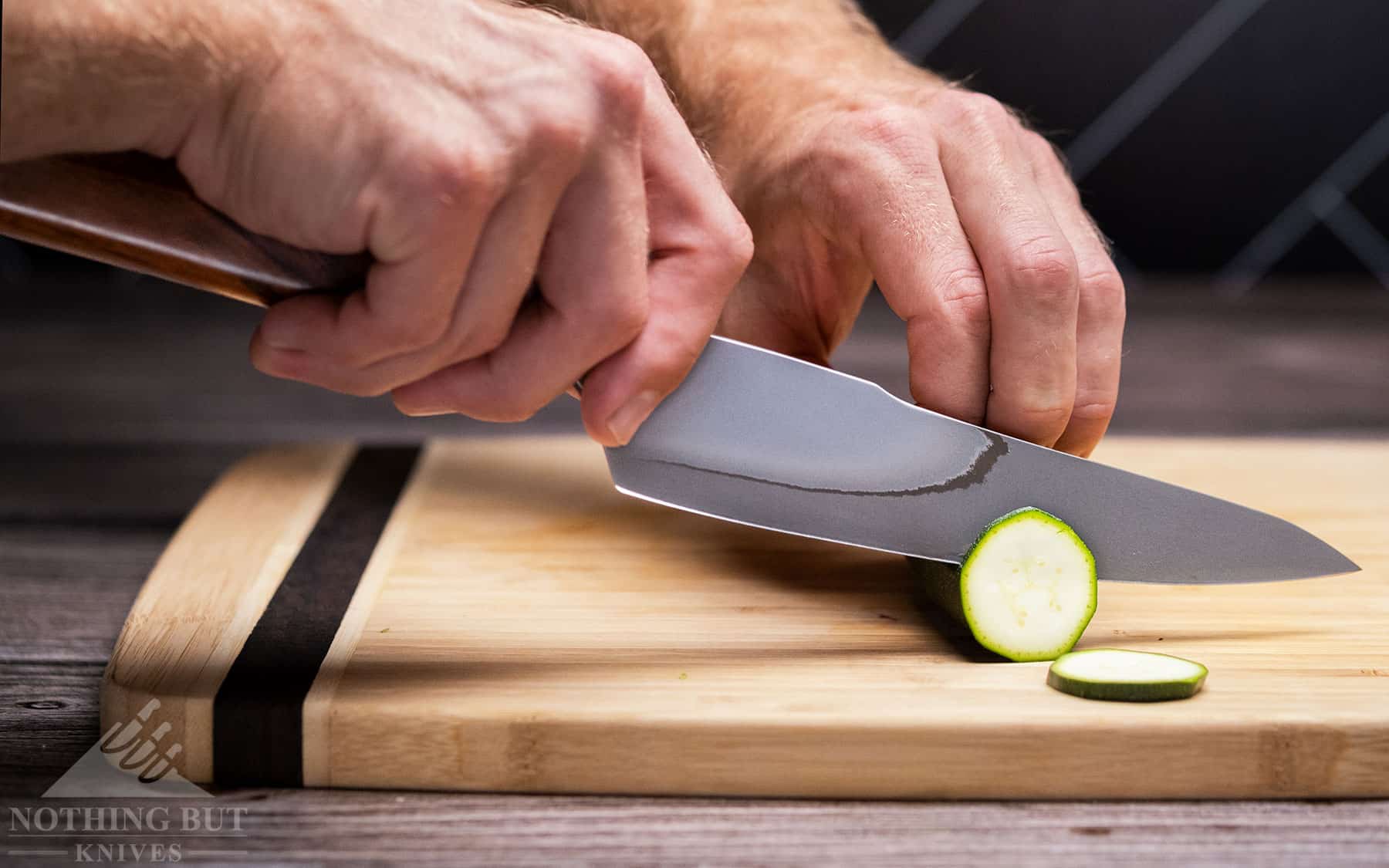 As much as I like the look of the blade, the makeup of it needs to be addressed.
This is a San Mai blade with a 440C core and a 410 stainless cladding. It's safe to say that most people who care about steel at all are not particularly impressed by that combination. Less so by the 59 HRC.
It's especially unimpressive in a price range that puts the knife in Wusthof Classic Ikon territory, and just a little under Shun Premiere territory. Even more especially dubious is the fact that this knife is made in China, even if it is handmade by artisans. There are a lot of terms working against first impressions with this knife, even for those who are familiar with Bestech's stellar track record.
But I've noticed little to no edge deformation over the course of my testing. I've barely gotten the edge to even roll, much less chip. I've kept it honed and stropped regularly, but even after an hour or so of chopping I don't usually notice much of a drop in edge performance.
So say what you will about 440C, but Xin has clearly nailed the heat treat and grind on this blade. That's not to say it won't likely need to be sharpened one or two times a year (and even more if you're using it professionally), but I would put the edge retention of this knife at least on par with almost any Wusthof or Zwilling knife.
The Nice Ergonomics and Cool Handle that's Mostly Decoration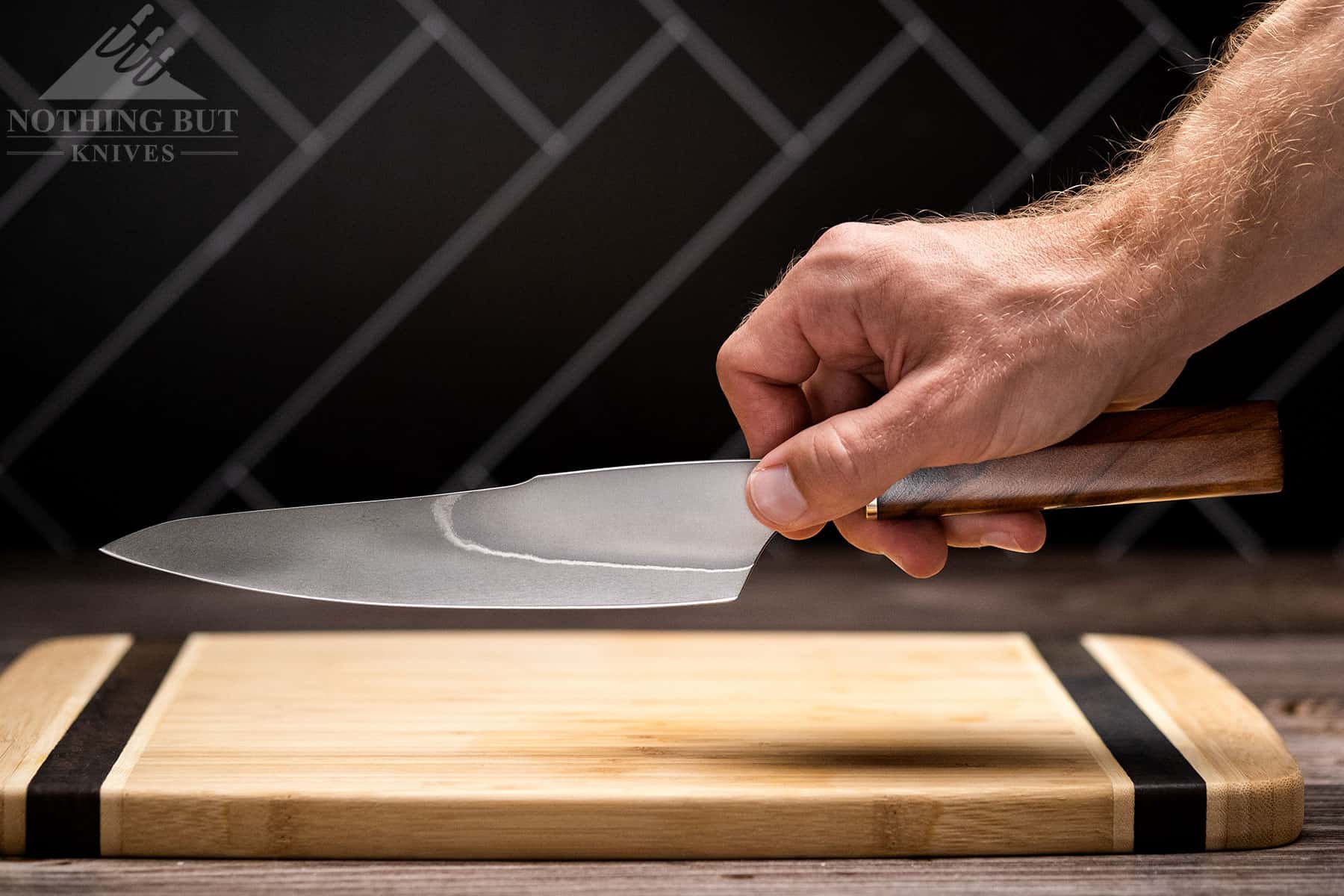 This knife is one of the most comfortable things in my kitchen right now. It's so smoothed over down to the bolster that the knife almost feels soft to hold.
The neck is long enough for my middle finger to nest into and sort of latch onto the bronze collar when I pinch the blade. That's something I would have expected to feel awkward, but somehow I don't feel any hotspots from the handle. Nothing really interferes with my grip or knife alignment. If anything it helps me index the edge and secure my grip.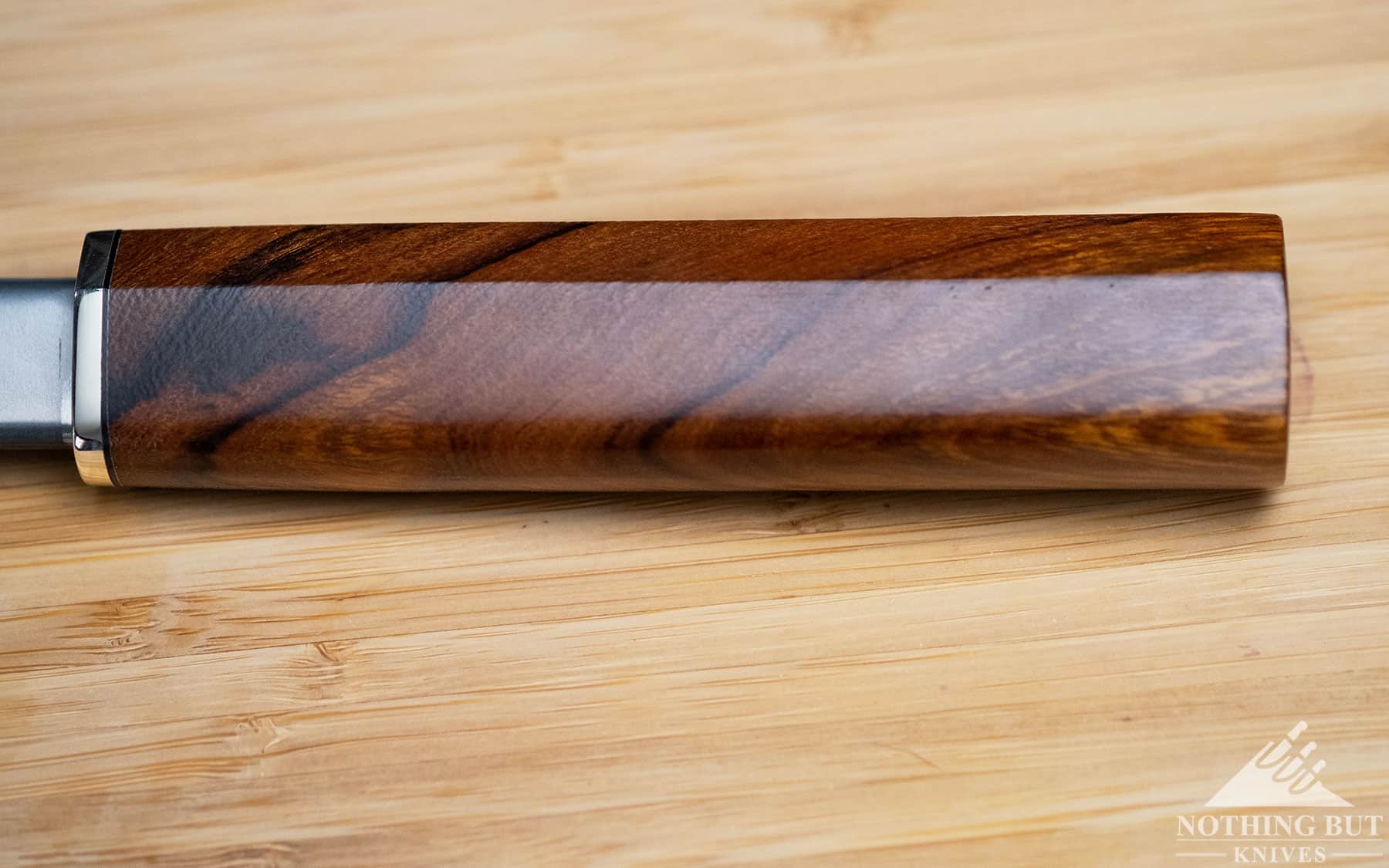 The handle is a pseudo-oval shape with three flat sides along the backside. It's a really comfortable shape to have in a full grip. That would be really cool except I never use this in a full grip. Even if I didn't pinch grip normally, the long neck on this makes a hammer grip feel so weird, I would probably adjust naturally to a pinch anyway.
From an aesthetics standpoint, this handle is distinctive. It falls short of more premium options like the Oishya Sakai Gyuto chef knife, but it looks great for the price.
Small Kitchen Bonus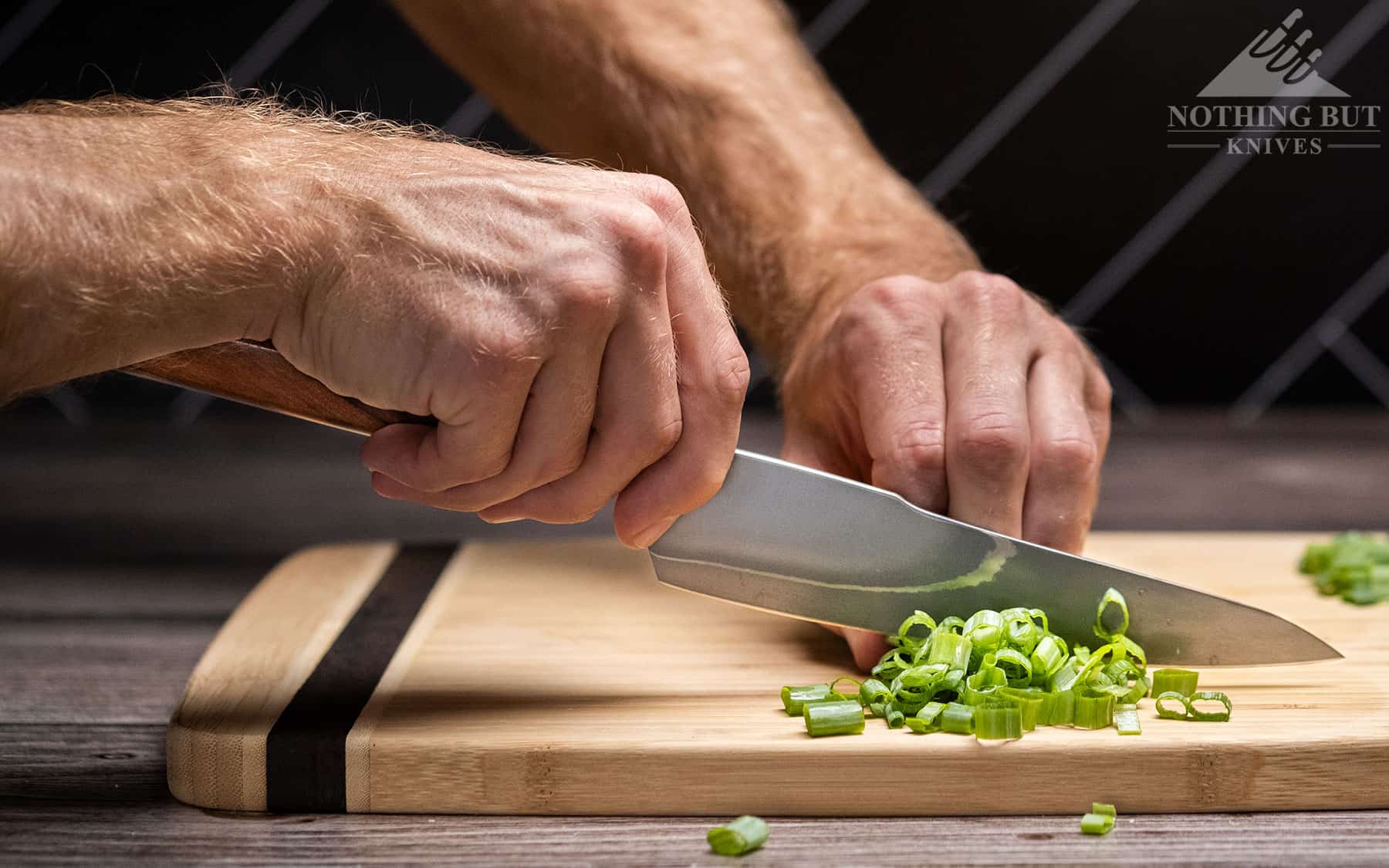 This knife might not exactly cut quicker, but it feels quicker thanks to the overall size and weight. Petty knives are generally used for quick and dirty work. Most professional cooks I talk to that use one keep it by their station for detail work and quick cuts on smaller foods like shallots and garlic.
I just like that I can use ths in a small space. When I'm cutting at home I tend to switch between a wooden cutting board that's maybe 20" X 12" and a smaller silicon-type mat that's around half that size. This is the first chef's knife I've used in a while that I didn't feel crowded with. I can do rock chops and push cuts without the tip of the knife threatening to stab the food containers along the back of my counter.
My biggest issue with this knife is that the blade is petty knife size, but the overall length still matches a standard 8 inch chef's knife. As far as storage goes, this takes up the same amount of space on the counter or in a drawer (although you can fit it in a smaller slot on a block), but you get a lot less cutting edge to work with.
Food Performance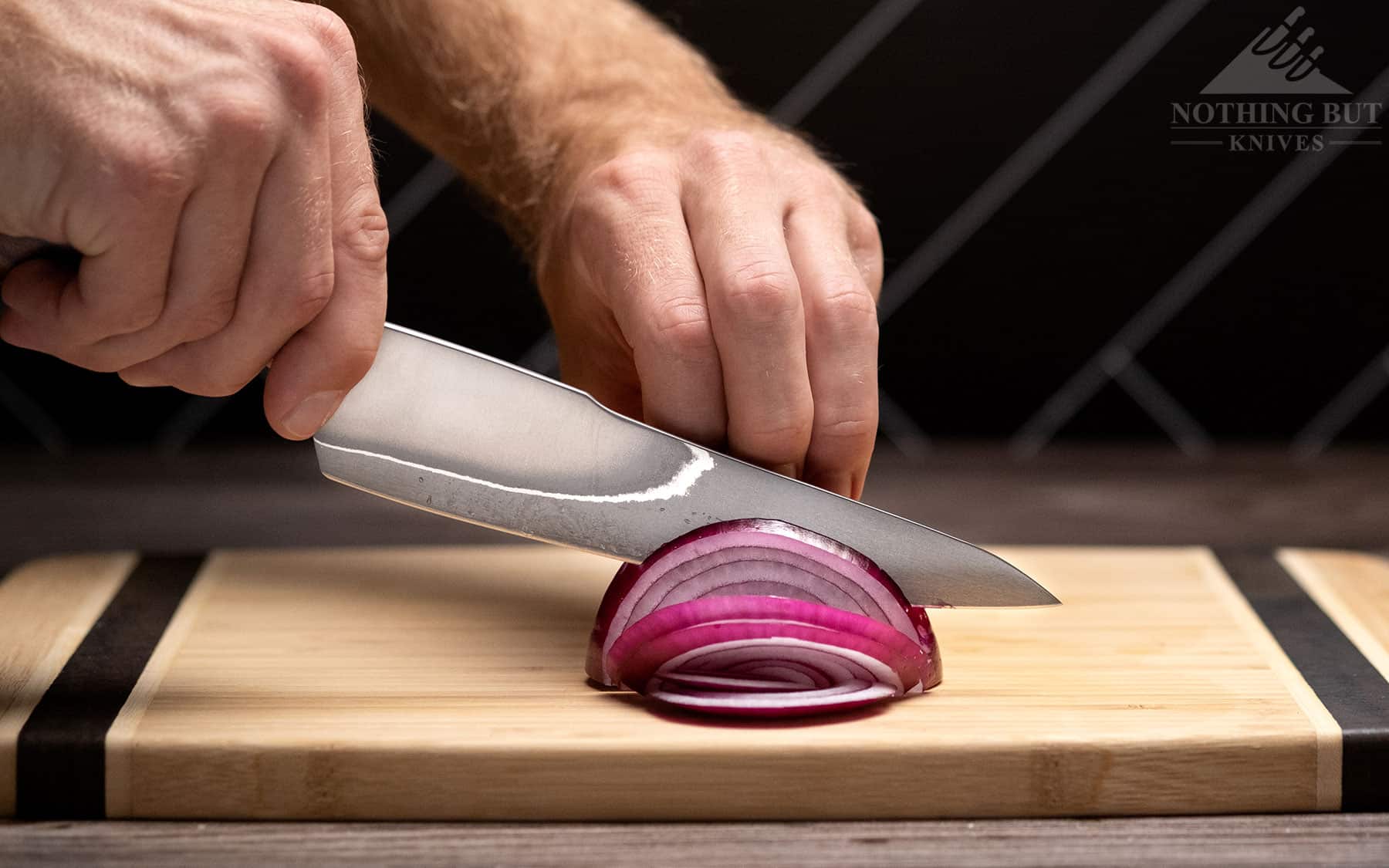 I found this knife could be used on almost all the same things as a full sized chef's knife. The big exception is big foods. I specifically picked up smaller-sized onions to test on, and while the edge could handle cutting the skin of a cantaloupe, I wouldn't want to take that task on with a blade this short.
But on anything with less than a five inch diameter I had a great time.
It's also worth noting that the constant slight curve makes finishing cuts on medium-sized fruits a little trickier. I have to add a little extra forward or backward motion at the end of cuts just to make sure the skin is completely separated.
Onions
I can feel a little wedging with onions, but overall it does pretty well for not being very tall. It has a gentle way of cutting that reminds me a little of the Mattia Borrani, but has a similar trouble with initially biting into the skin in a way that reminds me of the Wusthof Classic.
It can cut a whole onion in half without a problem, though, and a rough chop is not problem at all.
Carrots
It takes a little bit of elbow grease, but this handles carrots okay. I always feel like I'm on the verge of slipping when I'm cutting carrots with this, and the bigger the carrot, the worse that feeling gets.
But I discovered I kind of like this knife for peeling carrots. Something about the edge angle makes it easier for me, possibly because it seems to be ground kind of like a bushcraft knife with a convex. I bet this thing would be good for making feather sticks.
Tomatoes
This is where you really feel the thick polished edge. It cuts into skin okay, but it doesn't have the same pushing cutting bite of thinner or taller knives. Thanks to the dimensions of the blade, though, there's not a lot of food stick with tomatoes, and it actually feels very easy to cut through the meat.
Bell Peppers
Like with tomatoes, there's a little bit of that initial slipping feeling on hard smooth skin if I try to push too much without exaggerating the slicing motion more, but otherwise this is really good for cutting peppers into slices and julienne cuts. I especially like it for cutting the connective pieces inside a bell pepper because the upper part of the blade is so thin.
Mushrooms
Surprisingly I can do really fast push cuts on mushrooms with this knife. At least, I can with the top part of the blade. It's a little sloppier if I try to rock chop mushrooms with the heel of the blade because it's so much wider there that it has a tendency to tear if I don't maintain a strong forward motion.
Those top three inches of blade can snap out a pile of mushroom slices no problem, though.
Conclusion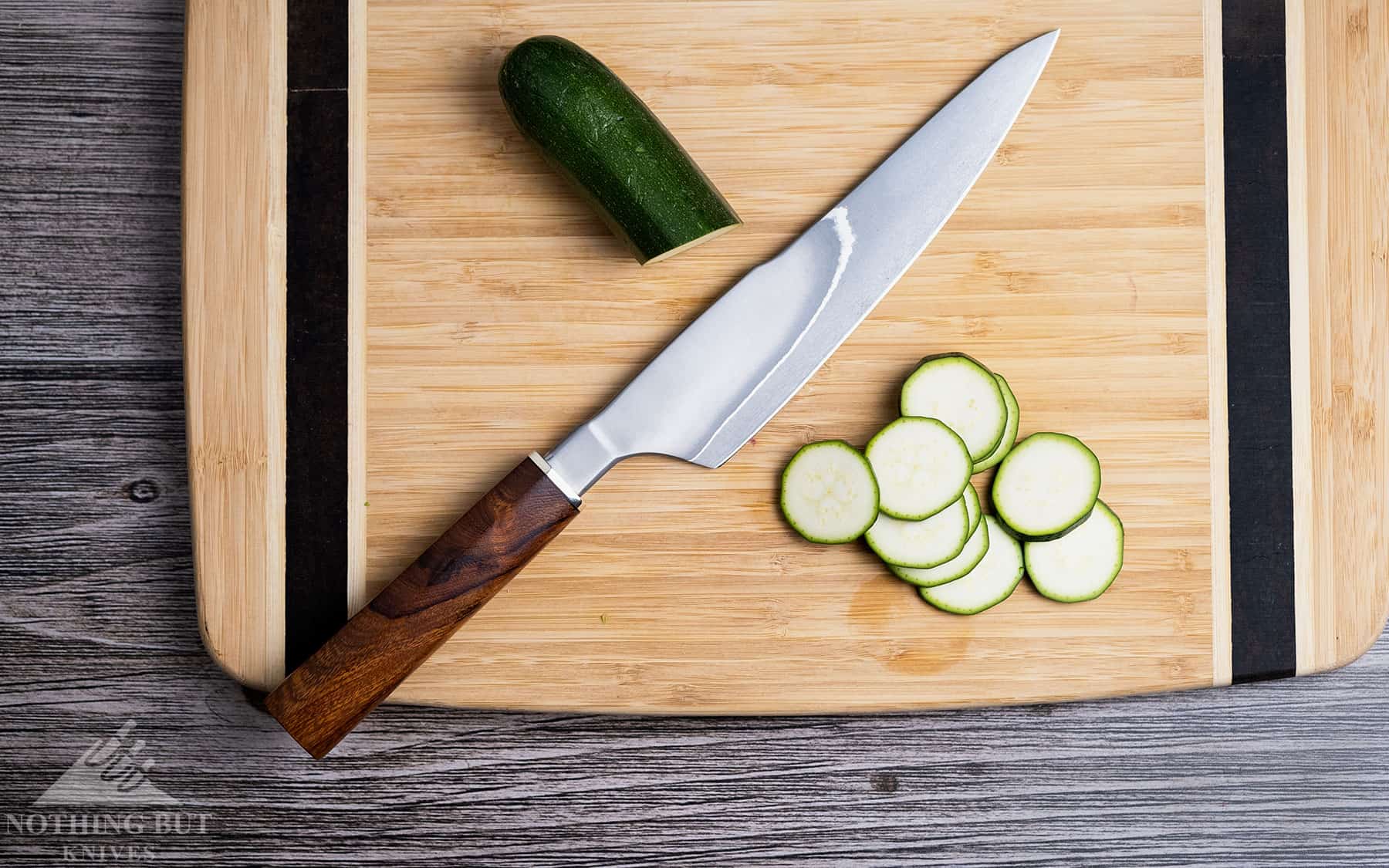 There are a couple of important things you should think on before buying this knife:
The biggest is that even though it's kind of styled like a Japanese knife, it's going to cut more like a thick Western knife. This is a workhorse not a laser.
The second, slightly less important takeaway is that it's handmade and likely designed by a big-name Polish EDC designer. I think some of that is represented in the price. I think this is a cool knife to own, but I wouldn't recommend it to someone who just needs something cheap and sturdy, even if it looks and feels like it fits that category.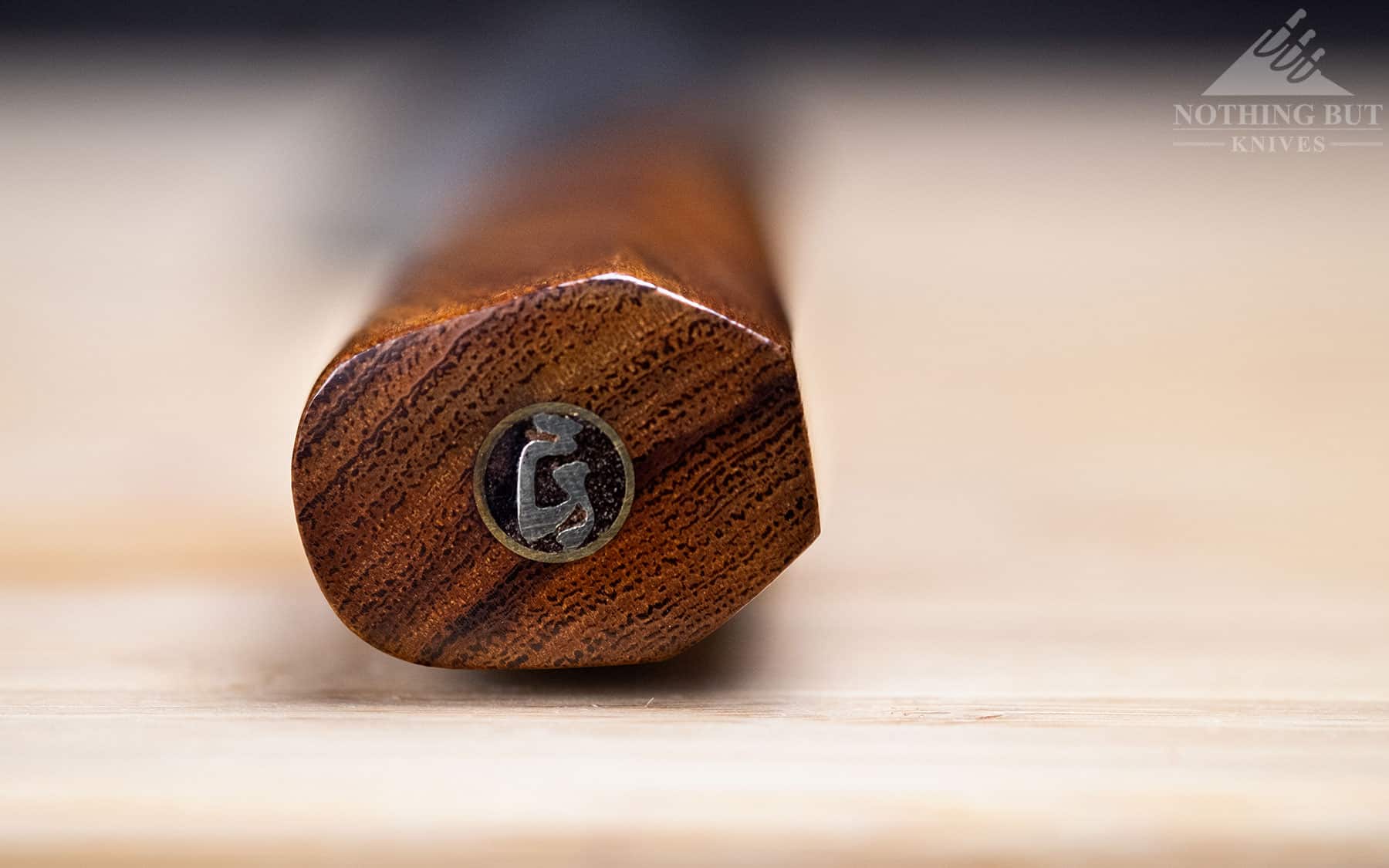 I suspect a lot of dedicated kitchen knife makers will roll their eyes at most things coming out of Xin because it looks like a lot of folding knife jack asses fooling around with a use case they don't fully understand. But speaking as a collector and a writer in the knife community, Xin Cutlery is a breath of fresh air in a portion of the production knife world that has been sorely lacking in originality for a long time. Almost all their designs look different and fresh.
Bestech is one of those companies that can make budget materials feel like driving a sports car. If even half of their ability with EDC knives translates to making kitchen knives, Xin Cutlery is a welcome new face to the kitchen side of this world. And I'd say this knife shows that a lot more more than half of that ability is showing up in the kitchen.