A Tactical Spear Point Knife that's almost a Folding Dagger
So this thing is lethal.
You could say that a four inch spear point blade is good for a lot of different things, but when I look at this knife there's always one thing that comes to mind before anything else. This is a purebred stabber.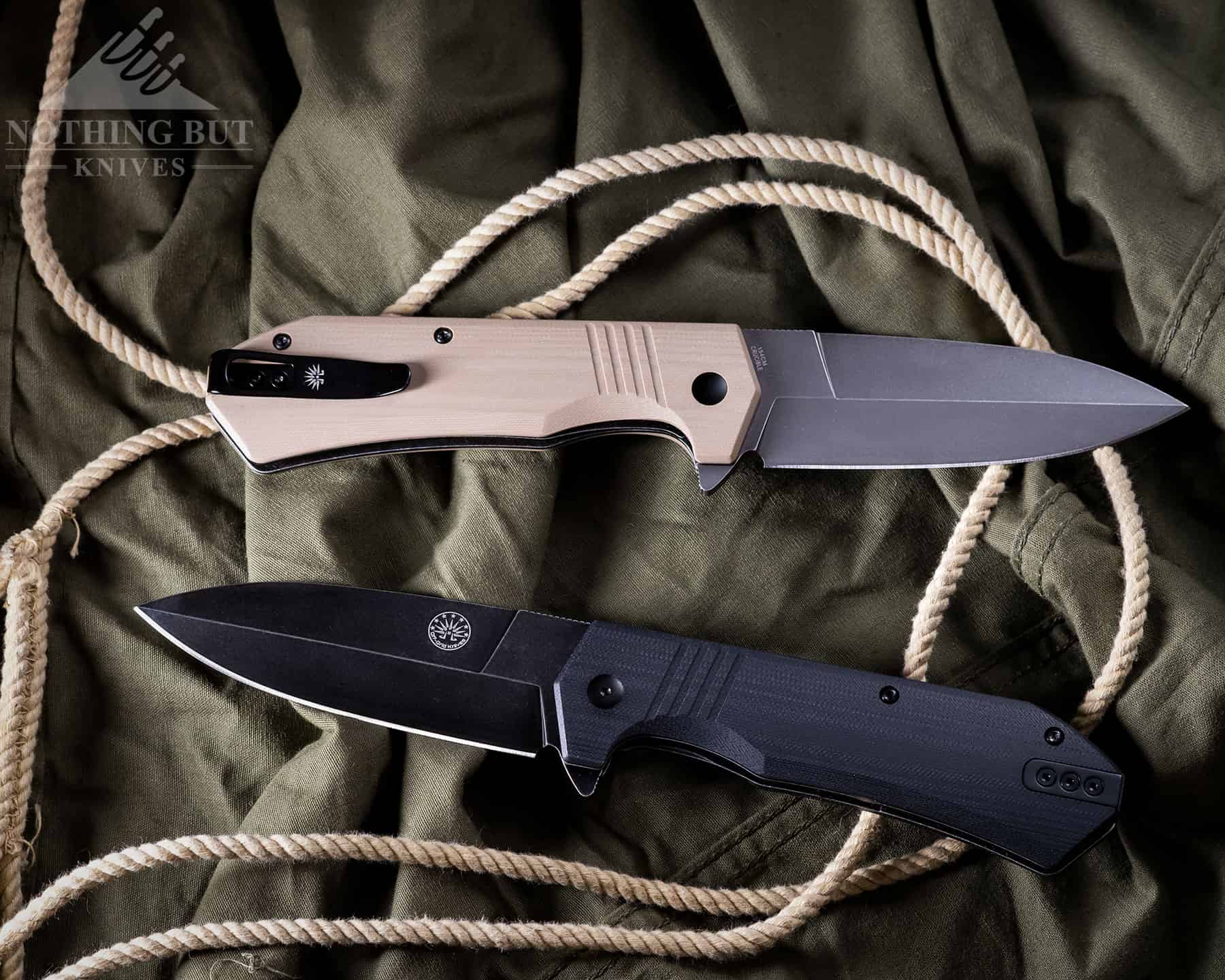 That said, it's a thin blade with a nice edge and a big handle that offers a ton of control, so there's a lot of room for more mundane utility. I will talk about some of that utility, but sometimes you just need to make room by addressing the elephant in the room first: This is a pointy tactical folding knife made for pointy tactical folding knife things.
Specifications
| | |
| --- | --- |
| Overall Length: | 9.25" |
| Blade Length: | 4.0" |
| Blade Steel: | 154CM w/ DLC coating |
| Hardness: | 61 HRc |
| Open System: | Flipper |
| Blade Thickness: | 4 mm |
| Blade Shape: | Spear point |
| Blade Grind: | Flat |
| Handle Length: | 5.25" |
| Handle Material: | G-10 (black or coyote tan) |
| Lock Type: | Liner |
| Weight: | 7.1 oz (201 g) |
| Made in: | Taiwan |
Pros
Excellent geometry for poking things
Full ambidextrous
Technically thick blade, but has a slicey, thin edge
Comfortable handle with room to spare
Cons
Big, overbuilt handle can be cumbersome
Feels pretty big in the pocket
Clip is almost too good at staying in the pocket
The Missile Design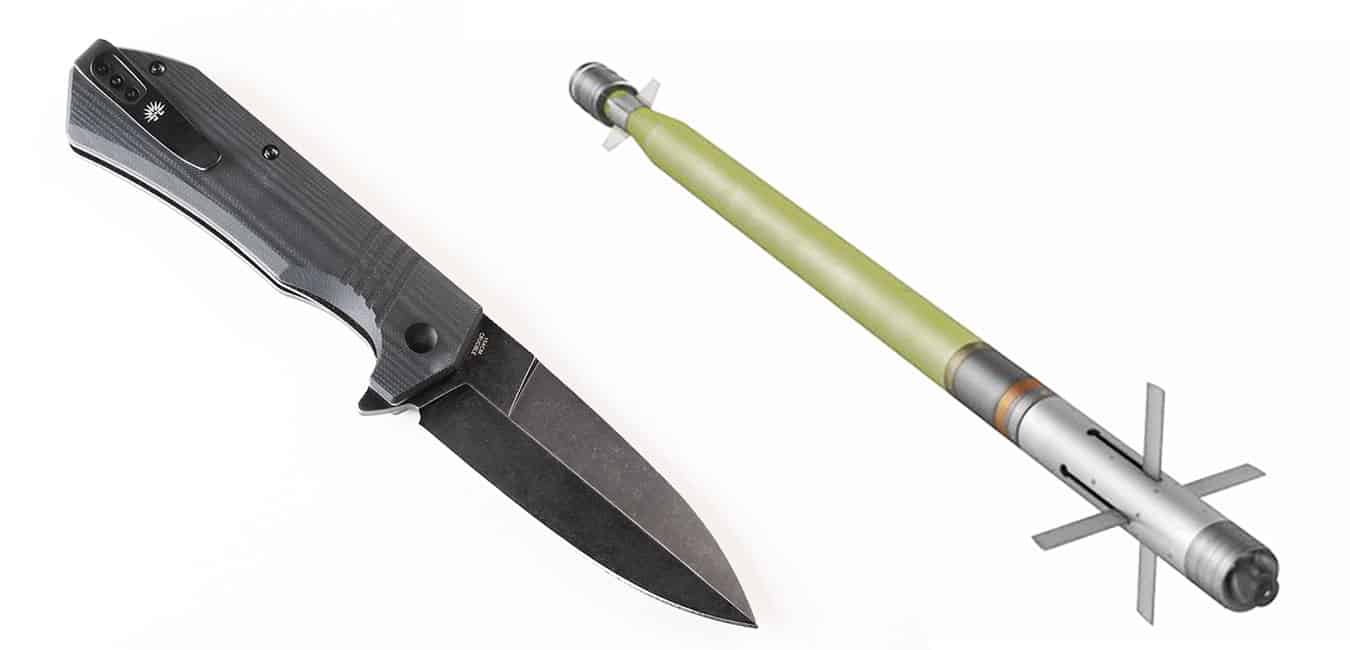 According to Off Grid, the inspiration (or maybe aspiration) for the design is the FIM-92 Stinger missile.
The funny thing is that if you were to put both the Off Grid Stinger and an actual Stinger missile in front of someone with no context they might say the knife looks more like a missile, and the missile looks like some kind of metal baseball bat with fins. In that sense, I don't think Off Grid took much in the way of design language from the missile for the knife exactly, but I'll be damned if it doesn't give me the feeling that I'm carrying a tool with a warhead in the tip.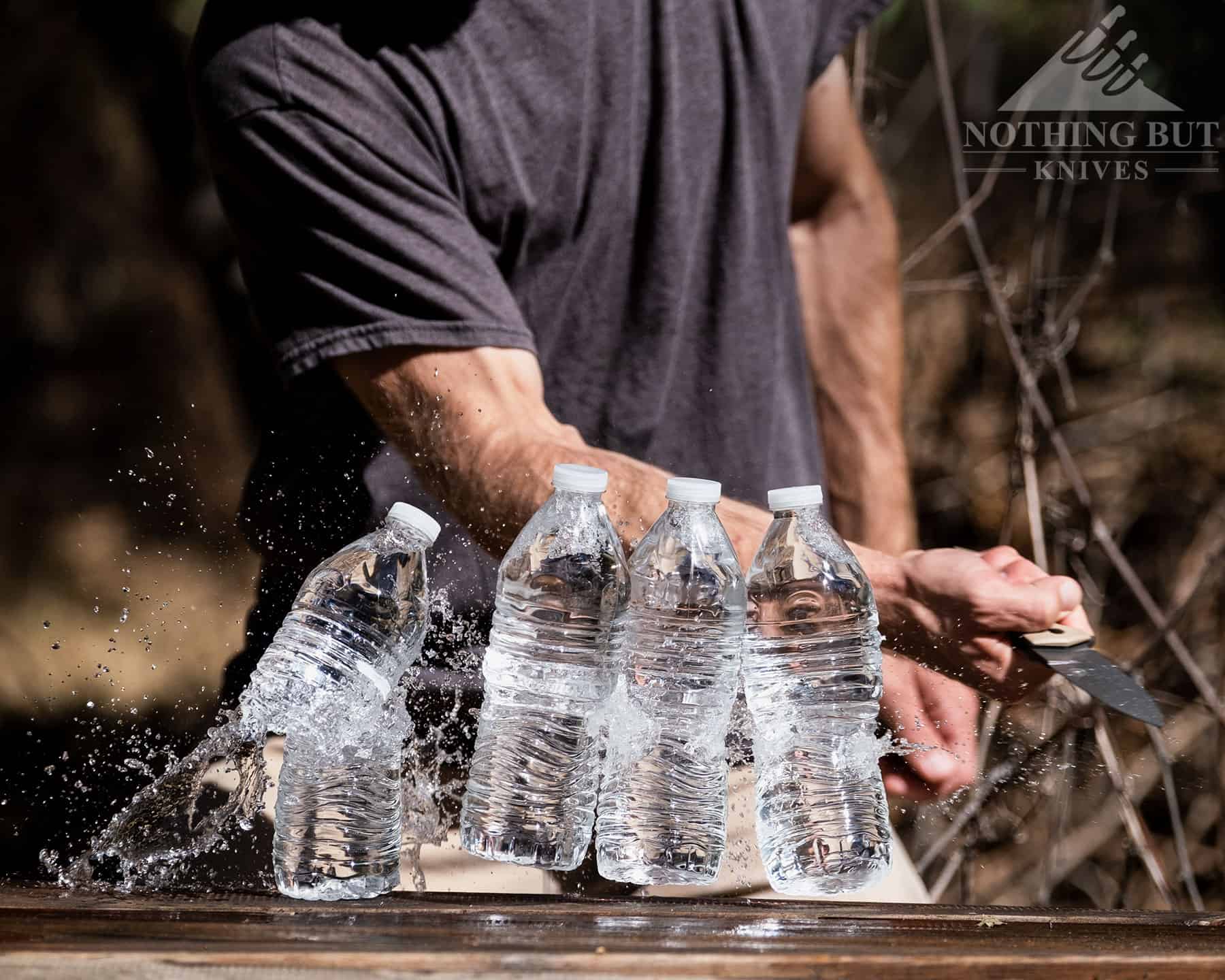 The more familiar analogue (at least for me) is the Off Grid Enforcer. Shape-wise, the Stinger is basically the Enforcer with a spear point blade. I'll be contrasting the two throughout this review, but in terms of design and intent, I like that we now have two similar options that end up covering very different tactical movements through little more than changing the angle of the cutting edge:
The Enforcer lends itself to movement and disabling; the Stinger is geared more toward precise impact. You enthusiasts out there are welcome to discuss the more specific pros and cons of those blade shapes in certain situations without me.
The Blade is Pokey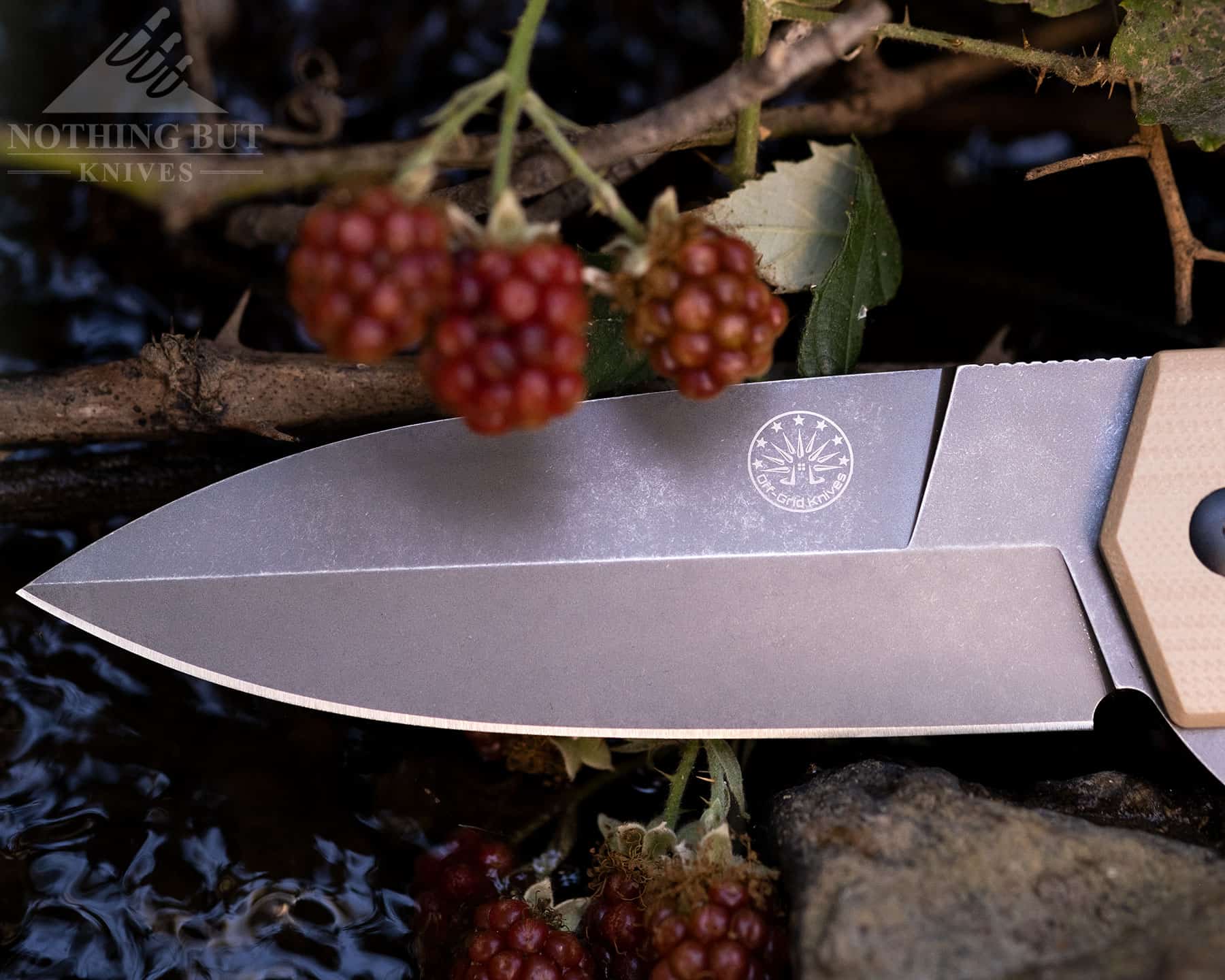 This is a big, thin blade with one hell of a bite. It's also a fairly complex design for a spear point. While they've only sharpened one side of the blade, they put a steep enough primary grind on the other side that you could conceivably grind the spine into an edge.
That would be an incredibly stupid thing to do with a pocket knife, but my point is that they dedicated this design to a dagger shape as much they could. The specs say this blade is 4 mm thick, but I never feel that thickness when I'm using it because every angle of it is in a smooth, gradual taper and long blade that's about one-and-a-quarter-inch tall at the heel.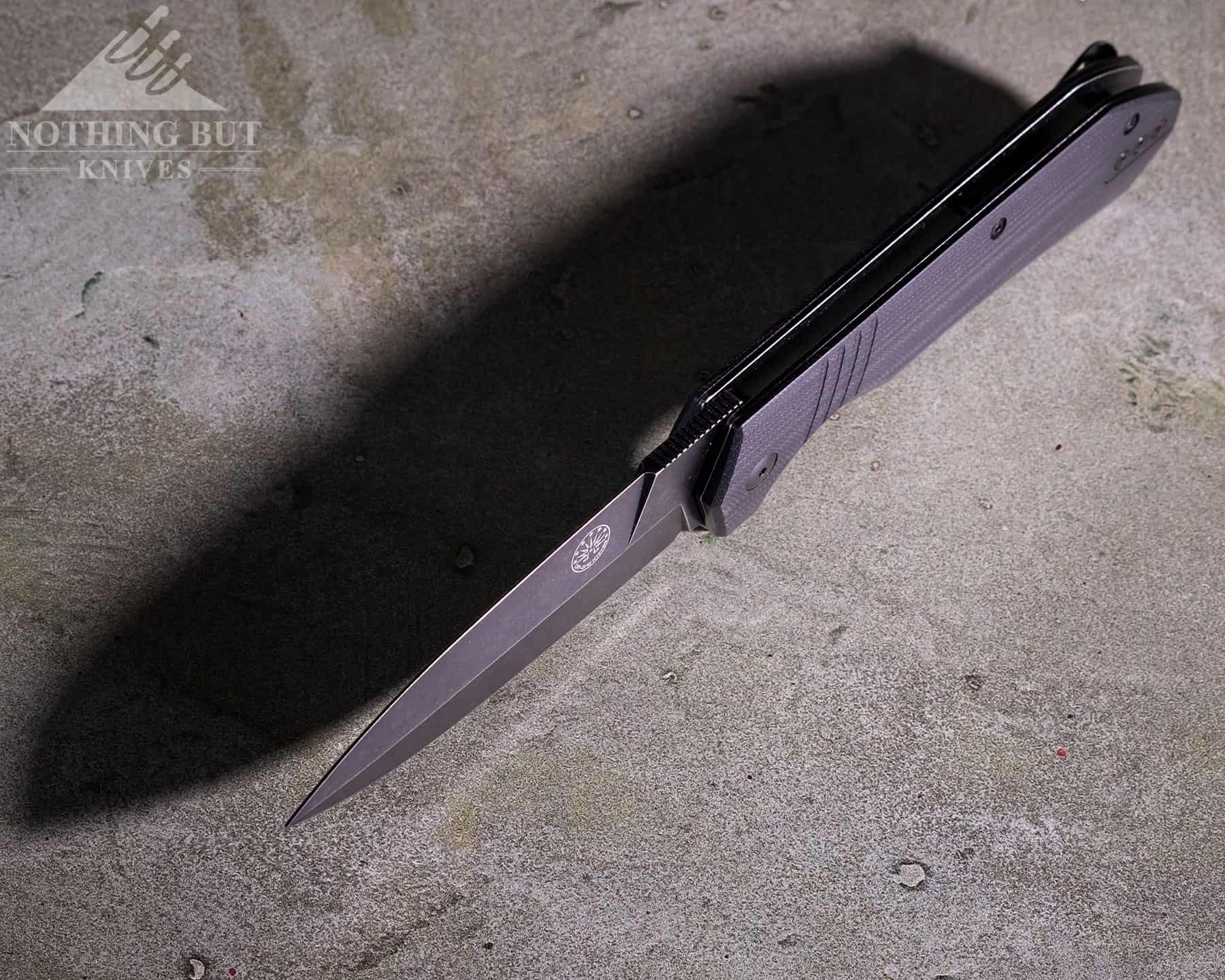 I ran this through some… let's call them poking tests… along side a few other knives like the Off Grid Caiman and the Buck GCK (I didn't have another dagger lying around, unfortunately), and the main thing that stood out to me most after I had worn out my supply of old shirts, jeans, and cardboard boxes, was that the Stinger cuts and punctures with very little effort. Not just very little effort compared to other knives. It just doesn't take much force at all to get this to cut free-hanging cloth, and poke through almost anything up to the hilt.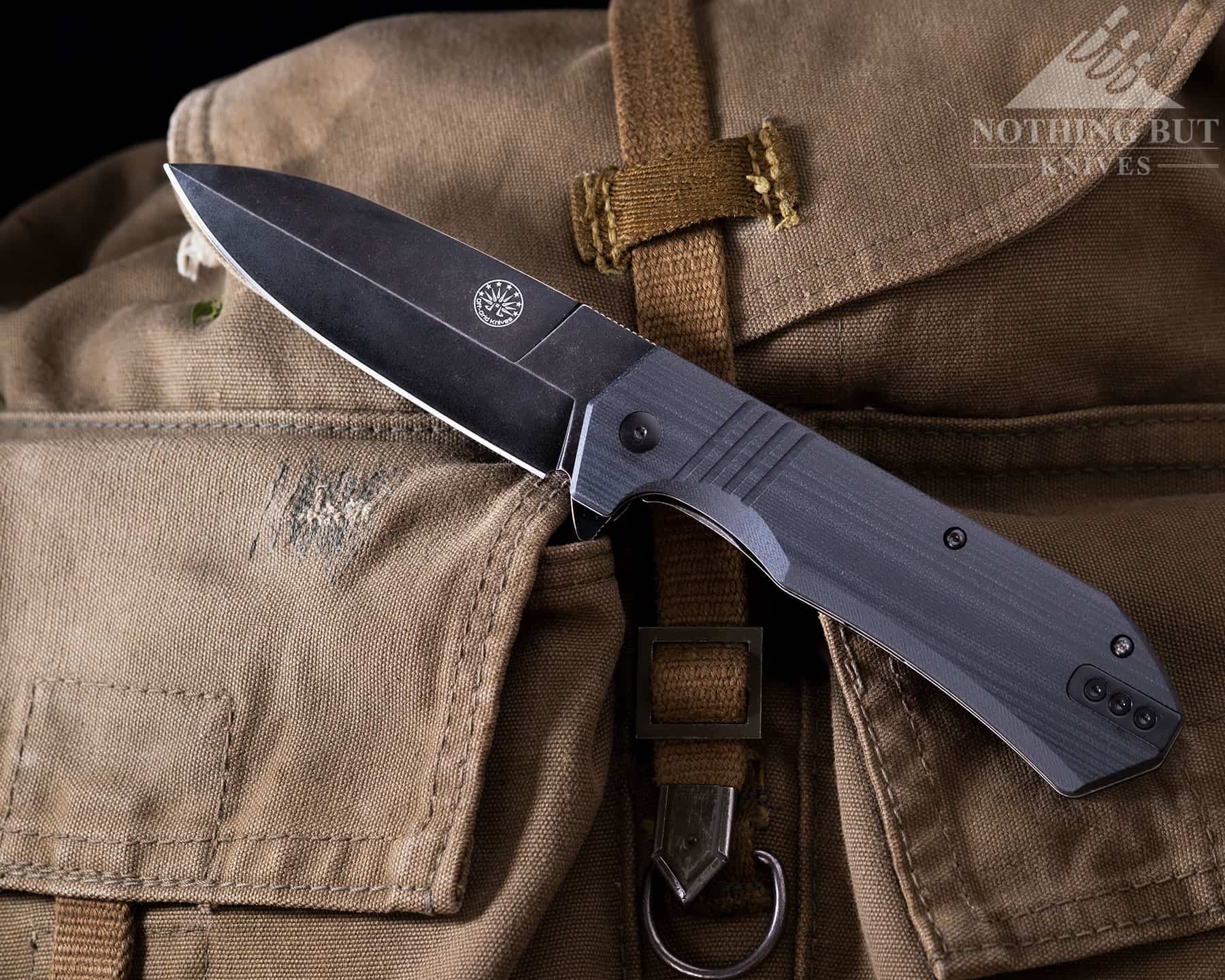 If you take almost any other knife with a 4 mm blade stock and try stabbing it through four or five layers of cardboard pressed together, you'll likely find all the places that slow that blade down or even stop it before you have to put a lot more force behind a thrust. I didn't feel any of that with the Stinger. It damn near feels like using a stiletto.
I'll get into the complications I encountered with the handle and overall ergonomics later, but as far as the blade is concerned, this is a terrifyingly effective design. And as long as all you're fighting is a dressed stack of cardboard, it's also an enormous amount of fun.
Cool Steel and Geometry Stuff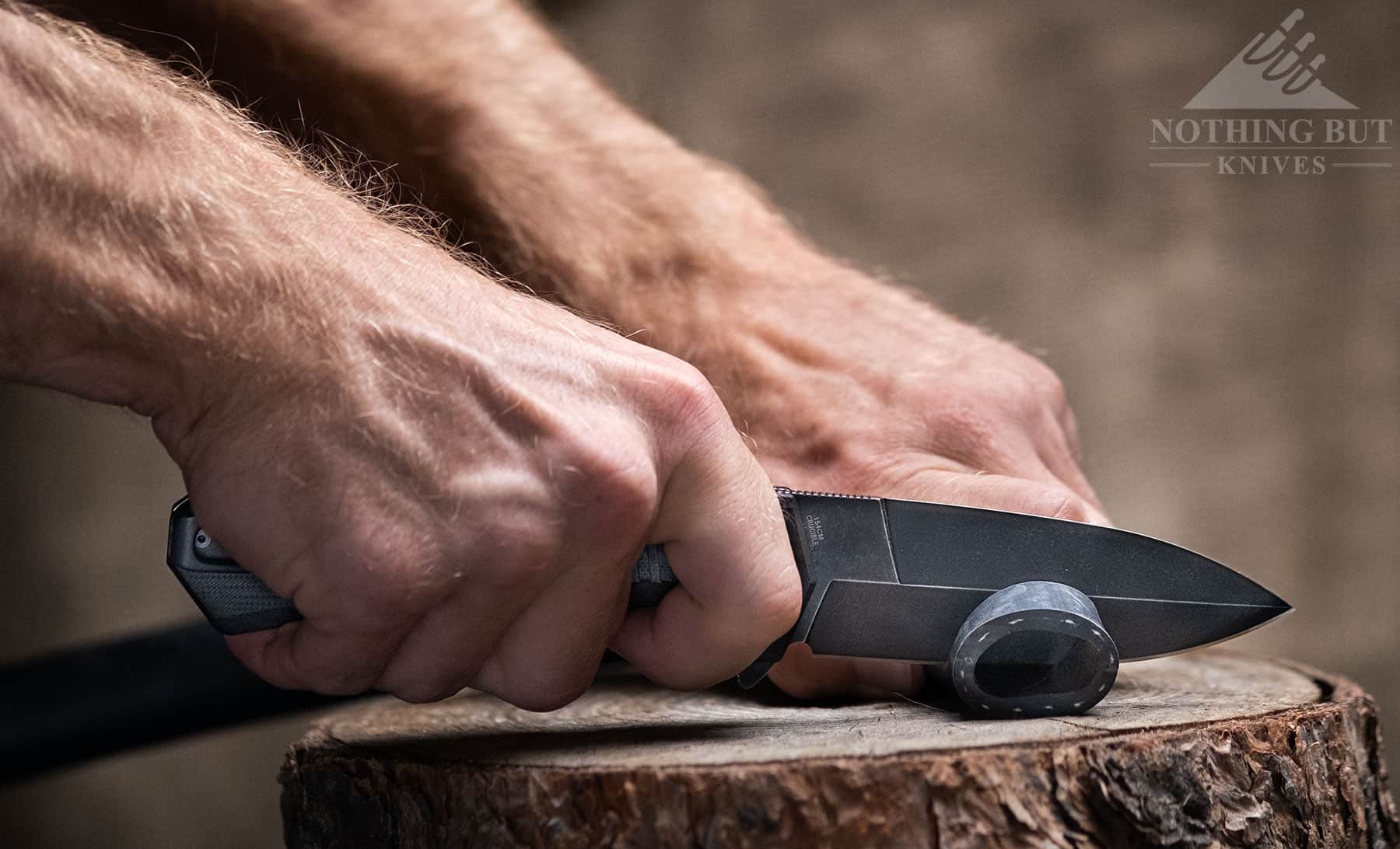 I'm impressed by the edge stability on this. I got a little deformation in the edge after we did our initial round of rope cutting and stick carving, but it cleaned up into hair popping sharpness with twenty passes for each side on a strop.
I had to shave about 50 pieces off a cardboard box before the Stinger started to feel really rough on the paper test, so I'd say this performs at least as well as 154CM at 61 HRC should, and I'd put money on this performing better than most other production knives sporting the same steel.
That's pretty important for a blade that goes this thin, even though the actual stock it's ground from is on the thicker side. There's an enormous risk of chipping for a design like this. After running it through the paces and feeling how it sharpens up, I'm pretty confident in the stability of the edge.
Even if it does chip, though, this blade is so tall that it has plenty of room to reprofile and thin out the edge. There's an enormous potential for longevity in this design solely from the fact that most of the blade is already thin and easy to work with.
Handle Texture and Grippiness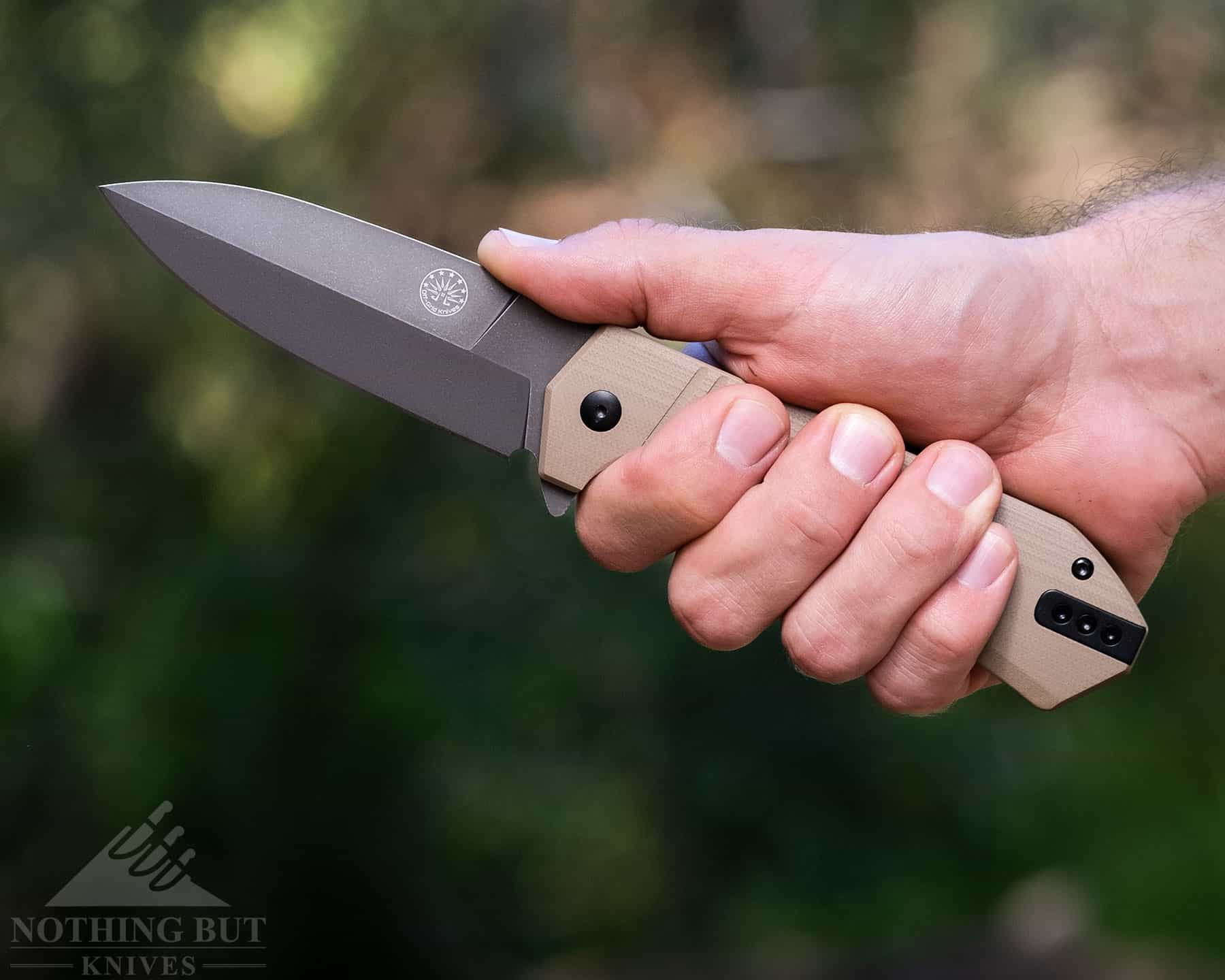 This is a handle with room to spare. The Stinger has the same big-handed ergonomics as the Enforcer XL. Like I said before, they have pretty much exactly the same handle cut out, but their textures create pretty distinct feelings.
Both knives have G-10, but the texture on the Enforcer is so aggressive it almost feels like steel.The Stinger's scales are very lightly textured in a way that's kind of clingy but can almost feel slippery if my hands are too cold. It still has a really secure grip, though. There's so much handle to work with, that even if it was slippery, the overall shape has a long inward curve with a wide butt that does a pretty good job of keeping the knife in place.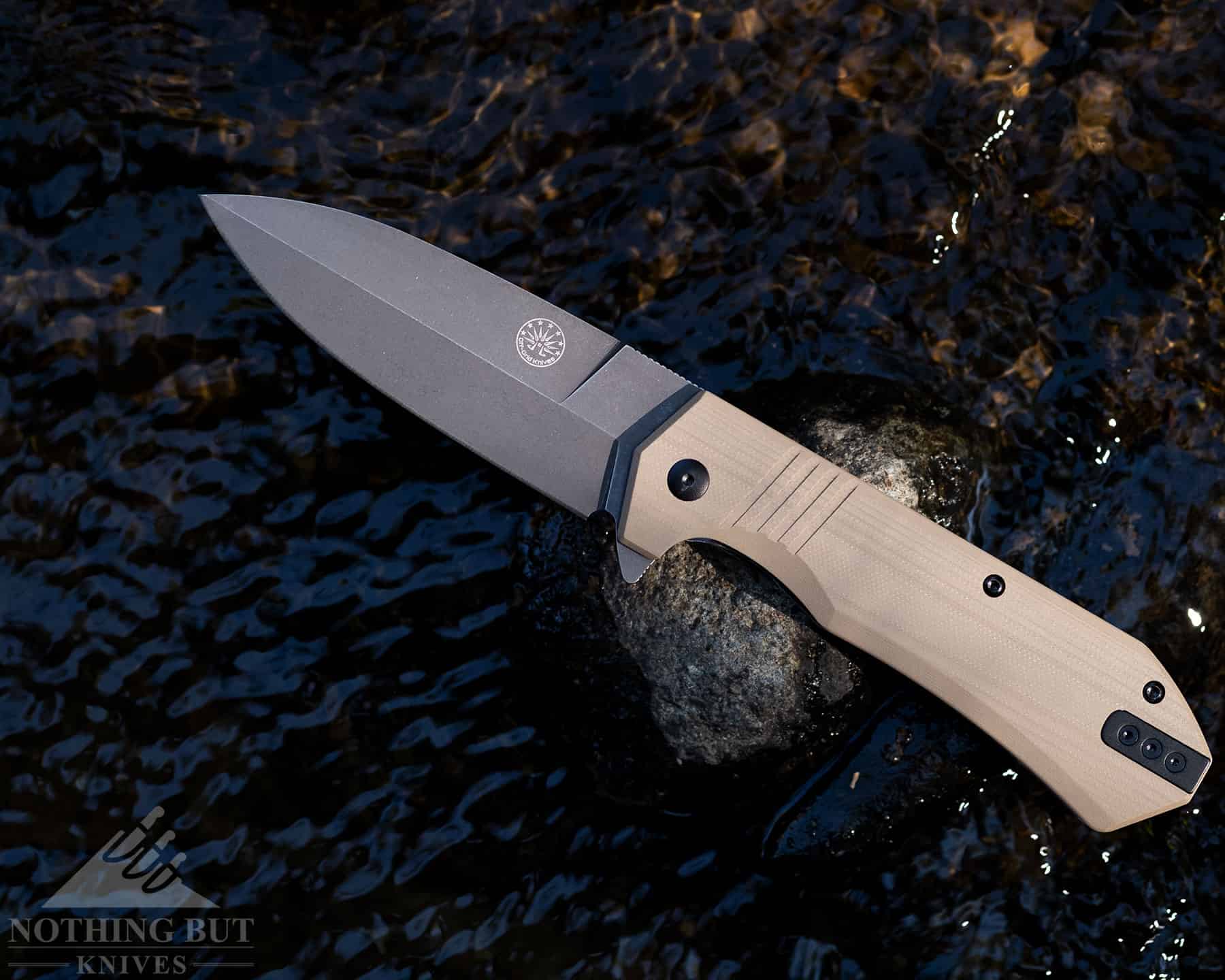 The bit of texturing it does have is pretty effective, although I think I'd like to see another group of grooves lower on the handle, maybe just above the end of the pocket clip, but I've been keeping a sure grip without that.
I really like the jimping on the big chunk of steel at the back of the blade. It almost looks as subtle as the jimping on the Off Grid Ridgeback, but it gives a lot of more traction. It's a pretty pivotal little piece of the design for doing a lot of utility tasks like cutting cardboard and carving up wood.
The Hugging Pocket Clip and Trouble with Fast Deployment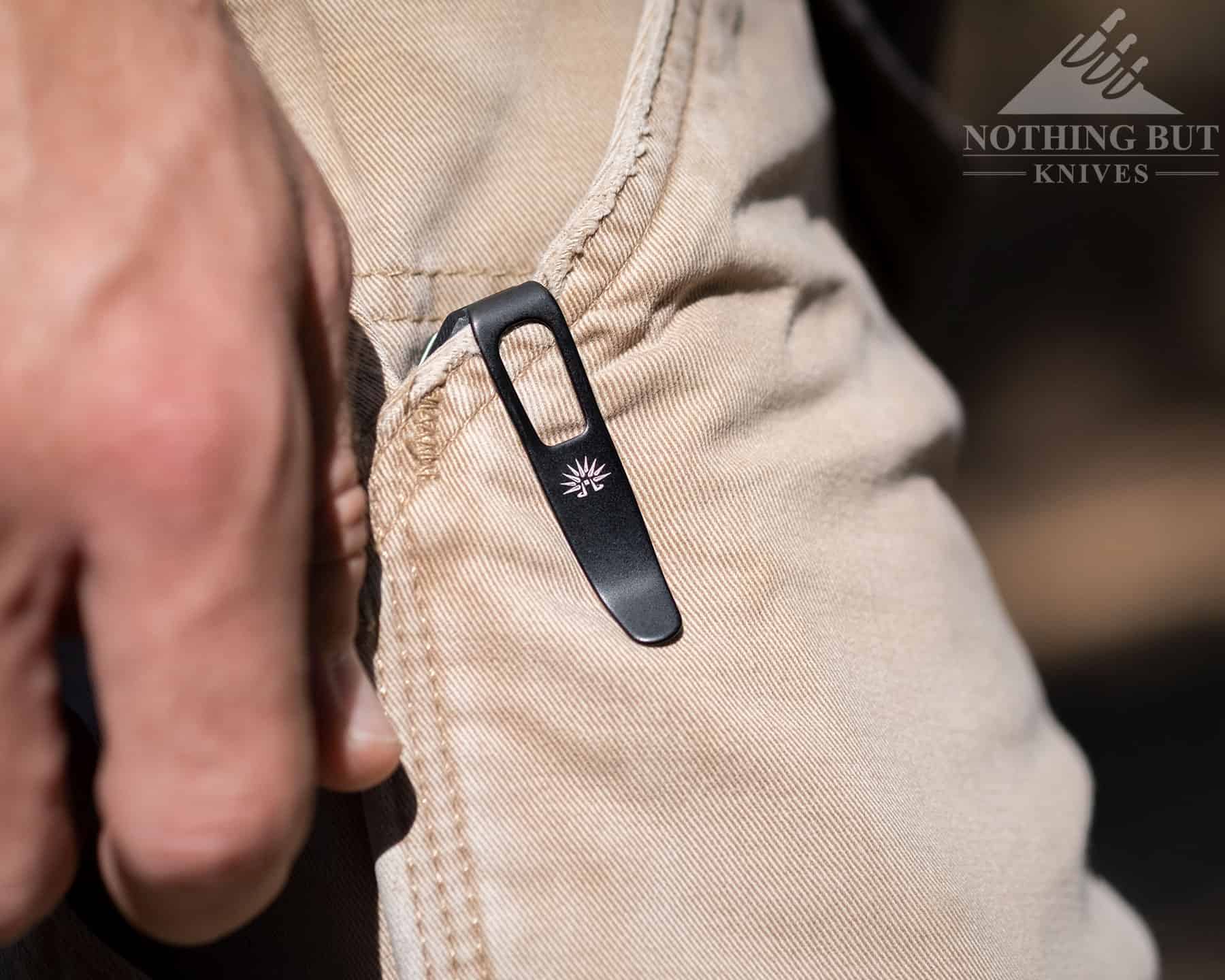 This has a really nice deep carry clip that slides right into the pocket and is shaped just right to curve into my hand without creating a hotspot. It also has incredibly secure retention. It isn't technically too tight, and it rides close to the pocket so there isn't much danger of it catching on brush or doorways or cars. Plus the screws are recessed into the handle so everything is perfectly flush. In that sense I love this as a pocket knife, because I trust it to stay in my pocket, and it feels really smooth going into the pocket.
Getting it out of the pocket is a slightly more complicated matter for me. The clip is a hugger, which is to say that when I go to pull the knife, it doesn't take a lot of pressure for the clip to tighten up on the pocket and make it just a little harder for me to pull the knife free. Tack on the fact the knife overall feels a little too large for my hands, so it's kind of cumbersome to get into a good position to use, and I end up having a pretty slow deployment time with the Stinger.
Bigness and the Big Smooth Action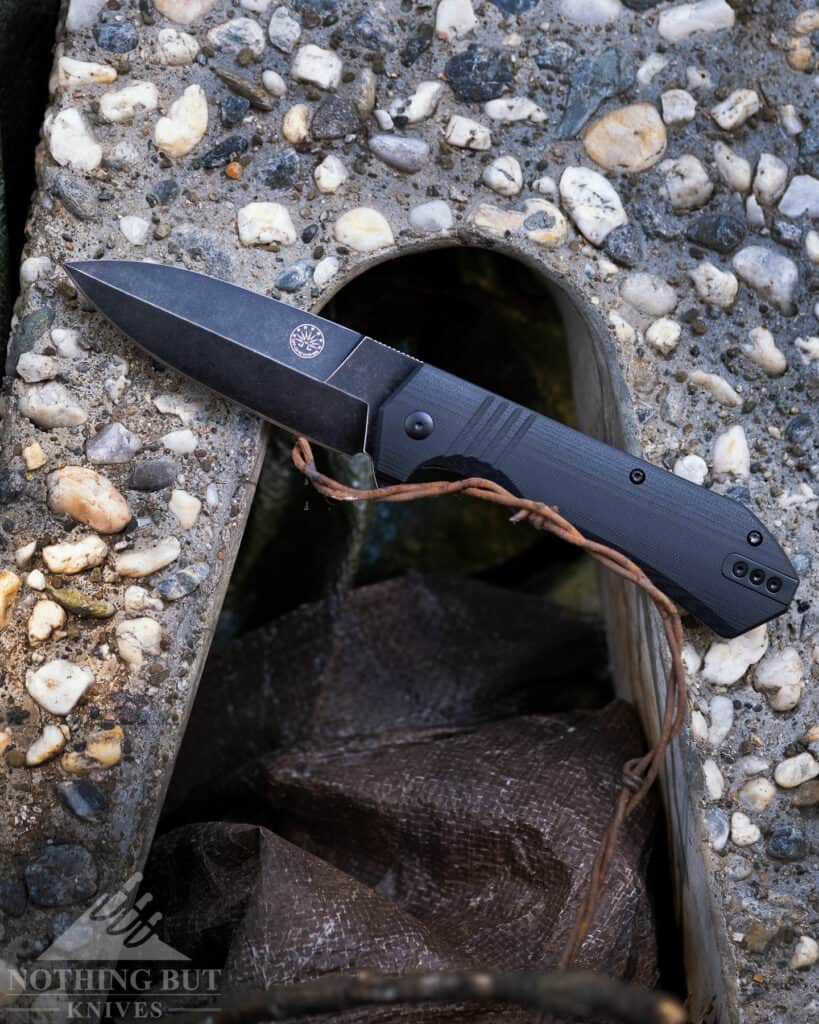 It's always the case with Off Grid's fixed blades and XL folders that the handle is just a little too big for my comfort. The finger indent at the top of this handle is so big it's almost a two finger grip, but not quite, so I end up with my middle finger negotiating around the slight hump in the middle of the handle. The overall feeling is sort of like I'm using a knife from Giant World in Super Mario Bros 3.
They know what their handles feel like, though. That overbuilt bigness is as much a part of Off Grid's design language as eating mushrooms and sliding down flag poles is a part of Mario's mating ritual.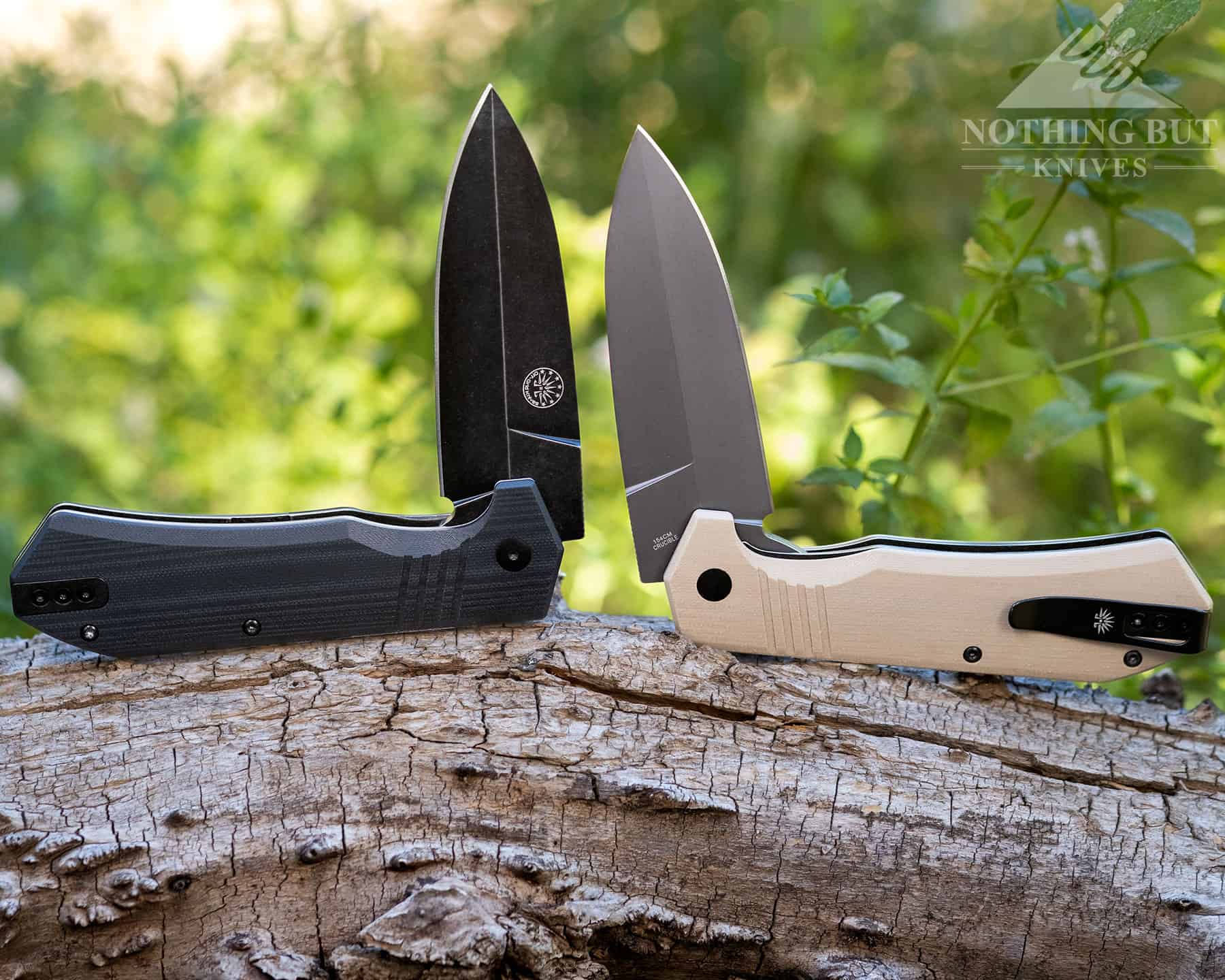 And yet, every time I review an oversized Off Grid knife I feel the need to clarify how large the it feels, and how that will be a really good thing for people with larger hands or compensation issues.
I carry around the Off Grid Caiman pretty regularly. That thing just fits my hand like no other folder in my collection. My brother, who's a bit taller and a couple weight classes above me, happily carries around the Off Grid Caiman XL.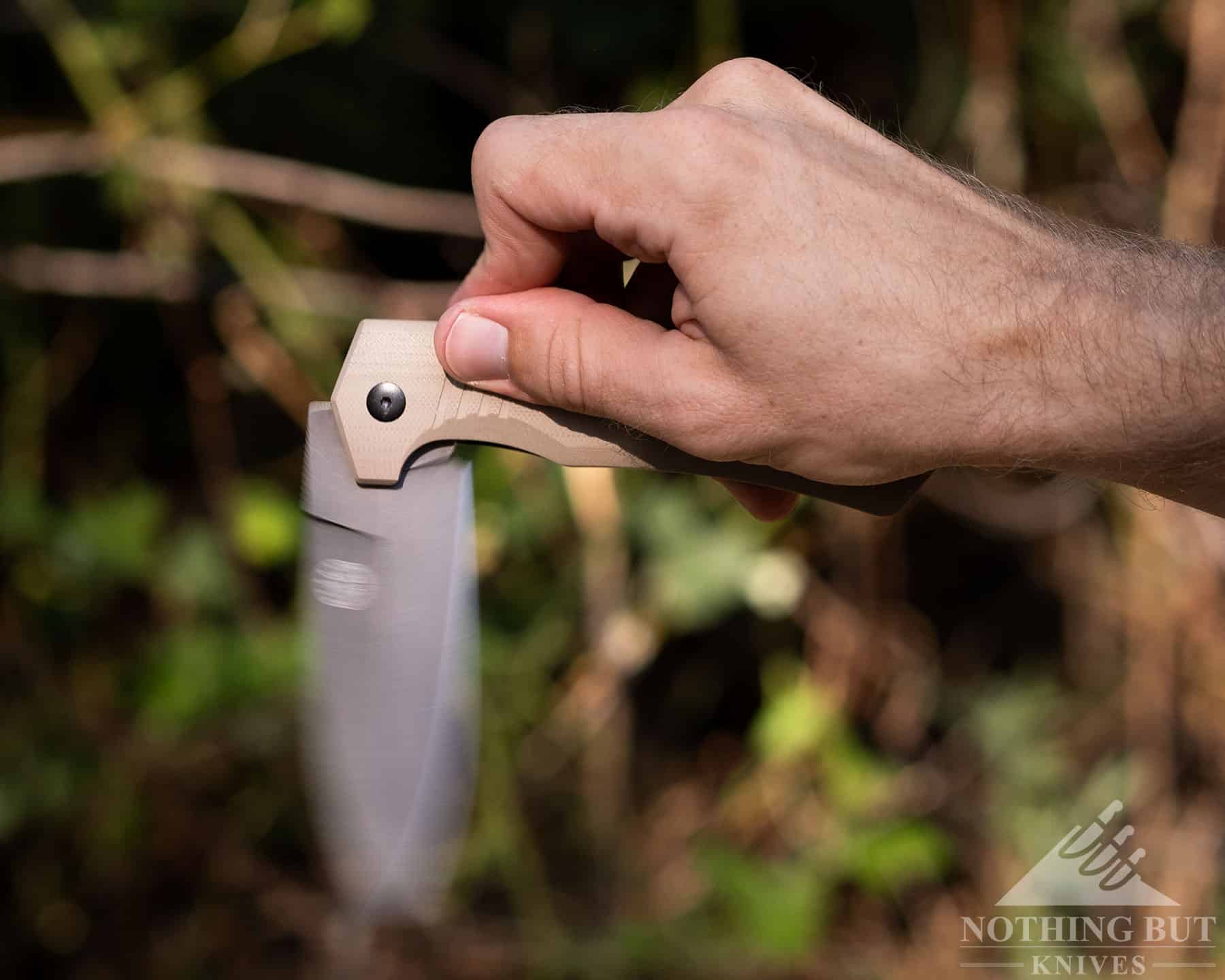 For all their size, the flipping action is super smooth, and the lock up is plenty secure. It takes a lot less pressure to flip the blade out than you'd think, and even though the knife is weighted toward the back in a way that feels a little awkward to me, the heft from the thick liners in this thing add a hell of a lot to the security of the liner lock and overall durability of the knife.
All that to say that the ergonomic issues I have with the size usually disappear for taller folks and anyone who prefers carrying overbuilt knives anyway.
Miscellaneous Functionality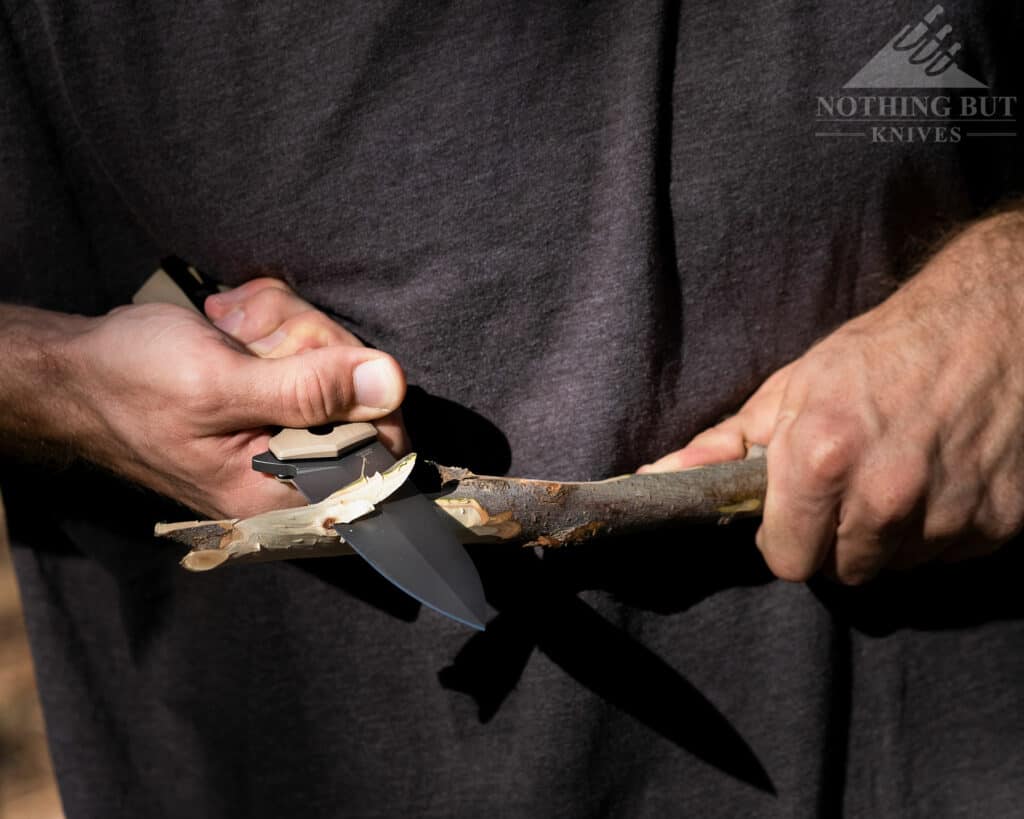 The blade section of this review pretty well covered how well this knife handles cardboard boxes. I broke down three or four boxes for that test and stacked all the layers together to create a target. So outside of stabbing thick stacks of cardboard, I know the Stinger can cut a long, smooth line through any box without issue. But it's a long sharp knife, so that was no surprise to me.
Its ability to cut rope also wasn't surprising. It doesn't take much to get a clean cut. In fact, I can almost cut a rope just by push cutting. It barely needs any lateral motion at all, although a little bit of up or down motion definitely makes cuts quicker and cleaner.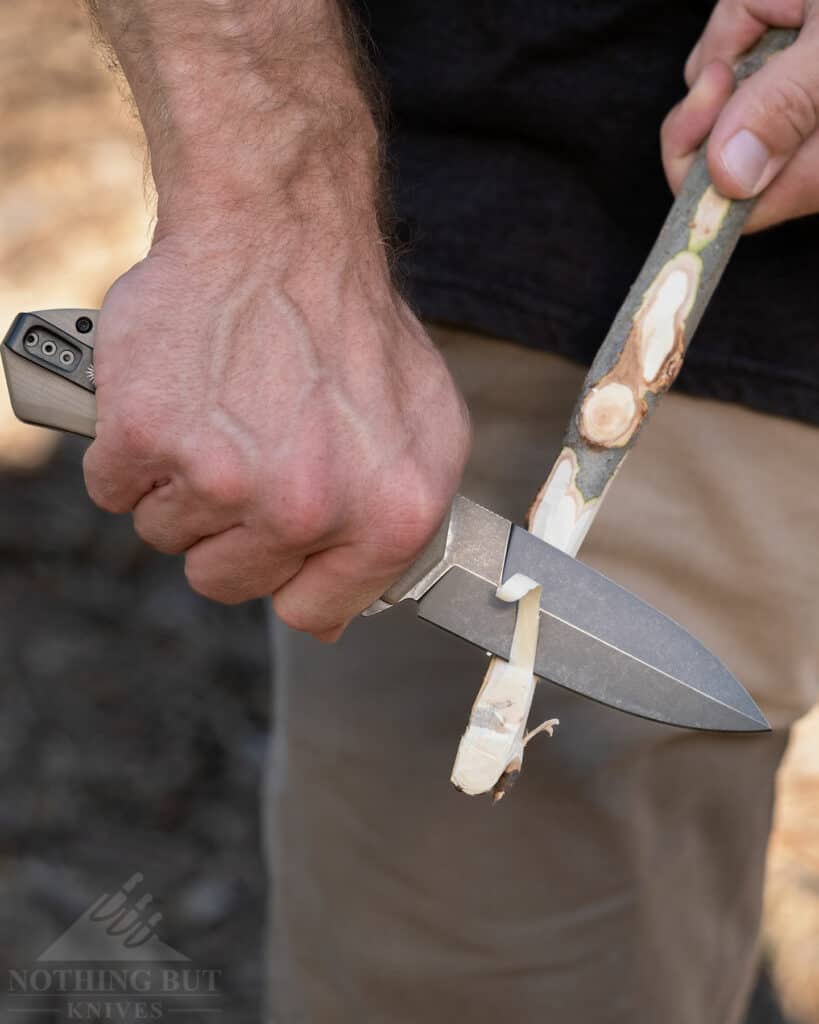 It's a little trickier with wood. Since the edge has such a hard bite, it's kind of hard to control how much wood I'm taking off (although the jimping on the blade helps with managing pressure quite a bit). It just wants to dig and take off big sections, and since the grind is so thin, it's not so great at working through knots. I got hung up quite a bit. I'd use this to carve up a quick marshmallow stick, but it wouldn't be my first choice to have around the campfire.
Comparison and Alternatives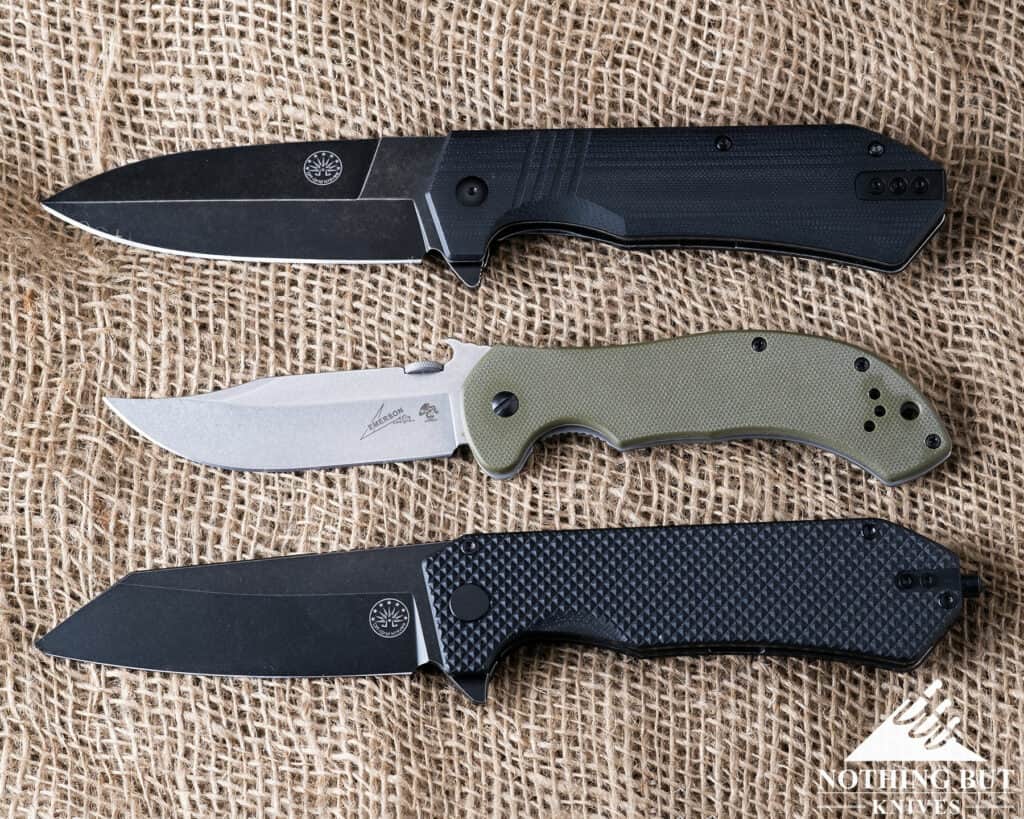 There are a lot of good alternatives under the Off Grid name. I already mentioned the Enforcer. That's a really cool option if you just want a different blade shape (just keep those aggressive scales in mind).
I also mentioned the Caiman. I would actually offer that as another excellent tactical knife with the option to go smaller, and with a handle shape that I find quite a bit more comfortable.
Venturing outside the Off Grid name, though, we have your standard tactical recommendation: the Emerson CQC-10K. If you pick one up from Kershaw you're looking at something that's half the price, and if you look long enough you can find a version with a spear point blade. The steel is much softer, though, and frankly I think Off Grid puts out knives with better edge geometry overall. Still, the CQCs are always worth considering.
Conclusion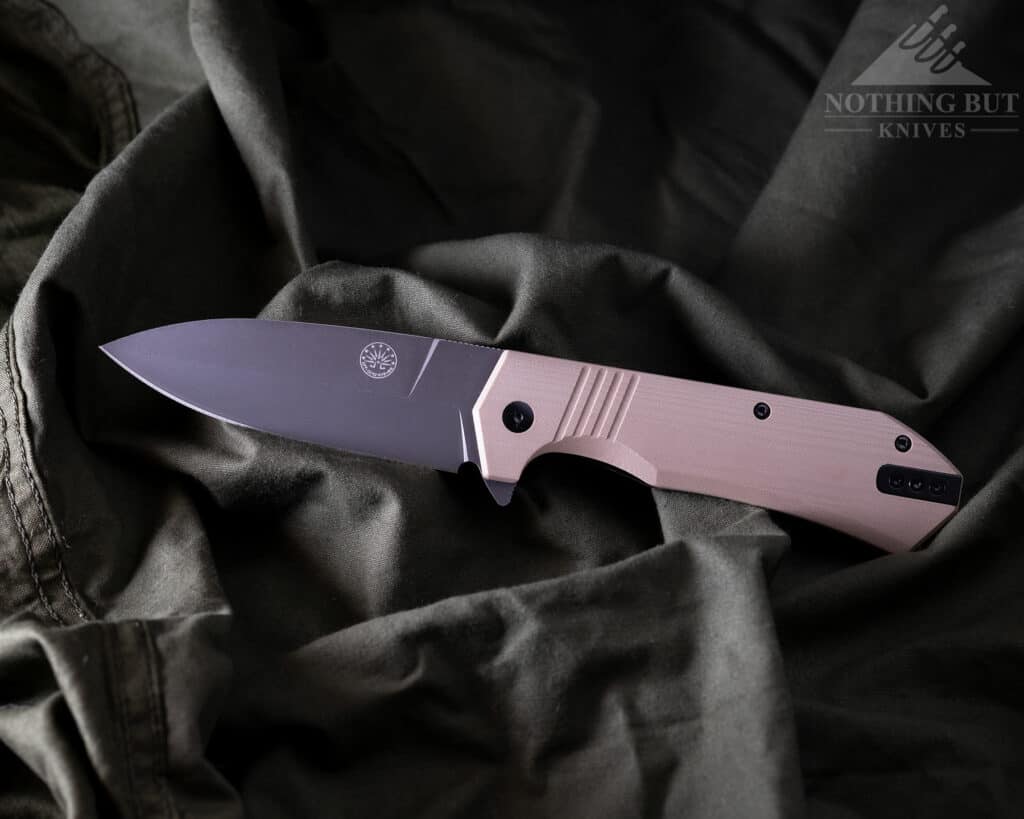 The Stinger XL has a couple strong things going for it as a tactical knife. One is that it's just intimidating. It's big and has a clear purpose-built design. The other is that it isn't just looks. It is terrifyingly good at poking into the things, and cutting other things open.
It also has a ton of other utility thanks to the size of the blade and the quality of the grind. There's plenty of flat section to the cutting edge that the dagger-style tip rarely even has to come up in day to day use. If you carry this thing, you will find a use for it.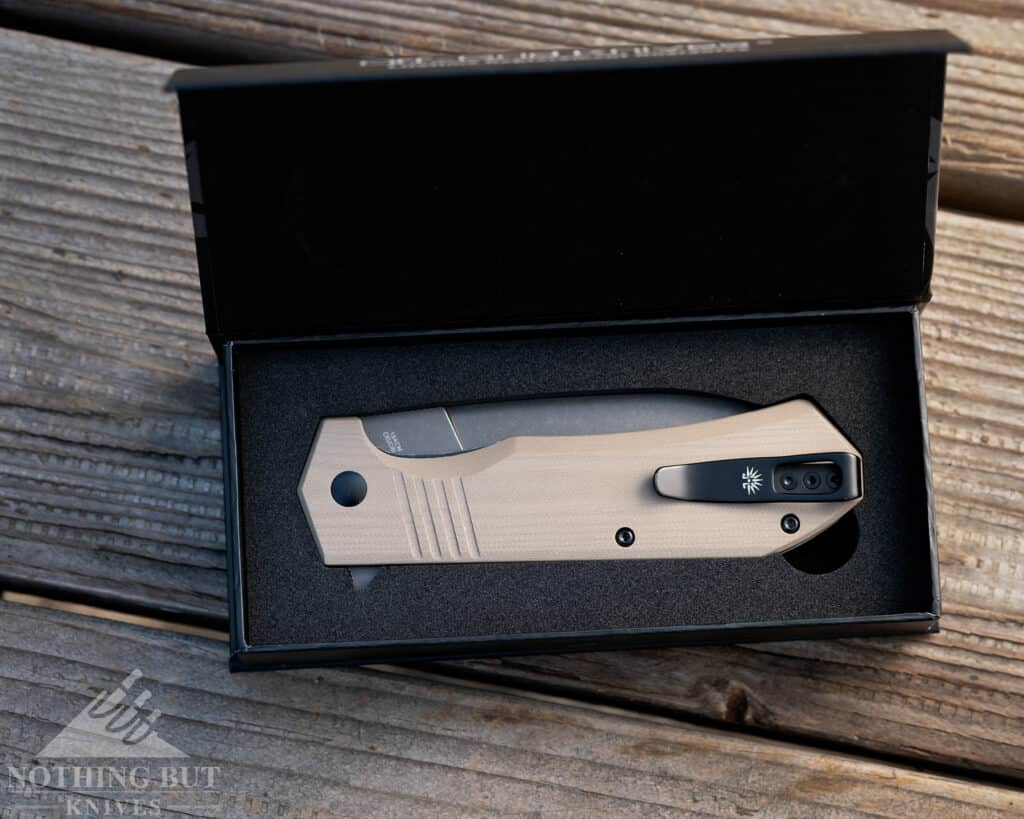 It's just you have to carry it first. I'm a little guy. I have to buy little-guy pants and use tools with my little-guy hands. I can appreciate this design, and I'd recommend it to anyone closer to six feet tall looking for a big, pointy tactical folder.
In the meantime, I'll be waiting patiently in my booster seat for the hobbit-sized version.