The Tactical Outdoor Knife that's Mostly Tactical if We're Being Honest
I'm always uneasy about reviewing knives that look like this: which is to say, like something you'd see in a Call of Duty game. I can never get past that fear of reading a headline about someone who accidentally fell on their new Buck GCK because they thought they "could run faster with a knife".
So I say this with an extreme sense of caution: The Buck GCK is an incredibly tactical knife.
As per Buck's press release when they announced this knife, the GCK design was meant to be used for tactical and outdoor utility situations, and put through field testing by military operatives.
I am not a military operative. I'm a drunk who does stuff in the woods and occasionally has strong opinions about the knife industry's obsession with the word "tactical".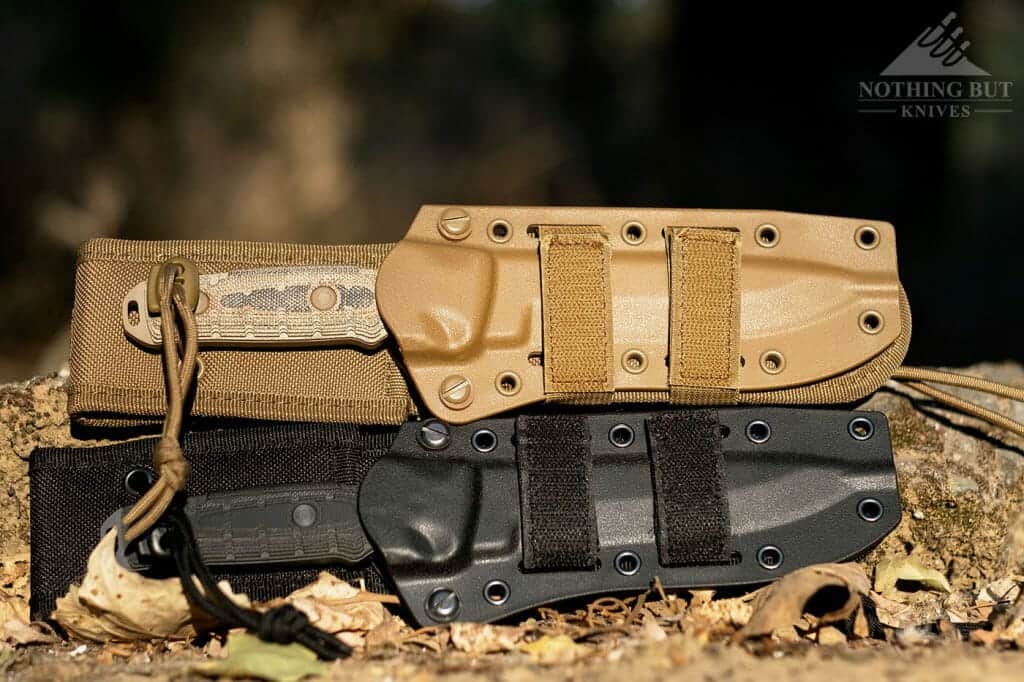 That said, this knife is cool. I'm going to say a lot of stuff about how it's useful in a lot of different ways: it can chop and slice and keep a surprisingly stubborn edge despite being made from a spring steel. But the base truth of it is that the attraction of the GCK for me is that it's cool in a 12-year-old-playing-in-the-backyard kind of way.
I've said something similar about the Browning Battle Bowie, but while that "knife" is a blast to swing at trees and ropes like a pirate on a boarding party, the GCK has a terrifying kind of utility to its design that should be sobering to more responsible adults.
It's the kind of knife I would have accidentally poked myself with when I was younger because I thought it would make me run faster.
2022 UPDATE: The GCK line was discontinued around mid 2021. I haven't heard why, but I don't think it's a materials or labor thing because they're still making the Compadre and the Froe. Also it was the Buck of the Month knife in February 2022, so I'm still holding out hope it will come back someday. In the meantime, you can find some similar options down in the Comparison and Alternatives section of this article.
2023 Update: We finally had a little talk with someone at Buck, and it turns out the handle was just too beautiful for this world. It took a lot of time and machining to make this knife, and it just got to be too much for Buck's workflow. Knowing that now, it doesn't seem likely they'll bring it back in anything like its original form. RIP, GCK. We'll miss you.
Specifications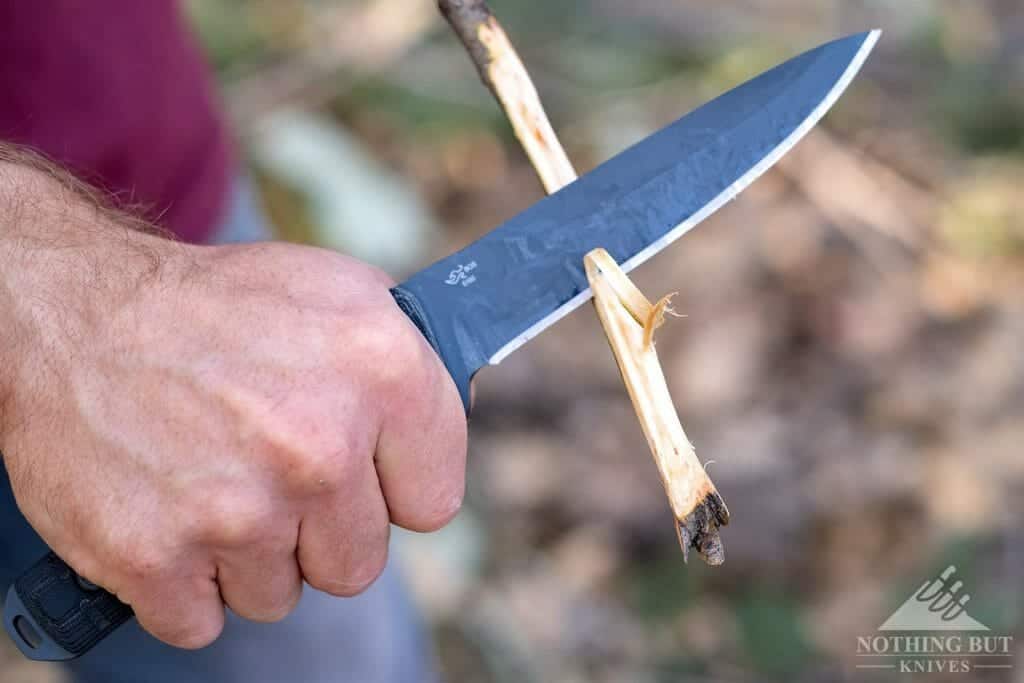 | | |
| --- | --- |
| Overall Length: | 10.5″ |
| Blade Length: | 5.5″ |
| Handle Length: | 5.0″ |
| Blade Steel: | 5160 |
| Blade Grind: | Flat |
| Blade Style: | Spear Point |
| Handle Material: | G-10 or Micarta (depending on color) |
| Knife Weight: | 9.62 oz |
| Weight w/ Sheath: | 15.6 oz |
| Sheath: | Polypropylene w/ nylon MOLLE back |
| Made in: | USA |
| Price Range: | $120 – 125 |
Pros
Highly versatile sheath
Tough, well-tempered steel
Comfortable handle and good ergonomics
Cons
Bulky sheath
Aggressive texturing can be hard on bare skin
A Tough Blade and Surprising Edge Retention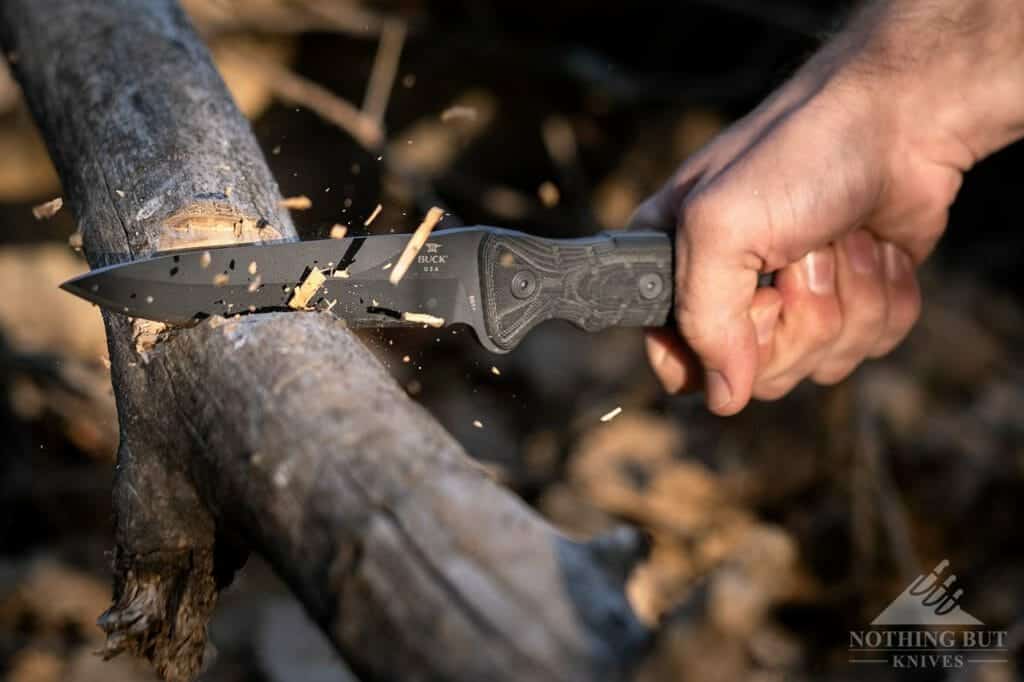 If any knife will convince the steel purists that 5160 tool steel is worth a damn, it's this knife. The Buck Compadre makes a good case too, but the grind on that knife is a lot thinner and more prone to rolling. I've found it takes a lot more effort to do any kind of damage to the GCK's blade.
I didn't think to do a paper test with it until after we'd already taken it into the woods and chopped the days away, so I was surprised when I came home and cut clean through a piece of paper without even stropping the GCK. I did finally roll the edge after we did some more batoning and chopping on some stubborn oak logs, and it took getting thrown against a chain link fence for the tip to flatten a bit (this was after several mostly successful attempts at throwing it into a tree; I wasn't just throwing knives at fences for no reason). Fortunately one of the perks of 5160 steel is that it's easier to fix up than most other steels.
I think the real strength of the blade comes from the fairly wide flat grind, though. It's sitting in some golden range that makes it great at slicing, but still strong enough for a lot of utility tasks. It doesn't perform as well at chopping as some knives, but the weight of the blade helps make up for that, and it can cut pretty cleanly through thinner branches and ropes, especially if you can consistently hit with the top part of the blade.
That's not to discount Buck's heat treat. Paul Bos might be retired, but the performance of this blade is pretty strong evidence Buck has retained some of his genius. I won't pretend to know exactly what Buck has done to 5160 to make the edge so manageable, but whatever they're doing to this stuff is working.
A Grippy Handle with Consequences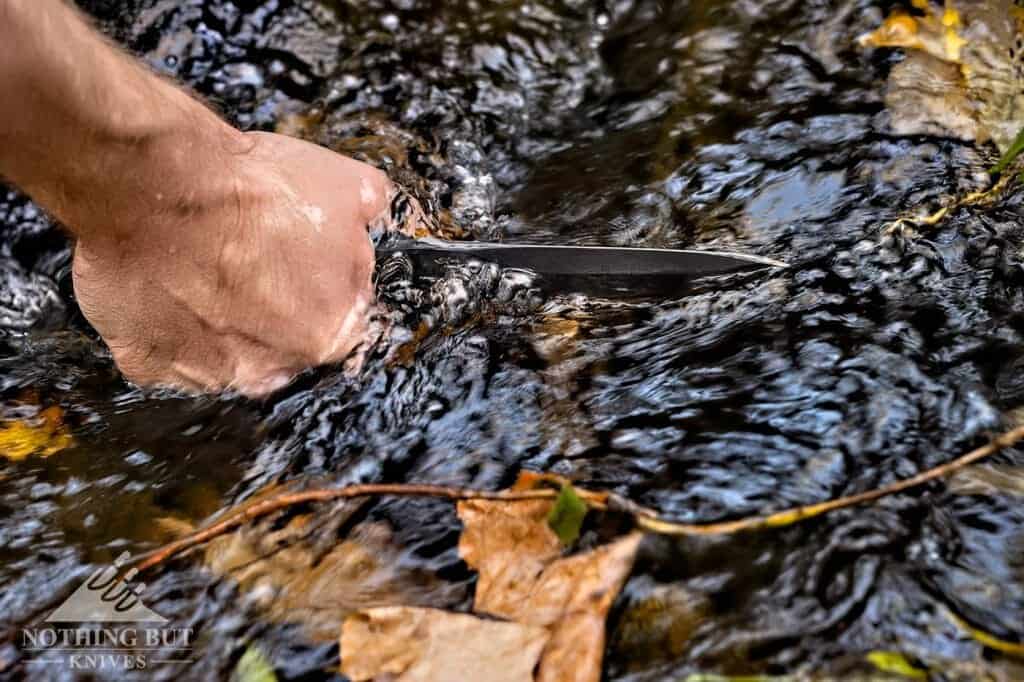 This is one of those knives that fills you with an endless feeling of possibility when you pick it up. The balance and weight of it sit in your hand in a way that just makes you want to go out and do stuff.
The only problem I've really encountered is that the texturing on this handle is a little rough on tender skin, and putting it through heavy use with bare hands can have some consequences. I walked away from our first day of testing with more than a few blisters, but it's possible that's because we had just come out of our writing holes with a new round of knives, so I was chopping with a pair of keyboard hands that had just shed their calluses.
Aside from the rough texture, though, this knife doesn't have anything in the way of hotspots. It has just enough of a finger groove to secure the grip, and the spare outcrop of hand guard at the top of the handle is a nice example of the kind of material efficiency that other tactical designs should really take a note of.
Part of me wants this knife to have a handle material a little more like the Compadre, because that still sits in the high range of the most comfortable fixed-blades I've ever used. But I have a feeling Micarta scales like that were vetoed in design because it's a lot harder to clean (the Compadre still has blood stains from our testing), and, I would hazard to guess, it's possible to have too much grippiness on a tactical knife.
Versatile Sheath with Some Bulk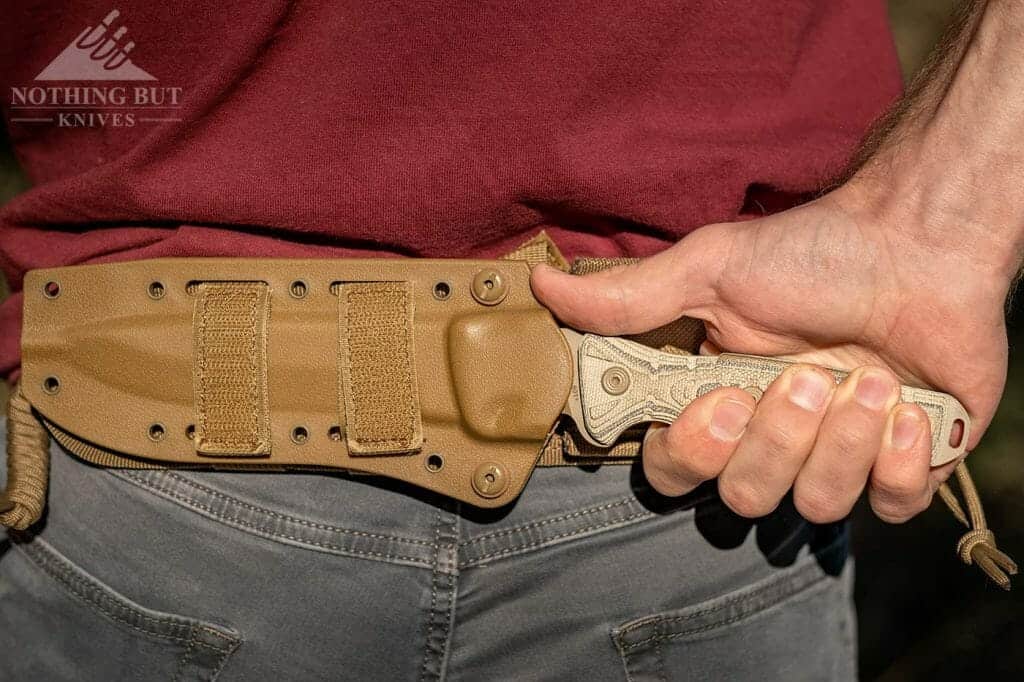 There are a hundred ways you can carry this knife, but you might have to work a little to get what you want.
It's a great design with a polypropylene sheath strapped to a nylon MOLLE back with velcro straps. Everything on this is easy to adjust or flip around for right or left hand in both horizontal and vertical carry.
You can also adjust the retention, which is a new feature for me. Those two big flathead screws you see at the top of the sheath can be tightened pretty easily (I did it with my Kershaw Shuffle 2) to the point that it's damn near impossible to pull the thing out. That seems like a pretty useful thing to be able to play with if you're jumping out of planes, swimming through rough waters, or, hypothetically, climbing up a tree because you saw part of a branch higher up that would make a sweet hot dog stick.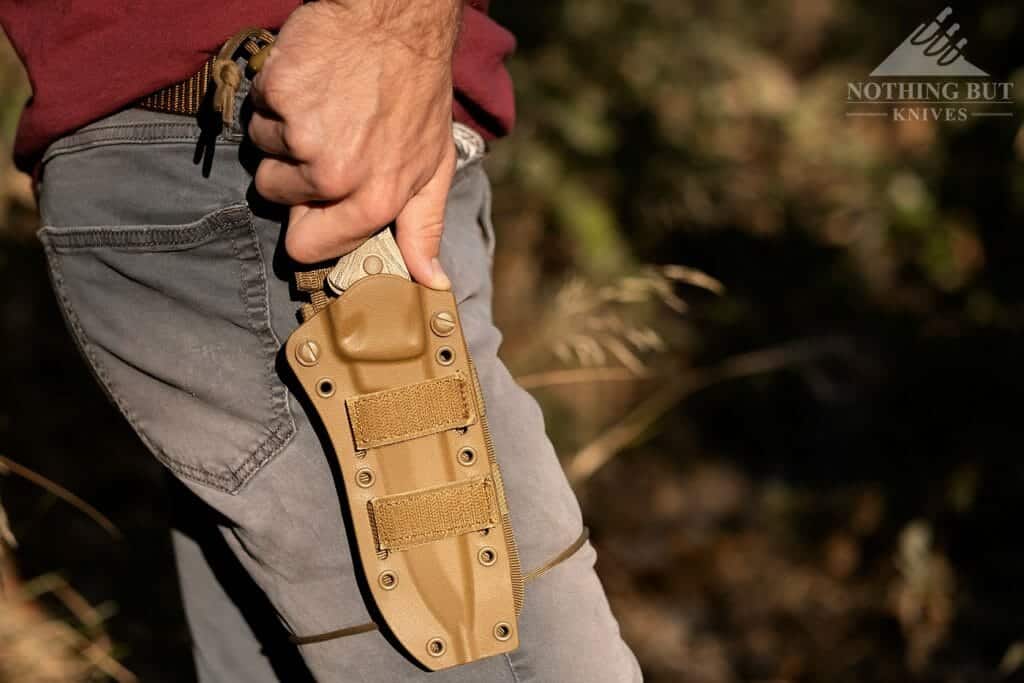 It presents a problem if you want to scout carry it straight on your belt, although I've come to realize this is a common problem with MOLLE backs. You need a thin belt and some patience to get your belt through the straps on the back. I was using a nylon belt for the shoot because I could tell without even trying that there was no way in hell I would get this knife on a leather belt. It's pretty damn secure once you get it strapped to yourself, though.
My guess is that most people will carry this on their pack or strapped to their leg, though. I'm pretty thin, so I found carrying it vertically on my hip with the paracord tied around my leg the most comfortable. Long knives like this tend to catch too much on brush for me to hike easily with it riding horizontally on my back. Plus, the belt loop for vertical carry is huge on this, so I can go back to my trusty leather belt this way.
Running with Knives (aka the Tactical Stuff)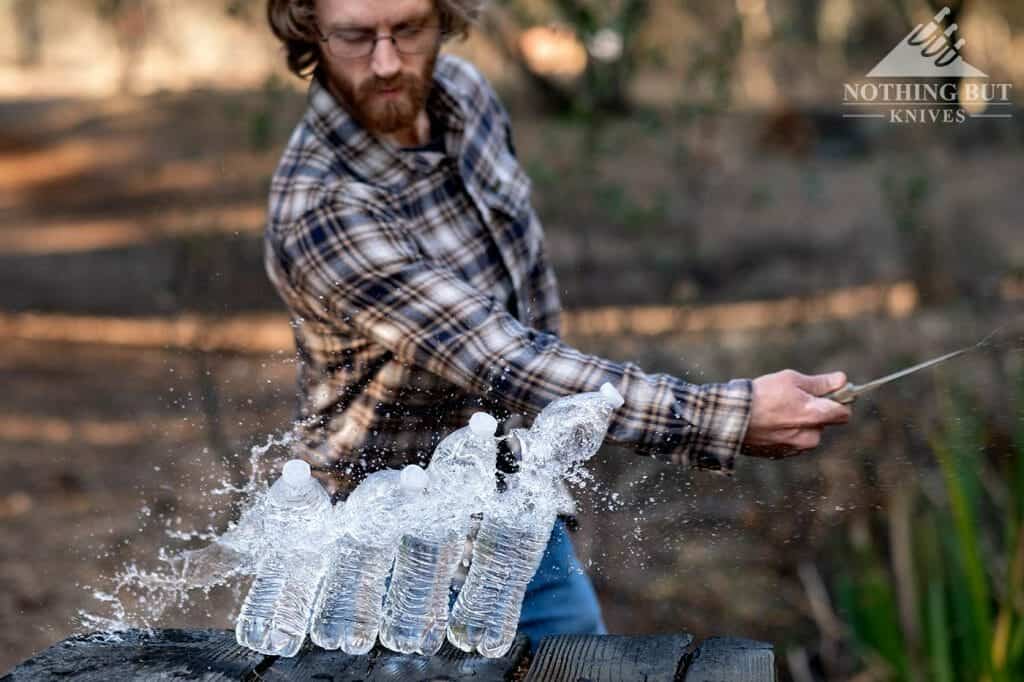 This knife stabs. I've stabbed trees, cardboard, meat, more trees, and my hand with this. Through it all, the GCK kept a firm grip and sank into everything with an ease that was disturbing and addictive.
And that's the most incriminating sentence I have written in my entire life.
We also spent a fair amount of time throwing it. It's heavy in the blade and it sinks into wood so easily that it really doesn't take a lot of effort to get it to stick into a log. I'm not great at throwing knives, but the GCK offers a pretty low learning curve to get the hang of it. It is weighted toward the handle, though, which I'm told isn't ideal. Either way, you could lose a pleasant hour to this thing and a board in a field.
In a more practical sense, that weight and sturdiness lend themselves well to high-intensity use. It has a generous chuck of metal loop at the bottom that you could use to hammer or strike with, and it's surprisingly easy to maneuver for a knife of this size.
What I'm saying is that the thing we're all thinking when people say "tactical knives" covers a large part of the spectrum of specializations with the GCK. This is a brutal tool. It's well balanced and easy to keep a grip on. The steel won't chip easily and the tip is clearly designed to keep from snapping off.
The only bad thing I would say about the tactical applications of this knife is that the sheath and MOLLE back make it feel bulky on the belt, and if you keep the cord hung on the handle it doesn't deploy very quickly. Or at least, not without a lot of practice.
Besides that I think it's safe to say that the GCK lives up to its military aesthetic.
Its Role as a Survival Knife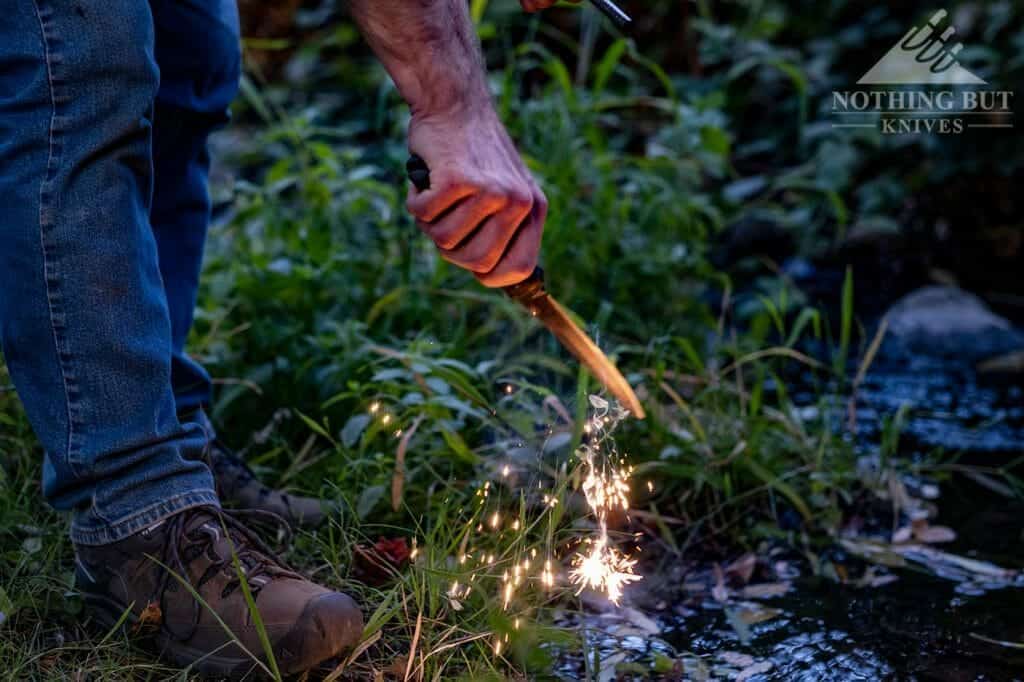 I really didn't expect this thing to be all that impressive with survival tasks since it's clearly geared for the tactical side of things, but it actually batoned and threw sparks better than a lot of bushcraft knives we've reviewed in the past.
Buck was smart enough to keep a nice 90 degree angle on the spine. Between that and the weight of the knife it's really easy to pull a healthy shower of sparks off a ferro rod. It doesn't chop as well as a few of the better bushcraft knives like the Condor SBK or the Off Grid Tracker, but you can definitely get some work done with it.
The weight and grind make a good combination for cleaning sticks and branches off, and it's a wide enough blade that batoning goes fairly quick. Plus the blade is strong enough to handle a little bit of prying.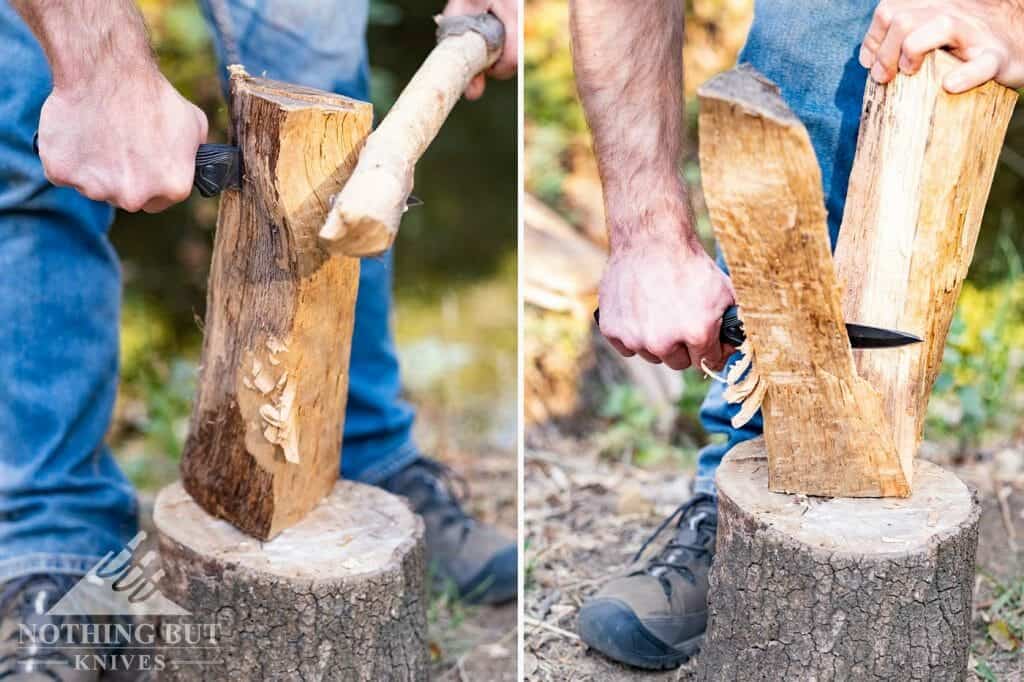 It's not stellar at chopping, but if you can manage to hit with the top of the blade you can make some great progress on thinner branches. Also, while the edge can shave a decent feather stick, the ergonomics aren't quite ideal for that since there's no way to choke up on the blade. You end up applying force more in line with your thumb rather than the well of the hand.
I don't think that quite counts as nitpicking because over time that will wear you out quicker than a design like the Spyderco Bill Moran, and it really sucks trying to start a fire after you've already cramped your hand making wood shavings for ten minutes.
The short of it is that if you were left with nothing but this knife to start a fire and build a shelter, you'd be in good shape.
Not great shape, obviously. You're still stranded in the woods for some reason, but you'd be a lot worse off without the GCK.
Comparison and Alternatives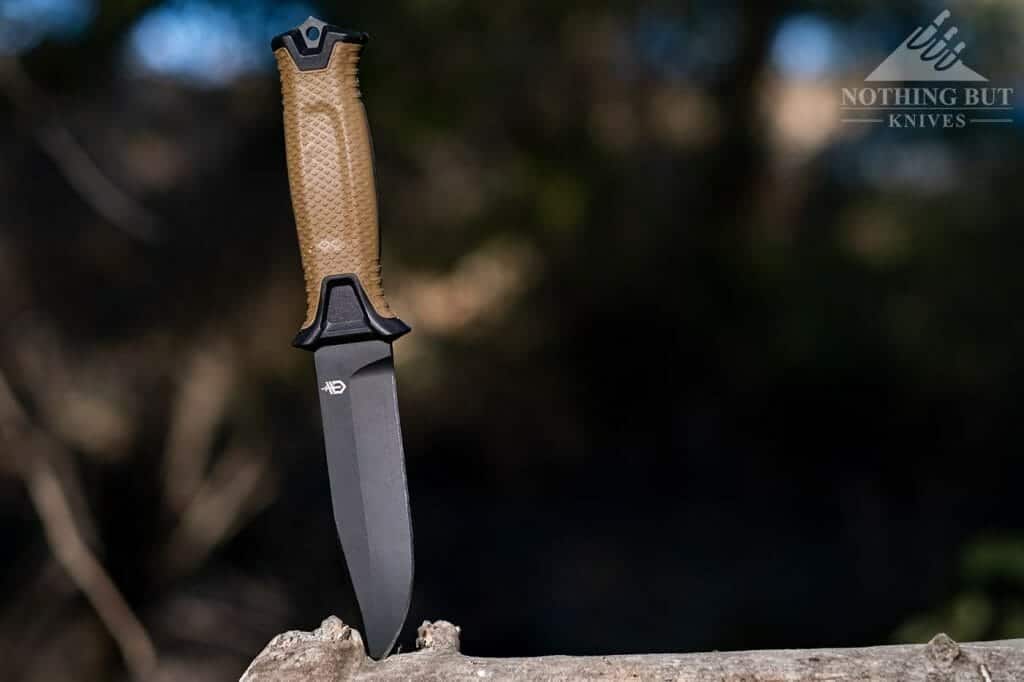 The GCK is far from being in a category of its own, but it does make a strong argument for itself by being a genuinely well-made and useful tactical knife that you could trust in a lot of different situations while also staying in the $100 price range. It also comes in two variations: spear point, which is what I reviewed here, and a tanto blade, which I am now very curious to try out.
The first knife that came to my mind when I saw the GCK was the Gerber Strongarm. They both have a similar military aesthetic and ability to move between tactical and outdoor uses, although the Strongarm definitely outperforms at chopping. The Strongarm usually runs about $40 cheaper, though, and you can feel that price difference if you ever hold both of them. The GCK has a lot more heft, the handle fills the hand better, and the texture on the scales is a lot more aggressive. On the whole it feels more like something you can count on staying in your hand. But I would recommend the Strongarm as the cheaper alternative if you're not ready for a $100 knife.
I see the Buck Compadre as the bushcraft cousin of the GCK. If you're not interested in tactical uses at all, that's probably a better route to go. Especially if you like hunting or just camping in general. The Micarta scales on that are a lot more forgiving and the edge can cut molecules in half. They're both about the same price and made in Buck's USA factory, so it's really a choice of intent and lifestyle.
The Ka Bar Becker Harpoon is also a good alternative. It has a similar tactical intent behind the design, but manages to be impressive in survival tasks as well. It's easier to carry by virtue of being lighter and smaller, but it doesn't quite have the same slicey edge geometry. Still, it's a good consideration if you like taller blades and slightly more rounded handles.
If you are looking for something a little bigger and a lot more expensive the Zero Tolerance 0006 may fit the bill.
Conclusion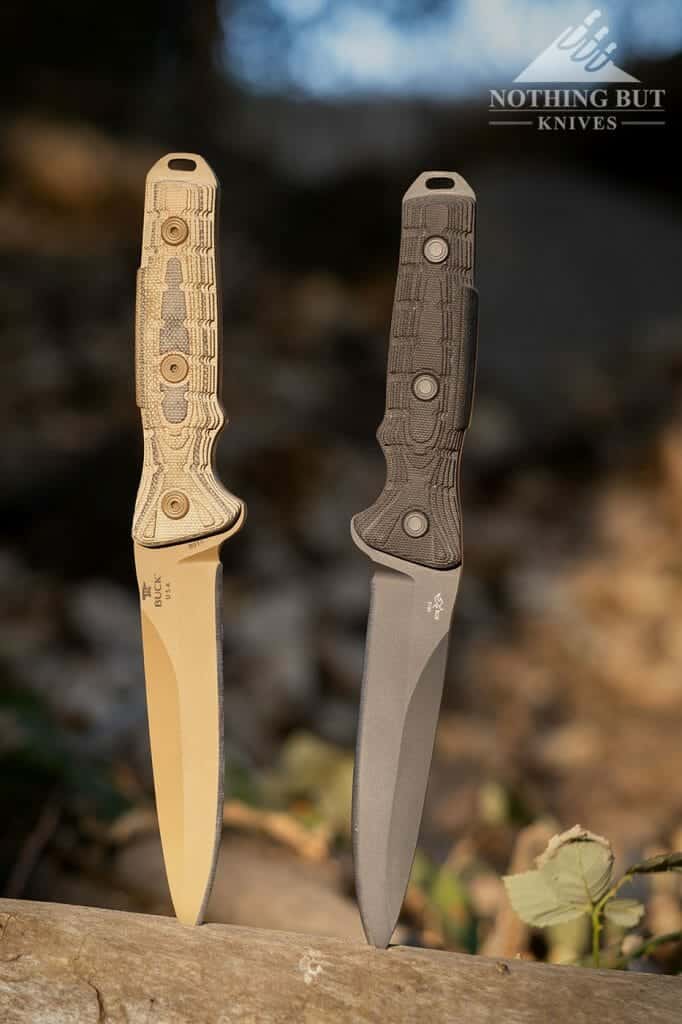 I have strong camp-knife sensibilities, so for me to end up liking the Buck GCK as much as I do is a testament to its quality. Buck set out to make an ultimate field knife, and it feels like they hit it out of the park with this.
They've designed the GCK to perform well with brute force. In that sense it's a prybar with good edge geometry for most of us. The weight and the tip design just also happen to make it horrifyingly good at stabbing things. I'm pretty sure the priority on this knife was tactical, but they managed to add just a couple really important survival elements that work really well.
Basically if you're headed outside city limits and you're not sure what knife to take, this is the one you pick up, because there probably isn't much waiting out there that the GCK can't help with.