A Great 3 Inch Folder for Big Hands and Dirty Work
The Badger fits into that odd category of little big knives. If you just go by product pictures, it will either look smaller or bigger than it actually is. In fact, most of the complaints I've seen about it are that it was smaller than it looked in the product photo, but the really weird thing is that when you pick it up it feels bigger than it actually is.
It has dimensions that, if I had any genuine influence in the knife industry, I would dub the Danny DeVito shape: the stoutness of it suggests a size that seems incomprehensible until you see it next to something that's regular sized.
It's also, like Danny DeVito, a fun tool you can rely on to shake up tough situations.
This is where I should tell you that I received this knife for free from Off-Grid, and how that fact hasn't influenced my opinion or the contents of this review. That would probably be a lie, though, because a $60 knife is almost exactly what my integrity is worth right now. But for what it's worth, if we'd been sent a bad knife for free, I would still feel entitled enough to bitch about it.
Specifications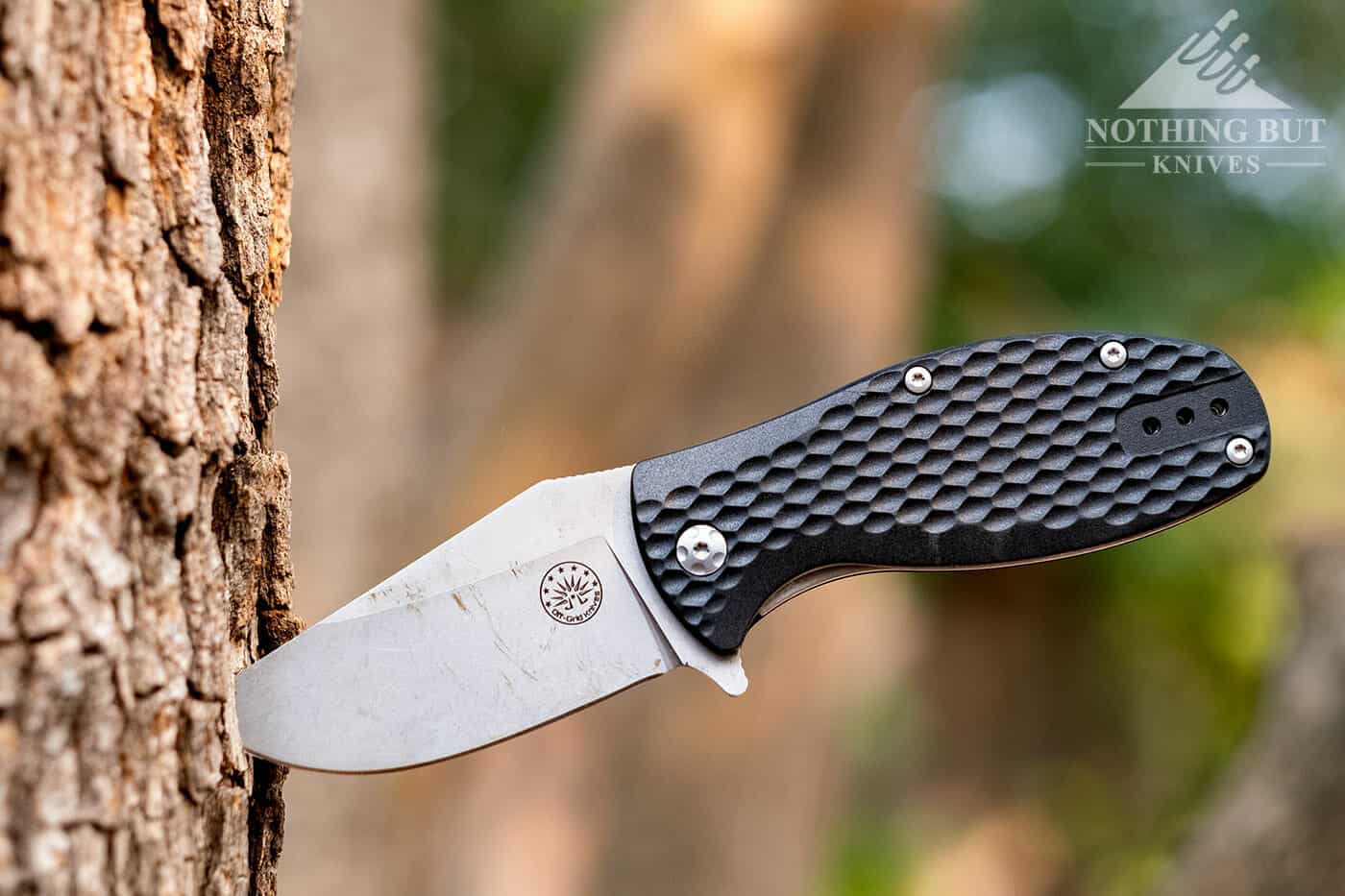 | | |
| --- | --- |
| Overall Length: | 6.9″ |
| Blade Length: | 3.0″ |
| Blade Thickness: | 3.6 mm |
| Blade Steel: | D2 |
| Handle Length: | 3.9″ |
| Blade Shape: | Drop point |
| Blade Grind: | Flat |
| Handle Material: | FRN |
| Lock Type: | Liner |
| Weight: | 4.8 oz |
Pros
Great edge retention and toughness
Good ergonomics
Rides easy in the pocket
Good price
Grid lock mechanism is a nifty idea (though seems unnecessary)
Cons
The scales feel a little slippery
Action loosens up after a while
Heavy for a small knife
The Blade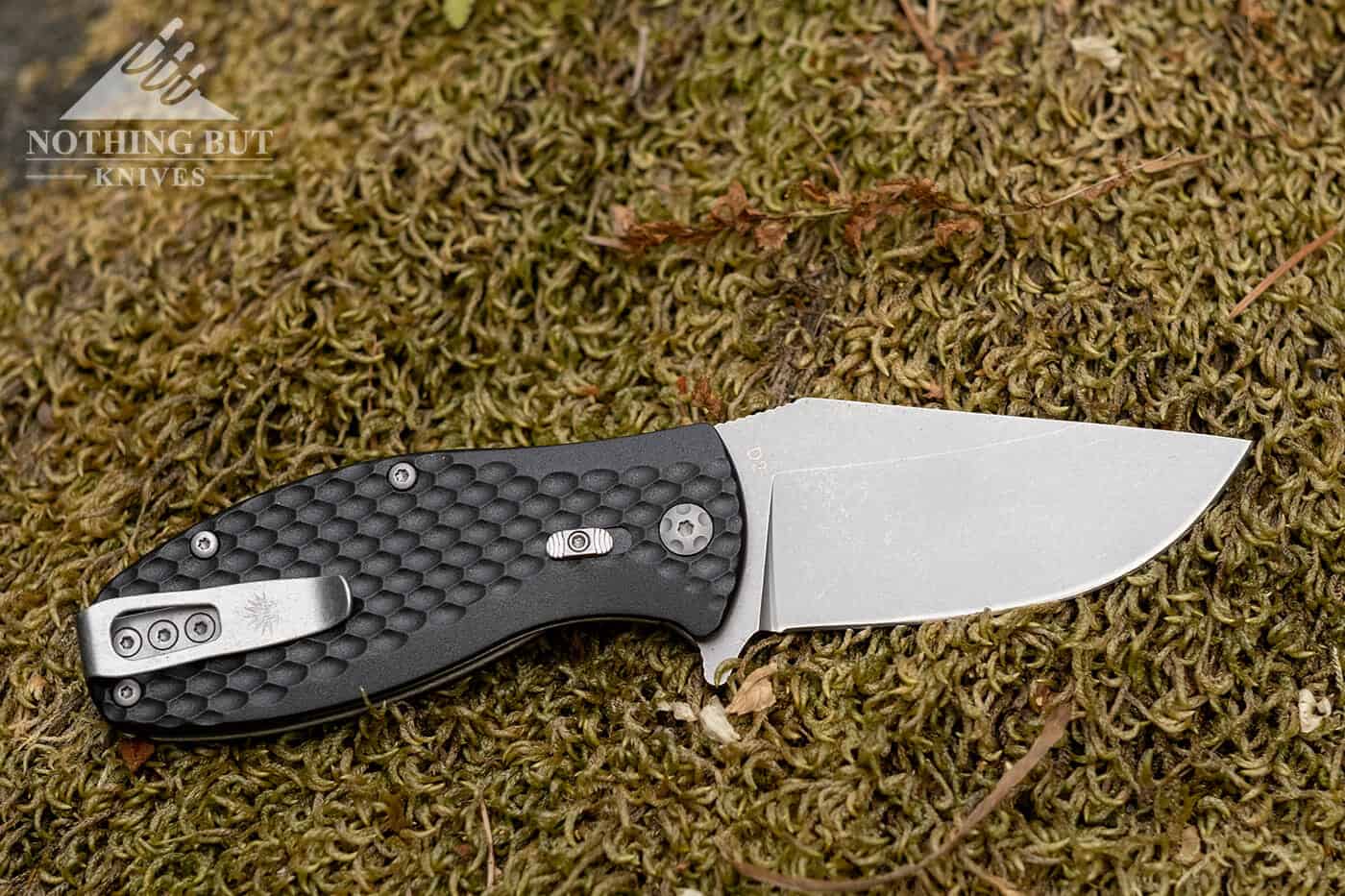 This is an area that's quickly becoming a hallmark of this company. Off-Grid clearly knows how to do a proper grind on their knives.
Even when their blades are dull they cut, but this knife is not dull. It came out of the box with a respectable edge that slices pretty clean despite the thickness. Off-Grid's description of the Badger attributes the high performance cutting on this knife to their heat treatment, but while I'm willing to say their heat treat helps, they do the grind a disservice by not mentioning it. They executed the flat grind perfectly on this.
The Fantastic Blade Geometry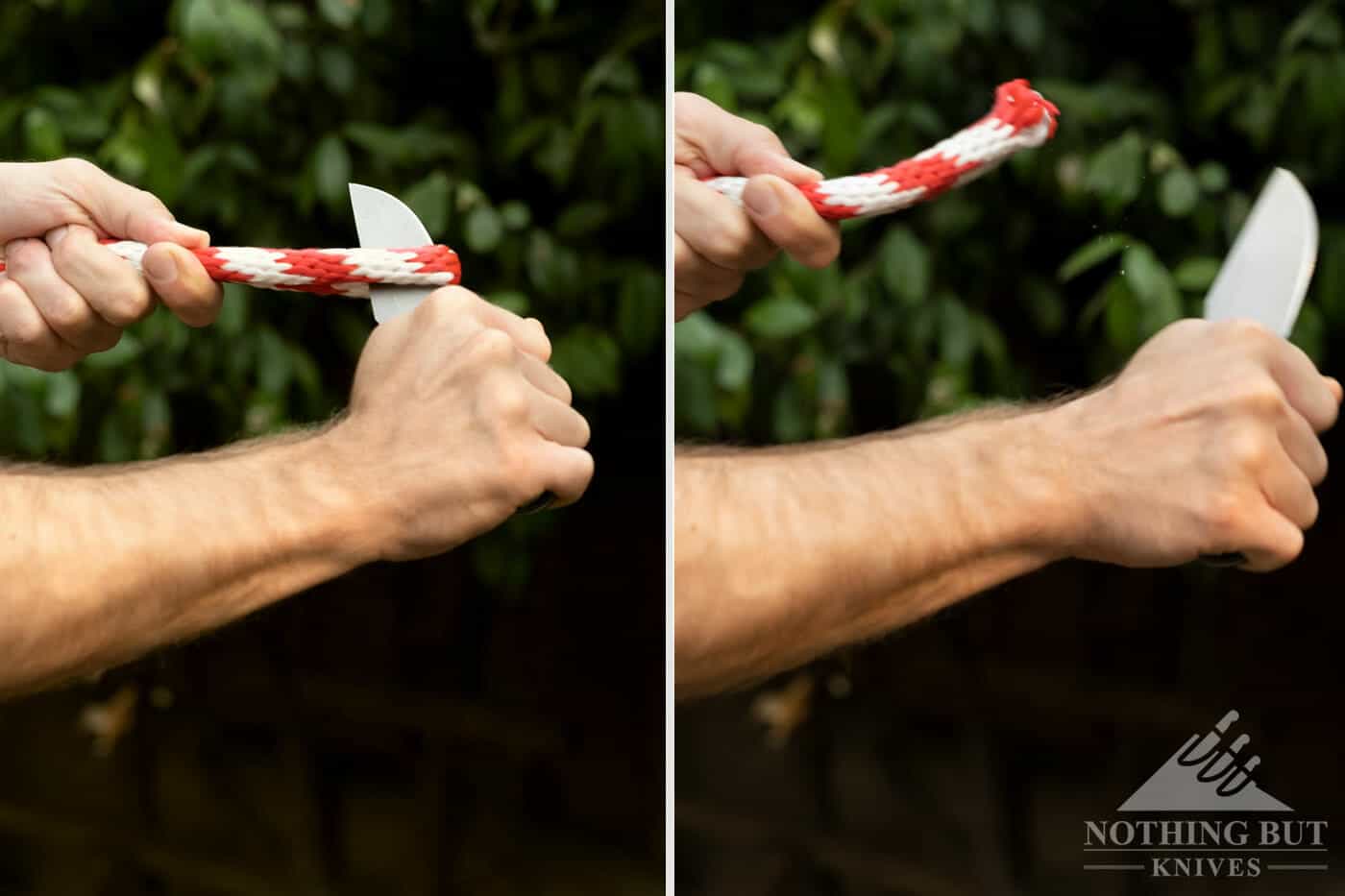 My brother went into some detail about how the tallness of the blade on the Off-Grid Rhino, which is basically the big brother of the Badger, allows for a more gradual taper from the thick spine to thin edge. This does a couple of really neat things for a blade's cutting action: it makes it slicier, the edge becomes a little tougher, and it makes push-through cuts a lot easier. This holds true with the Badger.
Even though it's quite a bit smaller than the Rhino, the blade is essentially the same shape and structure, although the Badger we got had a much sharper factory edge than the Rhino. The edge doesn't bite, but once it's up against something, it doesn't take much to get a cut started.
The Heat Treat and Edge Retention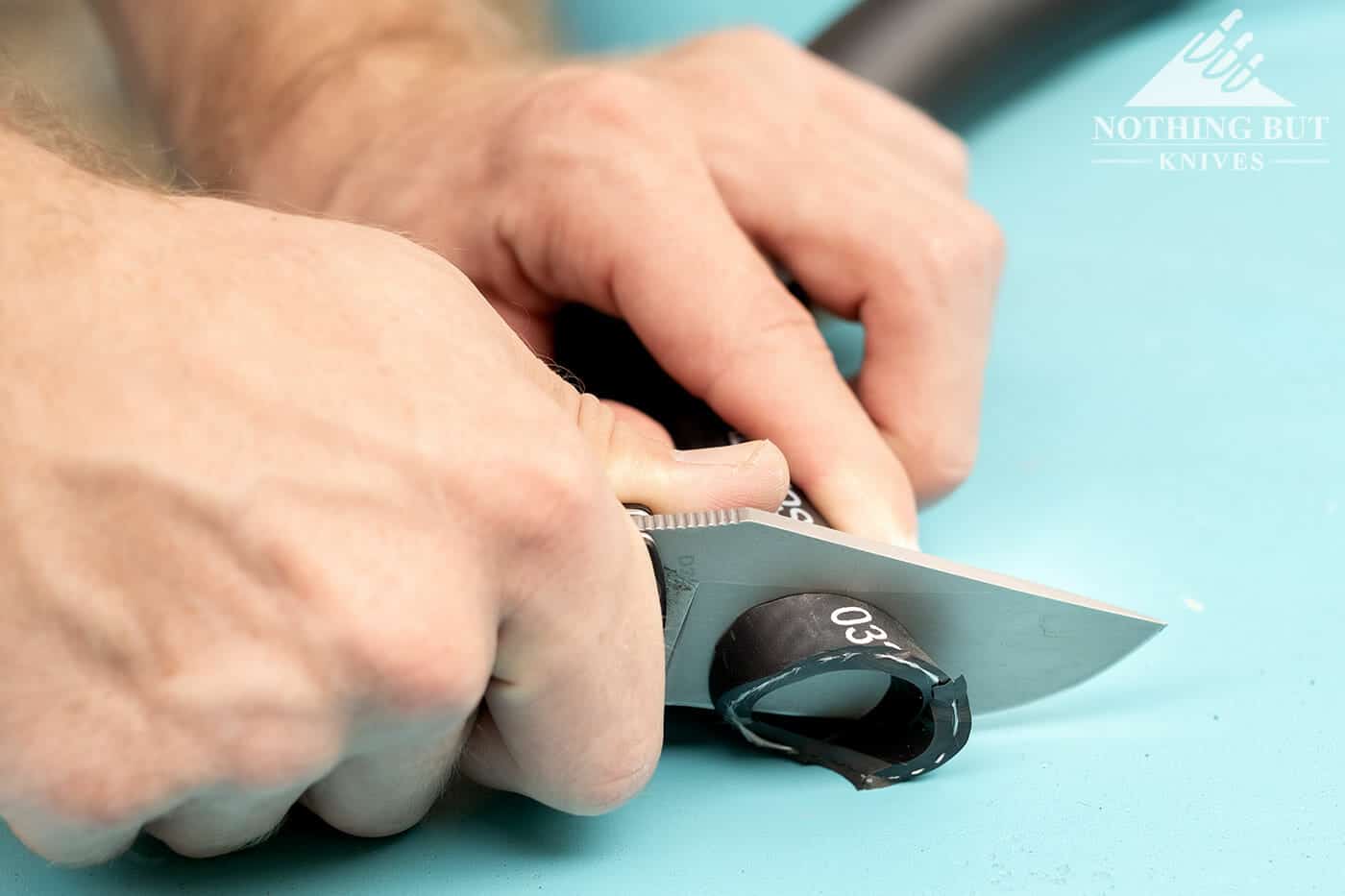 I think the quality of their heat treatment is a lot more apparent in the edge retention and toughness. I've chopped and made feather sticks on a few different kinds of woods for a while with it, and it still cut a decent paper test. In fact the only thing that did any kind of damage to the blade was my stress test on the Grid Lock. But that was just a rolled edge, which isn't really a problem on a D2 steel blade. I think Off-Grid cooked the hardness to about 59 HRC and that's still in a workable range for a good honing rod.
The Handle and Ergonomics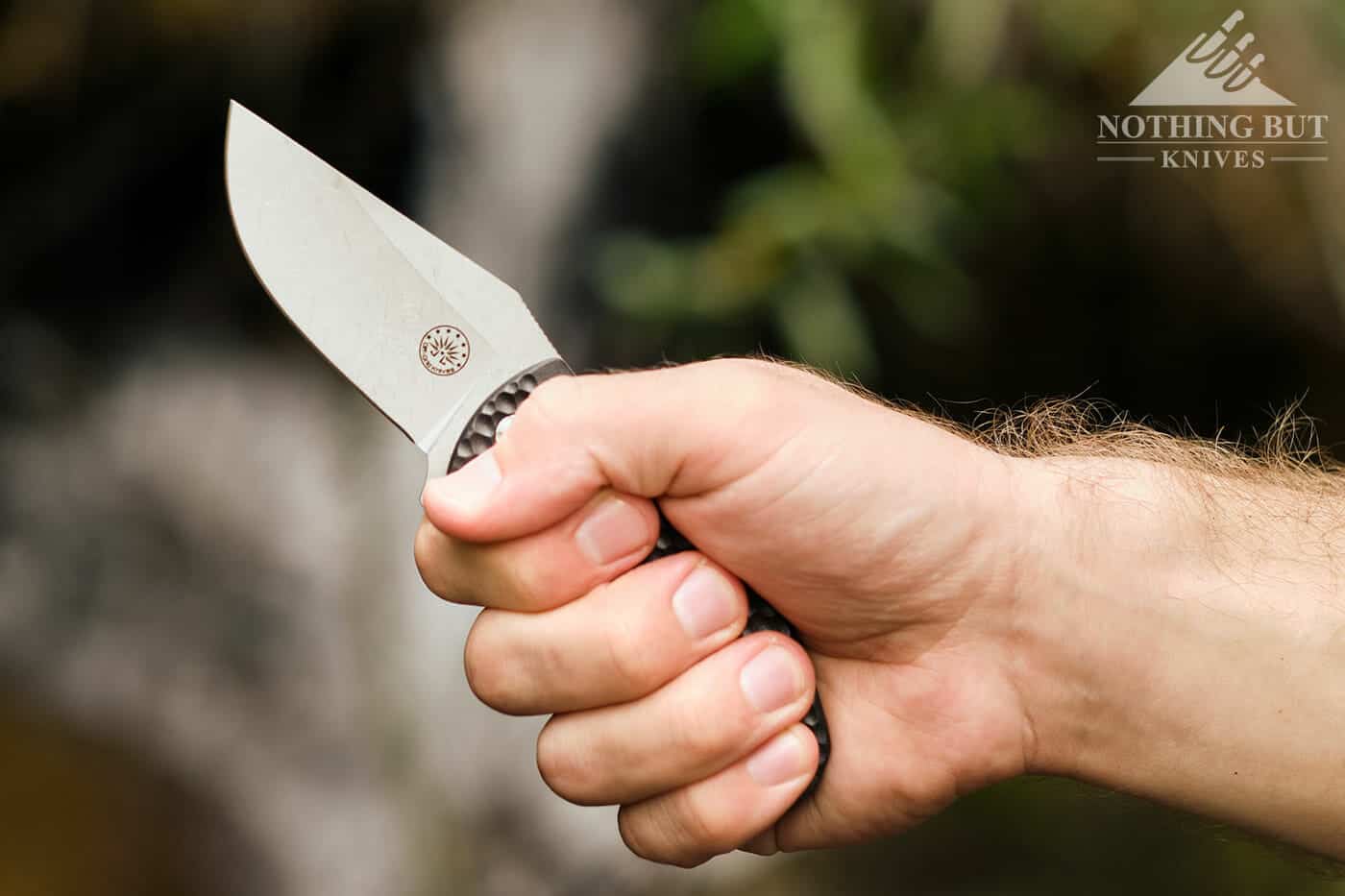 I never really expect a small knife to be comfortable, but this is a Danny DeVito knife, so it fills out well and stays pretty agreeable no matter what nonsense you're making it do.
The Smooth Texture and Jimping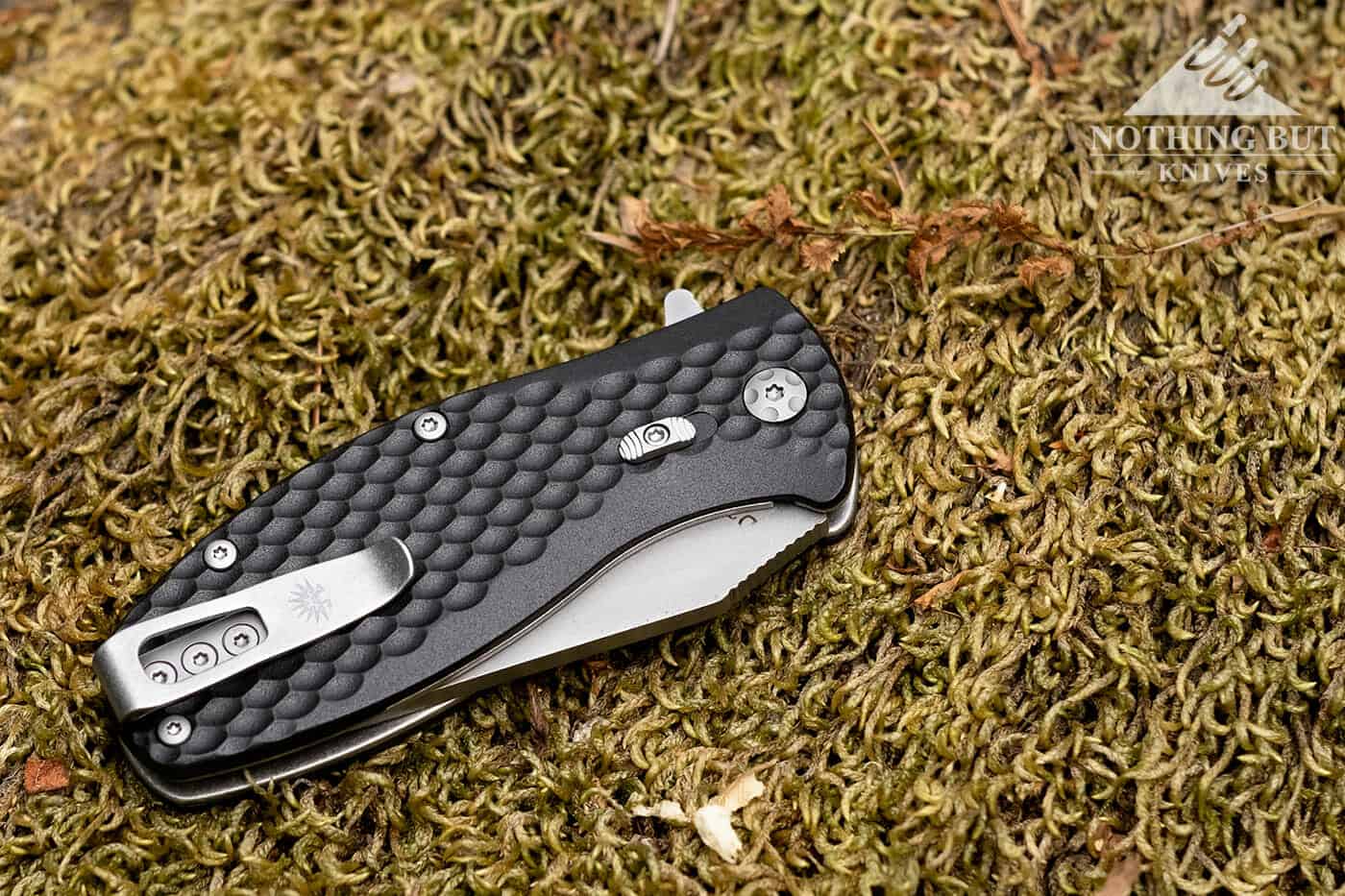 My biggest gripe with the Badger is the texturing. The scales are just a little too slippery. This seems like something that could have been fixed easily enough by going with a more aggressive texture. The teardrop indents on the Badger might look nice and even feel pleasant in the hand, but they don't do a lot to help your grip, especially if they get wet and especially if you're wearing gloves.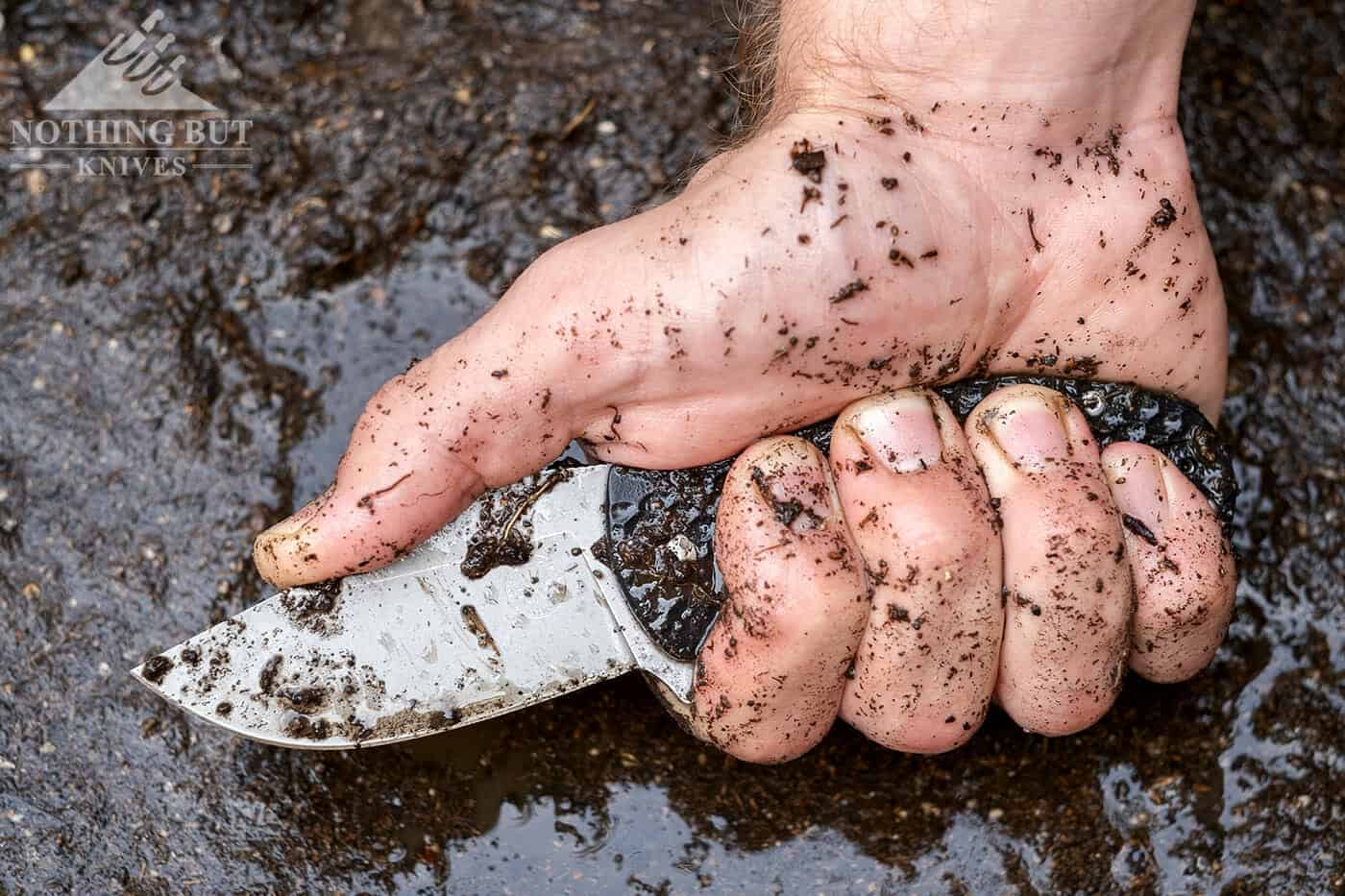 That's partly made up for with the jimping and the overall shape. The curvature of the handle creates a lot of area to hold onto the knife, and the jimping on the flipper tab makes it much easier for a gloved hand to deploy the knife. I think if I were just carrying this knife as a casual EDC the scales would be fine, but I've been packing it into mud and grime and down around broken sprinkler heads that some idiot drove over, and now I've to cut through all the god damn roots that grew around the irrigation and cracked the PVC.
None of that is Off-Grid's fault. My point is things get slippery and sometimes I wish the Badger's handle felt more like the Rhino's
The Standard Handle Materials Gripe
I also have to resist the temptation to complain about the handle material. I don't think anyone actually likes FRN. Even the people making knives probably don't like it. But FRN is also one of the most practical and cost-effective materials a knife can have, especially when a company is using it to keep a good design affordable. And Off-Grid has definitely done that here.
Not only does this knife manage to be fairly light for having such a thick blade stock, it's in a price range that makes you feel like it's okay to beat the thing up (which I have. A lot)
It's just that I would get kicked out of the cool knife reviewers club if I didn't say at least once that I wish this knife had G-10 scales, and then throw in a passing comment that I might try and get custom Micarta scales for it down the road. And in case you were wondering, the scales are only held on by three screws, so it would be really easy to switch them out with something different if some valiant designer decided to make custom scales for this knife.
Just in case you were wondering.
Hotspots and the Pocket Clip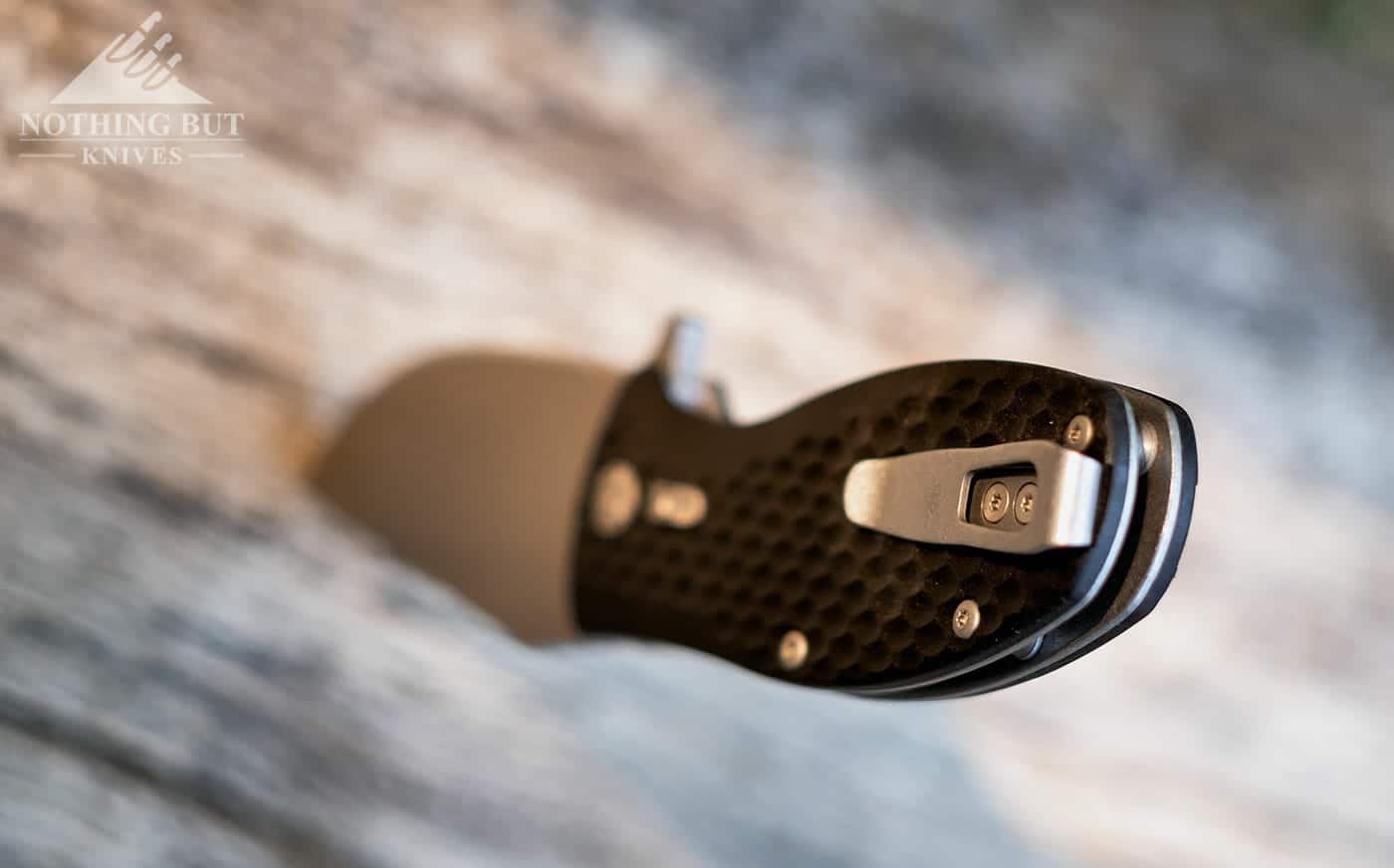 There are surprisingly few hot spots for a small, hard-use knife. The biggest one is the pocket clip where it curves up a little into the pad of the hand, but it's barely there, and far better than the majority of pocket knives in this size category. It feels more like an itch in my hand than like a piece of poking metal.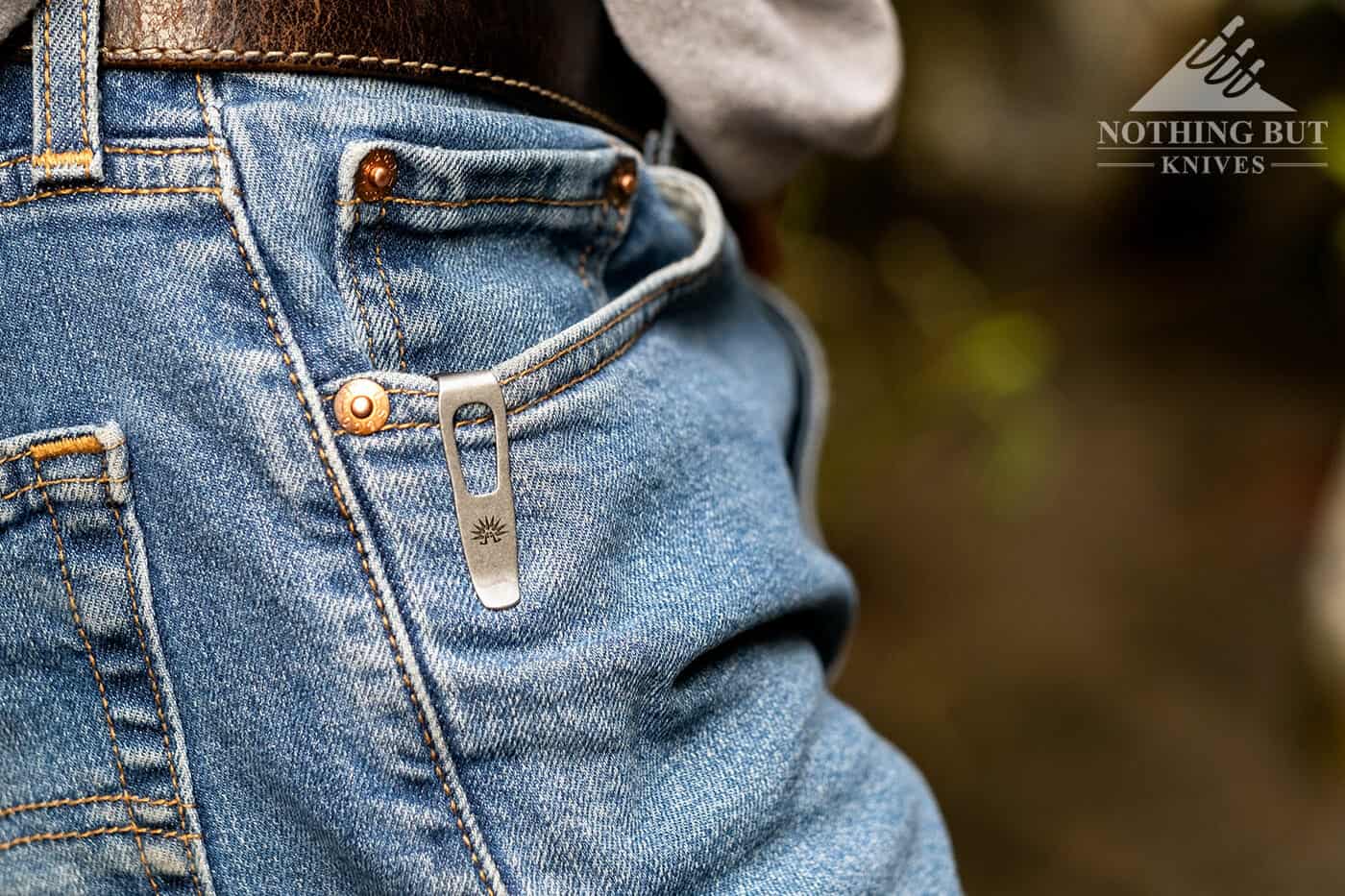 And while we're on it, this pocket clip is fantastic. It's short and wide, with just enough curve to not quite be a nuisance while still slipping into the pocket pretty easily. It's a little too stiff at first, but still in a good range that should wear down into a nice pliability with long term use. What I appreciate a lot more, though, is that they've put a recess into the handle so the screws holding the clip in place don't rub against the pocket which is a great and rare thing to see.
The Grid Lock Safety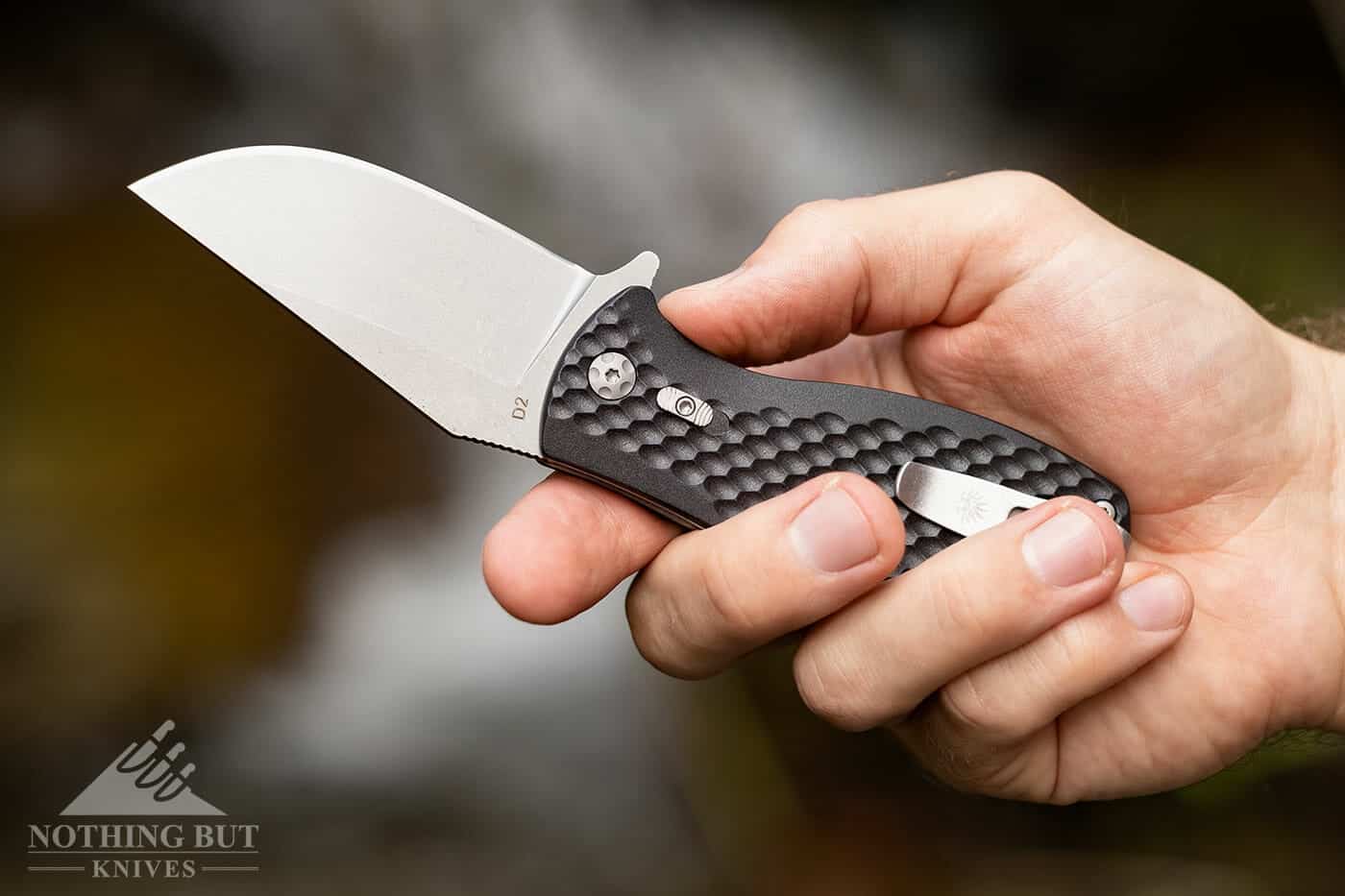 I was a little confused by this little mechanism at first. Not because I didn't understand it, I just wasn't sure when I would use it. How often am I going to stab into something with a 3-inch folder?
That was until I realized how comfortable this knife could be with my thumb resting along the spine. That's a fine enough way to hold a fixed-blade knife, but if you've ever done any work with a folder in that position you'll maybe understand the phantom discomfort that runs along the back of your fingers from the constant fear that your thumb is going to push the blade closed.
Having the Grid Lock engaged takes a lot of that discomfort away, especially after I tested the Grid Lock by smashing the Badger into a tree with a big branch. The result of that test was a rolled edge near the tip and a lot more blade play, but the liner lock stayed solid through the whole thing.
And if you really look at it, you might realize it's not exactly designed to improve the integrity of the liner lock, it just keeps the liner from accidentally disengaging, so my stress test was less a test on the Grid Lock and more on the liner, which, for the record, didn't budge at all.
I think where the Grid Lock comes in is when I'm doing something stupid like chopping or prying. Those motions seem like the most likely to accidentally disengage the liner. In that sense the Grid Lock feels more like an idiot safety than anything that would end up being useful to a reasonable human being. But I'm an idiot, so I guess I appreciate the feature.
The Action and Maintenance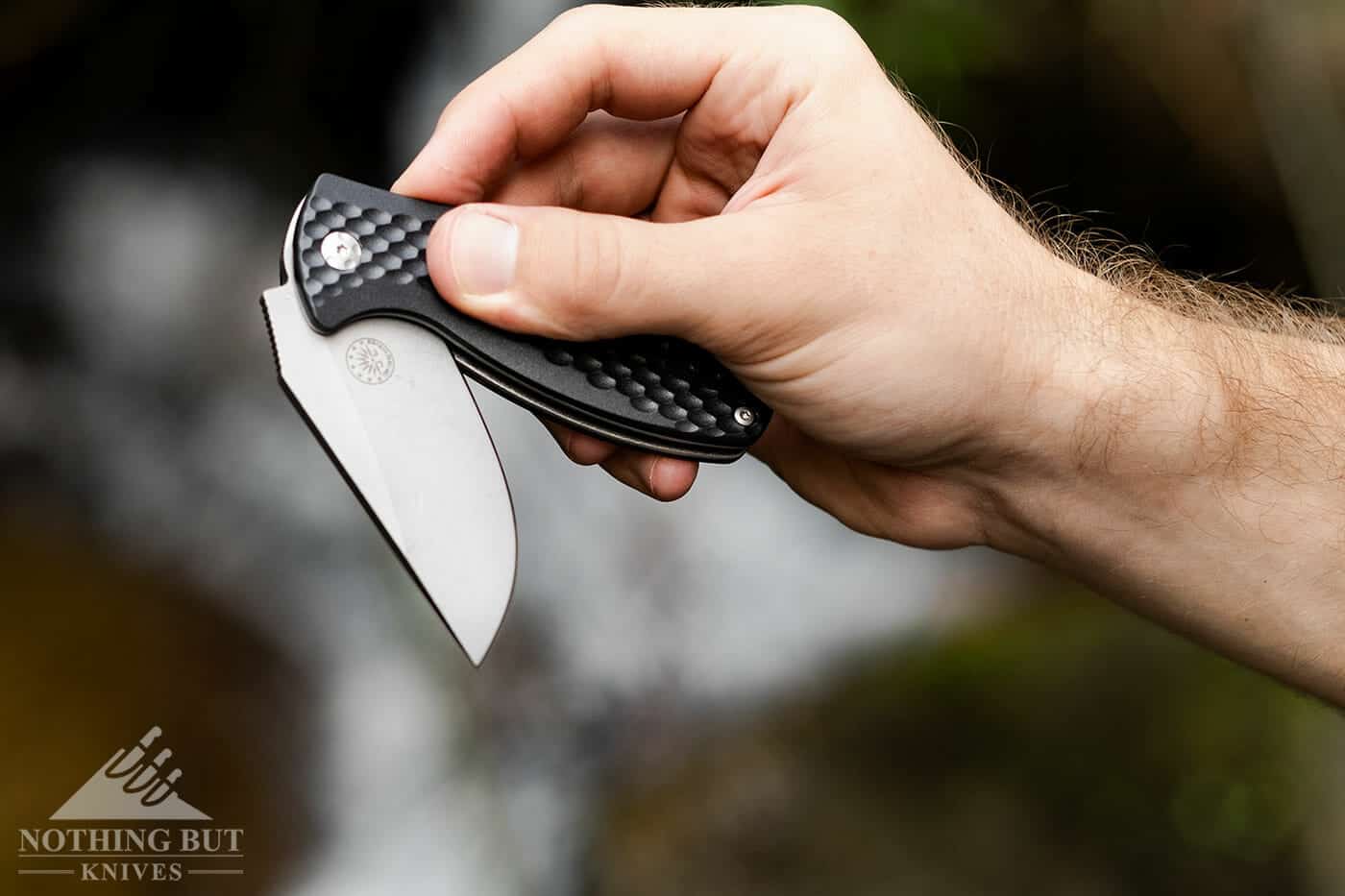 This is a snappy knife. It's fidgety and fun to play with and flip around, even though the scales are a little slippery than I'd like, and I have definitely dropped this thing moving the knife around in ways I shouldn't.
At first it felt like the weight of the blade was a little too much for the overall small size of the knife, but that feeling went away after I tightened the pivot screw up a little. Thankfully Off-Grid understands the knife idiot's need to fiddle with their toys in every way possible. All it takes is a T8 to adjust the action, and if you want to really get into the works, it's just three screws with a T6 to get the knife apart.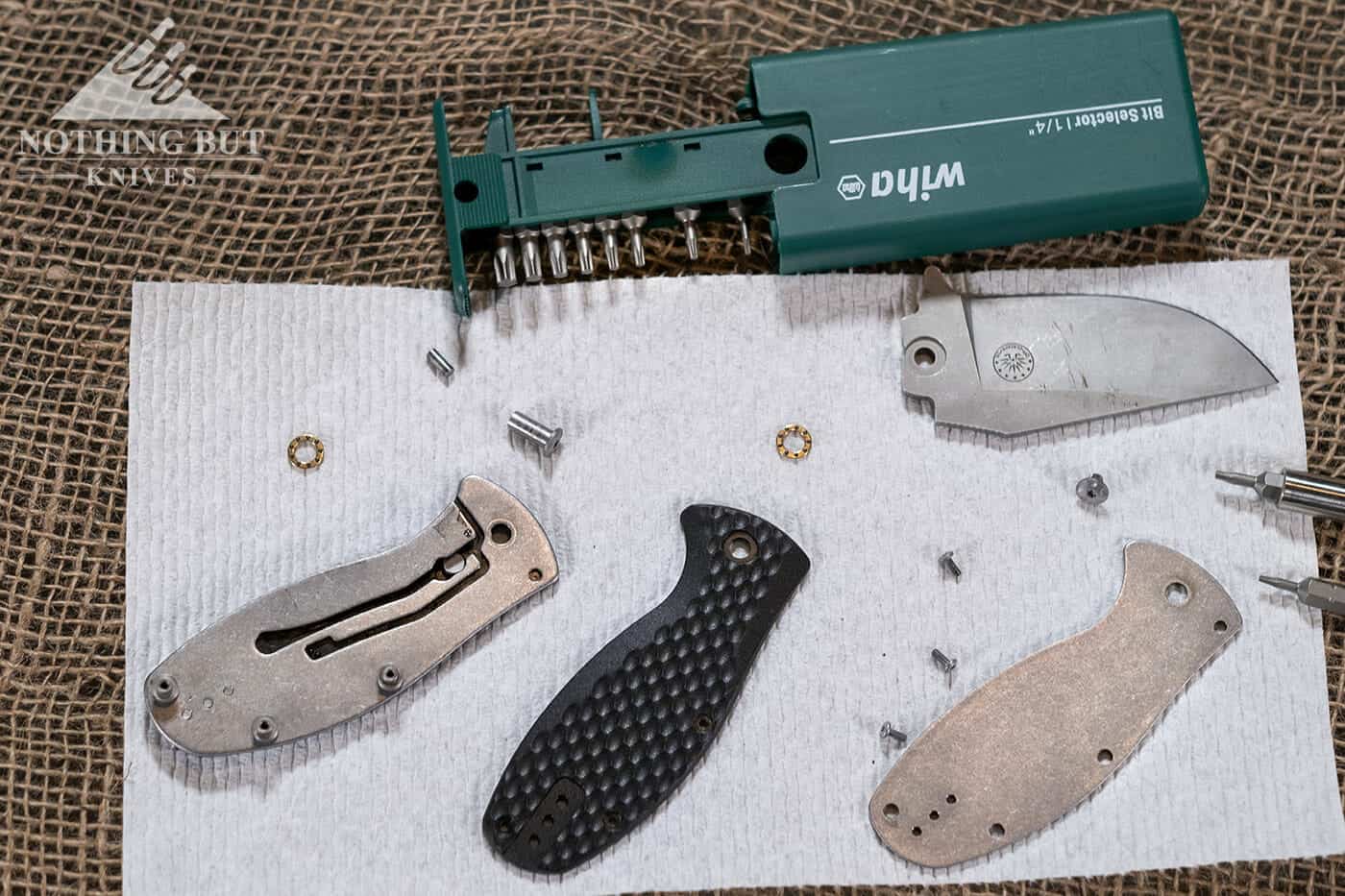 I do find myself tightening up the action at least once a week. That's partly because I like to put screwdrivers on knives when people are around so it looks like I'm busy, and partly because I think the heavy blade does loosen things up after a while if you're a habitual fidgeter. But a half turn of tightening once a week when I probably snap it open 50 times a day is a fairly reasonable amount of maintenance.
So What Are You Actually Supposed to Use it For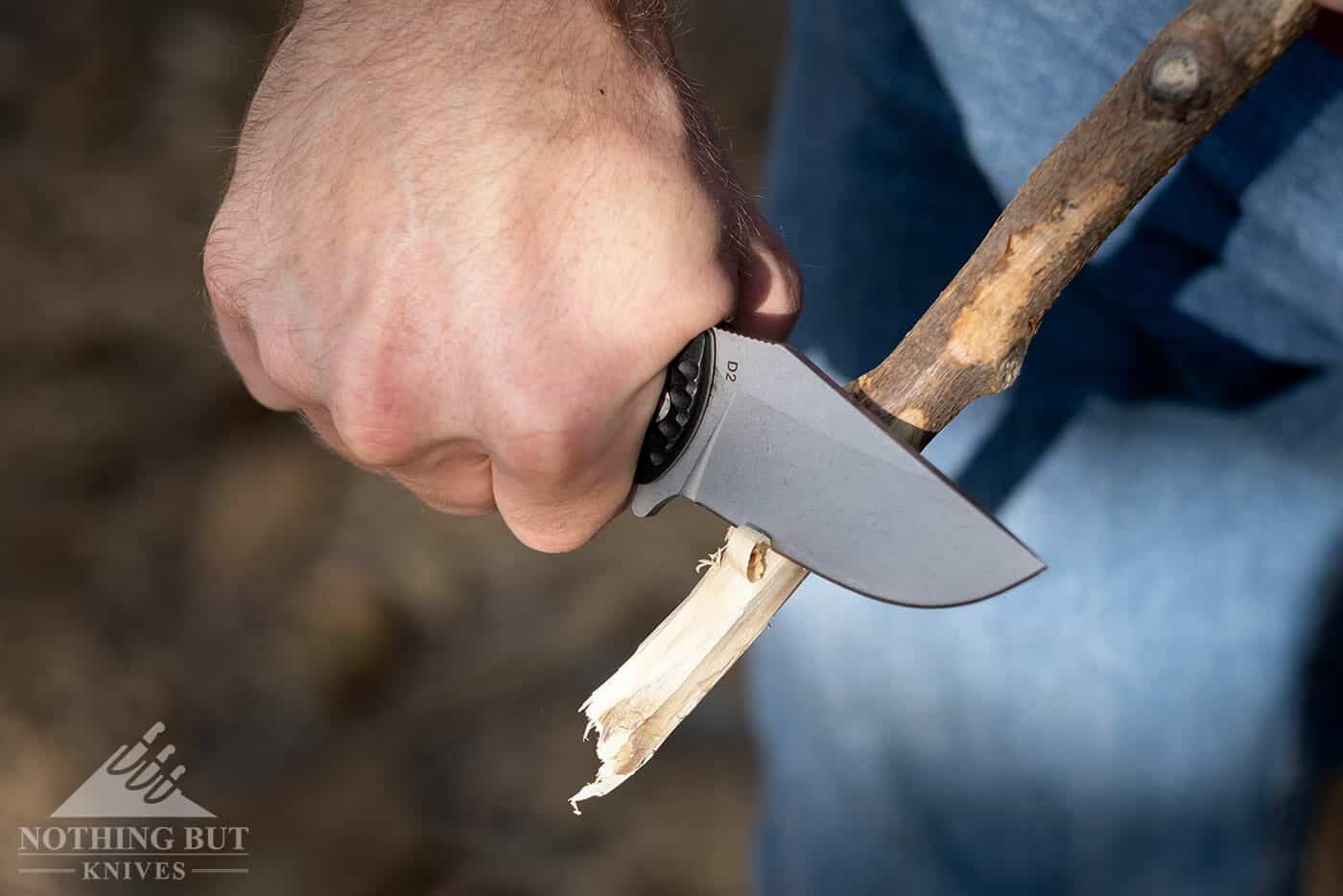 Off Grid mostly sells this as a "work" knife in a helpfully generic way. I think that's because they just set out to make a tough knife for… well working. I'm not sure they had a specific kind of work in mind during the designing phase.
So when I tell you that I packed this thing along on several hours of landscaping jobs, and into the woods to do a lot of simulated survival tasks, then packed it around the house and broke down boxes for about an hour, you need to understand that the generic classification of a good "work" knife is justified. It works for everything. The cuts always feel good for the size of the blade, and, with the exception of my smash-it-into-a-tree stress test, I have yet to do something that makes me worried about damaging the knife.
Comparison and Alternatives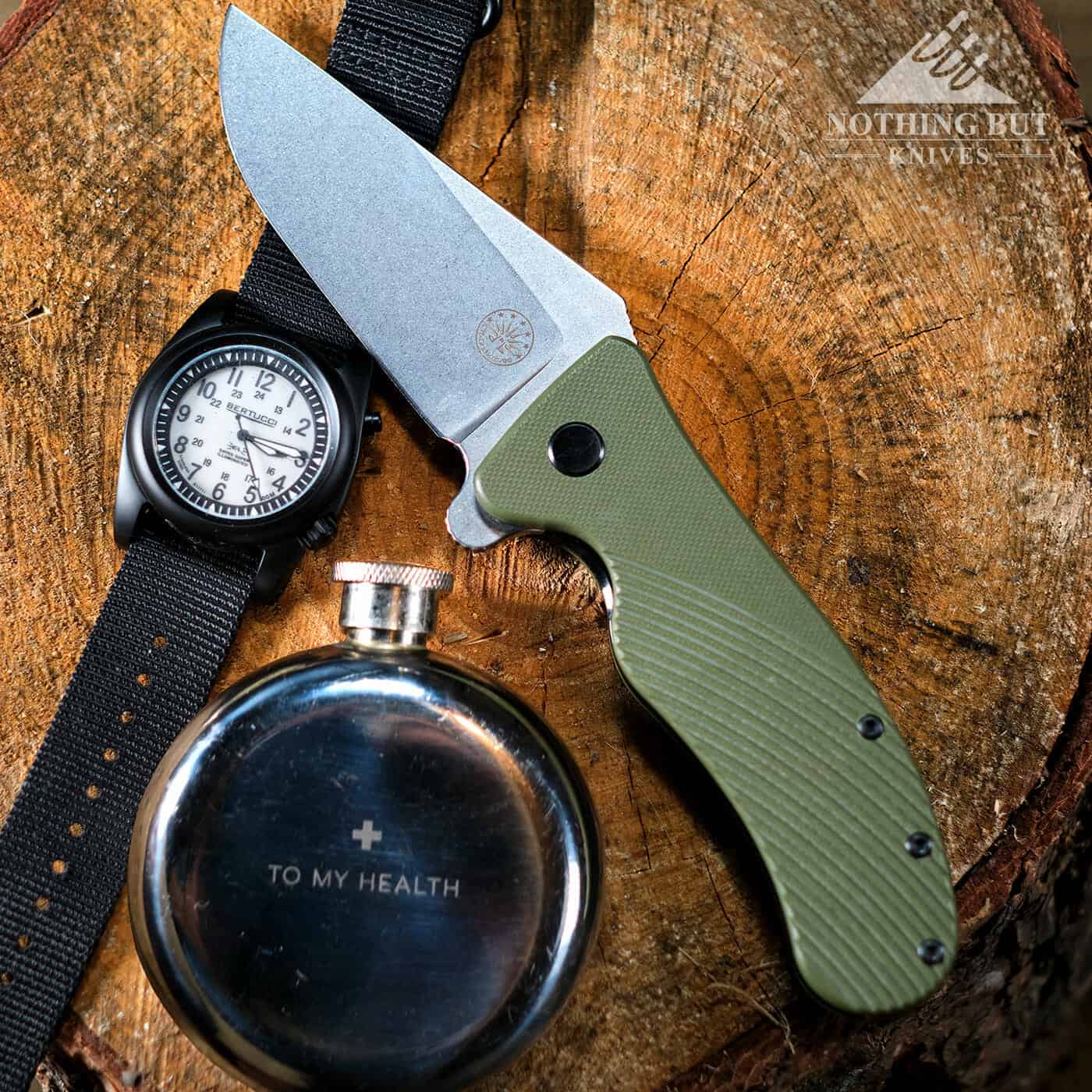 The price puts the Badger in an oddly competitive middle ground. You could compare it to something like the Spyderco Para 3, which is similar in size, but much slimmer and with a pretty hefty price tag. Or you could bring up any number of decent Chinese companies like CIVIVI or Kizer, which make a lot of nice knives in this price range, but definitely don't make them as tough.
This knife replaced the OKC Rat 2 while I was testing it, and it worked just fine in that role. They're about the same blade length and are both technically drop points. The main differences besides the price (which is about $30) is the heft. They're roughly the same shape, but the Rat 2 is so much thinner. The drop in blade real estate can make a big difference depending on what you plan on doing with it, but I've come to appreciate just how much cutting edge I get with the Badger. If I'm being totally honest, the Rat 2 is as much knife as most people would need, but if necessity was the only driving factor behind buying knives I wouldn't spend this much time writing about them. The Badger is bigger, and more fun, and all around tougher.
The Cold Steel 4 Max Scout strikes me as another good comparison. The 4 Max has an inch in the blade on the Badger and comes at a doubled price tag, but they both feel like hefty pocket knives built for abuse by virtue of their blade stock and a mean heat treatment. Of course, you could damn near cut a tree down with the Scout. The Badger isn't so good for chopping, but you could throw both of them at a brick wall for a while and only hurt your arm by the end of it.
If size isn't too big of a concern for you, I would honestly just go with the Off-Grid Rhino. The Badger is a lot more pocket friendly, but they have essentially the same action, cutting ability, and price. The Rhino's bigger size just makes the ergonomics a lot nicer, and it's all around more fun to play with. Plus I prefer the G-10 scales on that to the Badger's slick FRN.
Conclusion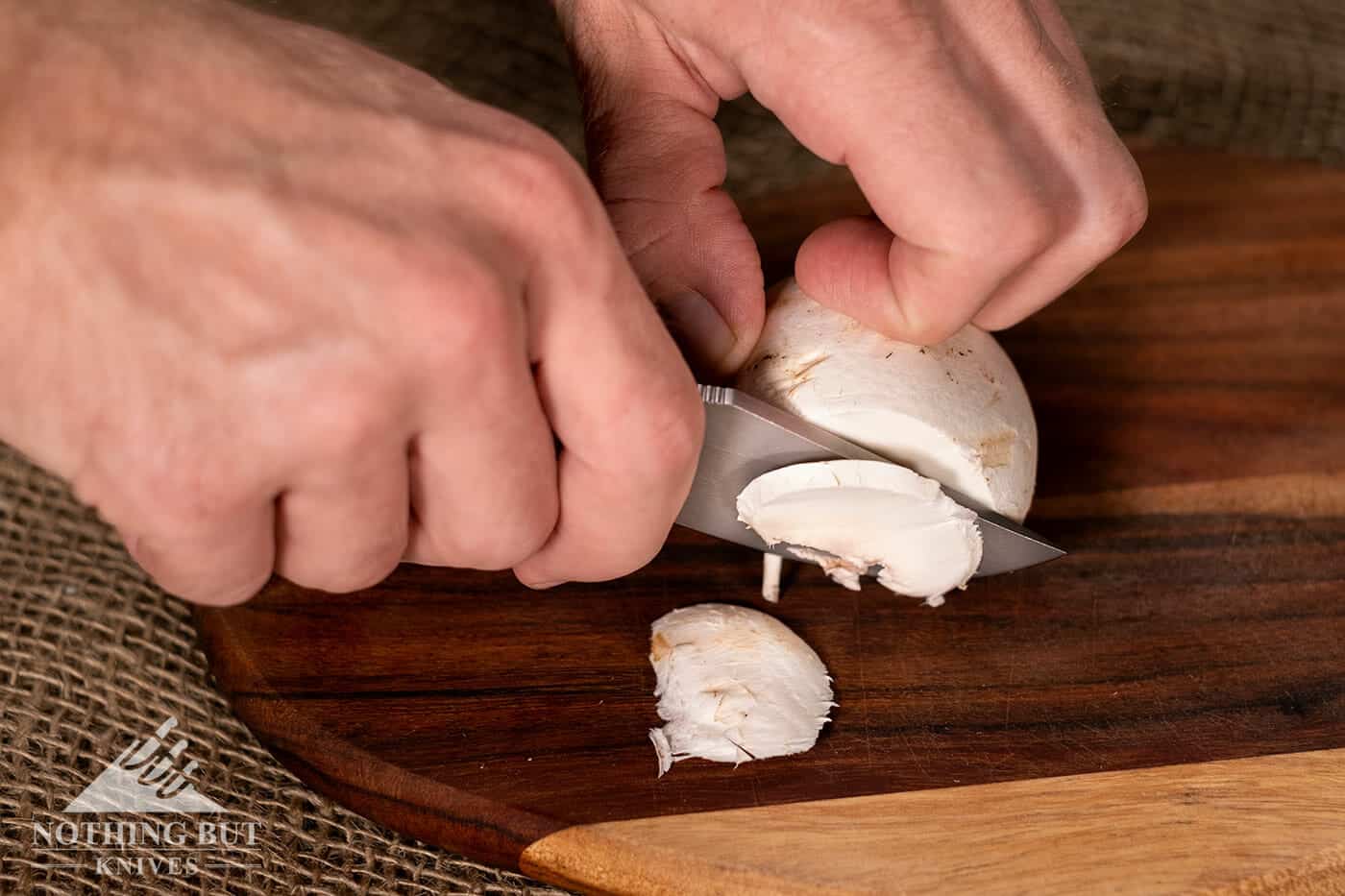 This should be a hard knife for anyone to pass up at $60. It's tough and reliable in all the ways a work knife should be. I've picked at a few problems like the action and the slickness of the handle, but that's mostly knife nerd minutia. The real detracting factor is the weight and thickness of the thing, because most people who want a pocket knife this length want something light and slim. This isn't a knife for those people, though. This is the kind of knife you can hammer into a tree and drop on concrete then pick up and keep working like nothing happened.
That's a quality I've come to deeply appreciate in pocket knives. My actual EDC tasks mostly involve abusing pocket knives because I can't really pack around a fixed blade (for a lot of different reasons). So the closer I can get to a tough folder that cuts, the better, and that's exactly the direction Off-Grid went with the Badger.