The Fixed Blade Version Of The Popular Elementum Folder Delivers From A Value and Performance Standpoint
CIVIVI's Elementum folder is a familiar pocketknife design that's become a staple for low-profile EDC. Now CIVIVI has taken the design and done what I wish every knife maker had the liberty to do and built it as a fixed blade. The Elementum Fixed Blade highlights the design's versatility.
Specifications
| | |
| --- | --- |
| Overall Length: | 8.48″ |
| Blade Length: | 3.98″ |
| Cutting Edge: | 3.75″ |
| Blade Width: | 1.00″ |
| Blade Thickness: | 0.14″ |
| Blade Style: | Drop Point |
| Blade Grind: | Hollow |
| Finish: | Satin |
| Handle Length: | 4.5″ |
| Handle Material | Micarta |
| Weight: | 4.89oz |
| Country of Origin: | China |
Pros
Familiar design, but greater strength.
Utilitarian function for EDC tasks.
D2 provides stainless ease of maintenance.
Cons
Thin handle.
Sheath not set up for pocket carry.
But what about the CIVIVI Elementum Folder?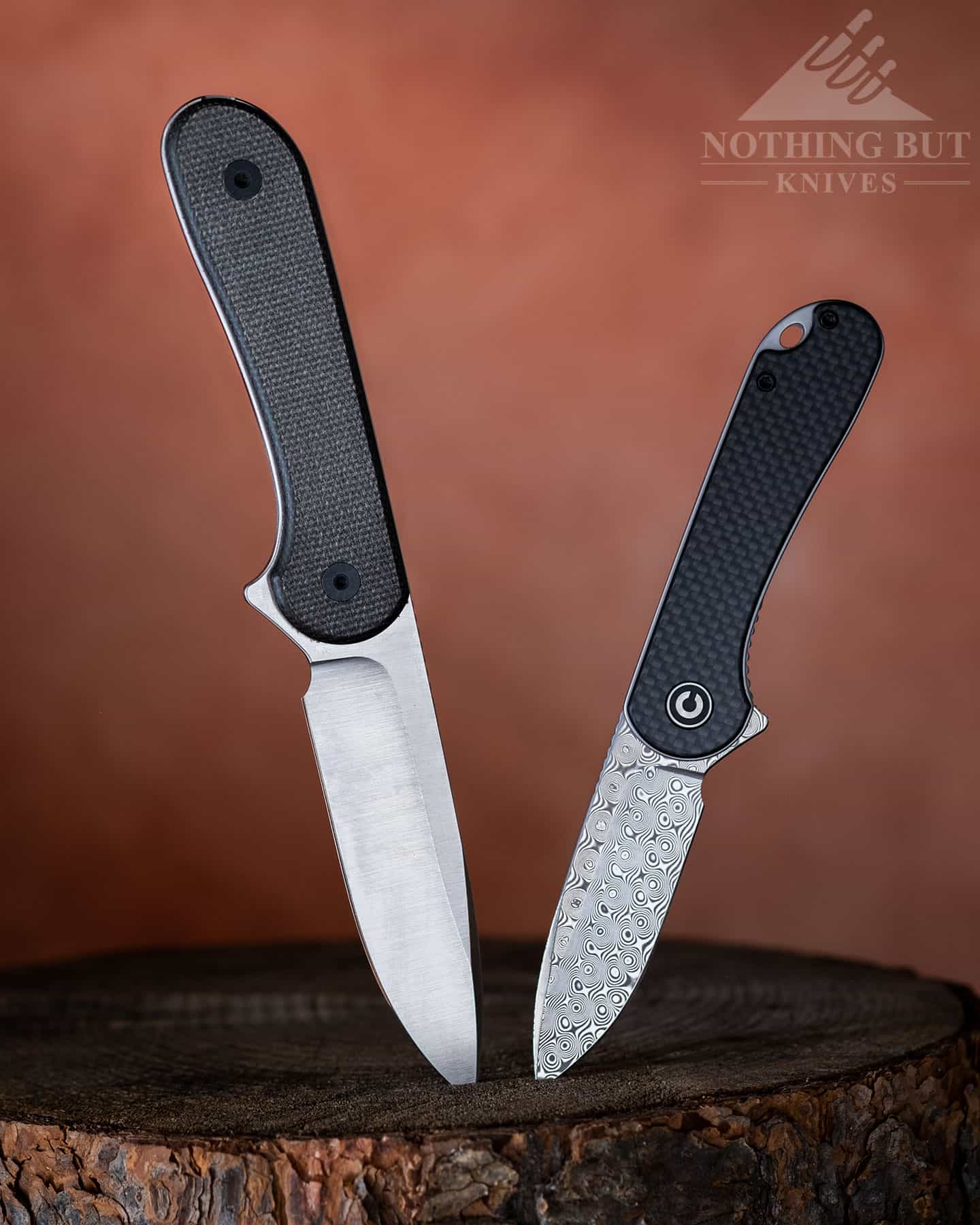 Before we get to the fixed blade, the folder deserves some attention. The Elementum is available in a variety of covers—mostly muted tones of micarta or G-10. Those earth tones hide the stainless liners underneath. Like most liner-locks, the Elementum comes in under half-an-inch, making this an ideal knife for those who don't want to advertise that they're carrying a knife.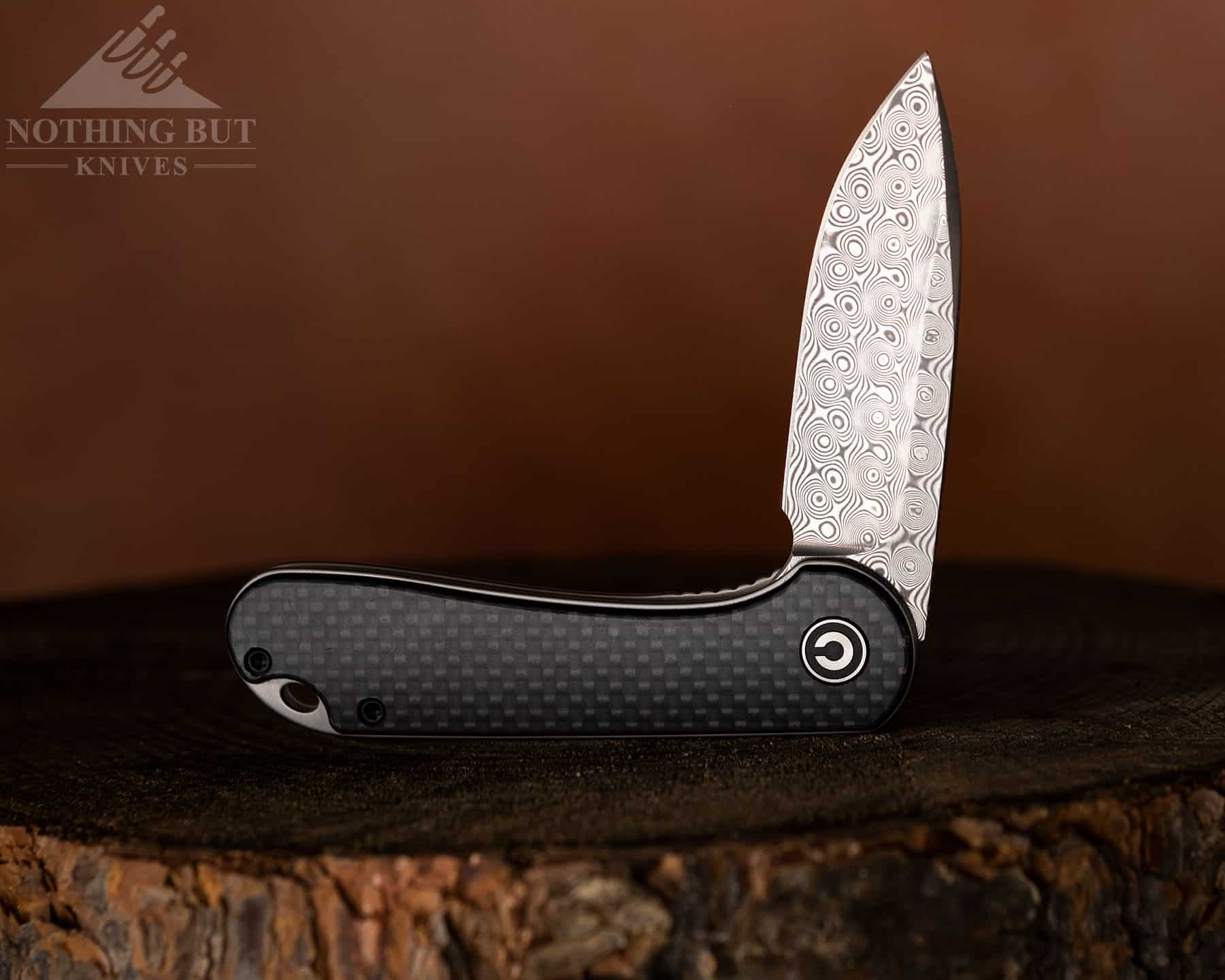 The Elementum has been on the market for three years, and in that time the look has remained the same. Most of these are D2 bladed liner-lock flippers, but they have a button-lock version that flicks open that uses stainless (CPM S35VN and 20CV, and Sandik 14C28N), and there are familiar pattern-welded blade options, too.
In short, finding an Elementum that suits your tastes shouldn't be difficult. Wood, carbon fiber, even frame locks and other metal covers—the variety of options available now speaks to the popularity of the design. The Elementum folder is clearly a homerun for the company.
The Elementum Fixed Blade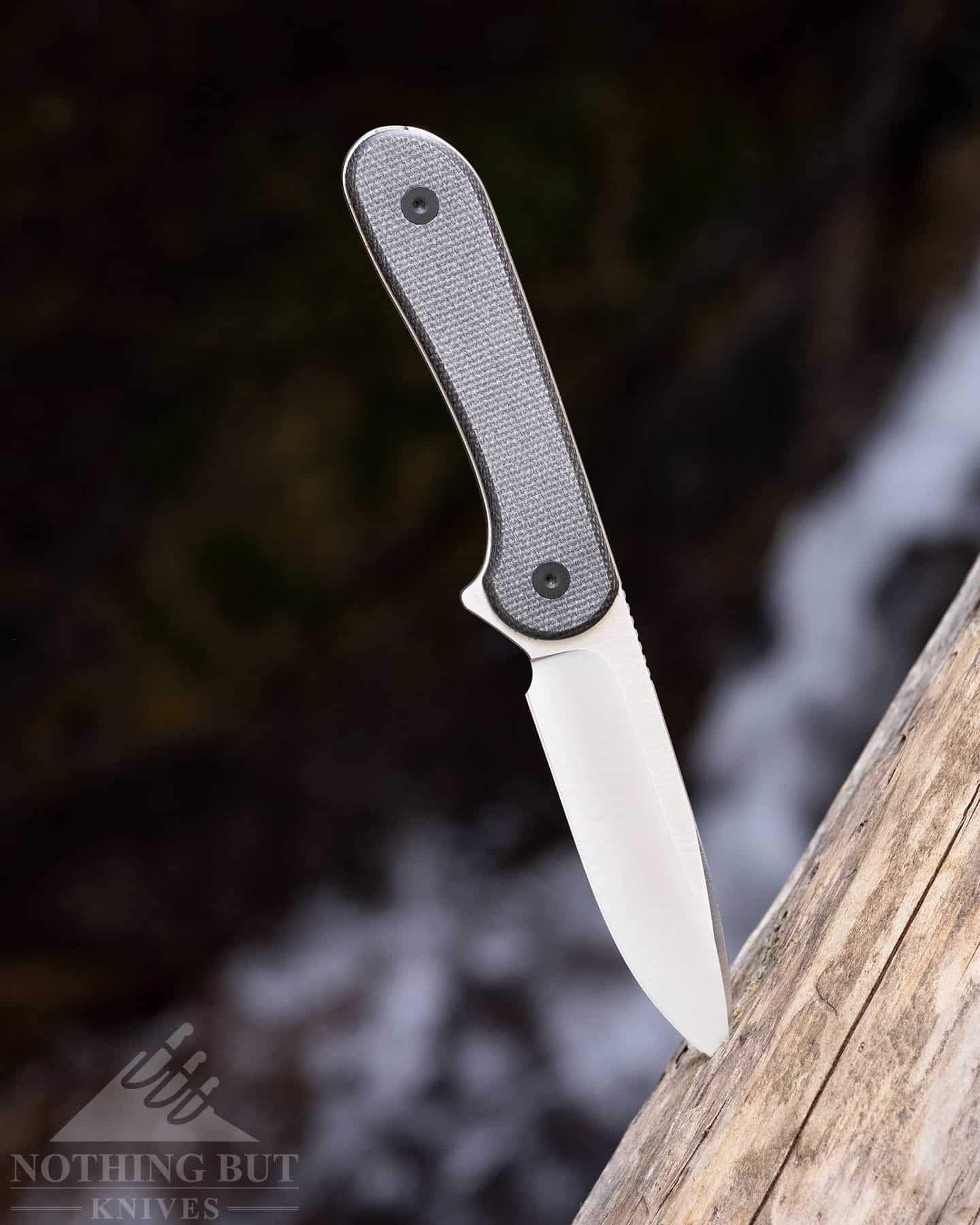 The Elementum Fixed Blade takes the blade steel and extends it back through the handle in a full-tang shape that follows the lines of the folder. Everything about this knife will feel familiar to someone familiar with the folder, except for the addition of a sheath.
The scales on the fixed blade come in two distinct versions. Most are flat slabs with radiused edges that knock back the sharp edge. This follows the most popular folder designs. There's another version that has a contoured grip that will make any long-term use more comfortable on the hand.
Ergonomics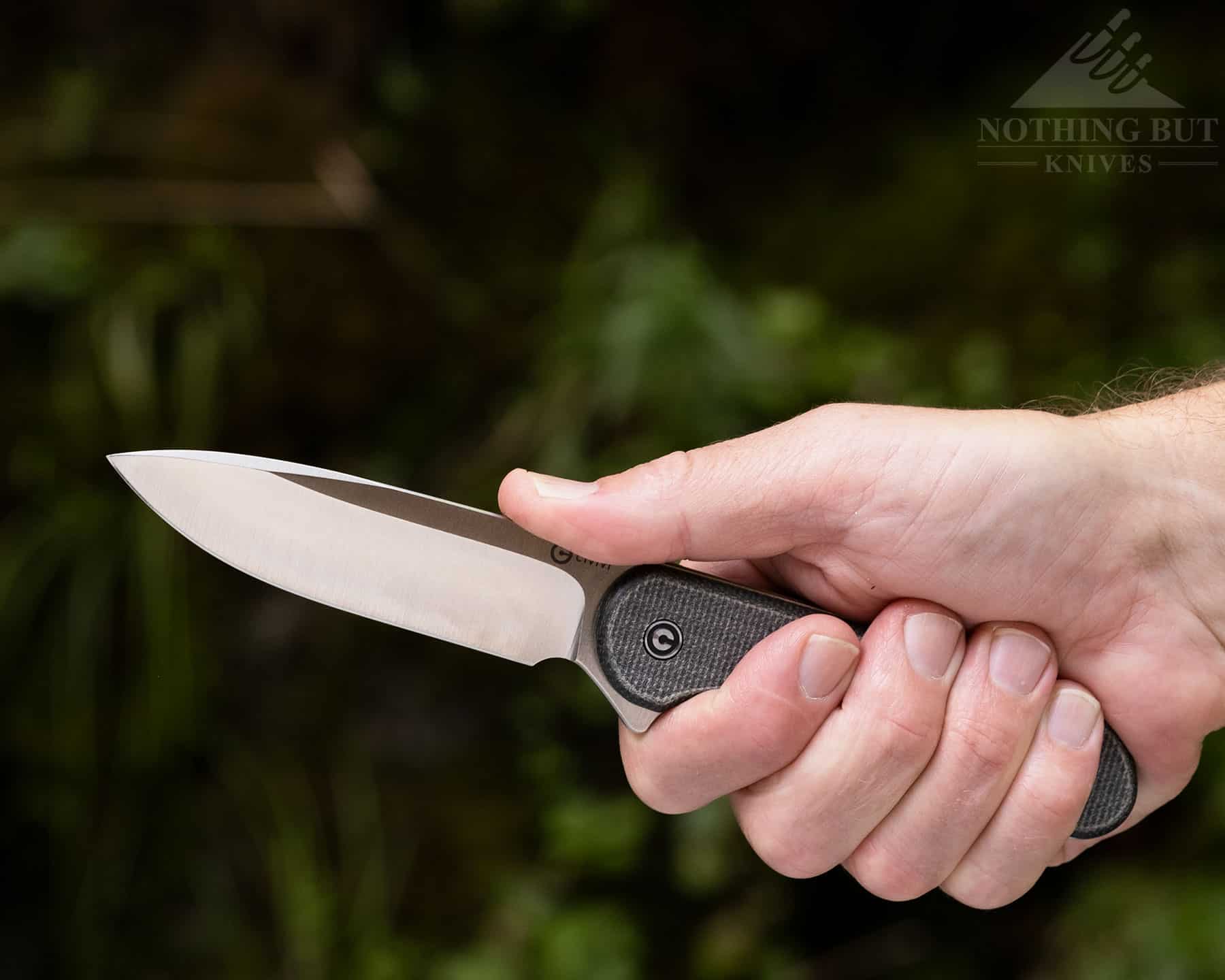 So many pocketknives rely on convenience as the reason for their existence. We typically don't work with them for extended periods of time, so the handle can be rough or aggressive or too thin—it doesn't matter much. Cut open the box, fold it up and put it back in your pocket.
WE and CIVIVI knives often have an element of ergonomics built into the shape. While the Elementum has a simple drop point blade, the handle curves gracefully into a hard-to-describe shape that fits well in the hand without any obvious potential hot spots.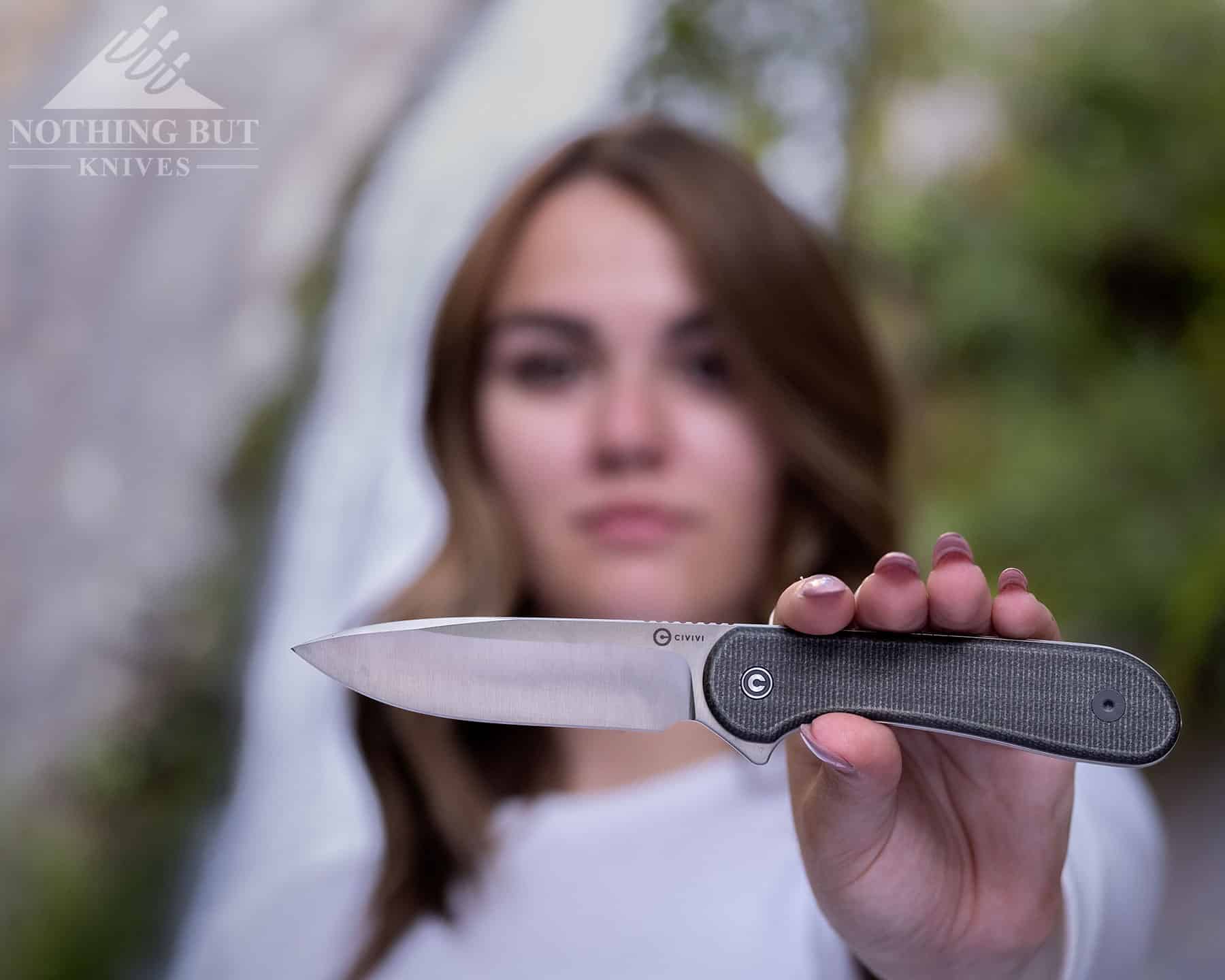 Even the jimping on the blade is softened. While the texture provides an anchor for a thumb, it isn't meant to lock a digit in place like some jimping can. And it is this element of the Elementum's design that speaks to its purpose.
One conundrum all of this poses is this; the Elementum (both fixed and folder) has a thin handle. Making a fixed blade that's similar to a folder means you copy the dimensions, too. This makes the knife easily concealable, but it also means it might not be the most comfortable for heavy use.
Function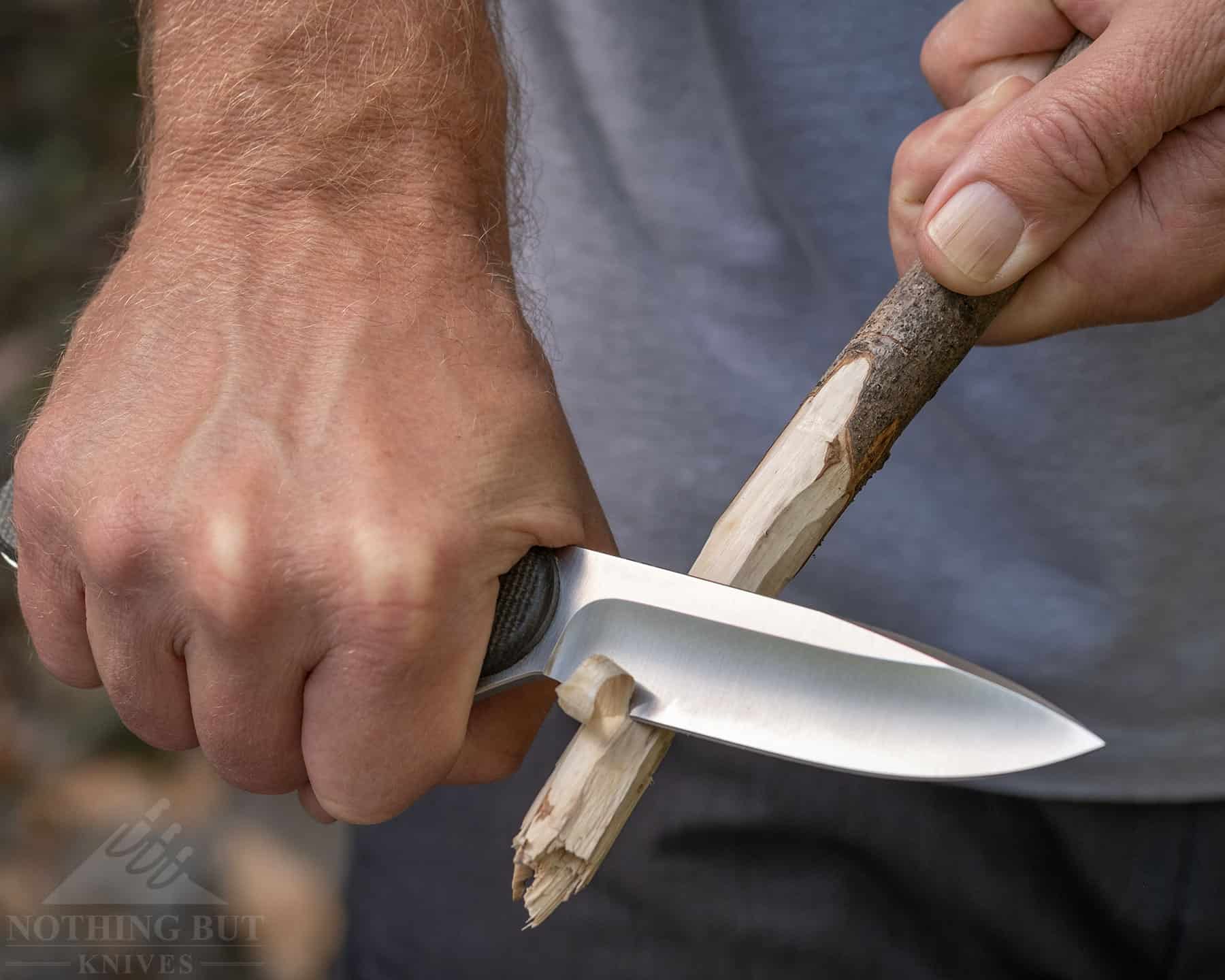 This is, above all else, a utility knife. The blade on the folder, at just .12", is thin. While there are multiple blade-lengths to choose from, none of them would be considered long—not even the 4" blade of the fixed blade. This isn't a knife that is designed for bushcraft or self-defense.
That isn't to say that either of those functions (two uses that I think represent some of the more purpose-built looks of the knife industry) are out of reach of the Elementum Fixed Blade, or the folder.
The Elementum Fixed Blade may even be better than some defensive knife designs, because it is small enough to be carried. This is a crucial distinction, and one I can't stress heavily enough. If you look to a knife as a potential tool for self-defense, you have to carry it with you. And large knives scare people.
The Elementum design, fixed or folder, isn't threatening. And that means it can go more places. You might still get an odd look if wearing a fixed blade is common in your neck-of-the-woods, but this isn't the type of knife design that sets people on edge.
And the gentle under-cut of the handle acts as a hilt of sorts. Lock in your grip there, and the knife isn't likely to slip into your hand during heavy use.
The Sheath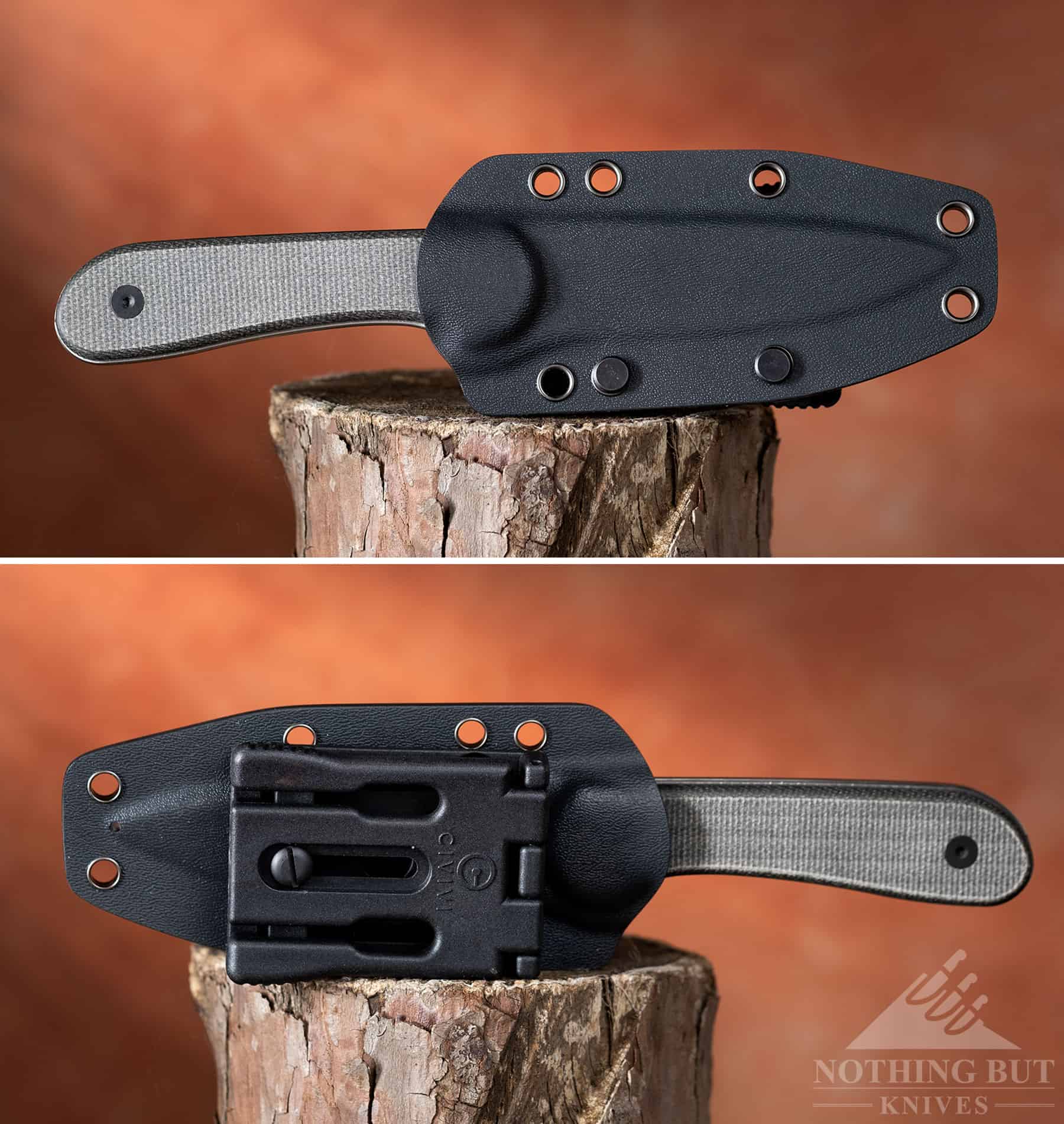 As this is a sheath knife, as we called them when I was a kid, the Elementum Fixed Blade has a whole new facet that adds to its versatility. As it comes from CIVIVI, the knife is designed to be carried vertically. The simple Kydex design is held together with gromets that allow for the Clip Lock to be positioned in a number of ways.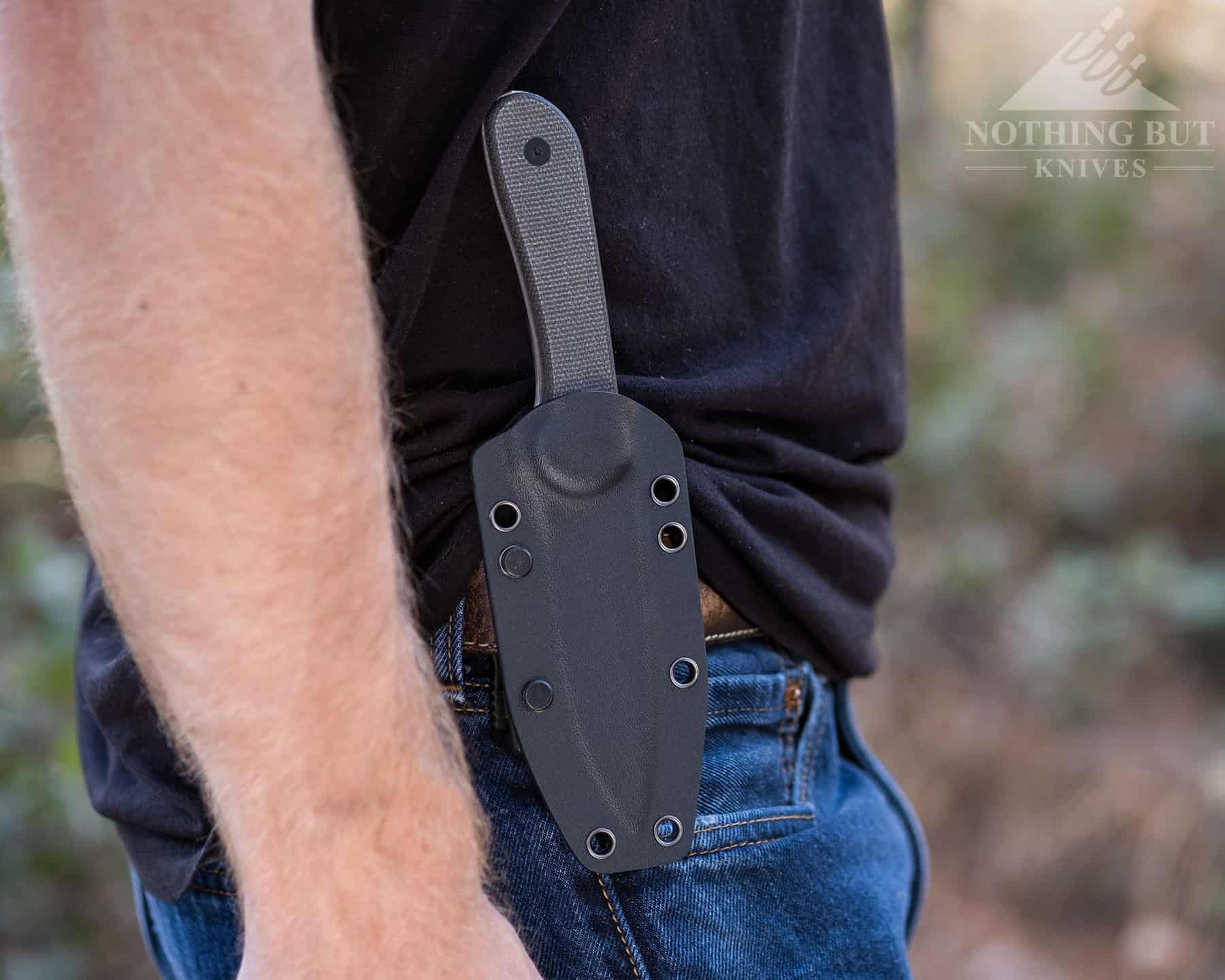 I've been carrying this on a belt, at the 4:00 position. It isn't so large as to be obtrusive when I sit, though you'll feel its presence when you sit in a car seat. The ride-height on this is higher than I typically go for, but that height is what allows the Elementum Fixed Blade to be concealed with a shirttail or a jacket. Even in the summer, it is easy to hide.
I've yet to try this in the horizontal carry position, but I think that's where I'm heading. The open mouth of the sheath would permit horizontal small-of-back carry, even (assuming you'd have both hands free to safely re-sheath the knife). The size, though, is ideal.
And with the right kind of clip as an addition, I could make a case for front-pocket carry. The length may be slightly longer than might be optimal, but if the pocket was deep enough, this is going to fit nicely, just not with this clip.
The cutting edge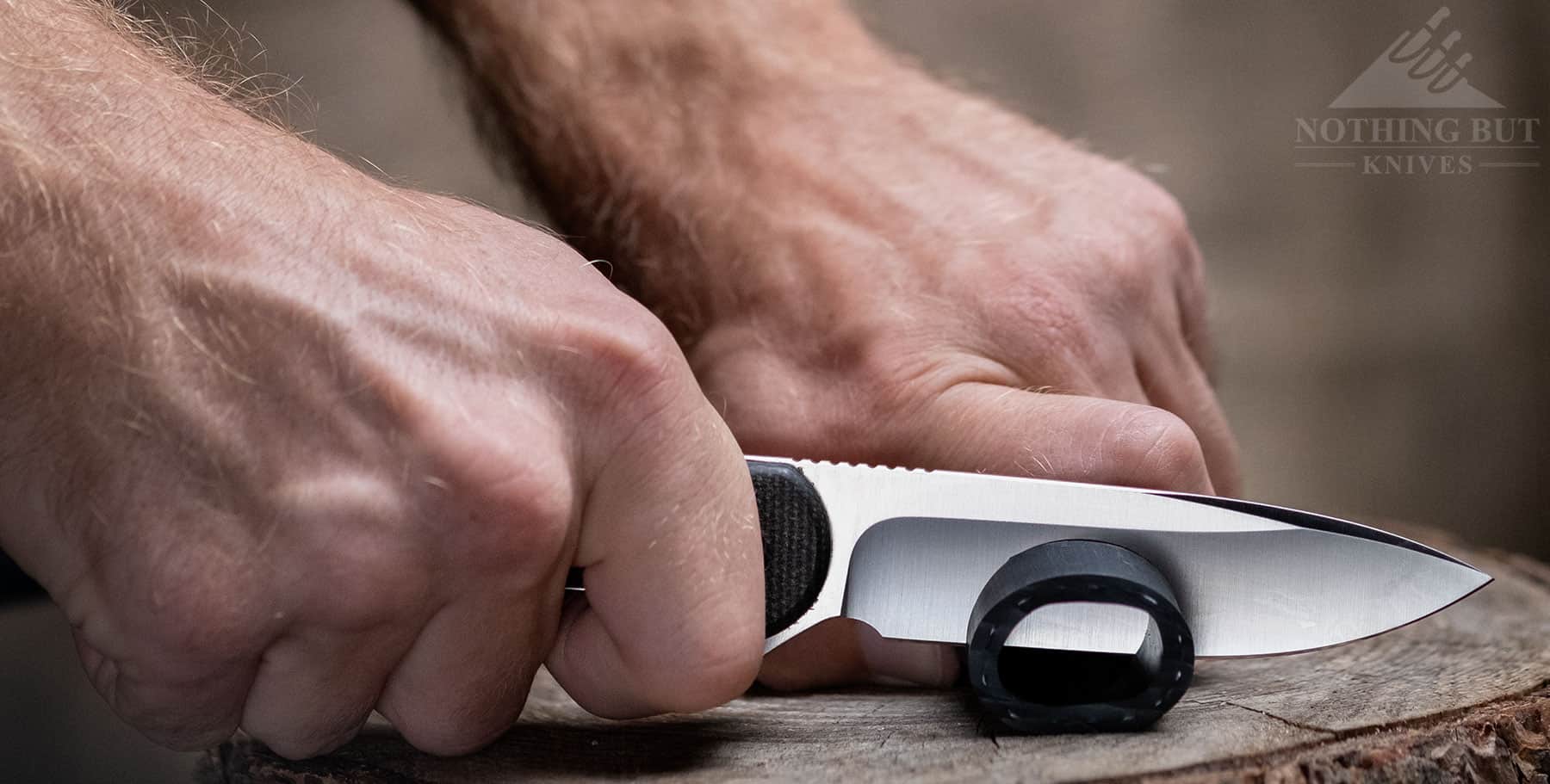 This blade is D2. For utilitarian designs, D2 is a rockstar. The steel holds an edge like higher carbon steels, while still providing some of the ease-of-use associated with the traditional stainless varieties. It hardens well and will hold an edge longer than stainless.
The steel is a bit more complicated to sharpen, especially for those new to sharpening. The best way I can describe it is like this—sharpening (at least the traditional methods using whetstones) is all about the feel of the steel moving across the stone. D2 feels almost slippery. A higher carbon steel will have more friction as it moves across a stone.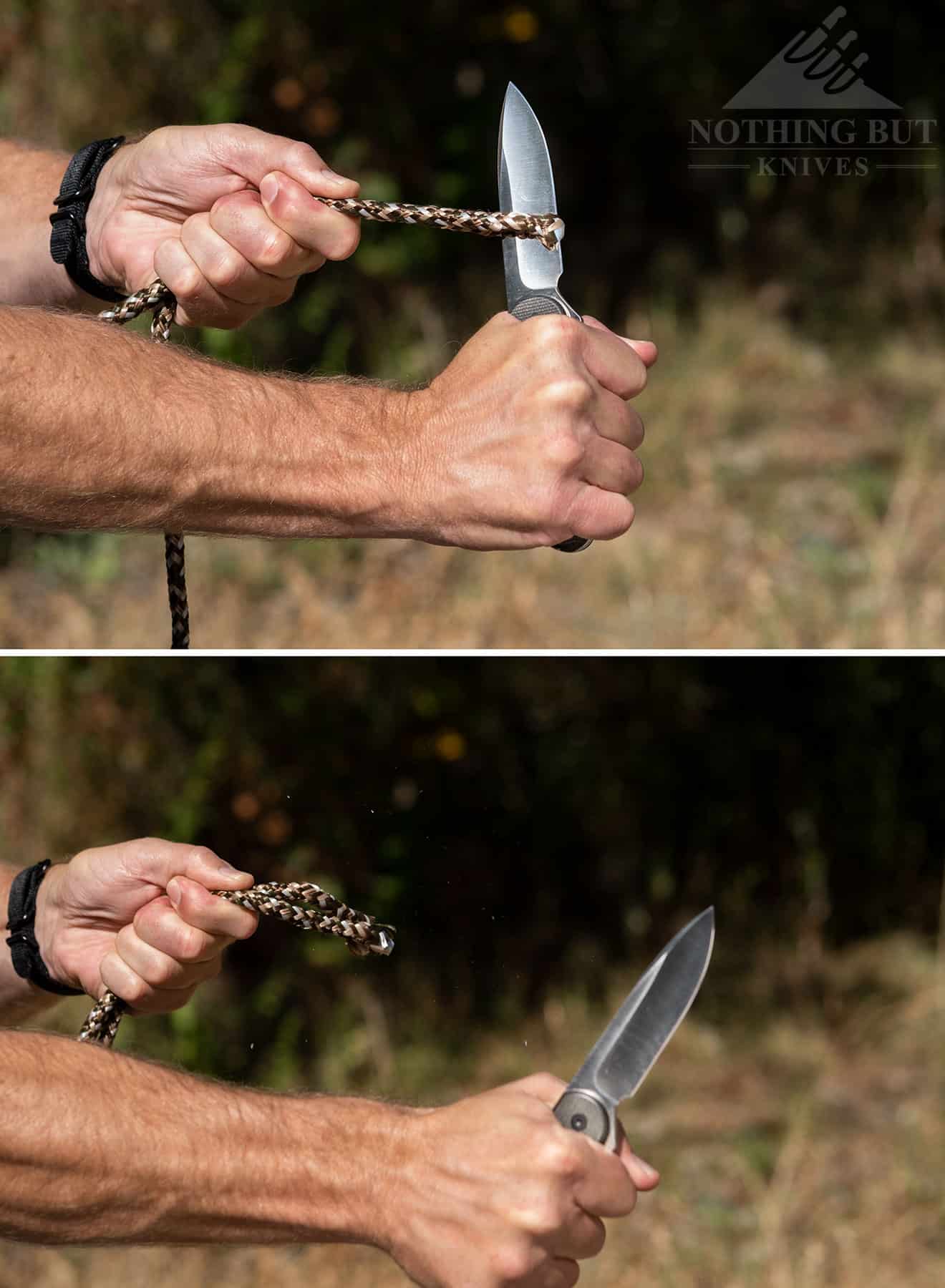 The Elementum knives, and all the knives I've seen from both WE and CIVIVI, come with exceptional factory edges. They bear the mark of CNC machine precision and the human-touch needed to take them to the next level of refined aesthetics.
Both the folder and the fixed blade that I've been working with are hollow-ground, but the fixed blade is slightly thicker (.14" as compare to .12"). The difference isn't visible to the human eye. This thin stock and a well-executed hollow grind make these light knives that are well suited for slicing.
Why carry a fixed blade Elementum?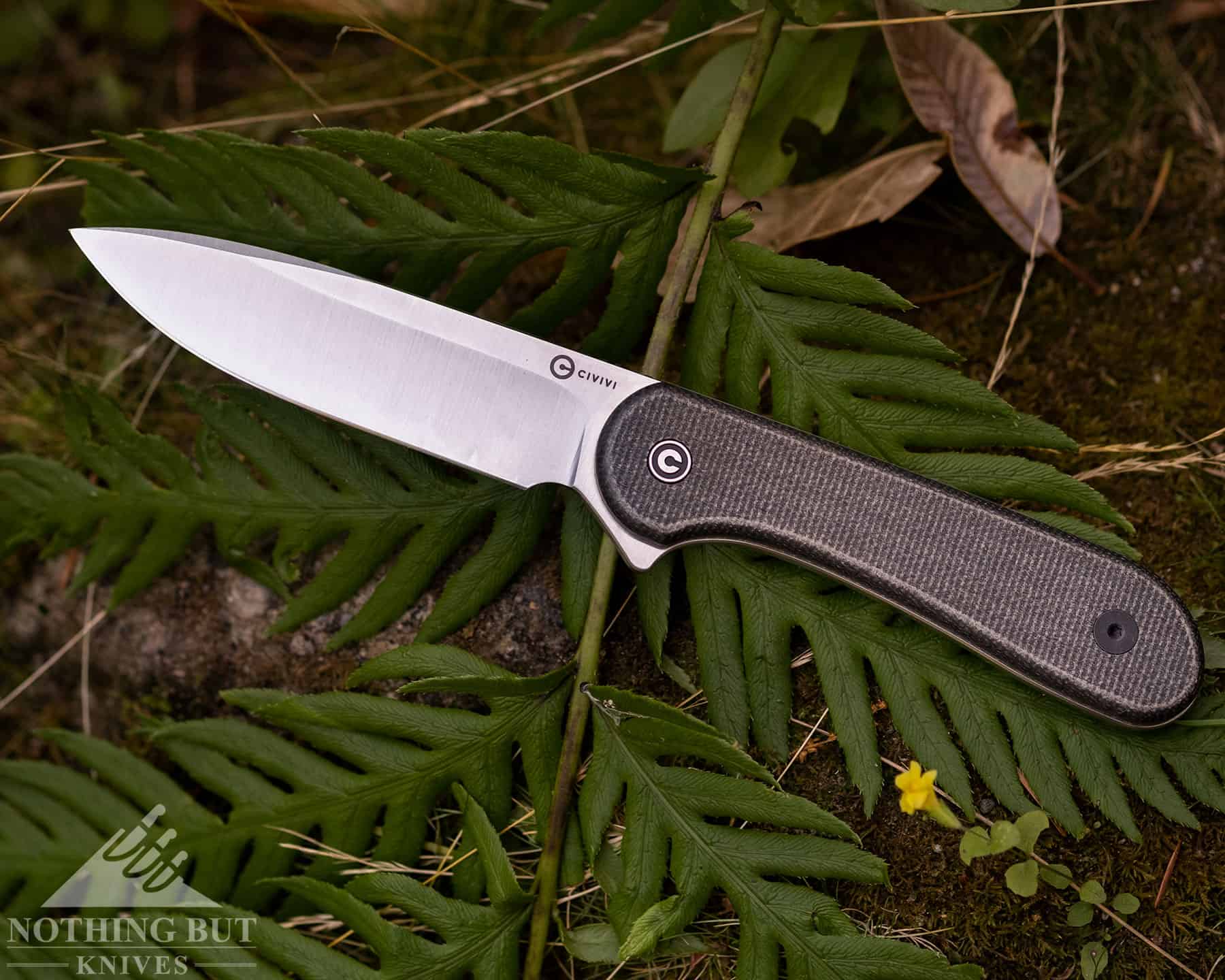 This one may require me to convince you, but I'm betting that—if you've read this far in this- -you get it. Having a fixed blade version of your favorite folder means you are already familiar with the design.
Or, if you are new to both, having an Elementum Fixed Blade and an Elementum folder allows you to learn one knife instead of two. Each blade is going to have nuances, and those take time to master. This way, you build functional muscle memory (something that is vital for anyone who uses tools).
And the fixed blade is simply stronger. There's no denying this. While it isn't a universal truth, it is a safe assumption. I've broken some fixed blades in my time, but their failure points were always way past what I could have gotten out of a folder.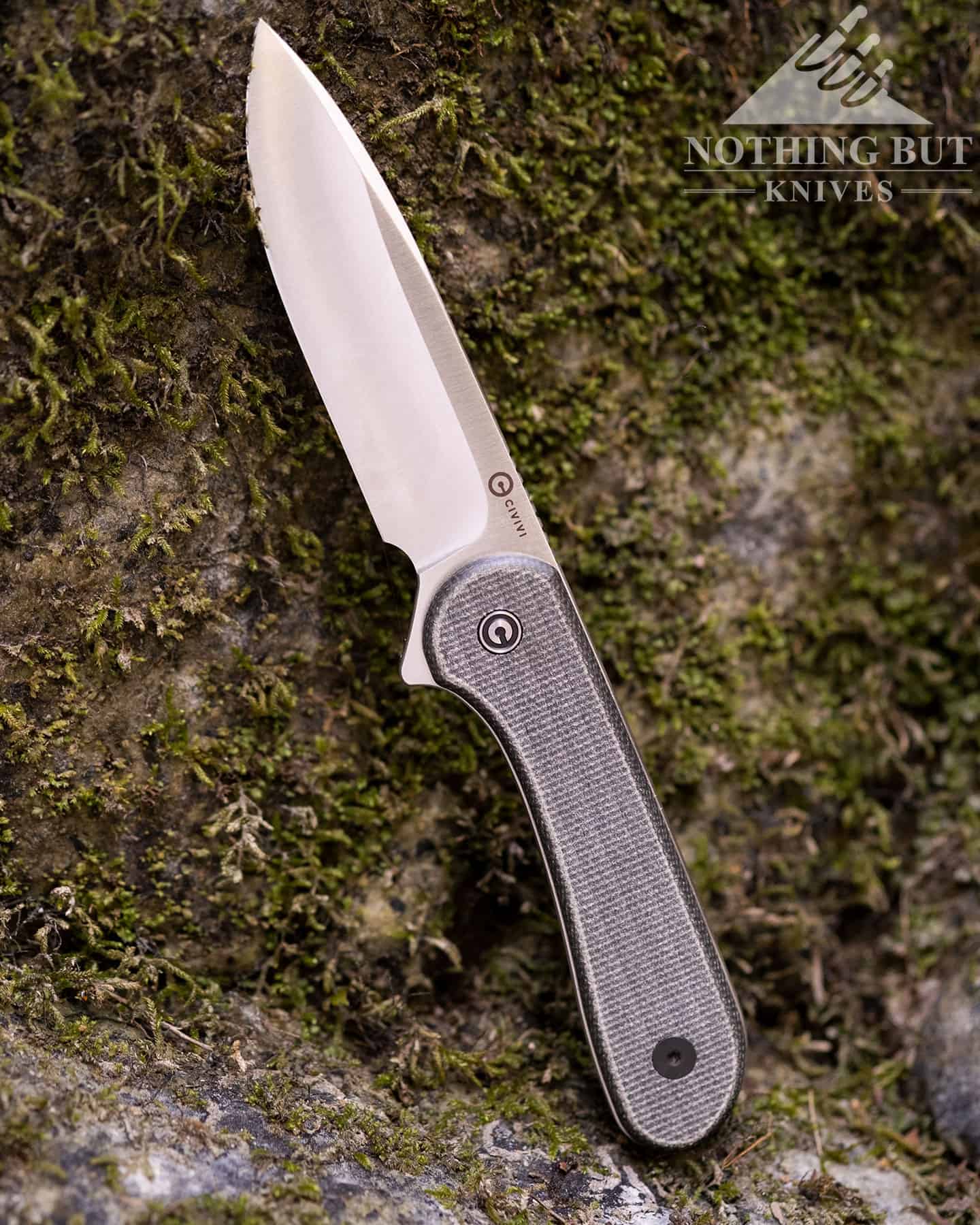 Price?
The Elementum is a popular design, in no small part, because it is an exceptionally well-built knife for the price. These start in the neighborhood of $50, MSRP. At retail, they come in lower. The folders go up, as you'd expect, as the lock design, steel choices, and materials increase in price.
The Elementum Fixed Blades begin at the MSRP of $87.65 and go up from there. The folder/fixed blade math alludes me, as the fixed blade is easier to produce. It also has more steel in play, which is sometimes the most expensive part of a knife, so that's likely why. Either way—these knives are a genuine representation of value.