The Mora Garberg Continues to Justify Its Popularity in a Knife Market Flooded with Full Tang Bushcraft Knives.
Anyone who knows much of anything about bushcraft knives knows the Morakniv brand. These knives are no-nonsense designs that keep costs modest and utilitarian features front and center. The Garberg series is one of the most robust lines to come out of Morakniv, and the knives are accompanied by a host of modular features that make them even better for their use in the woods.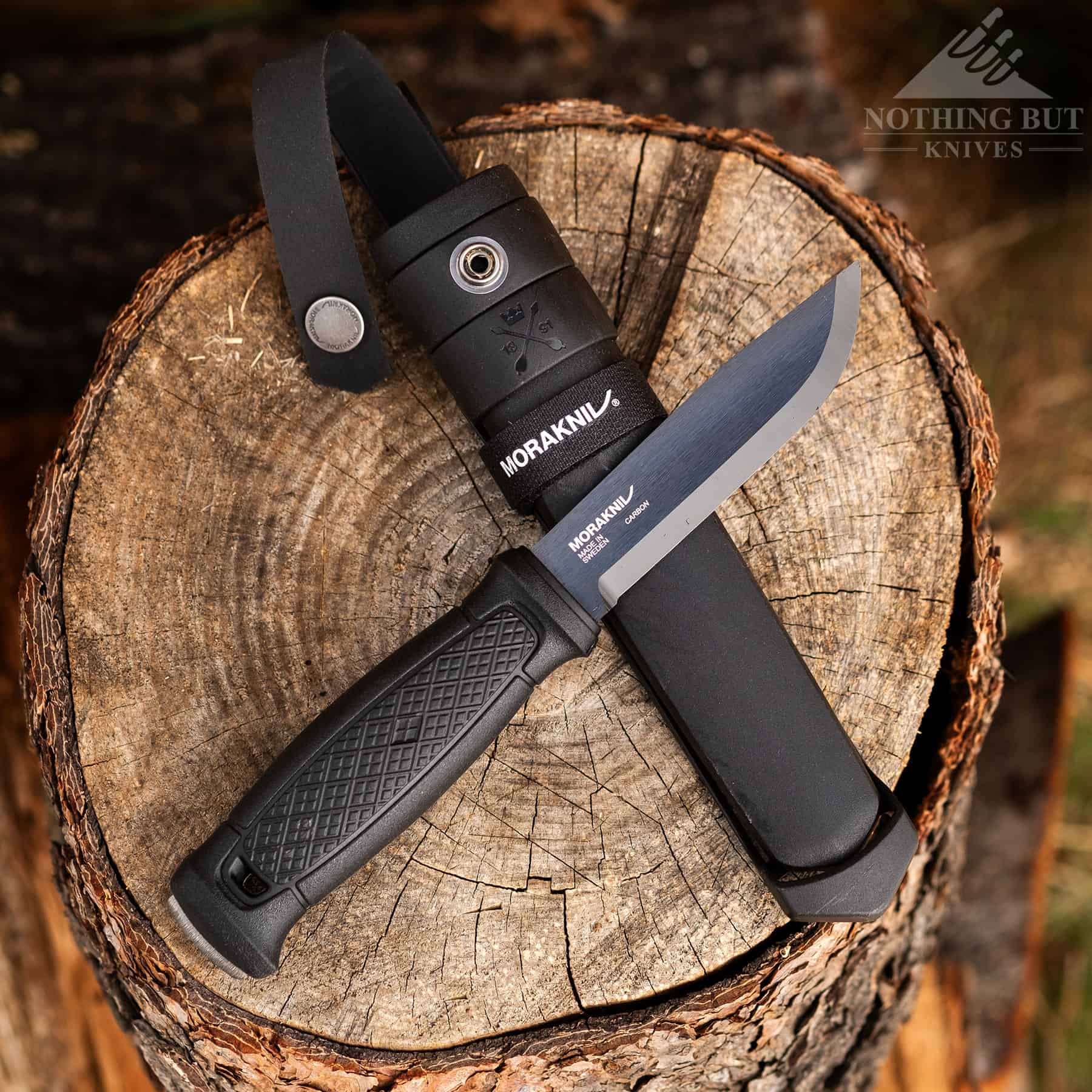 Specifications
| | |
| --- | --- |
| Blade Length | 109mm |
| Blade Edge | Plain |
| Blade Steel | recycled Swedish stainless |
| Blade Finish | Satin |
| Blade Thickness | 3.2mm |
| Overall Length | 245mm |
| Fire Steel Compatible | Yes |
| Ambidextrous Sheath | Yes |
| Style | Puuko-ish |
| Floating | No |
| Weight | 240 grams |
| MOLLE Compatible | Yes |
| Handle Material | Polyamide |
Pros
Ambi attachments add even more ways to carry
The classic Morakniv design, only stronger
Fully functional without the cliche tactical look
CONS
I'm not wild about stainless.
This Morakniv doesn't offer a canvas for personal expression, like some bushcraft knives.
Morakniv has a brilliant business model. Check prices anywhere. The company is easily the single best value in outdoor knives.
The fact that most of their knives cost less than what you might pay for lunch today is a strong selling point. The blades are always wicked sharp. The designs are never aggressive or pretentious. The whole aesthetic is built on functionality, utility, and value.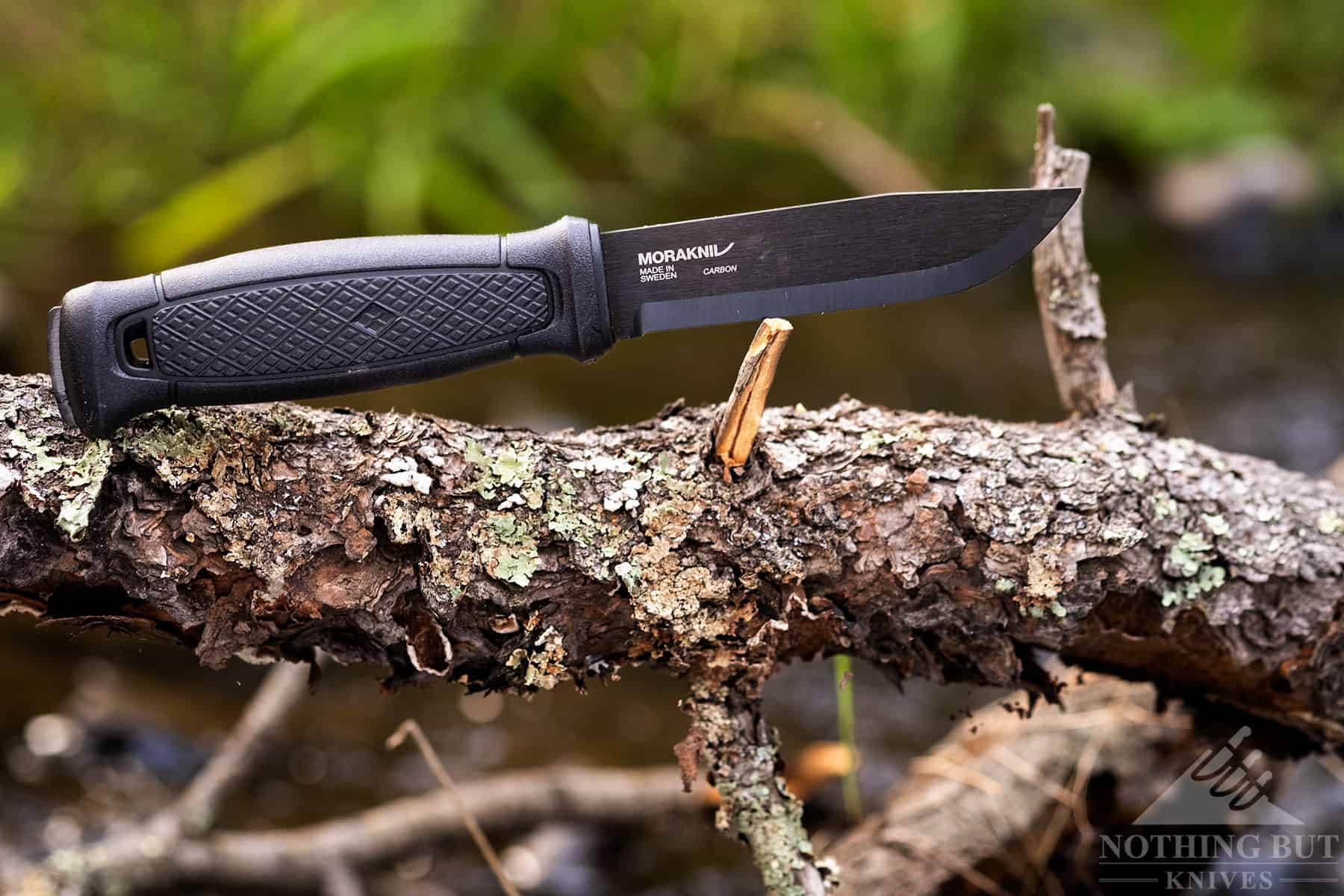 Underlying this comes some of the criticisms. As blade prices fall in the Morakniv line, the tangs get thinner. The blade stock does, too. But thin blades aren't always bad, and the knives are never priced so high that you'll lose sleep over dropping one in the lake, breaking a tang, or knocking off a blade tip trying to use it as a screwdriver.
Prices that can't be beat and reliable performance–what more could you want?
The Garberg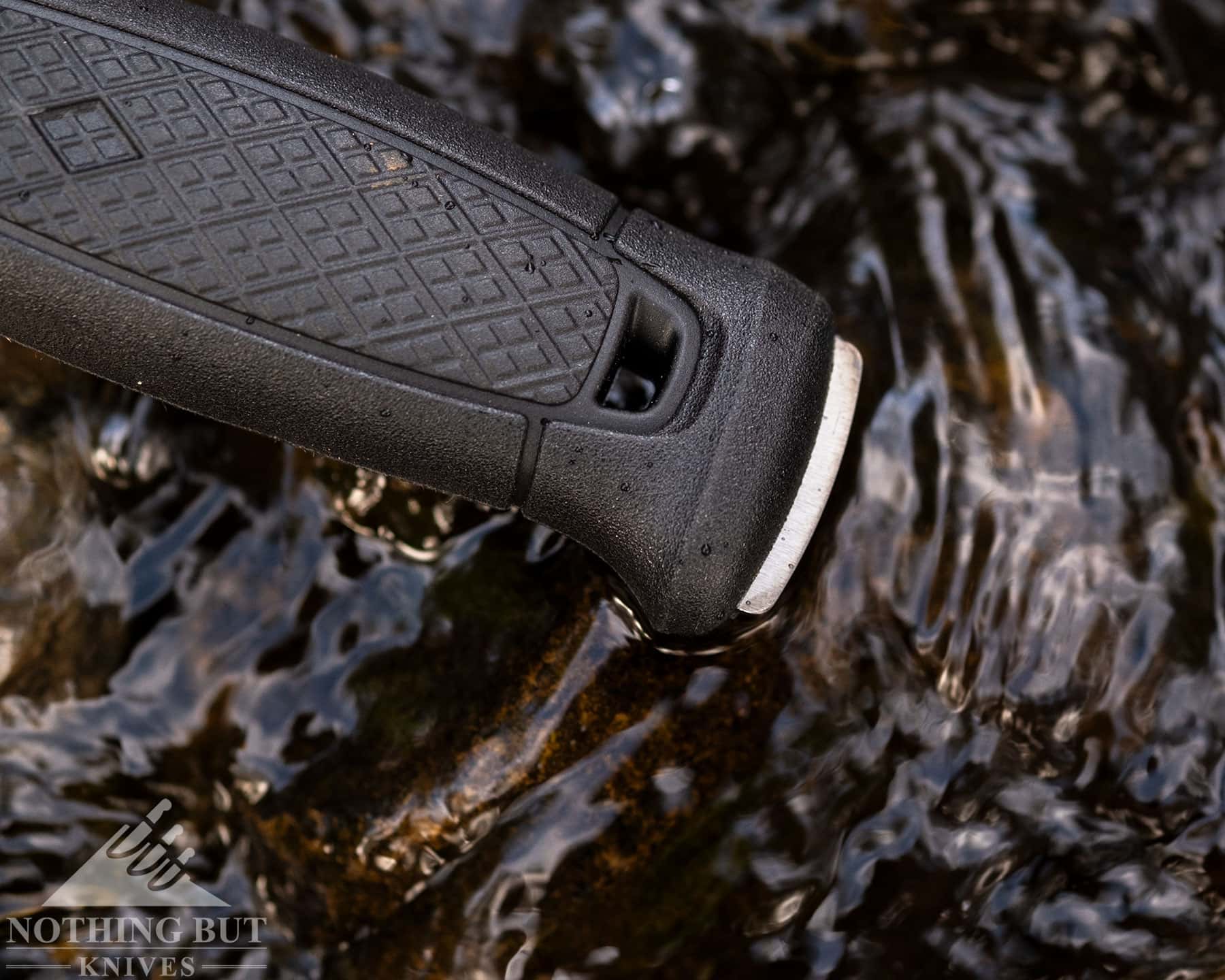 As these knives have made it into the bushcraft world, the need for something stronger has become apparent to Morakniv. If this need actually exists or not is open to debate. I've yet to break one, and I've broken some knives in my time. But the perceived need for a full-tang option exists, none-the-less.
The Garberg has a full tang. That added strength provides peace-of-mind, perhaps. It also allows for the butt to be used as a striking surface. While the steel that protrudes from the end is hardly a hammer, it could be useful.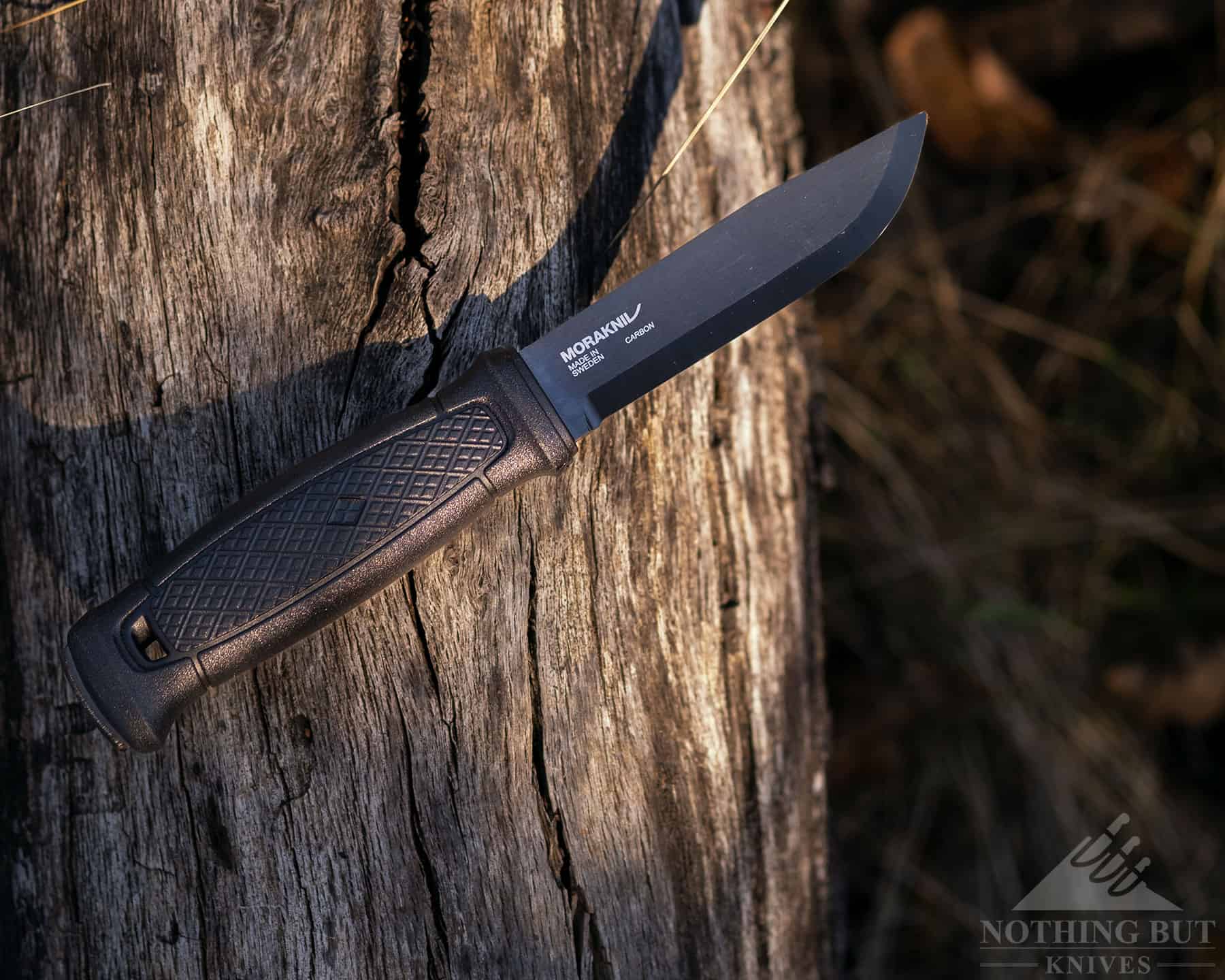 Morakniv fans will be familiar with the blade shape and design. The Scandi-grind is naturally sharp, though oddly confounding to some Americans. Sharpening a Scandi-grind blade is easy if you have a bit of practice and good, flat stones. If you use more modern sharpeners, or any of the pull-through disasters, you will quickly wreck the edge with the introduction of a secondary angle. Fixing a problem like this can be cumbersome.
If black's not your thing, the Garberg does come in other colors. This is another way that Morakniv is reaching new customers and pushing the limits of knife ownership cliches. Many American designs are so ridiculous in their aggressive shapes and thicknesses, but these are not. This allows for hikers, bikers, backpackers–you name it–to carry something into the woods or on the trail that doesn't give off the same kind of vibes as many other designs.
How does the Garberg feel in the hand?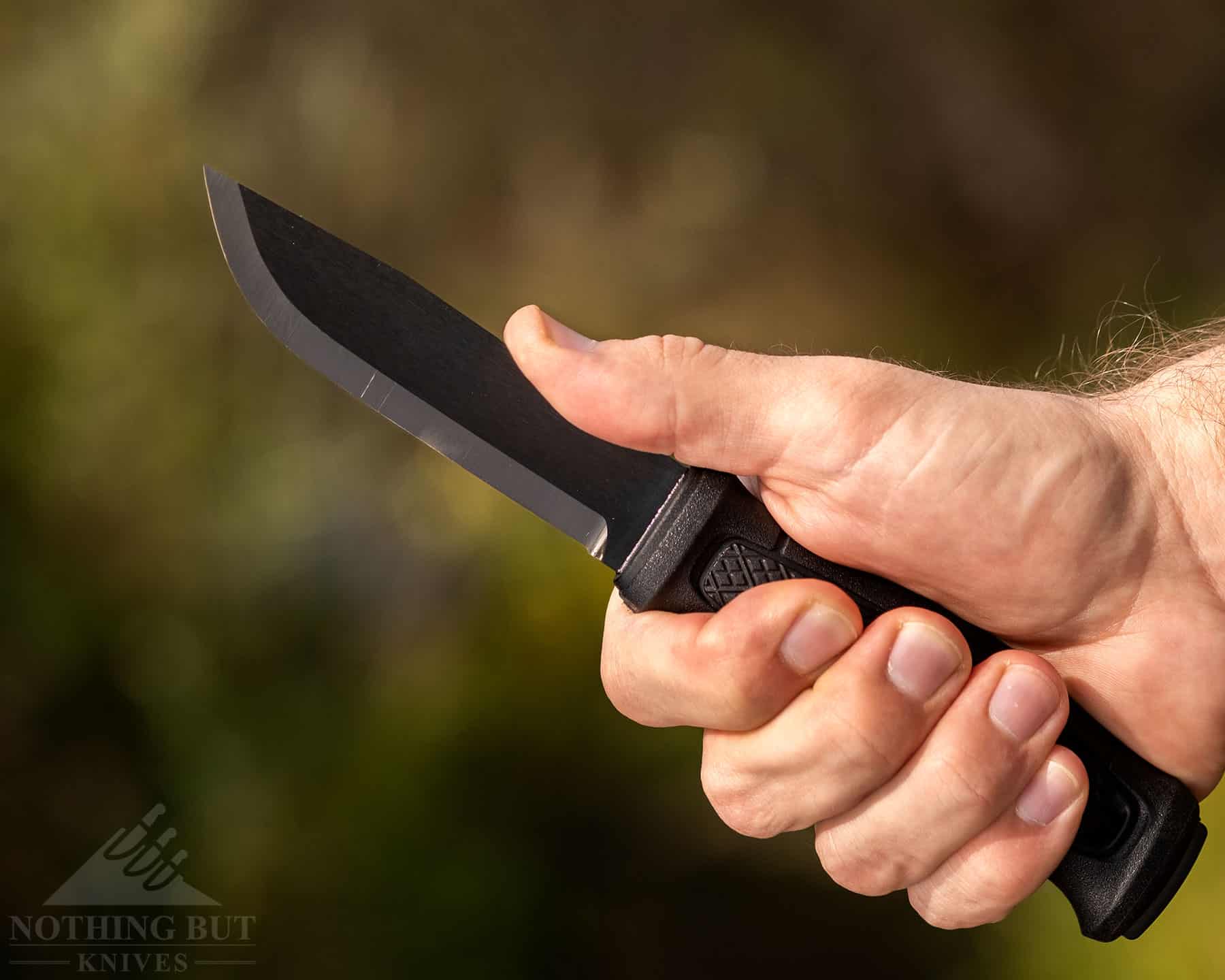 I've said it before, and I'll say it again here. I'm not a fan of plastics. Stacked leather rings or wooden scales are so much more comfortable. My wife claims I have sensory issues. Maybe so.
Micarta and G10, though, or aluminum, brass, and titanium, all feel great. The over-molded nylons, Delrin, or rubber derivatives have never been my favorite. But they have their place.
I'm not sure what type of polyamide Morakniv is using, but it works for these knives. Once I've got a good layer of dirt on my hands, these grips feel good. They have enough texture to be sticky without being so aggressive that they tear you up after a reasonable amount of work. After using this knife on a couple of trips in the woods and multiple kitchen meal preps, I've yet to raise any hot spots.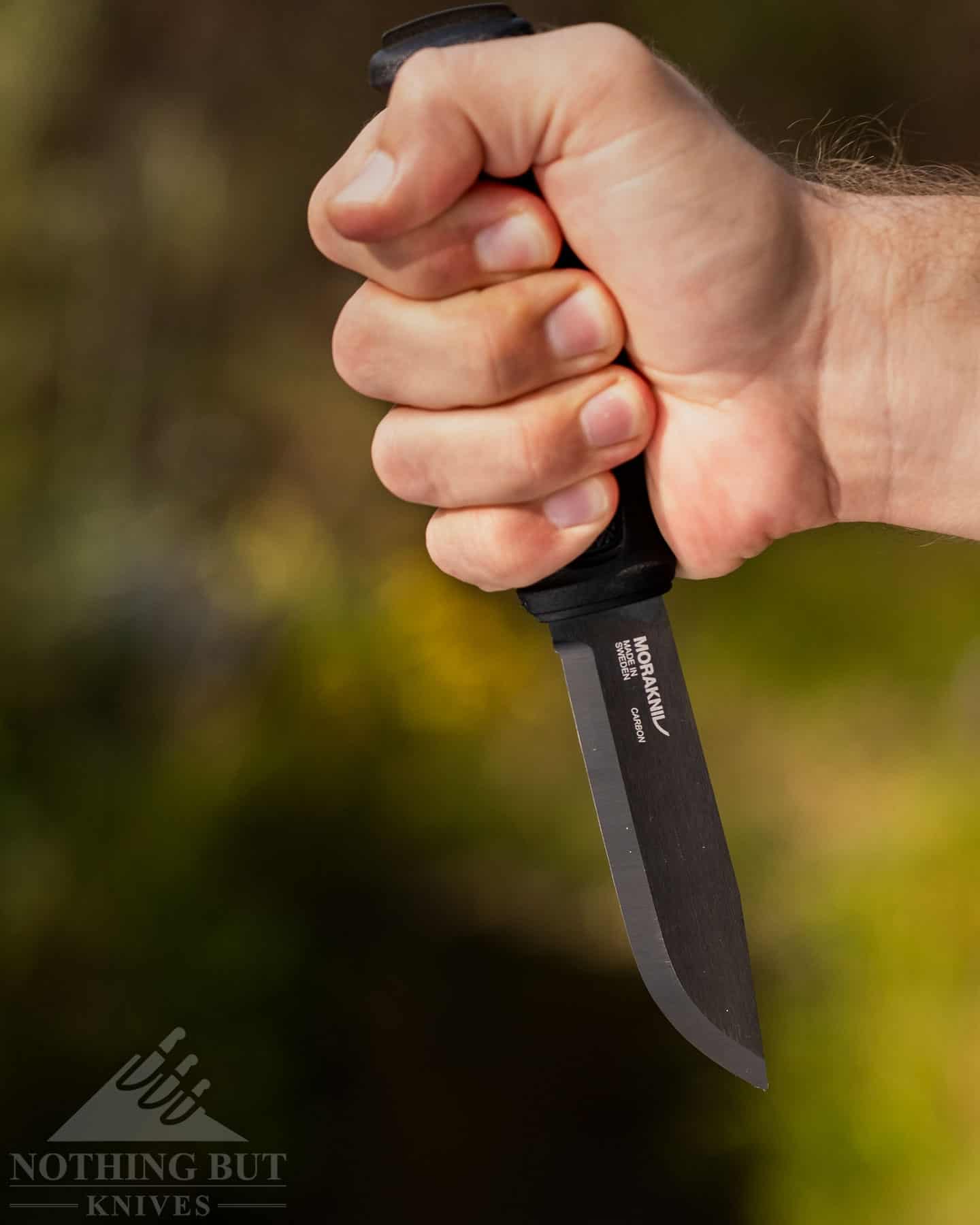 The Garbeg has a nice swell to the handle, too. While the hilt end is hardly a cross guard, it is more pronounced than some of the Puuko designs that fade directly onto the cutting edge of the blade. As such, this is a great transition knife for anyone who is drawn to those Scandinavian blade shapes. They often require a new set of skills to be used safely.
How does the Multi-Mount work?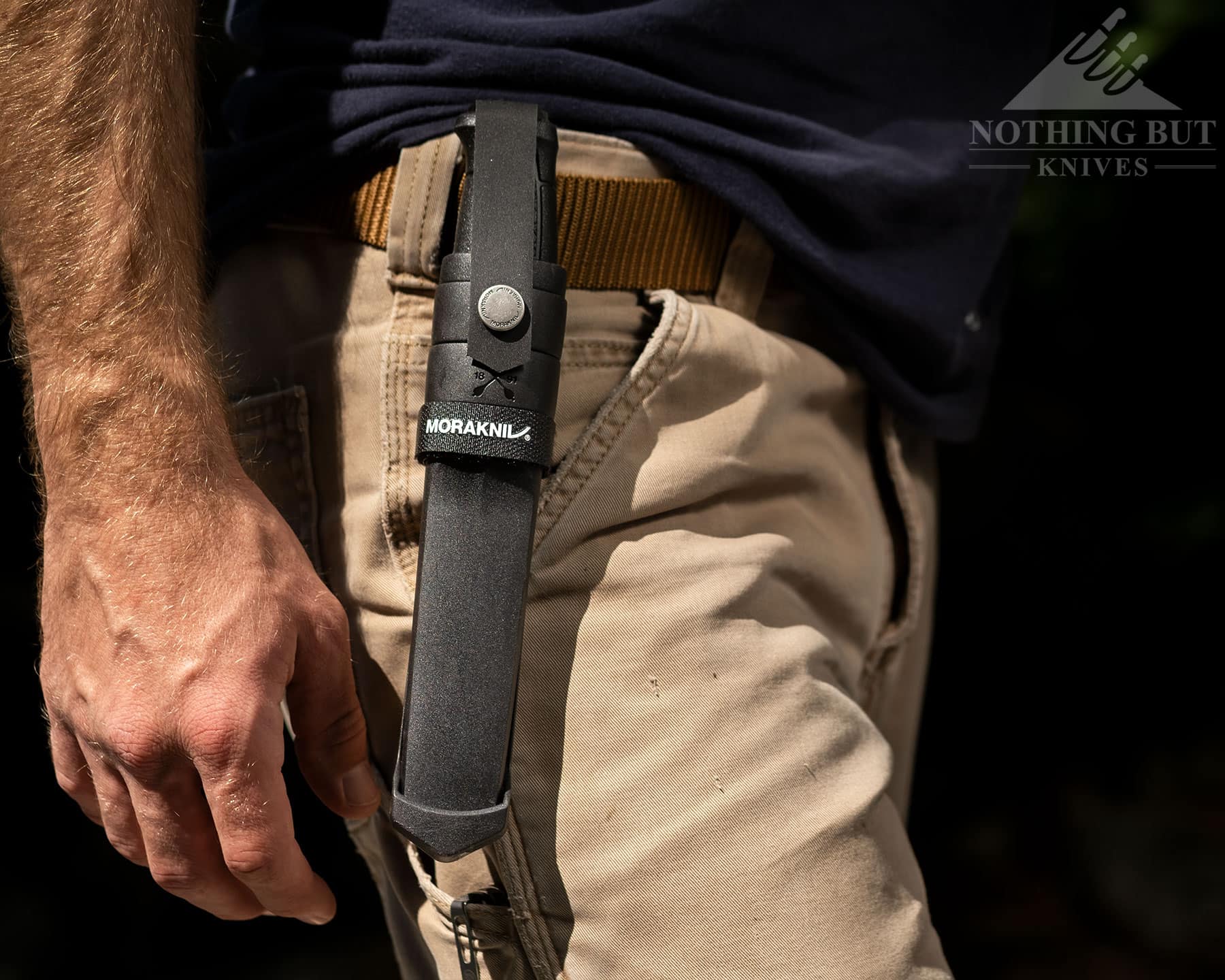 How much time do you have? This concept is brilliant and will likely be the selling point for many. Let's begin at the top.
Almost all of the Morakniv knives have an injection molded sheath. These are simple to clean, hold the knives well, and are usually ambidextrous. They work well and are designed to be worn on a belt.
This system has a sheath like that, but builds in a frame that can be mounted almost anywhere. It is like a sheath for the sheath. This mount is skeletal, has numerous slats and holes built in, and is meant to secure the sheath in such a way that the knife remains accesible.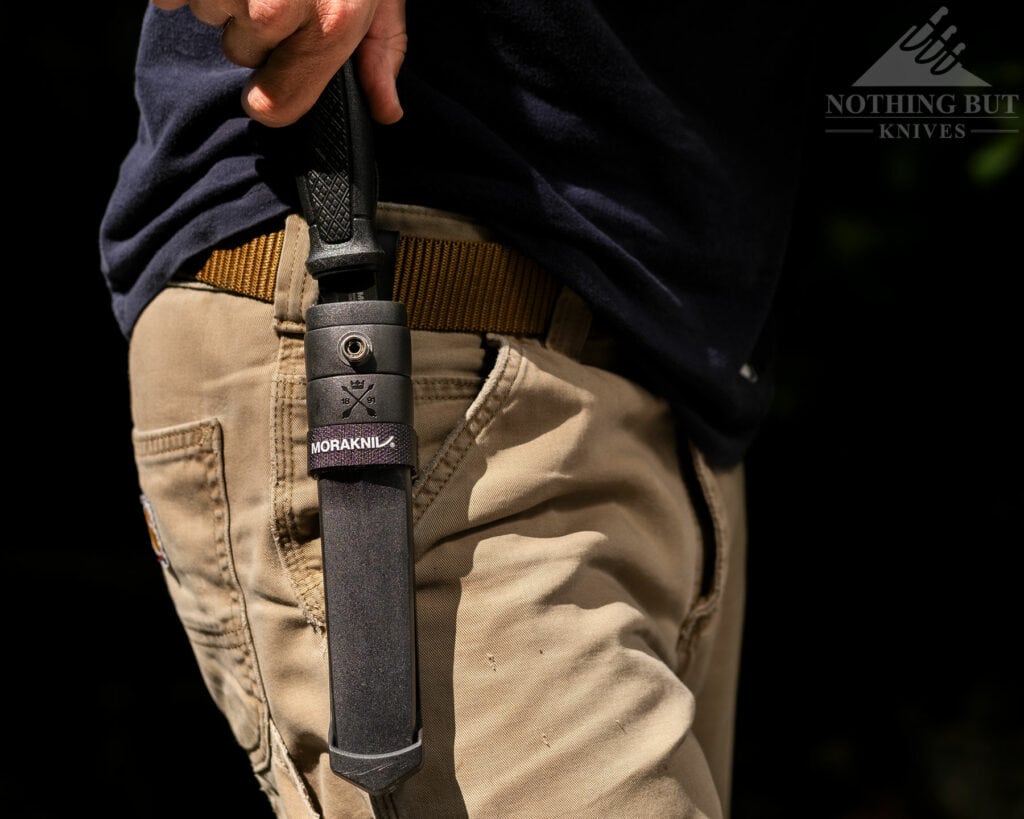 This is key, though–the sheath is accesible, too. If you want to draw the knife, you can. If you want to unstrap the knife in the sheath, you can do that, too.
MOLLE straps on a pack? No problem. Strap it in. Want to screw the frame into something more permanent, like a workbench or ATV dash–that works, too. The options really are endless.
As the Morakniv knives have always been popular for those of us who like to leave knives where they are needed most, this new system seems to be perfect.
The Genius of the Morakniv design?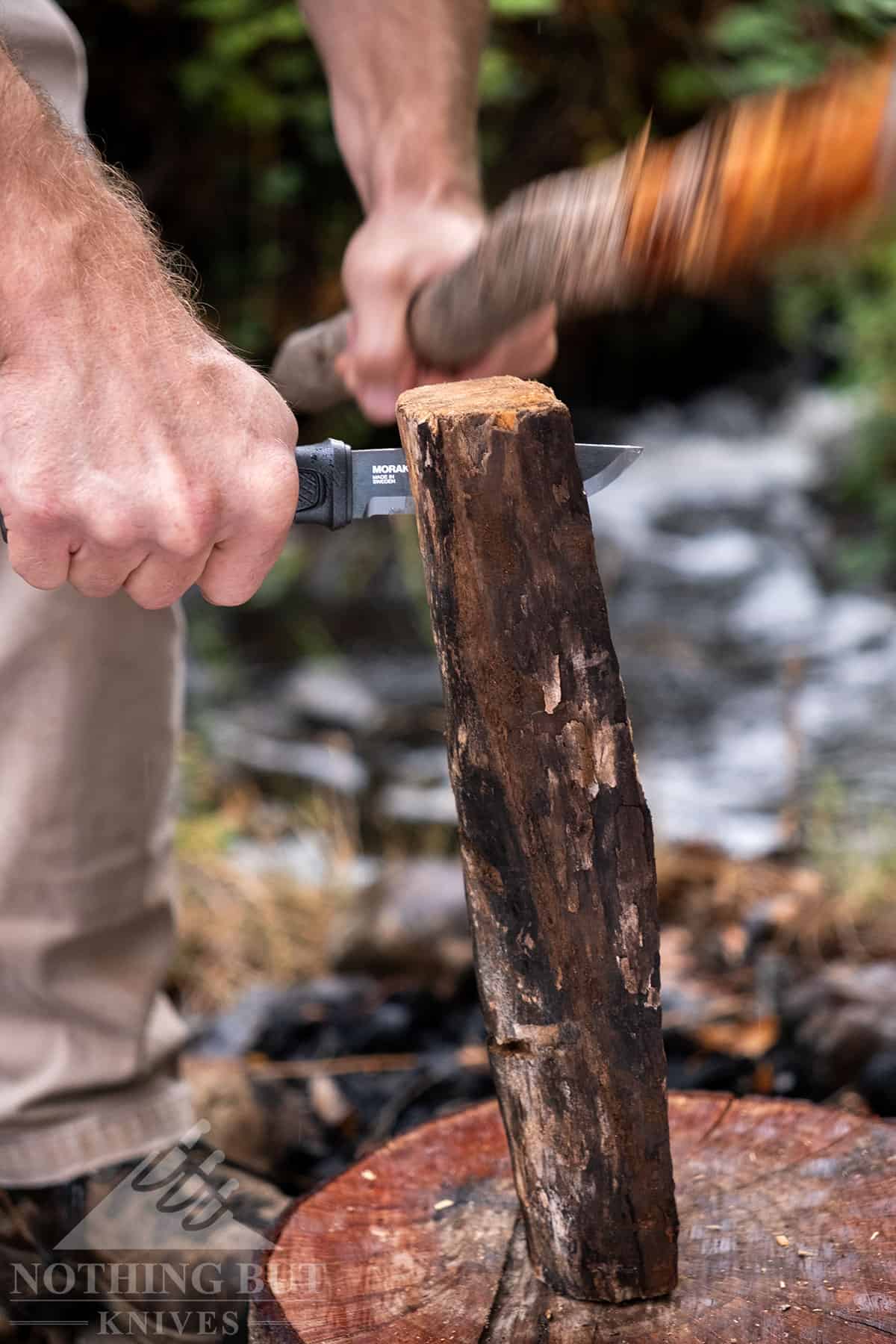 I own many of these. I've lost count. The stainless designs are perfect for use around water–especially for those who aren't accustomed to the nuances of carbon steels–so I've given many to friends and Scouts on float trips.
The blades are great for skinning and dressing, too, so I keep them with my hunting kit. The cork-handled knives float, so I have one in my tackle box. And they have excellent starter designs with blunt tips for kids who are just learning knife skills, to I have some of those, too.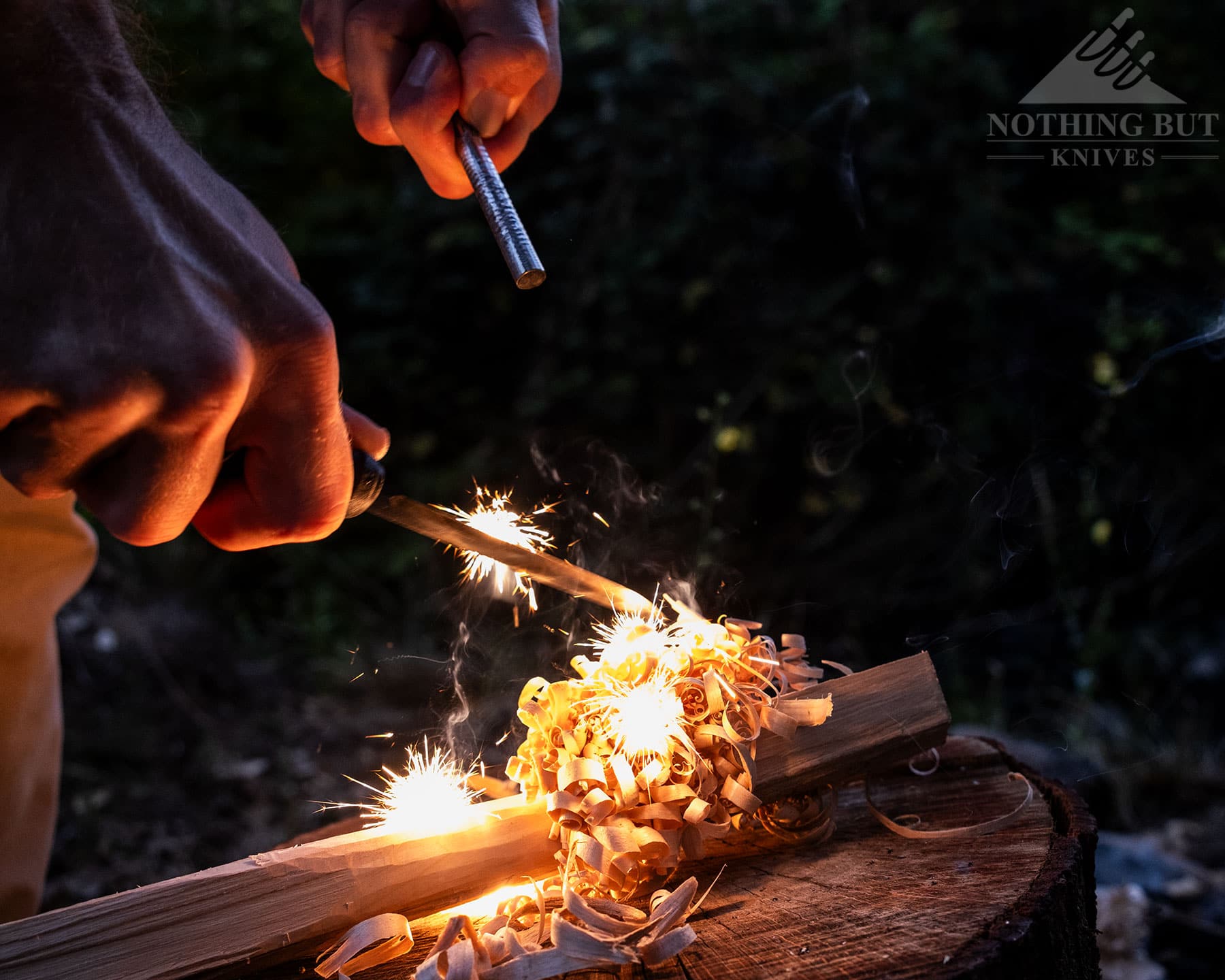 For bushcraft, the spines of many of these are flat-ground, making them ideal for use with a fire steel. The light weight makes them easier to carry than most thick-bladed designs. All around–for every possible task imaginable–I've carried a Morakniv.
The only place where I see wholes in their game should, by now, be apparent. There's no purpose-built tactical or defensive design. And they don't make folders.
Final thoughts
As I'm writing this, our current conversion rates for Euros puts the MSRP for the Garberg in the neighborhood of $140. That, though, is not what current pricing looks like in retail, where this system is far more competitvely priced.
And for a Morakniv that's built like a tank–one that can be worn on the belt, on a pack, upside down…. This is worth every penny.