A Reliable Western Kitchen Knife on the Lighter Side
In the world of mid range chef knives, the Zwilling Professional S doesn't exactly stand out in looks. It doesn't even have shocking performance for anyone who's used a Wusthof or a Shun. But it does offer a great combination of long-lasting functionality, easy maintenance, and steady cutting power for people who just want a simple, high quality chef knife. It's also surprisingly lightweight when compared to some of the other popular German knives out there right now.
The Pro S has a strong edge with a lot of versatility, and a big comfortable handle that will probably feel good in slightly larger hands. The bolster interferes with the ergonomics a little, but for the majority of home cooks (and even a few professional ones) this is exactly the range of ability and sturdiness that's needed.
Specifications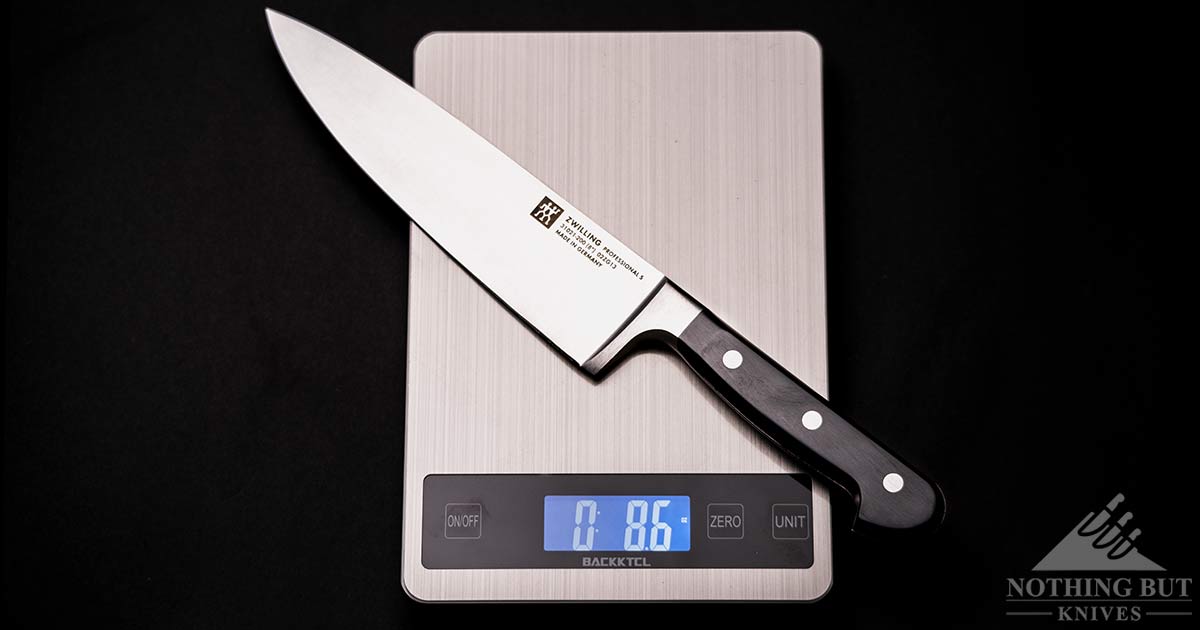 | | |
| --- | --- |
| Overall Length | 13.23″ |
| Blade Length | 7.87″ |
| Style | Western Chef |
| Handle Length | 5.28″ |
| Blade Steel | Friodur |
| Blade Grind | Flat |
| Handle Material | Polymer |
| HRC Rating | 57 |
| Weight | 8.6oz |
Pros
Lightweight with good balance
Good edge with decent ergonomics
Solid handle for slightly larger hands
Cons
Looks a little boring
Full bolster for pinch grip or sharpening
Slow on the cut, but steady
Overall Design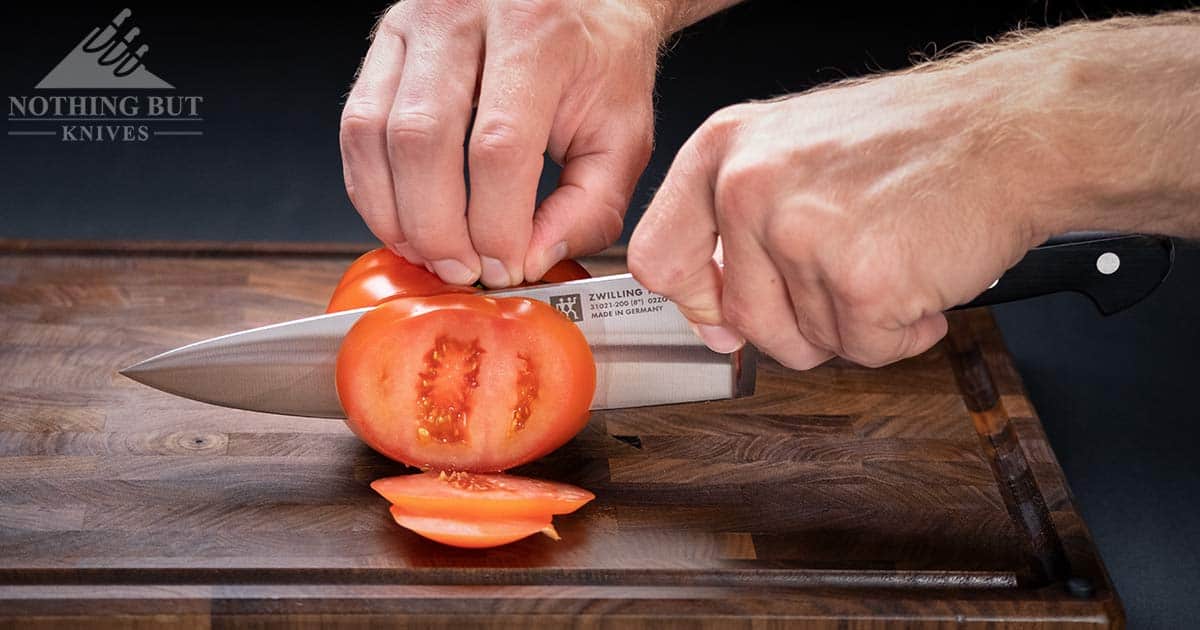 The ergonomics and cutting performance on this are fantastic, but it looks a little mundane. And that look isn't helped by the blade styling. The Pro S has the same problem of having a bunch of information stamped on the blade that seems to be the standard with kitchen cutlery right now. This isn't technically a bad thing, but it looks ugly and the blade isn't telling me much more than I can just look up on the box or the internet. Outside that, though, this knife feels pretty seamless. There are no hard edges or hot spots, and even with the bolster it's not much heavier than most other western chef knives. It really just has one thing that I take issue with.
The Bolster and the Difference from Zwilling's Standard Professional
Even though this is weighted really well for a pinch grip, the full bolster does not lend itself well to a grip there. I don't have a problem keeping a firm hold, but the full bolster makes a hard straight line along the base of the blade that doesn't really do much to help the grip. Plus that bolster is going to make it harder to sharpen the whole edge of the blade. Compare that to the Zwilling Professional knives (without the "S") and you'll see a minimal bolster with a nice slope for the fingers to nestle into. That makes the pinch grip a lot more pleasant, gives you full easy access to the whole edge when sharpening, and makes the knife as a whole much lighter.
The main things the bolster is doing for this design is adding some helpful weight to rock chopping, and give you a stronger blade for butchering tasks like breaking collar bones. If you're not doing either of those much, though, I'd recommend getting the standard Zwilling Pro over the Pro S. The price is the same between the two, but I suspect the Zwilling Pro will be a lot more comfortable and easier to handle than the Pro S.
The Blade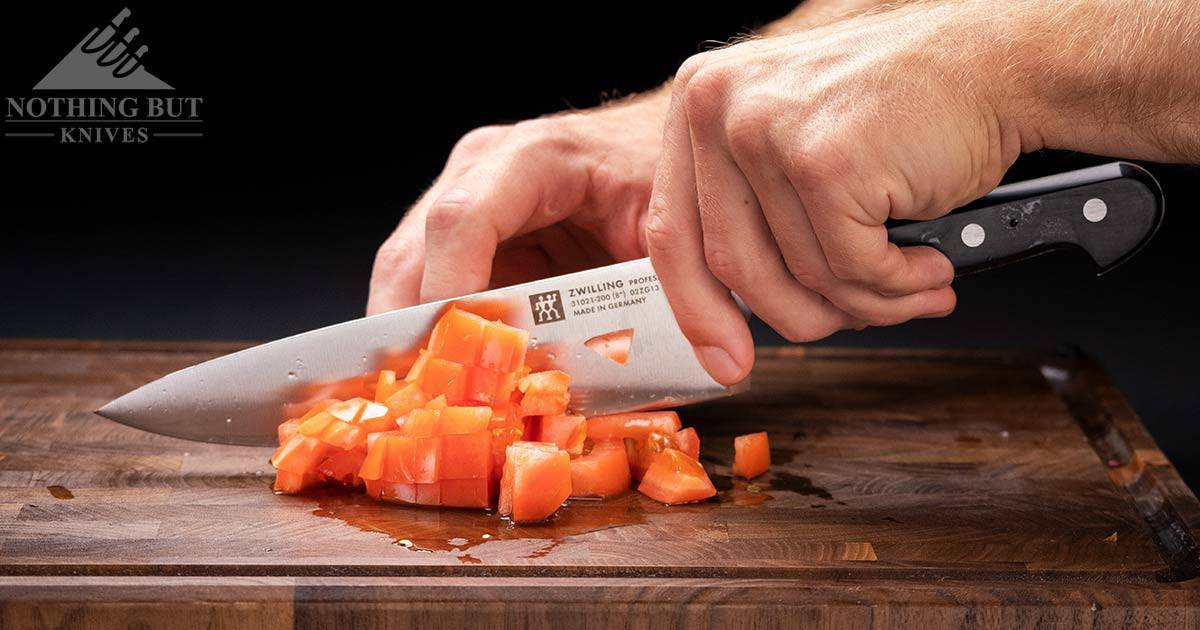 The blade is thick, but it cuts with a butter smooth motion. Tomatoes are not a problem for this at all, and it feels right at home with a big onion.
Rock chopping feels pretty good with it, but the real beauty of this come out in longer cuts that utilize at least a third of the blade. Once you start running the edge along anything, from soft fruit to plastic packages, it feels like a dream.
Frustratingly, this is only an 8 inch chef knife if you measure from the bottom of the bolster. You only get about 7.5 inches of actual cutting edge with it, even taking the curve of the belly into account.
I never really found myself needing more edge (what's there does plenty of work), but it is one more thing that made me look at the bolster and tell it how disappointed I am that it's there.
Cutting Action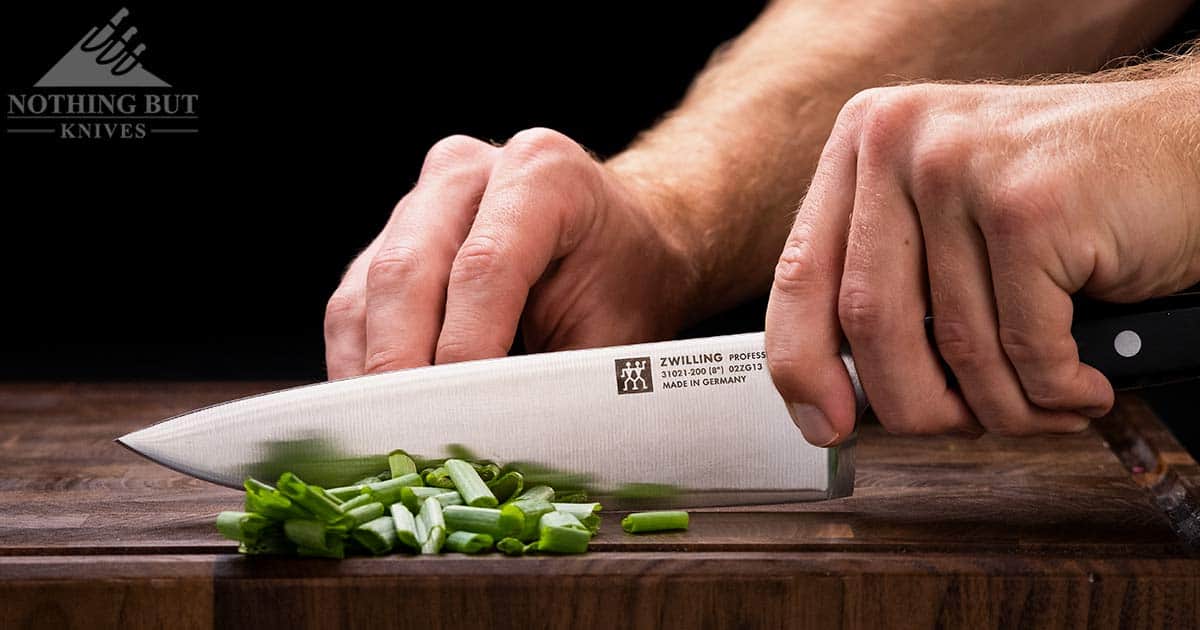 I really enjoy the way this knife cuts. It has a bite, but it's not incredibly aggressive, and the follow through feels a lot more manageable for someone like me who isn't a professional cook. The wider grind gives it a bit of a "softer" feeling when cutting, but not so much that it gums up the cut.
It does well enough on a rock chop, but I actually found I had better success doing a bit of a push cut on lighter things like herbs and greens. That said, this isn't exactly a fine cutter. When it came to dicing, the Pro S felt like it was a little slow on the cut, and there were a few times it didn't quite finish off the skin of a tomato against the cutting board. I realized this was partly happening because I was still trying to use the thing like a santoku with a 12 degree edge and doing very minimal push cuts.
Things go much smoother when you make long cuts that utilize more of the cutting edge. At that point there isn't much this knife won't cut well to some degree, but the fact remains that the 15 degree edge on this takes just a little more work to get a complete cut on some things.
What might be a bigger hindrance to the ergonomics of cutting with this knife is the weight and balance. It's fairly light, and since that weight is mostly centered around the bolster instead of the blade, you do need to add a little more pressure of your own to get some cuts started. It doesn't take a lot, though, and so long as your sliding more than pushing you shouldn't have any trouble with this on most foods.
The Steel and Polish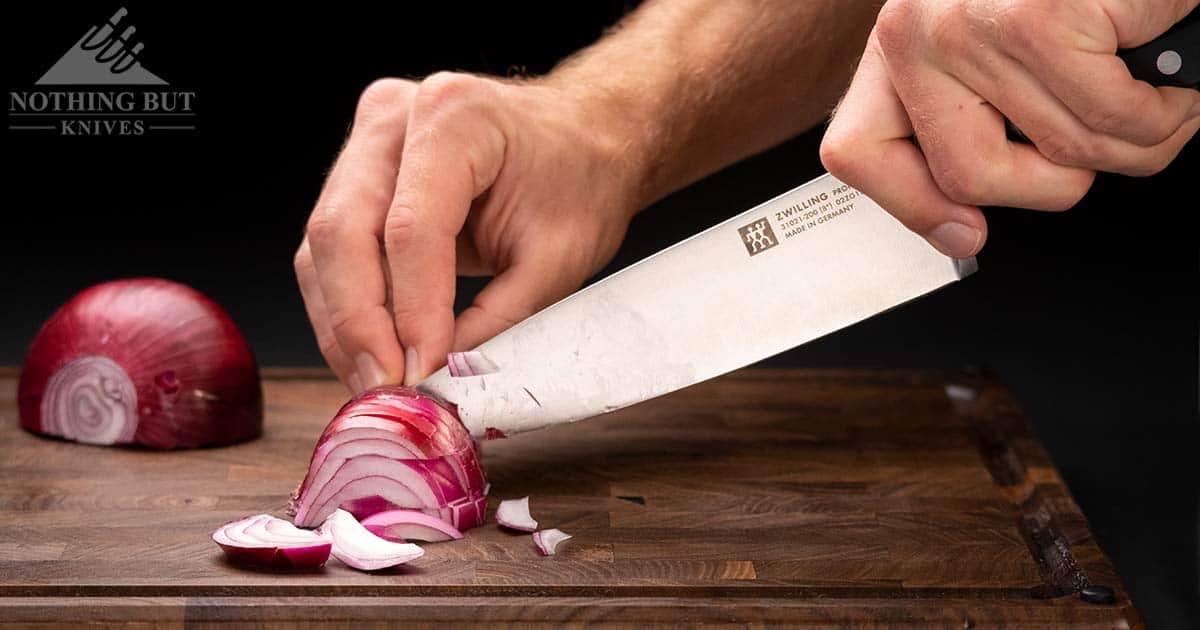 Zwilling claims they're using their own proprietary steel called Friodur on their Profesional S and Pro series knives. They keep the composition close to their chest, but it seems to perform like 420HC or 1.4116 with a cryo treatment. Those aren't exactly exciting names for anyone who thinks they know something about steel, but as anyone who actually knows something about steel will remind everyone else constantly: the grind and heat treatment are a lot more important.
What we have here is a durable steel with decent edge retention and a 15 degree edge that can be honed up fairly easily. That's a pretty good combination of characteristics for both home and professional users.
In the vein of easy maintenance, the finish on the blade has been a lot easier to clean than most other knives I've worked with. Through tomato, onion, meat, and cheese I never got any marking on the blade that didn't come off really easily with a little hot water. Normally I need to do a bit of scrubbing to get a blade to look truly clean with out any ghost smudges left over.
I also didn't get a lot of food stick with the Pro S, even though it's a full flat grind with no gratons. This is probably thanks to a combination of the grind and polish. This knife separates things nicely so they tend to fall away at an angle, and Zwilling left this at a comparatively rough polish that doesn't have a whole lot of surface tension compared to the mirror-polish nightmares on more dressed up chef knives.
The Ideal Foods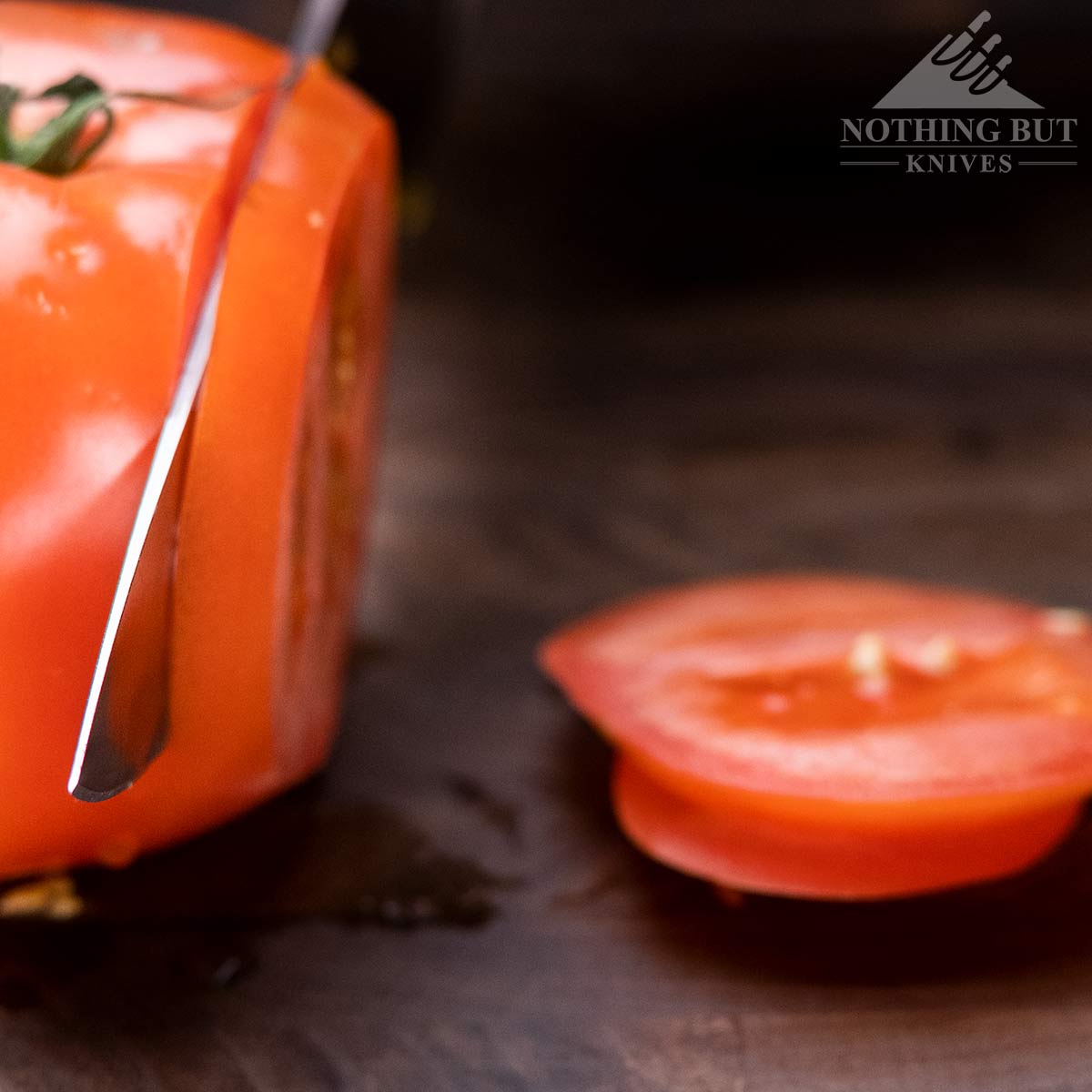 Tomatoes were probably the easiest for me to cut with this. Once I got the motion of it down I never really had trouble breaking the skin or following through with a clean cut. It didn't cut super thin slices, but the wider edge does tend to push the trimmings away so I didn't end up with a lot of food sticking to the sides. In fact, the only food I encountered that likes to stick a lot was onion. That's not a test I ever expect a knife to pass though. Onion trimmings are clingy.
I was actually surprised at how well this chopped up lighter things like cilantro and spinach. I felt like I had to cut a little harder to make sure I was getting clean, complete cuts, but I always ended up with a good pile of distinct trimmings.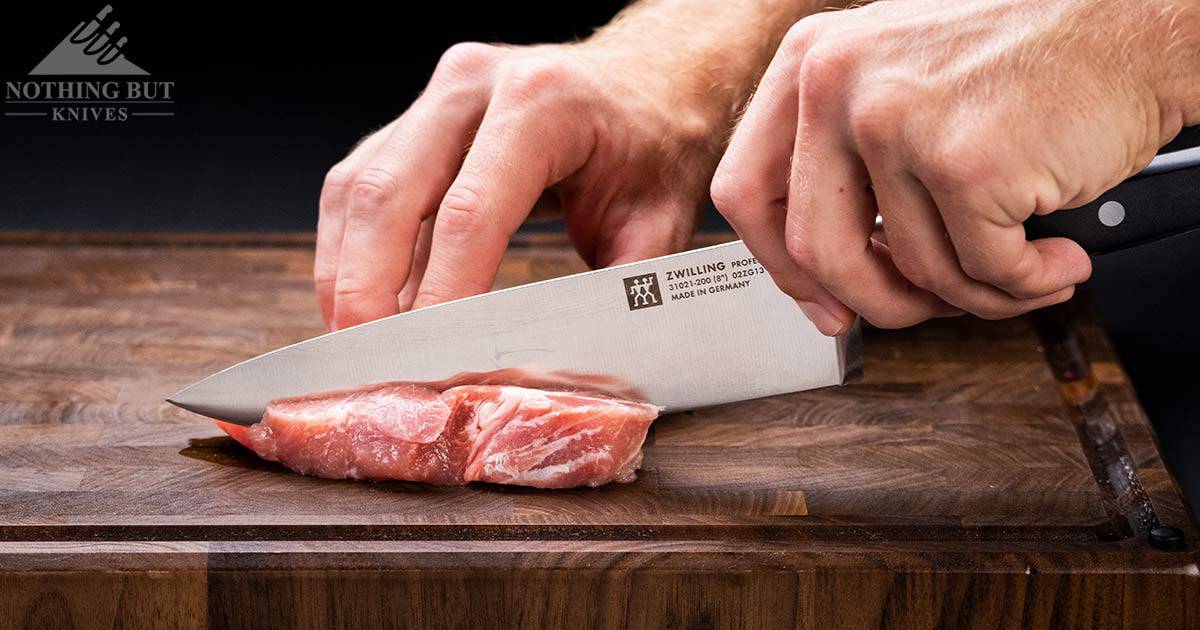 I probably had the most trouble with raw meat. I tried cutting a few thin slices off of a little pork chop with results that were about par, I think. Since the edge doesn't bite as hard it tended to pull the meat a while before cutting into it. But again, I'm reviewing this knife after a long stint with much thinner Japanese knives that tend to handle this kind of thing better. The Pro S will cut up a hunk of a raw steak fine, but it certainly doesn't specialize in that area.
The Handle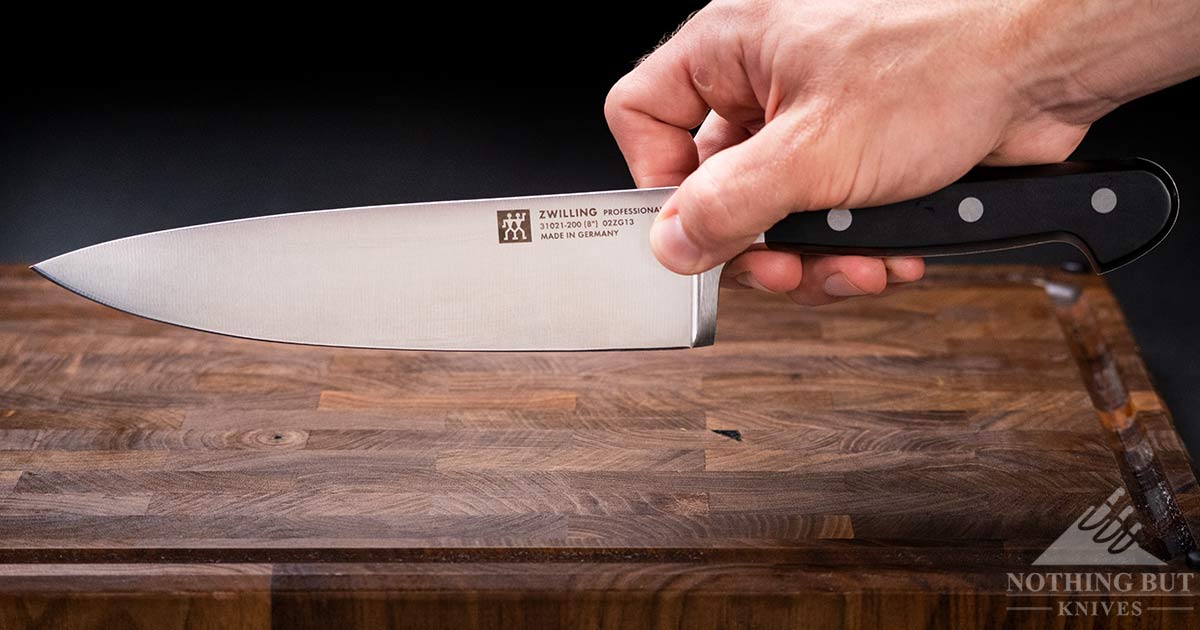 Probably the first thing most will notice on picking up this knife is that the handle is pretty thick. It's not really designed for small hands, although the balance helps the grip a lot regardless of your glove size. One little thing is that the corners of the handle have a way of being felt all the time. They don't bite into my hand, but when I'm cutting I sometimes become strangely aware of them in a way that's almost uncomfortable. The flip side, of course, is that the handle is a great size for people with larger hands, and there's a lot more real estate to find a grip that suits you.
My main issue here is that the full bolster (once again) isn't really optimized for a pinch grip, even though the balance measures out nicely for it. The lip of it does provide its own kind of extra grip, though, so it's not exactly a hindrance. I just know there's a slightly better version of this out there for what I generally do with chef knives. Aside from that small detail, the Pro S is very comfortable for me.
Balance and Weight
The balance feels really nice in a pinch grip. I've read that this knife is moderately heavy, especially the full bolster version, but in hand it feels lighter than a lot of other German chef knives I've handled while still managing to have the kind of heft you generally expect from this style. When I weighed it against a few other western-style chef knives in our cupboard I actually found that, at 8.6 oz, the Pro S is lighter than most of the other stuff out there by at least an ounce:
The Wusthof Classic Ikon is 9.6 oz and a lot more handle heavy thanks to the end cap.
The Messermeister Meridian Elite weighed in at 9.9 oz.
And the Hammer Stahl sat it a big ol' 10.3 oz.
The Pro S is still a heavy knife if you start including Japanese style like gyutos and santokus, but in the world of German chef knives, you'd have a hard time finding something lighter that's any good.
Comparison and Alternatives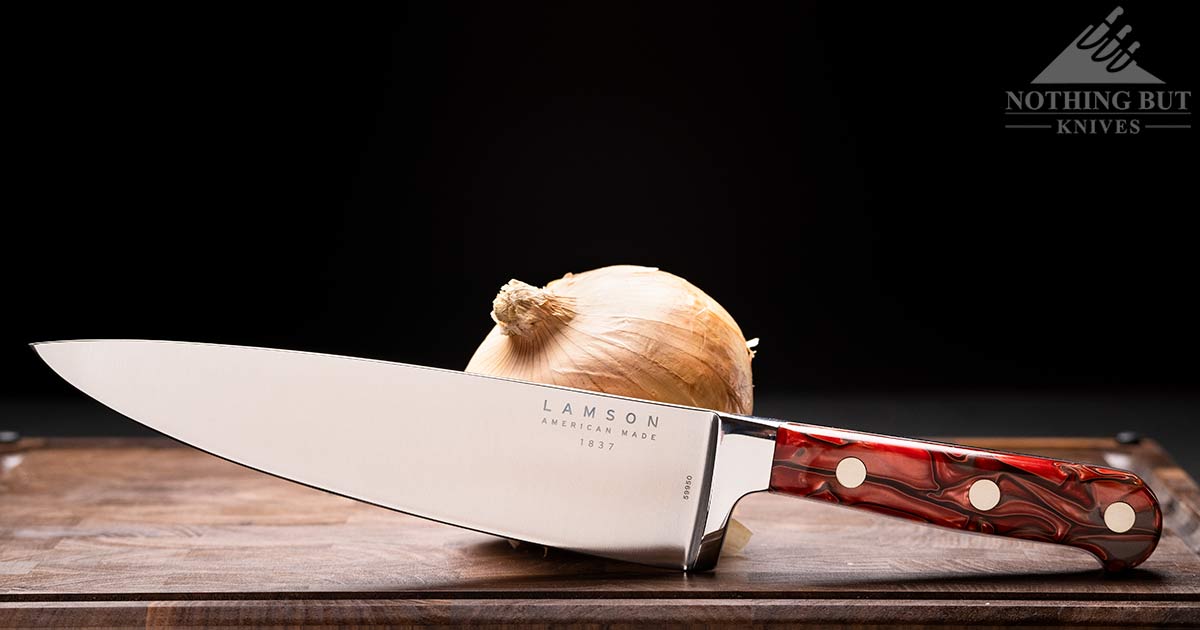 I already mentioned the standard Zwilling Pro would be a better choice. The full bolster on the Pro S puts it at a disadvantage to a lot of other knives, but the standard Pro has basically all the same features except it has small bolster with a slope for pinch grips. It costs the same, so I'd say that unless you typically hold your knives in a full grip and plan on doing moderately harsh work, you should just go with the Zwilling Professional.
Past that, I think the obvious choice to fall back on here is the Wusthof Classic Ikon 8 inch chef knife. It looks a lot more interesting and the handle is generally more comfortable for people with hands of all sizes. It's also about $50 more expensive, though, and about an ounce heavier.
For a slightly lower cost alternative, the Lamson Premiere is a great option. The balance is a little more blade heavy, and the handle is thinner, but in the same style, and you should get about the same level of durability from the steel and edge geometry. Lamson is also a long established US-based company, if you're feeling the need to buy closer to home.
If you want a world of options, though, the Zwilling Pro S set is in our selection of Best High-End Kitchen Knives. That should give you a pretty good idea of the other styles and prices out there in roughly the same range.
Conclusion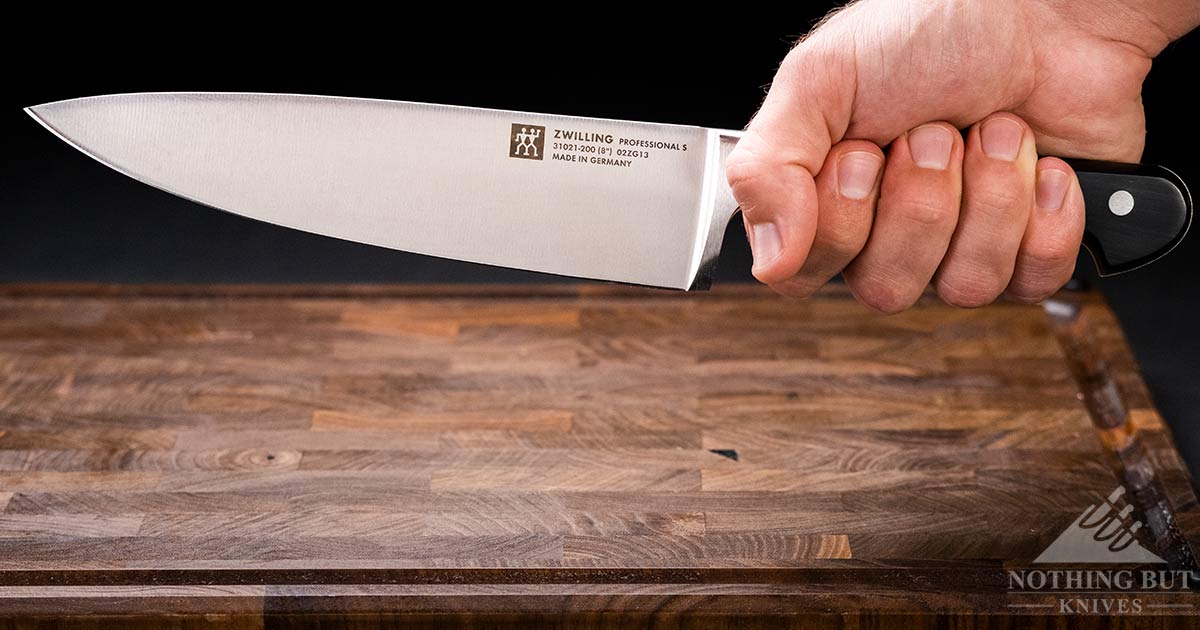 This is a pretty fantastic chef knife in the $150 price point, especially if you're looking for something to fill slightly larger hands. The only real issues I have with it are the plain looks and the bolster. The bolster thing is solved easily enough by just looking at the Zwilling Pro, and there's something to be said for going with a plain aesthetic for your kitchen cutlery, especially if you're not on board with the odd shaping of the Wusthof Ikon knives.
The Zwilling Pro S is a steadfast knife. It's not going to blow your mind with its performance if you've ever used a decent knife that costs over $100. But it will function well for many years, which makes it a great knife for someone who just wants something that works in a high-end range without any of the fan fare.
If you want to learn a bit more about Zwilling knives and knife sets, check out our Zwilling Knife Guide.