The Hybrid Japanese Knife Power Cutter
We usually associate the term "Japanese cutlery" with delicacy, but the Enso HD Santoku pushes that assumption a little.
Enso knives are part of the Yaxell brand. There's something about the name Enso being specific to some vendor or other. I don't completely understand the distinction, but I do know that Enso knives are made in the Yaxell factory with all the same materials and craftsmen. Building off that, I also know that they really like to put an emphasis on handles, and they definitely make some of my favorite knife handles. They do not, however, excel in what proper Japanese chefs would call traditionally Japanese style knives.
The Enso HD Santoku is a delicate knife in a broad sense. The blade is thinner than your typical western chef knife, and still has some of the chipping dangers that are inherent in the santoku style, that danger is reduced significantly by the bevel they put in the grind, and the whole construction is built quite a bit sturdier (really sturdier than it needs to be).
Those design elements have some consequences in the precision performance of the knife, but they do result in something sturdy, reliable, and fairly unique from other Japanese knives out there.
Specifications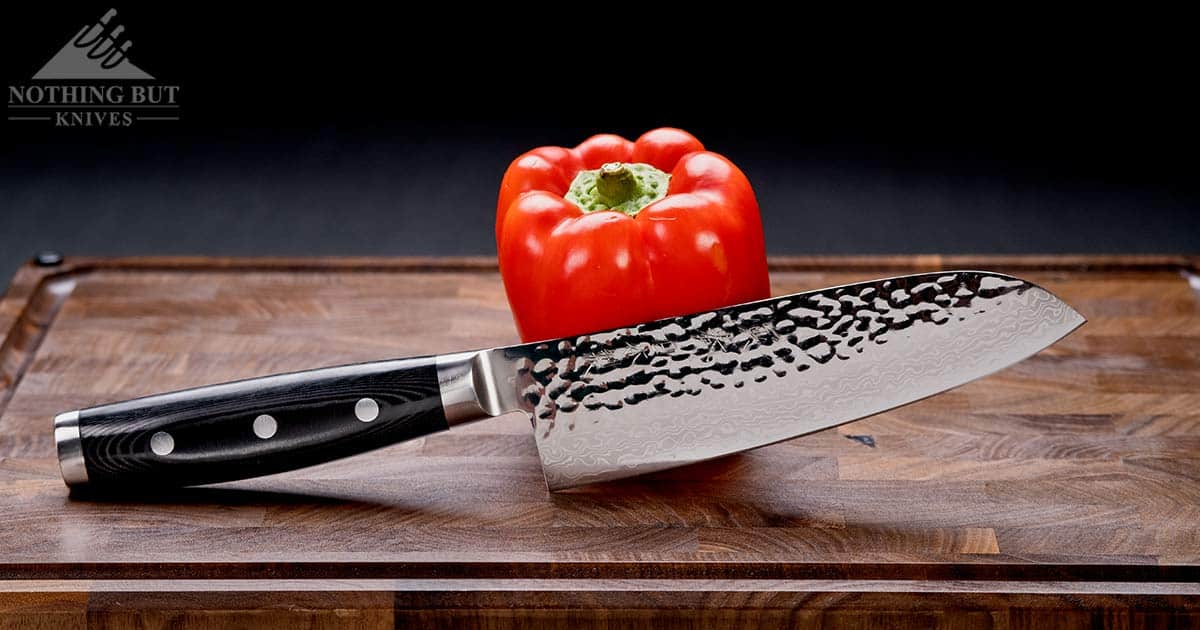 | | |
| --- | --- |
| Overall Length: | 11.75″ |
| Blade Length: | 6.5″ |
| Style: | Santoku |
| Handle Length: | 5.25″ |
| Blade Steel: | 37 Layer VG-10 Damascus |
| Blade Grind: | Flat w/ 12 degree angle |
| Handle Material: | Black Micarta |
| HRC Rating: | 61 |
| Weight: | 7.4 oz |
pros
Well done Damascus blade
Micarta handle is comfortable in a full grip
Tough overall construction for a kitchen knife
Cons
Full hidden tang makes it a little heavy
Thickness behind the edge creates wedging
Hammer finish doesn't help much with food release
The Blade and Performance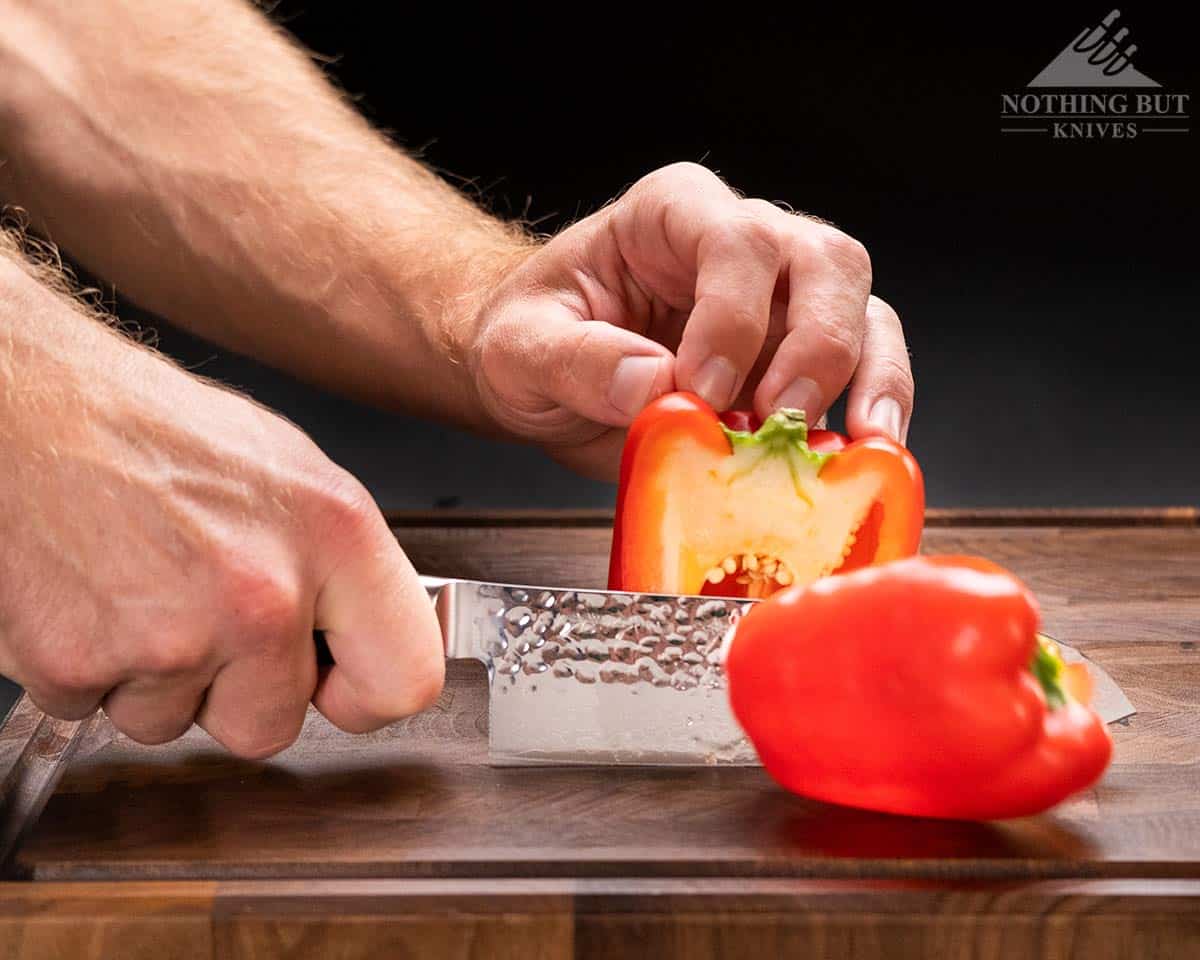 This blade is sharp, but it doesn't feel like it. I always feel like there's a little more resistance than usual, probably because Enso has ground it a little thicker behind the edge and given it a bevel rather than making it a full flat.
This does reduce chipping hazards quite a bit. That's definitely one thing this knife has over other Japanese knives, and since I'm not a line cook trying to pump out ten pounds of diced onions every minute it's not exactly a big problem. But it's worth keeping in mind when considering the workload you'll be under if you get this knife. This is not a speedster.
Especially since the hammer finish doesn't start until half way up the blade so it doesn't really provide much food release. I still end up with a stack of onion pieces along the side.
The edge gets a lot of work done, though. It struggles a bit with onions because of the layers, but it handles tomatoes and lighter things like chives and green onions just fine. You might see it struggle just a little bit with meat if you're used to very thin, flat ground knives, but it will get the job done without too much trouble.
Speaking as someone who generally uses one knife for everything in a day, I actually like the thicker edge because I'm not as worried about doing sketchier things like chop into an avocado seed to twist it out. In that sense, this feels like a wider ranged utility knife in the kitchen.
The 37 Layer Damascus Blade
I don't know what Enso is pairing with the VG-10, but it shows up beautifully on this knife. It's not pronounced. You probably wouldn't see it from across the room (and we had a hell of a time trying to get the pattern to show up in these pictures), but the design behind the edge has a feel of something somewhere in between the water patterns of Damascus blades and the wave of San Mai. I think it's one of the most striking features about the knife.
I am skeptical about how much it helps the performance beyond a minor improvement in toughness and maybe a bit of edge retention, but it's a nice feature to see regardless.
The Handle and Balance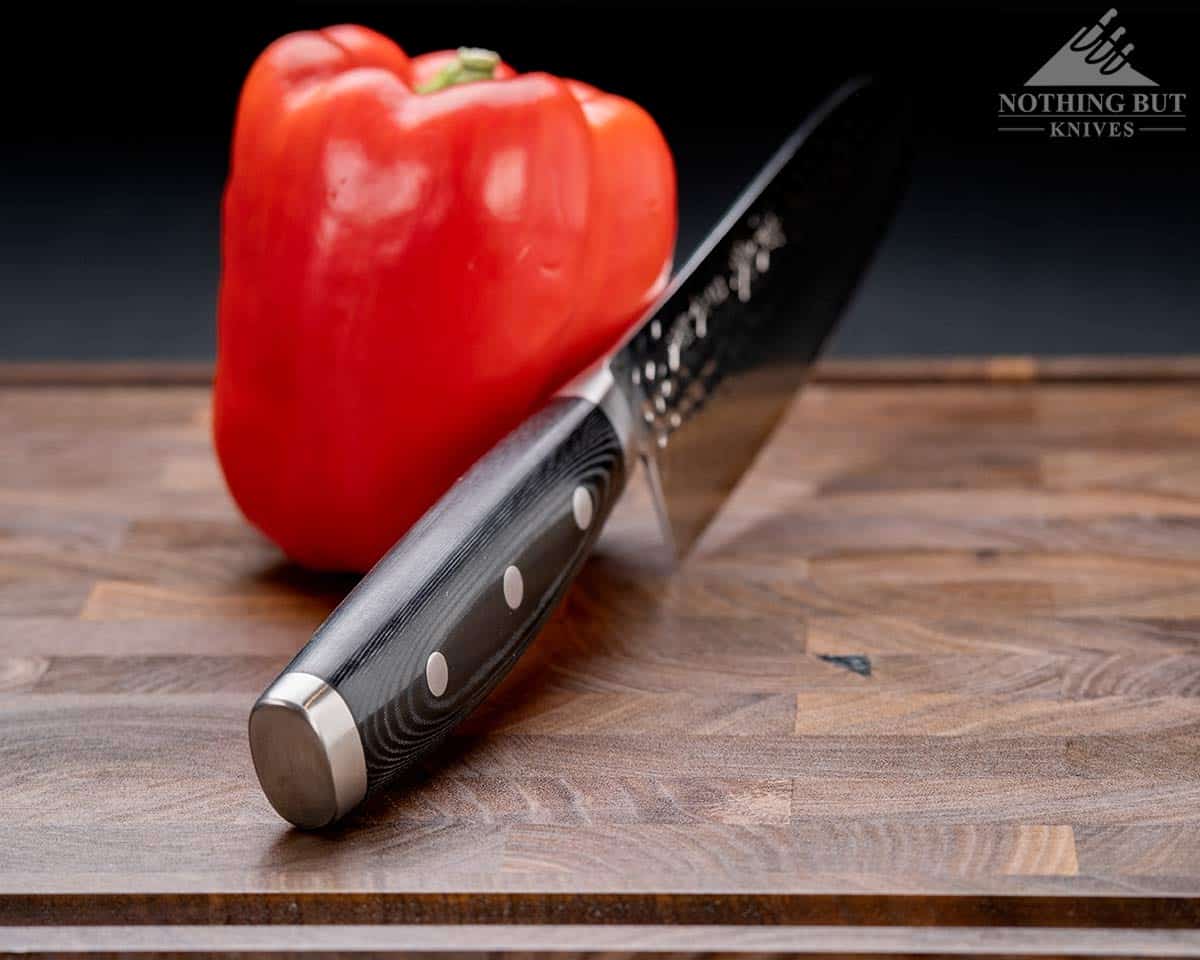 This is the element that makes the knife a little heavier than a santoku should traditionally be. Enso uses a full hidden tang similar to what you'll feel in a Shun Classic, only this is a little heavier, probably thanks to the linen Micarta.
The Weight is a Hybrid Thing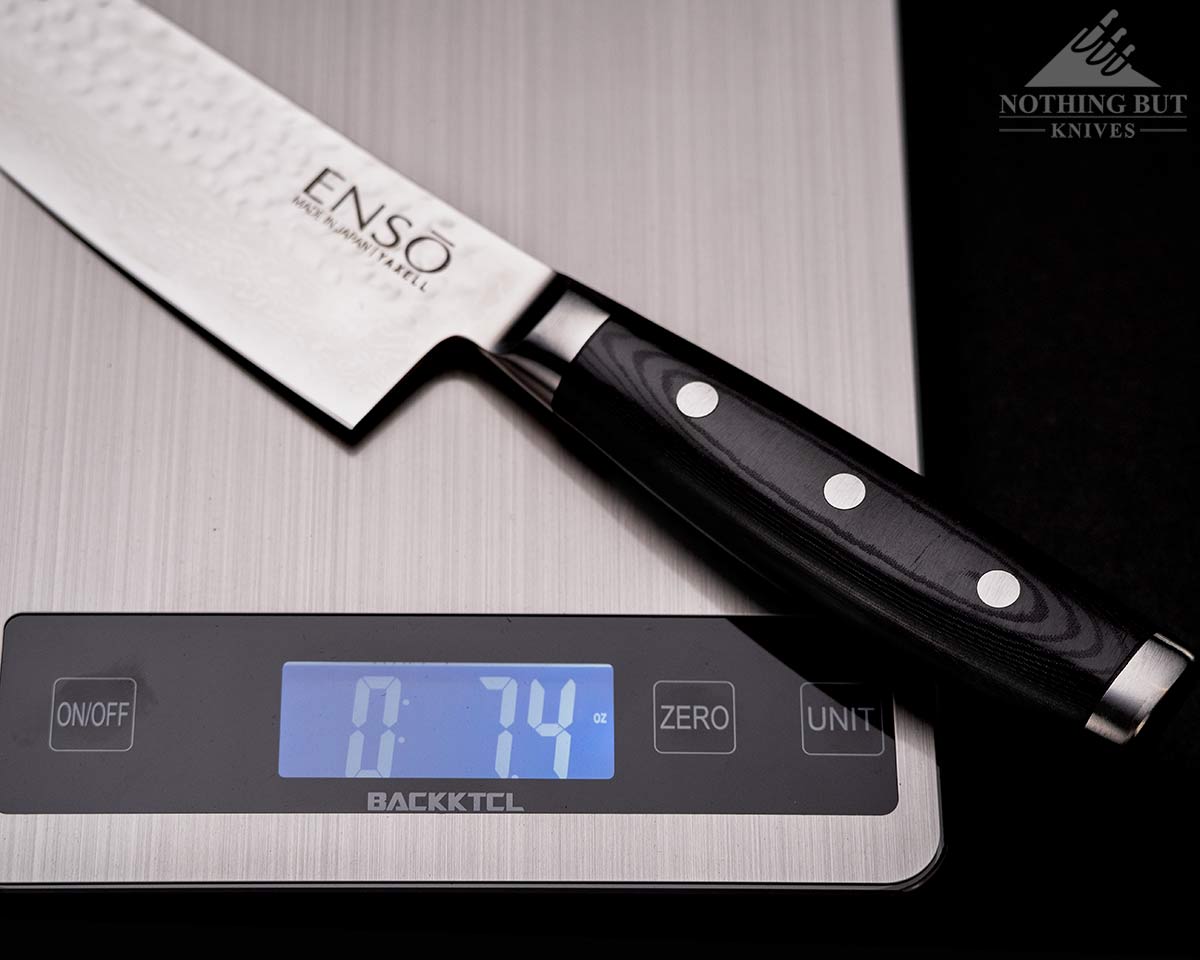 If you're used to Japanese cutlery, this might be a bad thing, but handle-heavy santokus and gyutos are a growing trend that doesn't appear to be going away, so maybe the weight is a good thing for most people.
I've complained before that the Shun Santoku has a balance that isn't optimized for the straight push cutting the santoku shape was meant for, but it does lean into the rock chopping ability you get with these slightly curved, hybrid santokus. It's the same thing with this Enso. The blade is a little curved into the tip, so you can do a bit of mincing with garlic and herbs, and it does feel pretty well balanced for that kind of thing.
Ergonomics and Do I Really Want to Use This Knife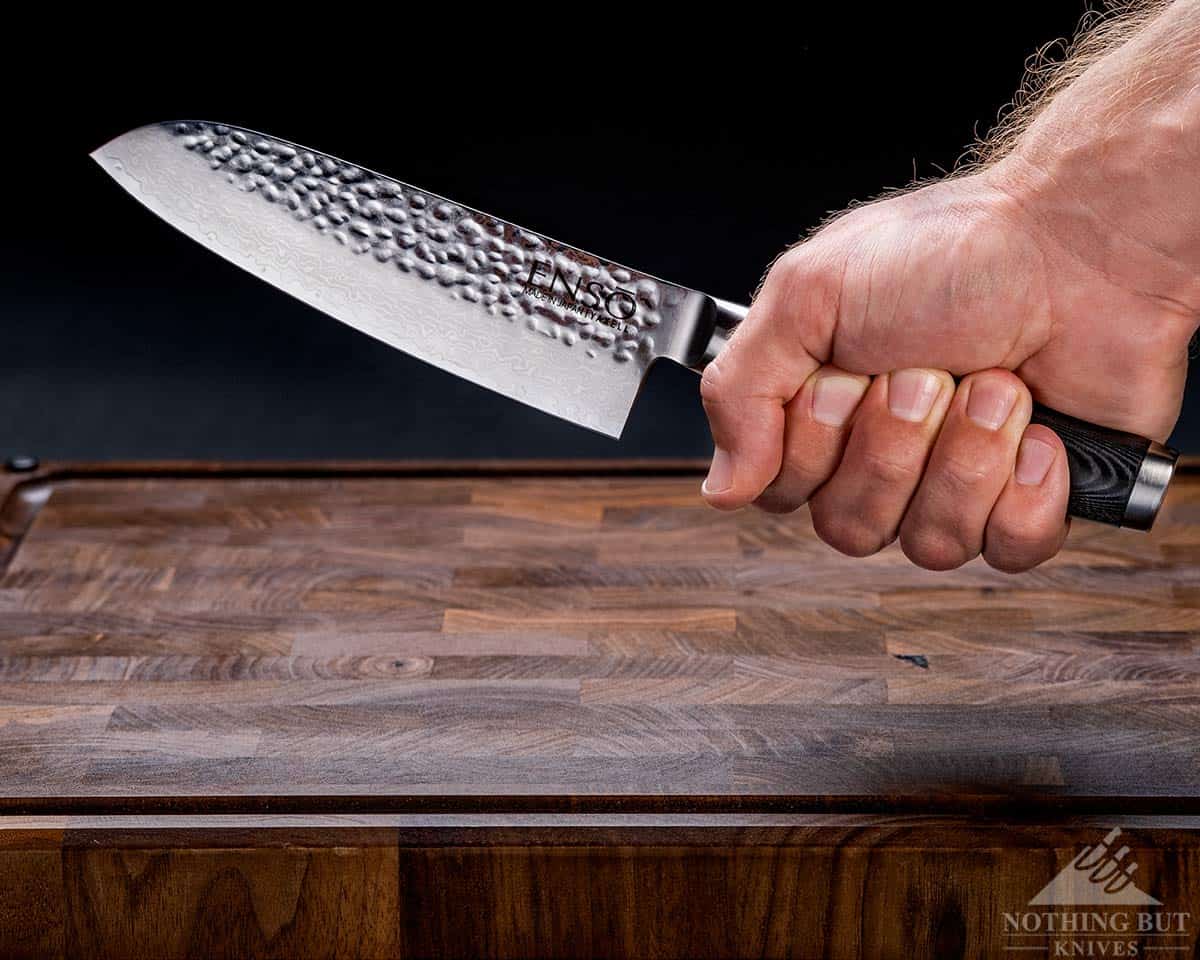 Between the weight, balance, and wedging nature of the edge, it gets kind of uncomfortable to cut something difficult in a pinch grip. After about 5 minutes of struggling through an onion, I finally just started using this in a full grip on the handle, and things got a lot easier. The cuts weren't as precise, but they were much easier, and I found I could keep cutting for a while.
So there are probably a lot of things about this that a professional wouldn't like. I think an untrained home cook like myself could find their way to having a good time with the Enso HD, though.
It's Really Comfortable in the Right Grip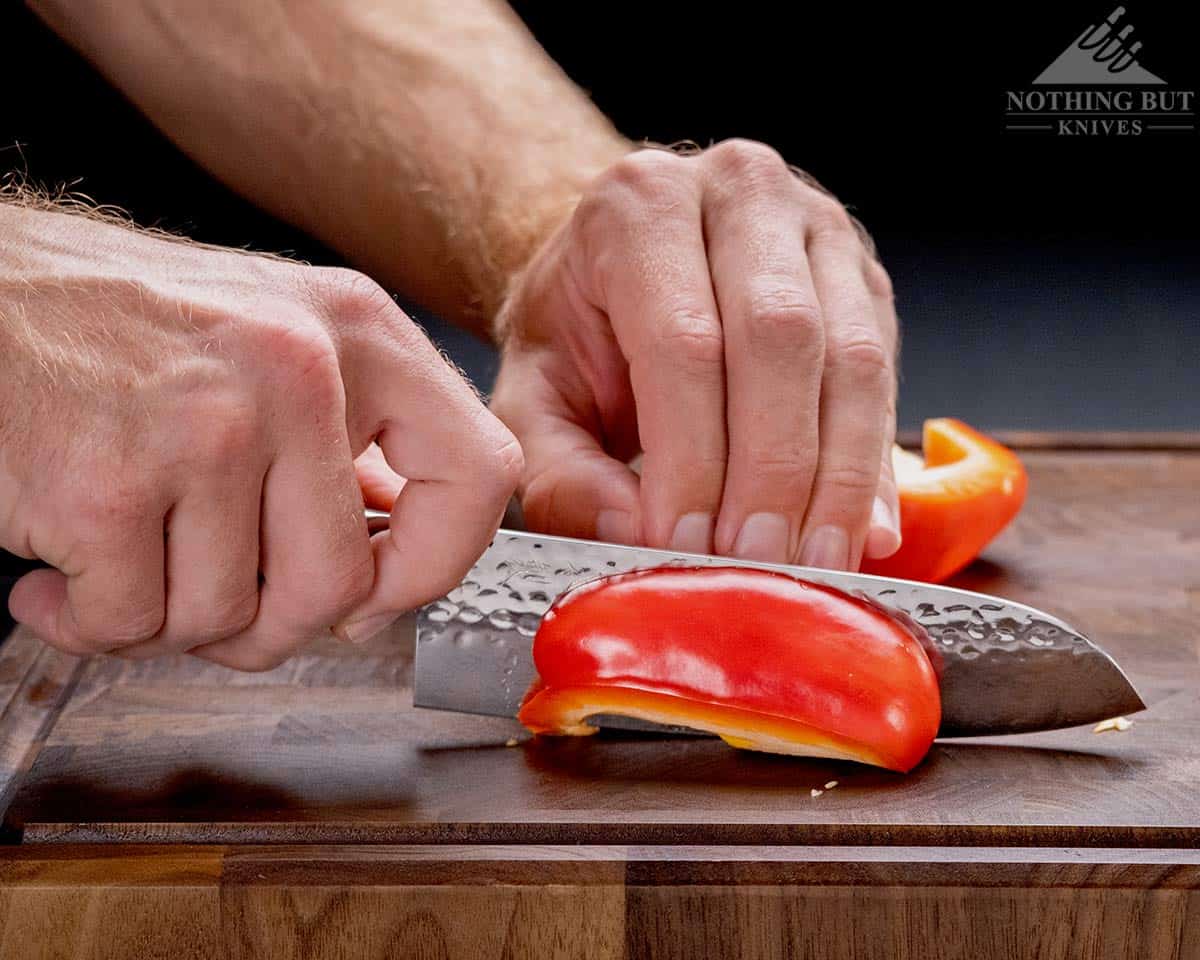 The weight will definitely create some hand fatigue over time until you get used to the feel, but the handle itself feels fantastic. I'm partial to these bellied, oval handles, though. Once I leaned into mostly using a full grip it felt really nice to use because the shape of the handle fits my hand, and the weight gives it a good strong feeling.
I'm also not opposed to using this in a full grip to push it through a potato or the root section of an onion since they've put a fairly robust grind on this.
Comparison and Alternatives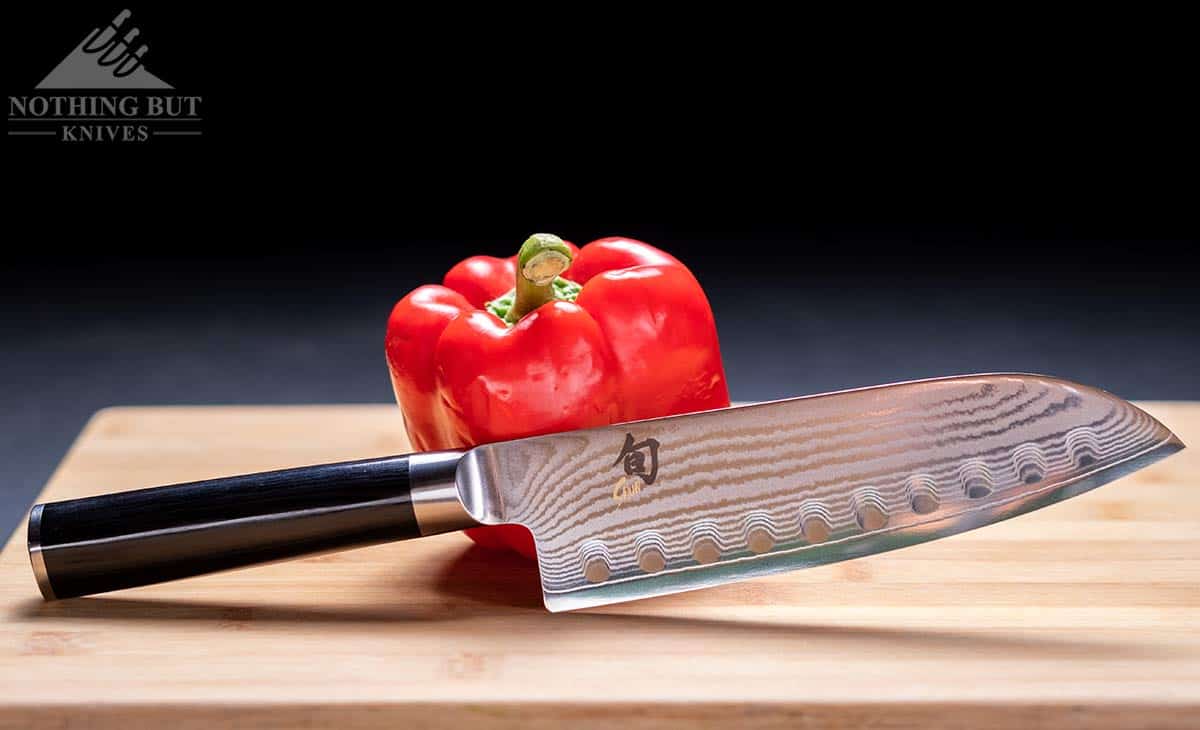 I've been pretty consistently comparing the Enso HD Santoku to the Shun Classic Santoku throughout this review. I think between the two I like the way the Shun cuts, but I like the way the Enso feels overall. They tend to ride in the same price category, so I'll throw this choice up to personal preference.
Thing is, I don't really use either of them consistently on my own. A Tojiro chef knife is often my go to, and I would expect their santoku to be equally pleasant to use. Plus it's usually at least $20 less than either the Enso or the Shun.
If you're looking for great balance, though, it's hard to beat Global these days. They do a good edge, but every knife I've handled from them always feels like it's weighted perfectly, and the price is right around the same as the Enso. However, Global knives tend to be more difficult to sharpen.
If you are looking for a fan of santoku knives with long blades are made in America, check out our review of the Tactile 8 Inch Santoku Knife Review.
Check out our Best Japanese Knife Sets article if you want a more complete idea of the other options out there, though.
Conclusion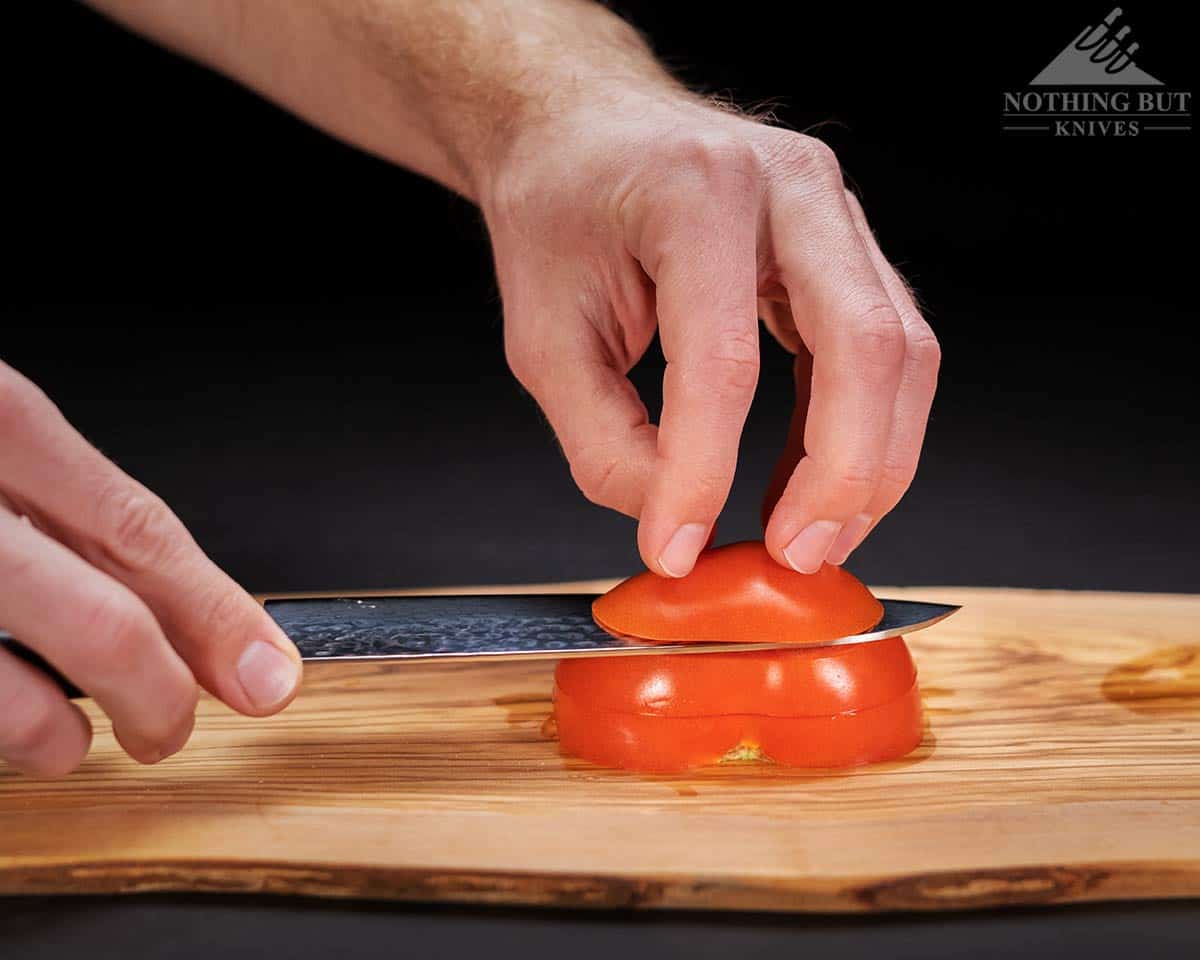 The Enso HD Santoku is a good enough knife, but I think its excelling point is as a striking gift.
It has a lot of shock value from the patterning on the blade, to the understated classy look of the handle. And for someone who's used to cheaper knives, this has a phenomenal cutting action that feels incredibly smooth.
The main problem is it doesn't have a phenomenal cutting action for its price point. Global, Tojiro, and Mac knives all cut better for similar or lower prices. It's a show piece with some pretty good kitchen functionality, but it has enough functionality to justify that look if it's something you want badly enough.
This isn't something for the professional cook, but it brings a lot to the kitchen decor, and so long as you're not getting into a dicing competition with a chef wielding a Takamura Gyuto, it's something worth bragging about. There are little flaws that we could all pick at after handling dozens of other knives, but the fact is that they go through a lot of effort in the Yaxell factory to make these knives cut and handle a certain way, and they are on the whole very good at consistently making their knives come out that way. Their grinds reduce the risk of chipping so the less skilled cook doesn't need to worry about doing perfect cuts, and the non-traditional weight might well be preferable to someone who never really trained in a traditional grip anyway.
It's not for everyone, but it's great for most of us.