A Great Looking Pocket Knife That Lives Up To The Marketing Hype
There's no denying that The James Brand has a really cool, sleek air to it. Between its marketing focus and slick branding, you get the impression that if The James Brand was in high school, it would drive an all-black Mustang and smoke cigarettes just off the edge of school property, effortlessly pissing off all the teachers. Except for that one chill teacher all the other teachers also hate: He thinks The James Brand is cool, too.
All things considered, The James Brand is just crushing the marketing and branding game, and I'm a sucker for good marketing. When I got the chance to review The James Brand Carter, I was all in. But, does this knife match the marketing hype? Can it jump in that Mustang, pop the clutch, and do a smoky burnout in front of the principal with its middle finger out the window, or is it all show? Let's find out in The James Brand Carter Review.
Specifications
| | |
| --- | --- |
| Overall Length: | 6.5″ |
| Blade Length: | 2.75″ |
| Blade Width: | 0.11″ |
| Blade Steel: | VG-10 |
| Handle Length: | 3.75″ |
| Blade Shape: | Drop Point |
| Blade Grind: | Flat |
| Handle Material: | G-10 (also available in Micarta) |
| Lock Type: | Ambidextrous Slide Lock |
| Weight: | 3.0 oz |
Pros:
Awesome Slide Lock
Ideal EDC proportions
Reversible pocket clip
Solid in hand
Damn good looking
Cons:
There's definitely a learning curve
We're going to have to talk about the pocket clip
The thumb disk is a little weird
The price
The Pros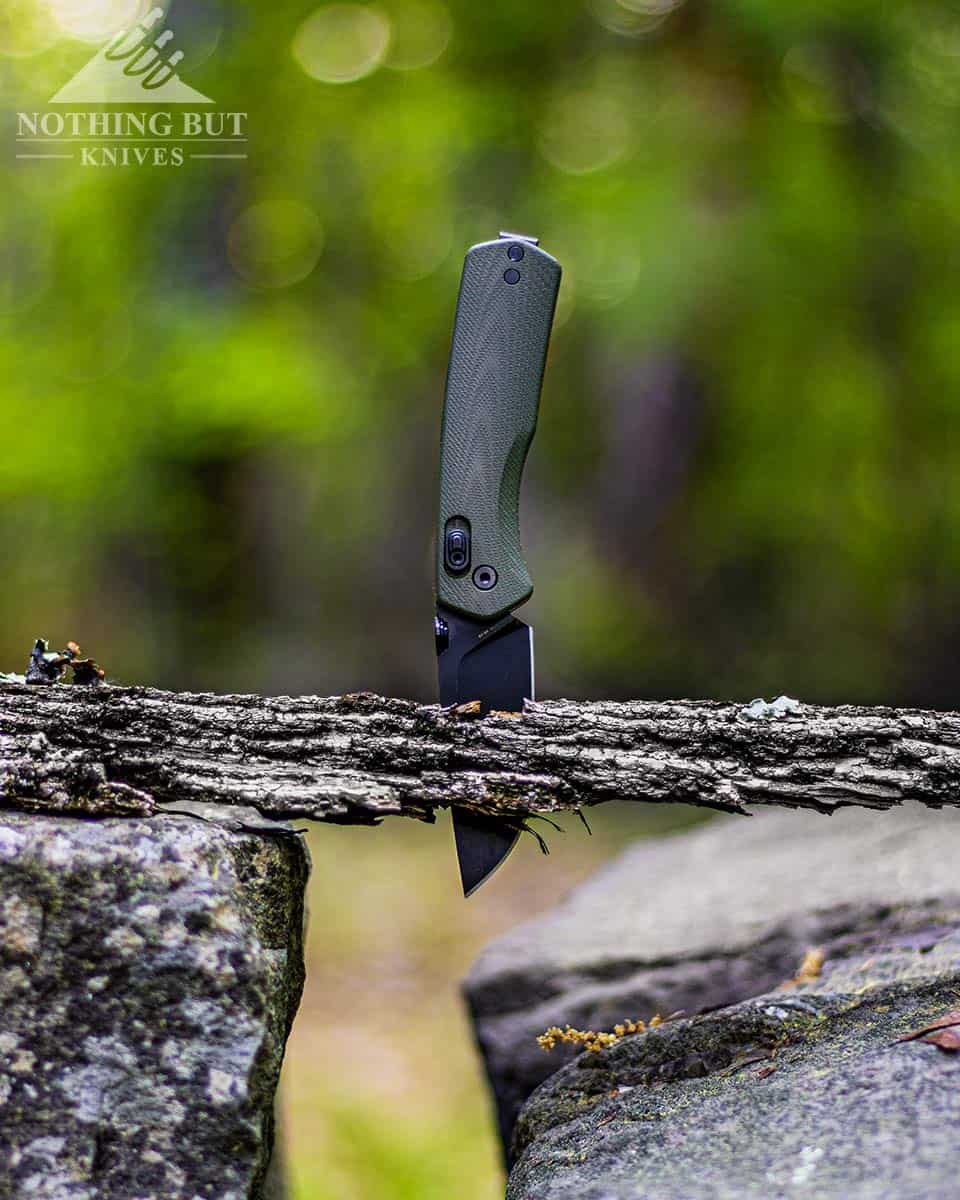 It's hard not to like the Carter. Even when I first received it, it made a weird first impression. Sort of like that kid: Awesome to drink a beer with, but you know you probably shouldn't let it hang around your girlfriend.
Gotta love the Slide Lock
I never knew how much better a lock could get until I held my first slide lock knife. It's ultimately my favorite method for releasing a blade, and the Carter's is very nice. It's very similar to Benchmade's Axis Lock.
When you pull down on the slide lock to release the blade, it travels just about 3 millimeters. That's just enough to feel like you're actuating something without being so much of a throw that it's a pain to manipulate. It's all about the feels, after all.
The Slide Lock also allows the blade to flick open and shut with zero effort (with help from the super-smooth phosphor bronze washers): true one-handed open and closing. It was a little stiff when I first got it, which I'll mention in a bit, but now the blade drops very easily, and it makes it a blast for fidgeting.
It's just the right size
Look, I'm not Goldilocks, but I do appreciate when a knife's size is just right. As far as EDC knives go, the Carter's size is spot-on. The handle is 3.75 inches long, which might be just a little short for some knife carriers, but it's right where I like it.
Also, the 2.75-inch blade is really more than enough for most EDC applications. It's plenty long enough for cutting open packages, slicing rope, or dicing up some meat for the frying pan. Is it a wee bit short for off-grid, survival-type situations? Maybe, that's not what this knife is designed for, but it will do in a pinch.
If anything, it might be a little thick for EDC, at right around .5 inches. I don't notice it in the pocket, but it definitely has a different feeling in hand than many other EDC knives. But this isn't an awkward girth at all. It's due to the rounded shape of the handle, and I must say: I like it.
The pocket clip is reversible
Anytime I find an EDC knife with a reversible pocket clip, it makes me want to jump for joy. I carry my knife in my left front pocket, and being able to reverse the clip is somewhat of a necessity for safe carry. And the way that The James Brand goes about reversing the clip is pretty slick.
The pocket clip on the knife gets a lot of flack, and I'm going to express my opinions on it in a few, but the hardware holding it in place is top-notch. As the clip laps over the end of the knife, it also slides in between the scales, along with a small metal spacer. Two T6 screws then slide through, pinning the clip and spacer in place before threading into two round nuts on the other side of the knife. The nuts and the screws recess into the scales, allowing for a perfectly smooth look.
If you switch it over to the included lanyard loop, you'll reuse the screws the same way. A bunch of the guys in the Carter's early reviews complained about there only being one screw when you switch to the lanyard loop. This might be something The James Brand worked on and has now ironed out because that wasn't my experience at all.
I have noticed that the belt clip design has changed as well. Earlier models didn't have a cutout to access the screws, while mine does. This must be a massive improvement because I can only imagine how difficult reversing the clip might've been before.
It feels solid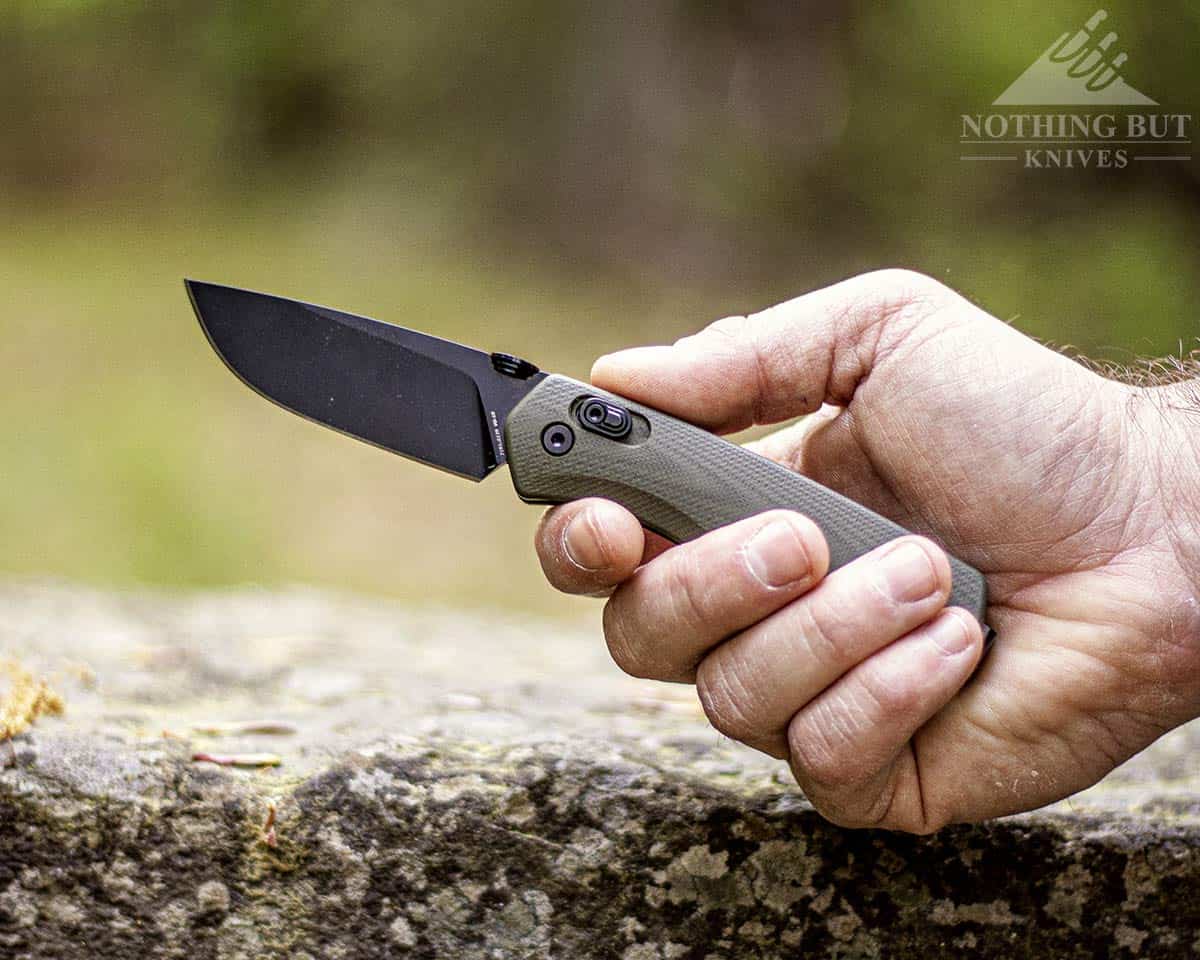 Let's be realistic: The James Brand's marketing is unlike any other knife brand, so a lot of the EDC community is suspicious about the quality. After all, none of the other high-quality brands have advertising or marketing anything like The James Brand's. Surely, something must be up.
Well, let me assure the community that the knife I received was top-quality. The blade was perfectly centered, and there is no play or slop at all when it's open. I've seen some reviews where guys complained about blade play, but I haven't experienced it at all.
The G-10 handle also feels great in hand. It has a woodgrain'esque pattern to it, providing plenty of grip while working. When you need a bit of extra purchase, the thumb disc provides a comfortable place to gain leverage.
If there's one thing that doesn't feel solid, it would be the thumb disc. But I'll go over that in depth in the cons.
It's a handsome piece
You can't deny the Carter's good looks. Every line is a graceful, purposeful curve, and they all work together nicely. Nothing looks out of place (except for maybe the thumb disc). The version I received is the black blade with the O.D. green handle, and it just looks awesome.
There are two lines about this knife that I like the most: the blade shape and the spine. I love drop point blades, but this one has some of the best curves of any I've seen. Also, the curve along the entire spine is one continuous, smooth arc, and it's just too good-looking not to notice.
I'm also a big fan of the minimal branding. I do not like big logos on anything I own, which is part of why I really like The James Brand. Other than "James" written in small print on what most would consider the backside of the blade, and a small company logo on the pocket clip, branding is non-existent — my kind of knife.
The Cons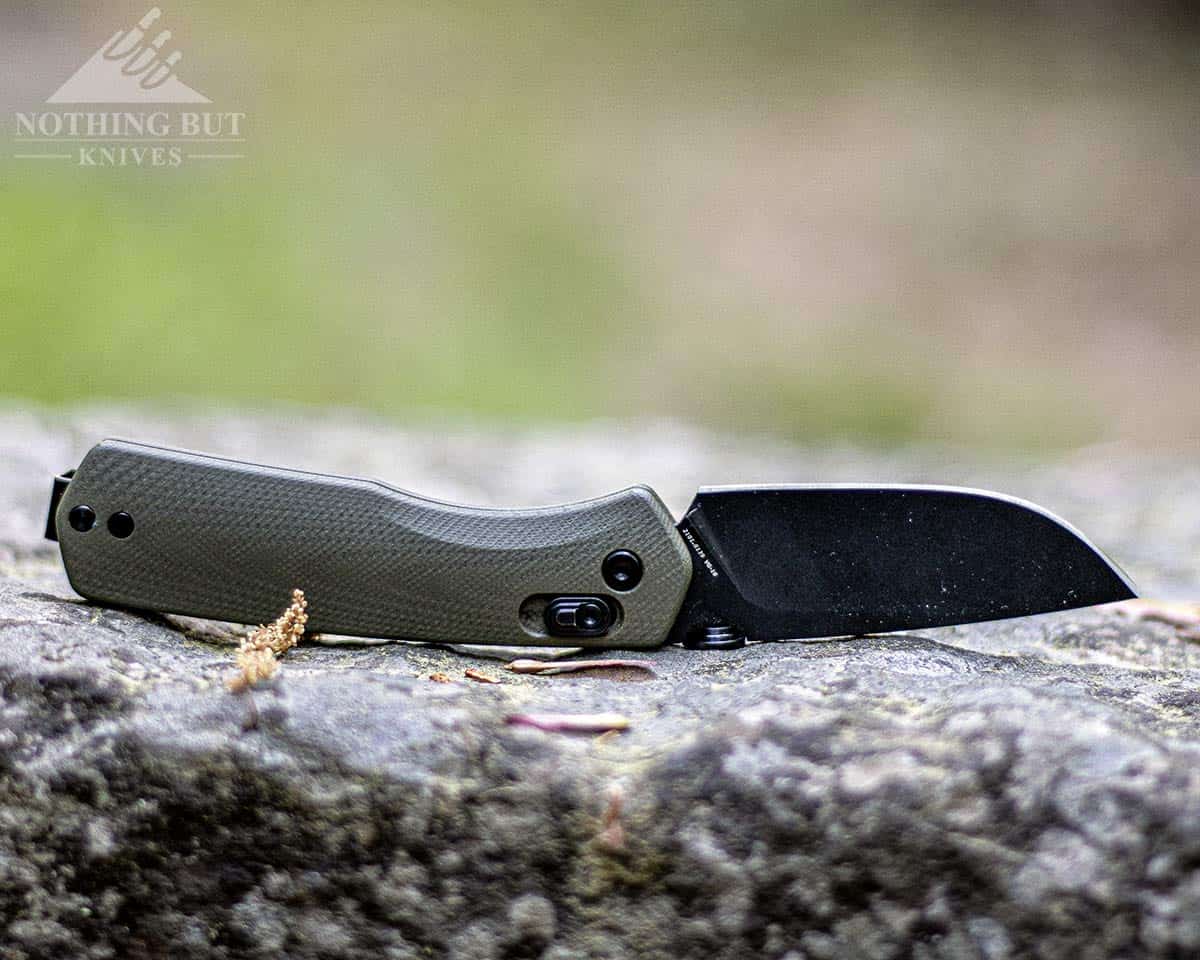 There's plenty to like about The Carter, but there are a few reasons why your parents wouldn't want you hanging out with it. It's far from perfect, and here's why:
The action takes some getting used to
There is definitely a learning curve with the Carter. I have to admit that when I took it out of the box, I was extremely disappointed with the action. I could not flick it open to save my life. Not with my thumb or index finger. Not even close.
I did a little digging around, and this appears to be a pretty common issue. Someone suggested adjusting the pivot screw, while my buddy Howard (@toilandrecoil) suggested it might just need some breaking in. I'm happy to say that Howard was correct, and after some extensive flipping and closing, it's getting better every day.
The first few days, I could only flip it open by holding the slide lock open and flicking it hard. Within a week, I was able to flick it with my thumb, and then a few days later, my index finger. Now I'm happy to report that I can open it with my pinky finger on my non-dominant hand. I'm sure this is a mix of technique and break-in, but it's something to be aware of so you don't panic when you take it out of the box and it's a little stiff.
About the clip
Like I said, the clip takes a lot of crap from the EDC community. To be fair, it's big and rather ugly. It doesn't fit the Carter's style.
I like that the clip is deep carry, but it's so chunky and squared-off that it's actually pretty ugly. It's super functional, sure. But for a knife that looks so good in almost every other aspect, why was this the design The James Brand landed on? And the thing is that they clearly spend some time improving its functionality after the initial release, so why not change its look?
The thumb disc is a little weird
The thumb disc looks a little strange and out of place, particularly if you're looking directly at the spine of the knife. But it's not just the looks that are a bit unorthodox. It's kind of rickety.
It spins around the screw that secures it, and it's not a perfect fit so it does rattle a little. I'm not sure why The James Brand chose to allow the thumb disc to spin, but they did and it does. Once you put a little pressure on it, it holds its position and works very well, so I don't think it's an issue when it comes to functionality. It's just not as sturdy feeling as you might expect from a feature on a knife that costs this much.
Which brings us to the next point.
It's a little pricey
The Carter retails for around $140. If you look at what you're getting for that price, it might be difficult for some pocket knife enthusiasts to swallow. After all, you're talking G-10 grips and VG-10 steel. This is relatively basic stuff.
I have to be honest. I do think you're paying for the expensive ad campaigns and sexy branding. Is the knife worth $140? It's somewhat subjective. Average guys looking for just one knife will probably be very happy knowing they're part of a somewhat exclusive club of The James Brand owners. EDC guys will compare it to some of the other knives in their collection and recognize that they might've overpaid.
But, you're overpaying for the same way that you overpay for a Jaguar when you could buy a Honda with leather seats. Sure, the Honda will get you there just as well, but will it look as good as the Jag?
Who's The James Brand Carter for?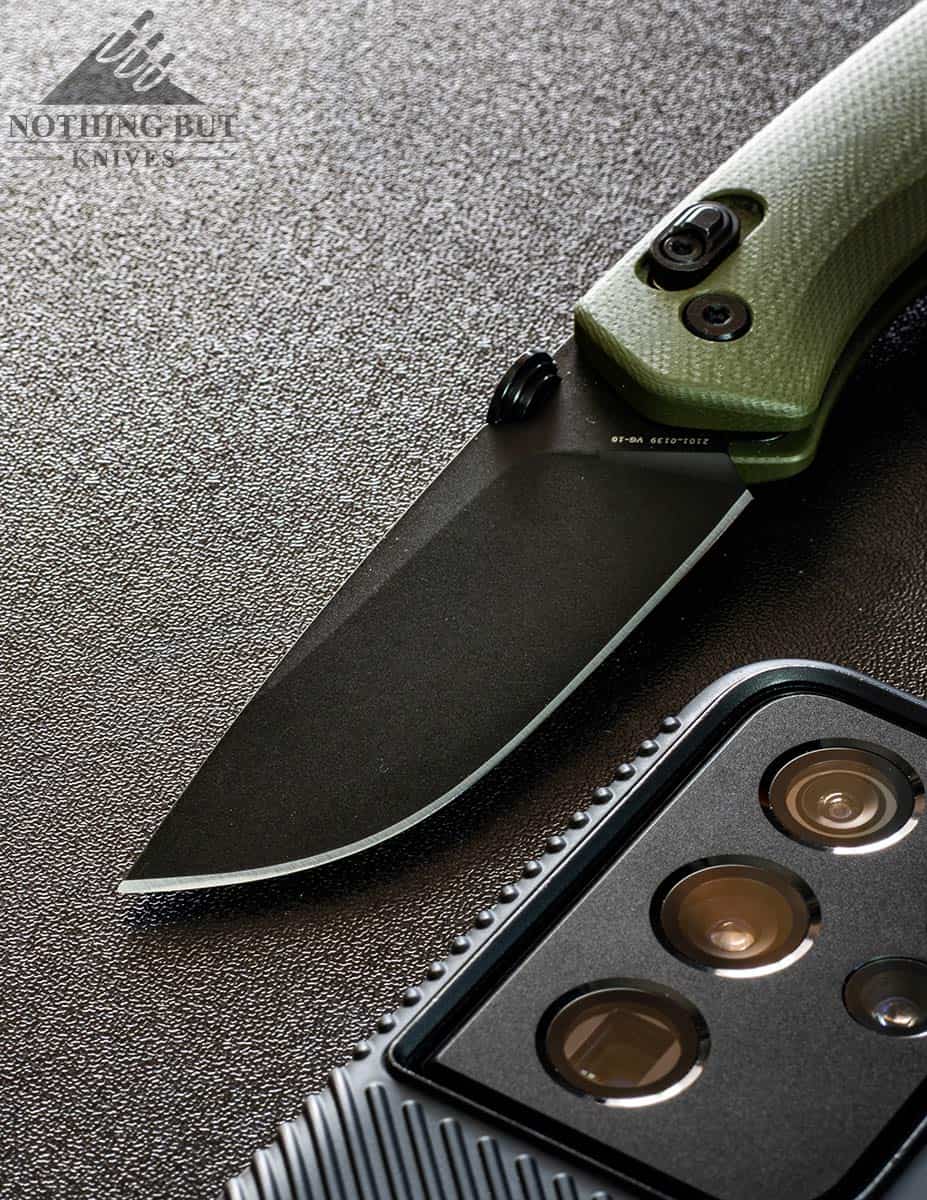 I've thought long and hard about this because it's arguably the most critical question this article can answer. What type of person is this knife ideal for? Here are my thoughts.
This is an excellent EDC knife for a guy who doesn't mind spending a little bit more to get something a little different. In a world full of Benchmade Mini Bugouts, WE Banters, and Civivi Elementums, The James Brand Carter stands out. It also bucks the trend a little, and it might be worth it just for that.
It's also a good move for a guy who works in an office and wants to carry something a bit more subdued. The Carter is pretty unintimidating, and it doesn't have that "thwack" sound of the Benchmade or Civivi. It's not going to make Karen jump out of her shoes and throw her hands in the air if you flick it open to cut up a package in a quiet office.
Conclusion
I won't play any games here. Sometimes I get products to review, and I use them during the trial period, and then they end up on a shelf. I truly love The James Brand Carter. I didn't want to love it — at first, I didn't even like it — but now it's my new go-to EDC knife. It won't be spending much time up on a shelf.
Are there better knives out there for the same price? Or, less even? Yes. But aesthetically, the Carter is better than them all. Its lines are beautiful. Sure there are some confusing, quirky things about it, like its pocket clip and thumb disc, but it's super easy on the eyes.
So, is this knife the badass it appears to be? In my opinion, yes, it is. I think there are some things that The James Brand could improve, but I would fully expect it to power slide across the front lawn of any rural high school with the head cheerleader wearing its leather jacket in the front seat.