A Great Japanese Kitchen Knife for People Who Normally Use Western Style Cutlery
Shun's Classic series sits in a good spot cushioned by mostly approachable prices and a trustworthy name recognition. It's also the last stop in Shun's whole line up of knife sets before things start getting expensive.
This seven inch Santoku is nothing special if you spend a lot of time trying a bunch of different Santoku knives, but it's a really great knife if you've only ever used $20 – 50 knives. It bites easy and cuts smooth, and the handle gives you a lot of easy control.
The main problem with this Santoku is that it's dressed up like a Japanese-style knife but doesn't exactly behave like one. The balance is a little off, it's heavy (compared to other Japanese knives), and it is a little thicker behind the edge. It's also not exactly a traditional Santaoku thanks to the curve in the edge, but that isn't such an unusual thing these days.
This is an increasingly common thing, though, and this still bites and follows through well.
Specifications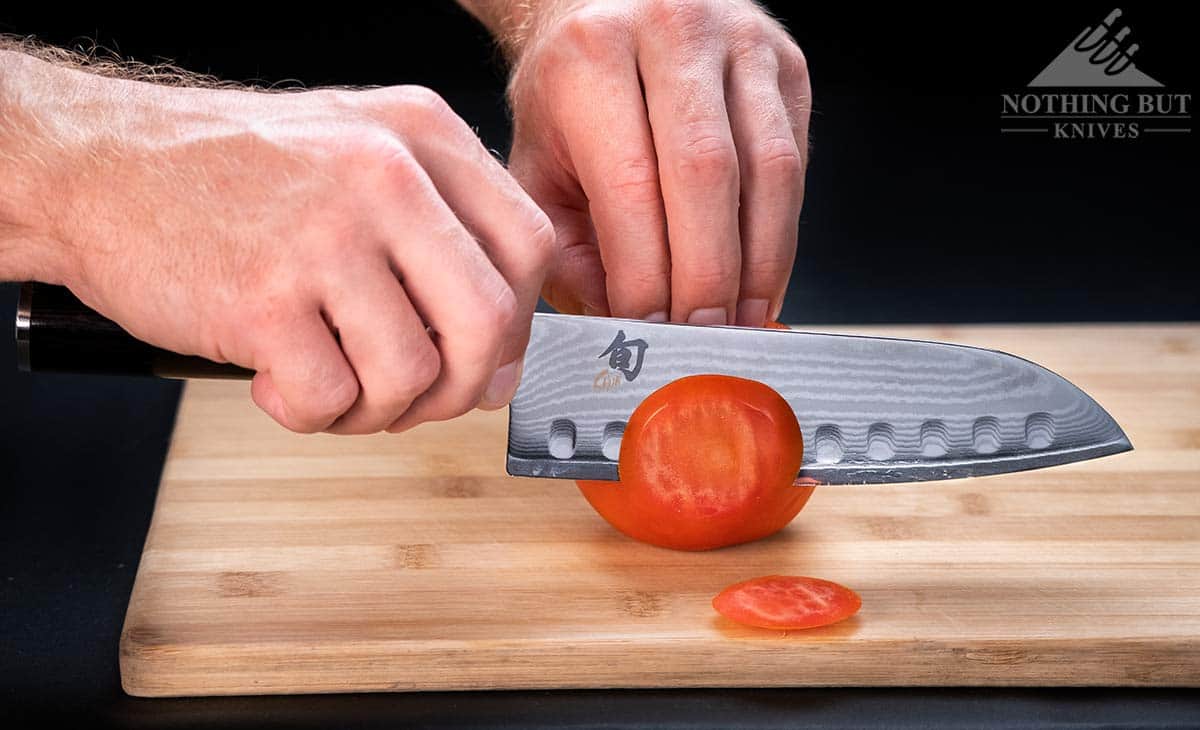 | | |
| --- | --- |
| Overall Length | 12.5″ |
| Blade Length | 7″ |
| Style | Santoku |
| Handle Length | 5″ |
| Blade Steel | 69 Layer VG Damascus |
| Blade Grind | Hollow |
| Handle Material | Pakkawood |
| HRC Rating | 60-61 |
| Weight | 7.1oz |
Pros
Great vegetables and herbs
Crazy sharp
Nice steel with Damascus cladding
Great fit and finish
D-shaped handle if your into that kind of thing
Cons
Not the best value
Balance more toward handle
VG-MAX is a hard but somewhat brittle steel
D-shaped handle if your not into that kind of thing
Shun Presentation / Fit and Finish
Shun is a class act. They have great quality control, they're quick to respond to customer issues, and their knives show up in a black box with their logo tastefully printed on it. It's still just a cardboard box, but it's weirdly hard to find a kitchen knife company that is good at both packaging and making decent knives.
It's not the kind of thing that should make or break a decision to buy a knife, but I deeply appreciate this aspect as someone who spends a lot of time recommending gift knife ideas to people.
It's a given that a Shun knife will have good fit and finish. The transition from the bolster to the handle is seamless, the corners of the spine and the ricasso are rounded just enough to keep from digging into the finger, and the pakkawood handle is shiny and smooth, yet somehow not slippery.
The only issue I have with the looks is the mess of information they have on one side of the blade. Shun has seen fit to not only stamp their logo on both sides, but to also provide the model number, steel, type, knife style, and blade size in a little chunk of letters on the left handed side.
It's not such a terrible thing. It's useful info if you've lost the box and want to look something up about the knife or call in about a defect. But I can't get over how much better this knife would look as a whole if they just had the Shun logo by itself on one side and left the rest of it clean.
A Good Blade with a Non-Traditional Edge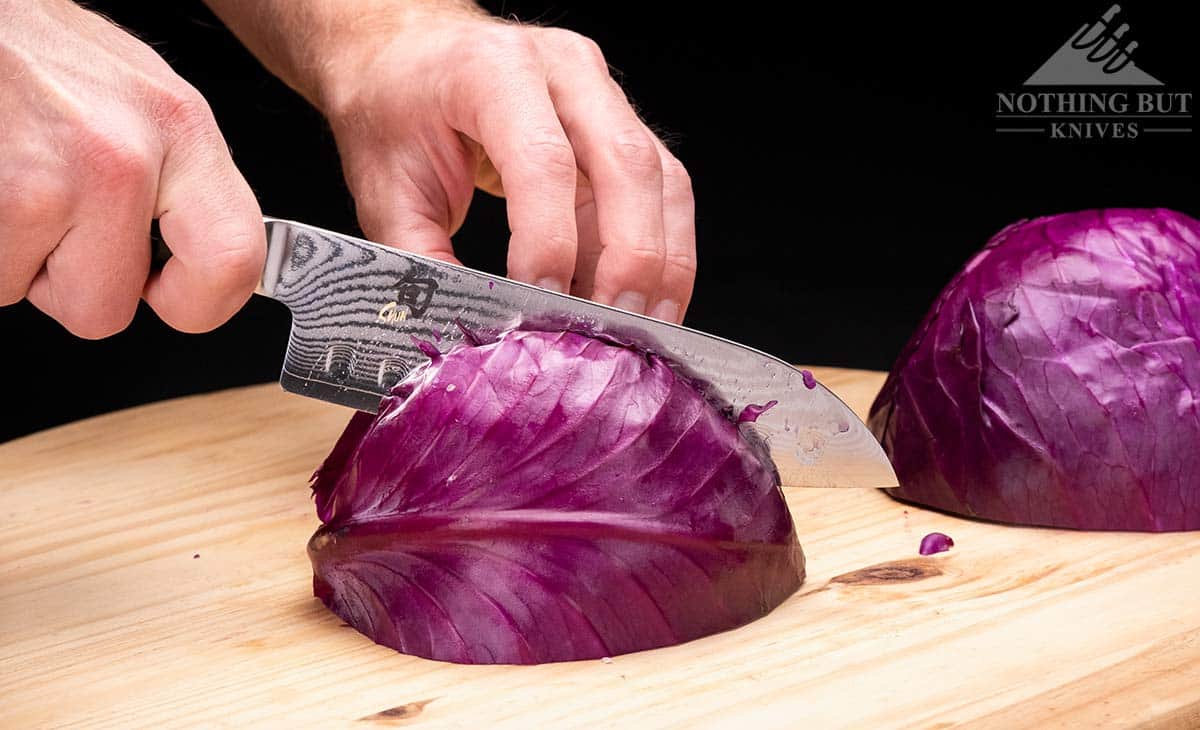 If I were being really strict about this, I'd say the edge on the Shun Classic Santoku is wrong because the edge has a curve. Traditionally a santoku's edge should be perfectly straight because it's meant to be used almost exclusively in a rigidly diagonal motion to cut.
This santoku curves a little going into the top of the blade, making it a sort of western fusion style. A lot of companies are doing that these days, but it seems to be a lot more pronounced on this. And it turns out I actually like that curve, so I'm not about to complain about tradition here (I'll do that later when I talk about the weight balance).
Cutting Performance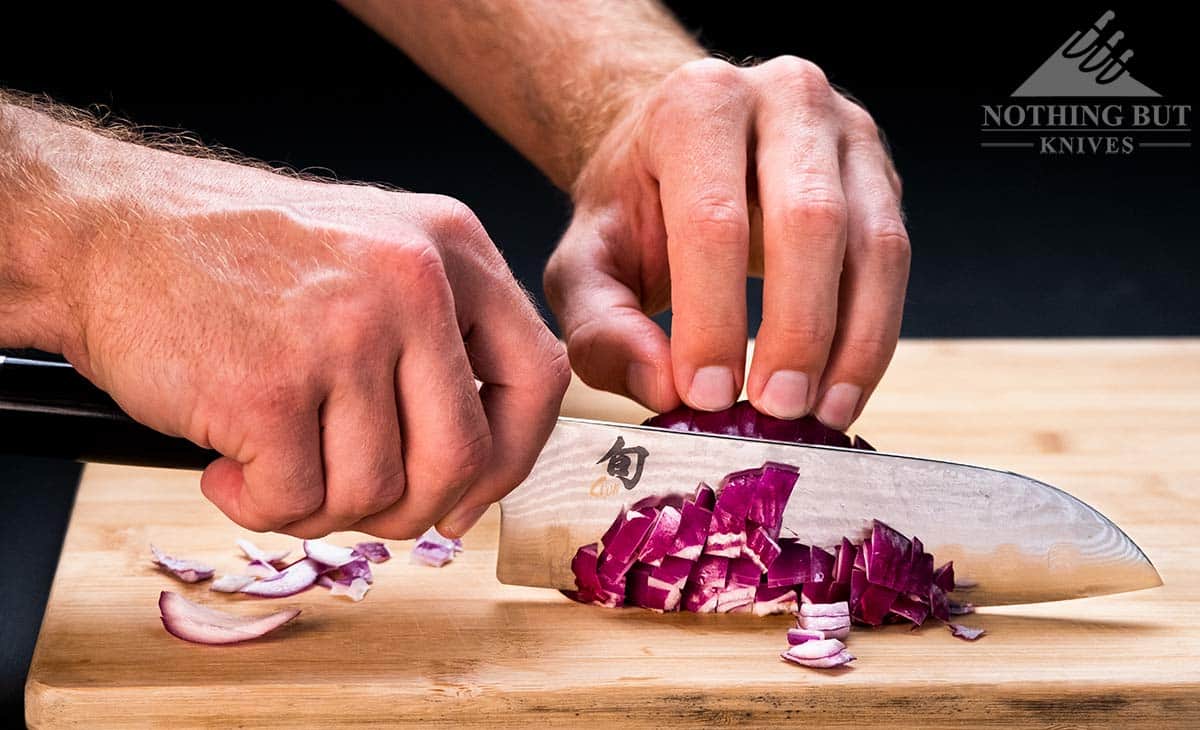 The first twenty minutes or so of cutting with this are fantastic. I mostly used it in cooking a few Mexican and Italian dishes so I can't say it performs well on Japanese cuisine with a lot of authority. But I can tell you that it's great for cutting up garlic, mushrooms, and tomatoes.
It's especially nice to use on garlic, something I've had a lot of trouble with in the past when using thicker-bladed knives. The Shun Classic can cut garlic cloves really fine without much trouble, though, and the hybrid curve of the edge lets me rock chop to get the cloves even finer. It's turned out to be a great knife for cutting up stir fry ingredients.
Shun grinds this knife to about 16 degrees which is thinner than your typical kitchen knife, but is actually a little thicker than a lot of other Japanese knives which can have 15 or even 12 degree edges depending on the style. So while this definitely bites better than most western style kitchen knives, it's not going to have the same bite or edge retention for people who are accustomed to more traditional Japanese chef knives.
Wear Resistance and Edge Retention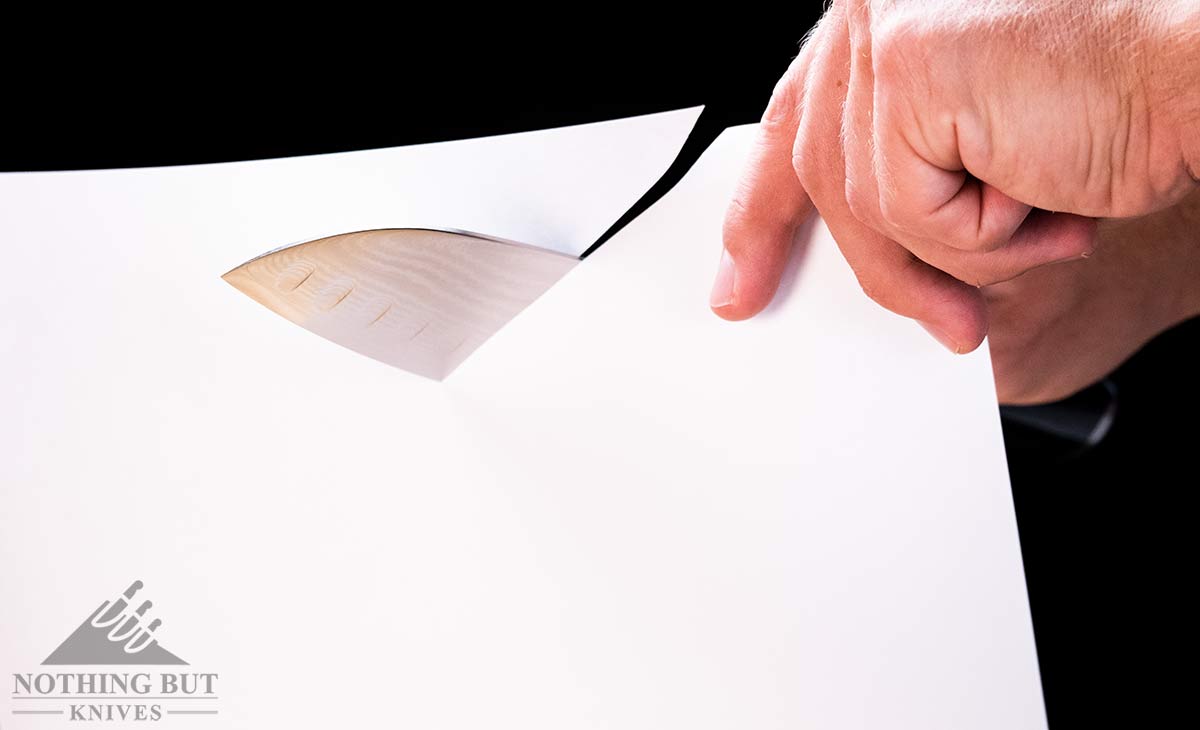 I've been using this knife off and on for roughly two months now and haven't really noticed much of a change in the edge. It still does paper tests beautifully, and I can cut into a ripe tomato without too much trouble.
Granted, this hasn't been two months of using it every day. I probably put it to heavy use maybe once or twice a week, with occasional utility cuts in between when it happened to be handy when I was trying to tear open a package of cheese with my grubby fingers. I haven't felt the need to strop or hone it much yet, and I haven't noticed any roles in the edge. At the rate I use kitchen knives, I would guess it would be at least six months before I needed to do any kind of edge maintenance on this.
The Full Tang Handle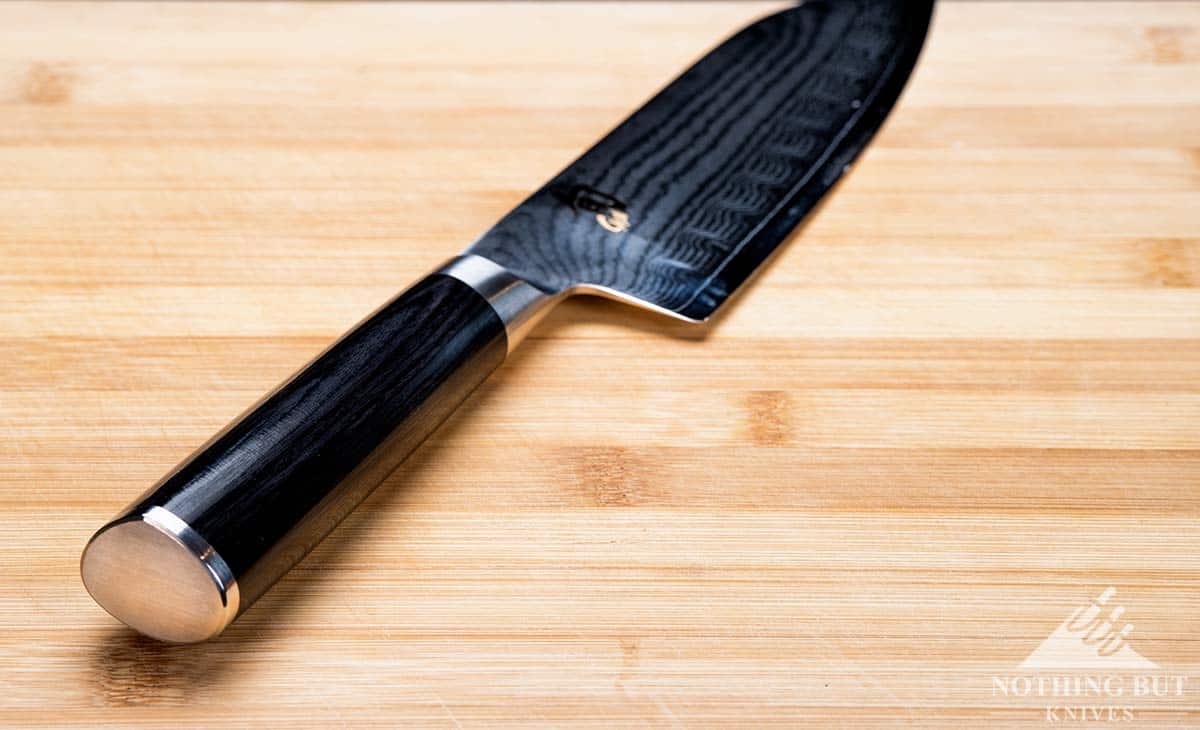 The handle feels good for the most part. The finger grooves in the bolster are comfortable in a pinch grip, and the size feels just about right in a full grip even in my weird ham hand.
The pakkawood is polished super smooth but I've never felt like it might slip away from my fingers. That might be partly due to the D shape that I'm still lukewarm about, but the point is that the handle is mostly fine.
I did notice my hand cramping after a bit of extended use, though, and I think that's because of how this knife is balanced.
Handle Heavy Problems
Shun makes most of their knives with a hidden tang that extends most or all of the length of the handle. Technically that means this knife is more durable overall, which sounds nice but really isn't necessary on a santoku with an edge that was made to cut delicately.
All the tang does with this knife is make it heavier in the handle, which makes it a little more uncomfortable to do multiple straight, even cuts. My hand has to compensate by putting pressure farther back when it should be dedicated pretty much entirely to pushing the knife down and forward. At first this didn't seem like a big deal because the blade cuts so well, but after I had sliced through a dozen mushrooms I started feeling some strain in my wrist and bottom two fingers.
It's entirely possible this discomfort is caused by bad form. I am not any kind of professional cook, but I do know that a santoku is meant to be centered or blade heavy because it's meant to cut in that straight diagonal direction. After using this thing for a while, I understand why.
D Shaped Handle vs Literally Anything Else
Some people swear by D-shaped handles, and Shun seems to shape them well enough. I am not a fan in general, though.
In theory, D-shaped handles are supposed to give you a little more grip by providing a lip for your fingers and palm to cling onto. While it does do that, it doesn't really feel like it helps enough to make it worth dealing with the weird feeling of it. I've never felt like it gets in the way, and it might even be helping my grip a little. I tend to hold knives in weird ways, though, and I switch to my left hand every now and then (sometimes just because that's how the flow of food prep is going, and sometimes for pictures), and having that lip on one side makes the adjustment that much more awkward for me.
I prefer oval handles or western handles, and I'm definitely a fan of the oval handles with a bit of a middle swell that you'll see on a lot of Yaxell knives. This is a very subjective thing, though, and again, I'm not actually a cook. I mostly just cut stuff to mash into tortillas. So the handle is fine; I'm just being judgmental.
The Alternatives and the Continuing Price Problem with Shun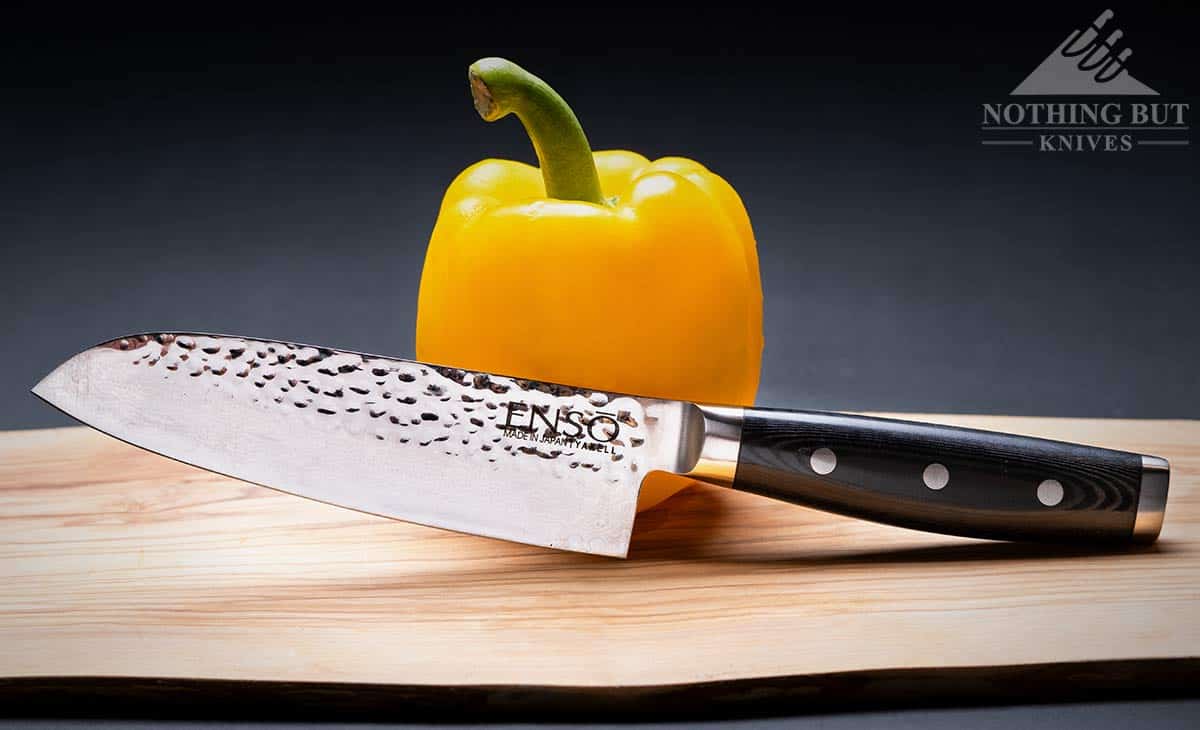 Most of the alternate recommendations I have for Shun are cheaper but perform basically the same. Shun's Classic series isn't anywhere near as expensive as it used to be, and the Classic Santoku is a really nice knife, but it's not the best sign when its performance is competing with knives that cost $30 – 50 less.
The Enso HD is a good alternative if you want an oval handle, although it actually has a more pronounced problem in being handle heavy. But it also has a hammered finish and a Damascus design that looks a little more interesting, so I would actually place it as the more attractive alternative even though it could be argued the cutting performance isn't quite on par with the Shun, and the price is usually only slightly lower.
Tojiro's DP series is a great alternate option if you want a western handle. The Tojiro DP Chef knife is still one of our favorite kitchen knives, and the Tojiro company overall makes a pretty incredible combination of cutting ability for the price. It doesn't look as fancy, but it's reliable.
The Global G-46 is about the same in price as the Shun Classic, but the ergonomics and edge are surprisingly good. I've always underestimated Global knives because of how they look, but they put a lot of attention into getting the balance of their knives just right, and use a steel that seems to be a bit tougher.
There are, of course, a lot of other options in the world of Japanese cutlery, but those are the quick recommendations that seem the most relevant to me.
Conclusion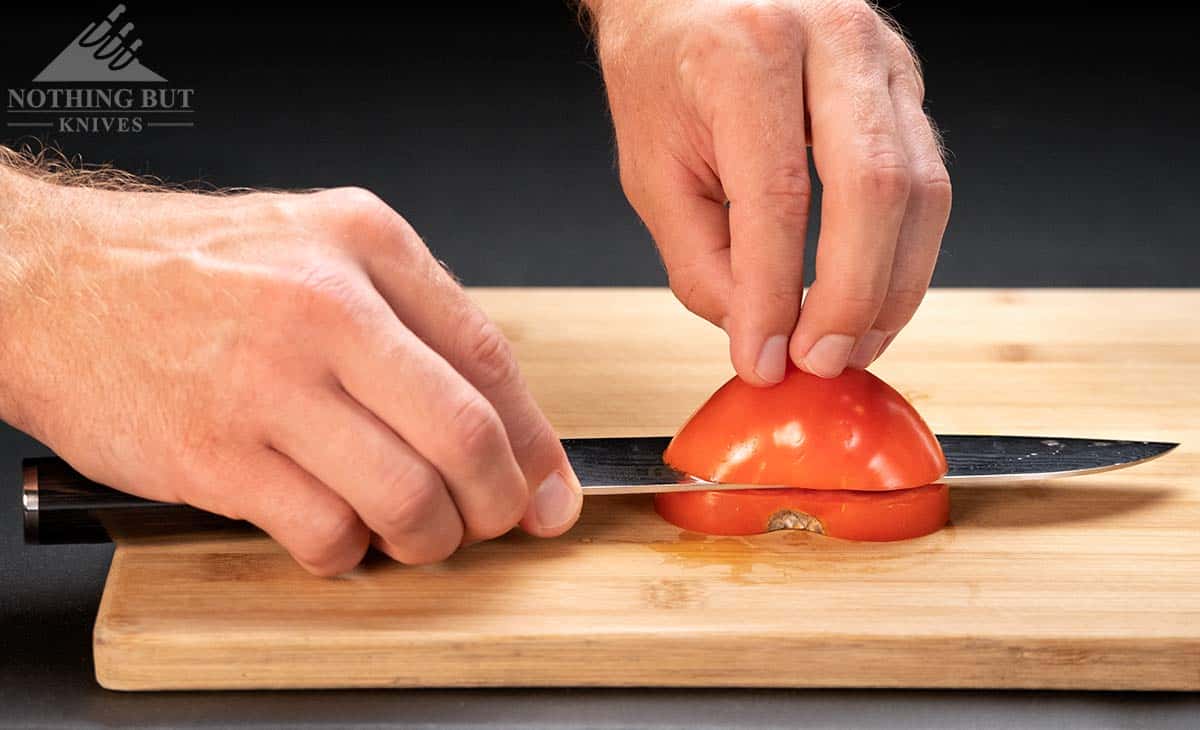 This is a good knife that might cost a little more than it's worth, depending on what you're looking for.
It's great as a gift for someone who cooks at home a lot (I don't hear of many restaurant workers using santokus). There's a certain guarantee of quality and customer service you get with Shun that isn't always a given with other companies, even (or especially) with companies that make better knives.
My main issue with the Classic Santoku is the balance, but it's really not pronounced enough to be a serious problem. The edge on it cuts incredibly smooth, and I've enjoyed using it overall. I don't think I would recommend it over a Global or Tojiro unless someone specifically wanted something with a D-shaped handle, but ultimately it's nice to have around in the kitchen, and you could certainly do a lot worse.