This is a Western Kitchen Chef Knife that Cuts like Japanese Knife
What do you do with a knife like this?
After hearing all the hype about Shun knives, and then hearing all the anti-hype people talk about what's wrong with Shun knives, then watching a bunch of culinary YouTube influencers slap the Premier around on some kind of Mediterranean fusion salad thing, you finally get this knife in hand, watch it sink into a tomato almost on its own weight, the realities of this blade can come up on you in surprising ways.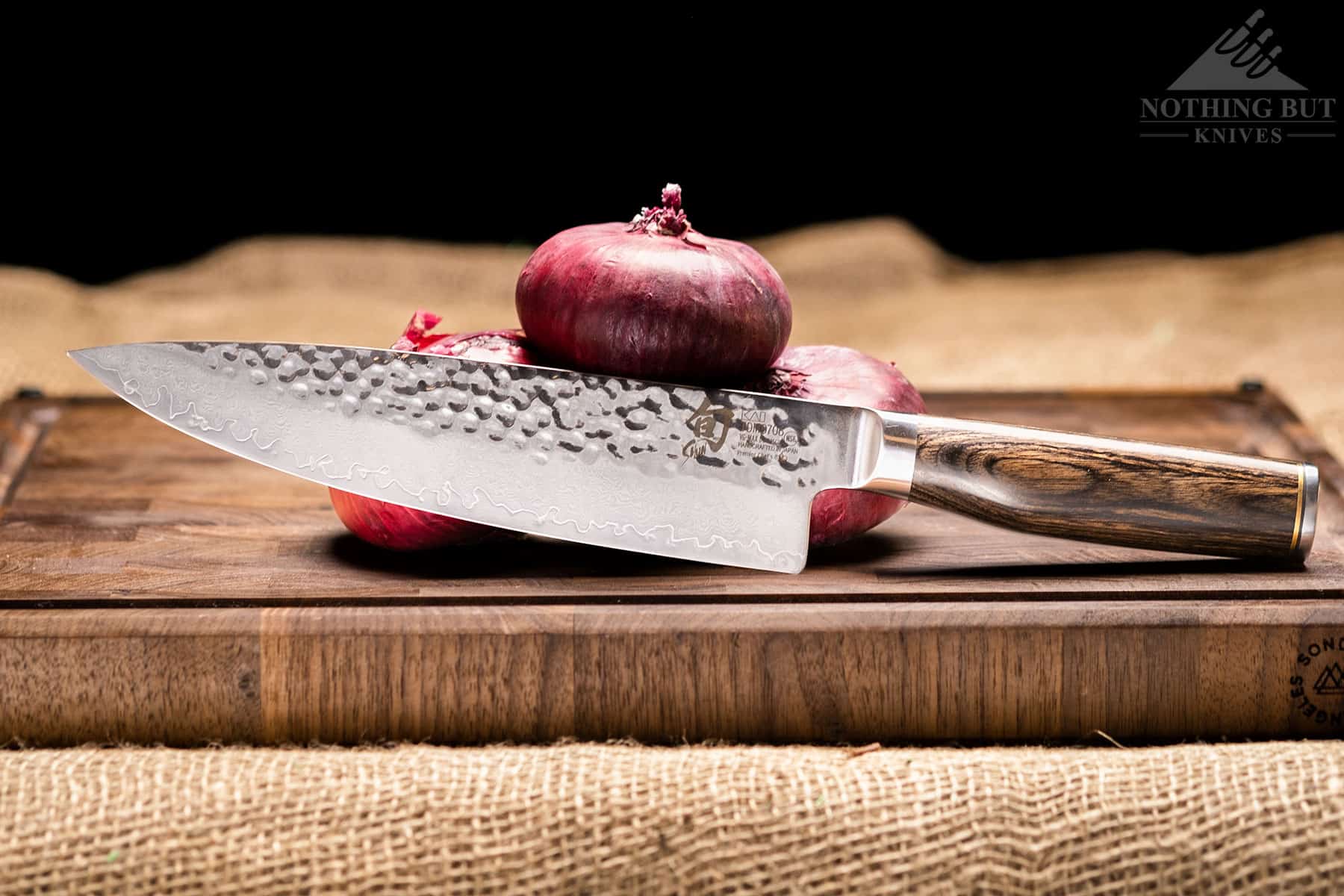 First, despite the Japanese lettering, and hammer finish, and it being made by a Japanese company, the shape of this knife is not a gyuto, or a kiritsuke, or a sujihiki, or even a hankotsu. You just have to line this thing up with a Zwilling Pro chef's knife to see what it really is. But it still has a lightness that's similar to a lot of Japanese knives I've used, and it definitely cuts like (or better) than a lot of the Japanese knives I've used.
So what do you do with this thing? You use it like a western chef's knife, but do it very, very carefully.
Specifications
| | |
| --- | --- |
| Overall Length: | 12.5" |
| Blade Length: | 8.0" |
| Blade Steel: | 69 layer Damascus w/ VG-MAX core |
| Hardness: | 60 – 61HRc |
| Blade Thickness: | 2 mm |
| Blade Shape: | Western chef's |
| Blade Grind: | Flat w/ 12° double bevel |
| Handle Length: | 4.5" |
| Handle Material: | Pakkawood w/ steel endcap |
| Handle Type: | Oval |
| Weight: | 7.3 oz |
| Made in: | Seki, Japan |
Pros
Super clean cutting blade
Lightweight and well balanced
Wide handle is surprisingly helpful in a pinch grip
Cons
Brittle steel, especially for a western style blade
Food stick is pretty bad
Sharpness at the Price of Toughness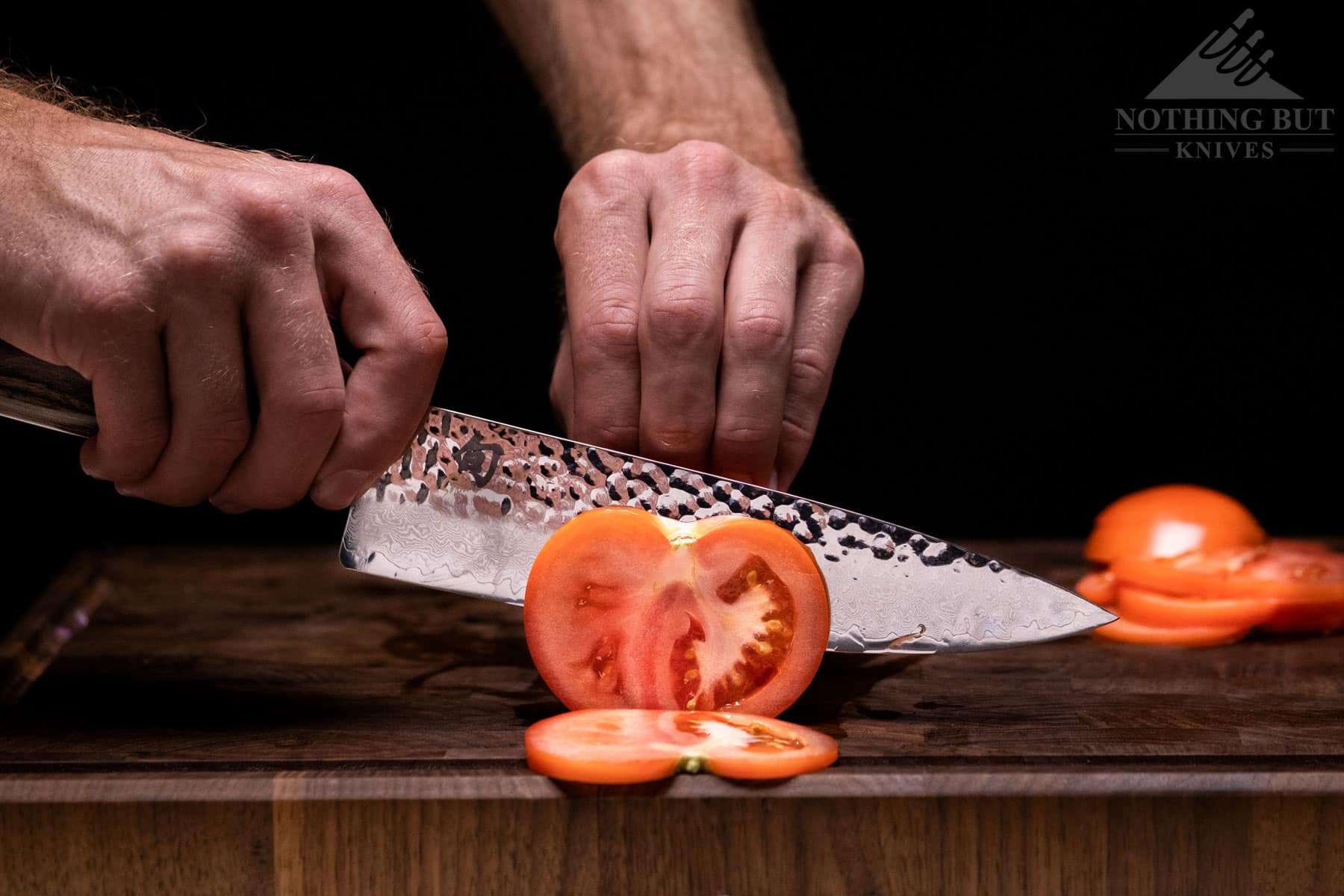 The Premier has the best out-of-the-box sharpness of any knife I've reviewed in a long time, or possibly ever. The blade ghosts right through most foods. It has the kind of edge that makes you realize what's wrong with the other high end knives out there. Every cut feels unburdened.
All that said, any enthusiast worth his salt will tell you that out-of-the-box sharpness isn't as important as grindability. In fact, it's pretty common for Japanese knife makers to only put a basic edge on their knives so the customer can grind their own microbevel the way they want.
Shun does not do that.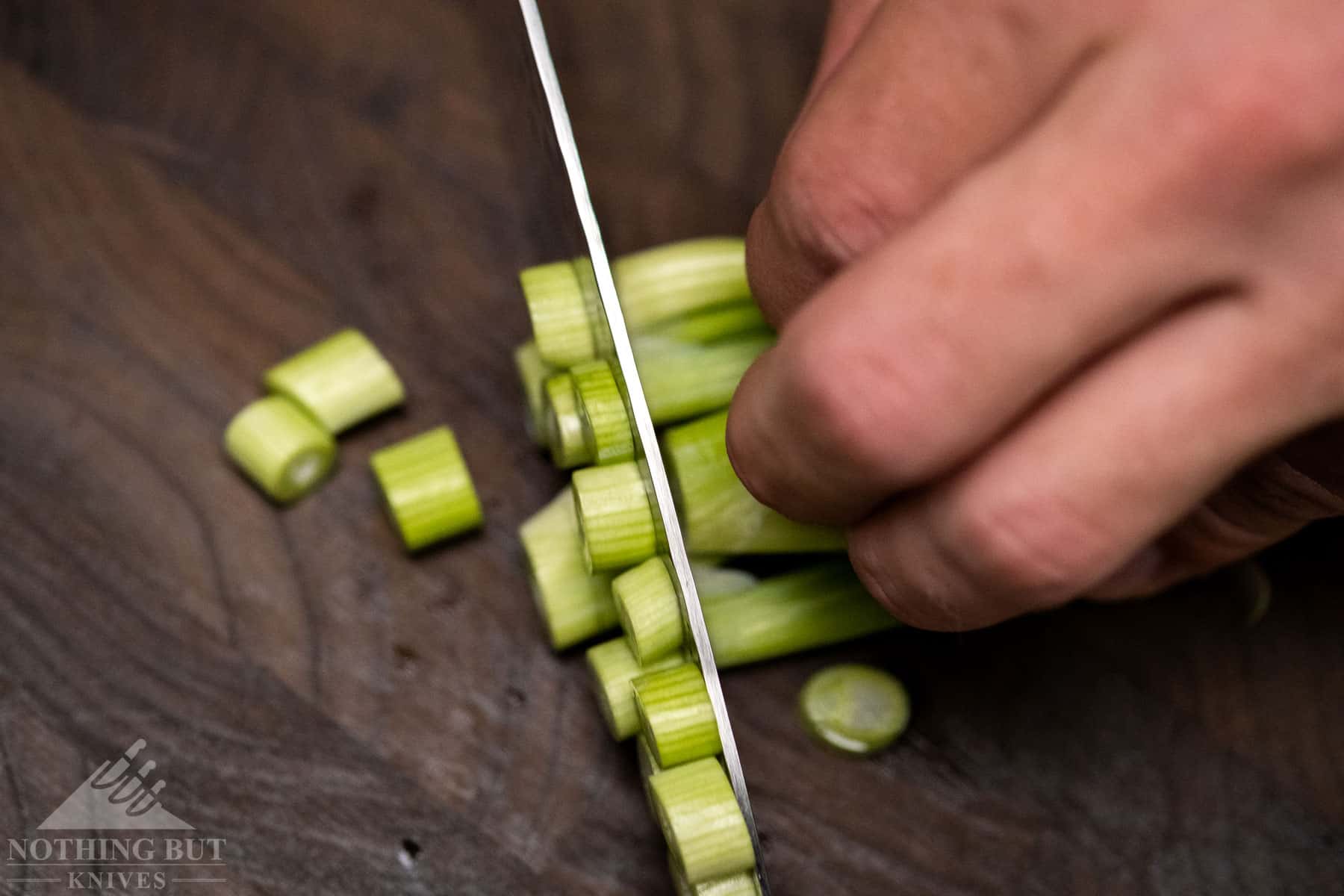 They make their knives as thin as they can and as hard as they can. That's great at first. The problem comes up when you've been using a Shun knife for a while and then you have to sharpen it. And if you've never sharpened before, VG-MAX can be a tough one to learn on, especially with a 12° edge.
That's not to say VG-MAX is a bad steel. It's basically a step up in edge retention from VG-10, but it's not so cleverly done that it's easier to sharpen or any less frail.
The Problems with a Thin Western Style Blade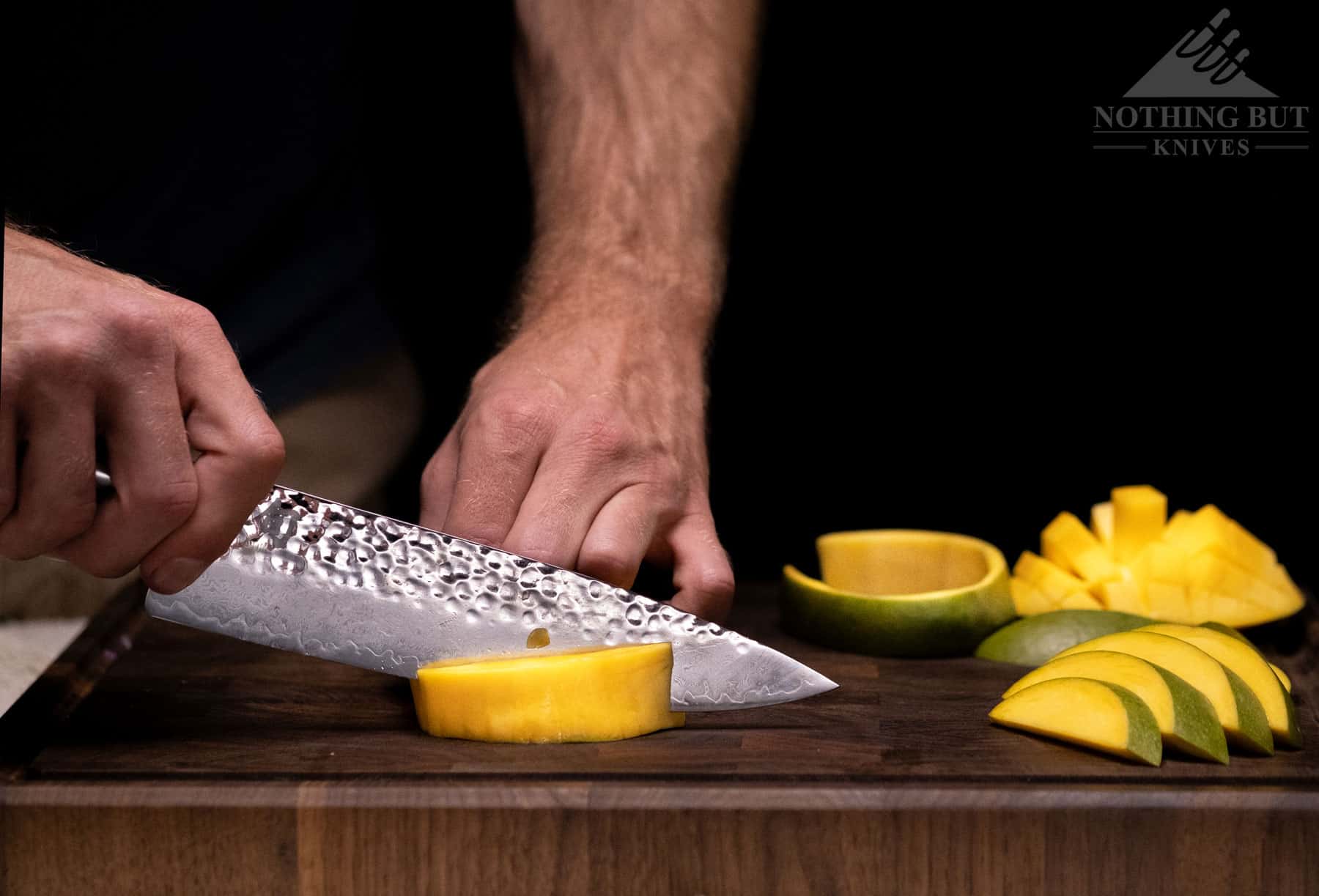 So the blade is thin and cuts in a very dreamy way. Out of the box, it does the thing a kitchen knife is supposed to do incredibly well.
The problem with it is also the thing that makes it kind of unique. The design is technically a Western style chef's knife. Something that is traditionally used to be abused and hack through chicken bone and thick-skinned cantaloupes and other things that a traditional Japanese knife would chip just from being in the vicinity of such tasks.

The blade of the Premiere has the fragility of a Japanese blade. It's made from a very hard steel that is not particularly well known for high stability these days. It should absolutely not be used for a lot of things that many home users (and even a lot of chefs and line cooks) use western chef's knives for.
It's plenty safe to rock chop with the Premier, but I wouldn't touch a chicken with it unless I was feeling really steady.
Handle Stuff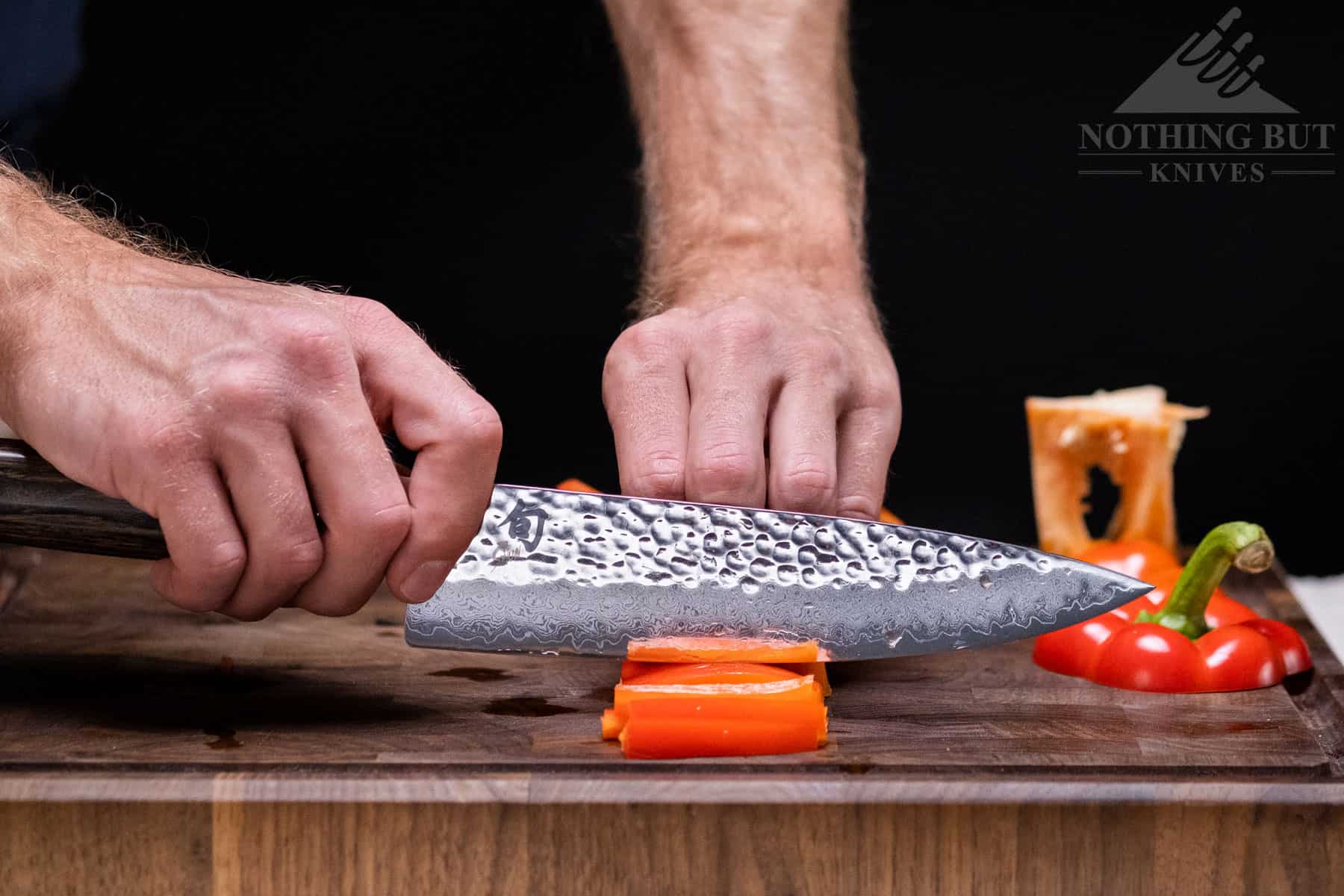 I was skeptical when I first picked the knife up, because the handle is a lot thicker than I expected, but it turned out to be really good in a pinch grip. The swell of it towards the middle actually feels like it adds some support to the back of my hand. It's also quite a bit lighter than it looks.
The blade always goes where I want it to, which is important, because when this edge grazes something it starts cutting. But the large handle makes it really easy to adjust when I need to (which is a lot for me, because I'm still not very good at a lot of different cuts).
I barely feel any strain on my hand even after using this to cut up a full meal, then cleaning off everything to cut up a bunch of stuff for the next meal. I'm not cooking in a restaurant kitchen or anything, but usually I'll start feeling the corners and weight of a knife after I've been using it for thirty minutes. The Premiere starts out feeling great, and I haven't used it long enough for that feeling to diminish in any way.
The blade spine isn't crowned, so it will bite into my finger a little every now and then, but since most cuts take so little effort, and it's so easy to adjust my grip, it really doesn't come up that much.
What's really surprising is that I don't particularly like the look of the handle in person. The Premier is one of the knives I've spent some years drooling over, but when I actually picked it up, the wood handle seemed kind of underwhelming. It looks plain. That's not really a great criticism of the knife, but it seems fair to warn people who are after a vibrant wood handle. This thing is pretty understated in reality.
Overall Food Performance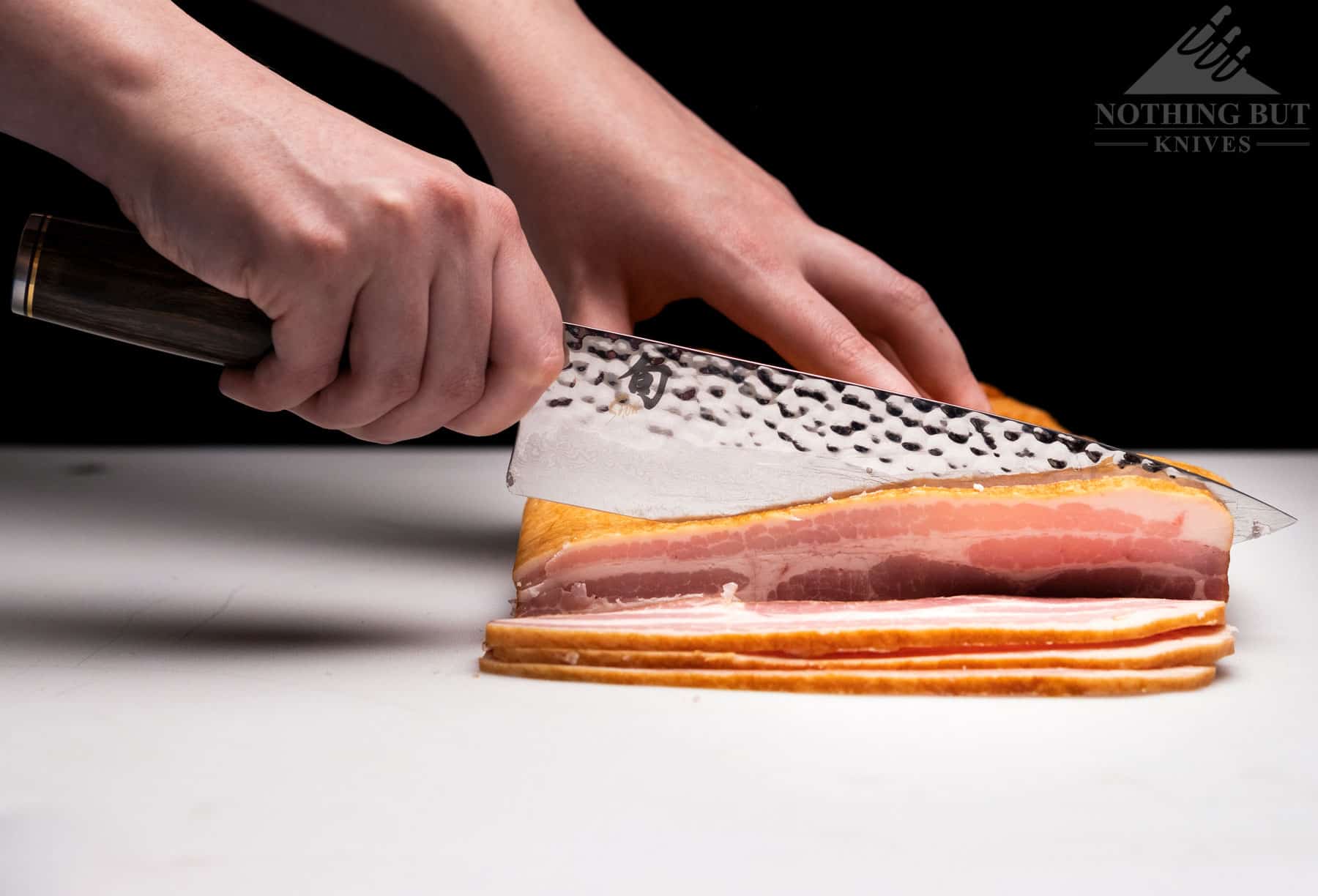 It doesn't have the best food release. The blade is tall, and even if the hammer finish did anything to help, the divots start so far up the blade as to be a nonfactor here.
The important part is that this is a very comfortable knife to hold and very easy to control. Even though the edge wants to drift right through food, I never felt like it was trying to get out of my hands.
Onions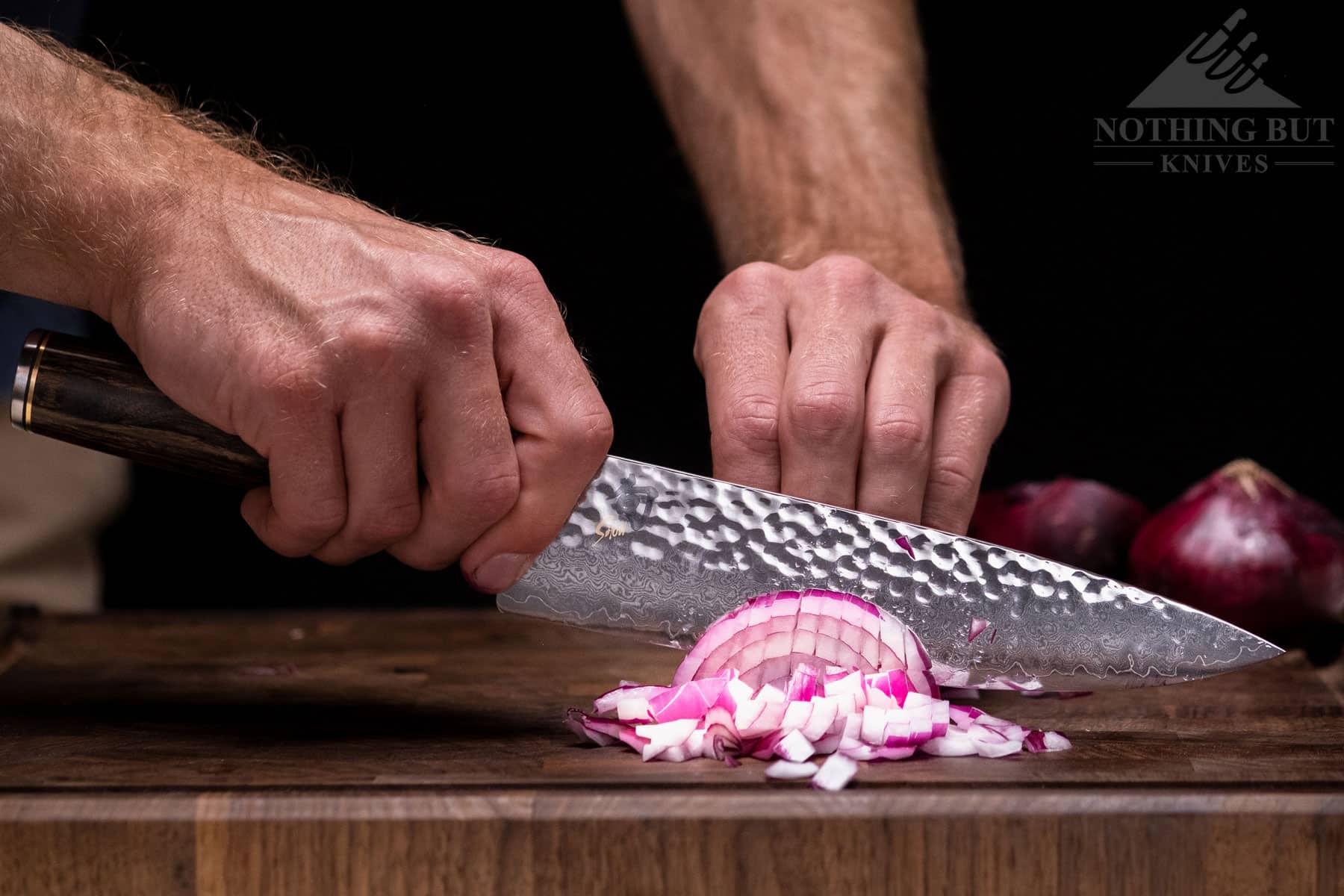 So long as my form is on point, onions are really easy to chop and dice with the Premier. It doesn't take a lot of motion to get a cut started, and finishing a cut all the way to the board can happen incredibly fast. The first few onions I cut with the Premier looked pretty rough because I found myself going faster than I'm really good enough to go. But that's a personal problem. The top of this blade will click right through an onion half, and I can get into a really nice, smooth motion when I finish off a dice with a rock chop.
Tomatoes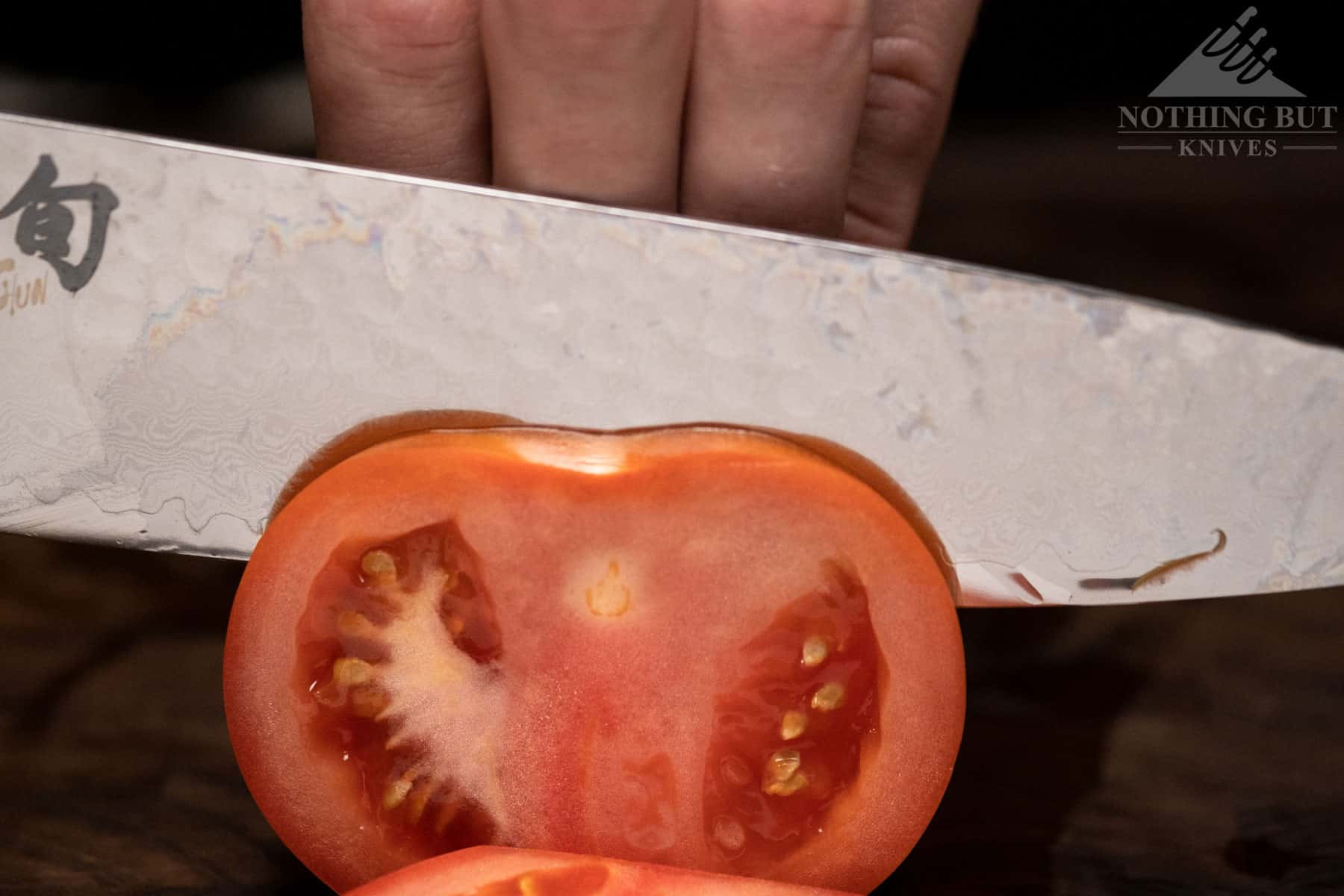 No problems here at all. The thin edge gets past the skin with barely a touch, and after that it's pretty smooth sailing to get thin slices off a tomato. Dicing went well too since it's pretty easy to pull cuts and rock chop with this. Food stickage comes up a lot, but most of the time, I barely feel what I'm cutting when they're as light as tomatoes.
Carrots
This is where the control given by the handle came in really handy. The edge had no problem slicing up carrots whether I was doing simple oblique cuts or trying my damndest at an even julienne.
Apples
At first I got a bit tripped up on apples because I was cutting them mostly with the heel of the blade. Something about the dense, starchiness of them grabs onto the tall, smooth sides of the Premiere. The edge cuts into apples just fine, but the blade itself doesn't seem to like playing with the meat of the fruit. Once I moved up closer to the tip of the knife, though, I got that gliding smoothness I've become used to with this knife.
Comparison and Alternatives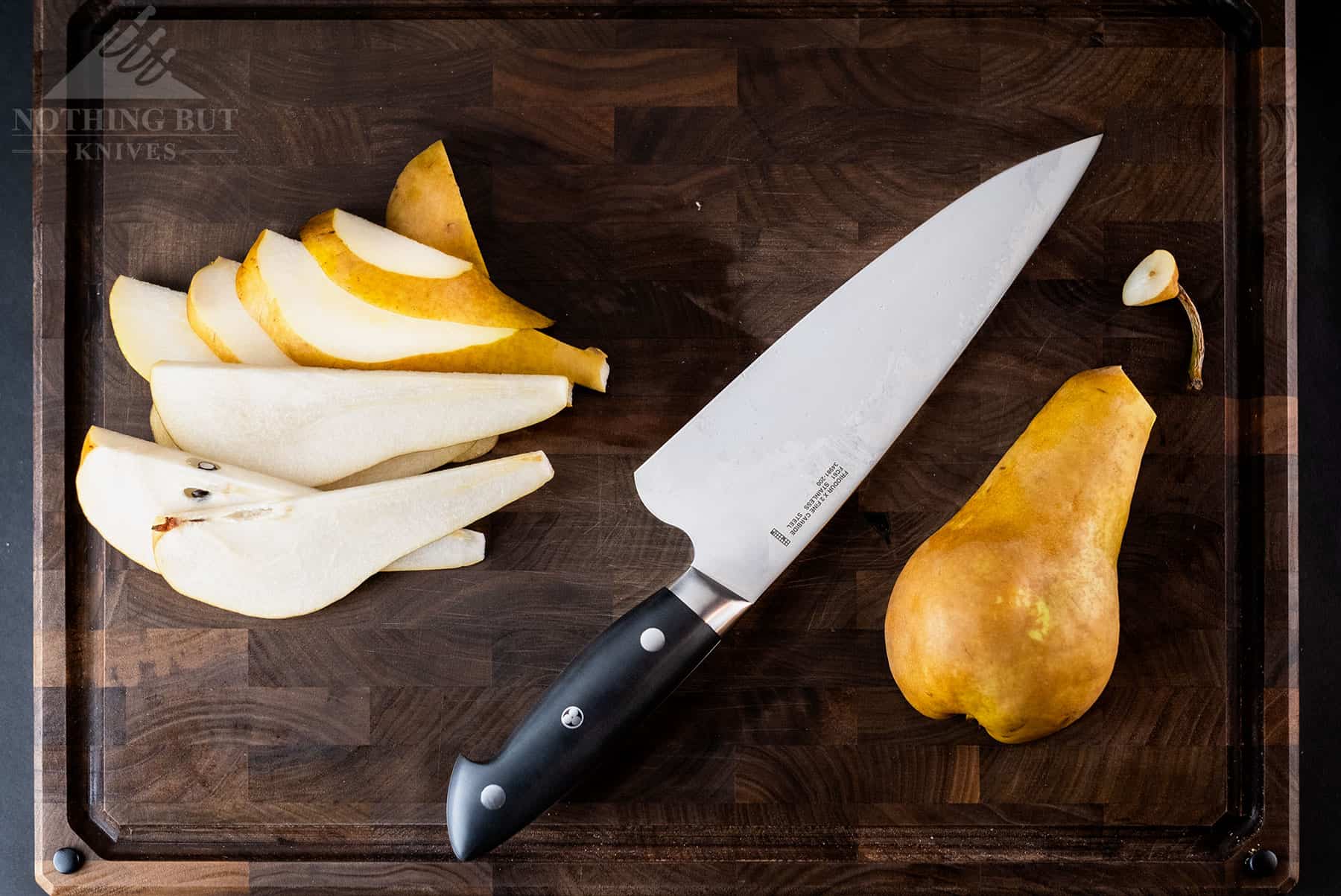 The only other knife I've used that's this nice is the Zwilling Kramer Euroline. I know that looks and sounds like a totally different knife, but they're both western style, and they both have larger than usual handles. The big difference is the thinness of the edges and the tallness of the blades.
On the Japanese side, I actually tested the Premiere alongside the Miyabi Mizu, and while the Premiere outperformed the Mizu in pretty much every way, it's not a bad choice if you want a Japanese style knife with some heft. More importantly, the SG2 steel in the Mizu has much better edge stability than VG-MAX, and if you aren't afraid of putting your own edge on a stainless super steel, the Mizu could turn into a scary kitchen companion.
If you want a little more flare, and don't mind going down in quality and up in weight, the Dalstrong Shogun X has sort of similar ergonomics. Even the cutting performance is similar, although you'll probably find the Shogun X doesn't cut quite as smoothly or hold its edge as long. It's also quite a bit cheaper, so it doesn't feel quite so intimidating to handle as the Premier, if that's the kind of thing you're worried about. God knows I was when I first started writing about kitchen knives.
Finally, if you like the profile of the blade, but don't want something that will chip if it brushes against the tile on your counter, just go with a proper western knife like the Zwilling Pro. It doesn't have the same laser-like cutting ability, but it handles a tomato just fine, and the blade will handle a lot more heavy work.
Conclusion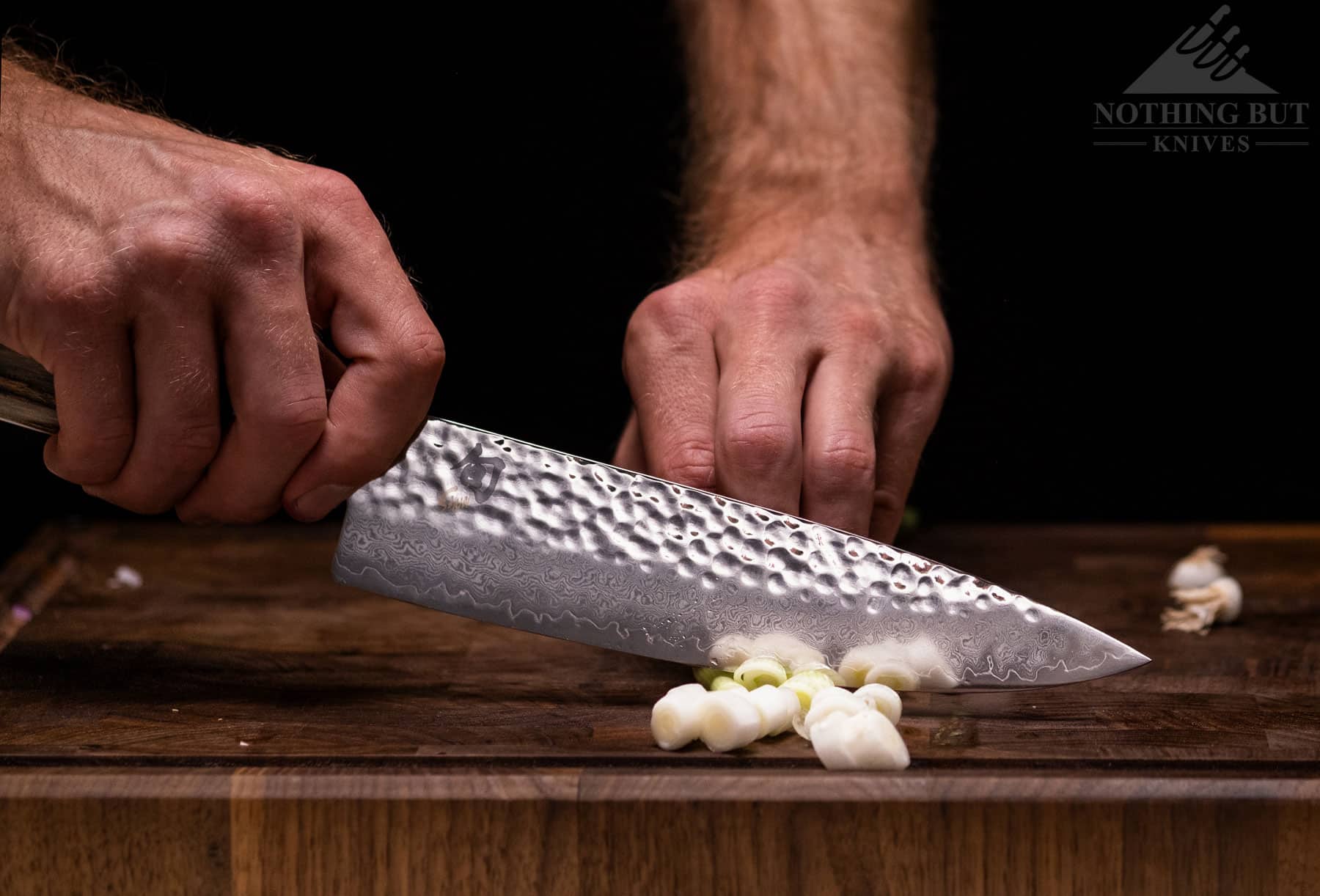 This is absolutely a great knife. Not just because it cuts incredibly well and feels comfortable over long periods of time, but because it offers something unique as a western style chef's knife that cuts more like thinner Japanese knives.
Because of that, though, I wouldn't recommend this knife for the casual user or ham handed idiots like me. The shape of the blade and the fullness of the handle makes you want to treat it like a thicker western knife, but if you aren't careful, this thing will absolutely chip and you'll find yourself having to resharpen it several times a year.
But for the people who know what they're doing, this is a super comfortable knife that can execute incredibly precise cuts with a satisfying ease. I had a great time bungling my way through cutting thinner slices off of tomatoes and onions than I've ever gotten before, but in the hands of someone remotely competent, the Shun Premier turns into a real thing of beauty.