The Other Modern Alternative to the Buck 110 Hunter
The Vanguard Slicer is Kizer's first lock back design. Which was kind of a big deal when it came out in 2021 for a couple reasons:
First, almost nothing interesting came out in 2021, so a fidget-folder company coming out with something outside their normal wheelhouse was exciting on its own. Second, lock backs in general were becoming a rare breed for anyone who wasn't a Cold Steel fan, and Kizer's use seemed to signal a wider comeback.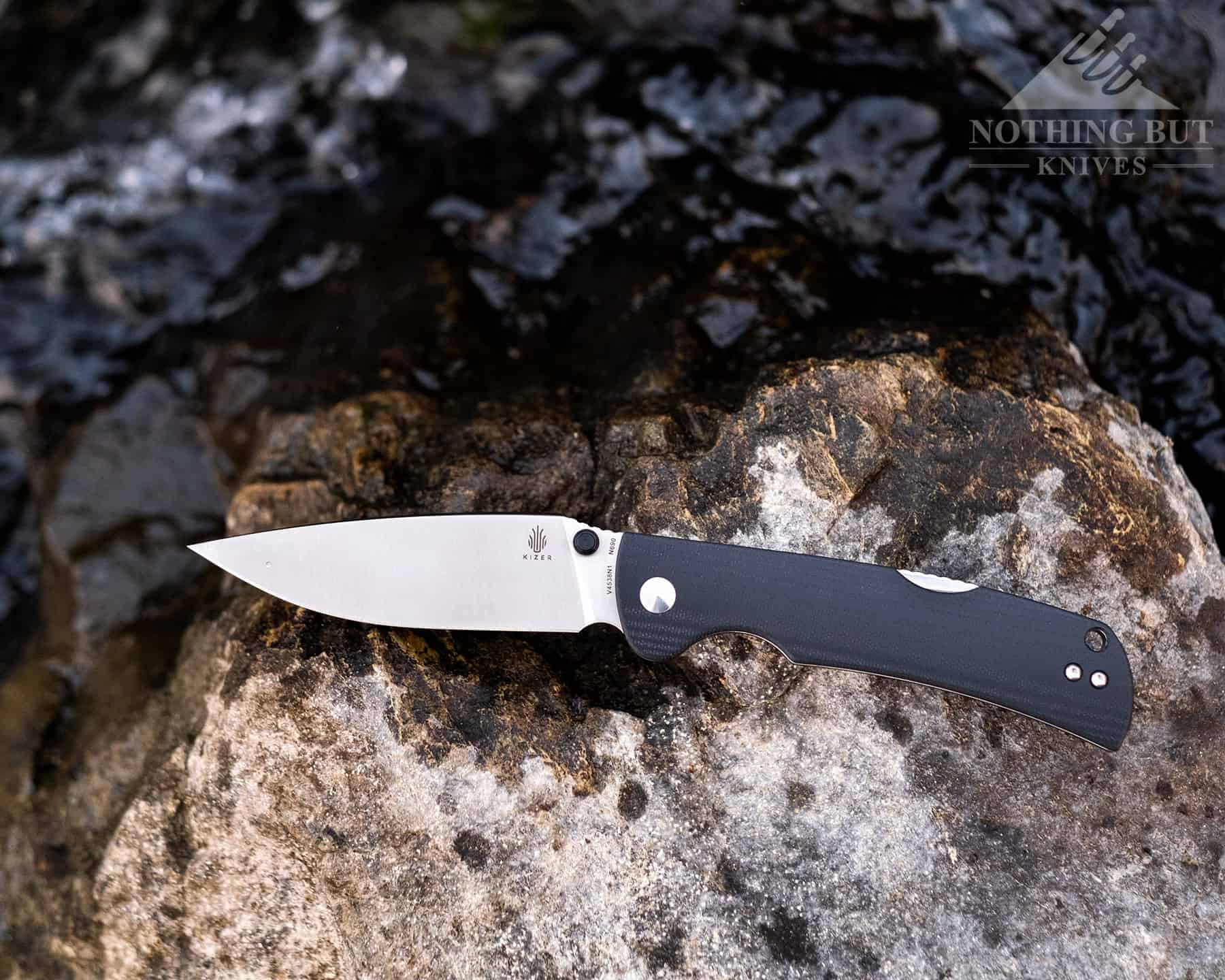 And finally, on first sight, the Slicer gives off a strong impression of being inspired by the Buck 110. The overall feel doesn't quite match up, but the squared off lines of the Slicer's handle feel very much like a Buck descendant to me, and I would take both knives out for most of the same tasks.
Kizer describes this as a general use knife that excels at camping and hunting tasks with the off handed addition of "even self defense", and for once I'm inclined to agree with the product description. This is a sturdy knife with a versatile blade and a fantastically comfortable grip.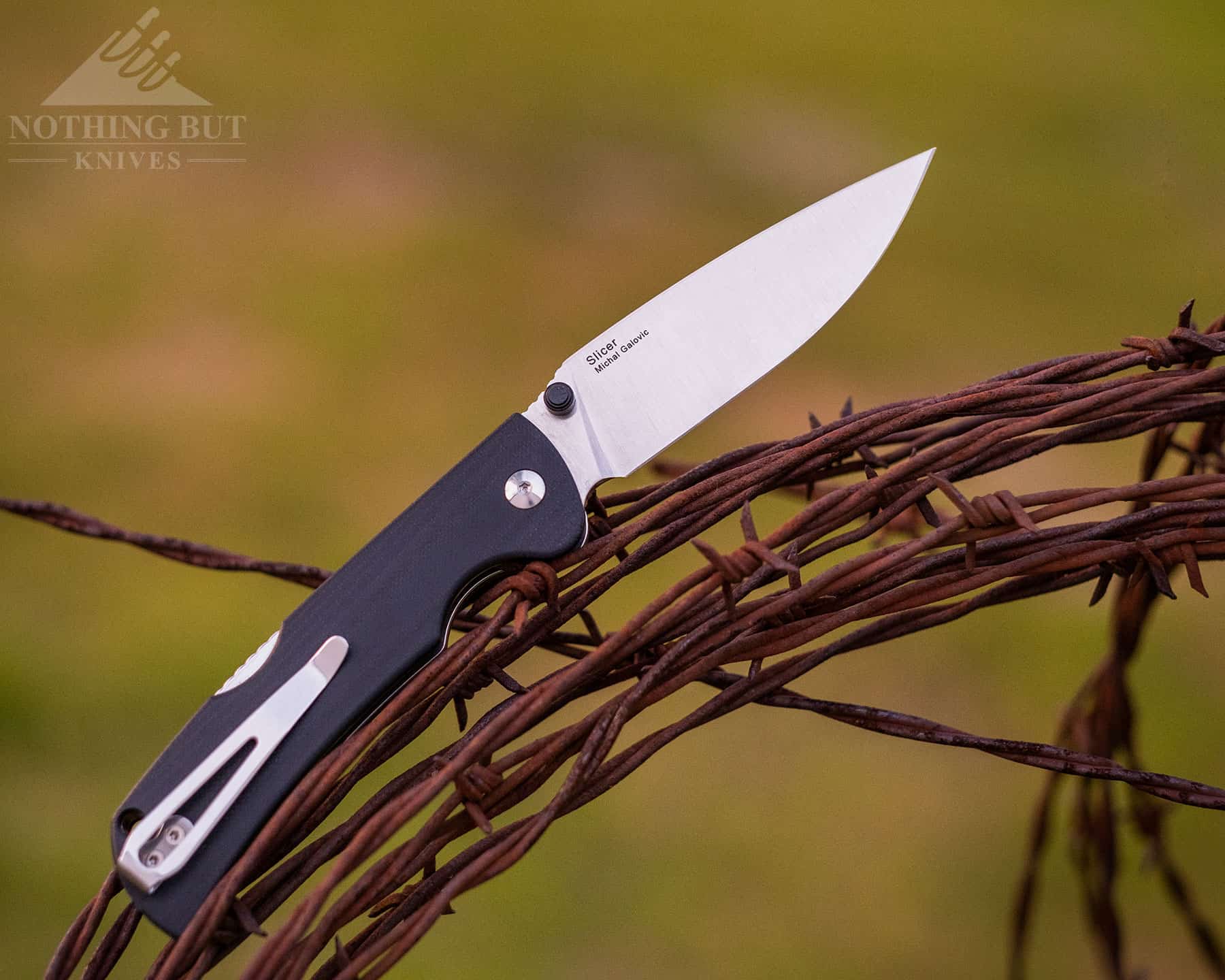 The handle shape and scales lend themselves to a secure grip, and the lock up is about as solid as I could hope for in a folder.
The biggest issue I have with it is that it also has the least creative name of any knife I've reviewed since the Camillus 6.5 Inch Pocketknife with Marlin Spike. But that at least had no creative ambitions in the first place. Kizer naming a knife "Slicer" feels like two steps away from calling it "Knifey McKnifeface", but I'm getting distracted.
Specifications
| | |
| --- | --- |
| Overall Length: | 8.46" |
| Blade Length: | 3.78" |
| Blade Steel: | Bohler N690 |
| Hardness: | Unlisted (but probably 58 – 60 HRC) |
| Open System: | Thumb stud |
| Blade Thickness: | 3 mm |
| Blade Shape: | Drop point |
| Blade Grind: | Flat |
| Handle Length: | 4.67" |
| Handle Material: | G-10 |
| Carry System: | Tip-up clip, partial ambi |
| Lock Type: | Back lock |
| Weight: | 4.8 oz |
| Designer: | Michal Galovic |
Pros
Good edge
Great fit, finish, and lock up
Comfortable handle
Rides easy in the pocket for a big folder
Cons
The blade finish picks up stains easily
Pocket clip retention feels a little loose
Deserves a better name than the "Slicer"
The High Functioning Blade that Lives Up to the Stupid Name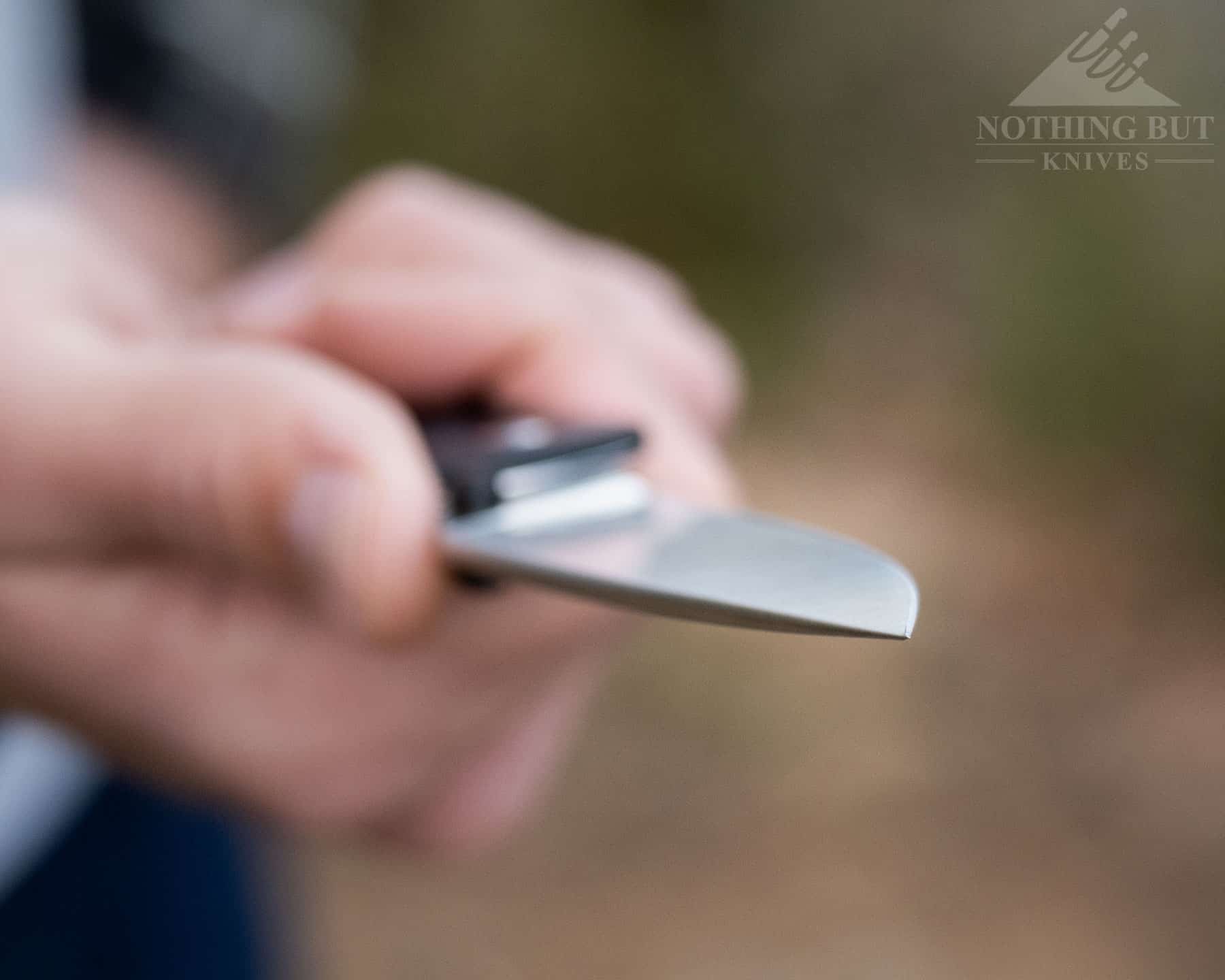 The Slicer might not have the most creative name, but it's accurate. This knife has a good, biting edge with a full flat grind that sails through paper. The top half inch of the blade is particularly helpful for getting smooth, clean cuts. But that shouldn't be a surprise considering how dramatically the spine drops and thins out.
This has a tall blade for a folder. At the widest point, the blade is about a full inch tall, and the point drops down about half an inch from the spine so the lines of the blade are more extreme than they might look at first. While there's plenty of straight edge to do push cuts and feather sticking with, the curvature at the top of the blade is fantastic for slicing and puncturing.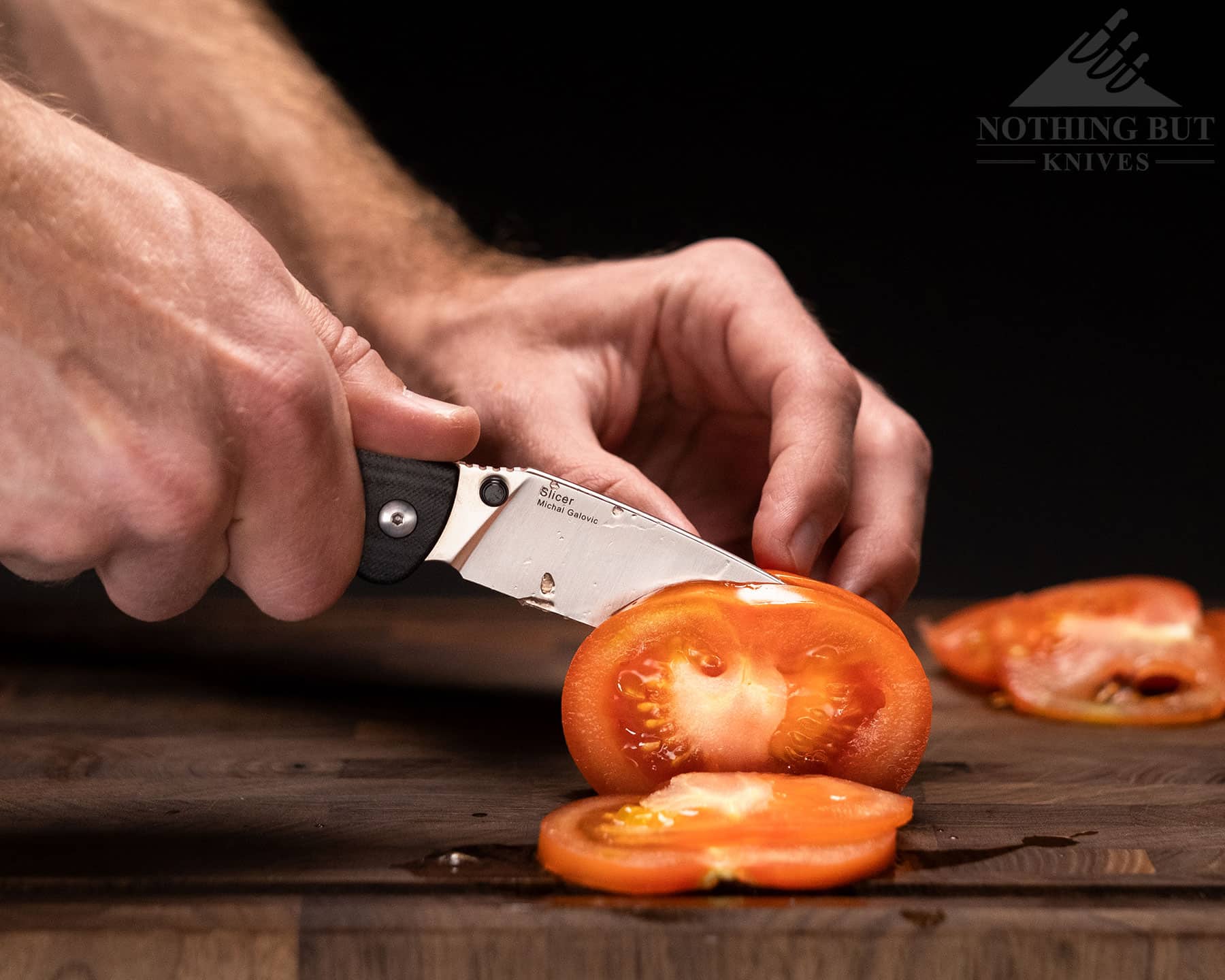 It also has good edge retention. After a day of light wood processing, and another of heavy box cutting, I could still cut clean lines through paper on most parts of the edge. The parts I couldn't quite cut with took a little adjustment to my angle, but the blade as a whole was still functionally sharp.
If I were working at a job where I was breaking down a lot of cardboard, I'd probably hone this knife up every couple of days just to keep it smooth, but it stays perfectly functional through a lot of heavy use.
At the Campsite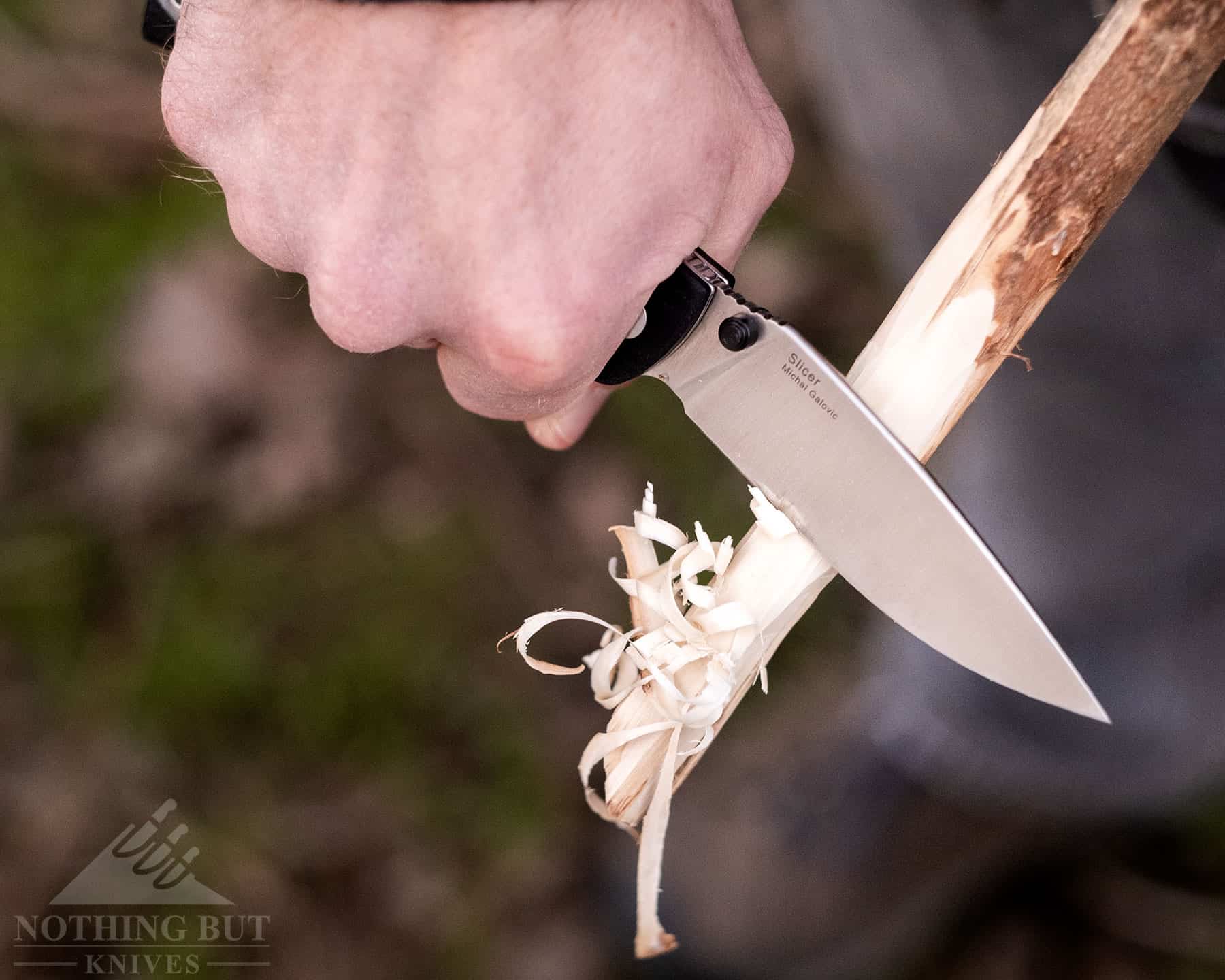 When I first started carving a stick with this to test the edge, it started making curls, so I kept going with that and made a halfway decent feather stick. The stick was pretty green, so I didn't light anything with it, but it did highlight the Slicer as a good camping knife. I'd even recommend it for starting fires, because the jimping could definitely catch a ferro rod, but Kizer put a thumb stud in the way.
The Slicer is comfortable anywhere outdoors, though. The tip punctures and cuts through cloth easily, and when you need a stronger cut, there's a couple inches of strong edge with about 3 mm of spine behind it.
I didn't bother chopping with this. I'm sure the Slicer would do okay, but that's just not something a thin flat grind on a folder should be doing. I've kept the Slicer to wood carving and light batoning, and it's been great for that. There's no reason to try to cut a branch in half with it.
But This Damn, Shiny Finish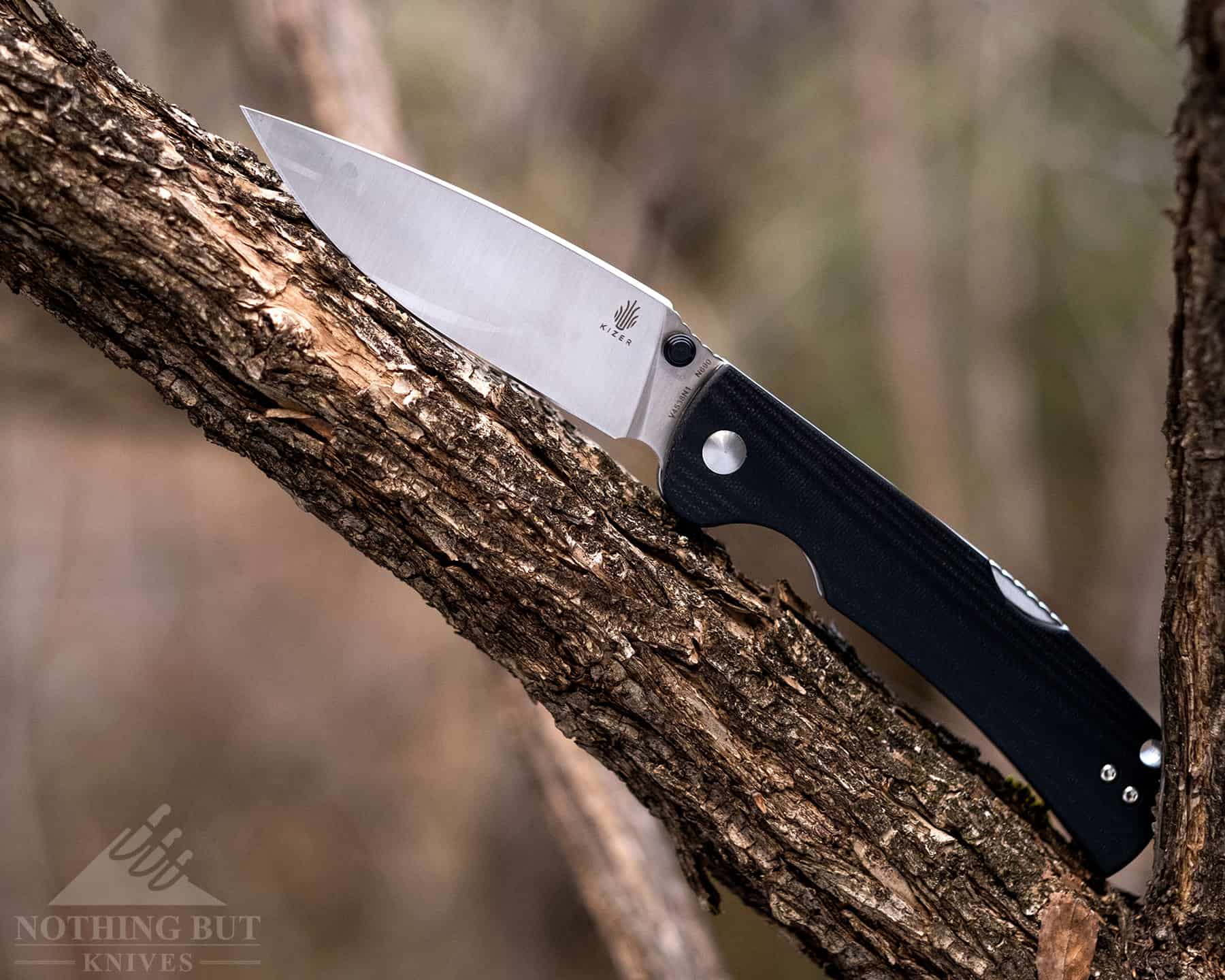 The slicer has a bright satin finish that looks nice out of the box, but gets smudged up within 0.1 second of anyone picking it up. Speaking as someone who doesn't particularly like shiny knives in the first place, this is a frustrating downside, especially because the Slicer holds onto fingerprints like string on velcro. And those smudges always show up loud and clear, because the blade is so big, it catches light easily.
This isn't a functional problem, so I feel silly complaining about it, but it came up often enough during our tests that it's worth warning you about how badly this knife just wants to look grimy.
In Defense of N690 Steel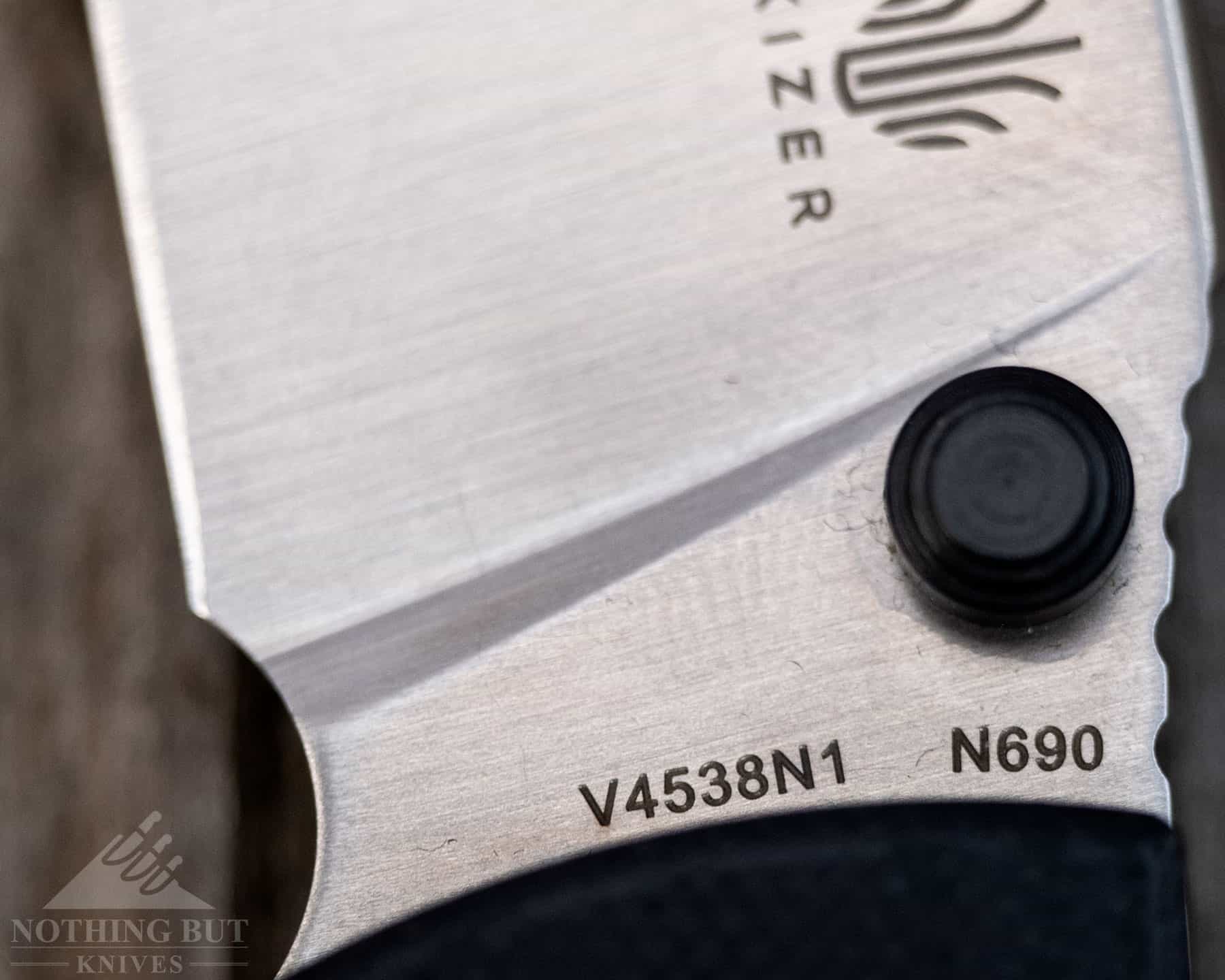 No one asked, because no one cares that much about this steel, but I'm going to talk about it anyway.
Bohler N690 is a high-end ingot steel that's generally considered an upgrade from VG-10, but it performs more like 440C. It's one of a handful of cobalt-enriched steels used in knives these days, but the cobalt addition doesn't mean as much to end users as some people claim.
Probably the high point for knife users is that N690 has good corrosion resistance, and sharpens up pretty easily, both of which are perfect characteristics for what I think the Slicer was designed for.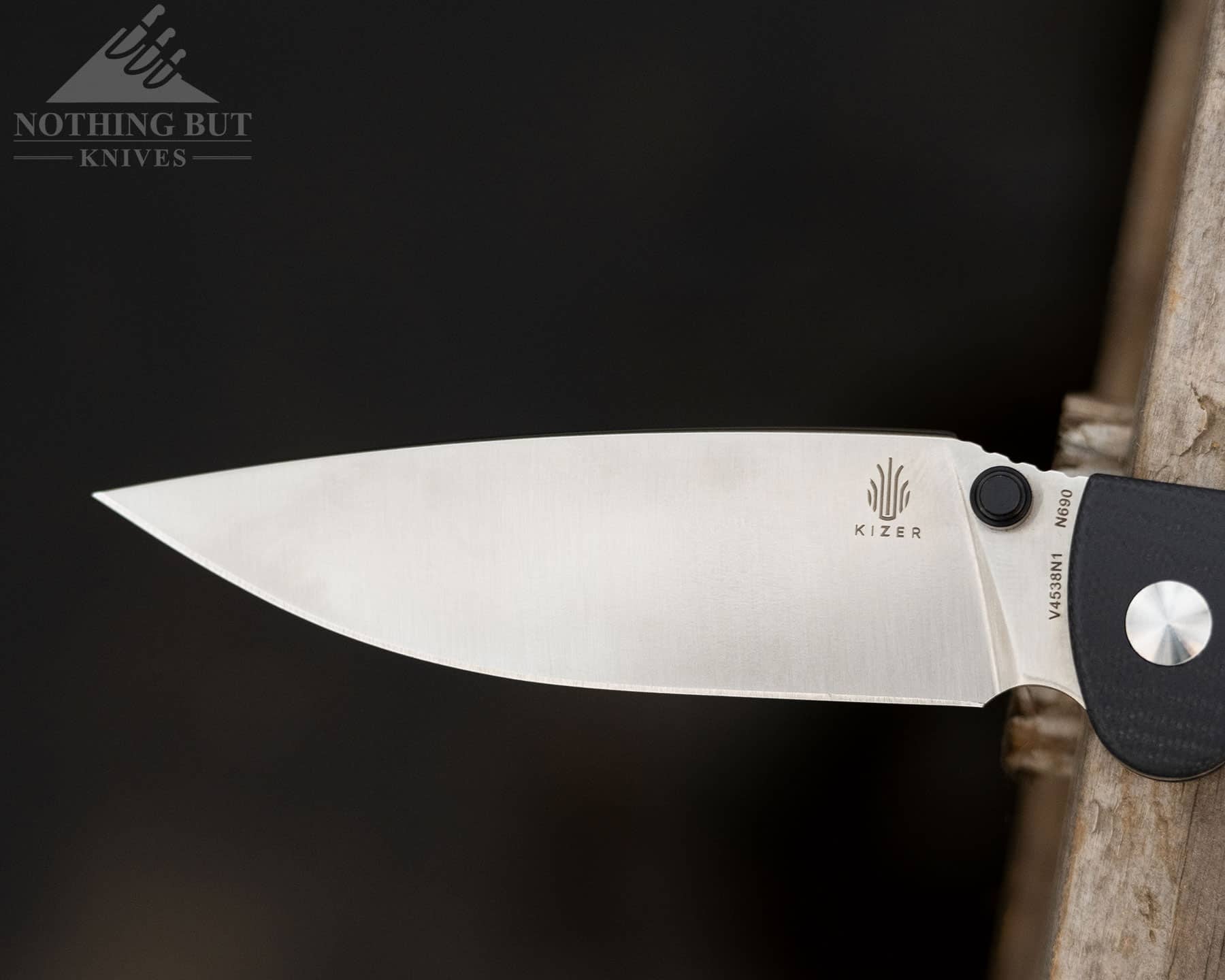 I get the impression from steel snob communities that N690 doesn't measure up enough to things like S35VN or M390 to justify the price it generally comes at, but when people like that (mark that, people like me) talk about what steel is "better" they tend to default to what has better edge retention. The Slicer feels more like a knife geared toward toughness and hard, outdoor use, so N690 is a great choice for it. It has a reasonably good tensile strength, and it's theoretically more rust resistant than both 440C and VG-10.
Since this thing was dropped in dirt and dirty water multiple times before being used to sharpen a dirty stick next to a fire and a folding table that mysteriously kept collecting empty beer cans, I'd say edge retention was at the bottom of our concerns. Especially since we generally pack a strop with us on our trips.
The only thing I would offer up as an alternative is 154CM since that seems to be a more cost effective ingot steel, and my experience with it has been overwhelmingly positive for hard-use and camping knives. But for both use and maintenance, I have no complaints about the blade steel on the Slicer.
The Big, Comfy Handle with Good Grip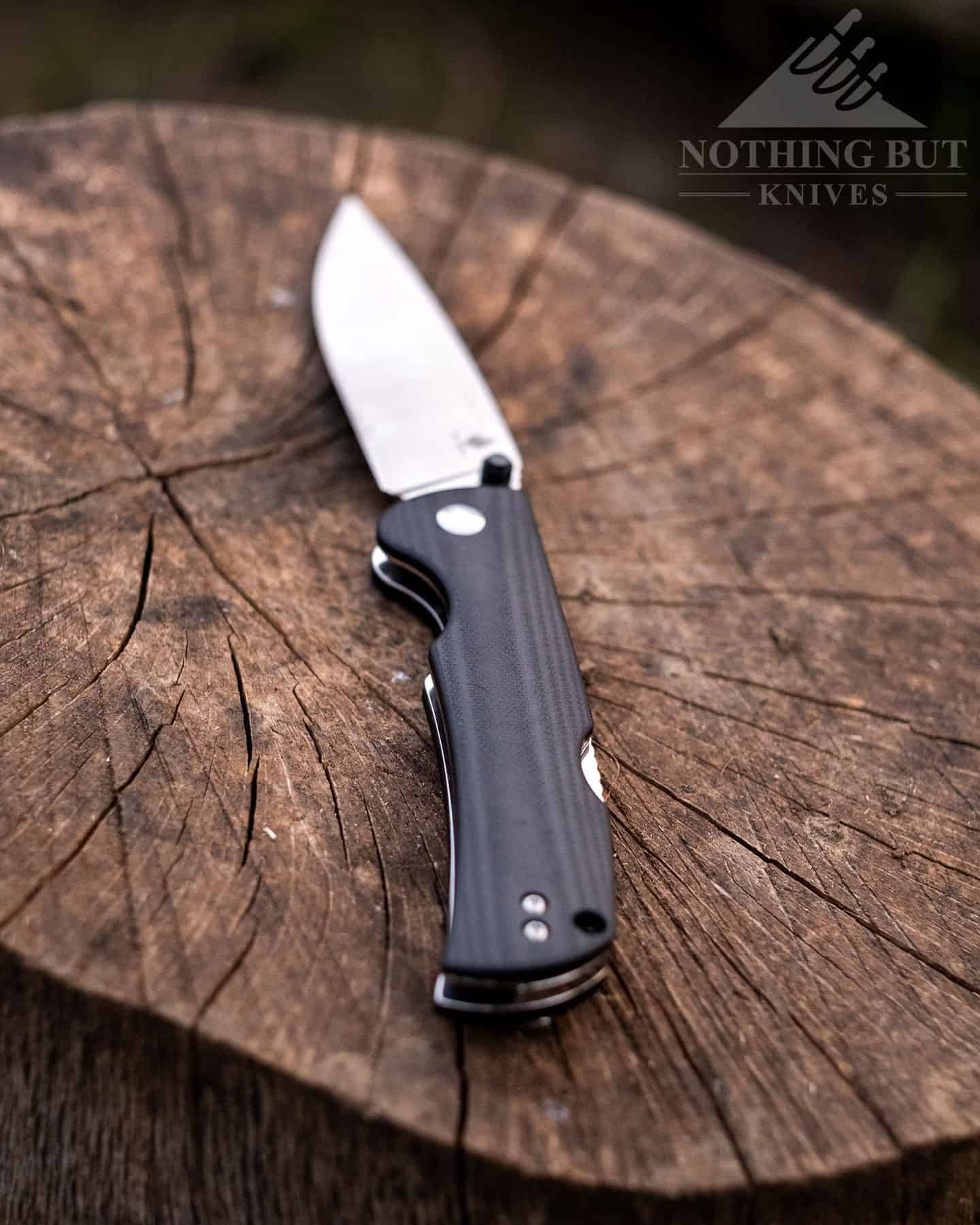 There's a lot of good to be said about this handle, so pardon my gushing.
But it's a thing of beauty when a handle is this big, and this comfortable, but still somehow friendly in the pocket. I'm not even going to complain about the depth of the finger choil here, because it actually suits me pretty well.
The edges of the handle are rounded but not chamfered, so they end up feeling more aggressive than the typical Kizer folder, but they don't quite turn into hotspots for me; they just add to the grip and keep the knife from turning in my hand. The balance point sits right at the bottom of the finger choil, which works pretty well here for a knife this size, and the scales are attached by just three screws (including the pivot) on either side so it has a nice, clean, uniform look.
Grippy Texturing and Admitting This Could be a "Tactical" Knife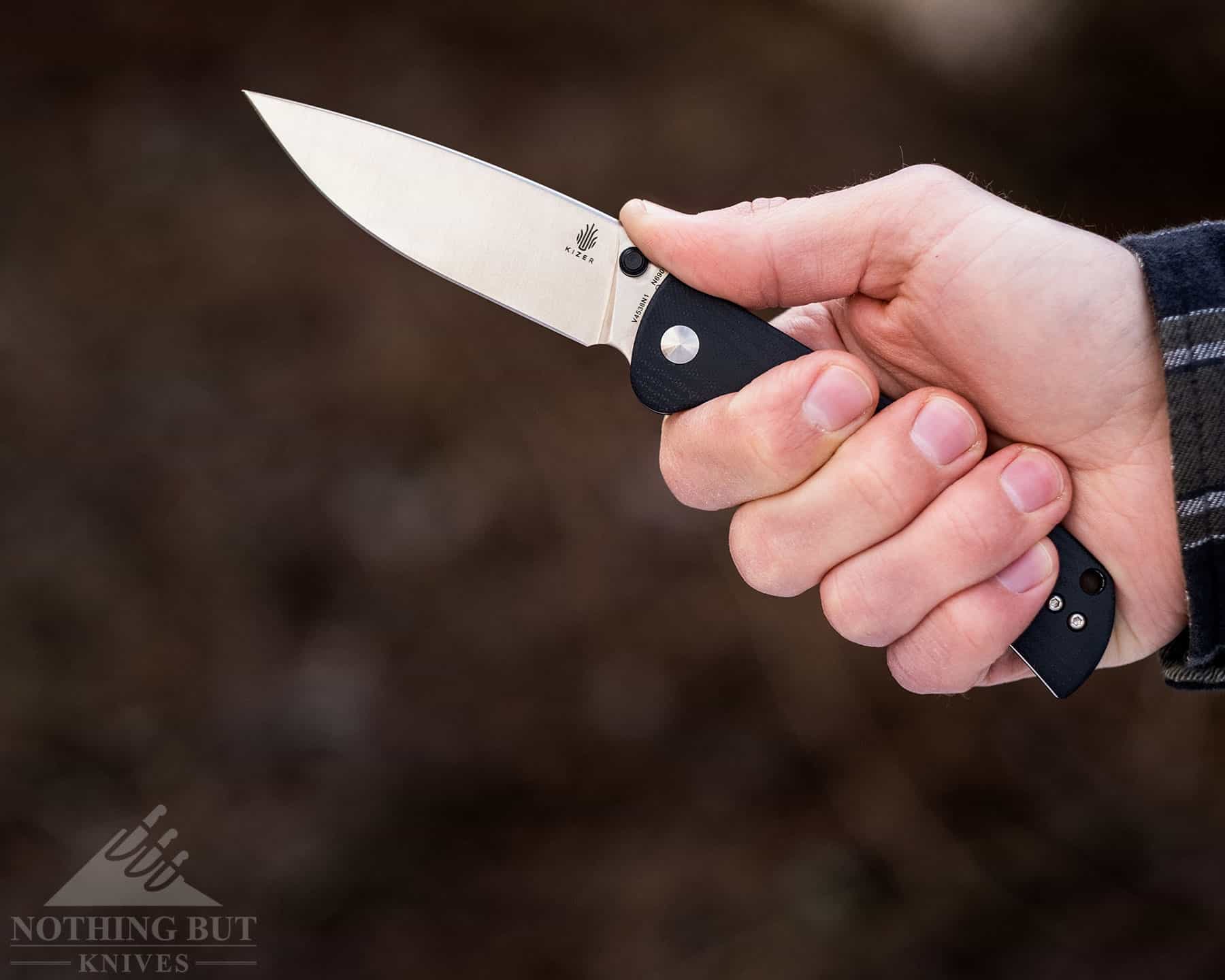 The G-10 is mostly smooth, but there's a subtle texturing I can just barely feel when I run my thumb across it. However subtle it is, though, it clings well to clammy hands. I haven't felt the handle getting slippery even after I've started sweating a bit. And there's so much real estate, it's comfortable in every grip, so it's easy to adjust when I need to. Every time I changed position, not only did the knife feel good during the switch, it felt almost as natural in whatever I switched to as it does in a standard grip.
As I was putting it through the paces I had the sudden realization that I trust this knife to stay in my hand in pretty much any scenario, and considering the strong lock up, I found myself actually thinking of the Slicer as a tactical knife. It's not the kind of label I like to put on a knife (especially a folding knife), but the fact is that one of the only folders I'd rather have in a dire situation is an Emerson CQC, and that's mostly because that deploys faster. So when Kizer says this thing could be used for self defense, for once I'm actually inclined to agree, which is kind of new territory for me.
The Smooth Riding Pocket Clip that's Almost Fully Ambidextrous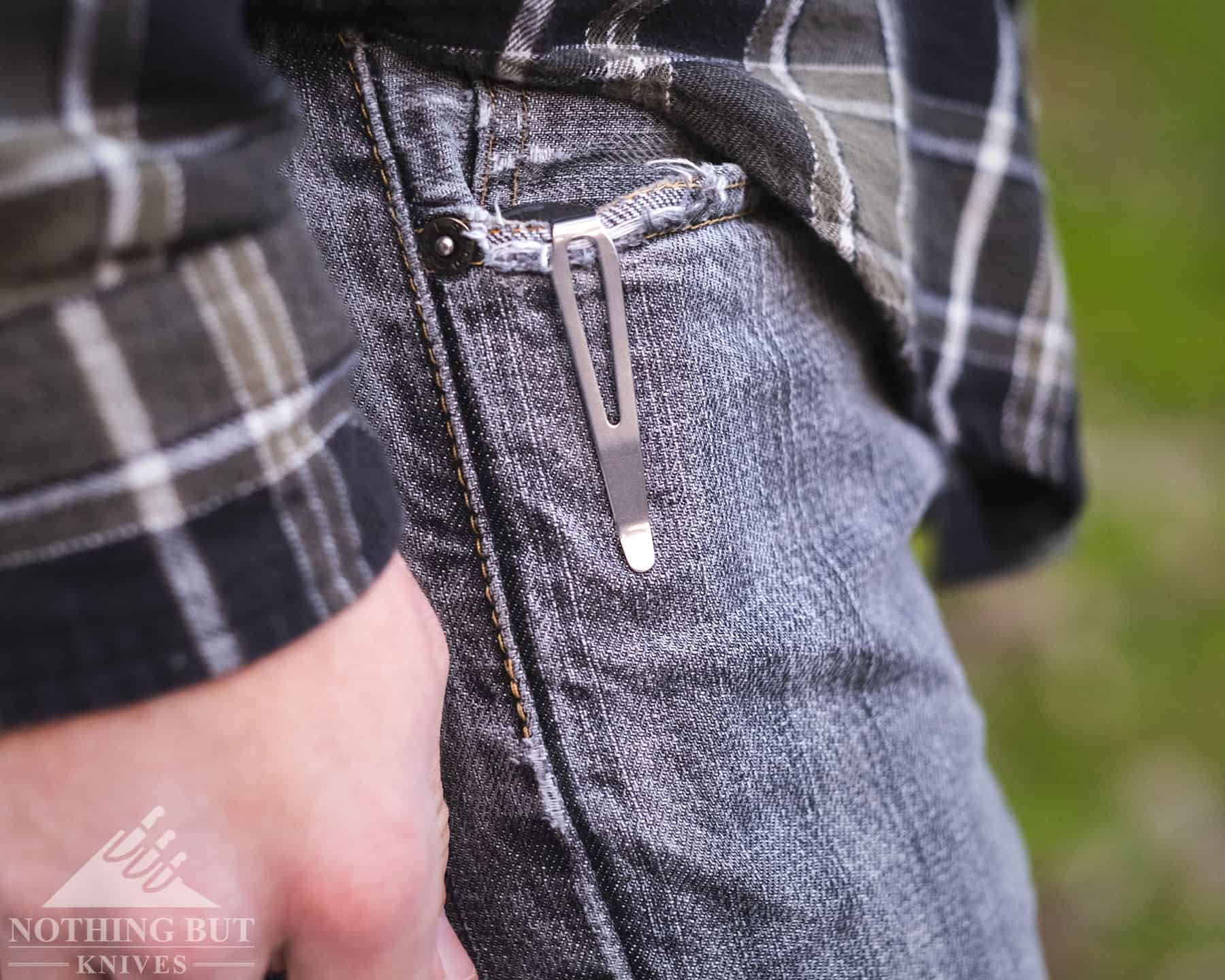 This clip feels great. Between the low rise, the length, and the deep carry, the Slicer glides into the pocket, and it feels pretty unobtrusive there for me. There's only a mild hotspot from the point of the pocket clip, but it's otherwise shaped very well to fit into the hand.
I'm a little concerned about the retention on the clip. It doesn't feel like it has a tight grip on the pocket. But it's pretty flat. There's not much shape here to catch on something, so I think this would only fall out if I'm testing the limits of my flexibility. It's also a lot longer than most pocket clips, so the knife has to clear more distance before it falls out.
Switching to Left Hand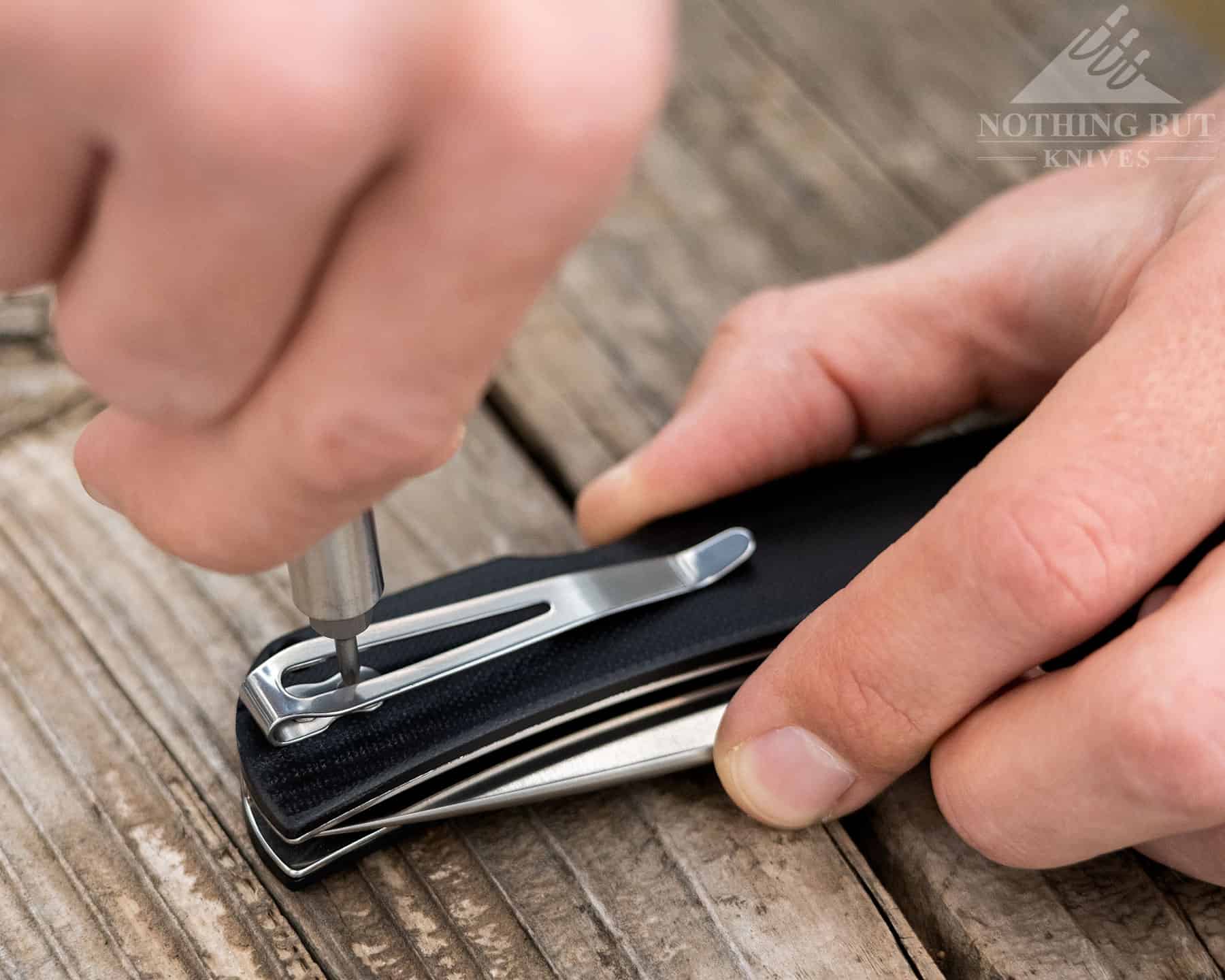 The clip screws into a milled recess in the scale, so the base and the screws are all flush with the scale, which is always nice to see. And Kizer was kind enough to match up the screw holes on both scales so this knife can be switched over for left-handed carry. But you don't get the clip groove on the other side, leaving just a little bit of a lip from the base of the pocket clip sitting on the scales after I switched it over.
I didn't notice that too much when I tried carrying it left handed for a few days. The Slicer still slides into the pocket smoothly, but every now and then I'd feel that bit of lip hit the pocket on its way down, so I can't say that the experience with this knife is going to be exactly the same in either hand. It's close, though.
Action, Fit, and Finish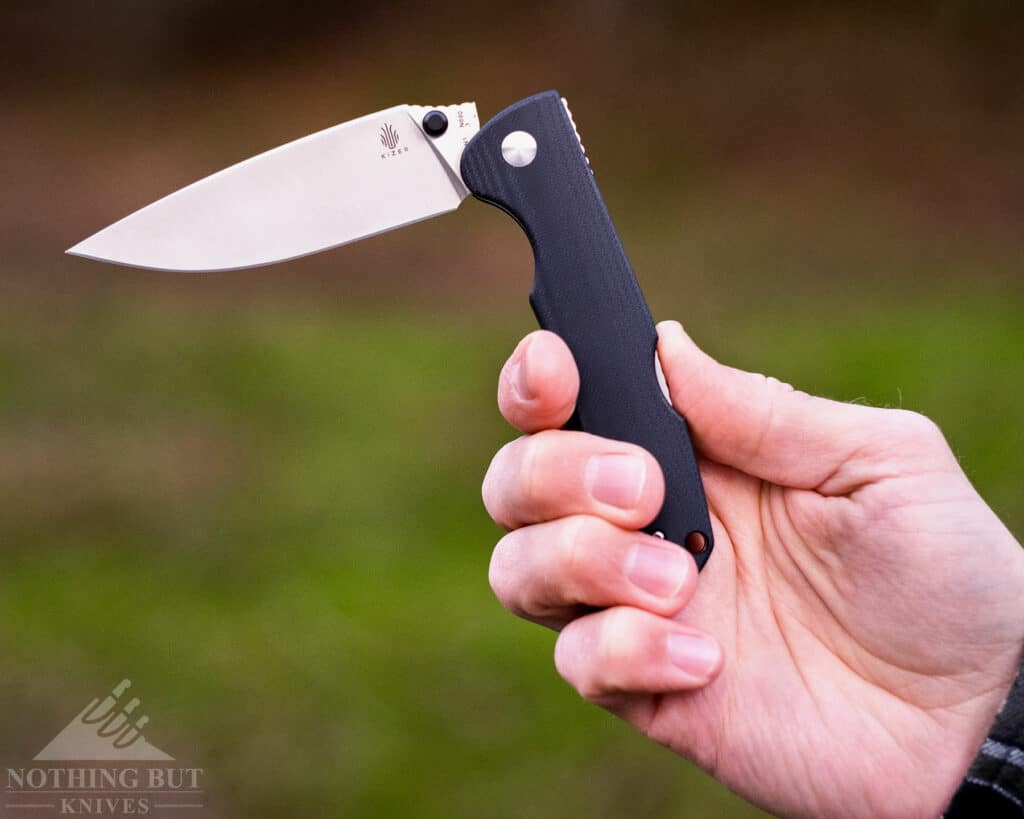 Technically it has good action, but not in the normal Kizer sense. It's smooth, but strong. This is a thick blade with a thick back lock and a half stop. It's not the kind of knife that you just flick open. It actually makes me think of some Cold Steel knives I've used like the 4Max Scout or the Finn Wolf.
What you lose in fidgeting fun, you make up for in catharsis. Opening the Slicer feels like pulling a big lever. You can feel the lock up shake your bones, and it doesn't just click; it thunks. Usually after feeling and hearing that sound, people start to notice just how nicely this thing has been put together. It's slow but smooth. The blade centering is dead center, the transitions between handle parts are nearly seamless, the blade has a crowned spine that cuts off with just enough room for a good thumb ramp with jimping that offers great traction without creating a hotspot.
There are just a lot of little details that show both careful design and good insight. It feels far nicer than a knife has any right to feel under the hundred dollar mark.
Comparison and Alternatives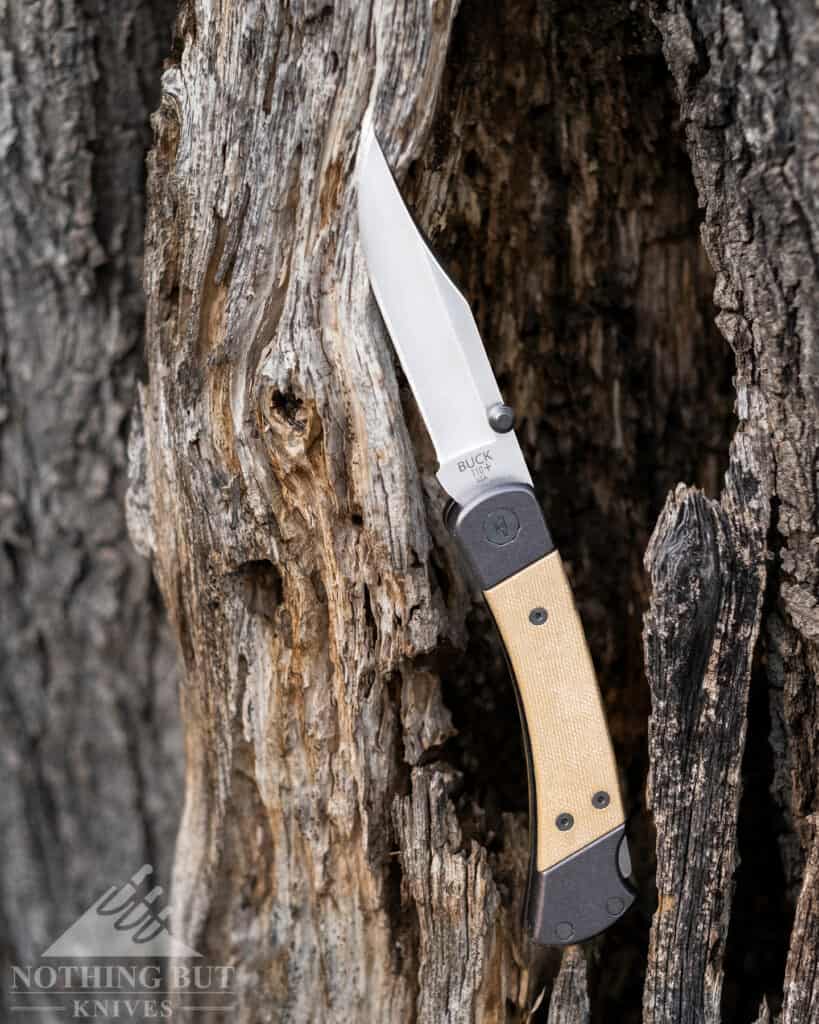 As someone who spends a lot of time trying to keep track of knives made in America, it's awkward to say this Chinese knife is viable competition for the Buck 110. It's certainly a more streamlined alternative, even taking the new 110 Hunter Pro into account. There are enough differences between the two that I don't see much point in talking about which is better, but the two knives provide a good range of options within this particular niche in the knife world.
The 110 Hunter Pro has a thicker handle and a thin hollow grind, where the Slicer is smoother in the pocket with arguably tougher steel in a wider grind. Coincidentally the 110 slices better, but the Slicer is built more to take a beating. Which isn't quite ironic, but it's close.
If you like the blade shape and sleek aesthetic, but want something smaller, I'd point you toward something like the James Brand Carter. It's pricier and the VG-10 steel isn't exactly an upgrade, but it gets high marks in looks, action, and cutting edge.
I also mentioned the Cold Steel 4 Max Scout earlier in the review. I think that might be the best alternative for a hard-use EDC, but it is a monster of a thing to carry around in the pocket, and the edge isn't quite as slicey.
The Demko 20.5 is a good smaller alternative, but I'm hesitant to recommend it because when we first picked it up, it was damn near impossible to find. It's an amazingly tough knife with incredible edge geometry and wear resistance, and a lock that has something like a the strength of a lockback but the fidget-friendly ergonomics of a flipper. The only thing is it's not as comfortable as the Slicer and the definitely won't slice like the slicer without some edge modification.
If you don't like back locks, but you want a pocket knife that is super slicey and performs well above its price tag, check out the Artisan Cutlery Ahab.
Conclusion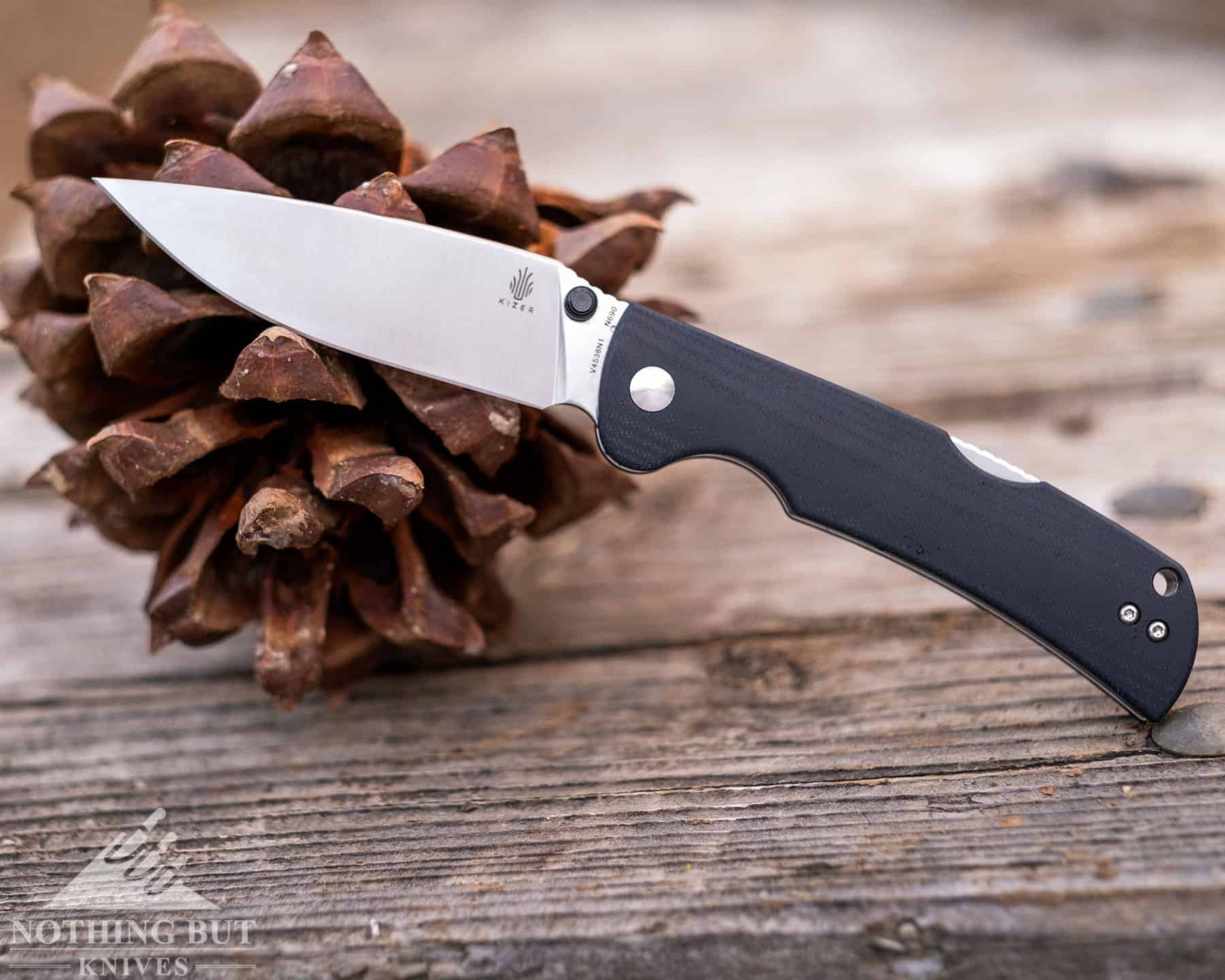 The most impressive thing with any Kizer Vanguard knife is the price. Their knives are always cheaper than they feel like they should be, but the Slicer feels like another cut above anything I've seen from them.
I don't think any words in this review have properly expressed just how much I like this knife. Every stage of using the Slicer is satisfying. From opening it to using it to maintaining the edge, this is such a solid, simple piece with a lot of potential as a reliable EDC in just about everything you could want to use a knife for.
Even writing that feels like hyperbole, but I have yet to use the Slicer on anything outside of food prep that didn't make me happy I had it in hand. It's a casual EDC with a high work potential, and a tactical knife that doesn't really look tactical. It's the kind of knife that's hard not to like.