Kaila Cumings' First CRKT Collaboration is a Mean Carver
The Bugsy is the solution for people who want a light survival knife with a smaller handle. In the right hands, this knife has a secure grip that can generate a lot of power for carving and slicing with surprisingly little effort for a sub-4-inch blade.
I really need to stress that "in the right hands" part, though. I had a little bit of trouble with the handle because my hands are grotesquely wide. I complain about it kind of a lot in this review, but I had to keep reminding myself that all hands are different, and this thing just wasn't designed for me.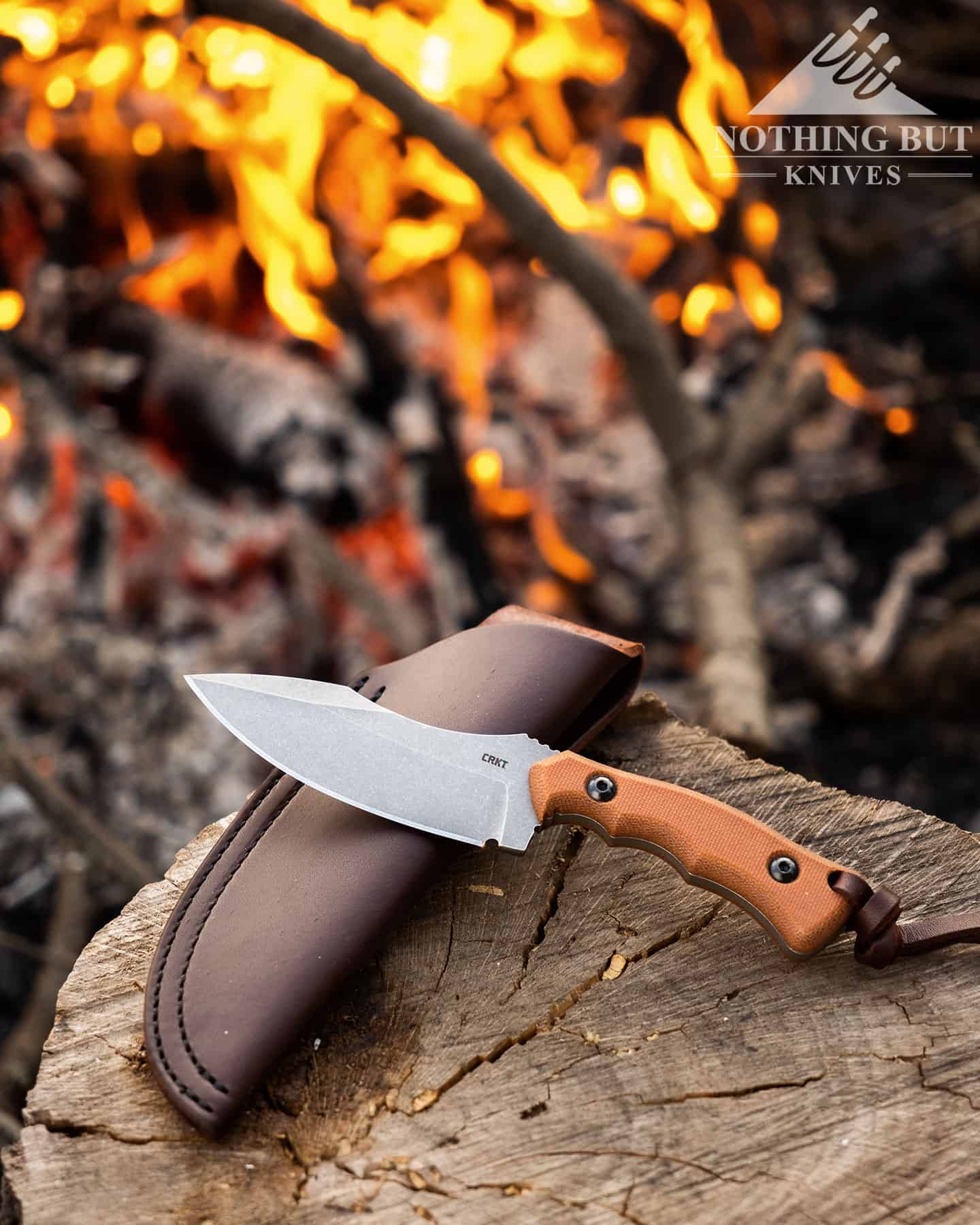 But the hand-to-handle dynamic aside, I love the design as a robust camping knife, and, overall, it turned out to be a reliable carver and a pleasant hiking companion.
CRKT currently offers this in two configurations: a stonewashed plain-edge blade with a Micarta handle and a leather sheath, or a black finished version with Veff serrations, G10 handle scales, and a Kydex sheath.
They sent us the Micarta, plain-edged version, but it might be worth keeping in mind that you have a more tactical-feeling alternative to this design.
Specifications
| | |
| --- | --- |
| Overall Length: | 7.44" |
| Blade Length: | 3.78" |
| Blade Steel: | 1095 |
| Blade Thickness: | 0.15" (3.81 mm) |
| Blade Shape: | Modified harpoon |
| Blade Grind: | Flat |
| Handle Length: | 3.6" |
| Handle Material: | Black G10 or brown Micarta |
| Sheath: | Leather or kydex |
| Weight: | 4.3 oz (121 g) |
| Designer: | Kaila Cumings |
| Made in: | USA |
Pros
Made for smaller hands.
Tough knife with some great blade geometry
Rides well on the belt
Unique but high functioning blade shape
Cons
The handle is a little cramped
More hotspots than I'm used to on a fixed blade
The Names Behind the Knife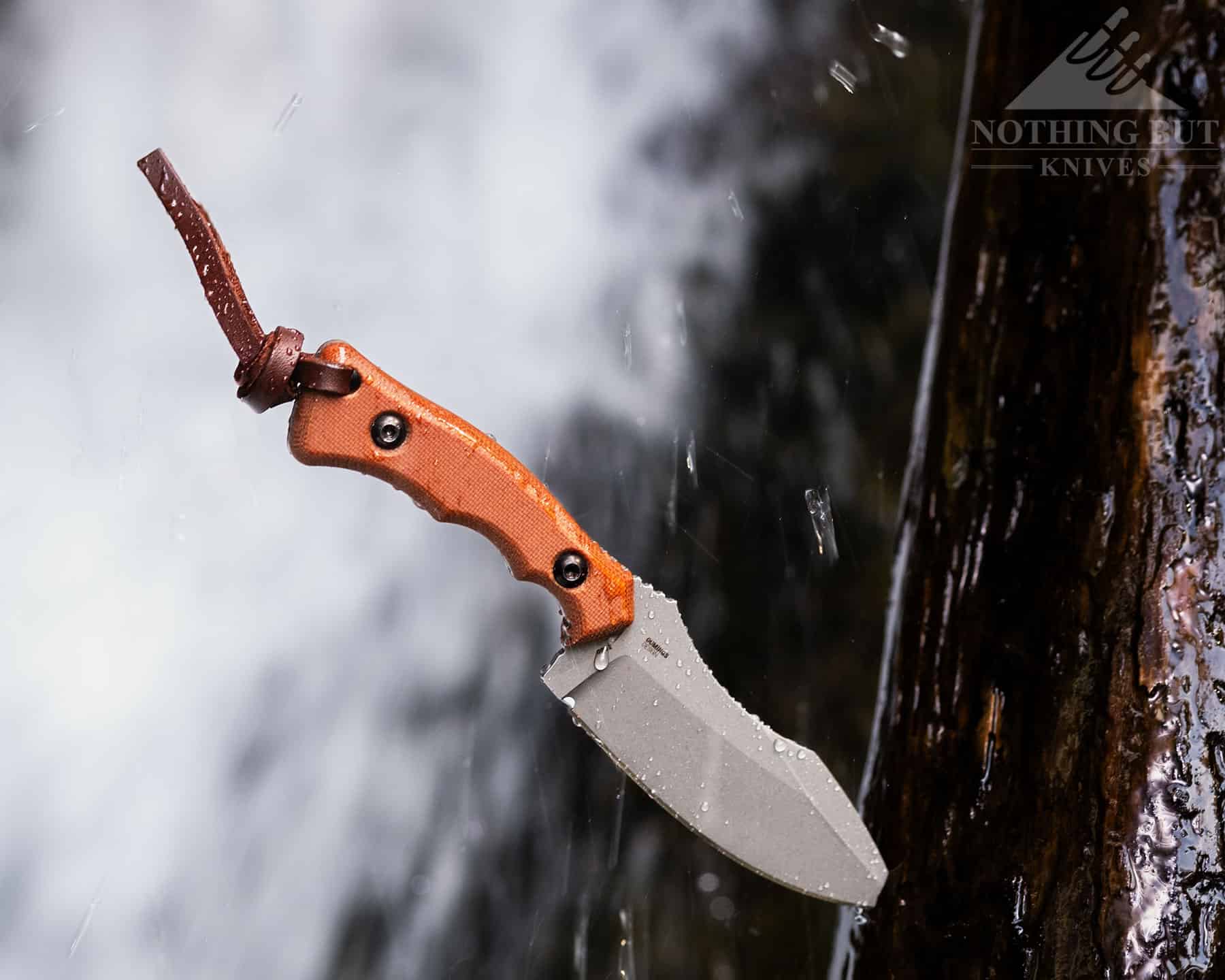 For such a compact knife, the Bugsy's production has brought a lot of big names together. It's designed by Kaila Cumings, made by TOPS Knives, and licensed and distributed under CRKT.
Odds are you've come across all those names. TOPS is well within their comfort zone here making a tough outdoor knife with 1095 steel. They pop out thousands in this category a year. CRKT is definitely testing new ground with a US-made fixed blade, and I think it's fair to say that most of us in the overzealous knife community are damn proud of them for doing this project.
Most people probably know Kaila Cumings from her appearances on Naked and Afraid, but she was a custom knifemaker long before that, and she's going strong with that craft today. And a quick look at her past designs shows that she's by no means a stranger to designing interesting survival and bushcraft knives.
The Sheath and Hiking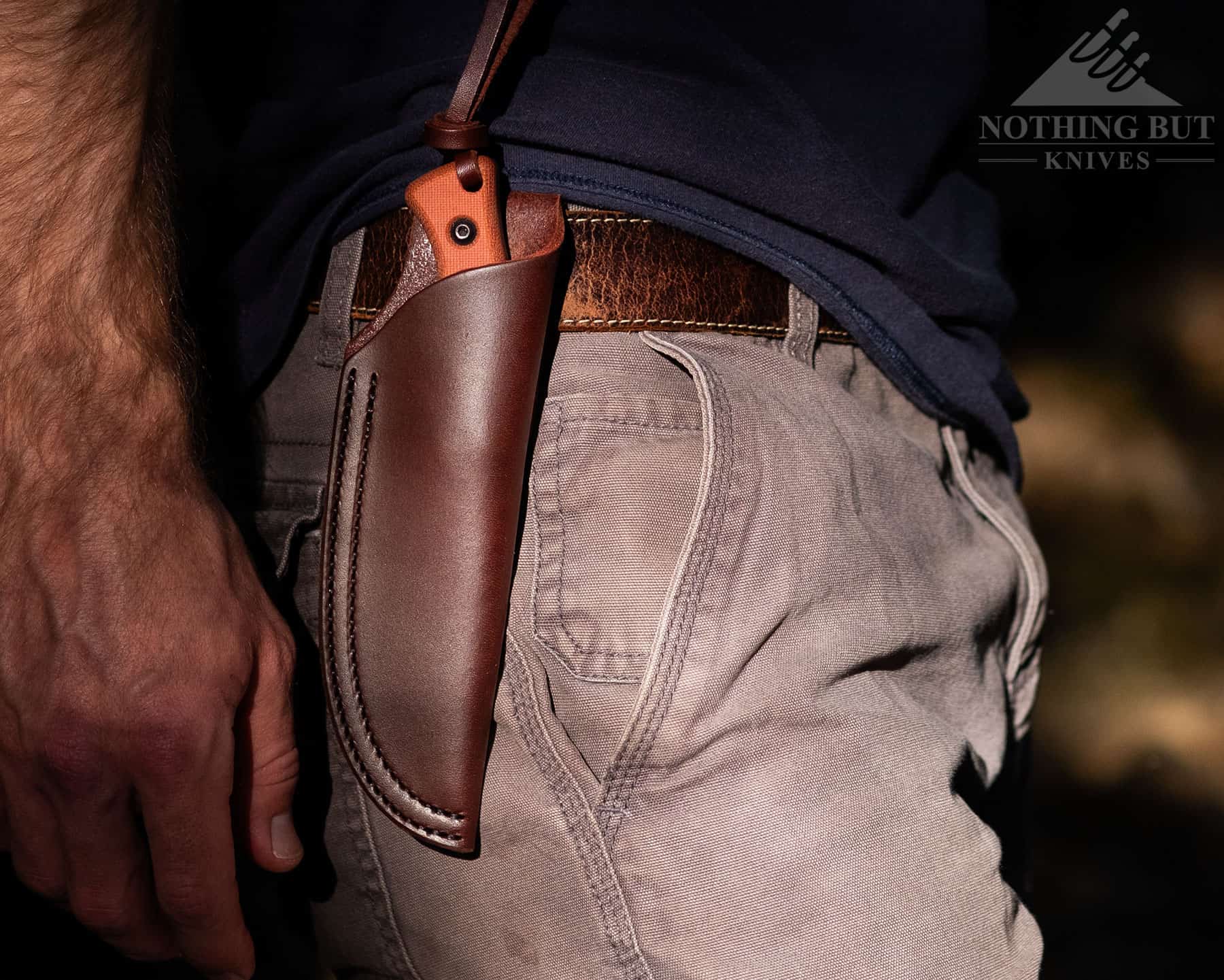 I love the way the sheath sits on the belt. It's a pretty compact knife, and the leather sheath leans into that. The knife sits deep in the sheath so it stays compact, and I barely feel it move even when I'm hiking up and down steep inclines.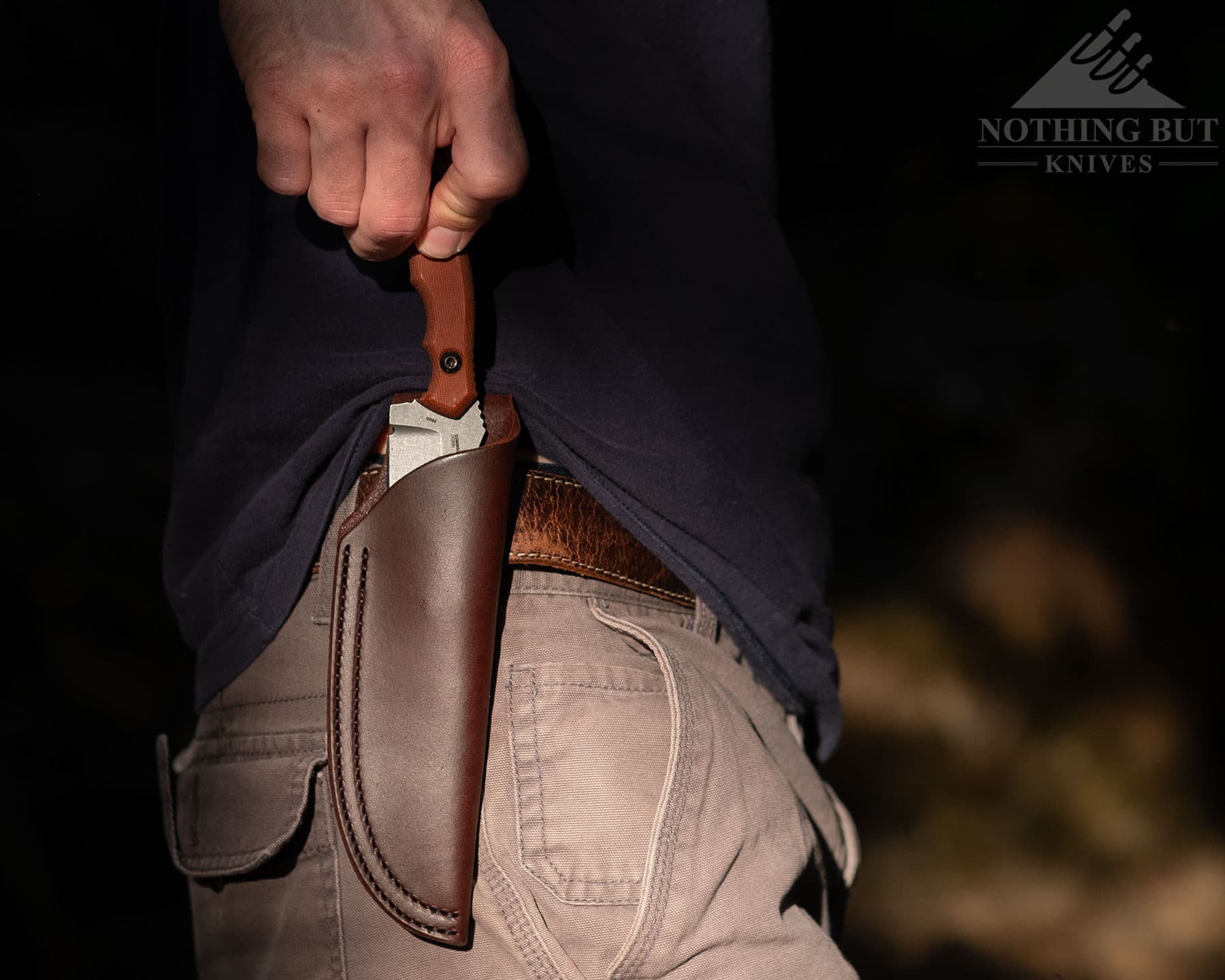 The retention is a little light, but since the knife sits in so deep I never felt particularly worried it would slip out. I liked being able to draw the knife out with two fingers on the pommel. No need to reach my other hand down and pull on the sheath while I try to yank the knife out. So this is great on the belt. For me, it's better on the belt than it is in the hand.
The Ergos and Compact Handle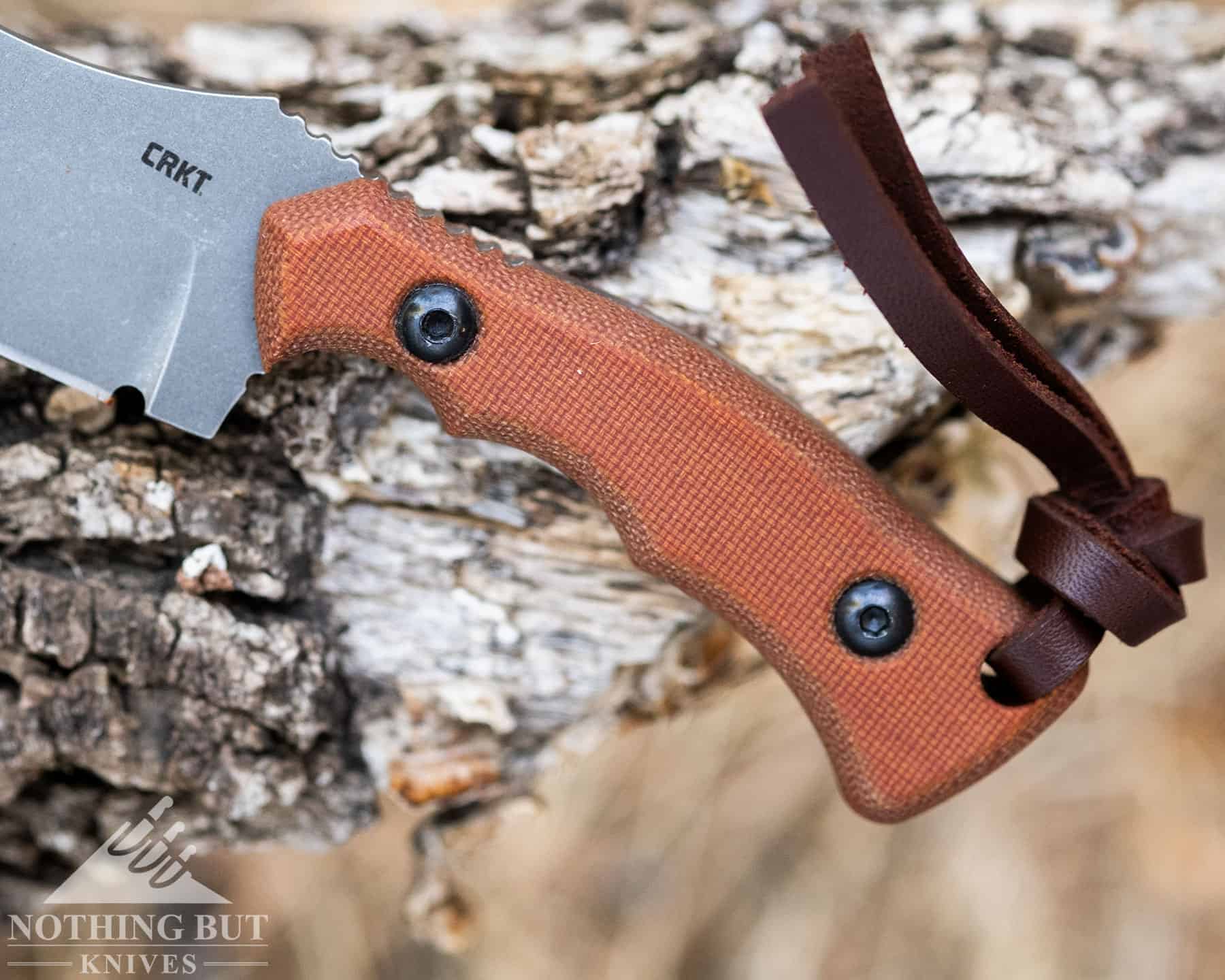 There's a lot of good to be said of a handle with a strong inward curve like this. It's nice for giving the hand a strong, secure grip, it makes it easy to get more leverage on tougher cuts, and, if the lines match up right, it's incredibly comfortable.
It's just that the lines don't match up for my hands. Because of the way the pommel flares out, I either have a slightly awkward three-finger grip with my pinky sitting on the widened pommel, or I shift my pinky to the other side for a cramped four-finger grip.
I also wouldn't hate it if the ricasso curved up on the underside to accommodate my index finger a little better. Instead they've hid some jimping in that top finger index to help with grip. Which is actually a really nice touch, but that whole area is a hotspot for me where the ricasso bites into my finger a little whenever I'm carving.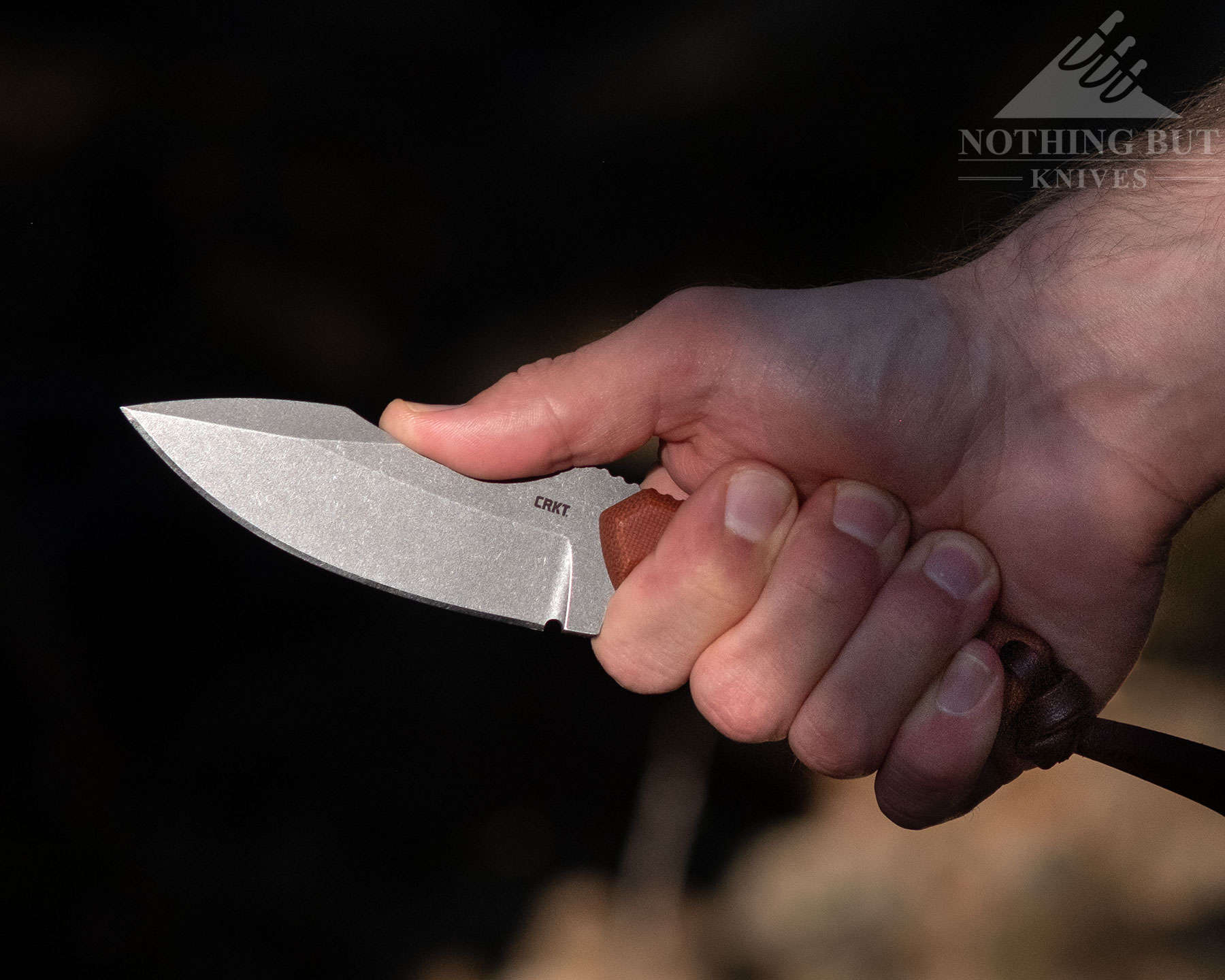 The flared out pommel does come in handy for a lot of tasks, partly because the rest of the handle is a little too thin for me, and wants to turn in my hand when I get into tough carving. The grip from the bottom half of my hand is the main thing keeping the angle, which takes some getting used to.
I had to learn to loosen my grip a little more than usual, and pretty much only hold it in a canted saber grip, although the blade is tall enough to pinch up on, which makes it really nice for working with the tip and top inch of the edge.
It's Still a Good Handle, Though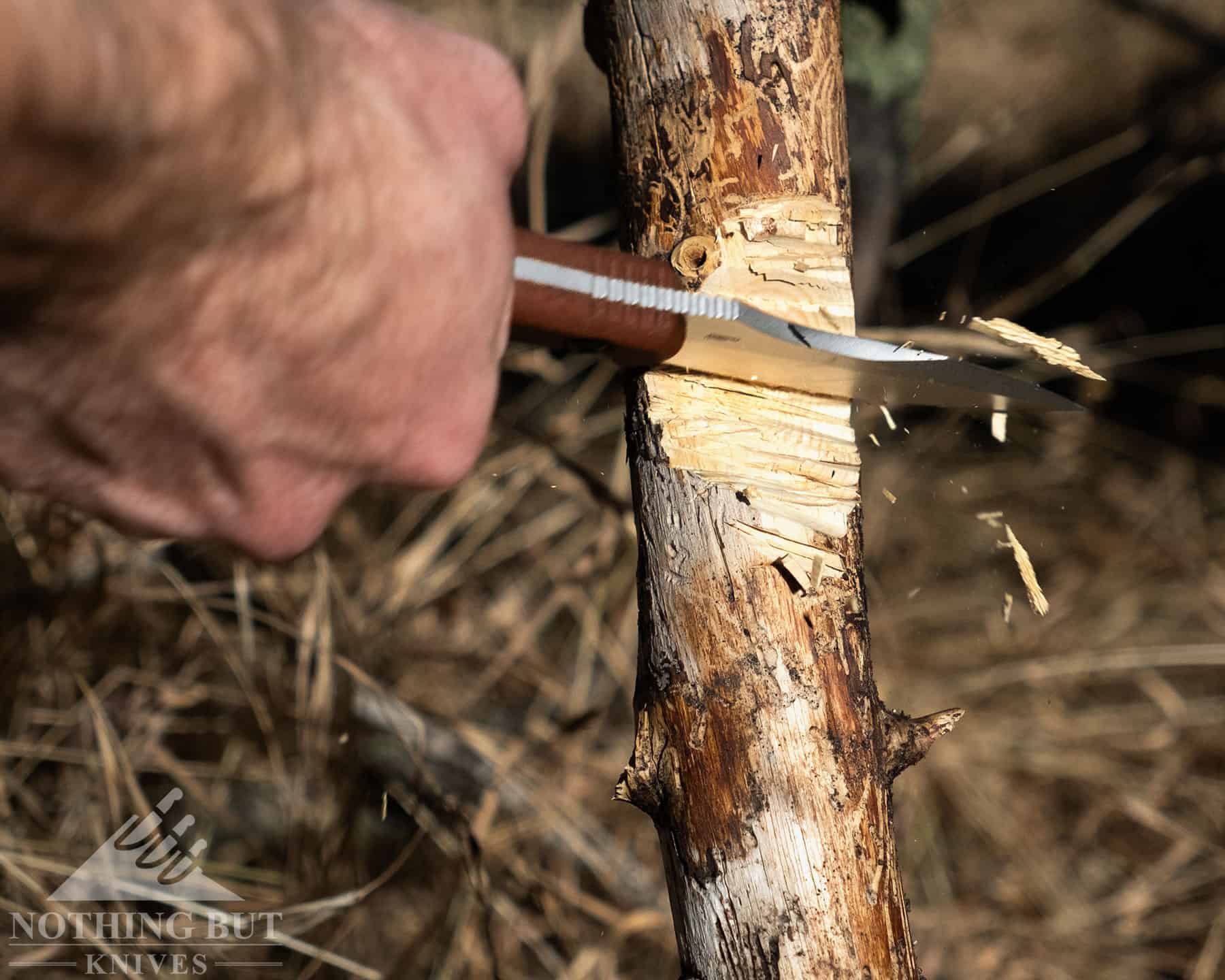 All that said, I do like the shape of this handle. The curve locks in the grip and feels like it matches pretty naturally with the palm of my hand. It also makes it a little easier to work with the tip of the knife because I don't have to bend my wrist quite as much.
It's also great for generating momentum very quickly. I found out I really liked this knife for getting quick chops down the side of a branch to work knots and stems off before I started carving.
The Micarta feels nice too. It's just a little too smooth for my personal preference, but it definitely has that Micarta grippiness.
The Curvy Blade that's Almost a Nessmuk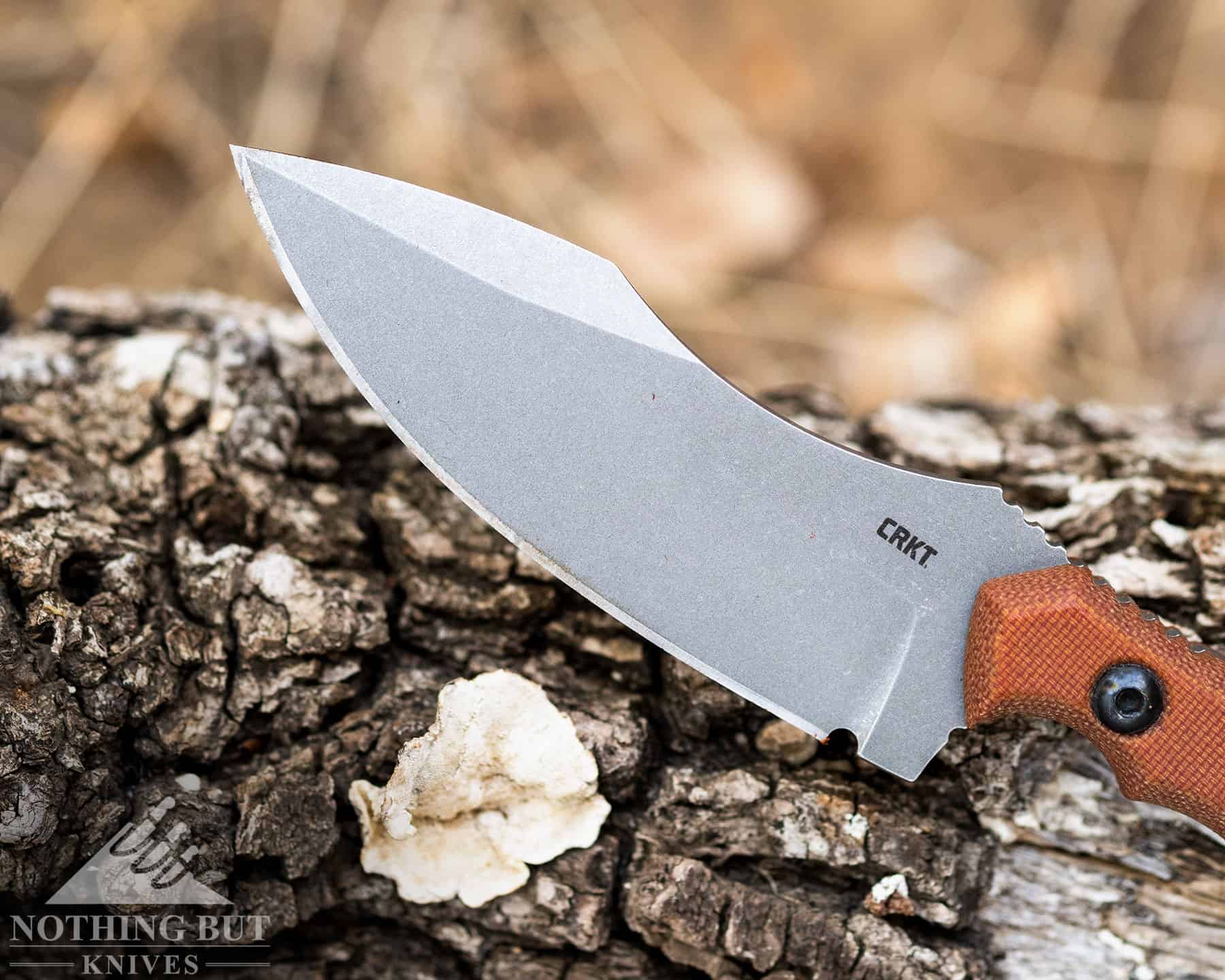 Well, I like this blade a lot.
I like the curve, and I like the big dip in the spine. The shape encourages use of the full length of the cutting edge. I know that sounds like an odd plus, but I'm always aware of how much I start favoring one part of a blade when I'm carving. With the Bugsy I found myself using all of that cutting edge to take different sticks and branches from their raw form to more pointed and almost functional stakes, spoons, and hot dog sticks.
The factory edge was plenty slicey, especially for a survival knife, but it's thick. It felt like I had to steepen the angle I normally carve at, but once I adjusted it started sprouting up wood shavings no problem.
The edge got a little roughed up after I spent an afternoon chopping and carving. It wasn't rough to the point of not cutting, but I could start seeing deformation and I could definitely feel the difference on a paper test. So the edge stability is about on par for a TOPS-made knife, which also means that it doesn't take too much time to hone the edge back up into fighting shape.
The Blade Style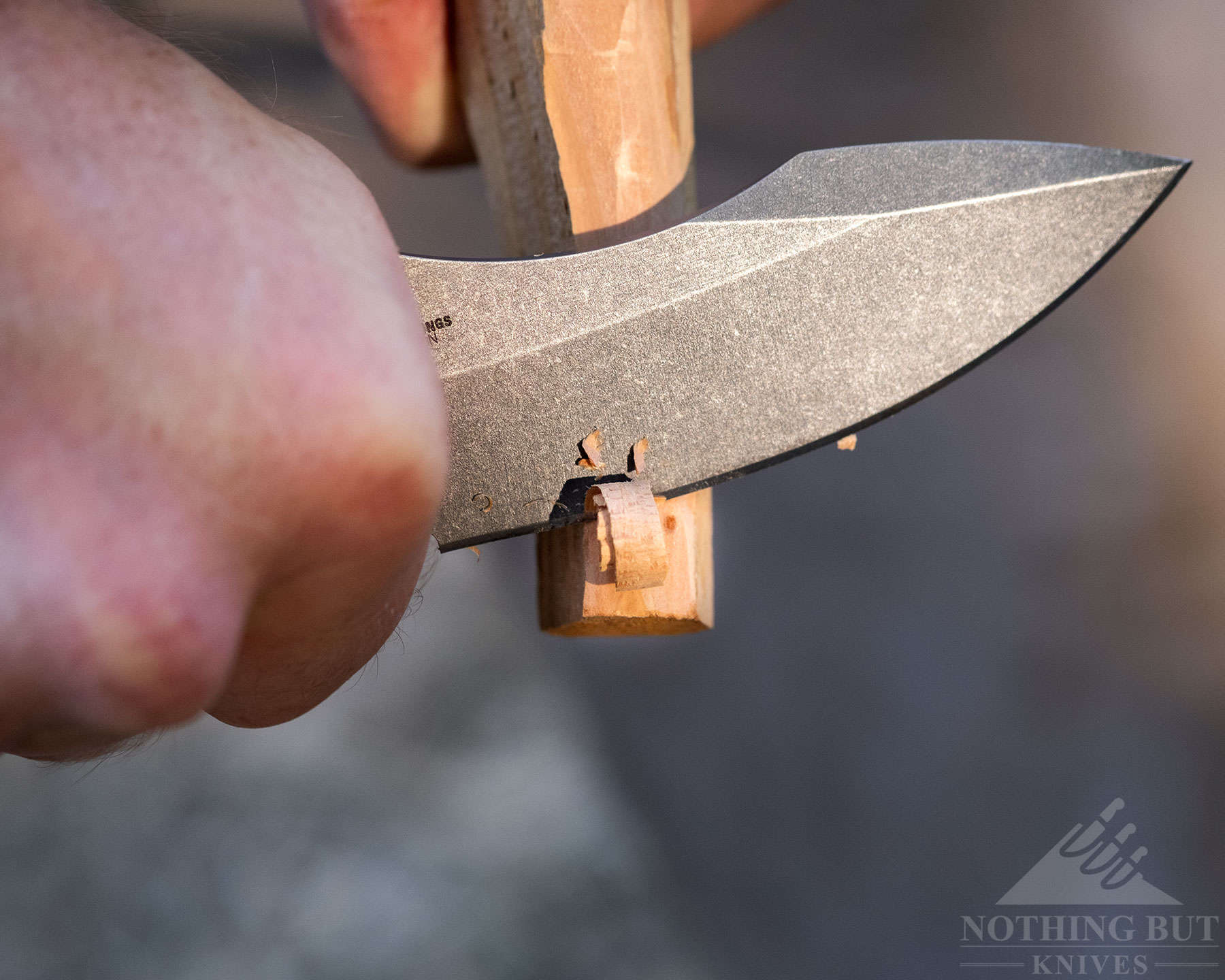 It's listed as having a harpoon style blade, which I guess is technically true, but I can't look at this thing without thinking about the nessmuk, especially since it operates as a small nessmuk pretty well.
The dip in the spine accommodates the thumb well enough so that saber grips are comfortable, and the long curve of the edge matches with that grip so you can get really strong slicing motions, or adjust to carve up wood with the higher part of the blade.
Actually the only thing that makes it look different from any other nessmuk design out there is that the spine rises up to a point rather than a smooth-flowing line, and admittedly, the geometry of that top portion does lead into a functional difference. The tip is a very strong piercer. The drop point geometry and the swedge grinding make it pretty good for pushing into wood (something that widened pommel helps with a lot). That's where a typical nessmuk would have a flat grind and might be better for food-prep tasks.
So I compromised and called this a modified harpoon in the specifications, but my first instinct was to call it a modified nessmuk.
Comparison and Alternatives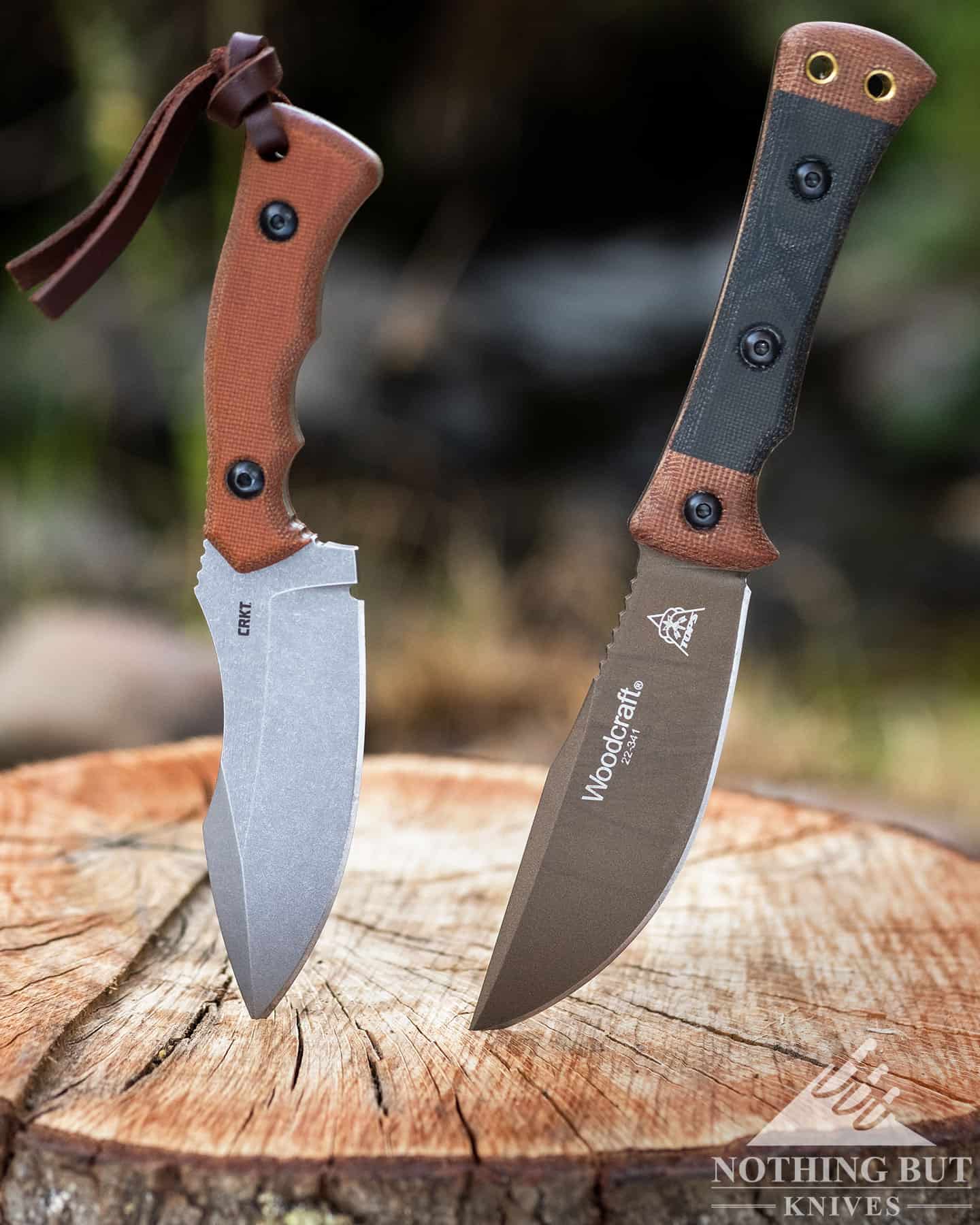 This was made by TOPS, so that should probably be the first place you look for a cheaper alternative with basically the same manufacturing quality.
In fact, I was using the Bugsy a lot alongside the TOPS Woodcrafter, which turned out to be a good alternative in the same price range with similar cutting ability but a more open handle. I'd highly recommend that if you wear large-sized gloves.
Otherwise, if we're going to call this a harpoon blade, it's worth looking at the Ka Bar Becker BK18. Again, the handle is more open here so it should be comfortable for a broader range of hand shapes. The base model with the Zytel handle scales is also quite a bit cheaper, but you lose some grip security because it's so smooth.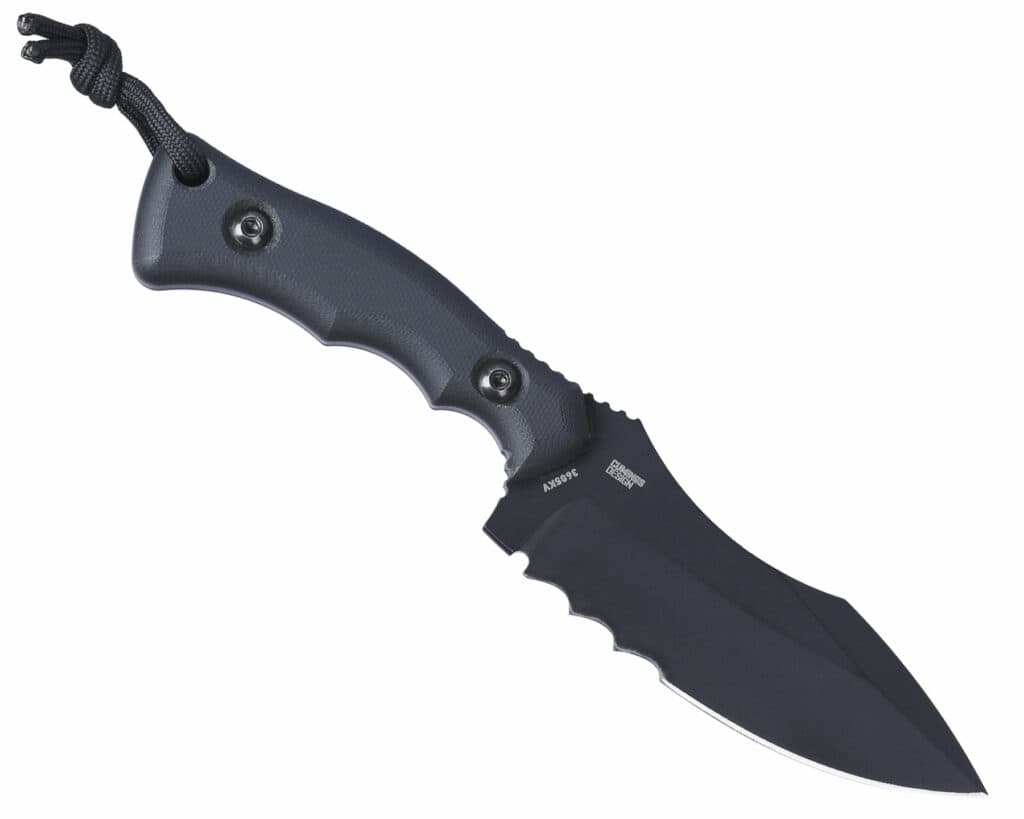 If you are looking for a more tactical version of the Bugsy, check out the Veff Serrated version with G10 handle scales, black cerakote and Veff Serrations. The 3605KV option also ships with a black kydex sheath rather than the brown leather version that ships with the 3600 version.
Conclusion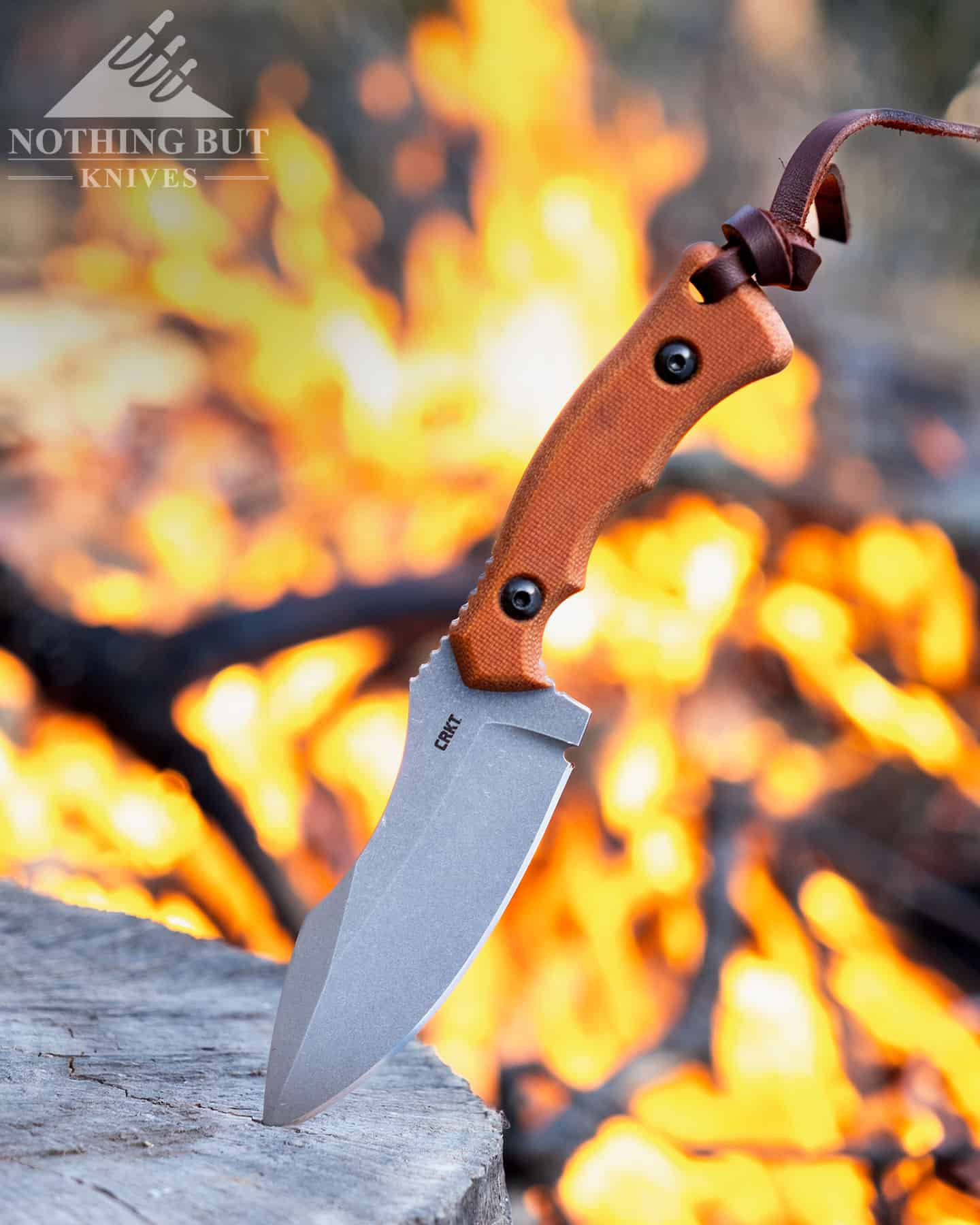 The Bugsy is optimized for people under a certain glove size, but it's a good knife. It carves well, it has a strong grip, it can chop a lot harder than you might expect for a knife of this size and weight, and it's a little bit unique in a very functional way.
I'm also happily ready to call CRKT's first foray into an American made survival knife a success, so there's some bias at work here. I wanted this knife to be good. I want it to do well, because I like this new path CRKT is on. They've always been good at finding good designers and making their work more widely available, so seeing them raise the bar on manufacturing for knives by people like Kaila Cumings is a great development.
Get this knife because it's good, and you like it, but maybe it's a bonus for you knowing that it's part of a development that's better for the industry as a whole.