The Kizer Cutlery Vanguard Begleiter Is One of the Best Gentleman Folding Knives Under $100
I've accepted that I'm never going to own a Sebenza, or hold anything designed by Chris Reeve, probably. That's fine. I don't even want one anymore. Reeves can take his million dollar knives and genius wife to whatever supersteel cloud they live on while I'm down here in the dirt hacking away at my quality of life with 40 different kinds of economy blades I bought with the money I made writing about economy blades.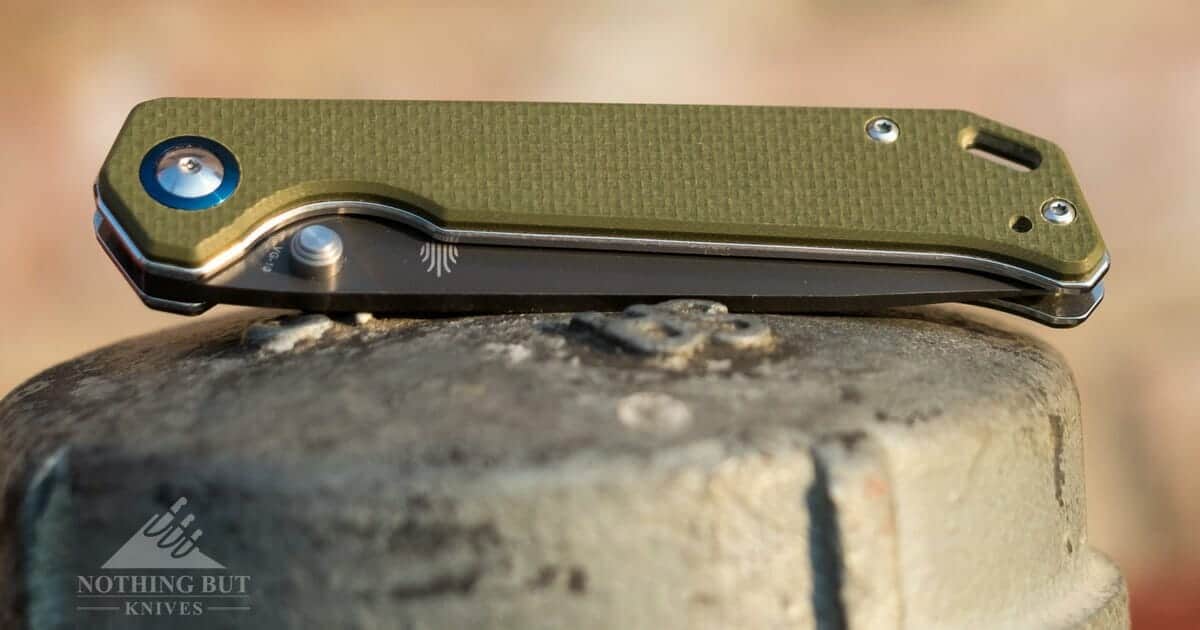 In that vein, I'm not above trying a knife that is, to put it nicely, Sebenza "inspired", and made by a Chinese company at that. Kizer has always intrigued me, though. They're one of a handful of high-end Chinese knife makers who are trying really hard to fight the western consumer's hatred of the phrase "made in China". They use steel from US and Japan (hence the VG-10 steel in the Begleiter), and regularly collaborate with independent knife designers. In this case, the design comes from Azo, who I don't know much about, but clearly has a knack for creating clever folders. The bulk of my motivation in trying out this knife was just to see if all the talk about them being a "high end" company is true.
Knife Specifications
| | |
| --- | --- |
| Overall Length: | 8.17″ |
| Blade Length: | 3.58″ |
| Handle Length: | 4.6″ |
| Blade Thickness: | 0.13″ |
| Blade Steel: | VG-10 |
| Blade Shape: | Drop point |
| Blade Grind: | Flat |
| Handle Material: | G-10 |
| Lock Type: | Liner |
| Weight: | 3.7 oz |
| Manufacture Location: | China |
| Designer: | Azo Mai |
Pros
Great price for the quality
Gentleman carry looks
Tough build
Comfy carry
Cons
Design is nothing new
Pocket clip slightly interferes with grip
The Begleiter 2 Update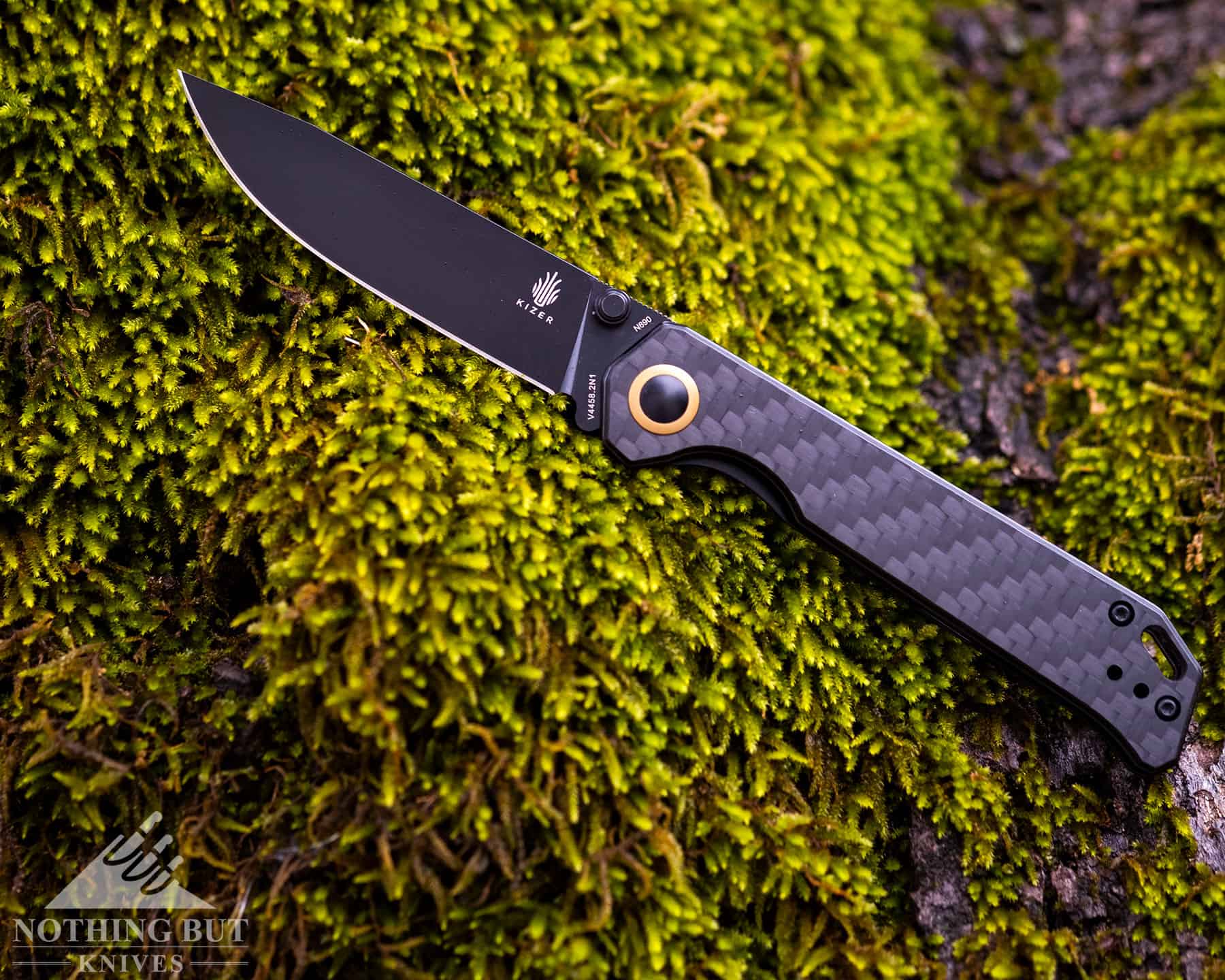 I wrote this review a little after the Begleiter's first release. It's been long enough now that Kizer has released several different versions of the Begleiter, and for me to have lost my first one in a bar somewhere.
Luckily for me, Azo Mai came back to the Begleiter in 2020 to refine the original design. The update isn't really different enough to justify a whole new review, but it's definitely different and improved enough to be worth coming back to this review to point out the changes. Here's what you need to know.
Begleiter 2 Changes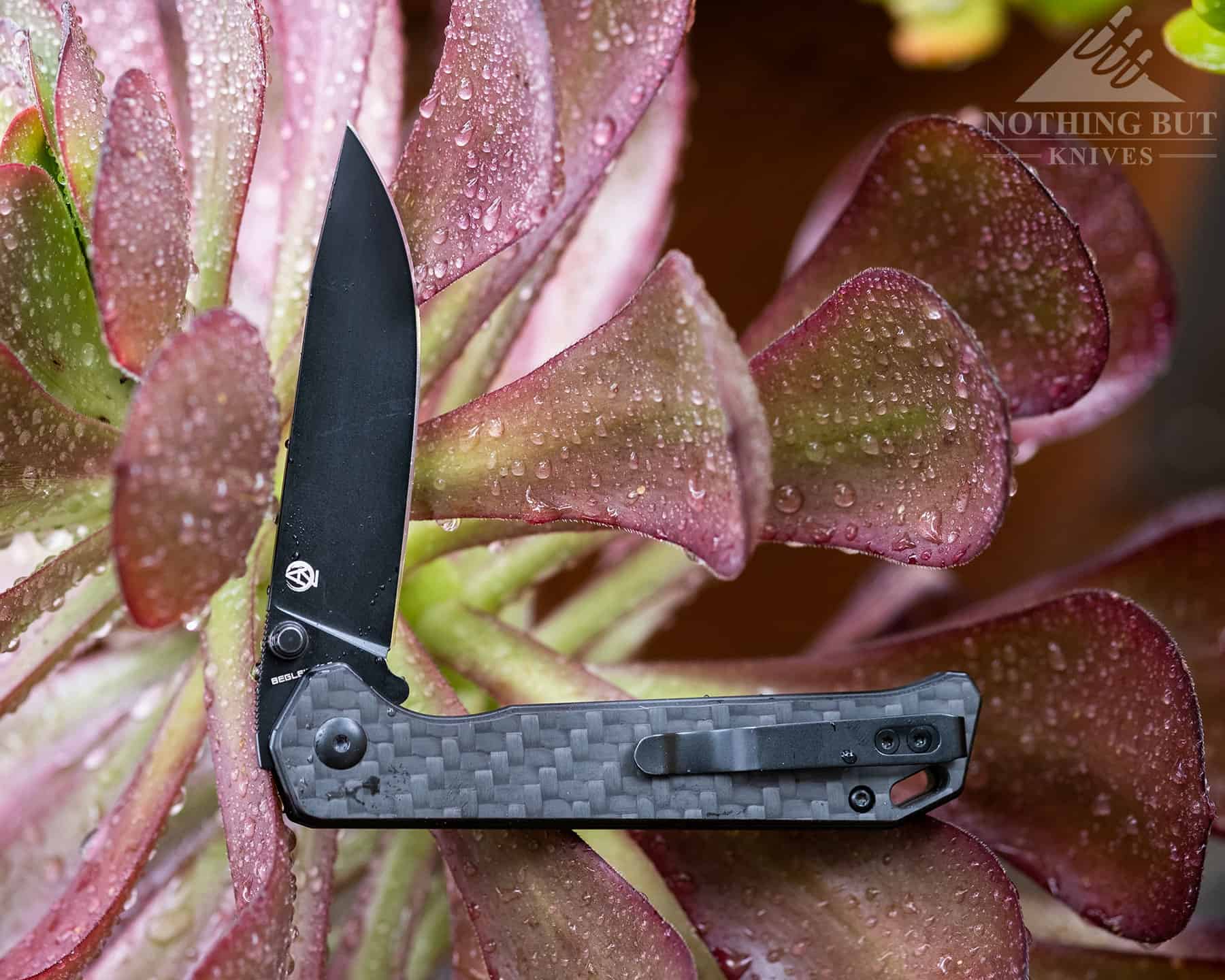 The steel is now Bohler N690Co instead of VG-10
The handle material options include G-10, carbon fiber or Micarta.
It runs on ceramic ball bearings instead of phosphor bronze washers
And it has a deep carry pocket clip.
In practice, this is an incredible upgrade. The dimensions might be the same, but I swear this feels better in my hand then the first Begleiter. To the point that I actually like the carbon fiber scales. It carries incredibly well, and the carbon fiber scales make drawing and putting this knife away feel really smooth. The only problem I have there is the pocket clip has a very tight retention that can have a little trouble getting over the pockets of thicker pants.
The blade is great. It cuts about the same as the original, but I think Bohler N690 is a full on upgrade from VG-10 for an EDC folder. My experience with the Kizer Slicer showed me that Kizer knows how to treat and grind the stuff pretty well, and the Begleiter 2 hasn't changed my mind on the stuff.
I've managed to use this knife enough to ding up the blade, and had nothing but a pleasant time stropping and honing it back into shape. The edge retention seems to be at least as good as the first iteration, although I haven't carried it quite as long. I don't think N690 is generally harder or more wear resistant than VG-10, though. All things being equal it tends to be a little tougher and have better corrosion resistance.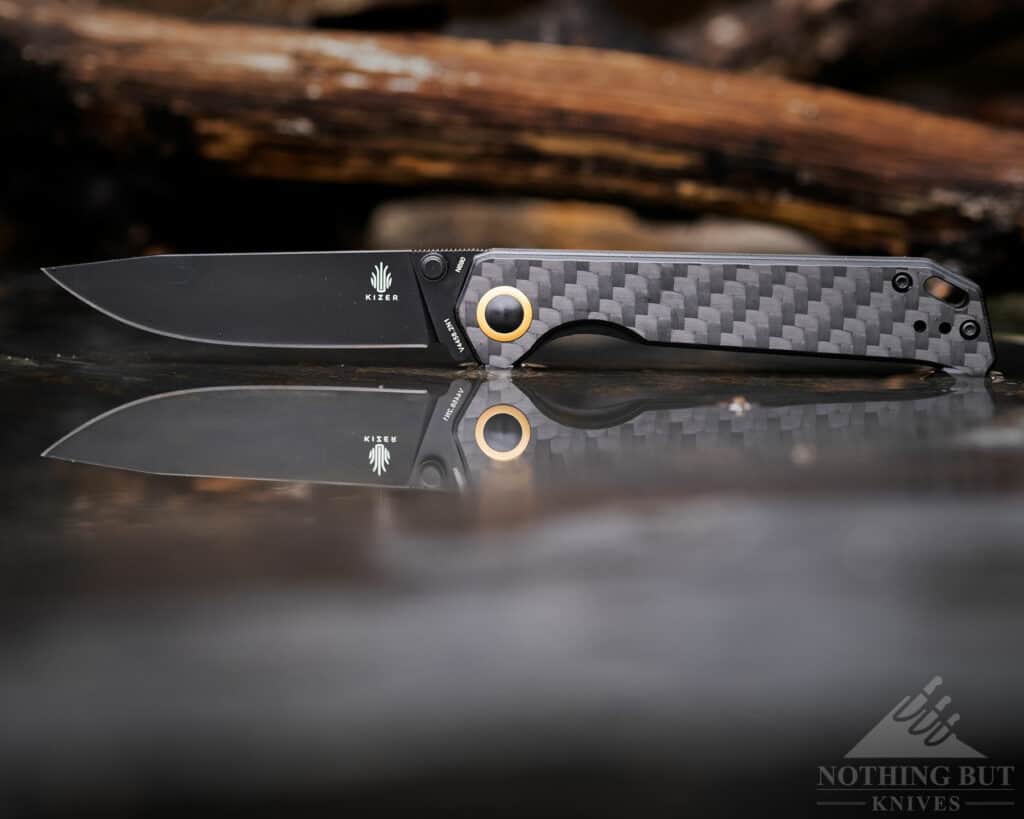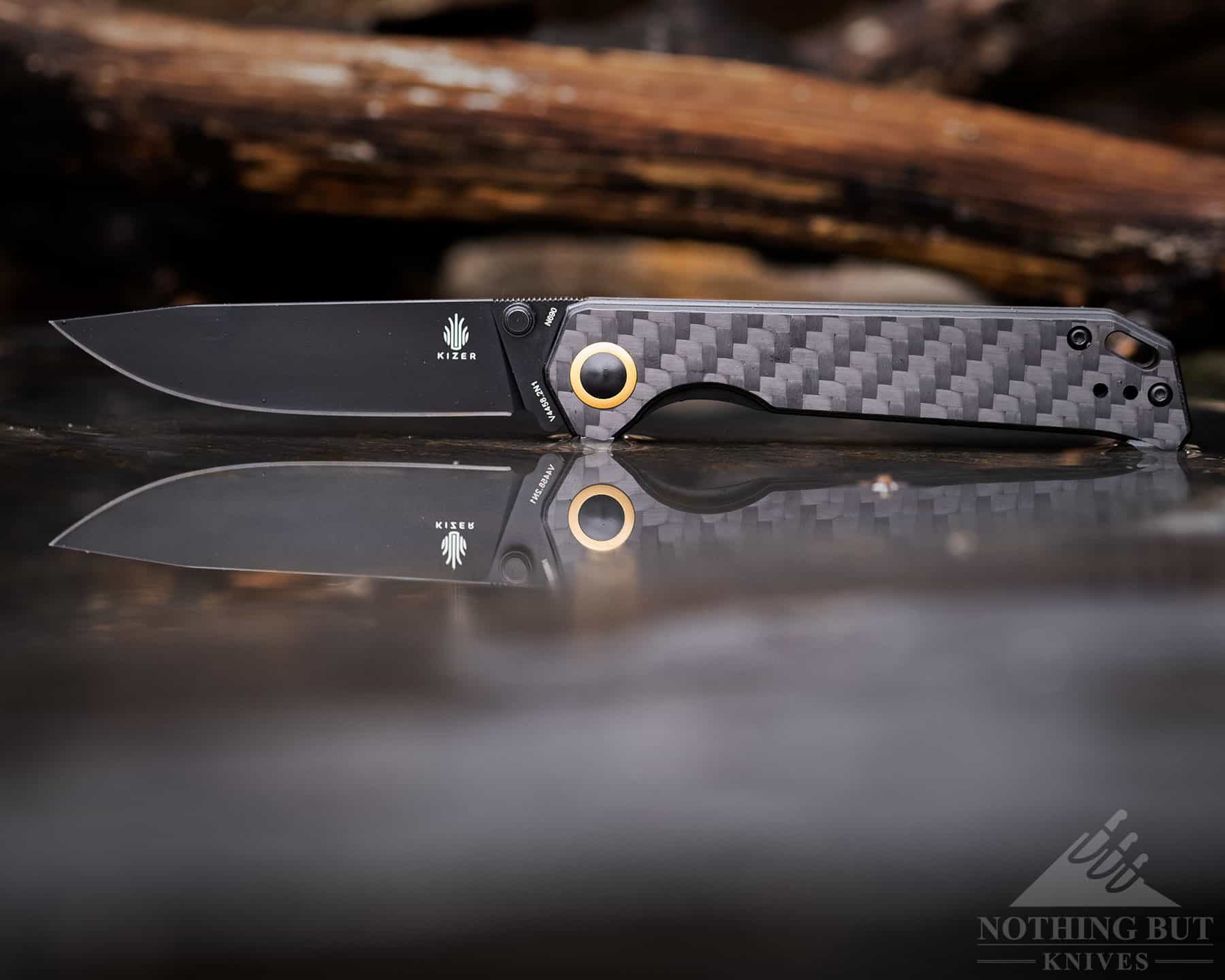 As for the action, I didn't have a problem with the way the first Begleiter deployed. It was plenty smooth enough. The Begleiter 2 is addictively smooth, though. They made this thing to fidget. It feels like it runs on silk, and the lock up gives you a nice satisfying click every time.
The only small issue I take with this update is that the switch to ball bearings makes the knife overall a little less tough. Bronze washers are a lot easier to clean and fix up than bearings, but the goal of the design seems geared more toward gentleman's carry than hard use, so maybe I'm just blowing smoke. The point is, if the original Beglieter looks good to you, the Begleiter 2 is even better.
Now, back to the old review.
Blade Shape and Performance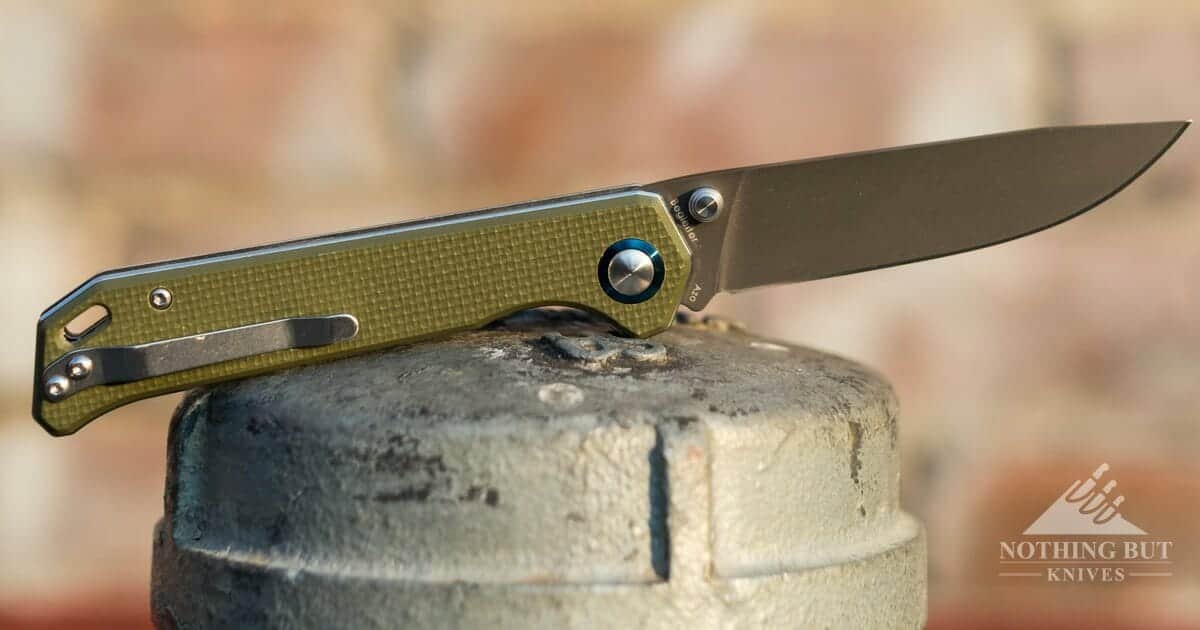 Personally, I'd prefer a little more belly to the blade, both for looks and function. I like being able to work with extreme angles, and I'm not the only one, considering Ken Onion's popularity. Credit where it's due, though. Kizer did a nice job on the Begleiter's blade. It's a mean slicer out of the box.  It's pretty slim for the overall size of the knife, it'll cut through cloth, and handle most foods pretty well.
I also really like the VG-10 steel. It's hard enough to keep a decent edge for a few months of heavy use, and so long as you keep it dry corrosion is almost never a problem. I wish more companies used it besides Spyderco. And word on the street is Kizer makes their VG-10 a little harder than Spyderco's. I'm not saying that's better. Some of us prefer steels to be a little softer, but if it's true, it would make the Begleiter that much more of an interesting alternative to something like the Delica 4.
There has been some attrition since I took it out of the box, though. I said it was sharp out of the box. It did a pretty clean paper test the first time, and it cut down a few boxes like a champ. I've also (after cleaning it) used it to cut potatoes and tomatoes with respectable success. So I've used it a lot, but haven't put it under a lot of extreme use.
I ran another paper test before writing this review and it started making a rough cut and tearing about halfway through. That's probably after about five months of consistent use, so all things considered that's a pretty decent rate of attrition. It still had a fine edge, it just needed a little honing to get back to its out-of-the-box sliciness.
Ergonomics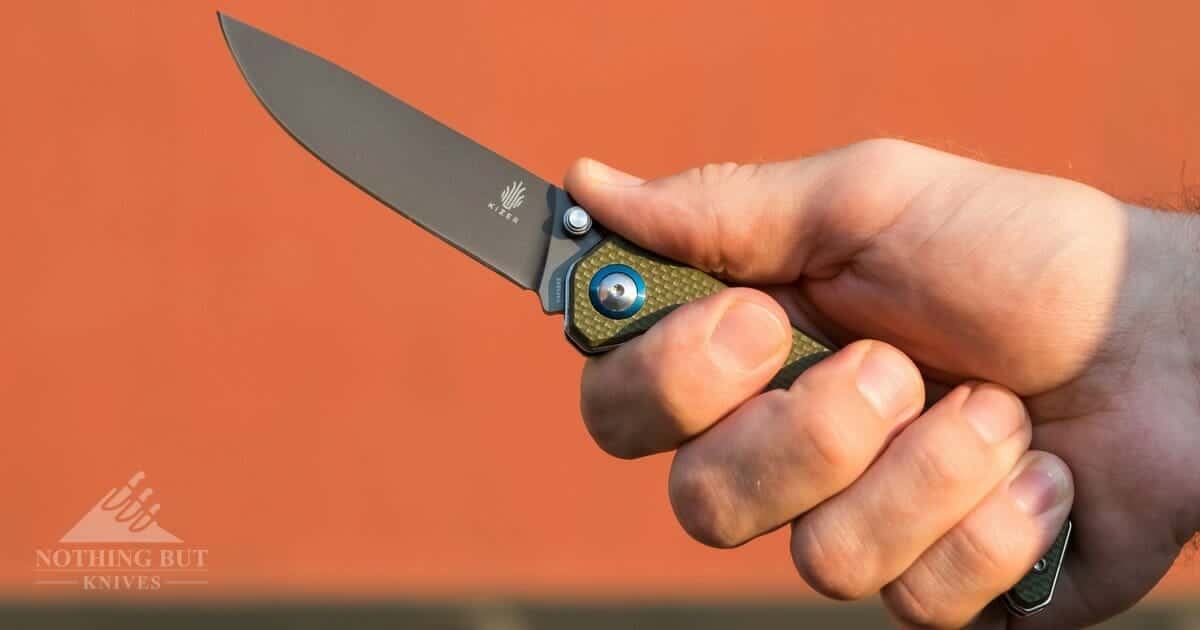 This is thick as far as folders go and definitely one of my more comfortable pocket knives to use. It feels pretty natural in the hand, with the exception of the pocket clip pushing into my palm a little.
The G-10 scales almost feel soft compared to what's on my Esee Zancudo, and the texture isn't quite as aggressive. If you look close at the liners you'll notice the edges are rounded, and little details all around the knife are beveled or tiered to keep them from digging at the hand. It feels nice. It's the kind of knife that makes you want to use it on stuff every time you hold it.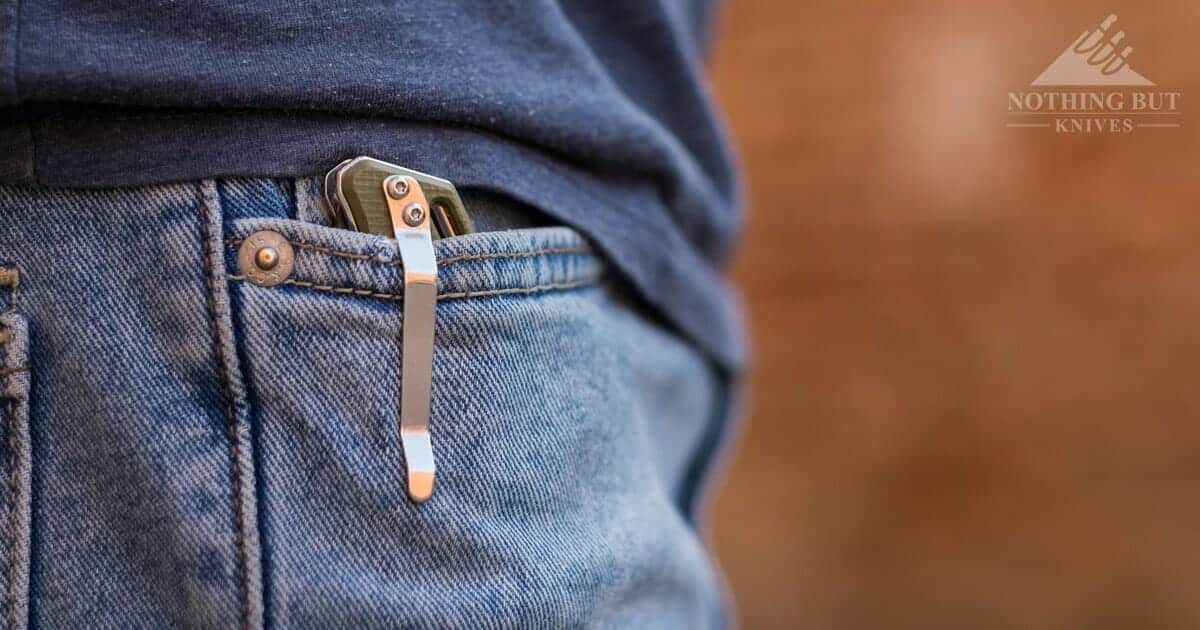 That length and thickness can ride a little awkwardly in the pocket if you're sitting or climbing, or pretty much any time you need to raise your leg for something. That wasn't so surprising. When I saw the thickness I figured it would take some getting used to, but I'm actually surprised how little I notice it now. When I switch back to my smaller folders it makes me realize how big this thing actually is, but when I carry it on the regular it rides easy enough not to be a problem.
It's also really smooth to open. Not as smooth as some knives that cost twice as much, but there's a definite silkiness to it, and the dual thumb studs are rounded well enough that I can flip this open for several minutes before it starts to feel abrasive. This is the kind of knife that feels satisfying just to open and close, so I probably do it several dozen times a day and it never feels like it's cutting into me, unlike certain Bokers I could mention.
Sturdy Gentleman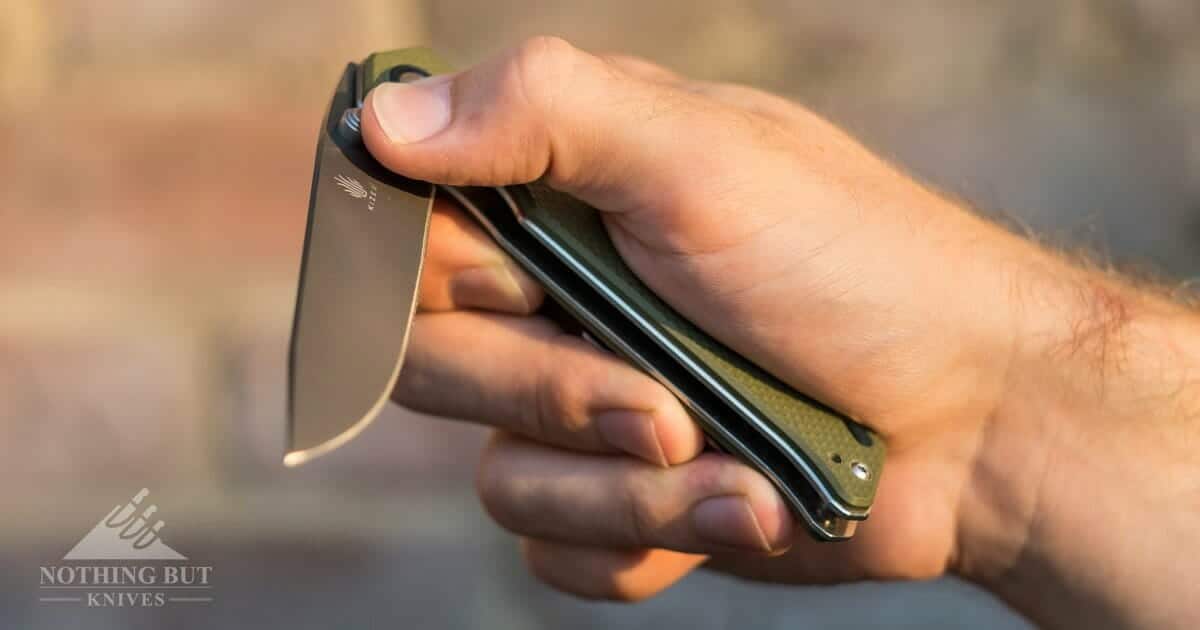 Aside from the smooth open, one of the most striking features of the knife is its strong build. I've been using it for maybe half a year as of this writing. It was sharp out of the box and had pretty even spacing in the blade gap when it was closed. I don't think I've flipped out a knife more than this one in the first few months of owning it.
It didn't need to be worn down or anything. It was seamless from when I first used it, and it's fun to play with. Opening and closing this knife is like a stress ball for me, so if there was going to be any blade drift, I'm pretty sure I would have noticed it by now. So far everything has stayed in the same place.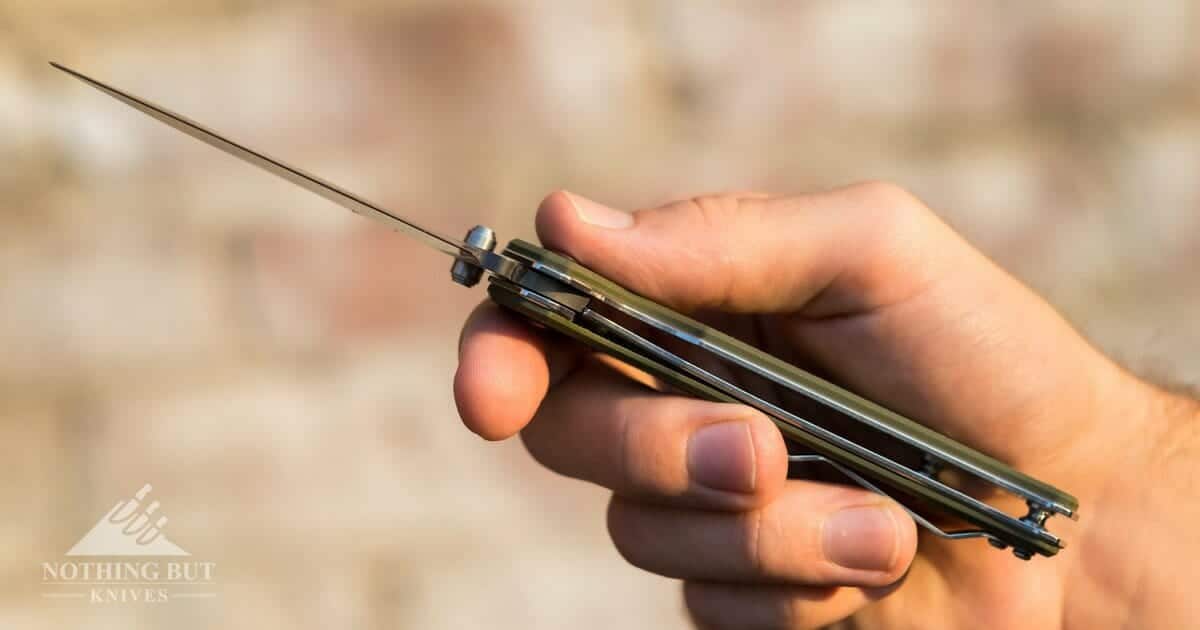 It feels sturdy in the hand. It's thick, it's heavy, when the blade locks into place you get a satisfying click. If you drop it (as I have and continue to do because I'm a Goddamn mess), it'll hold steady and come back up without any more play than it had before.
That being said, mine has a small chip on the back of one of the liners because I've now dropped it on concrete… 3 times?… I've lost count. Which is a bad sign for me, but a pretty positive test for the overall toughness of the knife. So you're welcome, Kizer.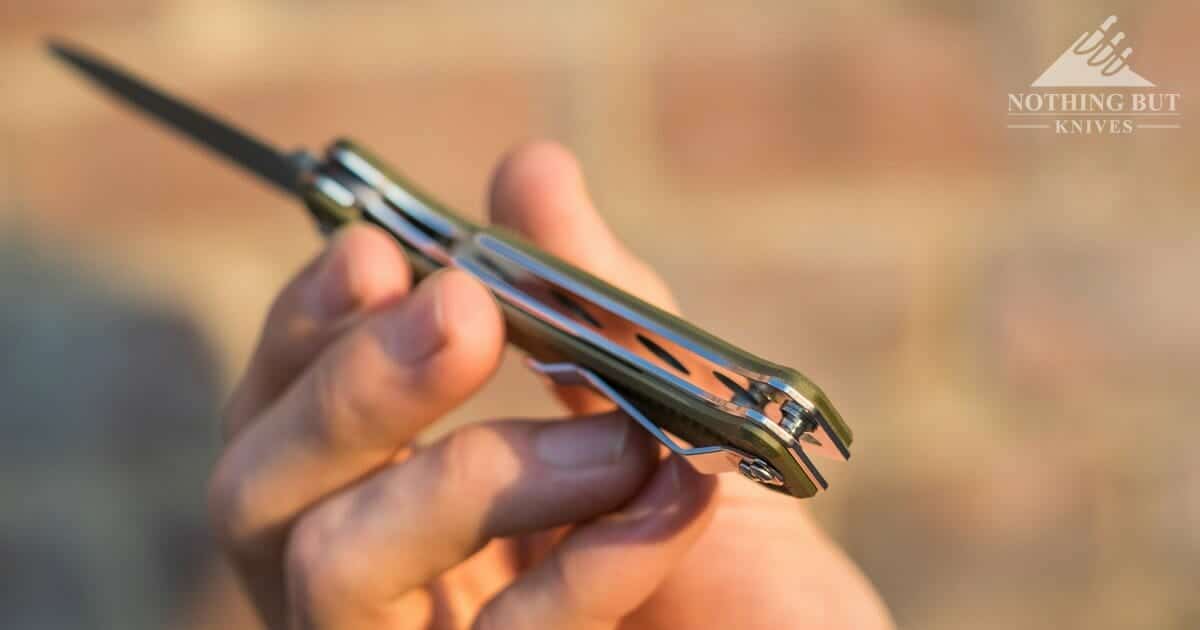 A quick note on modifying this knife, though, if you're the kind of person who does that. The Begleiter uses bronze washers on the pivot screw, and they don't seem to like it too much when you loosen that screw. I've heard of a few people doing this to smooth out the one-handed open. Once you do that the bronze washers will start rotating with the blade and slowly start wearing away at the action.
Personally, I think it feels fine out of the box, so I haven't customized it much. It doesn't seem to take well to it, even though that blue spacer around the pivot screw head looks like it's just begging you to mess around with this thing. I would leave the Begleiter as is unless you start getting blade drift.
Great Knife for the Money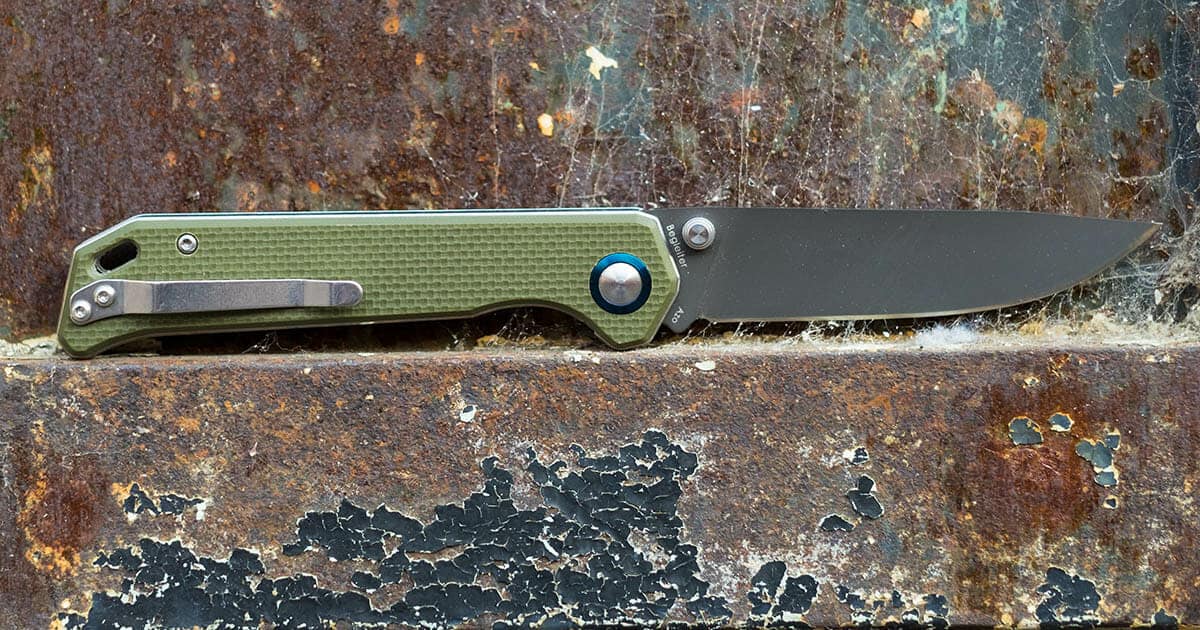 The common thread you'll hear about this knife from Kizer fans and critics both is that it's a good knife… for the price. That qualifier follows it around like a stray dog. I picked it up for $50, which is great considering Kizer could probably get away with selling it for closer to a hundred. The thing is, if I spent $100 dollars on this knife I would be pretty underwhelmed. After using it for a while, I think $80 is probably the most I would pay for it, which is what made me realize that the price is the entire reason people are talking about this knife.
It's a good knife, no question. The problem is it's just good enough to compare to higher end knives, but not good enough to beat them. It opens and closes smooth, it feels comfortable in the hand, uses a nice steel, and feels generally sturdy. But it all comes to exactly the sum of its parts. It's not a spectacular knife, and I would be hard pressed to describe its defining features. If money weren't a factor and I had the option between the Begleiter and a Benchmade 940, I would go with the basic bitch option because the 940 has some of its own personality. In fact, I sometimes still carry my Zancudo over the Begleiter (especially if I think I might be getting dirty), even though this Kizer is by a far stretch one of the best knives I own now.
Money is a factor, though. The 940 typically goes for around $200. In fact, almost every knife I want to compare the Begleiter to (the Sebenza, or ZT 450 for example) outprices it by at least $100, and that's what this knife's real strength is. The only knife in a similar price and blade-size range I'd put it next to is the Ontario Rat 1, but the purpose of the Rat is much more bushcraft to the Begleiter's more precise EDC style. It just feels wrong to compare a budget gentleman's carry to something people use to cut tree branches.
Just about everything about the knife is good. I think it's technically flawless, but it's not fantastic. It's not a display case tool or an underdog trooper. It's just good. It looks good, it works well, and you won't cry yourself to sleep after buying it. The important take away from this, I think, is that Kizer is worth your time. They aren't making throw-away knives that roll an edge if you look at a cardboard box the wrong way. There are quality knives coming out of China now. It's time to get used to the idea.