Great Cheese Knives Work Well With Both Hard and Soft Cheeses, So You Can Gain Weight Effortlessly.
I like knives, but I also like cheese. In fact, consuming both hard and soft cheese on a regular basis is my favorite way to gain weight. If I knew much more about cheese beyond what I read on the internet one day when I was trying to improve my grilled cheese game, I would be writing a cheese blog right now. But since I'm still more likely to point out that having Aus-8 steel knives with good heat treatment is better than having slipshod VG-10 than I am to know what the hell wine I should pair with taleggio, we're gonna talk about cheese knives.
Also, grilled cheese is still the only cracker-less cheese dish I know how to make.
If you're like me before researching this stuff and don't know what the hell that prong-y thing on the slicer is for, there's a quick guide at the bottom of this blog to the different types of cheese knives . Otherwise, we can get this cheese party started.
Dalstrong Gladiator 4 Piece Knife Set
Includes:
3.75" Mini cleaver
3.75" forked cheese knife
3.75" soft cheese knife
3.75" rounded-tip serrated cheese knife
Price Level: $$$
Cheese Type:
Good for hard and soft cheeses
As usual, Dalstrong comes off as the overzealous option here. They make a lot of fuss about these knives being made from a single piece of high carbon German steel with full tang handles, and an "edge that's been painstakingly sharpened to 16-18 degrees".
That's all great, but we're talking about cheese here. You don't exactly need to be churning out diced onions at three pounds a minute. Of course the other side of that is if Dalstrong is going to charge this much for a cheese knife set, it better perform well. I will say that my experience with other DAlstrong knives has been pleasant. They're usually pretty comfortable, and while you don't really need to super thing edge they've put on some of the knives in this set, it certainly won't hurt.
Swissmar 3 Piece Set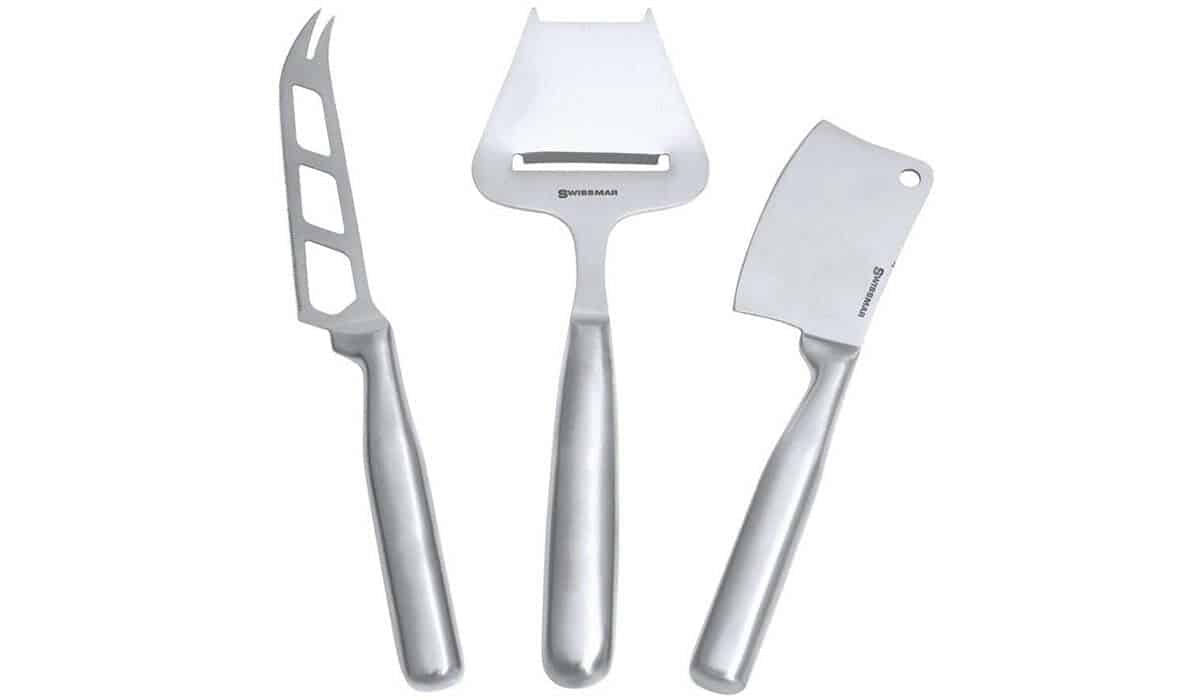 Includes:
9.5″ Slicer
8.9″ Plane
7.75″ Cleaver
Price Level: $$
Cheese Type:
Good for hard and semi-hard cheese
Okay for soft cheese
Swissmar is the Canadian company of kitchen trinket madness, as anyone who's looked at the Hephaestian puzzle that is the Raclette probably knows. Most of their best products are made so that people who don't know how to cook can pretend to cook better, which I appreciate, but there's only so far you can go in that direction with a cheese knife set. I think that's why they made the blade of the slicer serrated. If you don't know how to slice cheese for some reason, you can use this slicer to hack semi-soft cheeses into submission.
Aside from that, this set is pretty free of gimmicks. The 8.9″ plane knife is probably the star of the group, but still a solid bunch to have for hard and soft cheeses. Be aware that the handles are hollowed out, so these will be lighter than they look. I've seen a lot of people complain about the surprising weight of the set, but maybe lightweight knives are your thing. Personally, I don't care how much they weigh. I consider a cheese knife to have done its job well enough once I hear the high pitched whine of my blood trying to squeeze through my tightening arteries.
Zwillings J.A. Henckels 3-Piece Set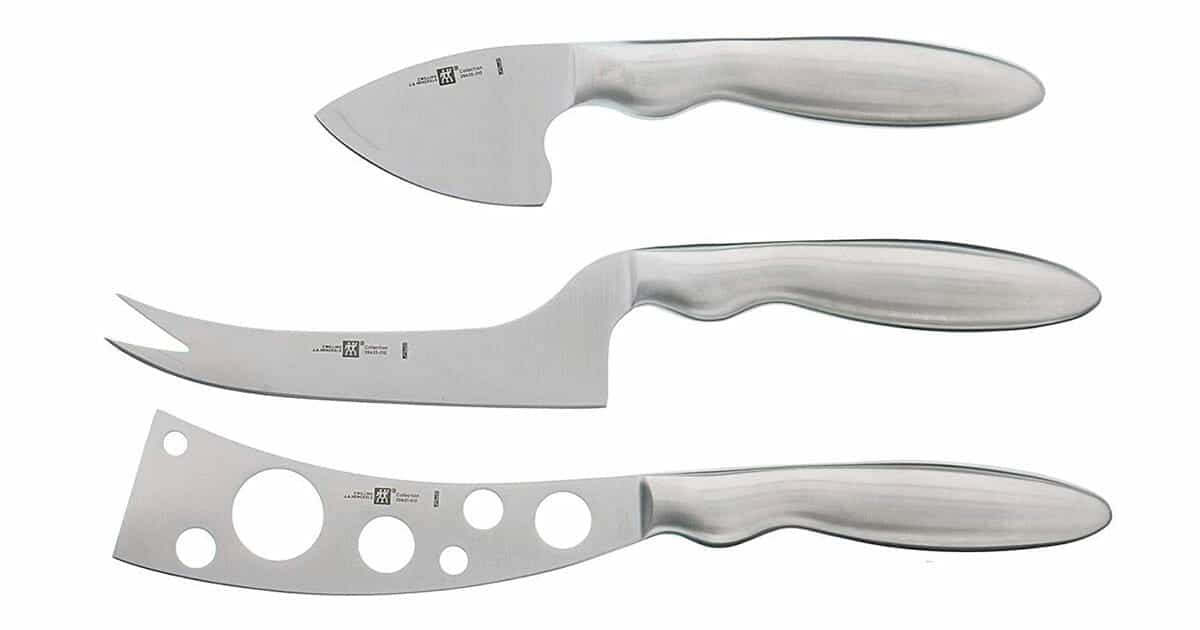 Includes:
5″ Pronged Knife
5.5″ Soft Cheese Slicer
2.75″ Parmesan Knife
Price Level: $$$
Cheese Type:
Good for hard, crumbly cheese
Great for soft cheese
I've heard a few complaints about these not coming sharp enough out of the box. It's possible that started happening after Zwillings switched to making them in their factory in China, but the overwhelming consensus is that this is one of the best sets out there (if you can find it). Especially since the price is usually down significantly from its original $150 price tag. They're a great design with long, contoured handles and curved necks so your knuckles don't punch the counter when your cutting. And J.A. Henkels in general is just good at crafting knives for the kitchen.
This set is getting harder to find, and it's usually half off when you do find it, which probably means it's already discontinued and everyone is rushing to get it out of their stock. Right now Amazon is the easiest place to pick it up, and it's still listed on Zwillings site. But it does not bode well when you see the words "no longer available" for an item on both Williams Sonoma and Bed, Bath and Beyond sites and an increasing number of eBay listings. I'm not sure if Zwillings plans to come out with a new edition, but until they do this is one of the most reliable sets you can get.
Jean Dubost Laguiole 3 Piece Set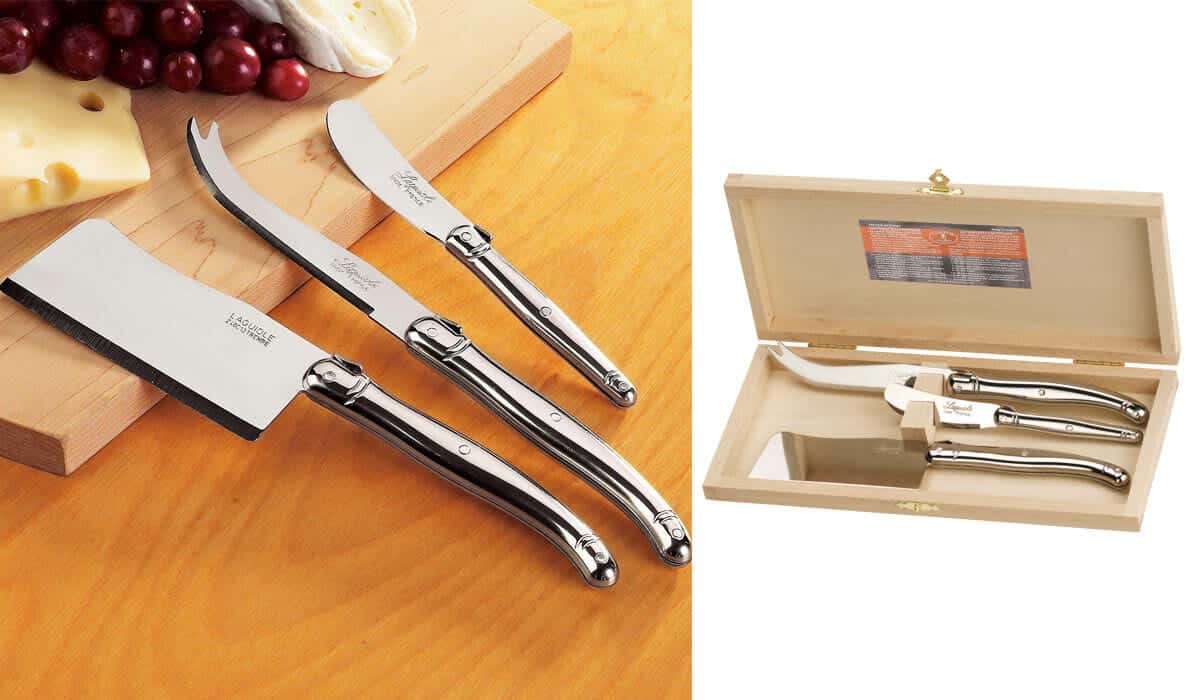 Includes:
5.75″ Spreader
8.5″ Cleaver
9″ Slicer
Price Level: $$
Cheese Type:
Good for hard, semi-hard or soft cheese
If I wanted to get fat like a frenchman, this is the way I'd go. Jean Duboste makes a halfway decent laguiole knife, and something about the feigned culture of using a french-made knife on cheese makes excessive cheese eating feel justified. This is by no means a top quality set, but it will live up to its looks by successfully cutting hard and semi-hard cheeses while you drink the wine you bought based on the illegible cursive font on the label, and make overconfident references to Robert Bresson movies to hide the fact that you fell asleep in the first ten minutes of A Man Escaped.
This set also comes in a gift box, which looks nice, but, like my knowledge of French cinema, probably won't hold up to heavy use.
Joymee 4 Piece Set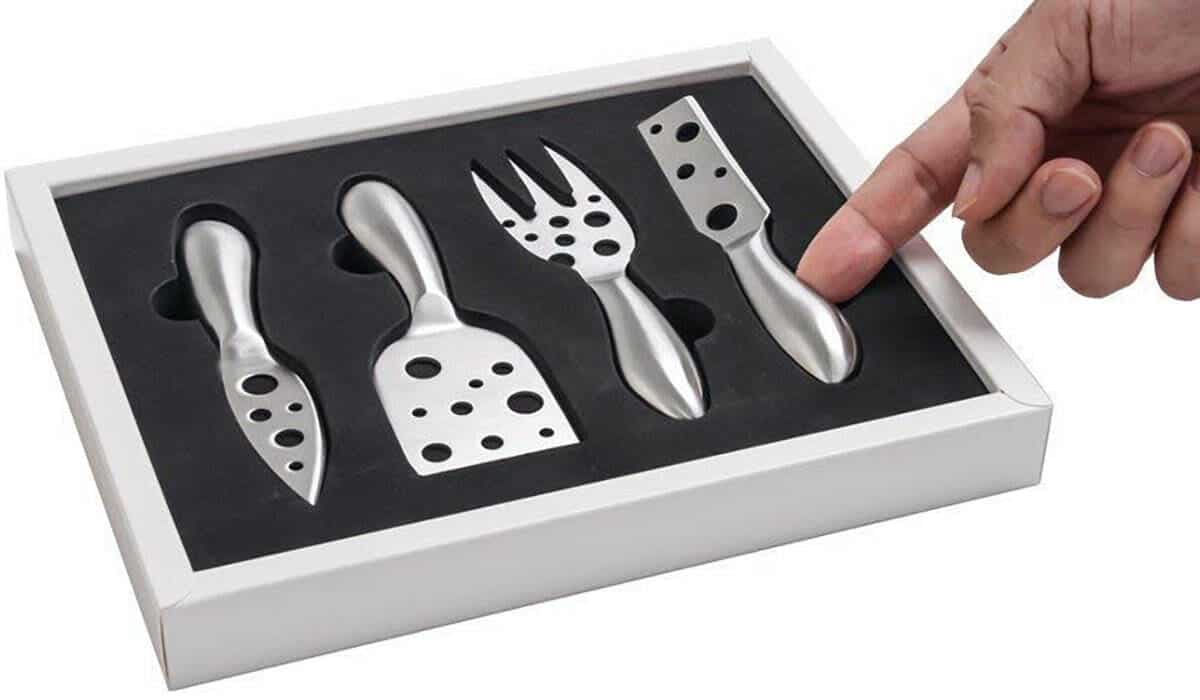 Includes:
5.3″ Serving Fork
5.3″ Chisel
5.3″ Narrow Plane Knife
5.4″ Parmesan Knife
Price Level: $
Cheese Type:
Good for Hard and Soft Cheese
I guess getting fat should be fun, and this set looks like it's trying pretty hard to make it that way for us. Making every single tool in the set perforated certainly makes for a fun thought puzzle. I'm still trying to work out what good those will be on a parmesan knife. I'm also trying to work out why they call their parmesan knife a "curved spreader". I think part of Joymee's strategy here is to become so nonsensical as to make calories and depressive eating habits meaningless.
Despite having a suspiciously low price and the kind of aesthetic that makes you feel like there's an overstimulated child shouting about gummy bears, this is a mostly good set. It's the kind of thing I would order drunk or buy as a gift for someone who justifies their flagrant use of hugs as a result of their "warm personality". Those handles are solid all the way through, though, so these will be sturdy, and while those holes in the blades will make every knife a pain to clean every time you use them, the set as a whole will function well enough to be worth the $10.
La Cote 6 Piece Set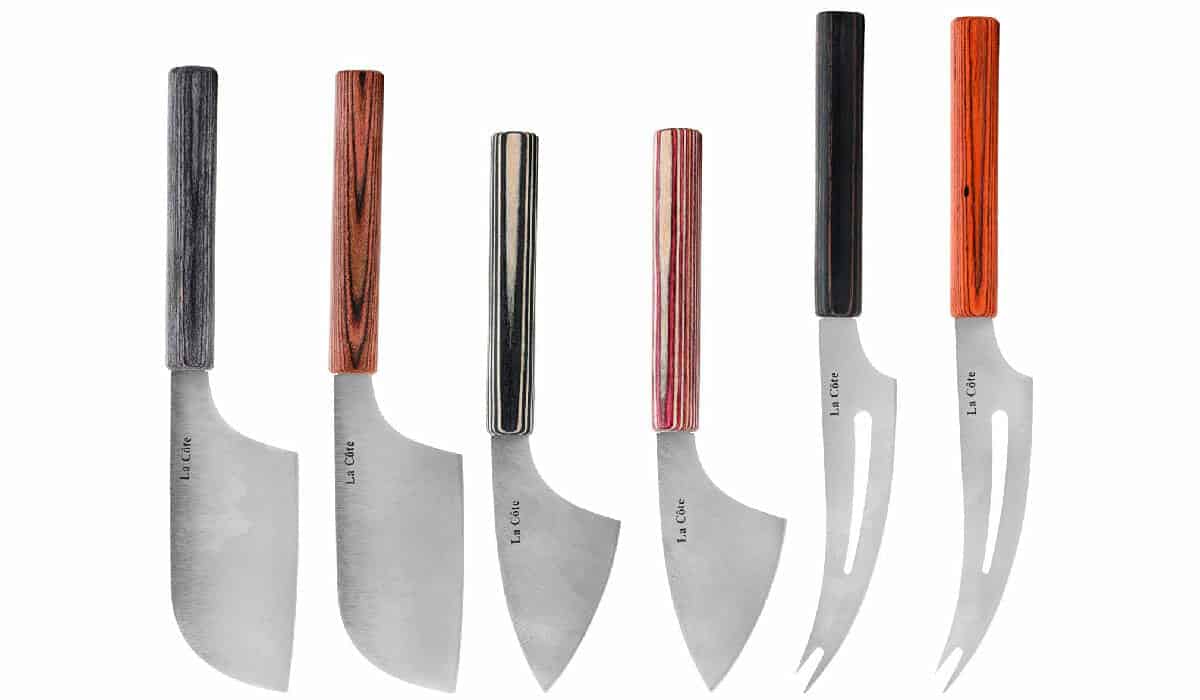 Includes:
Two 8.8″ Long Cheese Knives
Two 8.2″ Cheese Cleavers
Two 7.5″ Hard Cheese Knives
Price Level: $$
Cheese Type:
Great for hard and semi-hard cheese
Okay for soft cheese
These La Cote guys have been hitting the cheese world in a big way with these French fancy-box cheese canoodlers.
This set comes with some sweet-styled cleavers, parmesan knives, and pronged knives which makes it a little limited in cheese uses. If you only have this 6-piece set on the board you're mostly restricted to poking at aged cheddar and parmesan. The pronged knife should work well enough on semi-soft cheese like mozzarella or a young gouda, but it won't spread proper soft cheeses too well thanks to the fashionable hole in the side.
La Cote makes a healthy range of cheese knife and cheese knife accessories, though, so it's easy to get a matching set of Pakkawood spreaders and a plane.
Wusthof Gourmet 4 piece set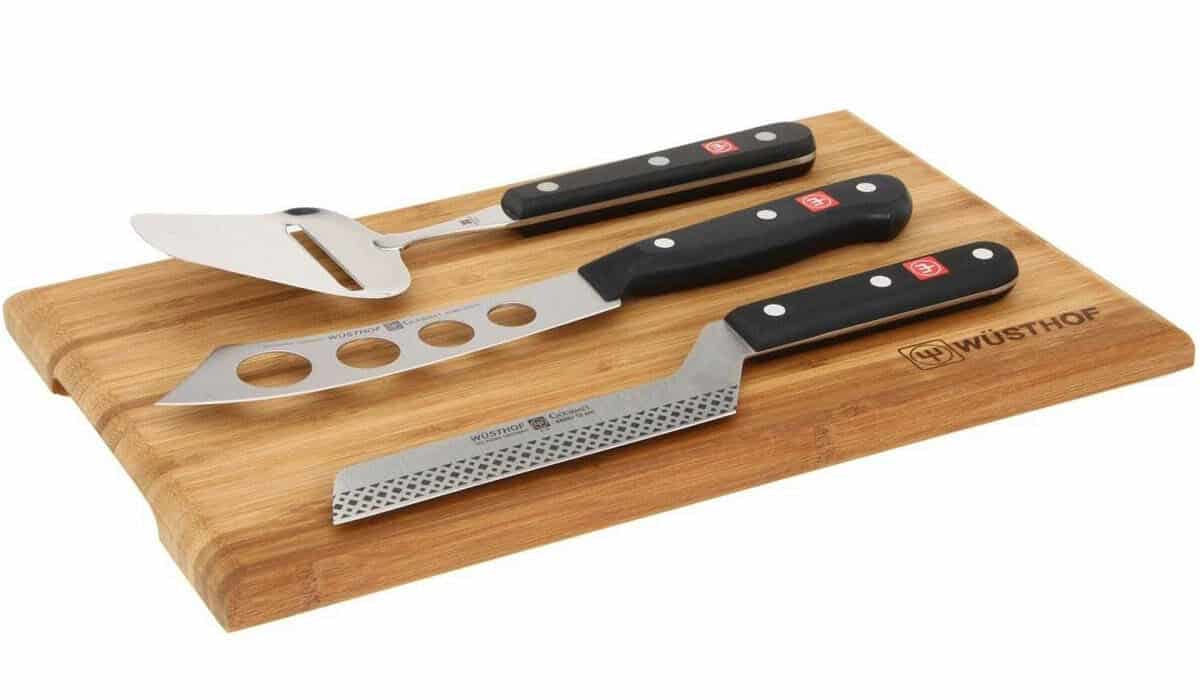 Includes:
4.5″ Hard Cheese Knife
5″ Soft Cheese Knife
4.75″ Cheese Plane
Bamboo Cheese Board
Price Level: $$$
Cheese Type:
Great for hard, semi-soft, and hard cheese
Of course Wusthof makes amazing cheese knives. They're like the BMW of kitchen knives in the sense that every uppity middle class house seems to get something from them when they start feeling insecure about middle age. Also they're made in Germany and use that German steel that western-style chefs are always slobbering about. At this point a lot of their popularity is thanks to classy brand recognition, but, like BMWs, eventually you have to admit it's still legitimately high-quality equipment. They look nice and the grind on those blades is going to be spectacular.
That doesn't mean I won't be biting back tight-fisted rage while I cut out a piece of gouda with the high carbon slicer in this gourmet set, but it's not because of the cheese knives. It's because I'm probably in someone else's house, sitting on a couch that cost more than my car and no one cares about your Pomeranian's new bed, Martha.
Boska Holland 3 Piece Set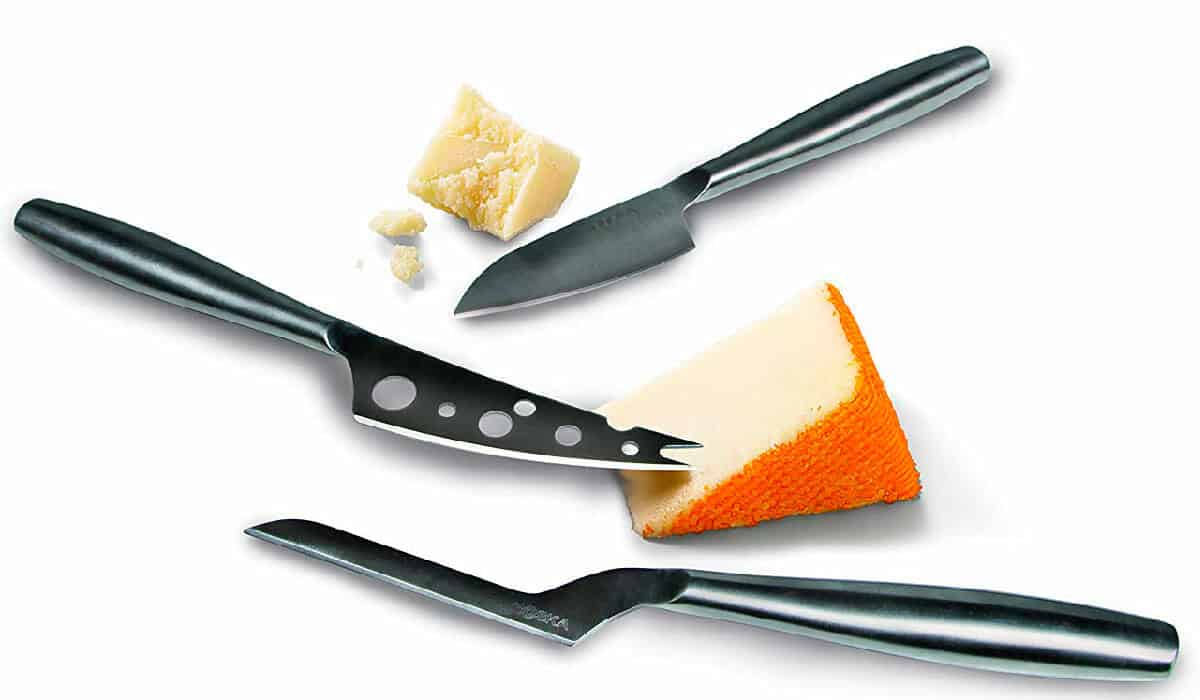 Includes:
Mini Parmesan Knife
Mini Slicer
Mini Soft Cheese Knife
Mini Spreader
Price Level: $
Cheese Type:
Great for semi hard and soft cheese
It's a tiny cheese set for when you just want to eat tiny cheese.
I'm honestly not sure if this tiny set was made for more convenient storage in tiny cabinets, or as a tiny travel set, or to whip out during the holidays as a tiny conversation starter. Whatever the point is, though, it's actually a great way to compromise with price and quality.
Boska is an old company from Holland that's been around the kitchen utensil world for centuries now, and they know cheese knives. In fact that's pretty much the only kind of knife they make, and getting a full-sized set of their knives quadruples the price. This way you can get the quality of time-tested designs at a tiny price. The only problem is that this set isn't really made for hard cheeses. You'll have to stick to tiny rounds of soft and semi-hard cheeses.
Boska Holland 3 Piece Explore Collection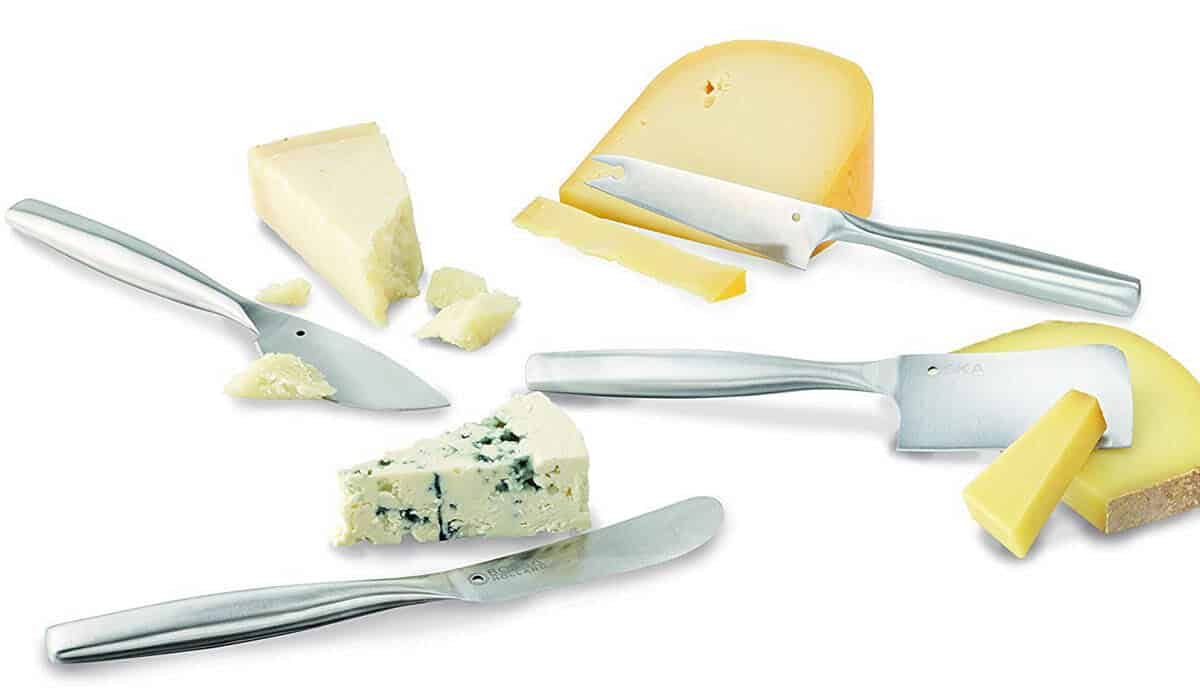 Includes:
Pronged Knife
Parmesan Knife
Semi-soft Cheese Slicer
Price Level: $$
Cheese Type:
Good for hard and soft cheese
For those of us who are mostly normal sizes, there's this not-mini-sized Boska set. This one comes with a normal-sized parmesan knife and a pronged slicer, so there's plenty of utility here for hard cheeses. Oddly enough, this set doesn't seem put together for soft cheeses. There's no spreader in the mix and none of the blades are wide enough to work well for that in a pinch. That slicer should work well for cutting slices of mozzarella, though.
If you really want to get in on the soft cheese world you can get their spreader set separately. That'll add another $15 or so to your cheese board arsenal, but that's a small price to pay for not having to wait for your dumb cousin to figure out how to spread rocchetta on a Trisquit. Otherwise, this set should be great with cheddar or brie on the hard cheese side.
Bekith 4 Piece Travel Set with Wood Handles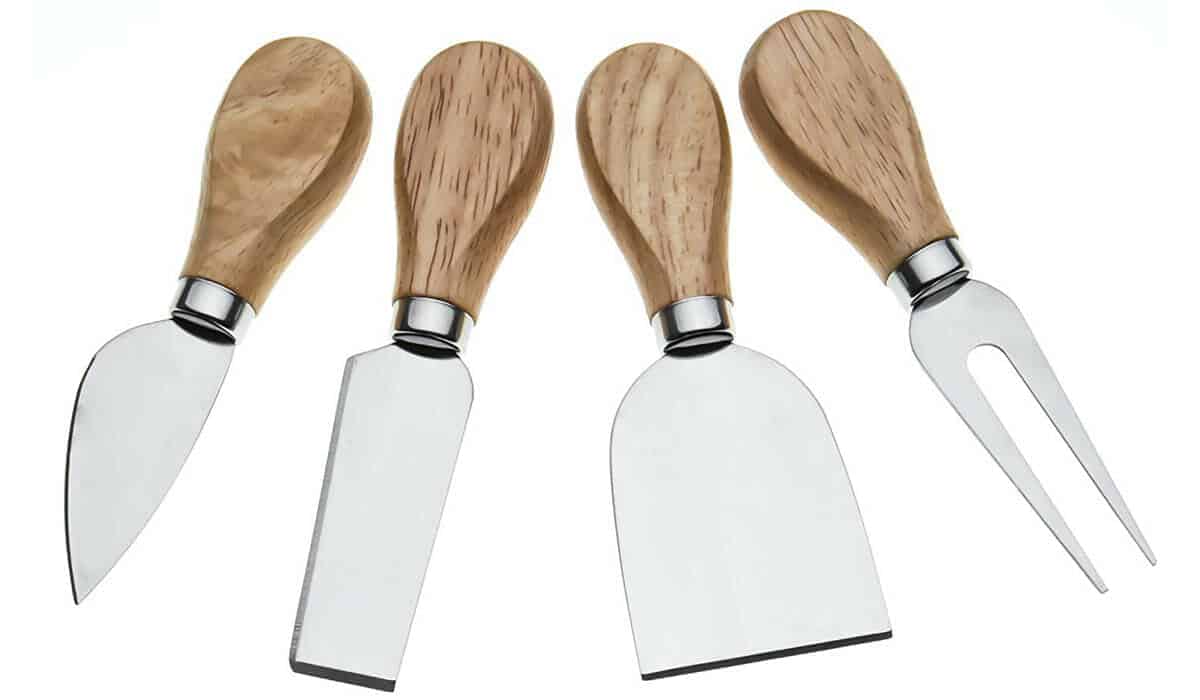 Includes:
Dual Pronged Fork
Chisel
Spreader
Parmesan Knife
Price Level: $
Cheese Type:
Okay for hard cheese
Good for semi-soft and hard cheese
The world needs more travel-size cheese knife sets.
Don't let yourself be held back by the tyranny of household cheese knives. Cheese belongs everywhere. It belongs in your car and in your office. It belongs in the oil-stained, grime-encrusted stools in your garage, or the cold hard ground of your campsite, in the wilderness where no one will judge you for taking slices of pepper jack and wrapping them around regular Cheez-its because even though you like Cheez-its and you like pepper jack, somehow the official pepper jack-flavored Cheez-its just don't really do it for you. We are humans and we were meant to eat cheeses wherever the hell we want. This travel set is the chisel that will break your chains.
Now go. Take this set outside and make the world your cheese table.
(Seriously, though. This travel set is unusually good for the price. Bekith makes a really practical design, and the wood handles are pretty comfortable once you get used to the small size. You probably won't find much better in the price range, and it would be perfectly fine to just use as your regular kitchen set.)
Lunar Premium 6-Piece Set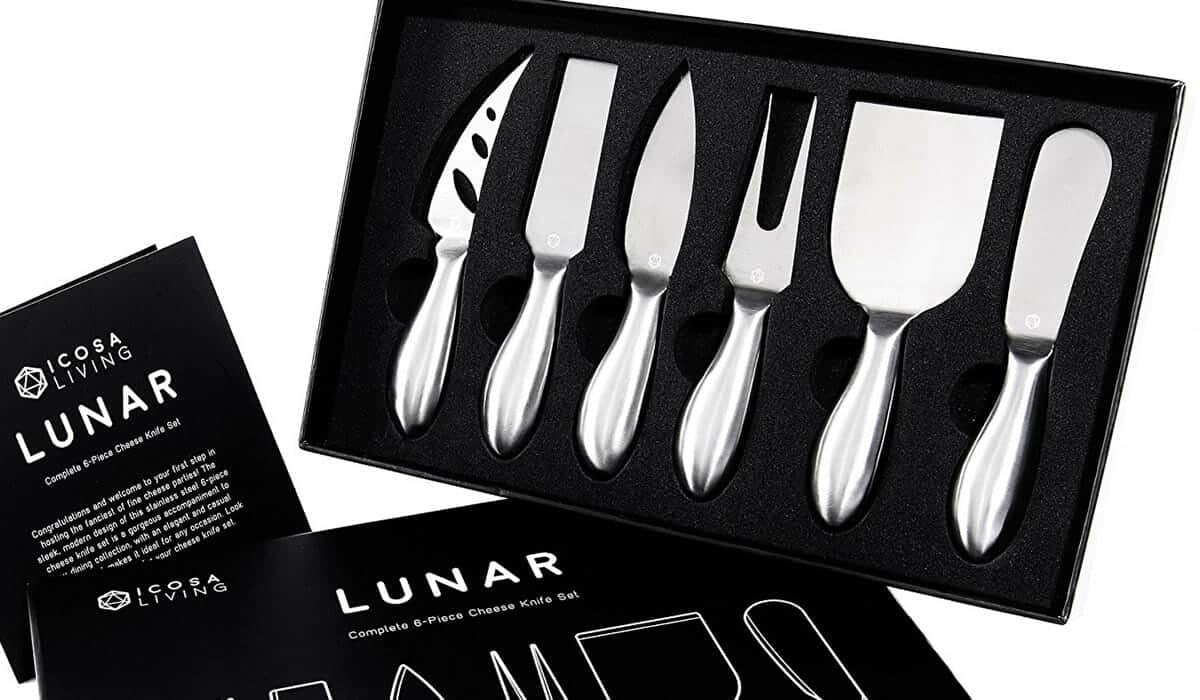 Includes:
Pronged Knife
Thin Knife
Parmesan Knife
Dual Pronged Fork
Chisel Knife
Spreader
Price Level: $
Cheese Type:
Good for all of them. All the cheeses.
Lunar is not a premium brand where kitchenware is concerned. They make some gestures toward a sleek aesthetic and solid materials, but there are really just three things that make this set a better option over something like the Wusthof set:
It has literally every kind of cheese utensil you'll need,
There are no design gimmicks interfering with functionality,
It's significantly more value considering the price.
This is the fast, one-size-fits-all option for when you don't know what you're doing. All you know is you have a bunch of people coming over for Thanksgiving, so in a panic you bought every kind of cheese you found in the dairy aisle. You're going to lay them all out on the cheese platter like you planned this whole thing and try to arrange the cheese knives around the platter based entirely on a picture you saw on Pinterest, but really you're just praying no one takes enough of an interest in the knives to ask where you got them, because you don't want to admit that you bought the first thing that popped up on Amazon.
Cheese Knife Types and What They Are Used For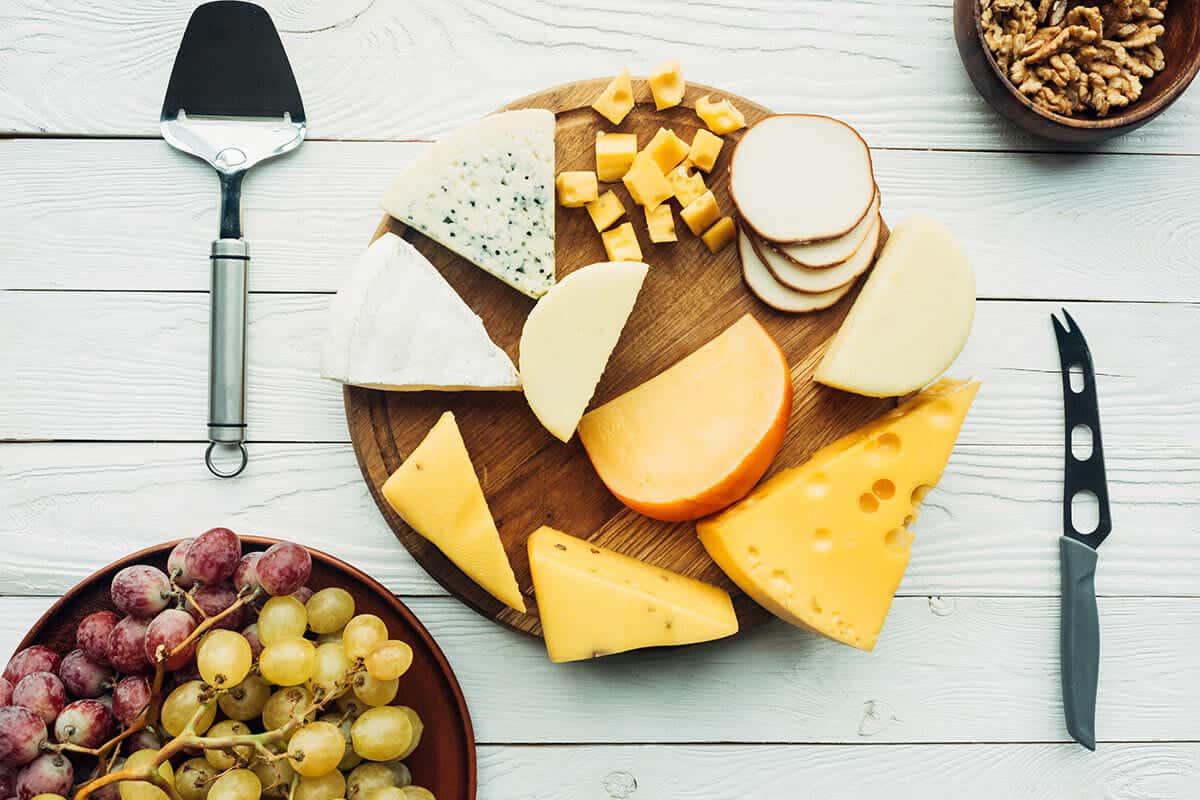 Basically there are knives to deal with soft cheese, semi-soft, semi-hard cheese, and hard cheese. A general rule of thumb is that the more blade you see on a knife the harder the cheese it was designed to slice. Better people than me have explained how to use cheese knives, but in the interest of brevity here's a quick run down of the kinds of knives that show up in the sets of this shameless listicle:
| | |
| --- | --- |
| Pronged Knife: | A slicer with two prongs at the tip for picking up cut cheese pieces or breaking up cheese blocks. Usually these are for semi-hard cheeses, but can be versatile if they're sharp and well made. |
| Perforated Knife: | Usually a slicer with holes punched in the blade. This is to keep semi-soft cheeses from sticking to the side and tearing. |
| Cleaver: | A big damn block of blade for cutting hard cheese. |
| Chisel knife: | A flat wide blade used for hard cheeses when you want your portions to be gigantic. |
| Spreader: | Basically a butter knife only for cheese instead of butter. Usually these will be short and fat for spreading very soft cheeses. Also you could probably use it for butter. |
| Plane: | Looks like a flat shovel with an open slot near the base. Used for shaving thin slices off hard and semi-hard cheese. |
| Fork: | Usually two big prongs on a handle. It's for serving and holding large blocks of cheese while you cut, or breaking up harder cheeses. |