It's a Nice 2-Inch Japanese Friction Folder to Put on Your Desk
I enjoy this knife more for what it is than what it can actually do. It's been sitting on my desk on letter opening duty since I stopped actively testing it because there's just no convenient way to carry it. But it looks nice and it cuts well, and I enjoy tossing it at people so they can look at it because their sudden interest in it gives me time to make an excuse and leave the room.
If you're not already in the know, this is one of many updates of the Higonokami design. A lot of Japanese companies have been trying to breathe new life into this style for a few years with various degrees of success. I reviewed the Katsu Bamboo folder a while ago, which turned out to be a really weird and awkward design but still fun to talk about because of the history it's trying to be a part of.
I think chas handled the design much better in keeping with a more traditional approach.
Specifications
| | |
| --- | --- |
| Overall Length: | 5.5″ |
| Blade Length: | 2.125″ |
| Handle Length: | 3.375″ |
| Blade Steel: | D2 |
| Blade Shape: | Reverse Tanto |
| Blade Grind: | Hollow |
| Handle Material: | Wood |
| Weight: | 0.875 oz |
| Weight w/ Sheath: | 1.12 oz |
| Manufacture Location: | Japan |
Pros
Sharp edge on good steel
Well executed design
Makes people think you're cooler than you actually are
Cons
No easy-access way to carry as an EDC
Rough texturing along the spine
It Looks Neat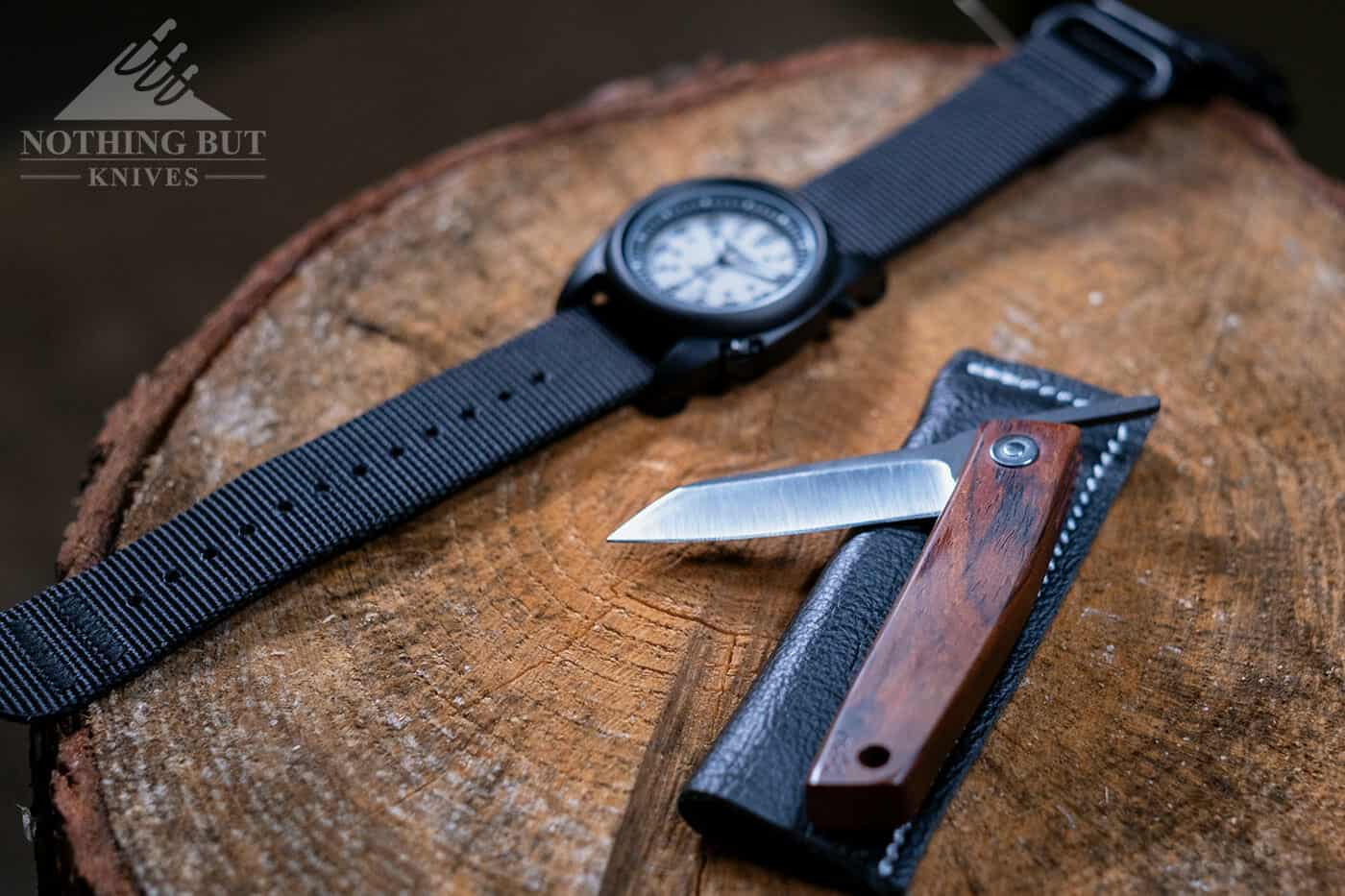 Probably the best thing about the knife is the way it looks. It has a strange polished rustic feel to it with the smooth wood handle and the rough tool steel. It comes with a nice leather pouch that sets off the image of this thing as some kind of luxury item. And even though the objective feeling of it doesn't really feel like a luxury, it does make me feel fancier as a person when I use it, despite the fact that this design was originally made for poor farmers.
I think the look is the real point of the knife, and Ohta's done well enough with that. When I take it out, people get interested. It's fun to look at and talk about for a minute before you move on with your life. Ohta Knives also makes this design in a couple different sizes and a couple more different handle materials including carbon fiber and a half dozen or so different woods, and they all look cool, in their own ways.
But this is still a knife, so I should probably talk about the knife stuff now.
The Blade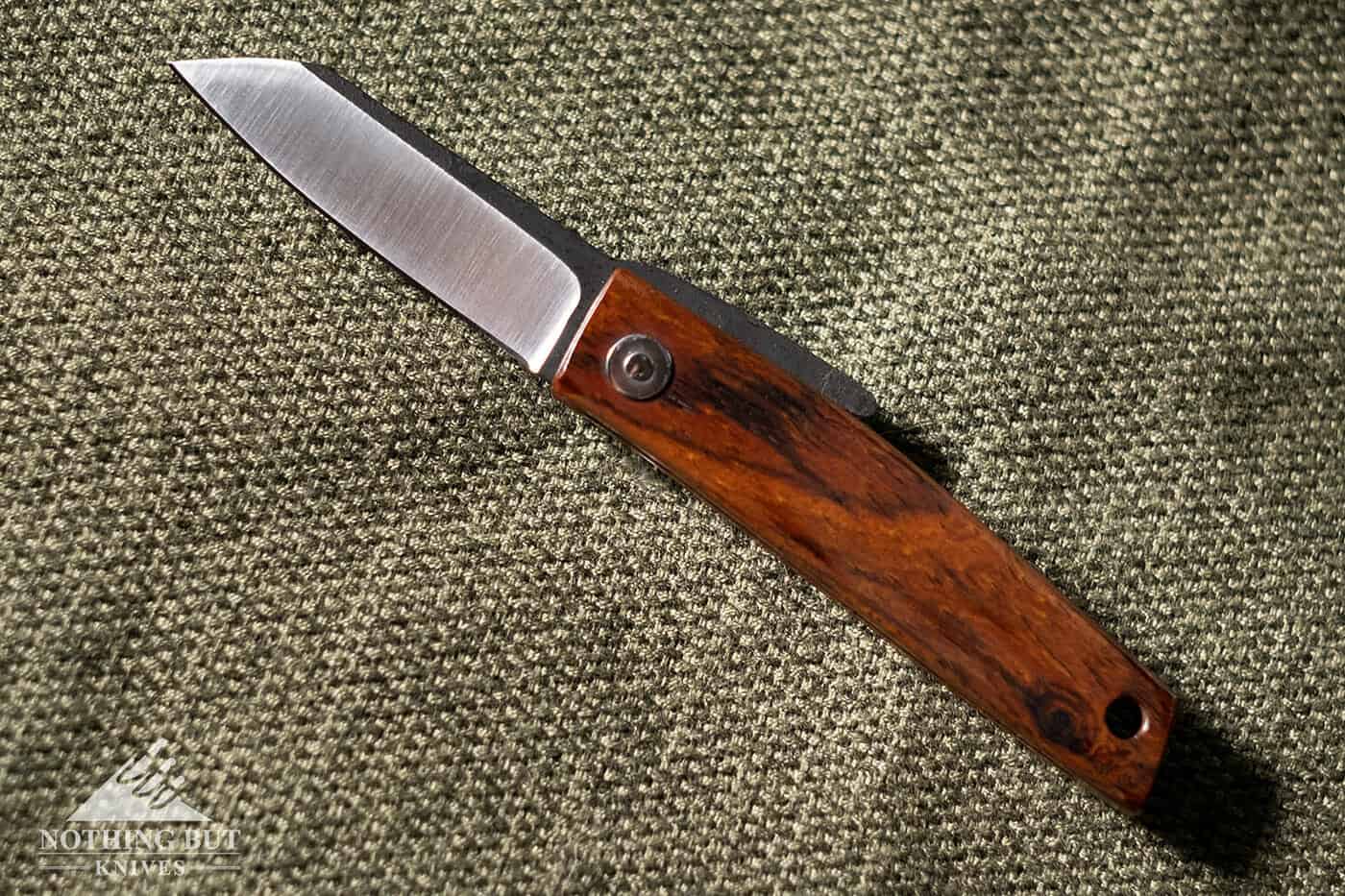 It cuts well enough. It doesn't come with a razor edge, but it did well on a paper test. I'd say it cuts almost on par with my Rat II.
The grind is even too, except right near the bottom where it widens into the tang. There's maybe a couple centimeters of unusable edge down there in the polished section, which isn't great, but maybe the kind of thing I should expect with a hand ground knife in this price range.
I'm really enjoying the shape, though. For a small knife it has a pretty strong tip, and the angle of it was placed well enough that when the point digs into something, it doesn't try to push the blade closed. I don't feel any pressure from the tang unless I press on the back of the tip where there's no edge anway.
I think this was one of the few things that could have been done very wrong on this design, and they've handled it well, so honestly any complaints I have after this are just me blowing hot air.
The Handle and Ergonomics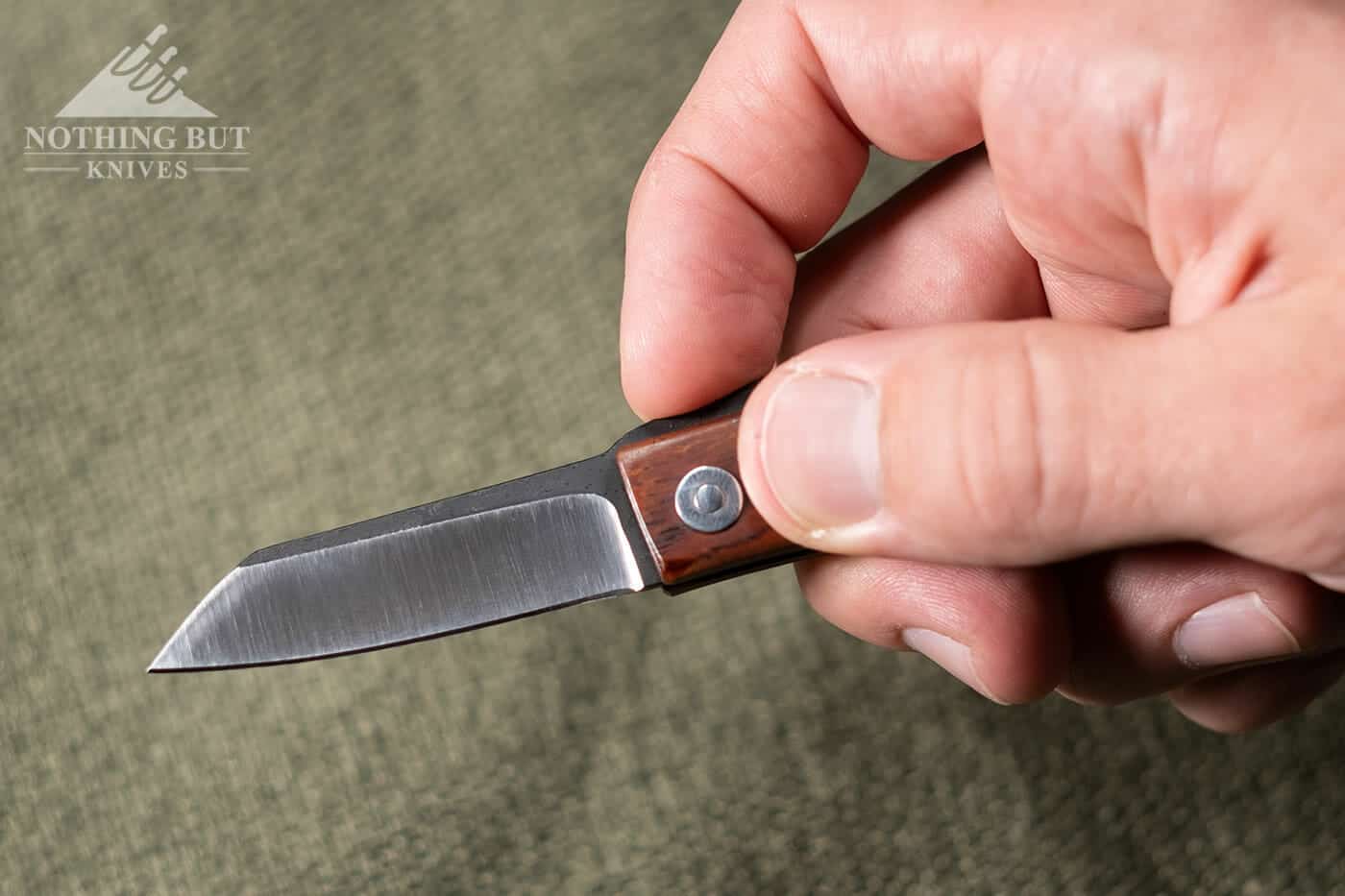 The ergos aren't great, but they're not terrible. There's only so much you can say about a knife this small and this simple.
It looks nice, but I really wish they hadn't polished it so much. It's way too smooth, and it makes handling such a small, thin knife a bit difficult. I don't know how many times I almost dropped it while opening or closing because my dumb, fat fingers are fumbling along the smooth handle.
They also left the tang and the spine of the blade unpolished so it feels pretty rough on the fingers. I can't tell if that rough texturing is some kind of aggressive powder coating, or if it's just the part of the knife that never gets touched by any kind of grinding or polishing wheel. Looking at the shape of the grind, I'm leaning towards the latter. If that's the case it seems like they could have just given it a quick touch up at the grinder just to smooth the tang out a little, but it does provide a helpful bit of texture to keep your fingers from slipping. So maybe I'm just nitpicking.
On Trying to Carry It
I can't really find a good way to EDC this thing.
It doesn't have a pocket clip, and the tang sticks out so much that it's liable to poke and scratch whatever else is in the pocket. The way to fix that is to put it in its leather pouch, but by the time you take it out of your pocket, then pull it out of the leather sheath, then open the blade, some jock with an Emerson CQC has already flicked his blade out, opened all the boxes, and run off with all the women.
It rides well enough next to my wallet with the pouch, but that can make pulling either out tricky. It's bad enough when coins or keys fall out of my pocket when I go to pay. It's somehow much worse when a knife falls out.
I will say that I've carried this thing into larger cities just because, in terms of looks, it's the least threatening knife I own, and I feel a lot more comfortable walking onto a campus or around government buildings because it seems that even people who don't like knives seem to find this one endearing.
The fact is, though, that I've never really had any kind of legal trouble even when carrying my larger folders with pocket clips out in plain view (with the exception of my Kizer Begleiter, but that was really my fault). I don't really live in a place that makes friction folders necessary, and the Ohta FK5 just wasn't made to be an EDC knife in the modern age.
It's a handy tool, and it looks neat, but you're probably not going to want to carry it every day. Throw it in your tool box or your tackle box, keep it on your desk or your night stand, and maybe pack it in the inside pocket of your suit coat.
Conclusion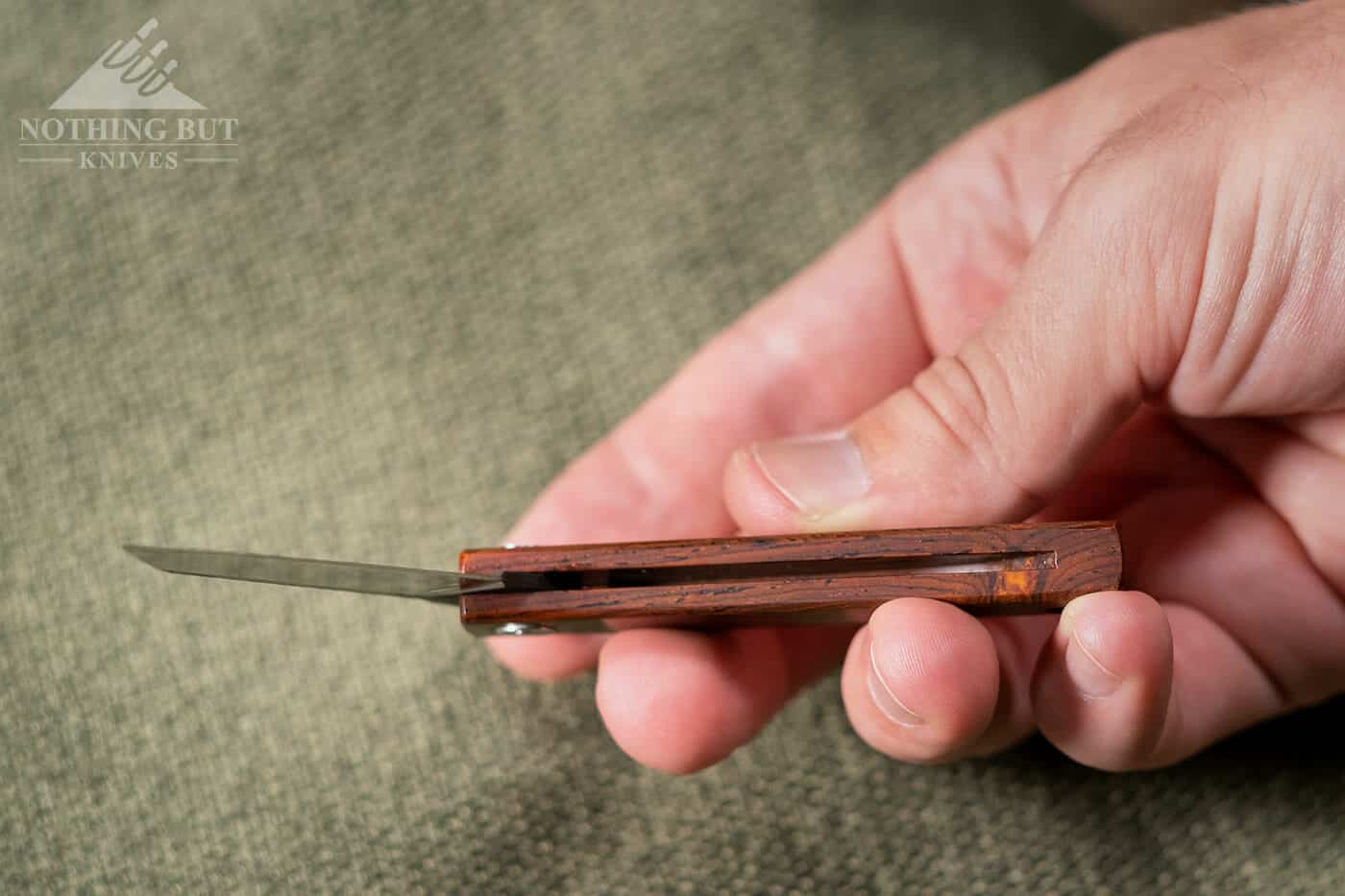 There's a lot I could criticize here, but at some point you just have to let the thing be what it is: a rustic friction folder that's a novelty update of an old farmer's design that answered a fairly specific cultural problem.
If you want a neat Japanese pocket knife with a bit of history that can turn some heads and start a conversation while also giving you a decent cutting edge then, yeah, this knife is great.
Or if you're in parts of the country that view knives as the gateway to hell, and a friction folder under 3 inches is your only recourse, then the FK 5 will get you to and from the office just fine. The knife works and it looks good. I like having it at my desk and I do actually find myself using it at least once a week. But in an age of denim pants and budget-friendly folders with one-handed open, this really shouldn't be your first option for everyday use.