Our Top Picks For Folding, Fixed Blade and Kitchen Knives Released in 2021
There are probably some knife awards out there that knife manufacturers actually care about and are proud to win. The Drunken Hillbilly Knife Awards is not one of those. In fact, we are expecting to get a couple of emails from knife company marketing directors asking us to please not consider their knives for this year's awards.
If you are looking for a legit and respectable knife award competition, we recommend checking out the Knife News Reader's Choice Awards. They do a great job, and it's a good way to discover cool new knives you may not have known about. If you think you would rather slum it with us as we take an inebriated journey through the knife releases of 2021, read on.
Our Super Scientific Method For Picking The Winners of the Most Meaningliss Knife Awards in the History of Knife Awards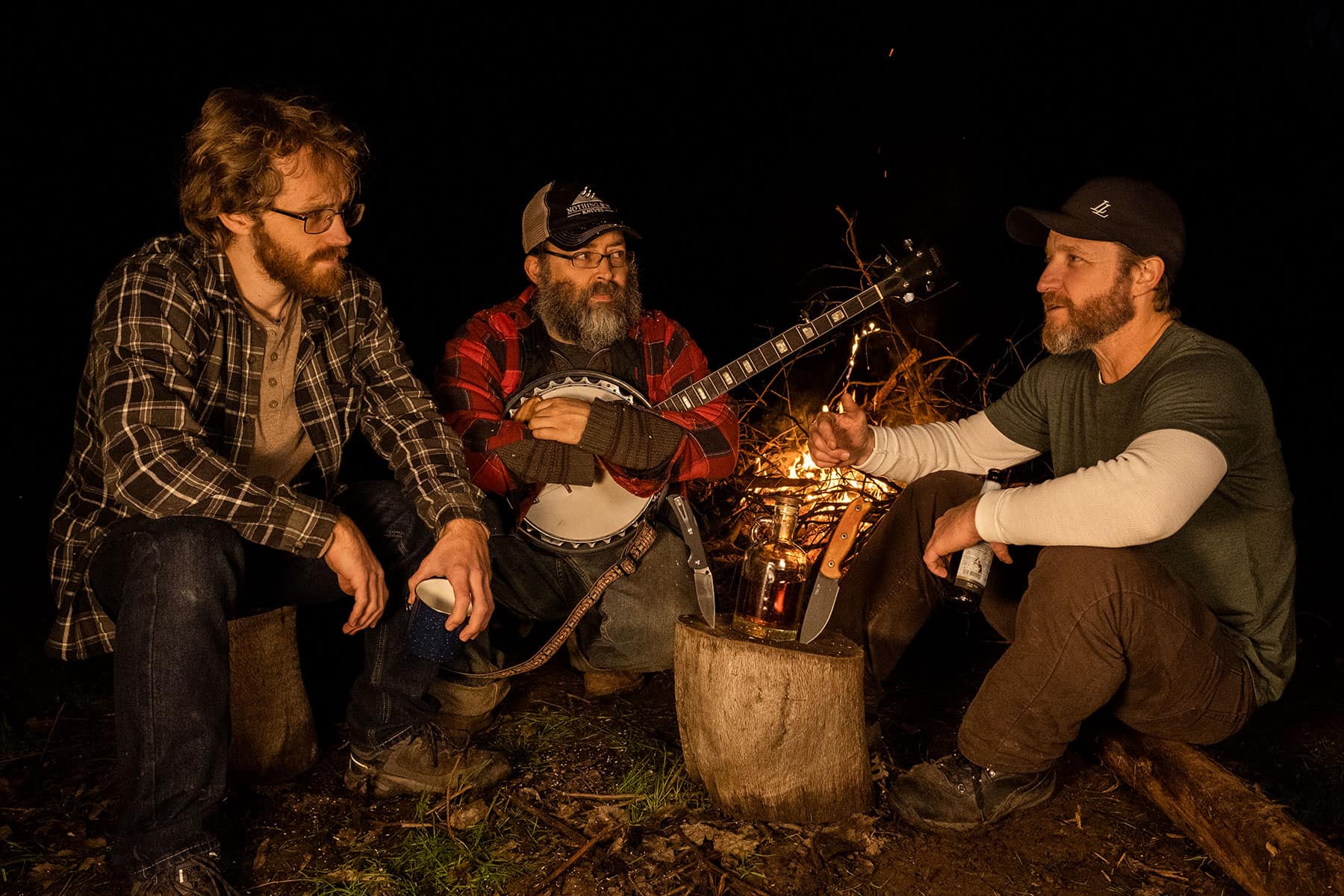 We built a fire, had some drinks, and argued about the best knives of 2021. You should keep in mind as you read our choices that we had no criteria beyond picking up knives we liked and asking each other "this came out last year, right?" Even then, we had to switch some of our choices out in the cold light of day because our sense of time is about as reliable as our ability to measure out an even shot.
It's possible we did write down some semi-official rules for what constitutes "best" in any category, or even what categories we were using in the first place. But if we did have such a piece of paper, we would have used it to start the fire.
Kizer Slicer Lockback – Best Knife We Bought because We Were Too Drunk to Realize it Wasn't a Buck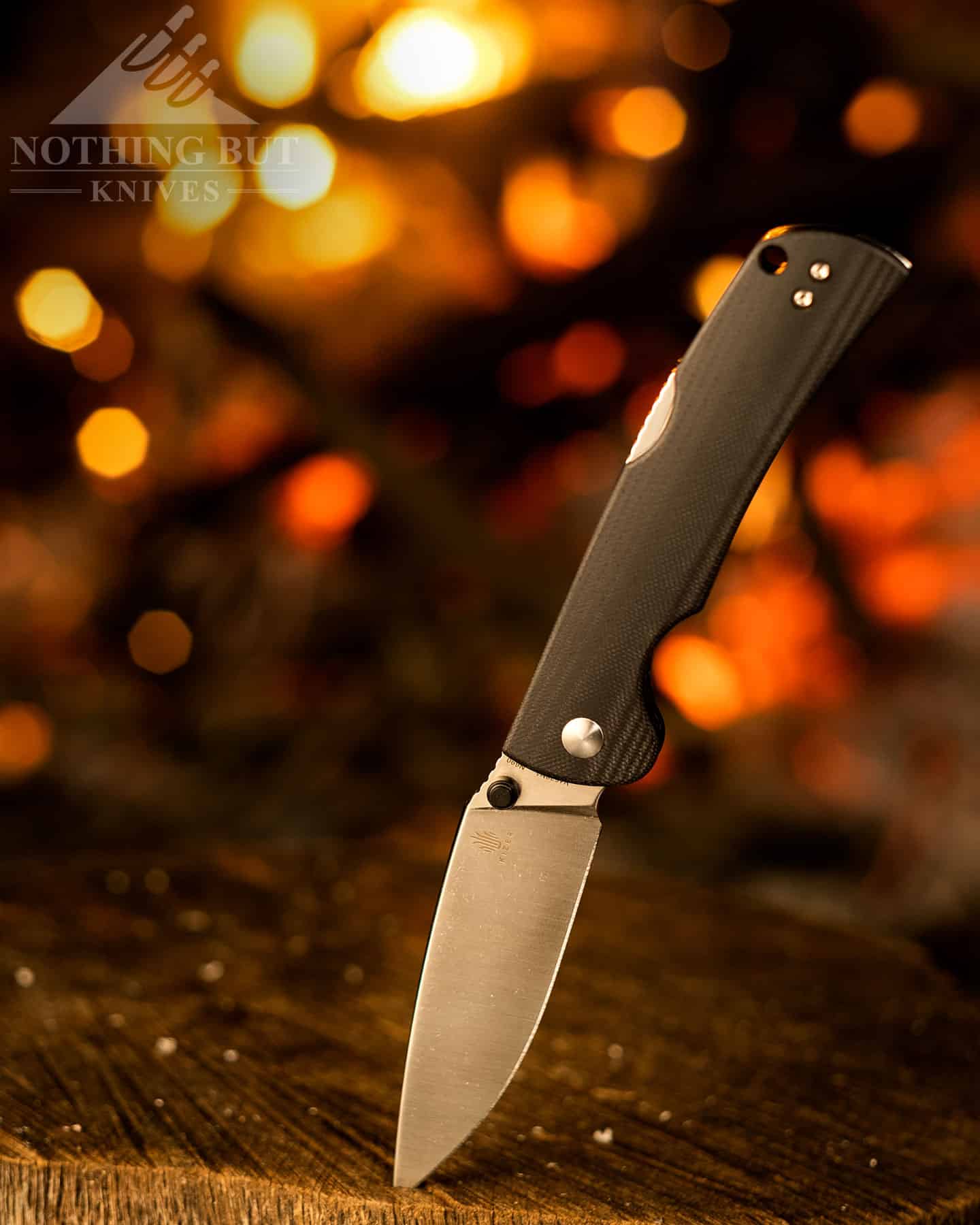 | | |
| --- | --- |
| Overall Length: | 8.45″ |
| Blade Length: | 3.51″ |
| Blade Steel: | Bohler N690 |
| Handle Length: | 4.0" |
| Blade Grind: | Flat |
| Handle Material: | G-10 |
| Lock Type: | Lockback |
| Weight: | 4.72 oz. |
Sometimes you're looking at knives on the internet through whiskey-blurred eyes and see something that makes you feel nostalgic. Then you yell something that's barely intelligible as "God dang, Buck made a new 110 Hunter!" to whoever happens to be in spitting distance.
When the Kizer Slicer showed up in the mail, and we spent the next week complaining about how good it is. It has the weight, balance, and handle ergonomics of a two-hundred dollar knife. It doesn't quite cut like a two hundred dollar knife, but it's surprising how slicey it is with such a thick spine. It feels like an old-school knife with cool-kid materials.
We did eventually say the phrase "why the hell didn't Buck do something like this?" enough times to admit to ourselves that this isn't that much like the 110. It's a drop point instead of a clip point, the backlock is disengaged near the center of the handle rather than the bottom, and the blade is set back from the handle in a way that reminds us a little of the RAT I. It's more original than just a modern take on a Buck design.
Also if Buck had made this knife with the same materials it would probably cost two hundred dollars.
Civivi Crit – Best Multitool With An Actual Pocketclip (Suck it Victorinox)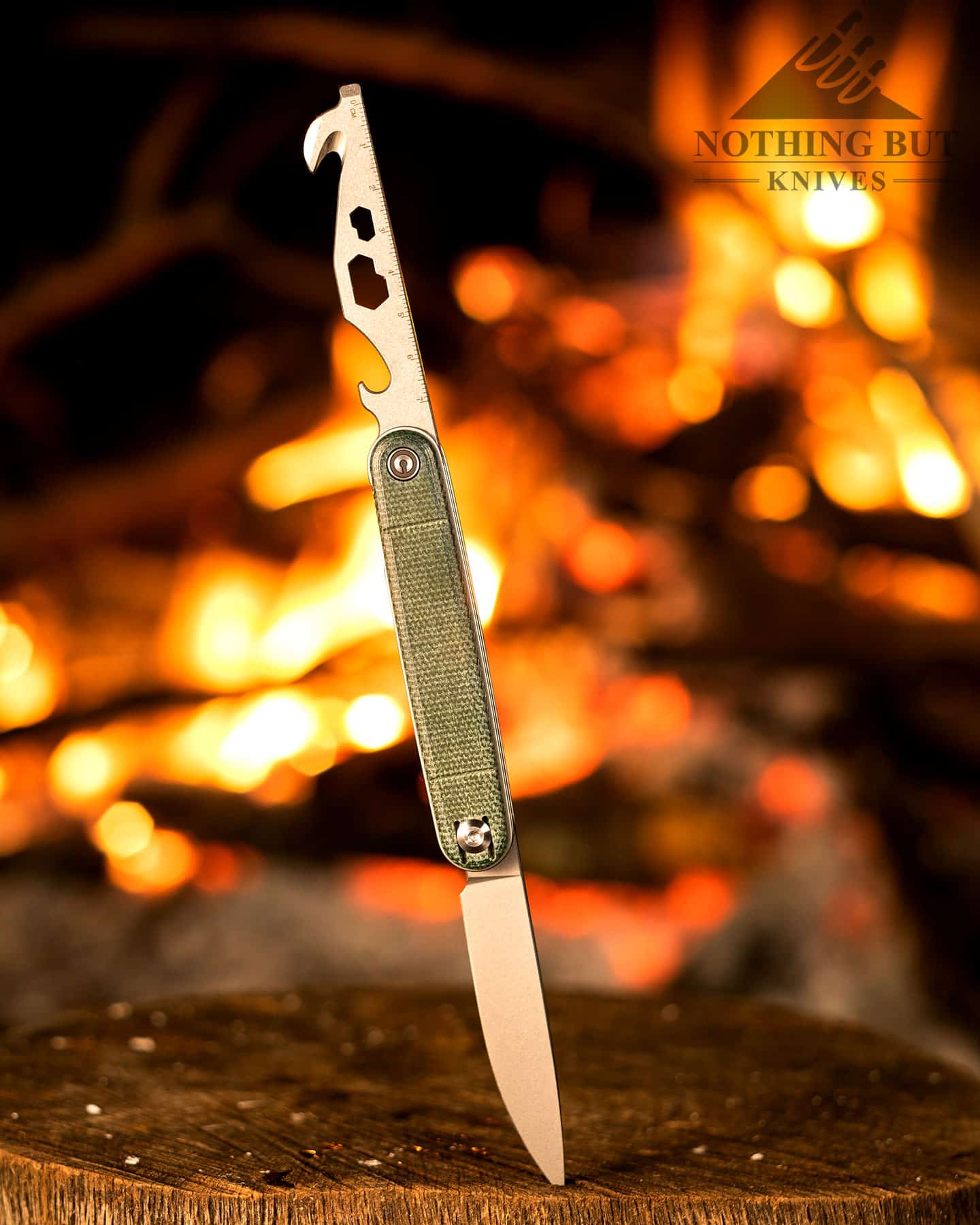 | | |
| --- | --- |
| Overall Length: | 10.5" |
| Blade Length: | 3.18" |
| Blade Steel: | Nitro-V |
| Blade Hardness: | 59 – 61 HRC |
| Handle Length: | 4.0" |
| Tool Bar Length: | 3.11" |
| Handle Material: | Linen Micarta |
| Lock Type: | Liner |
| Weight: | 3.44 oz |
Yeah, we said it. We like this more than a Swiss Army knife. Not because it's a better multitool than most Swiss Army models, but because it can attach to our pockets rather than free floating around the glove boxes in our cars.
It's all well and good to have a thing with 30 functional tools inside it, but after the fifth time you're in a situation that calls for one of those tools and have to spend an hour digging through empty beer cans and mustard-stained receipts to find it, you can't help but cry out to the universe in your most authentic infomercial desperation "there has to be a better way."
Well, this is the better way: a slim handle with a single tool bar, a thin blade, and a good pocket clip. We go on in more detail in our full review of the Crit.
Demko 20.5 – Best Pocket Knife You Can't Buy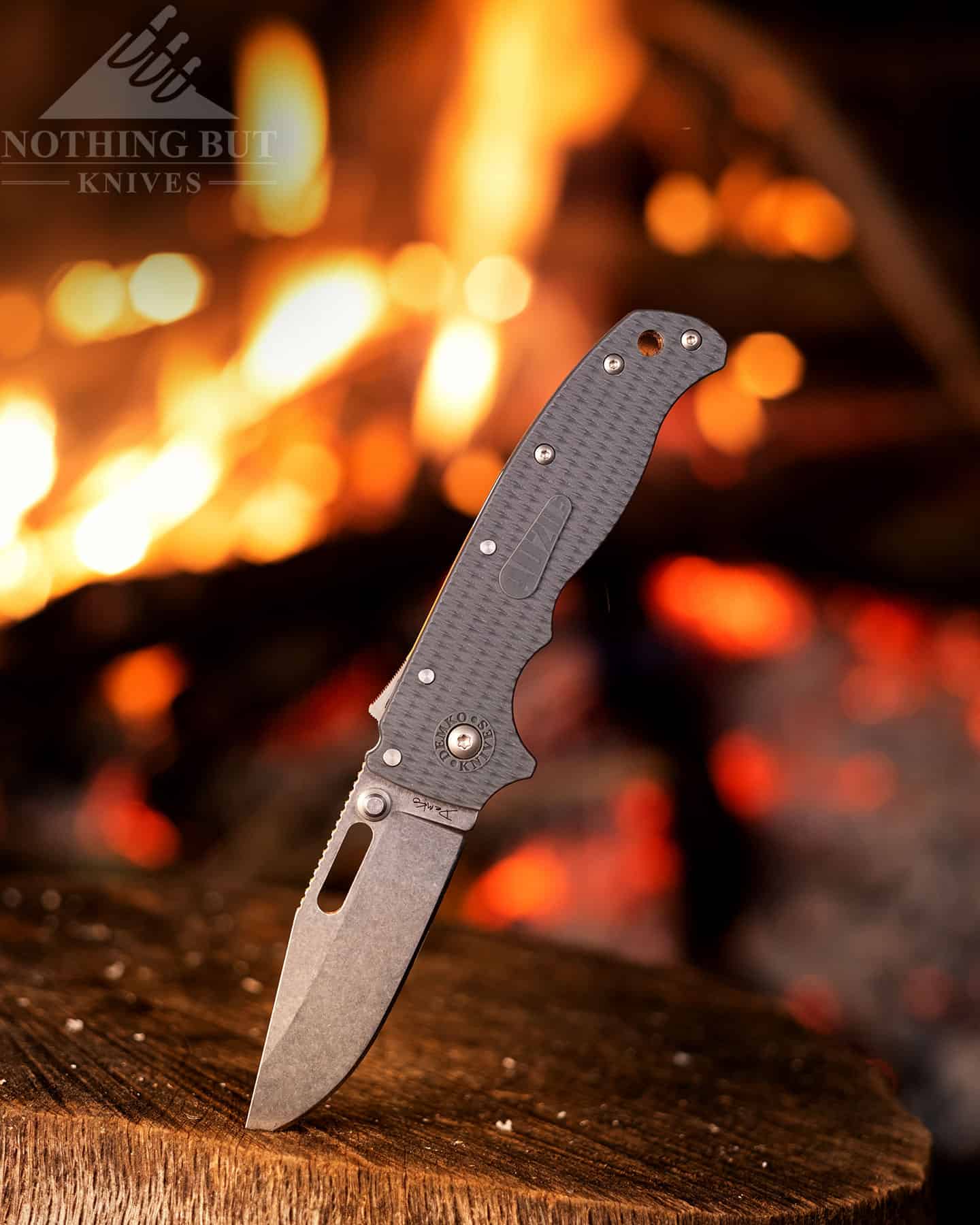 | | |
| --- | --- |
| Overall Length: | 7.625" |
| Blade Length: | 3.25" |
| Blade Steel: | AUS10A |
| Handle Length: | 4.5" |
| Blade Grind: | Flat |
| Handle Material: | FRN |
| Lock Type: | Shark Lock |
| Weight: | 3.55 oz |
You know that Lee Van Cliff western where the villain plays a tune out of a music box all the time and everyone waits until the song is over before they shoot each other for some reason? That's what buying the Demko 20.5 was like, only it was with, like, five thousand people, and instead of drawing guns we were clicking mouse buttons. Also, instead of a song out of a music box, BladeHQ just told us when the knife would be available in Mountain Time. But we punched the buy button with the same vigor as if we were shooting someone that killed our sister.
Of course, neither BladeHQ or Andrew Demko killed any of our sisters, but the way Demko keeps posting Instagram pictures of finished knives in his factory while BladeHQ says it's still out of stock feels pretty damn antagonistic.
You'll have to take our word on the Demko 20.5 being a good knife.
Boker HEa Hunter – Best Design For A Spaceship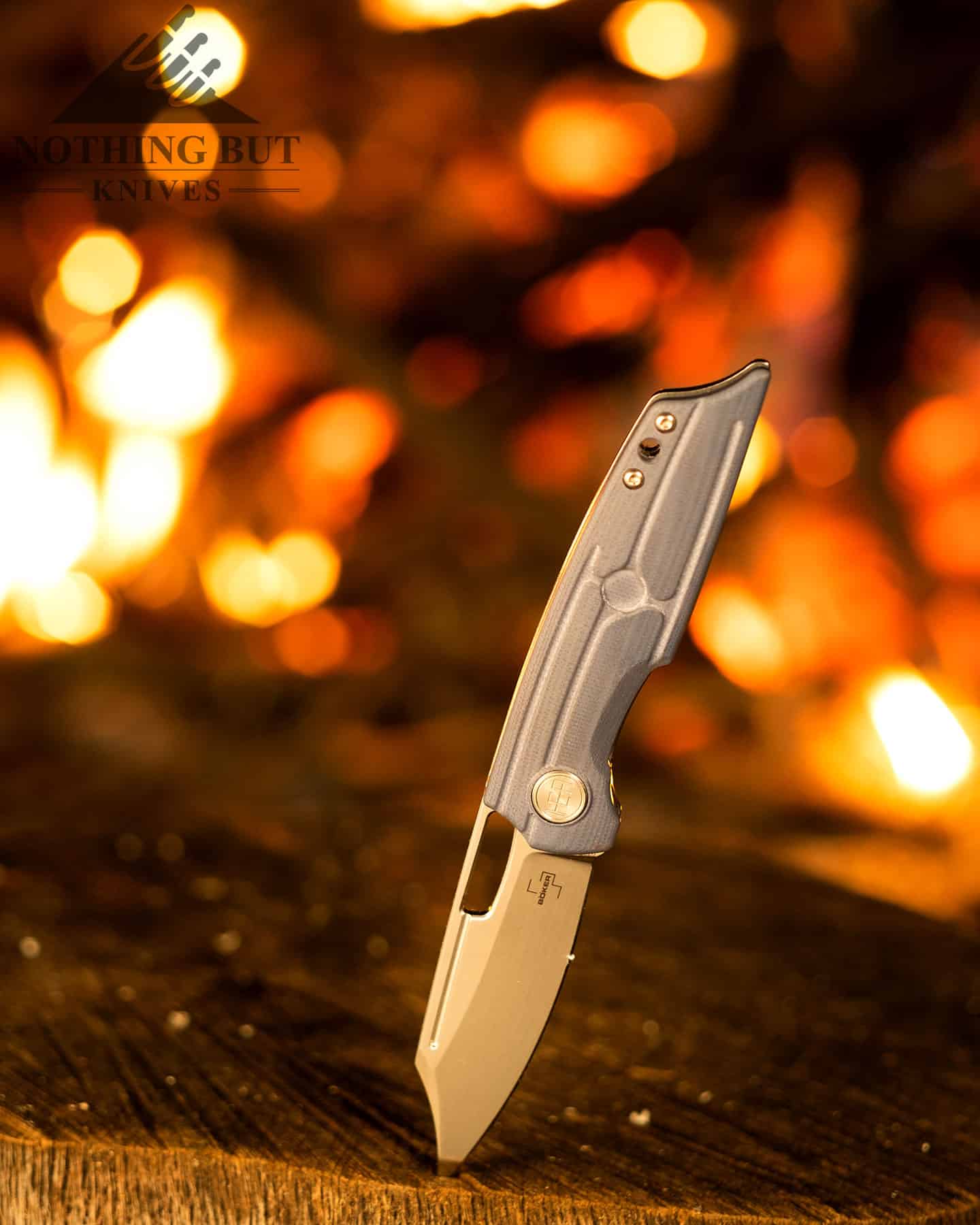 | | |
| --- | --- |
| Overall Length: | 6.69" |
| Blade Length: | 2.87" |
| Blade Steel: | D2 |
| Handle Length: | 3.82" |
| Blade Grind: | Flat |
| Handle Material: | G-10 and Stainless |
| Lock Type: | Frame |
| Weight: | 3.5 oz |
It took some time for us to get past our caveman approach to knives to figure out how to open a front flipper properly, but once we got there we really started to enjoy the HEA Hunter in our own way.
Our way looked like the first scene in 2001 Space Odyssey, but among all the hooting and stomping we managed to break down some boxes and cut ropes and get a good sense of just how well made the Hunter is. It's not our usual thing, but we respect good craftsmanship, and the Boker HEA Hunter has the level of ingenuity that I'd like to point to as evidence that the designer Sam Abdelrahman is probably one of the aliens who helped build the pyramids.
For a more coherent breakdown, you should probably check out our full review of the HEA Hunter.
CJRB Swaggs Maileah – Easiest Knife To Lose in a Backpack and Get Confiscated by the TSA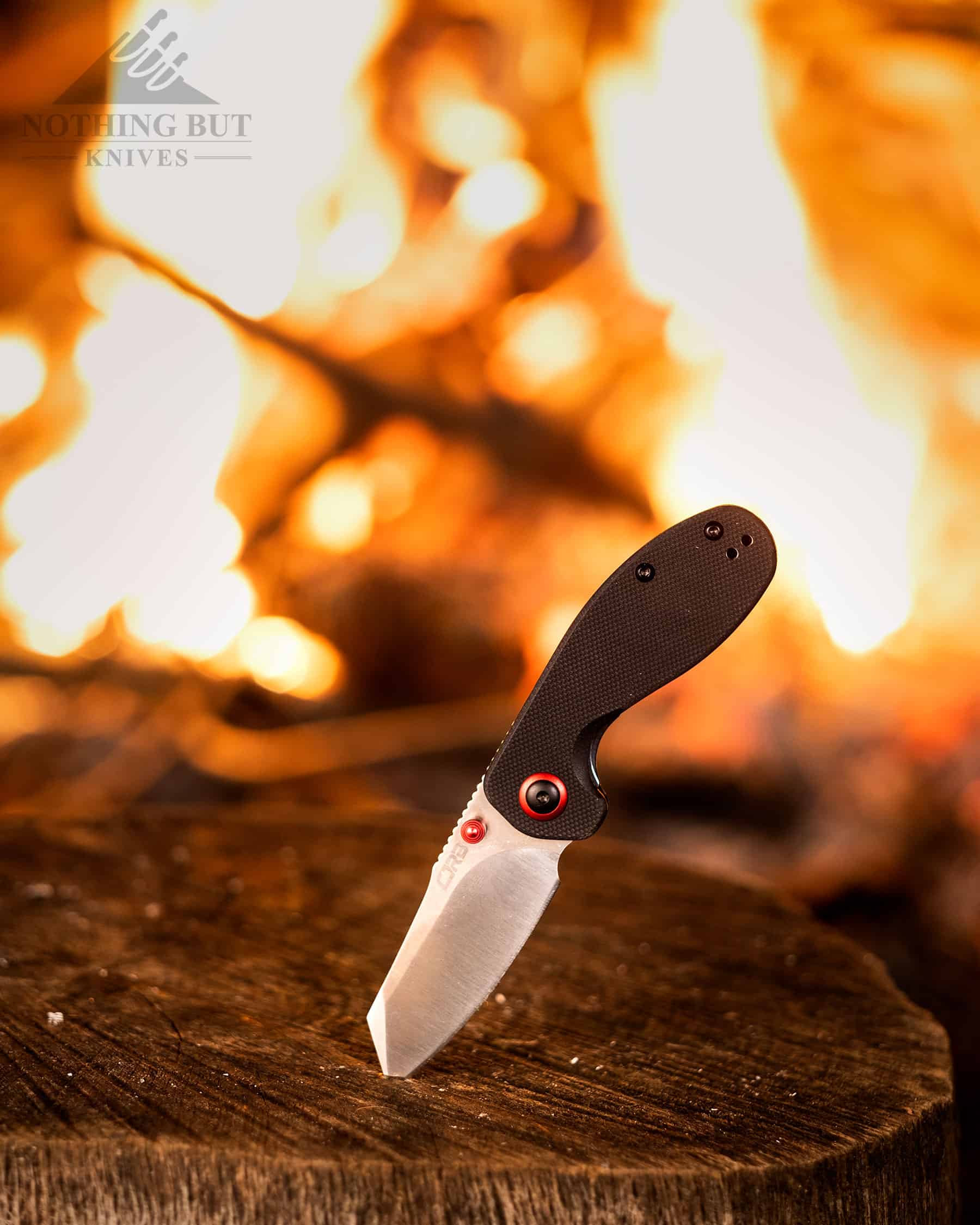 | | |
| --- | --- |
| Overall Length: | 5.50″ |
| Blade Length: | 2.375″ |
| Blade Steel: | AR-RPM9 |
| Handle Length: | 3.125″ |
| Blade Grind: | Flat |
| Handle Material: | G-10 |
| Lock Type: | Liner Lock |
| Weight: | 2.27 oz |
You learn to get pretty friendly with TSA agents when you lose knives in backpacks often enough to call it a hobby, and the CJRB Maileah almost looked friendly enough for them to not take us away into the back room. I'm sure if they weren't so busy asking us why we thought we'd be able to get away with disguising a liter of barrel-proof Evan Williams as three cans of soup in our carry-on luggage they would have asked where we got this surprisingly comfortable little knife.
Off-Grid Black Mamba V2 Blackout – The Best Update of a Knife that was Already Pretty Good
| | |
| --- | --- |
| Overall Length: | 7.2″ |
| Blade Length: | 3.2″ |
| Blade Steel: | Bohler M390 |
| Handle Length: | 4″ |
| Blade Grind: | Flat |
| Handle Material: | Titanium |
| Lock Type: | Frame Lock |
| Weight: | 4 oz |
We gave the first Black Mamba a glowing recommendation in our full review when it first came out. We just had a couple of nitpicking complaints. Then Off Grid switched factories and made some changes then threw the updated version into the recycling pile we call home and yelled "here's your damn recessed screws, idiots".
So the new version is a little easier on the pocket, which is cool, but we've been distracted by the black-magic engineering feat they accomplished in making the Black Mamba V2 both longer and lighter without changing the handle width or material. We could probably dig into a reasonable explanation for this if we took the knife apart and looked at the milling work inside, though. That will be the first thing we try after we find the witch that Carey Orefice sold his soul to.
Kizer / Maverick Customs Harpoon – Best Tactical Fixed Blade That's Good For Other Stuff Too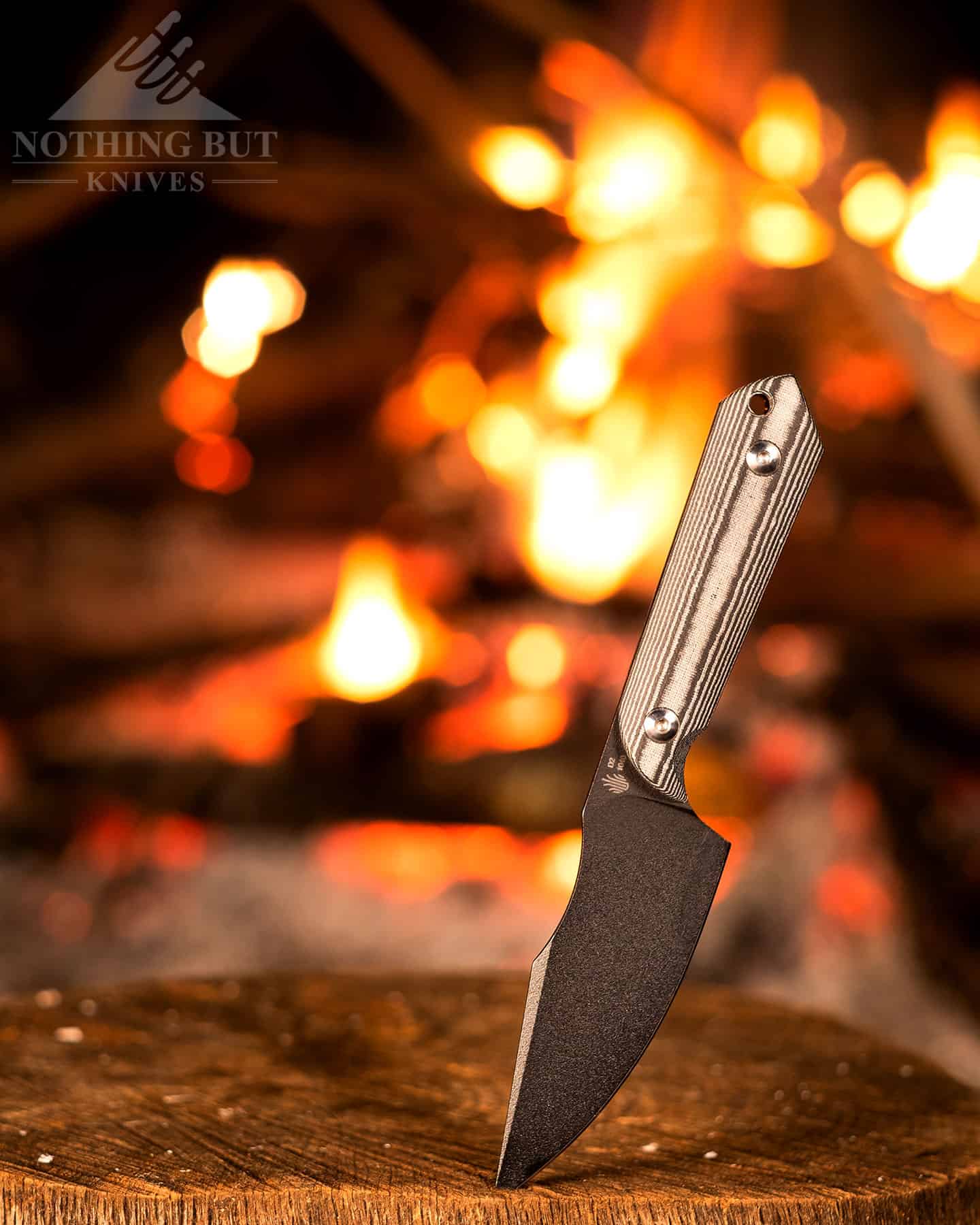 | | |
| --- | --- |
| Overall Length: | 7.72″ |
| Blade Length: | 3.86″ |
| Blade Steel: | D2 |
| Handle Length: | 3.86″ |
| Blade Grind: | Flat |
| Handle Material: | Micarta |
| Sheath: | Kydex |
| Weight: | 4.2 oz |
The problem with reviewing tactical knives is that we don't get ourselves into many tactical situations beyond throwing knives at each other during photo shoots and shouting "catch this". So we really have to stretch the shrinking limits of our imaginations when we get our hands on something like the Kizer Harpoon (or the Ka Bar BK18, for that matter) that seems to have some careful, innovative thinking in that direction.
We're sure that the Harpoon is great to have in an emergency. The handle is comfortable and grippy, the sheath is subtle and rides close to the waist, and the blade is pointy and scary. But we're a lot more sure this knife can cut mushrooms in front of a campfire and lighten your first aid kit because someone handed it to you and you tried to take it without looking up from the haphazardly placed strips of steak you've been burning to a crisp for the last half hour.
Ontario Knives TAK 2 – Best Survival Knife For Poor Hillbillies Who Can't Afford A Bark River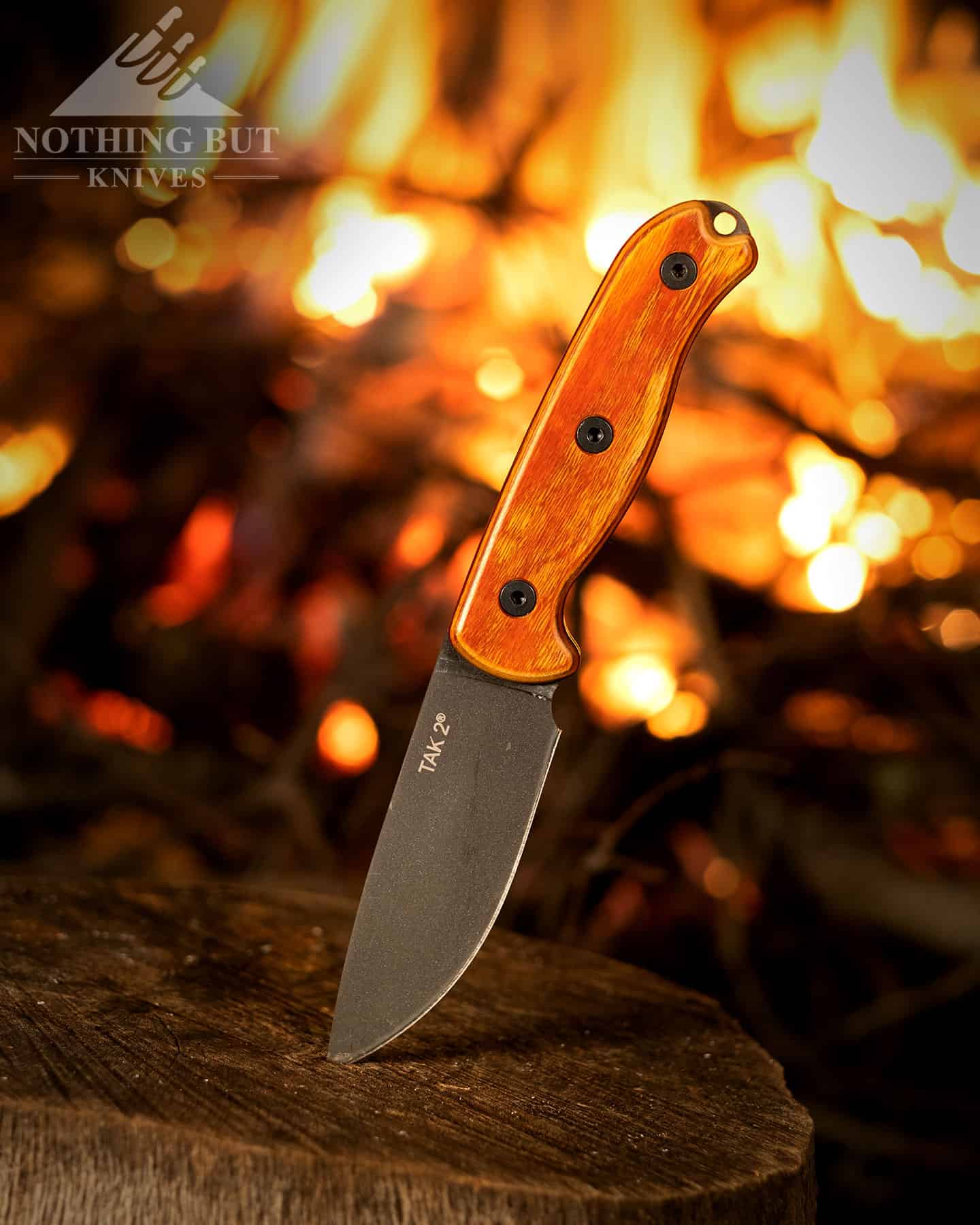 | | |
| --- | --- |
| Overall Length: | 9.75″ |
| Blade Length: | 4.37″ |
| Blade Steel: | 1075 |
| Handle Length: | 5.37″ |
| Blade Grind: | Flat |
| Handle Material: | Wood |
| Sheath: | Leather |
| Weight: | 9.95 oz |
One thing we can always count on from Ontario Knife Co. to provide us something that's good enough for the price. They also give us a fantastic lesson in perspective, because nothing will make you appreciate what you have like spending all day looking at three hundred dollar knives and then stumbling onto a quaint pry bar with an agreeable wood handle for about ninety bucks.
Odds are you're still buying a knife you don't need, but it's the difference between spending it on a Mercedes SUV that you don't want to park in a bad part of town, or an old Ford Ranger that you're about to plow through a flooded creek because someone made the absent-minded mistake of saying "it almost looks like you could drive a car through there".
Off-Grid Hoglet – Best Knife You Will Forget About On Your Belt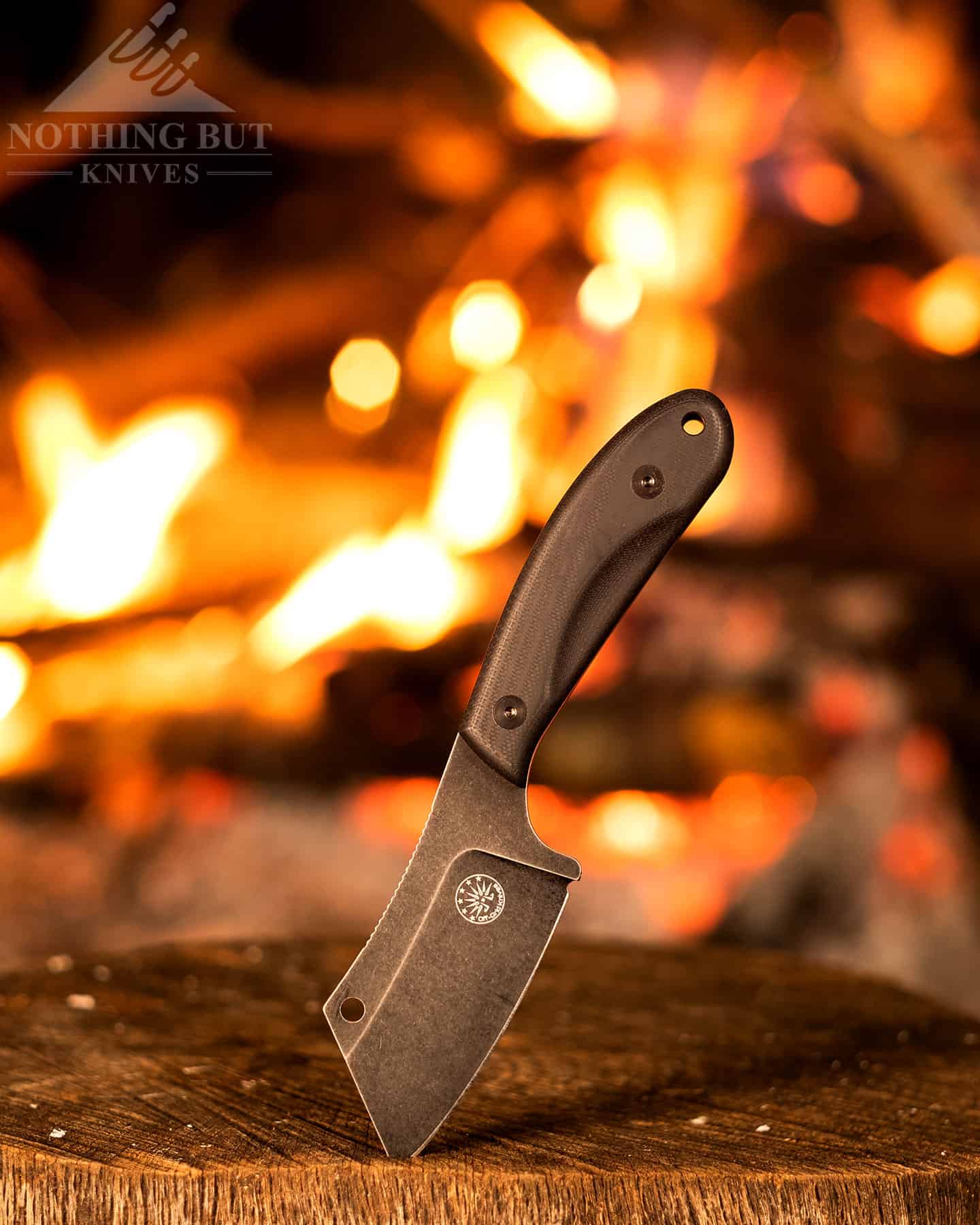 | | |
| --- | --- |
| Overall Length: | 6.5″ |
| Blade Length: | 2.75″ |
| Blade Steel: | Cryo D2 |
| Handle Length: | 3.75″ |
| Blade Grind: | Flat |
| Handle Material: | G-10 |
| Sheath: | Kydex |
| Weight: | 5.9 oz |
Thank God for open carry knife laws, is all I have to say about this little gem. You can put aside the razor sharp edge, and the fact that this six-and-a-half-inch cleaver is more comfortable than some full-sized chef knives we've handled. The Hoglet barely feels like anything on the belt. It has the kind of sheath that we spend a lot of time telling the void that every company should be using for their short fixed blades: Simple, lightweight, with a wide clip that can be adjusted for vertical and horizontal carry.
Off Grid has done that so well here that you could, hypothetically, put it on at the beginning of a day, maybe use it to cut some thread and quarter out a couple limes, and then completely forget it's even there until you show up for jury duty and happen to scratch the small of your back just before you walk through the metal detector, then tell the officer frowning down at you that you have a "bathroom emergency" and make a suspicious-looking beeline for your car, deposit the evidence, then stroll back into the courthouse and give him a thumbs up before walking through the detector so your keys can set the whole thing off.
Civivi Kepler – Best Fixed Blade We Wish Had different Steel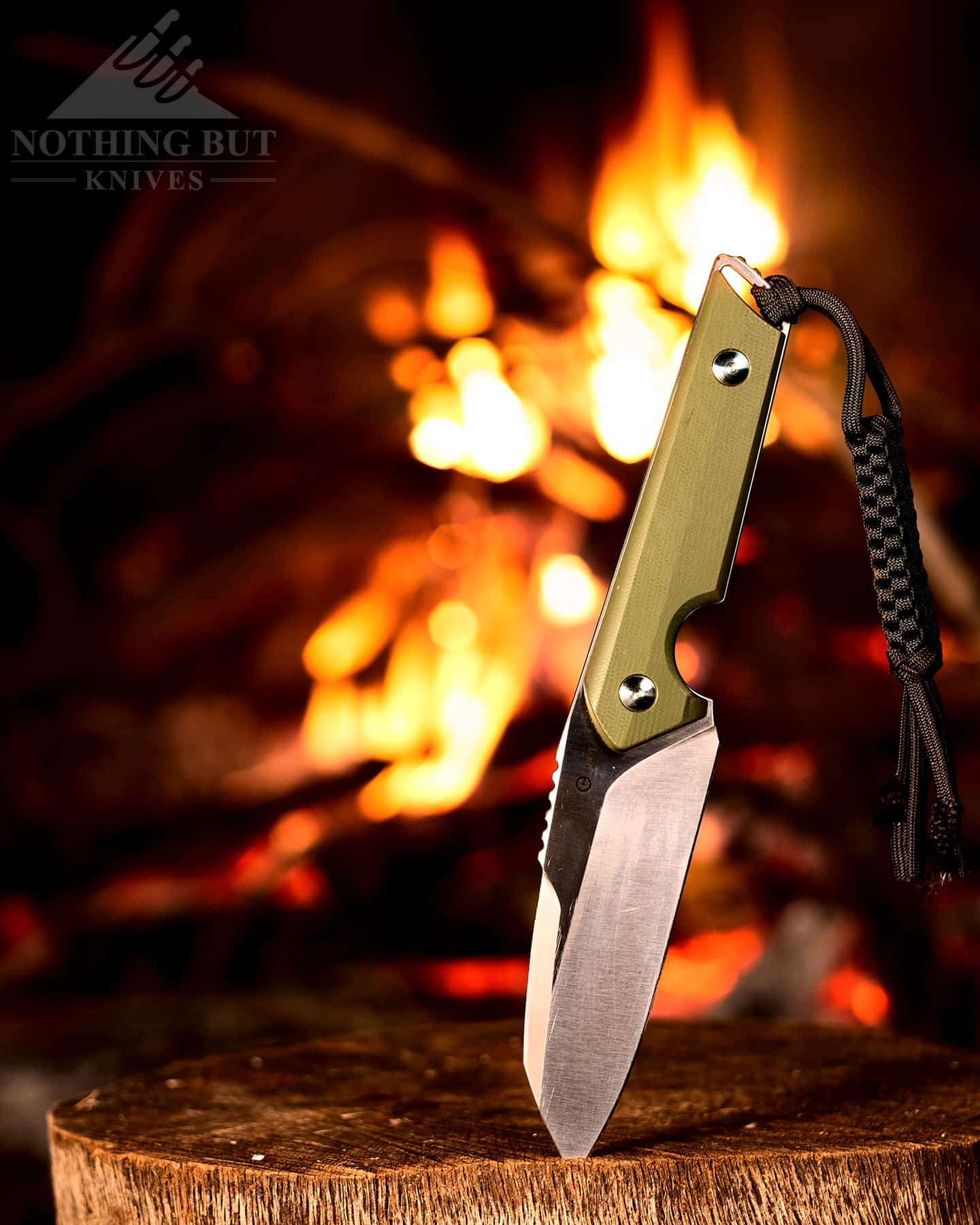 | | |
| --- | --- |
| Overall Length: | 9.93″ |
| Blade Length: | 4.48″ |
| Blade Steel: | 9CR18MoV |
| Handle Length: | 5.22″ |
| Blade Grind: | Flat |
| Handle Material: | G-10 |
| Sheath: | Kydex |
| Weight: | 7.32 oz |
It's not that the steel on the Kepler is bad, it's just that every knife hobbyist has an incurable mental disorder that makes them react to Chinese steels with loud noises about Bohler or Crucible that are not unlike peacock mating calls.
The Kepler's design is probably one of the more original fixed blades we saw come out of 2021, and for all its sleek looks and weird angles, it's pretty comfortable and isn't half bad as a bushcraft or survival knife. We put it through the paces and it came through the other end with just a couple notches in the edge, so if we're being completely objective, there's not a whole lot to be improved on the Kepler.
But can you imagine this thing with Elmax steel? Can't you just feel the perfect grain structure and hear the crystal clear ting of a 66 HRC rating that an extra one to two hundred dollars would bring? We can't either, but we're going to talk about the possibility as obnoxiously as possible.
You can read our full obnoxious review of the Kepler here.
Dalstrong Delta Wolf Crixus – Best BBQ Buddy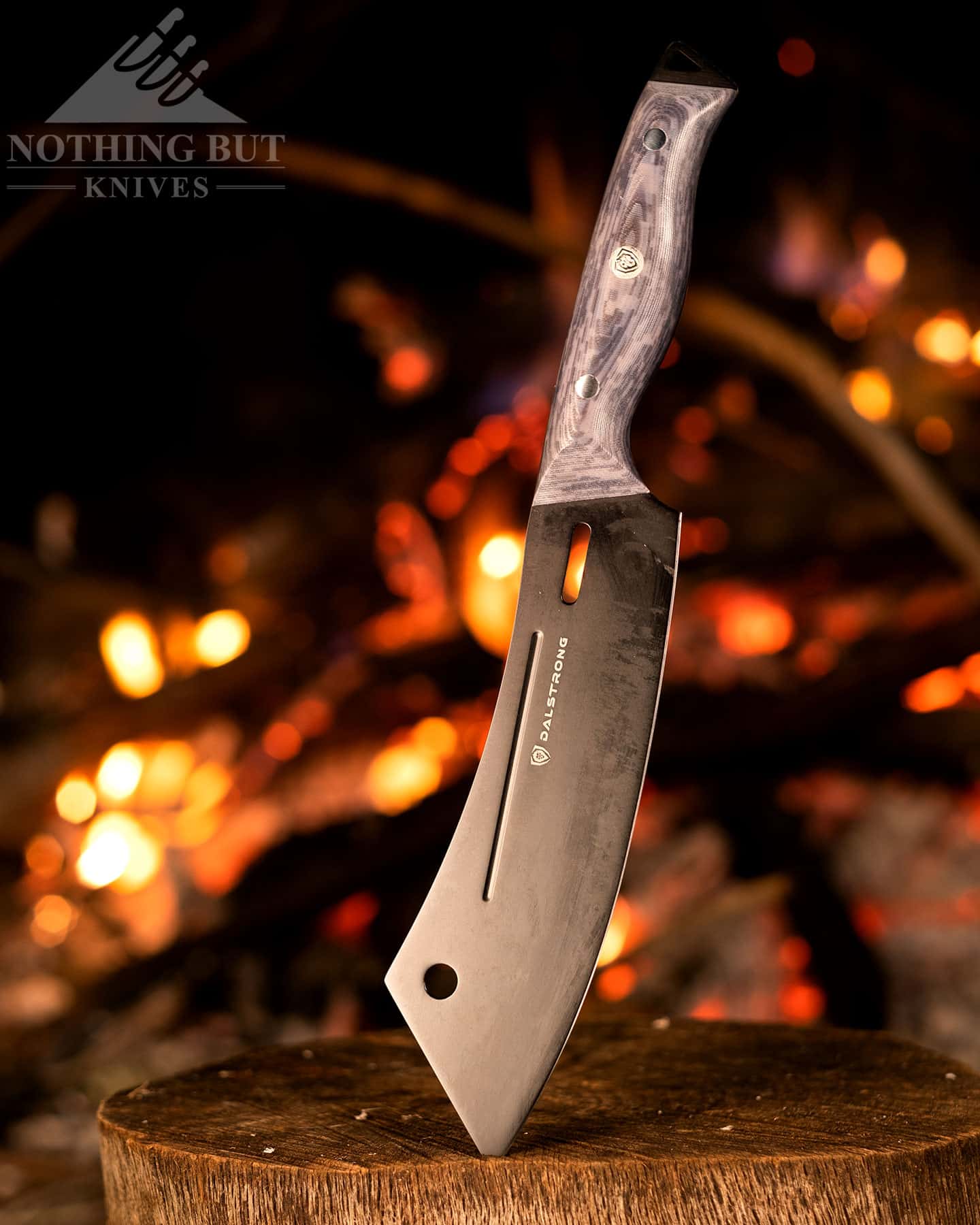 | | |
| --- | --- |
| Overall Length: | 12.5″ |
| Blade Length: | 8″ |
| Blade Steel: | 9CR18MoV |
| Handle Length: | 4.5″ |
| Blade Grind: | Flat |
| Handle Material: | G-10 |
| Sheath: | Leather…ish |
| Weight: | 7.38 oz |
We got this knife because it looked like it would be fun to chop firewood with. That changed pretty quickly when we saw how thin the blade was. It's our fault for wanting to do stupid things with a kitchen knife. The thin blade has its perks though. It feels weird to say, but knives really do cut better when you make them thinner, and the Delta Wolf Crixus is pretty much a grilling staple around here now.
That doesn't mean we don't occasionally pick it up and look crossways at a log that might produce some decent feather sticks, but until we make that mistake, this mammoth of a slicer is doing a fine job of cutting our badly burnt meat chunks into pieces that are small enough to squeeze between slabs of bread and bread-like materials.
Off-Grid Grizzly – Best Chef Knife We Almost Didn't Include, Because We already Chose Two Knives From This Company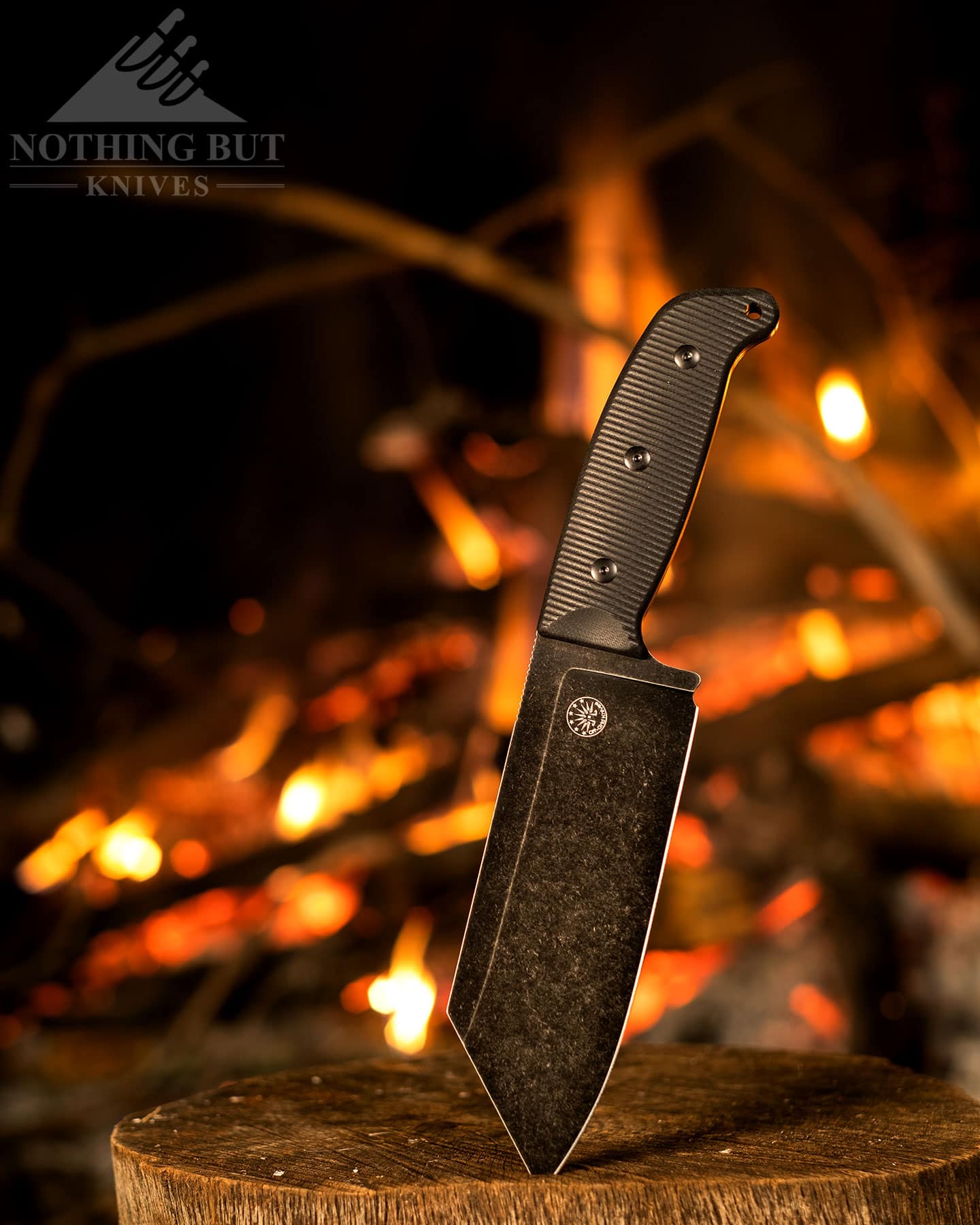 | | |
| --- | --- |
| Overall Length: | 12.75″ |
| Blade Length: | 8″ |
| Blade Steel: | AUS8 |
| Handle Length: | 4.75″ |
| Blade Grind: | Flat |
| Handle Material: | G-10 |
| Sheath: | Kydex |
| Weight: | 11.1 oz |
It just starts to look suspicious, is all. We have a lot of Off Grid knives and a lot of them are good enough that trying to work out how to fit them into our EDC rotation is like one of those thought puzzles your weird uncle tells you that's full of meaningless numbers because of a grammatical technicality. All along the solution was all of them. We're going to carry all the knives to St. Ives.
A perceptive mind might say that we have so many Off Grid models on here because they're one of the few companies who send us knives to review, or will even talk to us in the first place. To that mind we'd say, yeah, you nailed it. And if any of the other companies want a chance at getting their Worthless Hillbilly Award maybe they better start kicking product our way before this liquored-up gravy train leaves the station.
Anyway, if we were forced to talk about this knife at some point, we'd say we made the same mistake with the Grizzly that we did with the Dalstrong Delta Wolf. We saw the giant cleaver shape and thought we could cook dinner with it and then go chop a bunch of stuff that doesn't need to be chopped. But when we talked to Off Grid about it they said "please don't, for the love of God, that's not what we designed that knife for". So we just did food stuff and found out that it's basically as good as having a high-end chef knife on the camp site, but we're still pretty sure Off Grid is just being coy when they say the edge is too thin for chopping.
Stay Tuned for More Ridiculous Opinions on Knives
We are not here to be the ultimate authorities on knives, but we do stand behind the choices we made here, and we will continue to make choices like this until our livers give up or we make enough money to sell out. In the meantime, if you disagree with anything we've said here, we invite you to have a drink and leave a comment explaining why we're idiots so we can get into a long, pointless argument about steel or what technically counts as a bushcraft or tactical knife.
Happy new year, you crazy kids.