This is a Pricey Hard Use Folder Wearing Tactical Clothes
The Vision XR is a revision of an older design with a few changes based on user feedback. Supposedly this one is built more effectively for "professional use case situations, with a focus on general purpose utility and combative use" according to SOG's description of it.
I never handled the older Visions, but from the look of it those changes involved making it fully ambidextrous, bulking up the handle, filling in the gap between the cutting edge and the handle with a flipper tab, shortening the blade, and slapping on a tougher steel. All of which are changes I can get behind, and the end result is a very functional knife.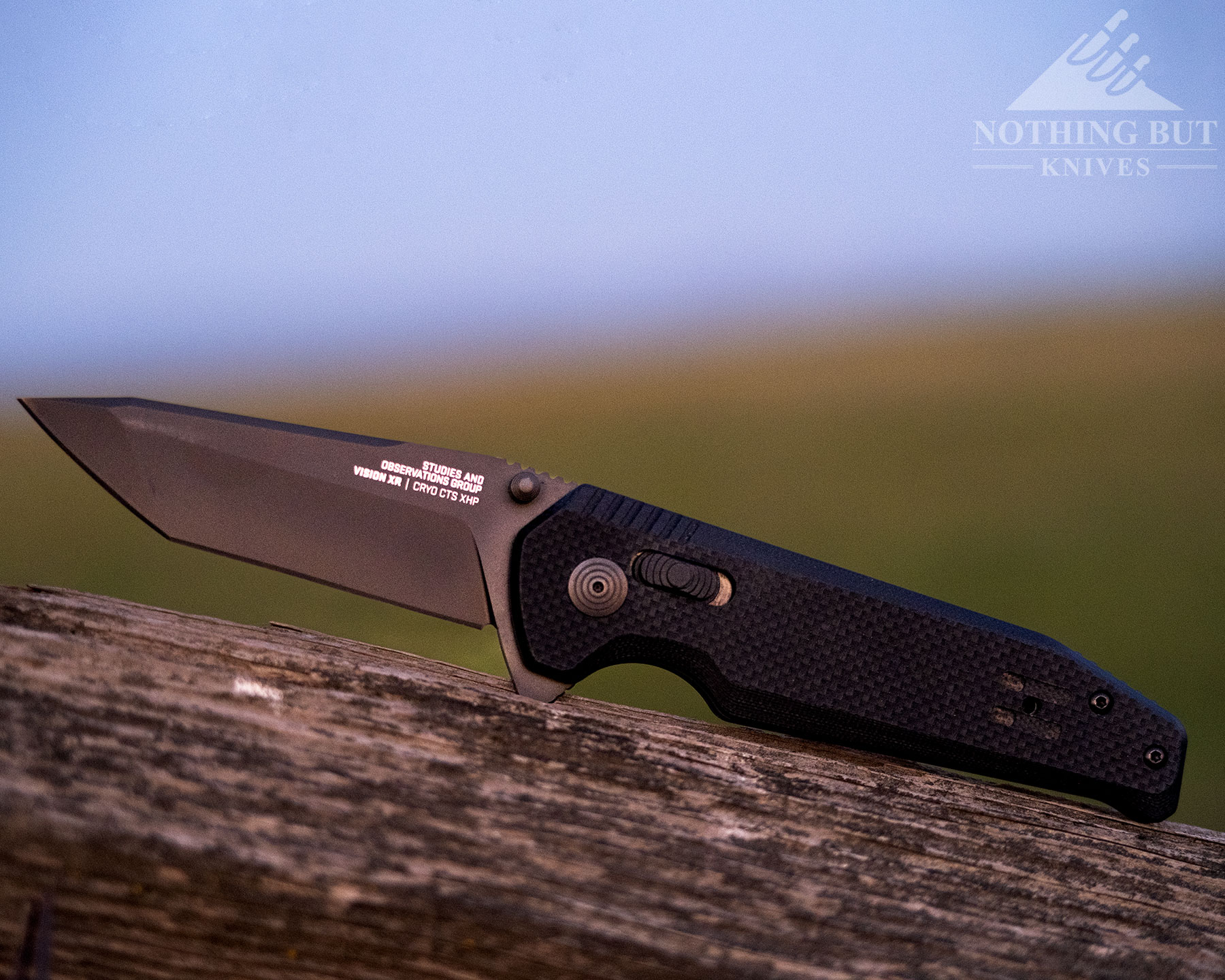 Objectively it's a good design with a couple of hiccups, but I have to reign myself in on criticism because I personally don't like how the Vision XR looks and feels. As a hard use knife, it can take a lot of abuse and it's comfortable and easy to get out of the pocket, but it feels cheap, the XR lock has some placement issues, and the fit and finish really isn't where it should be for a knife this expensive.
Specifications
| | |
| --- | --- |
| Overall Length: | 8.0" |
| Blade Length: | 3.5" |
| Blade Steel: | CTS XHP |
| Open System: | Flipper / Thumbstud |
| Blade Thickness: | 0.13" (roughly 3 mm) |
| Blade Shape: | Tanto |
| Blade Grind: | Compound flat |
| Handle Length: | 4.5" |
| Handle Material: | G-10 |
| Lock Type: | XR slide lock |
| Weight: | 4.5 oz |
Pros
Sharp blade with a good steel
Big comfy handle
Fully ambidextrous
Good pocket clip retention
Cons
Big in the pocket
Pocket clip is intrusive in the hand
A pricey design that feels cheap
Small-bearing action feels a little too loose
Not sure I trust this XR lock far for hard or professional use
The Handle and Ergonomics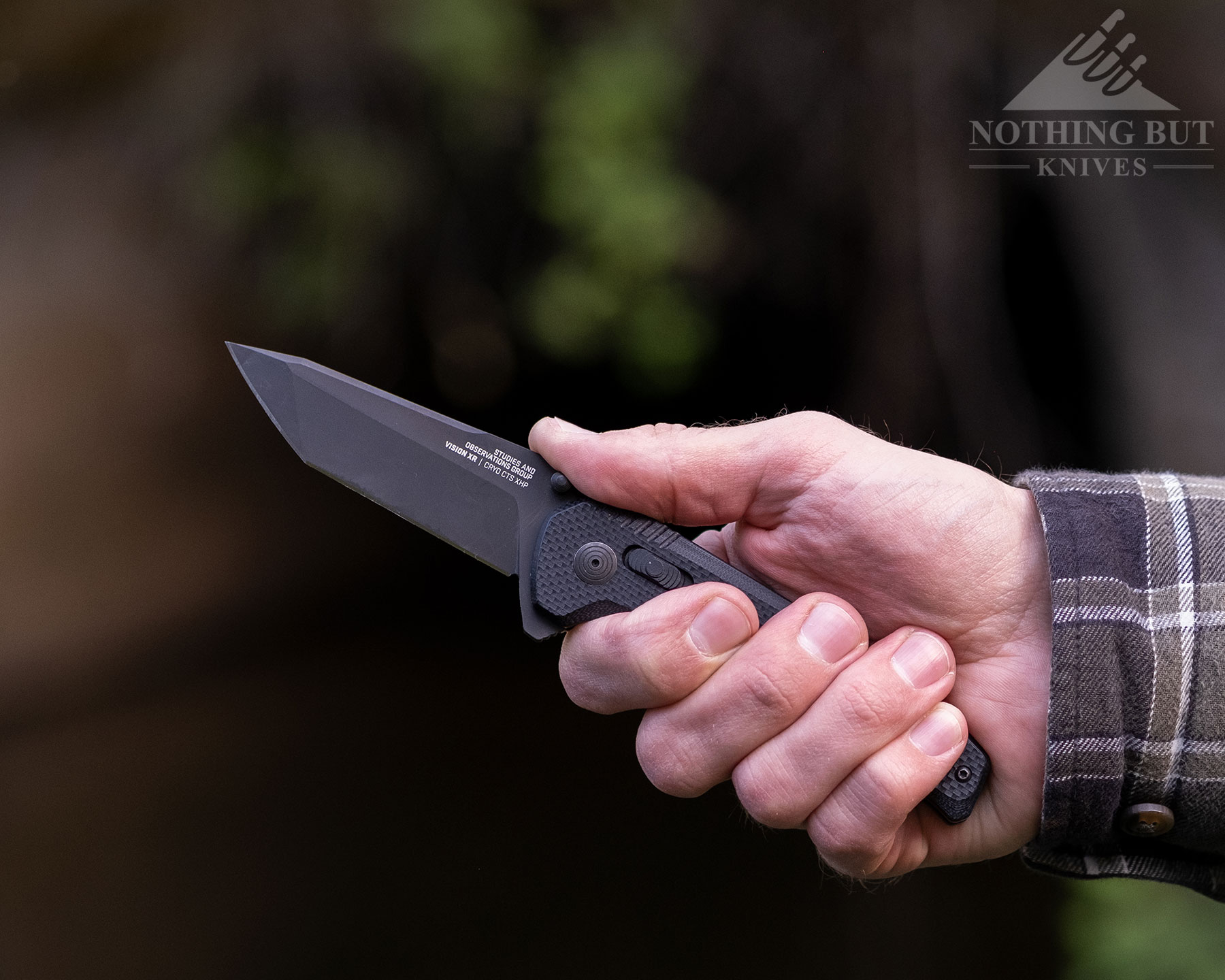 The handle is good. It's comfortable and lightweight. The grip feels secure in my hand through a lot of different tasks, and besides the pocket clip there aren't really any hotspots. Even the jimping feels well done here. I feel it in all the places I need traction when I'm bearing down on the knife, but it doesn't bite into my hand the way a lot of tactically-styled knives often do.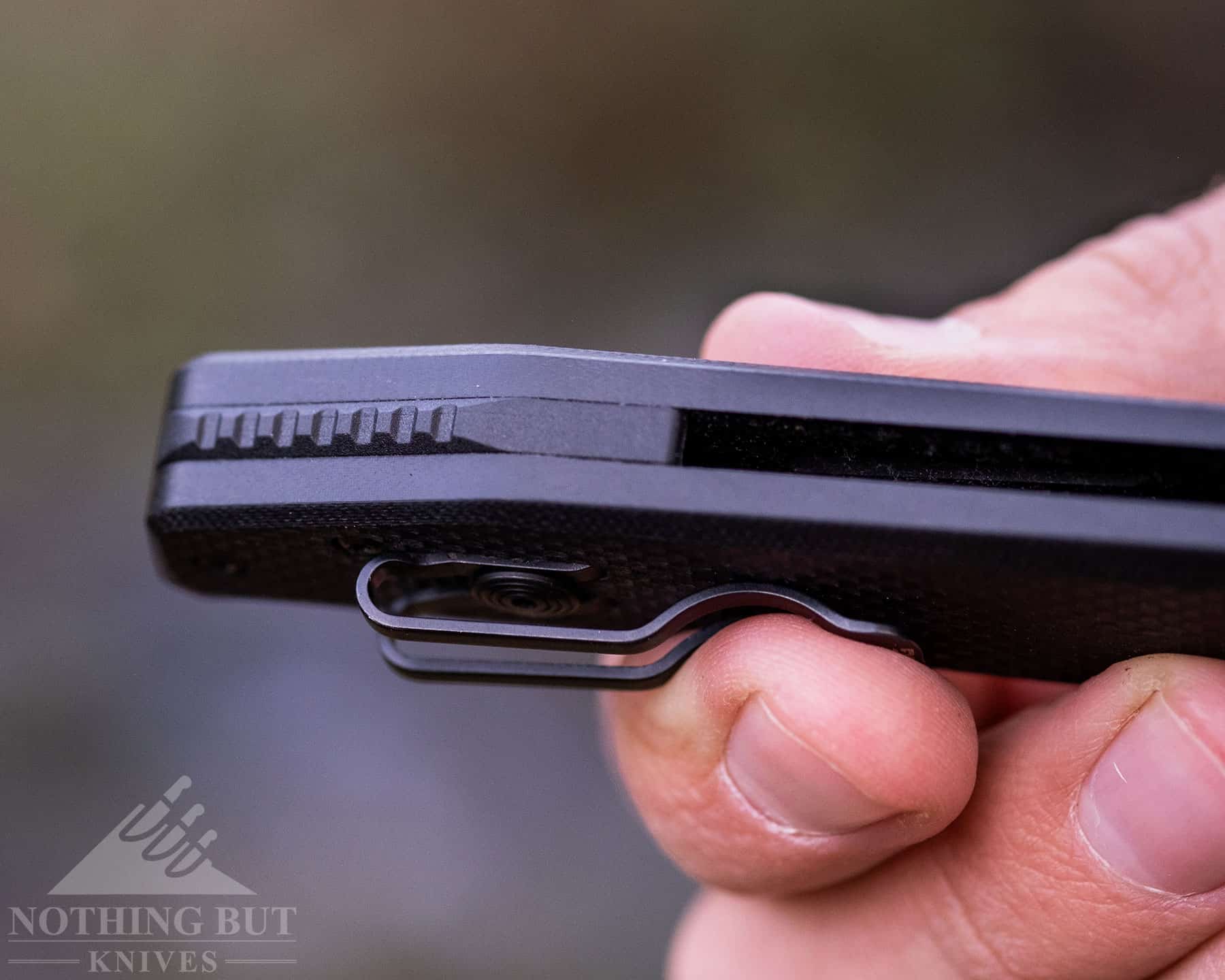 It does all the things a handle should, and I can't really find a ton of fault in it outside the fact that I just don't like the way it looks or feels. There is one glaring issue with the placement and integrity of the lock which I'll talk about later. Here I'll just say that it feels like it's too easy to disengage the lock up accidently in a full grip.
The High Speed, Low Drag of It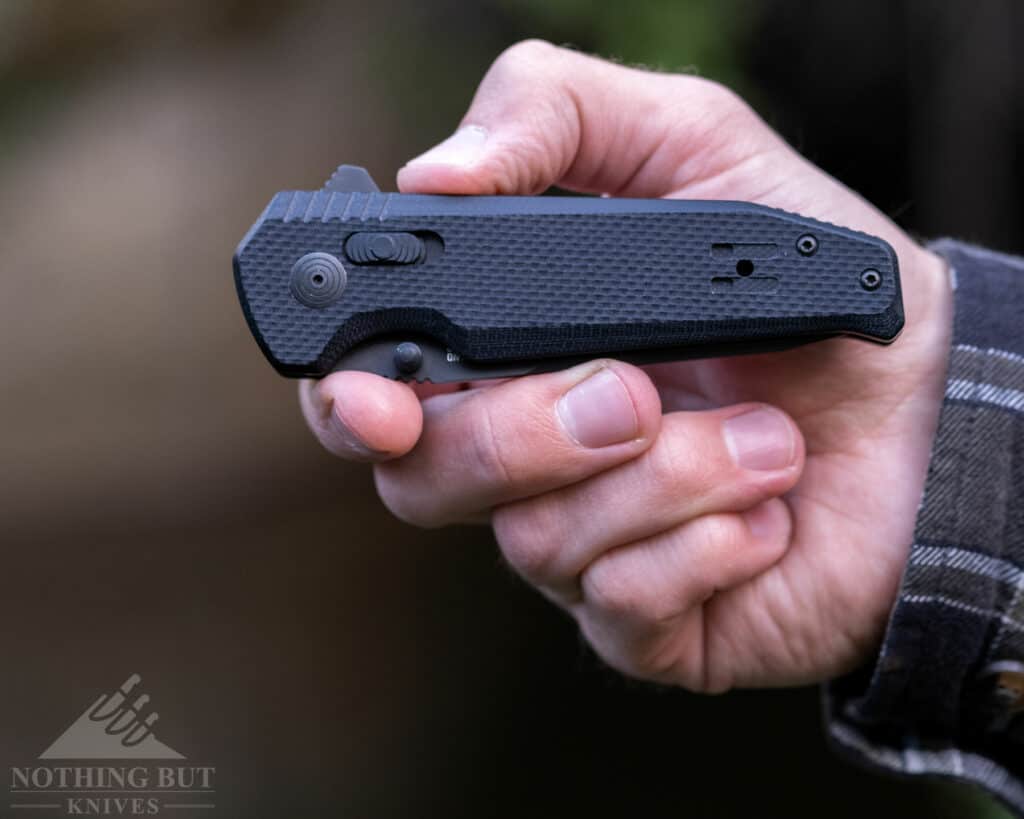 SOG is clearly trying to make a big knife that carries light here. And I can appreciate that. The combination of the weight and plastic feeling of the G-10 scales makes it feel a little like a toy, but the same could be said of the Benchmade Bugout and it seems like the entire mid-tier knife market branches off the reputation of that thing.
They've done some good work with the inner workings of the handle. The liners are thin and skeletonized, but they still feel pretty stiff to me. So this knife is likely tougher than I give it credit for. Also the G-10 scales are recessed so the liners fit into them pretty seamlessly. If you shine a light in there you almost can't tell that this knife has liners.
Even though I don't like the outside of the knife, I have to admit they've done some good, detailed work with the inside of it. With the exception of the bearings, which brings us to the action.
The Fast and Loose Action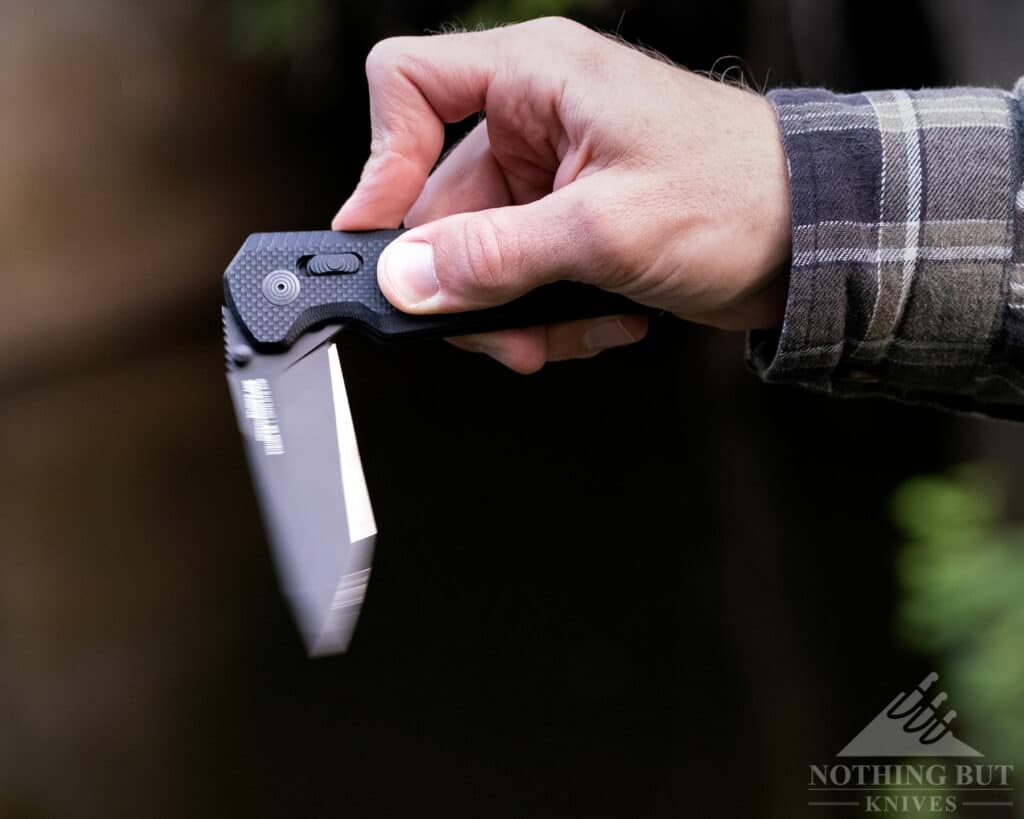 This knife flips out smooth, but not in a satisfying silky smooth way like you get with most Kizer or Civivi knives. There's no feeling of traction on the tang whatsoever. It feels like I'm launching the blade into thin air every time I flip it open.
This is partly because of the small bearing they've used for the pivot. It's the kind of thing I would expect to see on a much lighter blade like the Civivi Elementum. The Vision is a 3.5 inch blade that's over 3 millimeters thick, so it's a hefty slab of metal to be resting on a bearing this small.
That can create an additional problem down the road in the form of blade play. While SOG has made the components of this knife to pretty small tolerances, that small bearing leaves a lot more room for the tang to tip over one side or the other as other pieces start to wear away.
The High Rise Pocket Clip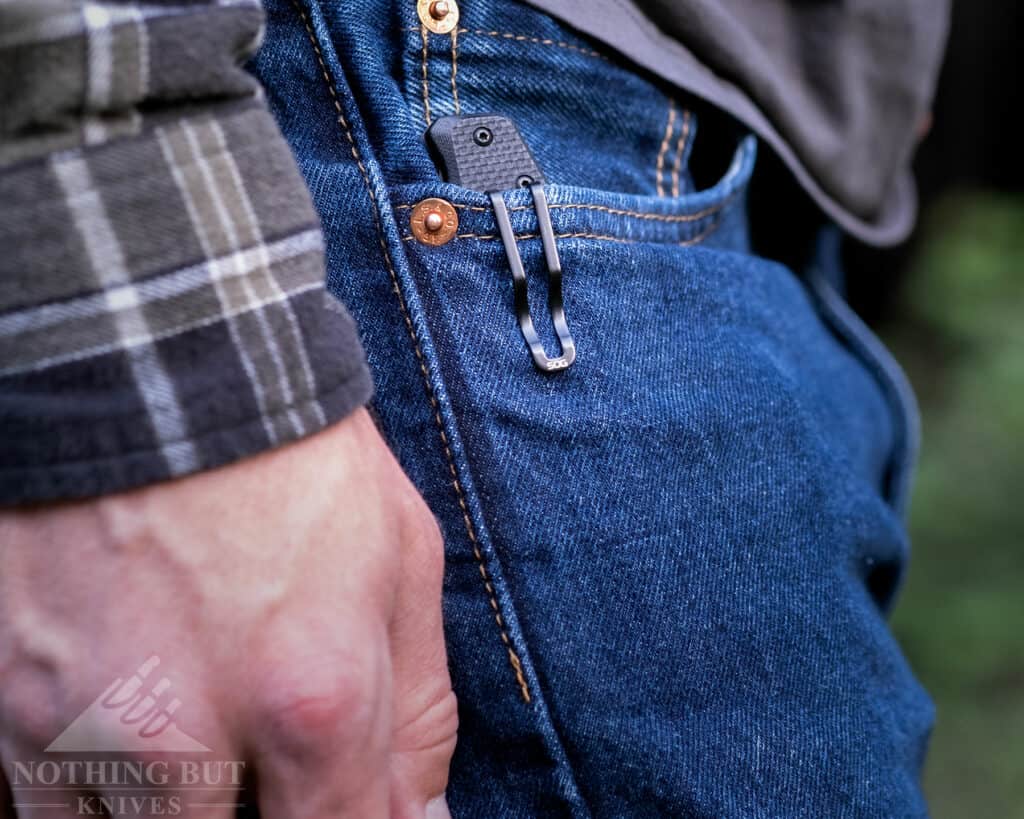 This is far from a deep carry. SOG clearly had no ambitions in that area. The butt of this knife rides high in the pocket to the point that I'll actually feel it poke at my hip when I'm climbing or going into a deep crouch to get through brush or crawl under a house.
There is a benefit, though. It's really easy to pull out of the pocket. This is actually what I think is the most helpful tactical element of this knife, because it's really easy to grab onto the Vision in a hurry. The pocket clip might hang you up on actually pulling it out because the retention is pretty tight, but I think anyone who's ever tried to pull out a knife in a panic can tell you that the success rate of grabbing hold of the knife in the first place can drop rapidly in the moment. Having some extra material above the pocket can help a lot. The Vision sits a good inch above the pocket line, which leaves a lot of room for error on a quick draw.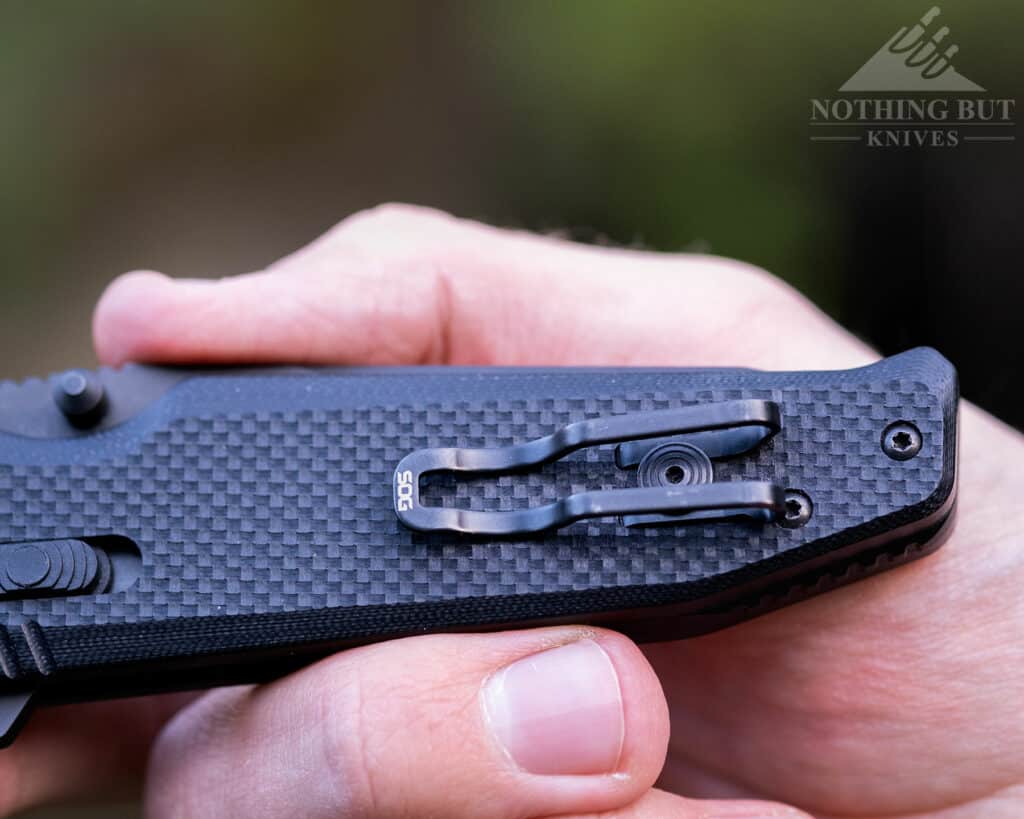 I also have to give props for not only making this knife fully ambidextrous, but milling such an aggressive seat for the clip on both sides of the handle. It's been a while since I felt a clip that sat so firmly into a handle before.
I do think the clip rises too far away from the handle. It pushes into my hand in a full grip, and it hangs out farther from my side than I'm comfortable with when it's in the pocket, but considering this is a feedback-generated design, I'm left wondering if there's a "professional" reason for a clip to be shaped this way. All my experience as "professional" gardener just makes me see it as liable to get caught in a strap or cord and torn out of the pocket.
The Blade and Steel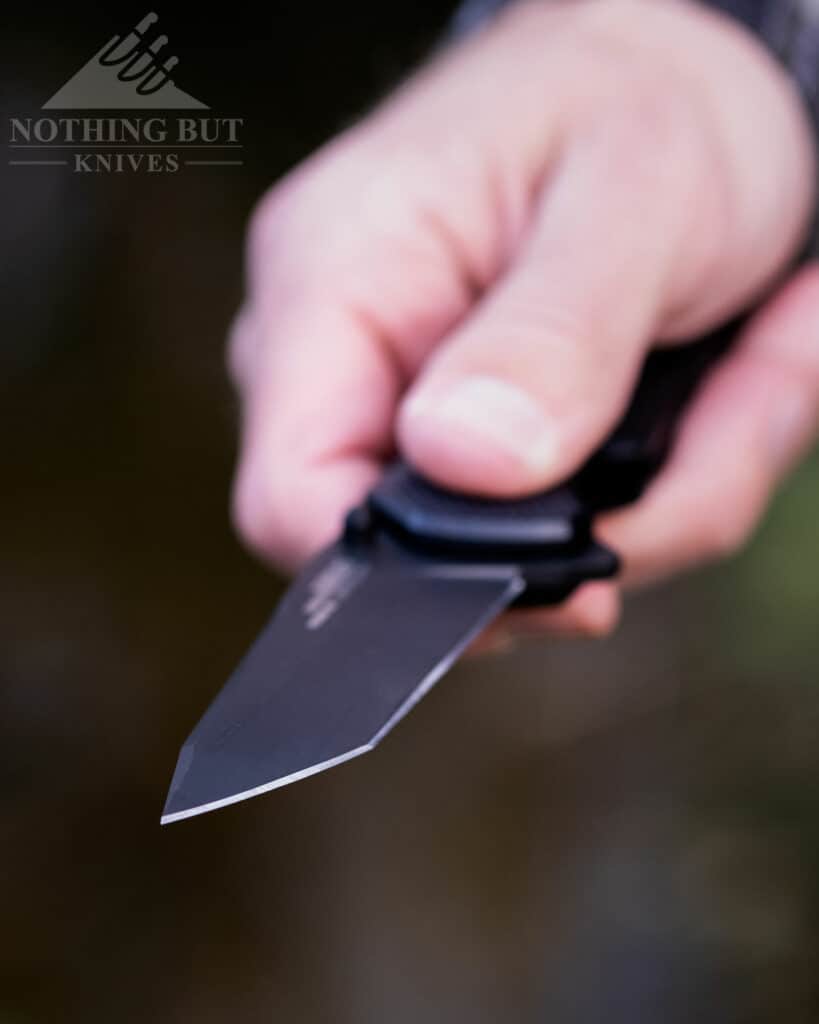 I'm not too impressed with the blade. In theory tantos have a lot of utility, but cutting with this always feel less than pleasant.
I don't like the way the cutting edge tapers back toward the point because it makes me feel like I'm always chasing the part of the edge with good leverage. If they had made the geometry thinner this wouldn't be such an issue. A knife doesn't need much leverage if it's slicey enough, but this thing has at least a 25° angle on the main part of the blade, and something that's gotta be close to 30° on the tip.
This is not a Paper Cutter; It's a Pointy Prybar.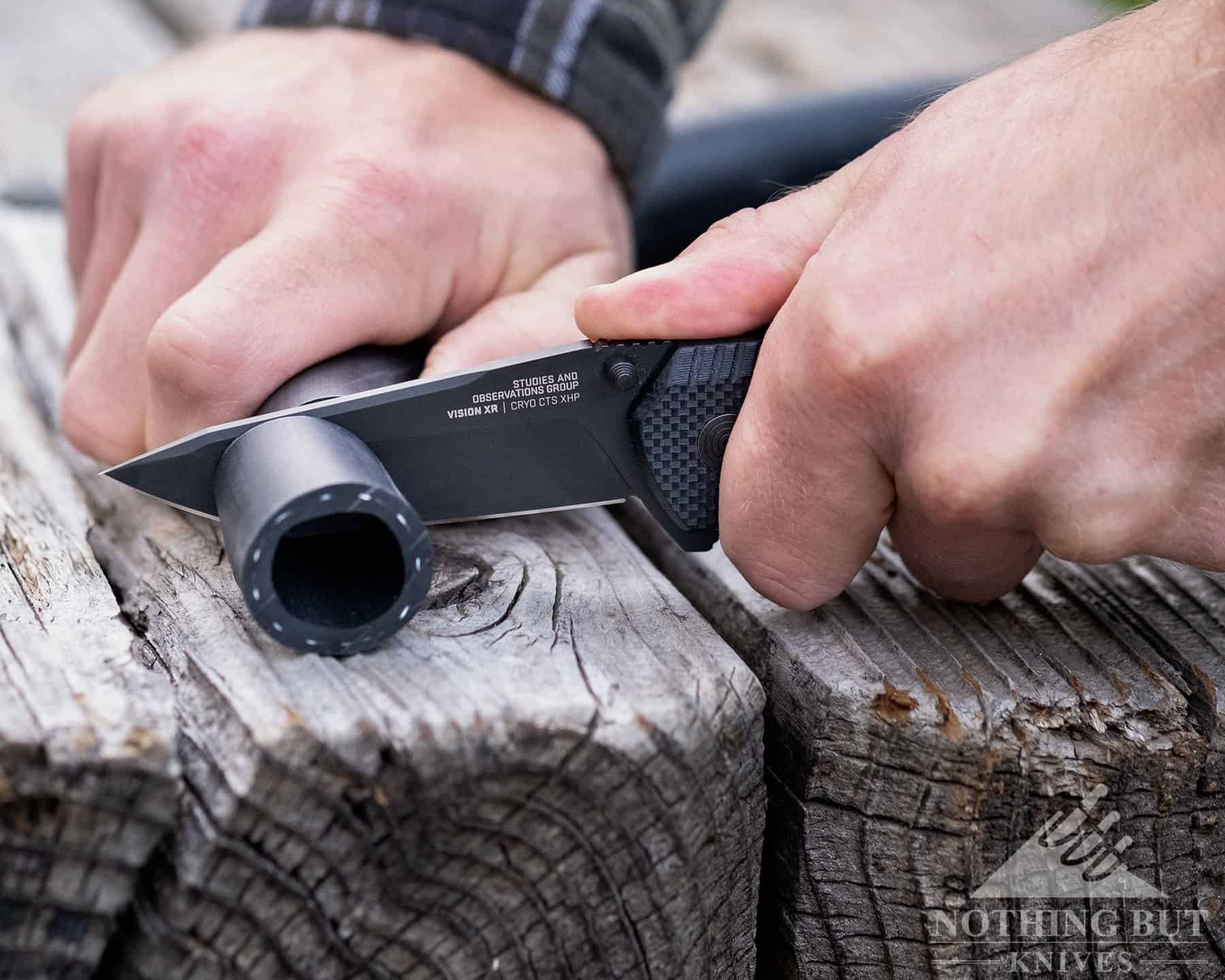 Out-of-the-box sharpness had a little trouble on paper, but I don't think anyone should be surprised by this. The edge retention is okay. I wasn't blown away by it.
I touched up the edge and broke down four or five boxes with it. The edge started to feel rough after the first two boxes, which isn't terrible. It's about what I expected from an edge this wide. I think SOG was more concerned with stability than sharpness in this knife, since it's meant for "professional use". As far as that element goes, they've done well enough. One thing I'm definitely not worried about with the Vision is damaging the blade.
It's also possible that my paper tests in between boxes were skewed because the Vision's blade is so thick that even when it's actually cutting the paper well it feels like a tear because the width behind the edge is just ripping the stuff apart. The end result is still that this knife does not cut smoothly. But, again, that's not a priority in the design.
The Steel is Cool, Though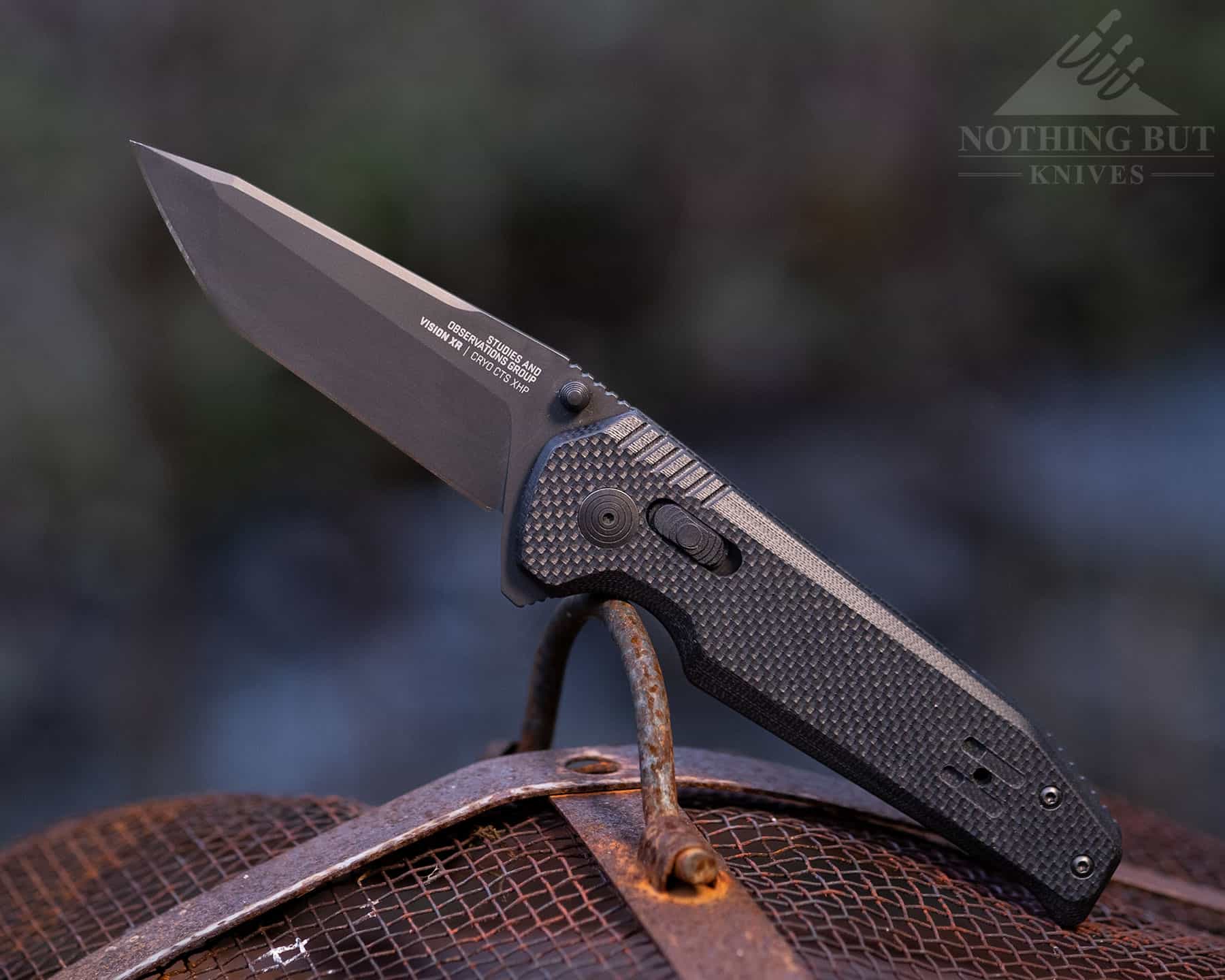 CTS XHP is a powder steel made by Carpenter Steel that's generally considered to be similar to 440C but optimized for higher hardnesses, or to D2 steel but more corrosion resistant. Those similarities are by design, it turns out. Carpenter actually developed XHP specifically to have the hardness of D2 with the corrosion resistance of 440C.
They ended up with a steel that had better wear resistance than both D2 and 440C, but lower toughness than 440C. The Knife Steel Nerds article I linked above does a much better job of explaining why than I could, but the TL;DR of it is that XHP ends up with larger carbides.
All that to say is this steel is pretty interesting as a hard-use material. Although it likely has worse corrosion resistance than 440C as well. In theory it can take a sharper edge than D2 while maintaining better toughness and providing better edge retention than either of them.
The problem is edge retention relies a lot more heavily on edge geometry, and that's one of the areas I have a problem with on this knife. It strops up really well. I love the way this steel responds to strops and honing steel. It's hard stuff, but not so hard that it takes me ten minutes with a strop to clean the edge up. But if I liked this knife better I would probably take it to a coarse stone and thin out the edge.
Fit, Finish, and Lockup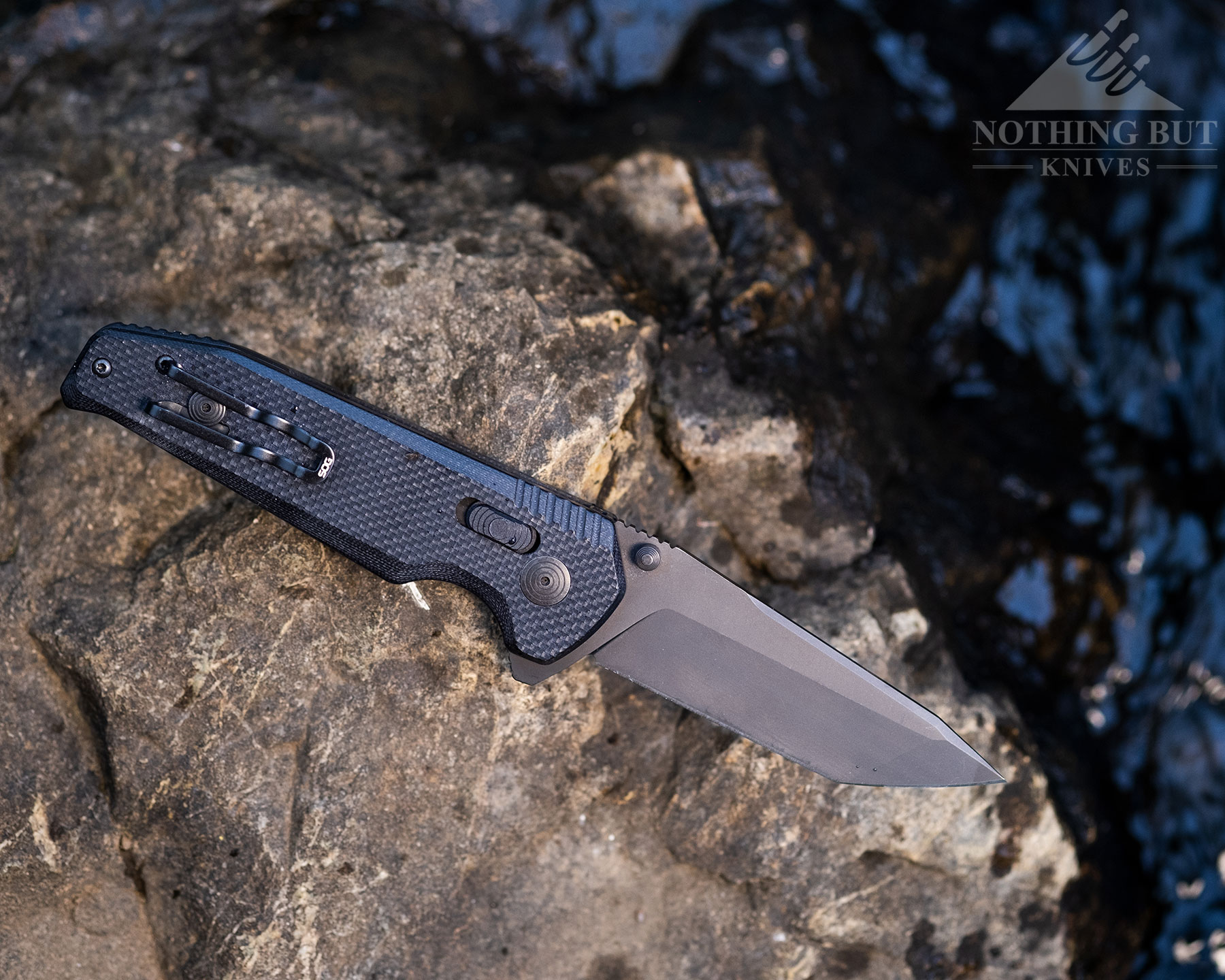 There were things on this knife that were done well from a technical side. Like I said before in the handle and ergonomics section, the inside of this knife is a great example of low tolerance manufacturing and lightweight engineering.
And even though I don't like the way the blade cuts, I can appreciate the manufacturing acumen required to produce a compound flat grind like this. Just because they chose to emphasize toughness and make the edge incredibly wide doesn't mean it's a bad blade. It's just not my thing.
So overall the fit and finish on this is good. There was just a little bit of sideways blade play out of the box, which can be partially fixed by tightening the pivot screw. But this goes back to the small bearing SOG is using for the action. It just doesn't provide the kind of support that a blade this size needs, so I see the blade play issue getting worse down the road.
The Lock Up Issue
The slide lock is great if you're the kind of person who has trouble working other kinds of locks. The action is smooth and makes the knife kind of assisted because of the way the spring under the lock makes the lock interact with the tang when it's about halfway through deploying. My wife actually enjoyed fidgeting with this knife because the XR lock makes it really easy to flick out and close.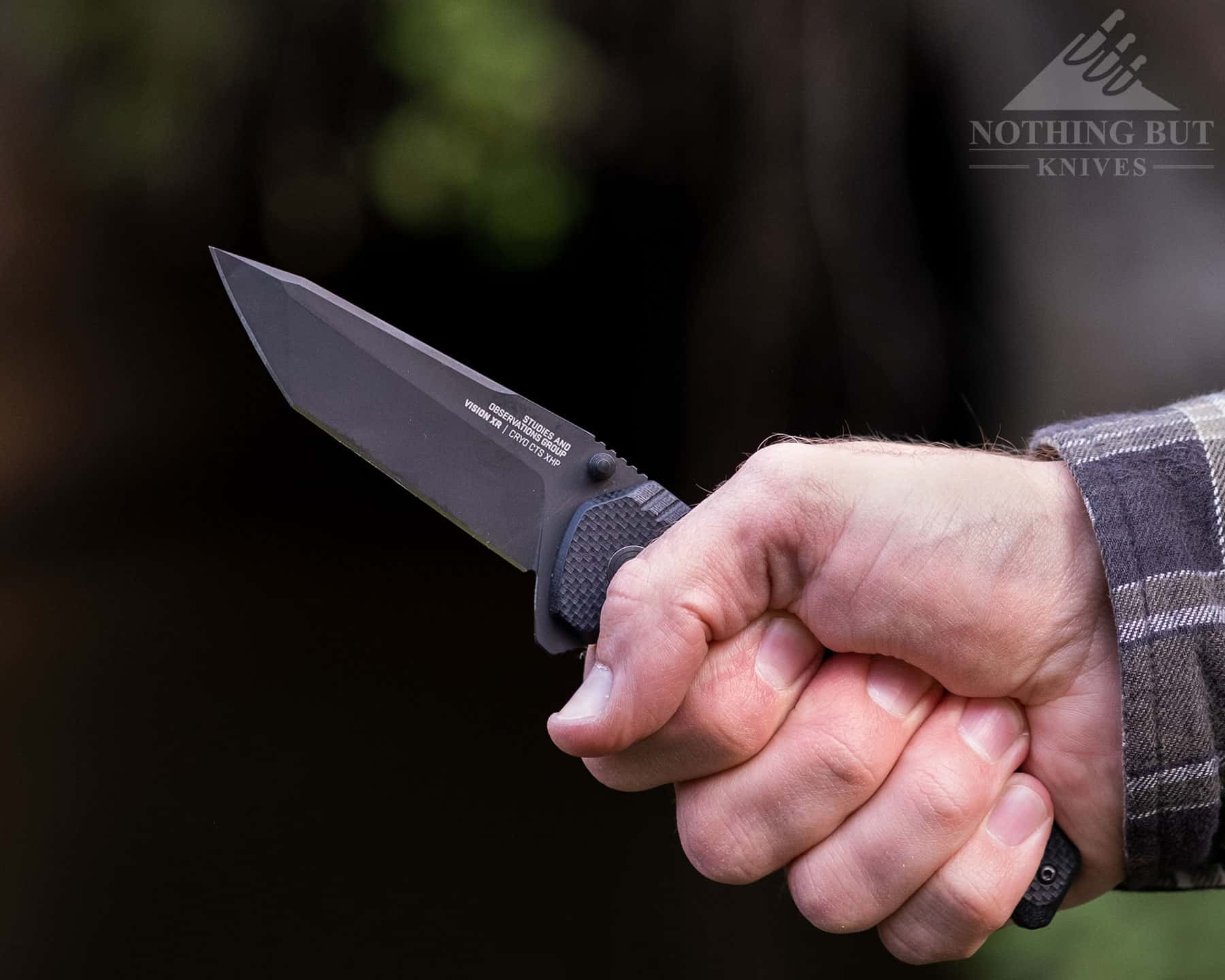 The problem is this is easy to accidentally disengage in a gorilla grip. The lever sits right below my thumb on one side and right on the top pad of my palm on the other. There have been a couple of times I felt the lever move down just a bit as I was working with the knife. It hasn't disengaged on me fully yet, because after I feel that initial movement I get really careful. But I don't think it would take much more moving in the wrong direction to get this thing to close on my hand.
It's fine for most of my daily tasks, but if we're talking about high-speed, low-drag folding knives "made for professionals" then this is a big point of concern. Especially when the blade sports a point that for all the world asks to be stabbed into various things. No matter how solid SOG says the XR lockup is on this, I don't think I'll ever feel completely confident in it with the Vision.
This brings up the really frustrating thing about the knife. I'm less confident in this $150 knife than I am in SOG's $50 Terminus XR with the exact same lock. Part of that is because the blade is smaller on the Terminus, so there's some basic physics at work here that SOG can only do so much about. But speaking economically, the Vision XR just falls limp for me.
Comparison and Alternatives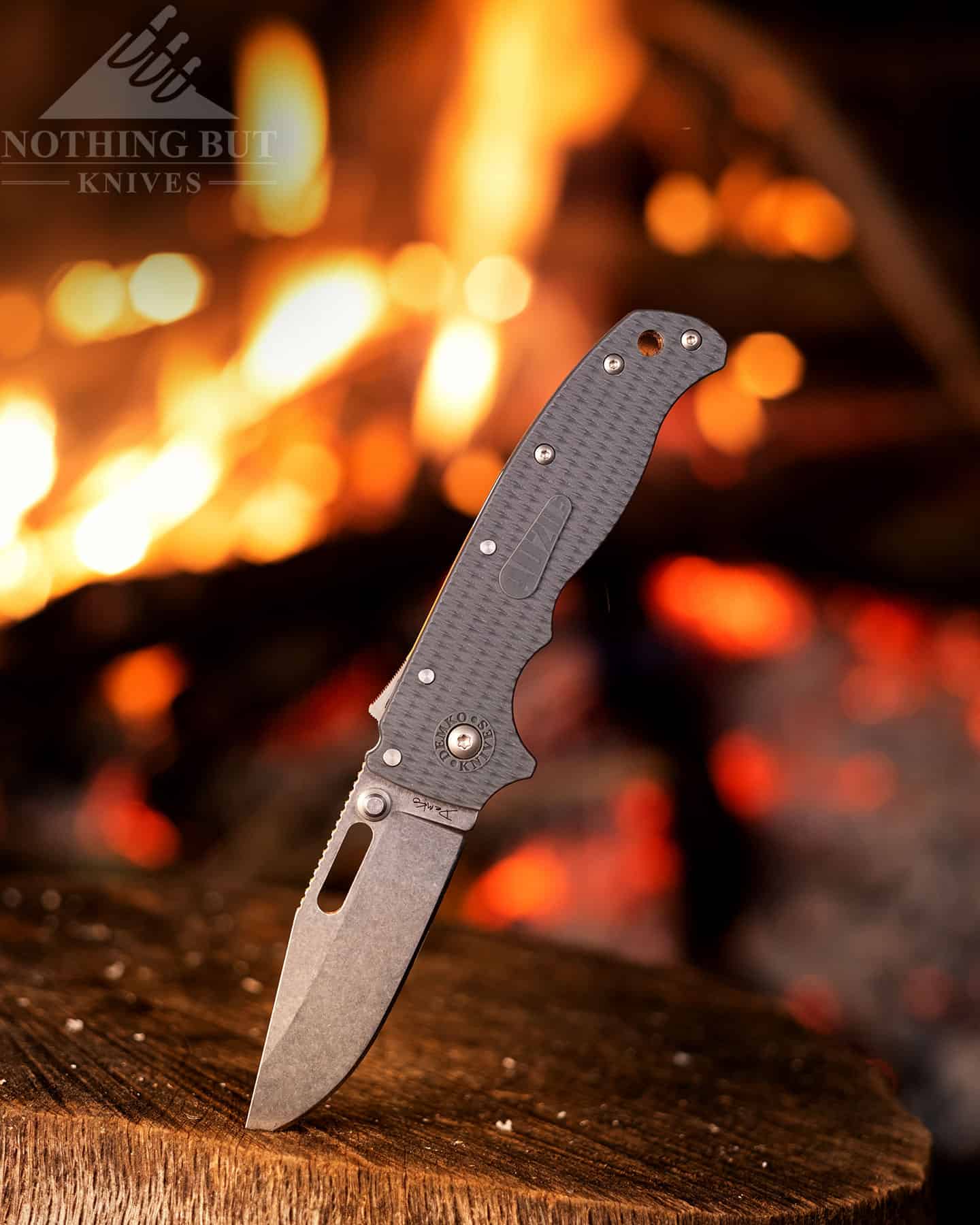 As long as we're talking about tactical folders, we have to bring in the Emerson CQC series. And frankly, I don't see the SOG Vision XR matching up in any element to that design, either from Kershaw or Emerson's factory. The CQC knives deploy faster, feel more secure in hand, and I trust the lock up a hell of a lot more. The main thing the Vision has over the CQCs is the flipper and slide lock option, so it really becomes a question of how much you want to fidget with your knife.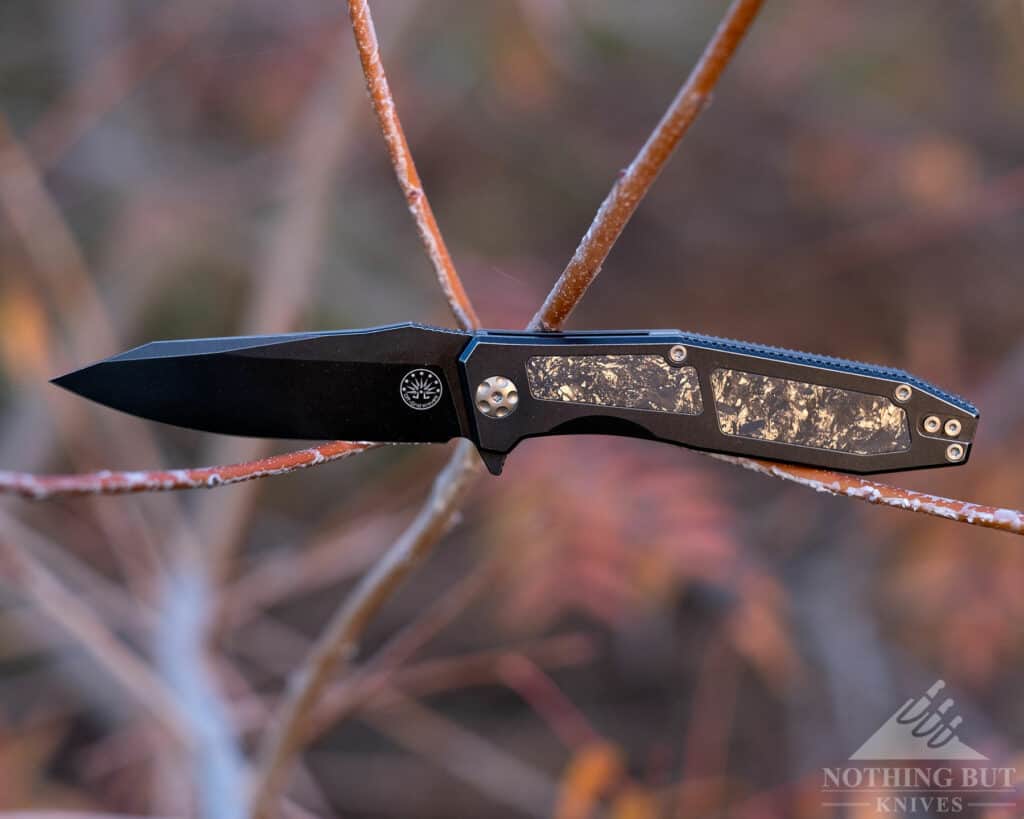 If you want a tanto(ish) folder that really feels like it's worth its price, the Off Grid Scorpion is a great option. It's quite a bit more expensive and the titanium handle is nowhere near as grippy, but the lock up, fit and finish, and the edge geometry are several factors beyond the Vision XR.
The Vosteed Thunderbird looks a bit flashy, but it has sturdy button lock, and a fidget friendly design that is hours of fun for folks who are into that sort of thing.
If you want some solid American manufacturing on a comfortable handle with an arguably "tactical" blade in about the same price range, the Buck Sprint Pro is worth a look. With S30V steel in a hollow grind it doesn't have so much of a sturdy build on paper, but the ergos are a lot grippier and it's a better slicer all around. Also it usually ends up being a good $30-50 cheaper than the Vision, so there's that.
Finally, there's the Demko Knives 20.5 (which I feel a lot more comfortable recommending now that it seems to be regularly available). It's a little smaller and it doesn't come as sharp (plus the steel is a little harder to work with), but everything from the lock up, the grip, and the grind feel better to me than the Vision XR. And while I think the 20.5 is also a little overpriced, it's in almost the exact same range as the Vision.
Conclusion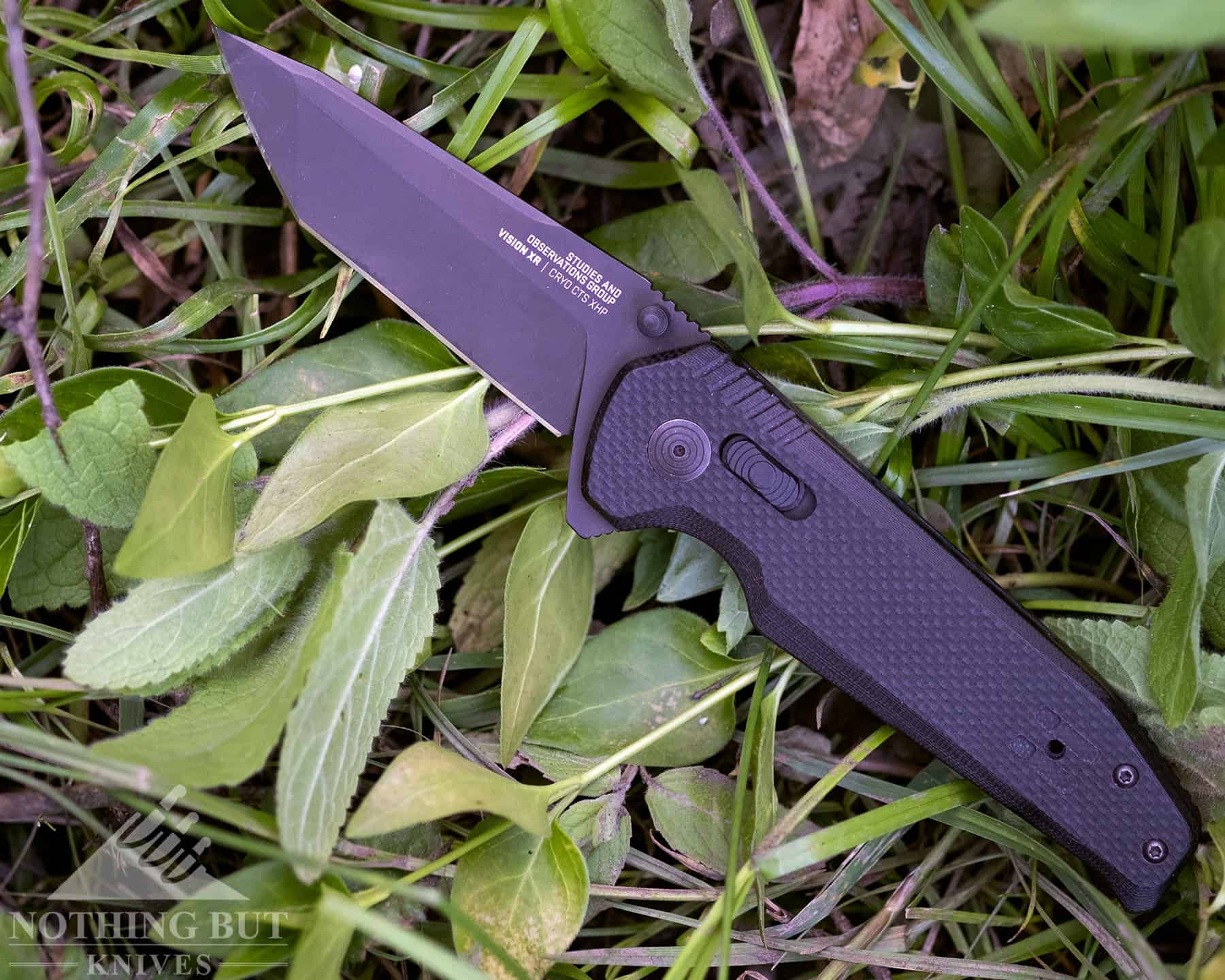 I gave this knife a hard time, but for all its faults it's not that bad. It slices and punctures, and the steel is tough, and easy to fix up and maintain (and interesting to talk about). The jimping and the handle shape do a good job of keeping the knife comfortable and secure, and that pocket clip isn't letting the knife leave your pocket for anything.
But then there's the hotspot from the clip, the intrusive feel in the pocket, the poor placement of the XR lock, and overall cheap feeling, and on top of that SOG put a price tag on it that makes it compete with the Benchmade Bugout and a pretty healthy range from Spyderco, to say nothing of the alternatives I suggested above. It's alright if you like this style of knife and don't need to sharp of an edge, but it doesn't feel like the Vision XR makes a good argument for itself over the hundreds of other options out there.